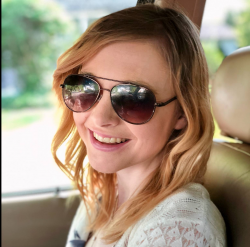 Latest posts by Erin Jamieson
(see all)
I've enjoyed long afternoons on different porch swings. Some of my fondest memories are swinging with relatives and enjoying a beautiful day. But something I never appreciated when I was growing up is how important it is to take care of a porch swing. That's why I'm offering this quick guide to the best porch swing covers you can buy.
Porch swing covers may seem simple, but there's some strategy to selecting them. Whether you want a simple cover for your cushions or chains or a full cover, here's what you need to know. I'll tell you why you should buy a swing cover and share my selection criteria. Plus, I'll recommend a few of my top porch swing covers for 2022. 
Bottom Line Up Front Summary
Oxford cloth, PVC polyester, and 1000 denier are the best fabrics for a durable porch swing cover. Double-stitching, laminate backing, and a vent or mesh are all great features to look for. Add 1 to 2 inches to your porch swing's dimensions to find the correct size. 
If I had to select just one porch swing cover, it would be the Veranda Patio 3-Seat Canopy Swing Cover. This swing cover is surprisingly stylish and durable, with excellent features like a guard skirt, laminate backing, and all-weather resistance. 
My Top Picks
Is a Porch Swing Cover Necessary?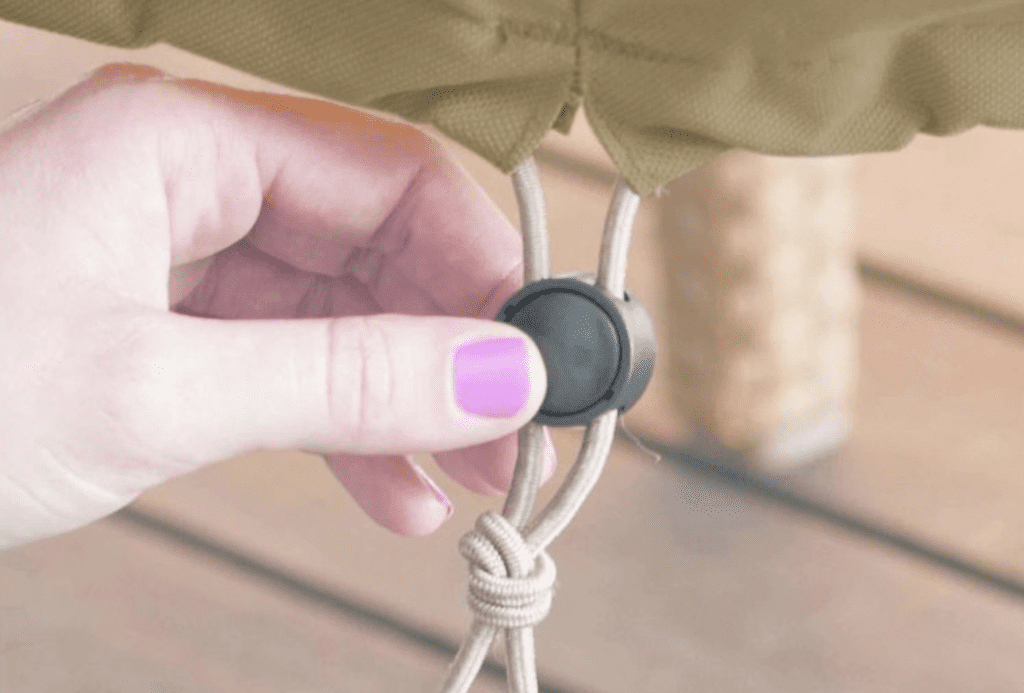 Some are adamant about buying a cover for their porch swing. Others skip it entirely. I understand wanting to save money, but in my experience, often you save more money by spending more at first. 
The main disadvantage of buying a swing cover is just the cost. Porch swing covers add cost, and, when you're on a tight budget, it can be tempting to forgo them. Of course, you have to take the time to search for and select the best cover for your porch swing. 
| | |
| --- | --- |
| Situation | Is cover Necessary? |
| Covered Porch with Treated Swing  | No, But Helpful in Some Circumstances |
| Covered Porch with Untreated Swing  | Yes |
| Uncovered Porch with Treated Swing | Helpful  |
| Uncovered Porch with Untreated Swing | Yes |
A treated swing refers to a swing that's been given a protective coating for outdoor use. That includes powder-coated metals, sealed/ coated wood, and Polywood. In other words, these frames are meant to withstand a plethora of weather conditions. 
This doesn't mean, however, that they can withstand anything. Heavier storms, extended use, and lack of maintenance eventually (or immediately) harm outdoor swings.
A cover is a must-have for the following situations:
Softer Wood Swings, Especially Untreated Swings

Untreated Metal Swings

Swings on an Uncovered Patio/ Porch without Canopies (In Winter)

Exposure to Inclement Weather

Blizzards, tornadoes, high winds, etc 
See also: Best Black Planters for Front Porch
Main Advantages
If a storm is coming, a cover can save your porch swing from damage. For many porch swings, heavy snow can be damaging. Covers protect against snow, rain, and even some fading from UV rays. 
Bottom Line
The bottom line is that a cover isn't always a necessity for an outdoor porch swing (especially under a covered porch/ patio). However, there's no doubt that porch swing covers may extend the life of your porch swing and cut back on necessary maintenance. 
How to Select a Great Porch Swing Cover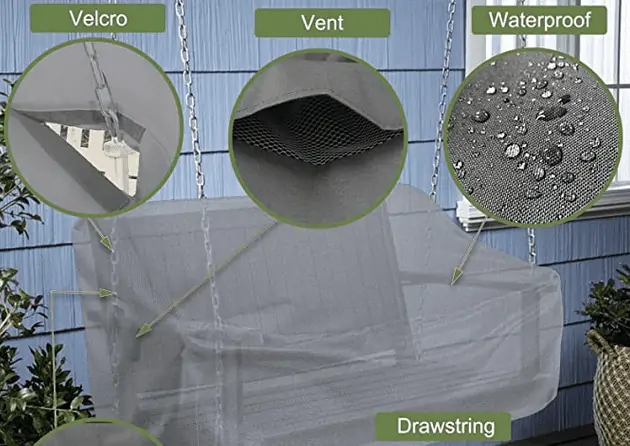 While I recommend a cover for your porch swing, there are subtle differences between different kinds. Instead of just looking for the clearance covers, here are some of my top tips to find the best porch swing cover. 
To sum it up: buy a porch swing cover that's UV- resistant, waterproof, and won't easily tear). 
Step One: Selecting the Best Materials
Swing covers need to protect your swing from weather conditions, be flexible and easy to work with. Many porch swing covers are made out of polyester, and this makes sense. Polyester is cost-effective. It's resistant to rain, mold, and mildew and doesn't require maintenance. But instead of buying something that's simply called 'polyester', look for these options. For all, I prefer double stitching to improve the fabric's durability. 
PVC Coated Polyester
PVC-coated polyester, as the name suggests, is polyester with a poly-vinyl chloride coat. The stiffer material is common for raincoats and is waterproof. It's also durable and lightweight and resistant to heat. Something many don't know is that this cost-effective material is resistant to dirt and stains. However, like other polyester materials, it's easier to tear than other materials. 
1000 Denier Polyester or Nylon
This hardy material is commonly used for luggage and outdoor bags. It's even been used for landing and crash surfaces. This fabric is up to 2 times stronger than cotton. While not fully waterproof, it is both water-resistant and very difficult to tear with normal use. There are lower levels of denier– just as 600– but I try to look for 1000 denier. 
Oxford Fabric
Oxford fabric is another form of polyester, often (but not always) with PU coating. It's loved for its lightweight construction, water resistance, and dirt resistance. It's also a flame retardant and is used for upholstery and clothing. It's strong, flexible, and dries quickly. 
Vinyl 
Vinyl is sometimes thicker than polyester and is used as an added layer of protection. Vinyl is rated in gauges. The higher the gauge, the stronger the vinyl. 12-gauge vinyl is a good complement to polyester, but I wouldn't recommend it as a primary fabric. Polyester is a stronger fabric and usually more weather resistant. 
Laminate Backing 
Laminate is sometimes used as an additional backing for a swing cover. This thin layer of plastic acts as a barrier against moisture. I like this feature because it reduces build-up and adds to the durability and protection of a swing cover. 
Bottom Line
My favorite fabric option for a porch swing cover is oxford cloth,  1000 denier polyester, or one of the two paired with PVC polyester. However, either fabric alone is a fair option. I avoid lower-quality fabrics and tend to shy away from vinyl as the main fabric. 
Step Two: Tie-Down Styles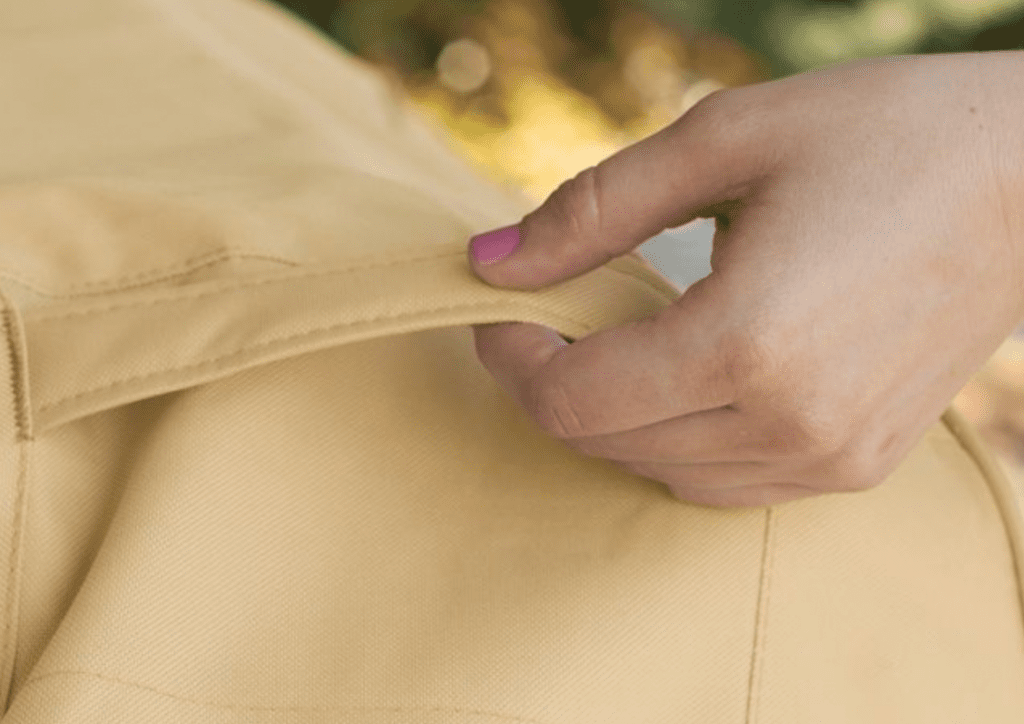 This is all about how you secure the porch swing cover. In other words: this is what's keeping your swing cover from flying off from the wind. 
Style 
Pros
Cons

Drawstring

Simple to Use

Easily Adjusted

Elastic Seam 

Push Clip 

Clip Can be Lost

Weak Clips May Lack Grip 

Zipper or Fabric Closure 

Cheap Zippers Can Break/ Get Off Track

None 
I avoid buying porch swing covers without some tie-down method. It's impractical. If a swing cover doesn't stay on, then it defeats the purpose. From there, it's a bit trickier. I tend to also shy away from clip closures. Clips are easy to lose or break. 
Elastic seams, if well made (double stitching) can be a great option because they're easy to use and provide a minimalist design. They can wear out if they're poorly made or overstretched. Zippers are also a potentially good option– but look for a quality zipper that's made with a material that will wear well in different weather conditions. 
See also: Best Black Porch Rocking Chairs
Step Three: Selecting a Reputable Brand 
Even if a porch swing cover has some pretty solid features, I like to feel secure that I'm buying a reputable brand. Some signs of this include high customer ratings with some information behind those ratings and warranties. I prefer at least a 1-year warranty or protection plan. Even if I don't plan on using a warranty, I take this as a manufacturer's confidence in their product. 
Step Four: Porch Swing Cover Sizing/ Dimensions
Some people search for porch swing covers just for their cushions or chains. I understand that less fabric saves you money, but what you should buy is a porch swing cover that encompasses the entire swing. These are more common and for good reason. A swing cover that covers the entire frame provides the most protection. 
To find the right dimensions for your porch swing cover, add 1 to 2 inches 'leeway' to your porch swing dimensions. Some companies offer standard porch swing sizes and most automatically factor in the leeway. 
Step Five: Other Features
Ventilation is important because it reduces your risk for mold or mildew build-up. Many covers use small ventilation areas, as well as a mesh to improve breathability. Different colors and patterns, while not inherently important, may also factor into your decision. 
Step Six: Price & Where to Buy 
Porch swing covers aren't too expensive. On average, expect to spend $35 to $100. The price range reflects materials used, brand, and the size of the cover. Places to shop for swing covers include: 
Amazon

Overstock

Walmart

Wayfair

Home Improvement Stores (Lowe's, Menards, Home Depot) 

Target 

Costco 

Specialty Stores**
** When shopping from a specialty store, be careful. I've seen several online stores that have a history of poor customer service. To be sure, I check Trustpilot, Consumer Affairs, and the Better Business Bureau. Some shipping delays are common right now, and not a cause for great concern. Look for patterns, and never shop from a store that ticks off these 7 online shopping red flags. 
Porch Swing Covers: My Top Picks
Here are some of my favorite porch swing covers, selected by price, materials, and main features. Though the style isn't the most important factor, I found different colors and aesthetics. 
AKEfit Porch Swing Cover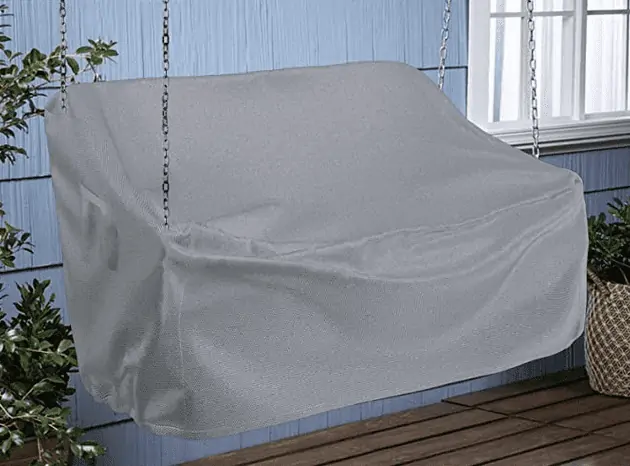 This porch swing cover from Amazon is a great option for hanging swings. Affordable, and versatile, it's easy to see why this is a top pick. With a generous size (56" by 25" by 32") it should fit most standard porch swings. The water-resistant Oxford PVC fabric protects your swing from rain and wind, as well as dust and UV rays. I like that it's non-flammable and strong for its low price point. With both a drawstring and zipper, this cover is easy to adjust to fit and even includes velcro for extra security. A side air vent improves ventilation. This porch swing comes in gray and black and includes a storage bag. Buy Here. 
Pros
Zipper, Velcro, and Drawstring

Great Price

Easy Maintenance 

Resistant to Dust, Wind, and Rain
Cons
600 (not 1000) Thread Count

Not Many Reviews 
Cover Store Outdoor Swing Cover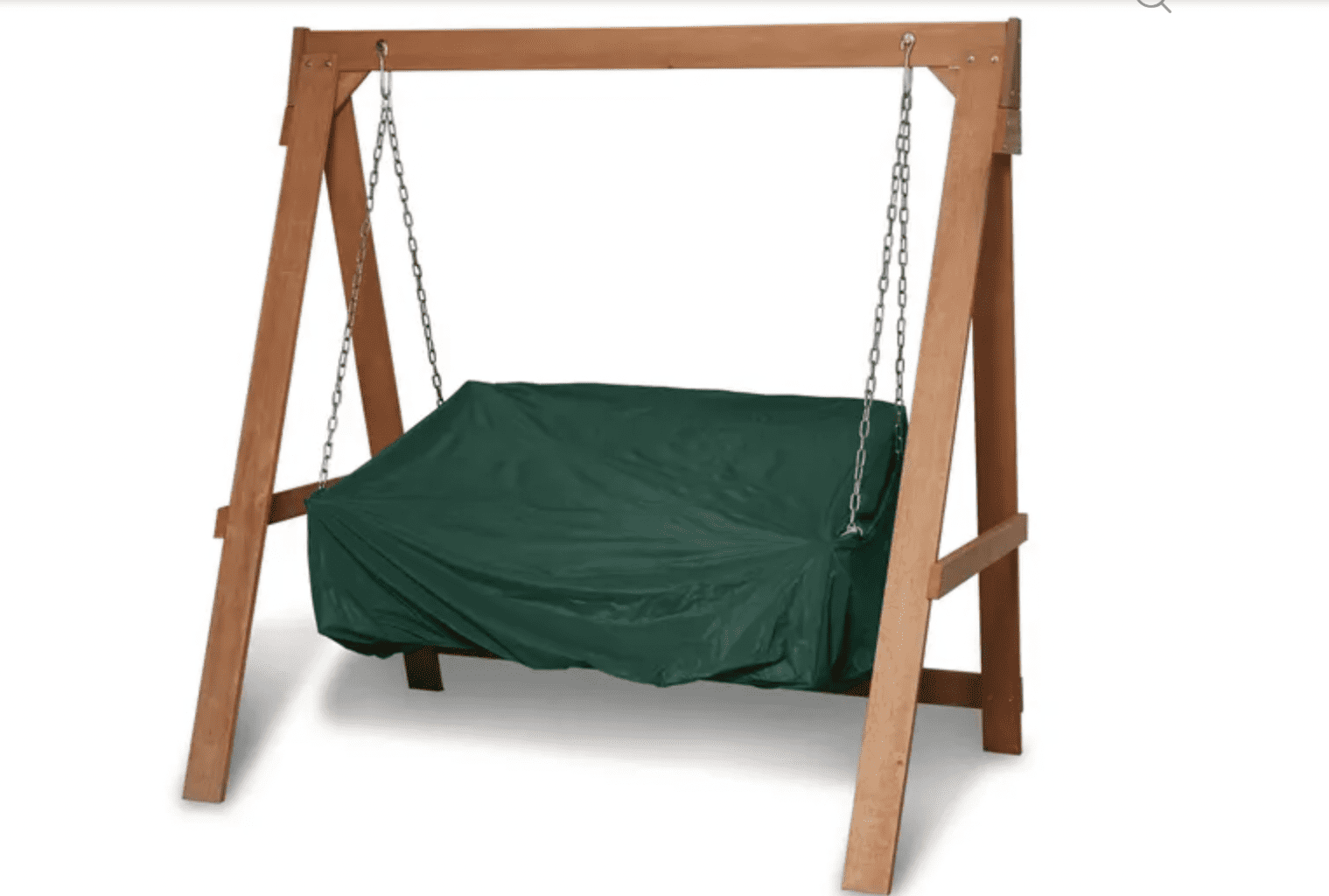 If you're looking for a swing cover for a porch swing seat, this is one of your best bets. Choose from multiple sizes and premium fabrics. All of these porch swing covers come with warranties, ranging from 2 to 10 years. The standard version is made with 12 gauge vinyl, paired with lightweight polyester. The dual lining adds more stability and shape. A mesh vent prevents moisture and mildew build-up. This swing cover is resistant to dirt, water, and UV rays. Elastic seam provides a clean and contemporary look. Colors include: green, tan, gray, black, and beige. Buy Here. 
Pros
Dual-Layer

Premium Fabric Options with Contemporary Flair 

Multiple-Year Warranties

Ventilation 
Cons
Premium Fabrics Get More Pricey 

Entry-Level Material is Less Durable 
Outsunny All-Weather Garden Patio Swing Chair Cover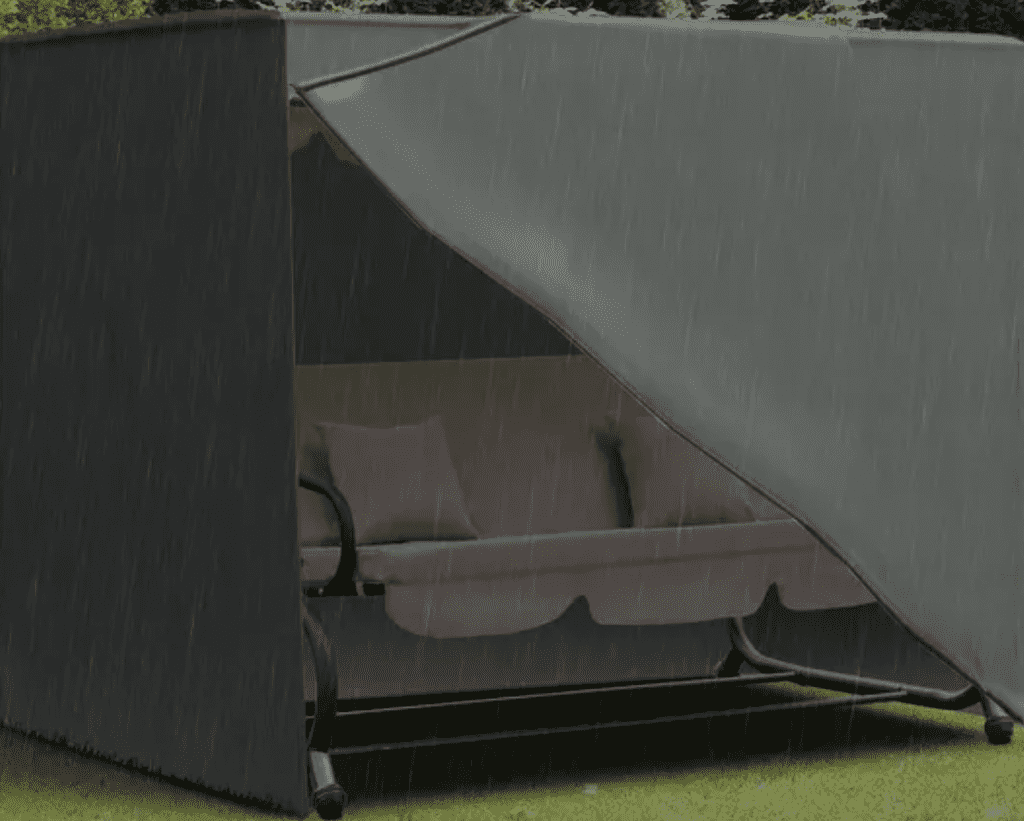 If you're looking for a porch swing cover with full coverage, this is an excellent choice. I was excited when I saw this listing for several reasons. For one, the price is very competitive for the features you're getting. For another, it's quite functional. The Oxford fabric is treated with PVC coating for water and dust resistance. Easy zippers pair with a drawstring and cord to adjust it to fix. While the boxy shape may not be as visually appealing, it makes it easy to use not only for a porch swing but also for outdoor patio furniture. It comes with a 1- Year warranty and ships for free from Overstock. Buy Here. 
Pros
PVC-treated Oxford Fabric

Zippers and Drawstrings

Versatile for Different Swings, Furniture

Free Shipping and Warranty
Cons
Not As Attractive (Boxy Shape) 

Not Highest Thread Count 
See also: Best White Porch Swing Ideas
Veranda Patio 3-Seat Canopy Swing Cover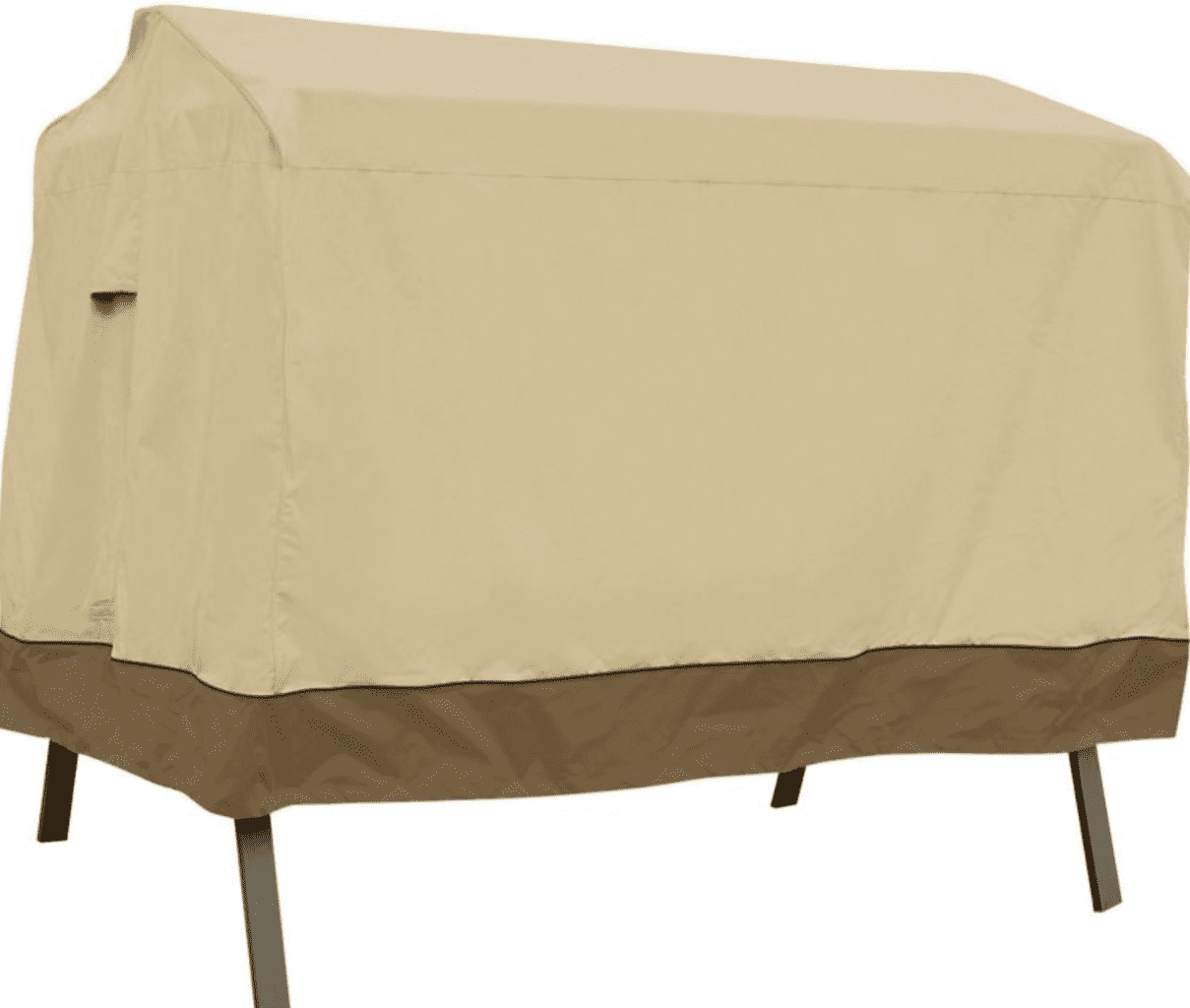 I didn't expect to find one of my favorite porch swing covers at Target, but that just goes to show how important it is to have an open mind. This stylish swing cover provides full coverage and has a touch of elegance. It can fit up to 88" by 60" by 65" swing sets and comes with a three-year warranty. I love the guard skirt for added protection, secured with a laminate backing. Click and snap closures add protection against wind, complemented with a classic elastic hem. There are air vents to reduce condensation and even padded handles for easy removal and fitting. This PVC-backed polyester is both water and UV-resistant, so you won't have to worry about fading. Buy Here. 
Pros
Elegant, Contemporary Style

Elastic and Snap Closures for Secure, Custom Fit

Water and UV-Resistant 

Nearly Full Coverage 
Cons
Doesn't Quite Cover Feet

Only One Style, Size 
Moda Furnishings Patio Swing Chair Double Seat Cover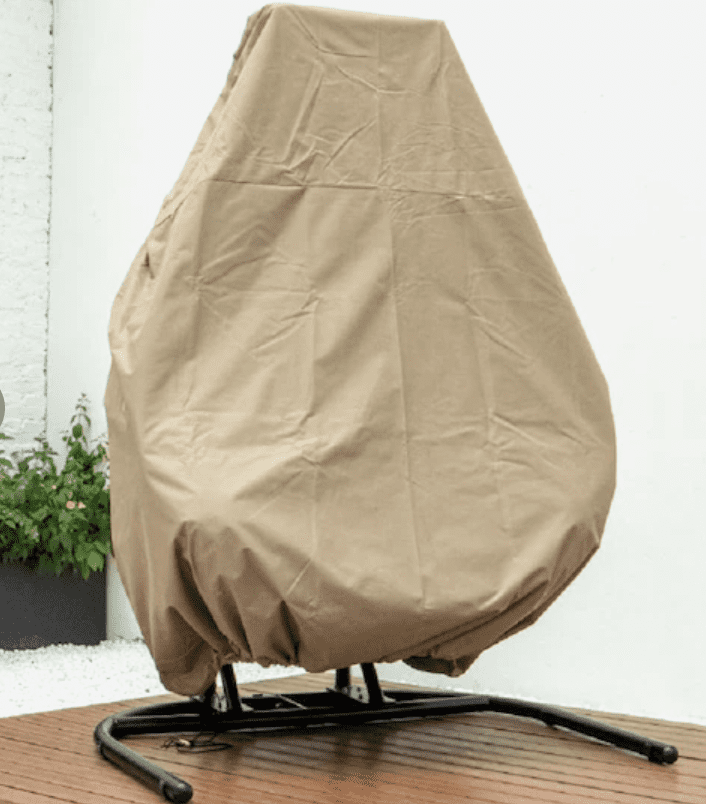 If you have a single-seat/ egg porch swing, a regular porch swing cover is overkill. I like this 1-person porch swing cover from Lowe's for overall features and value. The Oxford fabric is equipped with Colorstay technology, so you don't need to worry about it fading. It's UV- resistant and holds up against rain, frost, and other inclement weather. The drawstring hem allows you to adjust it to size, so you can go for a snug fit. While it doesn't have all the bells and whistles of some larger porch swing covers, it still offers protection and allows your swing to last longer. Buy Here. 
Pros
Colorstay Technology 

Suitable for All Weather

Durable Oxford Fabric

Adjust to Size
Cons
Only Drawstring (No Zipper)

No Vent 
Frequently Asked Questions
Question: How do I protect my outdoor swing?
Answer: Even if you buy a porch or patio swing that's ideal for all-weather, there are several steps to ensure that it lasts longer. Investing in a swing cover for inclement weather and during the winter is one smart step. If you expect high winds, a hanging swing needs to be secured or taken down. Stains, sealants, and anti-rust sprays are other rays to further protect your swing. I also think common sense goes a long way. Don't place your swing near a pool or any other chemicals. Clean it with gentle soap and water. 
Question: How do you put a cover on a porch swing?
Answer: Most porch swing covers are self-explanatory. Make sure that you select the correct size. Completely unfold the cover and lay it out flat. For a full swing cover, set the cover underneath the swing. The main seam should be oriented towards the ground, while the ventilation area should be oriented to the swing's back. Make the two sides meet and secure the cover so that it settles on the back of the swing.
Question: How do I stop my outdoor swing from raining?
Answer: If your outdoor swing is 'raining' chances are some water has been trapped in its construction. Seat cushions can be treated with water repellant sprays. If your swing keeps dripping, gently swing it back and forth to loosen rainwater. Most swings will dry fairly quickly in the sun. Another contributing factor could be a canopy. If you have a removable canopy, you can lie it flat until it dries. Of course, you can use a cover to prevent this from happening next time it rains. 
Question: How do you protect wooden swings?
Answer: Wooden swings are a beautiful and classic option, but they do require extra care vs other sewing materials, such as Polywood (recycled plastic). Hardwood swings should be treated with oil occasionally to ensure that it doesn't crack or warp. A wise step to take is to seal a wooden swing (or buy one with a protective coating). To seal a wooden swing, make sure you coat it thoroughly. You don't have to apply it exactly evenly. Clean your swing with gentle soap and water, and cover it up during inclement weather. Spray your swing with specialty bug repellent during the Summer if your wood is susceptible. 
Final Thoughts 
Many people buy porch swings but neglect to truly take care of them. There are many steps you can take to extend the life of your porch swing, and purchasing a great swing cover is one of them. While I know it's tempting to save money, in many cases, it's well worth buying a cover of some sort to protect your swing's frame. A porch swing cover doesn't need to be perfect. Just focus on finding the right fit and quality materials. 
Final Recommendations: How to Make a Swing Cover 
I admit: I wouldn't be confident enough to try this myself. DIY projects, especially for home decor and porches and patios are becoming quite popular. While I recommend buying a swing cover, you can make one yourself. Measure all sides of your porch swing. Allow about 1 inch around each side. Select a weather-friendly material that is easy enough to work with but also weather-resistant. While there are many styles of swing covers, keep it simple. Your goal is to protect and cover your swing. It's easiest to make a cushion cover or a cover for a smaller hanging swing. Ready to get started? Give it a try by Watching this Simple Porch Swing Cover Tutorial Here. 
Recommended Reads: