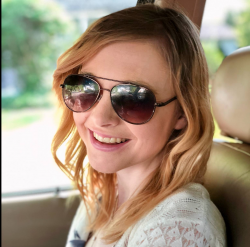 Latest posts by Erin Jamieson
(see all)
As much as I love home decor, it's always easier to help someone else renovate than for me to take that step for myself. As funny as it sounds, I enjoy going to places like Ikea for that reason: seeing new ways to design porches and patios. And with more and more black rocking chairs being featured, I've come to love the unique ambiance.
From casual to distressed, vintage-inspired to strikingly modern, black rocking chairs are undeniably an easy and affordable porch update. If you've been thinking about a black porch rocking chair for a while but haven't taken the step, consider this your quick guide. 
I'll discuss the pros and cons of black rocking chairs, how to choose the best materials, and where to shop– no matter your budget. 
Bottom Line Up Front Summary
The best black rocking chairs are made out of Polywood or treated hardwood. It's important to measure your space and select a rocking chair that has features that are important to you. Black rocking chair shades range from grayish-black to jet black and include modern, industrial, rustic, and classic styles. 
If I had to recommend just one black rocking chair right now, it would be the Amish Polywood Estate Rocking Chair. It features a gently sloped back, durable all-weather material, and requires little maintenance. It's offered at a great price and comes with a generous 20-year warranty. If you want to make it more comfortable, purchase a Sunbrella seat cushion. 
My Top Picks
See also: Best Fire Pit Accessories [2022]
Deciding if a Black Rocking Chair is Right for Your Porch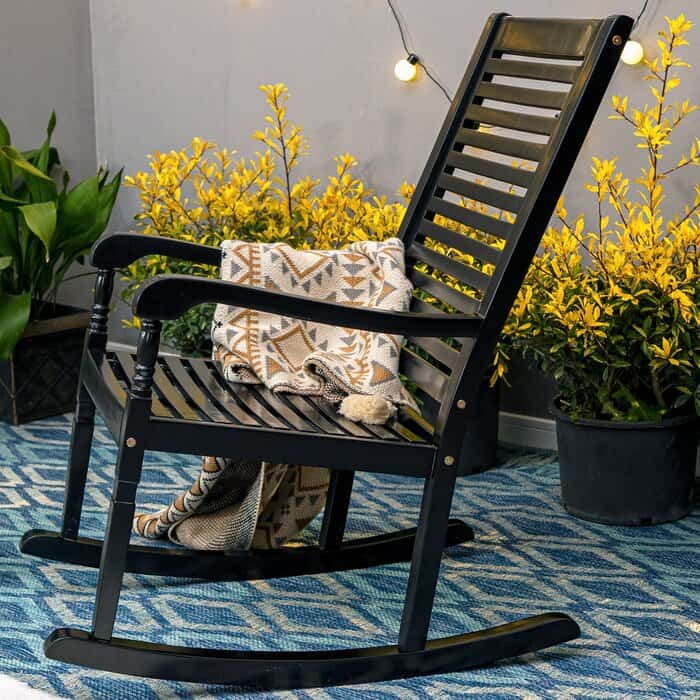 A black rocking chair certainly isn't the first option you probably think of. But while there's something truly timeless about a wood-grain rocking chair, a black hue may just be the accent you need for your porch. Before I discuss the pros and cons, never buy a rocking chair if you aren't willing to take care of it. Even low-maintenance rocking chairs require some cleaning and upkeep. 
Reasons to Buy 
Black rocking chairs aren't the most popular– but they're becoming trendy. From features for Southern homes to contemporary farmhouse and vintage styles, black rocking chairs really can add visual interest to a porch. I don't think many people realize that a black rocking chair can arguably achieve more porch aesthetics than other colors. Neutrals, like beige, cream, taupe and ivory go well with a black rocking chair. But black and white, black and blue, and even black with bolder hues work too. 
There's also the matter of upkeep. While I love the look of lighter woods and white outdoor rocking chairs, black is usually lower maintenance. It won't easily show dirt or stains. It's a great idea if you're messy like me, have an uncovered porch, and just want a rocking chair that will look nice without regular cleaning. 
Reasons to Choose a Different Color 
While a covered porch and strategic placing help, it's true that black rocking chairs attract heat more than other colors. That's something to keep in mind for a very humid and hot climate. Black naturally makes a space look smaller, so if you already have a cramped patio that's also something to consider. While black is fairly versatile, it isn't always the best match for more earthy or 'muddy' tones.
Finally, there's the issue of black stains that wear away. If you select a cheaper black rocking chair without something like color-stay technology, then you may find yourself having to stain it more frequently. 
Bottom Line
Bottom line? I don't think that a black rocking chair is the best fit for all porches- and that's okay. The drawbacks, though, are few. Black rocking chairs are striking, versatile, and look fantastic, especially for medium and larger porches. 
How to Find the Best Black Porch Rocking Chairs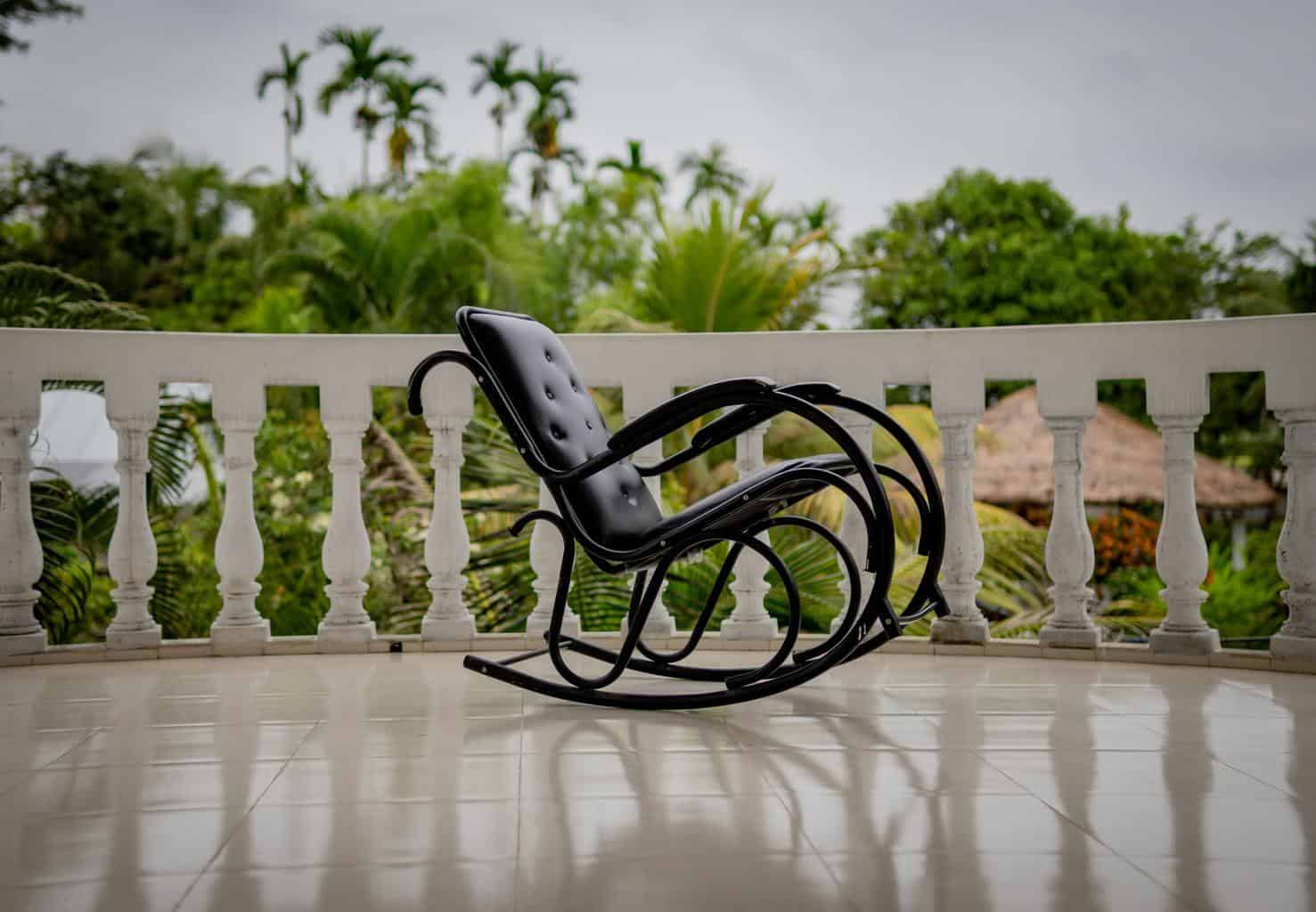 If you're set on a black porch rocking chair, you might as well invest in one that is meant to be used outdoors. I made the mistake with patio furniture when I was on a tight budget. Indoor rocking chairs aren't suitable for a porch, and there's no way around it. The good news? There are more options than you might think if you know how to select the best designs. 
See also: Best Fire Pit Chairs Guide
Step One: Choosing a Shade of Black 
There are different shades and styles of black. While many are subtle differences, it's these subtle differences that can determine if your rocking chair is casual, whimsical, or modern. 
Jet black is the boldest and bodes well for a modern and contemporary/ farmhouse style. Charcoal black is still very black, with just a hint of gray. This deep smoky undertone adds a little softness and visual interest. While it works well for modern porches, it's not out of place for contemporary Southern design. Midnight black ranges in hue, but could include very faint blue undertones. This dramatic and mystical hue works well for whimsical, and modern cottage porches. Grayish-blacks may be seen for vintage, rustic, and weathered black porch rocking chairs. 
Step Two: Selecting Size and Weight
Measure your porch. I know it's tempting to skip this step, but especially if you're working with a small space (like me), it's important. Rocking chairs need at least 3 feet on either side and take up an average radius of 19 feet. 
The size you select is up to you. A more generous seat depth is what I'd focus on if you have the space. A shallow seat depth is usually less comfortable, but it also depends on fit preference. For instance, someone like me who is shorter (5' 4") and likes to sit up may prefer a slightly shallower seat vs someone who is tall and wants to lounge. See the table below for the average range of black porch rocking chair sizes. If you want something well outside of these ranges, you'd need to custom order (aside from double black rocking chairs). 
| | | |
| --- | --- | --- |
| Standard Heights | Standard Widths | Standard Depths |
| 36" to 47" | 25" to 30" | 32" to 38" |
Black rocking chairs don't offer quite as much selection as some other patio rocking chairs. Don't get too hung up on finding the perfect size. The important thing is to assess how much space you have to work with. 
Another consideration: is weight capacity. Regardless of the weight of the user, I recommend a minimum weight capacity of 200 to 250 lbs. The greater the weight capacity of your black rocking chair, generally the heavier but sturdier it will be. 
Step Three: Set a Budget (And Where to Shop)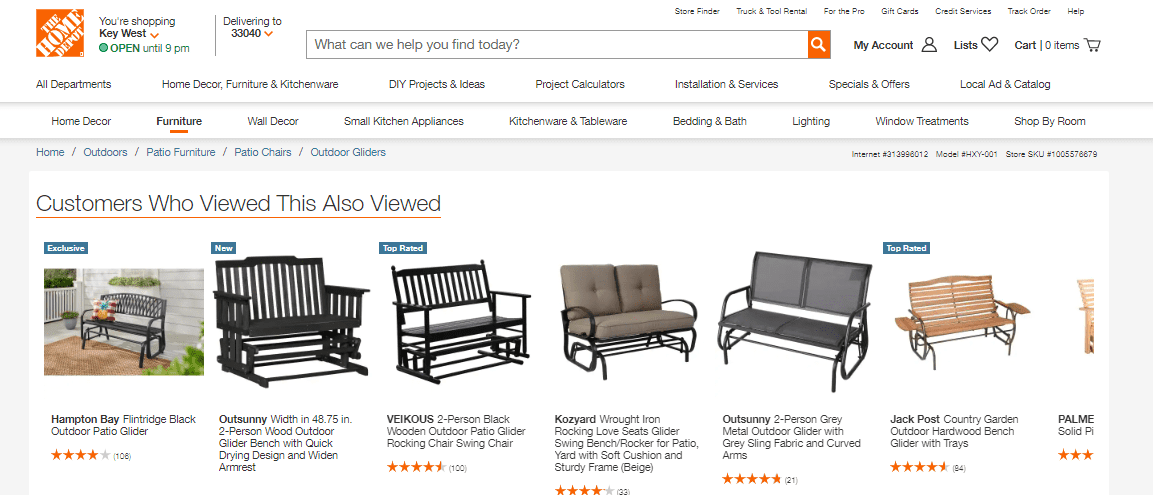 You can find a few black rocking chairs for under $200. These are generally budget rocking chairs, and while you can find some great options (especially if you hit a sale or shop clearance), don't go too cheap. You'll have to sacrifice something about the materials and features. $200 to $300 will buy you a sturdy, mid-range black porch rocking chair. $350 and up is usually rocking chairs with more features, up to ergonomic, custom, and sustainably-sourced chairs. 
Budget Black Porch Rocking Chairs ($200 and Under)
Amazon, Walmart, Target, Wayfair, Overstock, Ikea
Medium Range Black Porch Rocking Chairs ($200 to $300)
Ace Hardware, Home Depot, Lowes, Menards, Wayfair
Medium to High-End Black Porch Rocking Chairs ($350 and up)
Cracker Barrel, Pottery Barn, Furniture Stores, Amish Furniture Shops
See also: 5 Best Porch Swings with Canopies
Step Four: Select Frame Materials
Certain materials simply fare better indoors vs out. Here are materials I'd select–and skip- for a black porch rocking chair. 
Top Choice: Black Polywood
Black Polywood is made with recycled, high-density plastic. Before you write it off, consider that it mimics the look of wood, is sustainable, and can last for two decades with little maintenance. Polywood is strong, weather-resistant, and should not easily crack, chip or fade. I love that it's easy to clean, can be left out all year long, and won't attract mold or mildew. The only downside is possible BPA and leads content. If you're worried about either, there are beautiful black Polywood rocking chairs that are made in the USA and certified BPA and lead-free. 
Good Choice: Treated Hardwood 
Hardwood includes oak, maple, acacia, mahogany, maple, walnut, and beech. Teak is also hardwood, but you're not going to find it stained black. The stain needs to be fade-resistant and weather-resistant. Protection from UV rays, moisture, and rain is a must. Usually, a polyurethane coat is applied. I like the classic feel of hardwood– just know you'll need to treat your black rocking chair occasionally, even with a seal and finish. If you live in an insect-heavy region, mahogany and walnut are recommended. 
Fair Choice: Treated Metal, Resin Wicker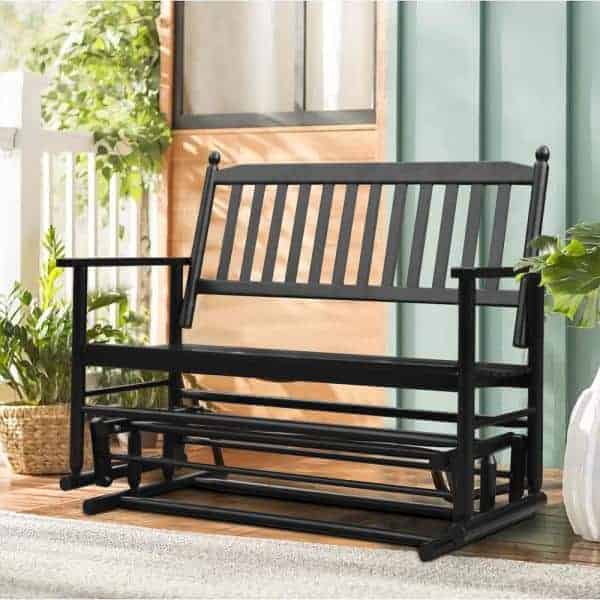 Metal
There are a few options for black metal rocking chairs, which are usually aluminum but occasionally another material, such as wrought iron or steel. Steel and iron are stronger than aluminum, but all metals need to be treated, usually powder-coated, to prevent corrosion and rust. These rocking chairs are less expensive and lightweight, but one thing I don't love is that metal traps both heat and cold– a special concern for a black chair. 
Resin Wicker
Regular wicker isn't suited for the outdoors. Resin wicker, on the other hand, adds charming and rustic style to a black porch rocking chair. It's also lightweight, weather-resistant, and easy to care for. However, it's far more fragile than Polywood or hardwood. 
Poor Choice: Plastic, Softwood, Untreated Wood, Regular Wicker
Avoid any softer wood rocking chairs (such as pine, fir, and cedar), regular wicker, regular plastics, and untreated woods. 
Step Five: Select Additional Features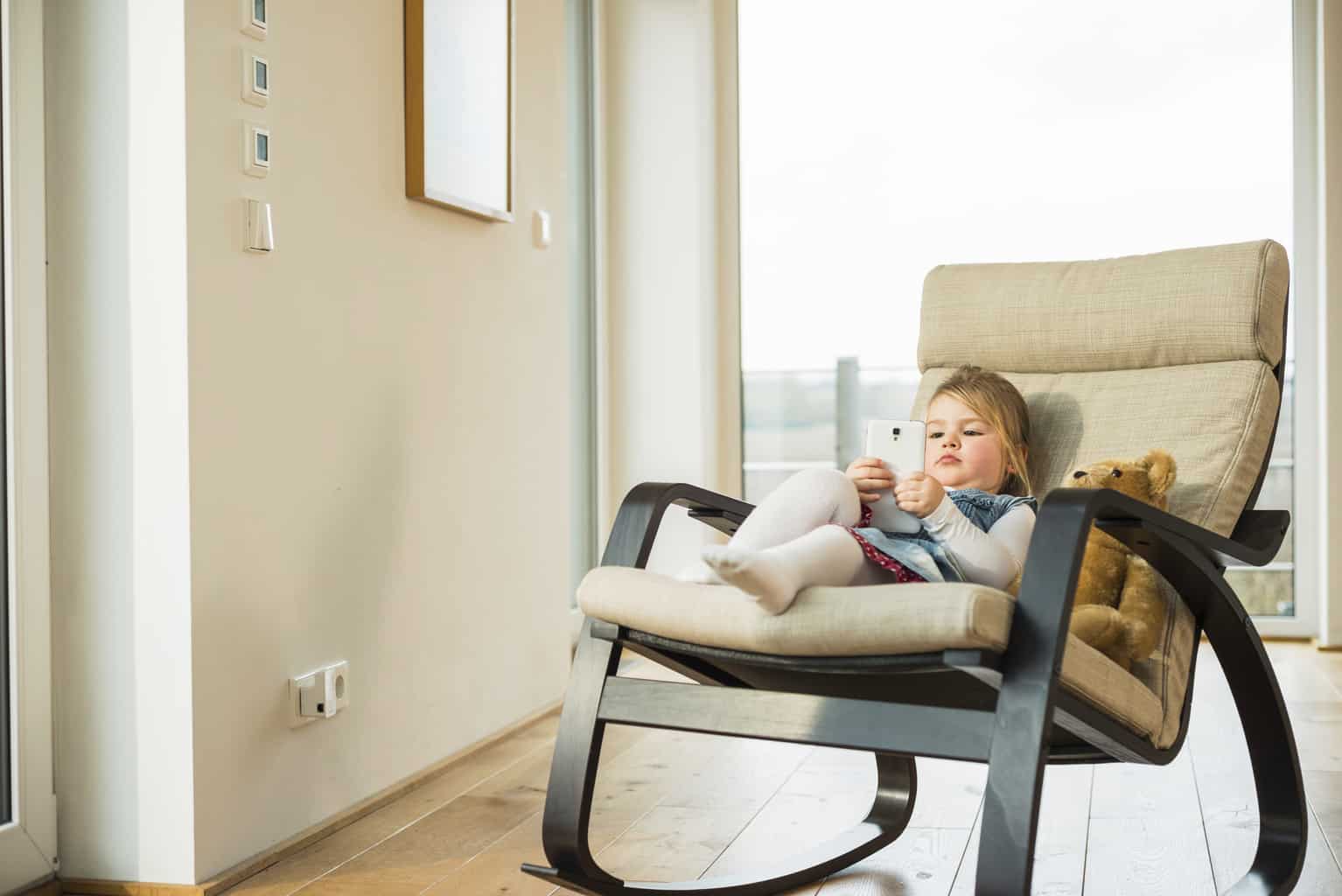 Finally, it's time to select the features that will make your black rocking chair the best fit for you. These are features I'd consider optional- but ones that will help you enjoy your black rocking chair more, especially if you plan to spend long hours having back or muscle pain. Usually, these come with a higher price tag.
Ergonomic Construction
I don't buy a rocking chair purely based on the term ergonomic, because that can imply different things. What you want to look for is a contoured back, which provides additional support. That contoured back should focus on the lumbar back region. The armrests may also be curved, fitting in with the natural movement of the body. Footrests are also nice features. Seats that are sloped are also more supportive than flat seats. 
Cushions 
You can always buy separate cushions for your rocking chair (see recommendations under my final suggestions) though some come with cushions. Cushions need to be weather-resistant and at least an inch thick for proper padding. Polyester works, but olefin is even better, and Sunbrella fabric is the most comfortable, durable, and stylish. 
Higher Standards
Sustainable sourcing, BPA-free, lead-free, or made in the USA– these are all features of a premium black rocking chair. 
Black Rocking Chairs for Your Porch: A Few Favorites
Here are a few of my favorite black rocking chairs you can buy online. This showcases a balance of price, features, and unique designs.  Every rocking chair is made with durable, weather-proof materials. I also only select my favorite black rocking chairs from reputable stores. 
Slate/ Black Indio Metal Rocking Chair Frame
This isn't your average black rocking chair. Pottery Barn offers a strikingly modern design with a grayish-black metal frame. This minimalist industrial black rocking chair is constructed with an aluminum frame treated with a powder-coated finish. It won't rust or corrode and is stylish and unexpected. The compact size is still sturdy, with an impressive weight capacity of 300 pounds. It pairs with stylish Sunbrella slipcovers (sold separately). This is the type of rocking chair that would look at home both indoors and outdoors. Buy Here. 
See also: Best Fire Pit Covers Guide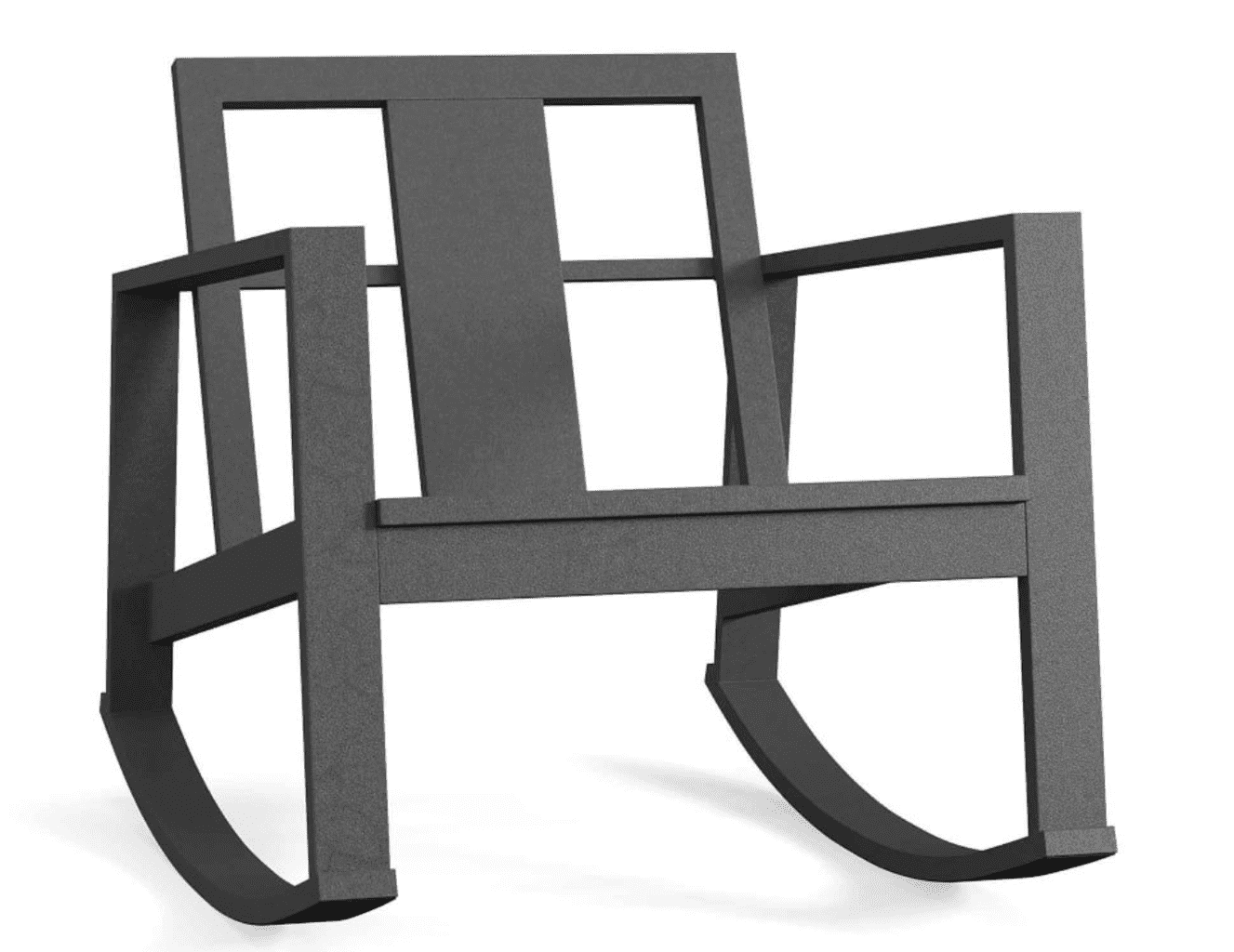 Pros
Rust and Corrosion Resistant

Compact, Modern, and Unique Resign 

Powder Coated 

Pairs with Sunbrella Slipcover, Accent Tables
See also: How to Find the Best Patio Tables for Your Outdoor Space
Cons
Aluminum is Not Quite As Strong as Steel

More Gray in Sunlight than Black 
Soft Black Amish Polywood Estate Rocking Chair  
If the timeless design of this soft black rocking chair isn't enough to convince, maybe its features will. This black rocking chair is made in the USA by Amish communities and is crafted with care. Genuine Polywood lumber provides a sturdy and weather-proof build, secured with Marine-grade hardware. The seat is gently contoured to provide lumbar back support. I like the smooth appearance of this rocking chair and how easy it is to maintain. Even better, it comes with an incredible 20-year warranty and a competitive price. Buy Here.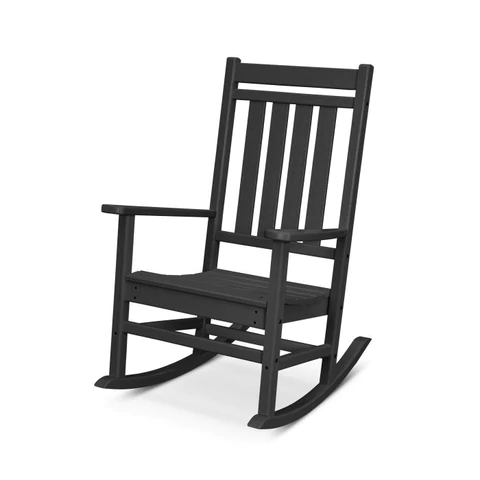 Pros
Generous 20-Year Warranty 

Durable and Weather Resistant 

Made in the USA by Amish Communities

Contoured Seat
Cons
Not BPA-Free

Assembly is Tricky 
Red Barrel Studio Outdoor Solid Wood Black Rocking Chair
While wooden rocking chairs require a little more upkeep, there's something I love about a classic wooden rocking chair. This black rocking chair from Wayfair checks all the boxes: it's weather-resistant, sturdy, and offered at a great price. Genuine acacia hardwood is treated with a water-resistant coating. The beautiful solid black sheen is resistant to fading, even in sunlight. The classic slatted seat is given an upgrade with a gently sloped back. The rocking movement is slow and gentle for all ages and suited for up to 300 pounds. This rocking chair comes with a 1-year warranty against defects, Buy Here.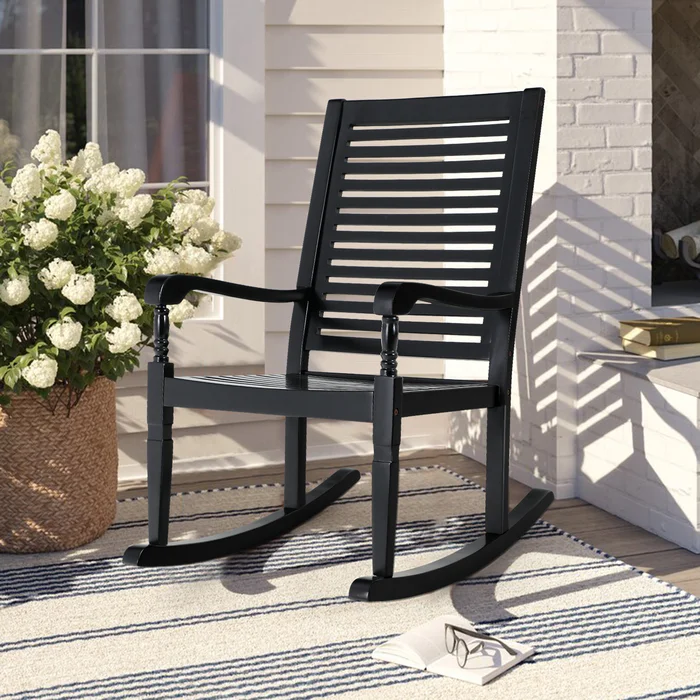 Pros 
Weather-Proof and Fade-Proof Coating

Beautiful Acacia Hardwood

Classic Black Hue

Gentle Rocking 
Cons
Requires More Upkeep

Imported
2-Person Wooden Outdoor Patio Glider Rocking Chair
Sometimes called a double rocking chair, a glider is a version of a rocking chair that works a little more like a swing. Its frame includes a four-bar attachment, which connects and moves the seat. A gliding rocking chair has slightly smoother movement and operates side to side vs back and forth. This is a great option if you want a double-seated rocking chair, with a price that's very hard to beat (under $200). A hardy stainless steel frame is powder-coated for weather resistance. This rocking chair can hold up to 500 lbs and comes with a 30-day manufacturer's warranty. Buy Here.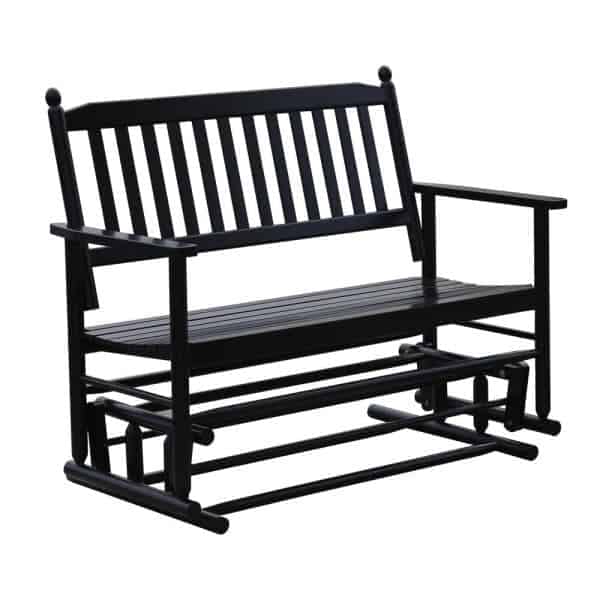 Pros
Sturdy Stainless Steel Frame

Seats Two 

Excellent Price 

Smooth Movement
Cons
May Get Hot in Summer

Very Limited Warranty 
Black Polywood Braxton Rocking Chair
Looking for a truly luxurious black rocking chair for your porch? This ergonomic rocking chair will tempt you to spend hours on your porch outside. This rocking chair is nothing short of cozy, with rustic meets contemporary charm. This black rocking chair is constructed with sturdy Polywood and secured with heavy-duty hardware. Leave this USA-made rocking chair out in the snow, wind, or coastal locations without much maintenance. The deep, laid-back seat is accompanied by a supportive X-back. Select from unique solid and patterned cushions. Everything is water and UV-resistant. This black rocking chair is truly exceptional. Buy Here.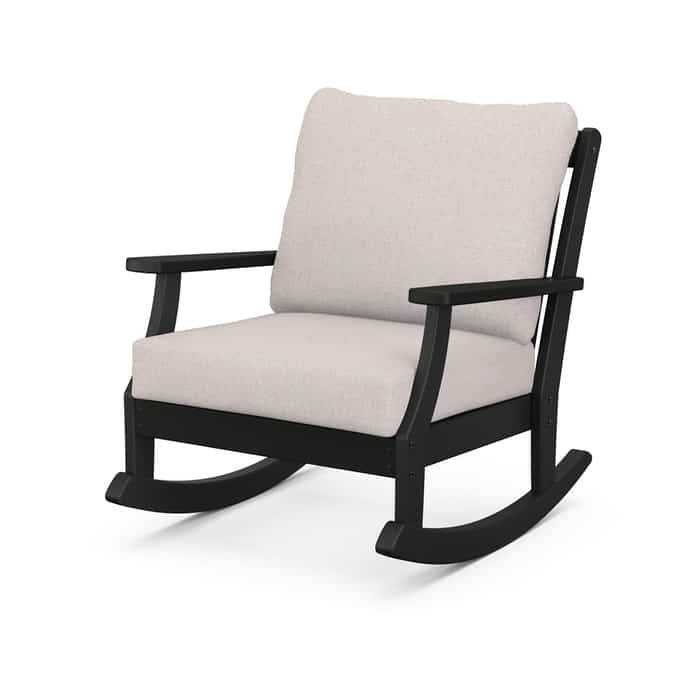 Pros
Custom Weather-Proof Cushions

Laid Back, Comfortable Design

Suitable for All Weather

20- Year Warranty 
Cons
Expensive 

Lower Seat May Be Harder to Get Out Of
Frequently Asked Questions
Question: Are old rocking chairs worth anything?
Answer: Old rocking chairs may or may not be worth much. It depends on their condition, rarity, and how old they are. For something to be considered an antique, a rocking chair must be a century old or more. Truly antique rocking chairs are worth a few hundred dollars to around $2,000. Usually, the resale value of rocking chairs isn't that high. If you don't want to sell an old rocking chair, it can be repurposed into a bench or storage unit. Many rocking chairs can be recycled. 
See also: Best White Rocking Chairs for Porches
Question: How do you update a wooden rocking chair?
Answer: Wooden rocking chairs, especially those used outside, require maintenance. That often means oiling and resealing. But if you're mostly interested in updating the aesthetic of a wooden rocking chair, there are several choices. Add or trade out rocking chair cushions. Cushions range from simple solid colors to plaid and rustic to floral and so many more patterns. Not only do cushions add style, but they also provide more back support. Wooden rocking chairs can also be stained for a deeper hue. Just be careful with this process, especially if the wood has been stained before. 
Question: Can Cracker Barrel rocking chairs go outside?
Answer: Cracker Barrel rocking chairs aren't merely nostalgic. There's a reason why you see them always out on the porch if you visit one of their restaurant locations. Even without a covered porch, rocking chairs from Cracker Barrel are designed to be used outside. They are crafted with weather-resistant materials, durable, and highly rated. However, there are some minor exceptions. Some of their chairs have woven seats. Woven seats are more fragile, and Cracker Barrel recommends you store these chairs indoors during the Winter. 
Final Thoughts
If you want to create a classic contrast, opt for a black and white theme. Add interest with pops of color with potted plants, a welcome mat, or another accent decor. Of course, one of the best ways to add visual interest to a black porch rocking chair is shopping for fantastic accent cushions. 
See also: Best Black Planters for Front Porch
Final Recommendations: Statement Cushions for Black Porch Rocking Chairs
Cushions are an excellent way to upgrade your black porch rocking chairs– but they need to be chosen with care and maintained. I only select all-weather cushions. My favorite material is something like Sunbrella, which provides the same moisture and mildew resistance as polyester but is stronger. 
 At Kohl's and Anthropologie, you'll find floral and bold cushions. Overstock has an array of quality olefin cover sets, including these versatile to colorful Terrasol Outdoor Cushions. 
Recommended Reads: