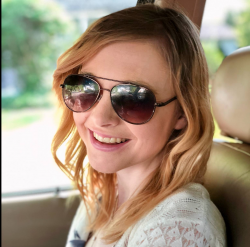 Latest posts by Erin Jamieson
(see all)
My grandmother is 90 years old- and she's still always upgrading her porch and back patio. From a charming goldfish pond to landscaping projects and seasonal potted plants, there's always something new to enjoy. But one of the best upgrades she ever made was purchasing a wicker porch swing. 
Wicker porch swings are popular for a reason. Ranging from simple and contemporary to antique or vintage-inspired, they're one of the best ways to elevate your porch. While much patio furniture is used intermittently and taken in and outside, the best wicker porch swings can stay outside all year long.
Ideal for entertaining and adding a cozy aura, a wicker swing is one of the best ways to spruce up your porch this year. But not all wicker porch swings are equally durable. Here's your guide to the best wicker porch swing styles and my picks. 
Bottom Line Up Front Summary
The best wicker porch swings are weather-resistant, with a sturdy steel frame. For uncovered porches, synthetic but strong material like resin is your best bet. Porch swings should have a 1-year warranty or better and include either a stand or sturdy chain for hanging. If I had to recommend just one porch swing, it would be the Hampton Bay Metal Wicker Daybed Porch Swing. It's more expensive than other porch swings but it's among the sturdiest. The charming style is built with weather resistance and includes a canopy for sun and rain protection. 
My Top Picks
See also: Best Wayfair Porch Swings Guide
How to Find the Best Wicker Porch Swings (My Criteria)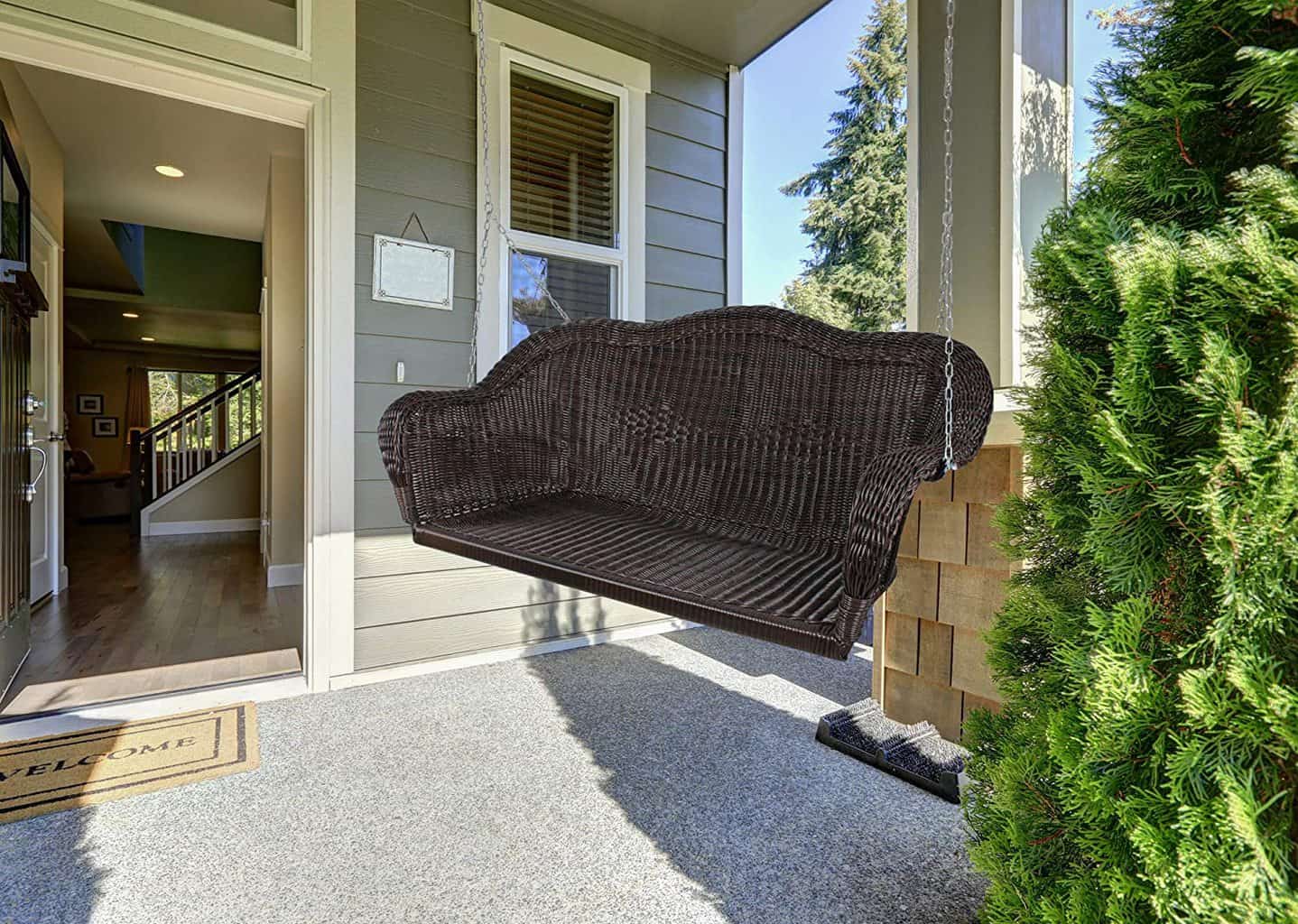 I've always loved wicker porch swings. Maybe it's the memories of family get-togethers and lackadaisical Saturday afternoons with my cousins and grandparents. Maybe it's the timeless charm or just a reminder to spend more time outdoors. But as enjoyable as a wicker porch swing is, it's best when you can enjoy it year after year. Here's how I select the best wicker porch swings. 
Best Wicker Materials
Something you may not know is that wicker swings are made out of different materials. The term wicker refers to the way the fabric is woven. You need materials that are both weather-resistant and durable. Here's a look at your most common options for wicker porch swings. 
Main Material
Pros
Cons

Rattan 

Natural Materials 

Classic Look

One of the Hardest Woods

Comfortable

Not Weather-Resistant

Fades in Sunlight

Not Moisture-Resistant 

Cane

Natural Materials

Classic, Light Wood

Easy to Paint

Comfortable

Not Weather-Resistant

Fades in Sunlight

Not Moisture-Resistant

Resin

Strong and Lightweight'

Weather-Resistant

Moisture-Resistant 

Stain-Resistant

Synthetic

Blows Over in High Winds

Can Crack in Very Sunny, Humid Areas
As much as I love natural materials, I'd only recommend cane and rattan wicker for screened-in porches. Outdoor porches do best with weather-resistant resin. Resin is one of the most durable materials for weathering all types of climates and is easy to maintain. Just keep it out of hot, direct sunlight if you're leaving it out all the time. 
Swing Size
A standard wicker porch swing seats 2 and is around 4 to 5 feet wide. There are also options for a one-seater or up to 6 people. Your personal preference and the space you're working in will determine the best size. I think that 2 and 3-person swings tend to be the most practical (or 1 person for a tiny porch). Depth averages from 18 to 36 inches. This is a matter of personal comfort, including how much space you want or need to lean back. I try to shoot for a depth of about the middle range. It provides another room for people of different heights without taking up too much space. 
Features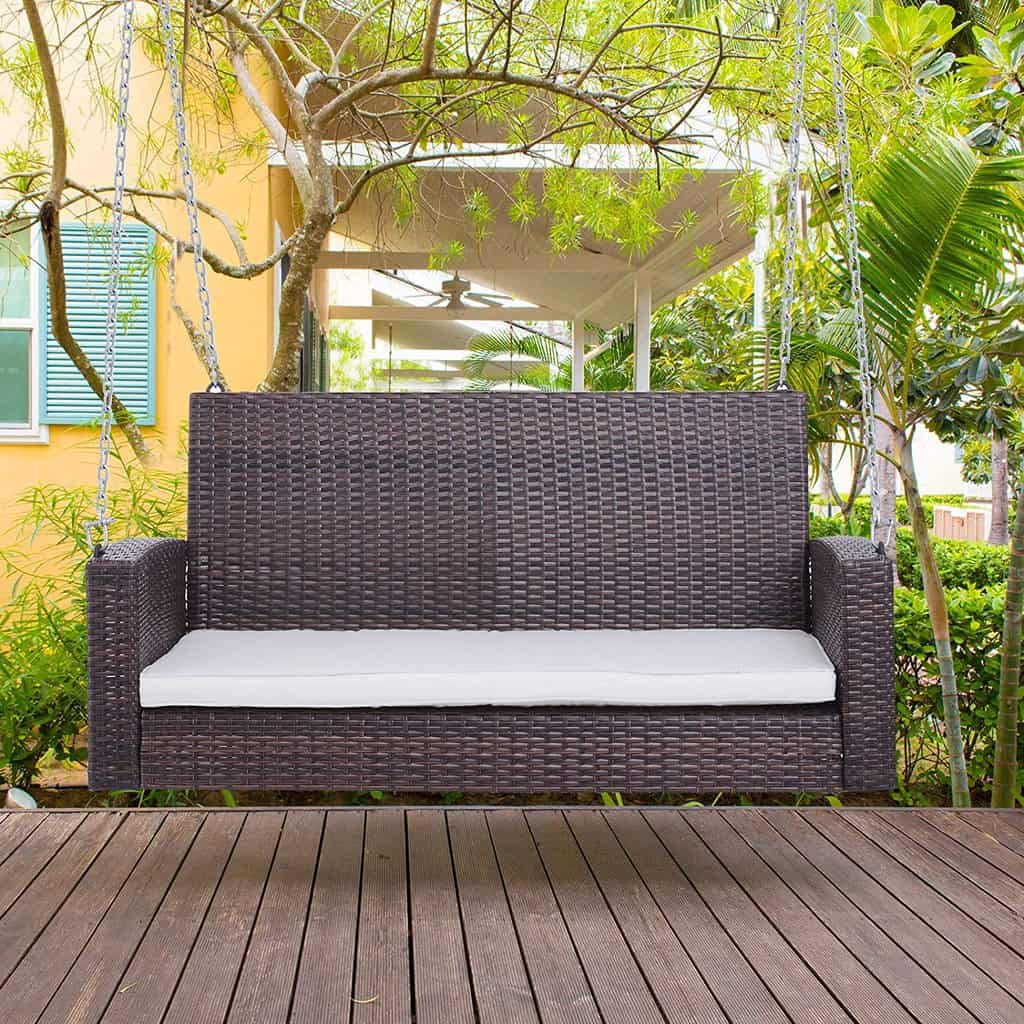 Canopies
If you want a budget-friendly wicker swing and have somewhere to hang it up, this isn't a must. However, both a canopy and a stand are excellent options. A canopy protects you from the sun and even some insects. It extends how much use you'll get out of a wicker porch swing if you're in a sunny region. 
Stands & Ropes 
Meanwhile, a stand is a must-have if you don't have anywhere to hand your swing up. A well-built stand may also weather high winds better. Stands should be made out of sturdy, weather-resistant material, such as aluminum, treated steel, or weather-resistant wood. Steel chains, if hanging, are more durable than rope chains. 
Frame
While wicker is the main material for the seat, the frame itself is also important. The best wicker porch swings are usually made with weather-resistant stainless steel or reinforced steel. You want something sturdy if you plan to leave it out all the time. 
Warranties & Reviews 
While it's not a guarantee, a combination of positive reviews and a manufacturer's warranty are both signs that this wicker porch swing is built to last. The more extensive the warranty, the more consideration the manufacturer has. 
Where to Buy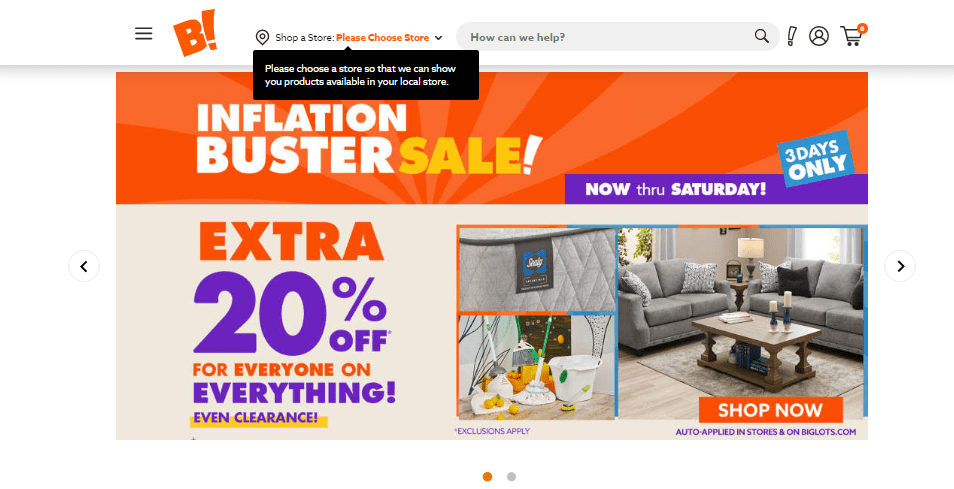 Wicker porch swings are more popular than ever– so there's no shortage of places you can buy one. Amazon and Walmart carry some options. I like home improvement stores, including Lowe's and Home Depot. If you want to save money, sometimes Big Lots, Target, or Overstock have good deals. Wayfair is a great place to shop for convenient online shopping. Of course, there are also great smaller stores too. I check customer and professional reviews, as well as shipping and handling policies. I also like The Porch Swing, which is a company based in Kentucky
Wicker Porch Swings: My Picks 
Wicker porch swings usually have a touch of vintage or rustic, but more and more I'm seeing contemporary styles too. These swings all have free or optional warranties and are made with durable, weather-resistant materials. From quirky egg-style, one-seater to rustic farmhouse swings for entertaining, these are just a few of my favorite wicker swings. Hopefully one of these will inspire you to upgrade your porch. Some have links to coordinating cushions, but you can also check out my cushion ideas under 'final recommendations.' 
See also: Ultimate Farmhouse Decor Ideas
Sunnydaze Outdoor Wicker Danielle Hanging Chair Swing
If you have a small space to work with and want a unique look, consider an egg-shaped swing. These are becoming more popular and for good reason. This type of wicker chair swing is perfect for reading or just enjoying an outdoor space. This swing, in particular, is from Target and it's one of the best you can buy. The steel frame provides stability and holds up to 265 pounds. The resin wicker is smooth and splinter-free. Built to be fully weather-resistant, the design is both charming and practical. I also love that it includes a comfortable headrest and cushion, plus a one-year warranty. Place a potted plant nearby and you have your new relaxation and reading corner. Buy Here.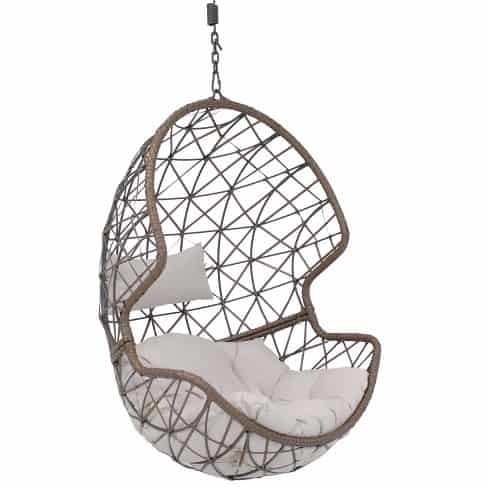 Pros
Strong Steel Frame

All-Weather Resin

Playful Egg Design

Cushion and Headrest
Cons
Only For One Person

Doesn't Include Stand
Novogratz Poolside Gossip Collection Sally Swing
Touches of teal, lightweight construction, and durable materials make this wicker porch swing stand apart. Whether you have a small pond or pool nearby, this wicker swing adds a breezy and light aesthetic to your porch. This gorgeous wicker swing is made with a weatherproof steel frame, wrapped with durable wicker. The swing set includes a back cushion, a set cushion, and 2 lumbar pillows. This set is best when suspended 12 to 24 inches from the ground and can hold up to 500 pounds. The rope is fully adjustable and there's an affordable optional warranty. As much as I like the seafoam blue and turquoise hues, you can also select gray, black, and pink stripes. Get ready to relax in this stylish wicker porch swing. Buy Here.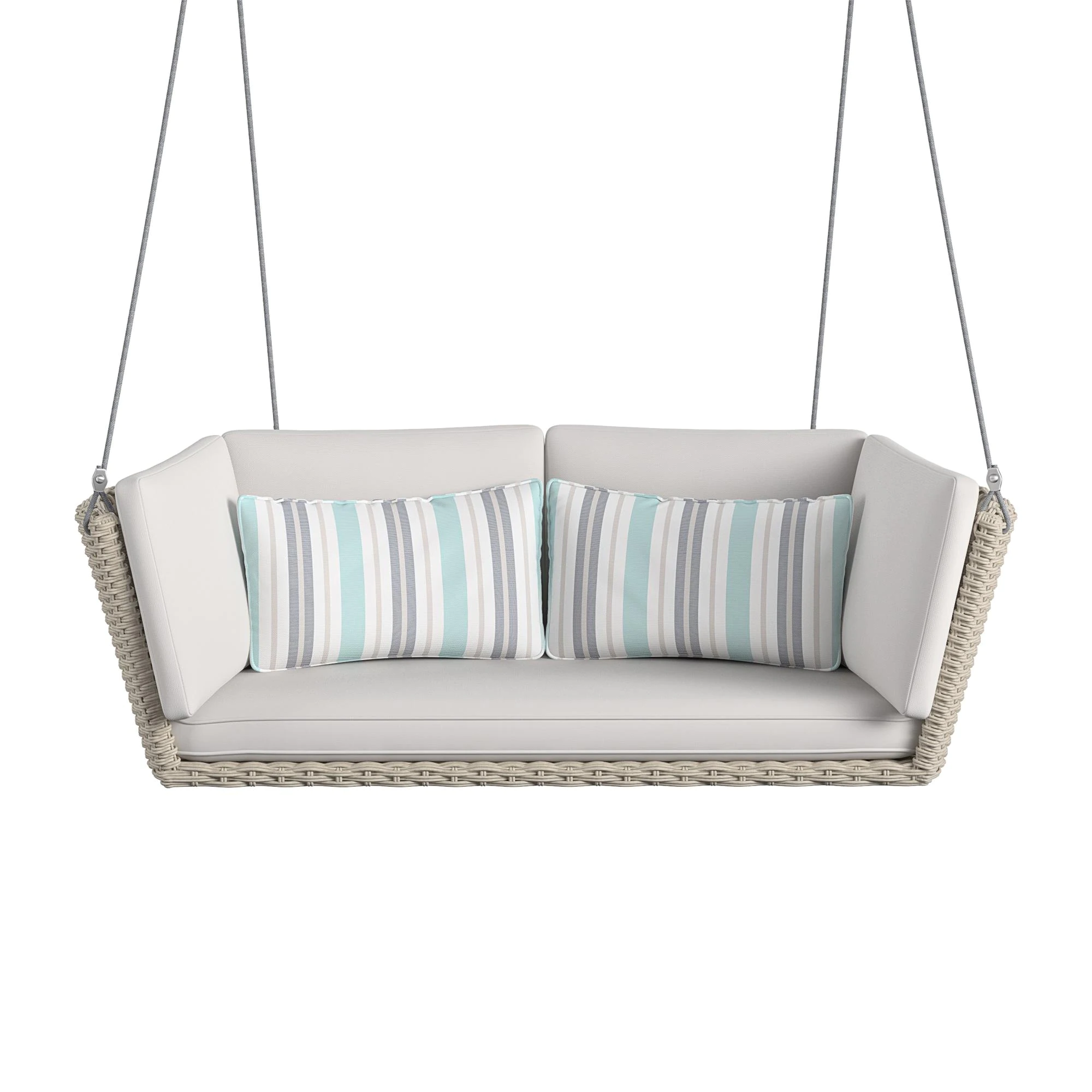 Pros
Weather-Resistant Steel Frame & Wicker

Charming Color Combinations

Pillows Included

Holds Up to 500 Pounds
Cons
Warranty Isn't Free

Requires Assembly 
Better Homes & Gardens Camrose Farmhouse Swing
I admit it: I have a soft spot for farmhouse-inspired furniture and decor. I'm far from alone in my love for a farmhouse look. You don't have to have a traditional farmhouse, though, to enjoy this style. Touches of rustic styles pair well with boho, vintage, cottage, and even contemporary homes. I'd style this quaint farmhouse wicker porch swing with colorful potted plants or even a Zen garden. This wicker swing is woven by hand and is at once comfy and stylish. The cushions include zippers for easy cleaning and everything is fade-resistant against UV light. You also have a sturdy steel frame that's suitable for all weather. Since it's the Better Homes and Gardens brand, it's a great price. Buy Here.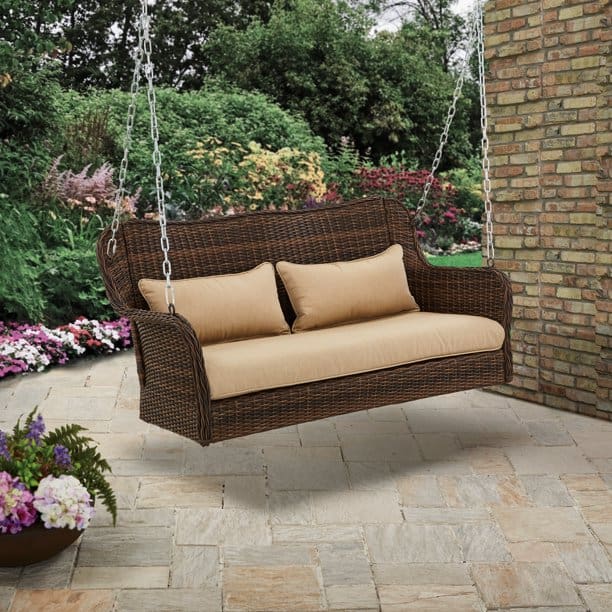 Pros
Cushions with Zippers- Easy Cleaning

Hand-Woven Wicker 

Rustic Charm 

Sturdy Steel Frame
Cons
Difficult Assembly 

Only in Brown/ Tan 
See also: Best Black Planters for Front Porch
Hampton Bay Metal Wicker Daybed Porch Swing
If you want a statement wicker porch swing, this is it. For those who prefer a sleek, contemporary style, this shows how wicked can stick to fit. Even if you're in an area with high winds, this heavy-duty wicker swing is unlikely to budge. The durable steel frame is brushed with a brown finish and includes a generous canopy for protection from the sun. The seat cushion and canopy are both faded and UV resistant, so you won't have to worry about replacing them before the frame. Classic, dark-taupe synthetic wicker provides an effortless finesse to the contemporary style. I love that this wicker porch swing comes with a generous 3-year warranty, free of charge. Buy Here.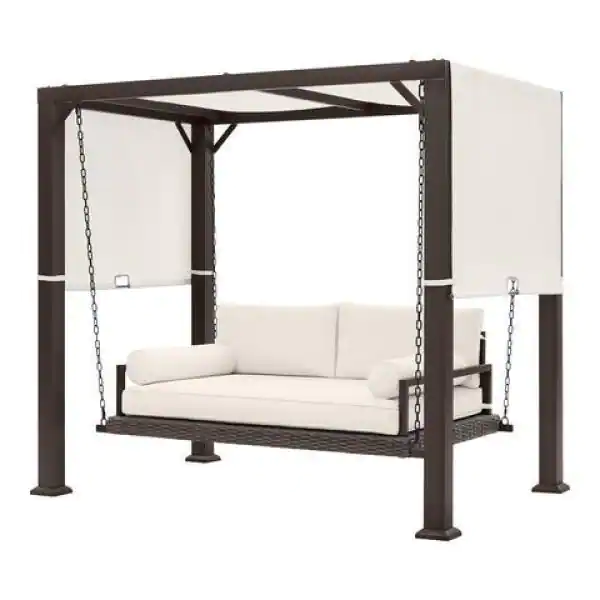 Pros
3- Year Warranty

Steel Frame with Canopy

Fade/ UV-Ray Resistant

Stylish and Comfortable 
Cons
Expensive

Challenging Assembly 
2-Person Rattan Wicker Porch Swing
If you have a covered porch or partially covered porch, this pleasing wicker porch swing may be a great addition to your home. Though it's a rattan wicker material, it's still weather-resistant, so you don't need to worry about some stray showers. The swing's look is at once clean, classic, and contemporary. It's sturdier than many hanging swings– able to hold up to 700 pounds. The cushion is removable for easy cleaning. The steel chains are reinforced to withstand higher winds. They're also rust-resistant. This porch swing comes in white and gray or brown and beige color combinations and is versatile. Your purchase comes with a 1-year warranty against manufacturing defects. Buy Here.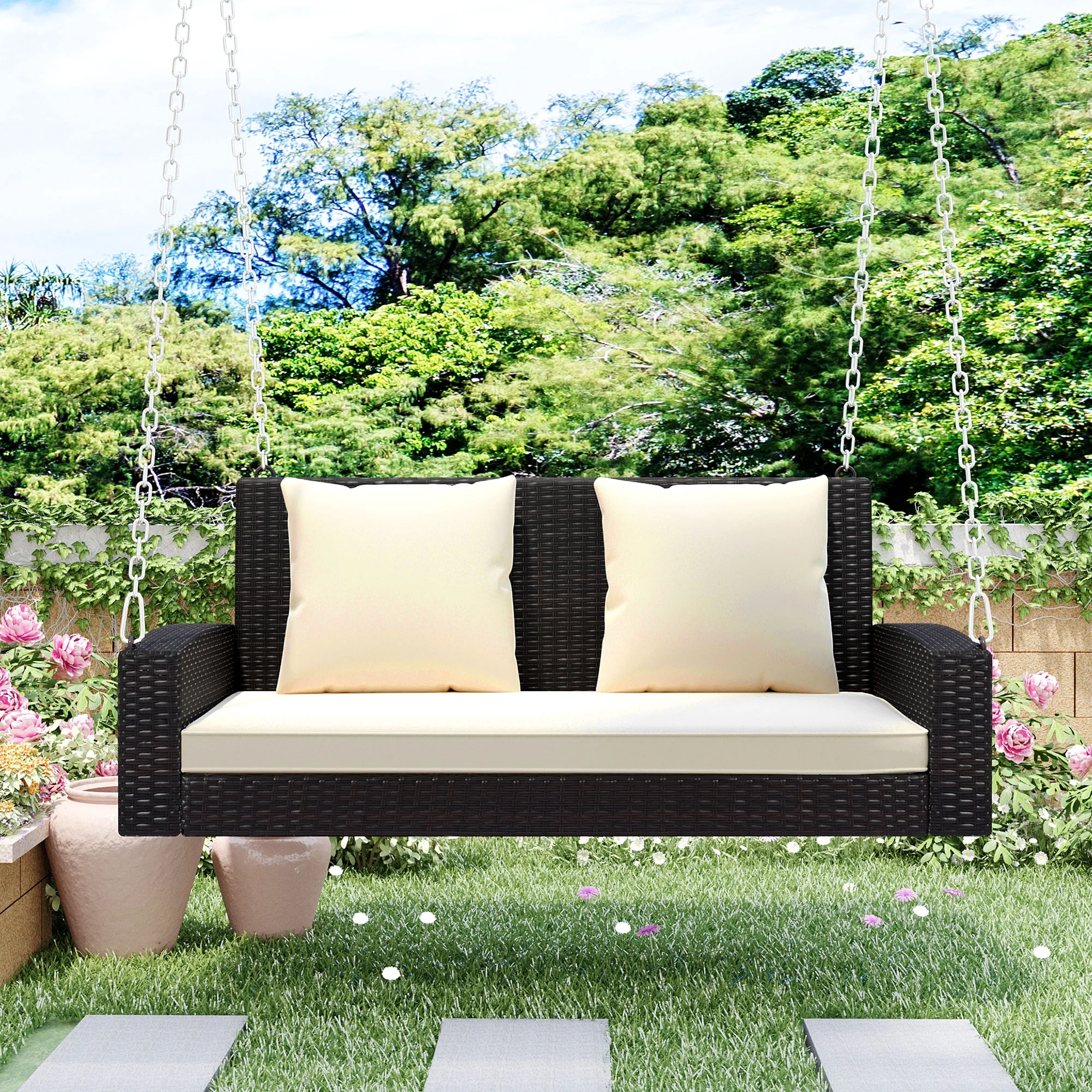 Pros
Heavy Duty Steel – Up to 700 Pounds

Rust and Weather-Resistant

Comes with Warranty 

Versatile 
Cons
Frequently Asked Questions
Question: Are wicker chairs durable? 
Answer: Wicker chairs and porch swings are favorites for a reason. They last over a decade if taken proper care of. However, there are some caveats. Some wicker swings and chairs are waterproof or weather-resistant and can be left outside. This is especially true for wicker made with resin. Not all wicker furniture is as durable, but usually, wicker can be left outside or used indoors. The biggest downside to a wicker's durability is it stains more easily and wicker that is not water-proof can become damaged from water over a long period. High-quality wicker chairs are durable, but can't quite match iron-wrought patio furniture. In short: the durability of wicker swings depends on the construction and type of fabric used. 
See also: Best Fire Pit Chairs Guide
Question: Are wicker and rattan the same?
Answer: Rattan and wicker are terms used interchangeably, but they describe different things. Wicker refers to the way the fabric is woven. Rattan is categorized as a natural fabric, while something like polyester is synthetic. All that means is that rattan is made with materials that naturally exist. In this case, rattan fibers can be made from hundreds of timber species from tropical regions. They are known to be hardy and durable. 
Question: What is the difference between wicker and cane?
Answer: Wicker is the weave of a fabric. Cane is a type of fabric, made from rattan. Cane is a part of rattan that's been stripped. Cane wicker chairs will have a slimmer weave than rattan and be both a bit less expensive and more durable. The wood itself is strong, but you aren't getting the full bulk of the rattan. Cane is a naturally lighter color, and ideal for painting a light color, such as white or yellow. It also can be treated for weather resistance. 
Question: How do you repair a wicker swing?
Answer: Wicker swings, even the best ones, can't last forever. From inclement weather to pets, kids, and daily life, wicker can unravel or the swing itself might break. Of course, you have three options. You can replace it with a new swing, head to your home goods improvement store (some may offer repairs), or try to DIY. Wood glue can be applied to unraveling wicker strips. Tuck any loose strips back into the weave. However, sometimes this is only a temporary fix. Watch this Wicker Repair Tutorial Here. 
Final Thoughts
If you know how to find the best wicker porch swings, they should last you a decade or even longer. Wicker porch swings can be a fantastic way to add a cozy and relaxing feel to your porch or backyard patio. You could even install a wicker patio swing overlooking a garden. Now keep in mind that wicker isn't the most comfortable furniture you can buy. That's why most opt for wicker swings and chairs with cushions. If you do have cushions, look at the fabric used. In most cases, it's a good idea to keep cushions inside when they're not in use. Many cushions aren't weather resistant and will mar in rain. If you want less maintenance, darker cushions may be a better option. 
Final Recommendations: Cushions & Cleaners for Wicker Swings
While most wicker swings come with cushions, they don't always. Wicker swings need cushions because they simply aren't as comfortable as some other materials. But I also like customizing wicker swings by trading out cushions or even rotating them by season. Doing so is not only a stylistic choice: it's also practical. By rotating your cushions, they'll wear better. Another way to make your wicker swing look new is maintenance. While the best wicker porch swings are low maintenance, a little TLC goes a long way. 
Outdoor Porch Swing Cushions From Wayfair 
Wayfair was an excellent selection of cushions suited for all weather conditions. You'll need to find cushions that meet the specifications of your porch swing. But you need to make sure you're selecting hardy outdoor seat cushions to match your durable wicker swing. Look for polypropylene fabric that's UV resistant or solution olefin or acrylic. These materials are daily durable for the outdoors and you'll get longer wear from your purchase. Shop Wayfair Pillows and Cushions Here. 
Murphy Oil Soap for Cleaning
While most mild soaps will do, a specialized cleaning solution can get your wicker porch swing back to new. An oil base is slightly more effective than other soaps. This can make scrubbing away dirt easier but isn't too harsh. Even better, all of these soaps are affordable and helpful to have on hand for other cleaning purposes. Buy Murphy Oil Soap Here. 
Recommended Reads: