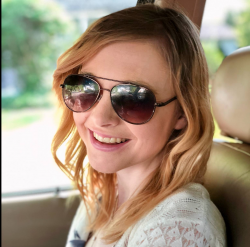 Latest posts by Erin Jamieson
(see all)
Strange as it sounds, some of my fondest memories have been spent in two places: on a porch swing at my Nana's home, and at Lowe's with my father. And it just so happens that Lowe's has more styles and prices for porch swings now than when I was growing up. 
A porch swing isn't just a swing. For me, it's always been a place to spend valuable time with family and enjoy the beautiful outdoors. A quality porch swing, like my Nana's, can last for years and years. I can truly tell you that having a porch swing and the opportunities it brings is priceless. 
True as that may be, not all porch swings are worth your money. At the same time, most of us don't have an endless budget for backyard and patio improvements. That's why I'm giving you a guide to buying the best porch swings from Lowes.
My nostalgia aside, Lowes offers porch swings at different prices and styles, plus professional services. But knowing how to choose the best porch swing is key to you being able to enjoy it for years to come. 
Bottom Line Up Front Summary
Lowes sells mid-range porch swings for a fair price. I recommend buying a Polywood, treated steel, or treated hardwood swing. Hanging swings take up less space, but stand-alone swings are a bit sturdier. I also recommend shopping for their swings with strong steel chains and ones that hold around 400 lbs or more. 
If I had to select just one swing porch, it would be the Style Selections 3-Person Outdoor Swing. This swing is durable, holds 3 people, and includes attractive and comfortable cushions. It's also a bestseller and competitively priced. 
My Top 4 Picks
Should You Buy a Porch Swing from Lowe's?
I admit a certain fondness for Lowe's. I grew up going there with my parents and brother. From house painting projects to buying a new mailbox or shopping for larger home improvements, there was always something new and exciting.
But my memories aside, I've come to realize that there are definite advantages and disadvantages to shopping for patio additions of any kind at this store. Whether you're shopping online or in stores, here's what you need to know before you buy a porch swing from Lowe's. 
The Good 
Lowe's, as you know, is a home improvement store, not a furniture store or a specialty patio or swing store. The good news is that means Lowe's prices are usually more competitive than furniture or designated store. At the same time, Lowe's has professional installation services and expertise in DIY and home improvement projects.
That can't be said for potentially cheaper places, such as Walmart and Amazon. Lowe's also offers discount coupons, and discounts for the military, and has seasonal sales. 
They carry nearly 300 porch swings, though that also includes gliders. Search filters are superior to a website like Walmart. You can filter by price, brand, seating capacity, collections, frame type, and more. Porch swings are neither the cheapest nor the most expensive, making them a collection of reasonably priced and practical styles.
I also appreciate the variety of materials to choose from, flexible shipping options, and the product comparison tool. Plus, even if you plan to buy a porch swing online, there are physical stores you can visit to get further support and ask for guidance. 
The Not-As Good
Though 300 options sound like a great variety, when you filter out gliders, it's closer to 250 styles. The styles do include rustic and contemporary, but I wouldn't say that any of these porch swings stand out as especially unique or innovative.
Colors usually are darks or neutrals, with options here and there for mostly solid colors. The styles are versatile, just not particularly compelling or exciting. 
Materials range from slightly lower-end (affordable) to medium-range. You won't find absolutely premium or high-end porch swings. You also won't find high-end designers, and most of their porch benches don't adhere to the highest standards, such as ethical or sustainable sourcing.
Most porch swings aren't handcrafted or made in the USA (as they are for places like The Porch Swing Company). And, as I'll discuss later, their wooden swings lack the transparency I'd like to see. 
Verdict 
Lowe's is a decent place to buy porch swings if you want a balance of price, selection, and quality. I see it as a middle ground between a budget store, like Walmart, and handmade porch swings from somewhere like the Porch Swing Company.
The styles aren't outstanding, but they're pleasant and work well with most porches. Lowe's offers a collection of porch swings that I think appeals to the average customer. 
How to Choose a Porch Swing at Lowe's 
Deciding where to buy a porch swing is one thing, but knowing how to choose the best porch swing at Lowe's is another. I don't just look for porch swing sales, but the hardware, quality of materials, and other features that make a difference in your purchase. 
See also: Best Fire Pit Chairs Guide
Step One: Find the Right Porch Size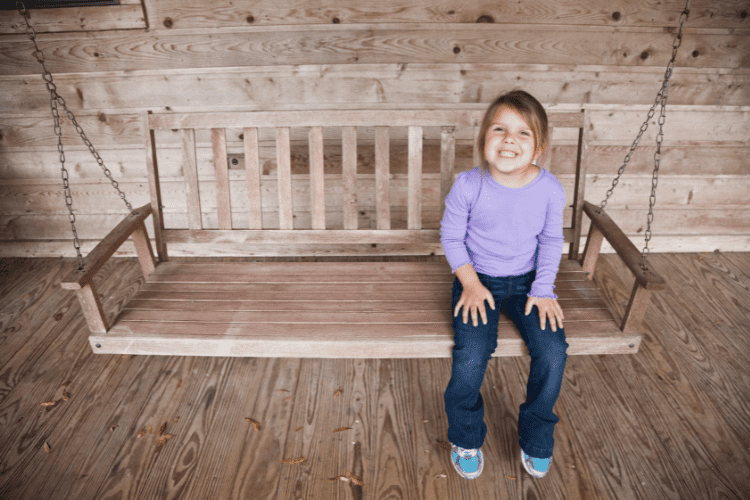 What porch size is right for you? That depends. The biggest mistake I see people make is not accurately measuring their porch ahead of time. 
Porch Swing Clearance 
Swings need a clearance of about 50 inches from the back and front and about 16 inches on either side. Make sure you have enough space, no matter what type of porch swing you're looking for. 
Lowe's 1 vs 2 vs 3 Person Porch Swings 
Lowe's has porch swings for 1 person, 2 people, and 3 seaters. It's really up to you what size makes the most sense. If you have room for any size, obviously a 3-person swing is going to accommodate more people at once. 
Porch Swing Weights 
An advantage to a 2 or 3 person swing is also that they tend to be more secure and stable vs smaller swings. Check to see how much weight a porch swing will hold. I prefer porch swings that hold 500 lbs or more. This is a sign that they are a sturdier build vs lighter swings. 
Step Two: Select a Porch Swing Type
Lowe's carries two main types of porch swings: ones with a stand and frame, and hanging porch .swings. It's not so much a matter of hanging swings or swings withstand being better- but which style fits your needs. 
Hanging Porch Swings from Lowe's
Hanging porch swings must be suspended from joists and are hung with ropes or chains. The great thing about these porch swings is that they take up less space, are usually cheaper, and are easier to move around or adjust. They also provide a simple aesthetic that won't distract from your porch decor. If you have a small porch, a hanging porch swing makes sense. However, they're more susceptible to high winds and inclement weather and they may be less safe. During a storm, they move around more and could cause damage to something nearby. Plus, it's essential to ensure safe installation. 
Porch Swings with Stands from Lowe's
The advantage of buying a porch swing with a stand from Lowe's is improved stability. These tend to be hardier swings– and they probably will last a bit longer too. Installation is simpler. These porch swings take up more space and are more expensive, but they're usually much more secure during high winds. 
Takeaway 
If you have a small patio and want a clean aesthetic, buy a hanging porch swing from Lowe's. They're also usually more budget-friendly. But if you value stability or durability, buy porch swings with a stand. 
Step Three: Select the Best Porch Swing Hardware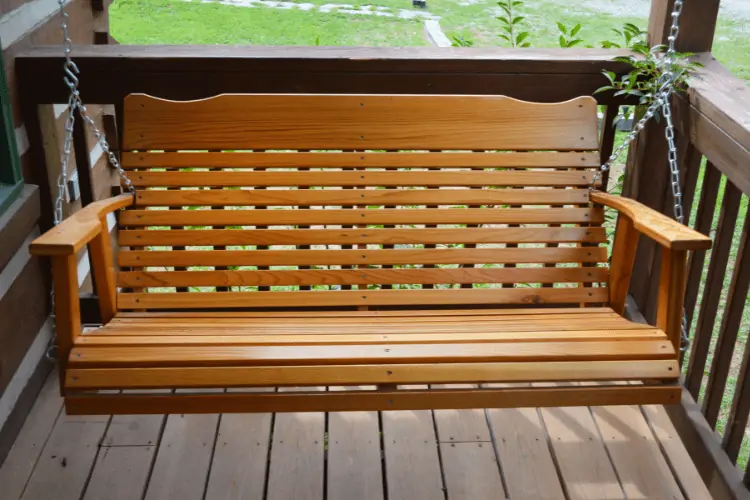 From hardware to the main swing to cushions, what you select matters for a porch swing. Here's what Lowe's offers and what I most recommend. 
For hanging porch swings, you usually have the option of rope or metal chains. Luckily, Lowe's hanging porch swings focus on metal chains, which are much more durable than rope. However the metal type matters.
For all porch swing types, the chain that connects the seat to the frame/ acts as a suspension is critical. It provides both stability and movement. A chain should be at least 19 mm thick and made out of steel. A thick steel chain provides the best stability and weather resistance. 
Step Four: Select the Best Frame Materials 
Lowe's porch swings include plastic, wood, and metal frames. Here's my take on what to select, and what to avoid. 
Plastic Porch Swings
These are the cheapest porch swings sold at Lowe's. They're the most budget-friendly, lightweight, and easiest to clean and care for. However, there are many disadvantages.
Plastic is easily cracked and damaged. They can't hold much weight and thus are also a poor choice for heavier individuals. These porch swings won't last as long and I'd recommend skipping them. That's not even to mention that this is the least environmentally friendly option Lowe's sells. 
Metal Porch Swings 
Aluminum and steel are your choices here. Of these, the choice is tricky. Regular steel is far stronger than aluminum and is difficult to damage or dent. Regular steel won't corrode, but it can rust. Aluminum won't rust, but it does corrode. So what I look for in a metal that's been treated to be weather-proof.
A special coating, such as powder coating or other treatments is very valuable. I'd select a weather-proofed steel frame over aluminum, but a weatherproof aluminum frame over plain steel. 
Polywood Porch Swings 
These are short in supply at Lowe's, but a Polywood swing is an excellent option. Polywood is an alternative to wood as it mimics its look but doesn't run into the same shrinking and warping issues.
Unlike many synthetic materials, Polywood is fairly environmentally friendly, as it repurposes plastics and other materials that would end up in a landfill otherwise. It's moisture-resistant, won't rust or corrode, and is fairly strong. 
Wooden Porch Swings
Unfortunately, I was disappointed with Lowe's selection of wooden porch swings. The reason? Transparency. Aside from cedar and red cars, wooden swings are merely listed as 'hardwood' or, worse, 'solid wood.' I'd avoid anything that says solid wood because it could mean any wood.
Softer woods won't stand the test of time. While cedar is a beautiful wood, it will warp and wear down. I did see a listing for a meranti wood swing. Once again the issue is that this type of wood is prone to warping.
As such, I would only buy swings listed as 'hardwood' and avoid cedar, meranti, and solid wood swings. Some of their swings have been treated with a stain or finish to improve water resistance. I would buy one of those swings, and consider treatments. 
Wooden swings are usually more environmentally friendly and bring a traditional to rustic or even contemporary style. They are sometimes more comfortable. The worst part is their tendency to be more prone to warping, shrinking, and splintering. 
Step Five: Choose and Seat Style (and Material)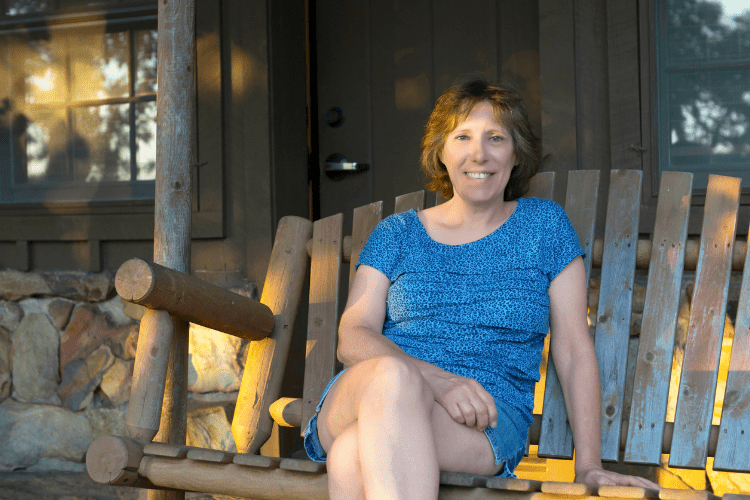 To make things simple, I can categorize Lowe's porch swing seats into two categories: slatted seats and cushioned or solid seats.
 Slats are mostly used for their wooden swings, but also for some of their metal swings. These are not cushioned and are more economical. The other advantage is they don't require as much care and they have nice airflow.
But, of course, they aren't as comfortable. If you have back issues, I'd either buy one that is a cushion style or buy cushions to fit the swing. 
Cushion Materials
For cushion materials, simple is key. Cushion materials include olefin, polyester, and Oxford cloth. Oxford cloth is a type of polyester that's known for its waterproof and lightweight strength.
None of these are poor options, as they all are materials that won't attract mildew or mold. They're easy to clean and low-maintenance. However, olefin is the superior choice as it's stronger and doesn't wear as quickly as types of polyester. 
Lowe's Porch Swings: A Few to Try 
Here are a few recommendations– and examples– of porch swings that meet my criteria. I selected these based on the materials used, the quality of the construction, ratings, and other features that make these designs stand out. 
Style Selections 3 Person Steel Outdoor Swing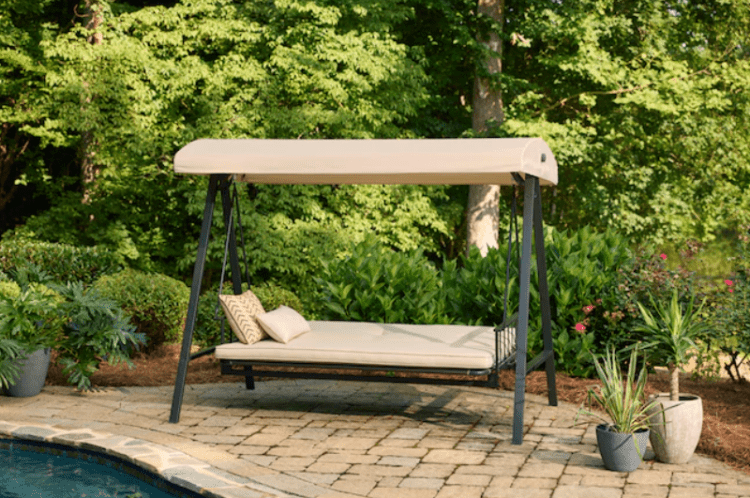 This porch swing is a bestseller for Lowe's and it's easy to see why. If you want a porch swing with a stand that lasts and is a great price, this could be the swing for you.
The futon-style cushion is comfy for swinging or even laying down and converting into a daybed, while a canopy keeps the sun off of you.
You can fold it down to convert it for lounging or sit it up. The frame is powder-coated steel. That means it's strong, weather-resistant, and easy to care for. Instead of simple polyester, the cushion fabric is Olefin, which provides lightweight strength and is closer to the look of linen. The swing ships with a 1-year manufacturer's warranty. Buy Here. 
Pros
Powder Steel Frame

Olefin Cushions

Converts into Futon

Warranty Included
Cons
Only in Tan

Lighter Fabrics Stain More Easily 
See also: Best Fire Pit Accessories [2022]
Veikkaus Outdoor Hanging Wooden Porch Swing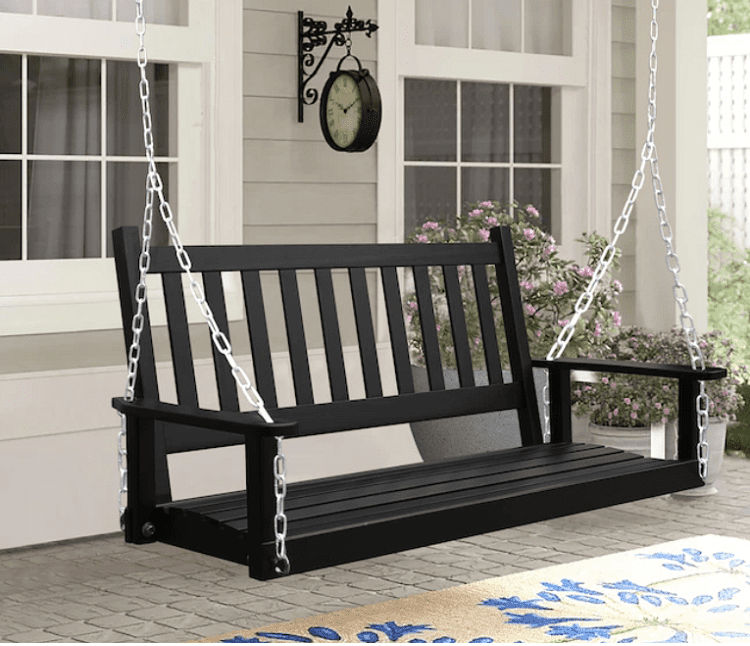 Want a porch swing for under $200 that provides a natural wood finish and is versatile? This wooden hanging swing porch is one of Lowe's best. A high back and deep seat design add comfort no matter your body type. A protective coat of polyurethane paint is applied to hardwood to improve water resistance.
I also like the more generous armrests for a more comfortable design and the reinforced chains for added stability. It's easy to maintain and assemble, though I'd still recommend a swing cover. Buy Here. 
Pros
Protective Water-Resistant Coating 

Classic Hardwood Appeal

Ergonomic Seat and ArmRest

Reinforced Steel Chains
Cons
Only Seats Two

Requires More Maintenance 
See also: Best Black Porch Swing Ideas
Allen and Roth Polywood Hanging Swing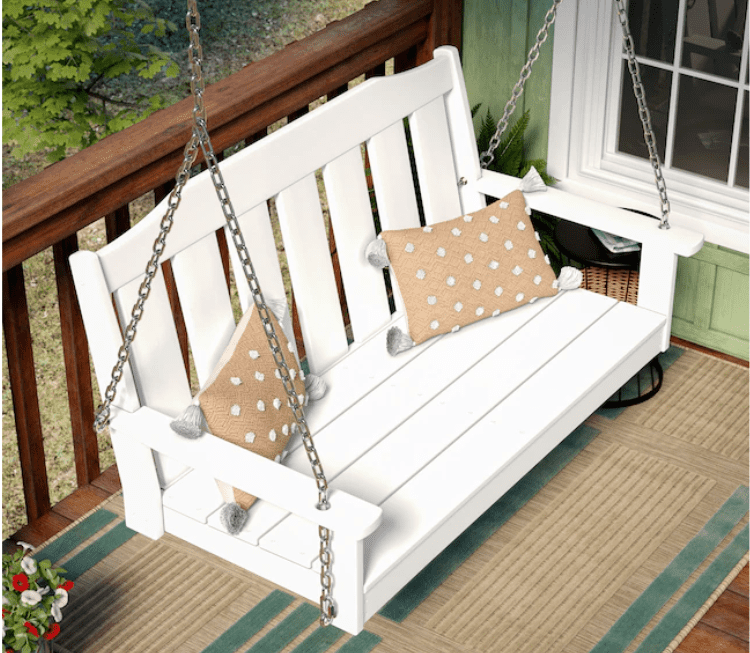 There aren't too many options for Polywood swings from Lowe's, so this swing immediately stood out to me. Classic construction and pleasing slatted design make it instantly timeless. The eco-friendly swing requires no painting or waterproofing treatments– it's weather-resistant.
It's also resistant to fading from UV rays and won't splinter, peel or crack with regular use. This is a sturdy swing for two that comes with a 2-year warranty. It's also one of the few made in the USA. Select from white, black, and mahogany. Buy Here. 
Pros
Weather-Resistant Polywood

Won't Fade, Crack, or Peel 

Made in the USA

2 Year Warranty
Cons
Only Seats Two

Zinc Plated Chain is Strong, but Not Suited For Exceptionally Humid Environments 
See also: Best White Porch Swing Ideas
Lautan Avoca 2-person Natural Shorea Outdoor Swing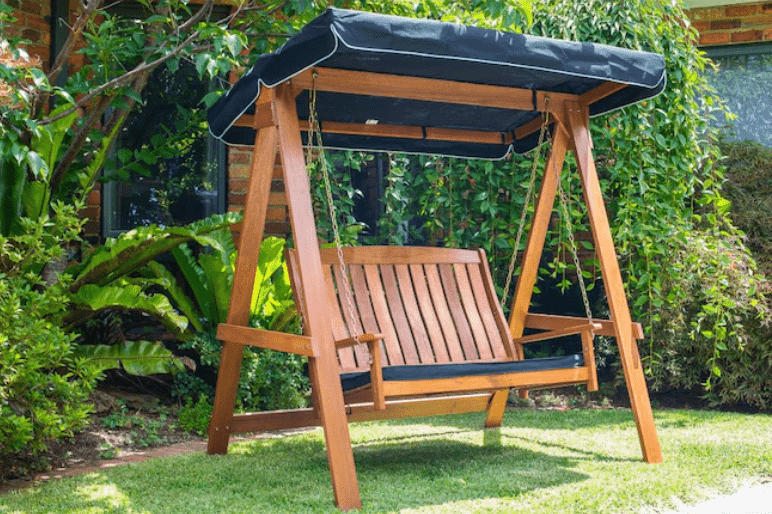 Sold on the classic wooden swing look but don't want to hang it? This standalone porch swing is your best option when shopping at Lowe's.
The 2-person swing is made out of hardwood that's been treated to be weather-resistant, UV resistant, and even resistant to insects (a problem some wood patio furniture encounters).
It's eco-friendly and features a coastal classic appeal that adds allure to any patio space. The cushion is also weather-friendly. The wood was selected for its high oil content, which reduces issues of shrinking and warping. Buy Here. 
Pros
Beautiful Hardwood

Treated to be UV, Weather, and Bug-Resistant

Sturdy Construction

Includes Cushion
Cons
Requires More Upkeep

The seat is Polyester (Not as Strong)

Waitlist
Frequently Asked Questions
Question: Are All Porch Swings Safe?
Answer: Porch swings are a playful and charming addition to any porch, but there have always been safety concerns. First of all, no matter the type of porch swing, there is some risk with young children. But you also must focus on the quality of the porch swing's construction.
A sturdy porch swing with a durable attachment is important. Swings are most dangerous if they're prone to break or fall out of alignment. A 500 lb load capacity is a good rule of thumb for a more stable porch swing. How you hang or secure your swing is also important. 
Question: Does Lowes Install Porch Swings?
Answer: Lowes offers exterior installation services at an additional cost. Start by scheduling a consultation, review your quote, and see if it's a good fit for you. I also like that any of Lowes' installation services allow you to understand the costs of the project and decline. I prefer to discuss possible options in stores. 
Question:
Can my Porch Support a Swing?
Answer: You'll need a 2 by 8 joist, three 2 by 4 joists, or two 2 by 6 joists. It's important that they are firmly secured and thick enough. Some also opt for 4 by 4 joists if they don't have the proper setup. 
Question:
How do I Hang a Porch Swing? 
Answer: Screws and hooks should be secured an additional 4 inches than the width of your swing.  Swings are elevated about 18 inches above the porch. If you want to hang the porch swing yourself, you're better off buying one that comes with chains and hooks already attached. Check out this 5-Minute Porch Swing Tutorial for an easy guide to simple projects. 
Final Thoughts 
There aren't the highest-end porch swings at Lowe's, but by selecting the best materials, you can find a great deal. I prefer Polywood and metal swings most here– but if you buy a wooden swing, make sure to treat it well.
Final Recommendations: Porch Swing Covers and Replacement Parts 
The Porch Swing Company has an excellent range of porch covers– wherever you buy your swing from. All of their covers protect against sun, and UV rays and extend the life of your porch swing.
They carry 16 brands of covers, and there are plenty of styles to choose from. Spending a little extra can make a difference, and I think it's worth buying a cover.  Shop Porch Swing Covers Here. 
Recommended Reads: