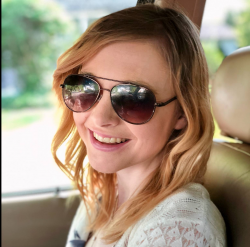 Latest posts by Erin Jamieson
(see all)
From hours with my relatives to reading a good book, porch and patio swings meant a lot to me growing up. They were an invitation to spend more time outside with loved ones and invest time in me. Ironically, it's now that I realize just how much they've meant to me- but also why it's essential to explore unique styles and ideas. And black porch swings are one of the most charming yet sophisticated ways to upgrade your home.
From modern farmhouse to classic to contemporary, more are warming up to a darker porch swing. What I love most about black porch swings is that they still provide ambiance- but are easy to style and won't show dirt and wear as quickly.
Most of us could use a little more time outside. A black porch swing may be one of the best simple home upgrades. Read on to see a few of my favorite styles, from affordable to luxurious.
Bottom Line Up Front Summary
A black porch swing is an excellent upgrade to any porch. My ideas include quality, durable porch swings that provide stability, comfort, and style. From modern farmhouse to contemporary, to a touch rustic, there are a lot of fun styles to choose from.
But if I had to recommend just one black porch swing, it would have to be the Vineyard Hanging Porch Swing. This timeless USA-made swing is constructed with Polywood and Marine-grade hardware. The result is a durable, weather-resistant swing with customization options, plus a 20-year warranty. If you want to add style and comfort, buy some accent pillows and seat cushions.
My Top Picks
My Selection Criteria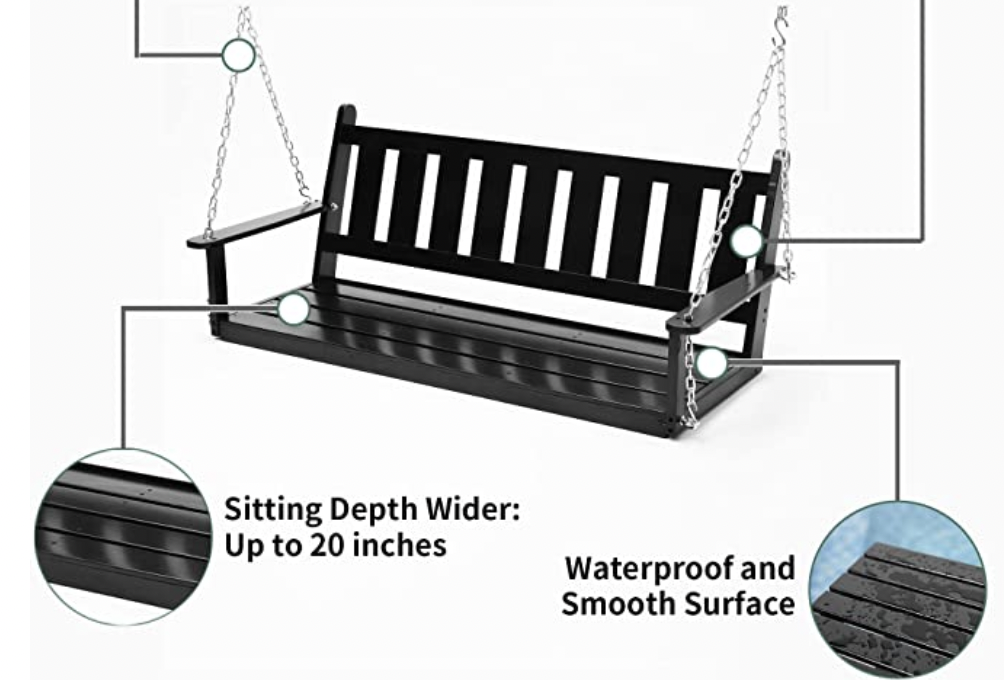 Want to see the black porch swings I'm most excited about? Feel free to skip to the next section. But I wanted to share some insight behind my selections.
Why I Included Both Swings with a Stand and Hanging Swings
Hanging porch swings are popular and for a good reason. They leave you space on the ground and provide a charming, less bulky aesthetic. But if you don't have great rafters/ beams to hang a swing from and want a little more stability, a standing porch swing could work too. I wanted to include both options, to represent different needs and tastes.
For comprehensive and open porches, a standing porch swing can be a little sturdier during inclement weather. Meanwhile, I think a hanging porch swing makes more sense for covered and small porches. Both are excellent choices- and it was important to me to represent both.
Selecting Unique Styles!
Black porch swings are timeless, alluring, and becoming more popular. That means I had a lot of great styles to choose from. I looked for popular but versatile porch swing styles, such as:
Contemporary styles
Classic styles
Rustic/ Farmhouse
Modern Farmhouse
Minimalist
How I Choose Quality Black Porch Swings 
Saying something is high-quality is one thing; finding a durable porch swing is another. I focused on three factors: frame quality, hardware quality, and brand or store reputation.
Main Materials
Wood, metal, or plastic? I wanted to showcase all of these materials- but only the highest quality. (Keep in mind that cushions are a must if you want a black metal porch swing! It'll absorb heat, and you'll need that comfort.) Wooden black porch swings are less common, as many kinds of wood are tricky to paint/ stain a dark color:
Bamboo
Hardwoods (** some do not stain well, so black swing options are more limited)
Powder-Coated Steel, Stainless Steel, Powder-Coated Stainless, or Carbon Steel
Wicker is a charming style for a black porch swing, but I only recommend it for covered porches, given its more fragile construction.
Hardware
Hardware is something so many of us overlook, but it matters. Stainless steel is reinforced/ Marine-grade steel is best. I also prefer smooth spring sets for less noise- though this is not a must.
Product Reputation
These are things that matter when looking at production reputation:
Customer Reviews
Brand Reputation
The Store
I also paid special attention to porch swings with a warranty or a protection plan. And while that isn't always an option, I at least made sure I selected porch swings with quality construction that I would feel comfortable buying.
Noteworthy Features
Of course, I didn't merely want to select high-quality black porch swings. I also wanted to showcase a few special features that added to the style, comfort, and functionality:
Comfortable, Ergonomic Design (greater seat depth, wide armrests, curved seats, heavy-duty weight capacity
Convertible Design (such as a daybed swing for napping)
Smooth Swinging (comfort springs, anti-skid feet/ pads)
Canopy (for swings with stand)
Additional Accessories (solar or LED lights, cup holders, console trays)
Unique or Custom Design
Easy/ Quick Assembly & Instructions
Finally, I choose black porch swings of reasonable- but a variety of- dimensions. My picks are almost all between 4 to 6 (48 inches feet wide (aside from a single/ egg chair), have a weight capacity of at least 250 pounds/ 2 people, and have a comfortable seat depth.
See also: Ultimate Front Porch Decor Ideas
Black Porch Swings, From Farmhouse to Chic: My Picks
Here are my favorite black porch swing ideas. With a focus on both quality and style, these porch swings will add ambiance to your home and may even inspire you to spend a bit more time outside- something most of us need more of! These designs stand out to me, from modern to farmhouse to a cozy daybed swing. The first ⅔ are hanging swings- as these are more space-efficient. However, I've also included great swings with a stand for my final three picks.
Vineyard Hanging Porch Swing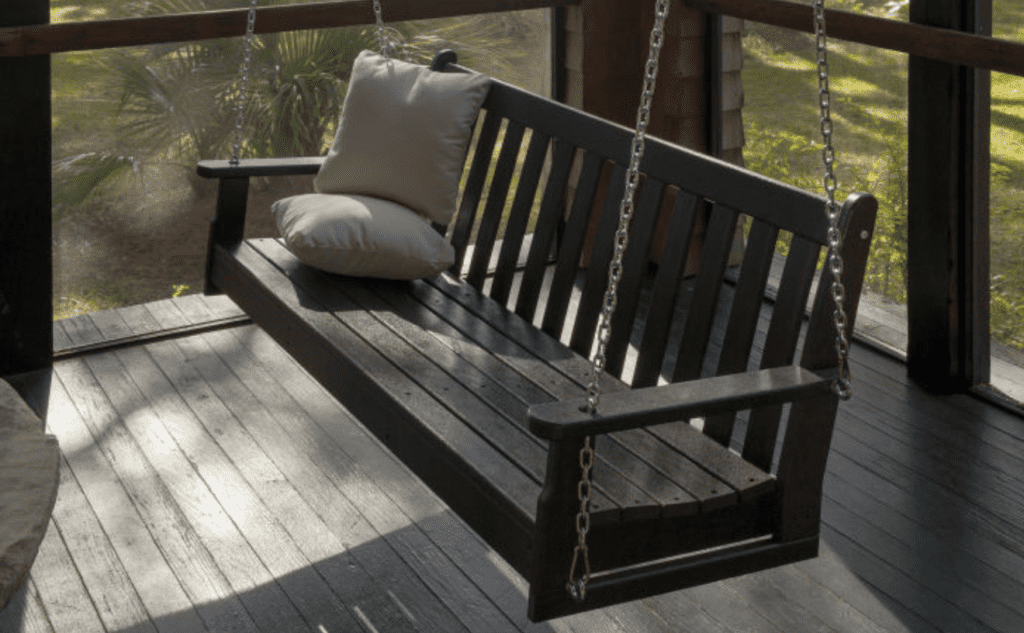 Even if you're unsure about the modern farmhouse style, this black porch swing might convince you. The charming, timeless design strikes me as updated and classic: that's a hard balance to strike. But what's exceptional about this black porch swing is its quality construction. Polywood is paired with steel hardware (marine-grade) for a design that's made in the USA.
I love that it's weatherproof, UV resistant, and low maintenance. With a 20-year warranty, I also feel better about buying it online. It's one of the best black porch swings you can buy right now. Too plain? Jazz it up with cushions from the same store- or save a little money and find cushions on Overstock or Wayfair. Buy Here.
IntoBoo Hanging Porch Swing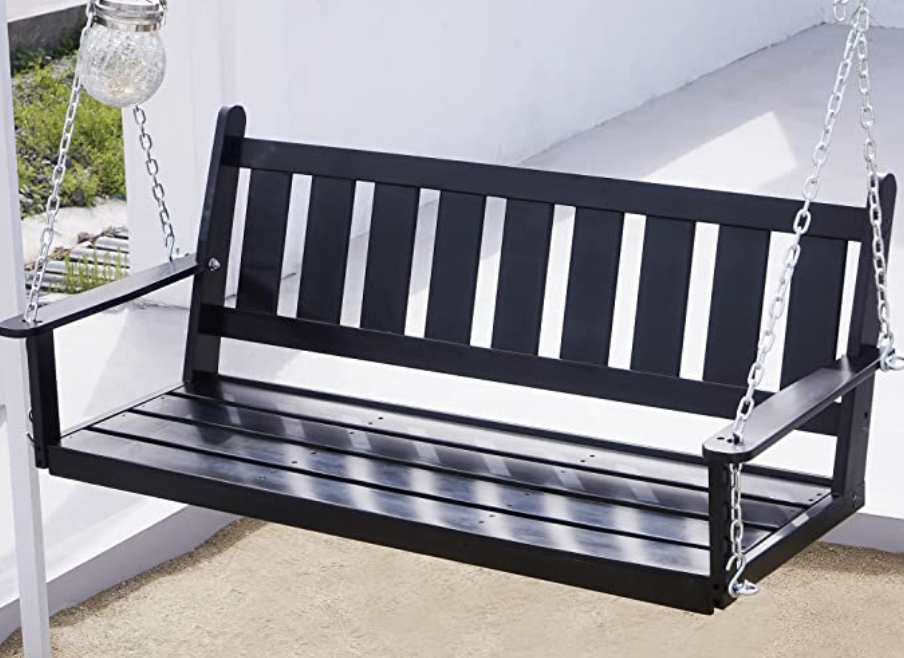 I never expected to find this black porch swing on Amazon- but I'm happy I did! This is one of the rare porch swings made with bamboo: a sensible solution if you want a timeless pick and live in a warm environment. It's treated with a waterproof coat and smooth to the touch. I also love the attention to a more comfortable design.
The swing subtly curves to reduce pressure on your joints. Add a cozy olefin, sunbrella, or polyester cushion, and this could be a comfy swing for reading. I also like how it can be accessorized to look a bit more traditional or modern- your choice! Buy Here.
Lark Manor Odalys Hanging Porch Swing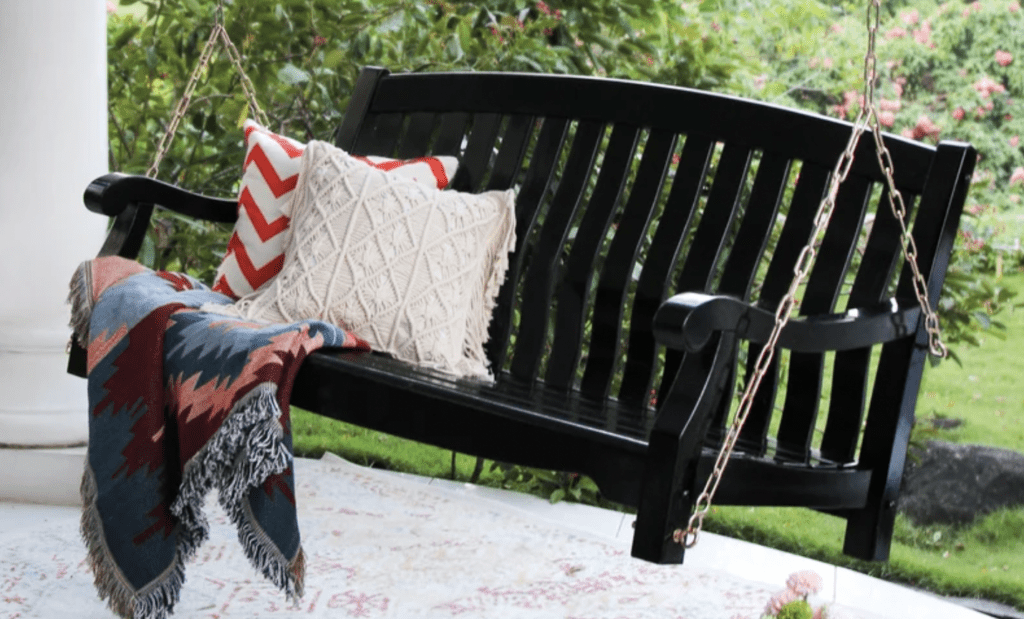 Though I've lived most of my life in the suburbs, I've visited many farms- and always loved the charming, quaint style of being out in the country. This black hanging porch swing brings that charm in a comforting but stylish way. It's made with solid mahogany wood, so you still get that classic wooden swing with a polished update. With a 500 lb seating capacity, I'm also impressed with its sturdy and heavy-duty construction. Just treat it with oil occasionally to keep it in excellent condition. Buy Here.
Enver Hanging Porch Swing
This enchanting black porch swing is vintage-inspired, with just the right details to add whimsy and charm. While I'd also love to see this swing overlooking a garden, adding some potted plants on your porch could enhance its style. The rust-resistant frame includes a curved back with a twisted vine motif that I think brings in a nature theme without being too on-the-nose. I love that it comes with a warranty (60 days) but affordable protection plans. Plus, it's under $200! Buy Here.
Lowcountry Daybed Porch Swing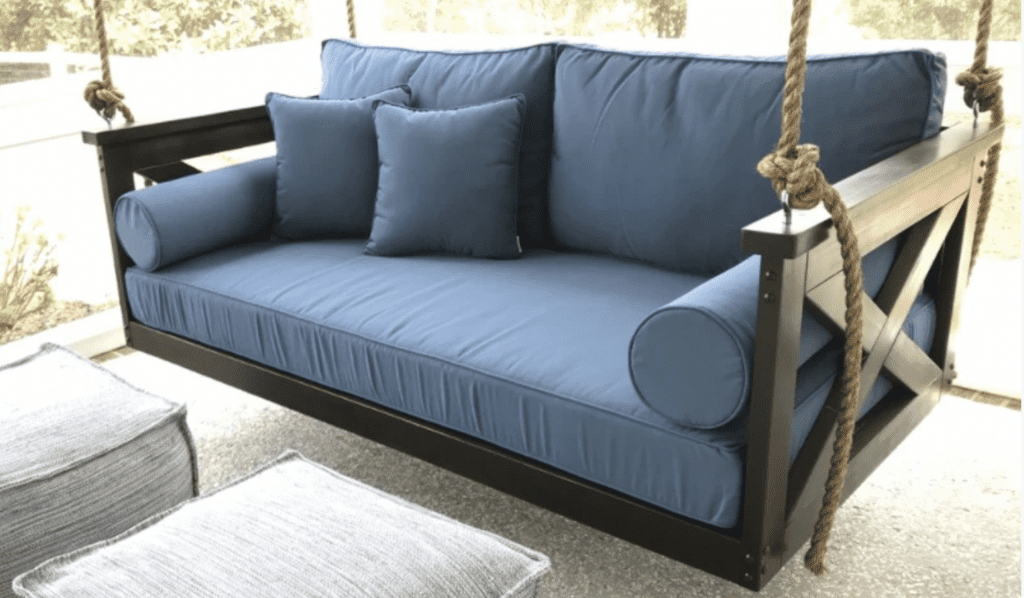 If you want a luxurious take on country/ rustic- or need some incentive to take time to rest (been there), then consider a daybed porch swing. The reason why I love this idea is that it is made to order, with custom options. Pressure-treated pine, A-grade cedar, and teak can all be painted black.
You'll even get your choice of hanging sets and sizes. It's attractive, sturdy, and comfortable. My tip? Spend the extra and order steak. It's the hardest of these woods and naturally rich in oils. That means you won't have to seal it quite as often. Buy Here.
Traditional English Hanging Porch Swing
If you live alone or have very little space to work with, I think there's something to be said for a swing chair. While many swing chairs for ones are boho egg chairs, I wanted to find something more suited for the outdoors. This Polywood swing chair is weather-resistant, low maintenance, and relatively comfortable. I love that it's crafted in the USA by an Amish community. Plus, the 250 lb weight capacity is more substantial than most swing chairs. Buy Here.
Kingyes Hanging Porch Swing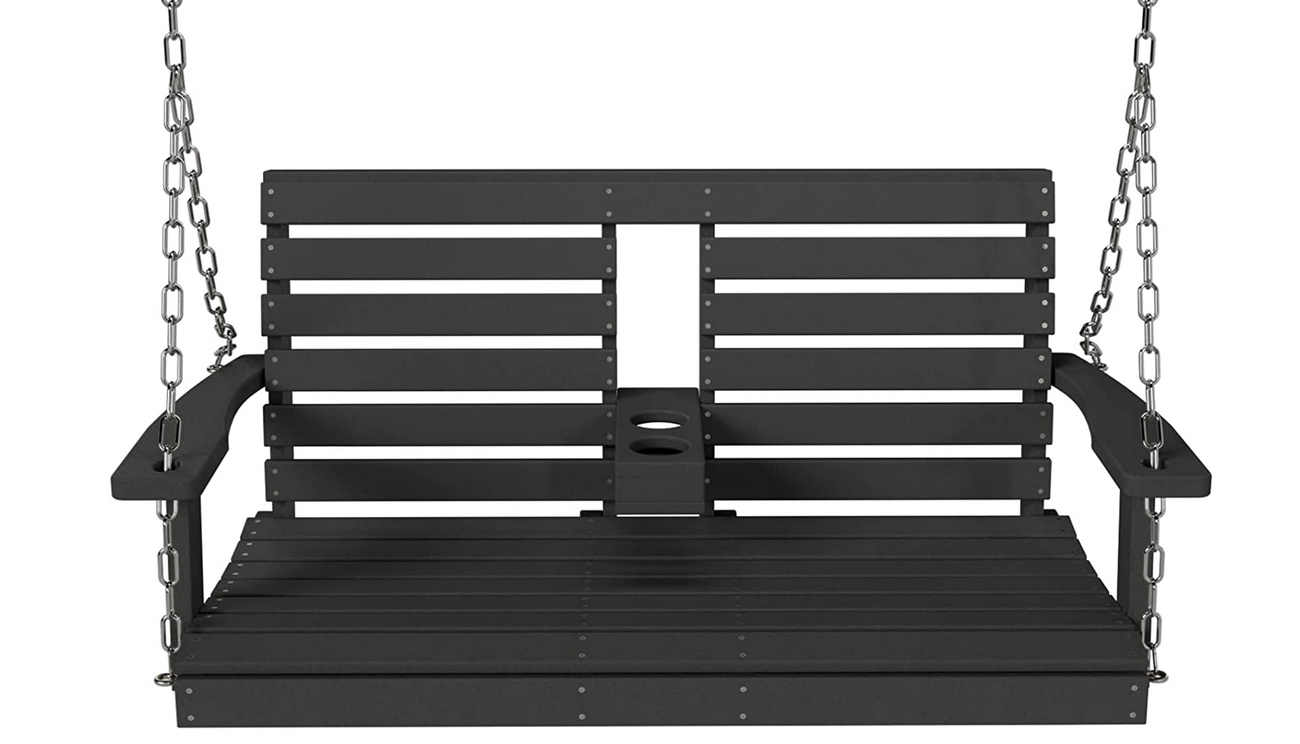 I knew I wanted to find a black porch swing with cupholders. You'd be surprised how handy this seemingly minute feature can make. Take it from someone who's spilled juice and carbonated beverages: the cup holder is very handy. Enjoy a warm summer day on a Polywood porch swing, with wide armrests and convenient cup holders in the center. I was also impressed to learn that it comes with a three-year warranty. Buy Here.
Ulax Porch Swing with Stand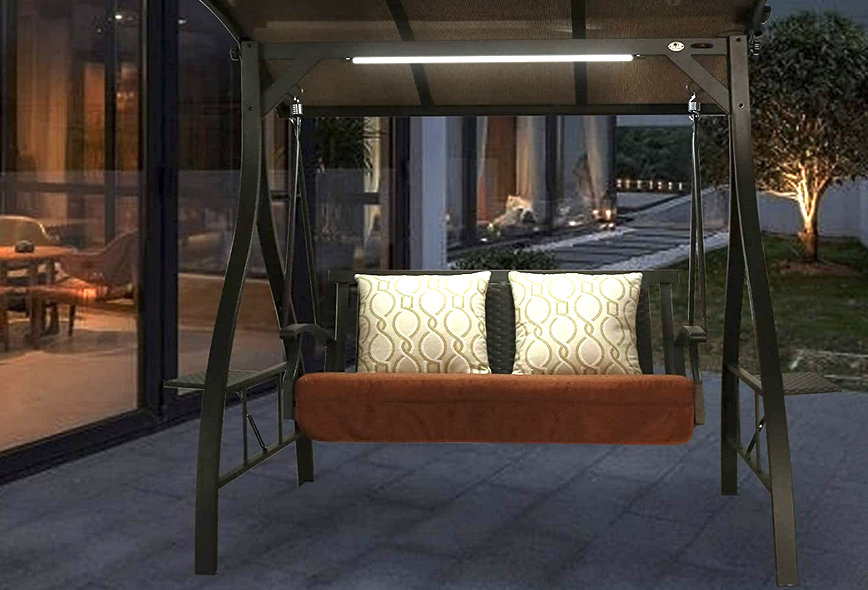 If comfort is your main concern, this is one of my favorite black porch swings. It also is one of the few that's equipped with features that will wow your guests. This sophisticated, contemporary black porch swing comes with solar LED lights, an adjustable canopy, and gorgeous olefin cushions.
Olefin is one of the best outdoor furniture materials- and you will be able to tell the difference in quality and comfort. This porch swing is a true show stopper if you don't mind a bit of warm color and if you have the room. Buy Here.
Lesley Porch Swing with Stand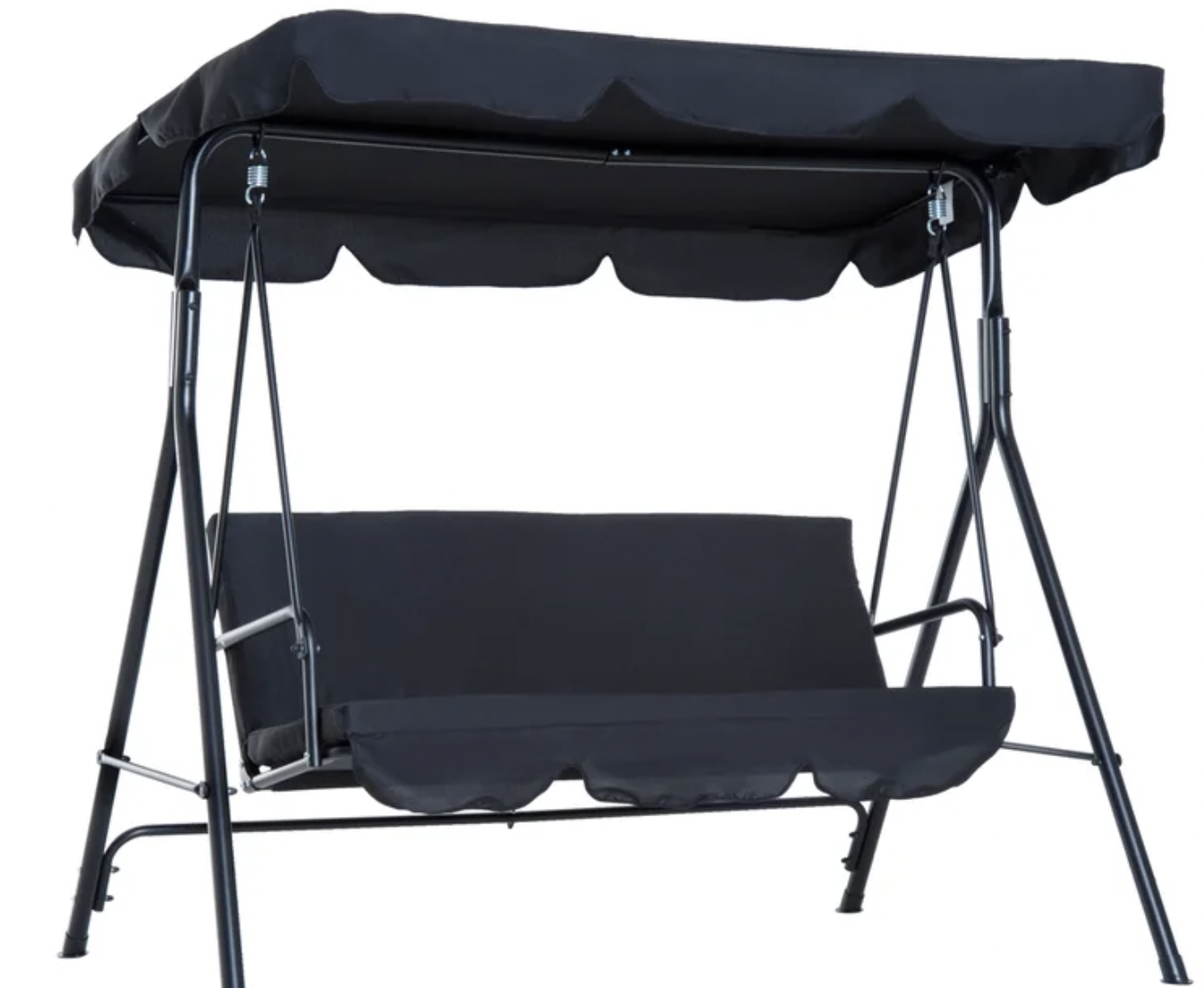 Maybe it's because I have fair skin and tend to be heat-sensitive, but I always appreciate a porch swing with a canopy. But I also know that swings with a canopy tend to be a bit more expensive, so I selected this affordable design from Wayfair. The simple, no-fuss black porch swing comes with a polyester, weather-resistant canopy, and matching seat cushion. I also like that you get a powder-coated steel frame: making for a weatherproof and UV-resistant design. It's simple but quite functional. Buy Here.
Cost-way Swing with Stand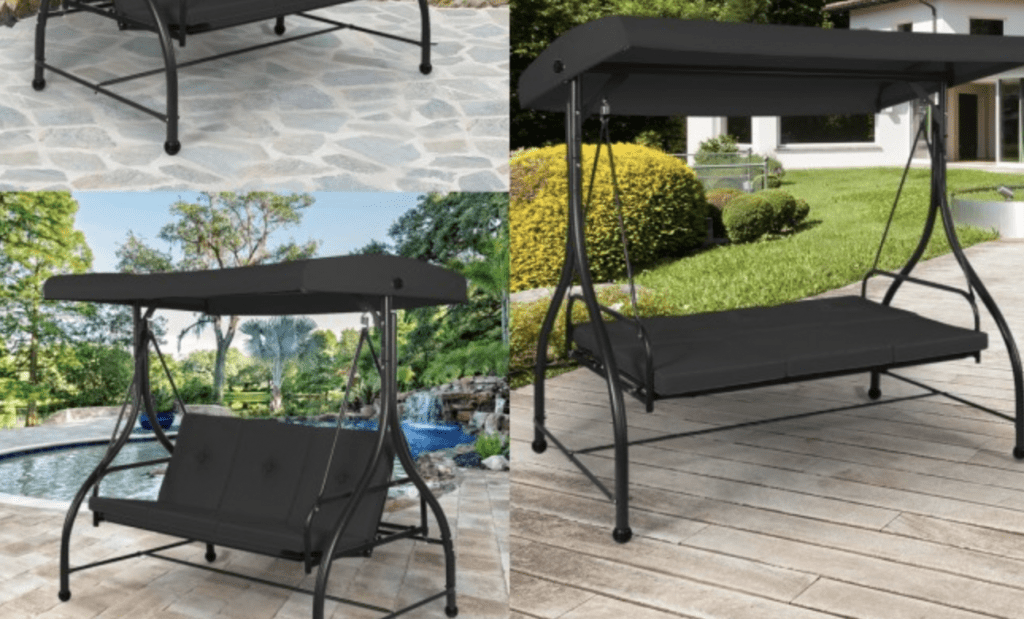 At first glance, you may not be too excited about this black porch swing- but there's more to it than meets the eye. This unique black porch swing gets my approval, with small but essential features like an adjustable canopy, smooth swing action, a weather-resistant steel frame, and comfy cushions. But the innovative part is the convertible design. If you want a place to nap and an upright black porch swing, you don't have to decide! This swing locks both upright and lying down for a unique but secure structure. Buy Here.
Frequently Asked Questions
Question: Can I paint or stain my porch swing?
Answer: Not happy with the hue of your porch swing? I prefer stains vs paint because stains soak into your porch swing. Paint is just surface level and will chip and peel over time. Whatever you do, select a weather-resistant coating, such as this stain and sealant. It's a great option because it stains your wooden porch, swings a new hue, and protects against warping. Whether you want a different color or not, a sealant is a must for wooden swings.
Question: What colors are best for a porch?
Answer: Choosing the right color for your porch and porch swing depends on what style and mood you want to evoke. Darker hues, like black, deep woods, and navy blue, generally make your porch appear smaller (but possibly cozy), while light woods, whites, and bright hues provide the illusion of a more substantial porch.
White, wood, gray, and grayish-blue are hard to go wrong with for your porch base. For a nautical feel, add blues and white: white and black suit modern farmhouse and contemporary themes. I also love earthy tones (think: moss too deep green, neutrals) for a natural ambiance and pastels for an airy look.
Question: How do you refurbish an outdoor swing?
Answer: In many cases, you're better off buying a new porch swing. But if you want to keep- or revitalize- an older porch swing, it's entirely possible. In the case of wooden porch swings, clean them completely, and replace any tarnished bolts or hardware. You can buy affordable swing hanging kits on Amazon, Strip any tarnished wood, and remove paint. Apply a new coat of sealer and base color. To learn more about this process, watch this tutorial.
Question: Which way should a porch swing face? 
Answer: Porch swings can honestly face any direction you'd like. For example, facing forward makes the most sense if you want a classic and welcoming aesthetic. Have your porch swing facing inward if you live on a busy street and want more privacy. It's less common to have a porch swing facing with its back to the front- that gives off a less welcoming aura. The most important thing, of course, is to situate your porch swing in a location with ample clearance where it can be used safely and comfortably.
Final Thoughts
Black porch swings manage to be both timeless and contemporary. What I love most about black porch swings is that they're unlikely to go out of style- and at the same time, they add an aura of sophistication to your porch. As you can see from my ideas, black porch swings come in myriad styles, from modern farmhouse to classic and even a touch whimsical. Hopefully, one of these ideas inspired you for your next porch upgrade. A black porch swing truly could transform the time you spend outside.
Final Recommendations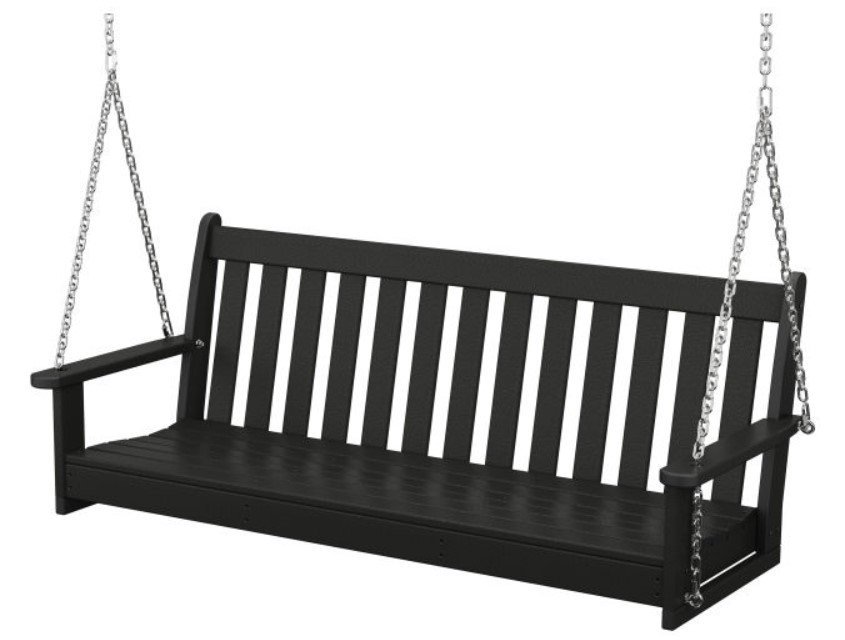 If you're like me, maybe you like to mull over your choices for a while (I even make a pros and cons list for purchases that are important to me)! And that's fine! After all, a black porch swing could become a focal area for you to spend some time with loved ones or relax.
But if you want one final recommendation, I highly recommend the Vineyard Hanging Porch Swing. Unlike a wooden swing, this Polywood swing requires no sealing and is incredibly easy to clean. It's still smooth, sophisticated, and attractive but built with care in the USA. And with a 20-year warranty, you can feel confident that spending a bit more money up front is worth it.
Recommended Reads: