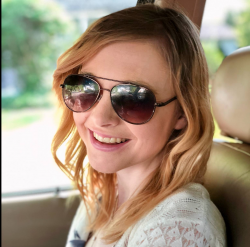 Latest posts by Erin Jamieson
(see all)
Even as a child, I was always fascinated by the showcase of precisely kept bonsai trees at Krohn Conservatory. I still visit when I can, especially during the conservatory's lighted train display for Christmas. Perhaps that is why I'm also drawn to the beautiful front porch topiary. But while there's no doubt that a topiary on a front porch is one of the most sophisticated ideas for decorating your home, it's not a simple decision. 
Real live topiary looks beautiful for a reason: it requires upkeep. With many types of topiary plants, you also have to decide between trees, shrubs, and, increasingly, artificial or real. The good news is that there are arrangements and creations for every season. From festive autumn topiaries with pumpkins to stunning topiary designs for a surprisingly cheap price, the challenge is finding the best fit for you.
Here are some real and faux topiary ideas for your front porch. Who knows: a topiary may just become the centerpiece for your home. 
Bottom Line Up Front Summary
I love the timeless beauty and sophistication of the front porch topiary. Whether you're ringing in a festive holiday season, celebrating spring with lavender accents, or opting for evergreen for a year-round centerpiece, topiary is a spectacular front porch decoration. At the same time, real topiary takes incredible upkeep, which is why my ideas include artificial- but still high-quality- designs. 
If I were to recommend one front porch topiary idea, it would be to start with a faux topiary option that's weather-resistant, like Pure Garden Hedyotis Triple Ball Topiary (Artificial). I like the attention to detail, paired with a UV and weather-protected design. As much as I love genuine topiaries, this is an option that would suit just about anyone. 
My Top Picks
My Selection Criteria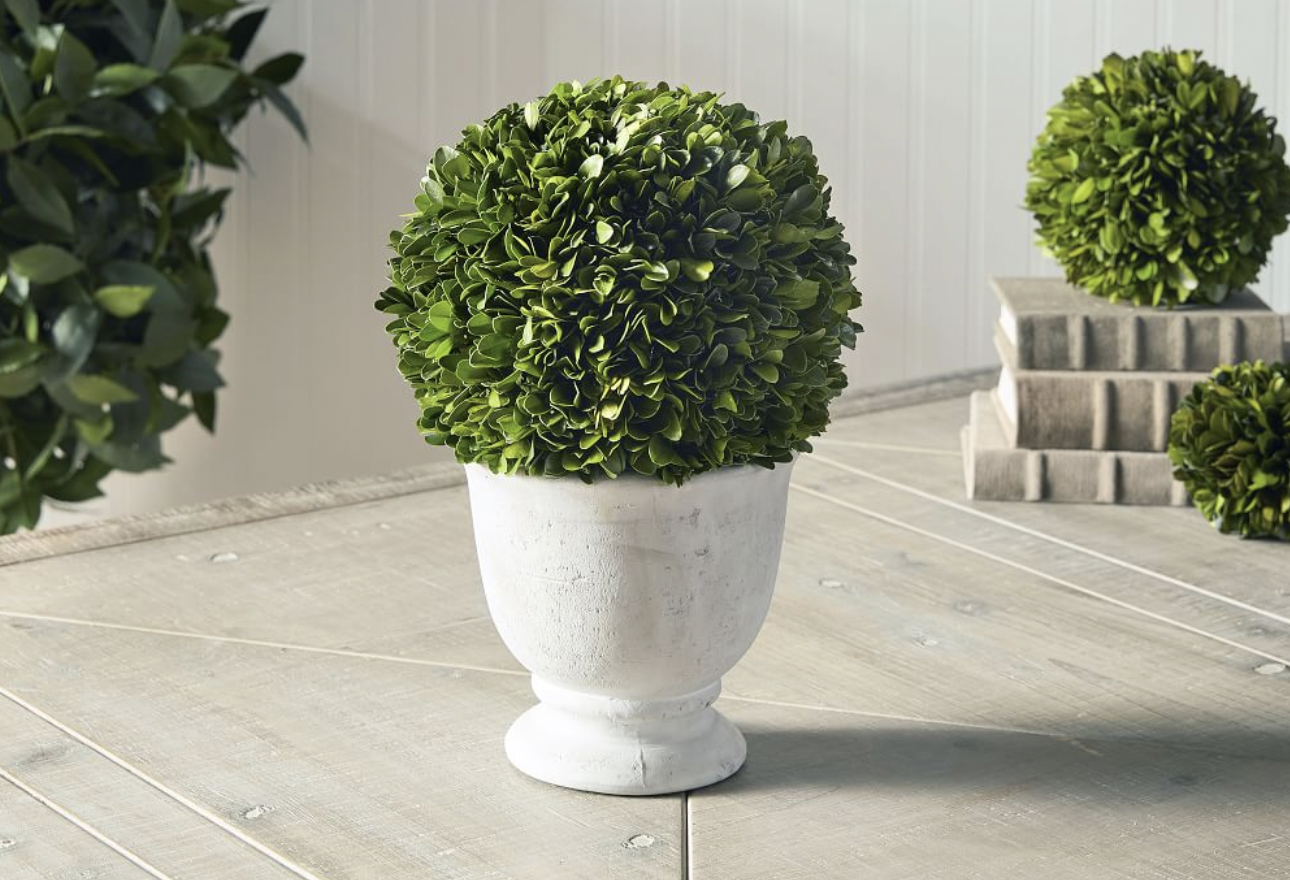 I selected each of these front porch topiary ideas with careful consideration. I know how much front porch decoration can make a difference for curb appeal, ambiance, and creating an inviting welcome. With that in mind, my focus was on durability, quality, and practicality. Here's how I balanced style and design with those oh-so-important factors. 
Why I'm Showing Real & Artificial Topiaries 
Real topiaries are challenging to keep healthy and beautiful. Not only do you need direct sunlight and ample water, but they also require precise pruning. So while I love the beauty of authentic topiaries, I also wanted to include faux topiary ideas. Some of the best artificial topiary designs are quite convincing with their realistic details- and will be a far more practical option. 
How I Selected Real Topiaries
Just because people buy or DIY topiaries from all kinds of plants, doesn't mean all are truly the best choice. I wanted to select plants that are easy to prune and trim with precision and are known for their resilience and strength outside. That means resistance to cold, disease and rot- and even drought. 
 English boxwood 

Cypress

Laurel

Holly shrubs

Spruce 

Juniper

Preserved **
Azaleas are only suited for climates that don't dip below 60 or 70 degrees. I also paid attention to supporting materials (for structure) and pots for potted plants. 
** Preserved topiaries are an excellent choice if you want a real plant but without the upkeep of a live one. 
How I Selected Artificial Topiaries 
For artificial topiaries, I focused on two things: realistic details and durability. Admittedly, it's easier to see the level of detail in person, but we all know there's a difference between cheap faux plants and ones designed to mimic the real thing. I did my best to select affordably but thoughtfully made artificial options. 
I figure if you're going to buy a fake topiary, it should be able to be left outside. And if you live anywhere like Ohio, you know that weather can change quickly! With that in mind, I selected artificial topiaries made with weather-resistant materials that require little maintenance. Here are the signs I looked for: 
Fade-Resistant

Water-Resistant/ Water-Proof 

Durable Materials
I considered treat silk (best for the level of realism),  high-density foam, PVC, or latex (with anti-fade). However, I reason that if a plant is not fully UV resistant, you can use buy a fade-resistant spray. 
Where I Shopped For Unique Designs
I wanted to include a variety of topiary shrubs and trees, from sleek and modern to ones with rustic or festive touches. Because I wanted a lot of designs to choose from, I shopped at home improvement stores, Wayfair, Amazon,  Fast Growing Trees, nurseries, and related stores- all with clear terms for refunds, shipping, and more. Finally, I considered reviews for individual products. 
See also: Ultimate Front Porch Decor Ideas
Stunning Topiary Ideas for Your Front Porch 
Here are a few of my favorite topiary ideas for your front porch. As evidenced by my selection criteria, I wanted to showcase both high-quality artificial and beautiful real arrangements. By focusing on quality and reputable suppliers, I was able to balance beauty and durability, no matter what style or festivities you're trying to embrace. 
Live Preserved Boxwood Topiary Tree (Real)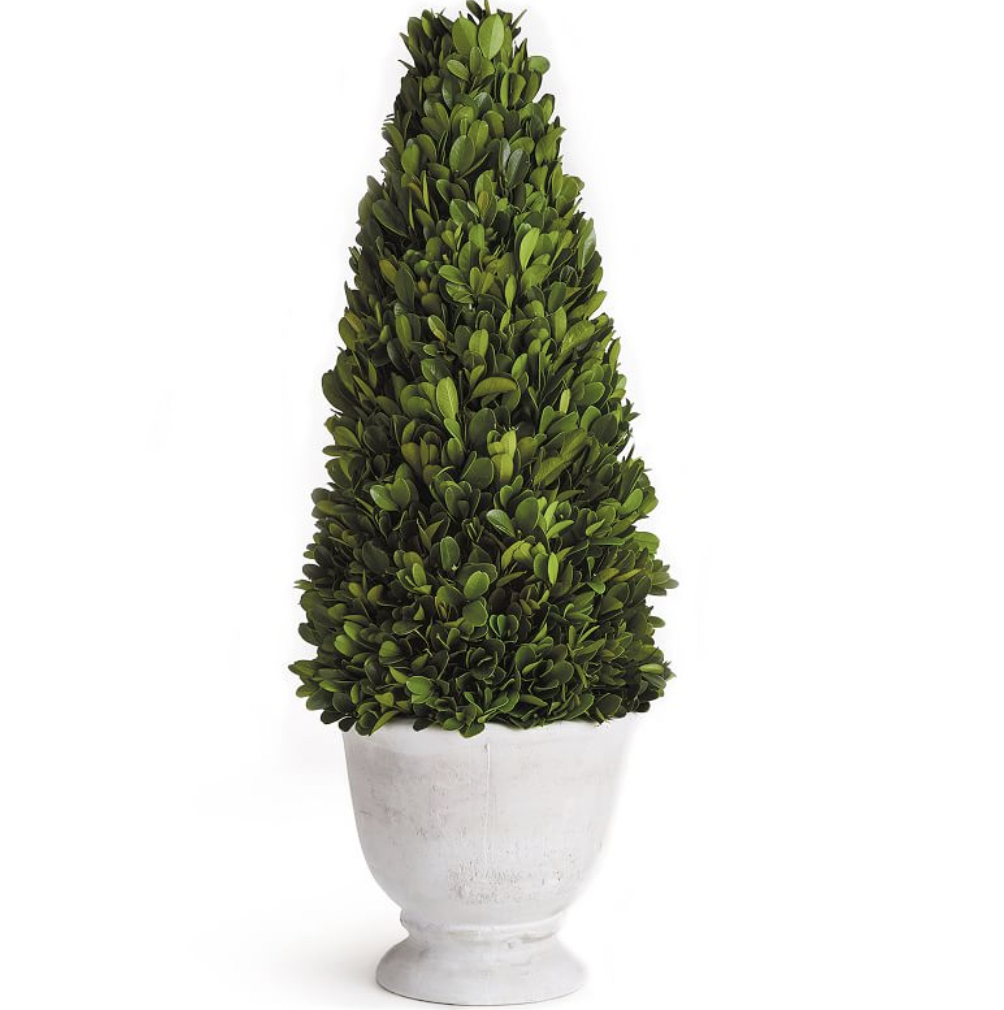 Want the feel and beauty of a real topiary, but without the maintenance? This gorgeous preserve topiary tree is one of my favorite ideas overall. The boxwood tree is lush and vibrant and I live it both in a pine cone and rounded shape. Pottery Barn always does modern classics well, and this is no exception. The ceramic white finish feels warm and contemporary, balancing out green and white tones. This is sophisticated and would look fantastic on any porch- without as much care needed. The downside? It's intended for indirect light, so I'd only use this for a fully covered/screened-in porch.  Buy Here. 
Dwarf Alberta Spruce Shrub with Formal Topiary Spiral (Real)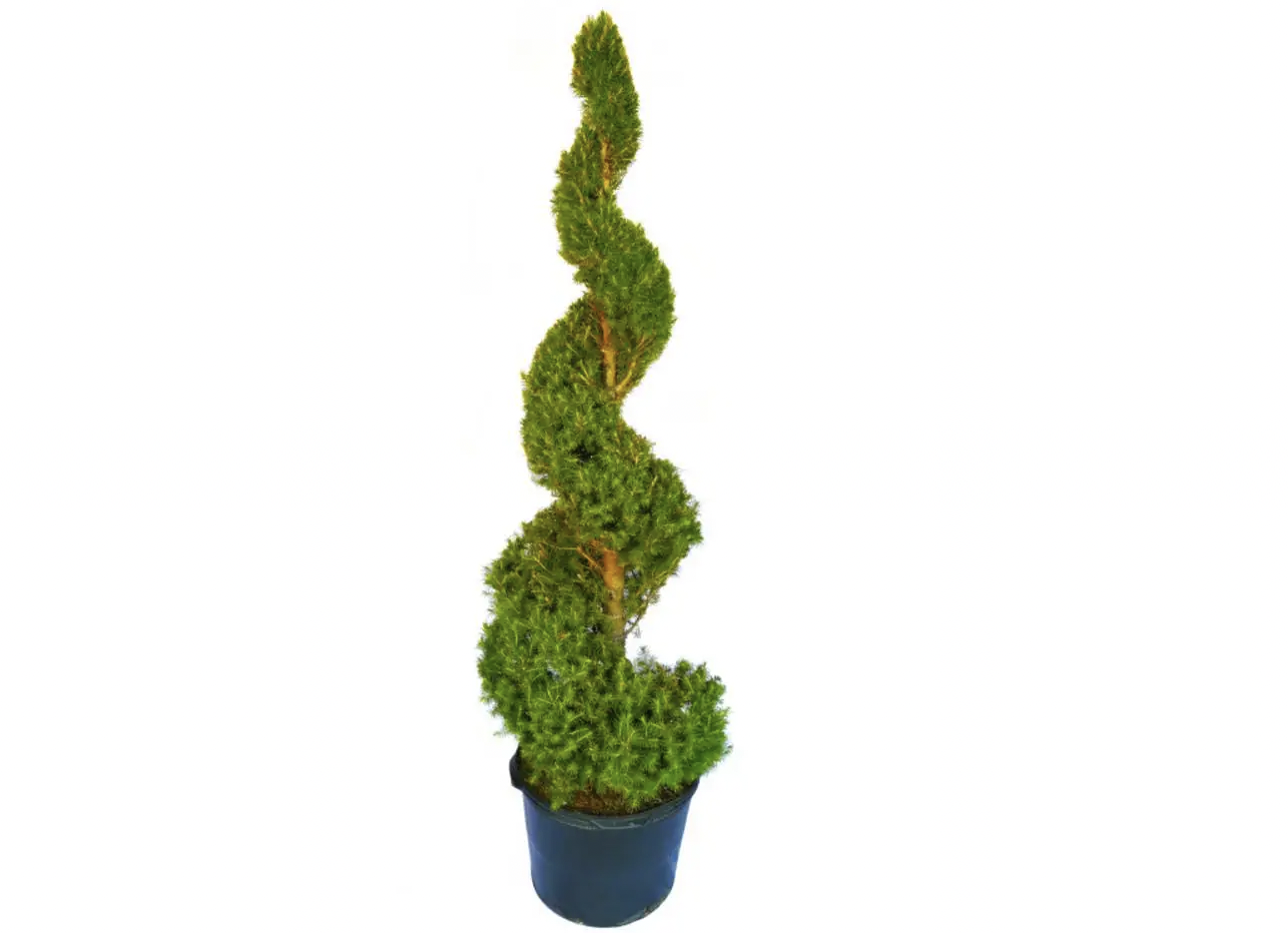 This gorgeous spiral topiary is an excellent choice for anyone looking for a formal, yet versatile touch to their front porch. What I love about this Alberta spruce shrub is that it has plenty of personality without any other decor needed. But it also happens to be one of the best ideas for a durable and hardy topiary for your front porch. While it's dense and strong, it's quite soft to the touch- and can withstand temperatures as low as negative 45°F! It's also resistant to drought. Buy Here. 
English Boxwood Shrub for Topiaries (Real)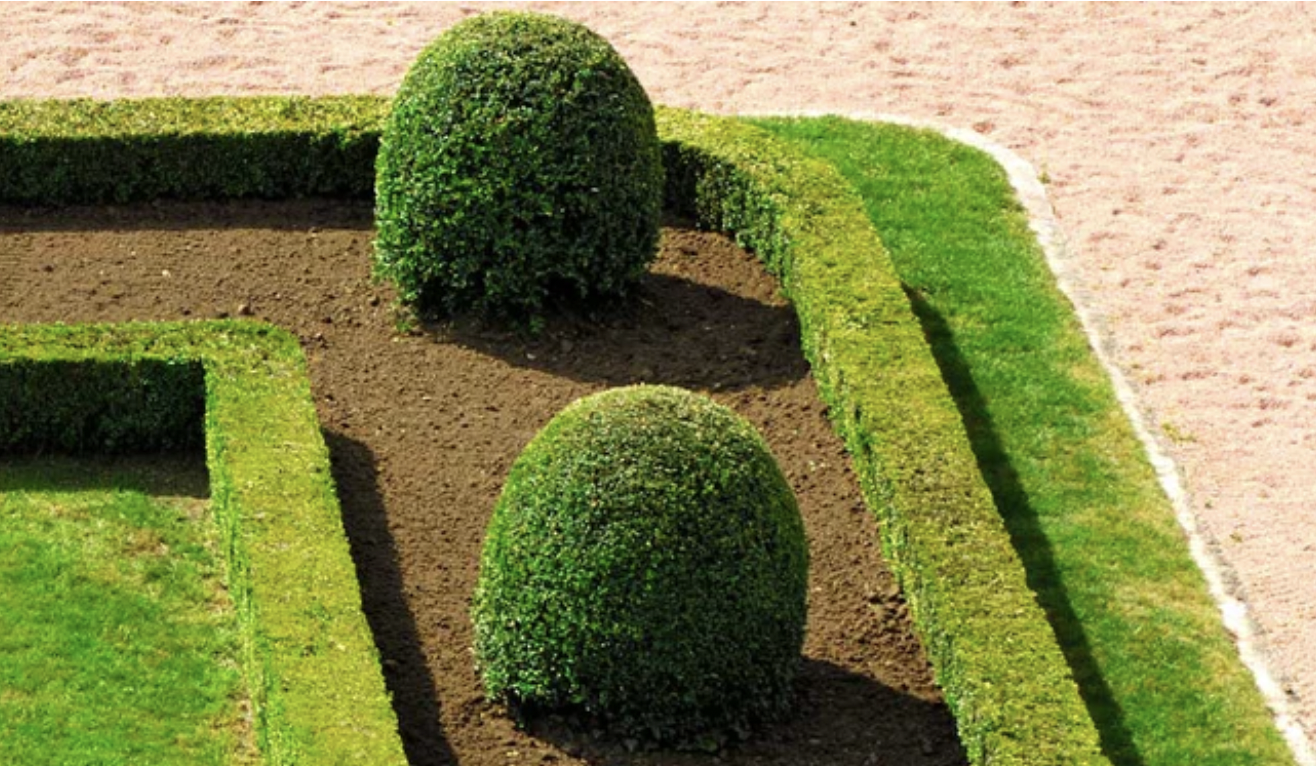 If you love the idea of a topiary for your front porch but want to truly DIY, my deep respect to you! While I don't have the talent, this option is one of your best. This gorgeous genuine English boxwood shrub grows slow- which gives you more control and keeps it low to the ground. It's one of the hardest choices and easy to shape, so let your imagination run wild! This is a great choice if you want to go beyond basic rounded and spiral shapes and have a truly unique potted topiary for your front porch. The high customer reviews and one-year warranty are pretty appealing, too. Buy Here. 
Green Mound Juniper Topiary (Real)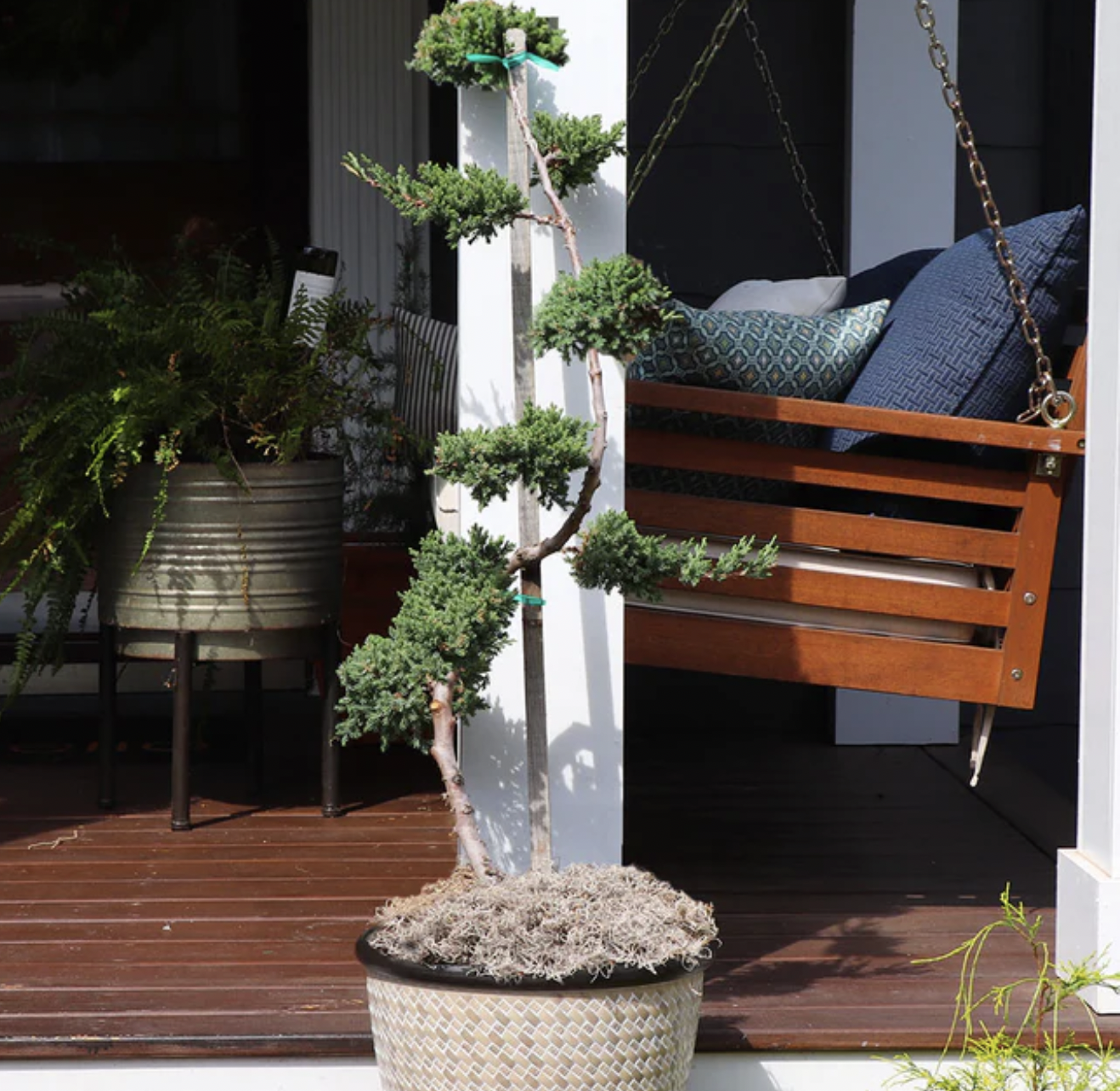 Anyone looking for a twist on the classic topiary will love this juniper. The bluish tint would look spectacular on your front porch, especially paired with a navy porch swing or chairs. It stays just as lush year-round and I love the unique shape. At once a bit whimsical but also still versatile, this charming topiary idea also resists elements like drought and soil erosion. It's easy for me to see how this could become an instant favorite for a real topiary on a front porch. Buy Here. 
Teamson Home Rounded Topiary Shrub (Artificial)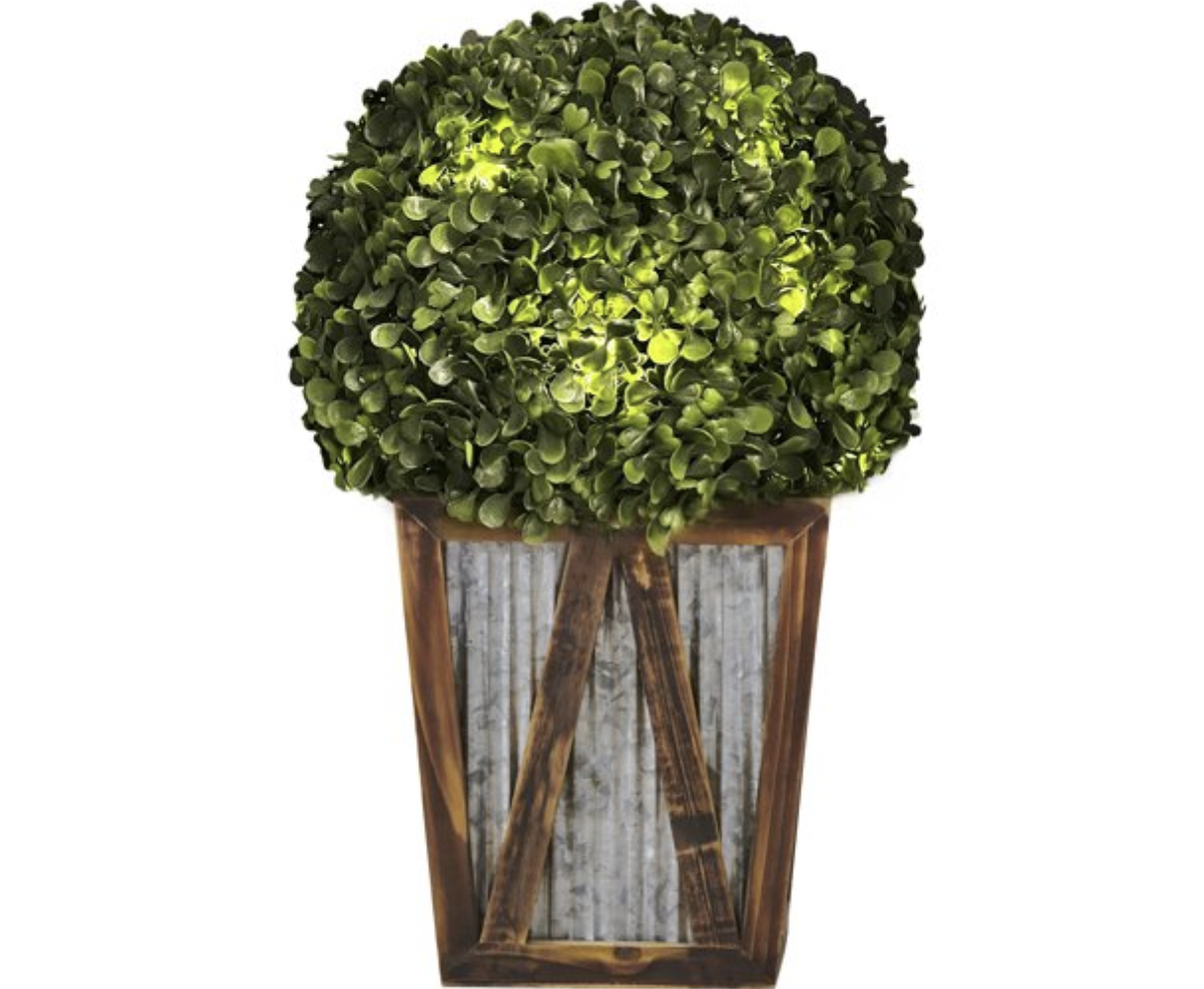 I have a fondness for rustic decor, and maybe you will too after seeing this charming topiary. Great for both covered and uncovered porches, the classic rounded shape works well with the stylish rectangular vase. With touches of wood and metal tones, I see the appeal in the balance of rustic, elegant, and welcoming. But what sells it is the built-in LED solar lights, which are both waterproof and give you up to 8 hours of light at a time! This is a great topiary for enjoying your porch late into the evening. Buy Here. 
Pure Garden Hedyotis Triple Ball Topiary (Artificial) 
The problem with so many artificial topiaries is that they aren't intended for outdoor use. But that's far from the case with this stunning, classic triple ball topiary. I simply love how this stands out for its resistance to UV rays, wind, and weather. While it's lightweight, it has the appearance of a detailed, nearly real topiary. Even better: if you like this topiary and its feature, the same Amazon listing also has boxwood spiral, cypress tree, ficus tree, hibiscus tree, and tropical palm styles! Buy Here. 
Home Heritage Spiral Design Topiary (Artificial) 
The first year my family bought an artificial Christmas tree instead of a real one, it felt like a loss. But artificial is often more practical (especially so when you have allergies!). Yet it's pretty hard to find a low-maintenance topiary that's meant to last on an outdoor porch. This charming topiary Target checks all of those boxes and is nothing short of festive, with a spiral pine aesthetic and pre-wired lights. Buy Here. 
Three Posts Boxwood Topiary (Artificial)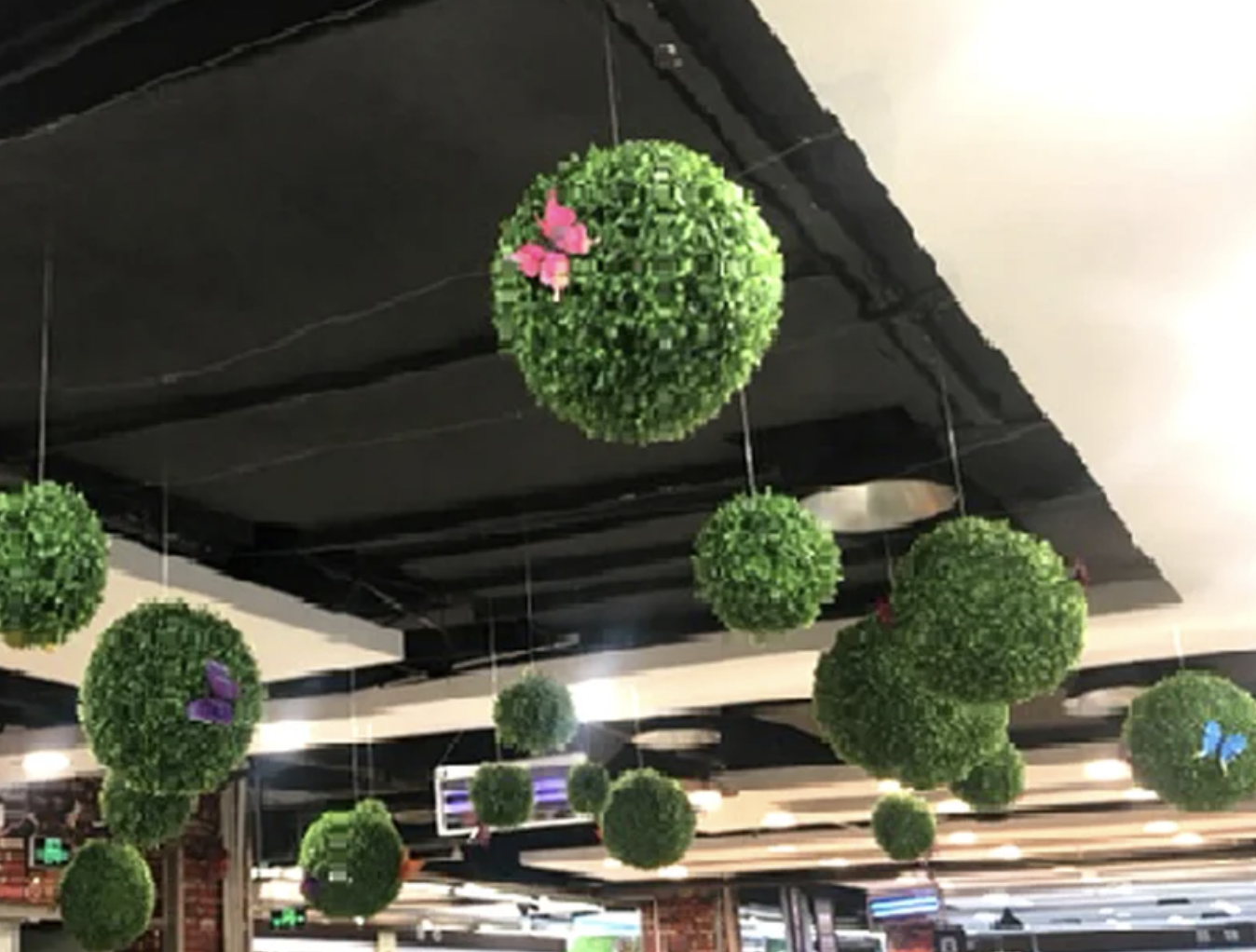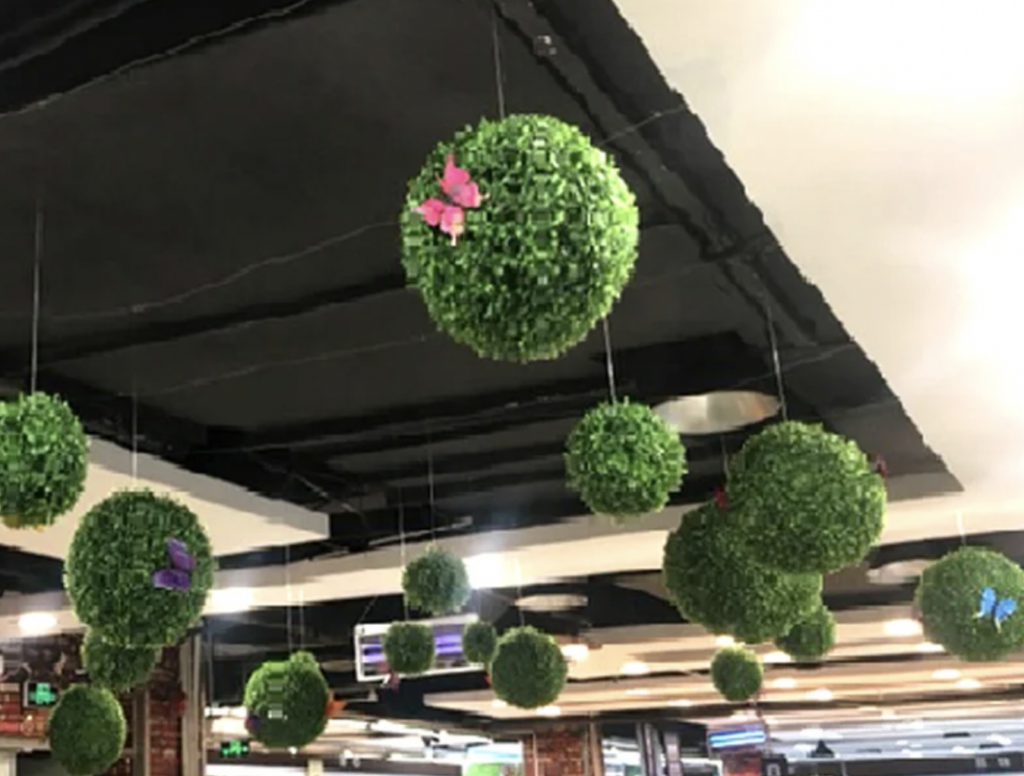 What I love about this topiary idea is that a lot of us don't have tons of room on a front porch. You can free up that space with a topiary that you hang! This hanging topiary is simple, rounded, and could easily pair with others to pair or decorate. I like the PE material because it's easy to clean and water-resistant. Even better, this small topiary won't fade with UV rays and should withstand most weather conditions. Buy Here. 
Nearly Natural Boxwood Double Ball Topiary (Artificial)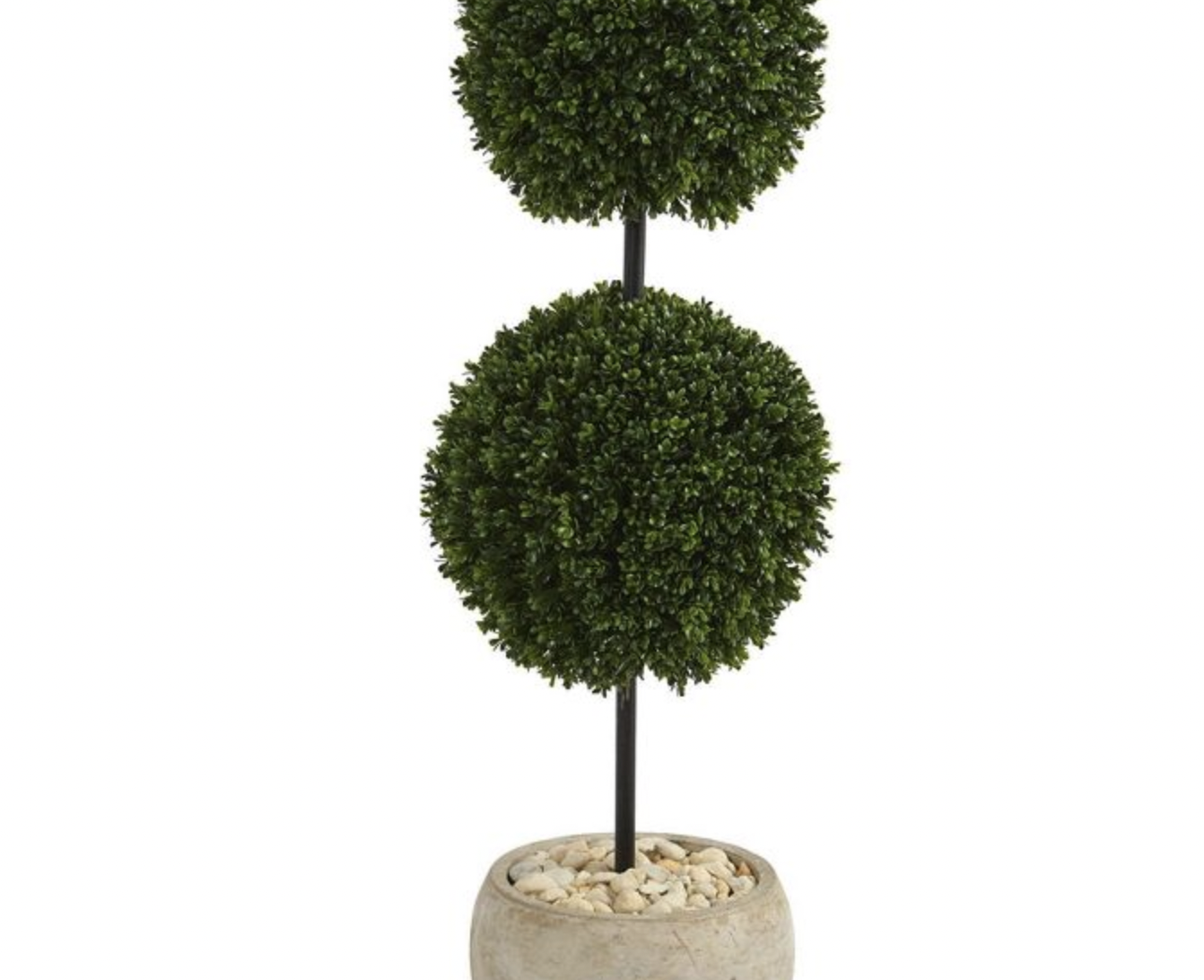 If you want an artificial topiary but aren't convinced it'll look convincing enough, then you may just love this design! This topiary is impressive, with a beautiful, highly detailed level of foliage, paired with a streamlined aesthetic. I love how it embraces the rounded boxwood look, paired with a base with sand. This modern topiary is also resistant to UV rays, so even the sunniest porches will be just fine. Buy Here. 
Frequently Asked Questions
Question: Can the topiary be planted outside?
Answer: Not only can the topiary be planted outside, but it's intended for outdoor use. Live topiary, if taken care of, thrives outdoors. Live topiary requires direct exposure to sunlight, with a minimum of three to six hours on most days. Too many people make the mistake of planting their topiary under s covered space or using them inside. Without ample sunlight, the topiary won't last long. At the same time, even though topiary should be planted outside, that doesn't mean that they'll do well unattended. I only recommend topiary for those who are somewhat experienced with caring for plants and/ or gardening. 
Question: Can the topiary stay outside in winter?
Answer: Topiary can stay outside during winter, provided they're the best plant type. Evergreens are the most popular type of topiary for this reason: they will remain healthy all year round. Of course, certain types of topiary plants will not survive, while the remaining will lose their leaves as the seasons progress.  Eugenia topiaries, unfortunately, won't survive. Simply put: if you want a topiary that retains its shape and health no matter the weather, buy an evergreen. And remember: topiary still requires direct sunlight, year-round.  
Question: Are topiaries hard to keep alive?
Answer: As much as I love the beauty and sophistication of topiaries, it would be disingenuous to recommend them to everyone. That's because topiaries are notoriously difficult to keep alive. They require a balance of direct sunlight and care, as well as ample watering. The majority of topiaries die because their soil gets too dry. Upkeep is also important: pruning not only maintains its shape and beauty but also retains its health. You'll also need to inspect leaves because topiaries are susceptible to mites and other predators.
Question: What kind of bush is used for topiaries?
Answer: Boxwood is the most common type of bush used for topiaries. Boxwoods, or English boxwood, in particular, are suitable because they're easier to prune, train and shape. They have tiny leaves, which can be shaped with precision and in streamlined cuts. Some bushes don't do well with close shearing, but English boxwood shrubs thrive with it. Pruning keeps boxwoods healthy, and the structure of this plant makes it more manageable to achieve a crisply groomed appearance. However, yew can also be used, while evergreens are the top choice for year-round topiaries. 
Final Thoughts
A live front porch topiary is a truly beautiful and sophisticated addition- but I also think it's important to see it as a commitment. That's why I love the alternative of artificial topiary too. As much as I love live topiary plants, many of us don't have the skill or commitment to maintain them. Deciding on what fits you and your lifestyle best is a good step. Hopefully, my ideas have inspired you, and you now have a sense of at least different styles you can shop for. Whether you want an artificial tree with no maintenance or a live one that you'll nurture, there are many beautiful choices.
Final Recommendations
If you've decided on a live, fresh topiary, make sure you're prepared to give it ample sunlight, watering, and pruning- and watch this tutorial for a quick start. And remember: checking a local nursery near you can be a great idea for deals and finding the best cared-for topiary options! Plus, I like supporting local businesses.
But if you're on the fence about which option is best for your front porch, then I recommend an artificial but high-quality topiary like this Pure Garden Hedyotis Triple Ball Topiary (Artificial). While it has great detailed textures and a lovely style, it doesn't require the maintenance or expertise of real, live topiaries.
Recommended Reads: