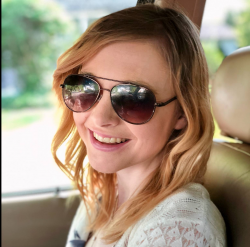 Latest posts by Erin Jamieson
(see all)
I used to be a traditionalist in buying furniture: I'd shop near me at Home Depot, Menard's, or Lowe's. While I still enjoy in-store shopping, the pandemic swayed me to purchase more online- and with a shortage of patio furniture, you have way more options. 
The catch? While shopping for patio furniture online is fun, it's also daunting. Whether you're looking for patio furniture on sale or high-end dining sets, you might feel bombarded with options. That's why I'm guiding you through the best places you can find patio furniture online. 
Read on for my top places to buy patio furniture online- as well as smart buying tips to save you money. 
Bottom Line Up Front Summary
If I had to recommend just one place to shop for patio furniture online, it would be Wayfair. Wayfair offers the widest selection of brands, styles, and materials. They cover all patio needs- from dining sets to umbrellas, lounge chairs, and more. The collection is a balance of better materials and value, without a high price point. If you're looking for premium, high-end patio furniture, I'd recommend Pottery Barn or Dutch Crafters. 
My Top Places to Shop
How I Selected Where to Shop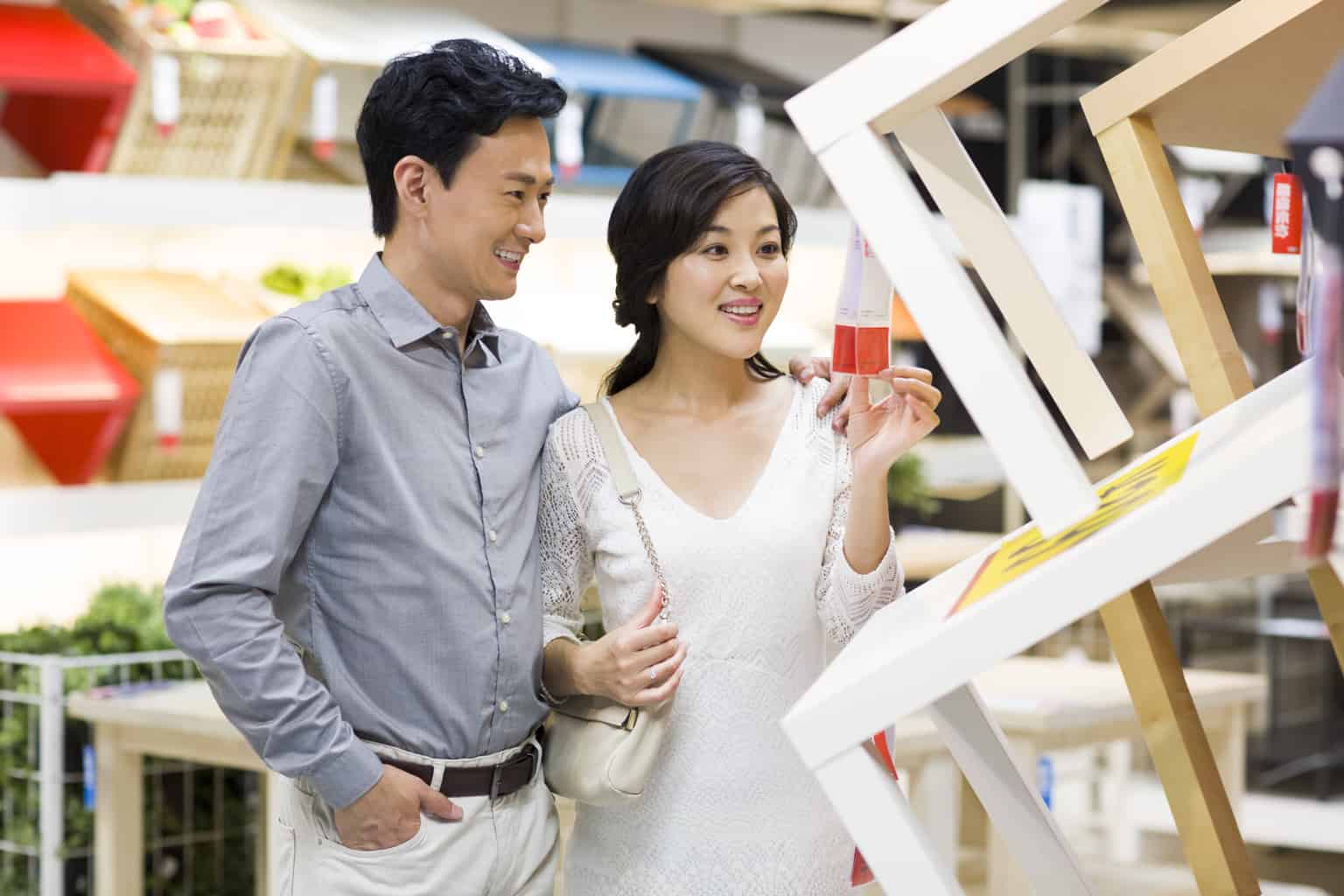 Buying patio furniture is an exciting process. One of my favorite experiences was nothing extravagant. I simply wanted a set of patio folding chairs and a table for my small apartment patio. But I've also had fun shopping with extended family for 8 piece sets or finding the best deals for patio furniture at outlets. I want your experience to be as stress-free as possible, no matter your budget. 
To make my list of the best places to shop online, every store had to offer the following:
Fair Customer Service
This is non-negotiable. Any online place you buy patio furniture from needs to have a history of fair and honest customer service. I don't look for places with absolutely no complaints, but ones that respond quickly and effectively to any issues. I also select places that have clear shipping and handling policies, refund/ return policies, and an easy way to contact for help. In short, I only select places that are known to be trustworthy and transparent.
Shopping Experience 
The website needs to have a professional layout, with filters to easily sort by patio furniture types, price, style, materials, and ratings. Every product needs to have details before you purchase it. That includes clear prices, a description of features, materials, and the brand. I prefer shopping only from stores that provide customer reviews so you can understand the reasons for the average ratings. Another must is images, and preferably more than one so you can envision what the patio furniture will look like on your porch. Finally, assembly is almost always required, but this, and any warranties or protection plans should be mentioned. 
Style and Brand Selection
My selections together represent a range of patio furniture styles, from modern and minimalist to the rustic, farmhouse, and whimsical. I also prefer stores that offer a wide range of both versatile colors but also some more colorful options. While not one store is going to carry everything, I look for a general balance of items. 
Fair Pricing 
We all have different budgets. Some of us are looking for patio furniture as cheap as possible. Others are looking for more high-end, luxury patio furniture that will last them a while. I want to balance out good-quality patio furniture for the price you're paying. Whether you're buying Hampton Bay or designer, the stores I selected offer fair prices. 
Top Places to Shop for Patio Furniture Online
Ready to shop? Here are my picks for the best places to find furniture online and what you need to know to make the most out of your shopping experience. 
Ikea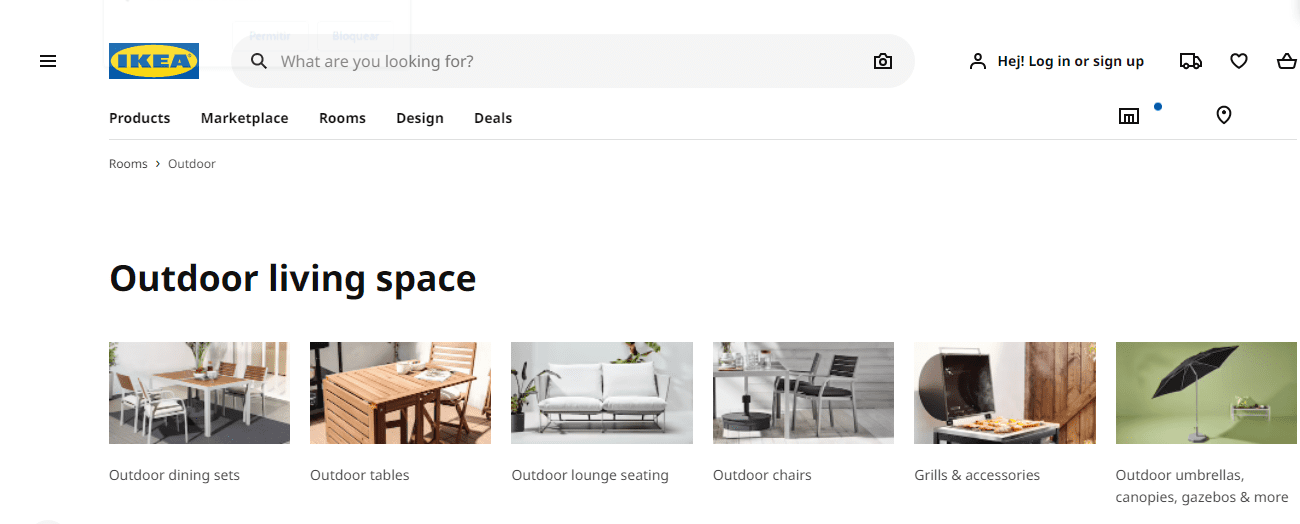 I think a lot of us have a certain fondness for Ikea. Going to the store is an event in itself, previewing setups of different rooms. But when their showrooms don't have what you want, they have even more online. Ikea is known for its easy assembly, cheap prices, and furnishings for small spaces. The most modern and minimalist aesthetic makes Ikea's selections versatile and that ties into its outdoor patio furniture collection. Shop Here. 
Patio Furniture Collection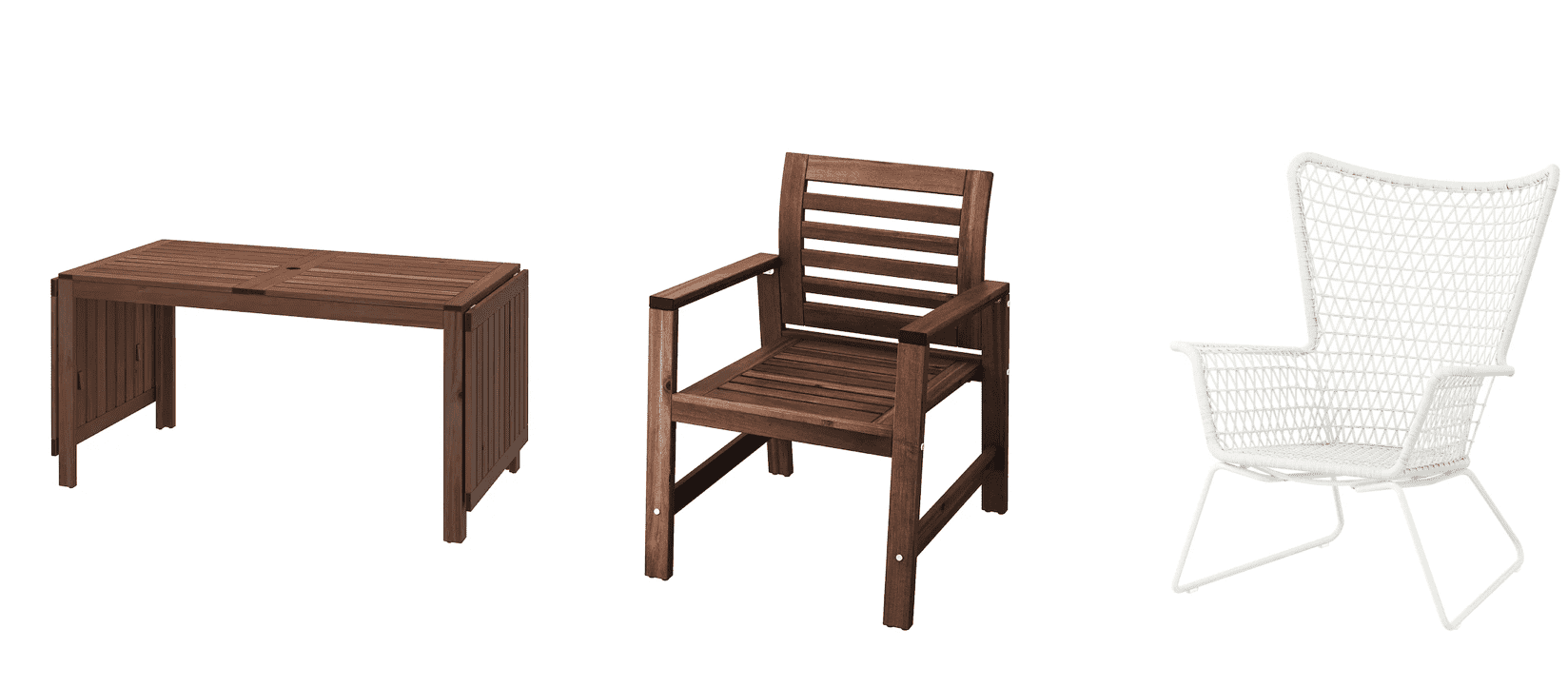 You can shop by patio furniture type (dining sets, chairs, tables, lounge chairs, umbrellas, lighting, rugs, pots, and plants). But I like shopping because they collect featured outdoor living spaces. Most of their pieces are solid wood or metal, and most pieces are designed for cramped spaces. Folding furniture is easy to store and move. There are some expensive lounge chairs, all with the same clean, contemporary aesthetic at a pretty good price.  
Notable Picks 
Ikea is somewhere you can find staple patio furniture when you need to replace something or you're working with other restrictions. While individual furniture pieces don't wow me, I love how they show you how to tie together an entire look. Their Lush and Inviting Patio Collection showcases modular furniture with a generous patio umbrella, lighting, and waterproof outdoor storage. The Small Garden Balcony Collection proves that you can make a lot of small patio space with a simple table, folding chairs, and shelf units.  
Shipping/ Customer Service 
Patio furniture can be shipped to your home or store. Refunds are generous: new products can be returned within a year, and opened products (good condition) can be returned within 180 days. They offer online planning tools to envision your space, order tracking, and financing. 
Pros
Minimalist and Versatile

Patio Collections- Easy Mix & Match

Great Return Policy

Transportable, For Tight Spaces
Cons
Not Premium Quality

Many Pieces Best Suited for Covered Patios

Not as Comfortable 
Target 

Target has an average of 2 million customers in their stores every day- and that number likely doesn't cover online shopping. While you may know Target for electronics, smaller home goods products, and groceries, they have a more generous collection of patio furniture than you might imagine when you shop online. While Target's patio furniture is also contemporary, it's a bit less minimalist than Ikea, and slightly more sturdy or comfy. Still, they have great sales and of course, you get additional discounts if you have their Red Card. Shop Patio Furniture Here. 
Patio Furniture Collection

Target's collection is fun, without the big sticker price. Patio tables, dining sets, simple folding chairs, fire pits, love seats, ottomans, small space sets, and charming hammocks are their main offerings. You can shop collections by budget, style, and type of furniture. Neutrals and tropical and coastal-inspired patio furniture add cherry decor. Wood, metal, brass, wicker, and canvas are common materials. These collections excel with throw pillows, stands, umbrellas, and other accents that take simple pieces of furniture and elevate them. 
Notable Picks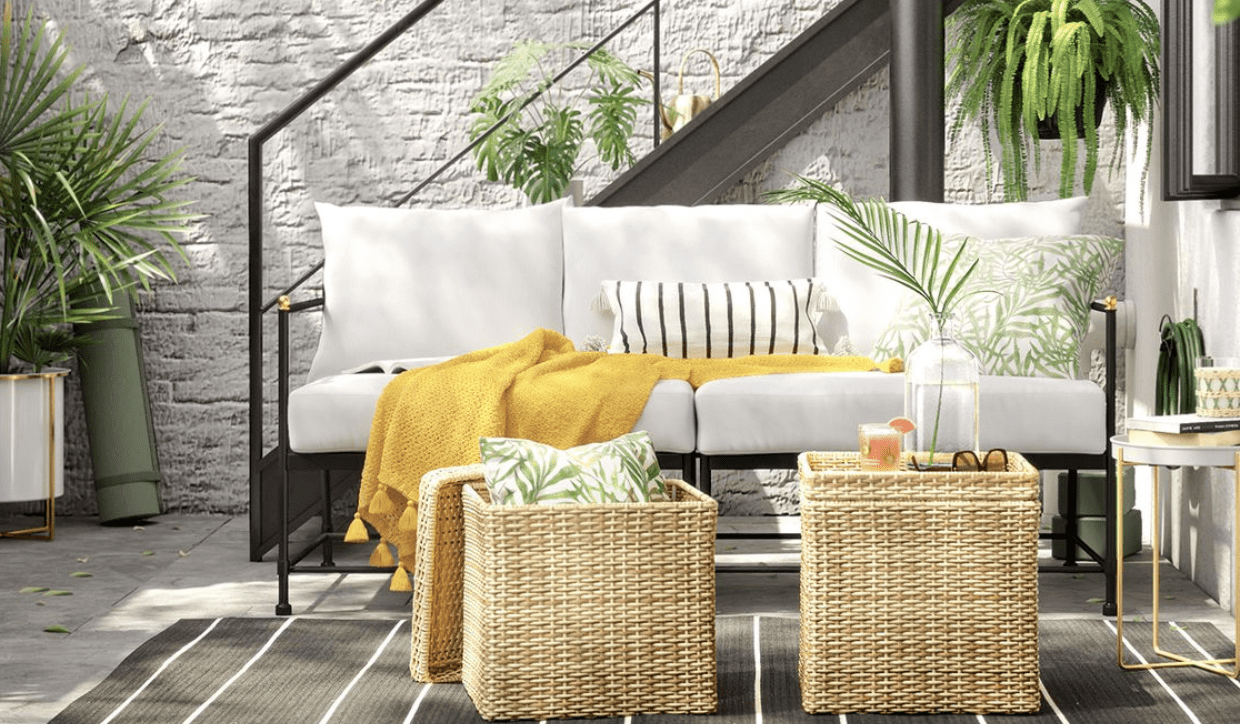 As is true with Ikea furniture, my favorite way to shop for patio furniture from Target is through their collections. Right now, their Tropical Outdoor Living Collection is catching my eye with accents like a banana leaf umbrella, lanterns, and wicker accents. If you're on a tight budget, they have a collection of Patio Furniture Under $30 and a nice blend of cheap but interesting options. 
Shipping/ Customer Service
Not everything is available for shipping or pickup delivery, so either filter accordingly or look before you check out. However, Target is very easy to shop, and both delivery and pick up are usually pretty speedy compared to other stores. Returns are fairly simple and you can track orders online. 
Pros
Cheerful and Modern Collections

Budget Collections

Excellent Decor Items

Ship to You or In-Store 
Cons
Many Items are More Suited for Covered Patios

Not Premium Materials
Wayfair 

If you want a wide selection of patio furniture, it's honestly hard to beat Wayfair. Wayfair has far more material and style options than the other stores on my list. Shopping online is easy, with options to shop by collection, price point, and more. If you simply cannot find what you're looking for from somewhere else, chances are you can get it from Wayfair. With over 5,000 brands in total, Wayfair offers everything you need for patio furniture. It's a one-stop-shop experience, and there are often sales or discounts. Shop Patio Furniture Here. 
Patio Furniture Collection

As I said, this collection is enormous. Patio furniture includes dining sets, bar sets, pillows and cushions, chairs, tables, umbrellas, and more. You can shop by material, which includes wicker, metal, teak, and wood furniture. Not only do they carry well-known brands, but they're also an excellent source of weather-resistant furniture. A lot of their patio furniture is waterproof, rust-resistant, or fade-resistant. 
Notable Picks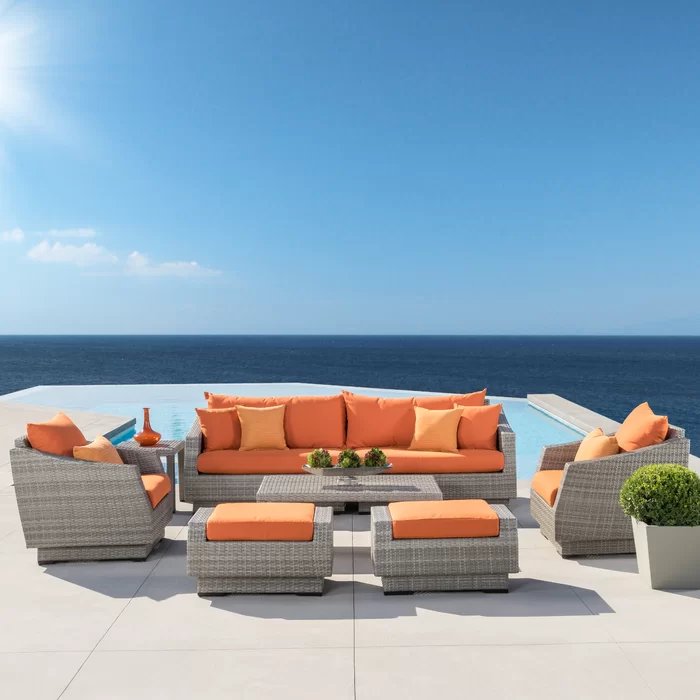 If you want a classic look with waterproof materials, there are many excellent options from their Wicker Patio Furniture Collection. If you're looking for a discount, you don't have to wait for a special time of year. Instead, check their collection of Patio Furniture Sales and Clearance. But the collection I like the most is their Performance Fabrics Collection
Shipping/ Customer Service
Wayfair orders are easy to track online. Orders are shipped to your door, and larger purchases can be financed as needed. You'll also use the Help Center to process any damaged items and returns. Though there have been complaints about Wayfair, I notice they are responsive to answering these complaints, and their guidelines and policies are transparent. 
Pros
Excellent Selection of Brands and Styles

Clearance Sections

Weather-Proof Furniture 

Easy Shopping 
Cons
Customer Complaints (Wayfair still has an A+ on BBB due to responsiveness)

Ship to You Only 
Home Depot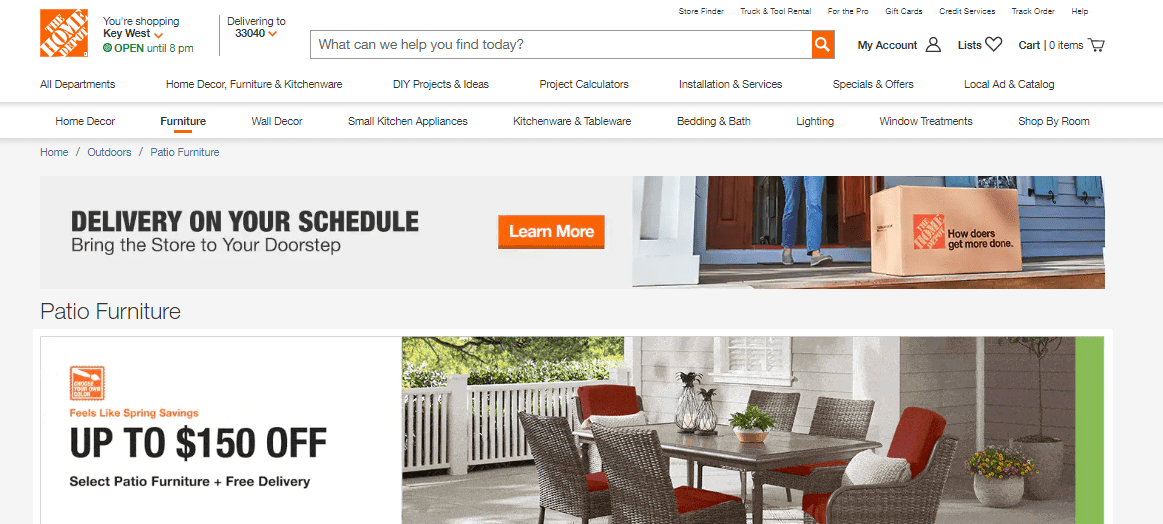 Home improvement stores don't always have the widest selection of patio furniture but they have many notable advantages. First of all, home improvement stores, including Home Depot, almost always have a decent selection of outdoor furniture that's weather friendly. If you're worried about assembly, you have connections to a great resource for just that. Home Depot balances out a selection, customer service, and practical patio furniture for the average home. Shop Patio Furniture Here. 
Patio Furniture Collection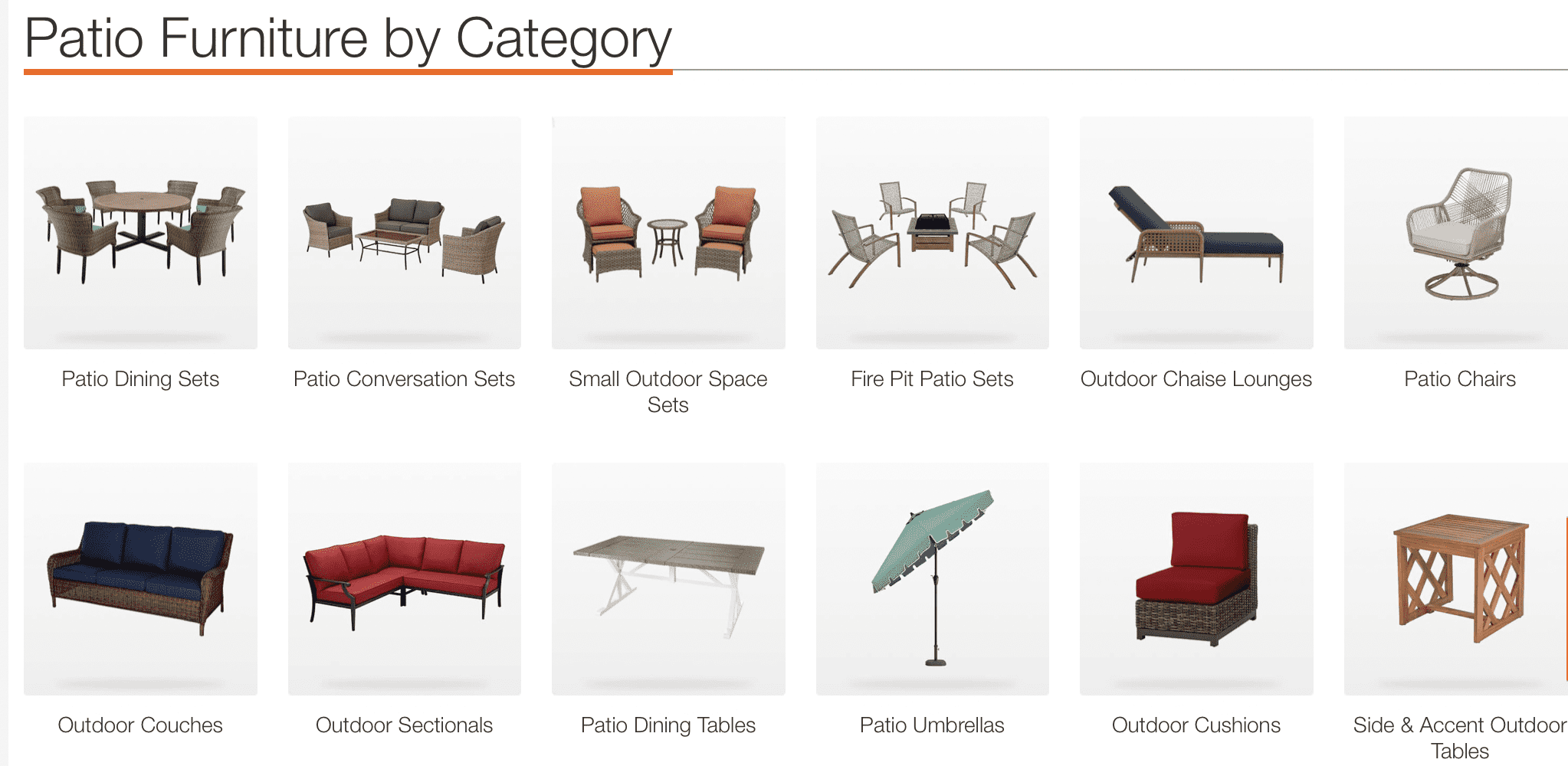 Home Depot's patio furniture collection exudes warmth. Statement pieces for larger outdoor patios and modest patios are both contemporary and cozy. I like how Home Depot balances simple, contemporary styles with comfort and value. Their patio collection includes fire pits, dining sets, conversation sets, lounges, chairs, outdoor couches and sectionals, dining tables, umbrellas, and accent tables. 
Notable Picks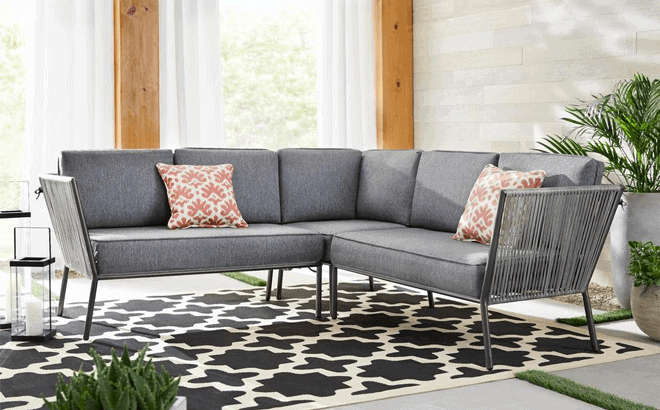 While Home Depot has small patio furniture sets, it excels most with its larger, statement patio sets. Their Outdoor Sectional Sets are excellent for entertaining, with versatile, classic styles that suit just about any home. If you want a full Patio Dining Set, you pay a bit less than a typical furniture store– with comfier and more stylish construction. 
Shipping/ Customer Service
Home Depot has Military Discounts, other sales and promotions, and a transparent set of customer service policies. Shipping options include shipping to you, a store, curbside pickup, and even delivery on your schedule. You can easily track or cancel your order online. New/ unopened products may be returned within 90 days. 
Pros
Optional Installation/ Assembly

Very Flexible Shipping

Great Selection of Full Patio Sets 

Military Discounts

Weather-Resistant Options
Cons
Not Tons of Style Variety

Fewer Budget Sets 
Lowe's

Home Depot and Lowe's may both be competitors, but they're also both great places to shop for patio furniture online. Admittedly, many of the benefits you enjoy with Home Depot, you can also have with Lowe's. They understand the needs of furniture for both covered and open-air patios, with great sets for entertaining and hardier materials than you'd get from either Target or Ikea. You have a physical store presence and convenient customer service. I recommend shopping at both here and Home Depot for some healthy comparison shopping. Shop Patio Furniture Here. 
Patio Furniture Collection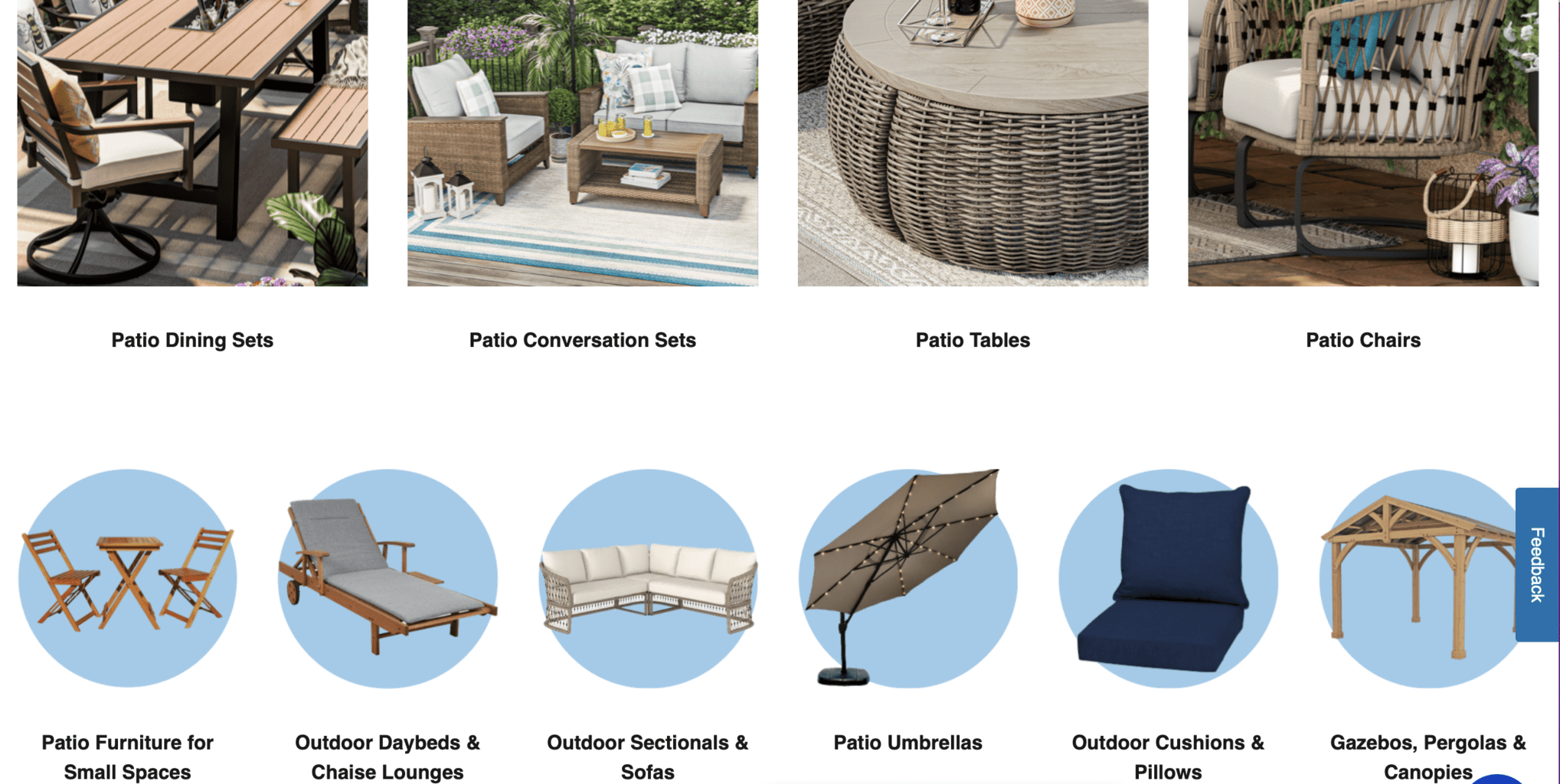 Where Lowe's gets a slight edge over Home Depot is its online shopping experience. Their website is a little more consumer-friendly, with the option to shop for patio furniture by budget. You can find patio dining sets under $600, conversation sets under $600, and fire pits under $200. While Home Depot is simple and versatile, Lowe's has slightly trendier curated collections. 
Notable Picks
My favorite options, aside from the budget collections, are a few of Lowe's stylish patio furniture sets. That includes the wicker-based Veda Springs Collection which is breezy and light. The Riverpointe Collection has a touch of casual luxury without a high price point. 
Shipping/ Customer Service
Shipping is free for orders over $45 under 150 pounds. They have pickup and direct delivery options- just pay attention to the differences in the bulky and standard shipping rates and processing times. Most items that are unused can be returned within 90 days. They have a rebates and rewards program and are known to have seasonal sales. 
Pros
Stylish Collections

Budget Collections

Ship to Store or Home 

Weather-Proof Options
Cons
Limited Range of Styles

Limits to Returns
Dutch Crafters

This is one store you probably don't see mentioned very often for buying patio furniture online. But I was really happy to find Dutch Crafters. All of their patio furniture is handmade by Amish communities in the United States. Dutch Crafters has been in business for nearly two decades and I was pretty excited to see their furniture comes from my home state (Ohio) as well as Pennsylvania and Indiana. They also made Newsweek's 2021 Best Online Shops and Best Trending Online Shops mentions. Shop Patio Furniture Here. 
Patio Furniture Collection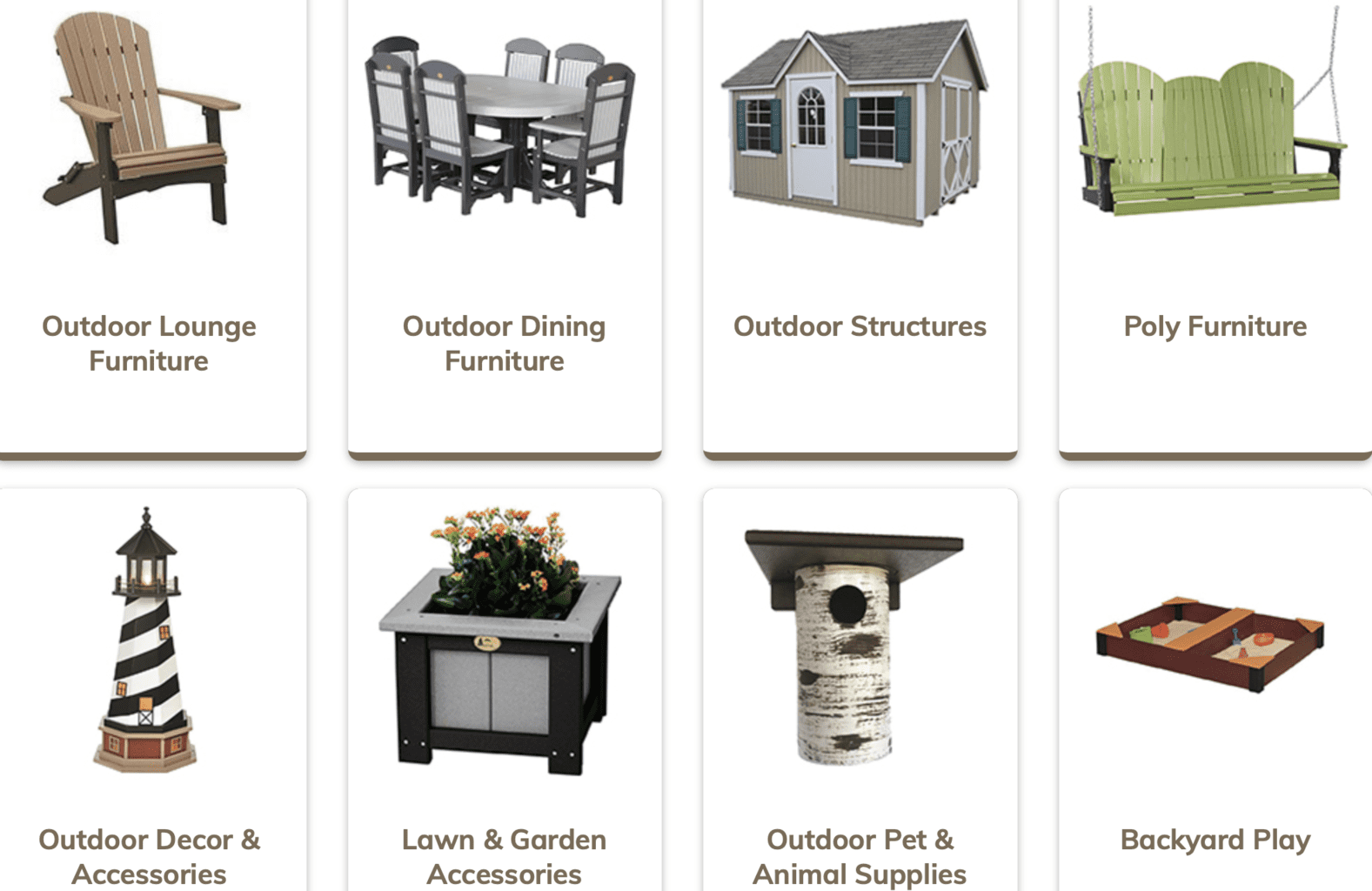 There aren't too many options for shopping for patio furniture made in the United States, and this collection makes an impression. While you won't find the trendiest styles, the classic craftsmanship is simply timeless. Their collection of patio furniture includes lounge chairs, dining sets, porch swings, decor and accessories, accent tables, and even handmade backyard/ lawn games. 
Notable Picks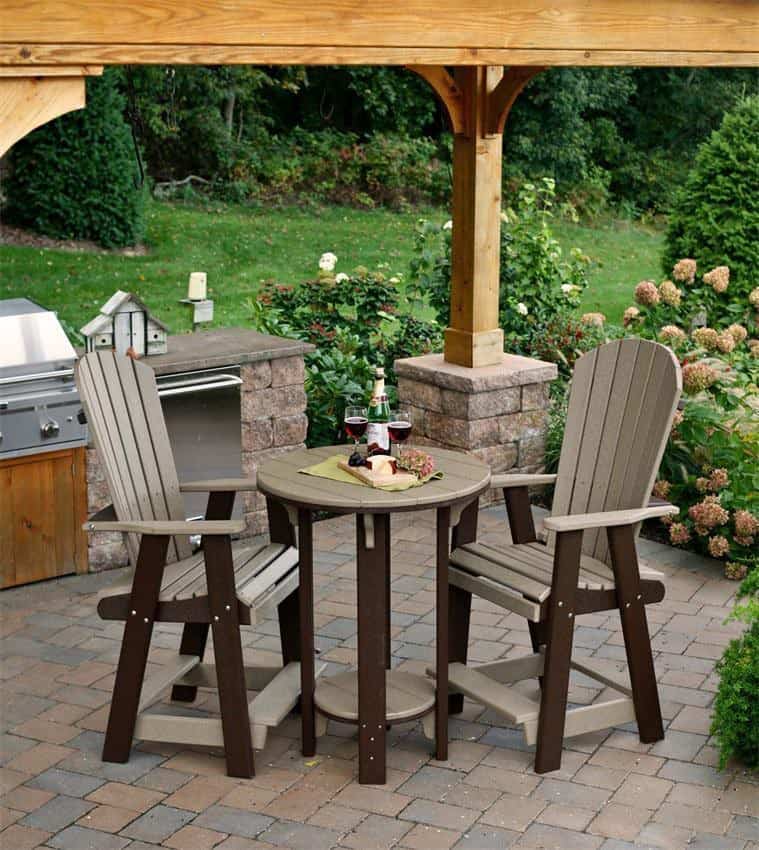 The outdoor dining sets are beautifully crafted, with options for entertaining and enjoying your patio or backyard. If you have a small space to work with, their Pub Chair Bistro Set looks spectacular on a small porch– but it would also be at home near a fire pit, a small garden, or under a pergola. 
Shipping/ Customer Service
Shipping is pricey, with a flat rate of about $249, though some products have free shipping. However, given the expense of some of the sets, this is not as high as it may sound. You can also schedule free warehouse pick up or shop in one of their physical locations. Financing is available: orders over $3,000 only require 30 percent down payments. Their products come with warranties, and they offer a 10-day return window. Read Policies Here. 
Pros
Handcrafted in the USA

Sustainable Materials

Premium Craftsmanship 

Warranties 
Cons
Expensive 

Small Return Window 
Pottery Barn 

Pottery Barn may be known for its coastal and light patio collections, but it very much earns a spot on my top places to buy patio furniture online. With stores across the country, it's easy to see what the most popular sets look like. But they offer all that much more through their online catalog. Pottery Barn isn't just trendy, though. Their collection of patio furniture includes handcrafted and sustainably-sourced sets. It's a move that sets them apart from most places online and physical storefronts, and it's all balanced with a continuously refreshed inventory. Shop All Patio Furniture Here.  
Patio Furniture Collection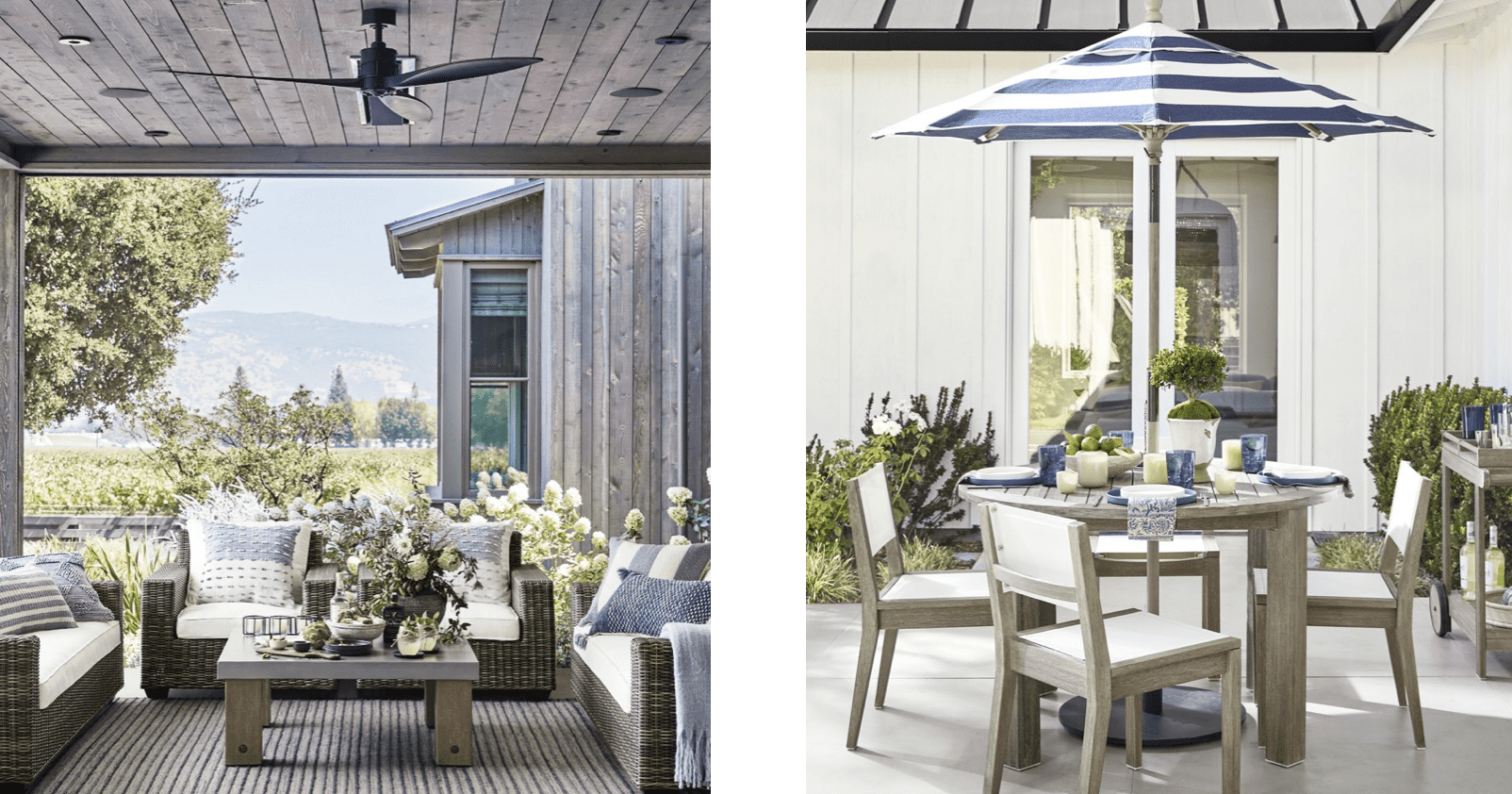 Pottery Barn organizes the online shopping experience via curated collections. This is great for matching, though keep in mind that you don't have to buy full sets. They carry loveseats, dining sets, entertaining sets, tables, lounge chairs, umbrellas, accent tables, and accessories. Wicker is quite popular, but they also have different varieties of wood, including both handcrafted and sustainably sourced options. The look ranges from simple contemporary to boho and coastal. 
Notable Picks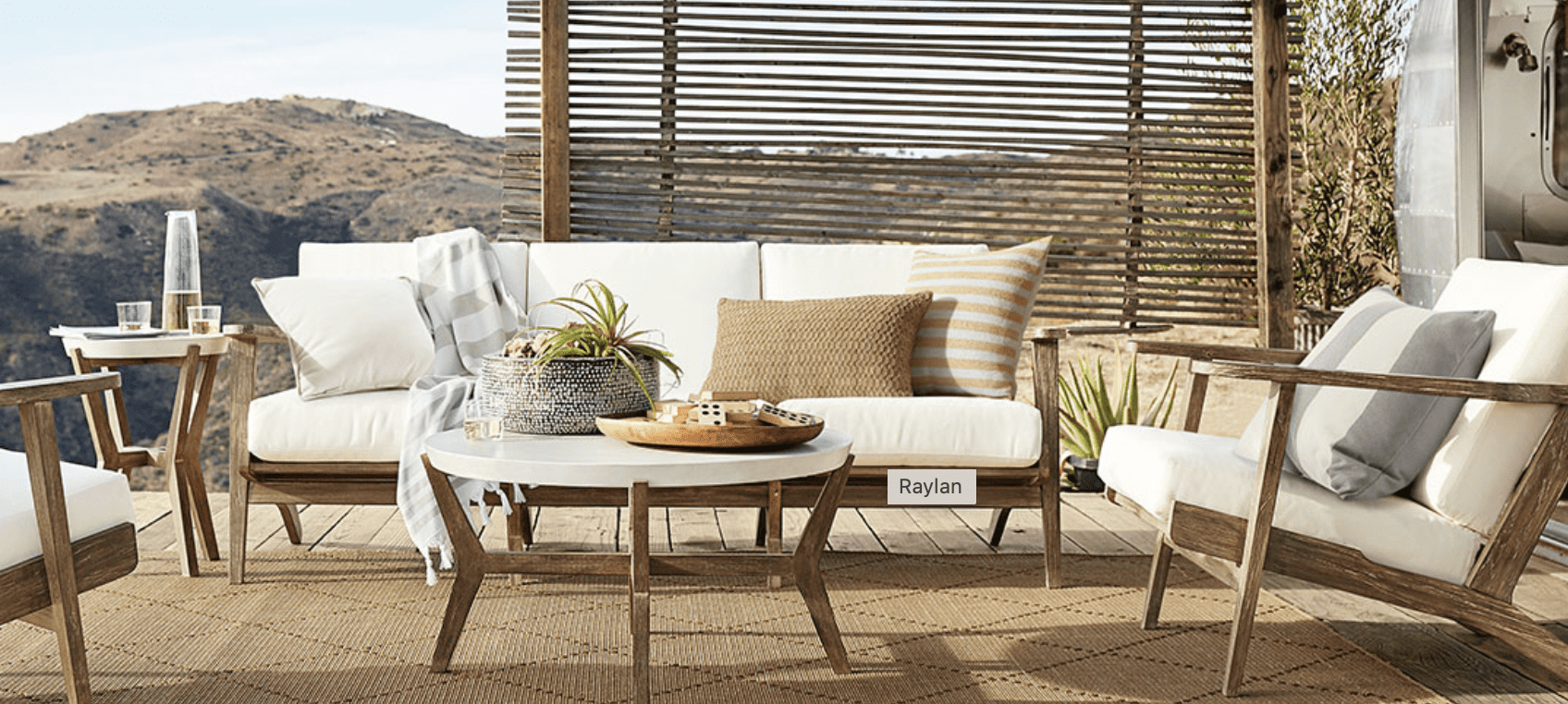 I like their handmade and sustainably sourced collections, including the X Polywood Collection, the classic wicker Saybrook Collection, and the rustic Raylan Collection. Pottery Barn excels most with its entertaining and dining sets, suited for both medium and larger patio spaces. It's not a go-too for budgets or small spaces. 
Shipping/ Customer Service
Shipping options include Standard UPS and Next Day (for some). Front door delivery, front step delivery, special white glove delivery, and delivery to a store give you plenty of options. Most items are eligible for a 30-day return and you can process returns online. 
Pros
Sustainably-Sourced Patio Sets

Handmade Patio Sets

Excellent Style Inventory 

Multiple Shipping/ Buying Options
Cons
More Expensive 

Not Many Options for Small Spaces
Frequently Asked Questions
Question: Is there an outdoor furniture shortage?
Answer: If you've had trouble finding patio furniture in a store near you, you aren't alone. Starting in the Summer of 2021, major news outlets announced shortages that may last through 2023. The good news is that, by shopping online, you're greatly expanding your choices for patio furniture. Being both a little flexible and patient is key. Staple patio furniture, from porch swings to dining sets can still be found. 
Question: Who has the most affordable outdoor furniture?
Answer: If you want new outdoor furniture for cheap, check Overstock.com, overstock warehouses near you, and Wayfair. Ikea often has some pretty good deals if you want simple patio furniture to tide you over. Home improvement stores, like Home Depot, Lowe's, and Menard's are usually cheaper than a dedicated furniture store. Of course, Amazon, Target, and Walmart also have some budget options. 
Question: What is the longest-lasting patio furniture?
Answer: How long your patio furniture lasts is no guarantee, no matter what fabric you choose. However, some materials hold a durability advantage. Wrought iron is about as durable as you can get. Wrought aluminum and cast aluminum are also durable and a bit more common than iron. I also like stainless steel for its corrosion resistance. Wood with water resistance, such as cypress, can be a decent option if you like a more classic look. 
Final Thoughts
You may notice that some popular places to shop online didn't make my list. Walmart, Amazon, and Bed Bath & Beyond are also places you can find patio furniture.
Final Recommendations: Tips for Catching Sales and Clearance for Patio Furniture 
Whether you're shopping for patio furniture online or heading to a physical store, I have some tips and tricks for finding great deals. 
Buy Patio Furniture Outside of "Peak" Time
It's not too surprising if you think about it, but you'll pay more on average for patio furniture during peak season, from early Spring through the end of Summer. Once the weather cools, there are fewer people interested in patio furniture. Mid to late autumn is a good time to shop, but so is right before the weather starts turning warmer again. October is a great month in particular: some patio furniture goes on clearance by as much as 70 to 80 percent off. 
Fill Your Patio with Cheap Decor
Buy smaller sets of patio furniture and fill up your porch space with potted plants, outdoor lights, and other more low-cost items. 
Keep an Open Mind
Comparison shopping is key. Don't buy the first set of patio furniture you set your eyes on. At the same time, keep an open mind. It's good to have an idea of what style you want, but browning clearance or overstock items is a wise choice. 
Recommended Reads: