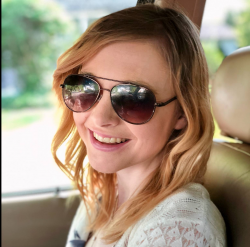 Latest posts by Erin Jamieson
(see all)
My dad and my brother were in boy scouts, and I joined a local girl's troop. You could say that fire pits were an important part of spending time outdoors for my family. From grill-outs to roasting marshmallows, fire pits have always been more to me than a merely nice backyard accessory. But one of the biggest mistakes I've seen made is leaving them uncovered. 
Not only can uncovered fire pits be dangerous, but they also don't last nearly as long. That's why I'm giving you this guide to finding and buying the best fire pit covers. I'll tell you why you need a cover for your fire pit, the best materials, and must-have features. 
The goal: find a cover so that you can make memories with your fire pit for years to come. 
Bottom Line Up Front Summary:  Fire pit covers are a must-have, and not just for winter. The best fire pit covers protect against sunlight, moisture, and high winds. Look for a durable, weather-resistant cover (PVC polyester, reinforced vinyl) that includes a snug closure style. Air vents or mesh is a great idea, especially for rainy and humid climates.
If I had to recommend one fire pit cover option, it would be the Modern Leisure Renaissance Cover for square fire pits. It's weather-resistant, has a great price, and has side vents. The Cover Store, meanwhile, offers an array of options for custom sizes. 
My Top Picks
Why You Need a Fire Pit Cover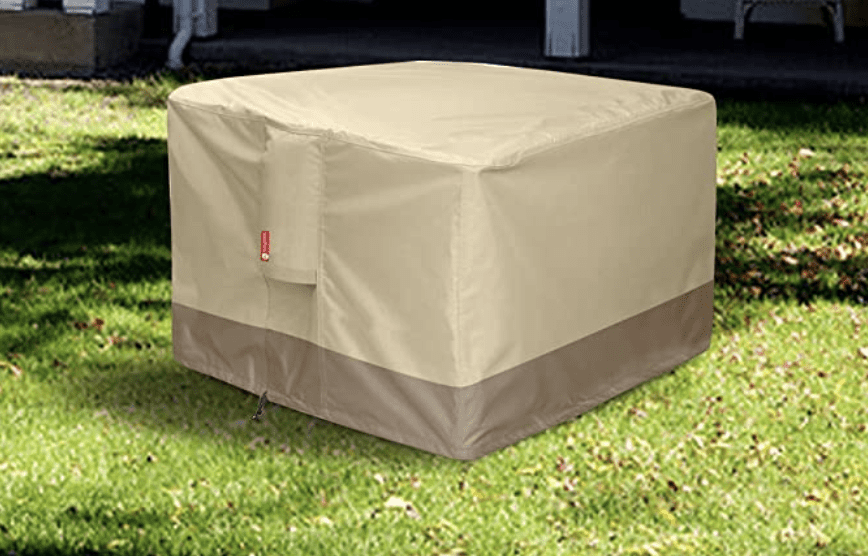 Do you need a cover for your fire pit? 9 times out of 10, the answer is yes. I tend to be a minimalist sometimes. But I've learned the hard way that buying covers really can extend the life of outdoor equipment and furniture. That includes fire pits. Here are my top reasons why I think a fire pit cover is well worth the money. 
For Winter
The last thing you want to do is leave your fire pit out and uncovered in winter. That's true for several reasons. Fire pits that are exposed to sleet and snow will corrode or rust. But there's an even more important reason. Since snow and ice create slick conditions, an open and exposed fire pit can create a true hazard. For your safety and the fire pit's longevity, a cover is important for colder months.
See also: Best Target Fire Pits Guide
For Rain
For that matter, even light or warm rain can have similar effects. While it can rain on a fire pit– and you can buy one with a water-resistant coating, it doesn't beat a cover. A cover allows you to leave your fire pit out, even when a storm rolls in.
For Kids, Pets, and General Use
While it's important to keep a fire pit covered during precipitation, I think it's a good idea to keep it covered whenever it's not being used. That's especially true if you live in an area with a high risk of fires, if you have kids, and if you have pets. 
How to Use a Fire Pit Cover
A fire pit cover isn't just for winter. Protective against weather, sunlight, and wild animals, use a cover whenever the fire pit isn't active. Make sure the fire pit cover is snug and secure. You don't want it blowing away in the wind, or debris and insects to enter through gaps. I'd occasionally clean a fire pit cover, but beyond that, they require little to no maintenance. Just check every once in a while to see if your cover needs to be replaced due to any tiny holes, rips, or tears. 
How to Select a Fire Pit Cover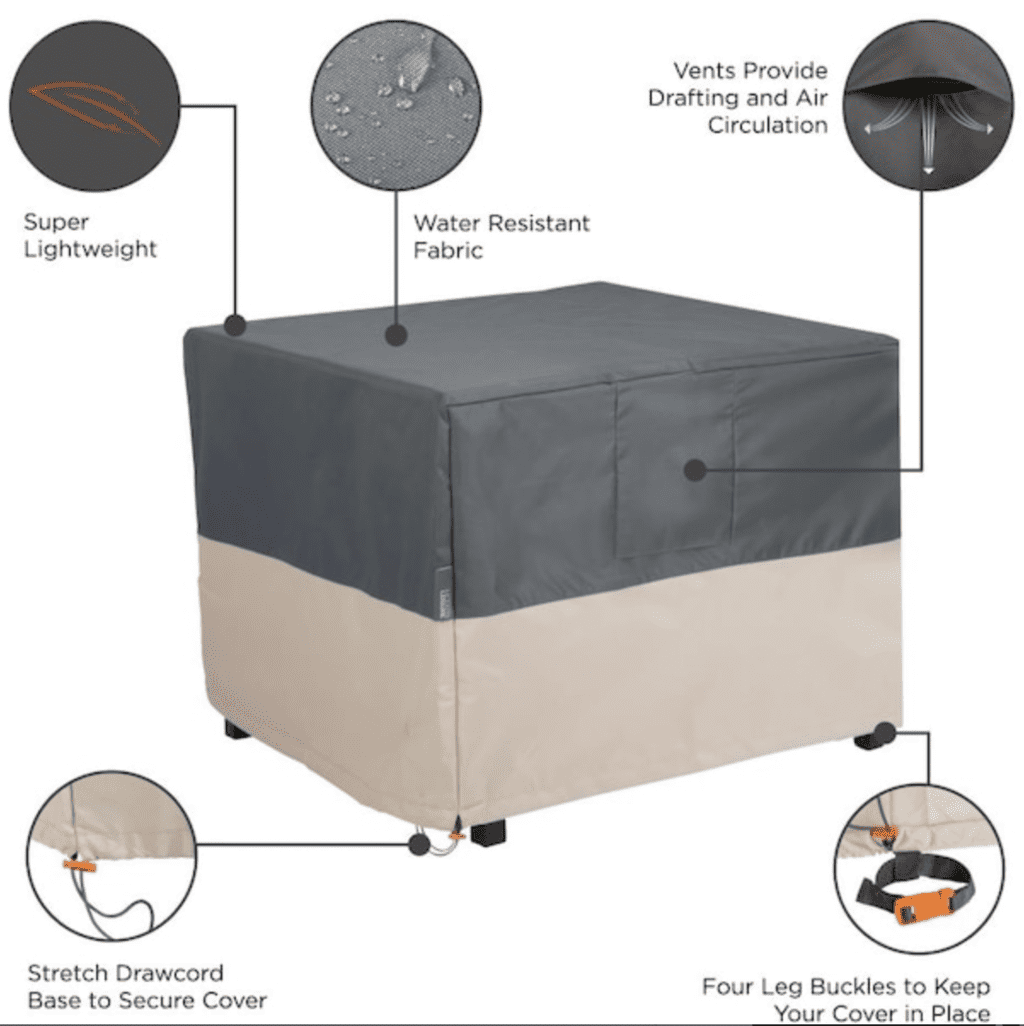 For a fire pit cover, I'm looking for several things. A fire pit cover needs to be weather-resistant, tear-resistant, low-maintenance, waterproof/ resistant, and to provide a snug, secure fit. Here's what I look for to find the best covers. 
Step One: Fire Pit Cover Sizes 
You need a snug fit for a fire pit cover, and that's why measuring your fire pit dimensions is so important. I'd add just a little clearance- about an inch for each dimension- if you're buying a stiffer fabric. Buy a fire pit cover size as close as possible. Firepit cover dimensions usually range from 30 inches to 60 inches. 
Fire pit covers come in countless shapes, including round/ circular, square, rectangular, hexagonal, and oval. Don't get too fancy with your fire pit cover. This category is simple: buy the size and shape that most match your fire pit. 
Step Two: Fire Pit Cover Materials
Be warned: not all fire pit covers will last long. The best features of a pit cover include UV-ray resistance, dirt/ debris resistance, and waterproof fabric (often water-resistant). But which materials are best? Here's my take on the most commonly sold fire pit materials. 
Cotton/ Canvas Fire Pit Covers
Cotton is cheap, and cotton is strong. Many of the cotton fabrics used for fire pits are quite tear-resistant. I also see people prefer cotton as a 'more natural option.' While I can understand the initial appeal of cotton, I wouldn't choose it for a fire pit cover. The only time I'd consider either cotton or canvas is if it's supported with a protective coating or a layer of waterproof polyester. Cotton and canvas alone attract mold, mildew, and moisture. The best use for cotton, canvas, or similar materials is to provide extra strength and thickness, as polyester can be quite thin. 
Polyester Fire Pit Covers
Polyester has many advantages over cotton and canvas. Polyester is naturally weather-resistant and repels moisture and mildew. It's a commonly-used fabric for patio furniture and covers, has a nice flexible construction, and is cheap. But if you want to upgrade a bit, a PVC- coated polyester is preferable. While polyester is water-resistant, the PVC coating makes this material waterproof. It's a bit heftier and seen on products such as luggage. Higher-quality polyester also blocks UV rays and reduces fading and overall wear on a fire pit. 
Reinforced Vinyl
As known as lined vinyl, this is stronger than industry-standard vinyl you'd see used for clothing and other accessories. Like polyester, reinforced vinyl is flexible and weather resistant. It can be stronger than polyester against harsher winds and hail. Much of the reinforced vinyl is also waterproof. This is a great option for a fire pit cover. 
See also: Best Fire Pit Accessories [2022]
Step Three: Fire Pit Cover Features & Closure Styles
Vents, which you also see for the best porch swing covers, are a great choice for a fire pit cover. Either mesh or tiny vent cutouts reduce the build-up of moisture and condensation. Some include storage bags. 
Another factor I pay attention to is the fire pit cover's closure style. This impacts the fit of the fire pit cover and how easy it is to take on and off.  Acceptable forms include:
Elastic Closures

Drawstring Closures

Buckle Closures

Velcro Closures 

Zipper Closures
Some of this is a personal preference. I like the flexibility of both elastic and drawstring covers. Elastic, however, can wear out. With a drawstring, it's up to you to provide that snug fit. Zippers and buckles often require precise sizing. If well made, all of these closure types can work. Sometimes, fire pit covers will pair several closure types for an even more secure fit. 
Just make sure that you never buy a fire pit that's loose, without a closure. This is a way to cut costs and makes no sense for a cover. 
See also: Best Front Porch Planters Guide
Step Four: Pricing & Where to Buy 
Fire pit covers can cost as little as $15 up to a little over $100 for larger covers or unusual shapes and dimensions. With that range, also keep in mind that warranties and reputation matter, too. I prefer fire pit covers that offer 1 to 3-year warranties. It's even better when you find a fire pit cover that comes with a lifetime warranty. 
Fire Pit covers can be purchased pretty much anywhere you'd expect. See my table below for where to shop, depending on your budget or needs. 
| | |
| --- | --- |
| Price Range/ Needs | Where to Buy  |
| Budget, or Wide Selection | Amazon, Walmart, Overstock, Wayfair, Costco, Big Lots |
| Medium-Range, Good Selection | Home Improvement Stores (Lowe's, Ace Hardware, Home Depot, Menards, Tractor Supply, ) Target, Wayfair  |
| Unique/ Unusual, Higher End  | Specialty Stores  |
There are handmade fire pit covers on Etsy and covers for sale on eBay, but both are unpredictable. Stock is unreliable and quality varies. 
Fire Pit Covers: A Few Ideas 
Here are a few of my favorite fire pit covers that you can buy online today. These fire pit covers are fairly priced, constructed with durable fabrics, and tout features that make them stand out from other fire pit covers. I didn't style factor as much, because, truthfully, fire pit covers are not known to be beautiful. Hopefully one of these covers will spark ideas for protecting your fire pit. 
Sunnydaze Round Outdoor Fire Pit Cover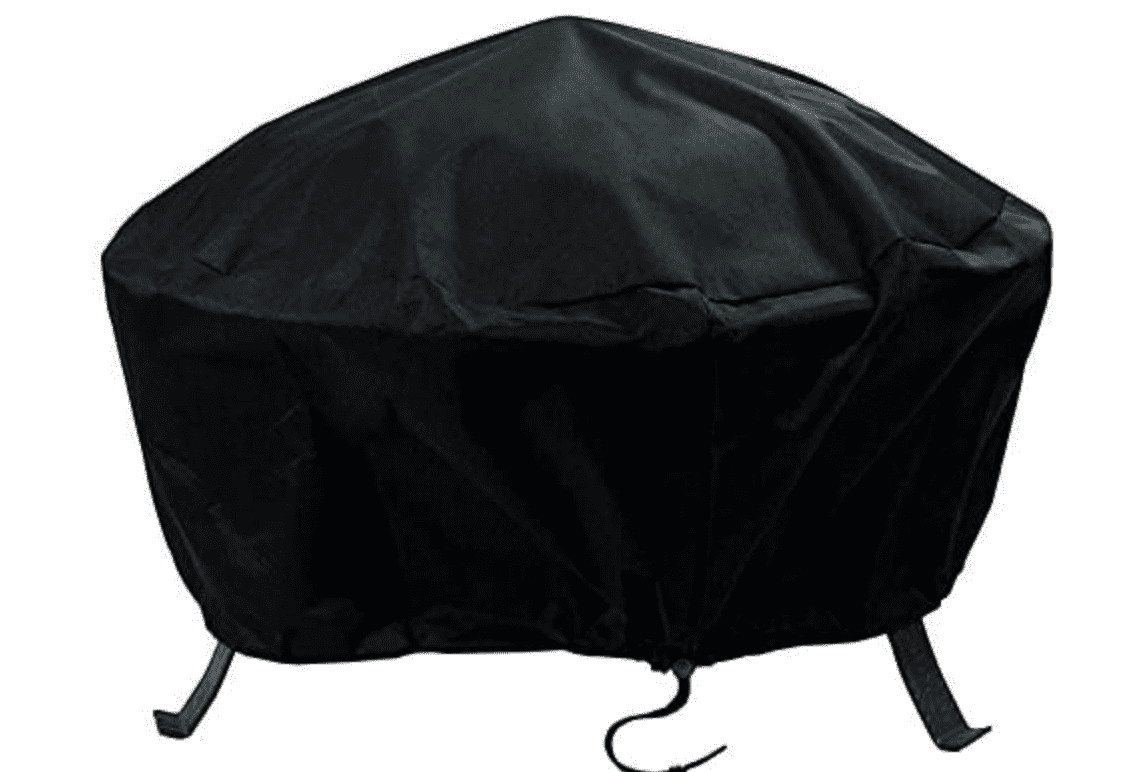 If you want a simple round fire pit cover, this Amazon Choice listing is one of your best options. Beyond the affordable price, this fire pit cover earns its popularity and high ratings. Sunnydaze is a popular brand for sturdy but affordable outdoor furniture and materials. You get a 1-year manufacturer's warranty and an easy-to-use round cover. The cover measures 12 inches by 36 inches and is made with reinforced vinyl. The black cover protects all weather types, from sunny days to sleet. I like that this model pairs a drawstring and toggle closure for a classic, snug fit. At just one pound, it's lightweight but still durable and low-maintenance. Buy Here. 
Pros
Reinforced Vinyl 

Toggle and Drawstring 

Lightweight but Durable

Common Size for Round Fire Pits
Cons
No Vents

Only Fits up to 36-Inch Round Fire Pits
See also: Best Black Planters for Front Porch
600D Heavy Duty Patio Outdoor Fire Pit Cover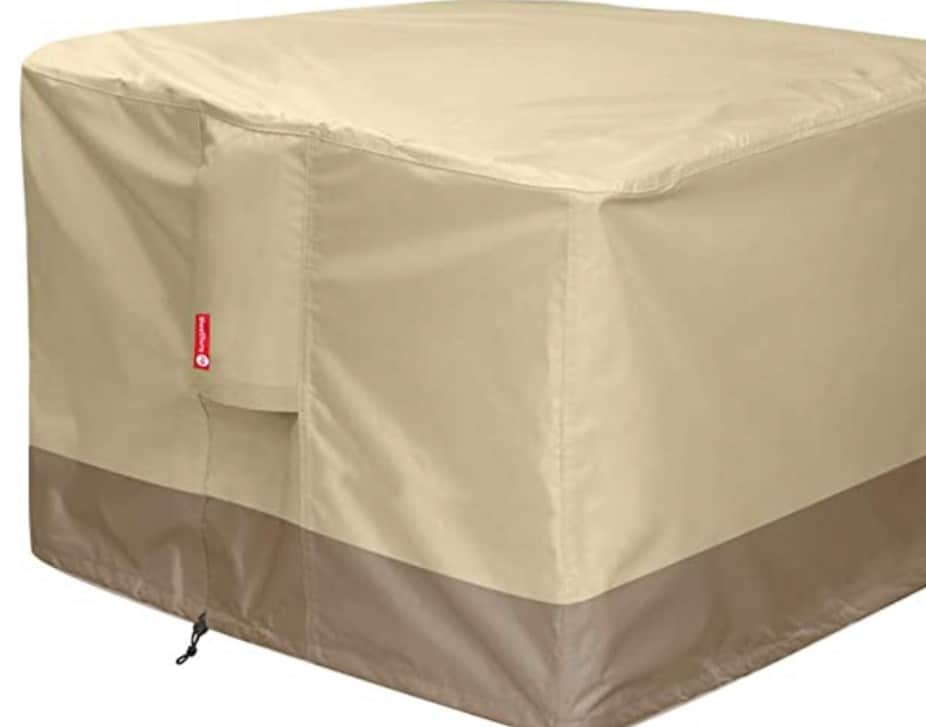 If you're looking for a budget-friendly fire pit cover at a great price, this square cover is an excellent idea. Popular and highly rated, this fire pit cover offers coverage for up to 32 inches by 32 inches. It's made with high-density polyester with PVC coating. This fire pit cover is 100 percent waterproof. It's also resistant to dirt, sun, and snow. Two drawstrings allow you to fit it to size. A feature I like is the mesh vents for improved breathability. This fire pit cover comes with a 1-year warranty. At this price, it's fairly risk-free and even has a bit more style to it. Buy Here. 
Pros
Mesh Vents

High-Density Polyester

Drawstring Adjustments

Great Price
Cons
Only Fits Square Fire Pits

Not Fully UV-Resistant 
Modern Leisure Renaissance Square Fire Pit Cover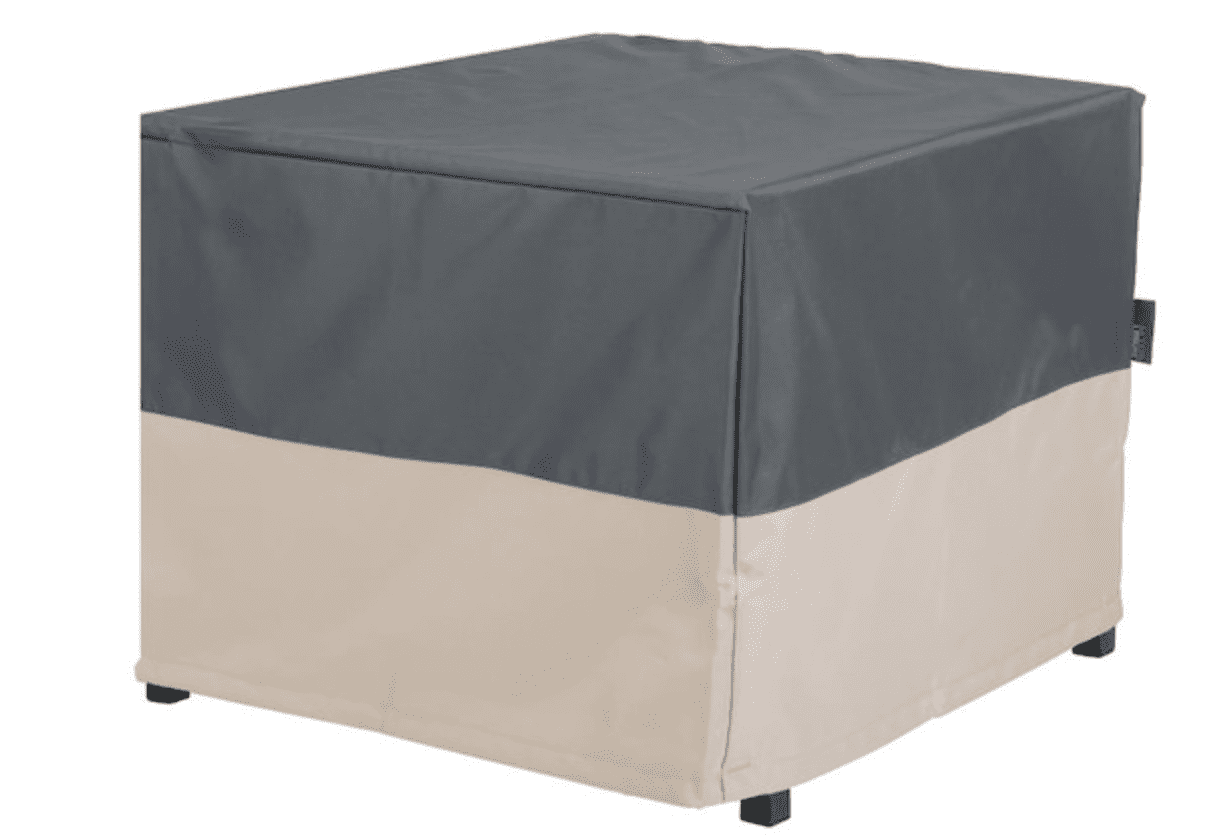 Lowe's has a respectable collection of fire pit covers. What I think Lowe's does well is offer fire pits at a solid overall value, but still at an affordable price. This modern square fire pit cover is just one example. This lightweight cover boasts a modern, minimalist design. The elastic hem allows you to easily custom fit to pits up to 42 inches by 42 inches. Not only is it resistant to precipitation and cold weather, but this fire pit cover is also protective against UV light. A draw-cord accompanies the drawstring. I also really like the built-in air vents and manufacturer's warranty. Buy Here. 
Pros
Built-In Ventilation

Flexible, Elastic Fit

UV-Ray Resistant 

Suited for all Weather
Cons
Only For Square Fire Pits

Not the Strongest Polyester
Cover Store Custom Fit Fire Pit Covers

If you have a fire pit with a unique size or shape, the Cover Store has several options. You can enter the dimensions of your fire pit for a perfect fit. I also love the selection of different fabric colors. That includes neutrals, earthy tones, blues, and greens. They have a series of budgets for premium materials. Everything is made with sturdy, higher-grade polyester that is resistant to cracking, moisture, and UV rays. The draw-cord not only allows for a snug fit but also includes 360-degree locking technology. On top of that, there are built-in vents and 4 accent buckle straps. The features are really solid, and the ability to customize your fire pit cover is hard to find. Even better, it comes with a 7-year warranty. That's more generous than many fire pit covers. The big downside is that they don't offer returns for custom sizes. Buy Here. 
Pros
Generous Warranty

Great Selection of Durable, Weather-Resistant Fabrics

Vents and UV-Resistance 

Buckle and Draw-cord
Cons
Can't Return Custom Sizes

More Expensive 
Madrona Rain Proof Fire Pit Covers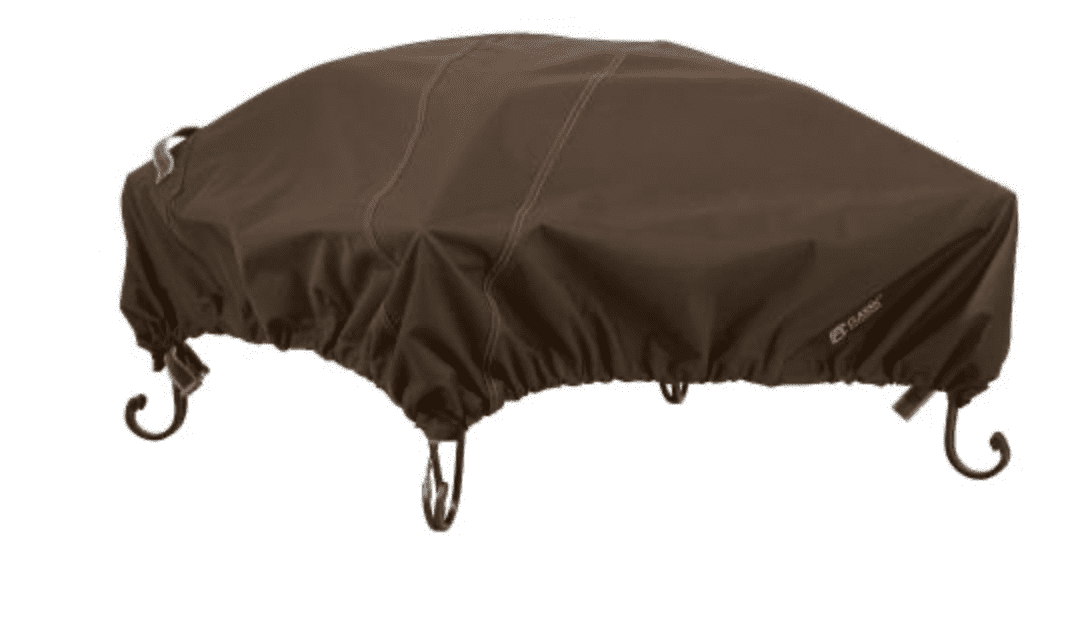 One thing that's challenging to find is a fire pit cover made in the USA. Luckily, Madrona fire pit covers are not only made in the USA but also provide noteworthy features. Select from a 45 by a 45-inch square cover, a 52-inch round cover, or a large 68-inch round cover. All of these fire pit covers are made with durable woven polyester, supported with a laminate backing. The tapered seam improves breathability and is easy to use. Buckles allow you to adjust this fire pit cover for a snug fit. I also really appreciate the 3-year warranty. Buy at the links above.
Pros
Adjustable Buckle
Made in the USA
Laminate Backing
Tapered Seam
Cons
A seam isn't As Effective as Vents
Only in Brown
Briley Fire Pit Cover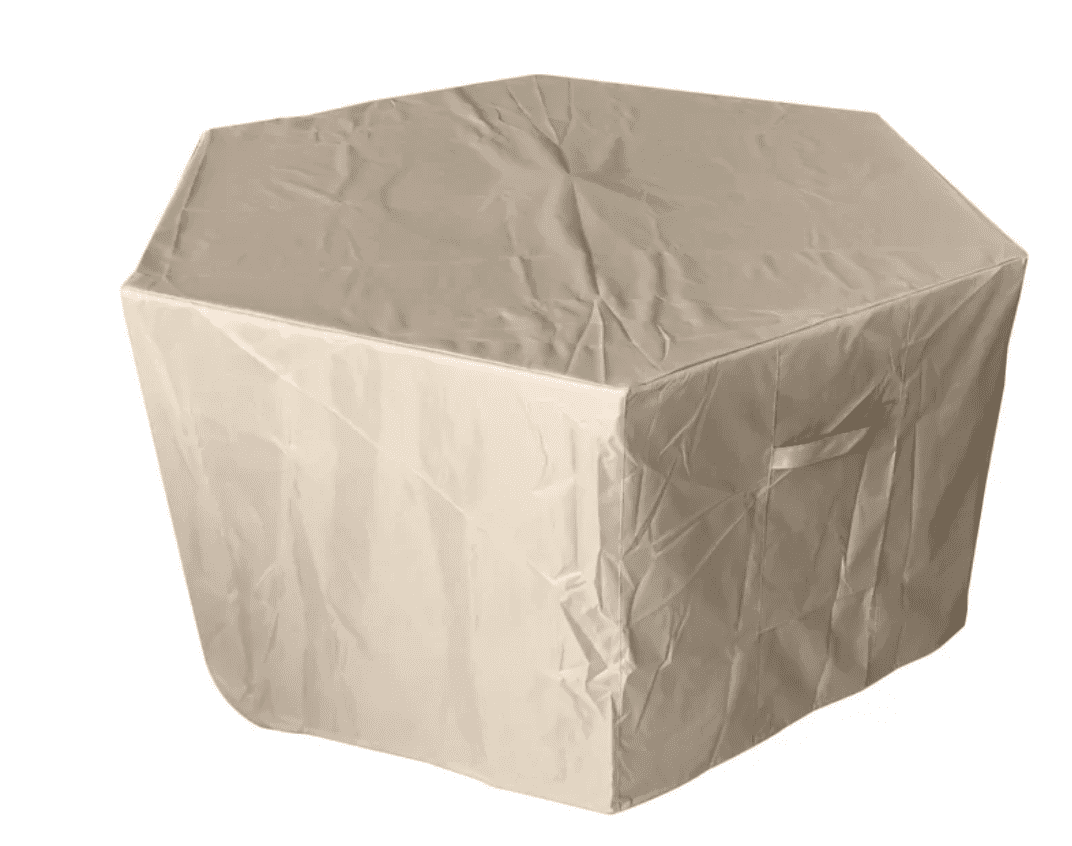 Octagonal fire pits are stylish and offer unique flair. The problem? There are not as many options for great fire pit covers. I was happy to find this octagonal fire pit cover from Wayfair. While I wouldn't call it strikingly stylish, it's quite practical. This fire pit cover features a simple zipper for secure closure. Constructed with PVC-coasted polyester, this cover is ready to brave weather elements all year. I also noticed the reinforced seams for improved durability and side handles. It comes with a 1-year warranty and is offered at a great price. Buy Here.
Pros
Unique Shape
HD Zipper
Reinforced seams
PVC Coating
Cons
Frequently Asked Questions
Question: Can you leave fire pits outside?
Answer: Fire pits can be left outside, but there are many caveats to that statement. Fire pits that are left outside should be safely covered, especially in the Winter. You also want to make sure that your fire pit isn't near anything that could be dangerous. Trees, low branches, bushes, piles of wood, or anything else that could be flammable should never be near a fire pit, especially unattended. If you plan on leaving your fire pit outside, do so safely and responsibly. 
Question: How do you waterproof a fire pit cover?
Answer: Some fire pit covers are already constructed to be waterproof, but there are steps you can take to waterproof one yourself. One option is to buy a spray treatment like NeverWet. This product (by the creators of Rust-Oleum) includes a base coat and a topcoat. This type of multipurpose spray helps metal, including fire pits, repel water, mud, ice, and other moisture. It helps reduce corrosion and increases the longevity of your fire pit. This is not the same as entirely waterproof, however, and it also needs to be applied more than once. 
Question: How cold is too cold for a fire pit?
Answer: Never use a fire pit when there's precipitation. That includes snow and sleet, but also rain. Another rule of thumb is to avoid using a fire pit when temperatures dip below 40 degrees Fahrenheit. At that temperature, it's wise to cover your fire pit securely and forgo using it until the temperature rises by at least 5 degrees. Technically, you can use a fire pit during winter– but it's challenging and takes creative workarounds. If you are using it below recommended temperatures, be careful and wary of any snow on the ground.
Final Thoughts
I see a lot of people buy fire pits, ready to enjoy them– only to neglect to buy a suitable fire pit cover. Fire pit covers keep your fire pit protected year-round. The good news is that there's a wide variety of shapes, sizes, and styles. While any fire pit cover is better than no fire pit cover, taking the time to select the materials that make sense for your situation is something that you won't regret. So enjoy your fire pit to its fullest, year after year. 
Recommended Reads: