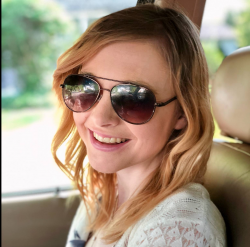 Latest posts by Erin Jamieson
(see all)
I've spent hours on a porch swing– especially the one at my Nana's home. The problem? I can get some comfortable or happy to spend time with others that I forget to hydrate. And buying a porch swing with a cup holder may be one of the best purchases you make if you need to be reminded to hydrate- or just like entertaining. 
While cup holders can sometimes be added to a porch swing, it's a lot simpler to buy one with the accessory in the first place. But just because a porch swing has a cup holder attached, doesn't mean that it's the best design. 
Consider this your short guide to finding the best porch swings with cup holders. I'll explain my buying criteria, from materials to quality construction. I'll also show you a few of my favorite porch swings with cup holders that you can buy in 2022. 
Bottom Line Up Front Summary
There aren't as many porch swings with cup holders as I'd like, but luckily there are still some great options. To select the best porch swing with a cup holder, you need to select a sturdy swing that has a weight capacity of at least 250 pounds. It should be made with solid hardwood, Polywood, or a strong, powder-coated metal frame. I also select porch swings with cup holders based on the study and versatile construction of the cupholder consoles.
If I had to recommend just one porch swing with a cup holder, it would be the Amish Yard Plain Swing with Cup Holders. While it's a bit expensive, it's one of the most durable options. Made in the USA by Amish communities, this Polywood swing requires very little maintenance, features a foldable cup holder console, and comes in a range of styles. It even comes with a lifetime warranty. 
My Top Picks
Reasons to Get a Porch Swing with a Cup Holder 
Maybe you buy patio furniture with as many features as possible. Or maybe you're like me and are always budget-conscious. No matter which category you fall into, I want to discuss the main pros and cons of buying a porch swing with a cup holder. There is more than meets the eye. 
See also: Best Black Planters for Front Porch
Buy If… 
A cup holder is not a must-have for a porch swing- but it sure is convenient. Cupholders not only remind you to stay hydrated. They can also reduce your risks of spills and stains. Who hasn't been guilty of setting a drink down beside you- only to tip it over? This is a big consideration if you have light-colored cushions. Porch swings with cup holders are great for entertaining. They're also a good idea for anyone who has trouble getting up and into seats. Instead of needing to reach over or bend down, their drink will be right in front of them. Finally, some people can DIY cup holder attachments, but it's not a project for everyone, nor is it compatible with all porch swings. 
Skip the Cup Holder If
If you're on a tight budget or picky about styles, a porch swing with a cup holder may not be your best option. There are far fewer porch swings with a cup holder vs without. That means fewer options for different prices, styles, and materials. If shopping in person is a must, it's going to be challenging to find many porch swings with cup holders in stores. You also have to ask yourself how much you're going to use it. If you don't see yourself using one very often, a cup holder may not be necessary. If you're buying a standard wooden porch swing and are used to DIY projects, you could also install it yourself.
Making a Decision
In summary, a cup holder is an excellent accessory for a porch swing, just not a necessity. If you're always entertaining, worried about stains, or plan to sit for long periods, a cup holder is an excellent idea. The biggest downside to buying a porch swing with a cup holder is the limitations of pricing and styles. 
See also: How to Find the Best Patio Tables for Your Outdoor Space
How to Select a Porch Swing with a Cup Holder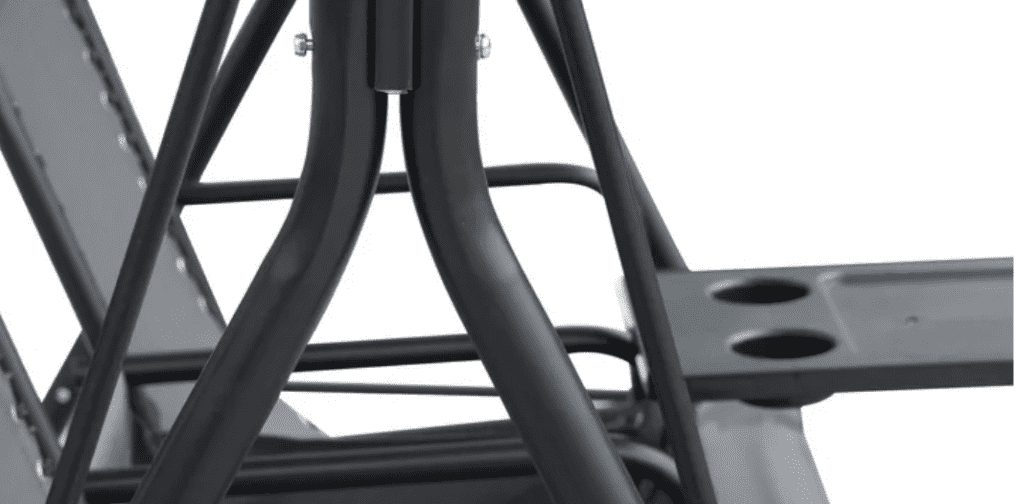 Just because you'll be more limited in your selection options, doesn't mean you should let go of all selection standards. Here's what I look for– and avoid– to find the best porch swings with cup holders. 
Step One: Choose Your Porch Swing Type
To keep things simple, I'll divide porch swings into two main types- hanging and stand-alone. Both hanging porch swings and porch swings with stands make excellent additions to a porch or patio– but a lot of what you choose depends on the space you're working with. 
Reasons to Choose a Hanging Porch Swing with Cupholders 
If you have a small porch, a hanging swing may be your best option. Hanging swings still need room, but they take up less space. They also have a more minimalist look. If you want something that isn't clunky and doesn't distract much from your porch, a hanging swing could be a great option for you. You also should feel comfortable installing a swing yourself or be willing to hire a professional. Not always, but often, a hanging porch swing is more economical than a porch swing with a stand. 
Reasons to Choose a Porch Swing with a Stand & Cup Holders
If you have a little more space to work with and don't mind a bulkier frame, I prefer a porch swing with a stand. These porch swings are sturdier, both for regular use and during windy weather. I also think that they have a lot of advantages if you want a porch swing with a cup holder. The ride may be a bit smoother. Another advantage is that, while they are heavier, they are less of a pain to move around and easier to care for than a hanging swing. 
Making a Decision
For a swing with cup holders, I prefer swings with stands. But if you don't like the bulk or don't have much space to work with, then a hanging swing style may be a better choice. 
See also: Best Farmhouse Porch Swing Ideas
Step Two: Selecting Porch Swing Dimensions
Porch swings with cup holders more or less follow the standard dimensions of other porch swings. That means you're looking for a porch swing, usually, that is 4 to 5 feet long. Don't worry too much about seat height (unless you have an especially confined space). Keep in mind that a porch swing needs about 50 inches behind it and 15 inches of space on either side.
Seat Depth  
Seat depth is important, too. A standard porch swing with a cup holder can have a seat depth of 18 to 48 inches. Most will be happy with a slightly more generous seat depth, but somewhere in between these ranges. Shallow seats feel cramped and uncomfortable, especially if you have long legs. The greater the seat depth, the more relaxed/ lounge-like your posture will be. One downside to a great seat depth is that it's harder to get up from. 
Weight Capacity
I always pay attention to the weight capacity for any patio furniture, but it's especially important for porch swings with cup holders. The greater the weight capacity, the sturdier the main structure of the swing tends to be. It's not a hard and fast rule, but I recommend a hanging swing with a weight capacity of no less than 350 lbs, and preferably closer to the 500 lbs range. 
Step Three: Materials for Porch Swings with Cup Holders 
Porch swings with cup holders are almost always made out of either Polywood or natural wood. Both can be great options– but it's important to know what to look for. There are also a few that have a metal frame.  Also, check the chains: galvanized steel is one of your best options, and far superior to rope. 
Polywood Porch Swings
Polywood is made with high-density, recycled plastic. It's far stronger than a plastic swing, and it's also weather-resistant and environmentally friendly. These swings somewhat mimic the look of wood but have a slightly smoother feel. These swings won't trap heat, are low maintenance, and can be left out all year. Some do contain BPA, they can be more expensive, and they don't quite provide that same classic wooden aesthetic. 
Wooden Porch Swings 
Wooden porch swings range widely in quality. The key? Avoid any softwoods and only select a treated hardwood. Examples of acceptable hardwoods for a porch swing include acacia, cedar, maple mahogany, oak, and cherry. Wood can warp and shrink (or even fade) so it needs to have a protective coat for water and humidity resistance, as well as resistance against UV rays. The problem is there are very few options– most on the market are softwoods. 
Metal Porch Swings
Aluminum and steel frames can be reasonable options– but of the two, I prefer steel. Powder-coated steel is a must because it ensures that your frame will be protected from weather elements and rusting. This frame is going to supply sturdy craftsmanship and is very difficult to damage, even in storms. However, a downside is that metal traps both heat and cold, so it won't be as comfortable during hot Summers or cold winters. 
Step Four: Spotting Great Cup Holders
The cup holder should be securely constructed and integrate well into the frame of the porch swing. I look for a streamlined design. I don't want a flimsy cup holder. There are a few styles and orientations to choose from. You can have a cup holder on an armrest or in the center of the swing. It's a matter of personal preference: a cup holder at the armrest could be slightly more convenient, but also cramps up some of your armrest space. 
There are also cup holders that stay open, as well as foldable cup holders or trays. I like the stability of a non-folding cup holder, but a folding one is a bit more versatile. 
Step Five: Budgeting (and Where to Buy) Porch Swings with Cup Holders
Finally, set a maximum budget. For a porch swing with a cup holder, expect to spend around $250 minimum. Fewer places sell porch swings with cup holders, but here are a few reputable online and traditional stores that do:
Polywood.com

Overstock (deals, clearance)

Amazon (budget)

Wayfair 

Walmart (budget)

Home Depot 

Magnolia Porch Swings
Some of My Favorite Porch Swings with Cup Holders
Here are my 4 favorite porch swings with cup holders. These porch swings excited me because they are offered at under $1,000 and have some fantastic features. They're all sold by reputable companies and feature a sturdy build. 
LuxCraft Classic Poly Porch Swing with Cup Holders
If you're looking for a durable and customizable porch swing with cup holders, look no further. This beautifully constructed porch swing caught my eye immediately, and for good reason. This roomy porch swing seats 3 people and has two cup holders with mini trays in the center. While the classic slat design is reminiscent of wooden porch swings, it's made with Polywood. The Polywood is termite, mildew, mold, and weather resistant.
The flip-down cup holders are versatile and secured with sturdy stainless steel hardware. I love that it's crafted in the United States and comes with a lifetime warranty. What's fun is the different color combinations you can select, from antique mahogany to cherrywood and even solid tones like white and black. You can add additional cupholders, comfort springs, and cleaning kits to your order. Buy Here. 
Pros
Customizable Colors and Accessories

Lifetime Warranty (Limited)

Sturdy, Low Maintenance Polywood 

Made in the USA
Cons
Expensive

No Cushions Included 
Atay 2 Person Metal Porch Swing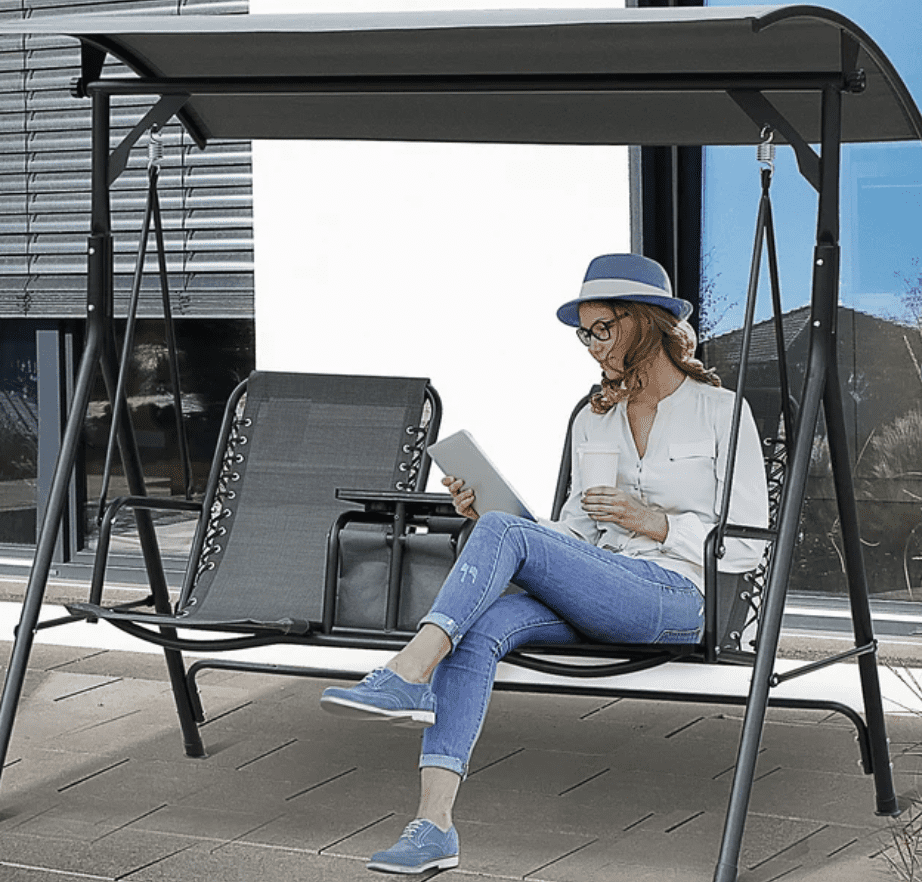 If you're looking for a porch swing with a canopy and cup holders, you might think that you have to spend a fortune. This Wayfair porch swing comes well under $500 and has some pretty impressive features for the price. This stylish swing seats two under an adjustable canopy that can protect you from sun and wind. The center features a fold-out tray with cup holders and even a little storage component. The frame is constructed with sturdy powder-coated steel that's weather-resistant and fairly fuss-free. The seats are slightly curved to improve comfort. I also like the anti-slip features and weather-resistant fabric. Each seat holds up to 260 pounds.  Buy Here. 
See also: Best Wicker Porch Swings
Pros
Competitive Price

Strong Steel Frame

Cup Holder with Storage

Adjustable Canopy 
Cons
Fabric Could Become Damaged with Heavy Use

Protection Plan Costs More
Ison 3 Person Oak Solid Porch Swing with Cup Holders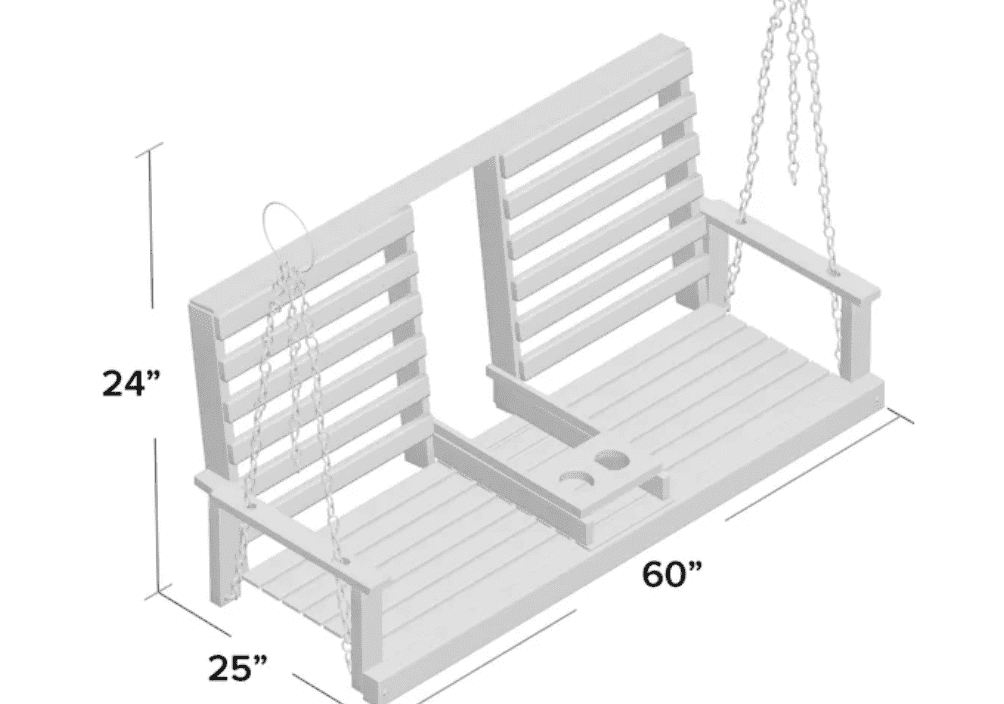 It's hard to find a solid wood porch swing with cup holders– and in many cases, you have to make some compromises. The vast majority of wooden porch swings with cup holders look great on the surface but are made with softer woods to reduce costs. Luckily, Wayfair sells a classic solid oak porch swing for a fantastic price. The slat-style seat features a minimalist cup holder and strong galvanized steel chains.
The cup holder folds up and down for seamless transition. I like that this porch swing is made in the USA and has an optional 5-year protection plan for well under $50. That plan includes stains, chips, broken hardware, and customer service so it's well worth getting. The biggest downside is that although oak is durable, it still needs to be treated. You'll need to buy an oil-based varnish and apply it according to the instructions. This will help the swing resist fading from UV rays and further protect it from the weather. Buy the Swing Here. 
Pros
Made in the USA

Hardy, Natural Oak

Galvanized Chains

Versatile but Minimalist Cup Holder
Cons
Wood Needs to be Treated / Protective Coat Added

Not As Comfortable
Amish Yard Plain Swing with Cup Holders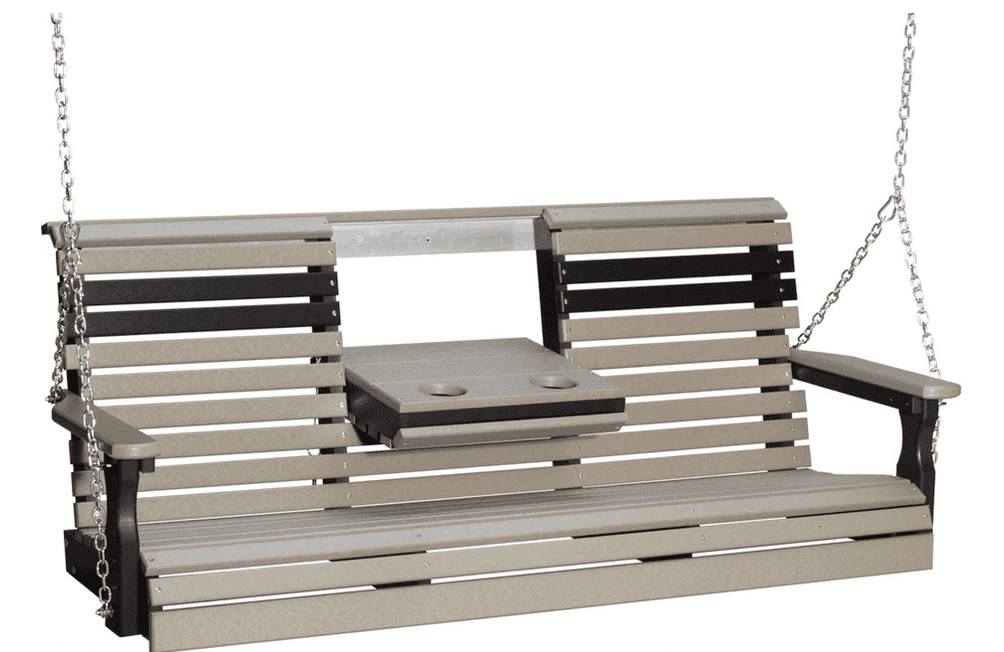 It may be called a plain swing, but there's nothing plain about this swing. This is easily one of my favorite swings with cup holders. It's sturdy, features a unique design, and is crafted by Amish communities in Kentucky, Ohio, and Tennessee. This charming porch swing holds up to 3 people The fold-down console features 2 cup holders and enough space to set down a phone. Everything about this swing is sturdy, including the Polywood frame and stainless steel fasteners. It comes with a lifetime warranty. Select from natural wood colors, whites, gray, and green. Buy Here. 
Pros
Amish-Made in the USA

Unique Colors and Design

Weather-Resistant and Low-Maintenance Polywood

Lifetime Warranty
Cons
Expensive

Stainless Steel Isn't Quite as Strong as Galvanized Steel 
Frequently Asked Questions
Question: How do you add a cup holder to a swing?
Answer: Some DIY cup holders themselves, but an easier way to add a cup holder to a swing is a cup holder attachment. You can buy cupholder armrest attachments. Sets usually include the cupholder and screws. Installation requires a simple screw on the side of the armrest. The one issue with this is finding sets that match your porch swing. If you want to completely do it yourself, the easiest project is adding a solo cup holder. Once again, it's easiest to work with wood. You'll need five pieces of wood, some glue, and brads. If you follow this simple tutorial, you should be able to finish the project within an hour. It's also beginner-friendly. Watch the DIY Cup Holder Tutorial Here. 
Question: How do you support a porch swing?
Answer: If you buy a hanging swing, it must be supported with either a strong metal chain (preferred) or a rope chain. Galvanized steel is stronger than an aluminum chain, but I recommend treating it with a rust-resistant spray. Standard 2-person swings should be hung from a 2 by 8 joist or two 2 by 4 joists. It's critical to make sure the swing is properly secured. Heavy swings do better with small pilot holes, paired with ceiling hooks. Hang your porch swing around 18 inches in the air. If you've never hung a porch swing before, it may be wise to have a professional. If you're confident, you can Watch How to Hang a Porch Swing Here. 
Question: How much weight can a porch swing hold?
Answer: While the average weight capacity for a porch swing is around 500 to 550 pounds, don't make the mistake of relying on this. Always check each swing's weight capacity. Unless you're buying a one-person porch swing, it's a wise choice to stick around this average. Porch swings with below-average weight capacity tend to be less sturdy and stable. Even if you don't plan on approaching the weight capacity, it's something you should consider, as it reflects the strength of hardware and chains. 
Question: Our porch swings safe?
Answer: The biggest safety concern with porch swings comes down to one thing: instability. Porch swings need to be firmly secured and they should have a generous weight capacity. Instability comes from one of the following factors: improper chain strength, improper hanging, and use during inclement weather. A strong chain is important, but so is swing maintenance. Rust and corrosion can cause safety concerns. If you have young children, you also need to be mindful of how easily they can reach the swing, and supervise any use. Porch swings can be safe, but you need to be mindful of both installation and upkeep. 
Final Recommendations: Porch Swing Covers
If you're spending money on a great porch swing with a cup holder, then you might as well make sure it's properly maintained. I know it can be tempting to 'save money and skip a porch swing cover. But saving money is in quotation marks for a reason. In the long run, a porch swing cover will increase the lifespan of your porch swing. Plus, attachments like cup holders may be more fragile. 
Recommended Reads: