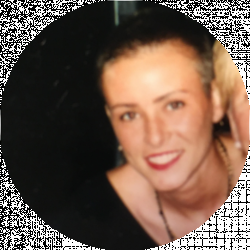 Latest posts by Richelle Tieman
(see all)
The best way to think about how to decorate your front porch is to ponder the old adage, "There's never a second time to make a first impression."  Truer words have never been spoken, and it really changes the way we think about ourselves and our decor.  It makes sense that the front porch is on display like a fishbowl.
The front porch was always the first area that my mom adorned with plants and flowers.  Window boxes, hanging planters, large embossed ceramic-looking urns, and tabletop pots adorned many spaces over the years.
She took meticulous care of these living decorations, pruning the dead leaves and watering them every day.  Our front porch always looked inviting, alive, pretty, and clean.
With so much to think about, I narrow the playing field by sourcing the most durable, beautiful, and easy-to-use planters out there.
I place great importance on special features that give you back more – more time to relax and less time watering, more space on your porch, and more multi-use options.
Weather resistance is high on my list.  Who wants a planter that warps or cracks easily, or that falls apart when the wind is acting up?  Been there, done that.  I save you from that fate with my recommendations.
Self-Watering Metal Rust Resistant Wall Planter
The best front porch planter is one that is easy to maintain, attractive, durable, and has a limited footprint!
This wall planter does it all with the added benefit of blending seamlessly into any decor.  This is a real space saver as it takes up no floor space and hangs from a wall or the ceiling.  It has a trellis-like vibe to it, and I would put jasmine or another climbing vine around the metal back.
My favorite decorating ideas are ones that save space, cover a bare wall, or provide privacy without bulk. This covers all three, and if you have a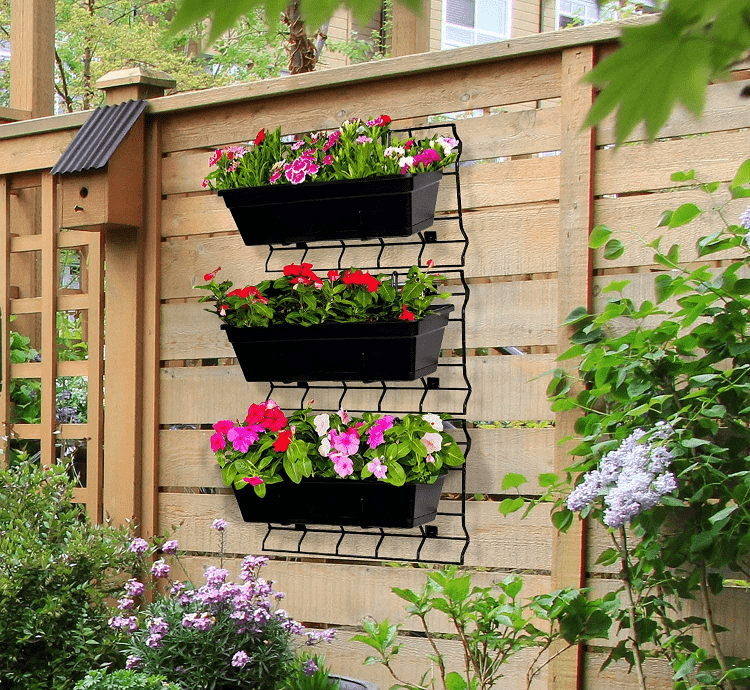 front porch that is narrow and open at one end, you can take this wall planter and secure it with a thin round wooden rod from a railing or the ceiling.  This creates immediate privacy with another "wall."
A huge bonus to this is that it is self-watering!  I love this feature as days go by and I lose track of when I last watered!  Self-watering planters eliminate the need for you to feel the soil and water each flower or plant individually according to its need. To learn more about these neat planters, visit The Spruce.
Find this and others at Wayfair!
Types of Planters for Your Front Porch
My front porch was like an unloved appendage for years until I realized how simple and necessary it was to breathe some life into it!
My early forays into the plant decorating sphere consisted of a vertical welcome sign propped against my porch and a few $1 plastic red pots with pansies on the steps.  Since then, I have discovered that front porch decorating is not only for others, but it is a gift to yourself every time you come home.
Check this Pinterest site for fab wall planters!
Window and Railing Box Planters
Window boxes have long been ago-to as a staple in contributing to the curb appeal and beauty of homes.  Drawing the eye to structural details and adding layers of dimension can add interest and character in an instant.
Whether it be at a window or on a railing, box planters are another place where living things can grow, which subconsciously brings us back to the earth. For a step-by-step guide on how to hang box planters, see the Feldco Company.
I like the space-conscious design of having your plants up off of the floor or ground, leaving that room for people or furniture.  I think plants should be everywhere, down, up, and at eye level.
My choice would be fiberglass or wooden (cedar and teak) box planters because both can handle the heavyweight of moist soil, and both don't rot or get mold. Another choice is wrought iron.
Make sure it is "wrought" iron and not just any iron or metal (that will eventually rust).  Wrought iron is practically impermeable, but it is heavy and tends to be expensive.  For more in-depth info on types of wood for planters, see Fine Woodworking.
Tip: To avoid toxic chemicals from treated wood in your box planters, opt for untreated cedar and teak and buy an eco-friendly sealant to apply once or twice a year.  Teak and cedar will weather without the sealant to a silvery grey patina which will not damage the structure of the wood.
Urns and Pots
The most common method to house plants other than the ground is in pots.  Pots have taken on more shapes, sizes, styles, and colors since people have spent more time at home, and I daresay there isn't a design that you can think of that a pot doesn't come in. See these Pinterest pictures to get an idea of how wide the pot and urn range is.
Setting an urn on the porch, steps or ground is a great way to anchor the space and create solid focal points that provide structure.  Opt for at least two large pots or urns to "ground" your area.  See this comprehensive article on types of urns and pots.
Self-Watering Planters (aka Grow Box):
Self-watering planters can't have been invented soon enough for me.  Working via water absorption, plants stay healthy.  When you put the plant into the potting soil, the bottom of the soil is slightly touching a water reservoir.  The roots wick moisture from the bottom of the soil and up through the plant to nourish it.
As the soil becomes drier from the roots taking the water, the soil drinks some of the water automatically to make up for the moisture it has lost.
No more hard, dry soil to feel!  Easy to see reservoirs let you know when to top them off.  You always water the plants from the top down, just like you would in a regular planter.
For an in-depth explanation of these planters, check out the Smart Garden Guide.
What Material is Best for Porch Planters?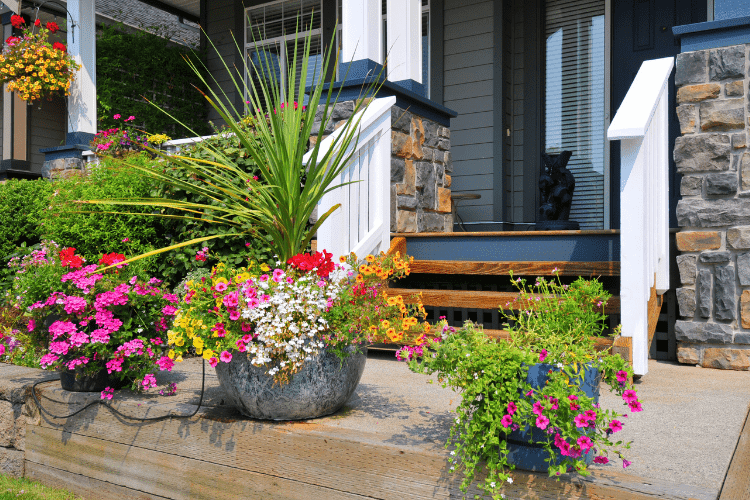 Don't know what material your planters should be?  Think about the style you want to create on your front porch.  Is it rustic or modern?  French Country or traditional? Ocean-side or prairie?  The climate will also play a factor in what material will age best.  Hot and dry?  Humid and muggy?  Cool and windy?  Sub-zero?
Tip: For heavy pots that can easily multiply their weight when moist soil is added, put empty plastic soda bottles in the bottom, and only fill the top half with soil.
Terracotta
Terracotta (baked earthen clay) is the most common and the most recognized material for flower pots in the world. There is nothing more authentic to immerse yourself in old-world luxury than terracotta.  Almost all terracotta pots made have a large drainage hole at the bottom. This is because crafters know that too much water will quickly rot a plant.  Many need the rain/sun cycle that nature provides and need a little drying out before the next "rain". For a list of plants that do well in terracotta, visit Platt Hill Nurseries.
Be aware that terracotta is high-maintenance and can be expensive. Terracotta is also fragile, cracking in cold temperatures, and needs to be either taken inside for temps below 35 degrees or wrapped tightly and put in the garage.
For more on properly caring for your clay pot, see the article at Gardenista.
Tip: Keep Terracotta planters elevated at all times, especially leaving room for the drainage holes. Standing water and water absorbed by porous material will freeze and crack the pot during the winter.
Tip: Opt for glazed, or shiny terracotta.  The glazing will keep the normally porous and breathable clay from letting all the moisture escape from your soil and killing the plant.  If you have loved terracotta pots that are unglazed, line them with plastic sheeting and cut a hole in the bottom for drainage.
Ceramic
Ceramic plant containers are made with similar earth materials to terracotta, but are much less porous and almost always are glazed with a thick coat of lacquer inside and out.  Coming in every different color and pattern under the sun, they are shiny and beautiful. They are used for all different types of porches and patios and can be readily used in formal settings as well.
This glaze on ceramic pots will hold in more moisture, ensuring your soil won't become dry and hard like terracotta.  Some ceramic planters are made without drainage holes which will mean plant roots will be sitting in wet soil some of the time.  Spider plants, Boston and MaidenHair Ferns do well in wet conditions.
Tip: To use ceramic for all types of plants, add pebbles or pea stone to the bottom third of ceramic planters that don't have a drainage hole.  You can either set a plastic container on top of them or you can put the soil on top, depending upon how much water your plant likes.
See also: Best Stackable Patio Chairs Guide
Wood
We all know how pretty a painted wooden basket or box is when it has flowers or greens in it.  Inexpensive and found everywhere, wooden containers to use for plants are an attractive and convenient planter.  One thing to be cautious of is the paint that comes on the wood.  Beware of lead, which never breaks down.  Read this article to ensure you are not contaminating the plants or the ground around the planter. Pressure-treated, water-proofed, and creosote-treated wood will poison your plant and your yard, so ensure that you are getting untreated material. (Creosote can cause rashes and burns just by brushing up against it, so this is essential).
That being said, lead-free paint is available, and unpainted wood is lovely with greenery.  Cedar, cypress, teak, and redwood are some of the user-friendly woods that make effective planters.  Wood is the number one material used for window boxes and raised bed gardens.  It is also popular with people conscious of sustainable and responsible gardening methods, as well as being great for recycling re-purposed items.
Please read this article at The Spruce to learn everything you need to know when using wood for plant containers.
For more in-depth information on wooden planters, see Home Advisor.
Tip: Use pure Linseed Oil as a preservative for a chemical-free sealant.  This will take days to dry, however, it will extend the life of your wood by years.
Tip: Always elevate your wood on bricks or other small pieces of wood to ensure the bottom has drying time for excess moisture.
Tip: Though wood will always hold greater than average amounts of moisture, keep your soil from having this problem by lining the wood container with burlap, coconut fibers, or black permeable liner.
Metal
Having plants and flowers in metal containers may be reminiscent of old tin cans sitting on parched soil, but modern, flashy, and creative receptacles can be a showstopper for your front porch.  Painting or brushing can give added detail as well as the type of metal being used.  Metal will be the most age-defying planter material, lasting for decades and generations.  Consider copper if you like an aged verdigris finish.
Painting your can a light color will draw the hot sun away from it, but remember that you can still burn your hand as the metal will heat quickly in the spring and summer.  This is an inexpensive way to house your plants, and going to second-hand or thrift stores will offer you many unique options.  Check out Seasons of America's metal planters here!
Tip: Since metal will heat faster than other planter materials, always line the metal with coconut fibers to protect the moisture in the soil.  Black ground fabric and burlap may be too thin.
Plastic
Plastic can be made to be whatever type and material of planter you could want.  Gardening and home stores have high-end, expensive and durable plastic planters that resemble stone, terracotta, metal, and wood.  You could also do what I like, and that is to hop on down to the Dollar Store or Family Dollar and buy plastic planters in bulk!  This is great not only for putting right on your front porch but some of the more generic ones you can use for plants that you will set inside larger containers.  Just cover with some moss or coconut fiber from a craft store.  I like Hobby Lobby for this reason.
Plastic porch planters are lightweight and the material most conducive to style diversity.  They can be tiny, or huge, weatherproof, uncrackable, safe to leave out in winter, won't break when dropped, and are exceptionally inexpensive.  Every department store has plastic planters.  Check out Lowe's for a myriad of options.
A downside is that cheap plastic planters look just like that – cheap plastic.  Also, the cheaper the plastic, the more chance it can get brittle in the sun and crack, fade, or leach chemicals into herbs or vegetables.  Look at this article for planters made for use with edibles!
Fiberglass
A process that mixes fiberglass fibers with resin creates a synthetic material that is exceptionally durable and often mistaken for plastic.  This material can take on shapes and textures more realistically than can plastic and mimics stone, wood, terracotta, and metal well.  These planters will last lifetimes and are resistant to cracking.  Found more often in department stores and high-end hardware or gardening centers, they can be on the pricey side.  For a wide selection of fiberglass planters, try Home Depot.
Tip: Wash with mild dish soap and a sponge. Never power or pressure wash, as this can damage the fiber resin and cause wear and tear.
Fabric
Plants love to grow in fabric!  Naturally breathable, so they don't get waterlogged, the fabric also serves to allow "air pruning" of the roots for optimal growth.  This air pruning is opposed to "root bound" plants that have white roots twisted and curled around the bottom of the soil when you lift them out of the pot.  Plant roots can't expand and reach out into farther depths of the ground for nutrients when the roots are balled up like that.  Look for Smart Pots to maximize your air pruning, as well as Lowe's for a great fabric planter selection.
Ficonstone Sienna Porch Planter Urns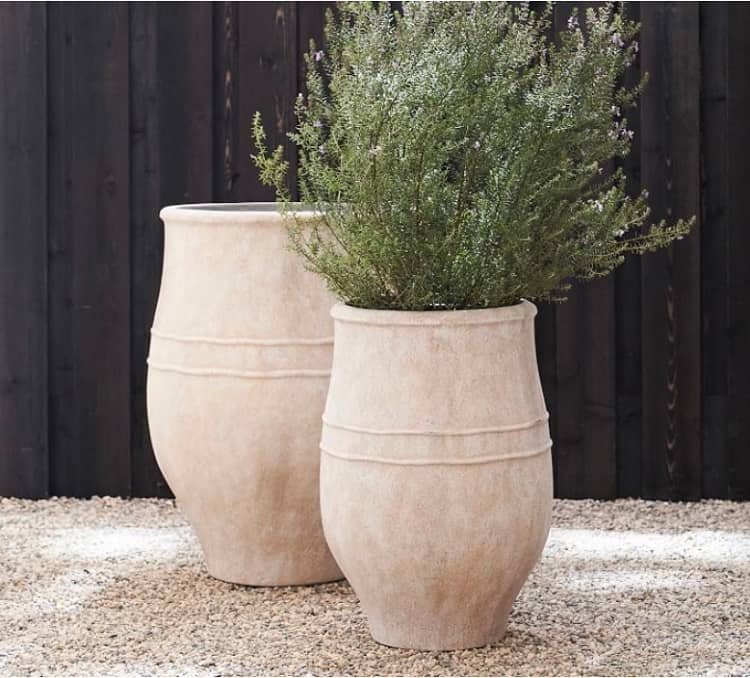 These breathtaking stone-like pots are 36″x24″, 30″x22″, and 24″x18″ high and wide, and are made from a unique material called ficonstone.  Made of stone powder, sand, cement, and fiberglass, they weigh less than stone would and are extremely sturdy.
Enhanced by a delicate double row of ribbing that evokes the look of Moroccan stoneware, these vessels also have drainage holes at the bottom to avoid any overwatering.
Free of BPA, latex, phthalate, and lead, you can use a sponge or small brush with water, but they are not suitable for household chemical cleaners (the patina will suffer).  To learn more about ficonstone and to shop, check out Pottery Pots.
Using a double patina to finish the look, these globally authentic pieces will transform your porch into an Andalusian oasis.
Weights for the pots are less than their stone counterparts, but keep in mind they are still heavy at 30 – 60 pounds!
These are responsibly made using preserved craft traditions and are built to last for decades.
Find this at Pottery Barn.
See also: Best Target Fire Pits Guide
Horowitz Urn Plastic Planter at Wayfair from Ophelia & Company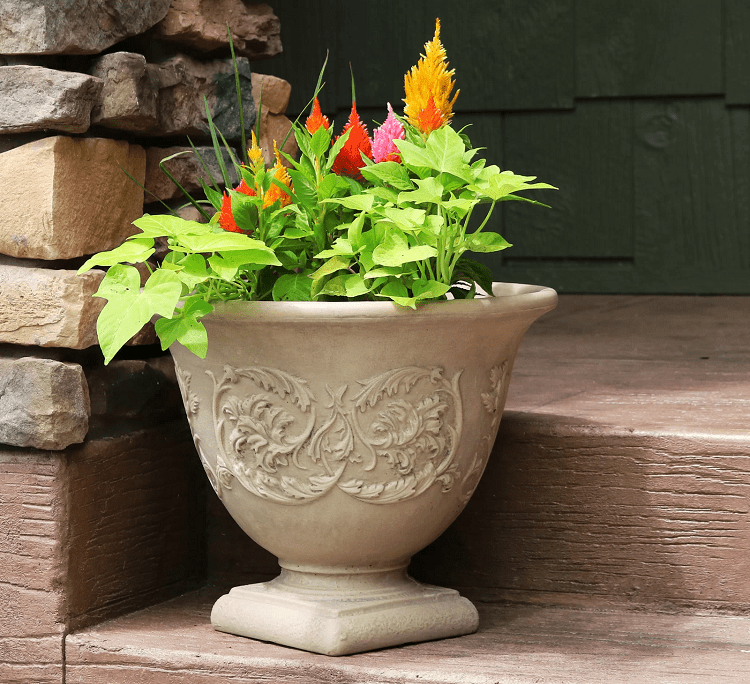 This plastic planter from Ophelia & Company resembles a hand-crafted stone pot from centuries ago.  Lightweight for even the timidest of us, this planter is designed to be used in any and all climates without fear of damage.  A great addition to your front porch that bakes in the sun, or where large pets wag their tales and break pottery!
This smart planter has two walls – and a space in between that you can fill with sand or gravel so it withstands even the windiest of cities!  This double-wall protects the roots from changing temperatures so your plant stays healthy in case of sudden cold spells.
Ophelia & Company offers a one-year warranty on this planter, and this company is known for its quality country decor and satisfied customers! Wayfair has this and others available.
See also: Best Fire Pit Accessories [2022]
Brezza Concrete Pot Planter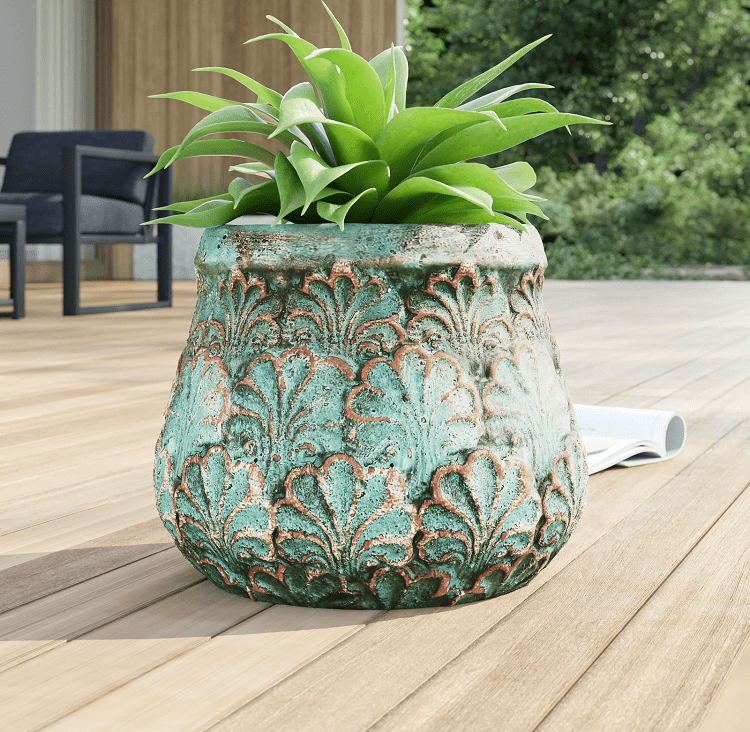 Give your front porch what it deserves with this durable, detailed, old-world concrete pot from Larch Manor.  This is at Wayfair and has over 80 reviewers rating it 4.8/5 stars.  This is a pot that will last for generations.  It will not fade or crack, made to withstand even the harshest climates.
The dimensions are 10″ high and 12″ in diameter, making it suitable for porch steps, tables, or ground.
Buyers consistently noted this planter's quality construction, durability, and worthwhile investment.  Also commented on was the safe and secure packaging of the product.  Customers said they would buy it again.
The one drawback of this planter is that there is no drainage hole, and the base is so thick that it took one customer thirty minutes to drill a hole.
Lark Manor has almost a million ratings, and as a company, they are 4.6/5 stars.
Birch Lane Metal Wall Planters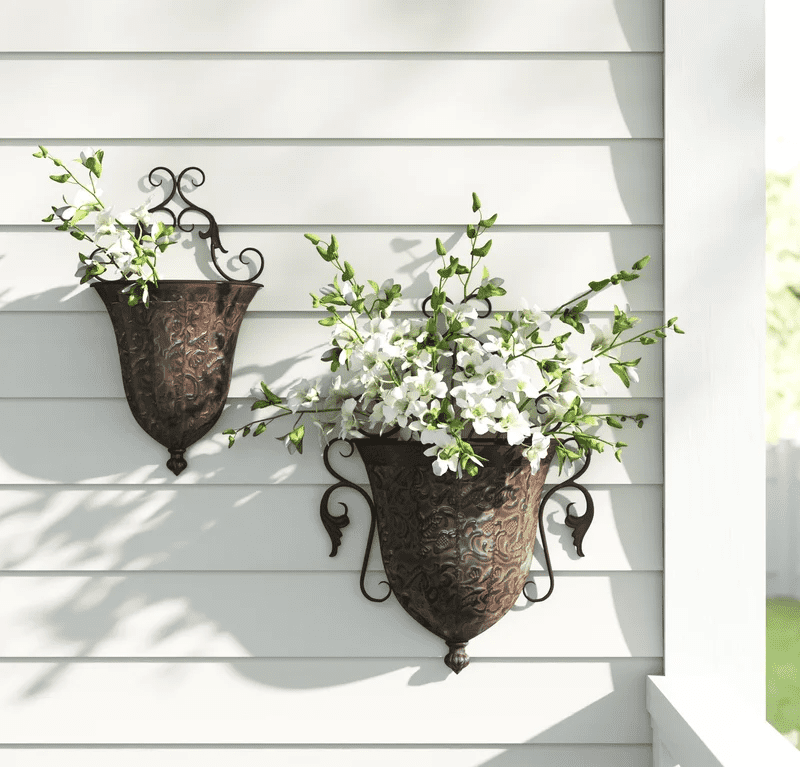 I love these elegant scroll and vine pattern metal wall planters for their unique beauty and for adding space to your front porch!  They can be found at Birch Lane.
The only drawback is the mounting hardware is not included.
Antique copper finishing and raised floral designs give these planters an antique country charm.
The large is 22″x16," and the smaller one is 18″x11″.  These are not weather resistant, so best to have them on a covered porch or close to the door to minimize exposure to the elements.
Modern Halo Hanging Metal Planter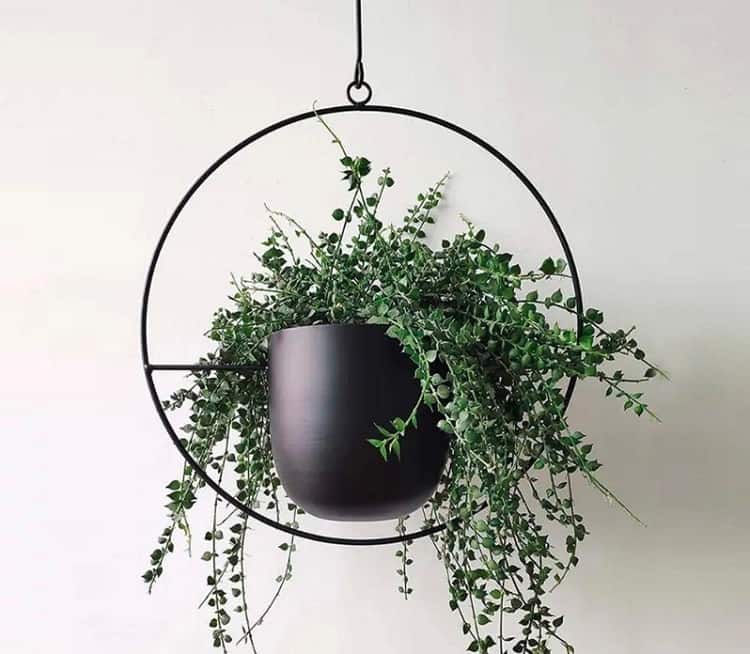 For a modern, sleek approach to hanging planters, try out this round Halo metal planter from Sage and Sill.
Unanimous voting from 164 customers rated this 5/5 stars!  There's nothing not to like about that!
These planters come in oval and round shapes and have six colors to choose from.  Made of metal with high-temperature paint gives them their rich finish.
A minimalist style to achieve a spacious and airy feel, these ceiling planters measure 13 inches around and are best in a covered area on your porch away from the elements.
See also: Best Black Planters for Front Porch
H Potter Williamsburg Window Box Planter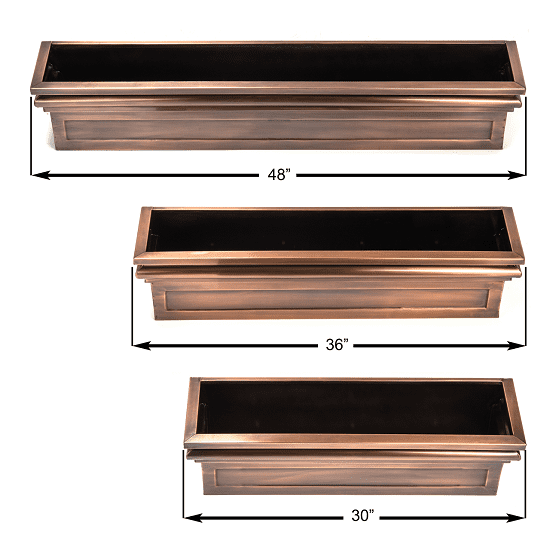 Your front porch will thank you with this dignified and impressive antique copper finished window box.  I love that it is made from stainless steel and has such a lustrous patina that it looks like bronze and copper mixed together!  The stainless steel makes this non-corrosive and resistant to the climate, as well as boasting a mold-free habitat for plants.
Drainage holes are already in the bottom, and the heavy-duty brackets have a black, powder-coated protective finish.  At 30″ wide, 8″ deep, and 9″ high, you have plenty of room to arrange colorful flowers and ferns.
H Potter offers a money-back guarantee, free shipping, and delivery within four days!  I really like that there are coordinating planters for the railings as well as larger similar window boxes.
Wrought Iron Hooks and Lattice Original Design Window Box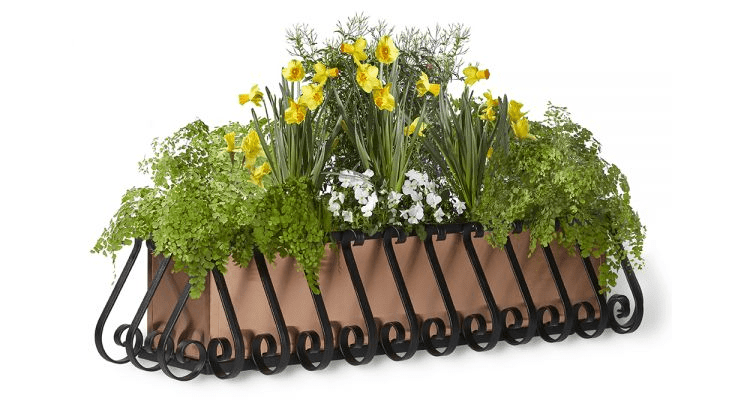 Find this European welded wrought iron window box at Hooks and Lattice, a California-based company known for its fine craftsmanship and dedication to customer satisfaction.
Dimensions are 9″deep and 9″high, with eight sizes from 24 inches to 72 inches
This is highly resistant to rust and is weatherproof – check out this article on protecting your wrought iron at Central Resource Center.
See also: 5 Best Porch Swings with Canopies
FAQs
In Conclusion
Welcome yourself by decorating near your entryway.  The endorphins are flowing as you look at your rustic window box with lovingly tended living plants inside.
The set of chairs looks inviting to sit and relax, and the doormat lets people know they need to wipe their feet because you value your inside floors!
Plants add living and breathing to the list of descriptive words used about your front porch.  Sweep the cobwebs, leaves, and dirt off the porch – even hose it down as I do. It will look calm, clean, and enticing as you drive up.
Recommended Reads: