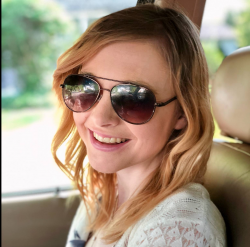 Latest posts by Erin Jamieson
(see all)
I used to work in catering for a waterpark. We had a decent array of tools, from hot plates to impressive serving sets and full knife sets. But one of the most helpful things was something that you might not expect. We had a stock of stackable patio chairs that were easy to set up and store away for different events. Only there was one problem: these chairs were far from the best designs. 
Stackable patio chairs can be incredibly useful for saving space and enjoying your patio. Some like it for entertaining outdoors. But what you don't want to do is sacrifice cheap materials for lightweight construction.
This guide will help you strike that balance. My goal is to show you how to shop for stackable patio chairs and sets. From simple chairs with arms to heavy-duty stackable chairs for dining, here's how I shop smart. By the end of this guide, you'll have ideas about what materials, price, and style of stackable chairs are right for you and your patio. 
See also: How to Find the Best Patio Tables for Your Outdoor Space
Bottom Line Up Front Summary
Stackable patio chairs are a great alternative to folding chairs. They offer the same space-saving versatility that folding chairs do, but are much sturdier and tend to be more comfortable. The best stackable patio chairs are made with treated hardwood or powder-coated steel frames. It's important to consider dimensions, weight capacity, and features for comfortable sitting and stacking. 
If I had to recommend one stackable chair set, it would be the Flash Furniture Stackable Outdoor Side Chairs. They're supportive but still lightweight, easy to stack, and made with durable powder-coated steel frames. They don't require as much maintenance as wooden stackable patio chairs and pair well with any patio space. 
My Top Picks
Stackable Chairs: The Best Option for Your Patio?
Not all of us have limitless space or want to leave our patio furniture out year-round. As someone who has very limited patio space, I can relate. Stackable chairs are a great option for saving space. They're also great if you want patio chairs for entertaining but don't want or need them out all the time. But you'll have to weigh the pros and cons of stackable vs folding chairs– or regular patio chairs. Here's what you need to know to decide between the three main categories of patio chairs. 
See also: Best Walmart Patio Chairs Guide
Folding Patio Chairs
These chairs are your most lightweight option. They're usually pretty cheap, and chances are you've had an experience with folding chairs from attending meetings, conferences, and maybe even events like weddings. Folding patio chairs follow the same pattern, usually with lower-cost materials. These are meant to be as cheap and efficient as possible, and not meant to typically be left outdoors. Though there's a variety of folding chairs, in general, they tend to be the least secure and the least comfortable. 
Stacking Patio Chairs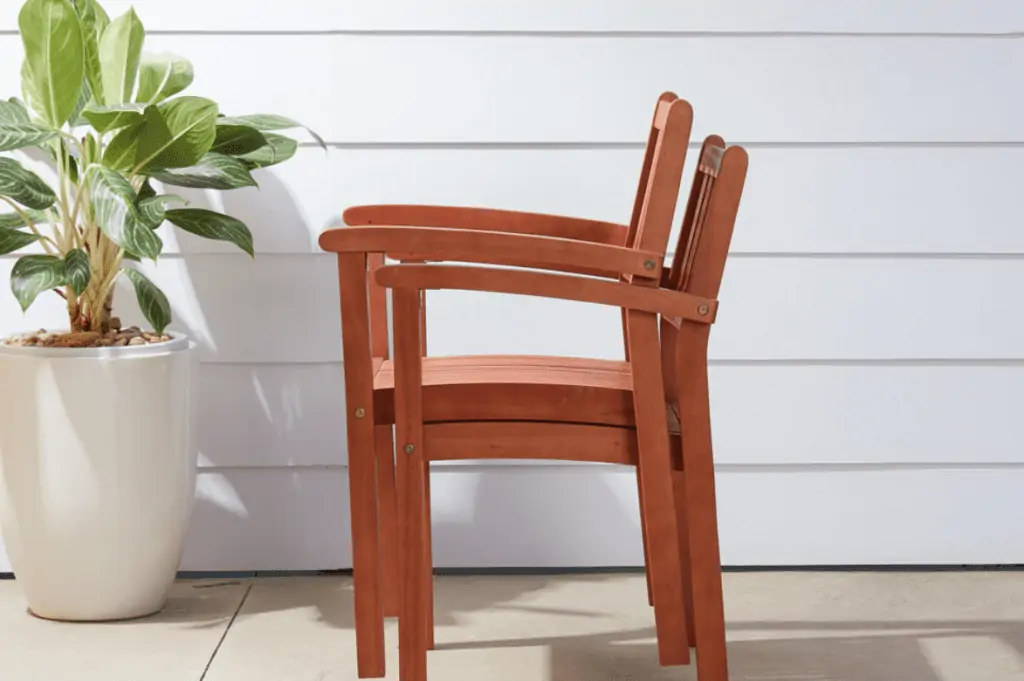 I like to see stacking patio chairs as an in-between for folding vs regular patio furniture. They're still lightweight, but both bulkier and heavier than folding chairs. There are more options for materials and styles and they also tend to be more comfortable than folding patio chairs. They may require more upkeep, but they also can have more advanced features than folding chairs. These are a better option if you plan to use them often, for long periods, or want a more durable chair with the convenience of still being able to store it away. 
Bottom Line
Bottom Line? While stackable patio chairs don't get as luxurious and are not always as durable as regular patio chairs, they offer a pretty good value. In my opinion, they're a much better choice for most people for space-saving patio furniture than folding chairs. The extra weight and cost are worth the stability you gain. 
How to Select the Best Stackable Patio Chairs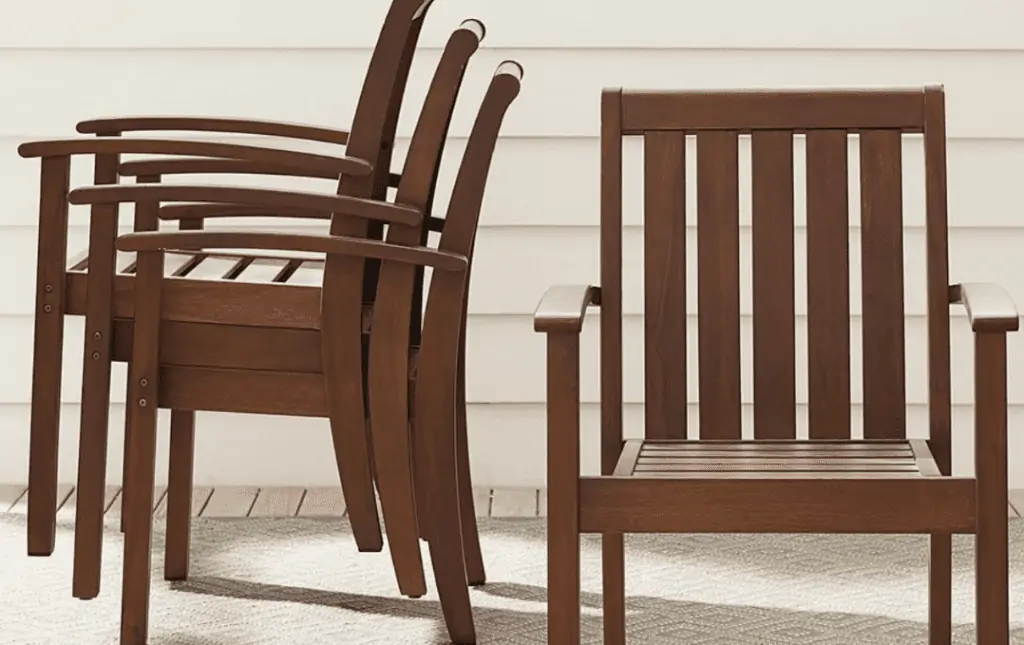 The best stackable patio chairs aren't the cheapest, but they're not the most expensive either. To find the best stackable patio chairs, I consider the materials, key features, and who's selling them.
Step One: Selecting the Right Frame Materials
Many stackable patio chairs are made to be lightweight and cheap. That's fine if you're buying them for an occasion or two, but if you want stackable patio chairs that last for years, it's worth spending a bit more money. Even though stackable patio chairs often don't sit outdoors all year round, I still look for durable, weather-resistant materials. For hardware, I prefer steel or stainless steel. Seats need to be weather-proof, water-resistant, and UV-ray resistant. 
Wooden Stackable Patio Chairs
There's a more limited selection of stackable patio chairs than I'd like, but there are still options. Of these, I skip any softer woods. Softwoods, which include popular options like pine, cedar, and fir, are just not suitable for outdoor use. Instead, I look for hardwood chairs, like oak, maple, walnut, cherry, teak, or acacia. I prefer wooden chairs that have been treated with a weatherproof coating, but you can also buy a WaterSealer. I love the look and feel of these chairs, but they can be more expensive and they require a lot more upkeep. Those things considered, they're a good option, but not my top option for chairs you plan to stack. 
Metal Stackable Patio Chairs
Metal is a very durable option– in most cases. Metal is naturally more lightweight and easier to stack, which is why I think it's a more practical option. But there are downsides. Metal traps heat and cold, so it's not going to be comfortable without cushions. I also only buy metal that's been treated to be rust-free and weather-resistant. My preference is wrought iron with treatment or powdered coated steel, both of which are far harder to damage than a lighter aluminum frame. 
Wicker and Plastic 
These are both tricky. Unfortunately, Polywood, a high-density, durable plastic, isn't commonly sold for stackable patio chairs. The other plastics tend to be flimsy, uncomfortable, and cheaply made. Unless you need patio chairs for $30, I'd skip regular plastic chairs altogether. Wicker provides a classic look, but it's not the best for stacking. The best wicker chairs are made with resin coating and are weather-proof. The problem? The wicker is still quite fragile, and the stacking wicker is more likely to damage it. As such, if at all possible, I'd skip both regular plastic and wicker chairs for stackable patio furniture. 
One option is a plastic chair paired with a strong metal frame. While it's still not my top choice, if you're gentle, this can expand your stackable patio chair options. 
Step Two: Selecting the Right Dimensions for Stackable Patio Chairs
If you're looking for a great stackable patio chair, chances are you care about saving space. Of course, you want to balance saving space with comfort. The average chair is between 16 inches and 20 inches tall. The most comfortable chairs are around 17 to 20 inches wide, with a seat depth of 20 inches. Aim around these average dimensions, and your chairs will be more comfortable than far outside of them.
The other factor, of course, is how these chairs will be used. If these are stackable chairs for dining, consider the table height. Most patio tables are 27 to 32 inches high. The upper end of the average chair height–18 to 20 inches– would be a good patch for this. 
Step Three: Features for Stackable Patio Chairs 
The more lightweight the frame, it's generally a bit less sturdy. But of course, heavier chairs are more difficult to stack. 
Stacking Features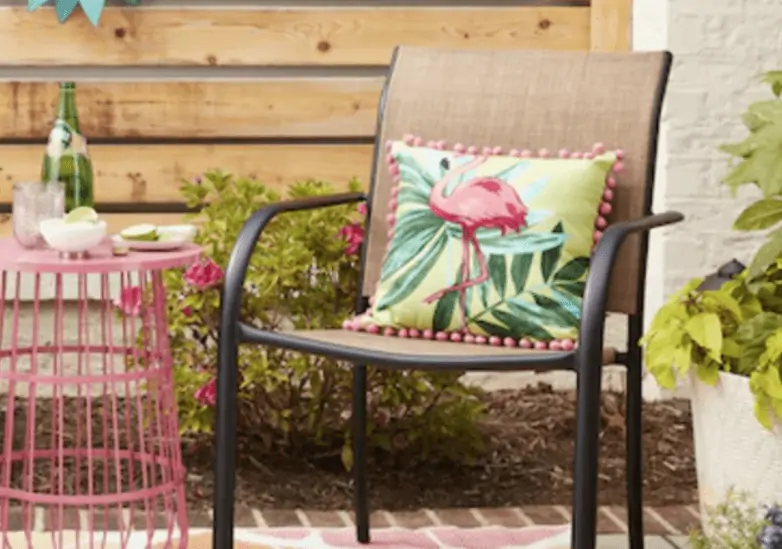 My favorite stackable patio chairs have a locking system to keep them secure. While not a must, a locking mechanism (usually on the side of the legs) make sure that your chairs won't fall over. Gauging brackets are other safety features. You can even find some stacking chairs with pads or skid-proof feet to reduce issues when stacking, carrying, and dragging. At the very least, I look for a clean, relatively simple frame that makes stacking easier. 
Cushions 
Some of the best stacking chairs come without cushions, but if they do have cushions, I'm picky. I look for weather-resistant cushions. That could include plain polyester, but I prefer a more durable cushion if possible. Olefin is a reasonable choice, as well as Sunbrella fabric. 
Other Features
It's harder to find, but some stackable chairs have an ergonomic design. You can tell something has a more contoured seat, with a slightly rounded back. Armrests can also reduce pressure on joints. 
See also: Best Wayfair Porch Swings Guide
Step Four: Where to Buy and Pricing 
Stackable patio chairs are pretty popular– so there are many places you can buy them. To help you sort out your options, consider this chart your cheat sheet to places you can buy stackable chairs. 
| | |
| --- | --- |
| If You're Looking For… | Shop At… |
| Cheap, Clearance, and Budget Stackable Chairs | Walmart, Ikea, Amazon, Overstock, Target, Big Lots, Home Improvement Stores |
| Medium-Range, Generous Selection | Wayfair, Menard's, Lowe's, Home Depot, Ace Hardware, Bed Bath & Beyond  |
| Formal, Dining/ Higher-End  | Pottery Barn, All Modern  |
Stackable patio chairs can be as cheap as under $30 each, or more than $300 each. The materials, brand, and style all play a big role in how much you'll pay. 
See also: Where to Buy Patio Furniture Online
Stackable Patio Chairs I Love
From budget-friendly to modern and luxurious, here are just a few of my favorite stackable patio chairs that you can buy online (or in stores). I selected these chairs to show you some of the best options best on your budget, without sacrificing too much in terms of materials and features. All of these chairs are sold by reputable stores and companies that are transparent about their billing, shipping, and refund policies. 
StyleWell Mix and Match Stackable Brown Sling Stackable Patio Chair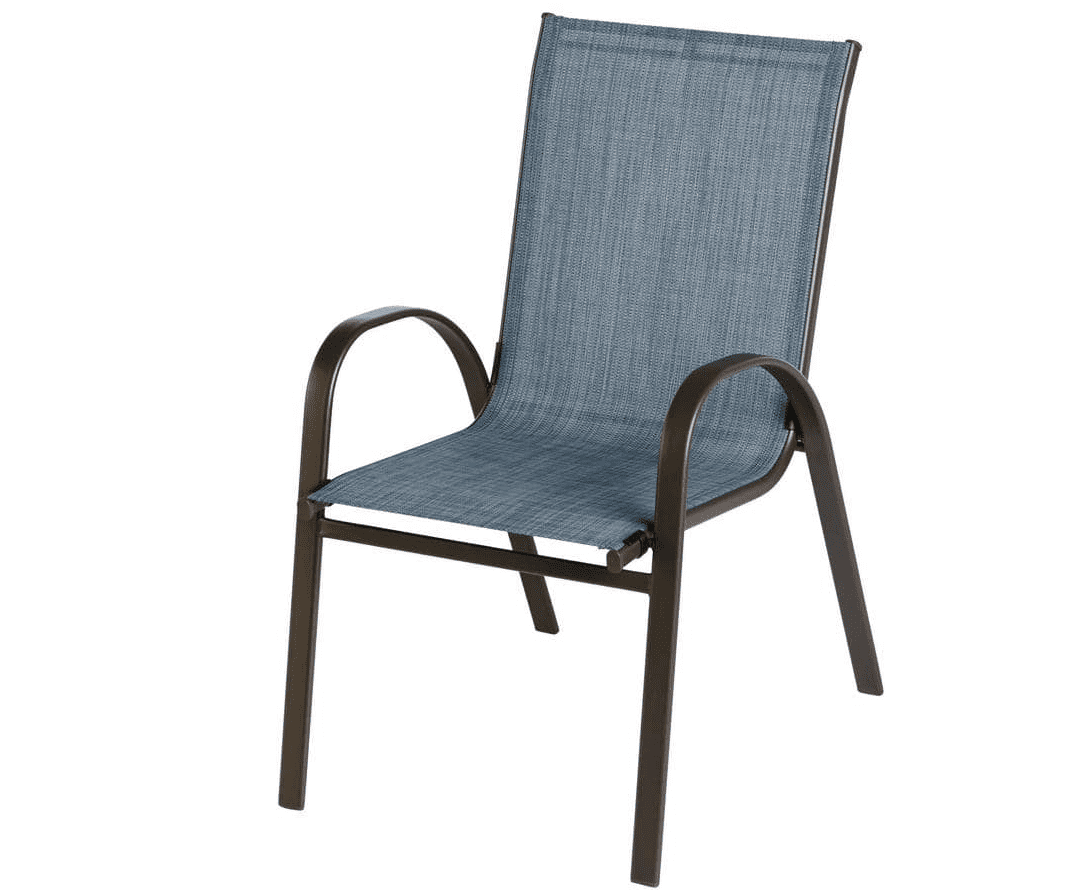 I was pretty impressed with this stackable dining patio chair from Home Depot. Precious few dining chairs, let alone stackable dining chairs, come at this great price with solid features. The classic slingback is casual or versatile. A denim stain complements the brown steel frame. The slightly sloped, weather-proof back is paired with a powder-coated steel frame. This chair features a minimalist, modern design with easy stacking. Each chair weighs a mere 9 pounds, yet can accommodate up to 250 pounds. It may not be a fancy stackable chair, but it's an excellent value. Each chair comes with a 1-year warranty.  Buy Here. 
Pros
Lightweight, Easy Stacking

Powder-Coated Steel Frame

Budget Price'

Versatile Sling Chair 
Cons
Not the Most Comfortable

No Special Features 
Flash Furniture Stackable Outdoor Side Chairs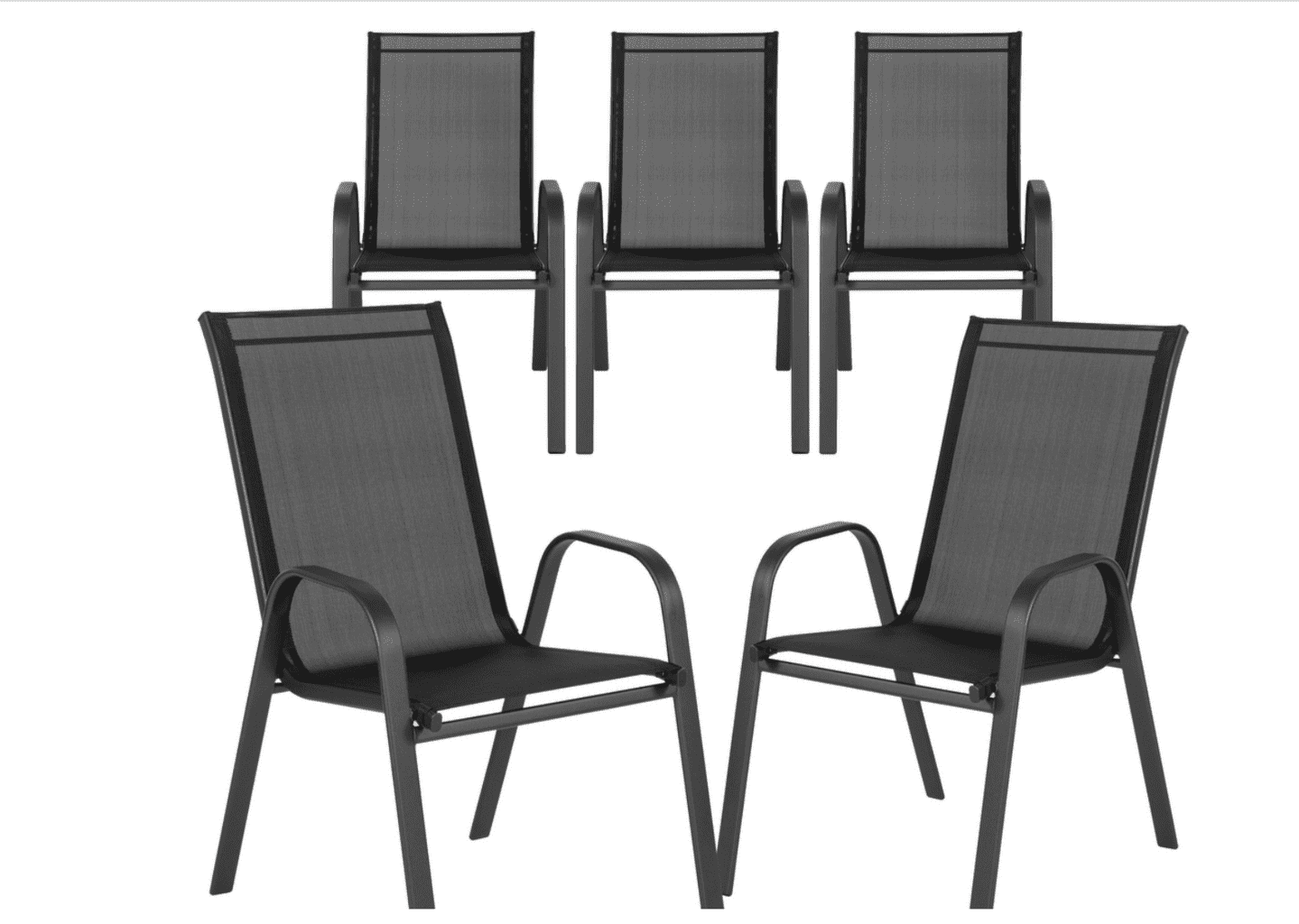 Whether you want dining or accent chairs, these stackable patio chairs fit the bill. It's a set of 5, hardy metal chairs with a modern flair. These powder-coated steel chairs come fully assembled and ready for easy, secure stacking. The integrated arms are more comfortable than your average patio chair, while the weather-resistant seats feature flex fabric. Plastic floor glides protect your indoor and outdoor spaces. They come with a 5-year limited warranty, and you have an option for more extensive coverage. Versatile and stylish, you can pair these chairs with cushions of your choice to make them your own. Buy Here. 
Pros
5-Year Warranty

Flex, Comfortable Seating

Powder-Coated Steel Frame 

Stylish and Versatile 
Cons
Can Only Buy as Set 

Made in China 
Vifah Malibu Stacking Wood Patio Chair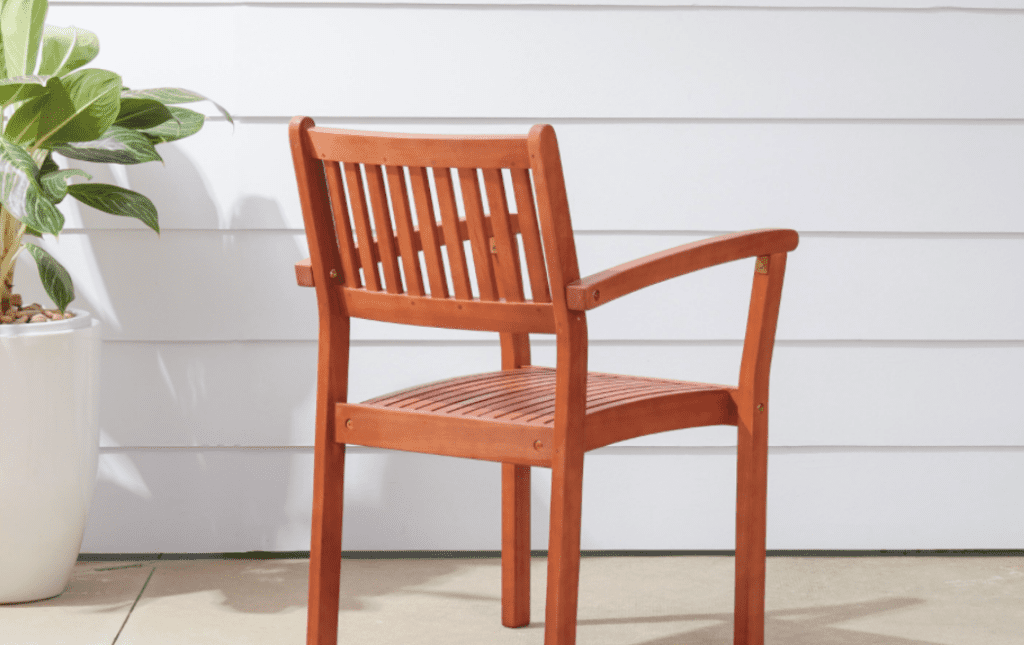 Genuine hardwood stacking patio chairs for under $100 each? It's possible. Home Depot offers an attractive set of two beautiful hardwood stacking patio chairs that immediately caught my attention. The eco-friendly and weather-resistant chairs are made from eucalyptus wood.
The light brown hue is stunning when properly maintained. Each chair is resistant to mold, mildew, and even termites. The clean design offers secure stacking for up to 10 chairs. I also love the slightly contoured seat and slats for additional comfort and drainage. The set of two stackable patio chairs comes with a 1-year warranty for its frame and a 6-month warranty for the outer finish. It holds up to 200 pounds each. Buy Here. 
Pros
Great Price

Genuine Hardwood

Contoured Seat

Stackable up to 10 Chairs
Cons
Not as Heavy-Weight (Only Holds 200 Pounds)

Requires Upkeep, Frequent Oil Treatments 
Chatham Stacking Dining Patio Chair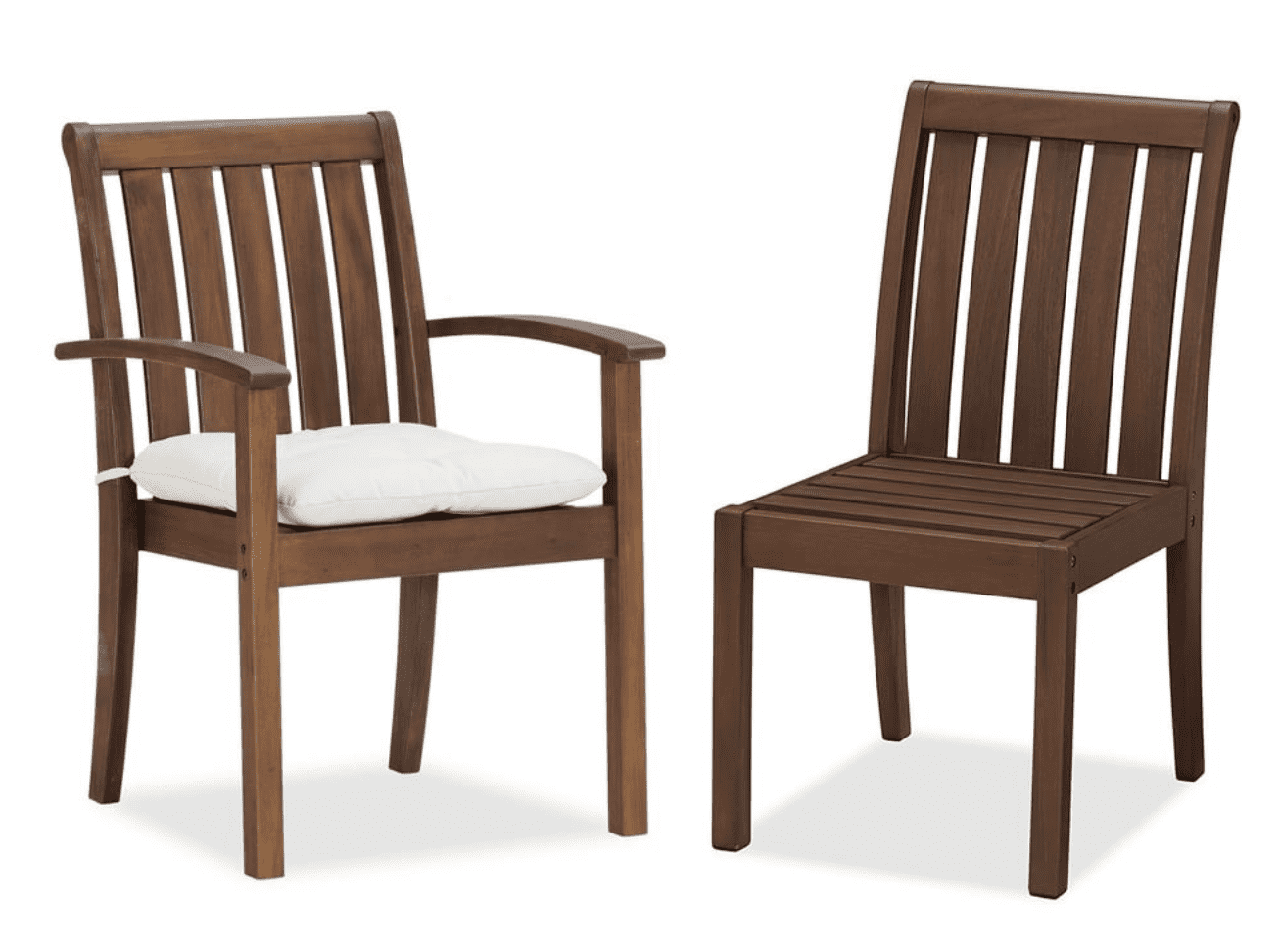 I don't usually associate luxury chairs with stackable patio chairs– but this chair is a show-stopper. Pottery Barn offers one of the best hardwood stackable patio chairs, which can double as a statement chair and a dining chair. It's crafted with mahogany, a wood known for its beauty and strength. The wood is sustainably sourced in a way that meets FSC standards. The kiln-dried treatment is protective against warping and shrinking, as well as splitting, cracking, and mildew.
The exposed hardware adds flair with an antique finish. I love the soft, durable Sunbrella cushions and the contoured back. Cushions are available in about any color you can imagine. Combined with sturdy armrests, this chair is both beautiful and more ergonomic than most stacking patio chairs. It weighs 21 pounds and holds up to 200 pounds. Buy Here. 
Pros
Sustainably Sourced Hardwood

Kiln-Dried Treatment 

Sunbrella Cushion

Contoured Back 
Cons
Requires Oil Treatment for Maintenance 

Only Holds 200 lbs Each 
Studio 3B Sora Outdoor Stacking Chair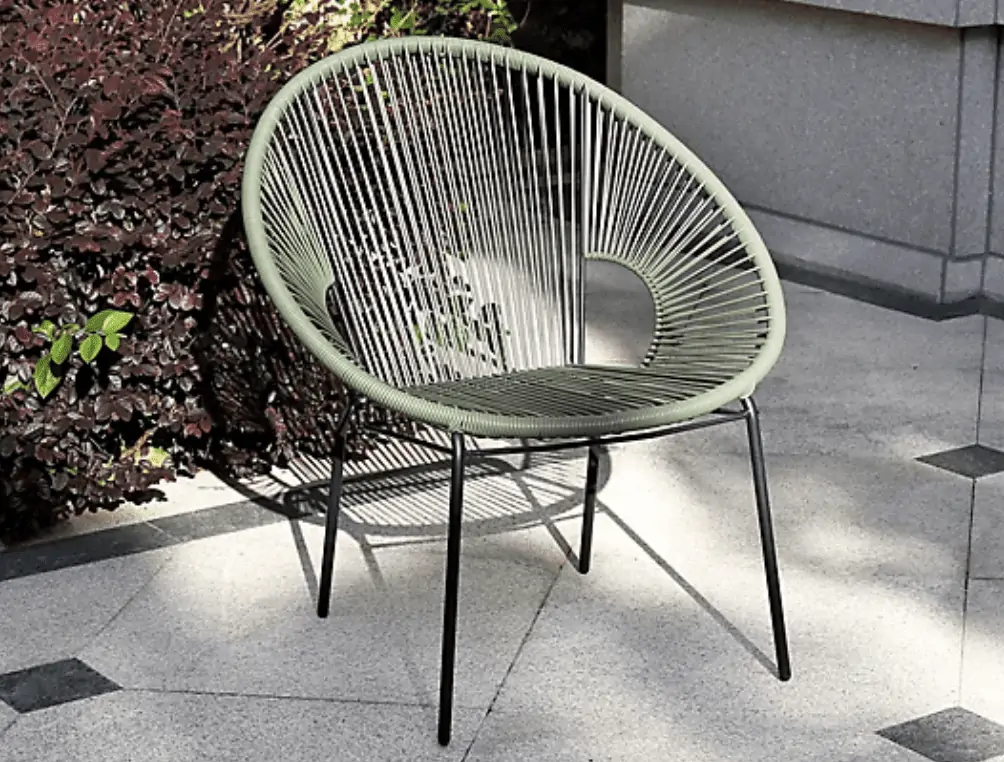 This stacking patio chair from Bed Bath & Beyond is pure fun. Ideal for a youthful, boho vibe, this chair is the only plastic chair on my list. Though the seat is plastic, it's strengthened with a powder-coated steel frame. This stacking chair is easily among the most unique, and the egg-shaped seat provides a relaxed sitting experience. The affordable stacking chair comes with a 1-year warranty and can accommodate up to 226 pounds. A cover or indoor storage is recommended to extend its life. Buy Here. 
Pros
Powder-Coated Steel Frame (with plastic)

Unique Shape

Warranty 

Sturdy for Lightweight Design 
Cons
Cover Recommended

Weaker than Steel, Wood 
Creative Products Metal Outdoor Patio High/ Bar Chairs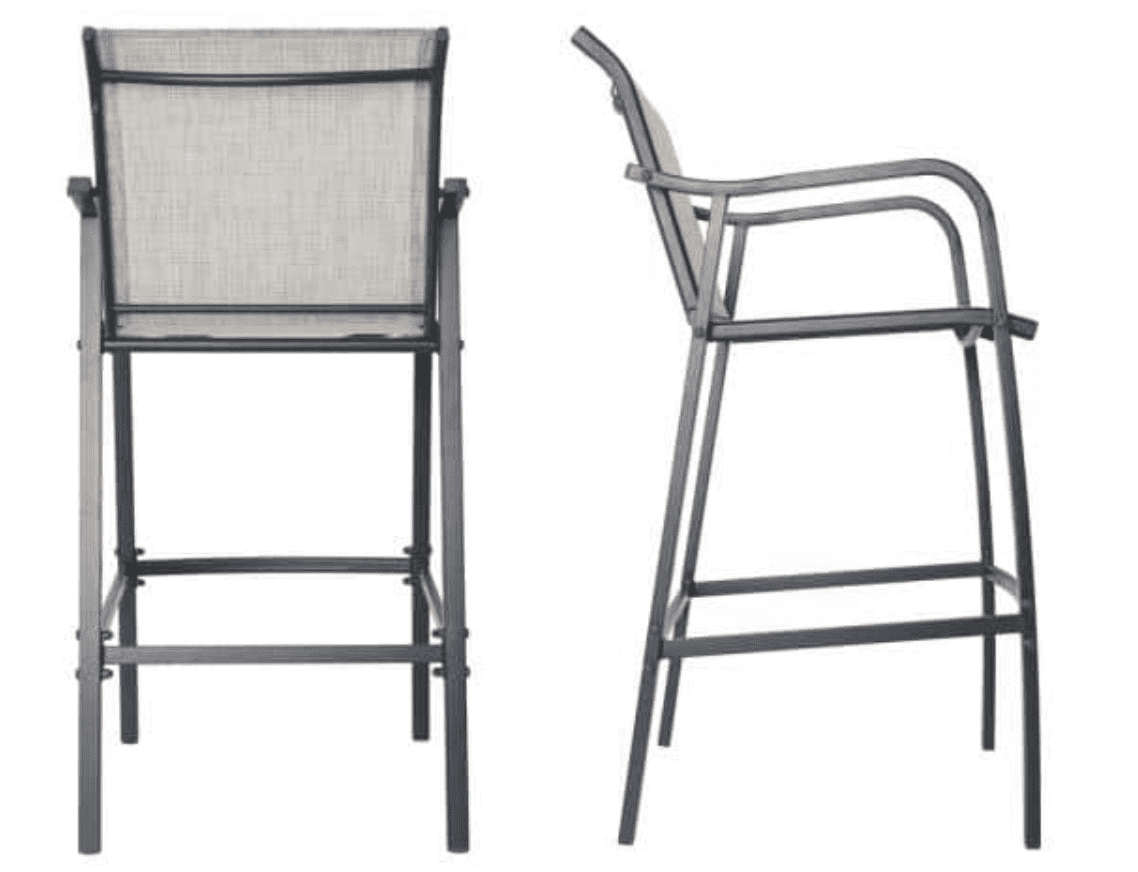 My final recommendation for stackable outdoor patio chairs comes once again from Home Depot. If you have a bar area and want a higher chair, these chairs are great alternatives to your typical stool or patio swivel chairs. The set of two stackable chairs includes a woven, UV-resistant, and waterproof seat. The casual sling seat style is about as versatile as it gets, supported with a powder-coated steel frame. Contoured seats and generous armrests provide more back support than most seats of this style. Each chair holds up to 228 pounds and comes with a 90-day warranty. Buy Here. 
Pros
Powder-Coated Frame

Waterproof and UV-Resistant Seats

Contoured Design

Great for Bars
Cons
Shorter Warranty 

Must Buy as a Set of Two 
Frequently Asked Questions
Question: Why are patio chairs so expensive? 
Answer: Not all patio chairs are expensive. Some are much cheaper than you'd imagine, especially plastic chairs and those on clearance. But the average price of patio chairs is higher than it used to be because there's a rising demand and decreased supply. Supply chain issues have led to patio furniture shortages. Some chairs are expensive, too, because of the high-quality materials. Wrought iron chairs, for example, are more expensive than regular plastic chairs. You'll also pay more for well-known brands and USA-made patio chairs vs imported chairs. 
Question: Can stackable patio chairs be repaired?
Answer: Many times, patio chairs can be repaired, though it's not always worth the effort or money. If you have a mesh patio chair with a broken sling, you can use screwdrivers to take apart the chair and replace it with fabrics that are more durable, such as Sunbrella fabrics.

Swivel patio chairs can be repaired by taking them apart and tightening the pivot plate. But some issues are more difficult. A wooden patio chair that's shrunk, for instance, or warped, will likely need to be replaced. If your paint is peeling, most patio chairs can be painted, but you'll need to use weather-resistant paint. When in doubt, go to a home improvement store near you and ask if your chair is worth repairing– or merely replacing. 
See also: Best Target Fire Pits Guide
Question: How long do stackable patio chairs last?
 
Answer: As you can imagine, how long stackable patio chairs last depends on both the materials and how heavily they are used. Weather-resistant patio chairs last longer, and covering patio chairs (or storing them inside) extends their life. The very best patio chairs last 15 years or even longer. The best Polywood patio chairs, for instance, sometimes come with warranties of 20 years. But cheaper plastic chairs may just last a few years. That's all-important to consider when factoring in cost. Even if the initial sticker price is much lower than another chair, you may end up paying more in the long run. 
Final Thoughts
Stackable patio furniture is versatile and convenient. It can be a great space-saver, whether you have a small garage, apartment, or just a lot of patio furniture. But just because stackable patio furniture is versatile, doesn't mean it has to be lower quality. Before you purchase any stackable chairs or stackable chair sets, think about how you'll use them. If you plan to use them heavily, or even leave them outside, durable materials are a must. Being honest with yourself about usage will help you make the right decision for your patio. 
Final Recommendations: DIY Stackable Patio Chairs
I'll admit it: I don't have the finesse and expertise to pull it off, but I admire people who take on DIY projects for patio furniture. If you take on this project, you'll need several boards of hardwood, 2" and 2 ½" screws, wood glue, good fillers, pocket hole screws, wood conditioner, sandpaper, primer, and paint. These simple stackable patio chairs are charming and would even make a great gift. I recommend a WaterSeal Treatment as well as a Mineral-Oil Based Pre-Stain Wood Treatment (great to have on hand anyway). 
However, it's not an easy project, and I wouldn't leave these chairs out in the rain. Read the DIY Tutorial Here.
Recommended Reads: