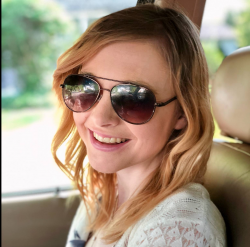 Latest posts by Erin Jamieson
(see all)
Many of my family members have bought, or considered buying a porch swing. But they've often been underwhelmed with the options in stores.
While my Nana and Papa were able to find a durable metal porch swing that has lasted over a decade, the lack of porch swing options in traditional stores is accelerating. That's where places like Wayfair are stepping in. 
I'll give you the scoop on how to shop for the best porch swing materials, styles, and prices. I'll also share tips on saving money and show you a few of my favorite porch swings from Wayfair in 2022. 
Bottom Line Up Front Summary
Wayfair is a good place to shop if you want a mid-range porch swing. Their collection of metal swings is the best, followed by a small collection of Polywood porch swings. Many of their wooden swings are softer woods, so you have to carefully select only hardwood swings.
While Wayfair doesn't have the most premium materials, if you search hard, you can find a good balance of materials and reasonable prices. 
If I had to recommend just one porch swing from Wayfair, it would have to be the Vineyard 3-Person Porch Swing. This swing features a classic slat-style seat, with an excellent warranty and hardy Polywood construction. It's a great value and one of their lowest maintenance porch swings. 
My Top Picks
Wayfair: Best Option for Porch Swings?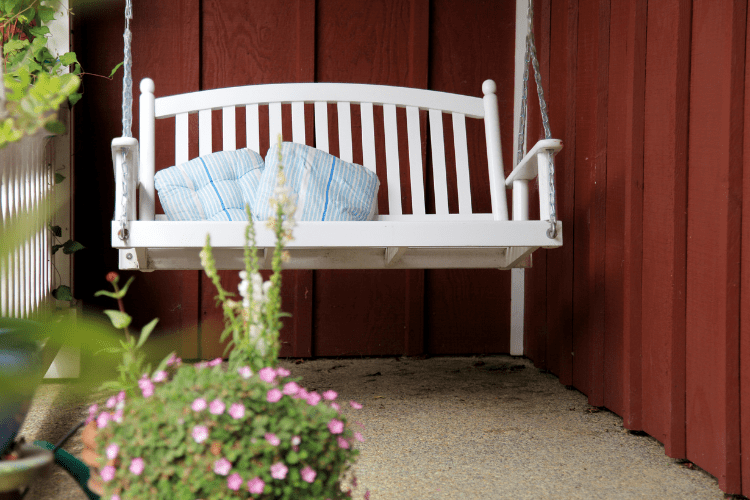 Ikea holds the title of the largest furniture retailer– but Wayfair has it beat for its porch swing collection.
Unlike Ikea, which mostly focuses on budget-savvy and minimalist styles, Wayfair has a pretty impressive range of styles and prices. But here's the real reason why I would- or wouldn't- shop for porch swings at Wayfair. 
Reasons to Buy from Wayfair
Variety 
Wayfair has variety– and that gives you plenty of in-stock options. Unlike many places, Wayfair tends to be quite efficient and update listings.
I rarely run into finding something I like, only to discover that it's out of stock. I like that I can find modern, rustic, vintage-inspired, and classic porch swing styles. 
Easy Shopping 
Another reason I like Wayfair is how easy it is to find what you're looking for. Their search filters include seating capacity, finish, materials, brand, price, customer ratings, and so much more. A lot of places that have such a wide inventory range are more disorganized.
See also: Best Target Fire Pits Guide
Shipping and Protection Plans
During normal times (I say because shipping for nearly all companies has faced delays), ground shipping takes 1 to 7 business days. Shipping is free for any order over $35. I also like their optional protection plans, and you can process returns online. 
Reasons Why to Skip Wayfair 
Online Shopping vs In Stores
Wayfair is far from perfect. While considered a reputable company, it has mixed reviews from Consumer Affairs and other review websites. Luckily, most complaints are common across the board for any online shopping right now, such as shipping and process delays.
So the real con is not specific to Wayfair but online shopping in general. It may take longer than usual to get your porch swing, you can't select it in person, and returns can be a hassle. 
Imported Porch Swings
Wayfair acts like a Warehouse and functions like Amazon and Walmart. They don't make their porch swings. While there are some porch swings made in the USA, even those usually are made with imported materials. So if you want fully USA-made porch swings, Wayfair may not be right for you.
Neither Cheapest Nor Most Unique Porch Swings
If you want the cheapest porch swing possible, Wayfair doesn't quite get there- but they do have pretty competitive prices. Their porch swings range in style, but you won't find much in the way of truly unique design, customization options, or the most premium materials. 
Lacking in Great Wooden Swings
Wayfair has many wooden swings, but the selection of genuine hardwood swings is limited. If you buy one, you'll have to do a bit more work to make sure it stays in good condition. 
See also: Best Farmhouse Porch Swing Ideas
Wayfair Porch Swing Shopping 101

If you've decided to buy a porch swing from Wayfair, going in with a smart shopping strategy is important. Here's how to shop strategically to find the very best swing for your porch. 
Tip One: Set a Budget and Shop Deals
I know it's not the most exciting step of the shopping process, but setting a maximum budget will keep you in check before being flooded with porch swing options. Once you set your budget, filter by price range so you want to see swings outside of what you want to spend.
While I'd never recommend buying something purely because it's on sale, it never hurts to check for discounts at the end of a season.
The cheapest time to buy a porch swing from Wayfair is between August and November, but you can also catch holiday sales. Peak time– and the most expensive prices– is usually early Spring through Summer. 
Tip Two: How to Decide on a Hanging Porch Swing vs Porch Swing with Stand 
Wayfair has its fair share of both hanging porch swings and porch swings with stands. Both, as you can guess, come with pros and cons- and I have personally experienced the difference in feel between the two styles. 
Wayfair Hanging Porch Swings
Wayfair hanging porch swings are a bit cheaper (on average but certainly not always) and less bulky. I like the clean aesthetic, and they don't clutter up a porch or patio. At the same time, they aren't quite as sturdy as a porch swing with a stand, especially during high winds.
See also: Best Black Planters for Front Porch
Wayfair Porch Swings with Stands
Porch swings with stands may take more assembly, but sometimes they're just as easy to install. The stand provides stability, but obviously, these swings weigh more. Though they are bulky and hard to move, they're more sure during inclement weather. 
Tip Three: Select the Best Frame Materials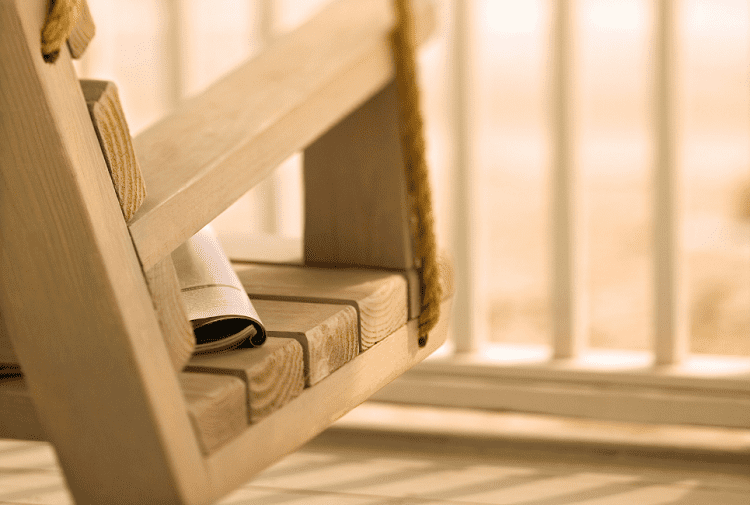 While smaller stores may focus on one or two types of materials, Wayfair porch swings come in about every material that is common.
That includes wood, metal, plastic, and wicker. Along with a great frame, hardware should be either corrugated steel, stainless steel, or wrought iron. This is especially important for porch swing chains. 
Metal Frames
Of the metal frames Wayfair sells, the best are powder-coated steel, followed by powdered-coated aluminum. Both are fairly hardy metal frames suited for different weather conditions.
However, steel is superior and less likely to become dented. If you do buy a metal frame, buy cushions because metal frames trap heat and cold. 
Plastic Frames
Skip regular plastic frames from Wayfair, even if they look like they're being sold at a great price. Wayfair has plenty of superior options, including porch swings made out of Polywood.
Polywood is a high-density, recyclable material that withstands almost any weather conditions, can last up to two decades and is a great idea if you want something low-maintenance. Most Wayfair Polywood porch swings have BPA, and they can be a little pricey. 
Wood Frames
I immediately noticed that Wayfair has a category for 'wood frames' and one for 'solid wood' frames. I take it that wood frames contain some wood, while solid wood frames are all wood. However, not all of their solid wood frame porch swings are your best option.
Many brands Wayfair carries sell softwoods, such as cedar, pine, fir, and spruce. Avoid these and buy a porch swing made with treated hardwood, such as oak, acacia, hickory, walnut, or cherry. You want to select something that has a protective, waterproof, and rot-resistant coating.
Their teak porch swings are my favorite. Teak is both hardwood and produces its natural oils, making it a great choice for durability.
Wooden swings are classic, can be durable, and can last a very long time. However, you'll need to treat them occasionally, and some are susceptible to insects, so a cover is a wise choice. 
Wayfair Wicker Porch Swings 
Wicker in and of itself isn't a good option for an outdoor swing. Charming as it is, wicker is more fragile than metal or wood. Resin wicker is an option, however, if you plan to use your swing lightly and are willing to get a cover.
Resin is preferred because it's weather-resistant in ways that typical wicker/ rattan isn't. I recommend resin wicker swings from Wayfair mostly if you want a cheap, rustic style for light use. 
See also: Best Tabletop Fire Pits Guide
Tip Four: Finding Porch Swings You Can Trust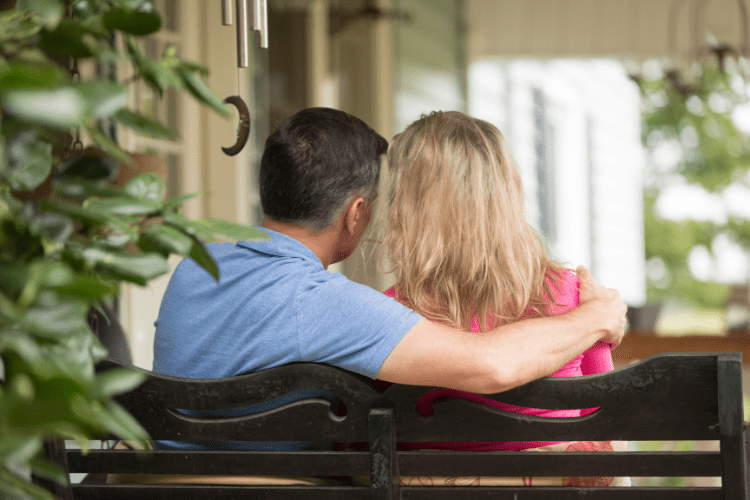 Even if you've found a great porch swing that has great materials, Wayfair is a mixed bag of more or less reliable porch swings. Here's how I sort them out. 
Weight Capacity 
Generally speaking, the higher the weight capacity, the sturdier the swing. Never buy a porch swing from Wayfair without a minimum capacity of 250 pounds. The best swings hold 500 pounds or more, on average. 
Protection Plans
This is not a must for everyone, but when I'm making a more substantial online purchase, I want to see the company back it up. At a minimum, I want to see a generous protection plan. 
Customer Reviews 
I don't only go for 5-star reviews. It's reassuring to me that Wayfair has porch swings with a wide range of average reviews- a sign that reviews aren't being selected. What I do look for, however, are porch swings with an average rating of around 4 out of 5 stars, with some customer feedback. 
Tip Five: Decide on Other Features & Dimensions 
Your final step to finding the best porch swing at Wayfair is to select a porch swing size and bonus features. 
Porch Swing Dimensions
Unless you have a lot of limitations, usually the seat height of a porch swing isn't too much of a problem. Pay attention to the swing width and the seat depth. Swing width (allow 15 inches on each side and 4 feet behind/ in front) is important for working within the space you have.
Shallow seat depths can be uncomfortable, while very deep seat depths provide a lounging orientation. For more elderly users, you don't want too deep of a seat because it makes it harder to get up. Wayfair porch swings follow industry standard sizes of 4 to 5 feet wide and about 18 to 46 inches deep. 
Canopies, Cup Holder, Anti-Slip, and Cushions
Some of my favorite stand-out features for select Wayfair porch swings are canopies, cup holders, anti-slip construction, and, of course, cushions.
Canopies, available for porch swings with stands, provide shade and over for sunny and lightly raining days. I love them, but they do require some upkeep. Cup holders are certainly not a must but great for entertaining and if someone doesn't want to get up and down much.
Select a canopy that's weather friendly. Olefin and Sunbrella fabrics are best, though many of Wayfair's are polyester. Polyester is easy to care for, just not quite as strong of a fabric. For a cup holder, you'll need to decide if you want a foldable tray. 
For seat cushions, you can honestly go with or without. Cushions add comfort and lumbar support. My favorite seat cushions are made with Sunbrella fabric, followed by olefin. You can also purchase seat cushions separately. 
My Favorite Wayfair Porch Swings
Here are just a few Wayfair porch swings I'm excited to share. I've selected the best in a few key categories to give you a glance at the spectrum of choices. Every porch swing has a special feature, a fair price, and has been well received by customers. 
Vineyard 3 Person Porch Swing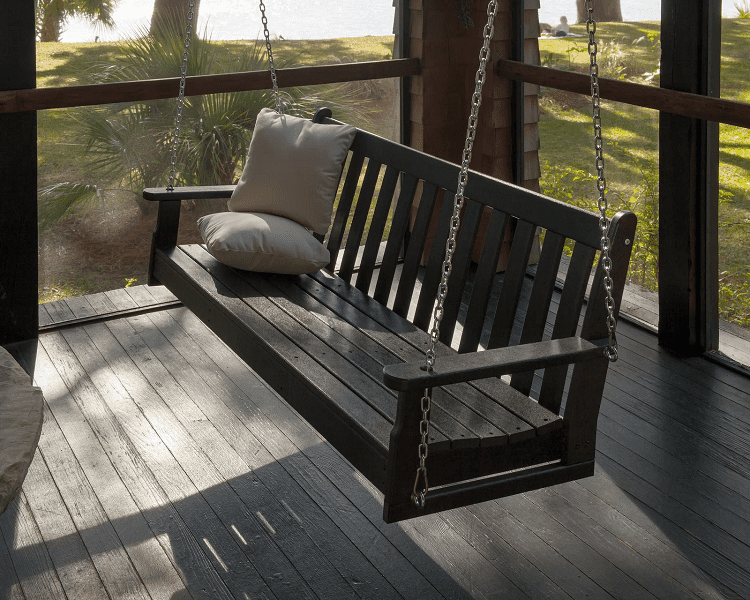 This unassuming porch swing is honestly one of the best for your money at Wayfair. Though this hanging swing may seem simple, it's one of just a few constructed with Polywood. Polywood is not only eco-friendly but very low maintenance.
Unlike regular plastic, this high-density plastic frame is durable, weather-resistant, and provides a smooth ride. This swing doesn't need to be painted nor waterproofed, nor will it crack, chip or rot.
It's UV resistant and has an incredible weight capacity of 1200 pounds. It comes with a 20-year warranty as well as an additional (optional) protection plan. Metal chains are included. This swing seats 3 and comes in 7 shades. Buy Here
Pros
20 Year Warranty

Durable and Weather-Resistant Polywood

Very Sturdy- Accommodates 1200 Pounds

Wayfair Choice Item (Based on Ratings, Popularity)
Cons
Cushions Not Included

Straight Back Isn't Ergonomic. 
Otteridge 3 Person Metal Porch Swing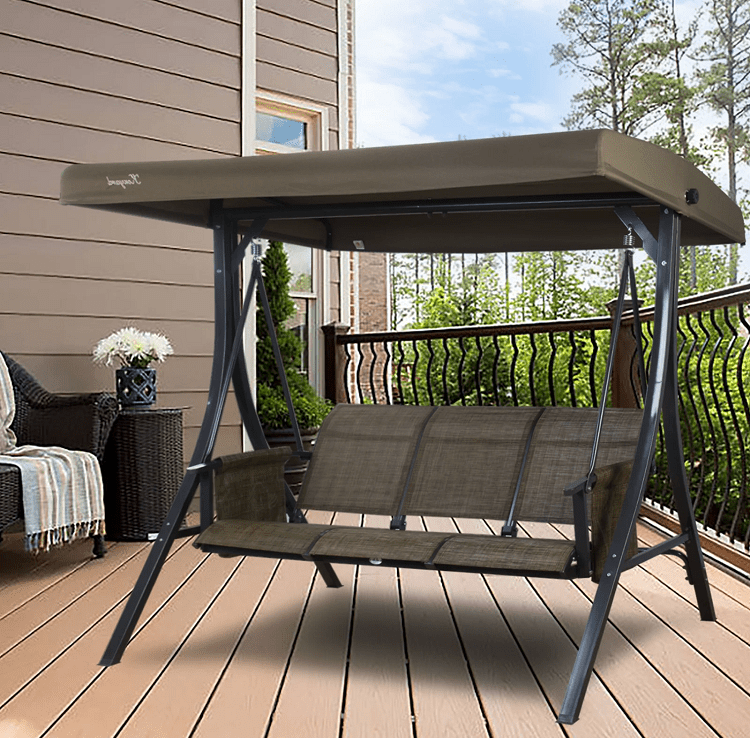 If you want a metal swing at a reasonable price, this is one of Wayfair's best values. The versatile porch swing comes with a canopy and stands for practical use, no matter the weather.
What makes this swing stand apart from other Wayfair porch swings is that it features a powder-coated steel frame. This is an excellent choice for all weather conditions, and stronger than budget aluminum frames.
A softly sloped back is a bit more comfortable than a straight back, while the polyester seat is weather-resistant. This is another low-maintenance Wayfair porch swing and is fairly sturdy (holds up to 750 pounds). Soft stripes add just a touch of visual interest to a taupe or beige hue. Buy Here. 
Pros
Powder Coated Steel Frame

Weather-Resistant Canopy and Seat

Versatile and Contemporary Pattern

Relaxed Back 
Cons
Polyester Isn't Strong as Sunbrella

Cushions, Protection Plan Not Included (Protection Offered with Extra Cost)
Cynthia 2 Person Teak Solid Wood Porch Swing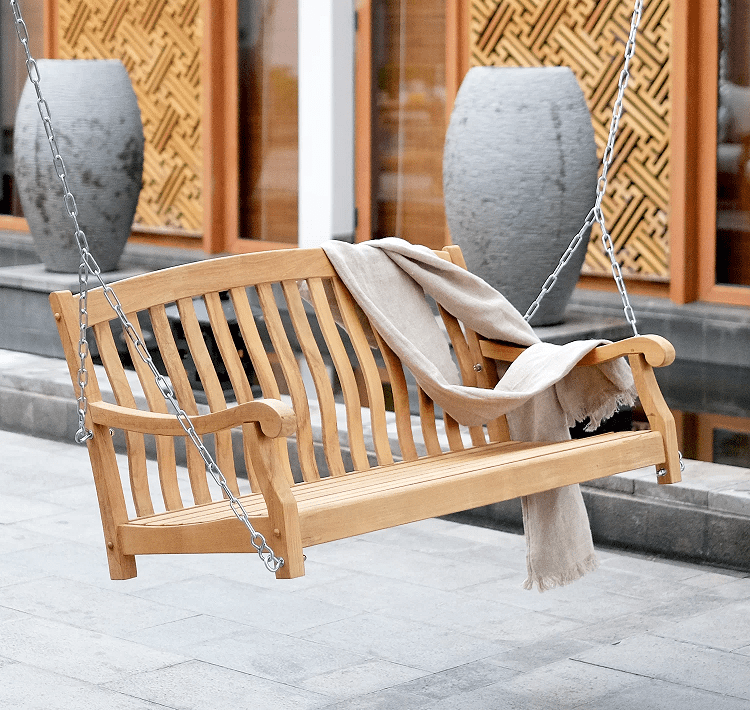 I admit: I was a little disappointed by Wayfair's selection of wooden porch swings. While many are charming and offered at competitive prices, many of them are softwood. Softer woods are fine for indoor use, but I'd never recommend them for an outside porch.
This is one of the hardwood options, and one of their best. The reason why I like teak is that it's a wood that produces its natural oils.
It's very hard and well-suited for the outdoors. When it weathers, it turns a natural soft gray (which could be a con for some but is still a lovely hue). Since Wayfair doesn't provide a protective coating, it's a huge plus.
I love the classic charm of this rocking chair, and the curved armrests are both stylish and more comfortable. The slatted and contoured design is ergonomic.
This swing includes a sturdy steel chain and can accommodate 500 pounds. I would still recommend treating this wooden seat with oil occasionally and applying something like Rust-Oleum on your chains. Buy Here. 
Pros
Contoured Design 

Sturdy, Genuine Teak

Sturdy Steel Chain

1 Year Warranty 
Cons
Needs Additional (Occasional) Treatment

Teak Turns Rustic Gray * could also be a pro
Fishel Metal Porch Swing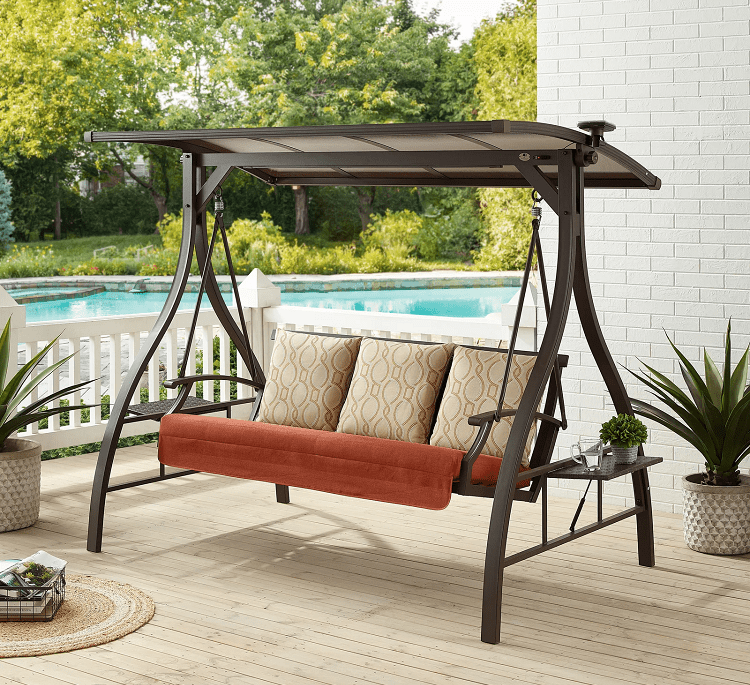 Wayfair does have some more luxurious options– and this is one of the best canopy porch swings that sell. If you love entertaining or want to make a statement, what I love about this porch swing is that it lets you do both, but still at a lower price than you'd expect. 
A sturdy metal frame includes a canopy cover with generous coverage. The cushion seat is generous and equipped with accent pillows- all with beautiful Sunbrella fabric. I also really like the foldable side trays and the smooth movement from the built-in springs.
This set is resistant to UV rays, mold, mildew, rusting, and chipping (though you could still street the frame just to be safe). This 3-seater porch swing accommodates up to 750 pounds. Buy Here. 
Pros
Luxurious Sunbrella Fabric and Cushions

Foldable Side Trays

Springs For Smooth Movement

Beautiful Patterns/ Colors
Cons
Only 90 Day Warranty 

Need to Treat Metal Frame to Be Safe
Joetta 1 Person Metal Porch Swings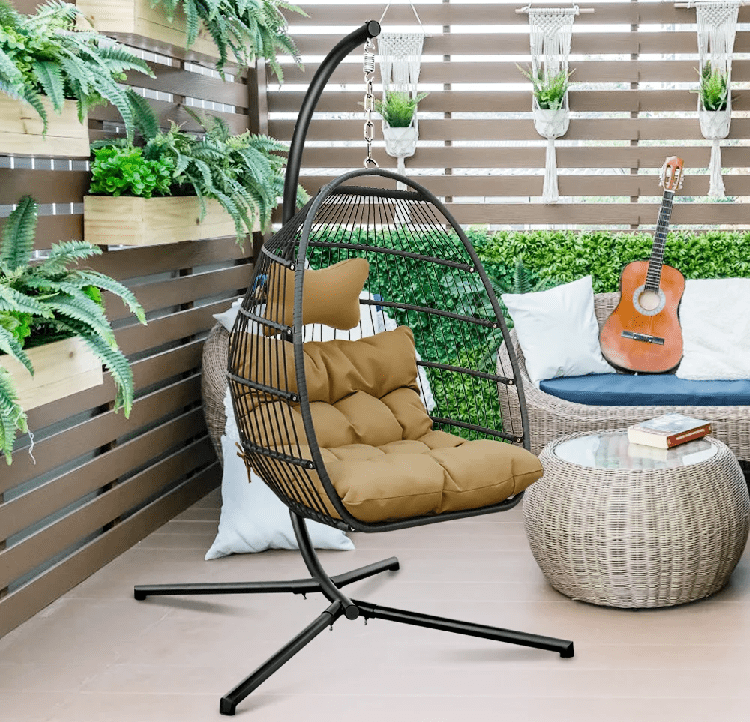 Have a small porch like me? This 1-seater is ideal for apartments and tiny homes. Also known as an egg swing, this porch swing is strikingly modern and has some excellent features that are worth the higher cost.
The hardware is made with 304 stainless steel and features multiple support points. Inside, a Sunbrella seat cushion keeps you comfy with a headrest and weather-resistant materials.
The seat is made with a polyethylene rattan resin wicker, which is made sturdier than usual with heavy hardware. This seat is best suited for someone who will use it with care but is undeniably comfortable and a great place to enjoy the outdoors. Buy Here. 
Pros
Weather-Resistant 

Hardy Hardware

Sunbrella Seat Cushion + Headrest

Great For Small Spaces
Cons
More Fragile than All Solid Metal 

More Expensive than Some Egg Swings 
Frequently Asked Questions
Question: How Much is it for a Porch Swing at Wayfair? 
 
Answer: Wayfair had both budget and mid-range porch swings- but a few surprisingly expensive models too. Because Wayfair regularly has sales, it's hard to pinpoint exactly how much you'll pay, but a single swing (for one) starts under $70 and goes up to over $8,000.

The vast majority of Wayfair swings cost between $250 to $500. Wayfair is such a large supplier of outdoor swings that it's pretty easy to find one for your porch on any budget. Their inventory changes, and you can catch both sales and clearance items. 
Question: How far should a porch swing be from the wall?
Answer: To make sure that your porch swing can move freely and doesn't cause any damage, you need a minimum of about 15 inches on either side of the swing and about 4 feet behind. Some hang swings are only 2.5 or 3 feet away, but an extra foot provides room for more foot traffic and easy use.

The more people you expect to frequent the porch regularly, the more room I'd give. If you aren't sure what's the best fit for you, discuss the project with a home improvement professional. 
Question: What is the cost of installing a porch swing? 
Answer: When you buy a porch swing, you have a decision to make: install it yourself or hire a professional. Most porch swings provide manuals for assembling the swing.

The trickier part is hanging the swing. You'll pay anywhere from a few hundred dollars to a few thousand dollars, depending on the swing. Generally, the larger and heavier the porch swing, the more installation costs. I'd ask for a quote before booking anyone.

You can usually find someone to install your porch swing through home improvement stores. If you are confident about installing it yourself, make sure you at least Watch a Step by Step Porch Swing Installation Tutorial. 
See also: Where to Buy Patio Furniture Online
Final Thoughts
Wayfair doesn't have the best selection of wooden porch swings, but there's still a lot to appreciate. The variety of styles, materials, and brands is noteworthy, and I love how easy it is to shop. I also like their small collection of Polywood porch swings and their more generous collection of metal swings.
Final Recommendation: Wayfair Porch Swing Covers
If you're purchasing a porch swing from Wayfair, you might as well pick up a porch swing cover, too. While many forgo swing covers, I think that a swing cover is one of the best investments that you can make if you want your porch swing to last.
Use a swing cover during periods of extreme cold and throw it on if you expect inclement weather or to be away for a while. Look for a waterproof cover that comes with a warranty (1 year is acceptable) and has high ratings. It takes a little time to find the correct size.
If you can't find a swing cover the exact size, just size it up a little and make sure the seat cover is secured. Wayfair swing covers an average of $80 to $200. Shop Wayfair Swing Covers Here. 
Recommended Reads: