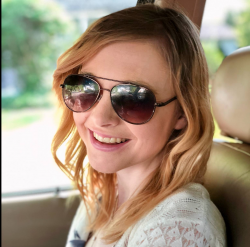 Latest posts by Erin Jamieson
(see all)
My skin burns easily, but I also love to spend time reading outside. So, suntan lotion aside, I was very fortunate that my Nana and Papa's porch swing growing up had a nice canopy top. That canopy top not only saved me some burns but it also has been enjoyed by all of my relatives. 
Here's what you need to know about the advantages and disadvantages of porch swings with canopies. I'll share what to look for, where to shop, and must-have features. I'll also point you to a few of my favorite porch swings with canopies that you can buy online. 
Bottom Line Up Front Summary
A canopy may not be a must-have accessory for a porch swing, but it can make it far more enjoyable. Canopies add protection against the sun, wind, and light rain.
To find the best porch swings with canopies, opt for a powder-coated steel frame or hardwood. The fabric needs to be weather-resistant polyester, olefin, or, better yet, Sunbrella. Other features to look for include: adjustable canopies, cup holders, lights, and convertible designs. 
If I had to recommend one porch swing with a canopy, it would be the 3-Seat Gray Daybed Steel Porch Swing from Home Depot. This porch swing is made with a durable powder-coated steel frame with weather-resistant olefin cushions.
It converts from upright seats to recliners and a daybed. It's not the cheapest, but also not nearly as expensive as some premium options. 
My Top Picks
Pros and Cons of Porch Swings with Canopies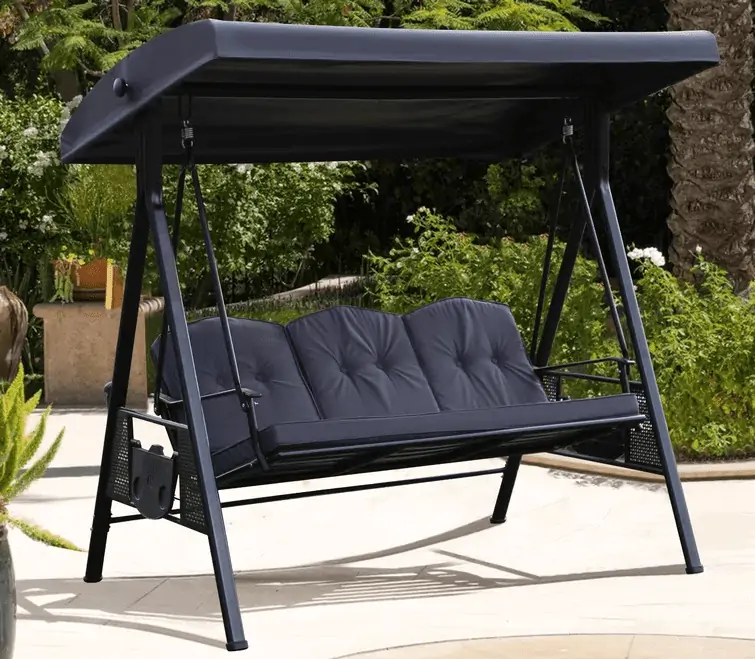 Porch swings with canopies are an inviting and useful addition to your home. Here's why you should buy a porch swing with a canopy, or go without. 
Reasons to Buy a Porch Swing with a Canopy
Canopies are one of the most popular- if not the most popular- accessories for a porch swing. That's for good reason. Canopies can protect you from the sun, light rain, and wind. They add natural shade for a sunning day and reduce glare that would make it difficult to read.
Canopies provide an inviting space for entertaining and possibly napping. Of course, canopies can also add the aesthetic appeal to an outdoor swing and can be coordinated with other patio furniture or decor. Another great thing about canopies is that they can be equipped with lights and other features. 
See also: Best Black Planters for Front Porch
Reasons not to Buy a Porch Swing with a Canopy 
Canopies can protect seat cushions– but they require some maintenance of their own. The type of canopy you get greatly impacts how much upkeep is needed, but some fabrics will require attention.
Canopies can tear and wear and not uncommonly need to be replaced before the porch swing's frame. Since canopies add bulk and height, I would skip the canopy if you're working in a cramped space. 
How to Select Porch Swings with Canopies
Selecting the best porch swing with a canopy consists of a few steps. First and foremost, I like to select the best porch frame materials. You can't have a high-quality porch swing without that step. Next, I'll take you through canopy features and materials– plus criteria like price, dimensions, and where to buy. 
See also: Best Tabletop Fire Pits Guide
Step One: Select a Great Porch Swing Frame
If you're taking the effort of selecting a great canopy, then you need to make sure it's on a solid foundation. The most common options are metal frames, wooden frames, and Polywood frames. All of these are potentially great options, but the details matter. 
Metal Frames
Wrought iron, and, more commonly, steel and aluminum frames are your options. My preference is powder-coated steel. Steel is not dented as easily as aluminum, but it has the disadvantage of rusting.
Powder coating is a way to make steel weatherproof and durable. For many, a powder-coated aluminum frame is also an excellent choice- while it can be damaged, it's lightweight, stylish, and fairly durable.
While metal swings are hardy and stylish, keep in mind that metal traps heat and cold- so cushions are a must. Metal frames are the most common for canopy swings. 
Wooden Frames
The classic appeal of a wooden frame is hard to pass by– but this is where many make their biggest mistakes. Softer woods, like pine, redwood, fir, spruce, and cedar are often used.
The problem is that these woods are easily damaged. For outdoor use, I only recommend harder woods. These include teak, acacia, oak, walnut, maple, hickory, and cherry.
Wood that's treated with something Lille a polyurethane coating further weatherproofs it. However, I'd still oil-treat my wooden swing occasionally. Bottom line: even with the best hardwoods, expect to put in a little more effort towards maintenance. 
Polywood Frames
My personal preference for a great porch swing with a canopy is one made with Polywood. Though not as common as metal swings with canopies (you'll have a small selection to choose from), these swings have advantages over both wooden and metal frames.
Polywood is a type of high-density recycled plastic that is weather-resistant and requires very little maintenance. The best often comes with warranties as generous as 20 years.
Unfortunately, there are very few Polywood swings with traditional canopies. There are solid wood stands with a solid wood "canopy" above the swing. If you want a fabric canopy, you'll probably need to buy it separately. 
Step Two: Select Canopy Features & Materials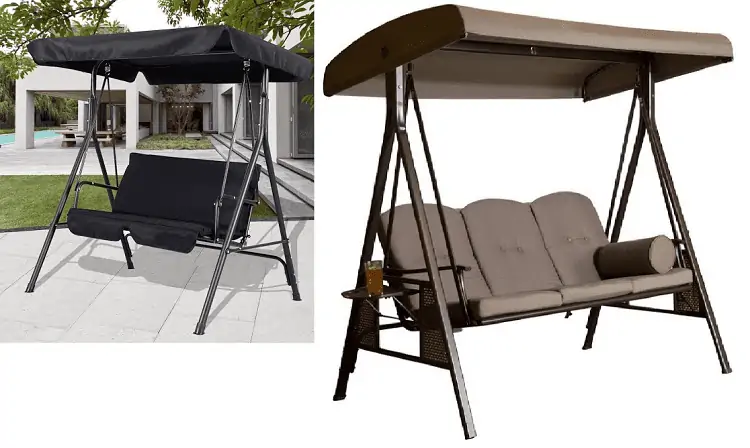 The hardest part about finding a great porch swing with a canopy is that you may have to make some trade-offs on different features. So here's a look at ideal vs must-haves for the canopy.
Canopy Materials
No matter what style of canopy you want, the fabric must be weather-resistant. That's a general term, but should at very least encompass resistance to mold, mildew, moisture, and the ability to withstand both harm and cold temperatures.
Fabric: Polyester is an economical choice because it fits all of this. However, polyester does wear down more quickly than stronger weather-resistant materials, such as olefin, and, even better, Sunbrella. Never select a canopy that uses cloth materials like cotton or linen. 
Solid: Solid Wood canopies are an excellent alternative. They provide some of that coverage and usually wear well with the frame. However, they won't provide as complete coverage as fabric canopies. You can also place fabric over a solid wood canopy. 
Canopy Features
First things first: there's nothing wrong with a simple canopy. A canopy with no added features is not inherently bad, so long as it's made with a piece of durable fabric and provides the coverage you need.
That said, the best canopies have features that extend their use. I prefer canopies with built-in UV protection (usually a layered treatment) and tilting features. The ability to adjust and tilt a canopy is incredibly useful– you can adapt to the time of day and direction of the sun. 
Step Three: Selecting Dimensions & Additional Features
Finding the right size for your porch swing is important. Measure your porch before shopping, and keep in mind that you want to be a little generous with your dimensions when possible.
Porch Swing with Canopy Size
A canopy takes more space vertically, and some stick out beyond the porch swing itself- so make sure you factor in all dimensions. Most porch swings are 4 to feet wide. For seat depth, aim in the middle of the standard range (18 inches to 48 inches).
Shallow seat depths are usually not very comfortable, but too deep of a seat could be challenging for both shorter individuals and anyone who has trouble getting in and out. Allow 48 inches or more behind the swing, and around 15 inches on either side. For weight capacity, a two-person porch swing should allow around 500 pounds. 
Extra Features
Other features that are nice to have but not a personal must for me: a swing with a canopy and side cup holders/ trays; LED or other outdoor lights; and unique canopy designs and patterns.
However, one feature of a great porch swing with a canopy that is incredibly useful is an ergonomic design. A slightly contoured seat and armrests, as well as springs for smooth movement both reduce the pressure and strain on the back (especially the lumbar region). 
Step Four: Pricing & Where to Buy 
Porch swings with canopies are more expensive, on average than uncovered porch swings. That by no means indicates that you can't find a porch swing with a canopy at a great price. Expect to spend $200 to $3,000 on average. Larger and premium swings will be above that range.
Set your budget before shopping, then prioritize. I would recommend prioritizing the frame of the swing first since canopies can be more easily replaced. After the frame, prioritize the canopy– and skip additional features if you can't afford them.
Where to Buy 
Porch swings with canopies are fairly popular. While the selection isn't as broad as porch swings without canopies, here's where you can shop, depending on your budget:
| | |
| --- | --- |
| Budget Range  | Places to Shop  |
| Cheapest | Walmart (Mainstays), Amazon, Target Big Lots, Discount Outlet Warehouses, Ikea |
| Mid-Range | Home Improvement Stores (Home Depot, Menards, Lowes), Wayfair, Overstock, Target |
| Higher-End | Amish Stores, William & Sonoma, Niche Patio Stores, some at Wayfair  |
Porch Swings with Canopies You Need to Check Out
I've included porch swings both with fabric and solid wood canopies/ coverings. All of these porch swings are durable, well-constructed, and sold by reputable stores. These stand out to me as especially valuable for the price you pay. 
Messer 1 Person Metal Porch Swing with Canopy

It's hard to find a 1-person porch swing with a canopy, but this stylish design is also functional. A one-person swing is best if you have a very small porch, or don't expect much company. The stand is made out of powder-coated steel– suitable for all weather conditions.
This comfy egg swing keeps you comfortable in the sun and rain, with a UV-resistant and waterproof seat cushion and coordinating canopy. The style is casual but versatile and seamlessly blends with a modern home or apartment.
It holds 265 pounds and is fairly secure for such a small swing. I also like the comfy armrests and unique, portable design. It's available in gray, aqua, or brown. Buy Here. 
Pros
Powder-Coated Steel Frame

Great For Small Spaces

UV-Resistant and Waterproof

Modern Styles
Cons
Only 30 Day Warranty (Without Protection Plan)

Plain Polyester Fabric 
Valdese 2 Person Metal Porch Swing with Canopy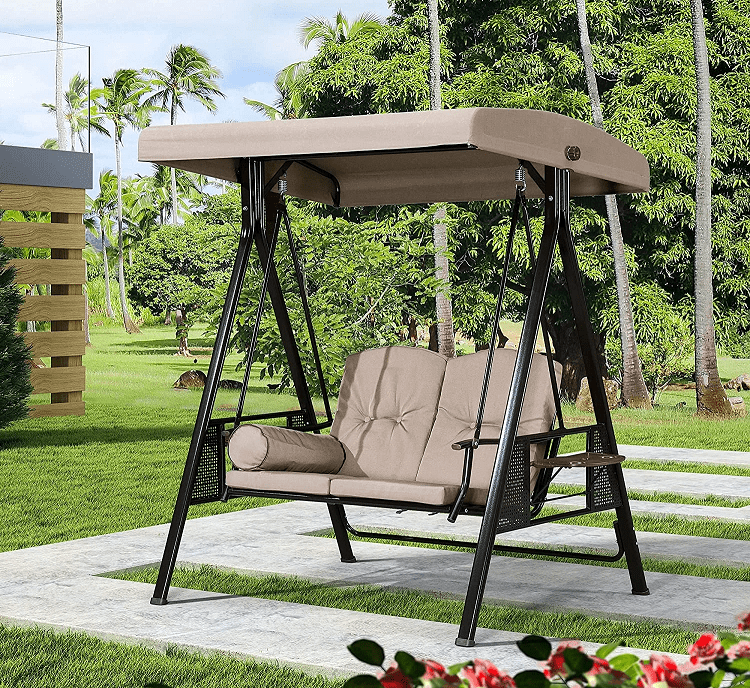 You can find cheaper metal porch swings with a canopy. But if you want bells, whistles, and a sturdy frame, this is one of the best options. This porch swing is simply remarkable, with a powder-coated rust frame that can accommodate up to 600 pounds.
This stylish and sleek porch swing includes a rotating canvas and 2 removable seats. The Sunbrella fabric is not only breathable but also resistant to water, fading, and UV rays. It adds solar lights for use in the evenings, plus a side cup holder for entertaining. The swing comes with a 1-year warranty and ships from Wayfair. Buy Here. 
Pros
UV-Resistant/ All-Weather Sunbrella Fabric

Powder-Coated Steel Frame

Solar Lights 

Accent Cup Holder
Cons
Somewhat Expensive 

Only Available in Tan 
Veranda Swing Bench Set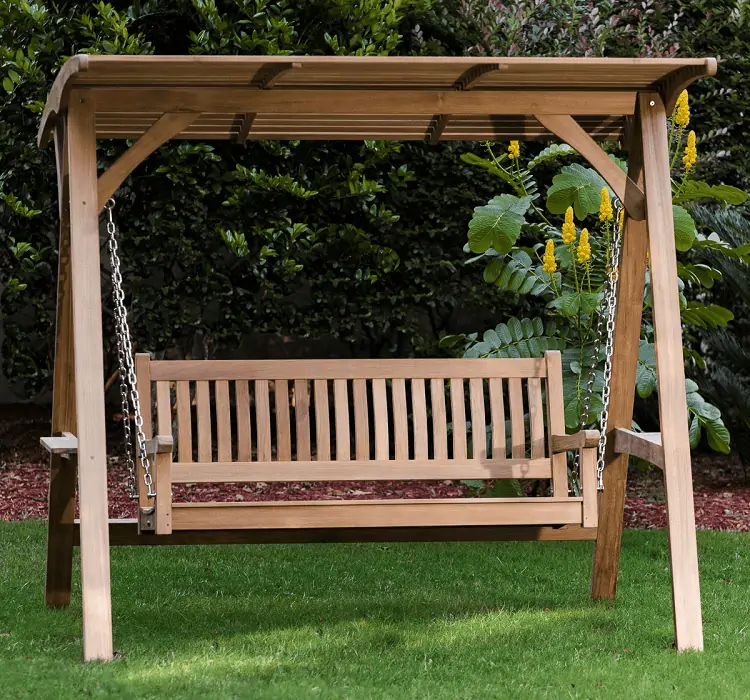 Before you get sticker shock, consider that this porch swing set comes with a hardwood swing, canopy, and even a bench you can stick on your back patio. Most of the wooden porch swings on the market with a canopy are made with softwoods that aren't meant to last longer outdoors.
This beautiful set is crafted with authentic teak wood. I like teak wood because, in addition to being hardwood, it's rich in natural oils. It fairs well even in more humid climates and is a beautiful choice. As it weathers, it may turn a soft rustic gray hue, which many love. You can select from different finishes and add Sunbrella cushions.
The hardware is hardy stainless steel. The swing movement is optimized for smoothness and outdoor use. All Sunbrella fabric is durable, waterproof, and should last you a long time. This swing holds up to 500 pounds and comes with a lifetime warranty. Buy Here. 
Pros
Beautiful Teak Hardwood

Sunbrella Fabric 

Lifetime Warranty

Smooth and Durable 
Cons
Expensive 

Still, I will Need to Treat Occasionally 
Enright Outdoor Porch/ Patio Swing Chair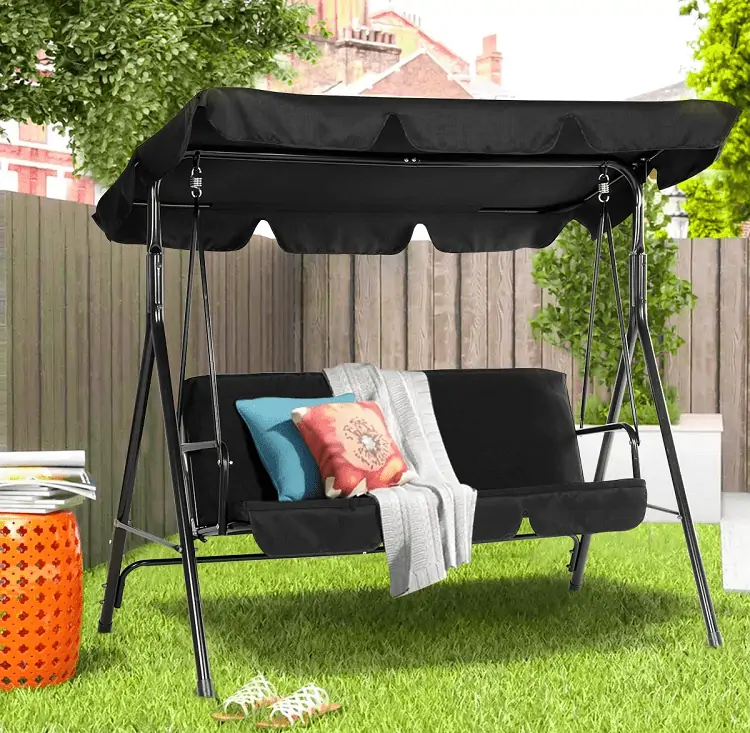 When I stumbled upon this highly-rated swing listing on Amazon, I was pretty pleased. Aside from the incredible price, this metal porch swing has some nice features. This outdoor swing may not be as hefty as some, but it still accommodates up to 450 pounds.
The canopy is adjustable, so you can adapt to different times of the day. It comes with detachable polyester fabric and foot pads to prevent scratching.
This swing is also fairly easy to assemble, even if you're a novice. The frame is a steel alloy- just make sure to treat it with Rust-ole-um or a similar product. It may not be a luxurious swing that'll last a lifetime, but for under $200, it doesn't need to. Buy Here.  
Pros
Incredible Price

Adjustable Canopy 

Detachable, Weather-Proof Fabric

Feet Pads
Cons
Not As Durable of Fabric

Need to Treat Metal Frame 
3-Seat Gray Daybed Steel Porch Swing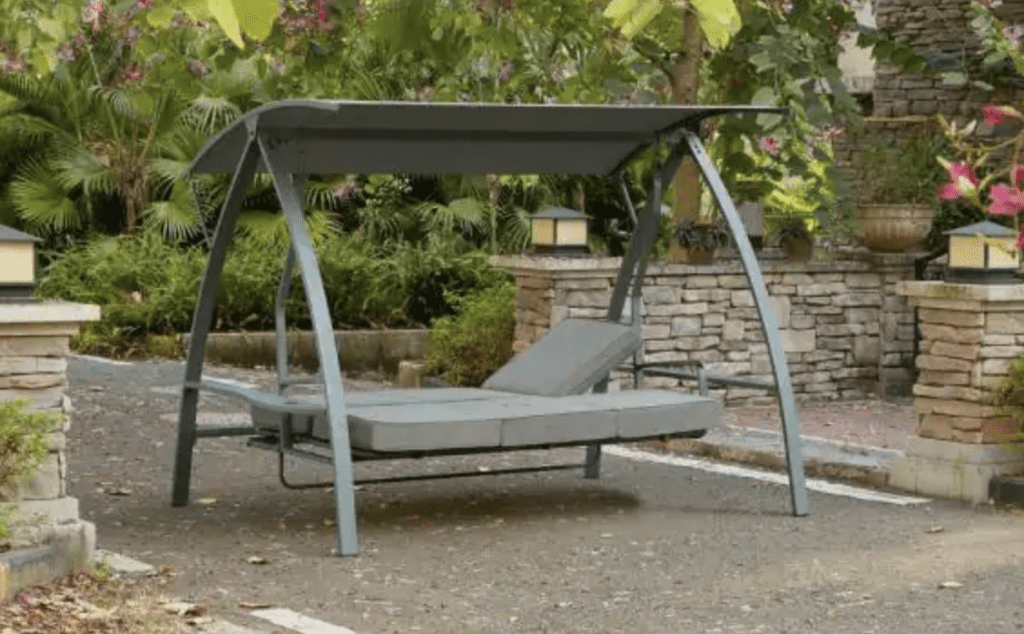 When I saw this convertible porch swing with a canopy, I knew it had to go on my list. This innovative porch swing seamlessly converts from an upright seat to a comfy day bed for napping. The powder-coated steel frame is suited for all weather conditions, year-round.
The daybed is secured with a lock for safe use, and you can even recline the seats if you want something in between. This swing includes side tables and cup holders for entertaining, and it's all equipped with a removable canopy.
See also: How to Find the Best Patio Tables for Your Outdoor Space
The cushions are made with weather-resistant ole-fin fabric. It can accommodate up to 750 pounds and comes with a 90-day warranty. The biggest downside is the lack of reviews. Buy Here. 
Pros
Converts to a Daybed

Reclining Seats with Olefin Cushions

Cup Holders and Table

Powder-Coated Steel Frame 
Cons
Pretty Limited Warranty 

Lack of Reviews
Frequently Asked Questions
Question: What Accessories are Included with Patio Swings?
Answer: Always check every product listing to see what accessories are included.  For a hanging porch swing, I'd expect either a rope or a chain to hang it with. All porch swings need to come with the necessary hardware for assembly.

Possible accessories for porch swings include canopies, cup holders, footrests, cushions, accent pillows, replacement parts, and non-skid feet.
Question: How Much Does a Porch Swing Hold?
Answer: The weight capacity of a porch swing is very important. Porch swings can hold as little as under 200 pounds (uncommon) up to 1200 or more pounds. The average weight capacity of a porch swing is 250 pounds to 550 pounds, depending on the size. 
Question: Can you Put a Swing Set on Concrete?
Answer: A swing set shouldn't be confused with a porch swing. A swing set– which is a playset for children– is not advised to be placed on concrete, due to wear and safety concerns. However, a porch swing is perfectly fine on concrete. Some people opt to add non-skid and non-slide pads to a swing with a stand.

These are affordable additions, but not usually necessary for most. So long as you have a durable and secure frame, you shouldn't have any problems with a great outdoor swing on a concrete patio or porch. Of course, just make sure that the dimensions fit in with the space you have to work with.  
Final Thoughts
I wouldn't say a canopy is a must-have for all porch swings, but it's an excellent feature if you have a sunny porch or patio. The biggest downside is that fewer porch swings have canopies, so you'll have to shop smart and prioritize your must-have features.
Final Recommendations: Replacement Porch Swing Canopy Covers
Life happens, and not all canopy covers last. It's not uncommon for the frame of a porch swing and the seat to outlast the canopy cover. The good news is that you don't have to either sacrifice a canopy for your porch swing or run out and buy a brand new porch swing. Your best bet is to first look into your option for replacement canopy covers. 
Amazon offers a full selection of these, and you'll pay anywhere from $30 to $100 for a new one. That's still far cheaper, in many cases than buying a new swing.
Not all of these are premium, nor will they last you forever, but they're still money savers. Buy a replacement cover that's made with weather-resistant materials and is highly rated by customers.
Of course, make sure you find the proper size to fit your porch swing. I'd also recommend a replacement that comes with some kind of warranty or protection plan, even if you choose not to use it. Shop Replacement Canopy Covers on Amazon Here. 
Recommended Reads: