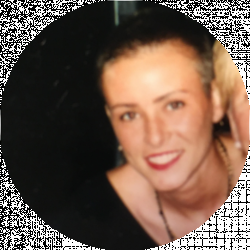 Latest posts by Richelle Tieman
(see all)
Are you feeling overwhelmed by thinking of an outdoor rug? Not sure what size to get, or even if you need one? You are not alone on this one! It took me forever and a day to feel comfortable with getting an outdoor rug.
Trial and error, dozens of rugs and outdoor areas later, and a boatload of in-person and online research later, I am finally discovering the joy of seeing and feeling carpeting as I smell the fresh air!
"Rugging" is one of my favorite hobbies now. I have a no-fail guideline to ensure that my rug is the right size, shape, and design for my outdoor space (that I will share with you). First, let me give you the bottom line up front for those who want a quick, experienced suggestion.
Bottom Line Up Front
I have two recommendations for the best porch and patio rugs because you ultimately need to choose your vibe – seamlessly blend in to complete a space or define a space with color and style?
See also: Best Wicker Porch Swings
These two themes cannot be combined, and thus, I have the two best rugs. I have narrowed the choice down to ONE company to make it easy for you. Ruggable.
If you would like to see other outdoor rugs, Rugs.com has vast quantities!
Carmela Suzani Multi Flower Rug at Ruggable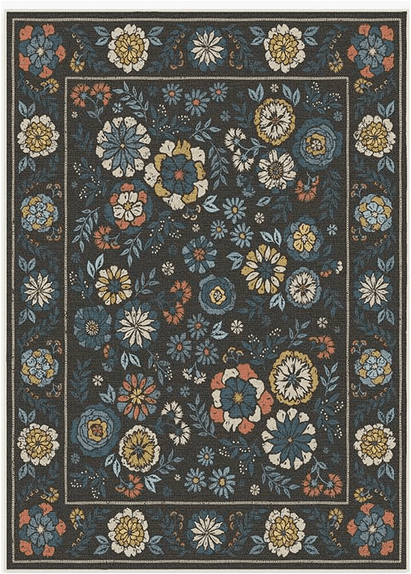 This Carmela Suzani flowery abundance rug is filled with teal, terracotta, and mustard colors with a black background. Set to define an area with a bold yet bucolic mood, it is fun and tranquil at the same time.
Evoking the sun-kissed hues of summer with the dramatic hint of night, this rug will "make" a space. It will start a conversation.
The unique two-step rug creation is made using a rug pad, the base for every rug the Ruggable company has. On top of this specially made base is the actual rug, which the company calls a cover, but it is much more than that.
Rolled out on top of the base, it is secured by a no-slip, trademarked "Cling Effect" technology that allows you to attach and remove the top part of the rug at will.
Resistant to mildew, mold, stains, and water, even the 9×12 foot rugs will fit into your washer and dryer! Latex-free and 95% recycled, this is a sustainable choice.
Every rug they make is interchangeable with every pad, and rugs 8×10 or larger come with the rug base pad in two pieces. Never throw a rug away again. Instantly hose, spot clean, or machine wash your rug to keep it looking brand new.
Maia Oatmeal Jute-Look Rug at Ruggable

This dainty and stunning muted design rug is made with a thick fabric and super textured weave that resembles Jute. Your feet will feel pampered and comfy walking across it.
Chlorine resistant and built for heavy traffic areas.
Shake out the dust and throw it in the washing machine
Pet-friendly, won't slip and made to order to reduce waste
Cream-colored flowers and leaves are at the borders, while mandalas grace the inner rectangles. This rug grows on you the more you look at it. It is sublime and serene enough to blend with most outdoor areas yet provides enough visual appeal to stare at it and observe the tiny artistry that has gone into every inch.
While 98 reviewers rated this rug 4.5/5 stars, some customers listed tripping on the turned-up edges as the main factor for their dissatisfaction. I would hose the rug down, roll up each end backward, and let it dry. That will allow it to curl downward.
A Little Bit More about the Bottom Line Up Front
The company, Ruggable, is all about making clean-up easy for your rug. The company was founded by someone who wanted lightweight, machine washable rugs that were durable. Some benefits to these rugs are:
Machine washable and dryable
Made with recycled materials
Won't fade in the sun, develop mold, or smell like mildew
Gorgeous prints, classic understated options, and unique collaborations with Disney, Marvel, Jonathan Adler, and Star Wars
I do have one complaint. The price point is slightly high when comparing them to other outdoor rugs.
For an abundant choice of porch rugs, try Rugs.com.
Making a Decision on Outdoor Porch and Patio Rugs
Size
Once you decide you want a rug for your porch or patio, the first step is to look at the current space and how your furniture is configured. This will lead to choosing the best size for your porch rug.   If you are getting new furniture, the size will significantly factor in how large a rug you need. Use masking tape to map out the dimensions of any new furniture not in your space.
Porch and Company has a definitive guide that shows you how to use your porch rug in several different ways. These four arrangements are traditional suggestions, and I invite you to rotate the furniture and add and remove items to your liking.
I especially like a large rug that covers almost all floor space because it is soft to walk on and I can put all my furniture on it – kind of like a big island oasis where I can sit to relax and refresh.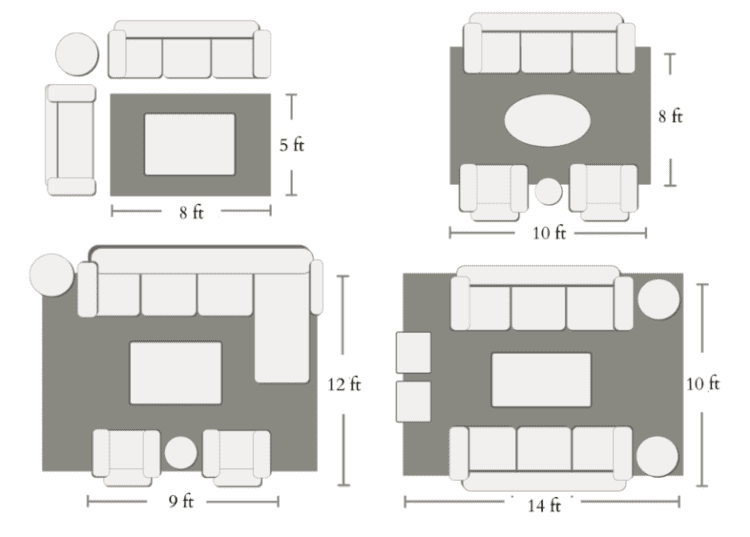 Determine what you will use the rug for. Do you want a colorful accent to dress up the space or need a welcoming entrance? Do you need to protect your deck or flooring from chair scrapes, pet nails, or foot traffic?
Sometimes the goal is to add the final touch to impart a sense of completion to the porch or patio. Whatever your goal, it's helpful to know what the goal is so you can adequately plan to achieve it.
See also: Best White Rocking Chairs for Porches
Rug sizes range from 3×5 feet to 10×14 feet and beyond. There is a substantial difference in tone and ambiance from size alone, never mind the color or the pattern. Getting a rug that is too small or too large can change the scope of the location. Years of decorating have taught me always to measure my space.
Using a runner-style rug is excellent for narrow front porches and balconies. Something I wouldn't have thought of when beginning to choose rugs, as I always thought runners were "hallway" rugs.
Wayfair has an article on size guidelines for outdoor rugs that breaks it down.
Best practices for outdoor rugs suggest that your rug stops two feet from the wall in every direction. This leaves less trafficked areas free, and the eye registers more space for an open and airy feel. It also showcases your rug like a matted picture in a frame.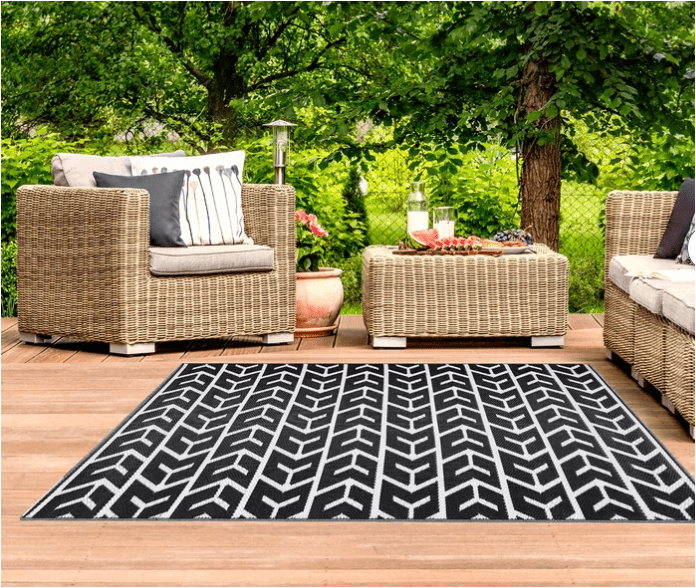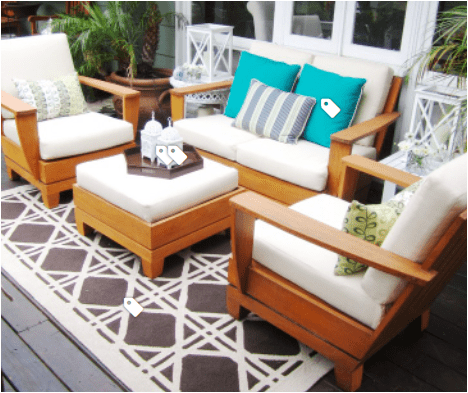 Convention also tells us that at least the front two feet of all furniture must fit on top of the rug. You can see this in picture #2, which has a very snug feeling, yet there is room on the rug to pull back the chair and the table without coming off the rug.
Having your furniture on the rug is not entirely necessary, and I know many people who have chosen to put the rug under their coffee table only or lay it in front of the chaise lounge.
The determining factor will be how seamlessly you like your spaces to blend. The eye will stop wherever the rug stops, so if you have a rug and then flooring and then a chair, there will be a slight "bump" when processing the room's depth. You can see this in picture #1.
See also: Best Swivel Patio Chairs Guide
Weather
If you have a screened-in porch, your rug will not be subject to as much rain, direct sun, or pollen that a patio rug will be. Many people have a foot bucket or a hose to wash dirty feet before entering the house. Remember that a patio will need to withstand that dirt, while a porch may not.
Ease of cleaning is a huge variable, as is the material used for the rug. Taking a soapy bucket of water and sloshing it over your patio rug and then hosing it down is essential and may need to be done every few days. In this case, having a rug that quickly dries is a must.
In the summer, the sun beats down so ferociously as the temperature nears 100 degrees that most everything dries instantly where I live currently. However, I remember rugs taking days to dry while living on the Northern East Coast or in the woods on a lake that doesn't get above 65 degrees. Ugh. We would hang them on the clothesline to expedite the process.
Usually, outdoor rugs are made from durable and weather-resistant components, with polypropylene being the most popular. One important fact is that polypropylene has a chemical makeup and is highly flammable – it cannot tolerate high heat (I am talking about non-climate-related heat). It cannot be used near a fire, fire pit, outside heater, grills, or smoking areas!
See also: Best Fire Pit Covers Guide
Outdoor Rug Materials
1. With that being the only concern, polypropylene has the following benefits:
A synthetic material that is inexpensive and can withstand heavy moisture
Easily cleaned, it also goes by the name Olefin
Soft under your feet
Sun and fade resistant, loves humidity, rain, and dew!
Repels mold (good choice for damp basements and outdoors!)
Stain-resistant (spilled wine, stepped on grapes, etc.) but not so good with daily soiling (oil from feet traps dirt and coats the fibers, leaving a darker spot that resembles a stain)
Prone to showing signs of wear earlier than other synthetic options due to less fiber "bounce" after heavy foot traffic
Look at polypropylene rugs here
2. Polyester is a common material used for outdoor rugs as it is fade-resistant and durable. Polyester is prone to more staining – especially from oil-based foods. Many companies are using recycled polyester as a more sustainable option. Polyester will probably not be the best choice for a dining space.
Benefits of Polyester include:
Resistant to spilled stains, the weather, and fading
More inexpensive than nylon rugs
Rugs can shed with heavy foot-traffic
Bright, vibrant colors
Mildew-resistant
Best for outdoor use in drier climates (this won't dry as fast as polypropylene)
Here is a wide variety of polyester rugs
3. Nylon is fantastic for durability and handling heavy foot traffic but is a pricey option. Benefits of nylon include:
The luxurious synthetic choice, being soft and plush but yet holding up to the worst high-density traffic
Naturally resistant to mold, mildew, staining
Easy to clean
Durable and lasts for years
More expensive than other synthetic fibers but less costly than wool
Best for covered areas and porches
Shop for nylon outdoor rugs here
4. Natural materials like Jute, Hemp, Seagrass, Sisal, and Bamboo and eco-friendly and sustainable ways to decorate your porch. Being handwoven, these materials will be more expensive than synthetic materials.
Some benefits of natural fiber rugs are:
Safe and chemically "clean" sources
Incredibly soft
Biodegradable
Bamboo will last for a decade, while other fibers may break down with the more wear and tear they have
At risk of fading, these materials absorb liquids and are prone to mold and mildew without frequent washing
Must use a soil and stain lifter, such as baking soda and water, to treat spills and spots
Best for dry climates
Check out this selection of sisal and jute outdoor rugs
5. Sunbrella fabric is the most UV-resistant material for rugs. Able to take whole days out in the baking sun without fading, you can use these anywhere.
Benefits of Sunbrella material include:
To Rug or Not to Rug?
First, is your space paved with brick or slate or pea rock? Is it concrete? Just grass? If you have a lovely specialty paved area, you may want to enjoy the beauty and luxury and perhaps have a small coordinating rug under a coffee table or the chaise if you wish for a comfier, warmer look.
Important note:  If your outdoor rug is exposed to the sun most of the time, opt for a "solution-dyed" outdoor carpet that has each fiber soaking up the color

Measure your outdoor space – even under your seating, to ensure your rug will be large enough for what you want
You must consider the large pale dead area that a rug will leave for grassy areas. Does it matter? I have a friend who has a green grassy field behind her house, and she has a vast 10×12 outdoor rug lying in the middle of it, adhered by garden wire stakes deep into the ground. It looks spectacular.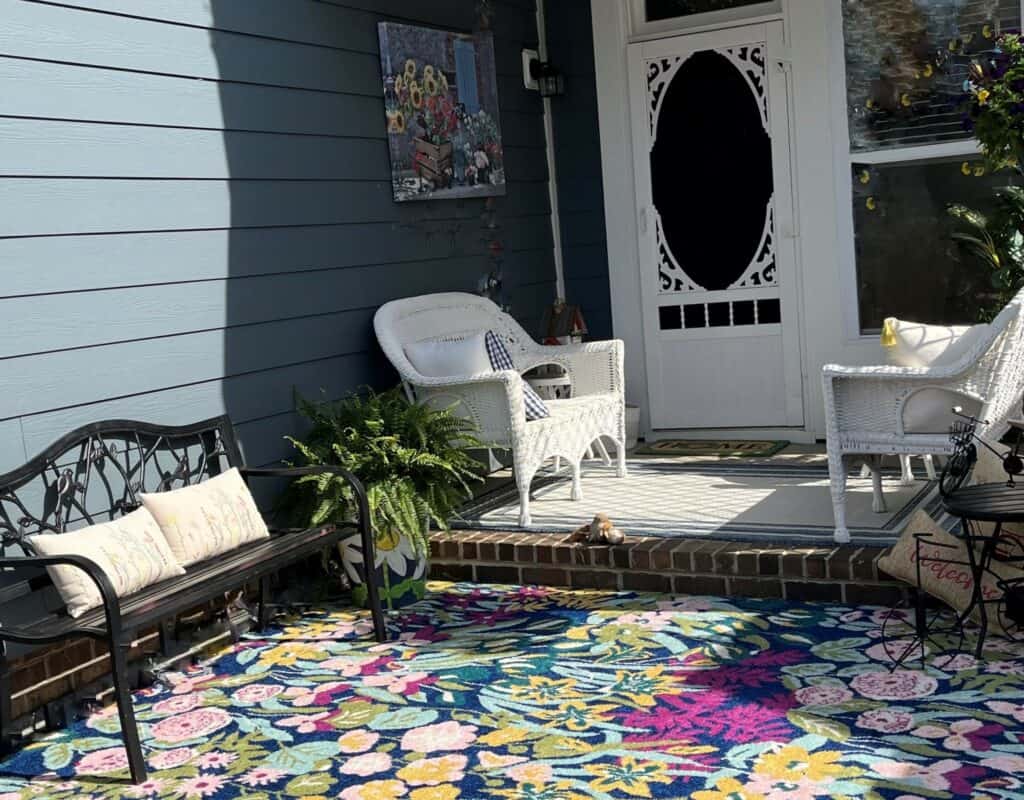 For concrete patios, I would suggest some kind of rug. It doesn't even have to be big or colorful – even a woven jute mat will lend texture and warmth to the bare, cold concrete.
The best purchase I ever made for an outside concrete patio had a navy blue background with loads of big brightly colored flowers all over it. It looked amazing. And it was 8 x 10 feet. Find thousands of rugs at eSaleRugs.
You can see the pic of it here on the left. It is a side entrance to the house, so you can see the errant dog toy and fallen pillow from beforehand romps (that I failed to notice until after I snapped the pic!)
Picking up a color in the throw pillows looks coordinated, as well.
You can find the rug right for you at Rugs.com or Ballard Design. 
Homegrown Tip or Trick:  Think outdoor rugs are too expensive? I do, too! I found a neat way to cut costs!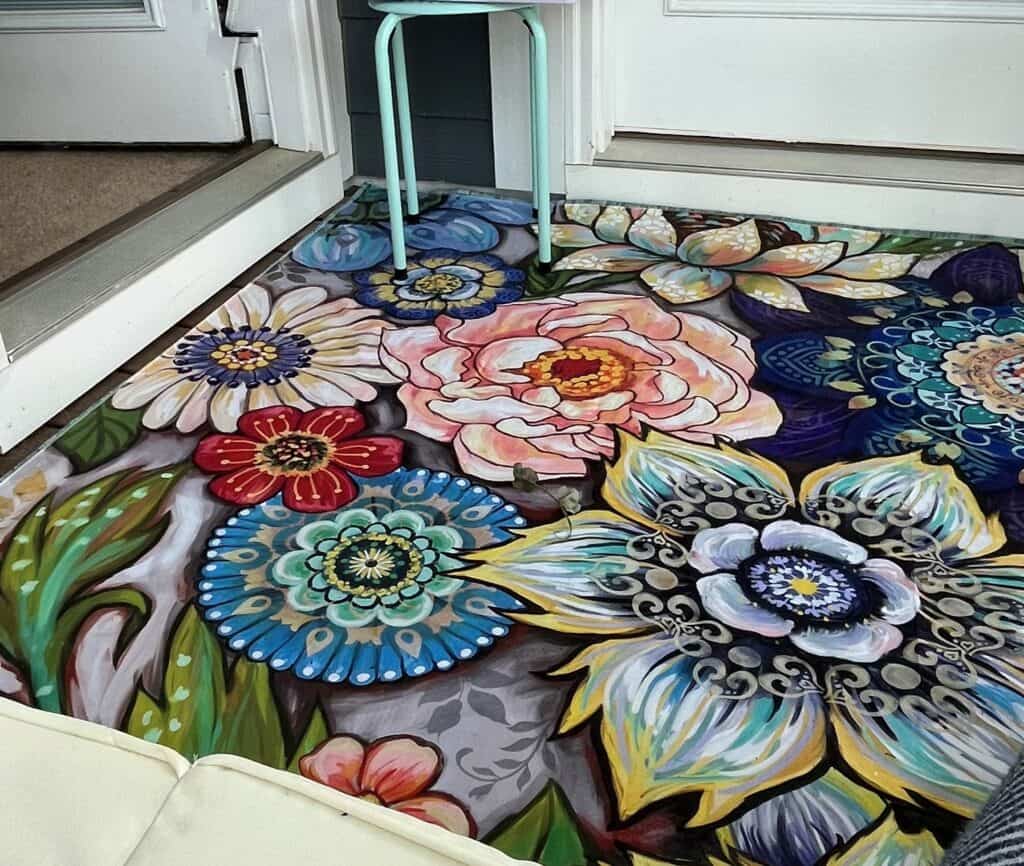 Choose a wall-hanging tapestry (I went to

Amazon-there are thousands

) for a price between $15 and $40, and hot glue it to an old or inexpensive outside rug (I got one at Family Dollar for $10). My tapestry was 7 feet by 9 feet, and my Family Dollar rug was 4×6, so I used two rugs and cut it down.

Lay the tapestry on the rug, fold the edge and squeeze out a row of hot glue.

Get a firm piece of wood or cardboard to smooth the hot glue out – moving out from the center of the tapestry to the edges. I tried to do this with my hand and burned it from the hot glue.

Keep squeezing out glue row by row every 6 inches or so. Ensure the edges of the tapestry are supported by the rug underneath (I left about two inches of the base rug out from the edges so it wouldn't curl). Let dry for an hour, and Voila!
The picture shows my bright, bold oversized flowers, like being in a giant Alice In Wonderland garden!
For more ideas on DIY outdoor rugs and considerations, visit Bob Vila.
Porch Rug Recommendations
These are the best of the best for durability, ease of cleaning, and eye appeal! I usually change out my rugs every two years and outside rugs every year. Unless you have soccer teams practicing on these rugs every day, you will not need to get a new rug every year! Enjoy!
See also: 5 Best Porch Swings with Canopies
Pop of Color Durable Porch Rug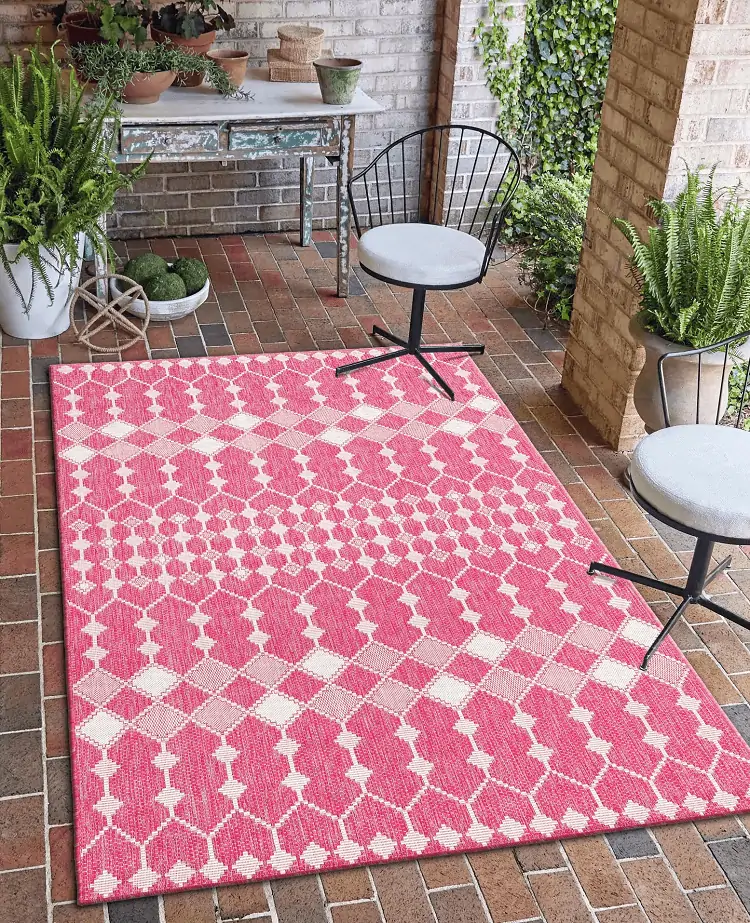 Take a peek at the different colors of this rug at Rugs.com.
This bright and cheery outdoor lattice rug is a stunning addition to your porch, picking up pink geranium and rose hues and weaving them into an eye-catching pattern
Coming in 14 sizes and six colors, this polypropylene flatweave rug won't fade in the sun or get mold on it
Customers rave about the pet-friendly rug and the durability of it
Won't absorb stains, and you can wash it with vinegar or bleach solution
Inexpensive and so pretty, this rug will be a focal point of your porch to lift the spirits of even the most gloomy day
Classic Charcoal Porch Rug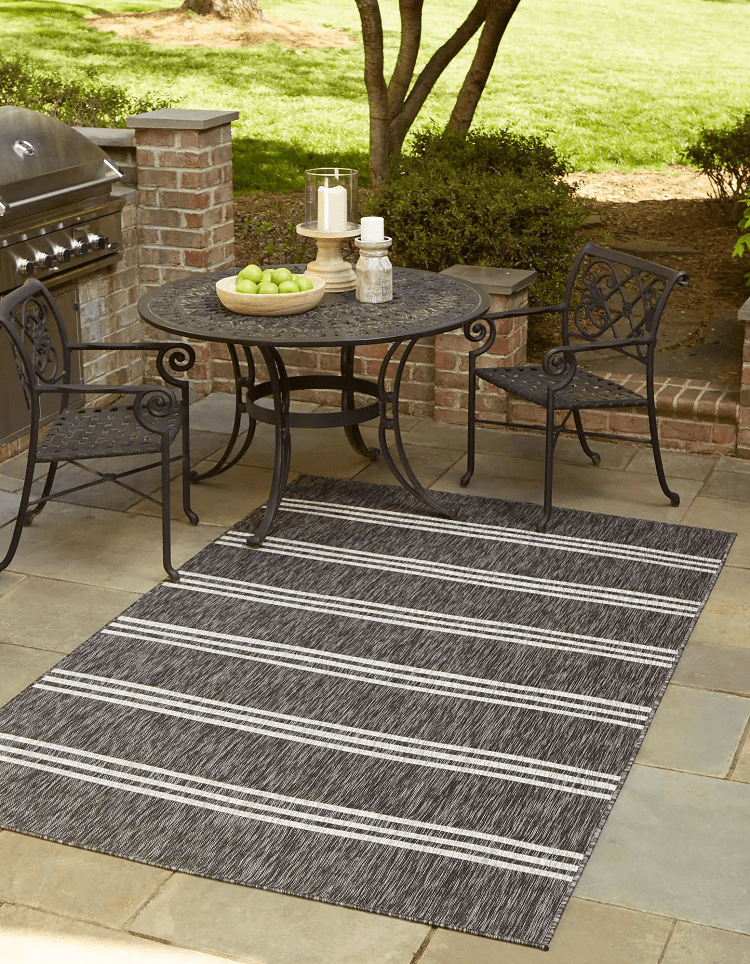 This timeless and traditional porch rug from Jill Zarin is featured in a rich charcoal color that blends with its surroundings, yet the stripes give it enough detail to bring pizazz. Offered in 30 sizes and seven colors! Find the exact measurements for any space and taste at Rugs.com!
This is made of 100% polypropylene and is stain, mold, mildew, and fade-resistant
A flatweave means stains don't stay, and it is easy to vacuum
Lightweight, easy to take out and hose down
Free 2-day shipping
Flower Garden Colors Porch Rug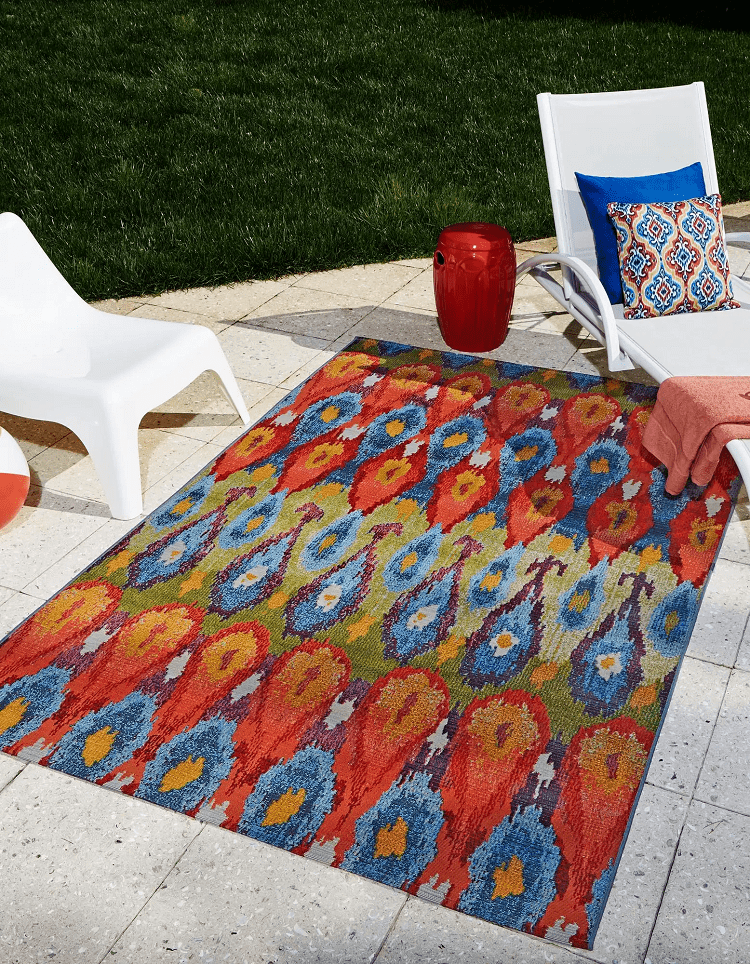 I love this rug for its vibrant and bold colors that wrap you up, the fact that it will not fade, and it's practically impossible to stain! Check it out on Rugs.com.
This modern, Aztec-like, bohemian flavored rug is abundant with color and envelops you in the rich, warm tones of reds, blues, deep purples, and greens. Evocative of being outside in a wildflower garden, this rug is a scene-stealer.
More than 403 happy customers have rated this a 4.9 out of 5 stars! What could be a better testimony than that?
Being 100% polypropylene means this is perfect for heavy foot traffic, pets, and moisture! It will not fade and is made to be mold and mildew-resistant.
An amazing flatweave is so dense with dyed fibers that this rug will not soak up the stains, and you can wash it without ruining it.
Free 2-day shipping
See also: Best Black Planters for Front Porch
Hernandez Indoor/Outdoor Rug in Cream and Gray from Wayfair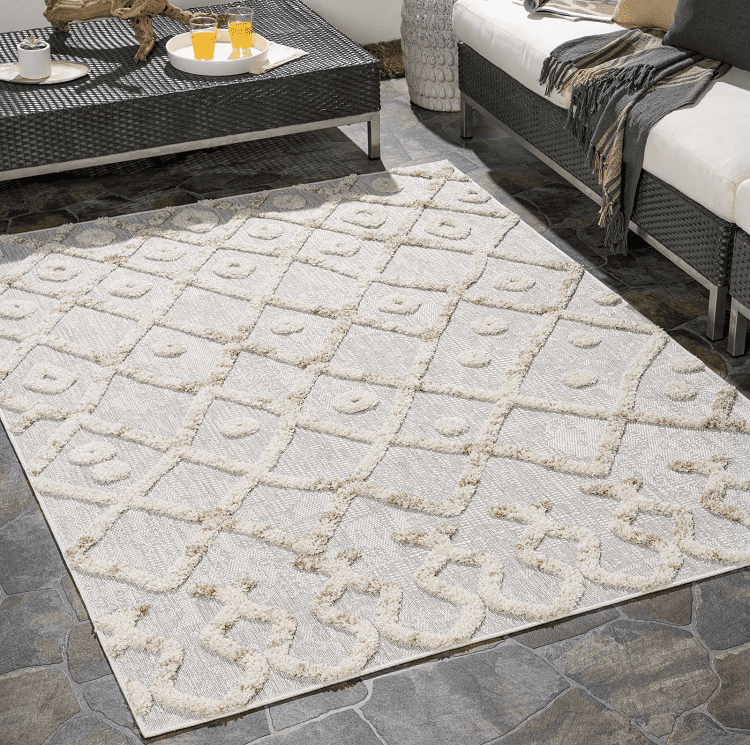 While this rug is made of polypropylene, it has some tufting plush detail work that makes it visually interesting and rich-looking. The creams, grays, and tans will blend seamlessly with your decor while still adding depth and attention to texture.
This rug would work well with light to moderate traffic due to the specialty tufting, which will shed more and show more wear and tear.
Since the rug is not a total flatweave, the soiling will be harder to lift off, and I recommend spraying it with a Scotchguard Rug Protector.
The manufacturers use Power Loom technology to craft this rug, and it has an "already worn" patina.
This rug is a bit high maintenance as you will need to vacuum it and spot clean only – otherwise, it requires professional cleaning.
Customers rate this a 4.8 out of 5 stars and note that the 3-D design is thick and soft, creating a cozy feeling.
Get yours at Wayfair.
Algiers Striped Outdoor Rug by Joss & Main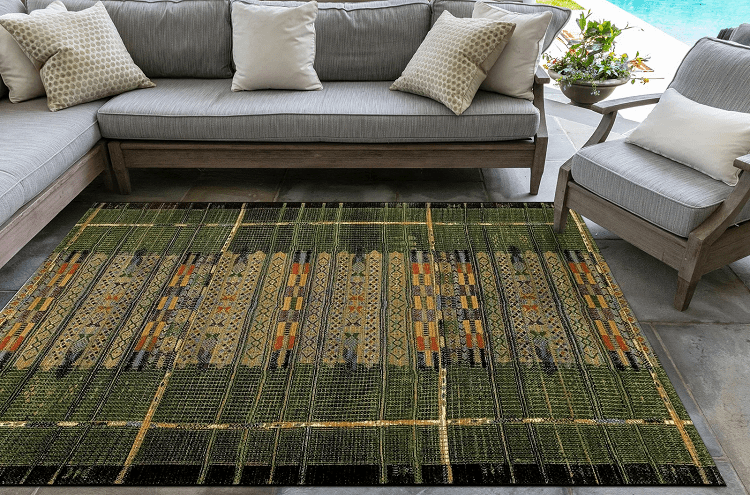 This rug will create a jungle-like theme with its deep earthy green background and intricately woven patterns in reds, yellows, and black. It is dramatic but down to earth, a work of art, but it begs to be worn in! I adore this rug because it is unique and bold in its statement, yet I can feel the natural elements all around me.
It is made of polypropylene but with a Power Loom, which creates a bit more texture than flatweave. It does not have any pile, but the shapes and lines seem like it does!
This is a durable rug that is weather-resistant from Joss & Main.
Best for all climates, and heavy traffic areas, you can hose this down and use a mild detergent to clean it.
Over 600 reviewers rated this a 4.8 out of 5 stars!
This rug will ship free and should be delivered in less than a week.
Mappsville Indoor/Outdoor Rug by Winston Porter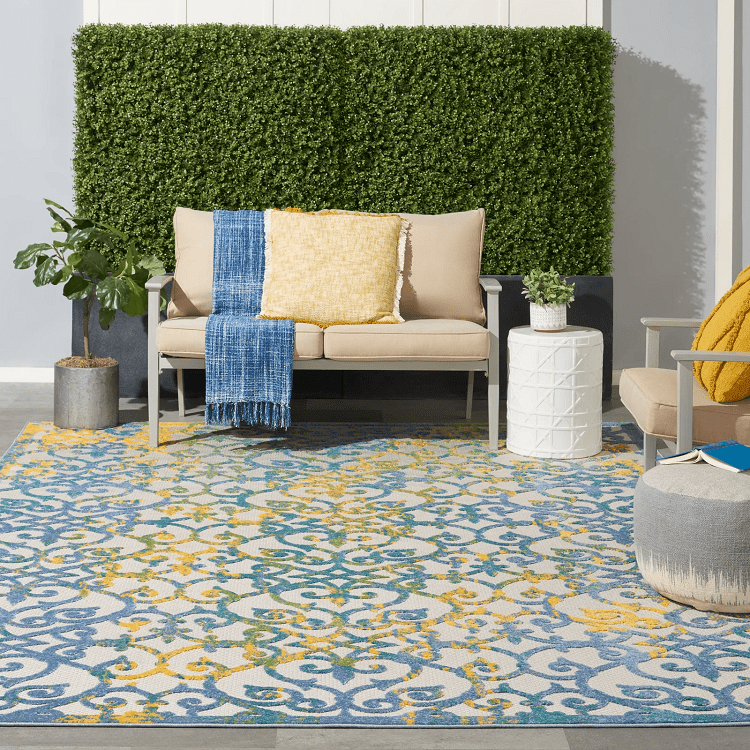 Coming in 17 sizes and three colors, you are sure to find the best rug for your space. I like these colors of blue, cream, and yellow as the rug is sunny and bright but still has enough neutral tones to blend into the room. Your eye tends to linger on the play of yellow and the swirling detail.
Uplifting and pretty, it is made with polypropylene using a Power Loom technique that results in high and low contours that create depth. There is short tufting for a plush and warm feeling, lending texture to the otherwise flat rug.
The material used makes the rug durable for extended wear, stain-resistant, and low maintenance. A 6×9 foot rug weighs less than 20 pounds.
After a dreary winter, this rug will draw you out to your porch!
The price range for this rug is moderate and well worth it, with 1200 customers rating it 4.8 out of 5 stars!
See also: Best Fire Pit Accessories [2022]
FAQs
Question: What is the Difference Between Polypropylene and Polyester Outdoor Rugs?
 
Answer: Both Polypropylene and Polyester are synthetic materials that are resistant to absorbing liquids. As a result, they are "solution-dyed," with each fiber being colored and then woven instead of being colored once made into a rug. Both materials are excellent for keeping their colors, even in the sun. They are both lightweight and mold, mildew, and stain-resistant.
Polypropylene will be easier to clean and will wear less than Polyester rugs.
Question: Why are Flatweave Rugs Better for Porches?
 
Answer: A flatweave rug is better for porches and patios because it has no pile – it is flat. This is good as it does not shed or shred as much as other rugs that will show their wear and tear more. A flatweave rug is woven, and this type of rug construction dates back thousands of years. Many rugs, especially indoor rugs, are knotted. Read more in this House Beautiful article.
Question: What is the Point of Porch Rugs?
Answer: Having a porch rug is much like the reason for having any rug in your home. The rug represents attention to detail that transforms a room into an inviting and relaxing place to stay.

A porch rug can unite the room and present a finished look that portrays your brand of style. Another benefit is that it serves to protect the flooring or another rug beneath it. Not to mention it keeps extra dirt and debris out of the house! Read the article by Patio34 for an in-depth peek into why outdoor rugs are so popular.
In Conclusion
The idea of making your porch and patio an extension of your home and yourself has become the number one trend in home design since social distancing dictated our separation from each other. As more people maximize their home and outdoor spaces for multiple functions and health concerns, more and more outdoor rugs are being sold every day!
The porch and the patio have become necessary extensions of your home and now have "their" time to shine. Take advantage of this to align with fresh air and the earth by offering a safe place that is also one where people feel comfortable, and you feel special.
Long-lasting reasons for outdoor rugs are sizzling patio decks and concrete that cooks our toes! Another favorite reason is to cover up that ugly paver patio or gray cement. The New York Times has an article about outdoor rug shopping details.
Don't forget your mood lighting, porch swings, and privacy curtains! Check out relaxing porch ideas here!
Machine washable rugs that don't stain and can be soaped up and hosed down while still retaining their bold colors are the go-to of the day. This means a polypropylene rug that can take stomping feet and paws and dropped paper plates of food yet still provide that anchor for a pulled-together space.
Recommended Reads: