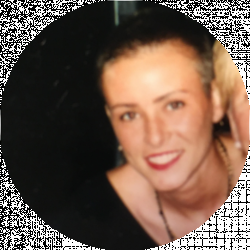 Latest posts by Richelle Tieman
(see all)
I believe that humor is the best medicine you can have. What's better than laughing with others? Endorphins and Oxytocin are released when we laugh, which bonds humans in a very uplifting way.
A funny porch sign also shows your personal brand of humor and serves as an icebreaker. Starting a visit with laughter sets the tone for relaxation and has the power to put people at ease and convey the message that you are down to earth.
When writing this article for the best funny porch signs, I realized that what I find hysterical may not exactly be someone else's cup of tea and vice versa. Everyone's different, you say.
Yes, and I consider myself to have a wide array of humorous characteristics, some of which should appeal to someone! However, these porch signs say something more than "welcome" or "hello, summer." I run the risk of really offending someone with my northern sarcasm and affinity for British dry wit.
I saw a beautifully stenciled t-shirt with a lavender flower and cursive writing that I am still chuckling about. It said, "Today is a beautiful day to leave me alone."  Ha! It was just so unexpected. If you know me, you know that t-shirt is an invitation to chat!
Bottom Line Up Front
The funniest porch sign I ever saw was one about teenagers. It rang so true in my mind that I couldn't help thinking about how many times a day I hear "I know" when I'm talking. Teenagers know so many things that I wonder why they don't know how to use the washing machine.
Wooden Teenagers Sign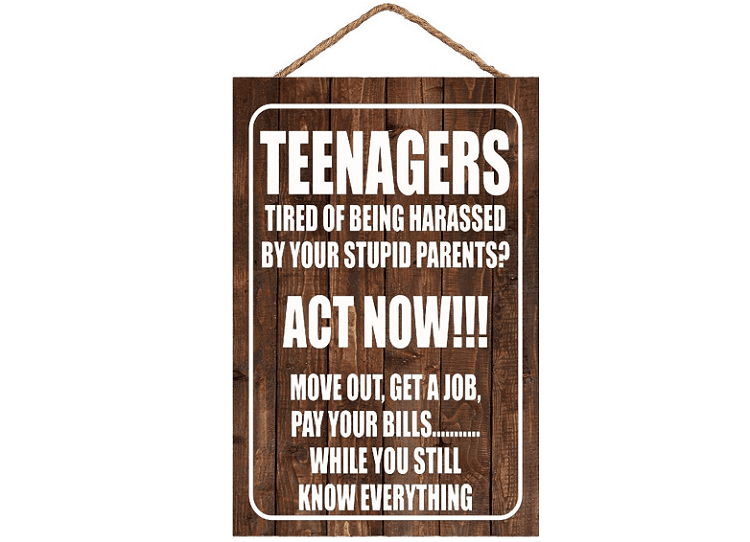 Best Funny Porch Sign List
Funny Porch Sign Selection Criteria
I chose my funny porch signs based on several criteria and have tried to appeal to a wide range of people. First, the sign must have some wit. The sign could inspire a smile, or it could cause hysterical laughing.
Secondly, it must be porch appropriate. If I would hang it on my front porch, then it made the cut!
Thirdly, it must be widely accessible from a reputable retailer—no sense in purchasing an item only never to have it appear or be something else.
See also: Best Porch Design Ideas For A Welcoming Home
My Favorite Funny Porch Signs
Racoon Saw Nothing Porch Sign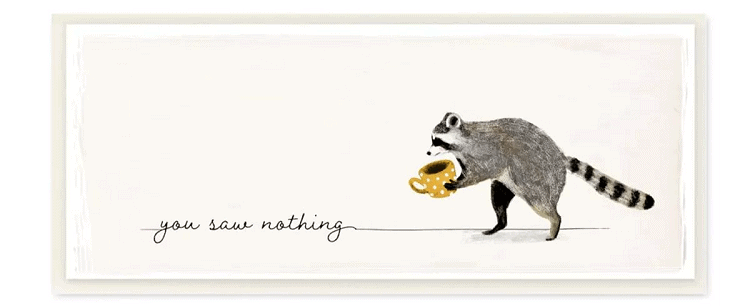 I love this adorable raccoon stealing a cup of coffee. This will bring a smile to even the most grumpy of faces! Dainty and elegant, this won't shout out a statement as soon as people reach the porch.
Instead, it will gently encourage lighthearted conversation and remind us not to take ourselves too seriously! It's 17 inches long, which I love because it's noticeable. Hang it from your wall or door, or prop it on a porch table.
I don't like that it probably needs to be in a covered area as it is not weatherproofed.
Wasted Time Decree Porch Sign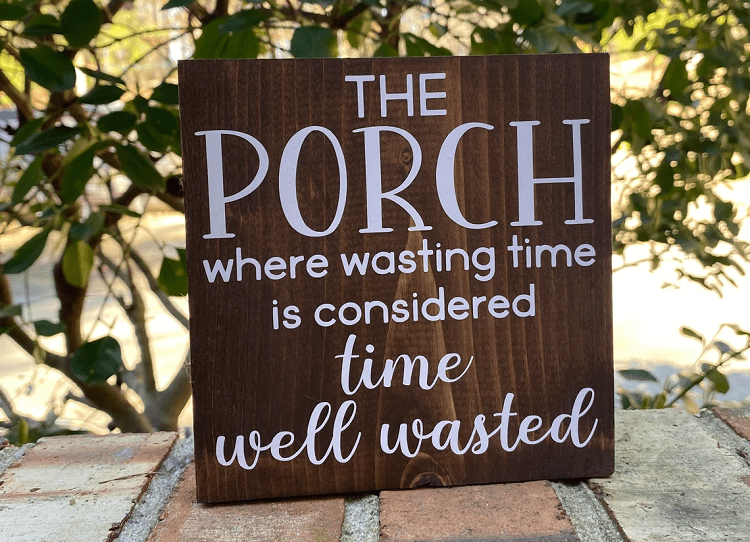 Some may consider porch time "wasted," but I think it a necessary part of a healthy day! Our body does not run on constant fuel around the clock, and renewing our spirit and ourselves is part of being productive.
This is a tiny 6″x6″, but its diminutive form seems perfectly proportioned to the message it carries! I love that the wood is stained already, and it has weatherproof vinyl lettering for long-lasting durability.
I wish it was made for hanging, but "as is" only stands on a table.
Green Weeds Porch Sign
My weeds won't pick themselves, and this is a perfect invitation for friends and family to help me garden! Just kidding, but this sign is good for a laugh, and it acknowledges that your flowers are growing faster than you can weed! I love the vintage green color of this foot-long wooden sign. It's waterproof and UV resistant and has a rope for hanging. There is a one-year warranty on the sign as well!
I wish the bottom lettering were in a smaller block print, but that would be my only complaint!
Think Outside Porch Sign
I love this sign for reinforcing the idea of creative thinking out of doors. At 18″x24″, it is sure to catch the glance of sidewalk traffic with its distressed wood appeal. This comes in four sizes and is ready to hang when you get it. It's eight pounds of solid 1-inch thick wood for longevity.
I don't like that it probably needs to be clear coated with Polyurethane for weather resistance.
Don't Bother Knocking Porch Sign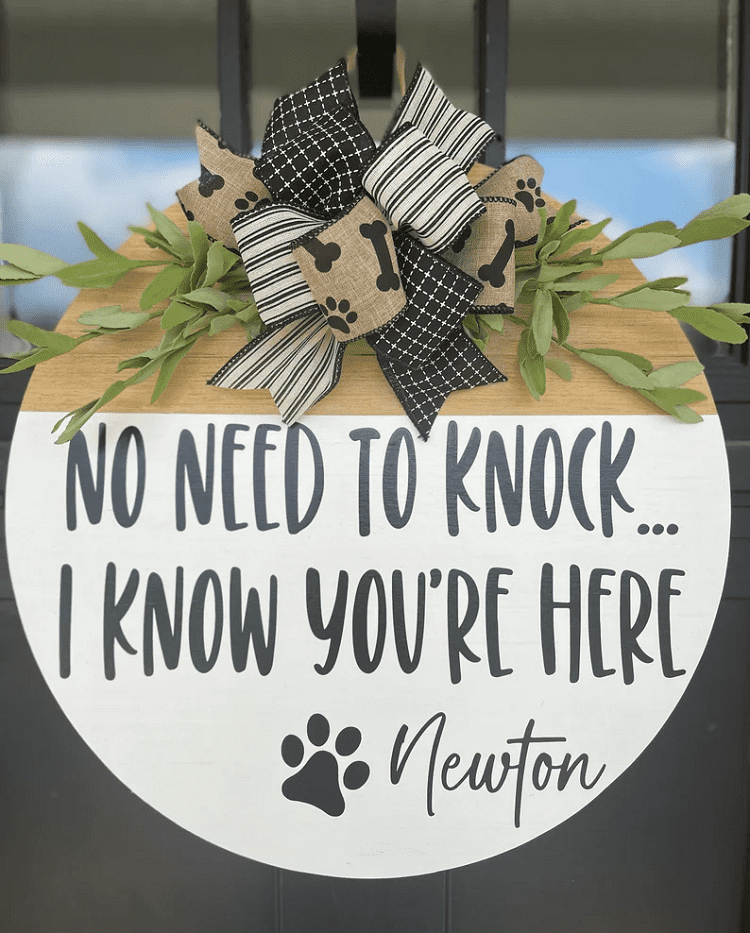 I love this too true porch sign saying the dog knows before the humans when someone is at the front door. My dog barks long before anyone gets to the front door, so in the chaos of hyper dog and me rushing to get to the door, using the doorbell is just overplaying it! A big 18″x18″ ensures this sign won't get lost on the door or propped up on a table and comes ready to hang with wire.
The polyacrylic coating keeps the weather at bay, and all wood cutting and decorating are done by hand. The ribbons and greens spruce up the space with a lively pop while still looking elegant. The sign may need a second coat of sealant depending upon where you hang it.
Wild Side Porch Sign
Look at the vivid illustration of wolves on this gorgeous sign. Truly beautiful animals, these wild and misunderstood animals come to life in this porch sign. You are lucky if you live in the country and can hang this sign representing nature's grace. This cautions your guests to be wary of their natural surroundings while still taking in the allure of these stately beings. American-made of tin, this sign is 16″x12″.
This does not come weatherproofed, so "as-is" would be better for covered porches.
Too Much Caffeine Porch Sign
This sign is hilarious when you know someone who drinks way too much coffee. Like my teenage son, who is practicing espresso tolerance by adding shots of it to his strong coffee. I am sure his body will keep moving in his sleep.
I might even put up a gate at the stairway. For everyone who has a second, third, and fourth cup of coffee on the porch, this sign is for you. This sign is 12″x12″ solid wood and already has a weatherproofing sealant. This is handmade in the US and comes in 16 different colors!
My only complaint is that the sign is small for so much writing.
Alice in Wonderland Porch Sign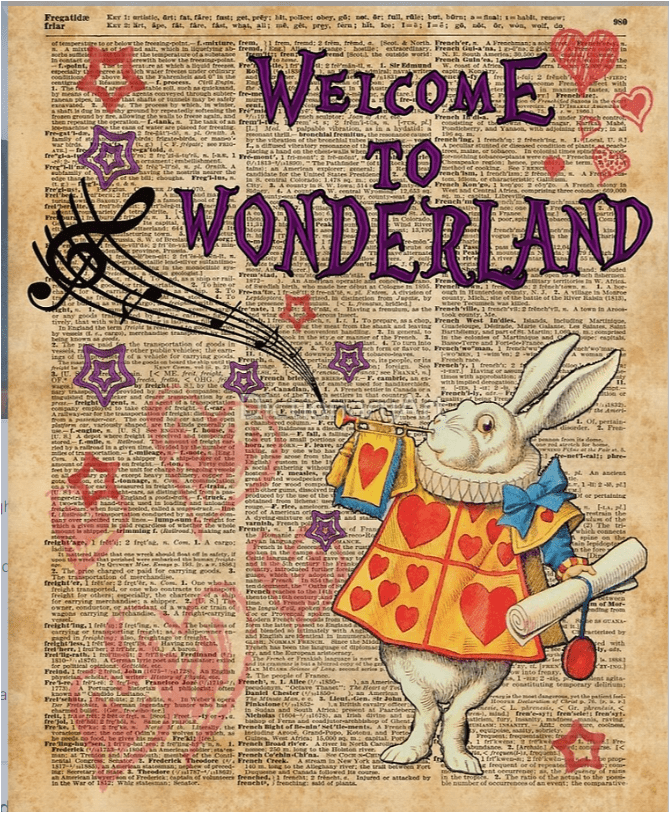 Alice in Wonderland is one of my favorite books, and to have a front door sign paying tribute to the Mad Hatter and the White Rabbit is just too perfect! Let others know that a wonderland of chaos and joy lies inside your home!
This sign is grin-worthy and fosters laughter and uplifting conversation. What more could you want in a welcome porch sign? It comes in 5 great sizes – I like the 24″x30″ size for front doors, and it comes ready to hang with back mounting.
The sign is not sealed for weatherproofing, which I don't like.
Stay Awhile Porch Sign
I chuckle and shake my head whenever I see this sign on someone's porch. It reminds me of a hospitality culture where people repeatedly ask you to visit them but don't want you to! Why say it at all?
Rustic charm exudes from this antique-style sign, and at 14″ long, it will be noticeable. I like the small writing at the bottom because you have to be on the porch to read it. If you're on someone's porch and see this sign, you can bet they have a sharp wit!
I wish this sign were weather-sealed. As it is, you need to put it in a covered area.
French Fry Porch Sign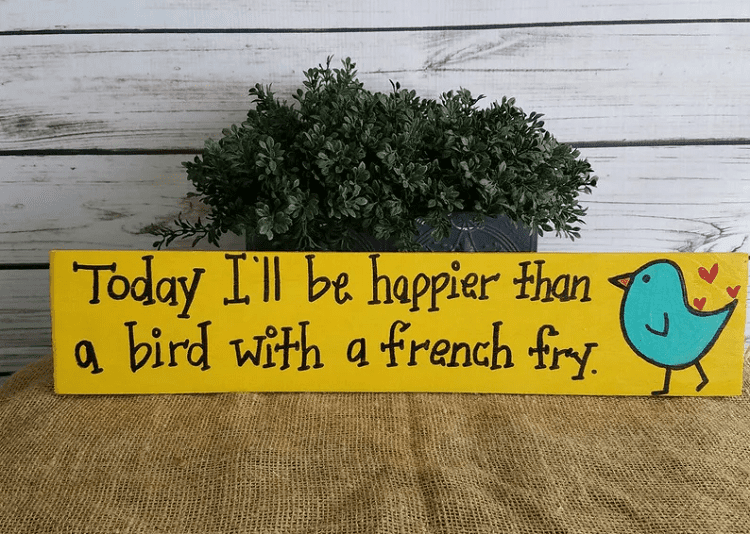 I love this sign's bright blue and yellow and the unique handwritten style! This is a cheery eye-catcher that is uplifting just by looking at it! This sign is made of wood in the US and measures 16″x4″. You can hang this year-round to add spunk and sunny pizzazz. The font is almost Dr. Seuss-like and stands out in bold black letters.
I wish this sign had been weather-sealed, and it was a bit taller than 4″.
Dog Narration Porch Sign
Nothing rings truer to me than this sign of channeling your dog's thoughts! I think my dog is one of the children, and we have spoiled this dog to the point that we argue about what the dog thinks! Lol. This is a perfect sign for you to warn others that your dog is taken very, very seriously in your home.
My only complaint is that it doesn't come in more vivid colors.
All These Cats Porch Sign
This is the cutest cat sign with all these grinning feline faces! Let the world know that you love all your cats and not to even think of commenting on the number you have. I love this wooden sign's bright and cheery appeal to spruce up your entryway. You can hang it on the doorknob because its small (10″) length allows it, or you can prop it up on a table outside!
This sign is not weather-sealed and is only 1/16″ thick.
Cat Fairy Tale Porch Sign
I love this whimsical fairy-tale illustration for its deep greens and curving branches. The whole thing looks like something out of the Grimms' books. I love to read and have a whole library of books amassed, so when I see the beginning of this fable and the sudden "The End," I have to smile. This sign is clear in its message and lets others know not to question your love of cats! This is weatherproof aluminum and is 12″x8″ with four pre-drilled corner holes.
I wish this would come in a larger size so the writing would be more visible. I also would like a larger size so the aura of fantasy could immerse you with its energy.
Good Neighbor Porch Sign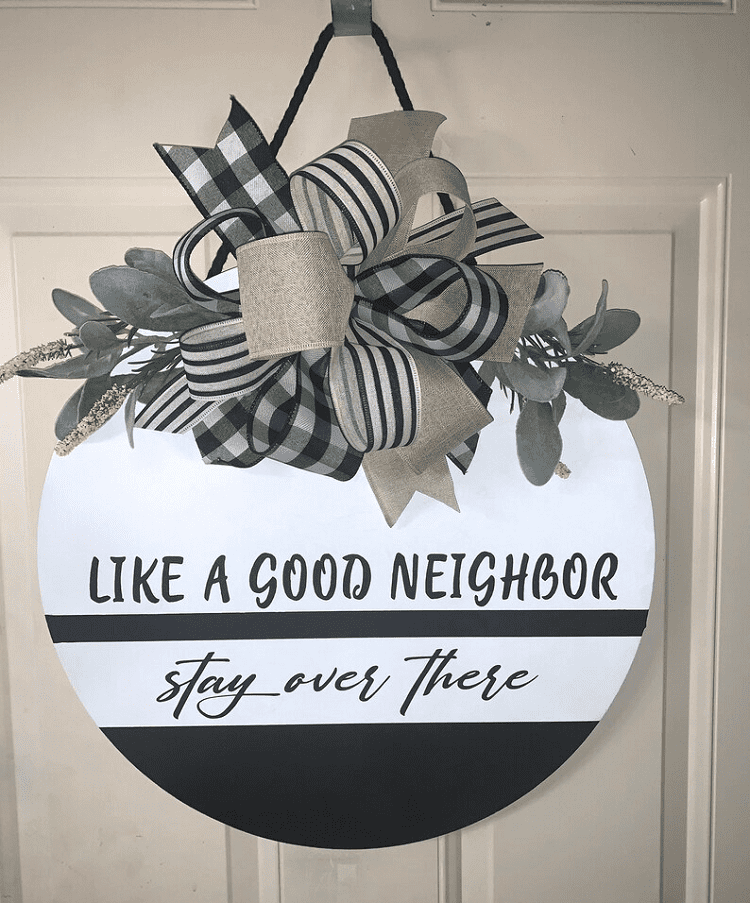 I love the black and white theme to this clean, crisp sign, and the ribbon mix gives it an added flair for your front door. I can see myself hanging this on the front door confidently because my neighbors and I are good friends and chat over each other's dogs daily.
It's like that song from State Farm Insurance, "Like a good neighbor, State Farm is there." This is handmade in the US of 18″x18″ birch wood and is weather sealed.
I wish that the lettering was the same block style.
Together Porch Sign
Let people know that you're not afraid to poke fun at yourself with this gorgeous rust-colored fox sign. I can relate to this message because my family is all going in different directions, everyone thinks differently, and communication is difficult sometimes.
Despite all that, we have an overabundance of love that keeps us together like glue! Wildlife and nature lovers will enjoy seeing these two furry friends from afar as the sign measures 30″ across and 18″ high!
My one complaint is that it has not been weatherproofed with a sealant. Best for under-covered areas unless you seal it.
Dogs Know Porch Sign
I already listed a "dog knows you're here" sign, but this one is so different that I had to include it. I love the elegant colors and the cut-out paw shape! This can be customized with your favorite paw pals and their names. Three layers of coating, including waterproofing, seal this three-size beauty. Choose from 14″, 16″, or 18″ inches.
Total Sarcasm Porch Sign
I started laughing so hard when I saw this. Total sarcasm and not for the faint of heart! This will crack up people with like-minded wit and probably silence those who don't. If they are not laughing when they come through the door, give them some extra tea and muffins! This is made with hydrostone (a natural terracotta clay) and is 8″ long and 6″ high.
I would have liked this to be weatherproofed with a sealant.
Free Sarcasm Porch Sign
I love this sign for its raw truth and that it looks like a chalkboard with bold letters. Rustic and charming, this is 2″ thick wood for durability and comes sealed for weather-resistance.The sign is 6″x6″ and will stand out with dramatic black and white style on your door or outdoor table. I would put this sign up near the "neighbors" sign above to clear up any confusion!
I wish this had a hanger on the back of it.
Beware Wigglebutts Porch Sign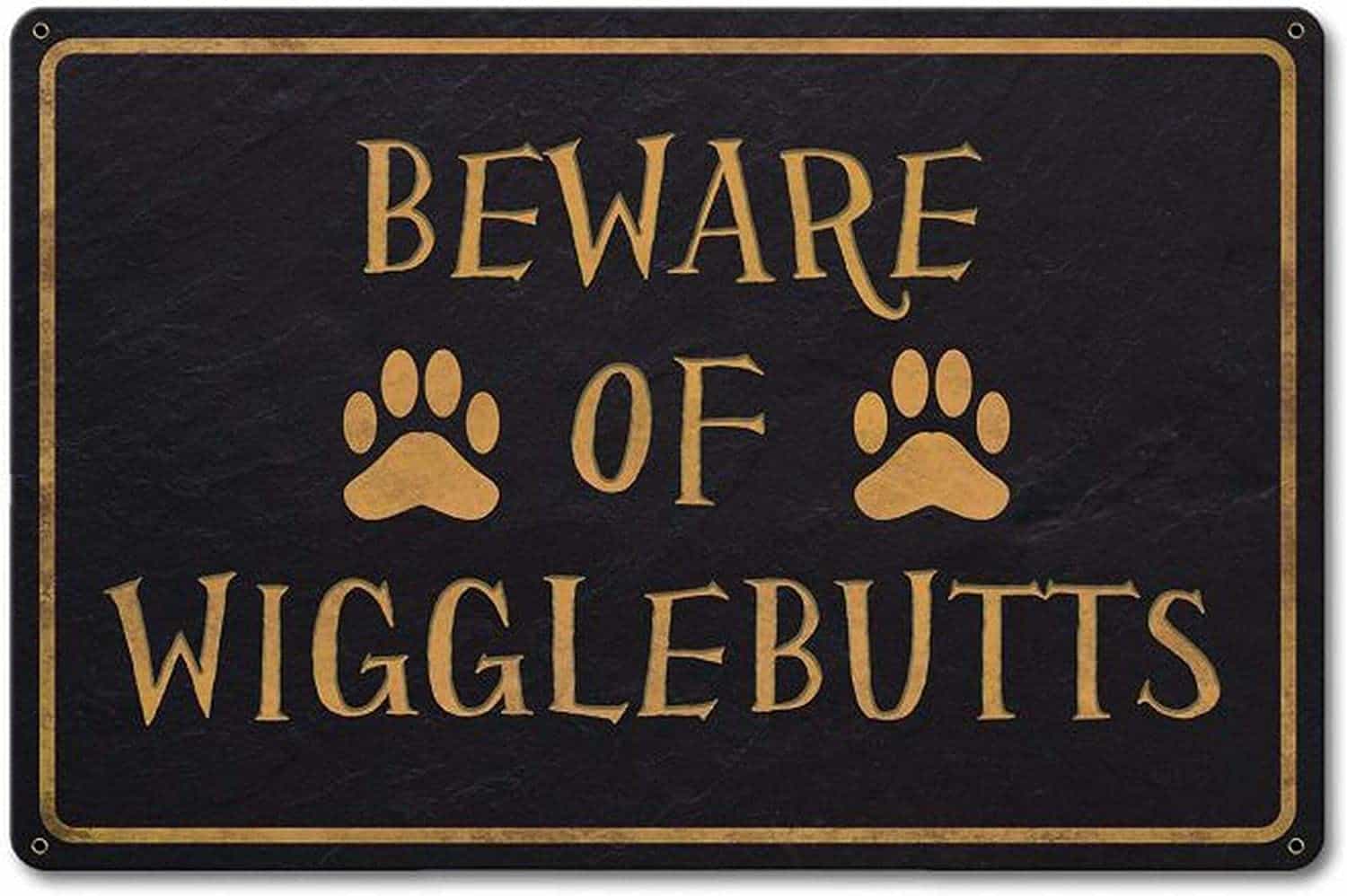 I love this sign. I need to buy this. We always call our dog a wigglebutt as she waddles around. We swear she has congenital hip issues. Instead of saying, "Beware of Dog," which may instill terror in some people, all your guests will know that the wigglebutt will greet them with no harm intended!
This sign is metal and waterproof, with a UV-resistant style and four pre-drilled corner holes. This is so adorable it needs to be on my porch. More than 200 reviewers gave it 4.8/5-stars!
I wish it came larger than 8″x12″ because it's that funny.
Nut House Porch Sign
I think this message is true for many folks, and I can certainly relate to it at my house! I probably have greeted people countless times with this exact saying. I love the one-of-a-kind design from the artist and the vivid and detailed style of this – it almost looks real!
I would hang this on any door or porch at my house as I love nature, and this is sure to be a conversation starter. This sign is made in the US of aluminum and is 12″ long and 16″ high.
I would like to have seen this in a weatherproofed solid wood sign, but it only comes in metal.
Shady Cat Porch Sign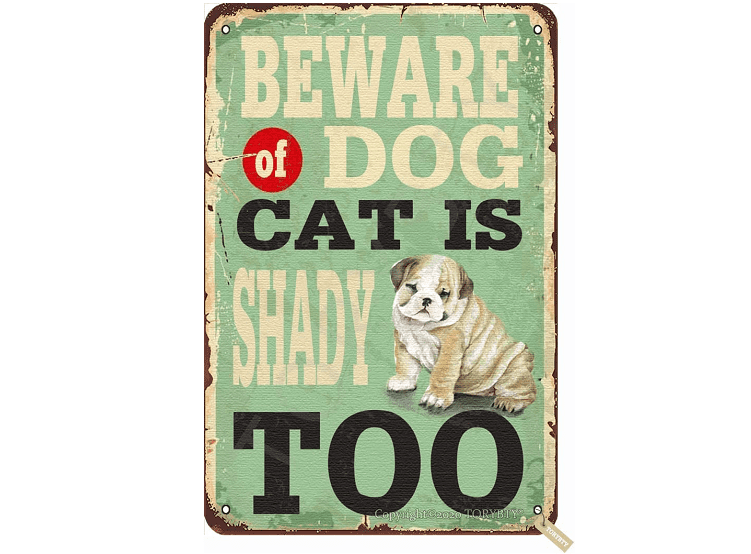 I love the distressed green look of this vintage sign. This is like eye candy for visitors even before they enter your abode. I used to have a cat that would warrant this sign on my front porch. She would hiss and hiss at everyone except me, then run and hide.
With this entryway decor, people know that your warning about the dog is tongue in cheek, except maybe when they hear ferocious barking—just kidding.
My golden barks confidently at any unexpected noise, then runs outside barking until we are all sure there is no threat of death. This is waterproof aluminum, 8″x12″ in dimension, and has four pre-drilled holes for hanging convenience.
I'm not sure I like the type of dog featured – I wish they would have several that you could choose from.
See also: Ultimate Farmhouse Decor Ideas
This House Runs Porch Sign

Stays Here Porch Sign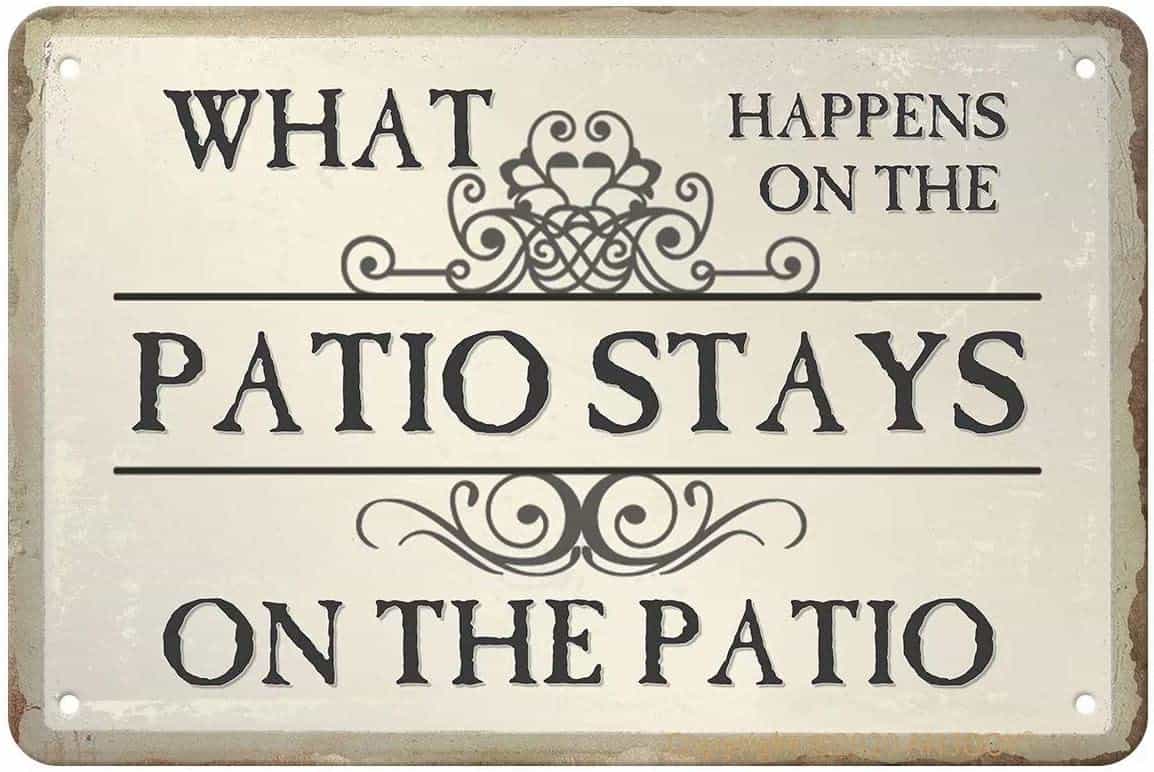 I love the rolling script and engraved look of this aluminum sign. Providing classy flair to any porch, this sign conveys that all your secrets are safe. A lifetime satisfaction warranty will give you peace of mind, and the 8″x12″ size is convenient for tabletop or door hanging and has 4 corner pre-drilled holes. Bring the appeal of Downton Abbey to your porch with the elegance and grace of this promise to keep private information on the porch!
I'm not loving the side distressing on this sign and would prefer it if it didn't look chipped.
Old Rooster Porch Sign
Pay tribute to the old American farm with this vintage artistry. Heartily welcoming everyone with deep reds and brown colors, this reminds me of the Old West with its western font. This exclusive design is available only from one retailer and can be customized. Solid wood and 21″ around, the beauty is fit for the door or a wall with its keyhole hanger. This is for a covered area.
You will need to seal this if you plan to use it outside, but I would go for it as this is a one-of-a-kind welcome!
Looney Bin Porch Sign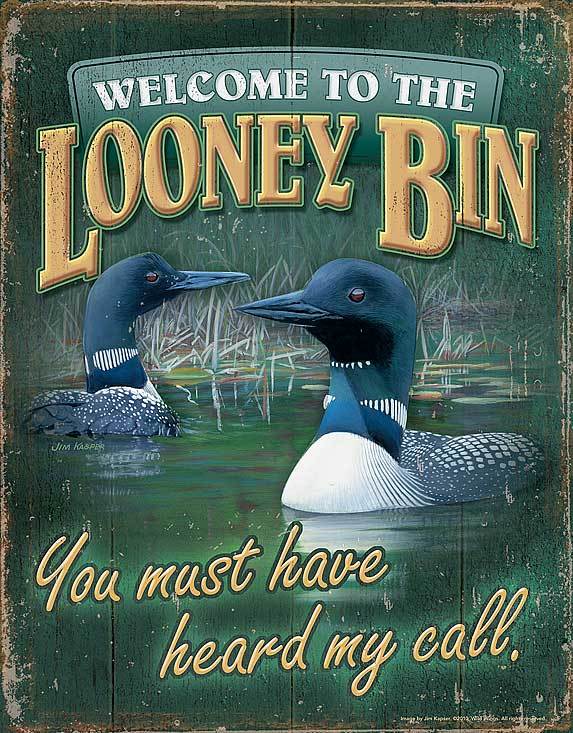 I love loons and grew up every summer on a Maine lake listening to loon calls every night. All families have some chaos going on, and this sign cuts to the chase right up front. Loons mate for life, so having two there indicates one is calling out for another to help! That sounds familiar. The sign is made in the US of tin and measures 16″ tall and 12″ wide. This is another exclusive artist design available only from this retailer.
Though the distressed look nods to a vintage style, I would touch it up a bit around the edges to look richer.
Beauty and the Beast Porch Sign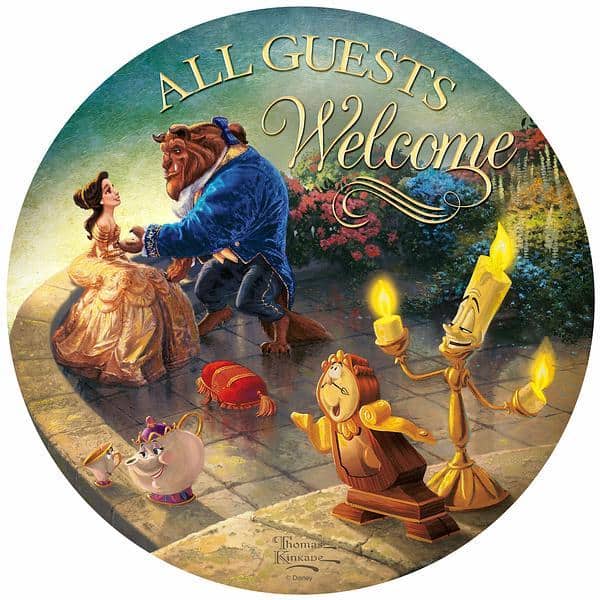 I love this tongue-in-cheek welcome sign sure to bring a smile to even the most serious of visitors. Who's the beauty, and who is the beast? The vivid colors make you want to step inside this fantasy and get lost! This authentic Thomas Kinkade design is made of 12″ round solid wood. This is the epitome of inclusive hospitality!
You will need to seal this once a year to hang it outside, but it is well worth it!
Normal Family Porch Sign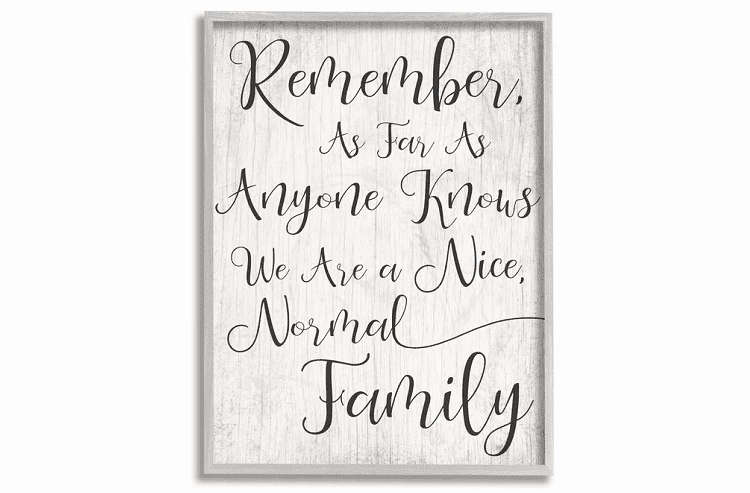 I had this porch sign up for years before swapping it out for another theme. I love the whimsical curvy font used; it reminds me of Alice in Wonderland! Your humor will be evident as you convince guests that there is nothing different about your family! This sign is 14″x11″ in dimension, solid wood, and acrylic painting.
It needs to be clear-coat sealed for weather resistance.
Farmhouse-ish Porch Sign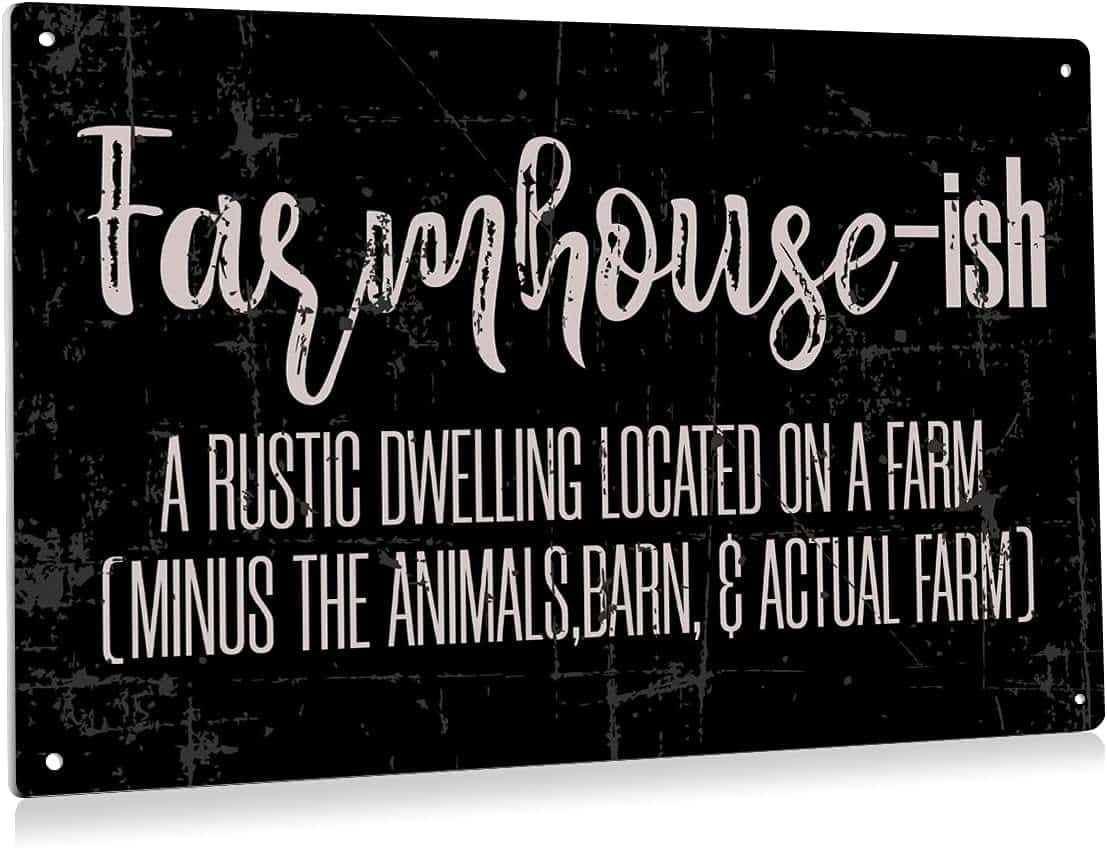 Let everyone know that you consider your abode a farmhouse regardless of the presence of animals or a silo! After reading this, no one can resist a chuckle; it's like saying, "Welcome to the Lakehouse, but we don't have a lake, or woods, or any water nearby!"  This sign is rustic, with genuine farmhouse appeal in aluminum with 4 corner pre-drilled holes for hanging.
I would have liked this sign to be in wood for a farmhouse appeal.
Guinea Pigs Porch Sign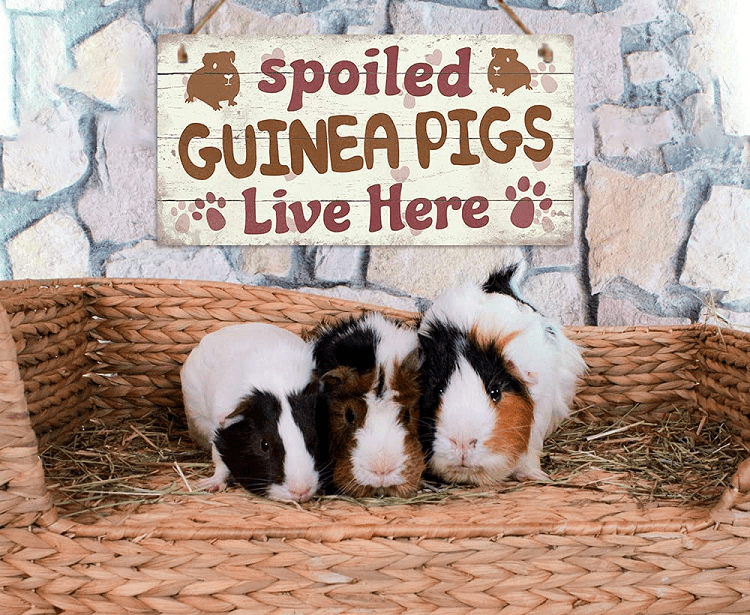 This sign is hysterical and even more so if you own guinea pigs! It makes me think of the four fat chompers we used to have when my son was growing up.
We went to the pet store every other week to get something new that would amuse them! They had everything in that huge cage that a guinea pig could want. Neighborhood children would come over to pet them, and the guinea pigs would try to scamper off, so we built them a pen for running. Celebrate your porky wigglers with a porch sign that lets everyone know you love your guinea pigs!
I wish this wood sign was sealed for weatherproofing when they made it.
Neverland Porch Sign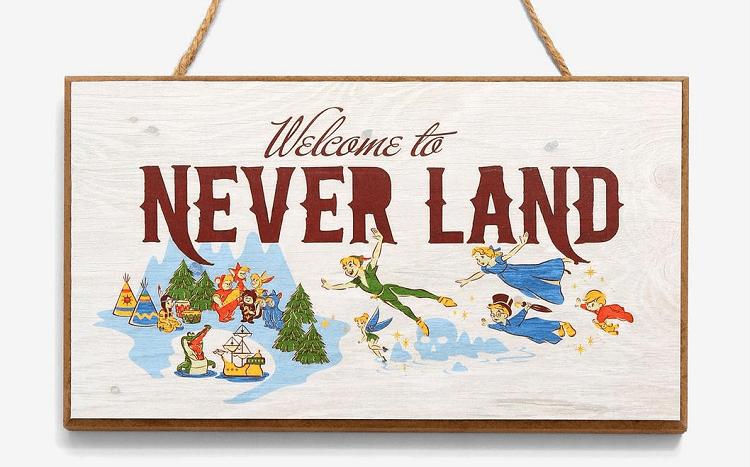 Keep your childhood heroes close with this Peter Pan welcome sign for your porch. So cute and amusing, greet your friends and family by announcing your abode is "Neverland" and has many exciting adventures taking place inside. I smile whenever I see this fun sign, and I would hang it on my door handle outside. Made of wood and ready to hang.
I think this may be too small to "carry" decoration for the front door, and I would like to have seen it come in different sizes!
FAQs
Question: How Big Should a Front Door Sign Be?
Answer: That depends on your message and who it is intended for. If you have "Welcome" on your sign, and you want people to be able to read it from the street or sidewalk, at least 18″ wide and high is the low range.
If you have a cute or funny message that you would like only your guests to see, 8″x12″ is probably the smallest you can get away with. When in doubt, walk backward from your door to find out if others can read your sign.
Question: Is Sarcasm Funny for a Door Sign?
Answer: That is the $100 question. I grew up with sarcasm, and usually, it is very, very funny in my experience. However, the actual meaning of the word and how people use it tend to differ.
The origin of the word has hostility and meanness as central themes. I don't use sarcasm that way – I use it to poke fun at myself or a situation or make some absurd remark everyone knows is not true.
I think the words "everyone knows is not true" are key because demographically, humor can be quite different and in conflict with the area's understanding of positive interactions.
For example, I am from New England but moved south several years ago. I quickly found out that people didn't understand my humor and were offended by it. And this was when I was joking about my actions. It took me a while and much research later to figure out what had happened.
I think you have to acquire a finesse about sarcasm, which usually comes from living with it for a lifetime. There is an art to using sarcasm at the right time and with the right people about the right things that can only come from experience. Everyone I knew growing up would be quick to give you a dose of your own medicine if they thought your sarcasm was a little too biting.
If sarcasm is your go-to for jokes, keeping the sarcastic signs small enough so people can't read them from the sidewalk is best. Once guests are on your porch, you have a choice to comment on the sign. I do still laugh for days about a sarcastic saying, however.
Question: How do I Seal my Porch Sign Against the Weather?
Answer: Weatherproofing your porch sign should be on your list of things to do. Not only will it extend the life of your signs, but it will also give you peace of mind whenever the weather turns foul. There are several products you can use for sealant, or you can ask your local hardware store for suggestions.
Polyurethane clear spray sealer, Outdoor Mod Podge, and Polycrylic are great items. Try the Minwax brand, as that has been consistently rated well.
Mod Podge is a superior sealer but needs a 25-day curing time. It also is brushed onto your sign, and some brush strokes may be visible. Mod Podge is excellent for textured wood signs.
Polycrylic and Polyurethane can be brushed or sprayed on. Polycrylic is great for fully saturating something, and Polyurethane works incredibly well for metals.
In Conclusion
Funny porch signs provide more of an opportunity to show your personality than traditional welcome signs. I love humor anywhere and everywhere, and I have no qualms about letting people know what I think is funny.
That doesn't mean I want to antagonize others – quite the opposite. I tend to find almost everything funny, and sharing that with others can brighten up the most dreadful day!
A common factor we can all share is a teenager's mentality. You don't have to have born children to relate to this, but if you have, it makes it all the more relevant! My favorite funny porch sign applies to various situations, people, and locations.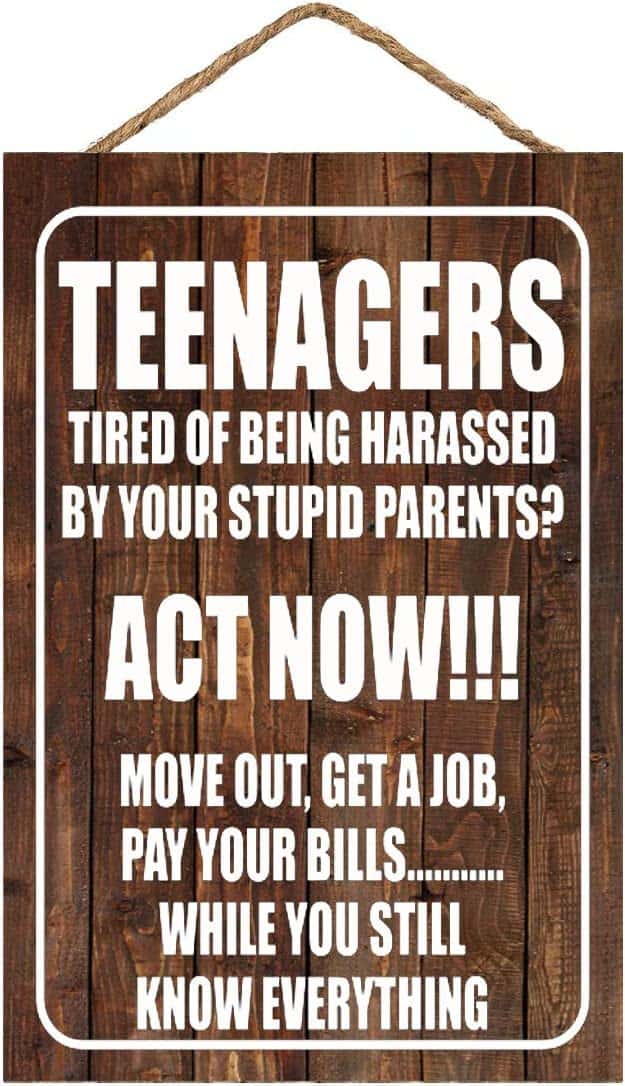 This 8″x12″ wooden sign comes pre-drilled with four holes for hanging and a jute rope. It is classy and tailored with bright white lettering on a dark plank background. It is not sealed for the weather, but you can easily apply a spray-on sealant coat every year to ensure it holds up on your porch.
Humor comes in all shapes and sizes, so don't be afraid to show your true colors with a little nod to levity. The funnier the sign, the more greenery and decorations I have on my porches. It just feels more welcoming and homey to me. I hope you found something that you like!
Recommended Reads: