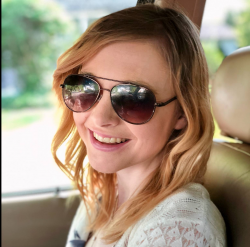 Latest posts by Erin Jamieson
(see all)
There's something I've always found enchanting about Winter, and while Cincinnati doesn't get much snow, I always love it when it comes. One of my favorite things about the season is staying outside and getting cold, only to warm up in a cozy home or apartment. And a porch is the first impression of the outside world, a way to add a bit of both cheer and festive warmth even during the coldest days. That's why a simple addition like a seasonal porch sign is one of my favorite ways to decorate for winter. 
The best winter porch signs aren't just about design. They're meant to make an impression, but also endure outdoors, season after season. From Let it Snow porch signs to a wintery welcome and festive holiday cheer, here are my top ideas, and what I love about each one. 
Bottom Line Up Front Summary
From festive holiday designs to ones you can leave out all season long, winter porch signs are a simple, affordable, and fun way to add a welcoming touch to your home. My ideas include practical, whimsical, and festive designs, but each one was selected with quality in mind. After all, if you're looking for a sign to welcome you all winter long, you'll need something that's weather friendly. 
Want a recommendation for just about any porch? My top suggestion is a porch sign you can leave out all winter long, like this Seasons Greetings Porch Sign. While I still love it most under a covered porch, it's made with fade-resistant paint and kiln-dried hardwood to endure the elements. I love the whimsical charm, and I can get behind it being made by an Amish community in Ohio.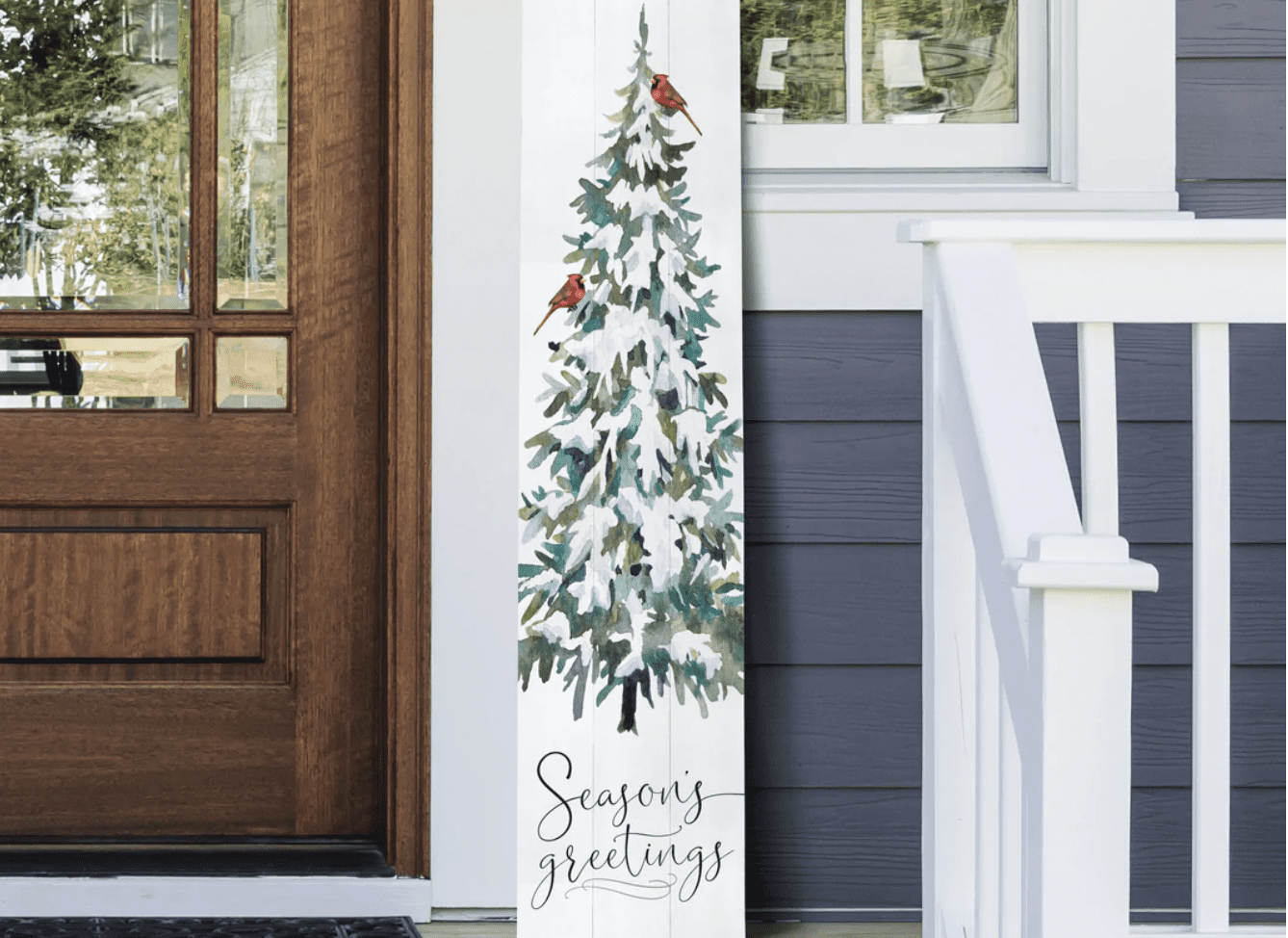 My Top Picks
My Selection Criteria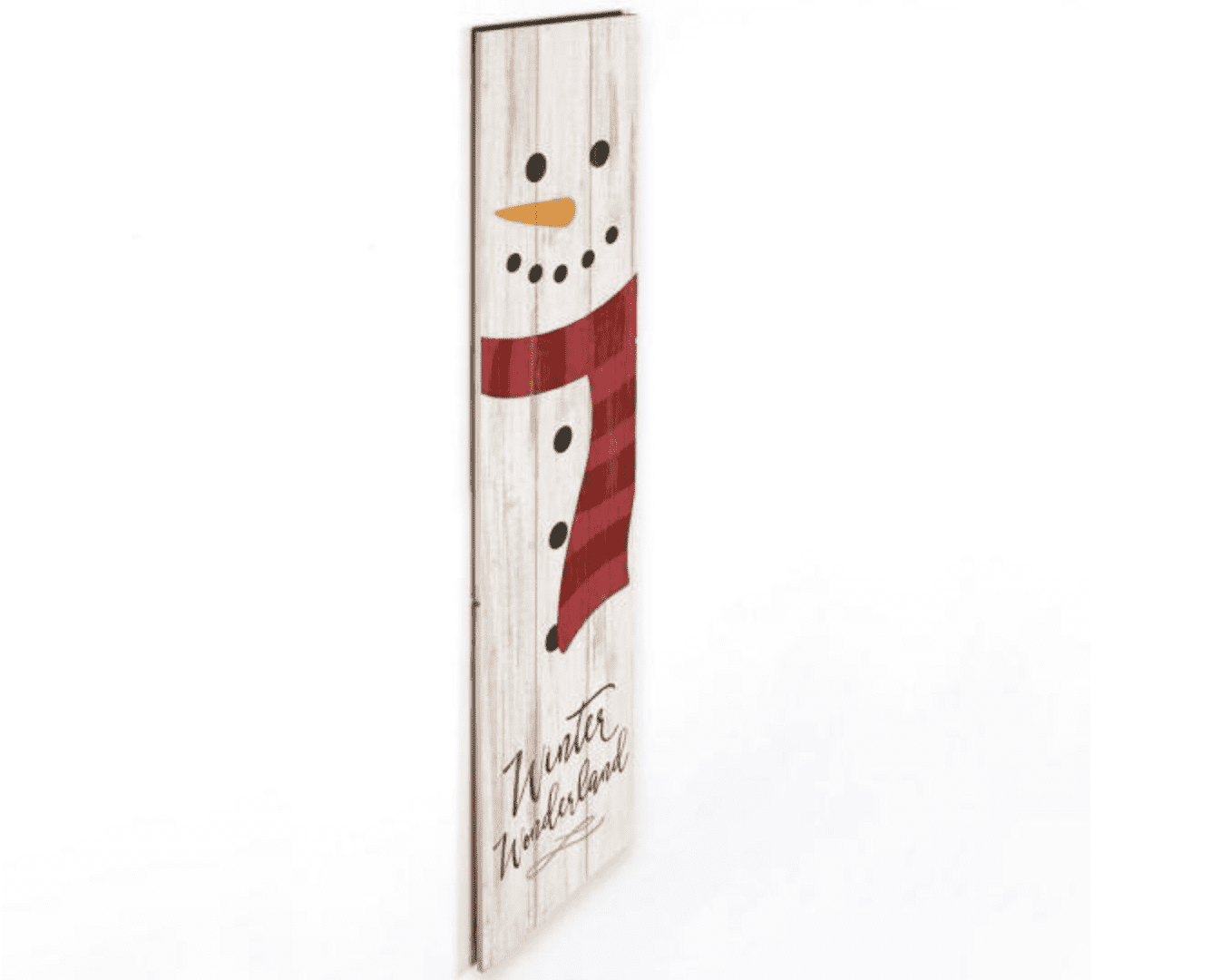 Decorating your home for Winter never needs to be stressful. At the same time, I wanted to balance style, unique designs, and quality. By doing so, I'm only recommending porch signs that are both practical and aesthetically pleasing. Here's how I balanced achieving a seasonal style- and still finding quality signs worth your money. 
Selecting Winter Colors
There's no one color scheme you have to stick to and that's one thing I love about decorating. But I still wanted to select colors that are more traditionally associated with the season, and each has a special ambiance. I love cool blues, from icy blue to midnight blue, especially balanced with white.
Metallic tones, like gold and silver, add a mystical touch and evoke both the holidays and snow. And of course, holiday colors are also a great addition (such as cherry red and pine green for Christmas; blue and silver for Hanukah; and red, black, and green for Kwanza). 
Selecting Themes & Styles
There are a few types of winter signs I knew I had to include: welcome signs, general decorative signs, humorous signs, and holiday-specific signs. My goal was to include both signs you'll leave up before and after Christmas and the holiday season, and ones that let you usher those holidays in. My selections were also made to reflect different tastes. That meant opting for everything from elegant to quirky to whimsical porch signs. Above all, I looked for something timeless or unique. 
Selecting the Best Materials
You don't need to buy the strongest material, but weather-resistant is important. While none of these porch signs will last forever, I did my best to select materials that were more suited for the outdoors.  That's why I focused on rot-resistant materials, such as: 
Treated: Cedar, Acacia, Cypress, Redwood, Walnut, Oak (even treated wood is best under a more covered porch area)*

Kiln-Dried Pine (soft but moisture-resistant)  

Engineered Wood 

Fabrics: Burlap, PVC, Oxford

Rust-Resistant Metal 
Unfortunately, most manufacturers don't specify the type of wood. If not, I looked for signs of hardwood/ solid wood construction with a weather protective coating. 
**MDF or medium density fiberwood is an option I'd only consider for fully covered porches. While it's moisture resistant, these signs sadly are susceptible to wear and warping. 
Where I Shopped
I like to shop with an open mind for porch decor. That meant searching a range of craft stores (like Michael's and JoAnne's), Wayfair, Amazon, Kohl's, Kirkland's, Ashley, Ikea, Target, Bed Bath and Beyond, as well as specialty stores. The reason why I'm not relying on a website like Etsy is that the inventory changes too quickly.
While Etsy can be a fine place for unique, handmade signs, I wanted to inspire you, whether you're getting ahead and shopping for winter signs in summer or grabbing one right before the holidays.
Everywhere I shopped, I made sure it was from a store I would be comfortable buying from, as well as somewhere that was secure checkout and clear standards for customer service. 
See also: Best Side Porch Ideas This 2022
Winter Porch Signs I Love! 
Here's a glance at several winter porch signs that caught my eye- and hopefully will inspire you, too. Based on my selection criteria, I was careful to select winter porch signs that are not only fun, festive, and well-designed, but also durable enough to be used outdoors. From blue and white to festive for Christmas and Hanukah, here are just a few fun ways to add a warm, wintery welcome to your home.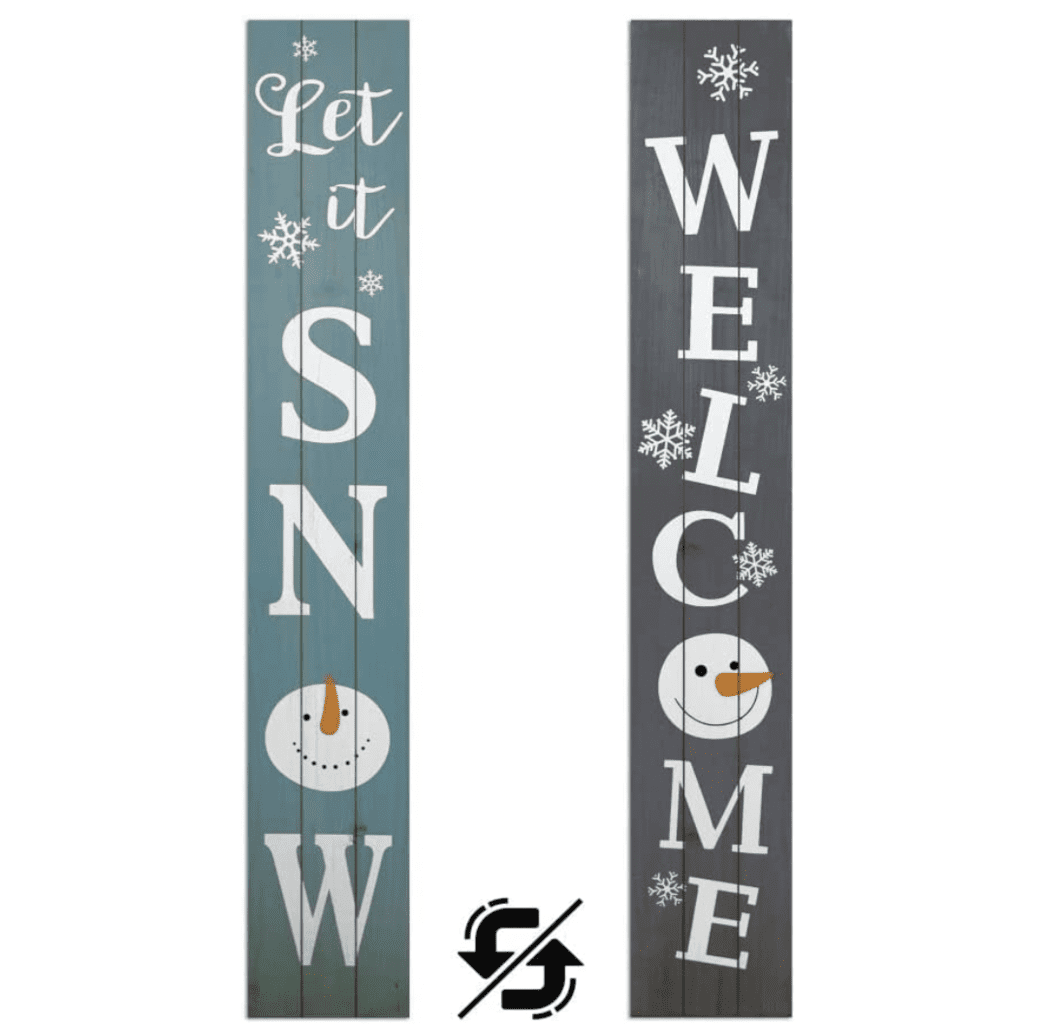 Don't let the initial price steer you away. While it's more expensive than the average winter porch sign on Amazon, you get two designs in one. With a reversible construction and weather-proof design, this freestanding porch sign is a good solution for many. At once rustic but also a bit modern, contemporary white paint is paired with weathered touches.
The weathered paint isn't just great for a rustic touch- it's also protective against cold and wet weather. Feel free to stand this alone besides other wintery decors, or drill a hole at the top for a hanging sign.
Pros
Protective Paint
Weathered Look
Reversible
Cons
No Pre-Drilled Hole
Fairly Simplistic Design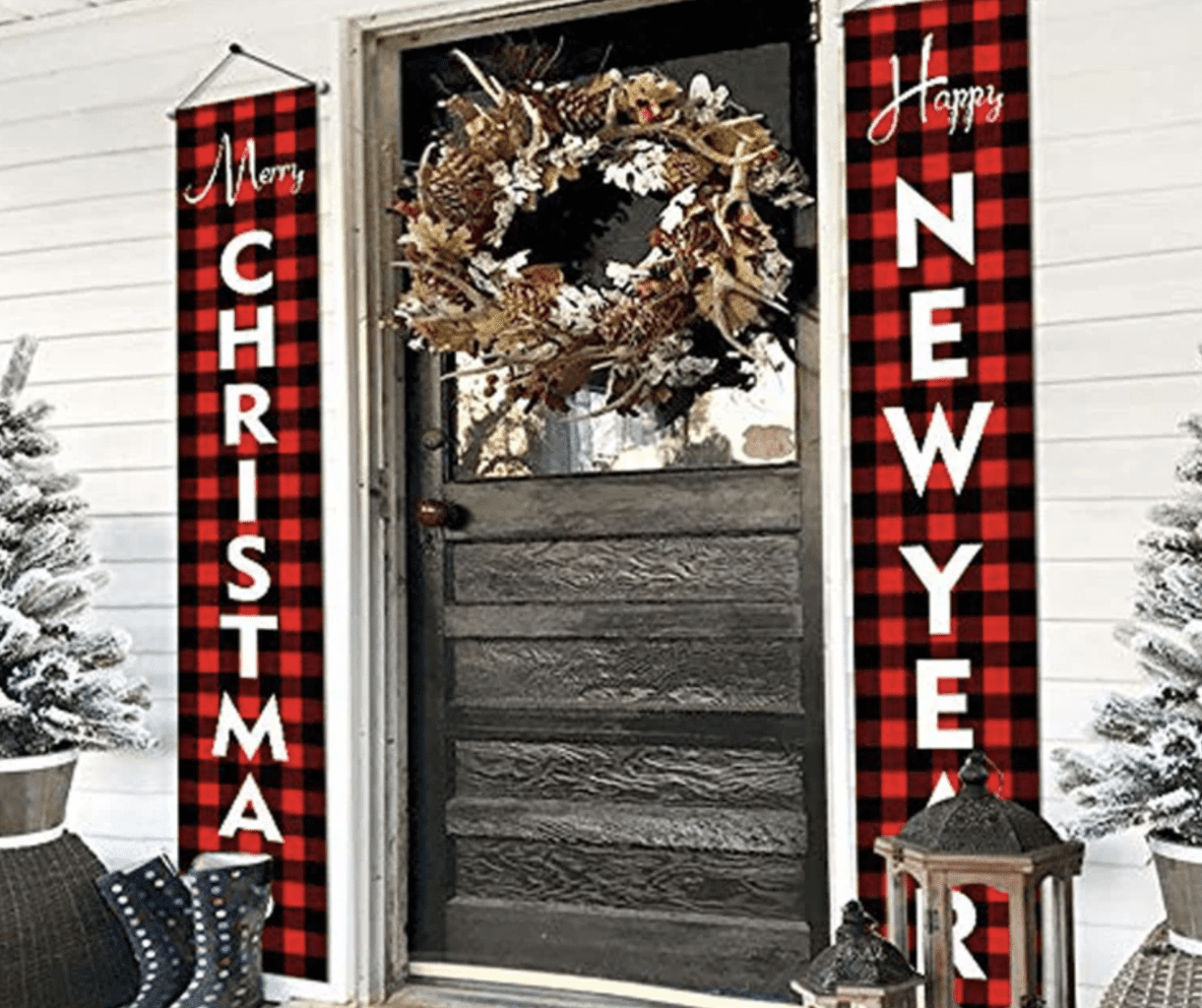 Buffalo check is most popular during the winter months, and especially Christmas- and so this is a great option for a classic, low-maintenance sign. At once rustic and super cozy, what I love about these porch signs is that add a touch of softness that could fit a farmhouse theme but would even work with a classic home.
The soft, water-resistant fabric is not only lightweight but an expected way to bring in both Christmas and the New Year. The advantage here is that you can wash these banners easily and you don't have to take them down right after Christmas.
Pros
Lightweight
Easy to Wash
Hang Up All Month
Cons
Can Tear
Won't Stand Up Alone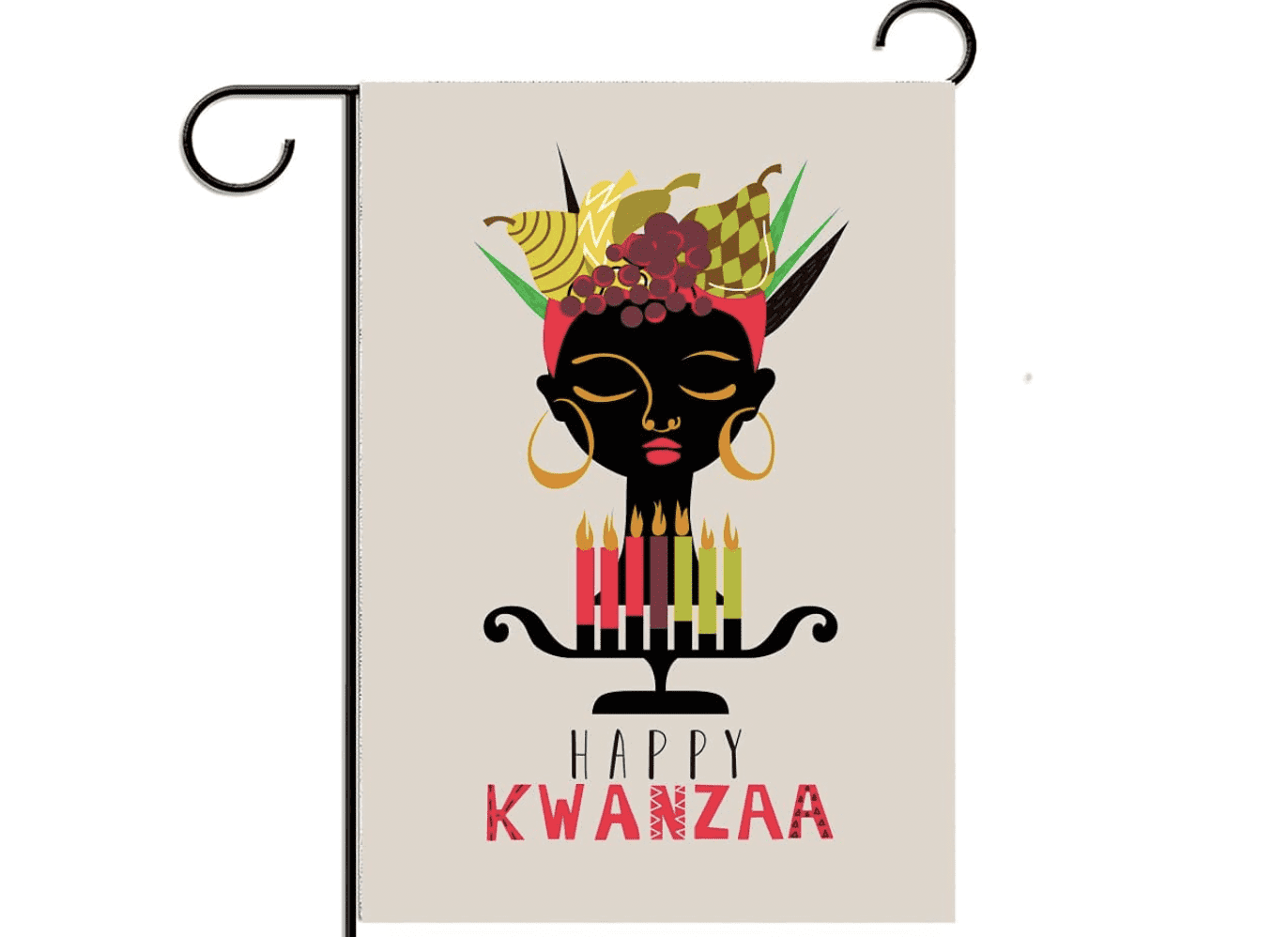 For Kwanza, this porch sign is celebratory but also practical. With a fantastic price and weather-resistant fabric, this is one of your best options.  . Those vibrant colors won't fade under sunlight and it's a sign you may be tempted to leave up well after the holiday ends. With a handmade feel, this design stands out for its beauty and low price. It works as a banner, so you'll, so you'll need to buy one or hang it like a banner from your porch.
Pros
Weather Resistant Fabric
Bright Colors
Use as Banner or Regular Sign
Cons
Thin/ Can Tear
Post Not Included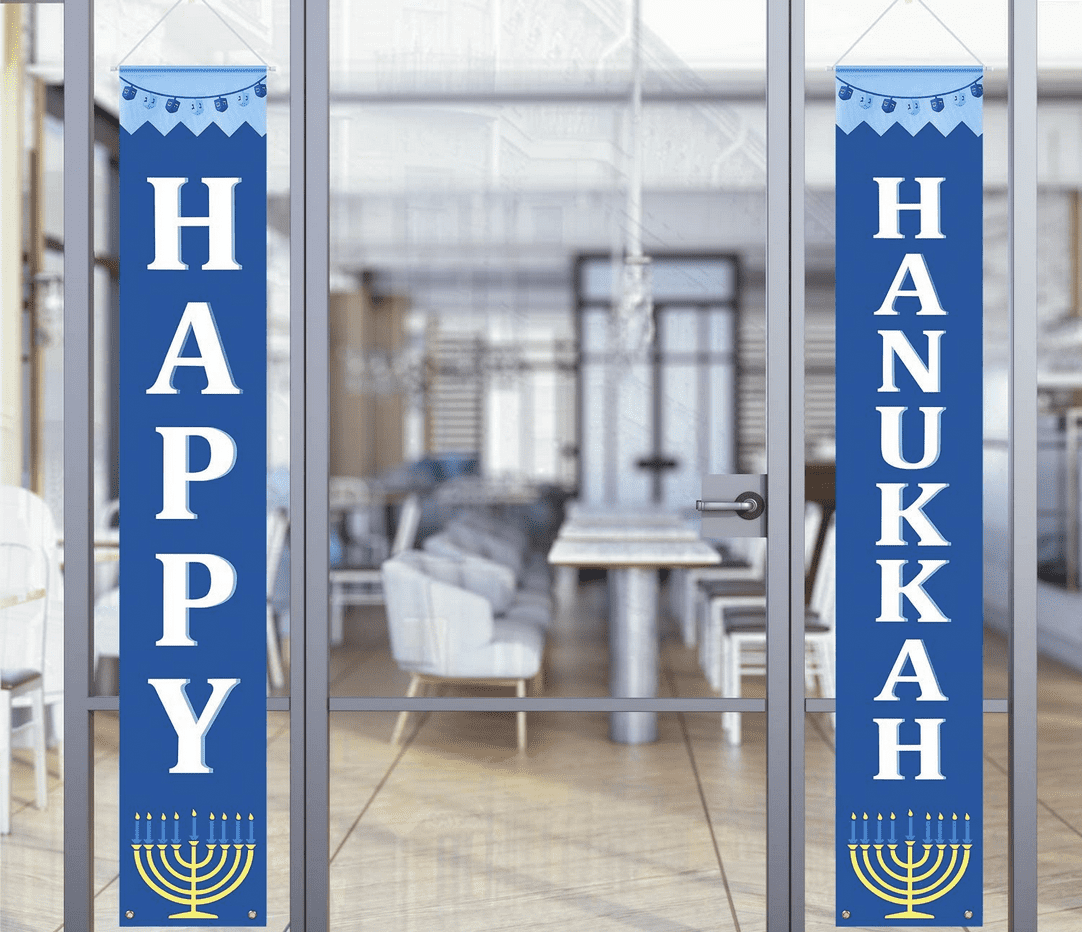 This Hanukkah porch banner is cheerful, but that's not the only reason to pick it up. I love this idea for not only an open porch but also covered porches and even indoors. While there are wooden Hanukkah signs, this is one of the very few options that's both fade-resistant and weather-resistant. That means you can enjoy that vibrant blue hue for more than one season. With an unbeatable price of under $20 and excellent customer reviews, it gives you even more reason to celebrate.
Pros
Fade Resistant
Weather Resistant
Vibrant Colors
Cons
Fairly Simple Design
Able to Tear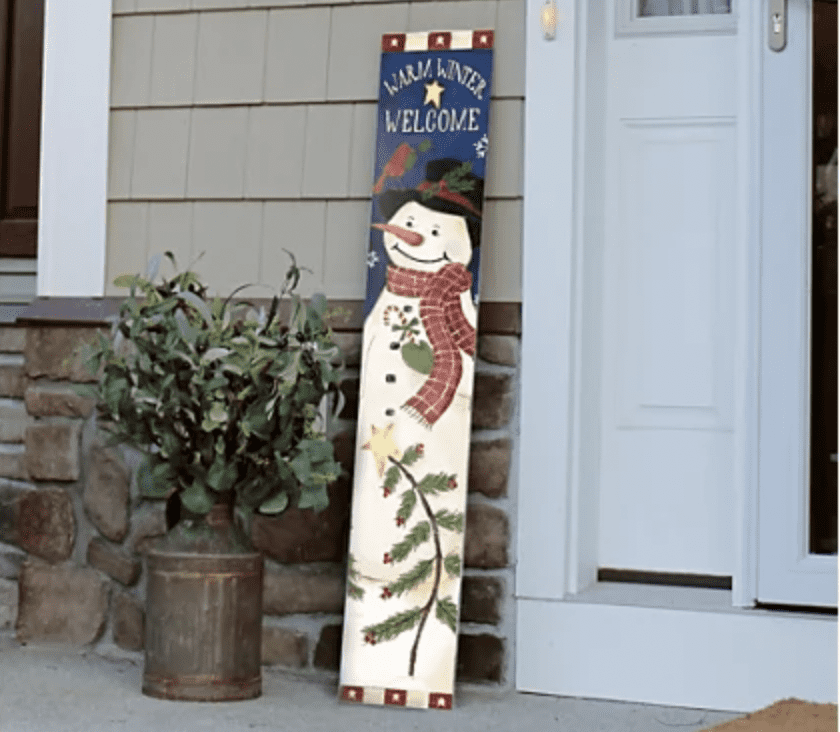 This classic porch sign is a great way to usher in a wintery welcome if you're torn between modern and rustic.  Though it has the look of natural wood, it's made with engineered wood, which is quite practical for a weather-resistant, low-maintenance sign- which is a good compromise. Design-wise, the snowman is an instant classic, plus its colors bring in many elements of winter: from deep blue to creamy white and a pop of red and green.
Pros
Engineered Wood
Classic Colors
Stand Up or Hang
Cons
Not as Strong as Wood
No Pre-Drilled Hole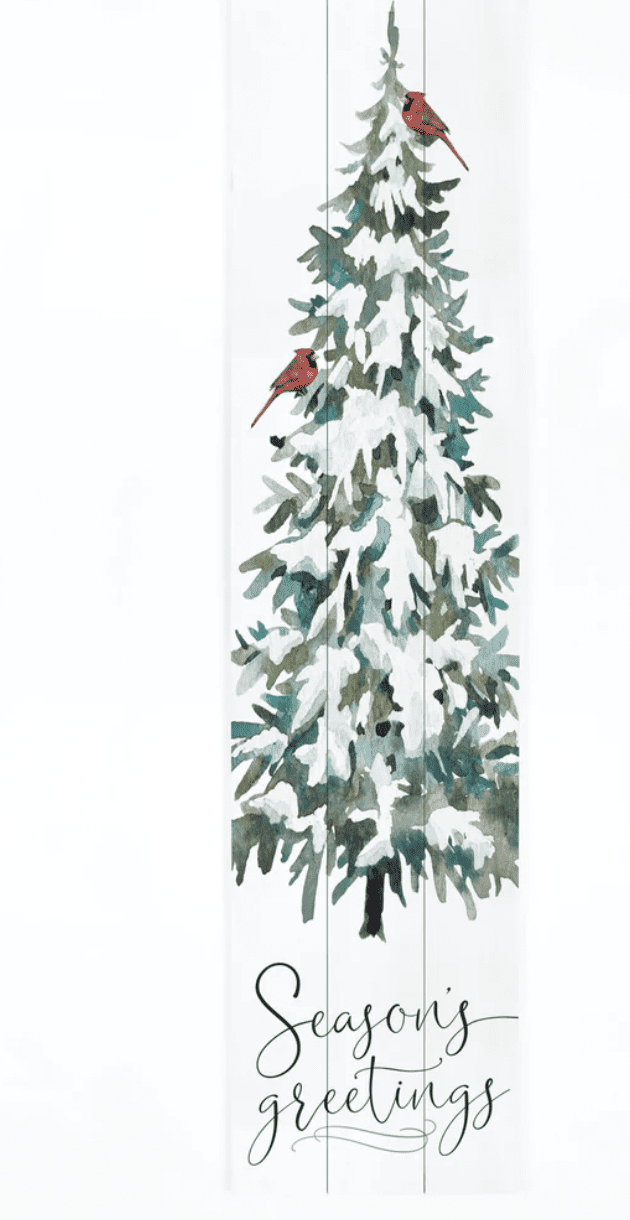 This delightful winter porch sign is an excellent solution if you want something that has a Christmas-like feel but isn't explicitly about Christmas. While the attention to detail is admirable, that's far from the only reason why you should consider selecting this winter porch sign. The kiln-dried wood is paired with UV-resistant ink to last all season long.
Pros
Amish Made
UV Resistant Ink
Genuine Wood
Cons
Pine is a Soft Wood
Freestanding Only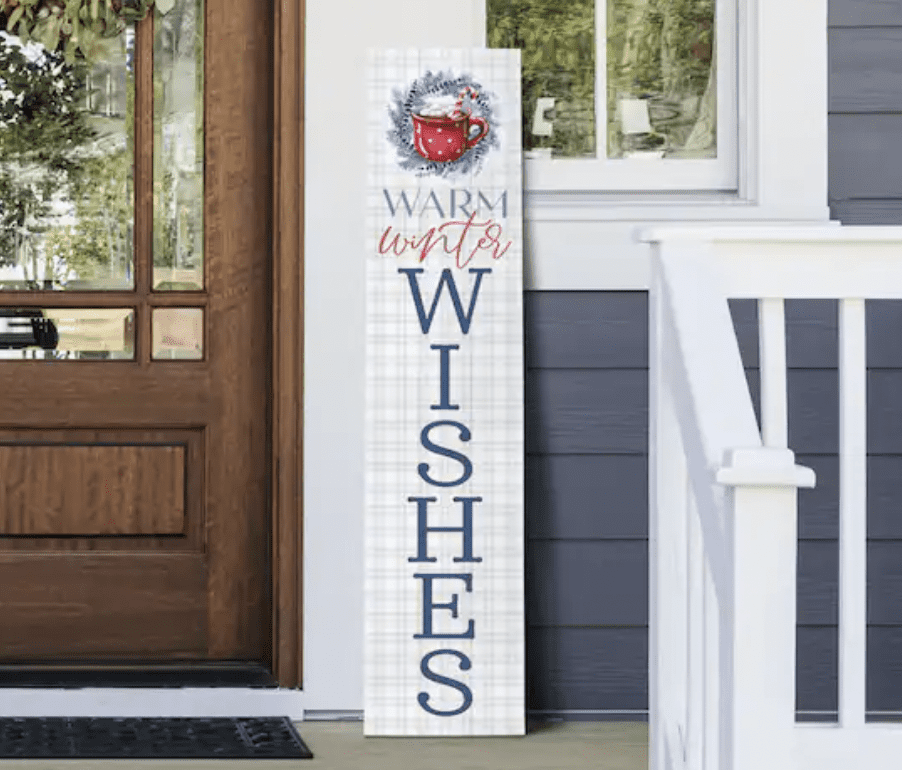 Chosen for simplicity, this winter porch sign is perfect for a vintage-inspired bit of flare. The soft print is welcoming, and nostalgic, but also unique compared with many porch signs. Aside from its quaint design, it's made with kiln-dried pine, which is a good option for anyone who wants a wooden sign that they can leave out in snow and rain.
Pros
Kiln-Dried Pine
Vintage Inspired
Unique Pattern
Cons
Pine is a Softer Wood
Not Fitting For Modern Homes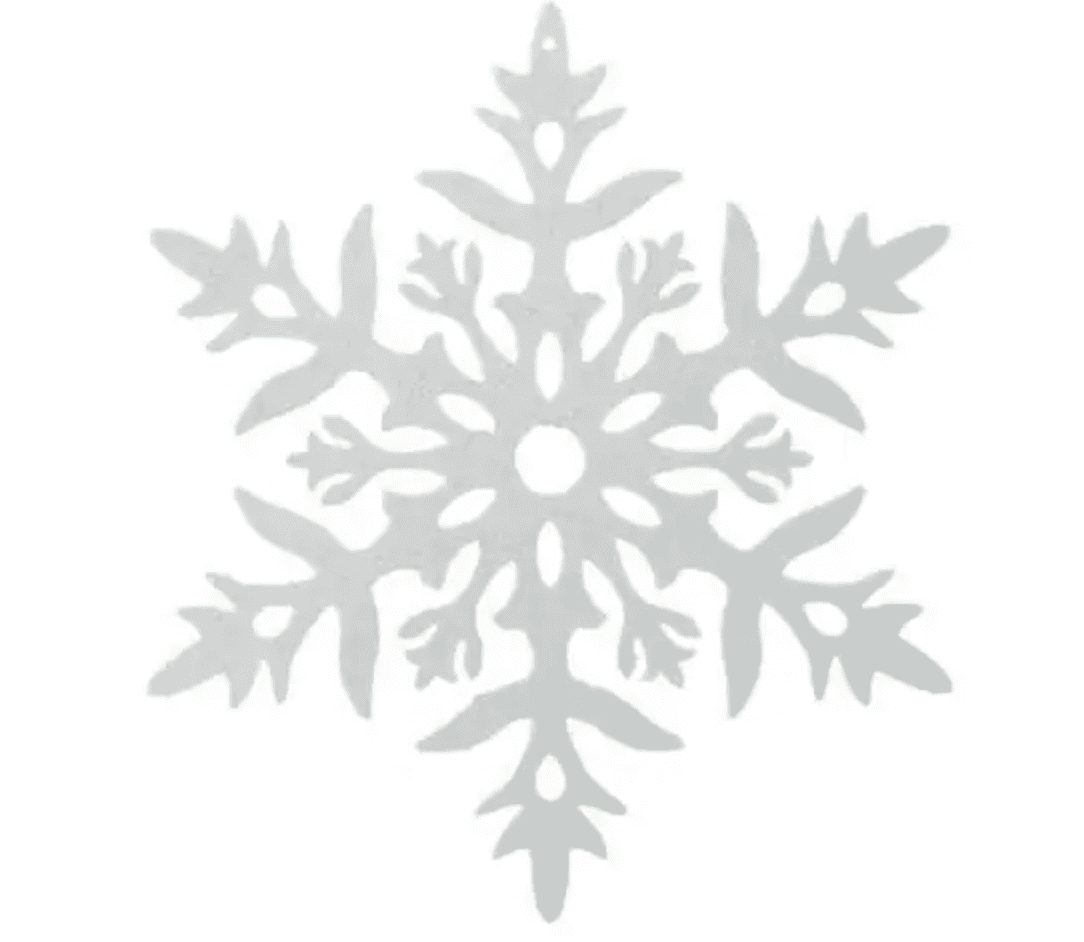 This whimsical porch sign shows there's a lot of wiggle room for winter porch themes. Branching away from typical porch sign designs, you can place this on your front door, your porch railing, or anywhere you like. The silver hue is classic and spirited but versatile enough that it would look at home with any style. But more importantly, it's made with powder-coated steel. That's stronger than a wooden sign, with the weather resistance you need for those snowy and cold days.
Pros
Powder Coated Steel
Modern Design
Versatile Use
Cons
Big For Minimalist Look
Heavier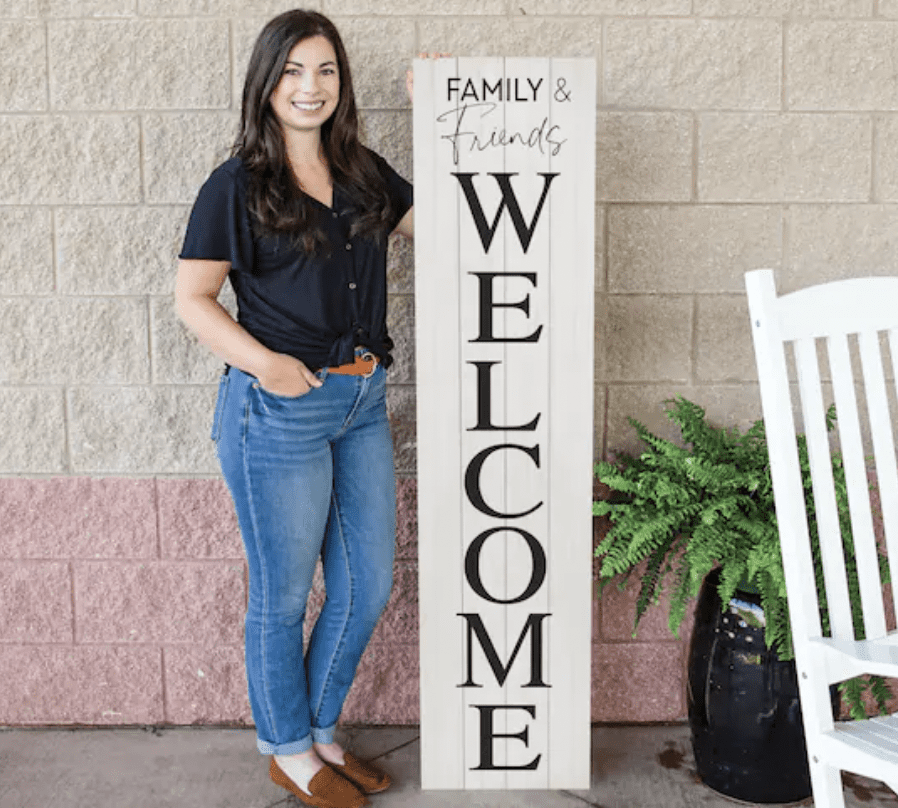 Not all winter porch signs need to be heavily themed, and this simple welcome sign is one such example. The beauty of this is it has notes of the winter season- and you're free to add a little of your personal touches. The kiln-dried wooden sign is coated with creamy white for a whimsical, slightly winter-inspired touch. Add your winter stencil additions for a DIY touch. Versatile, charming, and simple: this porch sign is welcoming for every winter month.
Pros
DIY
Real Kiln-Dried Wood
Clean and Versatile
Cons
'Very Plain
Not UV Protected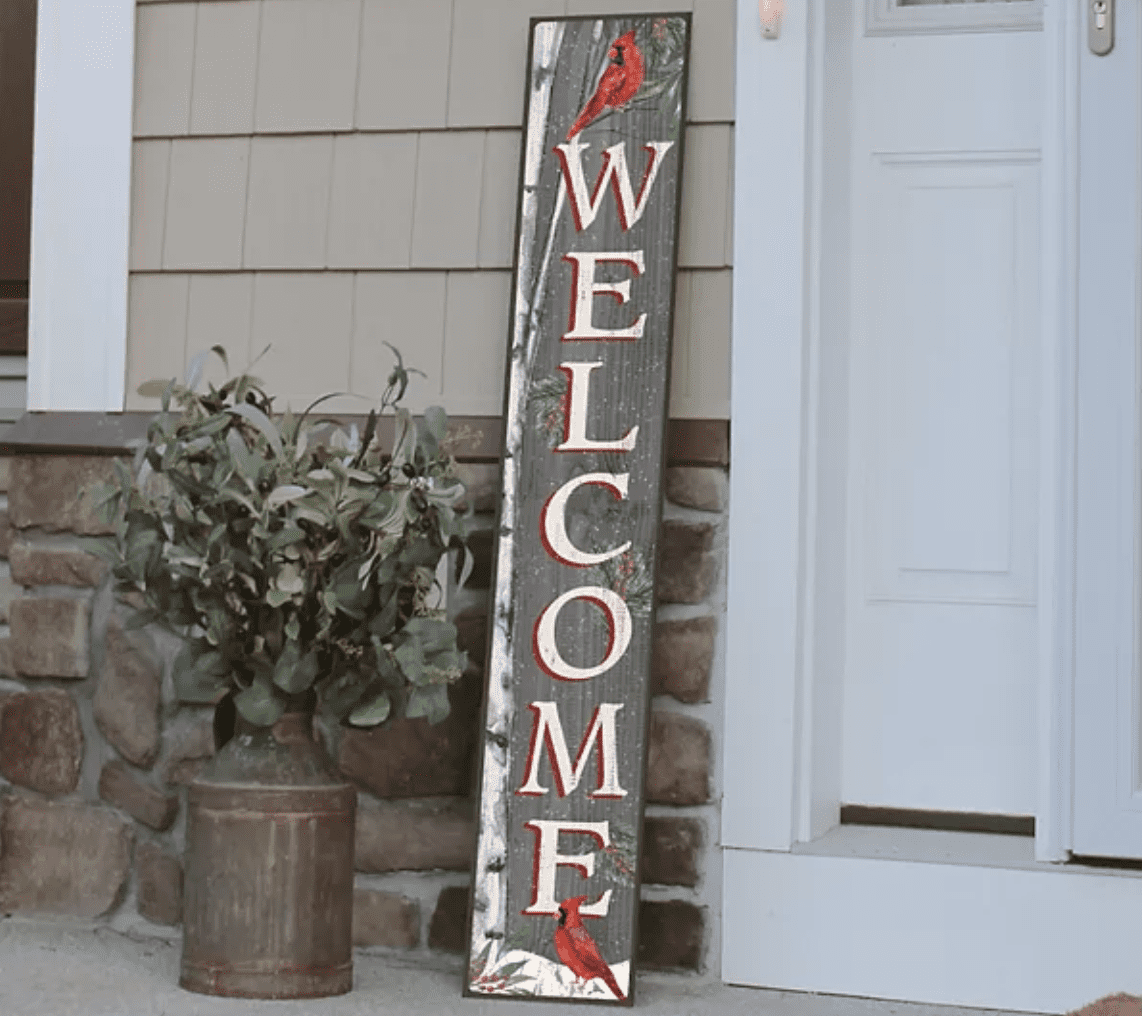 This winter porch sign ties together classic, rustic, and natural elements for a truly welcome entrance. I love the balance of wood tones, white and red, all with a captivating but timeless design. It's a little less hardy than full hardwood (composite) but it's lower maintenance and resistant to weather. That's a fair compromise, and a good option for covered porches especially.
Pros
Weather Resistant
Rustic, Modern Themes
Unique Design
Cons
Softer than Wood
No Pre-Drilled Hole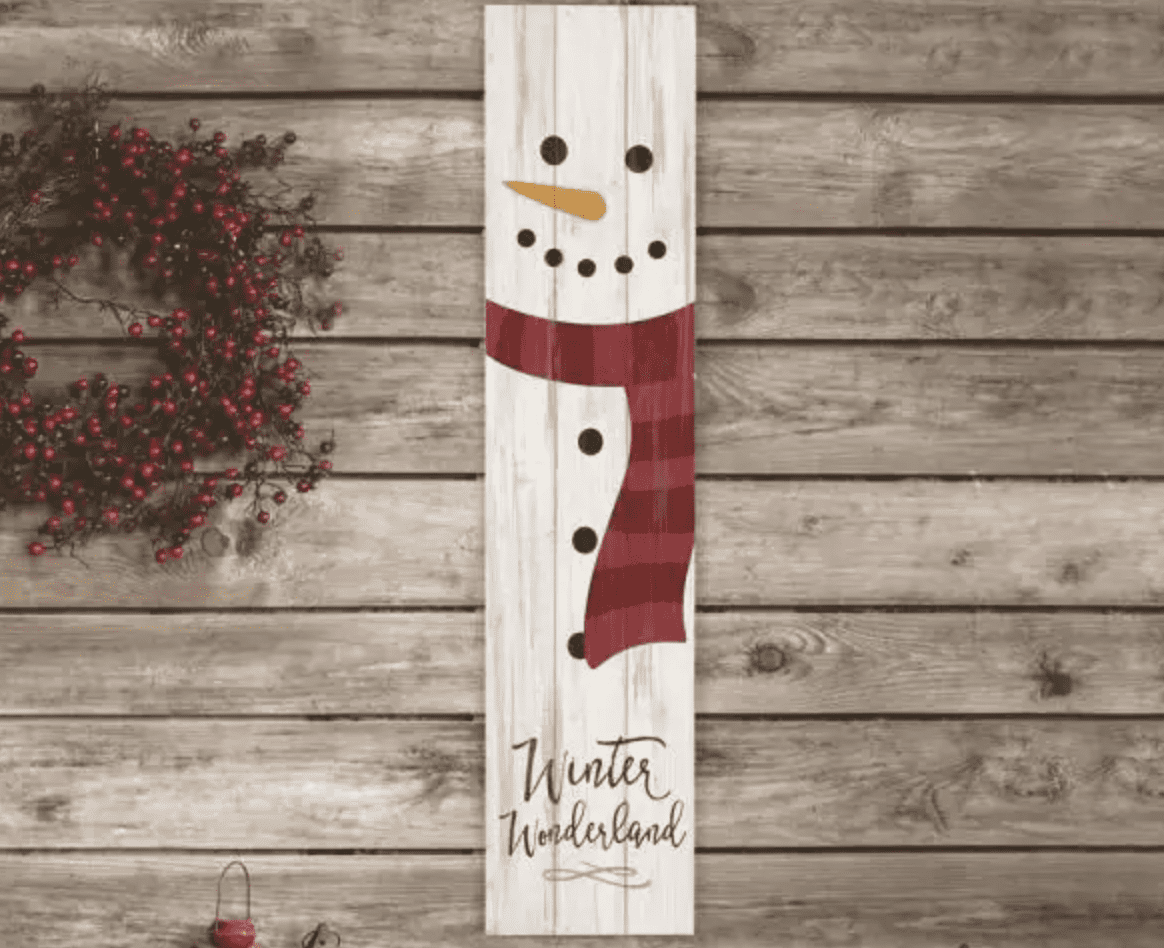 This kid-friendly and welcoming winter porch sign is sure to please. Chosen for its charisma and quality, this winter porch sign would look at home for a cottage or even a cabin, lodge, or classic home. Even more importantly, it's constructed with kiln-dried pine, which gives you that classic look but still resists moisture and rot better than most wooden signs.
Pros
Whimsical
Kiln-Dried Pine
Rustic
Cons
No Pre-Drilled Hole
Not UV-Resistant
Frequently Asked Questions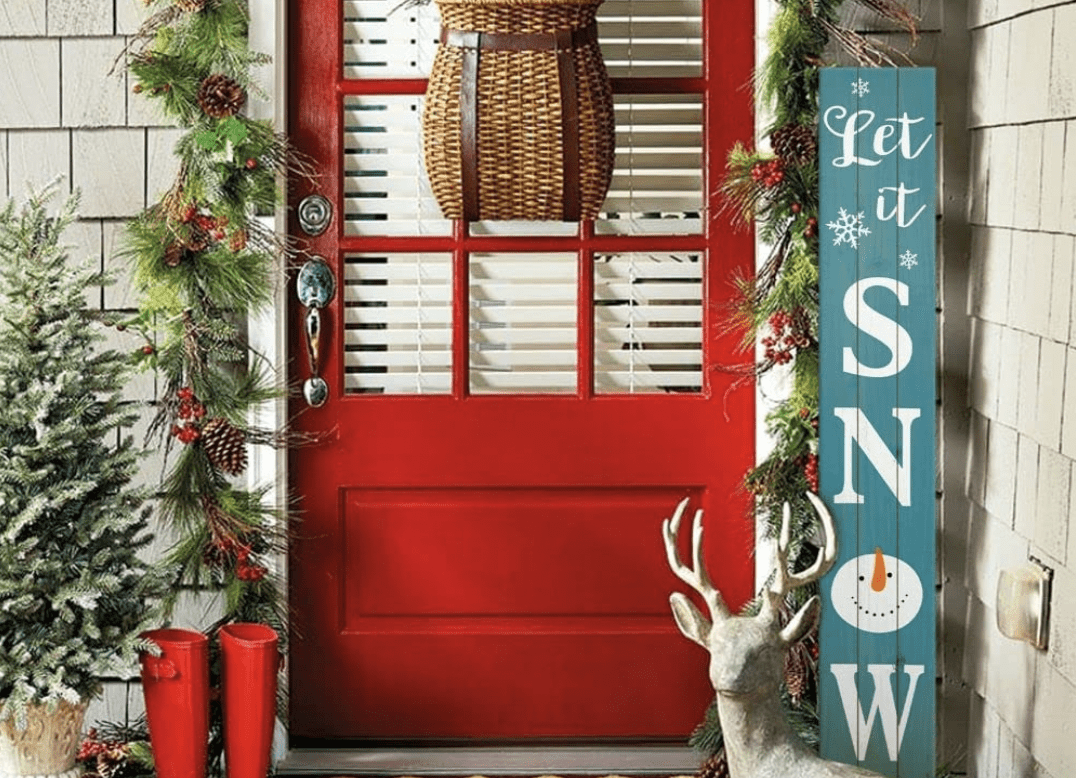 Question: How do you make a front porch sign?
Answer: While you can find affordable front porch signs for all times of the year, it's not too hard to DIY. Start with something that's rot-resistant, like cedar, redwood, or mahogany. You can pick up planks and samples from craft stores like Michael's or Hobby Lobby and most home improvement stores. Now it's time to get creative! If you're more talented than I am, you can freeform your design (Pinterest is a go-to for inspiration).
Or you can buy stencils from your local craft store. You'll need a miter saw or similar tool to shape your sign, as well as weather-resistant paints, stains, and coatings. Drill holes on either side of your sign to hang it. You can use metal or rope for a more rustic look. 
Question: How do I decorate a porch for winter?
Answer: Decorating for winter is a lot of fun- and you don't need a huge budget to pull off an impressive look! Fairy string lights are enchanting, even outside of the holidays. Spruce up your porch with a winter welcome sign and a seasonal mat. I love pinecones (JoAnn's even carries cinnamon scented ones) and garland.
Play with decorative gloves or mittens. Figurines can be fun too, just make sure they're in balance (and don't overpower) your other decorations. My favorite way to get more inspiration is to simply stroll the aisle of craft stores near me. 
Question: How can I make my house cozier in winter?
Answer: One of my favorite things about Winter is letting yourself get cold and then going inside to get cozy. To carry the warm ambiance, there are simple tweaks I make- little spending required. Simple tea candles, especially in seasonal scents are comforting. I like to drape blankets over chairs for a practical, welcoming, and stylish touch.
Even something as simple as setting out warm-toned place mats can make a difference. And though it's winter, that's no reason to shy away from plants! A poinsettia can add a beautiful but welcoming touch to any room. 
Question: What types of porch signs can you find on Etsy? 
Answer: Etsy is a gold mine for unique porch signs- just be aware that inventory changes often, and quality can vary. You can find everything from welcome signs to quirky/ humor porch signs, and, of course, signs for every season. The great thing – and challenge- about shopping for a porch sign on Etsy is how much variety there is.
If you're using your sign outdoors, pay attention to the quality of the materials and whether or not they're waterproof. And while a store's little sales are not inherently a red flag (especially if they're new), you can play it safe with a store that has a substantial history of sales. 
Final Thoughts
From festive signs to simple welcome signs, a new sign is one of my favorite ideas for winter decor. Why? It's a simple, affordable way to decorate and makes a difference. Mix it up with a sign for your front door and even hang one from your railing. Buy a few signs: one that is holiday-specific and one that you can keep up all season long. Whatever you do, don't overthink it too much. A porch sign is a fun, low-commitment way to usher in a new season and make a first impression. 
Final Recommendation 
There is no perfect winter porch sign, and there is no one-size-fits-all. If you're torn between styles, go back to my selection criteria and make sure you're buying a weather-resistant style. If you like some of my ideas but aren't sure which to choose, why not go for a sign that you can leave up all season long? 
A staple winter porch sign I would recommend to almost anyone is something like this Seasons Greetings Porch Sign. It's fade and weather-resistant with a beautiful, bright design. Plus, it's versatile enough it would work for just about any porch. 
Recommended Reads: