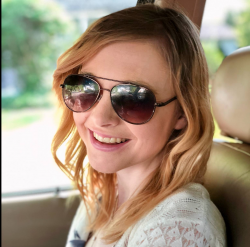 Latest posts by Erin Jamieson
(see all)
I've always loved porch columns, and that's probably in part because of my grandparent's neighborhood. Many of those homes are classic brick two-stories or ranches, with columns that frame the porches spectacularly. But as the neighborhood and neighborhoods around it change, I'm noticing a new trend: modern front porch columns. 
As much as I love classic porch columns, the trend of modern porch columns is one of my favorite ideas for a makeover of your home. From charming modern farmhouses to quaint modern century and sleek, it's a sophisticated way to add a new design and sense of welcome. Of course, the cost and materials matter, so I'm sharing some of my favorite ideas. 
Read on to see my top modern porch column designs with links and pictures, plus my tips for how and why I selected each option. Who knows: modern porch columns may be the makeover the front of your house needs. 
Bottom Line Up Front Summary
Modern front porch columns are a stylish and sophisticated upgrade for your home- and I'm sharing some of my favorite design ideas. Modern-century modern, modern farmhouse, and simple contemporary are all possibilities. By focusing on companies I trust and durable materials, I hope one of these ideas inspires your next home makeover. 
If I had to recommend just one modern front porch column idea, it would be something like the Royal Corinthian Square Porch Column. This porch column is modern but very understated and versatile. I love the blend of fiberglass and PVC materials for lightweight strength and a low-maintenance design. Plus, this company sells a wide range of similar styles and dimensions- suited for large and small porches. 
My Top Picks
My Selection Criteria
When selecting these modern porch columns, I didn't want to focus on beauty alone. While the design played a role in my selections, I wanted to showcase porch columns that I think bring unique value to your porch. If you want to see my ideas, scroll down- otherwise, here's how I made my selections!)

Exploring Different Modern Styles 
Modern isn't just about sleek and straightforward, so I needed to represent the myriad of modern designs in my selections. For this, I paid attention to color, general aesthetics, and the overall beauty of the column. Here are some trendy and timeless modern porch column designs I love and considered: 
| | |
| --- | --- |
| Modern Porch Column Design | What's to Love |
| Modern Farmhouse | Touches of classic farmhouse but with sleek and modern designs. Modern farmhouses embrace both stylish and warm/ welcoming decor. It's also quite versatile- more so than you might imagine.  |
| Mid-Century Modern  | Mid-century modern is a beautiful balance between and fully vintage; this style first became popular in the 1940s but is very popular again, with playful colors and geometric, clean lines.  |
| Contemporary/ Classic Modern / Modern Beach Home/ Coastal | It's hard to go wrong with modern classic contemporary, with simple to minimalist lines that frame your porch with a crisp, clean outline. Modern coastal adds a bit of texture and fun elements reminiscent of the sea or water.  |
| Industrial  | Metallic accents and a streamlined look keep things looking appealing but also unique. I love how industrial porch columns can be paired with metallic furnishings or even bits of artistic flare.  |
| Modern Craftsman  | Inspired by the style that took off at the end of the 19th century, I love the mix of clean lines with classic notes from wood, bricks, and more.  |
For colors, I think too many people are limiting themselves. Modern front porch columns can be white, gray, navy, black, and other understated tones. Meanwhile, pops of bright colors, like yellow, can fit something like a mid-century modern style. But your best bet for a unique color is either buying column wraps or painting a column. 
Representing Different Porch Column Dimensions
Standard porch column dimensions range quite a bit, but I know you might need custom height or made-to-order specifications. For this reason, I selected a range of porch column sizes, mainly focusing on 8 feet to 12 feet sizes. While you'll need to measure to get your dimensions correct, I wanted to include recommendations that would suit both small and large porch requirements and one- and two-story homes.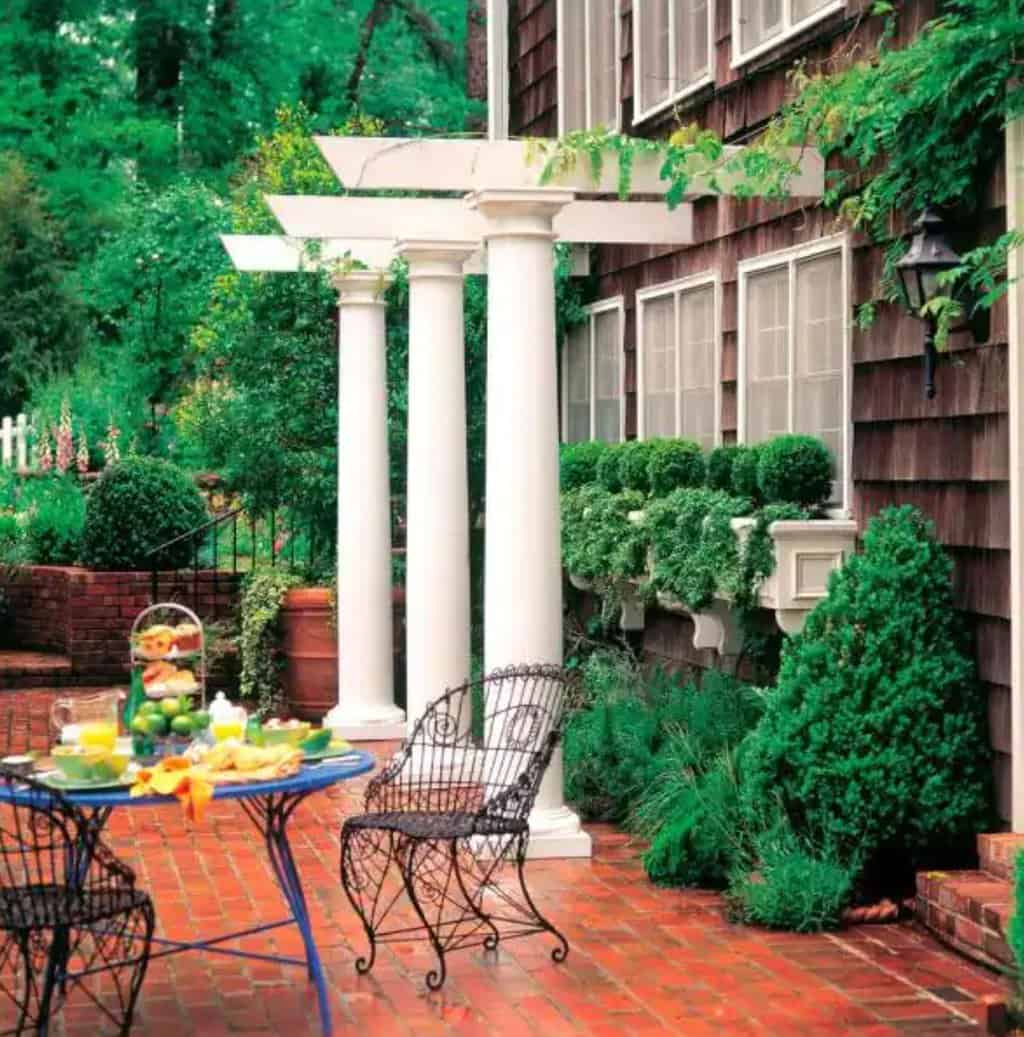 Selecting the Best Modern Materials 
Materials and overall quality construction were essential to me when finding the best modern front porch columns. That meant finding materials that balanced style, durability, and weather resistance. Modern porch columns should add style- but they also need to be staples that will last for years to come. 
Vinyl

– Easy to maintain, low cost, and usually paired with other materials for strength

Hardwood or Rot-Resistant Wood

– a staple option, but they need to be treated and chosen carefully to prevent rotting (anti-rot materials like cedar, finishings, and protective coatings)

Powder Coated Steel:

a great alternative to aluminum for improved durability

Fiberglass

: my favorite option for elegant modern porch columns that require load-bearing; they are also insect resistant.

PVC/ Resin:

rot-resistant, reasonably sturdy, and cheap. For decorative (not loading bearing), I also considered high-quality resin.
I also considered protective coatings, the durability of the hardware, and the overall construction of the type of modern porch column. 
How I Selected Where to Shop
I also wanted to ensure that I only made recommendations from companies I'd feel comfortable working with. I know those modern porch columns are a big upgrade and investment, so I selected from places with generally positive reviews and fair and transparent policies. That included looking at both reputable specialty stores and home improvement stores.
Striking Modern Columns to Update Your Porch
Here are a few of my top ideas for modern porch columns- from modern farmhouse to mid-century modern and sleek and sophisticated. Not only did these modern porch columns catch my eye for their unique designs, but they also were selected based on quality. Here's a glance at your options for what could be an eye-catching upgrade or total makeover for your porch layout. 
HB & G Round Permacast Column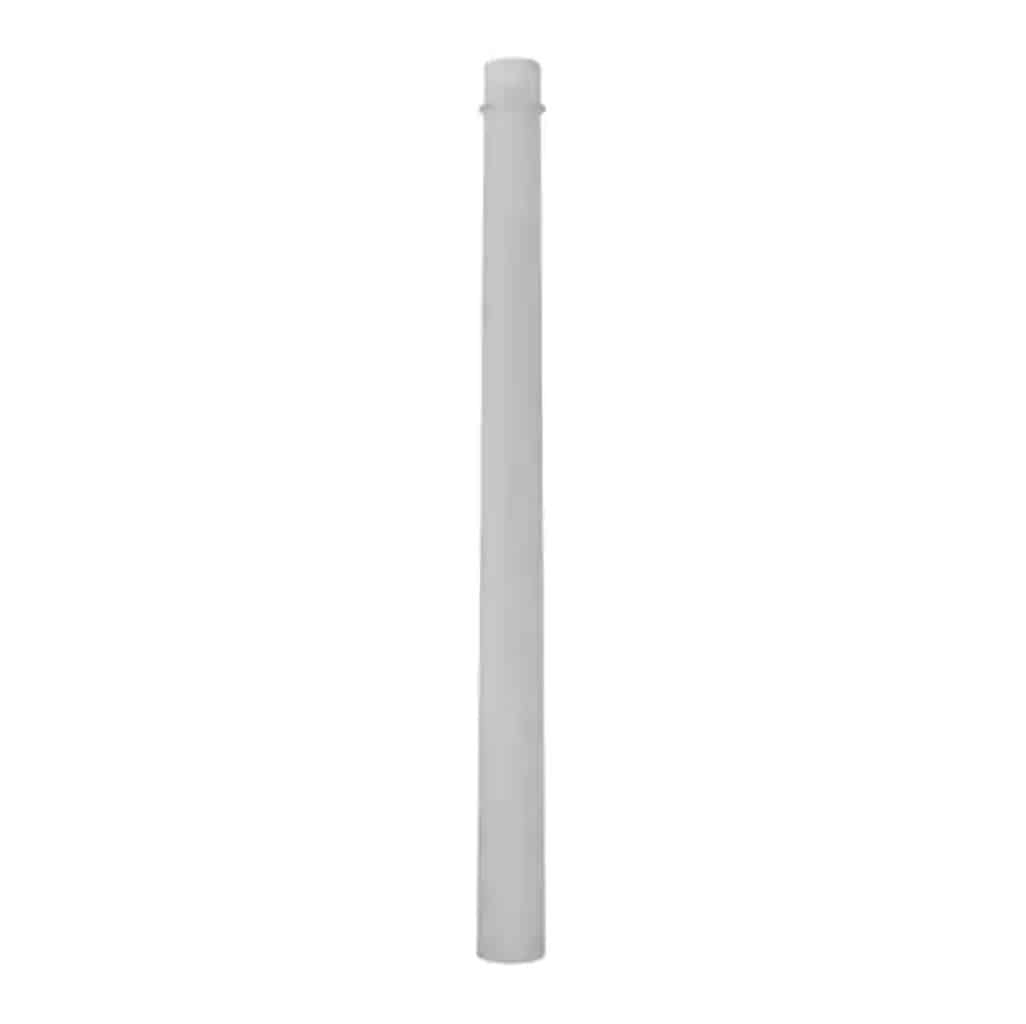 Home Depot has a wide selection of front porch columns, but this round, modern style is incredibly versatile. What I love about this idea is you can easily see the classic influences, yet the clean lines and simple design keep your porch looking updated.
This is a load-bearing, strong column that you don't have to worry about rotting, splitting, or cracking. I also love the limited lifetime warranty and the (separate purchases) coordinating cap and base. Finish it with navy blue, black, or gray weather-resistant paint if you want to jazz it up. Buy Here. 
Melton Craftsman Porch Column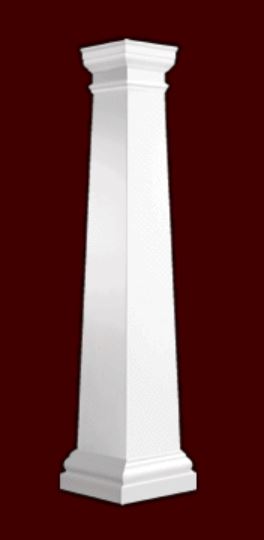 I love a good modern craftsman style, and this front porch column shows you its warmth and elegance. Fiberglass construction makes it both durable and charming for most homes. Of course, I love that you can order multiple sizes, and the company has a wealth of resources for their services, buying recommendations, and more. While you could also paint this front porch column, I think the crip white hue suits it well. Buy Here. 
See also: Farmhouse Fall Porch Decor Guide
Fretwork Pattern Porch Column

One thing I see too many people assume? That model has to be plain. For those of you who want to keep your front porch contemporary but are longing for something with a little more detail, consider this unique front porch column. I love the carved details, which would look lovely for a modern beach house or coastal home. Plus, it's nearly maintenance-free, built with strong PVC. Buy Here. 
Natural Wood Porch Column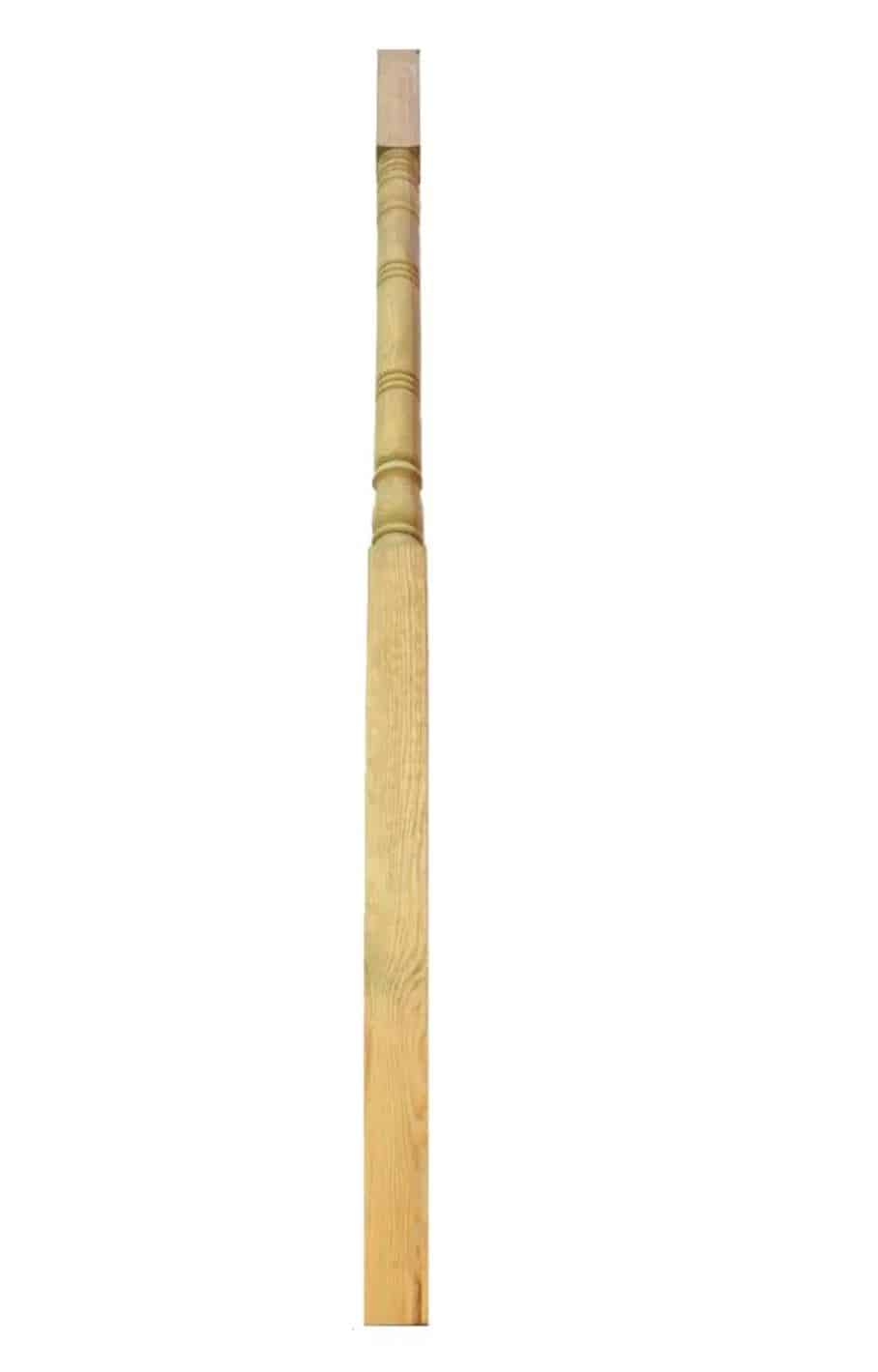 Many people don't associate wooden decor with modern styles, but that doesn't mean you can't mix the two. I love how this natural wood porch column still feels timeless but has enough influence from modern architecture that it's well-suited for a modern farmhouse style.
It's pressure-treated wood protected against common problems, like termite attacks and more. It is untreated, so you'll need to apply a protective coating. I recommend a black finish or something similar for a slightly more modern look. Buy Here. 
Tiger Brand Adjustable Support Column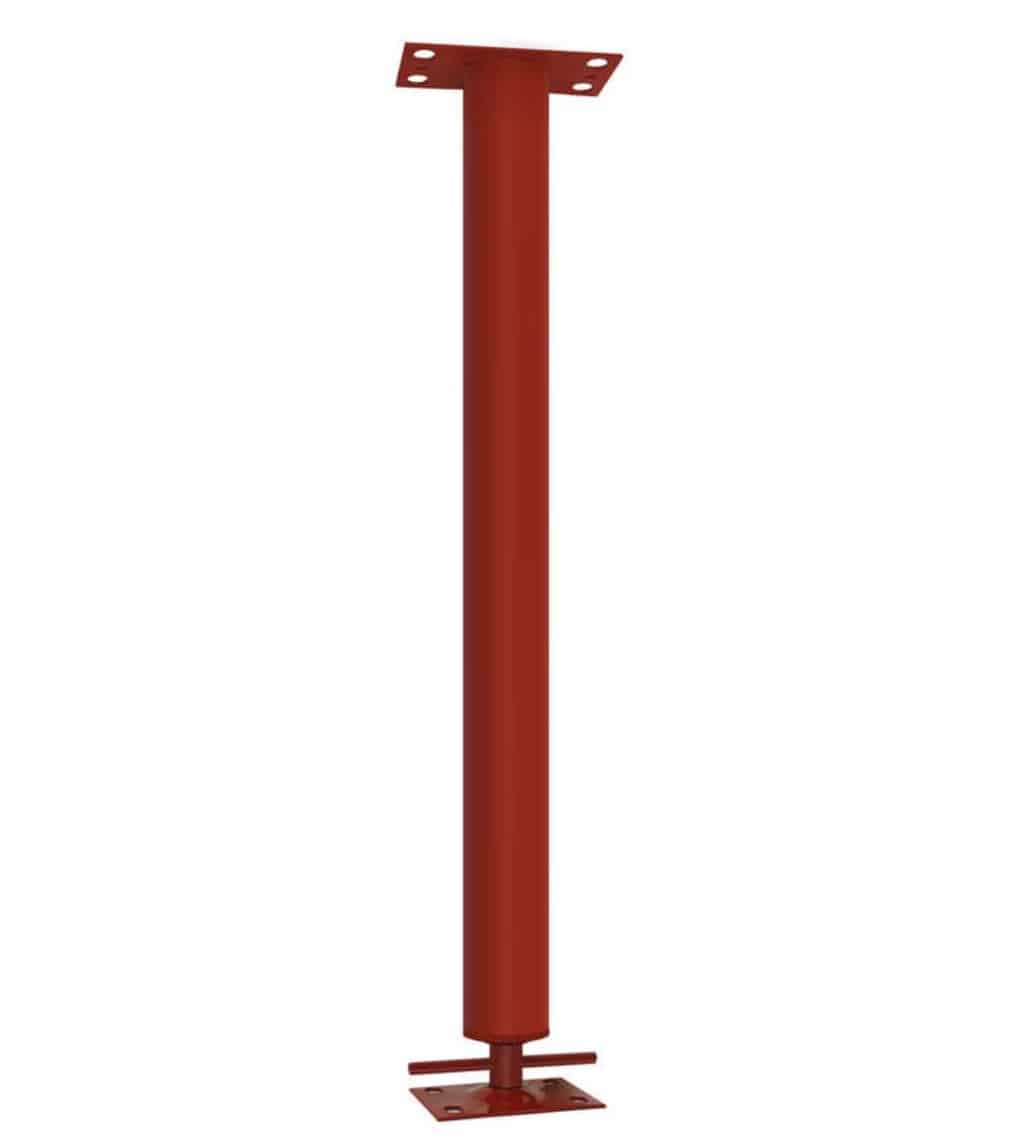 You may like this idea if you want an industrial, offbeat look- and a strong load-bearing porch column. While the bright red hue immediately caught my eye, the versatility and durability of this porch column earned a spot on my ideas list. The powder-coated steel is both strong and weather-resistant and will undoubtedly make an impression. Buy Here. 
Newport Black Porch Column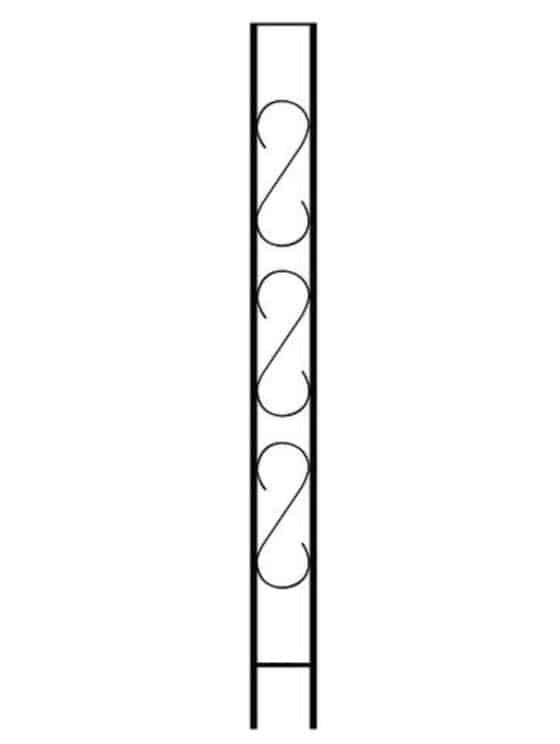 This decorative porch column is anything but ordinary- and I love how it ties in artistic flair with some mid-century nods. With a powder-coated, sturdy steel frame, it's meant to last outside and is much stronger than its delicate, S-shaped pattern suggests. I would love to see this paired with pops of color- something as unique as orange, green, or even yellow amp up the playful aesthetics of this porch column. Buy Here. 
Turn-craft Fiberglass Porch Column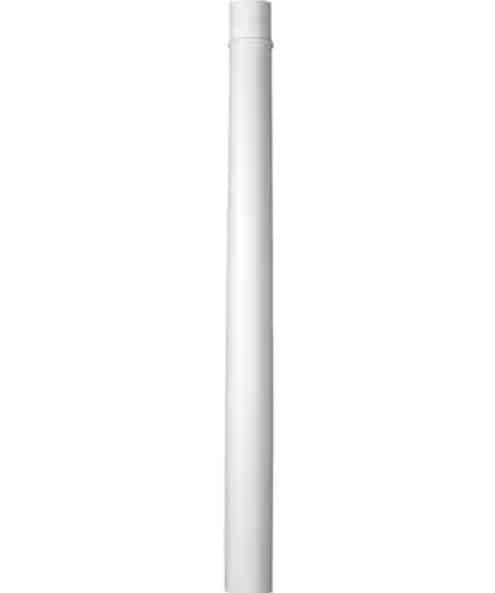 Looking for a truly simple, minimalist porch column? I like this idea for someone who wants the strength of fiberglass and to add finishing touches themselves. The sleek round front porch column is resistant to decay and rot- and you get a limited warranty. This is best for decorative or a light load, and this modern off-center aesthetic won't bear as much weight. It comes with a cap at no extra charge. Buy Here. 
Royal Corinthian Square Porch Column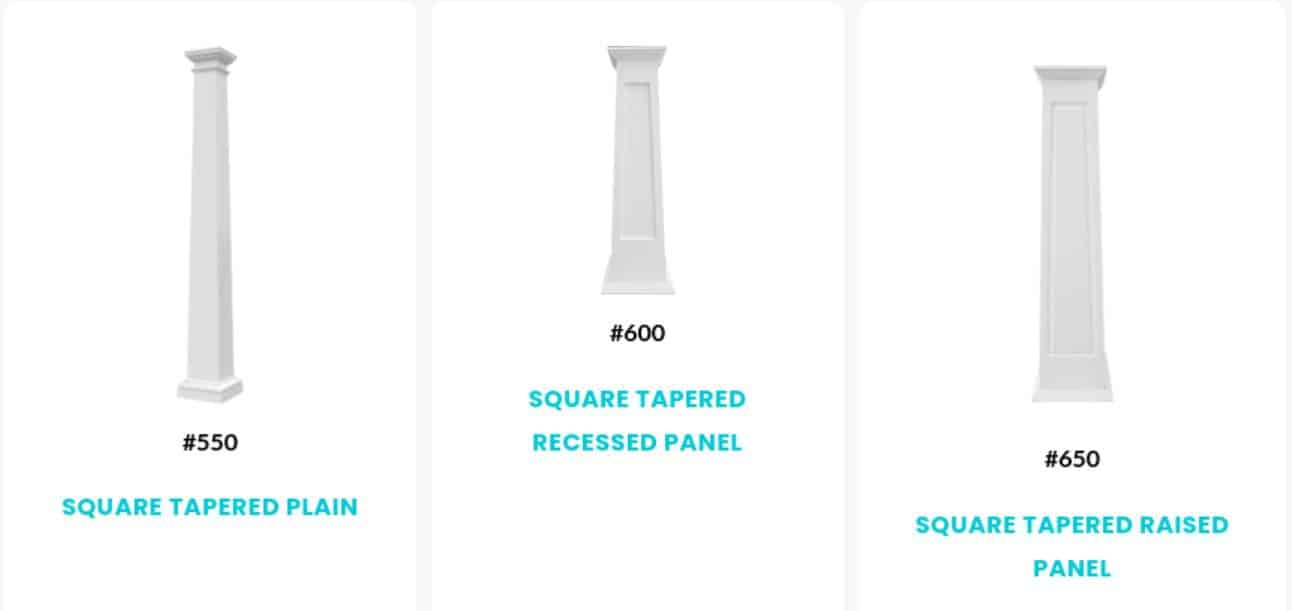 I like that square porch columns provide a more crisp, clean outline for your front porch. This company has an array of both classic and modern styles, but this plain, non-tapered column caught my eye. It's constructed with PVC and fiberglass for a great blend of strong and lightweight durability.
Once again, I think this looks fine in white, but if you want to make it a bit more upscale and modern, I'd add a wrap or a colorful finish. This is one of those contemporary styles that would fit a variety of homes. Buy Here. 
Toscano Decorative Porch Column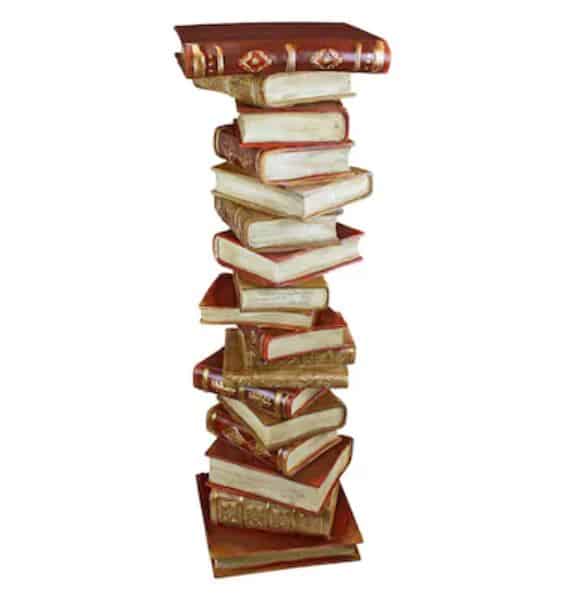 This porch column idea certainly isn't for everyone, but it shows you just how much fun modern column ideas are. I'm sharing this one because I want to express how creative you can get. This isn't a go-to for load-bearing, but the durable PVC porch column will showcase your personality and ensure that you have one of the most unique front porches around. Buy Here. 
Frequently Asked Questions
Question: How do you modernize exterior porch columns?
Answer: Exterior porch columns, too often, are seen as suitable only for classic and traditional homes. But not only are there strikingly modern designs, but you can even modernize existing columns. Add pedestals for a classic modern accent. If you have wooden or painted columns, switch up the color. Dark colors are perfect for modern; even bright and unexpected colors can be suitable.
Another thing you can do to add to the modern allure is by adding sleek decorative touches to your porch. That includes modern porch swings, plants, and more. My final option is protective, modern wraps. The benefit is that you're protecting the columns, along with adding a bit of stylish decor. 
Question: How much do porch columns cost?
Answer: Porch columns are a gorgeous upgrade- but tracking costs is tricky. That's because you have to factor in both initial and final costs. Your initial costs involve the porch column materials, and then you must add installation if you don't plan on doing it yourself.
I'd budget a few hundred dollars, but that's definitely on the low side. Porch columns for a larger porch, with installation included, can run a few thousand dollars. That's why it's always essential to get a quote beforehand. And while some do install columns or replace them themselves, that can be very costly if not done correctly. 
Question: How big should columns be on a front porch?
Answer: Most porch columns are spaced between 7 to 8 feet apart, while their length is usually 8 feet, 9 feet, 10 feet, 11 feet, or 12 feet. Diameter may be as small as 8 feet and over 12 inches- but keep in mind that these are just standard sizes (with an average diameter of around 10 inches).
The size you need depends on your porch depth. You'll also need to factor in porch railings and what style of columns you need. If you need to order custom columns, it may take longer and cost you more, but most companies are fairly accustomed to such orders and give you a fair quote.  
Question: What is a porch with columns called? 
Answer: Most people say that a porch has columns, but there's a term for it. A portico is a term used to describe a porch with columns of any kind. Of course, there are different terms for different types of columns. There are classic columns- including Greek and Roman columns.
There are also distinctions by general styles, such as craftsman, empire, Corinthian, twist rope, and more. Often porch columns are listed by shape, from round/ circular, square, rectangular, and more. Keep in mind that some porch columns can be categorized in multiple ways. 
Final Thoughts
Modern porch columns show just how much of an impression you can make with this project. While porch columns are often associated with striking, classic styles, as you can see, there are many modern ways to use them. Modern porch columns, with their sleek lines, add sophistication and frame your home.
Not only does that add to curb appeal, but it can also pair perfectly with other modern decor options, from a Polywood swing to potted plants and even a minimalist welcome mat. If you're looking for a way to update your home, modern porch columns may be one of the best ways. 
Final Recommendations
If you love these ideas, factor in costs before selecting any porch column. For most, that'll include both delivery and installation. Please always ask the company for a quote, and do comparison shopping for installation options. You can buy porch columns from one company and potentially order installation from a home improvement store. 
Still trying to figure out which modern porch column is the best solution for you? I'd recommend a modern porch column option like Royal Corinthian Square Porch Column. There are several reasons why I love this option.
First, it's a simple, versatile design that you can style any way you like. On top of that, the company sells many similar styles and an excellent range of size options. Plus, all these porch columns are made with a blend of durable, weather-resistant materials that are both strong and lightweight. 
Recommended Reads: