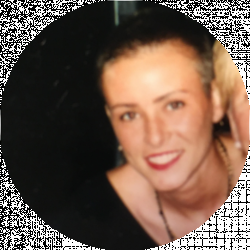 Latest posts by Richelle Tieman
(see all)
I love porches and balconies for the extra spaces they create in a home. A front porch is different than any other space in your home. It gives you a front-line opportunity to express yourself.   Your front porch is a direct line to the outside world. It's where your message to others comes across loud and clear. Luckily, it's easy to change that message with very little investment. The same guidelines for decorating your home apply to decorating your front porch. You can spend as much or as little as your budget warrants. It's also best to buy only things that immediately strike you as beautiful that you can imagine keeping for decades! 
My front porches have always served double time. I love creating a comfortable, private place to sit and send a welcoming message to the outside world. How do I get a private place and have a welcoming message at the same time? Years of practice! (And, I'll give you a few tips below.)
Read below for front porch decor ideas and a step-by-step guide to choosing a front porch style. Front porches are as varied and usable as you want them to be. Whether your front porch is large or small, it is easy to make it what you want it to be. A few simple questions can guide you. There is no one right way to decorate your front porch. But first, my bottom line for the best front porch idea!
With the advent of attached garages that allow people to move from inside their car to inside their garage and then inside their house, is it any wonder that we have forgotten the art of front porch decorating? I mean the true art of the front porch as a place that means something, somewhere we will sit and be comfortable. Think about how A/C has changed the way we live. More time indoors. No more fanning ourselves outside on the front porch, drinking lemonade and iced tea, waving to our neighbors, and exchanging a few pleasantries.
Design a front porch that exudes warmth and welcoming and is user-friendly. Neatness, comfortable seating, green living plants, a blanket, and wall art can make a space that bridges solitary living and community. It's easy; I'll show you how, so let's go!
Bottom Line Up Front
What better way to bring people together than food! This is my favorite look for a front porch because it symbolizes food and togetherness! Food is the easiest way to connect with people. It is a universal commonality for all of us.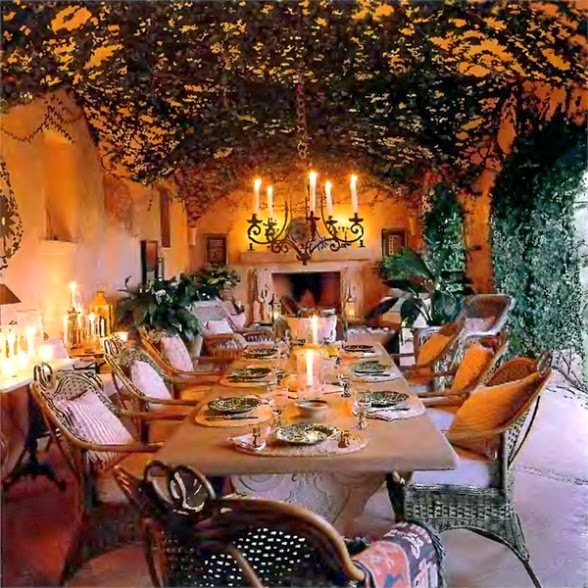 Top Idea Picks
Timeless and Multi-Purpose Front Porch Ideas
The front porch ideas in this guide will stand the test of time and serve more than one activity (or message). My front porches have to justify themselves and self-actualize, I always say to my family! 
My decorating history is full of repurposed furniture and décor. Over the years, I move items from room to room and house to house. Sometimes I move a piece outside, and sometimes I carry it inside! I have a fabulous round wicker table holding a stuffed animal collection in my bedroom. Last year the table was on my porch!
I stick to one adage: Always buy something that you love, and it will always find a place in your home!
Porch Idea Selection Criteria
My ideas aren't just chosen willy-nilly, but rather for specific characteristics. Not necessarily a "type" of look but rather a blended look. I ask myself if the pieces clash with the house style. Are there primarily pastels in green and blue and then unsettling deep purples and black colors that scream out? Each look can have different colors and styles, but the pieces must not all vie for the spotlight!
I look for things that remind me of nature and relaxation. Also, making someone feel welcome is extremely important. If there are dead leaves all over a dark porch, I am not trying to knock on that door!
The things I look for are:
Clutter-free ambiance
Multi-purpose pieces
Lots of living, breathing plants, flowers, and trees
Welcoming to guests
A sense of light and sunshine (unless you are decorating for Halloween!)
Personality
In short, a place I would like to come home to!
How Do I Decorate My Front Porch?
The first time I had a front porch of my own, I was overwhelmed when someone asked me how I was going to decorate it! It all seemed so complicated, and my mother had made it seem effortless! What was right, what was wrong? What was I supposed to do? Thankfully you do not have to adhere to any "right" or "wrong" way of doing things. A few simple questions will guide you in the right direction, and you will be on your way.
Questions to Guide Your Decorating
Question #1: How will you use your front porch?
Through decorating many front porches for myself and others, I have learned that the question of "How will you use your front porch?" will steer your decorating decisions. A few ways to "use" your front porch are:
As a quiet place to watch your dog sniff around (this is me every morning!)
A chatting enclave (water fountains help to drown out other noise)
A welcoming message (vertical signs next to the door are great)
As an antechamber to your home (think mudroom/storage area)
A secret garden dripping with nature (for more privacy, use curtains or trellis fencing)
As an alternate dining area
Once you determine the function of your front porch, you can narrow down the items that will go on your porch. Start with the most important. For dining, finding a table and chairs that will fit the size of your porch is crucial. Comfort is key as no one wants to spend time in an uncomfortable place. Cushions on hard chairs are a necessity.
The same goes for front porches designed as chatting nooks. Comfort is essential. At least two chairs and a small side table with plenty of cushions and throws will make a cozy destination.
There is nothing better than a vertical sign inviting people in, a cheery doormat, and a bench with some pillows for a welcoming message. Simple but engaging.
There are so many variations to each theme that you can add as much as you want, but nailing down a function for your front porch will eliminate most guesswork about what to put on it.
Question #2: What is my budget?
Once you establish how you will use your front porch and have a list of three things you need, it's time to scratch out a baseline budget. This will be the total amount you want to spend from now until you consider your front porch "complete." Be optimistic that there are still many ways to achieve the look you want, even with the smallest budget. I have an obsession with second-hand stores and other retailers like Big Lots, Family Dollar and Hobby Lobby. I adore these stores, and I find so many bargains that I am confident I will never pay full price for anything ever again. (That's what I keep telling myself, anyway!)
Goodwill is my second home. A few small cans of paint in my favorite colors, a glue gun, and my grandmother's sewing kits, and I am on my way! This week, I just painted a copper embossed rectangular planter, and now it holds various soaps in my bathroom! Especially look for furniture at Goodwill, and rugs, and curtains. You can use sheets or shower curtains as porch curtains or covers for old cushions.
Break down your budget even further to ensure that you have enough money left over for everything. If your three items are a side table and two chairs, decide how much you want to spend on each.
Question #3: What colors or patterns do I want to have on my front porch?
A variety of colors and patterns can complement each other and blend into an eclectic personalized theme. Don't be afraid to lay that modern black and white rug with the large pink peony pillows on the chair. At the other end of the spectrum is a monochromatic theme of white or black. Pristine-looking and clean, white can be very uplifting. A black theme can be distinguished and elegant. I would caution that unless you strive for an austere feeling, it's best to add some color with throws, lighting, pillows, rugs, or flowers. That color will create a more homey, warm vibe with some softness.
If you love green and wicker is a favorite of yours, that narrows down your search for porch items. Go to Pinterest and type in "green wicker front porch," and take it from there!
Question #4: How big is my front porch?
Last but not least, a huge factor in your front porch decorating will be the size of the space. I can't count the number of times my family has bought a table or a chair only to get it home, and it doesn't fit. Regardless of how many times I remind them to measure, measure, measure! Measure the length and width of your porch, measure your doorways and steps, etc. Considering windows, doors, and porch railings may decrease your total porch size by a third.
If your porch is 12 feet long, but smack dab in the middle of it is a fifty-inch doorway, you suddenly have less than four feet on either side. That means a three-foot-long table is probably out of the picture. Take masking tape and lay out the first piece of necessary furniture. If it's a bench next to your front door or if it's a dining table, it will have an impact on the walking area. Once you have done that, you can decide how much room you have for each chair, potted plants, etc.
This step narrows down your buying choices and ensures you don't have to return things.
Decor Steps Summary
Summing it up, if you write down your answers to these four questions, a definite action plan will take shape. You will have your starting points and essential factors to consider when making a purchase. How great is it to have a budget and then under-spend?! You can buy a lot for $100, so don't get discouraged. I went to Las Vegas for the first time and brought $100 to spend on gambling. That was my budget. My thought was that if I lost any more than $100, I would really be irritated! Use the same logic for your budget, and it will remove much buyer remorse.
Top Picks for Front Porch Ideas
Idea #1:  Natural Neutrals
Get back to nature in this seamless transition to the outdoors. Neutral tones blend with natural textures like rope, terracotta, and wood for an earthy feel. The hand-carved details on the swing give refinement to the space. The thick, turned rope, false fur, and knit pillow and throws give a depth that allows you to sink into the comfort. 
This front porch idea is easy to achieve with rattan, stone, or stone-like planters and neutral cushions. I love this look for its relaxation appeal and status as an outdoor destination at your home! See this look here!
Where to buy:
Idea #2: Cosy Hideaway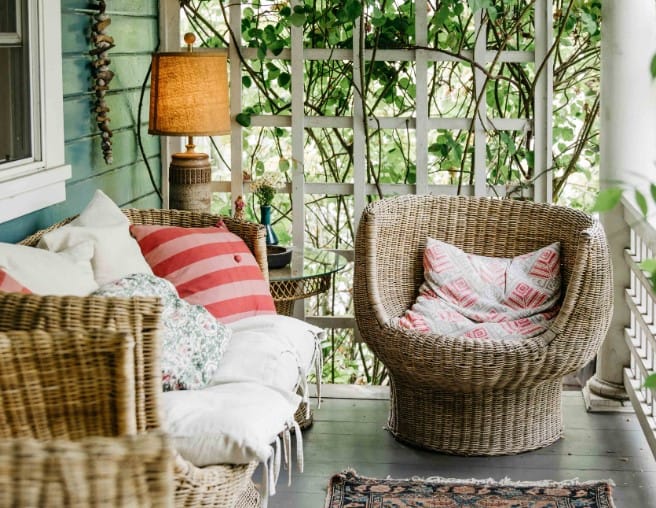 This small front porch uses the walls, ceiling, and trellis to create a mixed-use space. Simple and engaging, this mixes eclectic pieces to achieve a woodsy bohemian style. I love the various pops of color in the rug and cushions—the color spices up the coordinated look of the matching rattan chairs and table. 
The neutral tones in the wall art and chimes tie things together with a relaxed feeling. Notice the trellis has vines that add privacy and green vibrancy to the porch. It resembles a treehouse of sorts! See this here!
Where to buy:
Idea #3: Green and Graceful Wicker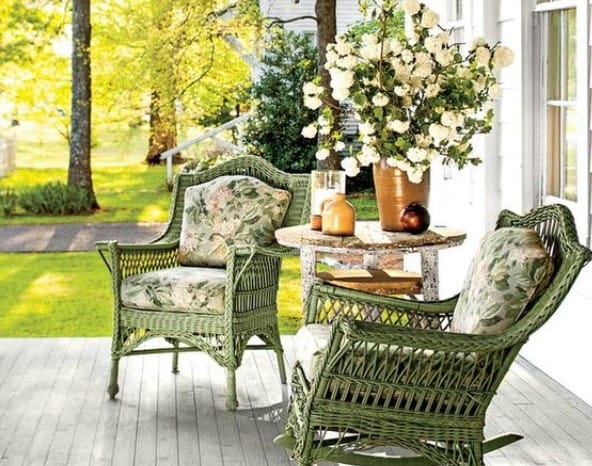 A wicker delight, this idea combines the grace and charm of wicker, rocking chairs, and welcoming green! Evocative of the South, this idea is as welcoming as Southern hospitality. It gives you a hearty handshake and invites you to sit for a while.
I love the lush white flowers on the table, and your guests can choose either a rocking chair or a sturdy armchair. The wooden flooring adds to this natural scene, and floral cushions bring lazy afternoons to mind. Store the cushions and show off every part of the intricate woven wicker for a more refined and elegant look! The only thing missing is a book by Tennessee Williams!
Where to buy:
Idea #4:  Small, Simple, and Fun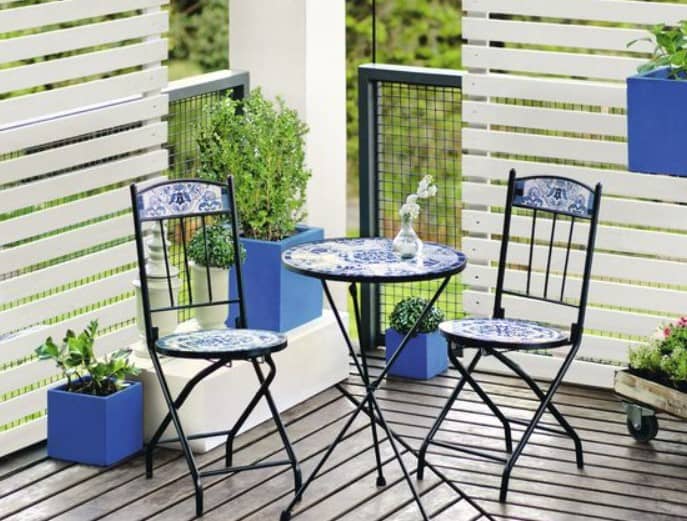 This fun blue bistro set is perfect for tiny front porches. I love the crafted tile-like design that all three pieces have. The cheery blue square planters blend in and highlight the delicate mosaic of the table and chairs. With clean lines and optimal floor space for walking, this front porch seems larger than it is. The decorating is minimal but feels elegant because of the detail and simplicity. I always like to see living plants and flowers on the front porch to add signs of life, and this idea pairs blue and green perfectly! The color of the sky and grass. What could be more relaxing than that?
Where to buy:
Idea #5: Whimsical Provence Afternoon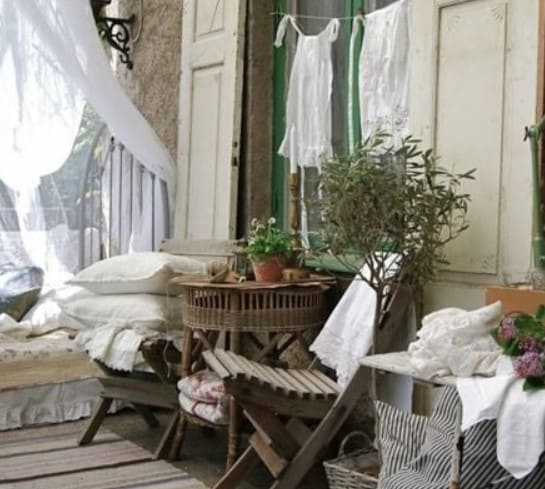 When I lived on the island of Corsica, this was a typical image I saw daily. A country theme with traditional shutters and painted window frames set the scene for a lazy Mediterranean afternoon nap. Cheesecloth and white linen adorn the porch, with rustic folding wooden chairs and a vintage wicker table tying it all together. Baskets are everyday items used to hold anything and everything. A daybed speaks to the mid-day respite from business frequently observed in many parts of Europe. I love this look for the informal functionality and natural elements that invite you to be calm.
Where to buy:
Idea #6: Narrow Farmhouse Front Porch Dining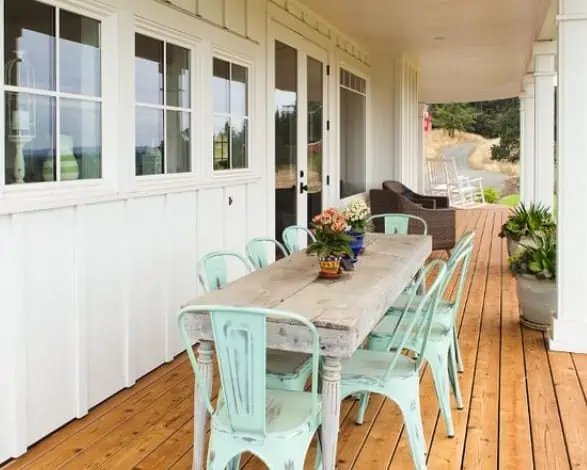 Even a narrow front porch can have you entertaining al fresco if you love to eat outside as I do! The quaintness of these distressed vintage chairs and the carved details and elegance of the farmhouse table give this porch a unique theme. This idea is the cutest thing I have seen in a long time!
The only suggestions I would make are a hanging rustic lantern or another type of light fixture and more plants. Those would pop out and tie everything together. The small recessed lights look a bit out of place, and though I like the clean lines of the porch, it could look a bit warmer.
When you design your front porch space for eating, dedicate one side or area for this purpose. You will need some sturdy seating and a table that can handle a pitcher of lemonade! Small seats like these charming painted armless chairs allow you to fit more of them around the table. Don't be afraid to show off your wooden porch floor.
Where to buy:
Idea #7: Moroccan Boho Holiday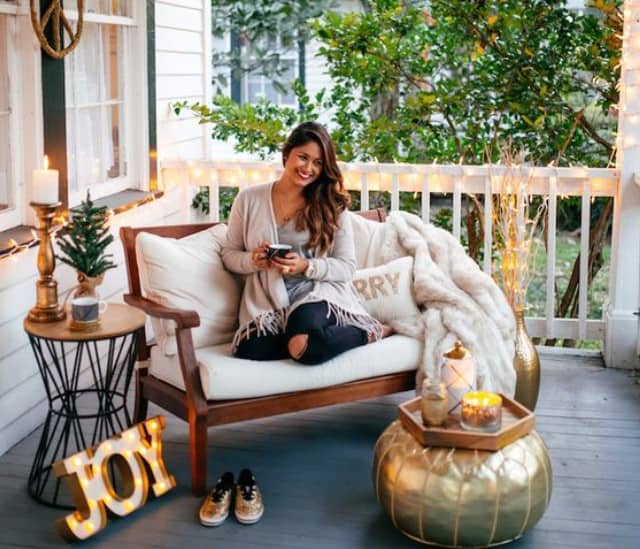 I love this look because it glitzes up a traditional porch with some fun and shiny Moroccan-inspired chic! Moroccan style is innately intricate, and the metallic pouf with all-over seaming showcases this feature.
The wooden love seat speaks to the rough-hewn texture of Moroccan furniture, and the cushy seating is plush and luxurious. A hammered metal vase and a side table of contrasting angles complete this exotic overseas style.
I like that it's not overwhelming in its theme. I have seen many carved lanterns and piled rugs with dozens of multi-colored cushions that give a cluttered feel to the area. This front porch is tidy and allows you to appreciate the Americana of the home as well. And, of course, it is decorated for the holidays with the traditional decor!
Where to buy:
Idea #8: Colorful Citrus Traditions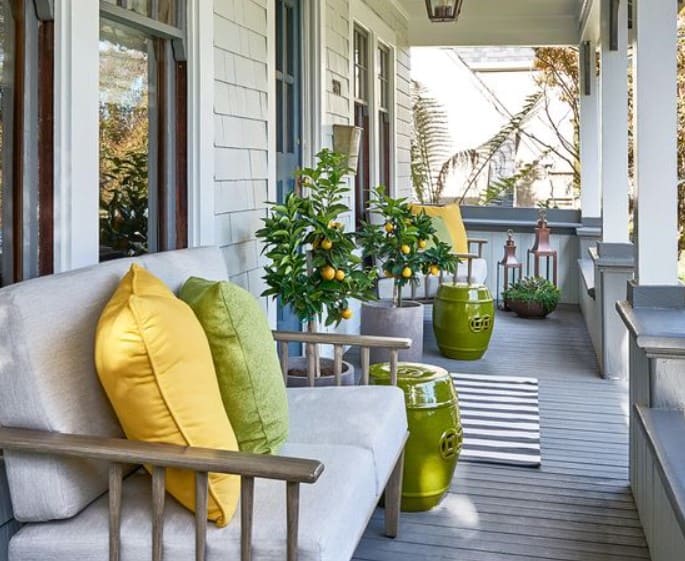 I love this porch's refreshing vibe with its sparks of lime green and lemon yellow. It looks like it could quench my thirst on a summer day! The only thing missing is a pitcher of lemonade on the table! The owners have a traditional home with front porch pillars and have juiced up the flavor with potted lemon trees and green and yellow drum side tables. The theme is carried over to the couches with the matching pillows. Creating symmetry on both sides of the door gives it an organized feel, and keeping the color palette simple has a relaxing visual effect. Kudos to this idea for its well-planned personality!
Where to buy:
Idea #9: Stoop Serenity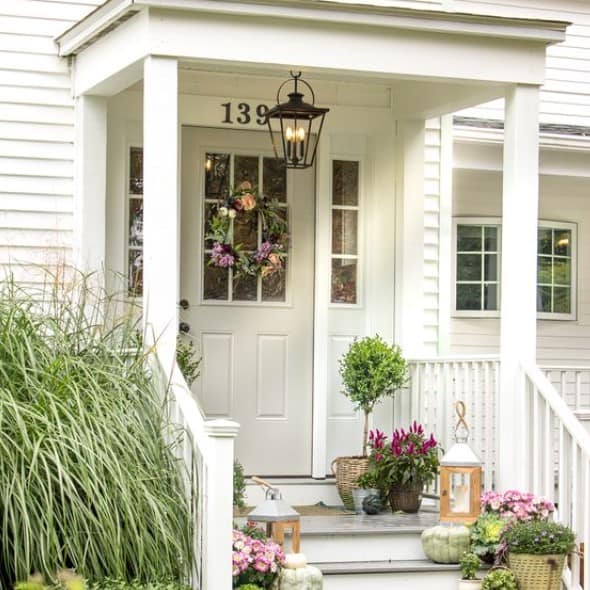 This tiny front porch could almost be called a stoop but for its ceiling. Smaller spaces mean you can invest more in individual items, and it gives you the time to dig deep and get personal with your style. This flowery frame is lovely with the right angles of the overhang, door, and stairs.
The use of a hanging lantern lends a rustic ambiance that lights the path home and ensures that there is no late-night key fumbling. The light also highlights this door and leads people to it, letting them know that you expect there to be a knock at that door.
Summery and pink, this front door stoop carries the natural theme of the abundant greenery right up the steps. The pure white entry looks pristine and immaculate, and having green and pink as the primary colors serve to assert the importance of nature. Textures like wicker, rattan, and dimpled gourds give depth and homeyness.
Where to buy:
Idea #10 Black and Teak Beauty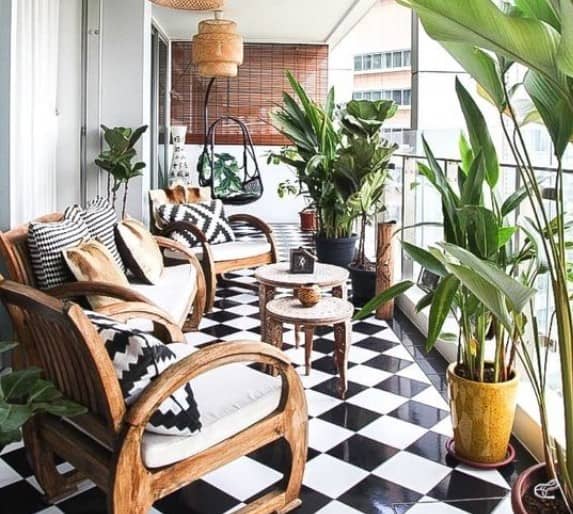 I love the blended glam of this modern black and white front porch with its cylindrical arm seating and new wave rattan pendant lights. The chairs look cozy with rolled wooden frames and plump cushions and pillows in an Aztec print. The simplicity of sticking to teak and rattan, two natural elements, while using plants in front and behind the chairs gives an authentic country feel in the heart of the city.
Looking grand scale with the nesting round tables and the glossy tiled flooring gives sophistication to this outdoor space but doesn't overpower the greenery. I love the swinging black chair at the end – it provides a whimsical touch.
Where to buy:
FAQs
Question: What's the difference between a front porch and a veranda?
Answer: A front porch is a porch on the front of the home that connects to the front door. It is covered and may have a railing around it or open sides, but it extends at least five or six feet out from the front door. A veranda is a covered porch that runs around the whole home. The veranda has railings and is usually wide enough to have chairs and an unobstructed walkway.
There are many names for a home's outdoor areas, and it can get quite confusing when you learn that there are fifteen terms used to describe a "porch."  For an explanation of all fifteen porches, check out this article.
Question: How do I decorate a front stoop?
Answer: If you have a front stoop for your entryway, it's easy to decorate it and make it personal. A front stoop usually is enough room to sit in front of your door before the stairs start! Popular in urban areas, the stoop has stairs, and there could be railings to your front door. There is no overhead covering unless the door has fancy carvings or a slight ledge. One of the most famous stoops is from the movie "Breakfast at Tiffany's" with Audrey Hepburn. More recently, Carrie Bradshaw's front stoop in "Sex and the City."
The first things to think about are decorating your door and getting a doormat. A wreath, hanging basket, or small sign will greet people and warm up your entry. Try layering rugs under your door mat. Find a small accent rug that fits your front stoop, and then coordinate with a doormat in matching colors. This is a luxurious look and feels rich in front of any door. Next comes some nature. Plants, flowers, and small trees in pots or urns work wonderfully. If you have room, get one for each side of the door. This looks neat, even, and tended to!
Don't forget about gorgeous "command hooks" for hanging wreaths. The beauty of a small stoop is that you can really get ornate and personal with the few things you can fit! I love that aspect of it. Check out some other ideas for front stoop decorating here.
In Conclusion
Whatever you call your front entrance area, at the very least, it will remain the primary exhibit of your home to the outside world. It could also be a welcome home for you, a place to sit out and chat, or an al fresco experience. Tiny spaces can say a lot! I have seen more personality and warmth in some doorway-sized entrances than in many large front porches. Layered rugs or doormats of different sizes, a hanging basket or small wreath, and a plant can do more than you think. Using the door or the sides of the entrance are great ways to maximize your space. A brass kick plate at the bottom of the door also adds panache, as does a unique door knocker.
Here the idea is to get a cozy alfresco vibe yet still feel miles away in the heart of Tuscany. Clinging vines give a magical garden atmosphere to this front porch.
Using the walls for art and the ceiling for a hanging chandelier frees up floor space for seating. Homey yet graceful, lush but not cluttered, the attention to detail is immaculate. The simple stone floor gives this porch a rustic charm.
I love this because of its simplicity, classic appeal, and organization! The intricate chandelier is romantic, and the whole scene makes me catch my breath!
Where to buy:
This idea is also simple for smaller porches – just minimize that table and take the arms off the chairs!
Remember that the steps to personalizing your front porch are as simple as 1, 2, and 3! Most importantly, to start you off in the right direction for buying anything, begin by asking yourself, "What do I want my front porch to do?"
Once you answer that, you'll know what the essential items are. Then all you need to do is shop until a style speaks to you! Remember to love it – no buyer remorse! Wishing you sunny days filled with lemonade on your front porch!
You May Also Like