I wanted to tell you everything you need to know about the best porch design ideas you should consider for your house in today's guide. Any of the following projects have the potential to turn your courtyard into an outdoor oasis. I'm genuinely excited to mention all these beautiful ideas to you since I've been passionate about home design, interior and exterior home decor, and all things related to aesthetics my whole life.
Moreover, when I see a house, the first thing I look at is its front porch and whether or not it's well-designed and organized. So yeah, my name's Alexandra, and I admit I have a thing for porches. Sue me! :)) Or, better yet, stick around till the end of this article to find out how you can improve your house's appearance and boost its value at the same time.
My Bottom Line Up Front
It's hard to choose one single porch style as my favorite since I fancy several of them. I've always admired vintage porches in front of old or even historical houses. However, I'm a city girl, so I prefer a modern porch design for my husband and me. Hence, design ideas such as stone-paved driveways, contemporary decor elements, and intelligent lighting alongside other modern features are definitely my cup of tea. These are the things I would choose if I had a porch.
Best Porch Design Ideas – Top 15 Alternatives
All the following porch design ideas are lovely, and they can really upgrade the overall value of your house. I've chosen these ones because they're super stylish, inspirational, and will boost your home's appeal.
1. Nature-Inspired Color Palette
You can decorate your front porch with items inspired by the great outdoors and natural surroundings. Among those colors, there could be shades of blue, green, brown, grey, beige, etc. Besides the colors, the furniture could also be made entirely of natural and sustainable materials, including wood from old forests and stone.
This type of porch design goes well with a cottage-styled house, something that's more rustic, but it's also a versatile design, depending on the elements you choose to place on the porch. Therefore, based on that, it can also suit a more modern home. I like this style, although, in some cases, it can be a tad too simple for my taste.
2. Welcoming Porch Design with Cosy Vibes
Right now, I wish I had a big house with a spacious porch to decorate (not there yet, but it's on my wishlist). If you're lucky enough to have a roomy front porch, you can decorate it to become a comfortable and relaxing sitting area. Picture having your morning coffee there or enjoying warm summer nights on your welcoming porch alongside your loved ones. Sounds dreamy, am I right?!
Place a couple of big and comfy chairs on the porch's sides, layer them up with fluffy blankets and tiny pillows, and add a coffee table in between the two chairs to complete the final look. To top that, you could also add more accessories and customize the porch with the help of natural pot plants, hanging lights, and a welcoming yet durable outdoor rug.
All these work as long as you're left with enough floor space on the porch.
3. Elegant Porch Design with Framed Doorway
You can increase the impact your guests experience when they see your porch and entrance for the first time by adding two symmetrical plant arrangements on both sides of the doorway. That will provide both eye-pleasing symmetry and height to your front door. I firmly believe that almost any house looks better when plants and flowers are involved.
I can see this whenever I walk through my neighborhood and admire all those beautiful houses with their groomed gardens and entrances. They're a delight! You could even place more than just two plants and opt for gardening containers to accommodate several different plants.
I would recommend conifers for a more formal look and bamboo if you want to achieve a softer appearance.
4. Porch Designs with Victorian-Style Tiling
If your house's design is more traditional and classic, you could opt for a mosaic model made of Victorian-inspired tiling. It will give your front entrance plenty of impact and dramatic effect. As long as you keep it in good condition, this style will help you make a good impression whenever someone visits you. It's such a Downtown Abbey look, isn't it?
The best mix of tile colors is black and white with a few other accent colors. If I were to create this porch design, I would opt for a different model on the borders to delimitate the alley. On the other hand, I must say that Victorian tiles, especially original ones, are challenging and costly to maintain. But, hey, you can always go with contemporary reproductions that are more affordable.
5. Antique Vibes
This is another wonderful design idea for spacious porches. I love antique furniture, but these items can be heavy and occupy a lot of floor space. One option is to place an antique dresser on the porch where delivery guys can stash your orders or packages. If I were you, I would decorate the dresser with small plants, great lighting, and some artwork just to create the appearance of a grand foyer.
6. Cheerful Vibes
This right here is one of my favorite porch design ideas. I love all cheerful things that make me happy just by looking at them. So, to create that kind of environment at your doorstep, you should place a comfy sitting bench on one side of the porch and surround it with potted sunflower plants. Also, you could complete the look with outdoor plaid pillows.
This rustic vibe suits a cottage that features a stone-coated facade.
7. Smart and Contemporary Design
It would be best to opt for simpler design elements to create a contemporary porch with an edgy vibe for a more modern look. To achieve that, you must use contrasting materials with shades of grey or even darker colors. Go bold or go home! I would personally pay attention to the finishing textures to add more depth to my porch.
This is the ideal porch design for modern modular or even futuristic homes. Flat and proportional shapes are also of interest. Think of rendered masonry and supporting steel. Hollow roofs, side panels, and discreet modern lighting are also the perfect elements of a contemporary porch design.
8. A Porch with a Stone Path
Instead of your standard front porch, you could elevate it and transform it into a beautiful tall patio and then create a stone path that leads to it. If your home's entrance is a tad out of the main road's way, you should totally try this design since it upgrades your house facade. The outcome can be impressive.
I would love to have a retreat home somewhere in the mountains and create this type of porch design there.
9. Timeless and Oldschool Design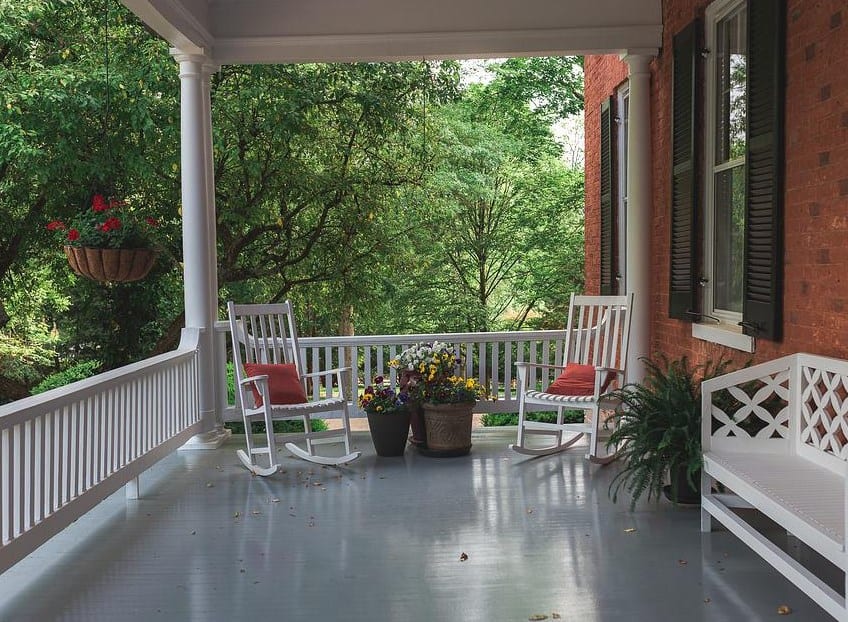 Nothing says old-school porch design better than rocking chairs. In fact, these types of chairs are among the most popular choices among those who want to decorate their porches. There's an excellent reason for that: they're comfy and relaxing, low-maintenance, and you don't need to cushion them if you don't want to; moreover, they're built to last even through rough weather conditions.
This might be the perfect design for some people, but it is a bit dull and outdated for me. But, as much as I love classic art (think about paintings) when it comes to porch designs, I'm very much into contemporary designs.
10. Countryside Chic Porch Design
If you want to get away from busy city life and just relax on your cozy and chic porch, you should first move to the countryside or build a porch that reminds you of that. Ideally, you could invest in a house near a major city and create your dream living space, including a lovely porch with an exquisite design.
A rose arch should frame the porch. Also, make sure to add a couple of benches and some box balls to complete the shift to a pastoral lifestyle. Just the other day, I told my husband how lovely it would be to have a garden, even a small one, that I could embellish with rose arches, wisteria plants, cherry trees, and more. It would be our little oasis of peace.
11. Structural Glass Statement Porch Design
I would choose this porch design to make a statement. It's not one of my top favorite options, but I am sure this idea sounds ideal for many of you. In fact, some people consider this a jaw-dropping option. You could add structural glass to delimitate the porch. Don't fret if your house is traditional because this modern touch will make the entire building stand out.
I would suggest maintaining the glass line even when it comes to the porch's roof. Moreover, if you want to keep things as simple as possible, you should use frameless glass.
12. Screened-In Porch Design
The screened-in porch design idea could be used in front of your house or on one of its sides. But, please, allow me to clarify what I want to say: think about the relaxed style of a covered lanai. With this porch design idea, you will no longer have to wait until the next vacation abroad to enjoy beautiful sunsets.
Elements like bentwood chairs and modern furniture items are a must for this type of porch design. If the space is wide enough, you could even think about adding a comfy couch. Screened-in porches also resemble sunrooms. It's an outstanding and elegant idea. I like it a lot, although I fear that some might overdo it, which will make the result look too crowded.
13. Traditional Shingle Porch Design
I love how cozy this porch design looks. When I think about it, I envision white furniture, fluffy pillows, cozy blankets, and beige or grey shingles. You will see this porch type on older Californian houses, but who's to say you can't reproduce it on a new home. To make the front porch look larger, you should ask your contractor to extend the shingle roof downwards. This is one of the main characteristics of shingle-style patios or porches.
A couple of outdoor chairs and a small couch would do for less spacious porches, while larger areas could easily accommodate the items I've just mentioned, plus a round, medium-sized dining table. It's a great porch design that combines aesthetics with functionality.
14. Dual-Purpose Porch Design
If you're a practical person (like my husband), you could opt for a dual-purpose porch design that includes versatile outdoor furniture. That would've been great for my husband and me during the covid pandemic when we worked from home. Heck, we still work remotely, so having a lovely spacious porch where we could spend our working hours would've been dreamy.
Hence, in times of uncertainty, investing in a dual-purpose idea is wise. So, if you plan to create this porch type, make sure to purchase stackable chairs, which you can quickly remove when needed, stools to sit or place your laptop on, and, an even more fantastic idea, modular tables to pull apart or push together based on your current needs.
I would use a wooden fence covered with natural outdoor plants and, perhaps, a sun umbrella for increased privacy. Here's another fun and useful choice: order a customized coffee table that can be transformed into a fire pit just by removing its top part. Fire pits on porches are beautiful additions that keep you warm on chilly evenings.
15. Porch Designs with Season-Extending Features
Ok, so I live in a seasonal climate area where we have (for now, who knows what it will be with the climate change and all) four seasons. So, I wouldn't be able to use the porch during winter when it's too cold outside. But, I could use it during summer, despite the high temperatures, if I were to install some cooling functionalities.
If that's your case, you should know there are numerous functional decorations and furniture sets available for purchase. Without them, you can't enjoy your porch year-round. In addition, while elements like heat lamps and fire pits will keep you warm during winter, you should opt for misting machines and ceiling fans when it comes to summer.
To complete the look of the porch and make yourself cozy, you should use rugs, blankets, and outdoor pillows.
How to Decorate Your Front Porch – My Top 6 Decorating Ideas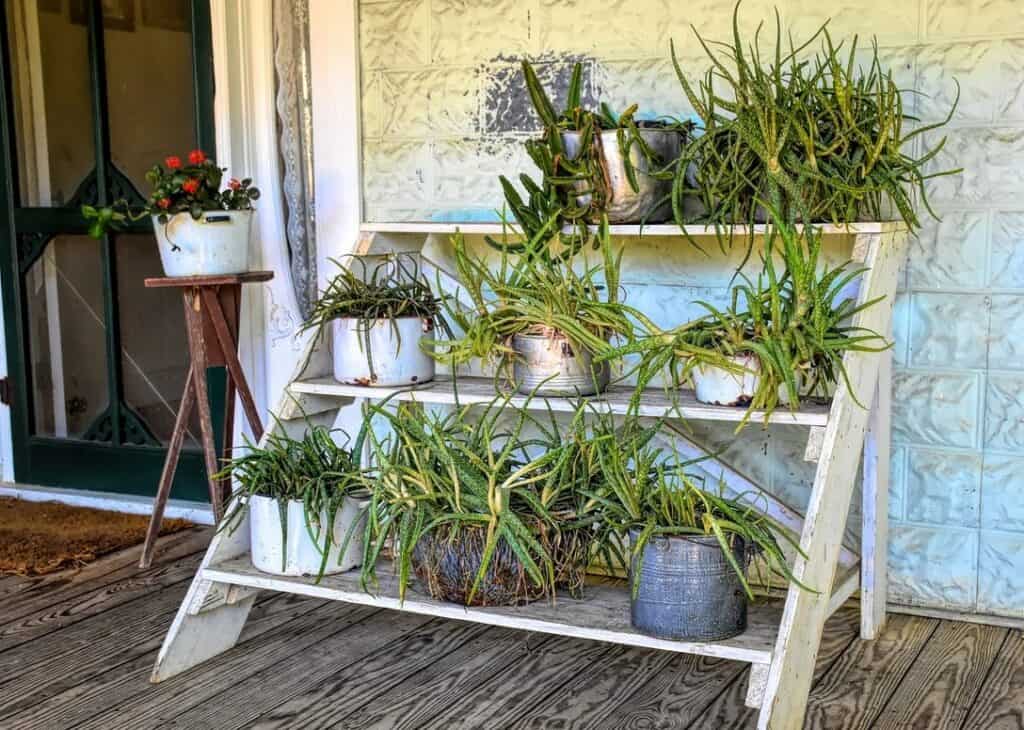 I like building things, but I love decorating them once they're made. So, I couldn't help myself, and I've gathered several practical ideas to decorate your front porch. The following ideas are great to put into practice. I've chosen them to cover a wide range of styles and designs:
Modern Farmhouse porch design – You need elements to make it cozy and homey for this type of porch. You can achieve that with wood accents, olive trees on both sides of the entrance, metal ribbed planters, and rustic furniture;
Rustic porch design – you can create a rustic porch if you include floral elements, small outdoor plants, a large wreath on the door, wooden planters, cushioned chairs, and hanging lanterns;
Vintage, renaissance porch design – this pretentious look can be achieved with eclectic furniture and decorations, colorful woven rugs, vibrant-colored seats, floral patterns, and oversized plant pots;
Midcentury modern porch design – open porches are those inspired by the midcentury modern style. Furniture items should be made of natural materials. Also, it would be best if you opted for a simple color palette. Trees and flowers will complete this aesthetic;
Traditional porch design – if you want to achieve a classic and timeless vibe, you must use plenty of floral elements and patterns. Floral wreaths are a starter point. Cute doormats with short and sweet welcoming messages are also a must. When it comes to traditional styles, topiaries offer a fresh and polished look. Create a cohesive appearance by adding a couple of patio chairs and placing them in such a way that they mirror each other for increased symmetry;
Boho chic porch design – this trend is prevalent in many industries, including fashion and porch design. Nowadays, boho is more about exotic vacation vibes and less about hippy styles. Instead, think of woven accents, jute rugs, and furniture with cushions rich in both colors and textures. Hanging plants are another important element in creating this porch style, alongside succulents and small palm trees.
Best Porch Design Ideas – FAQs
Question: How Much Will It Cost You to Design the Porch of Your Dreams?
Answer: This is a tricky question because the final cost varies a lot based on what you plan to do. Simple cleanups and fresh paint are more affordable than a complete remodeling or makeover. However, more complex projects require you to comply with local building regulations, eventually leading to higher costs.

To build a front porch from scratch can cost between $10,000 and $12,500. Porch types that don't require as much insulation are less expensive. They cost between $3,700 and $7,500.
Question: How Could I Improve My Front Porch's Appearance?
Answer: To update your existing front porch, here are the things you should do:

Remove all the weeds, lichens, moss, and broken roof tiles – you should clean the entire space by removing any debris that might have fallen on your driveway. Are you struggling with clogged gutters? Fix that issue as well. Wash the roof of the porch to prevent any future maintenance problems;
Buy a new doormat – purchase a new and more durable yet welcoming doormat to embellish your home's entrance. Pick natural coir designs for sheltered spots, or go with galvanized steel or slatted wood doormats that feature bristles for muddy, wet, or exposed entranceways;
Opt for a simple styling – place a flower wreath on your front door to make the facade a lot more welcoming. If you want to achieve an effortless style, you should invest in a couple of galvanized lamps and wooden planters;
Spruce up woodwork – you can freshen up painted woodwork by washing with water and soap or rubbing it down and then repainting the top layer. This will create a well-groomed and cared-for impression;
Clean and upgrade the flooring – use a steam cleaner to remove any grubby grout that's present on your porch's tiles. Replace any loose tiles, or remove the old ones entirely and replace them with new tiles to make the porch safer and more inviting;
Upgrade the lighting – if you have pendant or glass outdoor lighting items, you should wash and clean them regularly because they gather plenty of dust and dirt spots. 
Question: Should My Porch's Design Match My House's Architectural Style?
Answer: While the design of your front porch should send the same message as the style of your house, the two of them don't necessarily have to match 100%. Still, you must preserve some sort of harmony between the two elements. If you want to discover what style and shape you should opt for, you should look at your home's roof, especially its shape and pitch, when it comes to porch designs.

For instance, hipped roofs don't go well with straight gables. If your house has a classic or traditional architectural style, you should consider using oak as the defining characteristic of the porch. Painted porch designs are more cheerful and durable. It would help to look at the overall scheme of things because the way the porch looks should match your front entrance, driveway, garden, and other landscaping elements.
Question: How Should You Decorate Your Front Porch If Your Budget Is Tight?
Answer: Here are some helpful recommendations if you're on a tight budget but still want to decorate your porch:
– Use cinder blocks as flooring instead of bricks because they're cheaper;
– Engage in a DIY project and use lumber to delimitate the porch area. You could even cut and paint the lumber yourself if you can't afford to purchase a finished one;
– Include plenty of outdoor plants to make your porch more appealing;
– Use recycled eco-bricks.
Question: What Types of Porches Are There?
Answer: Based on their styles, there are four porch types: open porches (usually located in the front part of the house), screened porches (which allow you to enjoy fresh air without the fear of getting stung by mosquitoes), long porches that go around the entire house (you'll see these on older homes), covered porches (a more enclosed area that resembles the screened-in porches; they're also known as tiny sunrooms).
Best Porch Design Ideas – Bottom Line
I know there's so much information in today's article. I wanted to share so much with you to help you with the best and most beautiful ideas in terms of porch design. However, I honestly hope all these details don't feel overwhelming. As long as you follow your preferences and stick to your own style, you'll be fine!
While trends are constantly changing, your personal taste regarding home decor can always be improved and updated without letting go of your personality and inner values. Some designs can be easily mixed, but the safest solution is to stick to one single style.
As I mentioned above, my favorite style is the modern one that features contemporary design elements and smart features. However, I would gladly embellish my modern porch with plenty of natural and beautiful plants and flowers like roses, peonies, wisteria, and more.
Recommended Reads: