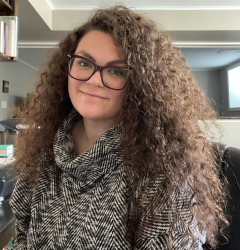 Latest posts by Candace Osmond
(see all)
Ready to redecorate your porch but have no clue what vibe you're going for? I suggest going for a modern porch. It's sleek, elegant, in tone with current trends, and not that expensive to decorate. And if don't know where to start, I'm here to share the best modern front porch ideas to help you get started.
Bottom Line Upfront
I love that the 'modern' style has broadened so much over the years. From this list, I have to say I adore the Porch Fire Pit idea. It's open and airy, not too modern, and spacious for guests.
Top Picks
Best Overall: Wood and Metal Look https://www.pinterest.ca/pin/249457266850508330/
Most Stylish: The Porch Fire Pit https://www.pinterest.ca/pin/11047961577298283/
Best Small Modern Porch: Porch Privacy Screen https://www.pinterest.ca/pin/12807180181153157/
Best Modern Front Porch Ideas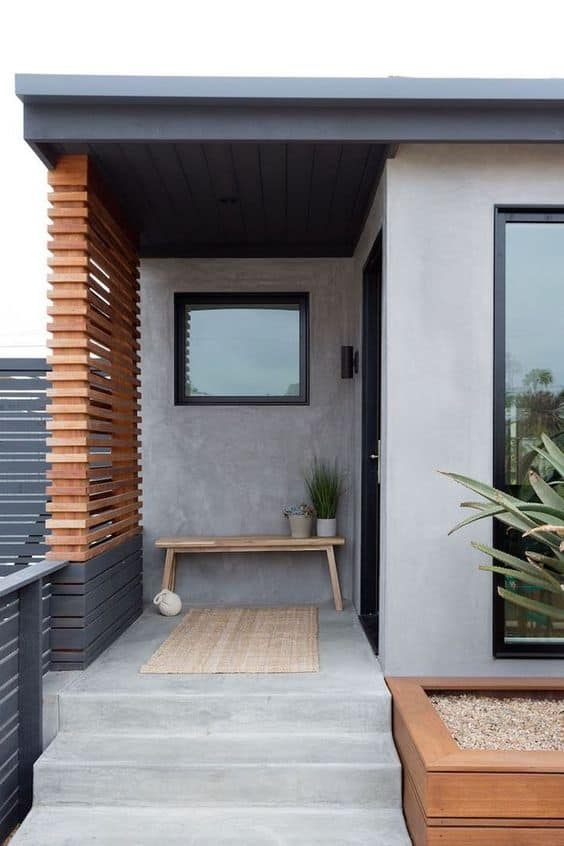 A small porch won't always give you room for a table for six, but you can still make it cozy and inviting. With a simple wooden bench, a rug, and some plants, you can tell people what to expect even before they walk into your home. This modern porch keeps elements to a minimum and doesn't use a lot of colors in the decor ensemble.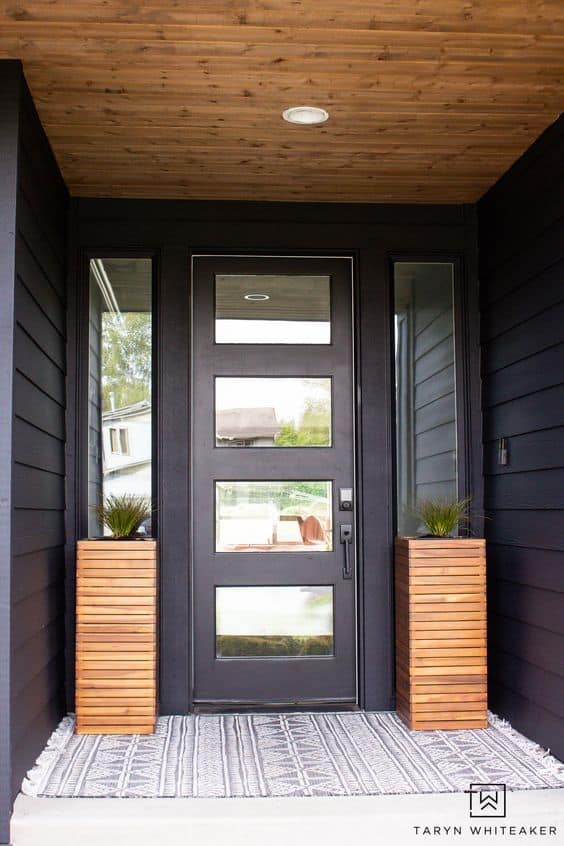 One of the characteristics of a modern porch is keeping it as simple as possible. This means avoiding curved lines, too many colors, or elements that are too eye-catching. This small porch follows all the right rules. I love the choice of tall wooden planters that fill up the space just as needed. The simple rug adds a little texture to the space because of the geometric patterns.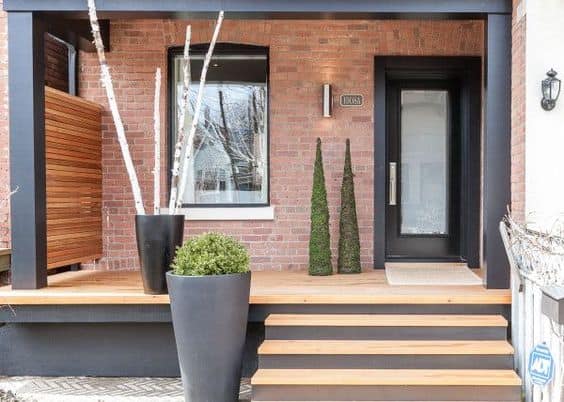 The combination between a brick exterior wall and a wooden deck might not be the best indicator for a modern porch, but there is a lot of novelty in the design and layout. I love the large pots and the use of decorative plants. The side privacy screen allows for maybe placing a small coffee table and the chair while shielding you from the eyes of curious neighbors.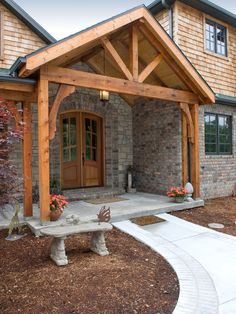 Granted, the farmhouse decor is a little different than the modern one, but there are elements intertwined that would allow you to convert one to the other. The secret is to ditch porch furniture completely while maintaining a cozy and somewhat elegant vibe. As you can see, the porch gives you plenty of room to breathe.
See also: Ultimate Farmhouse Decor Ideas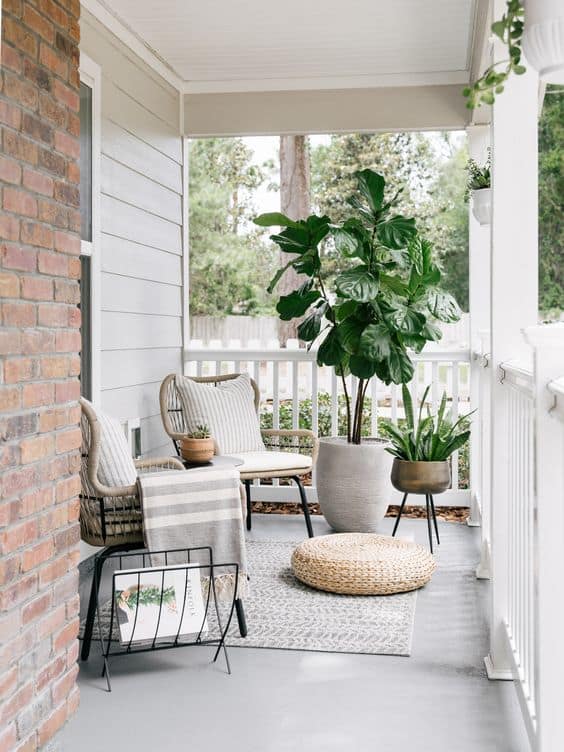 In my professional opinion, one of the best things about having a house with a porch is that you can enjoy having your coffee outside regardless of whether it's sunny or raining. The wicker patio furniture uses metal legs and elements that anchor it in the modern style. A wicker ottoman is a great option since the modern decor is about low-height furniture. The color scheme is neutral, clean, and uncomplicated.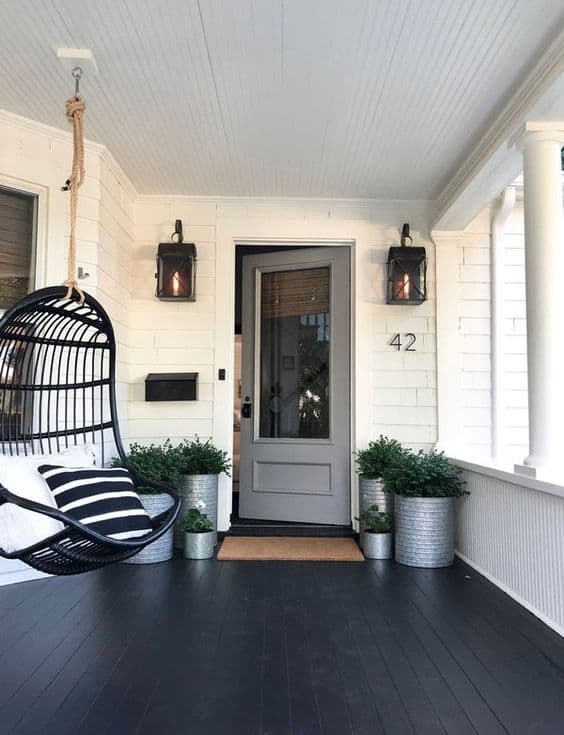 Black, grey, and white. Those are all the colors you need to pull off a mysterious and elegant front porch. Potted plants are foolproof. Opt for hanging wall lanterns for a touch of tradition which, surprisingly, works well with the modern decor style. The entrance rug is pretty simple and the neutral color fits with the entire chromatic vibe perfectly.
See also: Best Black Porch Swing Ideas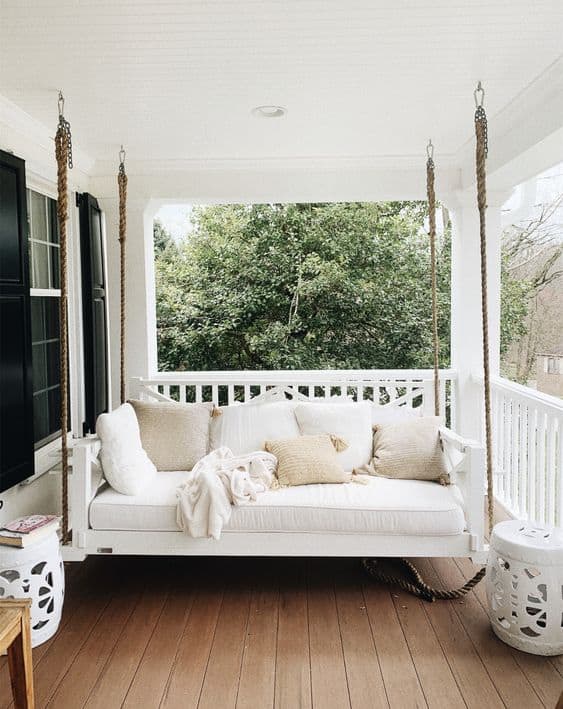 If you have a solid roof that can support the weight, adding a swing on the porch is an excellent idea. The cushioning and pillows are kept neutral, with crisp linen fabric. Choose a drum-shaped metal side table in a color that matches the decor. Since the porch railing and the swing are white, having this small table in white makes sense.
See also: Best White Porch Swing Ideas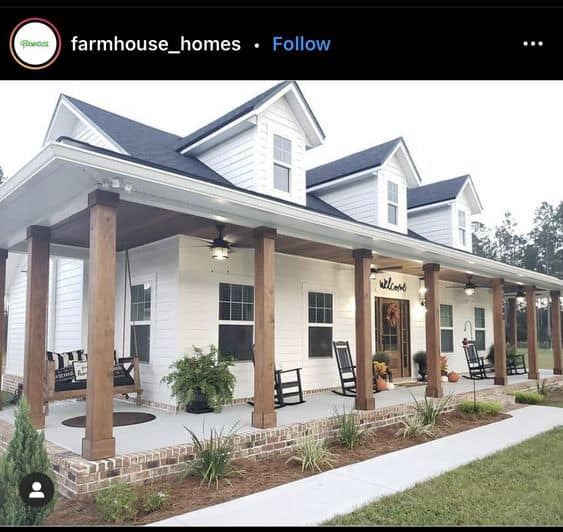 When you have a long porch like the one in this photo, there's not much you can do in terms of adding furniture since the space is relatively narrow. Going for a bunch of rocking chairs might not seem very modern but when you have a clean setup like the one you spot here, you can't go wrong.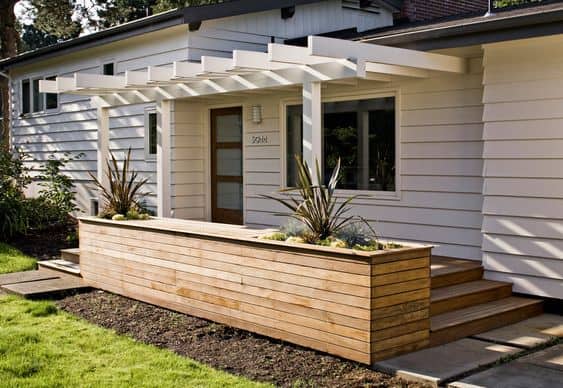 If you're a fan of pergolas, here is a chance to integrate one into your exterior decor. A pergola allows more sun onto the porch and also provides support for hanging plants if you have any. Since modern design focuses on simplicity, you can ditch porch furniture altogether.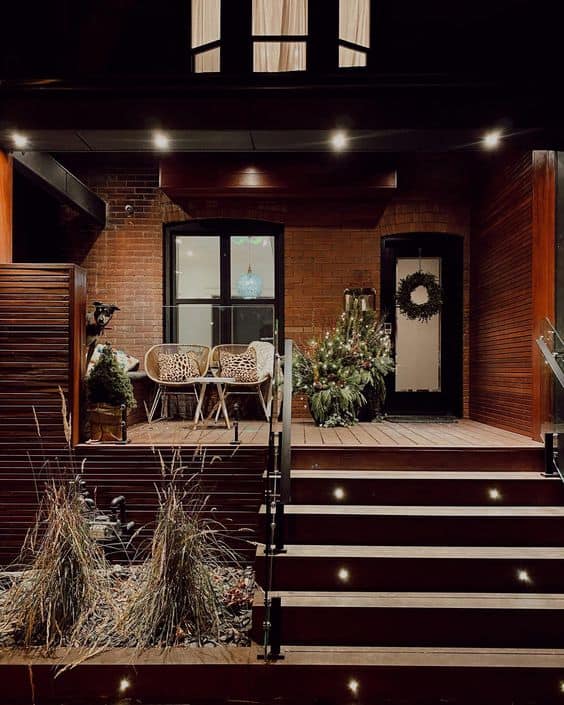 While more crowded than a lot of the other porches we've seen today, this one stays true to the modern style by following a single color scheme. Why not extend the Christmas spirit from inside the house by adding celebratory door wrath, hanging some string lights on your outdoor plants, and a couple of rattan chairs with a comfortable pillow so you can sip hot cocoa while enjoying a breath of fresh air.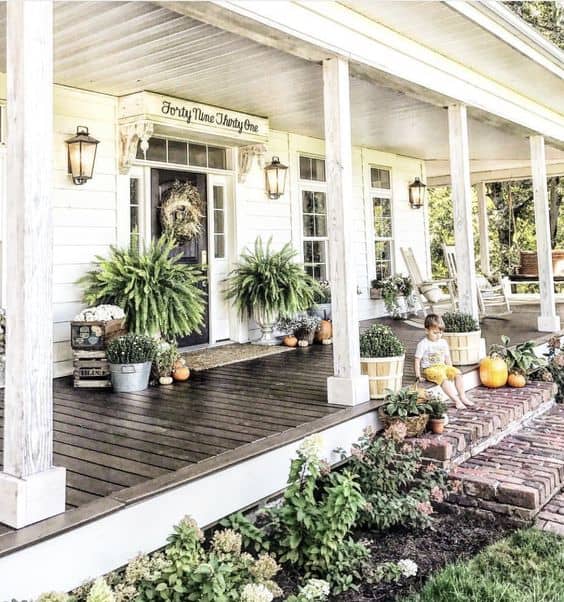 For dark hardwood deck floors, add plenty of plants on your porch. Go with large ferns and smaller potted flowers to add a bit of texture and natural elements to the space. Metal wall lanterns and sconces can also be a part of your modern porch decor. The only thing I'd change here is the distressed look of the porch columns but it's only a matter of taste, in the end.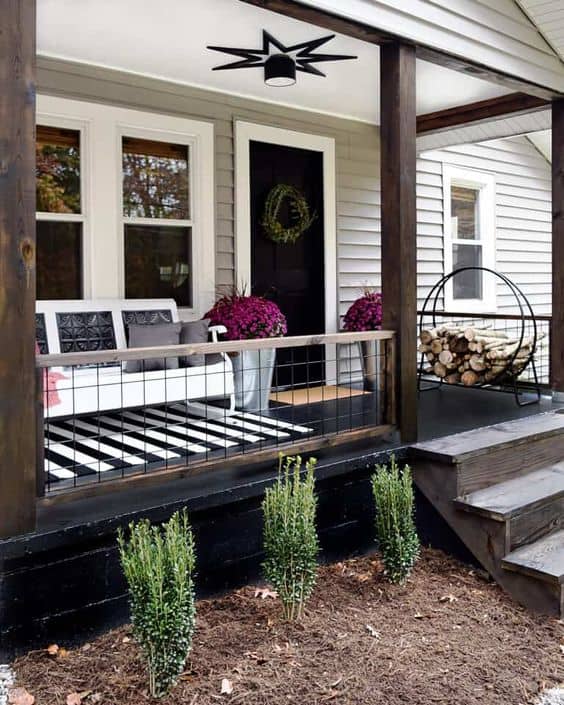 The idea of combining wood and metal as the primary materials may seem a bit industrial, but the modern style is adaptable like that. Go with dark wooden deck floors, combine metal and wooden frames to make a porch railing, stick to neutral and basic colors, add a pop of color with large potted flowers, and keep your firewood dry by adding an interesting round-shape log holder.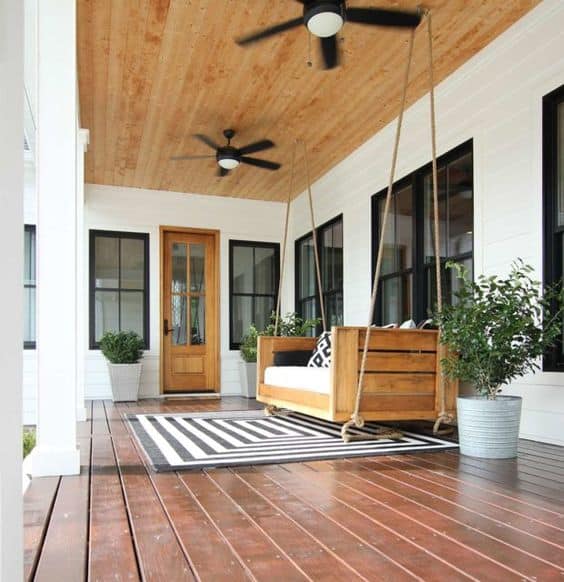 For climates with a really warm summer, consider adding lights on the ceiling of the porch. Go with a large swing bench to create a comfortable seating space while also adding that special vibe that only thick ropes hanging from the ceiling have. Once again, you can see how easy it is to add depth to the space just by picking the right type of rug.
This modern porch also embeds a few elements that are not necessarily part of the modern style. The chairs are mid-century modern, but the good news is that sleek lines characterize both decor styles, so you can get away with it. To bring the porch to life, choose rugs that add depth to the space, just as the ones with these geometric patterns.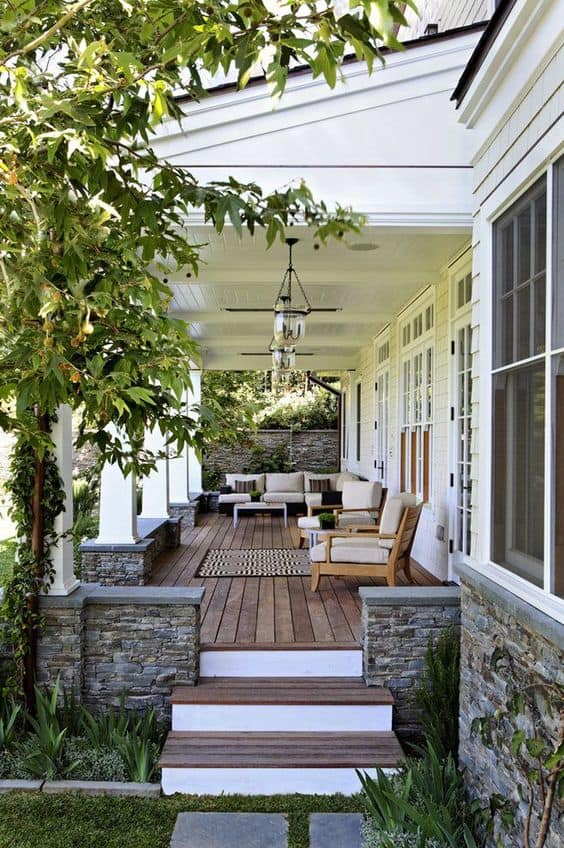 Got a huge family or like to entertain guests very often? Then a seating area should be the primary focus for your front porch. Go with low seating furniture pieces, choose sectional outdoor seating so you can move the pieces around as you please, and invest in comfortable cushioning. Not only will you make your porch modern, but it will be the perfect place for board games night on warm summer evenings.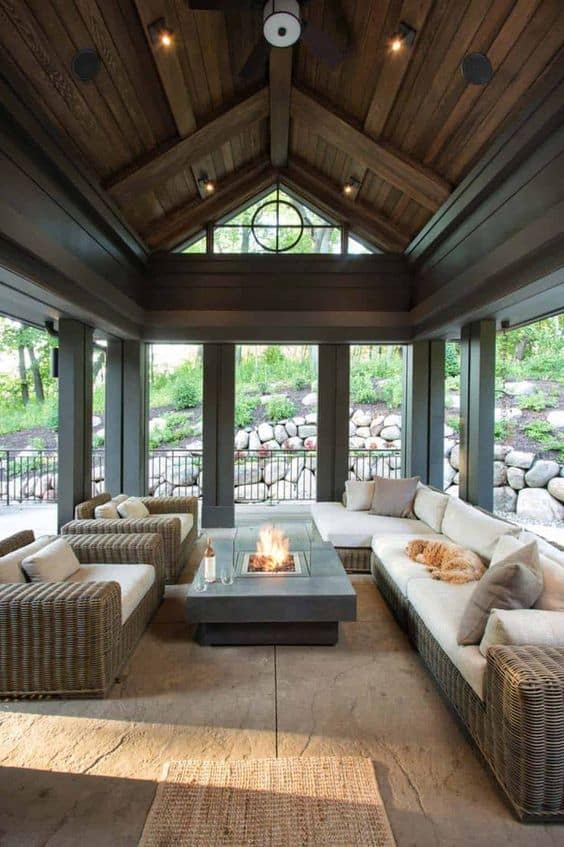 Even if you're going for a modern approach to your porch decor, nothing is stopping you from infusing it with rustic elements. One might think that adding a fire pit to a porch isn't very modern, but what if we're talking about one that has a glass enclosure for the flames? Choose a wicker sectional for more seating spots, keep the color choices to a minimum and enjoy many warm and cozy nights outdoors.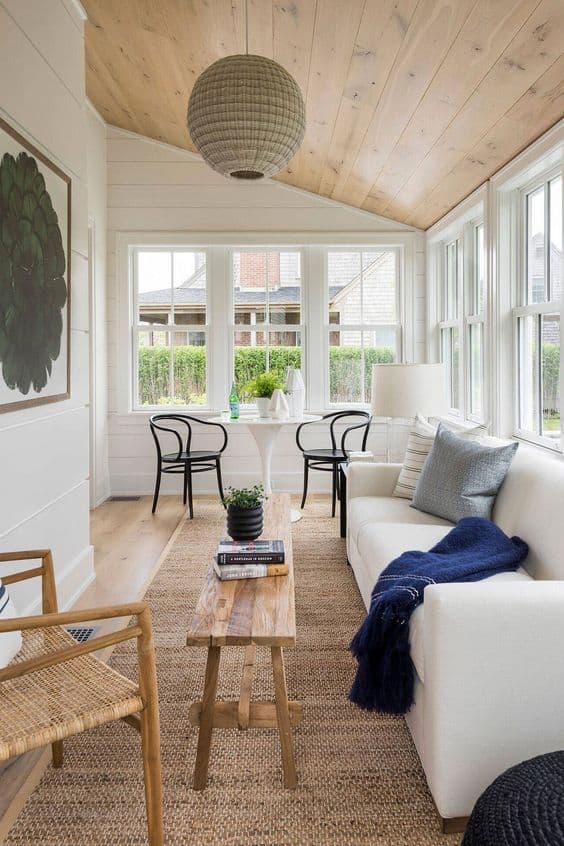 When you have a closed porched, you gain one more room. If you have enough space to add a couch and a low coffee table, go for it. This porch even has a bistro-like table with a modern design and two chairs. I love the addition of a lamp next to the couch. It creates an outdoor reading space that every bookaholic can enjoy.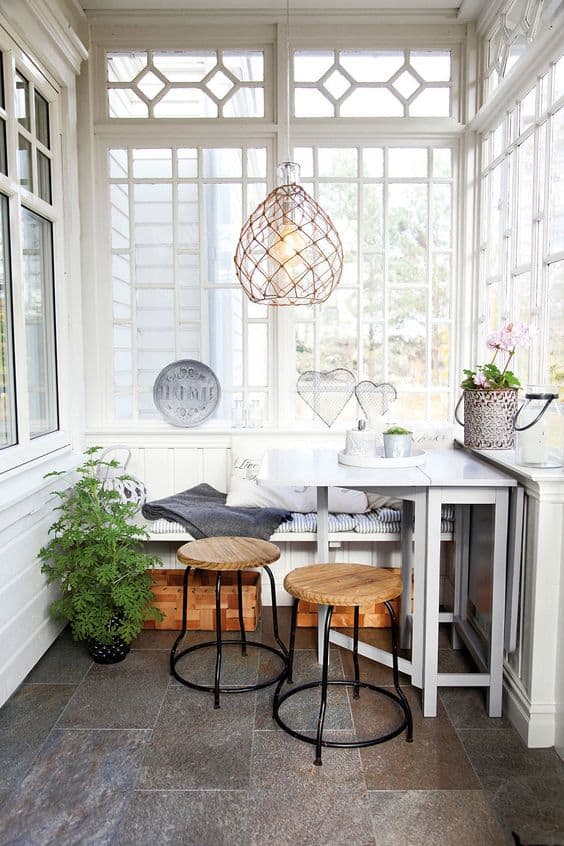 If you have an enclosed porch, you get creative with how you organize the space. Having a bench filled with cushions is a dream come true. Pick a foldable table because it can help you save space when not in use. The metal and wood stools are a great addition because of their low profile. Add a few plants here and there, go creative with a low-hanging pendant, and just sit back while you enjoy your coffee.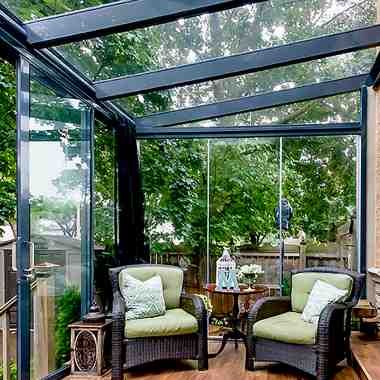 Having a screened porch is amazing because you can sit outside in the sun or snow. Pop in the heater put a blanket on your legs and enjoy your winter coffee outside. Go with comfortable wicker chairs and cushions. Choose a fancy wooden end table. Invest in installing a quality laminate wooden deck to make the place even more beautiful.
What Classifies a Modern Porch?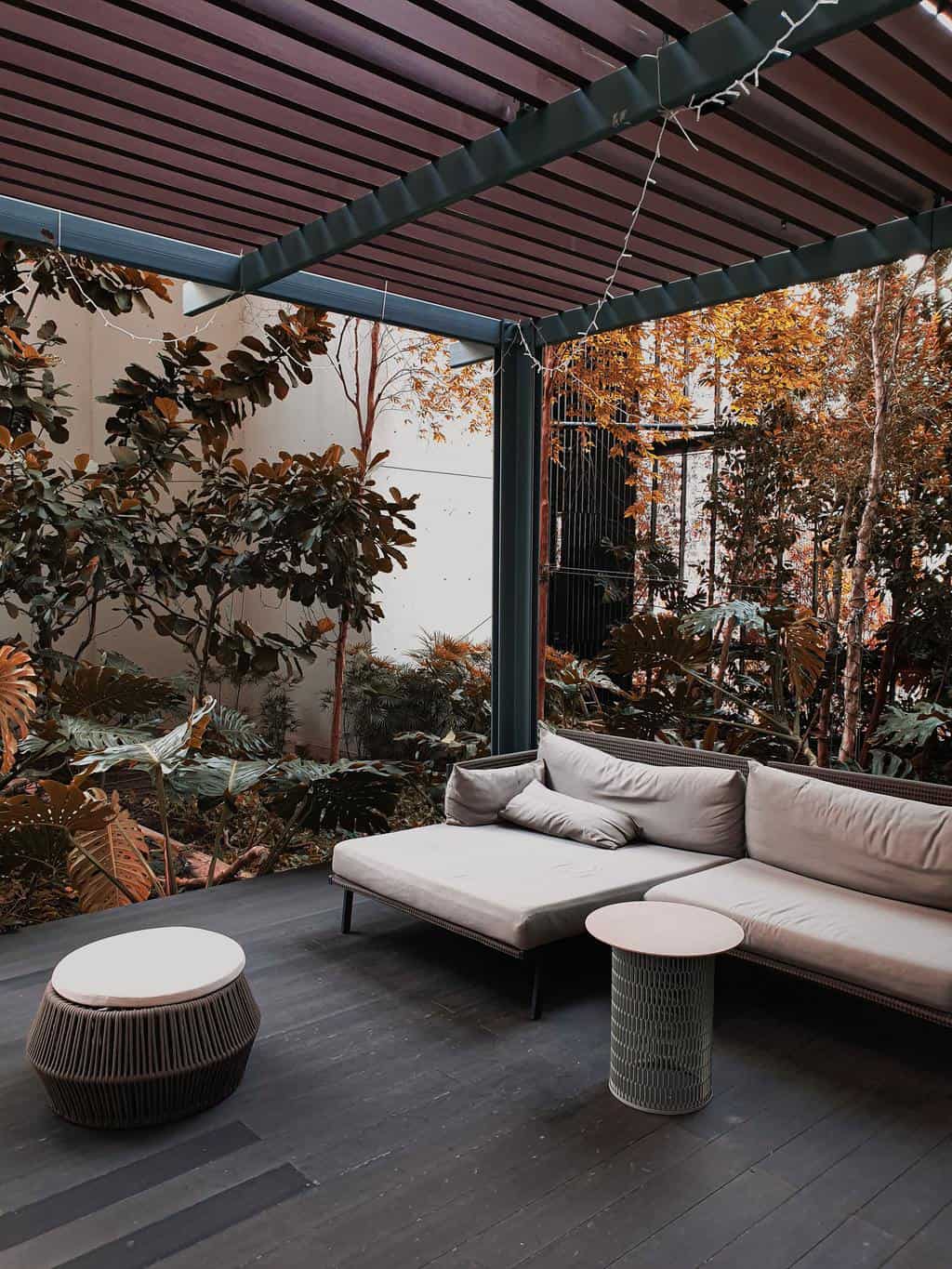 If we want to understand what makes a porch modern, we have to look at the defining traits of modern interior design. Natural light and materials, clean and sleek lines, and a monochromatic color scheme are some of the hallmarks of modern interior design.
Straight lines and edges, and minimal adornment are hallmarks of modern architecture. There are no needless flourishes or clutter in today's modern environments. Functionality takes precedence over aesthetics in modern design. That means that you don't want to go too far out with decor pieces for a modern outdoor porch.
When choosing porch furniture, go with long pieces that have a low profile. Choose seating that's close to the ground, swings, sofas, and couches that are longer than usual.
Go with a neutral color palette but get creative with colors like cream, beige, white, black, brown, and grey. You can add some accent colors here and there but don't go overboard with them.
You want to keep the look of the porch as natural as possible. Usually, wood is the material of choice but you can also go with metal. If you can find suitable seating furniture made with leather and fabric upholstery, that would work too.
Types of Front Porches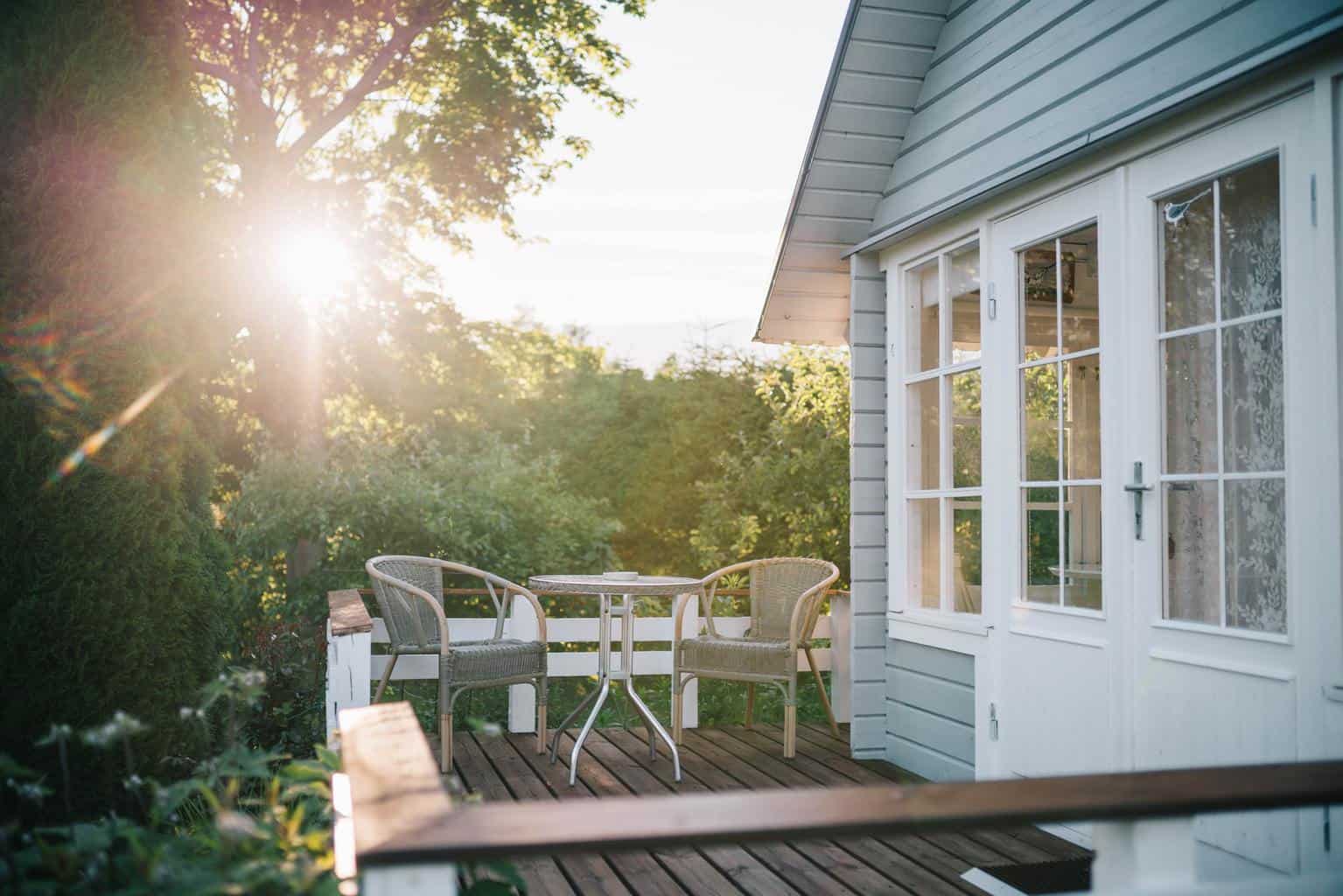 Front Porch or Portico
Adding a front porch can be a great way to relax or meet with friends and family. From rocking chairs to custom lighting, such elements can make your new front porch the buzz of the neighborhood.
It's also possible to make the most of your home's exterior with a simpler front entrance portico design. These can add architectural aspects to your home. Consider embellishments and items such as columns, ceiling shapes that break the usual patterns, or even a custom roof design.
Pavilion or Covered Patio
Detached porch, often known as a covered patio, pavilions can be found all over the world. It is common for pavilions to be used in large backyards or those with swimming pools, where the roof shelter provides additional comfort and safety.
Pavilions are often used to shelter very cozy outdoor spaces, such as fire pits, outdoor kitchens, recreational areas, or part of your yard that you just want to be super functional.
See also: Best Menards Fire Pit Guide
Open Porch or Covered Porch
It's quite acceptable to use these two terms interchangeably. The open sides of this porch allow for full breezes and a sense of spaciousness while providing shelter from the weather's elements.
Open porches can refer to a back or a front porch, one that's attached to the side of the house, or something more like a pavilion. Fans and lighting are common in open porches, as well as other electrical components. Open porches may provide countless hours of pleasure throughout the year, both for your enjoyment and to host friends and family.
Screened Porch
By adding a screen to the porch, you can create an enclosure that's both cozy and practical at the same time. A screened porch will keep you protected from bad weather and pesky bugs or other pests.
Another benefit of adding screens to your porch is reflected in the possibility of adding electronics outside but without worrying about the weather. That includes TV sets, audio speakers, or heaters. Some people like to add a fireplace outdoor and create a screened porch that doubles as a living room.
Multi-Season Porch or Sunroom
The term "sunroom" refers to a multi-season porch, which can be referred to as either a three-season or four-season porch. As a general rule, "sunroom" refers to a room expansion that comprises insulation and framed walls, as well as some kind of heating or air conditioning system to keep the space useable year-round.
If you add vinyl windows to screen openings and ditch the insulation walls, you're left with a porch that you can use throughout the entire year.
FAQs
Question: What is a front porch called?
Answer: The front porch is also known as a portico. This is a term used to describe the front part of a covered porch that leads to the entrance to the house.
Question: What is the purpose of a front porch?
Answer: A front porch adds curb appeal and increases the value of your home. It's also a great space to spend time outdoors while also having a roof over your head and being protected from sun and rain.
Question: Should a front porch be heated?
Answer: If your porch is screened, then it's worth adding a heater to the front porch. Otherwise, with open walls, there would be too much heat loss and it might not be worth it.
Bottom Line
Which one did you love? If you're going for a casual modern look with space to entertain, I recommend something like the Porch Fire Pit idea.
With all these cool ideas that you can bring to life, you're one step closer to having the porch of your dreams. Remember that even if you opt for a modern porch, you can always add elements that pertain to other styles as well and still maintain a modern appeal for the space. For more décor inspiration, check out our website!
Recommended Reads: