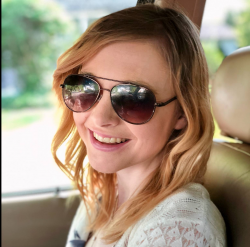 Latest posts by Erin Jamieson
(see all)
Trying new things has always been hard for me- and I owe a lot of my experiences getting out of my shell to round fire pits. Strange as it may sound, round fire pits were a part of my experience camping, attending birthday parties, and getting to know people who would become important friendships.
But as much as I love the natural allure of a wood-burning fire pit, I've more and more see the appeal of propane fire pits.
Round propane fire pits are one of the most popular types of fire pits today and for good reason. Round propane fire pits provide warmth, ambiance, fuel efficiency, and convenience. But before you go out and buy a round propane fire pit, consider this your guide to finding your best option.
I've discussed the pros and cons of both around a fire pit and one that uses propane. Read on for my honest take on the best materials, features, and where to shop to find a round propane fire pit for your home or camping trip. 
Bottom Line Up Front Summary
Round propane fire pits are a fantastic solution for patios, backyards, and even camping. They tend to be energy-efficient, practical, and versatile.
To find the best round propane fire pit, select one that's constructed with sturdy, all-weather materials (stone, concrete, Polywood, specialized steel) and has a BTU range of around 40,000 to 70,000. Brand reputation and special features should also be considered. 
If I had to recommend just one round propane fire pit, it would be the Home Depot Round Outdoor Fire Pit. This fire pit is an excellent choice for any backyard and overall value. It features a stacked stone look for a fraction of the price, with sturdy construction and high customer reviews. 
My Top Picks
Propane Fire Pits: Honest Pros and Cons
Propane fire pits are popular- there's no doubt about that. The problem with propane fire pits is that too many buy them without fully understanding the pros and cons.
From myths about them being unsafe to over-hyped ideas, here's why you should buy a propane fire pit, or opt for natural gas or wood-burning models instead.
Buy a Propane Fire Pit If…
If you want something practical, propane is a great way to go. Propane fire pits can be safe, efficient, and warm when used properly. The great thing about propane fire pits is that they are the most fuel-efficient (over other gas fire pits) and could save money in the long run.
If you're worried about environmental impact, you may be as surprised as I was to learn that propane is far lower in emissions than wood-burning fire pits (which emit up to a few thousand times more emissions).
They're considered safe- not harmful- to use and breathe nearby. Some propane fire pits can be converted to natural gas. Finally, many propane fire pits are portable, further extending their versatility. 
Don't Buy a Propane Fire Pit If…
If you expect propane to keep mosquitoes away, you're buying it for the wrong reason. Propane fire pits may attract mosquitoes. The heat and moisture, along with the conversion of carbon dioxide, tend to draw mosquitoes in.
If you want a classic look or the smell of wood, you're not going to get that from a propane fire pit. Another downside is the propane tanks themselves.
Propane tanks are often heavy, and refiling them is a necessity. The initial sticker price of a propane fire pit is often higher- especially when it comes with electric ignition or other special features. 
Lowdown: Propane fire pits are a great choice for fuel efficiency and versatility. They aren't a good fit if you're worried about refilling tanks or attracting mosquitoes. 
See also: How to Find the Best Patio Heaters For Your Home
Round Fire Pits: Best Shape?
Round fire pits are perhaps the most popular shape. While there are other fire pit shapes, round fire pits hold several advantages. 
Pros of Round Fire Pits
The classic aesthetic exudes warmth and provides an open space for fire pit chairs. Round fire pits are natural choices for open conversation and hosting parties. It's easy to both see and hear everyone. I also like how round fire pits tend to have optimal heat distribution, compared with other fire pit shapes. 
Cons of Round Fire Pits 
Round fire pits don't have to be big- they come in all dimensions- but they may not be the most efficient use of space. While round fire pits are great as conversation starters, they don't fit seamlessly into gardens or tight spaces.
They have a more traditional feel, even in the most modern designs. They are less structured and less formal than some rectangular fire pits. 
Lowdown: Round fire pits are a classic option for medium and large backyards, as well as entertaining. They don't provide the same contemporary efficiency as rectangular fire pits. 
Find the Best Round Propane Fire Pits in Four Steps
If you've decided that a round propane fire pit is the best fit for you, I want to share my top tips.
By following these easy steps, you can find a round propane fire pit that will last and provide the performance you need, whether you're camping with a round propane fire pit on wheels or enjoying a large propane fire pit in the comfort of your backyard. 
Step One: Choosing the Right Type of Round Propane Fire Pit (& Dimensions)
Round propane fire pits fall mostly into one of the following categories: round propane fire pit bowls, round propane fire pit tables, portable round fire pits, and traditional large propane fire pits. Here's a look at what type of round propane fire pit is right for you. 
If You Want A Decorative Fire Pit, Choose a Round Propane Fire Pit Bowl 
Firepit bowls are distinguished by their bowl, scooped shape. They are slightly deeper in the interior rim and usually filled with colorful lava rocks. These are used for ambiance and decorative purposes, but often don't have the full features, capabilities, or as powerful BTU output. 
Dimensions: With propane fire pit bowls, all sizes go. You can get some for tabletops, or ones as large as fire pit tables. 
If You Want to Go Camping, Choose a Round Propane Portable Fire Pit 
Round propane portable fire pits are modest in size and may even be collapsible, foldable, or feature wheels. While not as sturdy as regular fire pits, these are great choices if you plan on using a fire pit for camping, hiking, and/or RV trips. 
Dimensions: Focus mostly on weight. Portable fire pits are usually under 50 pounds. 
If You Want to Entertain on Your Patio, Choose a Round Propane Fire Pit Table
While rectangular or square fire pit tables are popular, a round propane fire pit table adds a welcoming aesthetic to your patio. Many convert as coffee or side tables. 
Dimensions: Fire Pit Tables can be modest in size to as large as medium-sized fire pits. 28 inches to 32 inches is a good range- but you'll need to measure your space. 
Otherwise, Choose a Medium to Large Round Propane Fire Pit 
Otherwise, opt for a classic round propane fire pit. These can be placed in backyards and are a great option for bonfires. 
Dimensions: Standard sizes usually range from 36 to 44 inches in diameter. 
Step Two: Selecting the Best Materials 
The great thing about round propane fire pits is that they are made with a nice variety of durable materials. My top picks are steel (powder-coated, reinforced, or with other coating is best), concrete, or stone. 
Type of Round Propane Fire Pit 
Pros
Cons

Concrete 

Affordable

Very Sturdy

Easy to Fix/ Maintain

Bulky, Not Beautiful 

Can Crack 

Stone 

Beautiful Aesthetic

Sturdy 

Durable

Expensive 

Tricky to Clean

Steel 

Affordable

Strong

Lightweight

Non-Treated Can Corrode

Not as Strong as Stone/ Concrete 

Polywood 

Aesthetically Pleasing

Durable

Low Maintenance

Must be Combined with Other Materials

Expensive
Step Three: BTU and Additional Features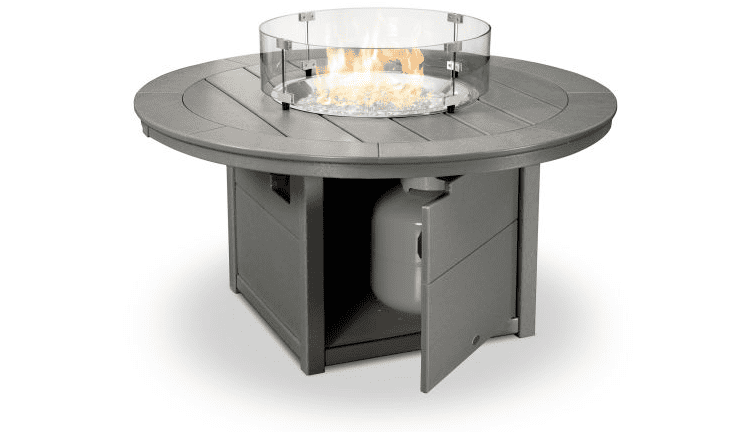 BTU output tells you how much heat your propane fire pit will produce. A normal range is 45,000 to 70,000 BTU. Above that is only suitable for large areas. Much below, and consider it more a decorative fire pit. 
Special features to look for in a round propane fire pit depend on the type of pit you're buying. For instance, easy assembly, wheels, and carrying bags are important for portable pits, and not so much for other types. But here are some features to consider:
Wind Guards

Spark Screens 

Lids/ Covers 

Hidden Tanks (For Tables)

Electric Ignition and Adjustable Flames

Wheels or Collapsible Design (Portable)

Manufacturer's Warranty 

Ability to Convert to Natural Gas

Aesthetics/ Decorative Features (including lava/ glass rocks)
Step Four: Where to Buy and Getting Discounts
Round propane fire pits are pretty popular- and that means many shopping options. If you want a wide selection of choices and know what you're looking for, consider Amazon or Wayfair.
If you want a blend of online and traditional shopping with moderate prices, consider home improvement stores (Lowes, Home Depot, Menards) or Target. Looking for a high-end round propane fire pit? Shop well–known specialty brands, such as Breeo.
Always check customer reviews, return/ refund policies, and BBB (Better Business Bureau) before purchasing somewhere that you don't know.
Want a discount? I love taking advantage of price matching programs (home improvement stores), shopping clearance, and looking during Fall through Winter when prices tend to be lower. 
See also: 18 Best Round Fire Pit Ideas for Your Home
Round Propane Fire Pits: My Top Picks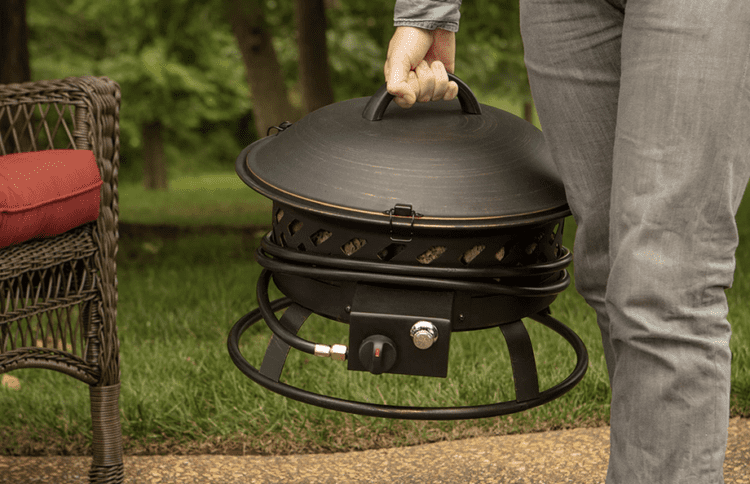 Here are just a few of my favorite round propane fire pits. Whether you're looking for something portable for camping, a round table for entertaining, or a classic large pit, I have you covered.
Selection Criteria
I investigated top materials, features, and brand reputation for stand-out and best-value round propane fire pits. What stood out to me about these propane fire pits goes beyond aesthetics- though that was also a consideration. I really love these fire pits for their:

Style
Brand Reputation
Weather-Resistant Materials
BTU Output
Unique Features
Overall Value
Hopefully some of these fire pits will give you ideas for your own yard!
Polywood Round 48" Fire Pit Table: Best Round Propane Fire Pit Table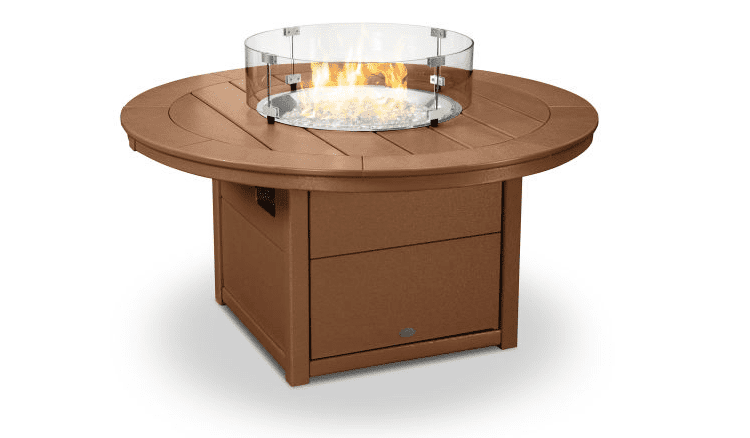 This is an expensive round propane fire pit table, but it's easily one of the best on the market today. This strikingly modern round propane fire table combines weather-resistant Polywood with steel hardware. The result: an aesthetically pleasing look, with materials that are hardy and low-maintenance.
I love that you can have it built to order with custom stains and optional accessories. The coating is protected from UV rays and is eco-friendly.
It uses propane, yet can also be converted into a natural gas line. This propane fire pit table is made in the USA and comes with a two-decade warranty- something almost unheard of for propane fire pits. Buy Here. 
Pros
20 Year Warranty

Converts to Natural Gas

Beautiful and Durable

Custom Orders
Cons
Expensive 

Accessories, Stains at Extra Cost 
Home Depot "Stone" Outdoor Fire Pit: Best Backyard Round Propane Fire Pit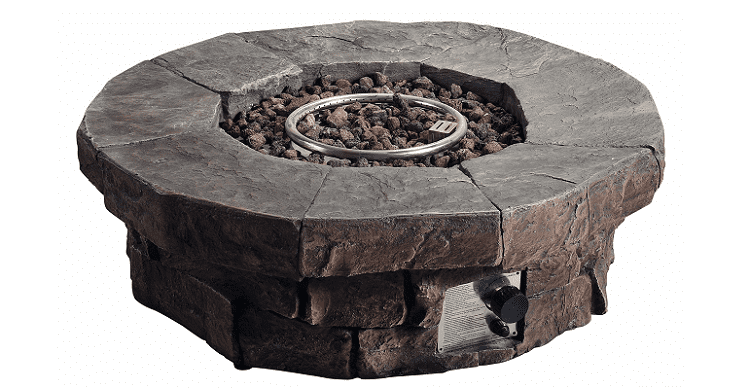 I've always loved the look of stone fire pits, but I've never loved the more expensive price range. You don't have to decide between stone and concrete with this round propane fire pit. I love that they look of stacked stones is achieved with the more economical option of concrete.
Integrated ignition makes it easy to use when you're in a hurry. A sturdy base adds stability, and the fire pit is rated for an output of up to 50,000 BTU.
I also appreciate the 3-year warranty- all adding up to why this is one of my very tops picks for a great round propane fire pit. It also comes with a fire pit cover. Buy Here. 
Pros
Stacked Stone Look

Integrated Ignition

Durable Base

Warranty 
Cons
Not Genuine Stone

Won't Fit with Modern Homes
Real Flame Fire Pit Bowl: Best Round Propane Fire Pit Bowl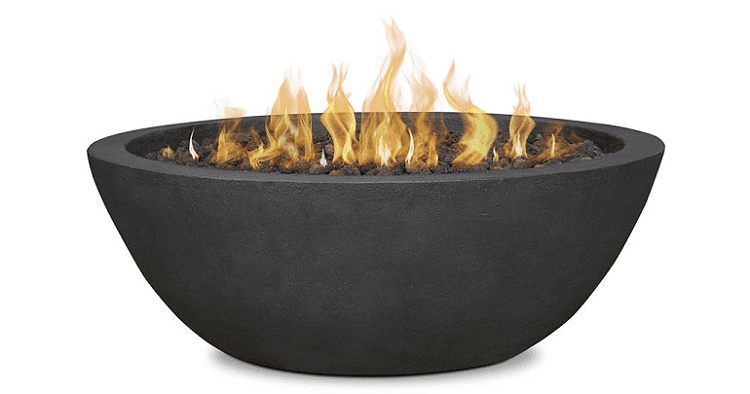 While you can find more affordable options, I consider this round propane fire pit bowl from Bed Bath & Beyond to be a standout. This modern, sleek and sturdy fire pit bowl includes push-button ignition and adjustable flame height.
Your purchase includes a natural gas conversion kit if you want to make a switch at any time. An output of 50,000 BTU and beautiful, modern construction make it stand out from other fire pit bowls. The exterior is resistant to rust, water, and wear.
It's CSA certified, which means it meets the highest safety standards for safe use. When looking at the original price, you also need to factor in the included protective cover, lava rocks, and 1-year warranty. Buy Here. 
Pros
CSA Certified

Gas Conversion Kit

Push-Button Ignition

Adjustable Flame
Cons
More Expensive'

The cover is Vinyl (Polyester is Better) 
Endless Summer Portable Fire Pit: Best Portable Round Propane Fire Pit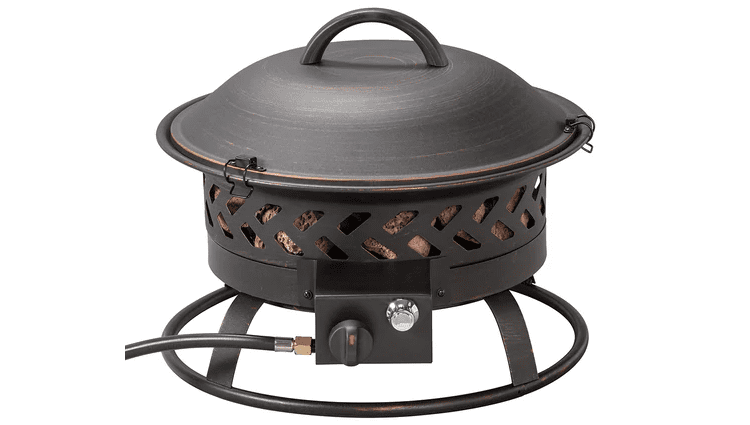 Want a round propane fire pit that you can take with you? With this portable round propane fire pit, you can go camping, hiking, or even on an RV trip. A problem with portable fire pits is that they are often flimsy and not very powerful.
What's great about this model is that it balances features while still offering a portable design. The whimsical design has a bit of rustic charm, from the antique finish to the side vents for improved airflow.
It comes with a lid and circular base for placing safely on the ground. The twist knob ignition is practical when you're out camping, and I also love that it's rated for a BTU output of 58,000. Buy Here. 
Pros
58,000 BTU

Lid and Side Vents

Steel Base

Easy Ignition
Cons
Regular Steel (Not Powder-Coated)

Fairly Small (19 inch)
Kante Outdoor Smokeless Fire Pit: Best Budget Round Propane Fire Pit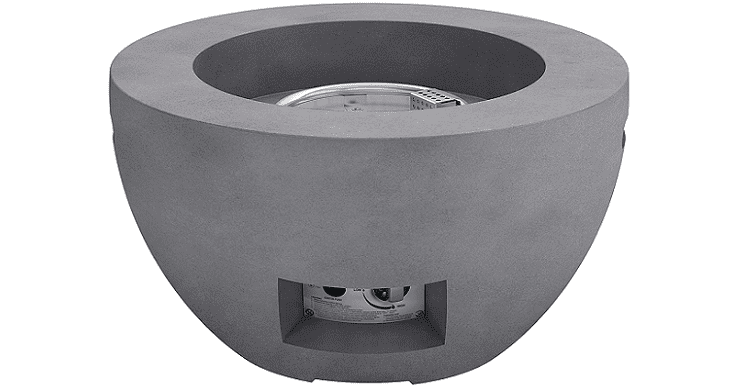 While I don't love the aesthetics of this round propane fire pit as much as my other picks, what I do love is the features you get for the under- $200 price point.
Being on a budget doesn't have to mean settling for a flimsy round propane fire pit. This round propane fire pit pairs a concrete base with metal hardware for a weather-resistant and durable design. It's CSA- certified and features a smokeless design.
That means greater fuel efficiency and less mess. It's available in three colors and has a modest 25" diameter. While small, the 50,00 BTU output is impressive. Buy Here. 
Pros
50,000 BTU

Smokeless and Efficient 

CSA Certified 

Excellent Price 
Cons
Modest Size

Concrete Can Crack 
Frequently Asked Questions
Question: Is a Propane Fire Pit Considered Open Burning?
Answer: Any fires that don't include either a stack of chimneys are classified as open burning. Open burning encompasses outdoor fire pits and is referred to as open flame as well. This includes propane, wood-burning, and natural gas fire pits.

The distinction is important for local and state laws and safety regulations. While open burning fire pits come with risks, they also can be safely operated when a minimum of 10 feet away from your home's foundation.
Question: Do Burn Bans Include Propane Fire Pits?
Answer: Burn bans are laws- normally set at the state level- that prohibit open burning between certain months and times of the year. The bans are focused on the nature of waste being burned. That usually includes trash and yard waste.

In many cases, the bans are focused on the waste burned and propane fire pits can be used for other purposes. However, there are instances, such as inclement weather, where fire pits are either not recommended or not permitted.

Always check with your local and state laws before using a fire pit for the first time, especially if you're using it outside of your backyard. 
Question: Can fire pits be used indoors?
Answer: Fire pits are designed to be used outdoors, though small tabletop fire pits can sometimes be used safely within screened porches with adequate ventilation.

Fire pits are designed to be used outdoors, as they are classified as open burning. If you want a similar ambiance indoors, it's better to opt for electric fireplaces or candles.

Keep fire pits of all kinds outdoors to make sure you can safely operate them, away from the harm to your home or others. Fire pits require a minimum of 10 feet away from foundations. 
Final Thoughts
Round propane fire pits are fabulous for entertaining or even camping. I love that they're both fuel-efficient and versatile- and there are so many modern and traditional styles to choose from.
Make sure you measure your fire pit space to ensure there's an adequate room away from foundations and anything that can catch on fire.
Final Recommendations: Round Fire Pit Covers
Firepit covers are important not only for propane fire pits but also for just about any other fire pit you're leaving outside. Firepit covers protect your round propane fire pit from the weather. Even the best round propane fire pits are susceptible, and a cover will extend its life.
Another advantage of a cover is that you'll keep your fire pit dry and ready to use. The final reason why fire pit covers are an excellent choice is that they act as a safety measure. This is especially true for anyone with kids or pets. 
To get the most out of your fire pit cover, select one that has a snug fit, complete with a zipper, clip, or velcro strap. Materials must be weather-resistant, as well as resistant to wind and UV rays.
You can find round fire pit covers almost anywhere you find round fire pits. Read my Guide to the Best Fire Pit Covers for my top picks. 
Recommended Reads: