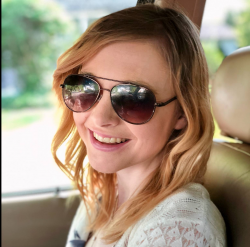 Latest posts by Erin Jamieson
(see all)
I've had some great memories with porch swings- from reading books in the Summer sun to sitting side by side with my cousins and grandparents.
But I've always had less than stellar experiences with flimsy porch swings. Whether you need a porch swing that holds more weight or holds up better against strong weather, sometimes it's best to pay a bit more for something heavy-duty. 
The problem? Simply because something says it is heavy-duty isn't a guarantee that it is. If you want a porch swing that's both sturdy and durable, it's important to head into the buying process with a clear vision of what to look for. And that's where this guide comes in.
I'll tell you how to find and select the best heavy-duty porch swings. From wooden swings with a classic stand and canopy to sleek and modern metal swings, read on to find the best fit for your porch. 
Bottom Line Up Front Summary
While there is no one standard definition, a heavy-duty porch swing generally has a weight capacity of over 250 pounds per seat and is made with heavier, durable materials.
Zinc alloy and steel chains, steel hardware, and sturdy construction are all important. Choose powder-coated steel, powder-coated iron, hardwood, or Polywood. 
If I had to recommend just one heavy-duty porch swing, it would be the LuxCraft 5′ Plain Swing. This swing is made with Polywood, which means there's very little you need to do to maintain it.
It's made in the USA by an Amish community and features a curved back, cupholders, a console, and a variety of swatches. It also comes with generous warranty policies and a money-back guarantee. 
My Top Picks
How to Find a Heavy Duty Porch Swing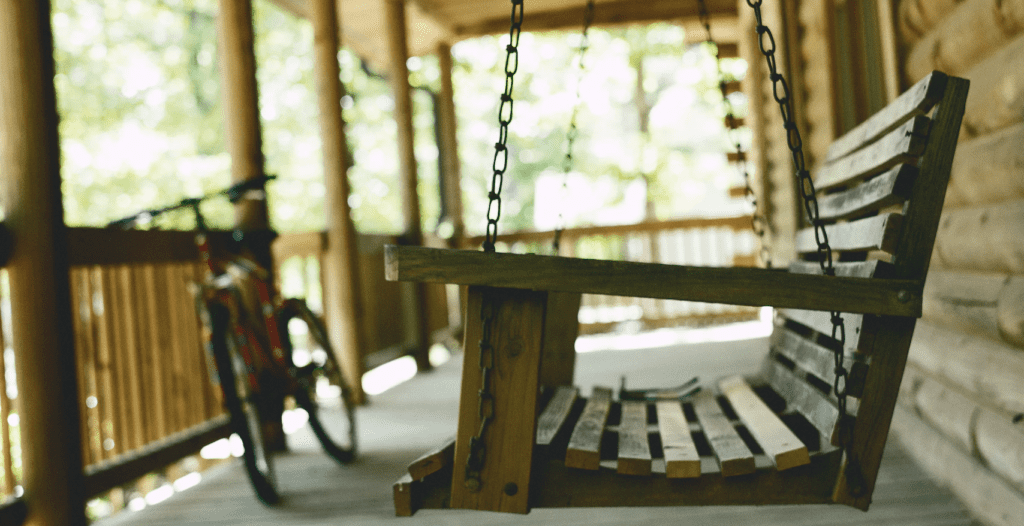 The biggest question is: what even is a heavy-duty porch swing? Since it's not an official term or a standardized term, it can mean different things. Here's how I generally identify a heavy-duty porch swing vs a regular porch swing:
Greater/ Generous Weight Capacity 

Weather-Resilient Materials 

Durable Hardware 

Durable, Heavier Chains 
With this in mind, I'll dive into each of these categories, as well as where and how to buy the best heavy-duty porch swings. By selecting key criteria, rather than solely relying on marketing, you'll end up far more pleased with the result. 
Weight Capacity and Dimensions
Weight Limit 
The number one sign of a porch swing with a heavy-duty build is the generous weight capacity. Always keep things in perspective: a one-person swing isn't expected to have the same equal weight capacity, so it's best to think proportionately. 
The average 2 to 3-person porch swing accommodates 500 pounds. Thus, for a heavy-duty porch swing, something closer to 700+ pounds is going to provide that extra stability. 800 pounds is a great weight capacity for some of the most heavy-duty porch swings. 
Swing Length & Seat Depth 
Most porch swings are 4 to 5 feet in length, and this is also true for a heavy-duty porch swing. You should also consider the seat depth. An 18-inch seat is quite shallow and uncomfortable, while a 46-inch depth has a very laid-back orientation.
Neither has a huge impact on durability, but I'd opt for an above-average seat depth, keeping in mind concerns such as difficulty getting in and out of porch seats and height. 
See also: How to Find the Best Fire Pit Ins
Weather-Resistant, Hardy Materials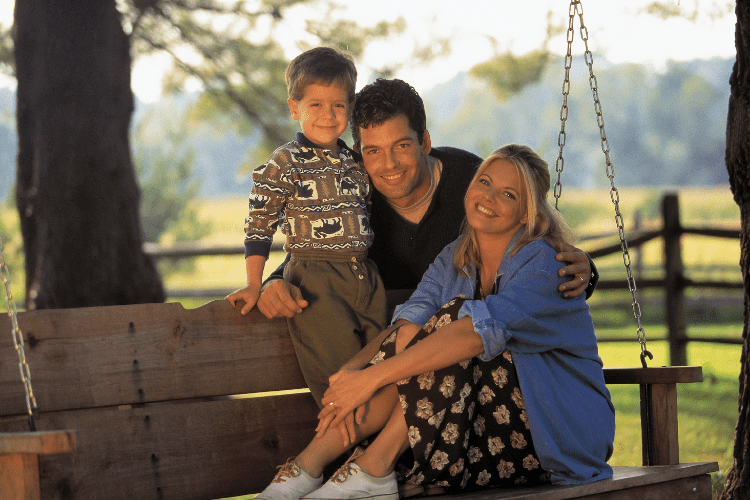 I always see a debate between metal vs wooden porch swings. The better question is the type of wood or metal being used. 
Skip regular plastic, aluminum, and softwoods. None of these provide a heavy-duty frame that you're looking for in a porch swing. 
Metal Swings
If you do opt for a metal porch swing, select powder-coated steel. This material won't rust and is highly resilient, even in inclement weather. 
Iron is another option, but it must be powder-coated and treated with a protective coating to prevent rusting. If so, it is even stronger than steel. The other plus is a modern allure and lighter construction to strength ratio. 
Hardwood Swings 
Teak is an excellent choice because it produces its natural oils and requires less upkeep. But in terms of density, there are a few clear top choices: black ironwood, African ironwood, American maple, American cherry wood, and white and red oak. 
Polywood Swings 
Polywood is a type of high-density plastic, made entirely or mostly from recycled materials. Unlike wood, it doesn't require oil treatment and is entirely weather-resistant. It is expensive, however. Make sure that the swing is genuine Polywood and it should come with a generous warranty- often 10 to 20 years. 
Heavy Duty Hardware and Chains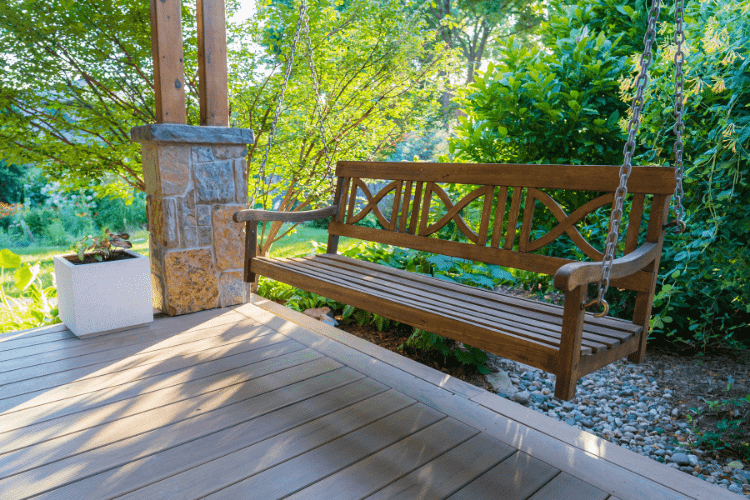 One of the biggest mistakes? Focusing on weight capacity alone and paying attention to the hardware and chains that support your porch swing.
Cheaper chains are just one way that brands and companies save money. For hardware, make sure it's something like steel- even better if it's reinforced or Marine-grade quality. 
See also: Best Farmhouse Porch Swing Ideas
Supportive Porch Swing Chains & Springs
A lot goes into finding the most supportive chains for a heavy-duty swing, but it doesn't have to be complicated. First of all, skip nylon, rope, or aluminum. All of these materials save you money, but they aren't suitable for a heavy-duty porch swing. 
Look for stainless steel and zinc alloy. Zinc alloys are not quite as strong as steel, but they are suitable as springs. If they are painted, make sure weather-proof paint is being used. Another great option is PVC-coated steel or powder-coated steel.
You get the strength of steel, but with that weather-protective coating. My favorite option is galvanized steel- which is strong, resistant to corrosion, and cost-effective. In summary, look for:
Galvanized Steel (Best)

PVC- Coated Steel 

Powder-Coated Steel 

Zinc Alloys 
Heavy-Duty Porch Swing Features
I like to think of this section as divided into two parts: features I insist upon, and ones that elevate your heavy-duty porch swing. Here's my take on must-haves vs bonuses. 
Must Haves 
In short, I want to make sure I'm buying a heavy-duty porch swing from a reputable source. That means checking reviews and the company's reputation. The company must have a secure connection on its website, clear return/ refund and shipping policies, and a solid reputation.
The porch swing should be listed with high-quality photos and a thorough description of materials, dimensions, and pricing. I prefer heavy-duty porch swings with warranties and/ or protection plans. 
Other Great Features 
| | |
| --- | --- |
| Heavy-Duty Porch Swing Feature | Why Consider It? |
| Canopy  | Protects from wind and sun  |
| Cup Holders | Great for entertaining- some even come with a platform/ mini table  |
| Curved Back, Arm Rests | A slightly curved back provides support and reduces back strain. These are considered "ergonomic". Ergonomic models may also have more generous armrests.  |
| Cushions | You can also buy porch swing cushions separately. Shop for durable, weather-resistant materials. My top picks are Sunbrella and olefin fabrics, though reinforced PVC works on a budget.  |
| Made in the USA  | This is a matter of personal preference- but some prefer buying swings made in the USA. One great option is Amish swings. These are made by hand and beautifully crafted- just make sure that it's authentic.  |
You'll also need to decide on your swing style: either a hanging swing or a free-standing one with a stand. If you have room, a swing with a stand will be easier to manage during inclement weather. If you're low on a room or prefer the aesthetic, a hanging porch swing may be the better choice for you. 
Where to Buy Heavy Duty Porch Swings (And Scoring Discounts)
Where to Shop 
Amish companies, including Amish Yard, sell USA-made, handmade porch swings. Amazon does carry some Amish-made porch swings with an impressive weight capacity- so it's all about looking carefully. Home improvement stores have a few options if you look. 
The Porch Swing Company, Wayfair, and a few specialty stores would be my top choice. Overstock is always changing its inventory, and sometimes you can find a heavy-duty porch swing at a competitive price. 
Scoring Discounts
Porch swings of all kinds are usually the cheapest when fewer people are buying them. Following this logic, cooler months are usually the best time to shop, while mid-Spring through Summer runs a bit more expensive.
But you can find sales across many stores during holidays, including Memorial Day, Labor Day, Fourth of July, Black Friday, Cyber Monday, and sometimes even holidays like Mother's or Father's Day. 
Comparison shop. You aren't going to get the lowest price on a heavy-duty porch swing vs a regular swing, but there's no reason not to compare your options. Some stores- such as Lowes and Home Depot- offer price matching. 
Heavy Duty Porch Swings: My Top Picks
Here are a few of my favorite heavy-duty porch swings for 2022. Whether you want an Amish porch swing made in the USA, or something modern with a canopy, all of these styles are great choices. I chose these heavy-duty porch swings based on the frame and chain materials, features, and overall value. 
Vineyard Deep Seating Swing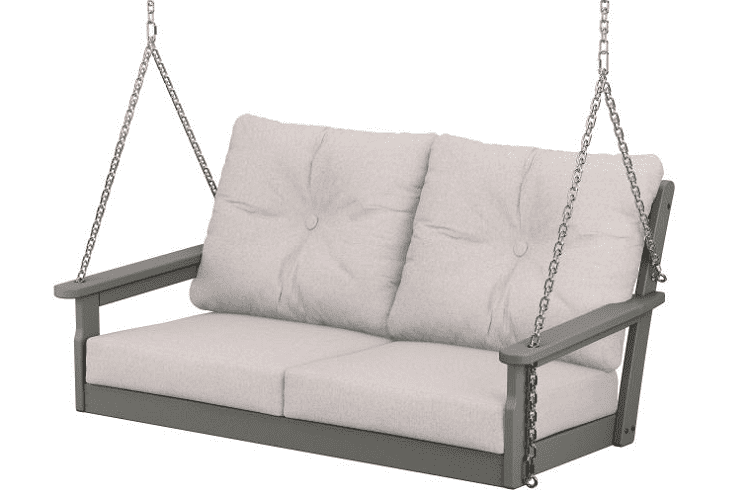 Looking for a supportive, comfortable, and stylish porch swing? One problem I've run into is that opting for a heavy-duty frame tends to mean sacrificing some of those things. But this stunning deep-seated porch swing checks all of those boxes.
This Polywood swing comes with a 20-year warranty and won't crack, splinter, weather, or rot. The deep seat is paired with weather-resistant cushions of your choice for reducing back strain. It's made in the USA and comes with Marine-grade steel hardware and zinc alloy chains.
This beautiful swing seats two, and this company ensures that all their products have a minimum of 400 lbs weight capacity per seat. Buy Here. 
Pros
Made in the USA

Marine-Grade Steel Hardware 

Supportive Back

Customized Cushions
Cons
Only 2-Seater

Not Sunbrella Fabric
Style Selections Steel Swing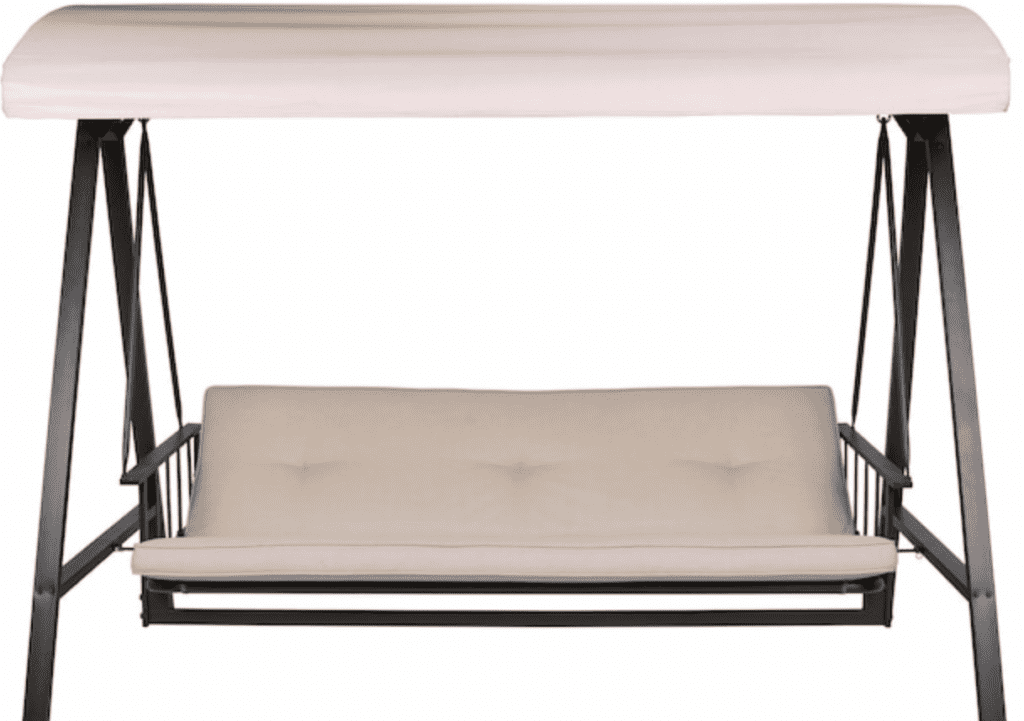 Have a porch that gets a lot of suns? Then you might enjoy a heavy-duty swing with a canopy. This is one of the few heavy-duty swings that offers a canopy and a stand for under $500. This bestselling porch swing from Lowes may look fairly plain, but it's highly versatile.
The futon style means you can comfortably lounge back or even take a short nap. The swing fully folds back to seamlessly convert into a daybed.
The steel frame is protected with a weather-resistant powder coat, while the canopy provides a bit of coverage from wind, sun, and rain. This 2 to 3-person swing has a weight capacity of 800 pounds and comes with a one-year warranty. Buy Here. 
Pros
Great Price

Canopy and Stand 

Converts to Daybed 

Powder-Coated Frame 
Cons
Only Cream-Colored Cushions

Thin Arm Rests 
Rosean Oak Wood Porch Swing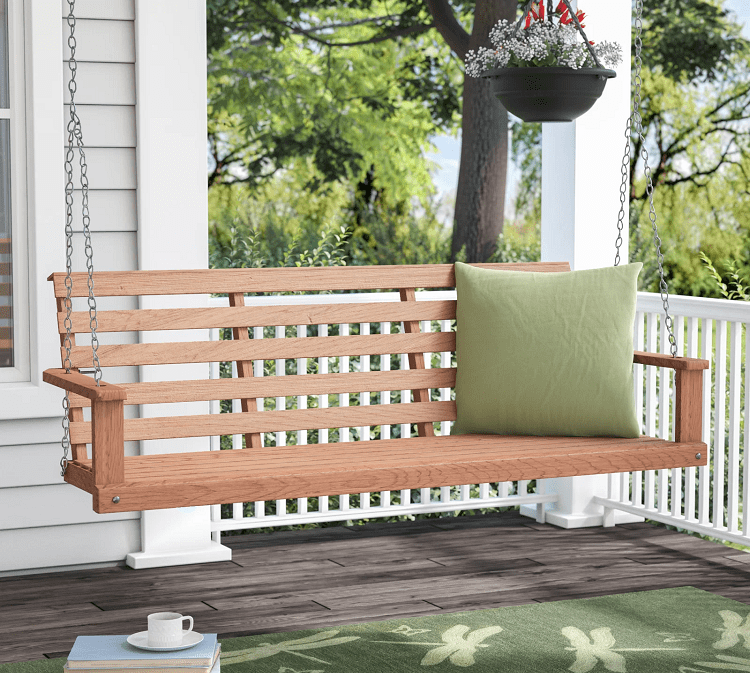 I've always loved the look and feel of a wooden porch swing. The problem? So many of the supposedly heavy-duty wooden swings are made with softer woods, like pine and fir. I noticed this across many stores- from USA-made specialty stores to Amazon.
Luckily, I was able to find this beautiful solid oak porch swing that supports up to 900 pounds. It's also one of the few porch swings that come with a galvanized hanging chain.
It's also made with dried oak, which is an important detail. Dried wood is preferable, as the reduction in moisture leaves it less susceptible to rotting. This porch swing comes with a standard commercial warranty and an optional protection plan at an additional cost. Buy Here. 
Pros
Solid Dry Oak

Galvanized Chains 

900 Pound Capacity 

Classic Look 
Cons
Requires Oil Treatments

Not as Comfortable 
LuxCraft 5′ Plain Swing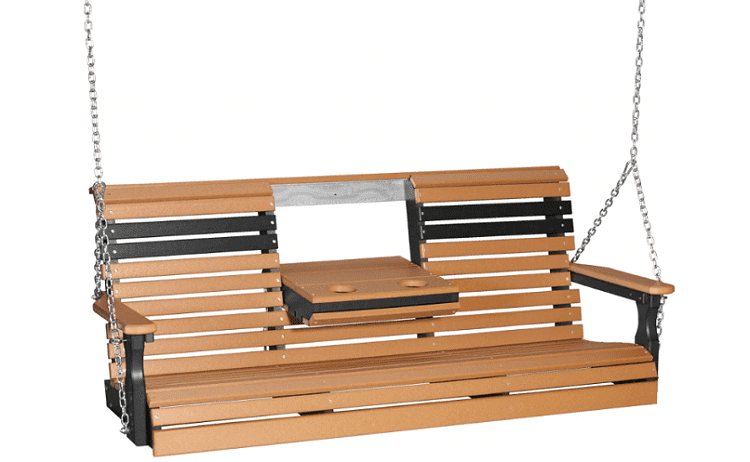 The name may be bland, but this heavy-duty swing is anything but plain when it comes to both features and design. This heavy-duty porch swing holds 400 lbs per seat (800 lbs) and features a center console with cupholders.
I love that it's Amish-made in the USA, and it also stands out with its unique finish. The slight curve to the backs and the more generous armrests also check the boxes for an ergonomic design. Stainless steel fasteners add stability to this Polywood swing.
This swing comes with a lifetime warranty. You can choose from multiple colors and designs, from patterned to solid colors. Buy Here. 
Pros
USA- Made (Amish)

Cup Holders 

Durable Polywood 

Lifetime Warranty
Cons
Chain Could be Thicker 

Extensive Assembly 
Live Casual Heavy Duty Metal Porch Swing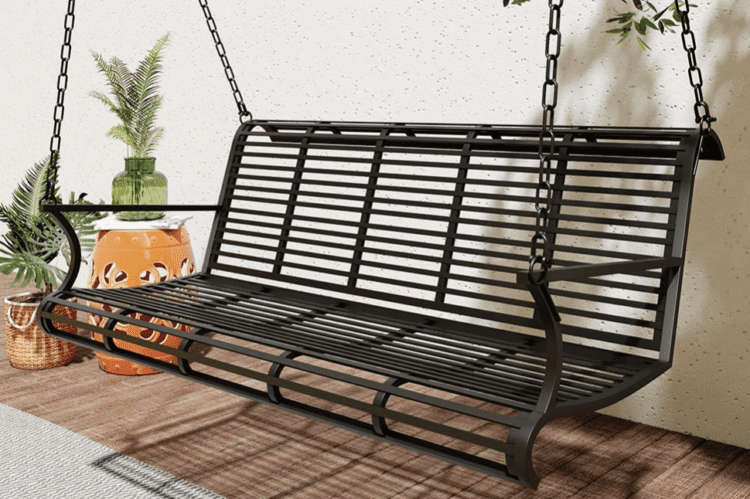 Sometimes you just want a minimalist porch swing. This metal porch swing couples a heavy-duty design with a simplicity that suits classic to modern homes.
The 800-pound weight capacity is supported by a powder-coated iron frame. I like the rolled back- not only for style but also for reduced back strain.
The base coat is also weather-resistant and the price is quite reasonable. As a plus, the metal comfort springs are designed to be shock-absorbent for a smoother ride. Buy Here. 
Pros
Powder-Coated Frame 

Rolled Back 

Comfort Springs

Versatile 
Cons
Gets Hot in Warm Weather

Fairly Plain 
Frequently Asked Questions
 
Question: How Much Weight can a Porch Swing Support?
Answer: The amount of weight a porch swing supports depends on the main materials, construction, and support system. Heavy-duty porch swings can accommodate over 500 pounds, but smaller porch swings may hold as little as 200 pounds.

For this reason, it's always important to check the specifications of that porch swing. When considering weight capacity, divide by the number of people the swing is supposed to hold.

It's also best to err on the side of safety. Select a porch swing that accommodates above and beyond the weight capacity that you think you need. 
Question: Is a Wood or Metal Porch Swing Better?
Answer: There's always nuance as to if a metal or wood porch swing is better. Some wood swings are very durable, while others weather quickly. The same is true for metal porch swings.

Wood porch swings provide a sturdy, comfortable frame and provide a beautiful aesthetic- but they have the disadvantage of needing more upkeep and occasional oil treatment.

Meanwhile, metal porch swings can be lower-maintenance but do absorb both heat and cold, making them usually a bit less comfortable. 
Question: Can You Put a Swing Set on Concrete?
 
Answer: The biggest concern with concrete is the safety risks for young children. However, for a heavy-duty porch swing, concrete is a fantastic option. Concrete provides a stable foundation for anchoring your porch swing and making sure that it's secure and stable.

Just make sure that you check your concrete every once in a while. Over time, concrete can form cracks from regular air exposure. Most people do just fine with using concrete as their foundation for both porch swings and porch swing sets. 
Question: Are Porch Swings Safe? 
 
Answer: The safety concerns with porch swings usually come down to improper use, assembly, or buying a flimsy porch swing. Knowing how to install a porch swing is critical. If you don't feel comfortable assembling or hanging the swing yourself, please seek professional advice.

Many stores, especially home improvement stores, offer delivery and installation at a fair price. Another issue is leaving porch swings unsupervised.

If you have the wrong children, be careful with how they use the porch swing. Checking to make sure your porch swing is in good condition and covering it when not in use are likewise important. 
Final Thoughts
Whether you're concerned about safety, need a generous weight capacity, or just want a porch swing that will last, investing in a heavy-duty swing is worthwhile. A heavy-duty porch swing should last you many seasons- and help you make some great memories.
Whether you want a space to enjoy the outdoors or a great book or just company, heavy-duty porch swings may be the best fit for you. Sometimes spending a little extra initially gives you the push you need to invest not only in your backyard but also in yourself. 
Final Recommendations: Heavy Duty Porch Swing Covers 
A heavy-duty porch swing may last longer than other porch swings, but how you treat it matters too. Even the most durable and weather-resistant porch swings last longer when covered. Cover your porch swing during inclement weather and colder months. The best cover is one that is moisture-resistant, resistant to UV rays, and provides a firm fit with zipper, hook, and or snap enclosures.
 For more information, check out my Guide to the Best Porch Swing Covers. I advise on the best materials, dimensions, features, and links to some of my top choices for porch swings of all sizes. 
Recommended Reads: