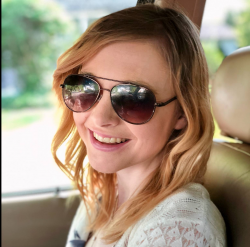 Latest posts by Erin Jamieson
(see all)
Strange as it sounds, I've loved Lowes since I was little. There's something about walking into a Lowes, smelling the fresh scents of wood and building materials, and imagining possibilities. But while I've known Lowes for kitchen and indoor home renovations, one of their unsung heroes is the collection of fire pits. The question: how do you find the best fire pit from Lowe's for your money?
With an online and in-stores collection, Lowes sells versatile and practical fire pits. What I wanted to do was investigate what your best options are. In this guide, I'll take you through my step-by-step process, separate nostalgia, and tell you my honest opinion about the pros and cons of buying a fire pit from Lowes. 
I'll point you to the best fire pit materials, how to catch a sale, and some of my favorite styles-from portable to tabletop to large fire pits and everything in between.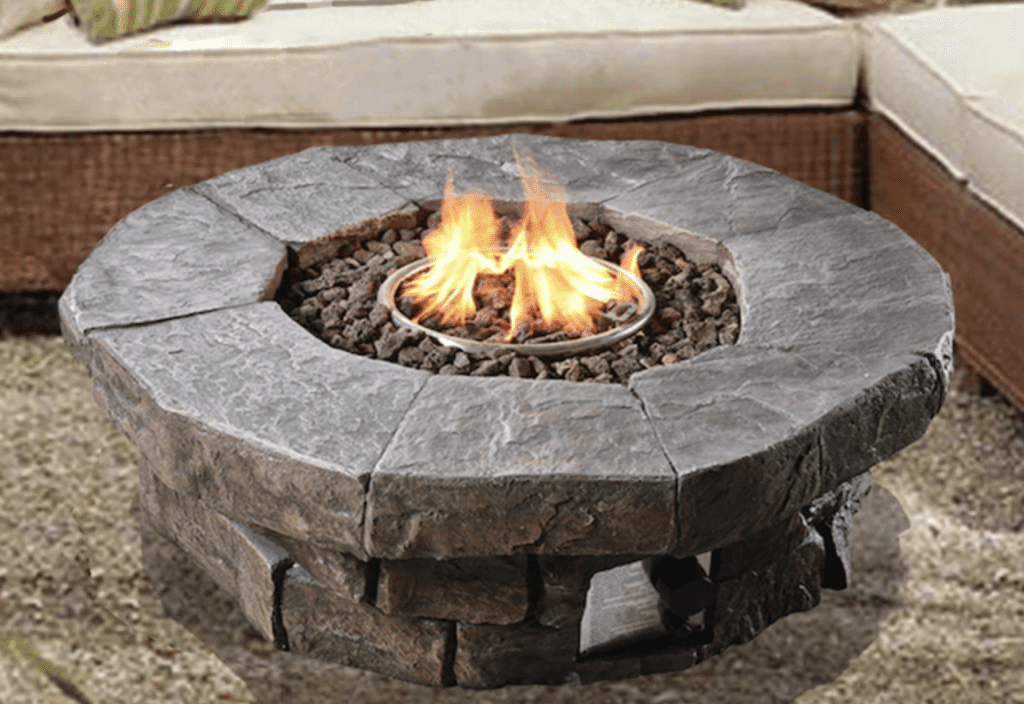 Bottom Line Up Front Summary
The selection of fire pits at Lowes includes practical options for portable, tabletop, and classic fire pits. A price matching program, clear descriptions, and popular brands are all pluses. At the same time, Lowes neither carries the cheapest fire pits nor truly premium fire pits. To find the best fire pit, select steel, concrete, or stone fire pit with a sturdy build, 35,000 to 60,000 BTU, and unique features. 
If I had to recommend just one fire pit from Lowes, it would be the Teamson Home Fire Pit. At 37 inches, this round fire pit is a great size for a backyard. It provides the look of stone with a more affordable, durable concrete construction. It has a BTU output of 50,000 and comes with useful accessories, all for under $500. 
My Top Picks
The truth about Shopping for Fire Pits from Lowes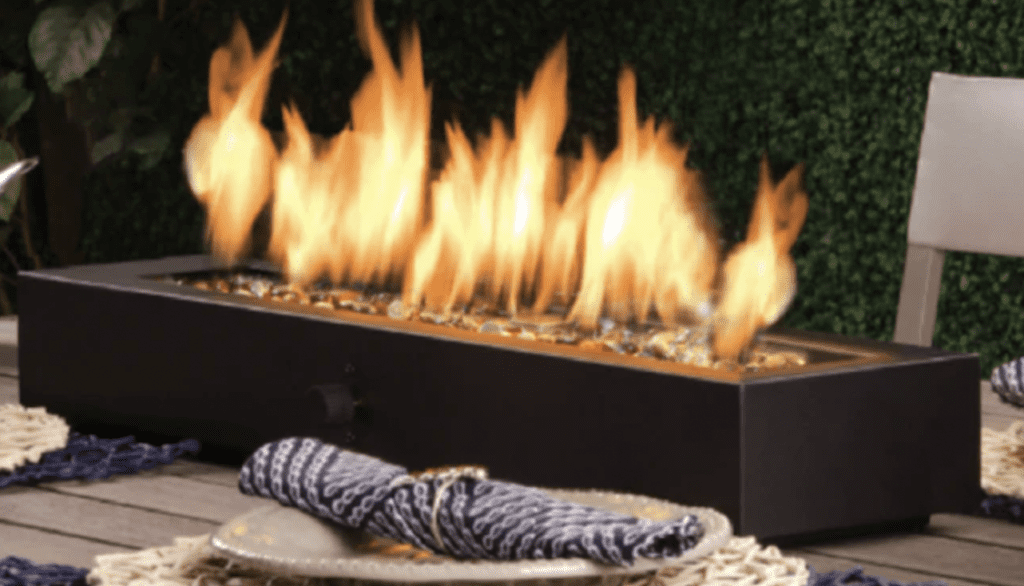 Lowes is very competitive in pricing with other home improvement stores- especially Home Depot. I see Lowes' collection of fire pits as a middle ground between Walmart or Amazon and a place like Pottery Barn. Here's my honest opinion about the pros and cons of buying a Fire Pit from Lowes.
The Good
Lowes offers medium-range fire pits. They aren't the cheapest, nor the most expensive- but there are ways to get discounts both in stores and online. I like that you can recognize a number of their brands, such as Endless Summer, Edmonton, Elementi, and Allen and Roth. The website allows you to search by fire pit type and apply helpful filters. I like their blend of traditional and modern designs, all of which suit a variety of homes. They also have a nice selection of fire pit accessories. In short, they always have a variety of fire pits in stock, but not so many that it's overwhelming. 
The Not-So-Good
If you want a super-budget fire pit, you can shop clearance- but the options won't quite match the prices on Amazon or Walmart. If you want an unusual, premium material like Polywood, or something ultra-stylish, then Lowes isn't the very best place to shop. I also was disappointed that most of their steel fire pits aren't powder-coated. You also have access to fewer customer reviews than you would for larger websites, like Wayfair or Amazon. 
Bottom Line
I like Lowe's selection of fire pits for the average shopper. Maybe I'm old school, but I also appreciate the option of shopping both online and in stores. The fire pits don't wow me as much as some premium collections, but they also are more affordable and practical. 
How to Find the Best Lowes Fire Pits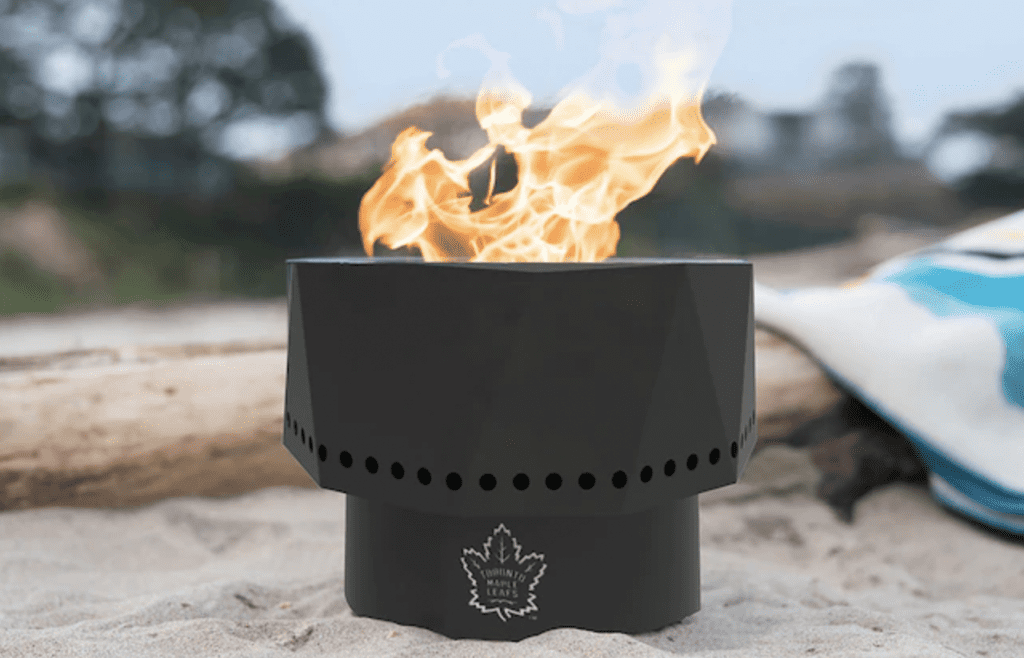 If you've decided that shopping at Lowes for a fire pit is best for you, here's my plan to find a great product. I'm always looking for both value and a good deal for porch and patio items. At the same time, I know that a fire pit is something you can spend a lot of time with- I have fond memories of fire pits. With that in mind, here's how I balance price, materials, and fire pit features. 
Tip One: Size, Dimensions, and Shapes
You can't buy a fire pit anywhere without this step. Lowes carries round, square and rectangular fire pits, from light and portable to large. For their round fire pits, standard dimensions include 24 inches, 28 inches, 30 inches, 36 inches, 44 inches, and 48 inches. That falls within the standard ranges. If you want a small fire pit, a width of around 3 feet is correct. Large fire pits often have widths of up to 6 feet.  
I'd say that Lowes fire pits lean moderate in size, with a few smaller or large options. To determine the correct size and dimensions, measure out your space, providing a minimum of 10 to 15 feet away from your home or your neighbor's home. When in doubt, buy a slightly small fire pit. 
Tip Two: Fire Pit Types 
Next up, you'll need to decide between the different types of fire pits that Lowes carries. Lowes is pretty generous with its collection of traditional backyard fire pits, but they do carry other options. Ask yourself if you plan to use your fire pit in your yard, or patio, or go out camping. 
If You're Going Camping, Buy….
If you plan on traveling or going camping with your fire pit, shop Lowes Portable Fire Pits. These fire pits are lightweight and may feature a design that's easy to assemble, compact, foldable, or has wheels. Portable fire pits should be around 20 pounds or less and either powered by propane or wood-burning. If you like the convenience and efficiency of propane, opt for this. Wood-burning may be less efficient and harder to control, but the advantage is not having to bring a propane tank with you. 
For Patio Use, Buy…
For patio use, one of your best options is to Shop Lowes Fire Pit Tables. Firepit tables from Lowes allow you to safely use a fire pit with its standalone table. For them, most are propane or natural gas. Keep in mind that natural gas fire tables mean that your fire pit must remain stationary. Propane also can cost more initially but is fuel-efficient over time. Many of these fire pits double as side tables or include hidden cabinets. They also pair with some of Lowes Outdoor Patio Furniture Sets. 
Otherwise, Buy…
Traditional fire pits are a large, ambiguous category. This covers Lowes Fire Pits that aren't fire pit tables/ inserts or portable fire pits. This is probably what first comes to mind when selecting a style. Of the options, these have the potential to be the heaviest and sturdiest, with more options for shapes and materials. These fire pits can be wood-burning, or gas (propane and natural). If you love a chemical-free fire pit with a classic feel, wood burning could be a good choice. If you prefer control, fuel efficiency, and electronic ignition, gas (especially propane) is more for you. 
Tip Three: Best Materials
Across their fire pits, Lowe's sticks with a few materials for the main fire pit structure. That includes aluminum, steel, concrete, stacked stone, and accents, like wicker and glass. Of these, I'd skip aluminum and opt for concrete, stone, or steel. 
For a Lighter Modern Look, Choose…
Steel and stainless steel fire pits are popular for a reason. While steel tends to be low-maintenance and durable, I prefer powder-coated steel. Powder coating is a weather-resistant treatment that strengthens and prevents rust/ corrosion. 
For a Classic Aesthetic, Choose…
Stacked stone has an appeal that's hard to explain. While Lowes doesn't have a ton of stacked stone fire pits, what they do have captures a classic, rustic look. Stone is very durable and low-maintenance. It just tends to be heavy and more expensive.
For a Sturdy Build, Choose. 
Concrete provides the same stability as stone but is usually less expensive. It can crack, but having it filled is usually fairly easy and cheap. Granted, Lowes concrete fire pits aren't going to be quite as stylish. They're also not portable. Reinforced concrete is a plus. 
Tip Four: Picking Out Fire Pit Features
What you need- or don't need- from a fire pit depends on how you'll use it. Here's a rundown of some features you can expect to find at Lowes, and how I view each. 
BTU Output
BTU output tells you you have a lot of heat or energy a fire pit can generate. A range of 35,00 to 50,000 is pretty standard and also typical of many of Lowes fire pits. If you live in a warm climate, aim for the lower end; otherwise, be aware of how much power you can expect. Most importantly, check the BTU before buying so you don't end up with something far weaker than you need. For cooking, grilling, and roasting, a higher BTU output is better. 
Wind and Heat Guards
Live in a windy climate? A wind guard should be made out of tempered, protective glass. While not a must-have, it can keep you comfortable and protect you from sparks. I especially like this feature for patio fire tables. 
Grill Grates
These allow you to go beyond roasting marshmallows and really grill. If you look, you can find some with tiered or swivel systems at Lowes. That has the advantage of providing more even, consistent cooking. 
Air Vents, Holes, and Mesh Screens 
Fire pits need air and ventilation. Air vents or holes ensure that your fire lasts. There are also smokeless fire pits. As someone with allergies, I appreciate these. While not entirely smokeless, these are low smoke and provide ventilation through other means, sometimes with double-wall construction. 
Tip Five: Catching Deals at Lowes
Price isn't everything, but I do have a few tips for finding a Lowes fire pit at the best price possible. If you apply for the Lowes Advantage Card, an in-store credit card, you'll get 5 percent off all purchases (and an initial 20 percent off if you apply in stores). They have big sales throughout the year, especially:
President's Day

Memorial Day

Father's Day 

Fourth of July 

Labor Day

Black Friday

New Year's Day 
Lowes will also price match. This works for both online and in-store items. Here's their Full Price Promise Policy. 
Lowes Fire Pits: My Favorites 
Here are just a few of my favorite fire pits for sale at Lowes. These were selected by their overall features, materials, and price. From portable fire pits to classic fire pits and fire pit tables, here's what I recommend buying. Some of my picks include regular steel. If you buy regular steel, consider a protective coating for fire pits and grills, like EverBrite Coatings. 
Allen & Roth Tabletop 7-Inch Fire Pit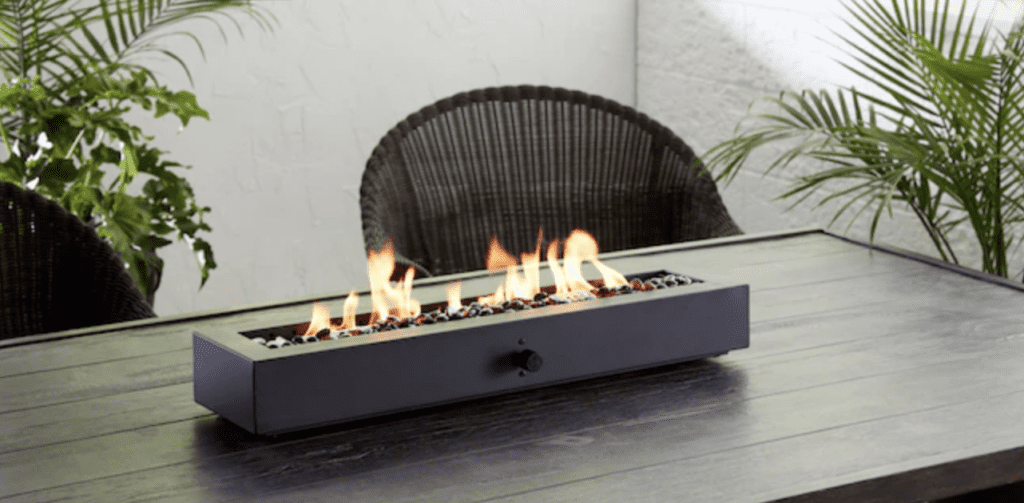 If you've always wanted a fire pit but don't have the space or don't want the upkeep, a small tabletop fire pit may be the right solution. This rectangular fire pit may be small, but it's one of Lowe's best tabletop options. Despite this, I was impressed with the 40,000 BTU output and the sleek construction. The sturdy steel frame is accented with decorative fire glass and is compatible with propane. I like that it also comes with a protective cover, and a 1-year warranty, and is competitively priced. Buy Here. 
Pros
Protective Cover

Modern Steel Frame

Propane with 40,000 BTU
Cons
Not Powder-Coated Steel

Very Small 
Blue Sky Outdoor Living Ride Wood-Burning Fire Pit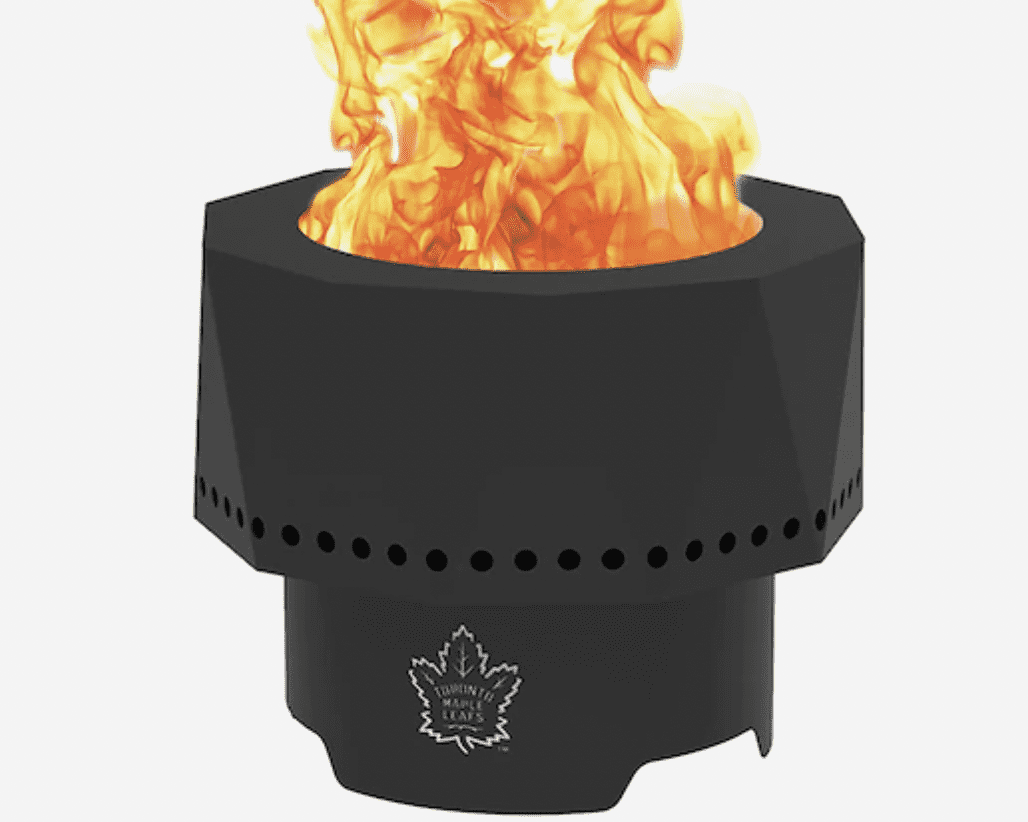 I love exploring- whether that's finding a new trail to hike or a new way to experience the outdoors. If you love exploring and have been eyeing a portable fire pit for camping, this is one of my top picks from Lowes. This classic wood-burning fire pit is protected with powder-coated paint over a heavy-duty steel frame. The efficient design reduces smoke and increases burning efficiency. The compact design is easy to carry and assemble, and poker is included. I also like the 3-year warranty and hard-to-beat price. This is about the cheapest fire pit Lowes has, and yet it's still one of the best. Buy Here. 
Pros
Powder-Coated Paint over Steel 

Compact Design

Fuel-Efficient 
Cons
Teamson Home 37-In Fire Pit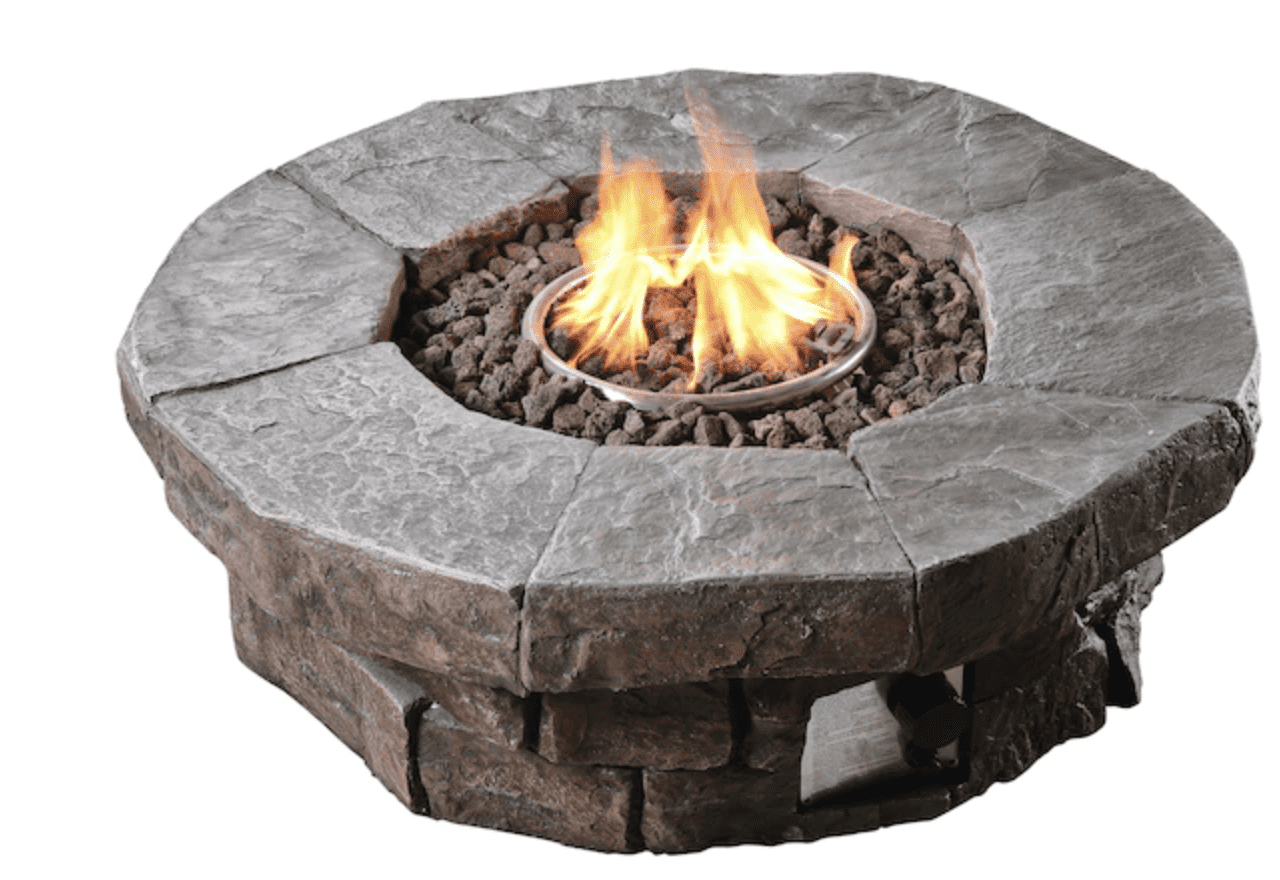 If you're looking for a classic fire pit for your backyard at a great value, this Teamson Home round fire pit is my pick. It's an average to slightly larger than average size and provides the look of stone with a more economical concrete construction. The stacked stone look adds ambiance, paired with the included lava rocks. With a BTU output of 50,000, you're getting the heat you want for chilly nights or roasting marshmallows. The base is built to withstand windy conditions and is comparable with propane tanks. The purchase comes with a 30-day warranty. Buy Here. 
Pros
50,000 BTU

Stacked Stone Look

Hardy Concrete Construction
Cons
Short Warranty (30 Days)

Not Real Stones
Camplux 30-in Fire Pit Table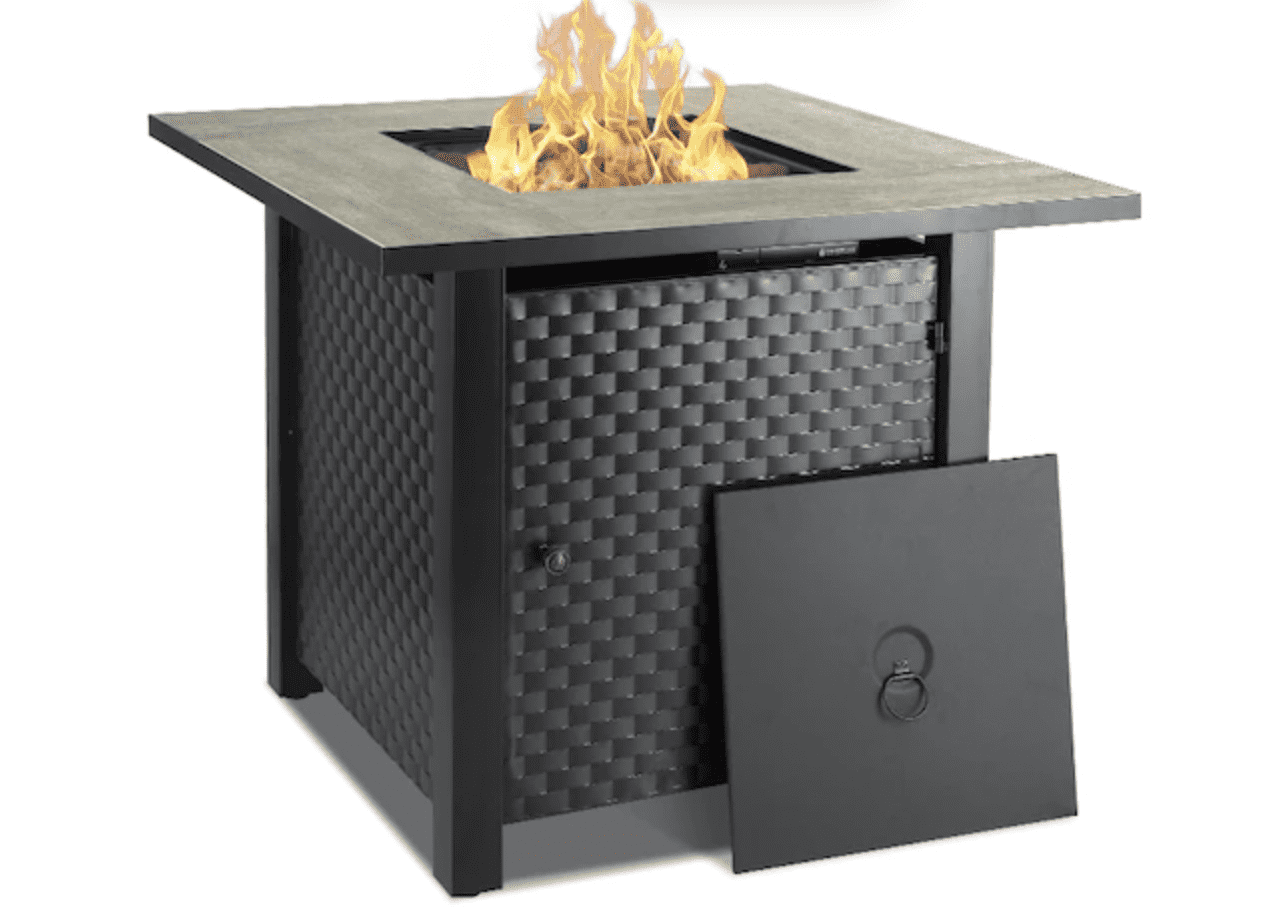 This fire pit table is great for entertaining. It's not the most beautiful or largest fire table out there, but it's one of the best values from Lowes. The Complex fire table has a BTU output of up to 50,000, with a strong and reliable flame. I like the easy electric ignition button paired with an automatic shut-off for safety. The cabinet includes a concealed area for a 20-pound propane tank. I also like how the textured steel exterior provides a little style of a wicker look, but with improved durability. Rust-proof paint also means this fire pit table remains to look in great condition. Buy Here. 
Pros
50,000 BTU

Safety Shut-Off

Sturdy Textured Steel with Rust-Proof Paint
Cons
No Warranty (optional protection plans)

Doesn't Include Accessories or Tank
Big Horn 47-in Fire Pit Grill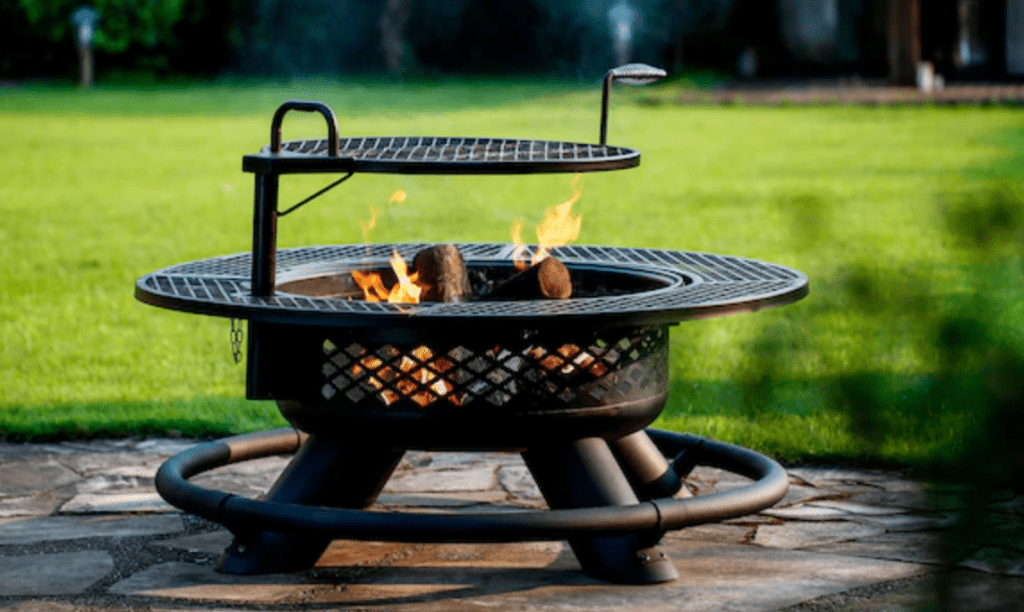 Fire pits aren't just for bonfires or roasting marshmallows. Some, like this round fire pit from Lowes, are designed for basic cooking and grilling. The fire pit and grill combo is a bestseller for good reason. An integrated grate can be used for grilling but also improves burning efficiency. I like the full 360-degree swivel so you can cook and heat evenly. This fire pit and grill even include height adjustment and are all crafted with steel. Your purchase comes with an additional charcoal pan for cooking and a 1-year warranty. Buy Here. 
Pros
360 Degree Swivel Base

Grill Plates and Cooking Pan 

Steel with Decorative Cut-Outs
Cons
Not Powder-Coated Steel 

Requires More Maintenance
FAQs
Question: How do I get 20 percent off at Lowes?
 
Answer: Lowes introduced a credit card called the Lowes Advantage Credit Card. When you sign up, you get a 20 percent discount on your purchase. However, you only get this when you apply in-store and request a discount. The Advantage Card is a type of limited credit card that's only applicable for purchases from Lowes. You'll need a credit score of 640 or above to be approved. Perks beyond the one-time 20 percent discount include 5 percent off all additional purchases and special financing options.
Question: Why does a fire pit smoke?
Answer: Fire pits smoke usually due to a lack of oxygen. This can result in incomplete combustion, and you'll get a smokey fire pit. While it's normal for a fire pit to smoke some, the ventilation may need to be adjusted if the smoke seems excessive. The best fire pits have air vents, air holes, or a double-wall system to optimize airflow. Another problem is moisture. If you have a wood-burning fire pit, a common problem is using wood that's wet or lightly wet, which leads to more smoke production. 
Question: How do you install a Lowes fire pit?
Answer: Every Lowes fire pit comes with installation instructions. For portable fire pits, it can be as simple as a few-step process. For larger fire pits, you could opt to hire a professional to help you out. If you visit a store near you, you can also ask in person about their services. And if you're gifted at DIY projects, Lowes even has some instructions to Build a Fire Pit with a Ring Kit on their Youtube channel.
Question: When can you light a fire pit? 
 
Answer: While backyard fire pits are legal, most regions have limits on when you can use them. It's a good idea to check with your state's government website for any time restrictions. Aside from that, use common sense. Very dry or high-wind days aren't good days to light a fire. Light wind is fine, but wind gusts can not only be frustrating, but even dangerous. Don't light a fire if you anticipate inclement weather or if you don't have adequate room. Always be aware of other people and animals. 
Final Thoughts
Lowes is a decent place to shop for fire pits. What I like about Lowes compared to shopping from places like Wayfair or Amazon is you get that in-store support if you need it. Their fire pits are mostly moderately priced, and there are enough details to help you make your decision. If you're deciding between Lowes vs Home Depot, I'd do a quick comparison. Usually, pricing is pretty similar, but each offers a slightly different inventory of select brands and styles. Personally, my favorite pit in this list is the Teamson Home 37-In Fire Pit!
Recommended Reads: