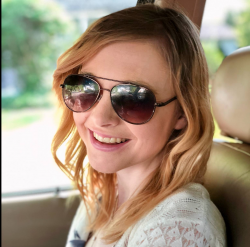 Latest posts by Erin Jamieson
(see all)
I don't know about you, but every time I hear the phrase must-have, I'm skeptical. Some of my favorite fire pit memories have revolved around a summer or autumn night, with a simple round pit at a party or even solo.
So can you enjoy a fire pit without any accessories, or is it best with as many as you can buy? The truth is somewhere in between. 
From hardware and tools to accessories that help you up to your bbq game, it's at once exciting and overwhelming to see how many fire pit accessories you can buy. I created this guide to distinguish and prioritize pest accessories for large and portable fire pits. 
Bottom Line Up Front Summary
There are countless fire pit accessories to choose from, from accessories for cooking to safety must-haves. I'd cover the basic tools, like tongs, and safety equipment before venturing into other accessories.
If I had to recommend one staple fire pit accessory for everyone, it would be something like the Blue Sky Outdoor Living Poker and Tongs Set. This basic tool kit gives you all you need to get started, and at an affordable price. 
My Top Picks
See also: Best Outdoor Rugs for Porches
How to Select the Best Fire Pit Accessories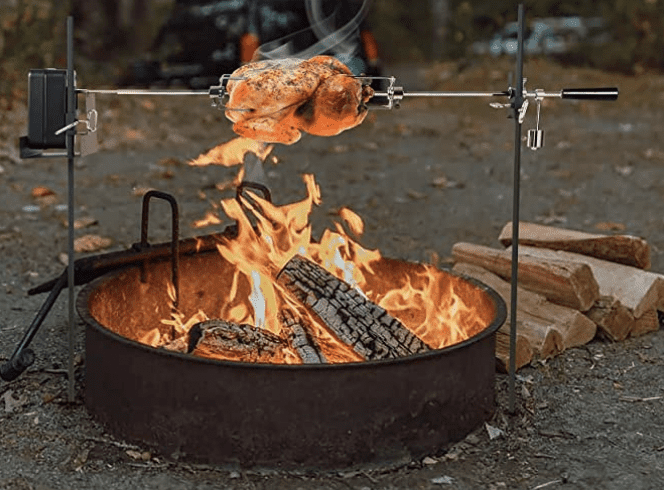 There's always going to be a debate about whether a fire pit accessory is a must-have or a nice addition. I think it's easiest to categorize them by their function.
Anything related to fire pit safety is usually a must-have, while anything used for cooking, grilling, or entertaining will simply enhance and expand how you use your fire pit. That's why I've grouped accessories by type. 
But real quick, before I go into detail, I want to give you a few tips for finding the best fire pit accessories within each category. These are general guidelines, but they help in sorting out lackluster products. I look for the following, no matter the type of fire bit accessory:
Weather-Resistant Materials
If you're using accessories near and with a fire pit, the last thing you want is something that doesn't last. Accessories need to be heat-resistant, resistant to moisture/ waterproof, resistant to rust, and resistant to mildew.
Acceptable options include: powder-coated/ treated steel, treated cast iron, Polywood, concrete, and stone. I skip materials like regular plastic, wood, copper, and other base metals. 
Ratings & Warranties
I'm pretty picky about warranties when looking for the best fire pits. However, lower-cost accessories may have no or quite limited warranties. I try to balance this with customer reviews and the reputation of the store. 
Where to Buy Fire Pit Accessories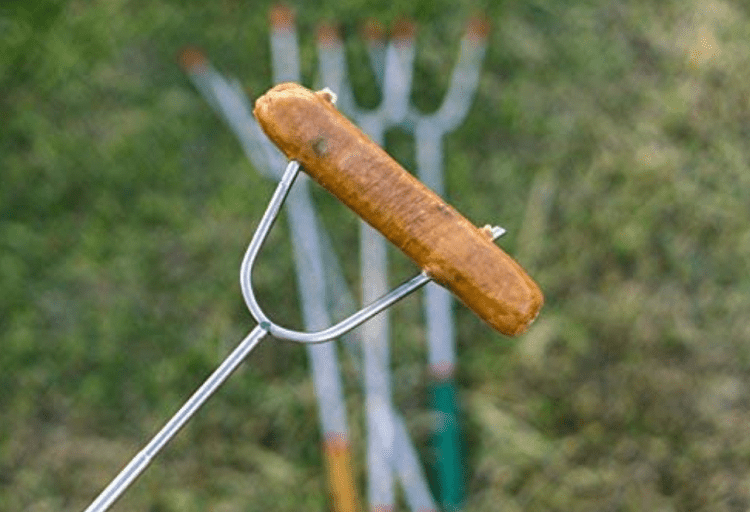 Amazon. Walmart, Target, and Wayfair have a fairly wide selection of fire pit accessories, including budget options. I also check home improvement stores- Menards, Lowes, and Home Depot.
For high-end or unique fire pit accessories, check specialty outdoor stores, such as REI. But be wary: many BBQ stores online have a history of lackluster products or customer service. 
Fire Pit Accessories for Safety
The first category, in my opinion, is the most important. These fire pit accessories ensure that your fire pit experience is safe and reliable. Many of these accessories are must-haves, and many are quite affordable. Here are your fire pit accessories for the safety checklist. 
Water Bucket
This doesn't need to be fancy. A simple water bucket nearby is a must-have accessory. Fill a water bucket up before igniting a fire. Opt for a bucket with heat-resistant material, like HDPE or stainless steel. You want a sturdy handle, plus a capacity of a few quarts to gallons. 
My Pick: Hudson Exchange 7 Gallon (2 Pack) Large Bucket Pail Container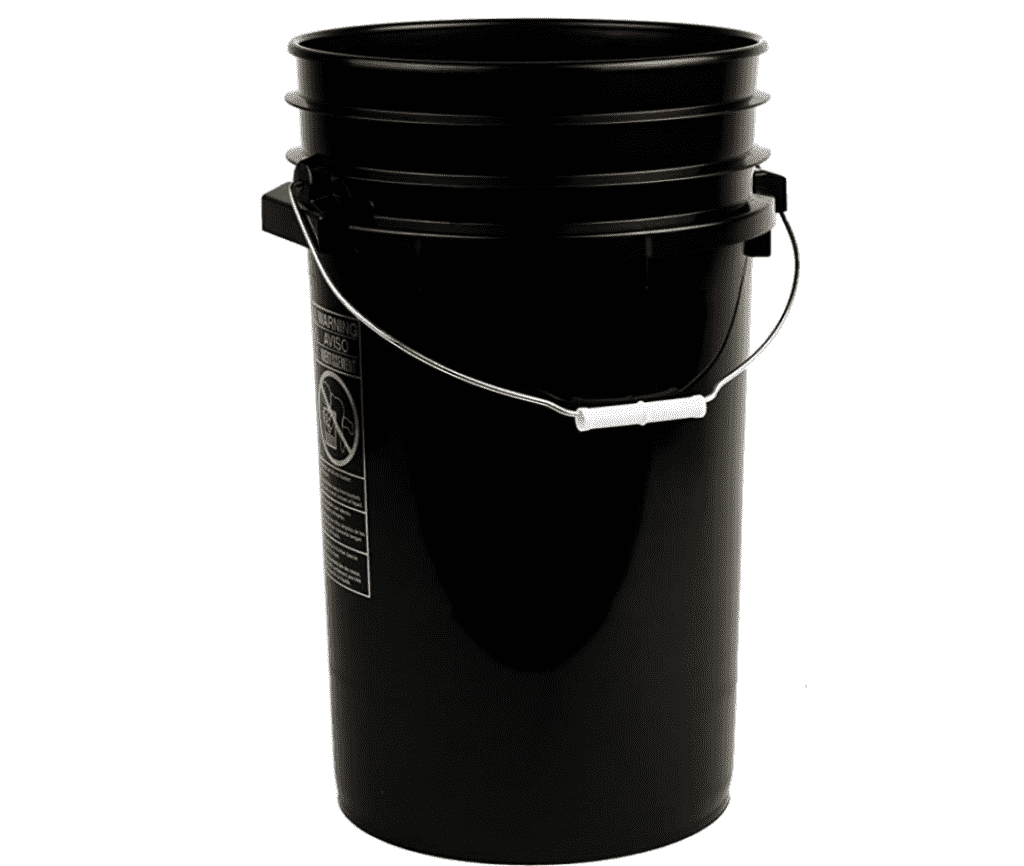 This water bucket isn't the cheapest you can buy, but it's all you need. The 2 pack comes with two large pails that hold up to 7 gallons of water each. They include easy peel lids and plush with a polished and tapered design. Importantly, they're made with HDPE, a form of high-density plastic that is durable and has heat-resistant properties. Buy Here. 
Pros
7 Gallon Capacity

Durable and Heat Resistant 

Highly Rated 
Cons
Only in 2 Pack 

Handle Could be More Generous 
Heat-Resistant Gloves
This is a must- and I always see people operating fire pits without heat-resistant gloves on hand. Genuine leather gloves are best. Look for the heat-resistant safety rating and insulation. Longer gloves (12 inches and up) provide the most protection. 
My Pick: Ozero Heat Resistant Leather Gloves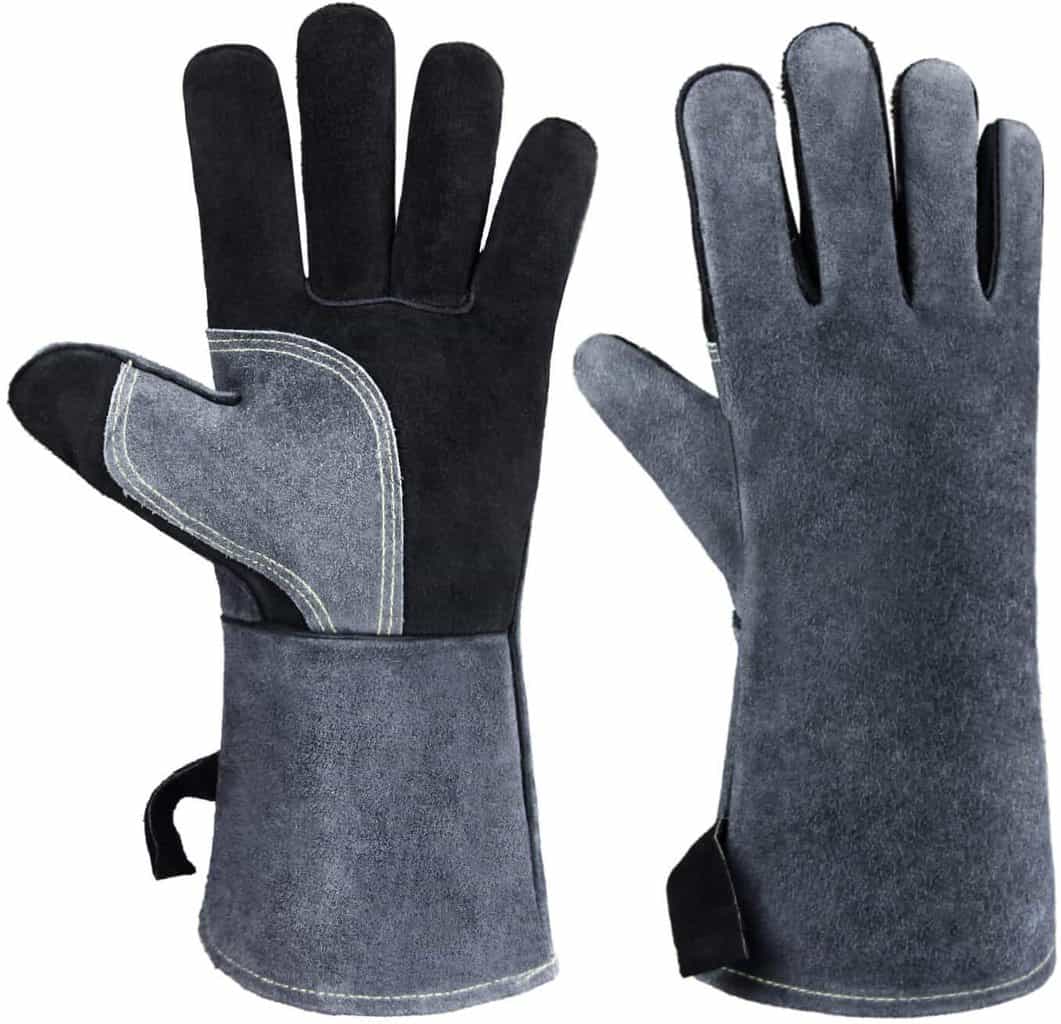 Not only is the price excellent, but these gloves are just what I'm looking for when I'm working with a fire pit. The generous 14-inch length is complemented by insulated lining.
Not only can these gloves withstand up to over 900 degrees, but they also work as flame retardants. Flexible digits allow you to grill or BBQ. They're also made in compliance with environmental standards. Buy Here. 
Pros
Flame Retardants

Genuine Leather

Flexible

Handles up to 930 Degrees
Cons
Fire Extinguisher & Accessories
Fire extinguishers don't need to be large to be effective. An outdoor weather-resistant case helps you store your extinguisher safely. You can also buy simple fire extinguisher mounts for a back patio area. Look for a Class B or C rating, which indicates multipurpose use. 
My Pick: Kidde Pro Series 210 Fire Extinguisher & Hose Kit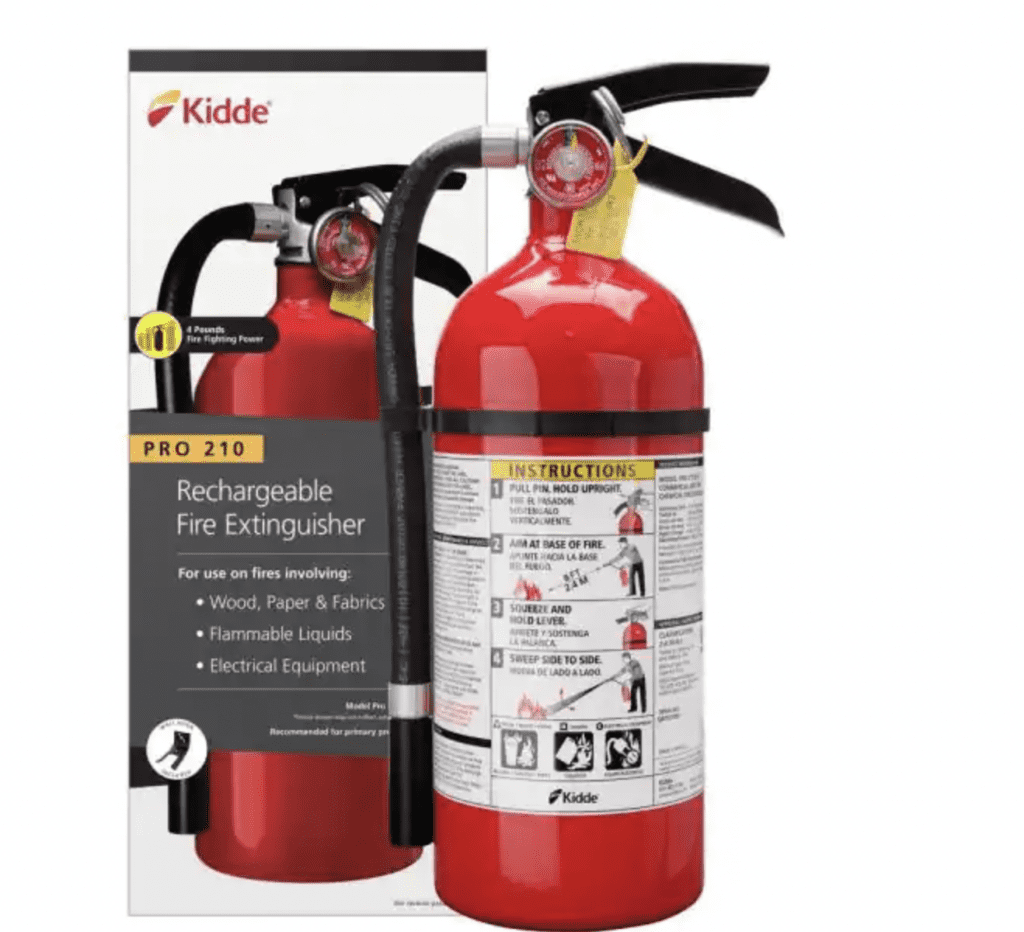 Home Depot has a fire extinguisher set that frankly is good to have on hand, fire pit or not. This set is ABC rated, making it fully multipurpose. With a discharge range of 10 to 15 feet within 8 seconds, it's handy to have, just in case. Buy Here. 
Pros
ABC Graded

Fully Multipurpose

Good Range 

6 Year Warranty
Cons
Some Didn't Receive Wall Hanger

No Case
Wind/ Weather Guard & Spark Screens
A wind guard adds protection not only against the wind but also from fly-up sparks. Many fire pits come with a wind guard, but you can also buy them separately. Look for a simple tempered glass guard that fits the dimensions of your fire pit.
There are mostly round, square, and rectangular shapes. You can also use a spark screen, which is usually constructed with weather-resistant, steel mesh. 
My Pick: Fire Sense Tempered Glass Steel Guards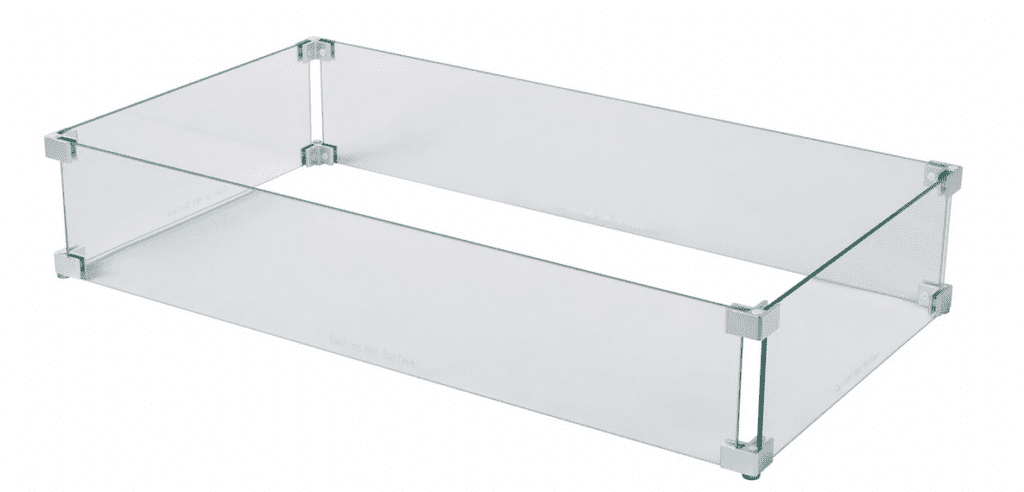 Lowes carries practical and useful wind guards for rectangular fire pits as well as for round fire pits. The tempered steel glass borders protect you on windy days and against flares or sparks.
Suited for tabletop fire pits, they're at once attractive and protective. The edges are smooth, not sharp, and they pair well with other Lowe's products. Buy at the links above. 
Pros
Protects Against Sparks

Tempered Steel 

High Density 

Modern Design
Cons
Limited Sizes

Slightly Expensive   
Heat Shields & Blankets
Also known as a heat deflectors, heat shields are helpful if you live in a warm or humid climate. If you or someone you know is prone to heat exhaustion, then this is easily lumped into an important fire pit safety accessory.
It works by dispersing heat in such a way that keeps the surrounding ground cooler. It's also a good idea for reducing damage and fire risks for grass, porches, and even concrete. Heat deflectors should be slightly raised, on a durable weather-resistant metal platform. They're often distinguished by grooves on the surface.
Some fire pits already come with heat deflectors, but many don't. You can also buy a heat blanket. This acts as a shield and works like a mat/ rug- perfect for smaller pits. 
My Pick:  Fire Pit Blanket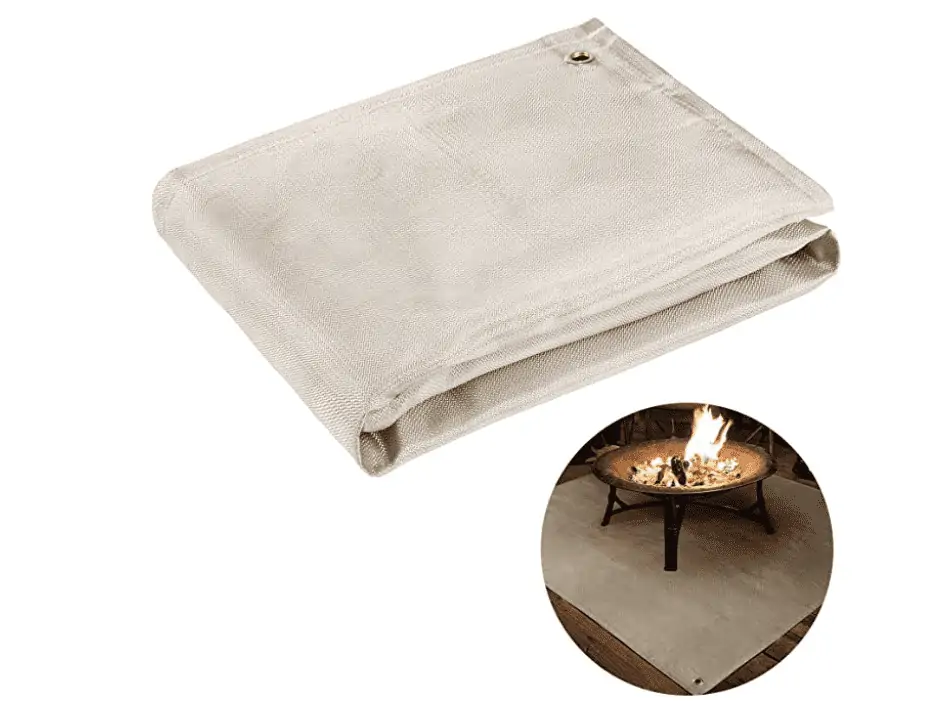 If you don't want to mess up an attachment, this portable blanket offers an easy solution. The fiberglass material is heat-resistant, easy to wash, and can even go camping with you. It's an effective flame retardant and features sturdy materials, all at a very reasonable price. Buy Here. 
Pros
Keeps Decks Cool

Flame Retardant 

Great Price 

Portable 
Cons
Only Cover 39" by 39"

Not Super Attractive 
Fire Pokers/ Tongs
This is a must-have, and you don't need to get too fancy. A fire poker is needed for wood-burning and charcoal-burning fire pits. Look for a length of at least 46", ideally with stainless steel ends. The grip should be stable and firm. 
My Pick: Blue Sky Outdoor Living Poker and Tongs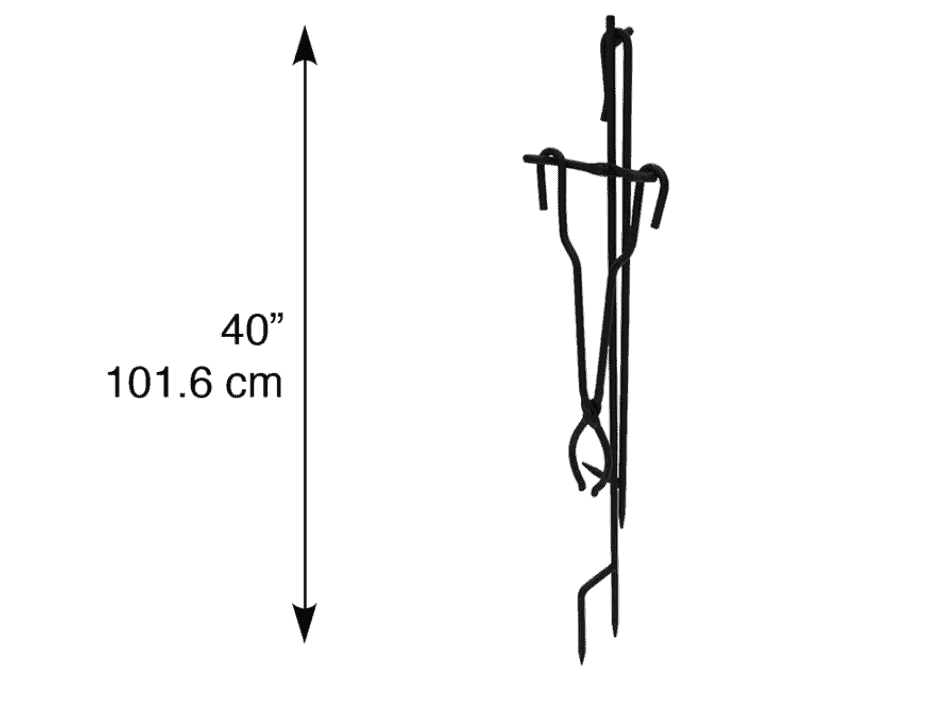 This affordable poker and tongs set are a go-to for any fire pit. Each features heavy-duty construction, complemented with a long construction and hardy craftsmanship. Tongs support up to 30 pounds. Buy Here. 
Pros
Includes Warranty

Tongs and Poker

Sturdy Steel Construction

Great Price 
Cons
Not Fully Weatherproof

No Comfortable Grip 
Fire Pit Accessories for Cooking/ Grilling 
Whether you just want to roast marshmallows or you want to grill a full steak, you'll need some fire pit accessories to help out. (For your best grilling experience, check out my Guide to Fire Pit Grills). These are simple additions- and don't have to cost you much. 
Grill Plates and Griddles
Grill plates and griddles are the most common, simple accessories you can use for cooking over a fire pit. These hold your hold food safely and are meant to evenly distribute heat- though they can't substitute for a full fire pit grill. They can also be used for camping, or as an addition to a full grill.
Cast iron coupled with stainless steel provides durability and performance. A griddle is especially great because it can be used for multi-purpose cooking. Flippable designs, non-stick surfaces, and adjustable heights are great features to look for. 
My Pick: Camp Chef Mountain Man Grill and Griddle Set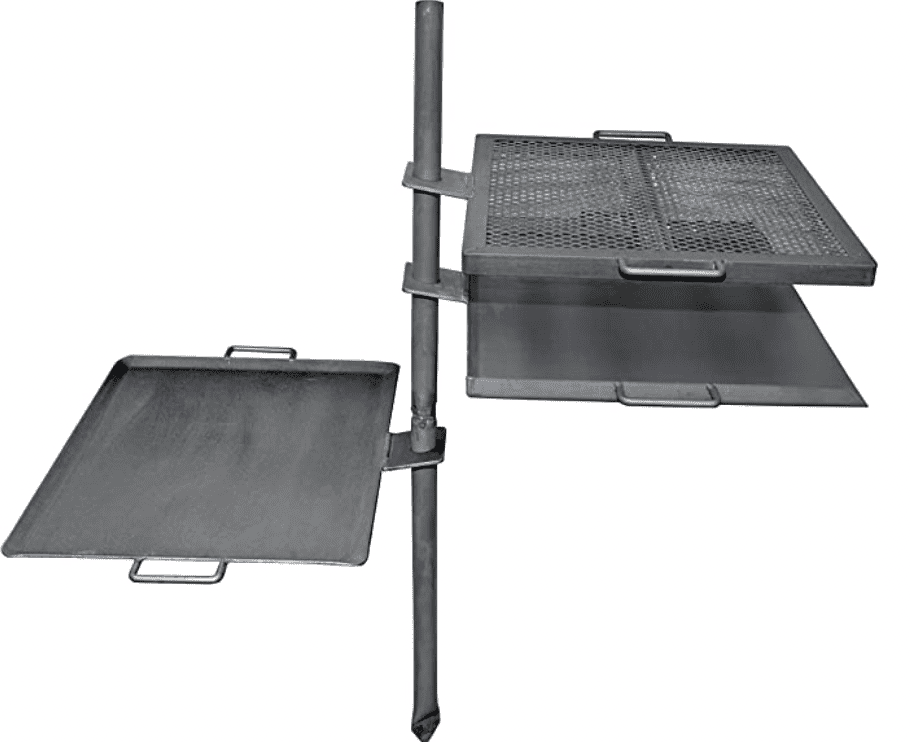 This combination set is everything you need to get inspired. Complete with a charcoal box, grill plate, griddle, and carrying bag, you can start making even a multi-course meal with your fire pit.
The grill and griddle are made with welded, sturdy steel. The hammered wedge edge improves durability and adds a slight aesthetic touch. This set comes with a 90-day warranty. Buy Here. 
Pros
2 to 3 Feet Tall

Hammered Steel 

Griddle and Grill Set

Carrying Bag
Cons
Somewhat Expensive

Not Fully Weather-Proof (Don't Leave in Rain)
Rotisserie Grill/ Spit 
A spit or rotisserie is useful for roasting meat. What you want is a cast iron or stainless steel spit that rotates easily. Many include an electronic tripod system that allows you to control how your meat cooks.
The spit also should be adjustable and hover several inches above the flames. Also, look for spots that come with meat forks and a cordless motor. 
My Pick: Only Fire Rotating Cordless Rotisserie Spit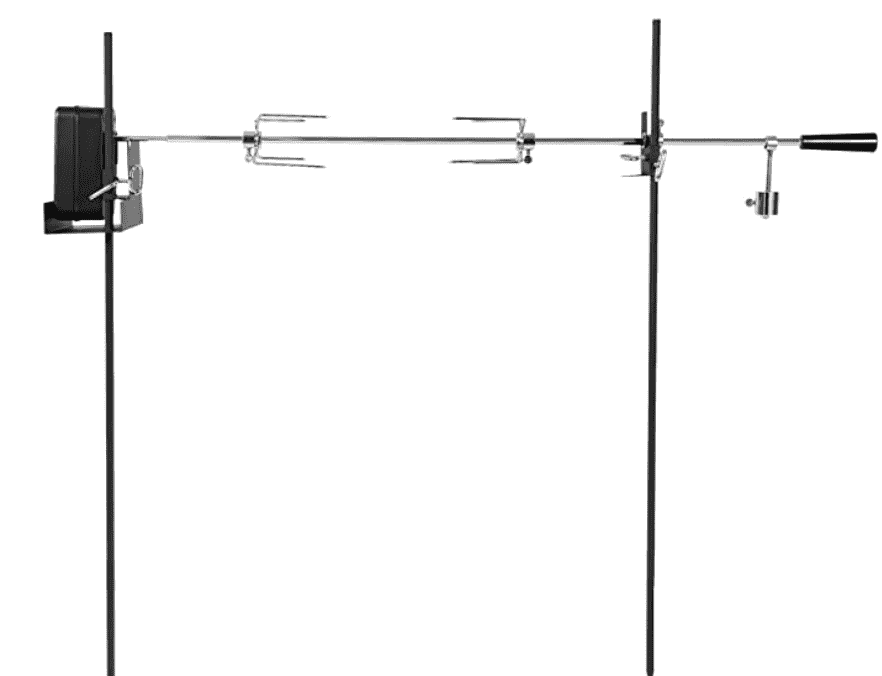 I was really happy to stumble upon this steel rotisserie spit on Amazon. It allows you to set 2 positions with a dual support system and stable setting. You can easily adjust the height.
The set includes meat forks, a spit rod, a cordless motor, and adjustable arms. I like the steel construction and how practical it is for everything from hame to chicken to turkey and brisket. Buy Here. 
Pros
Cordless Motor

Adjustable Height

Steel Construction 

Dual Support 
Cons
Only Holds up to 20 Pounds

Tricky Cleaning 
Hot Dog/ Marshmallow Roasters 
These simple fire pit accessories are a lot of fun. They can be small kits and roasting sticks. If you are just looking for roasting sticks, 32 inches is a good length to aim for. Rust-proof stainless steel with food-safe, retractable tongs are best. There are also miniature tabletop roasters. 
My Pick: BBQ Dragon Extendable Marshmallow Sticks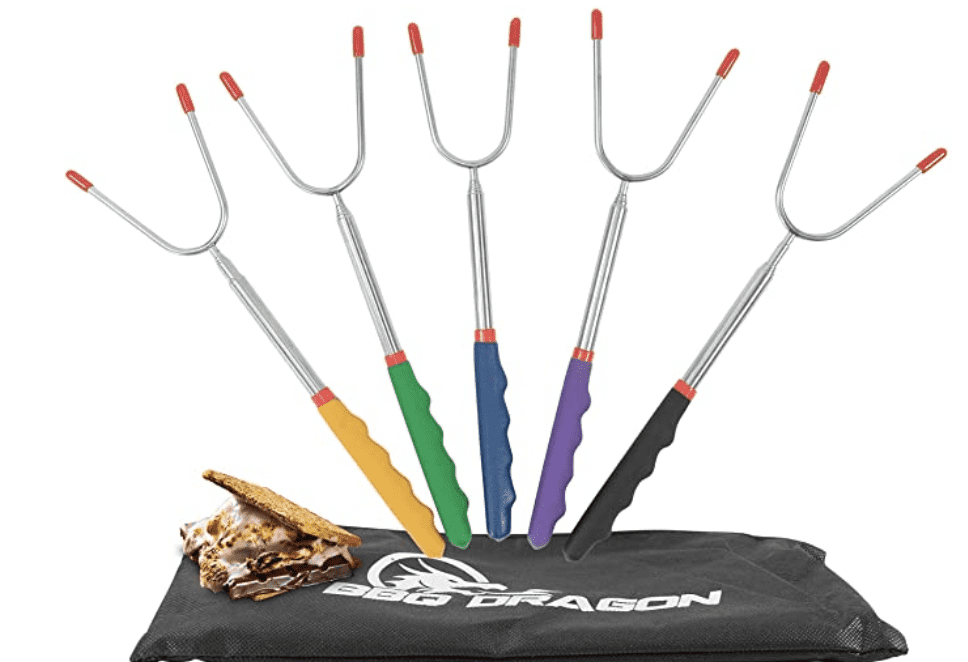 These are playful, fun, and safe to use. The colorful handles feature grips for improved stability. The stainless steel forks extend up to 45 inches. Use these for marshmallows and even hot dogs. The set of 5 is very cheap and highly rated. Buy Here. 
Pros
Great Price

Comfortable Grip

Extends to 45 Inches 

Stainless Steel Forks
Cons
Limited Use- Only Light Roasting 
Prep Set/ Utensils 
Other useful fire pit accessories for cooking include tongs of varying lengths, stick-free spatulas, accessory kits, and bags. It's also not a bad idea to have grill and griddle cleaners on hand.
You can even buy griddle cleaning system kits- but always price compare, because sometimes it's cheaper to buy scrub pads separately. A heavy-duty scraper is also useful. 
See also: Best Fire Pit Covers Guide
My Pick: The Grub Stick Deluxe Kit

If you want to start cooking with a fire pit and aren't sure where to start, this kit could be a great fit. It would also make for an excellent fire pit gift.
The kit includes telescope handles, grub forks, cages, tubes, and other utensils for roasting, grilling, and grabbing. Everything is dishwasher safe for easy cleaning and comes in a handy portable bag. Buy Here. 
Pros
Great Starter Kit

Silicone Protectors Against Burns

Dishwasher Safe 
Cons
Fire Pit Accessories for Entertaining
While cooking is part of entertaining, I wanted to add this category if you're really into backyard or patio parties. These unique fire pit accessories are by no means must-haves, but add a lot of fun and entertainment to your experience. 
Light Strips and Rings
LED lights are sometimes added to improve both visibility and ambiance to the exterior of a fire pit. Strips are strung carefully around the fire pit and work with HPC systems. You must make sure these are installed according to directions and compatible. Safety testing for heat resistance and stability is also good to look for. 
My Pick: Hearth Products Controls 980-LED-BLUE-82 Evolution 360 Fire Bowl 90 Degree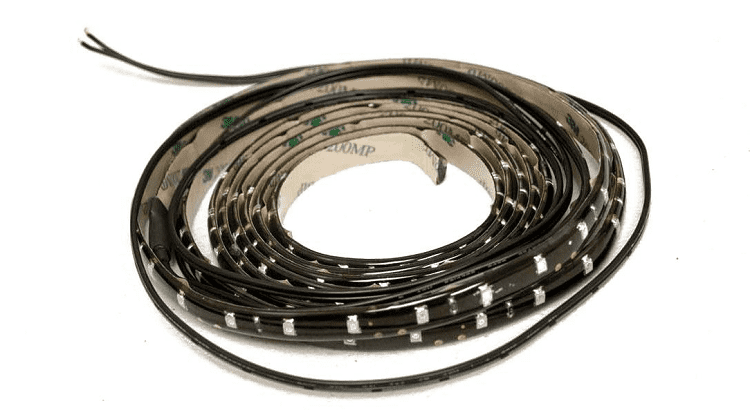 This statement LED strip light set is sure to make an impression. It's compatible with HPC systems for fire pits and has a total of 82 inches of LED lights. It's also useful as a replacement unit. Optimal performance and heat and water resistance are key. Buy Here. 
Pros
82 Inches

Bright LED Lights

Works as a Replacement 
Cons
Quite Expensive 

Only Compatible with HPC Fire Pits 
Tailgate/ Speaker and Sound Systems
This is tricky because nearly all sound system and Bluetooth compatibility features are built into fire pits when they're sold. As such, you're better off buying a fire pit table with a speaker system.
Some have integrated tracks. Look for the type and speed of connection, as well as protective separation (such as tempered glass, lids) from the flames. 
See also: Best Solar Porch Lights
My Pick: Tailgater Portable Bluetooth Fire Pit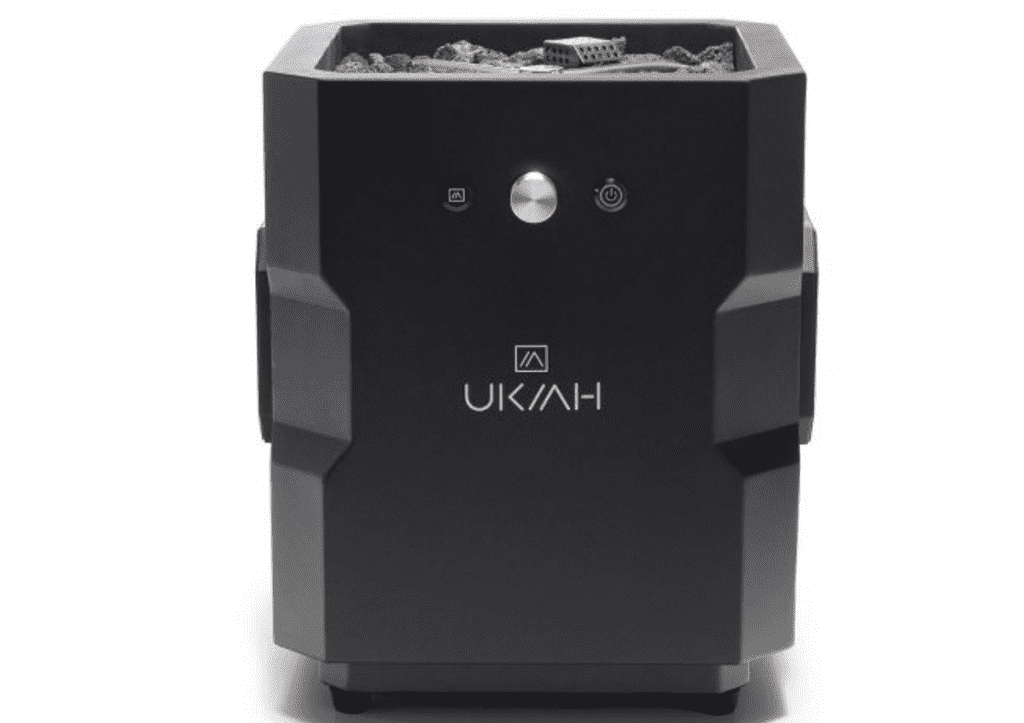 While it's not technically an accessory alone, this affordable fire pit from Target gives you your sound system and fire pit functionality. The portable design is equipped with a 100-watt sound system and 3 marine-grade speakers. It includes 3 seamless modes and Bluetooth connectivity within 60 feet. Buy Here. 
Pros
Bluetooth Connection

100 Watt Sound System 

Durable, Portable Steel Frame 

Adjustable Flame
Cons
Bluetooth Limited to 60 Feet 

No Separate Accessory (Full Fire Pit) 
Accessories, Decor, and Seating 
Lava rocks are very popular, especially for tabletop fire pits. These can be purchased in just about any hue- though white, black, blue, and neutrals are most common and popular. Glass fire diamonds can also be used. The benefit of lava rocks is that they double as great heat conductors and may reduce flare-ups. 
You can also focus on your seating. The best fire pit chairs are Adirondack, made with treated hardwood or beautiful Polywood. Aside from that, keep your surrounding decor simple to prevent safety hazards. 
My Pick: Endless Summer Lava Rocks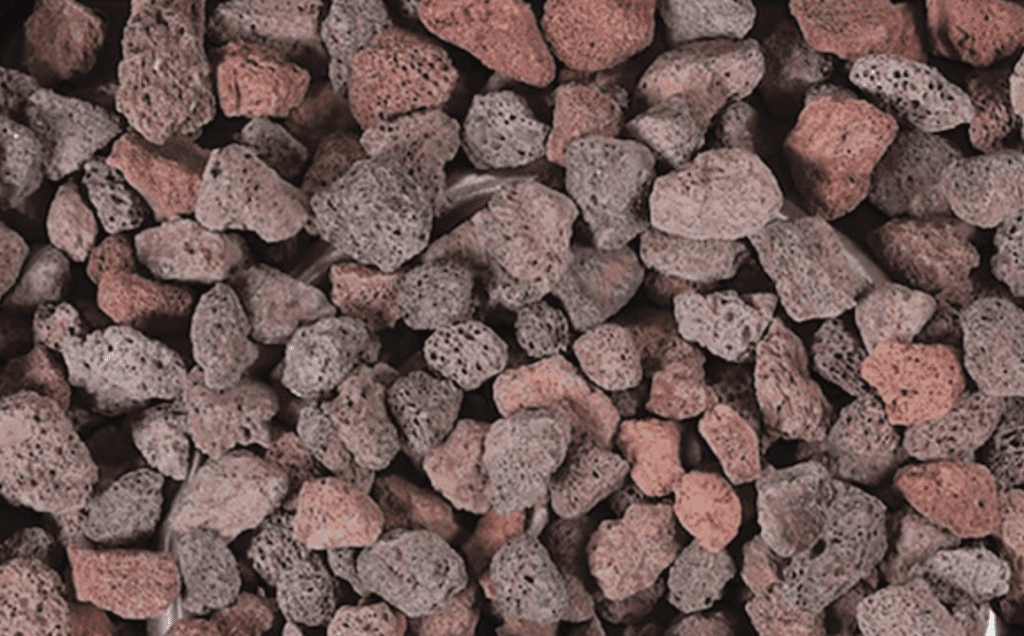 You don't have to spend a fortune to add some flair to your fire pit. This 7-pound bag of lava rocks from Lowe's gets the job done. They also heat quickly and reach temperatures with fewer flare-ups and sparks. Buy Here. 
Pros
Heat Conductive

Fewer Flare-Ups

Affordable 
Cons
Frequently Asked Questions
Question: Is a Fire Pit Insert Necessary?
Answer: If you're just using a fire pit for camping or occasionally, you can get by without an insert. But fire pits that stay in one place and are used often really need a fire pit insert.

Some exceptions can be made for fire pits made with bricks. However, a sturdy steel liner or insert improves the performance, durability, and safety of your fire pit. An insert is one of the best fire pit accessories that you can buy. Some fire pits, especially steel fire pits, already come with an insert, so check before you purchase. 
Question: Do Fire Pits Attract Mosquitoes?
Answer: There are many mixed messages when it comes to fire pits and mosquitoes, Perhaps this is due to confusion surrounding fuel types and anecdotal experiences. For instance, I tend to notice mosquitoes more when I'm outside for a long time and, of course, enjoy it with friends and family.

While the fire itself doesn't inherently attract mosquitoes, propane gas is said to. The setup and materials of a fire pit likewise can attract an array of bugs- yet another reason to keep your fire pit both kept up and away from your home's foundation. 
Question: Do Fire Pits Need Air Vents?
Answer: While they don't need to be elaborate, air vents are incredibly helpful for fire pits of all kinds. Even a single, modest air vent can make a notable difference in the strength and reliability of your fire. Air vents ensure that flames are given proper oxygenation to both begin and be sustained.

This is especially true for fire pits that operate with propane gas. Luckily, most reputable fire pits come equipped with an air vent or air vents to function properly. 
Final Thoughts
Fire pits are one of the most enjoyable additions to a backyard or a camping experience. Whether you're roasting marshmallows, grilling, or just trying to use a fire pit safely, accessories can help. 
Final Recommendations: Fire Pit Cleaning Supplies
I touched on this before, but I want to recommend some specific ideas for keeping your fire pit well-maintained. These may not be the most exciting fire pit accessories, but they will go a long way towards helping you enjoy your fire pit to its fullest for longer. Here are a few helpful products to get you started. 
Snow Joe ASHJ201 4.8-Gallon 4-Amp Ash Vacuum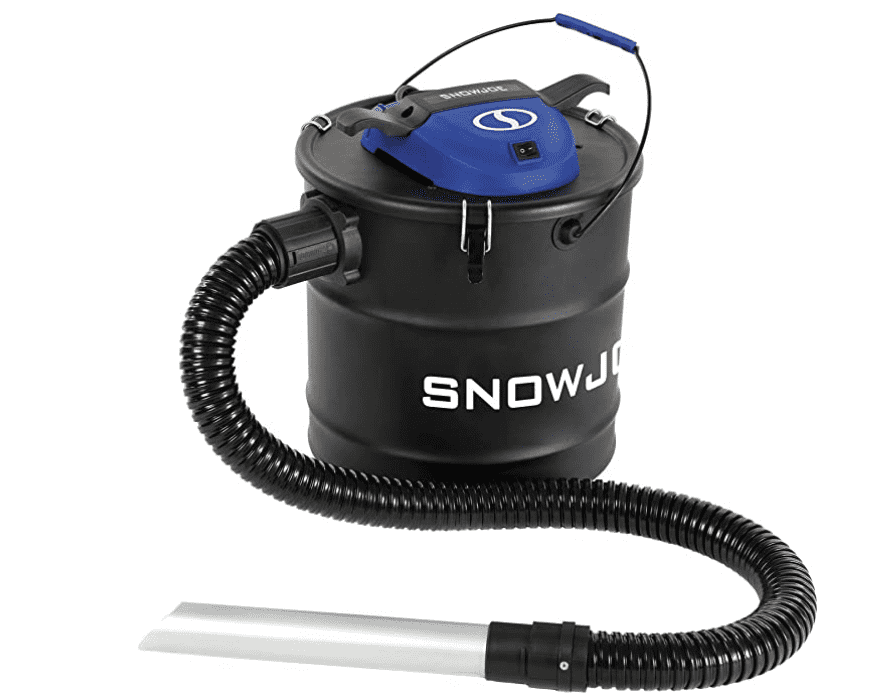 Don't get me wrong: a simple broom and some effort will do. But if you have a large fire pit that produces quite a lot of ash, a vacuum can come in handy. This vacuum can be purchased on Amazon for a reasonable price and features a low-maintenance fine dust system with a 4 amp motor. Buy Here. 
Simple Ash Cleaning Set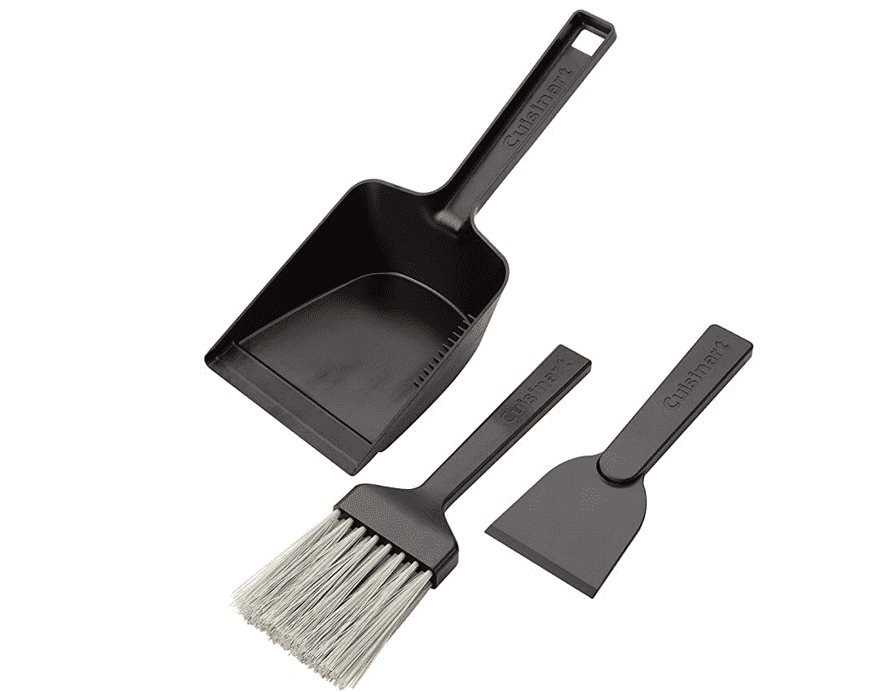 For smaller fire pits and smaller budgets, there's also something simple as this. This lightweight, the 3-piece set is affordable and easy to use. Buy Here. 
Cleaner Sprays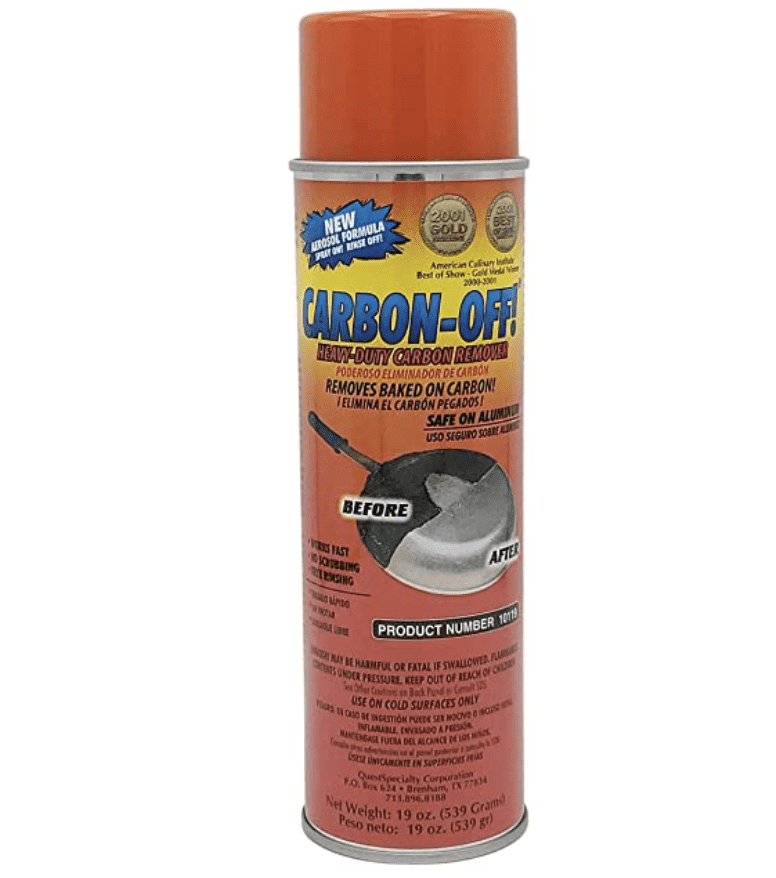 Never use these while the fire pit is still hot. Store them in a safe area away from heat, kids, and pets. Examples of helpful cleaning products are Carbon Off! Spray, Easy Off BBQ Cleaner, and Fire D Odor Control. 
Recommended Reads: