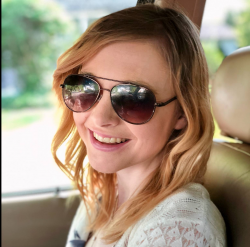 Latest posts by Erin Jamieson
(see all)
As convenient as it is to grab grilled shrimp or steak at a local restaurant, there's nothing like grilling it yourself. Even though I've had the privilege of eating some great grilled dinners, the best were those grilled at home. But one of the most popular trends is buying a fire pit grill.
Firepit grills don't have the bulk of a typical patio grill, and they still offer signature flavor. The experience alone is worthwhile. At the same time, not all fire pit grills are worth your money. I'll tell you how I select the best fire pit grills, from budget to expensive. Plus, I'll give you some ideas for my top fire pit grills in 2022. 
Bottom Line Up Front Summary
There's something satisfying about a fire pit grill. The best one for you depends on the space you have to work with, and if you prefer wood, gas, or charcoal. Steel, iron, and stone are all excellent options. Features that enhance your experience include adjustable heights, swivel bases, energy efficiency, and portability. 
If I had to recommend just one fire pit grill, it would be the Big Horn Black Steel Wood Burning Fire Pit Grill. This highly-rated fire pit grill burns wood more efficiently. The steel frame is sturdy, adjustable, and features a hardy, classic design. Since it's from Lowe's, you can also ask for customer support if you need it. 
My Top Picks
Reasons You Need (Or Don't Need) a Fire Pit Grill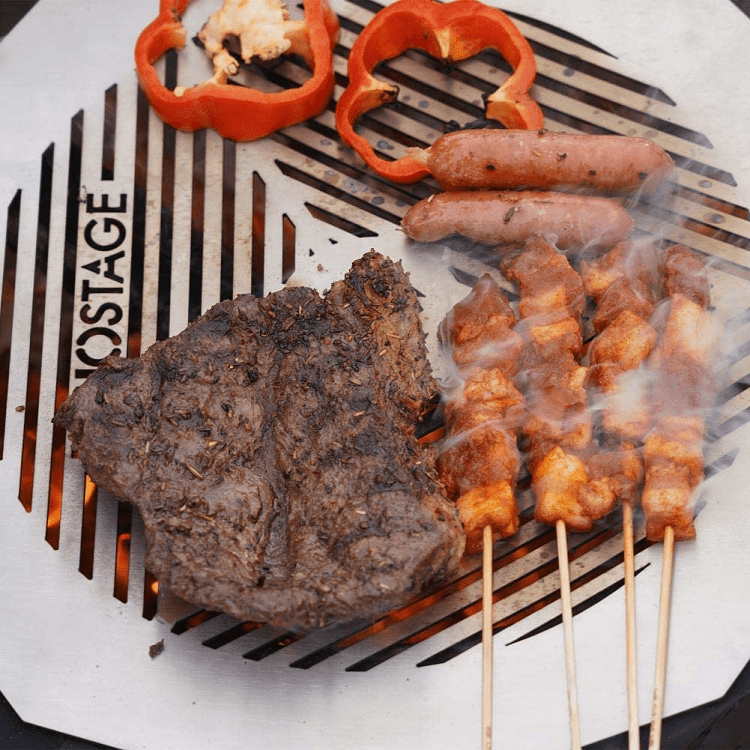 If you've ever tried to cook over a fire pit grill, chances are you had some difficulty without any accessories. Cooking over a fire pit grill takes place in many forms from roasting directly over it to buying a fire pit grill.
Here's when you can directly cook over it and the many instances when you need a grill. The fun part about using a grill with a fire pit is it's a different experience from regular grilling. If you're using wood, you'll also get a  fresher, more authentic taste. 
Basic Open Fire Pits 
Cooking over an open fire pit without a grill isn't something I'd recommend to most people. This is mostly suited only for casual roasting, just as a hot dog or marshmallows. Even with a grill, fire pits can be a bit unpredictable. You'll at very least need a simple grill plate to hold your food over the fire. This applies to basic stone and brick fire pits. 
Grills for Fire Pits
Grills are the preferred option for fire pit cooking. If you plan on doing anything besides simple roasting, you'll want a designated grill to cook. This helps you cook meals more efficiently and evenly.
Heat is properly dispersed throughout the grill, and you have more control. The other good news is that there are many types of fire pit grills. You don't have to have something bulky or expensive to get the benefits out of it. 
How to Select a Fire Pit Grill
The good news is that there are many types of fire pit grills. But if you're like me and start questioning your options, a step-by-step process can help you select the best fire pit grill for you.
Step One: Selecting the Best Materials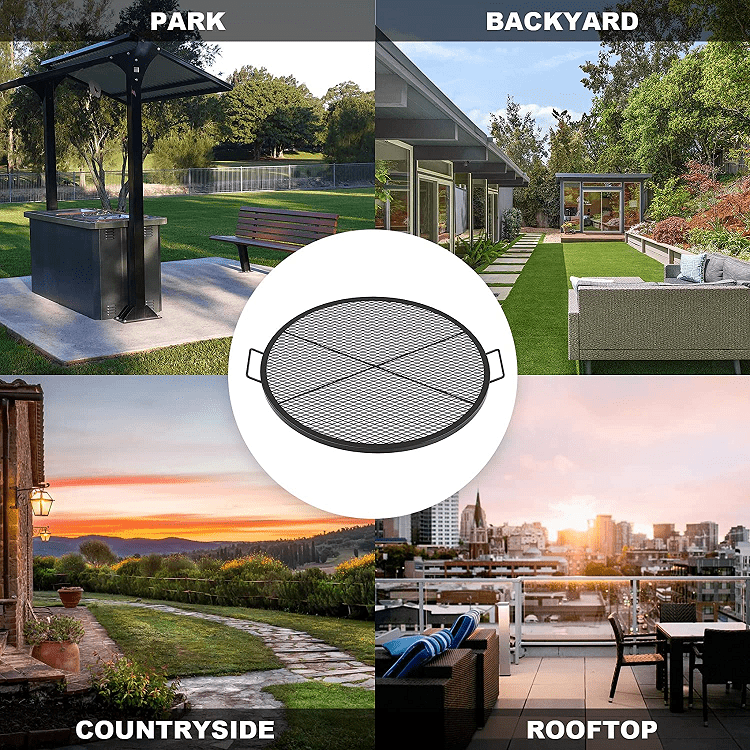 Fire pit grills are made out of steel, stainless steel, aluminum, stone, copper, and concrete. These are going to provide different pros and cons and types of performance. 
Steel Fire Pit Grills
Steel and stainless steel are popular choices and for good reason. Both provide a sturdy build that's modern and versatile. Of these, stainless steel is the better option it provides stick resistance and is slower to corrode. However, treated steel is preferred, because it can corrode from moisture or being left out. 
Cast Iron Grills
Cast iron is one of the sturdiest materials you can select. It's among the slower grills for heating up, so patience is key. However, heat is more consistent and even than a steel fire pit grill. Iron pit grills can last nearly twice as long as steel fire pit grills. 
Aluminum Fire Pit Grills
I wouldn't personally go for an aluminum fire pit grill. You have a similar slick look to a steel fire pit grill, but it has the same problems of corrosion. It's also more easily damaged. 
Concrete and Stone  Fire Pit Grills
Concrete and reinforced concrete fire pit grills are very durable. They trap in heat well, so once you get a fire going, they're great to work with. The issue is that they are quite heavy, and they do take a longer time to heat up. Stone poses many of the same problems and advantages but it has the edge. Unlike concrete, it's less likely to crack over time. 
Copper Fire Pit Grills
Copper has the advantage of quick and even heat dispersion. It's also a unique style for a fire pit grill. Copper can impact the taste of your food, and it will oxidize over time. Oxidation occurs with moisture. 
Takeaway
As you can see, no option is perfect. I prefer stainless iron and stone grills, or steel grills for a lighter option. If you have a stainless steel fire pit grill, you can sidestep issues with a cover or bring it under shelter when there's rainy and inclement weather. 
Step Two: Choosing Between Wood vs Charcoal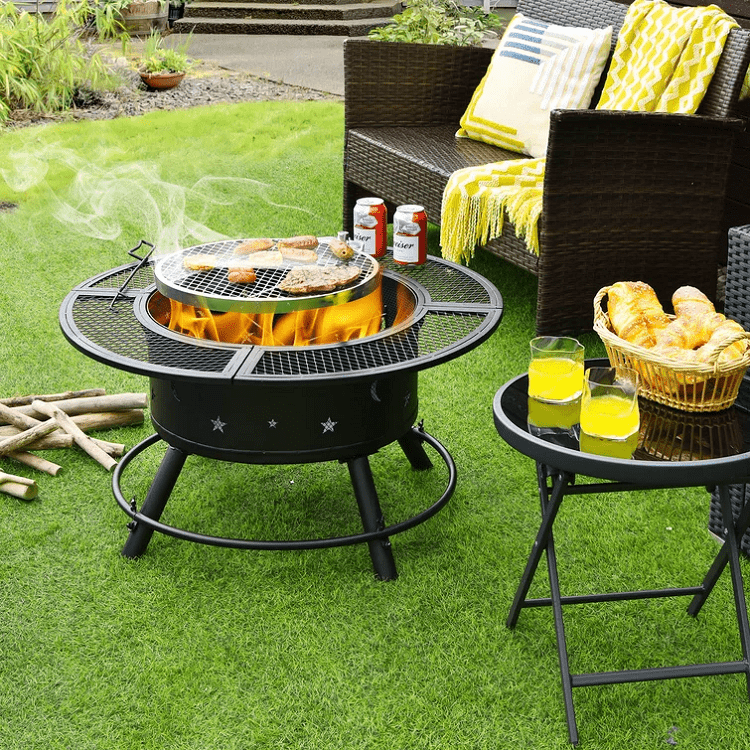 This is probably the biggest decision you'll make and everyone has their own opinions. Both charcoal and wood will cook your food effectively. However, there are some definite differences between a charcoal-based grill and a wood-based grill.
Charcoal Fire Pit Grills
Charcoal is, in one word, reliable. Charcoal is great for providing consistency, and it's easier to work with if you're new to grilling. Charcoal fire pits may be cheaper in the long run, as charcoal is cheaper than wood. Many people like to work with charcoal fire pit grills because it's more likely to provide the same results. 
Wood Fire Pit Grills
Wood is my personal preference- but a wood fire pit grill isn't for everyone. A wood fire pit offers a fresh, chemical-free grilling experience. However, wood is a little more tricky to control, and results may not be as consistent. It's also slightly more expensive than charcoal grills. 
Propane (Gas) Fire Pit Grills 
Propane fire pit grills tend to be lightweight and easy to take from one place to another. However, refilling is expensive and a more difficult task. 
Combination Fire Pit Grills
A few fire pit grills combine wood and charcoal capabilities. This gives you more freedom, though there are fewer options and these may be more expensive. 
Step Three: Shape and Dimensions
The right size for a fire pit grill depends on the size of your fire pit area. As a general rule of thumb, the average size of a fire pit is roughly 37 to 45 inches in diameter. Anything within this range would be reasonable for most people.
Most fire pit grills are round, but you can also find rectangular and square shapes. Some of it is up to personal preference, and some of it depends on the space you're working with. 
Step Four: Accessories and Features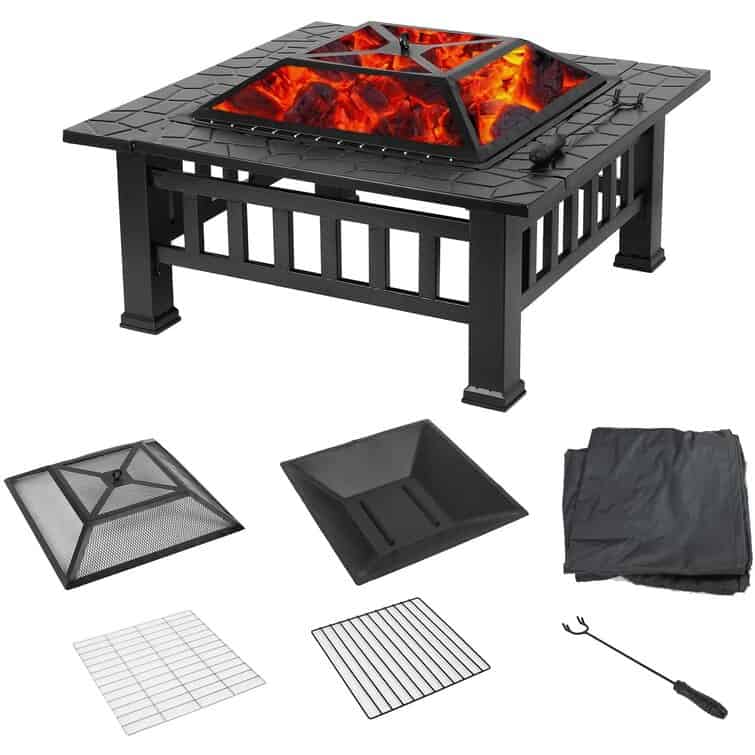 Of course, materials and shapes don't trim down your options enough. What I look for are fire pit grills that offer something special. That could be their budget price, but often it means special features or accessories to enhance the grilling experience. Great features include:
Rotating With Swivel- up to 360 Degrees

Adjustable Base/ Height 

Removable Ash Pan

Foldable Legs 

Tubular Storage 

Bluetooth Connectivity 

Rotisserie Area/ Additional Prep Space

Cookware Racks 

Smokeless 

Portable 
Step Five: Where to Buy 
Whenever I'm making a large or important purchase, I take steps to ensure that I'm not only buying a reputable fire pit, but also one from a reputable store. I only buy from stores with transparent policies for customer service, item descriptions, returns, and shipping. I also prefer warranties or protection plans, if possible. 
You can buy fire pit grills from many places. Some of the most popular include Home Depot, Lowes, Bass Pro, Costco, BBQ Galore, Menards, Tractor Supply, and Wayfair. However, one popular place- BBQ Galore has pretty mixed reviews. You can also find options at specialty stores, such as R.E.I. 
Fire Pit Grills: My Picks 
Here are my top ideas for fantastic fire pit grills in 2022. These fire pit grills stand out for their value, features, and sturdy construction. Whether you want to find a cheaper fire pit grill or want a luxurious option for entertaining, I have you covered. These fire pit grills, of course, all come from reputable stores and offer reasonable prices and shipping policies. 
Shavonn Steel Outdoor Fire Pit Grill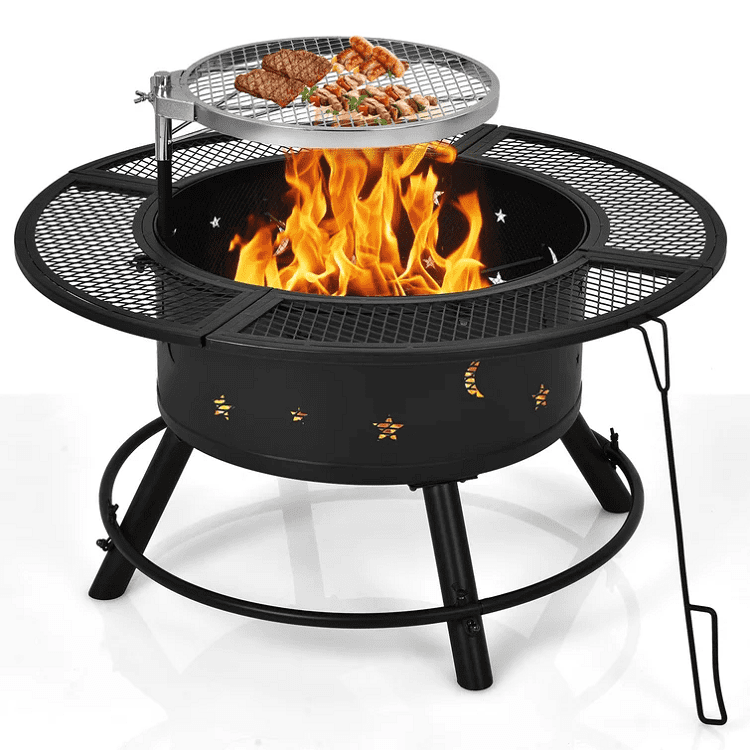 This fire pit grill is versatile, with a clever 2-in-1 design. It packs in so many features that it very nearly earned the spot for the best fire pit grill for the average customer.
This pit can be used as both a burner and a grill, with a fantastic 360-degree swivel and adjustable height. I love the sturdy, fade-resistant steel frame. While it's not intended as a fully portable fire pit grill, it's lightweight enough it can be moved without too much trouble. It's safe to use for camping but also near beaches and pools. Buy Here. 
Pros
Fade-Resistant Steel

360 Degree Swivel

Adjustable Height

Burn Wood or Charcoal
Cons
Lack of Customer Reviews

Not Fully Portable
BioLite Fire Pit Grill: Best Efficient Fire Pit Grill 

REI is a US-based sports and equipment manufacturer based in Seattle. It's known for hiking and biking gear, but also supplies a selection of outdoor and camping gear. The strikingly modern fire pit grill truly packs in great features in a portable but sturdy design. This smokeless fire pit grill can burn wood or charcoal and has collapsable legs.
A battery fan provides high-powered efficiency for as long as 30 hours at a time. The mesh sides provide a view (and control) of your fire at any time. It includes both USB-A and micro USB outlets. Your purchase comes with a fuel rack, cords, and grill gate. Buy Here. 
Pros
Smokeless

Efficient and Portable

Wood or Charcoal

Enamel Coating for Improved Durability
Cons
It Maybe Too Small for Larger Spaces

Relies on Battery Charge 
Inno Bonfire Fire Pit with Stainless Barbecue Grill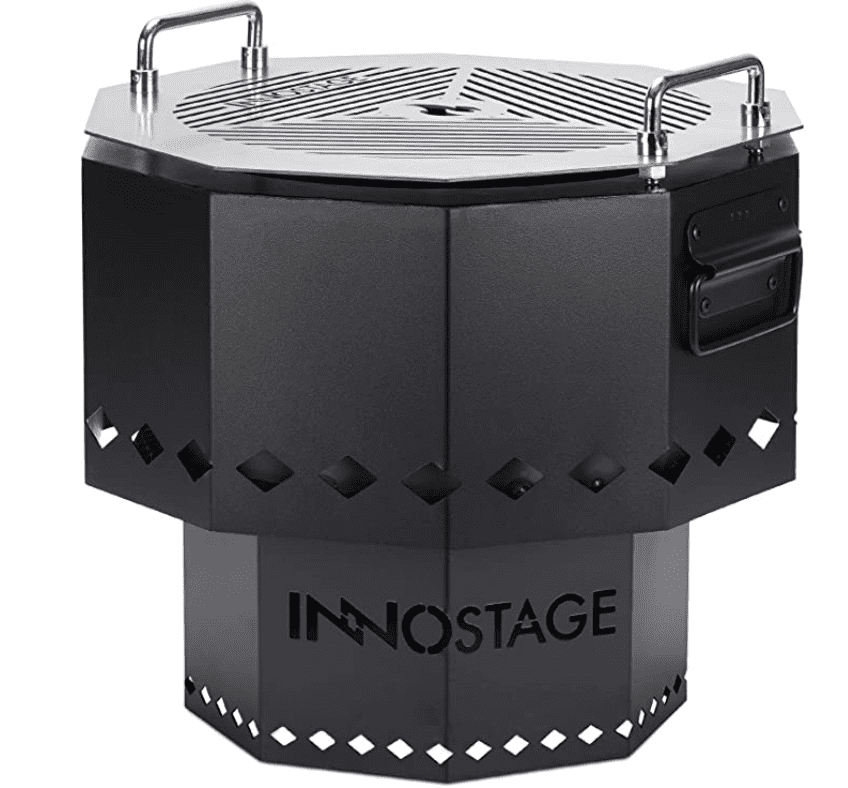 If you want a budget portable fire pit grill for camping, this is easily one of my favorite options. This Amazon Choice product offers impressive features for its price point. Rated easy to assemble and a great value, the stainless steel grill features a double-wall design for reduced smoke. Handles make it easy to carry, lift and travel with.
It can be assembled within moments (2 parts) and comes with a waterproof carrying bag.  Practical, easy to use, and great for beginners, it's easy to see why so many customers like this fire pit grill. Buy Here. 
Pros
Very Easy Assembly

Highly Portable

Double Wall for Less Smoke

Waterproof Carrying Case 
Cons
Easier to Dent 

Not Adjustable 
Stanbroil X-Marks Fire Pit Cooking Grill Grates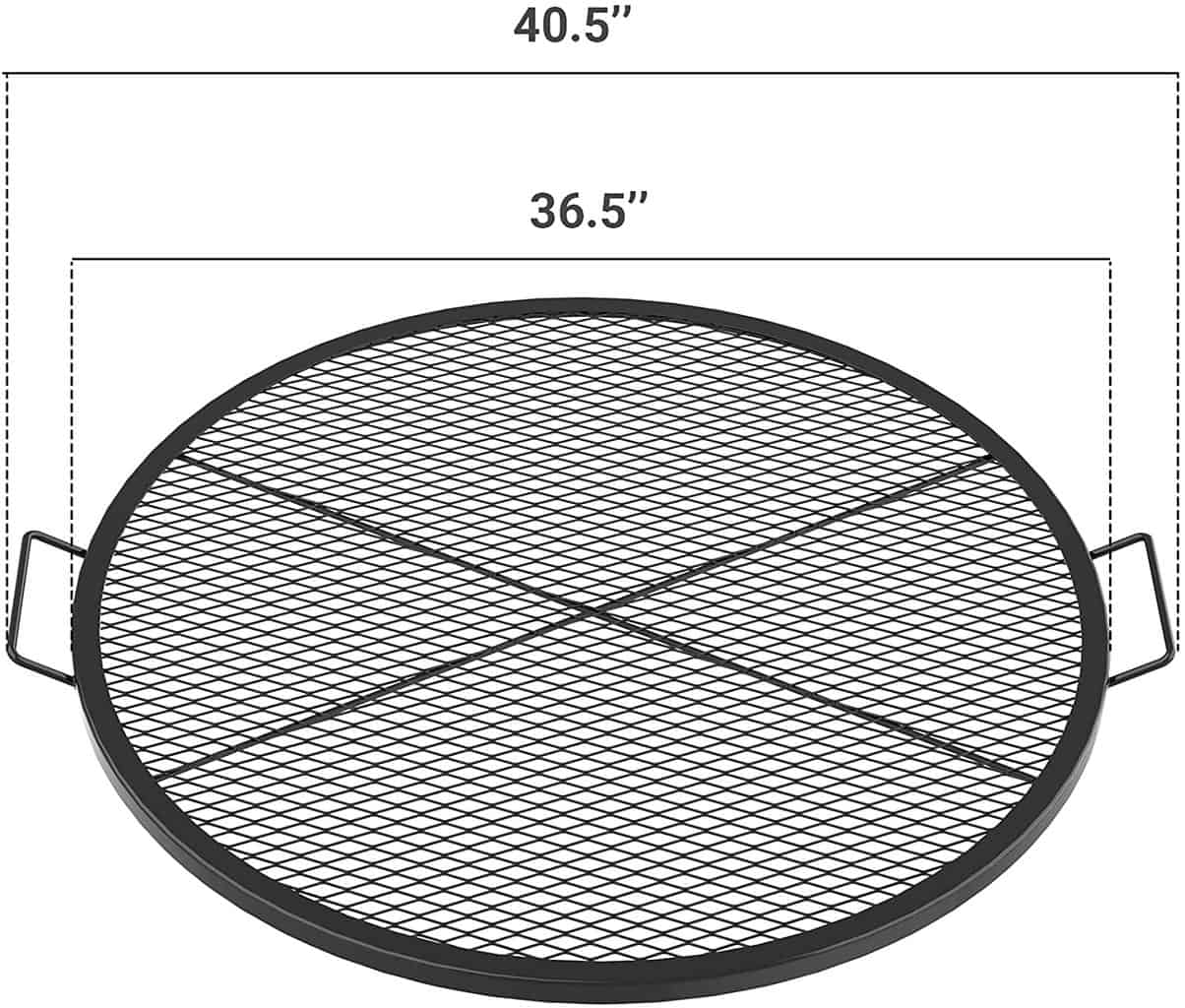 Already have a fire pit and want to do some basic cooking or grilling? No problem. If you're in a pinch and just want something to use on occasion, a great grill plate can help. These grill grates come in 30 and 36-inch sizes and are made with heavy-duty black alloy steel. The paint finish is resistant to high temperatures.
The sturdy side steel handles make it easy to carry and use. There's little assembly required, and this is versatile use in a way that suits you. While not super cheap, you're still saving money vs buying a full fire pit grill. Buy Here. 
Pros
Heavy Duty Steel

Carrying Handles

Highly Rated

Versatile 
Cons
Not as Effective for Larger Grilling Projects

Grate Only 
Big Horn 47.24-in W Black Steel Wood-Burning Fire Pit Grill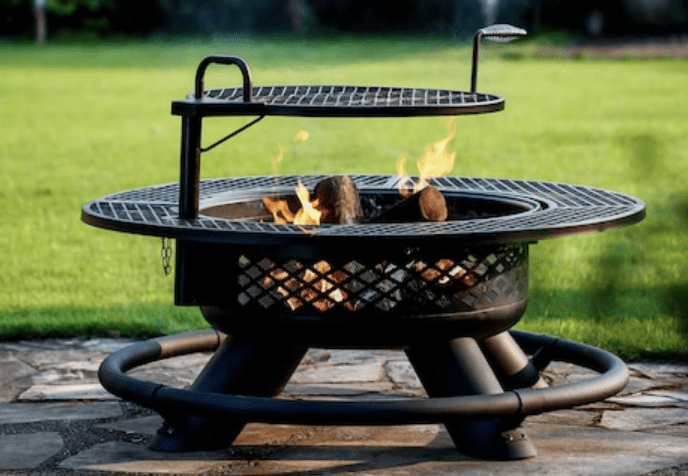 If you prefer a wood-burning fire pit like I do and just want a classic design at a reasonable price, this grill from Lowe's may be a good choice. The bestselling fire pit grill features a 29-inch bowl with an integrated system for simple but fairly efficient wood burning. It swivels 360 degrees, complete with a height adjustment for practical use.
It comes with a PVC cover during inclement or rainy weather, plus sturdy legs. Once you read through the owner's manual, there is a fire pit grill that you'll use in your backyard time and time again. Buy Here. 
Pros
Sturdy Steel 

360 Swivel

Adjustable Height

PVC Cover 
Cons
More Complicated to Learn

Wood Only 
Porterville 14"x 32" W Iron Outdoor Fire Pit Grill Table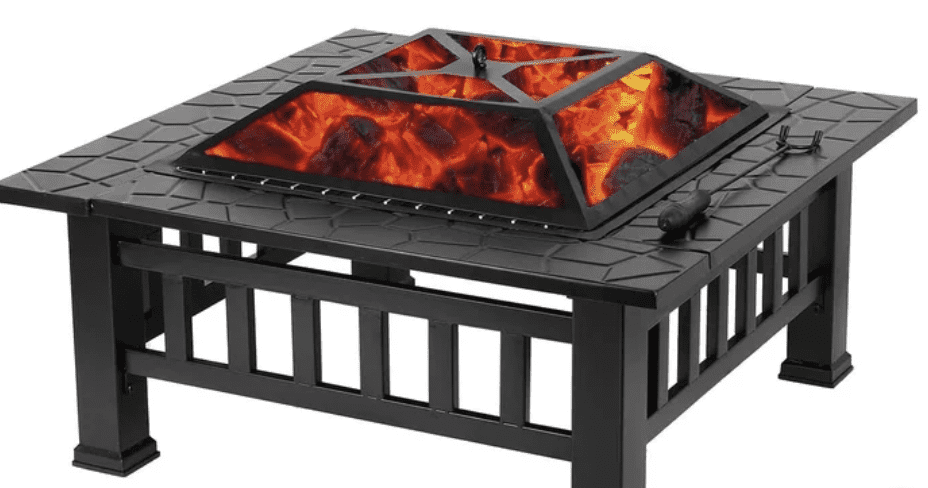 A fire pit table or fire pit grill table is a stylish alternative for backyard entertaining. With something like this, you aren't moving it around, but likely keeping it out for most of a season. It serves as a centerpiece and often has more traditional patio chairs nearby.
While I wouldn't use this for extensive or serious grilling, this stylish fire pit table with grill accessories is perfect for enjoying smaller plates. The table is constructed with a sturdy steel frame with a stone pattern. The set comes with a log grate, poker, protective cover, BBQ net, mesh lid, and fire bowl. Think of this as your all-purpose option. Buy Here. 
Pros
All-Purpose Entertaining

Sturdy Steel Frame

Accessories Kit

Elegant and Modern
Cons
Limited/ Light Grilling

Not Adjustable or Portable
Frequently Asked Questions
Question: Can You Use a Fire Pit as a Grill?
Answer: Many people cook directly with a fire pit, (in place of a grill). That makes sense in theory. After all, a fire pit generates heat in a relatively confined space. But there are downsides to using a fire pit in place of a grill. Fire pits are most often used to toast marshmallows. While you can cook a meal. Fire pits are more dangerous and unreliable.

Heat dispersion is not even. In other words: only use a fire pit in place of a grill for a small project, with roasted hot dogs or marshmallows. If you can have a nicely grilled piece of steak, stick with a traditional grill or a fire pit grill for the best results. 
Question: How Do You Grill on an Open Fire Pit?
Answer: The best way to grill on a fire pit is to buy a grill that goes over a fire pit. But if you need to work with a purely open fire pit, you'll need to be careful. You should also be realistic about the possible results.

But instead of going bare, use tongs, grill racks, and other accessories. Grilling accessories can be bought at a cheap price and provide a lot more control. Keep water nearby and make sure you have adequate space to grill. You don't want your fire pit near anything that can catch on fire. Start small before attempting a full dinner.
Question: How Do You Cook on a Wood Fire Pit?
 
Answer: Choose only woods that are not pine (great options include hickory, mesquite, cherry wood). The wood needs to be dry, and you can use sticks if you're in a pinch. Logs will burn for longer, and more consistently, while smaller branches and twigs ignite with sharper bursts of energy.

As such, it's a great idea to build a base with logs and add branches to get the fire going. If you let your fire go for about half an hour before cooking, you'll have better results. Be patient and watch the fire closely. Cooking on a wood fire pit takes a bit of finesse. 
Question: Can I Put Charcoal in a Fire Pit?
Answer: Both charcoal and wood can be used for a fire pit. Charcoal is a type of wood that's been previously burned. The advantage of charcoal is that it's a bit cheaper than wood, is much easier to predict and control, and is easy to store.

On the other hand, wood is usually free of chemicals and provides a signature, fresh flavor much praise. Some of it is up to personal preference, but either may be used effectively as long as you watch carefully. 
Final Thoughts
Final Recommendation: How to Cook and Season Steak on a Fire Pit Grill
My first thought when I think about a classic fire pit is roasting marshmallows and maybe a hot dog. But with a fire pit grill, why not cook a full steak dinner? Steak grilled over a fire pit can be just as succulent and delicious as steak on a traditional grill. The key is knowing how to season and grill your steak effectively.
Seasoning a Fire Pit Grill Steak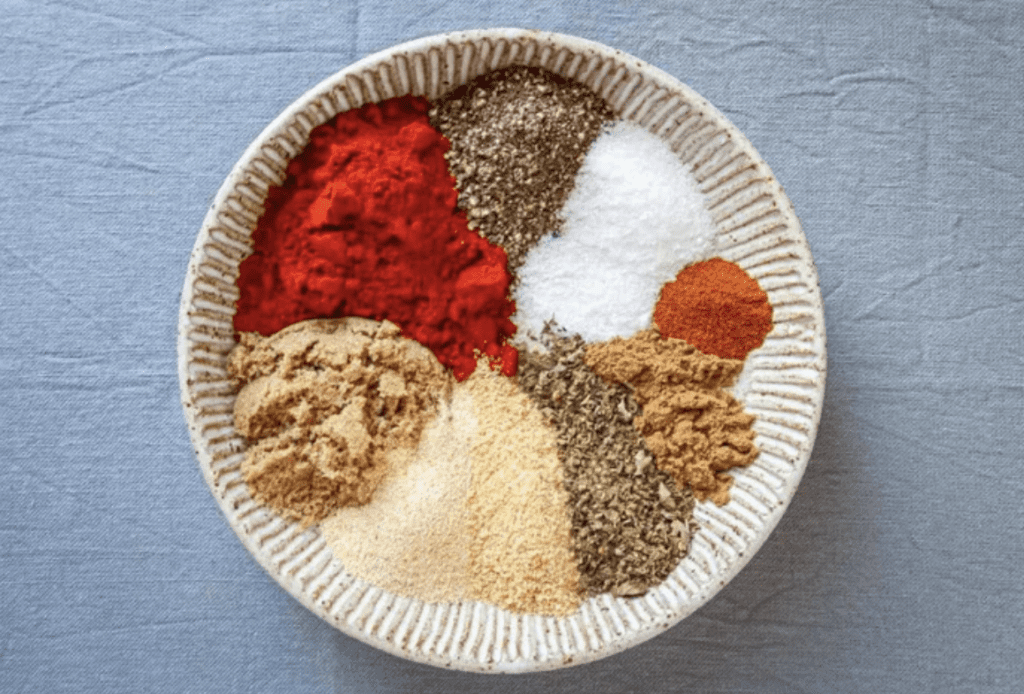 The same rules apply to seasoning for any grilling. One of the best ways to do so is relatively simple. Prepare a dry rub with kosher salt, and season well. This Simple Dry Rub Recipe includes paprika, brown sugar, onion, garlic, cumin, oregano, and cayenne pepper, but you can make it how you'd like.
Recipes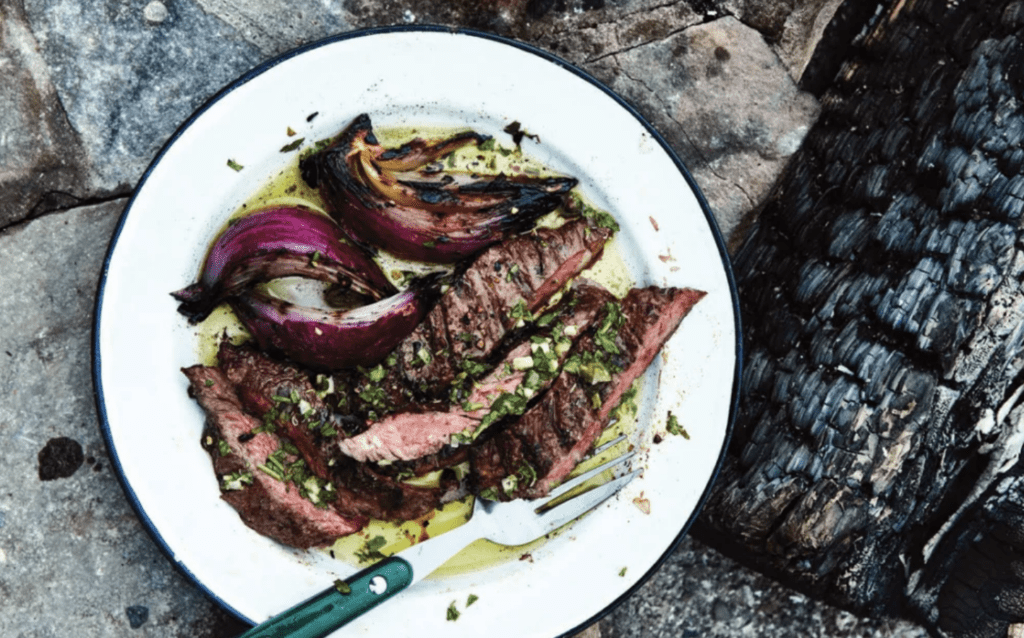 From there, keep in mind that steak can lose moisture on a fire pit grill. I prefer wood for an authentic, fresh taste. Grilling steak on a fire pit grill is not all that different. Some of my favorite recipes include Fire Pit Steak and Potatoes, Campfire Flat Iron Steak, and Fire-Licked Skirt Steak with Salsa Verde.
Recommended Reads: