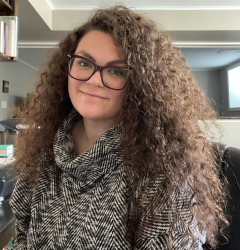 Latest posts by Candace Osmond
(see all)
A fire pit makes a lovely centerpiece to your patio. It serves as a cozy spot to entertain guests, dine al fresco, and enjoy the campfire adventure in the comfort of your home.
Let's heat things up by discussing the top ten best Costco fire pits I found! Whether you want a portable propane fire pit or a tabletop design, this list has everything you need.
Bottom Line Upfront
As a Canadian and East Coaster, fire pits are essential around my neck of the woods. So, I have to say, my fav from this list is the Great Canadian Fire Pit…for obvious reasons LOL!
Top 3 Picks
What is a Fire Pit?
A fire pit is an outdoor burning structure made of bricks, steel, or stone. The contemporary version of the classic campfire lets you stay warm, make marshmallows and gather around at night.
New fire pit models now come in different materials, styles, and sizes. Some require burning wood to create flames, while modern units connect to propane tanks and gas burners.
Why Choose Costco for Fire Pits?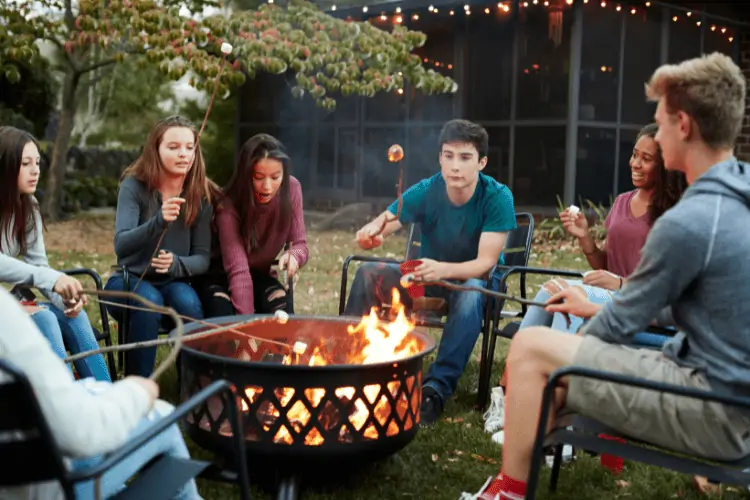 Safety and quality are a must when buying potentially hazardous products like fire pits.
Costco is committed to giving customers the best value for the fire pits they offer. Their products are guaranteed safe, durable, and premium-quality. The store also ensures a risk-free membership for smoother transactions and returns.
Best Materials for a Fire Pit
When buying a fire pit, consider its durability and materials. Here's a quick look at some first-rate materials you can try.
Stainless Steel
Stainless steel is a popular choice among fire pit buyers because of its cost-effective rates and adequate durability. The material is also low-maintenance compared to others since it doesn't rust or corrode over time.
Pros
Affordable.
Easy to clean.
Con
Not as durable as cast iron or ceramic.
Cast Iron
A cast iron fire pit looks aesthetically pleasing for different outdoor themes. Besides the appearance, this material also boasts of its top-notch sturdiness that no other material has. Wherever you place your cast iron pit, it will not trip or fall.
Pros
Most durable material for a fire pit.
Excellent heat conductor.
Cons
Ceramic
Ceramic fire pits have one of the most sophisticated designs that last a long time. The material maintains 300% more heat than iron. And it's more long-lasting despite being expensive.
Pros
It stores three times more heat than iron.
It lasts a lifetime.
Cons
Expensive
Too heavy to bring from one place to another.
Aluminum
Aluminum is another accessible fire pit material that doesn't quickly break. Use premium-grade aluminum for a sturdier build that doesn't accumulate scratches and marks.
Pros
Durable.
Scratch and mark-resistant.
Cons
Low-quality aluminum easily breaks.
Pros and Cons of Having a Fire Pit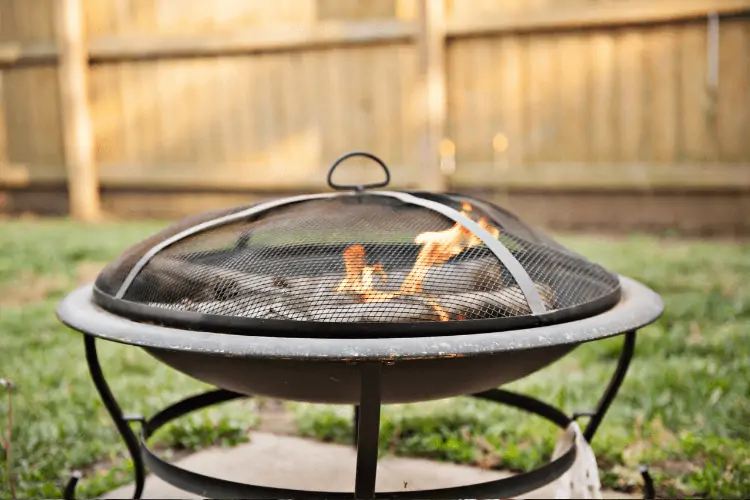 Still not sure whether to get a fire pit or not? Let's weigh the pros and cons.
Pros of Having a Fire Pit
Entertainment
Having a fire pit is one way to have fun with your family and guests in the house. If you're tired of your living room, take your bonding time outdoors and stay warm around the fire pit.
A fire pit will be an instant hit at house parties. You can make barbeques and toasted marshmallows with your friends and have the best conversations.
Increases the Property of Your Home
Your fire pit is a permanent backyard fixture and, therefore, a great investment. If your goal is to increase the value of your property, have it made on your patio instead of buying one in stores. Expect higher bids when the time comes you want to sell your home.
Warmth
If you live in a cold environment, a fire pit might be necessary. Continue your cozy outdoor fun after sunset by lighting your fire pit.
Cons of Having a Fire Pit
Safety
There's only one disadvantage to owning a fire pit, but it's more powerful than all the combined benefits. While it's a gorgeous addition to your home, a fire pit can cause house fires and other accidents.
Avoid getting drunk when you're close to it or burning unwanted wood type. Don't place it close to a tree or building too.
Types of Fire Pits
Fire pits come in different forms and alterations. The following are the four most famous kinds of fire pits.
Chiminea
A chiminea fire pit is a tall fireplace loaded in front instead of on top. Its significant characteristic is its bulbous body, which vents the smoke on top. Some consider it safer than the usual fire pit because the fire is more manageable, and smoke is avoidable.
Built-In
Built-in fire pits are fixtures that are permanent fixtures of your house. You can have a customized design that fits your property and personal style. However, a built-in fire pit is more expensive and takes more time to build.
Table Top
Tabletop fire pits are 2-in-1 units with a vast ledge around the actual fire pit. They're either round or rectangular so that people can gather around and place their food on top.
Portable
Propane tanks usually operate portable fire pits to ensure convenience and mobility. They are light enough to be carried or incorporate wheels. Most portable fire pits also have cooking functionalities.
Different Fuel Types for Fire Pits
Burning isn't the only way to light your fire pit anymore. Take a look at the different types of fuel you can use for your fire pit.
Propane
Propane or LPG emits beautiful flames that do not need refilling anymore. Most of these fire pits are large, serving as the patio's focal point. But there are also portable propane fire pits that offer warmth, ambiance and cooking features.
Wood Burning
Wood burning is the most traditional form of fuel, providing a love ambiance during the cold season. Although you don't need electricity for this setup, wood burning is time-consuming. The popping sounds and flying sparks might also terrify you.
Natural Gas
Natural gas is an excellent alternative to propane since the flame is cleaner and the price is lower. It's typically hard-piped to your home, so there's no need to prepare liquid propane tanks.
Gel Fuel
If you want your fire pit to add ambiance without the harsh smell and smoke, gel fuel is the solution. This clean component doesn't produce spills and escaping spats. It also doesn't emit toxic fumes that might harm your health.
Top 10 Best Costco Fire Pits
I chose these based on their quality of construction, user reviews, style, and price. I tried to pick a wide range so there's something for everybody!
1. Best Overall: Real Flame Breton Wood Fire Pit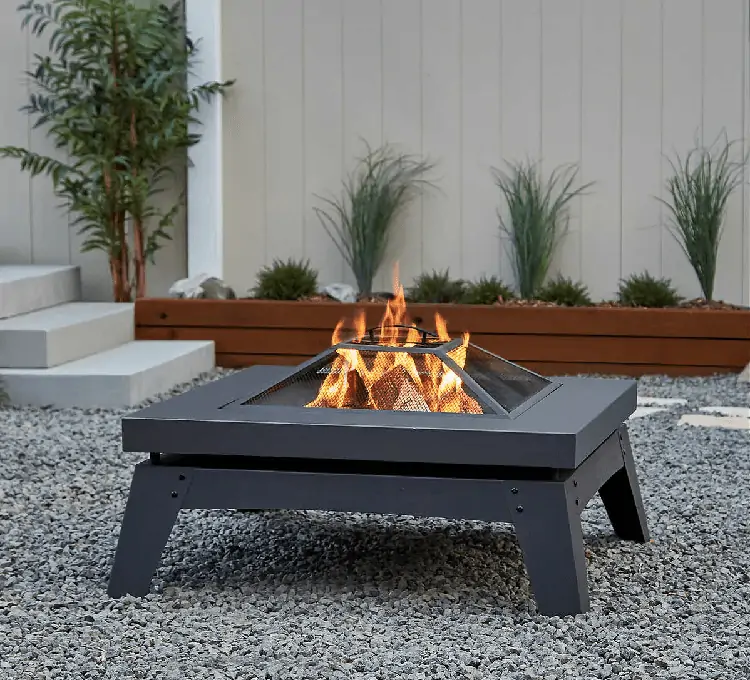 The Real Flame Breton Wood Fire Pit quickly steps up to your beautiful landscape. This wood-burning device has a durable design with its freestanding legs and heat-resistant frame.
Price range: $345-$350.
Inclusions: spark screen, log poker tool, protective storage cover.
Size: 91.44 cm x 91.44 cm x 48.26 cm.
Fuel type: Wood burning.
The powder-coated steel frame in a rich dark grey looks contemporary yet straightforward and functional. The fire pit also includes a spark screen, vinyl cover, and a log poker.
Pros
Modern outdoor furniture.
Heat-resistant
Cons
Few customer ratings.
Not portable.

2. Best for Casual Use: Paramount Noah Square Aluminum Fire Pit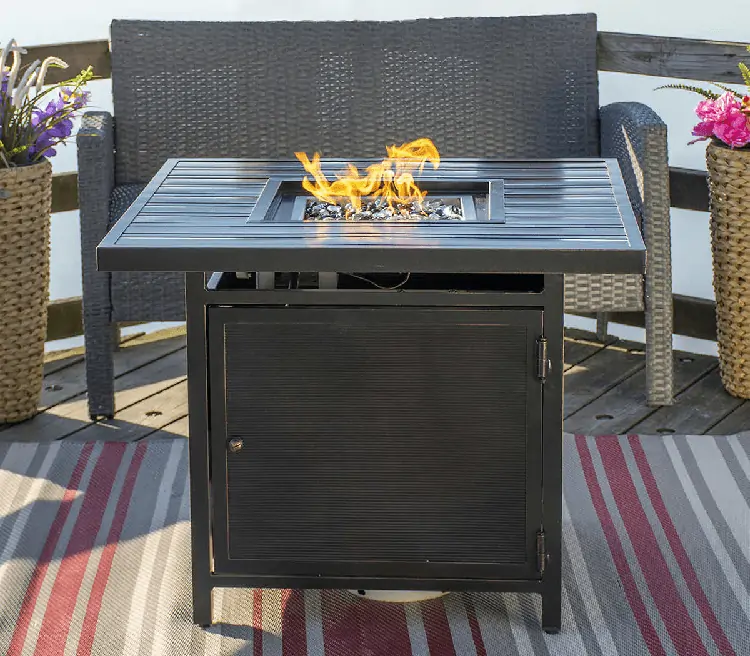 This aluminum fire pit from Paramount can fit in small-to-medium patios for casual conversations at night. Set the mood for outdoor card games and have dinner on the elevated surface.
Price range: $555-$560.
Inclusions: conversion kit, fire pit table.
Size: 82 cm x 82 cm x 60.2 cm.
Fuel type: propane and natural gas.
The tall fire pit can release up to 25,000 BTUs and lets you switch from propane to natural gas. The burners and pan are hidden inside the cast-aluminum frame for a more polished look that will last a lifetime.
Pros
Easy to assemble.
Serves as a table and fire pit.
Cons
3. Best for Heavy Use: Real Flame Eldora Gas Fire Bowl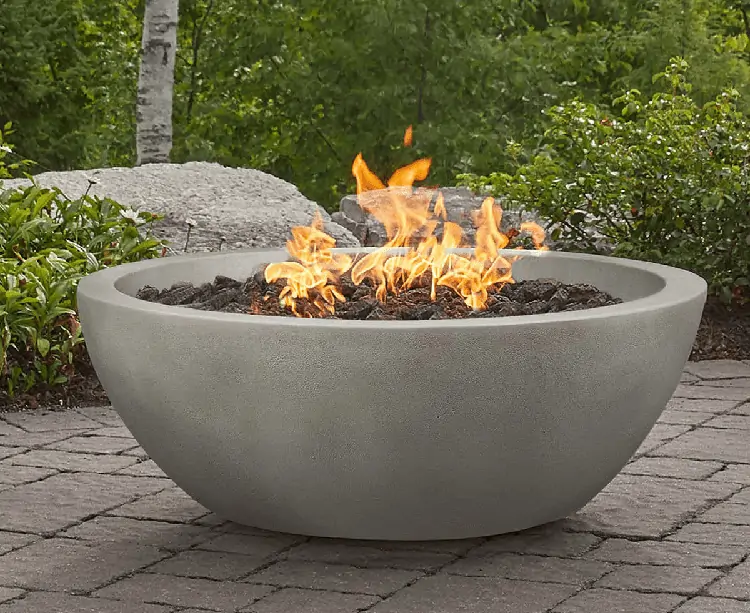 This propane fire bowl is the definition of grand. It might be pricey, but look how sophisticated it is! Real Flame Eldora also uses propane configuration, so you'll have more time to sit back and relax.
Price range: $4,700-$5,000
Inclusions: Black lava rock, fire pit, high-quality protective cover.
Size: 96.5 cm x 96.5 cm x 35.5 cm.
Warranty: lifetime on the burner, 2 years on the body.
Fuel type: propane.
The handmade concrete fire bowl is lightweight, durable, and made in the USA. Its natural yet well-thought-of detail blends easily in any backyard and patio setting.
Pros
Lightweight and durable.
Timeless design.
Efficient and high output.
Cons
Expensive.
Not for small patios
4. Best Splurge: Flaming Gorge – Corten Steel Fire Pit
The elegance of this steel fire pit from Flaming Gorge makes it the perfect focal point in any outdoor setting. The discreet and contemporary design is manifested in the warm steel color and clean lines. Beyond visuals, the steel is also weather-resistant for longer shelf life.
Price range: $795-$800.
Inclusions: Firepit with drainage hole and side handgrip holders.
Warranty: 1 year.
Size: 91.4 cm x 91.4 cm x 33 cm.
Fuel type: wood burning.
You need to wait three years for the oxidation process to finish and give off a unique patina. Take advantage of the drainage hole and side handgrip holders for your convenience.
Pros
One-year warranty.
Simple yet modern design.
Cons
Expensive.
Doesn't include a cover.
5. Best Fire Pit Table: Paramount Cast Aluminum Oval Propane Fire Table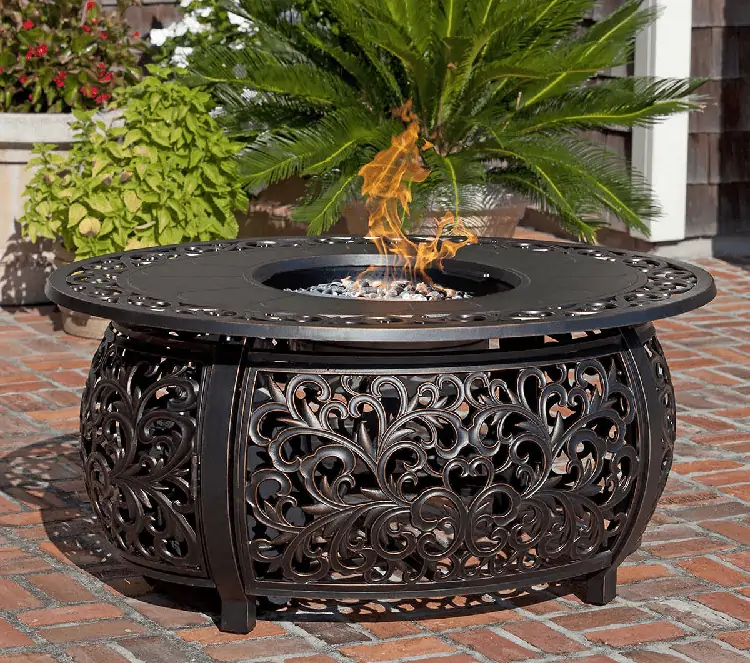 This oriental-style fire table offers a unique design with beautiful curves on the stand and edges. This appearance casts stunning shadows on your patio as you sit around and stay warm.
Price range: $995-$1000.
Inclusions: fire pit, conversion kit, covers for the fire pit and propane tank.
Size: 97.99 cm x 121.92 cm x 62.23 cm.
Fuel type: propane and natural gas.
This unit includes a kit that lets you switch from burner to natural gas. The fire table has a bronze finish that lasts long without rusting because of the sturdy aluminum material. If you want more style, try the shimmering fire beads!
Pros
Decorative 2-in-1 table and fire pit.
Durable cast aluminum construction.
Stainless steel burner.
Cons
Not for small-sized patios.
Breakable lid.
6. Best Design: Great Canadian Fire Pit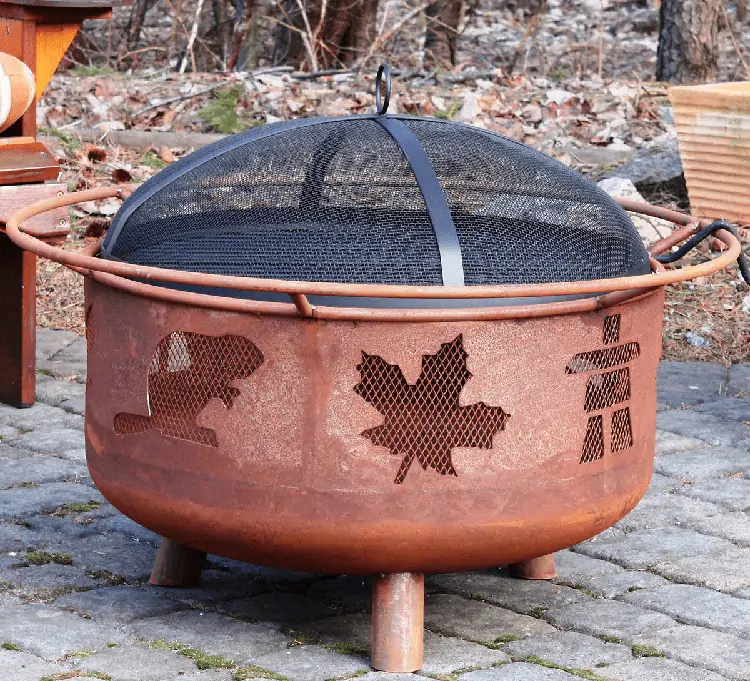 If you're looking for a classic yet decorative fire pit, the Great Canadian Fire Pit will instantly make everyone gather around. It has a screen shaped like a maple leaf, moose, and other Canadian elements to set the mood on your cool summer nights.
Price range: $245-$250.
Inclusions: grill, mesh screen cover, poker, vinyl rain cover.
Size: 61 cm in diameter, 31 cm deep.
Fuel type: Wood burning.
The fire pit is made of 16 gauge cold rolled steel with two safety rings. Thanks to its durable mesh steels that control sparks, you're safe to use this product. The three legs are welded in place to avoid wobbling.
Pros
Lasts a long time.
Made in Canada
Strong base and mesh.
Cons
7. Best Fire Bowl: OVE Decors Brooks Outdoor Fire Pit
This fire bowl from OVE is slightly elevated for people to see the flames as they gather around. The rounded curves of the pit, lid, and stand offer a timeless appeal that suits different outdoor designs. Add that to the black-powdered coat of the steel!
Price range: $265-$270.
Inclusions: steel poker, steel grate, fire pit.
Size: 80 cm x 80 cm x 50 cm.
Fuel type: Woodburning
The medium-sized fire pit includes a heated throw, steel poker, loop handles, and spark screen for protection. Plus, there's no need to assemble anything!
Pros
Little to no assembly required.
Durable steel construction.
Affordable and easy to use.
Cons
8. Best Portable Fire Pit: Outland Propane Fire Pit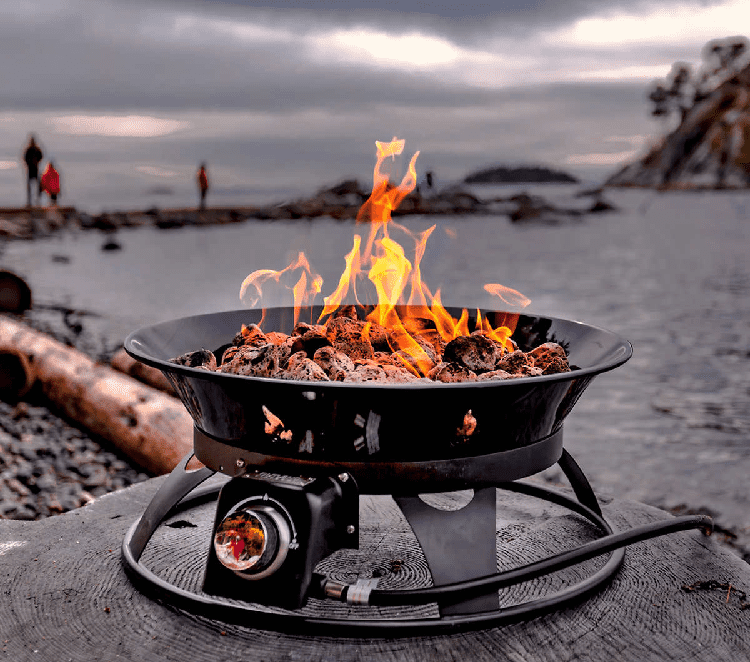 Take the Outland Firebowl to your camping trips, backpacking adventure, and even backyard gatherings. The propane fire pit is made of high-quality steel and a stainless steel 58,000 BTU burner to keep you warm in the next few years.
Price range: $115-$120.
Inclusions: 3 bags of rocks, hose with regulator, tank stabilizer ring, appliance, cover.
Size: 53.34 cs x 53.34 cm x 24.13 cm.
Fuel type: propane.
Toast your marshmallows and play campfire songs around this modern appliance rather than those huge, tacky fire pits. It's powder-coated and comes with a chrome knob to help you adjust the flame.
Pros
Perfect for small families.
Light and mobile.
Includes a carry strap.
Cons
Dusty package inclusions.
9. Best Chiminea: Outdoor Steel Fireplace with Cooking Grill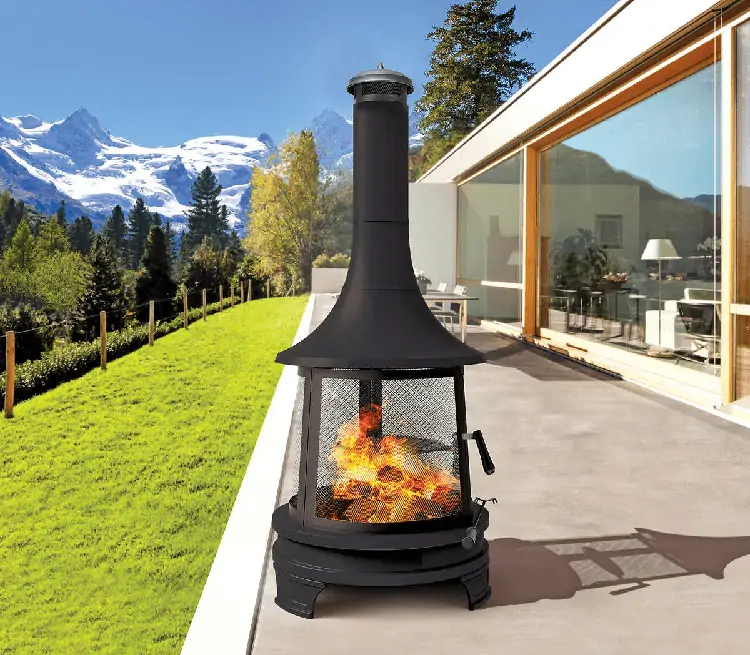 Do you love fire but hate the smoke? This chiminea-style outdoor fireplace does the trick. The steel wood-burning unit has a food-safe cast iron grill to help you cook sausages, pizzas, and seafood.
Price range: $400-$450.
Inclusions: Firepit unit, fire poker.
Size: 74.93 cm diameter.
Fuel type: wood burning
The outdoor fireplace features a removable ashtray to make cleaning easier. What's more, the unit's height is also adjustable to suit your needs!
Pros
High heat-resistant material.
Includes diecast grill.
Removable ashtray for convenient cleaning.
Cons
Not ideal for camping settings.
10. Best for Camping: Paramount Campfire Portable Gas Fire Pit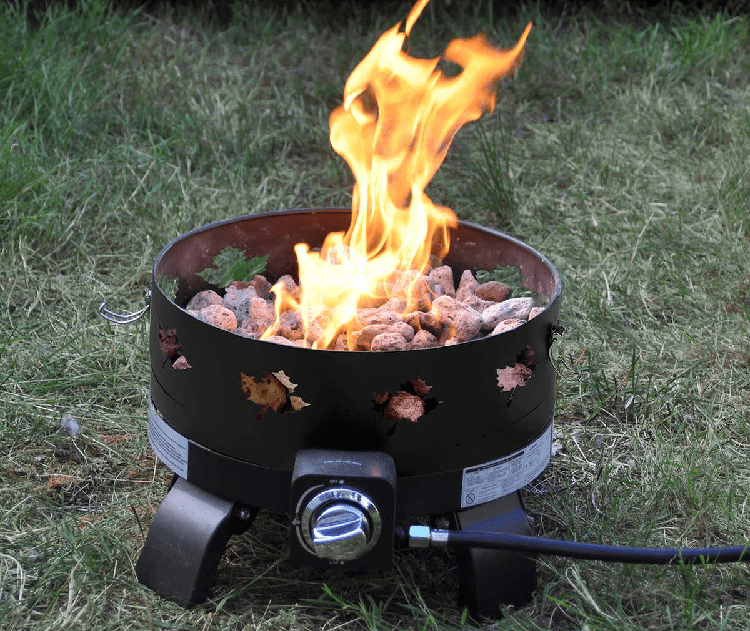 This small but terrible Paramount gas fire pit will heat your area for your next camping adventure. It's a strong 60,000 BTU pit with a locking lid and folding legs for easy transport wherever you go.
Price range: $135-$140.
Inclusions: fire pit, lava rocks.
Size: 44.98 cm x 44.8 cm x 29.5 cm.
Fuel type: propane tank.
You will love the cut-out design on the black steel frame as it contrasts the flames inside. It also has a hose attached to the propane tank for easy lighting.
Pros
Easy to carry with its folding legs and locking lid.
Heat-resistant steel.
Easy lighting.
Cons
Appearance looks different from the display.
Fire Pit Safety Tips
Any kind of fire needs careful attention to safety. These are some fire pit safety tips to consider.
Build a Fire in the Open
Do not place your unit under the overhand of buildings or trees. The whole area should also be free from waste and other flammable materials. Otherwise, sparks might occur on nearby structures, leaves, and wood.
Don't Use Construction Lumber for Burning
Never burn construction materials like MDF, plywood, pressure-treated boards, and wood pallets that have undergone chemical treatment. Construction lumber already contains adhesives and resins that might emit toxic flames.
Have an Extinguisher Nearby
Fire can be unpredictable. While it looks peaceful in setting the mood for outdoor warmth, it can also destroy lives. Keep a pail of water and shovel close to the fire pit in case of an emergency. Or buy a fire blanket to stop the wild fumes.
Don't Leave Fire Unattended
Do not leave the fire unattended, even if it's already weak and glowing embers. I don't recommend keeping it on while sleeping or even going in the house for a quick bathroom break. Remember that "almost-extinguished" fires are the leading cause of wildfires.
Drink Responsibly
There are two reasons you should drink responsibly around the fire pit: alcohol is flammable, and overindulgence might injure you. Drink in moderation by an open fire to avoid poor decisions and weak coordination.
FAQs
Question: What Type of Fire Pit Lasts Longest?
Answer: Stainless steel fire pits last the longest because of their durability and corrosion-resistant surface. Choose one with a powder coat for more sturdiness.
Question: What is a Gel Fire Pit?
Answer: Gel fire pits use gel fuel from isopropyl alcohol. This fuel burns for two to three hours, with one can providing 3,000 BTUs.
Question: Which is Safer, Propane, or Wood Fire Pit?
Answer: Gas fire pits are the safest because they burn cleaner without flying sparks and unpredictable flames.
Question: Do Fire Pits Keep You Warm?
Answer: Yes, fire pits keep you warm. However, they offer less heat than heaters.
Question: What Wood Should You Not Burn in a Fire Pit?
Answer: Never burn softwoods, construction lumber, and rotten, moldy wood.
Bottom Line
Having a fire pit in your yard or on your porch makes outdoor parties, games, and dinners more enjoyable. Chat with people, sing campfire songs, and play card games as you gather around this stunning accessory!
Did you find a Costco fire pit that you loved on this list? Was it my personal fav, the Great Canadian Fire Pit?
Fire pits pose serious risks, so always consider the durability and heat resistance of the materials. Buy only from reputable brands and stores like Costco to guarantee your safety.
Recommended Reads: