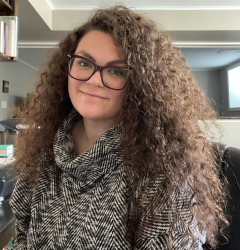 Latest posts by Candace Osmond
(see all)
Would you like to beautify your front porch with some flowers but don't know where to start? Why not take suggestions from this ultimate guide on the best front porch flower ideas. All these options can withstand the elements and will look beautiful no matter the decor.
Back in my interior designer days, front porches occupied almost all my time during the summer. Everyone wanted me to spruce up their entries and beautify their curb appeal. But it's so easy to do it yourself, especially with the right tips!
Bottom Line Upfront
I'm not big on lots of color, and my favorite style is Farmhouse. That's why I adore the look from the French Metals idea below. It's beautiful and simple but packs a style punch.
Top 3 Picks
Here are my top 3 picks from the detailed list.
Best For Small Porches: Flower Tower
Whether growing in a hanging basket or in stacked planters, flowers are always at home on the front porch.
Best Flowers For Large Porches: Summer Flower Pots
Geranium, Dahlia, and Hydrangea flowers are meant to me on large porches. Even a front porch in disrepair will look pretty and cared for with these flowers available.
Best Porch Flowers For Color: Varied Freestanding Containers
Thanks to their colorful nature, zinnia flowers on a porch will significantly enhance curb appeal in the summer and spring.
The Best Front Porch Flower Ideas for Curb Appeal
Select from these stunning front porch flower ideas to add cheery vibes to your front décor. I chose these based on what was popular when I was an interior designer. There are always common denominators; pops of color, balanced look, and sometimes neutrals.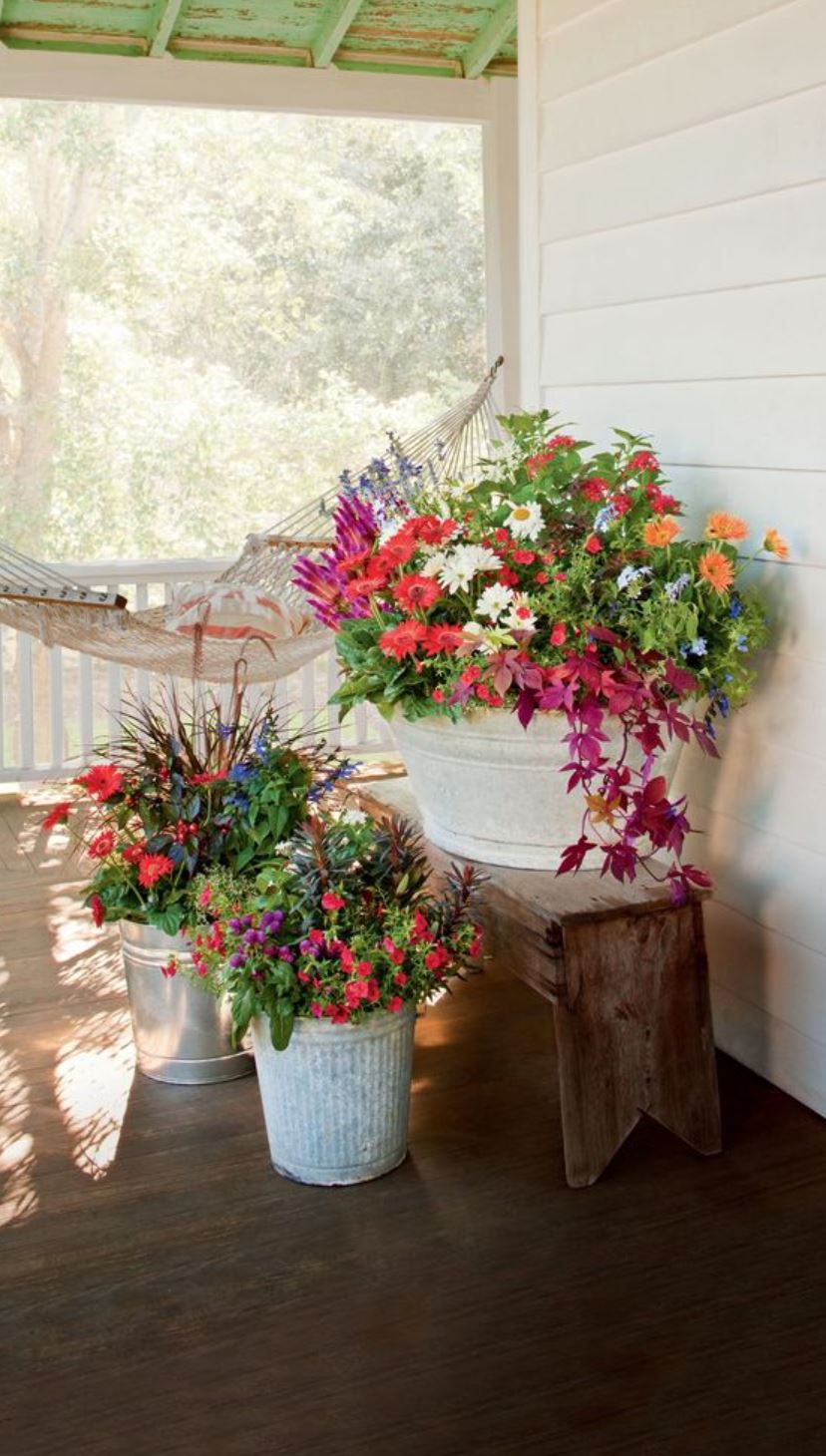 For this budget-friendly front porch flower idea, first get vintage or galvanized buckets from your local nursery. Next, start with attention grabbers like daisies or daylilies in the middle, followed by complimentary flowers like salvias.
Finish the look with sweet potato vines that slightly cascade and trail over the container's rim. Pro tip! Check some yard sales for buckets, baskets, and containers to repurpose. I used to do that all the time!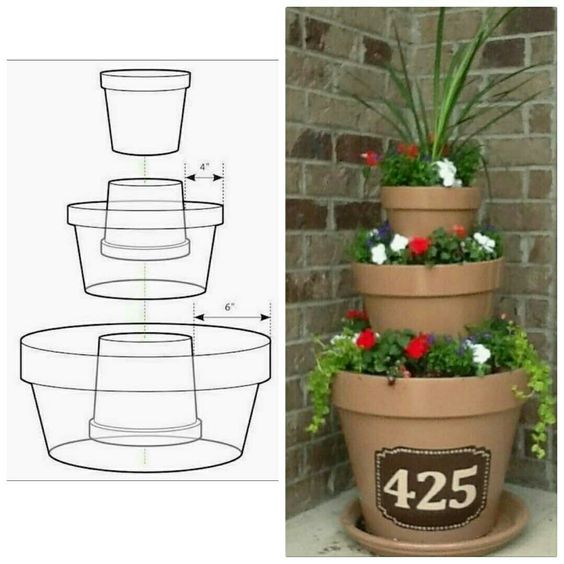 I've reserved the second spot for the best idea for small front porches. Instead of evenly spreading out your planters, stack a few of them together, and paint your house number on the biggest.
To paint the number, start by printing a border off the internet and the number from Microsoft Word. Subsequently, trace them onto the pot and paint them by hand. I actually did this a couple of years ago and planted mint. I wish I took some pictures before a hurricane absolutely destroyed it.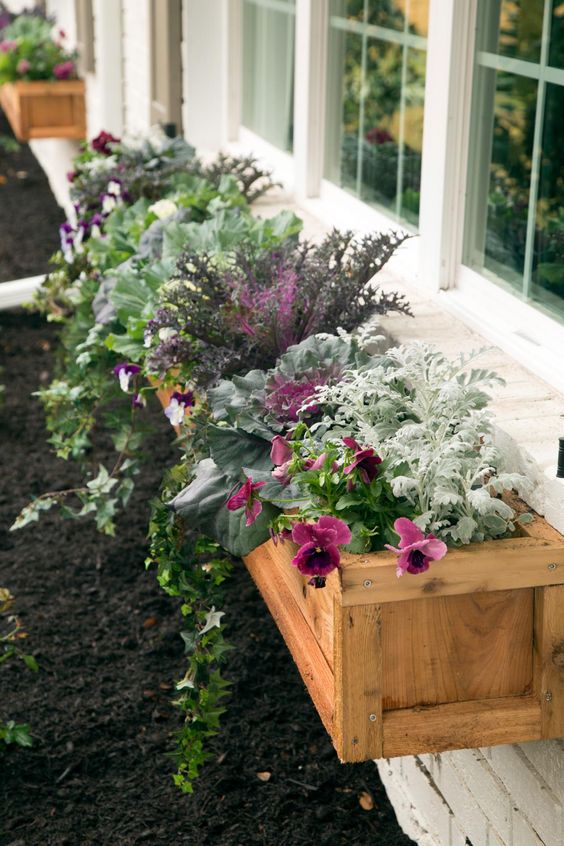 I've always wanted window boxes but we have weird windows in my house that doesn't allow them. So let me live vicariously through you! Mixing and matching flowers in a wooden window box adds texture, interest, and lots of color to any front porch. The flower idea pictured above proves that. Just ensure that you pick plants with the same needs in soil, watering, and sunlight.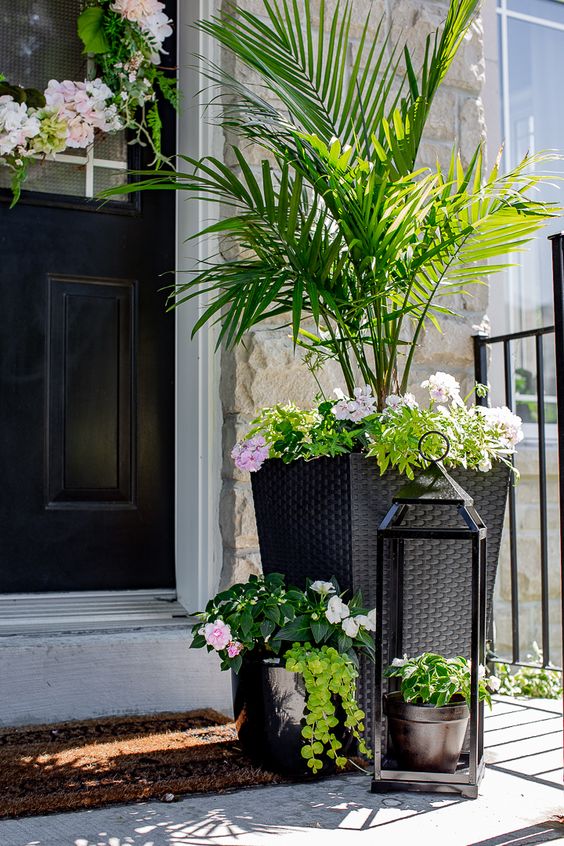 This is more my personal style; neutral and striking. Do you, like me, love the way palm trees look in the summer? Why not try this modern summer planter example of how to mix palm trees and other foliage into one planter? The range of colors really draws the eye in.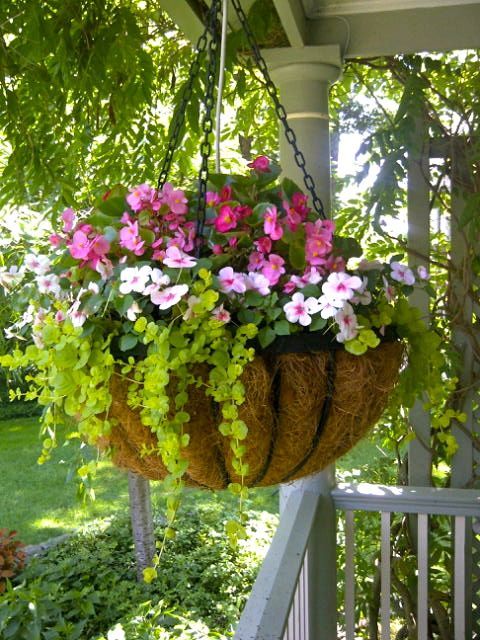 Another secret for success when dealing with hanging baskets is to get plants that stay smaller but have colorful leaves. In my opinion, hanging baskets are the perfect way to add balance, color, and style to any porch but especially a small porch with little foot room. If you plan to plant a summer hanging basket, start them off early in the spring. That'll give them sufficient time to establish.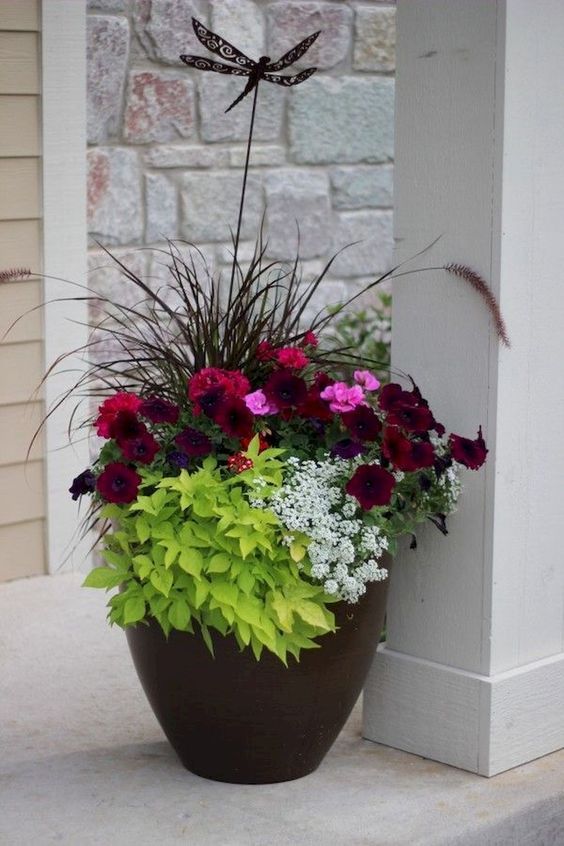 Ever heard the Thrill, Spill, and Fill magic gardening formula? I know, it sounds ridiculous but it's the sequence most gardeners abide by, and the flower idea pictured above shows why it works so well. The 'thrill' is the central, eye-catching plant or flower and often has height. In the image above, the thrill is purple fountain grass.
The spill and fill are what will give your container the body it needs and complement the thriller. This flower idea uses geraniums, verbena, and marigolds as spill and fill plants.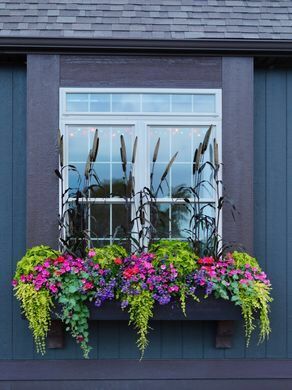 ACK! Another gorgeous window box I'll never get to have LOL
Window Sill designs can be as simple as picking a single type of plant. Alternatively, you can mix and match various flowers for maximum impact. I can think of no better evidence of this than the image above.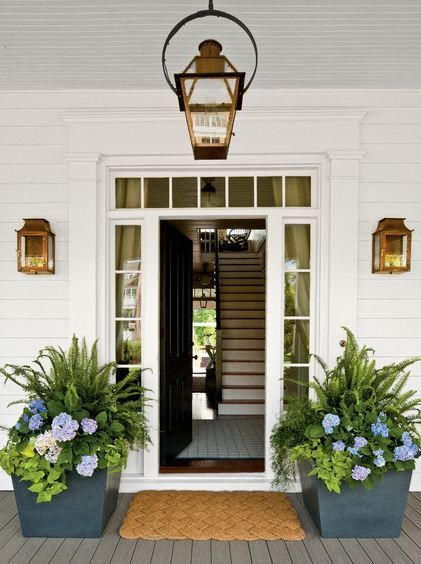 The term big and beautiful comes to mind when I see this idea. I think you'll love this front porch flower idea if you love a good mix of greenery and flowers. If you love the way Kimberly Ferns look and feel, I'd suggest having them as the central plant. You can then accent the look with flowers of your choice, as shown above.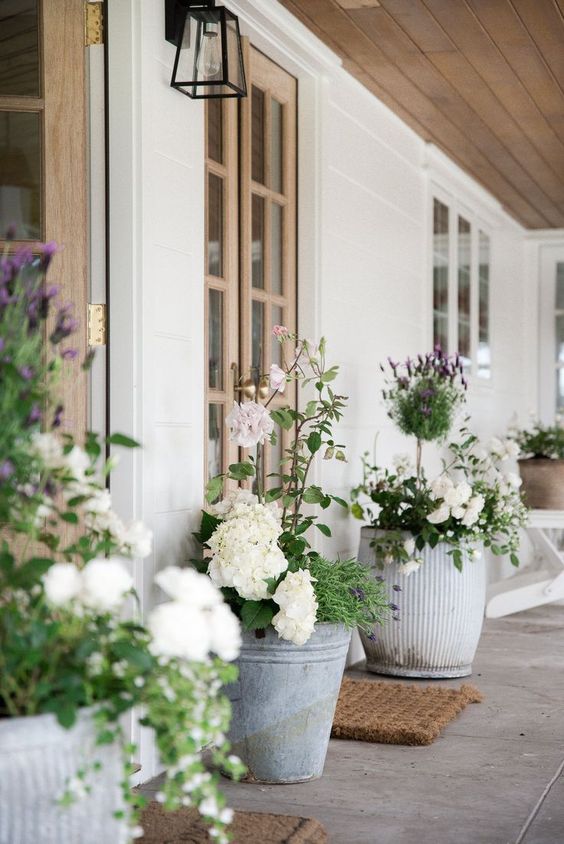 To achieve this look, start with one tall statement flower in the middle of the planter. This can be a large Geranium, Dahlia, Hydrangea, or even a wispy grass variety. Next, plant three to four accent plants or flowers at the base of the statement flower.
I suggest having an accent flower in the front, back, and on either side of the large plant. Also, remember to water well and feed the plants as needed.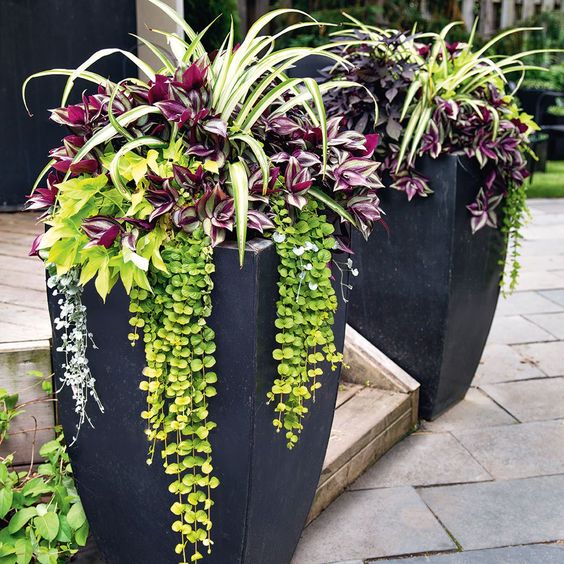 This front porch flower idea shows you how you can aesthetically place planters on either side of your front porch. The final look helps you visually break up all the steel, stone, and concrete. The three-toned plants will also bring a burst of color and welcoming scent to all visitors.
Here is a pro-tip: move the planters into place before filling them with soil or adding the plants. Once filed, they'll be too heavy to carry.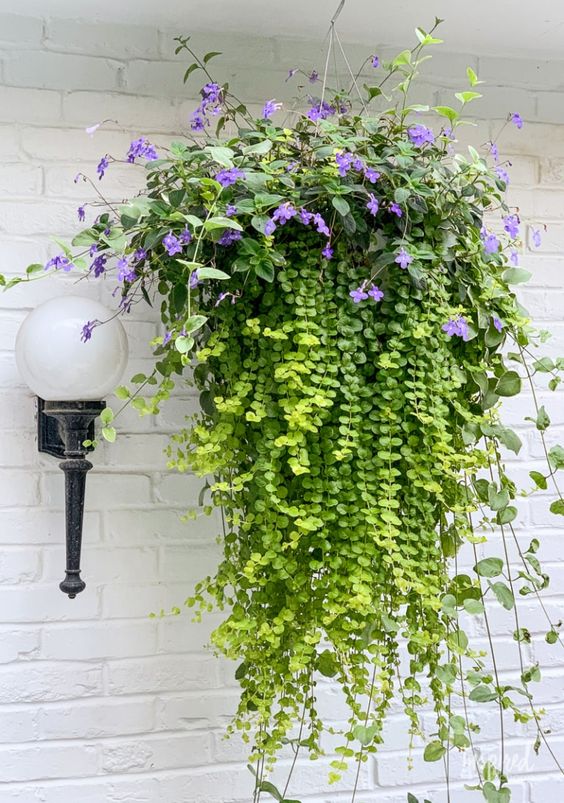 I love hanging baskets SO much! I always recommend them to friends who ask me for outdoor decor tips. You'll only need three types of plants to recreate this wow-worthy and stunning flower idea. Streptocarpella, Vinca Vine (Vinca Major), and Creeping Jenny (Lysimachia Nummularia) are the plants in question.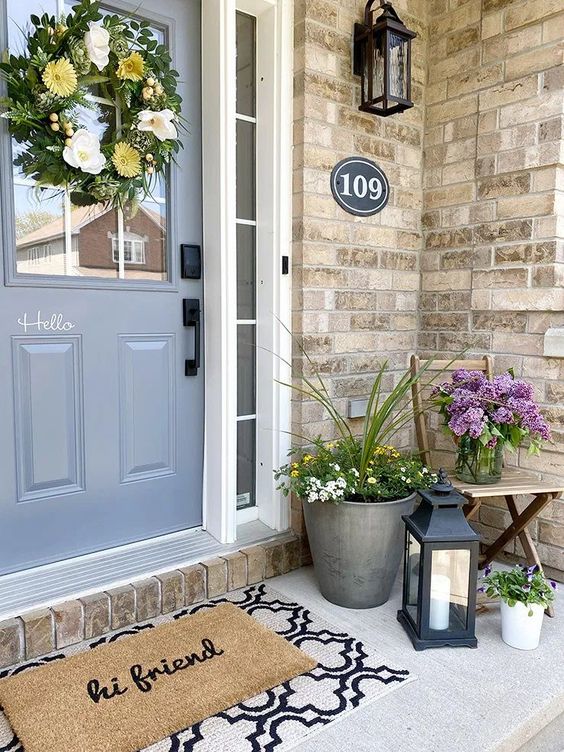 If you're stuck with a small front porch, I suggest having two planters: a large one and a small one. As shown above, use an assortment of annual plants in shades of white, yellow, and green in the main planter.
Remember, every outdoor space needs a touch of black, and that's what the lantern delivers.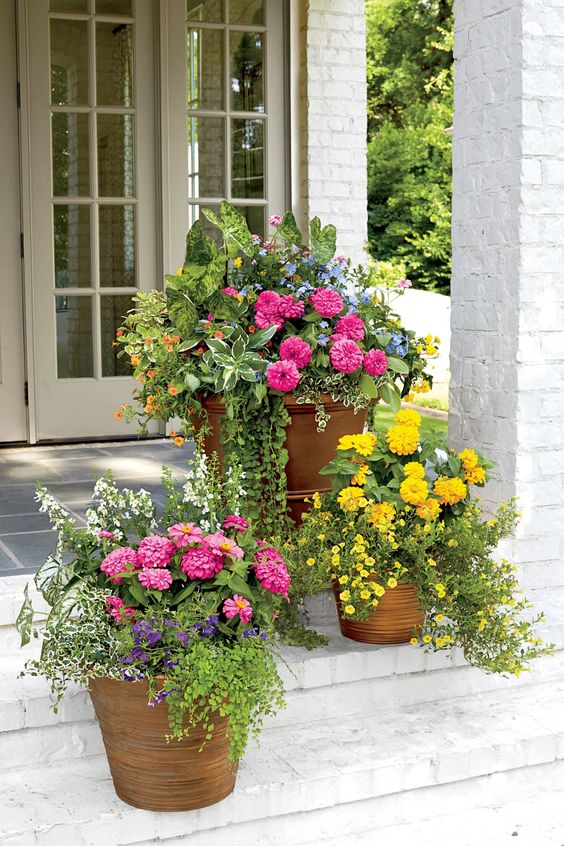 Personally, I'm not a fan of tons of color, but this idea does look great. Here is your chance to usher in spring with a cheerful arrangement of bright yellow and pink zinnias. They're placed in pots of varying heights to complement the front porch further. Blue calibrachoas and purple verbenas are also tucked in the pots to fill the base.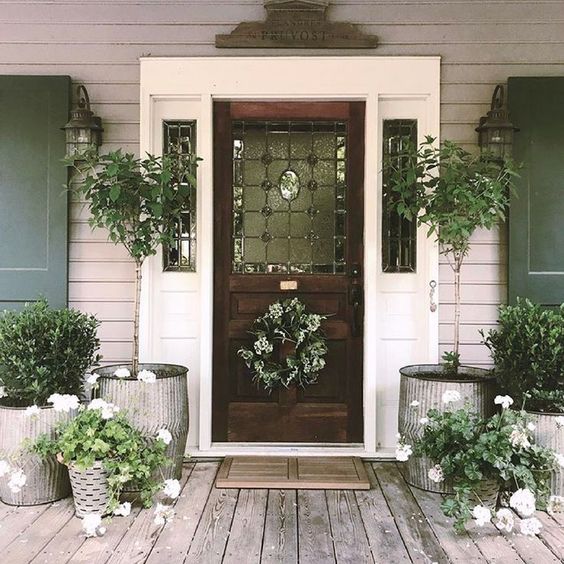 My fav style! For the perfect farmhouse look, consider lining French metal barrels on your front porch (instead of conventional planters.) Add gardenia bushes and limelight hydrangea trees inside them to complete the farmhouse look.
You could also add small olive buckets with geraniums and place them in front of the French metal barrels.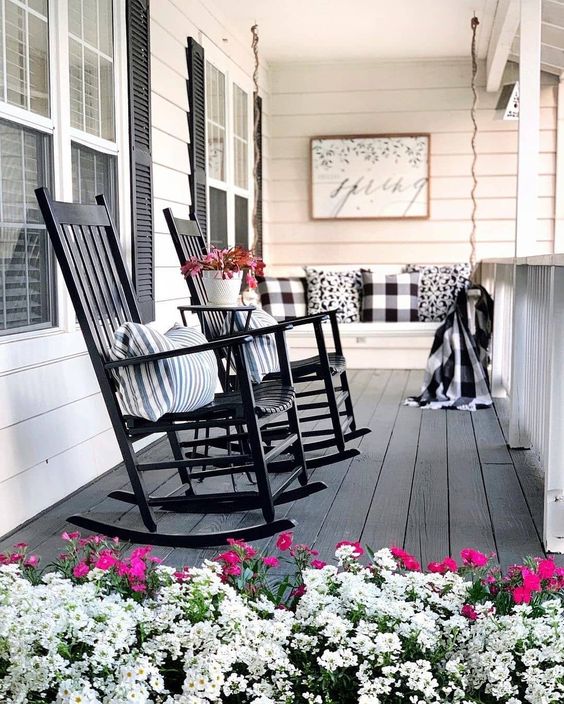 I always say that colors can affect your mood, so use them to your advantage. Above is a great example: pastel shades of fuchsia pop with a little white to create a soft, romantic look. The shade-loving combo is perfect for dressing up a front porch, where you can relax with a good book.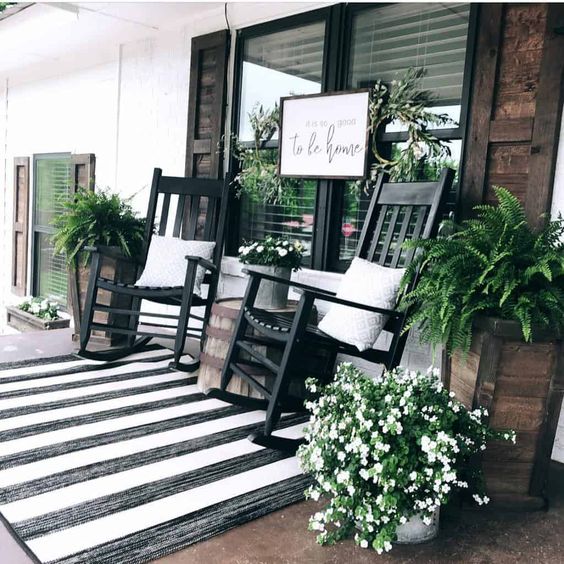 This flower ideas' warm greens and whites combine into fireballs of color that'll add touches of drama to any porch. I especially love the inclusion of wooden planters. Their rustic appearance adds a beautiful depth to the whole look.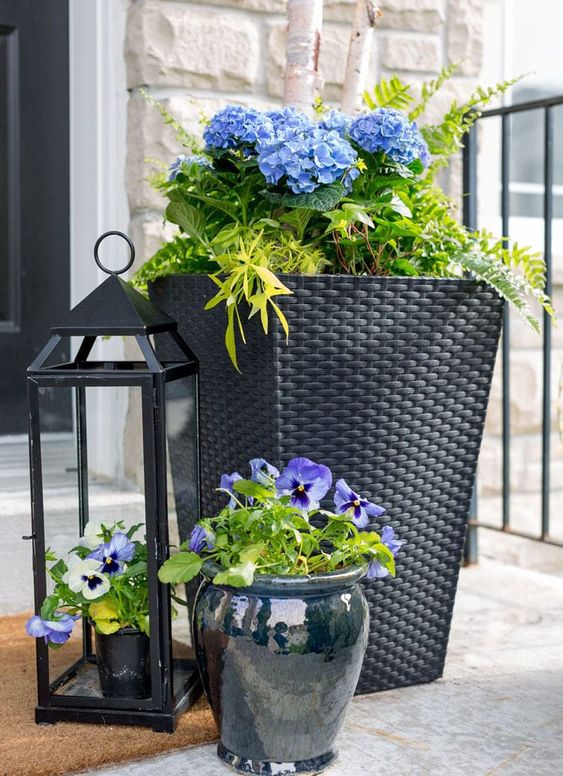 Here, an odd number of differently designed containers and planters have been carefully grouped. The result is a warm, rich vignette that includes shades of blue, white, purple, and green. I always say that "balance" doesn't have to mean equal sizing on both sides. I can create visual balance with odd sizes like this. It's all about proportions!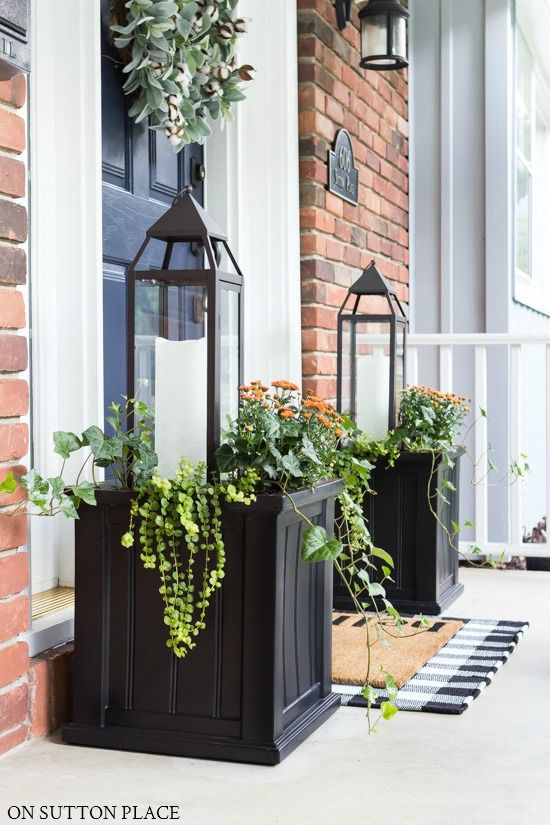 Don't let the overall sophisticated look fool you. This fall planter idea using creeping jenny, ivy, copper mums, and lanterns is extremely easy to pull off. Fall is my absolut fav season and I love decorating my front porch with all my Fall decor.
Here is an essential tip from me. See the massive candle inside the lantern? If you'd like to replicate that, remember to place the candle inside the lantern before adding the plants. Also, only pick remote-controlled LED candles. Once the plants are in, it'll be tough to open the lantern door.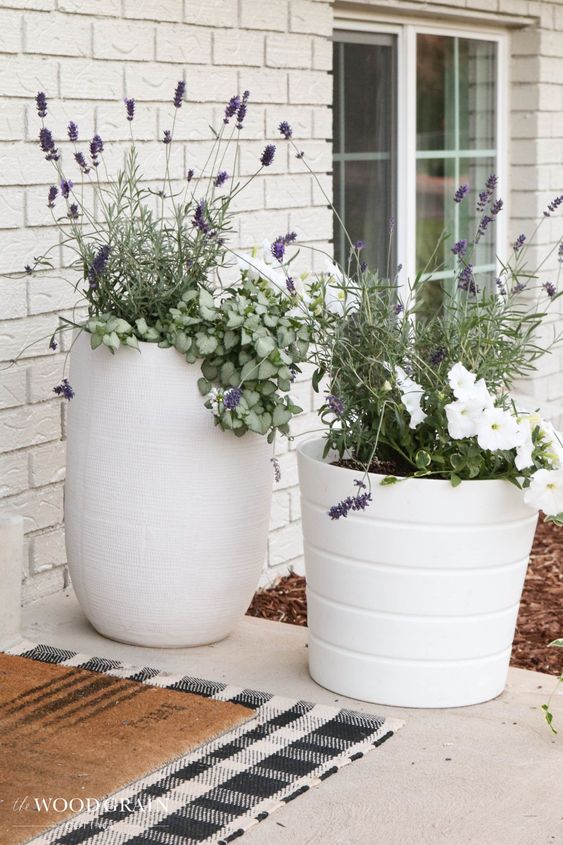 Would you like to bring a wispy look to your front porch? Then go for white trailing petunias, ivy vines, and lavender (Hidcote Blue) flowers in two massive planters, as shown above. They're all happy and fragrant flowers that your visitors will also appreciate. I've lost track of how many planters and pots I've painted over the years. You can completely overhaul a space with just that tip.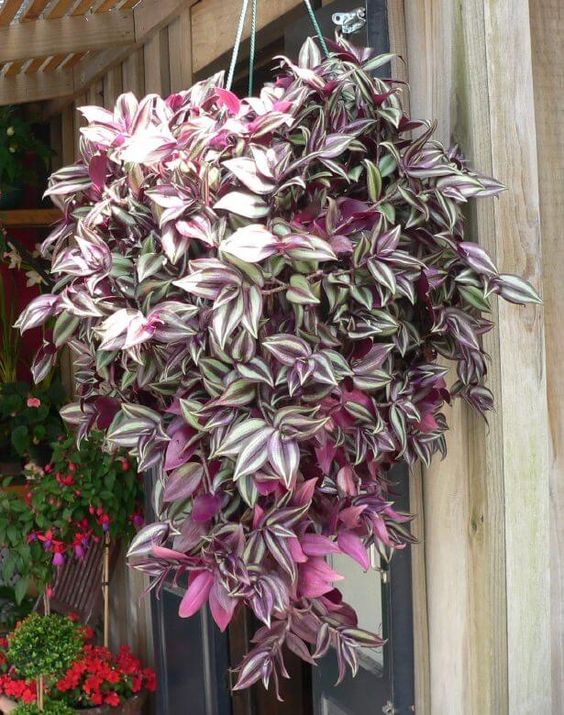 Something about this plant speaks to me. Not a flower, but looks like a flower. Now I want it. This wandering Jew plant is a terrific example of how not all hanging baskets need to have flowers. The hanging basket's beautiful off-white, purple, and pink shades will complement any outdoor space.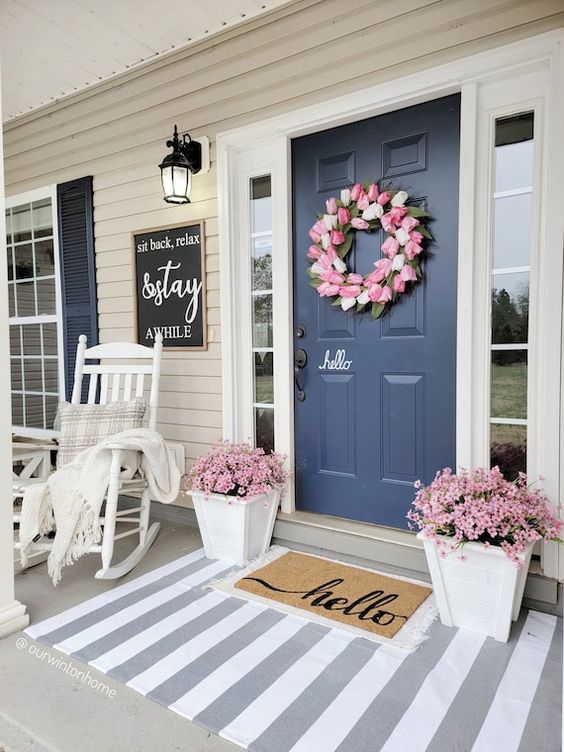 My front porch could've looked like this two years ago if I had come across this inspiration at the time. The idea shows how you can dress up a bright-colored home with equally bright flowers. Even from a distance, the warm, bold hues of pink and white will grab your visitor's attention with their intensity.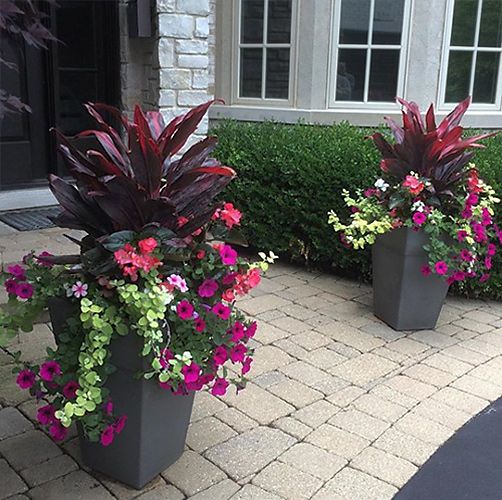 Why not line your porch border with Cordylines in grey pots and top off the look with surfinia flowers. I just love the color scheme of white and purple that syncs with the surroundings.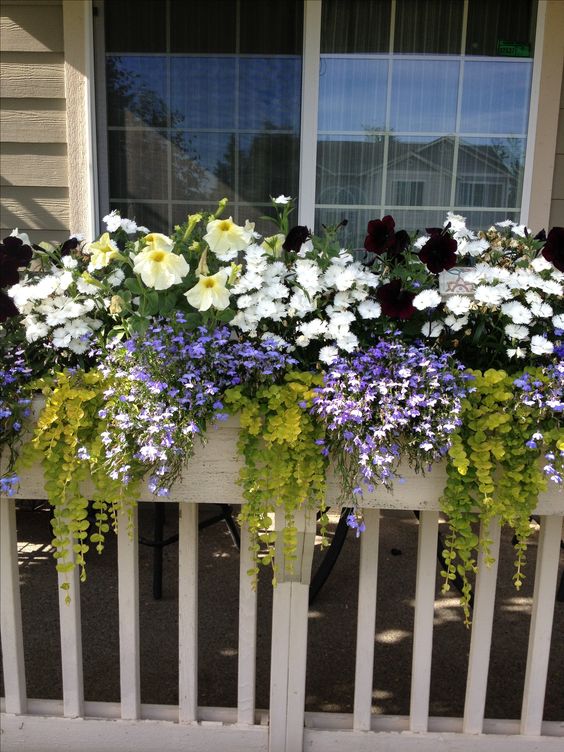 This is one of my favorite porch flower and plant displays. The organization includes a terrific mixture of foliage and flowers using a variety of arrangement sequences. The display is also set up in a tiered cascading fashion to create an appealing burst of color.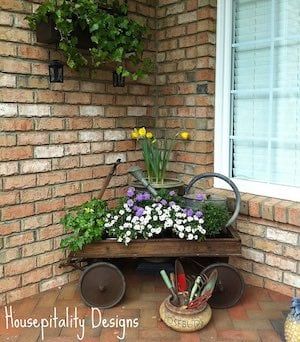 A vintage wagon filled with spring flowers. What beats that? Not much, if you ask me. I adore the use of quirky things like this. Ensure you pick complementary or contrasting colors that match your home's theme and personal preferences. You could also place the wagon planter in a corner, as shown above.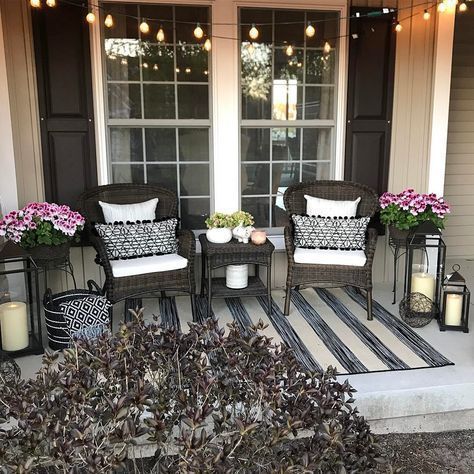 Here is a stunning porch system with two potted plants on either side of the porch and in the middle. I love how inviting it is with such little effort. This isn't a difficult look to achieve, but the effect is nothing short of amazing. Notice the four lanterns that help fill up the space?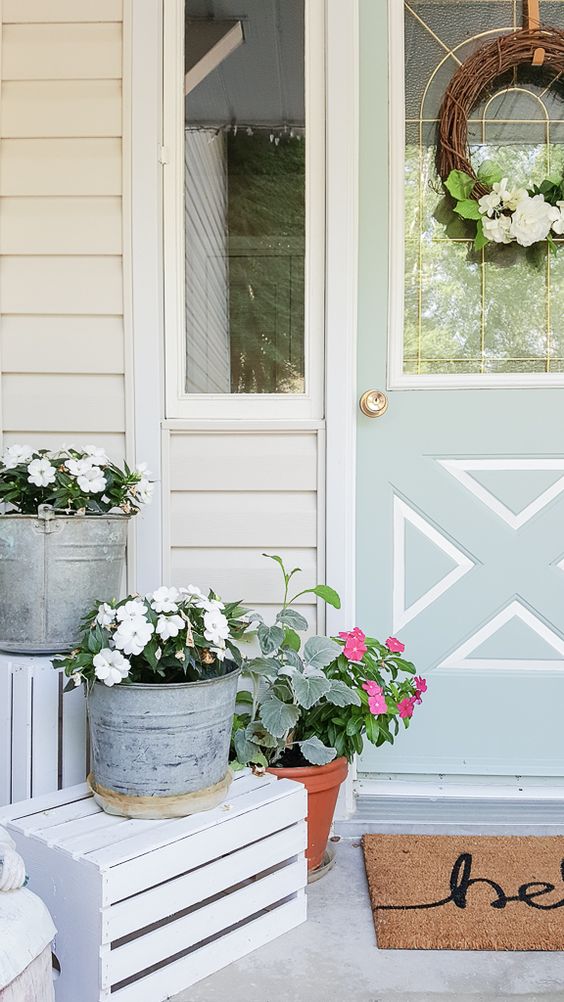 My mom's house doesn't have a porch in the traditional sense. That said, after seeing how these guys were able to use crates on their front porch, I got an idea. The idea was to have SunPatiens in galvanized buckets on top of the crates. Doesn't it create an interesting visual effect?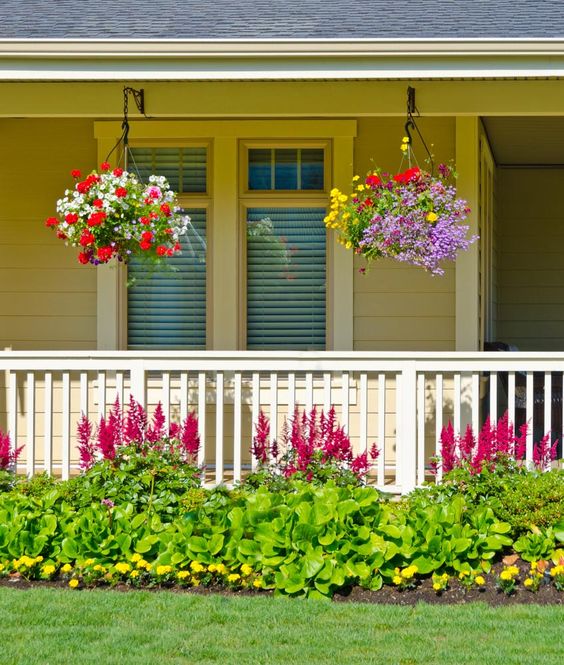 Two years ago, I found a similar shade-loving flower arrangement at my favorite local greenhouse and bought them. I grabbed four for my front porch and was amazed by how much they filled out throughout the summer.
They looked just as shown above at their peak.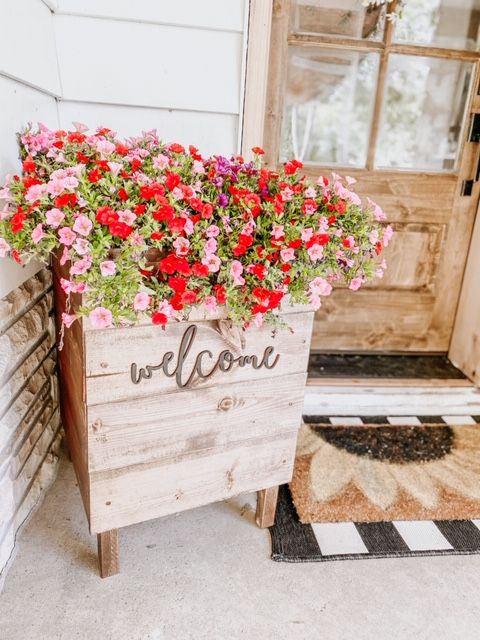 If you'd prefer an eye-pleasing, rustic appearance, have the flowers in a solid wood container as shown above. Note, though, that you'll need to line the wood with a water-resistant material before filling it with soil (for durability.) Also, remember to puncture the bottom with a few drainage holes.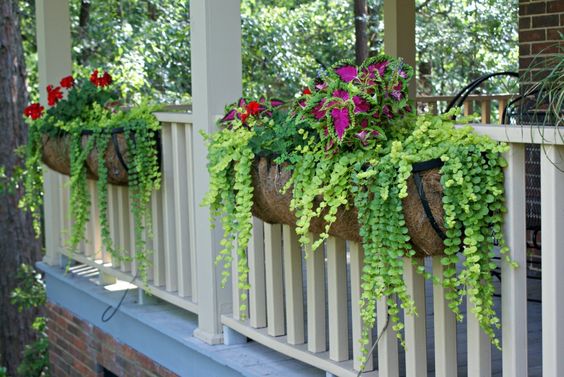 Hmmm I can't have window planters but I might be able to pull these off. Only a few plants can beat the lush and green that sweet potato vines, coleus, and creeping jennies deliver. This combination of a large wrought iron with coco liner has actually become my new favorite for warm weather.
Best Flower Species for Planters
Weather conditions are one of the most important factors to consider when sieving through front porch flower ideas. What's worse? Remember that most porches have walls and obstructions that cast permanent or semi-permanent shades on the flower's area.
As such, you'll also need to ensure the flower species you get is a shade-loving one. Or at least, it can thrive in shaded areas.
Here are some of the best flower species for front porches and planters.
Pansies (Viola Tricolor)
Pansies will bring a cheerful atmosphere around your front porch in late fall and the early spring. Some pansies in subtropical areas even bloom through the winter seasons. If you live in a USDA zone seven and up, ensure the flower is partially shaded in hot afternoon hours.
Proper soil preparation is also needed to keep them alive. Add compost and other decomposing organic material to add nutrients to the soil. This way, you won't need to fertilize them later.
Primula
Primulas are semi-evergreen perennials that bloom upright on long stems and in various colors. These flowers are extremely easy to maintain and will usually begin to bloom as early as the onset of spring.
Cascading Lobelia
Perfect for filling out pots and containers, Cascading lobelias are low-maintenance outdoor plants that keep flowering. They're delicate perennials with white, blue, or purple flowers and are usually available as trailing or standard varieties.
Impatiens
Suitable for hanging baskets, window boxes, and pots, Impatiens Wallerianas are available in six different flower colors; orange, coral, salmon, violet, white, and red. These flowers are fast-growing, attractive options for shady spots and are suitable for hanging baskets, window boxes, and pots.
Angelwing Begonia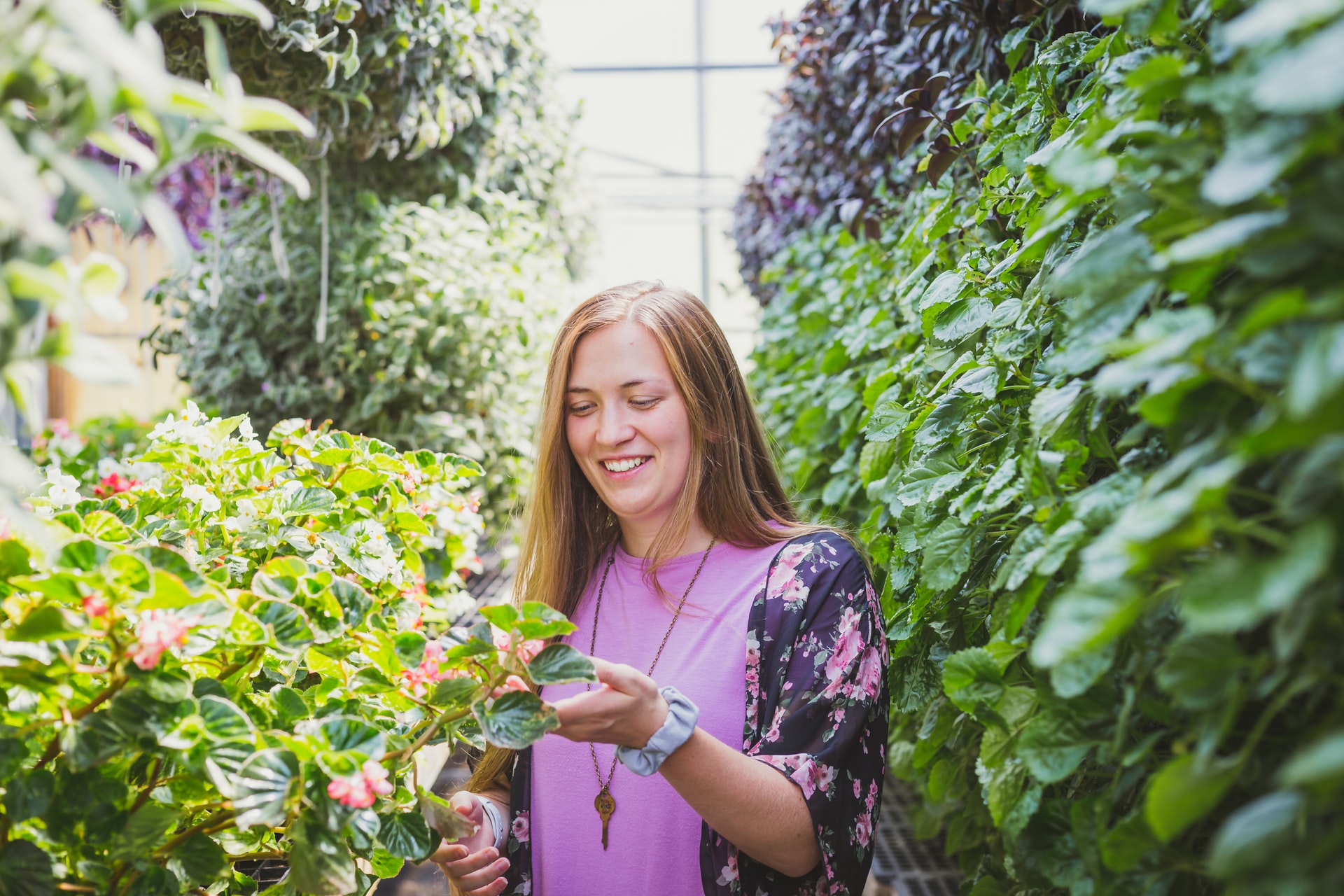 Begonias are stalwarts among annuals because they're one of the easiest plants to grow. If you'd like a tropical display on your porch, go for the large angelwing varieties. They're named after their elongated leaves that resemble wings.
What about their growing conditions? Begonias grow in bright but indirect light the best. Too much light can burn the leaves. Also, avoid overwatering but ensure you keep the soil they're planted in evenly moist.
Scaevola
You'd think these blue, pretty fan-shaped flowers would be high maintenance, but nothing could be further from the truth. These lovely blooms love hanging out in the sun and are self-cleaning, so they won't need deadheading.
Verbena
Another spreading plant, verbena, is known for its "cascading" factor-whether it's trailing over your floor planters or retaining walls. This plant's clusters of mini blooms typically come in purple, pink, or white. What's more? Verbena is a no-fail option for warm, dry conditions and will do well in almost all planters.
Diamond Frost (Euphorbia)
Would you like a plant that'll take over its pot and bloom non-stop from the day it's planted? Then the diamond frost is the flowering plant for you. You might already know it for its beautiful white flowers and succulent foliage.
Note, though, that while diamond frost will grow well in partially shaded areas, they thrive best in sunny spots. So, aim to place them in a porch area with at least a little sun.
Types of Potted Planters
You'll need to consider five main potted planters while hunting for porch flower ideas. The one you pick will depend on your front porch size and the flowers you'd like to plant. Here are the five types.
Hanging Basket
Is your front porch small, and you'd like to make the most of every bit of space available? Then opt for hanging planters. If there is a weight restriction, purchase lightweight compost and soils made especially for hanging planters.
Another point worth noting is that hanging baskets give plants plenty of drainage. As such, do not place anything you'd not like getting wet below them.
Window Sill Planter
Also commonly referred to as window boxes, window sill planters are long, narrow planters you can place on exterior windowsills. In addition to using these to grow foliage and flowers, you can also use them for display and scented blossoms. I have a friend who uses hers to attract butterflies and birds.
What're the upsides of picking window sill planters? For starters, most of them are custom-made. So you'll get to choose the style, size, and design that works best for you.
Railing Planter
Would you like to add color to your outdoor space and are lucky to have a balcony or deck? Investing in a railing planter is another easy route you can take. These planters mount to your railing's edge with ledges, hooks, or cutouts in their bases. They're also a snap to set up.
What's more? Railing planters look great solo and as multiples, and you won't need to break the bank on the project. I've rounded up my favorites (with recommendations) above to suit every budget and style.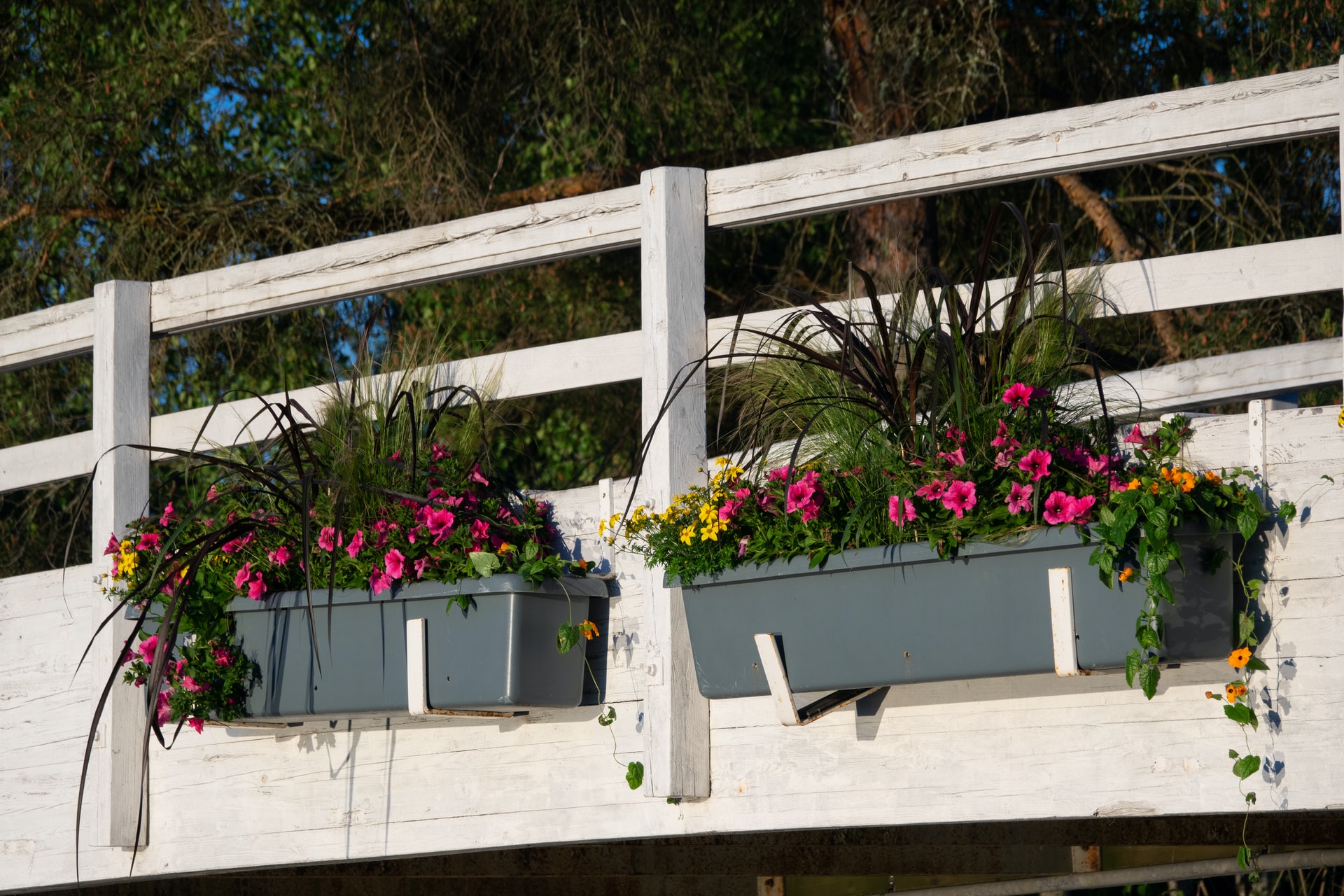 Wall Planters
Wall planters are little plant pots you can hang to create a vertical garden on your wall. Wall planters significantly contribute to the décor in confined spaces, thanks to their ability to make up for exquisite art.
Floor Planter
Just as their name suggests, floor planters sit on the floor. These kinds of floor planters are also the most common. Why? Well, because it's easy to design or find options that fit perfectly on your front porch without being obtrusive.
FAQ
Below is a list of three frequently asked questions about front porch flower ideas and their answers.
Question: What Do You Put in a Porch Planter?
Answer: Things you put in a porch planter include space-savers (like pop bottles), potting soil, and your plants of choice. The type of soil you pick is up to you. That said, those with added fertilizer save you from having to do that later.
Question: What Are the Best Outdoor Plants for Pots?
Answer: There are many low-maintenance outdoor plants that are perfect for pots. These include perennials, annuals, periwinkles, ficus, creepers, ivy, Boston fern, and sedums.
Question: What Plants Can I Put in a Porch?
Answer: This will depend on your locality's weather conditions. For example, is your front porch susceptible to strong winds and droughts? Then you'll need plants that can survive said conditions, like Cordylines, Wollemi pines, and Cedars or low-growing plants.
Which Flowers Will You Choose?
This list is definitely far from exhaustive, but I hope it has given you some excellent front porch flower ideas. Do not be afraid to mix and match plants and flower varieties. You can even feel free to try out a few that aren't traditionally grown on front porches and patios.
Which one did you love? Was it my fav, the French Metals ide with a rustic look? Let me know, then head back to our site for more recs!
Recommended Reads: