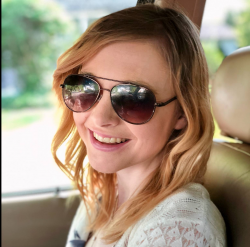 Latest posts by Erin Jamieson
(see all)
I love open fires, and I love spending time with friends and family outdoors even as cool weather hits Ohio. But fire pits aren't the best heating solution for every home. That's why a spiral flame patio heater may guide you to your best patio upgrade yet. 
A spiral flame patio heater is an aesthetically pleasing upgrade to the average patio heater- there's no doubt about that. What I love about spiral patio heaters is that they're a great option if you've considered a fire pit vs patio heater but can't quite decide. 
Why? Well, spiral flame patio heaters provide the ambiance of an open flame- but carry fewer risks, and are a bit easier to operate than your average fire pit. While they are a bit more expensive than most patio heaters, a spiral patio heater- if you know how to buy it- could be your best fit. So here's how to shop wisely. 
Bottom Line Up Front Summary
Spiral flame patio heaters are not only aesthetically pleasing but also a great way to keep you and your guests warm during cool evenings. To find the best model, focus on the quality of the materials, heat output, and special features that add safety and performance to your heater. 
If I had to recommend just one spiral flame patio heater, it would be the HIO Spiral Flame Pyramid Patio Heater. This ETL-listed heater is simple to use, with pushing and turning the ignition, plus an automatic safety shut-off. It's well-constructed and at a fair price, even if it doesn't have all the bells and whistles of more expensive models.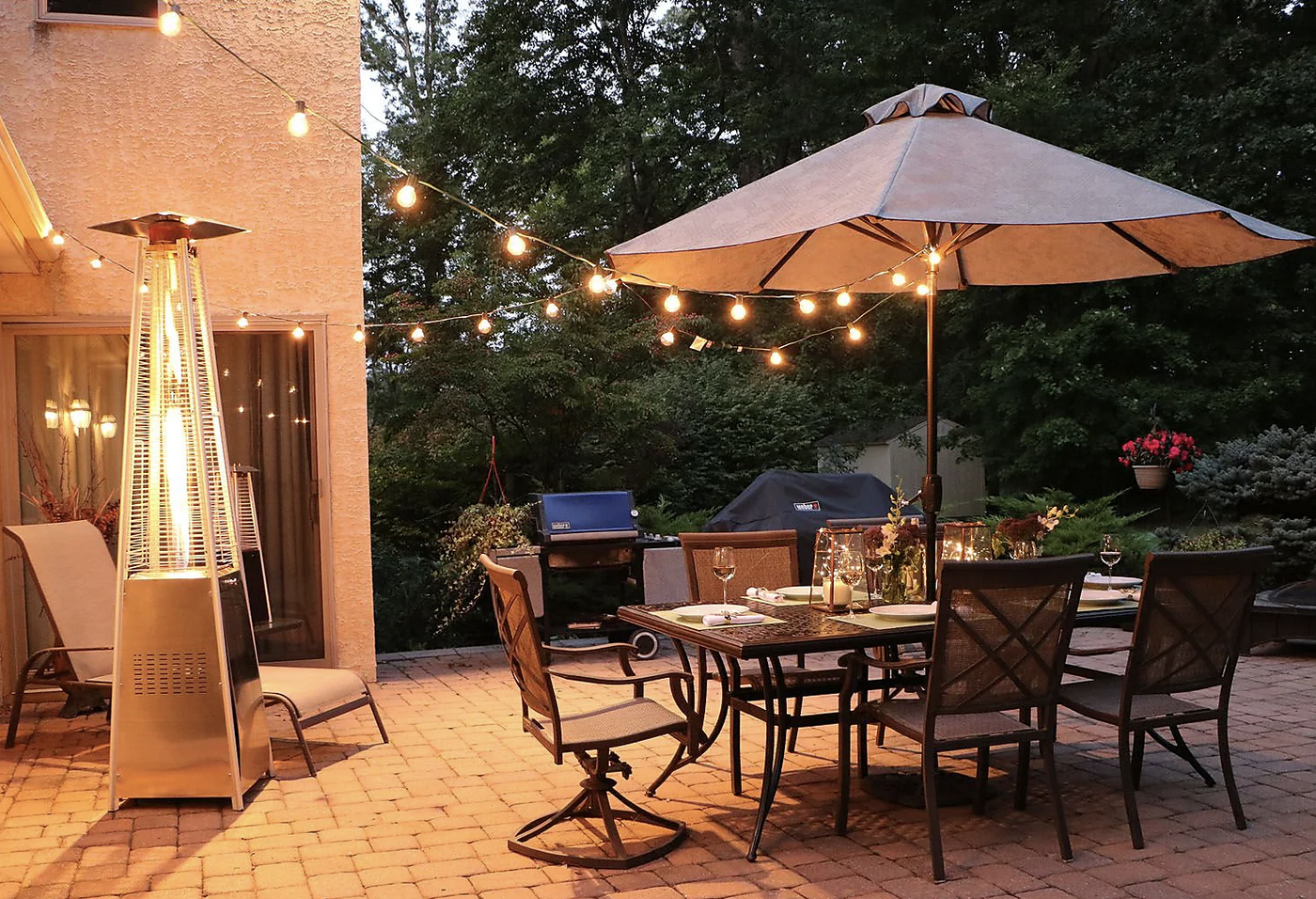 My Top Picks
How to Find the Best Sprial Flame Heater for Your Patio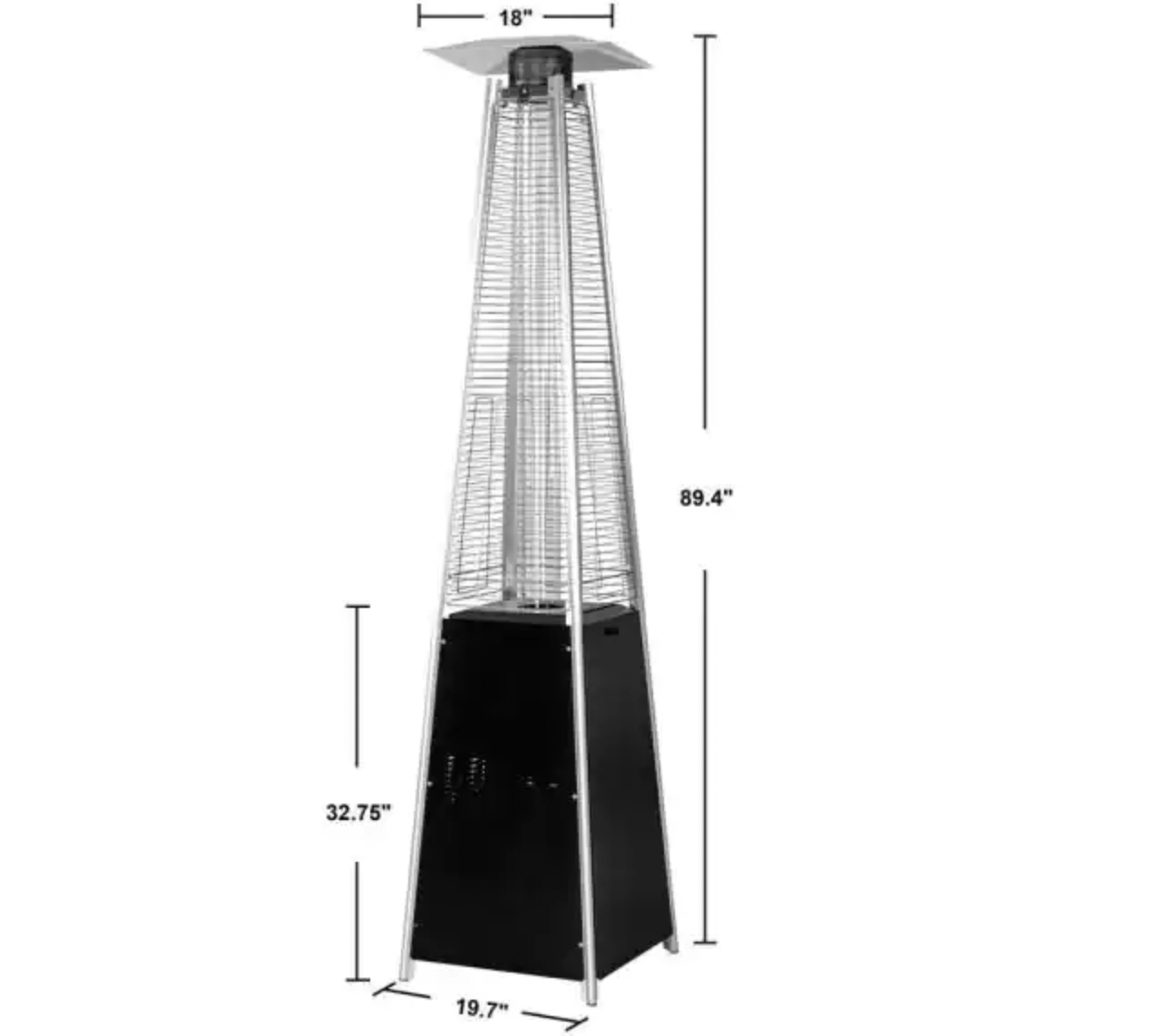 If a spiral flame patio heater caught your eye, but you're not sure how to find the best design for your patio, this short guide should help. 
Selecting a Type of Spiral Flame Patio Heater
If you want that beautiful dancing spiral flame, then you have two styles to choose from: tabletop and freestanding. While freestanding patio heaters will be more useful for most, there are times when I'd recommend a tabletop spiral flame patio heater instead. 
Freestanding Spiral Flame Patio Heaters
Want versatility, optimal warmth, and elegant ambiance? In most cases, a freestanding spiral flame patio heater is your best choice. While these can range in height, they're intended to warm a larger area of your patio and (except for being hooked to a gas line) still can be moved around. If warmth and entertaining are top concerns and you have at least a bit of space, definitely consider buying a freestanding spiral flame patio heater. 
Tabletop Spiral Flame Patio Heaters
If you have a small patio, let's face it: a large heater isn't practical or even necessary. A tabletop spiral flame patio heater still brings ambiance, but only a small burst of warmth. While these heaters aren't going to keep you warm during the coldest months, I see them as a natural upgrade to candles. They're more reliable, convenient, and easier to control. I also recommend a tabletop version if you aren't ready to spend over $100- $200 (most spiral flame patio heaters are a few hundred dollars and up). 
See also: Best Patio Heaters Guide
Selecting Your Fuel Type and Output 
One notable downside to a spiral flame patio heater? Almost all of them are propane-fueled, but that isn't all bad news. 
Propane Gas vs Natural Gas 
To see that striking natural flame, gas-powered models make sense, but these are mostly propane gas. Propane gas patio heaters are generally more cost-effective to run than electric and they usually have a fair base cost. They're also quick to heat up, so they're quite convenient for entertaining. 
If you do see a natural gas patio heater, it's certainly not a bad choice. Natural gas heaters burn more cleanly, have no chemical smells, and can still be cost-effective. However, they're a bit more expensive to run, and you'll have to keep your heater in a location where it can connect with your natural gas line. 
BTU Output & Heat Radius
The biggest mistake you can make is not paying attention to the heat output and radius. Both help you set realistic expectations about how much space will be heated, and how much warmth it'll provide. For a freestanding heater, I'd aim for 40,000 BTU and up. That's usually adequate for heating around 2,000 square feet- though you'll notice most of the warmth near the heater. Some (not all) heaters will also tell you the expected heating radius- but 40,000 BTU and up is a good rule of thumb. 
Meanwhile, a tabletop spiral flame patio heater should have a heat output of 8,000 to 20,000 BTU.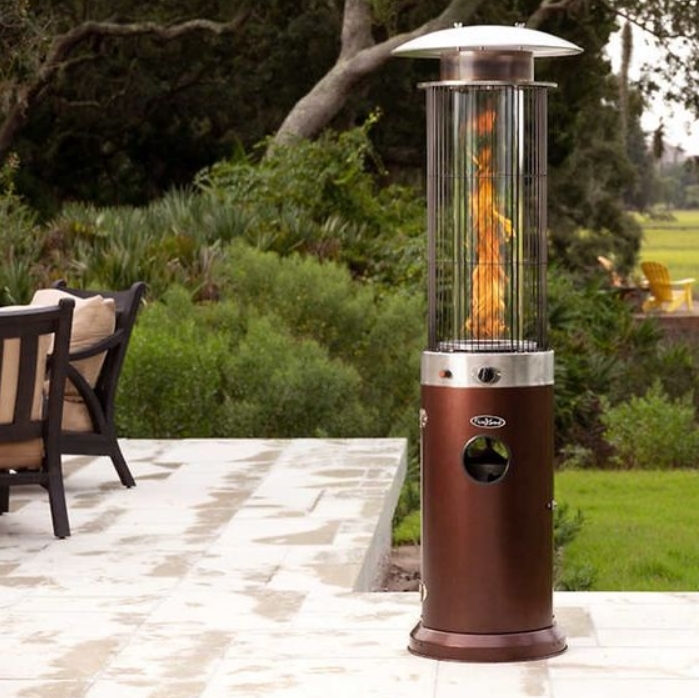 Determining Quality 
It's one thing to say that quality matters- but how can you tell? The truth is, there's never a 100 percent guarantee when you're buying a spiral flame patio heater online. But there are things I look for and bonuses that give me more confidence in my selections. 
Construction and Materials
One way brands save money is by using cheaper materials- and that's the last thing you want for a spiral flame patio heater. Aluminum may be weather-resistant, but it's too flimsy and easy to damage. Meanwhile, regular steel is strong but will rust.
My solution: while a small aluminum component (such as a knob) is a compromise I may make if I'm on a tight budget, the body should be stainless steel or carbon steel. If you want an even bigger upgrade, a powder coating adds additional durability against precipitation.
Refunds, Returns, Reviews, and Warranty Policies
While my top preference is a spiral flame patio heater that comes with a 1-year warranty, I still will consider designs that come from a company or brand with a decent reputation and offer returns and refunds. I consider general customer experiences, as well as detailed feedback. 
Where I Shop
This also plays into where I shop- and recommend you shop, too. Amazon and Wayfair are fair go-tos if you want a wider selection of spiral flame patio heaters, though I especially like how easy it is to use filters to shop efficiently on Wayfair. Home Depot, Lowes, and Menards are also good places to shop. I do like specialty outdoor and heating stores, but I always look at the company's reputation, customer service, and transparency.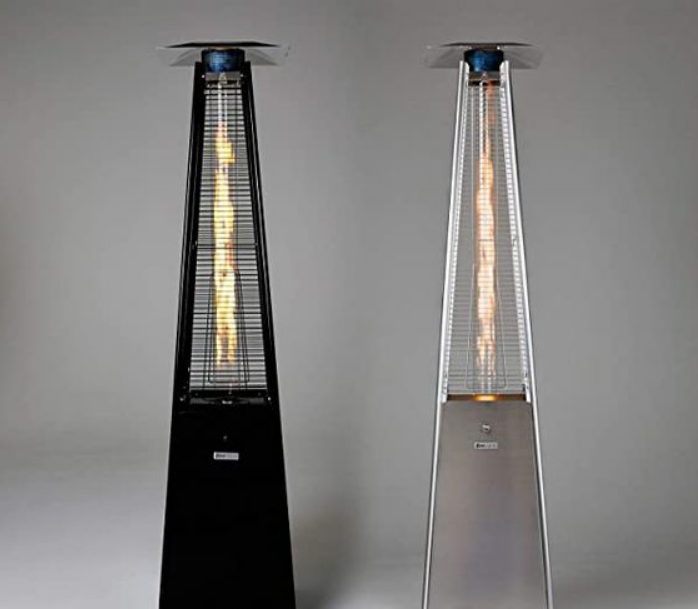 Selecting the Best Features
There are a few must-haves for a spiral flame patio heater. First, it needs to have some kind of glass tube to display the flame. Secondly, it should be constructed in a way that you have a clear, long view of your spiral and flame. And of course, it should be aesthetically pleasing. But if you want to find an exceptional spiral flame patio heater, consider a few of the features in the table below, organized by type of feature: 
Feature
Why Bother? 

Safety Features

: Automatic Shut Off, Tilt Protection, Certification 

Spiral flame gas patio heaters are a little more dangerous than electric heaters, so extra safety standards can pay off, especially if you've never had a patio heater before or have children:

 

Auto Shut Offs

not only detect temperature but keep you safe- and may save you money

Tilt Protection

: keeps your heater from tipping over

ETL-Listed, CSA Approved/ Certified:

independently tested for safe use 

Aesthetics and Entertaining

: Quartz Glass Tubes, Unique Exterior Designs, LED Lights, Lava Rocks 

This is a matter of personal preference, but small upgrades can take a basic patio heater to one that adds to the decor of your patio. LED lights are great for late evenings and entertaining, and quartz is a sturdy material. 

Temperature Regulation:

Adjustable Knobs/ Flame, Electric Ignition 

Adjustable flames make it easy to control your heater seamlessly, paired with electric ignition for an ever quicker heating experience. Both are excellent features if you're used to electric devices. 

Versatility:

Wheels/ Portability, Side Tables, Access Doors, Convertible Designs 

I'd opt for wheels if you see yourself using your heater in multiple locations- but skip them if stability is your number one concern. Side tables and access doors are very handy for storage and easy operation. And some designs convert to double as a table- but this is far less common for spiral flame patio heaters. 
Inviting Spiral Flame Patio Heaters: My Picks 
Here are a few of my favorite spiral flame patio heaters. From spiral flame patio hearts with wheels to dazzling spiral flame patio heaters with LED lights, I focused on quality and overall value. These selections reflect my tips above and show you can find elegant outdoor heaters with designer touches- but with practical features like temperature adjustment and heat detector systems. So here are some of the best spiral flame patio heaters you can buy, for their quality, features, and value.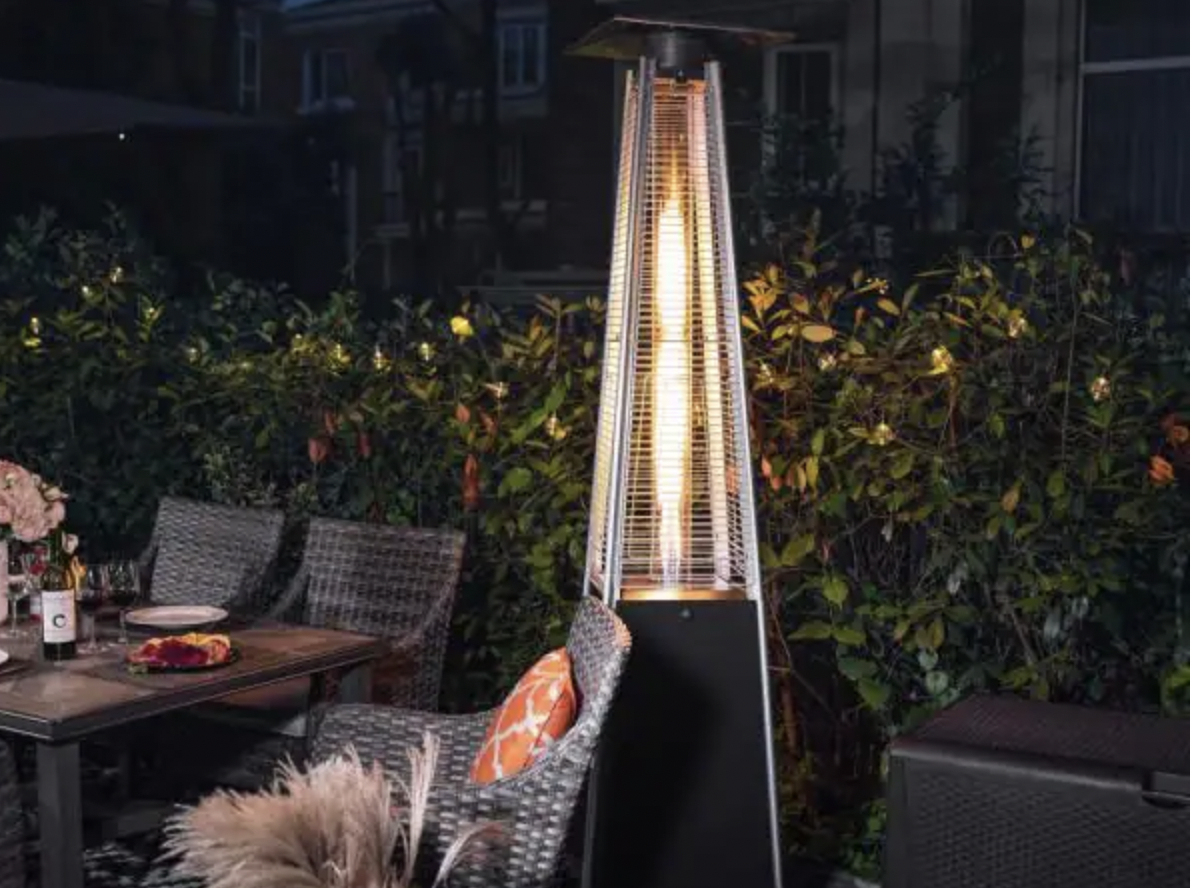 If you want a spiral patio heater that you can move around, wheels are a great feature. But I wanted to find a patio heater that provides that versatility without sacrificing other features. This spiral flame patio heater features a stainless steel frame and has an impressive heat output of up to 48,000 BTU. Along with that, you get an electric push ignition, paired with an adjustable control knob. The sleek black exterior is attractive but versatile- making this one of your most practical options.
Pros
Wheels for Mobility

Electric Push Ignition

Commercial Light

Adjustable Knob
Cons
Long Assembly 

Modest Heat Radius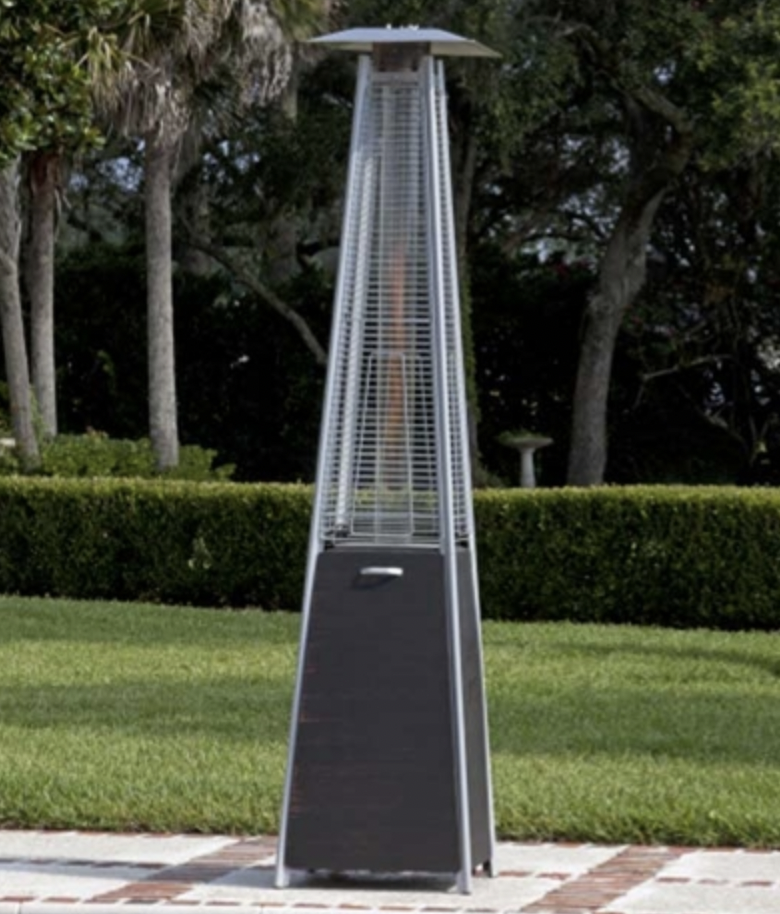 Fire Sense is a popular brand for both fire pits and patio heaters- and I think it mostly deserves that popularity. This spiral flame patio heater shows what Fire Sense does best: packs many quality features in one design without being excessive. This patio heater includes stainless steel burners with a unique, patented design and an attractive brushed bronze finish.
Tip-over protection and an automatic shut-off system are both safety bonuses, and you still have wheels for moving around as you need. It's a little more expensive and heftier than my previous pick but makes a great staple for most patios.
Pros
Tip-Over Protection

Brushed Bronze Finish

Automatic Safety Shut Off

Wheels 
Cons
Heavier

Remote Not Included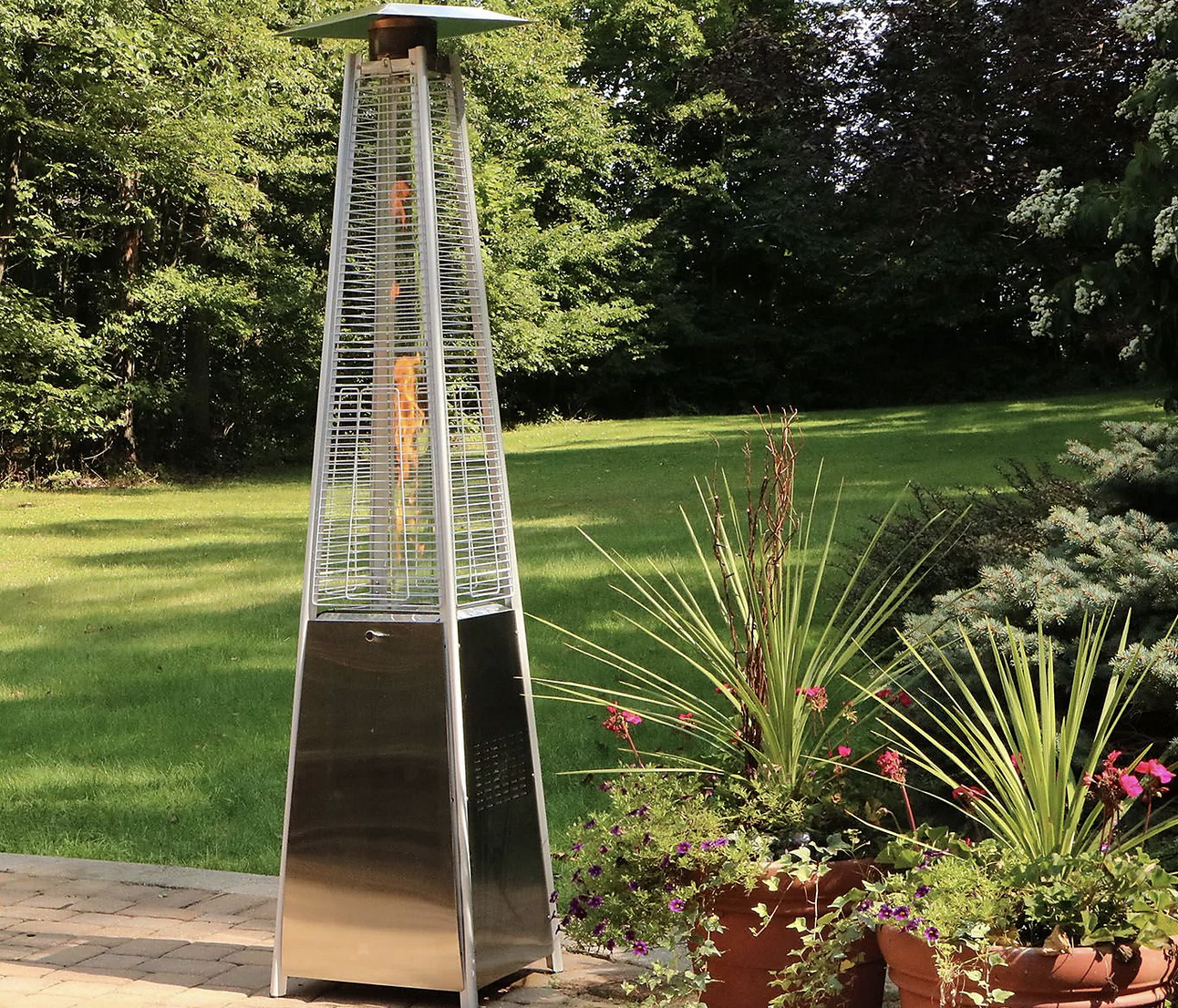 Of all the safety standards, CSA certification is the best in my opinion. Why? It holds heaters are fire pits to some of the most stringent standards. Certification is a step up from approval. The CSA is an independent testing agency that is revered- and that's not the only reason why you should consider this spiral flame patio heater. The heater stands at 7 feet tall with a durable and sleek stainless steel frame. Eclectic ignition pairs with a heat output of up to 42,000 BTU for pleasant warmth.
Pros
CSA Certified 

Electric Ignition

Tall, Steel Frame 

42,000 BTU 
Cons
No Listed Warranty

More Expensive 
See also: How to Find the Best Patio Set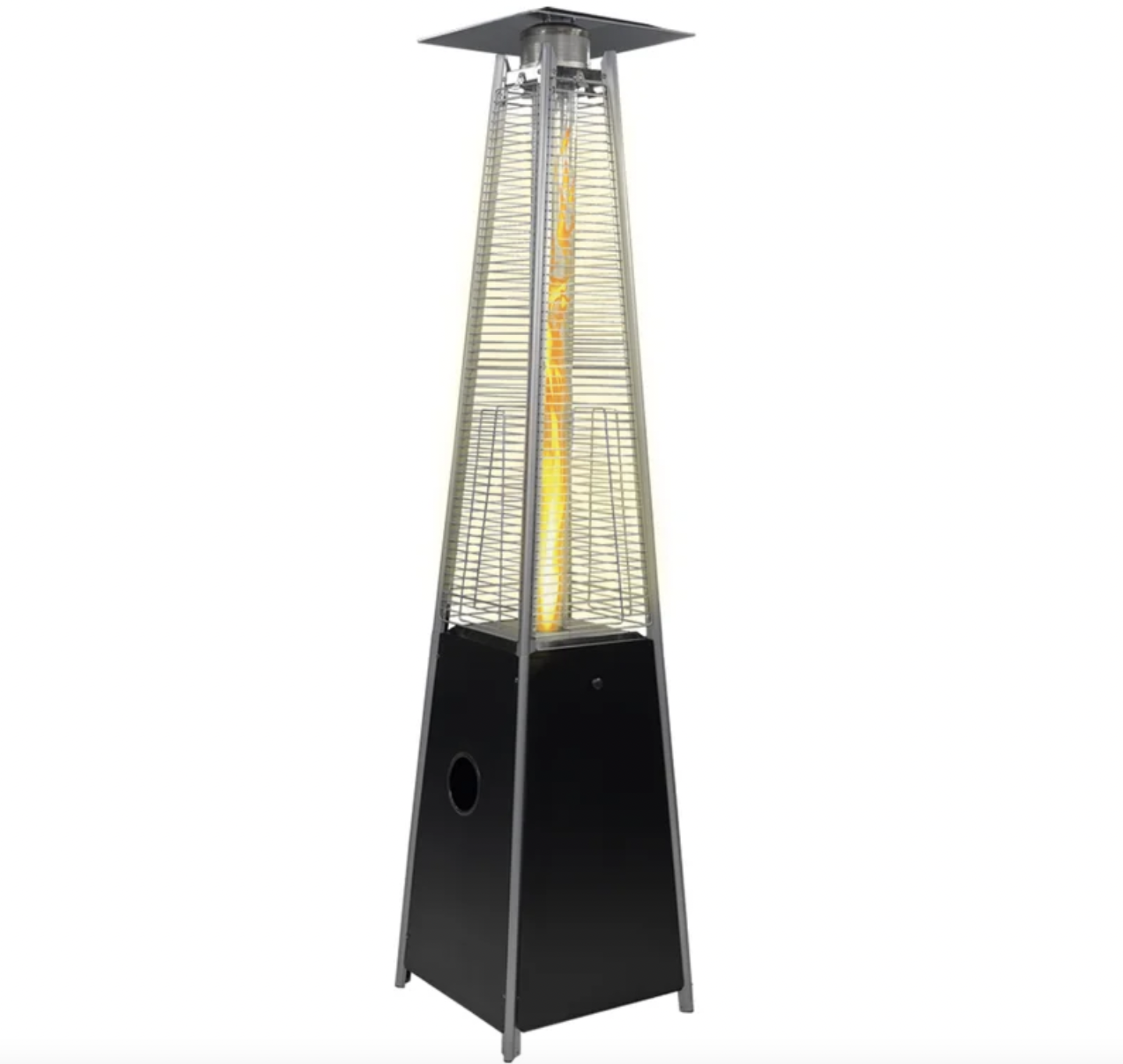 Want to save a little money from my last choice- but still have an excellent, safe spiral flame heater for your patio? This modern heater is ETL-listed for safe use, but it also has other features going for it. Those features include: push and turn the ignition, a weather-resistant stainless steel exterior, and a built-in automatic heat shut-off system. It's easy to see why this 42,000 BTU heater is listed as a Wayfair Choice product.
Pros
ETL-Listed

Push and Turn Ignition

Automatic Shut Off

42,000 BTU
Cons
No Adjustable Knob

No Remote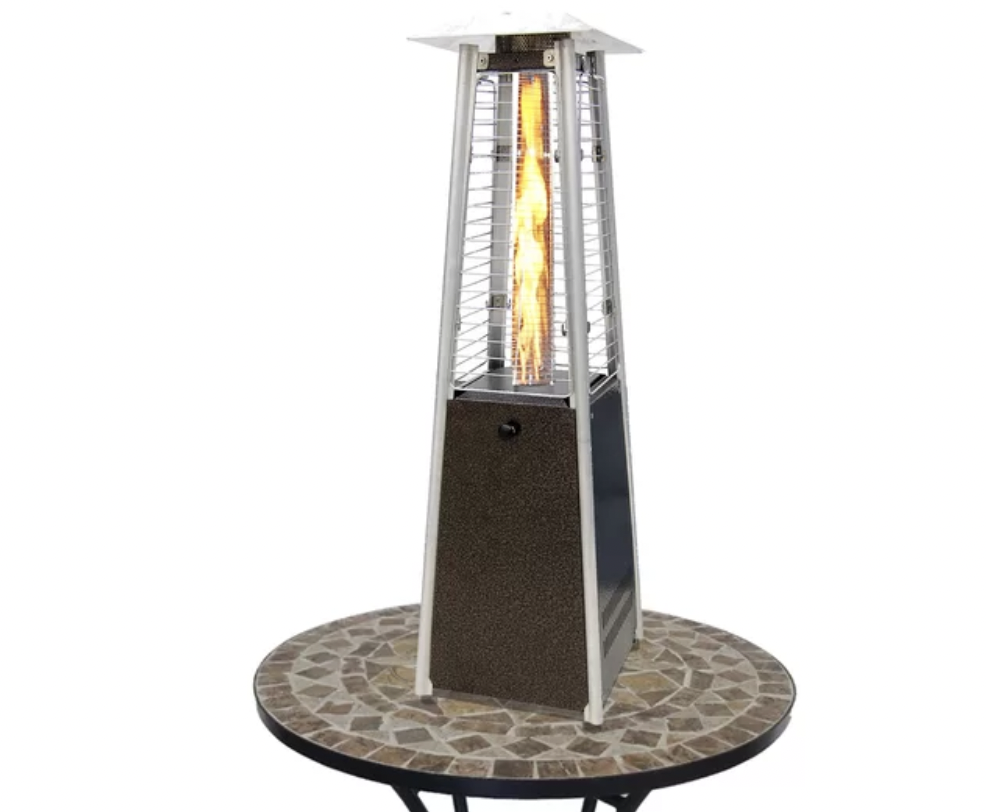 There aren't too many great options for tabletop patio heaters with a spiral flame- but luckily Sunheat's model is worth your consideration. Whether you choose a plain stainless steel finish or golden hammered bronze, this miniature patio heater brings ambiance and just a burst of warmth (11,000 BTU)- a good fit for a small cafe table.
An adjustable flame keeps you in control, while a tip-over switch makes this more secure than the average tabletop patio heater. I also like the one-year warranty- and it's even CSA certified.
Pros
Tipover Switch

Adjustable Flame

CSA-Certified

Suited For Small Spaces
Cons
Modest Heat Output 

Popular; Goes In and Out of Stock
 Frequently Asked Questions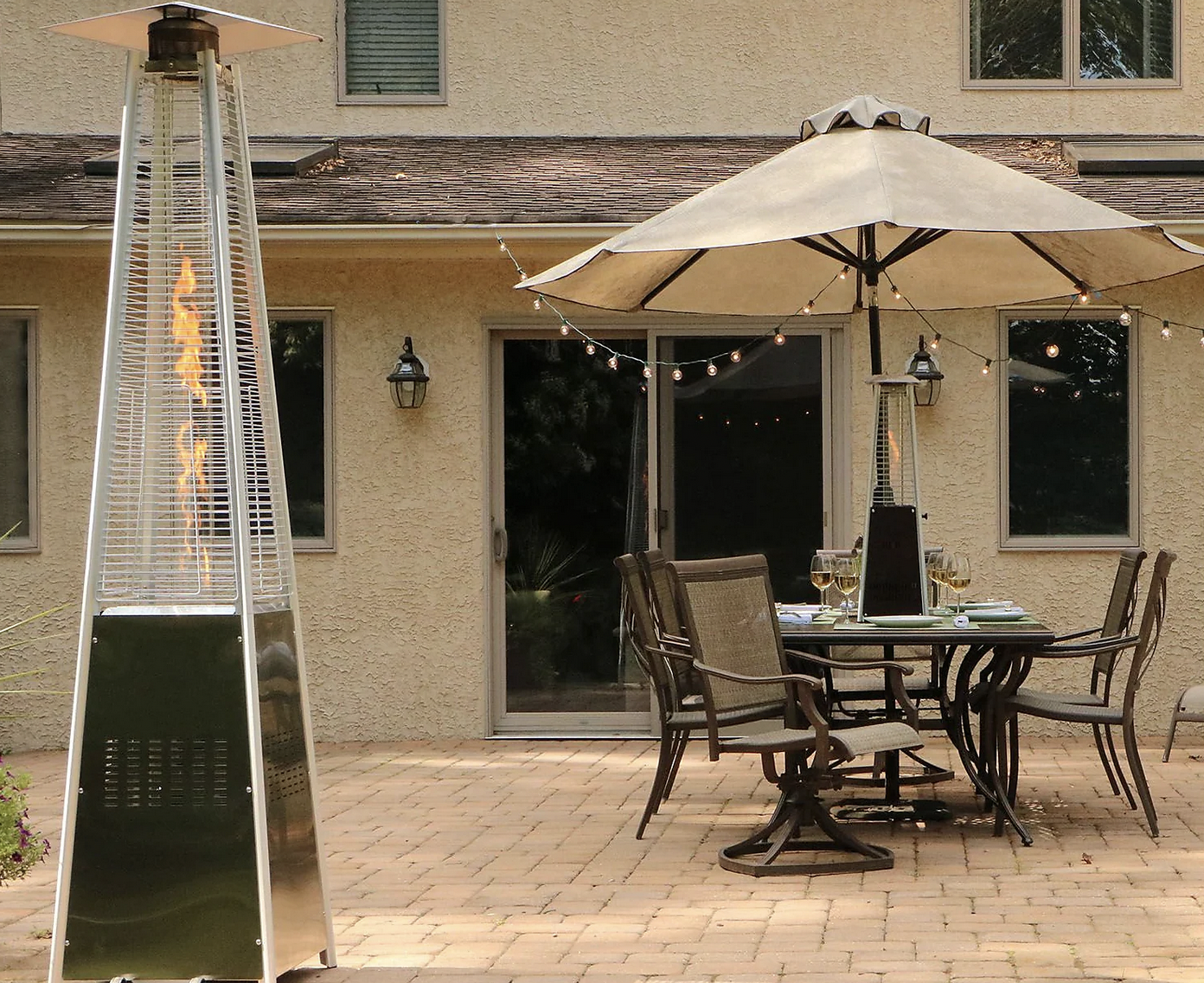 Question: How much heat do patio heaters give off?
 
Answer: Patio heaters are rated by the maximum BTU output, which tells you how much heat to expect. That ranges from below 10,000 to 50,000. Tabletop patio heaters average 8,000 to 15,000 BTU, while a good freestanding patio heater should be around 40,000 BTU and up. In more laymen's terms, patio heaters are designed to heat a small area and add pleasant warmth.
Most are not as powerful as a fire pit but will keep you comfortable in cooler temperatures. Infrared patio heaters, however, will feel warmer because they use direct radiant heat- rather than warming the air around you.
Question: Why does my patio heater have a yellow flame?
Answer: Yellow flames may be striking, but when accompanied by heavy black smoke, they're a sign that something is wrong with your patio heater. Black smoke indicates that there isn't ample oxygenation. One of the most common problems is a blocked burner tube. This happens especially with natural patio heaters that weren't connected properly. You'll need to inspect and clean your patio heater tube. Even something like dust, pebbles, or other elements can cause problems. 
Question: Why does my patio heater flame out?
Answer: There are several reasons why a propane heater might flame out or not stay lit. One problem is when the thermocouple has been installed too far apart from your flame. Gas valves that are not installed correctly or deteriorated can likewise cause issues. A common issue is a debris or dust clogging the thermocouple. Check all of these problems before buying a new patio heater. 
Question: How do you adjust the flame on the patio heater?
Answer: Many modern patio heaters now have a simple knob that allows you to adjust the flame. This is excellent for greater control as well as temperature regulation. If you want this feature, look for propane or natural gas patio heater with an adjustable knob. It should have electric ignition- but not all patio heaters with electric ignition can adjust flames. If you don't have it, it'll be up to you to light your patio heater and hopefully control it well.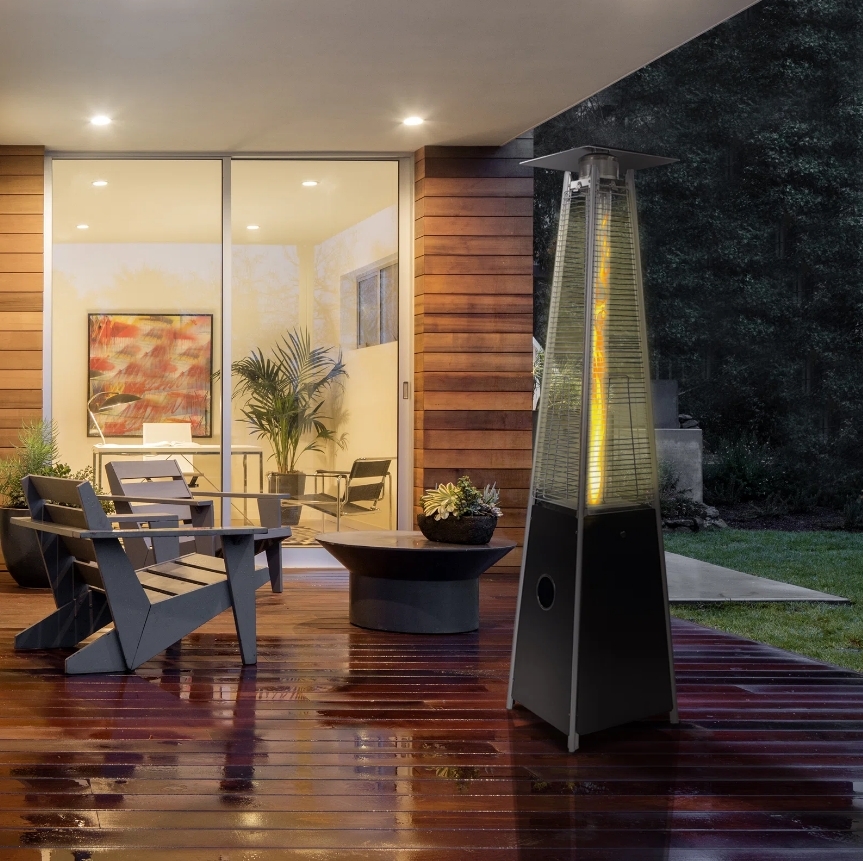 Final Thoughts
Spiral flame patio heaters not only provide warmth for entertaining year-round but also add ambiance and style. I think what I love most about the best spiral flame patio heaters is that they're easier to work with than a fire pit, yet provide a lot of the same appeal. As you may have seen from my examples, spiral flame patio heaters do cost more than other models, but you also don't have to spend a fortune. Hopefully, this guide inspires you to shop wisely to find the best spiral flame heater for your patio.
Final Recommendations
I know that deciding on a spiral flame patio heater can be challenging- especially since they're they can run from a few hundred to over a thousand dollars. If my guide gave you an idea of what to look for, but you're still not sure which design is the best fit for you, then I recommend the HIO Spiral Flame Pyramid Heater. It's ETL-listed and equipped with an automatic safety shut-off. Plus you get a sturdy, attractive frame with push and turn ignition- all for a competitive price.
Recommended Reads: