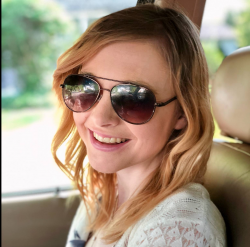 Latest posts by Erin Jamieson
(see all)
I grew up loving spending time on patios and enjoying the outdoors. But as I've gotten older and more wrapped up in assignments, teaching, and making videos, I've lost some of that balance. Sometimes it takes making a change- and even making an upgrade like a patio fire pit- to remind yourself how important it is to relax and enjoy the outdoors.
Patio fire pits require some maintenance, and they're not for everyone. But at their best, I believe that patio fire pits can serve as a centerpiece for entertaining, relaxing, and spending much-needed time outside. 
Of course, it's not quite that simple. Use this guide to find the best patio fire pit to enhance your backyard. I'll explain the best materials and features you need to look for. I'll also give my advice for shopping sales or clearance to find a great deal- without sacrificing fire pit quality.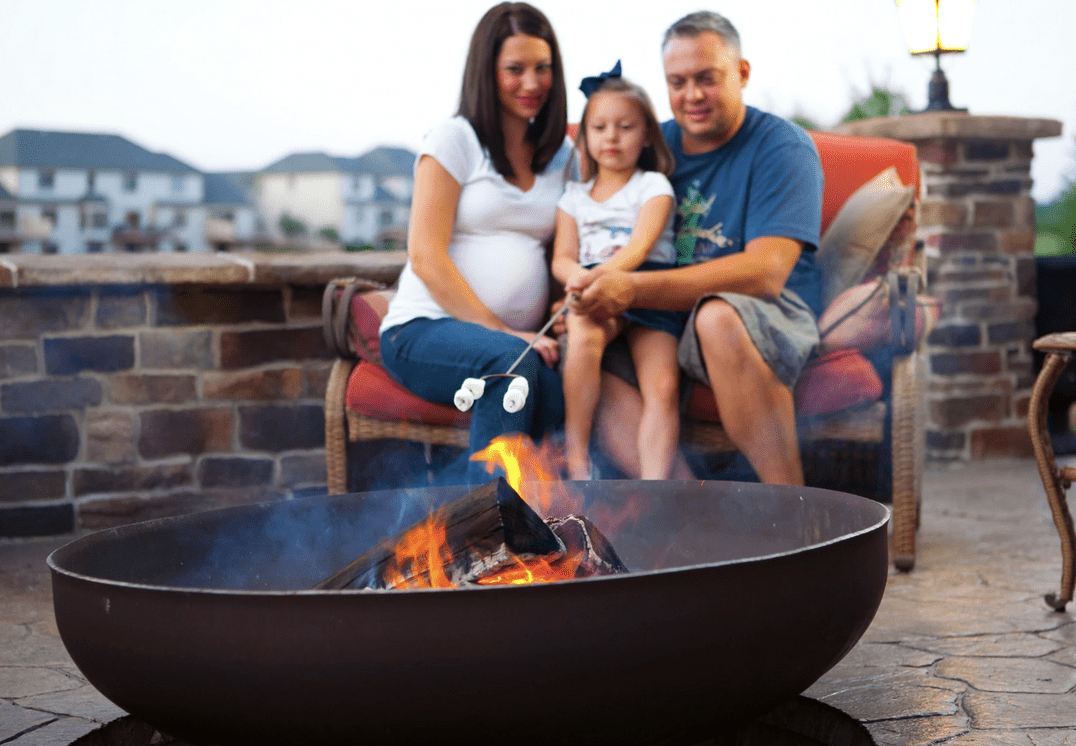 Bottom Line Up Front Summary
A fire pit is one of my favorite ways up upgrade a patio. For fire pit bowls to fire pit tables and tiny tabletop fire pits, there are many options- no matter your patio size. To find the right one for you, pay attention to the type of fire pit, best materials (steel, stone, concrete, Polywood), and best fuel sources (propane with BTU of 40,000 and above, natural gas, or wood for cooking). 
If I had to recommend one fire pit for patios it would be the Mathis Propane Outdoor Fire Pit Table. This versatile table is stylish, with touches of both rustic and modern charm. Fueled by propane, you'll have more control with adjustable flame features. I also like the hidden panel and the ability to convert this into a side or accent table. 
My Top 5 Picks
Before You Buy a Patio Fire Pit, Read This 
I love patio fire pits, and for several reasons. But the last thing you want to do is buy a patio fire pit without considering the pros and cons. A fire pit is not a fireplace. It's open-burning, and with that, there are pros and cons. Here's my honest opinion on why you should- or shouldn't- buy a fire pit for your patio. 
Reasons to Buy a Patio Fire Pit
Patio fire pits are a great option for extending and enhancing your patio space. Many buy sets or separate chairs to set around their patio fire pit. Whether it's a mild Summer night or a cool night in Fall, patio fire pits add both warmth and ambiance. They can be used for roasting and even light cooking. And, of course, patio fire pits make spending time outside all that much more appealing. 
Reasons to Find a Patio Fire Pit Alternative 
Patio fire pits should never be left unattended– and they also should be covered when not in use. They require more attention and maintenance than an outdoor fireplace. If you just want to heat for a cold night, a patio heater may make more sense. Patio fire pits may not be the best option if you share a patio with someone else. If you live in an area with a heavy concentration of mosquitoes, it's also important to note that fire pits don't repel, but often attract mosquitoes, especially wood-burning ones. 
See also: How to Find the Best Patio Heaters For Your Home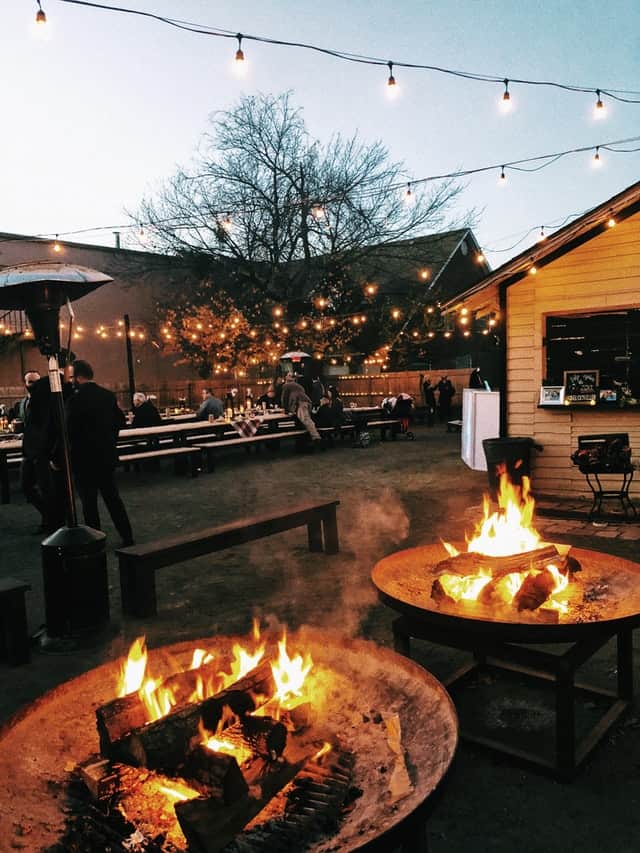 Bottom Line
The bottom line is that there is never one size fits all for porch and patio upgrades. I think that a patio fire pit is a great upgrade for most, and it really brings some more life into entertaining and just enjoying your patio. At the same time, you need to be willing to provide a bit more maintenance and take proper safety precautions. 
How to Find the Best Patio Fire Pits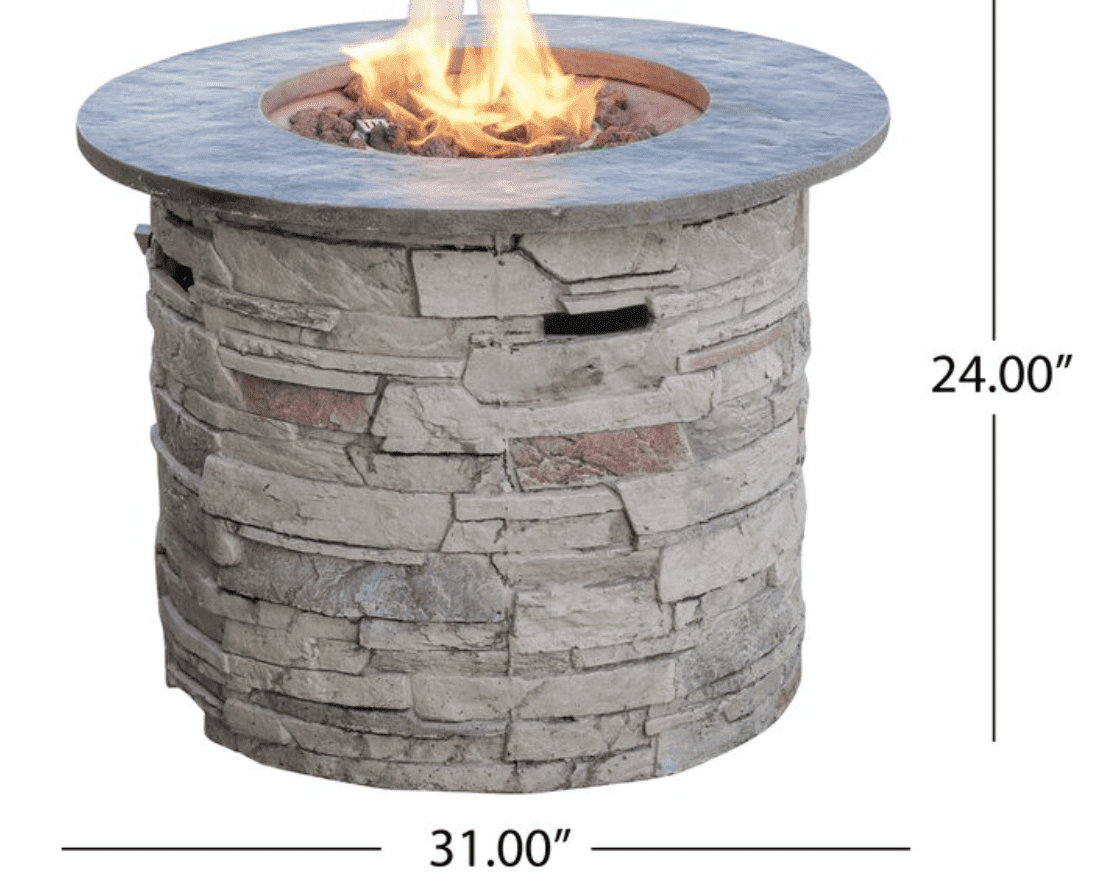 Whether you just want a small tabletop patio fire out for decoration or a large table with cooking capabilities, here's my take on how to select the best option for you. The best patio fire pits are worth the cost, are rust-resistant, and add a bit of fun to your patio. 
Before you shop, make sure you check with your state regulations for patio fire pits. Anyone residing in a specialized living community should also see if there are any restrictions. 
Patio Fire Pit Dimensions and Types
The right size for your fire pit depends on your patio size as well as the type of fire pit that you're buying. You need a minimum of 10 feet away from your home's foundation and it should not be placed near anything flammable. I'd also allow 5 feet around, on all sides, for movement and clearance. 
Start by measuring your patio (for a tabletop fire pit, simply measure your table). If you're not sure what to do for your patio layout, visit a home improvement or garden store, or try a Free Landscaping Design Software program. 
While the average backyard fire pit hovers around 36 to 46 inches, your ideal size needs to consider your patio space. Most of us may want a more modestly sized fire pit for a patio than we would a backyard. 
Another consideration is the type of fire pit and how it sits. Some fire pits are installed by digging into the ground- hence the need for a greater fire pit depth. Patio fire pits, by comparison, sit directly on your patio or table. Fire pits with modest depths and lower edges will heat your patio adequately. 
| | |
| --- | --- |
| Type of Patio Fire Pit  | Why Get It? |
| Tabletop Fire Pits & Inserts | Decorative purposes- these add allure to a table but tend to be smaller and don't generate as widespread heat  |
| Fire Pit Tables | Entertaining and versatility- these can be large or small and act as freestanding fire tables, sometimes with wheels and sometimes with regular feet. These are a great middle-ground and can convert from fire pit to accent or side table |
| Cooking Fire Pits/ With Grill  | These fire pits include grill plates and often swivel bases for cooking and roasting vegetables, seafood or meat. While they aren't as advanced as a traditional grill, they double as pits for cooking and warming.  |
| Fire Pit Bowls | Firepit bowls may be small and sit on tabletops or sit alone. They're more or less an alternative to fire pit tables. However, they're used for ambiance and warmth more so than some of the advanced functions you'll see in some higher-end fire pit tables |
Patio Fire Pit Fuel Type, BTU
Your fuel type matters too. With classic fire pits, you have the choice between wood-burning, natural gas, and propane gas. For a patio fire pit, however, I prefer gas- both natural and propane. Both are more fuel-efficient than wood and tend to produce less smoke. 
**For tabletop fire pits, ethanol gel fuel is safe and convenient. This is usually reserved for the smallest fire pit solutions. 
Wood-Burning
While I love the ambiance of a wood-burning fire pit, I tend to find them more suited for camping and large, backyard fire pits. However, they are handy if you're looking for a fire pit for cooking. They are cheap to maintain but will require more upkeep. I'd go for this option for patio fire pits that cook, and opt for gas otherwise. 
Natural Gas vs Propane Gas
 Natural gas has to be connected to a gas line. That isn't too much of a problem for patio space, but it's still an important consideration. Many like natural gas because they tend to produce less soot. They also are easy to use, refill, and are installed in a permanent location for stability. But there are some downsides to0. Natural gas fire pits aren't very fuel-efficient and are thus more expensive in the long run. They also produce more emissions than propane- but still less than wood-burning fire pits. 
Propane gas fire pits may seem like a pain to refuel, with large propane tanks- but that's the biggest disadvantage. In my opinion, propane is the best fuel option for patio fire pits. They're fuel and energy-efficient, better for the environment, and still fairly easy to use. Many even include natural gas conversion kits. 
That said, decide on the fuel source that's right for you. Both natural gas and propane gas are reasonable options for a patio fire pit. 
BTU 
BTU output is a measure of the heat and energy your patio fire pit will produce. For a cooking patio fire pit, I'd aim for a BTU of around 50,000 and up. Otherwise, you need to think about how much of your porch you want to be heated. Some experts recommend a simple calculation. 
This calculation is multiplying the patio area by how much you want your patio's temperature to increase. The result will be roughly the maximum BTU output you want.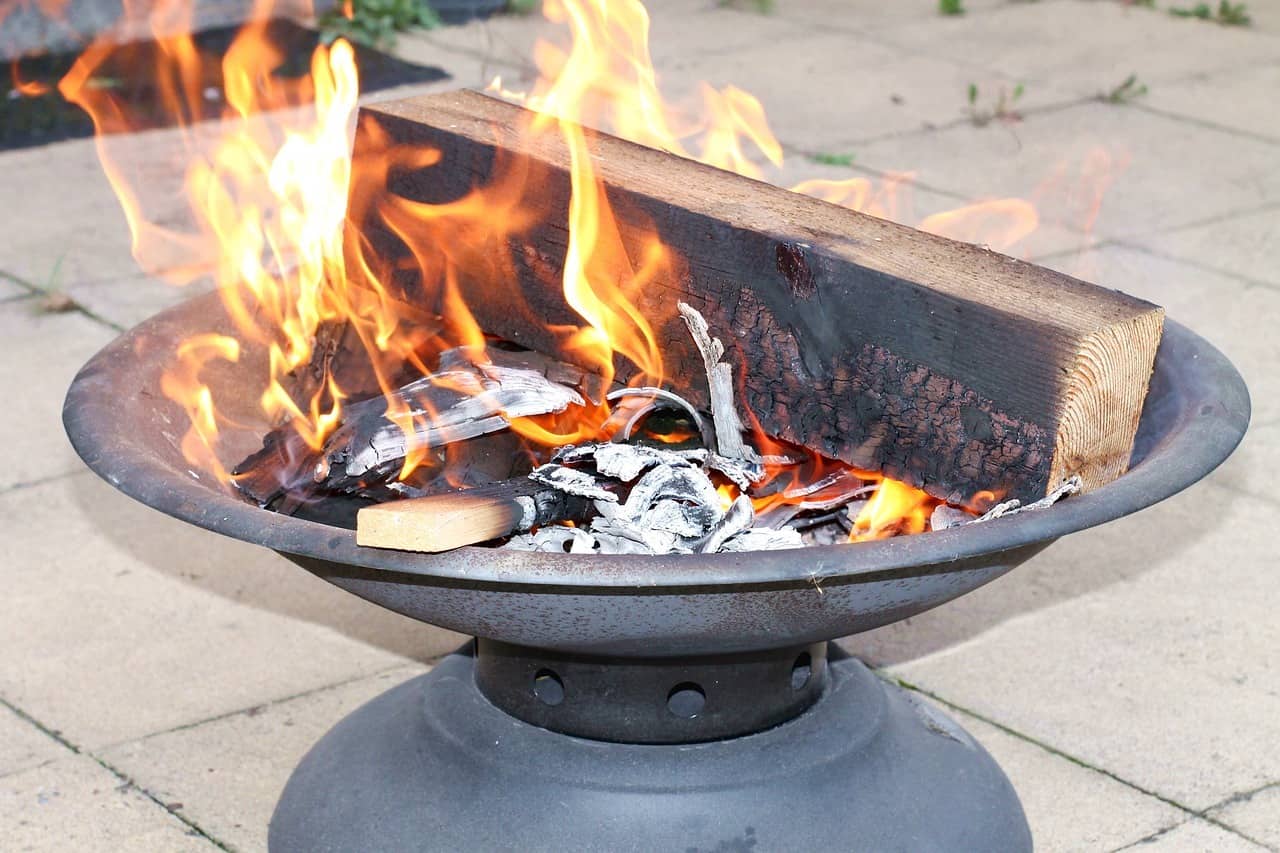 Best Materials for Patio Fire Pits 
The great news about materials for patio fire pits is that there are many excellent options. From modern to rustic, all of these materials can be beautiful options. The key is to look for materials that won't rust- iron, for instance, can rust unless treated. Here are my top picks for exterior materials.
Patio Fire Pit Material
Pros
Cons

Steel

Modern and Lightweight

Easy to Clean

Affordable 

Not as Strong as Some Materials (but better than aluminum)

Should be Treated (Patina, Powder-Coated) 

Concrete

Can Crack with Regular Exposure (filling isn't too expensive)

Bulky

Stone

Rustic Charm 

Durable

Weather-Resistant

More Expensive

More Cleaning 

Brick 

Rustic Charm 

Durable

Weather-Resistant

Less Common/ Less Options

Expensive

Harder to Clean

Polywood 

Modern

Formal Aesthetic 

Low-Maintenance and Durable

Expensive

Limited Options

Paired with Other Materials
Be sure to check the type of hardware- which should be steel- and the overall quality of construction. Burners are often made of steel but watch out for iron or aluminum. These are not the best options if you're worried about surface-level damage or deeper rust issues. 
Patio Fire Pit Features
The type of features you might want in a patio fire pit ranges from fundamental construction- such as ventilation- to extra features, like electric ignition. For a patio fire pit, many of these are optional, but they all need to be considered. Instead of trying to find as many features as possible, focus on a few essential features that are most important to you. 
Patio Fire Pit Feature
What It Is 
Types of Patio Fire Pits It's Useful For 

Smokeless

An alternative to traditional vents or air holes, smokeless pits produce less smoke and soot, usually with an efficient double-wall construction

Fire Pit Tables, Fire Pit Bowls

Wind Guards/ Spark Screens 

A protective barrier (often tempered glass) or mesh screen, used to protect against wind and spark flare-ups

Any/ All 

Electronic Ignition 

This allows you to seamlessly ignite your fire pit with a push or turn of a button. This is convenient, great for entertaining, and easy to use. Other features related to electronic ignition:

Emergency or Automatic Shut-Off

Adjustable Flames 

Usually Fire Pit Tables

Cooking Grates for BBQ

Grill grates and adjustable racks and swivels allow you to roast vegetables, meat, seafood 

Usually Fire Pit Tables

Lava Rocks, Fire Glass Rocks 

Decoration

All/ Any 
Patio Fire Pit Prices & Where to Buy  
Patio fire pits do range in price. Tabletop fire pits under $100 are not uncommon, but larger patio fire pits and patio fire pit tables can cost several hundred to over a thousand dollars. Shopping clearance during the winter months or later fall months is a great way to catch sales. Walmart, Amazon, and even Costco carry some cheap patio fire pits- but don't make the mistake of assuming these are either the best option or even always the most affordable. 
I love the price matching programs at places like Home Depot, Menards, and Lowes. Meanwhile, you have a really wide range of options from Wayfair. I also consider customer reviews, brand reputation, store reputation, store policies, and any complementary warranties. 
Patio Fire Pits: My Top 5 
Need some ideas? Here are a few examples of great patio fire pits. From small tabletop fire pits to fire pit tables, these fire pits are made with durable materials and pack in helpful features- all for a great value for the price. These fire pits are designed for safe patio use and offered through reputable stores with clear return and shipping policies.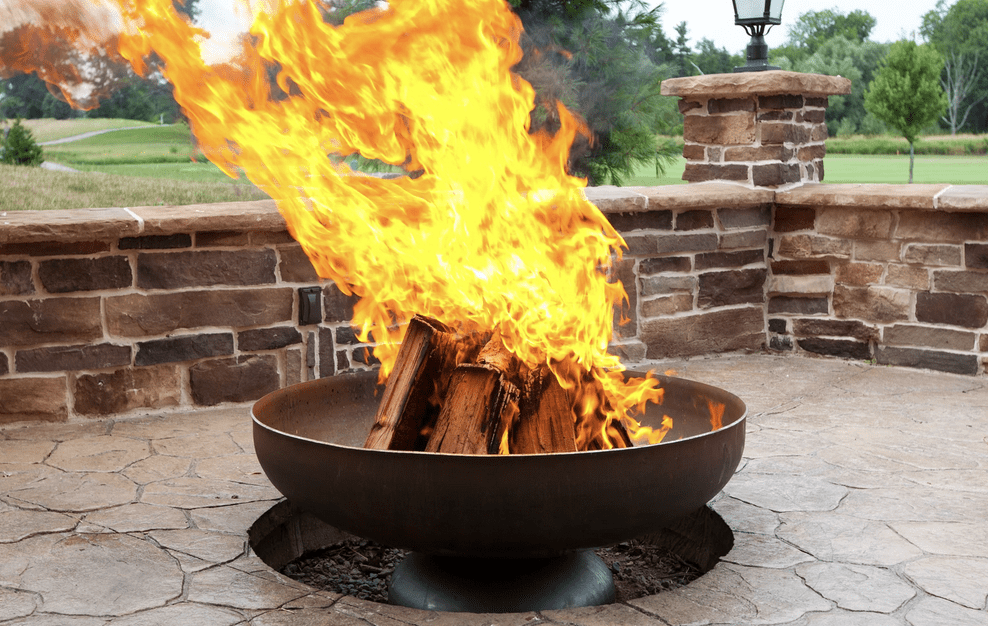 There are many great fire pit bowls for your patio, and if you want more options, you can easily find them from Wayfair, Home Depot, and Lowes. But this is one of the few fire pit bowls that are both made in the USA and come with a lifetime warranty. This fire pit bowl is available in multiple sizes, from 24 inches in diameter to 48 inches in diameter. The carbon steel naturally deepens to form a protective patina coating. It has excellent drainage and is made by an artisan.
With a simple but appealing design, it can easily be decorated with lava rocks or glass fire rocks. The company is based in Columbus Ohio and holds an A-plus rating through the Better Business Bureau (not accredited).
Pros
Made in the USA by Artisan

Many Sizes

Protective Patina Coating

Lifetime Warranty 
Cons
More Expensive than Imported Fire Bowls

Doesn't Come w/ Fuel, Accessories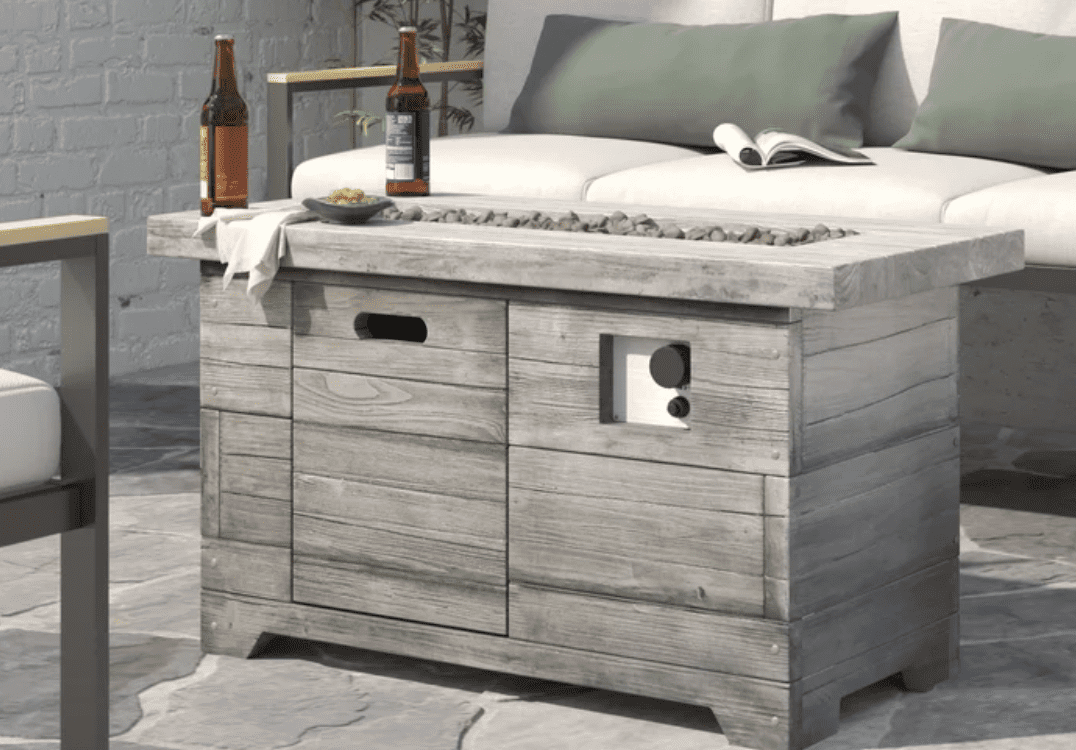 Firepit tables are perhaps the most popular option for a patio. The challenge isn't to find many options, but to find ones that offer great value at a competitive price. Instead of opting for a premium, designer fire pit, I settled on this fantastic fire pit table through Wayfair. The slatted design blends rustic and modern allure, complete with a hidden panel for your propane tank. The powder-coated finish extends the durability of the strong steel frame. It also includes electric ignition with an adjustable flame.
This fire table measures about 23 by 42 inches, which is a nice size for the average patio. It even comes with a weather-resistant protective cover.
Pros
Powder-Coated Steel

Adjustable Flame

Hidden Panel for Propane Tank 

Rustic and Modern
Cons
Only 6 Month Warranty (Optional Affordable Protection Plan)

No Automatic Safety Shut Off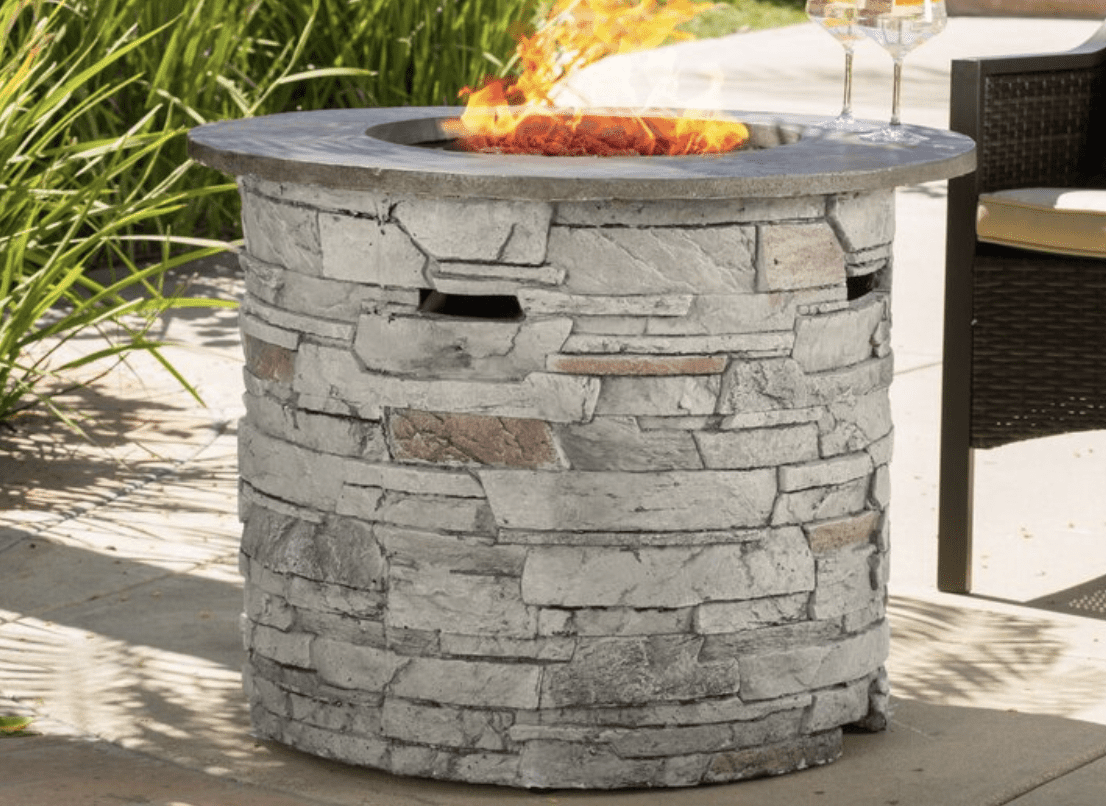 It's hard to beat both the beauty and durability of stacked stone, and this round fire pit table is one of my favorite options for a patio. The highly-rated fire pit table features a classic stacked stone structure, complemented with electric ignition and flame adjustment controls. The burning area is made with stainless steel, and magnesium oxide coating improves the durability of the exterior. It's rust-resistant, with a BTU output of 40,000 and a complimentary 90-day warranty.
Pros
Stacked Stone 

Magnesium Oxide and Stainless Steel

Adjustable Flame 

Warranty 
Cons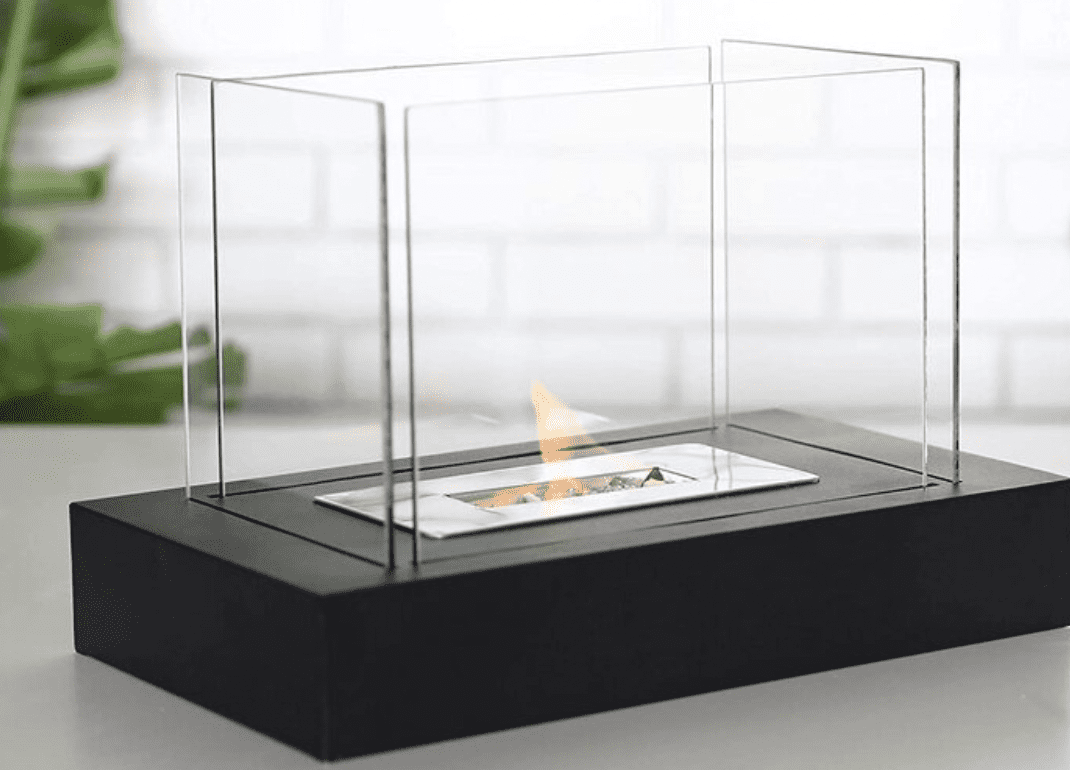 Love the idea of a fire pit for your patio but don't want to commit to something fully-sized or priced? This tabletop fire pit may be the right choice for you. Not only is the price great, but I also love the modern, clean lines. This tabletop fire pit features glass wind guards and is smokeless. That makes for a clean, elegant burn and ambiance to any table. It includes all tools you'll need and can be installed quickly.
Pros
Budget Price

Wind Guard

Smokeless 

Tools Included
Cons
Very Modest BTU (500)- not abnormal for tabletop 

Not Powder-Coated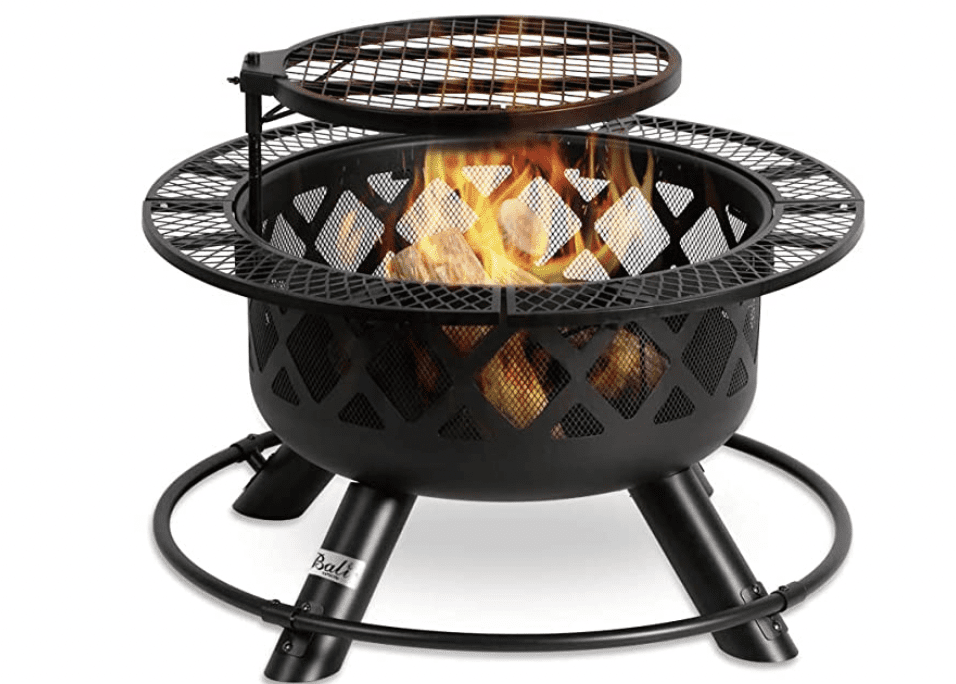 If you want a fire pit for cooking- and one that will fit with your patio- it can be challenging, Yet this fire pit offers a nice balance of features, high customer rating, and versatility. I also love the affordable price. Sold through Amazon, this fire pit checks all of my boxes for a versatile patio fire pit. Use it for cooking with a 360-degree swivel and a grill that adjusts the height. The outer ledge can be used for both roasting supplies and even drinks- with a unique design that stays cool.
I also like the collapsible frame rack for improved ventilation. Of course, the bbq grill area adheres to FDA food-grade standards. This fire pit has a 32-inch diameter.
Pros
360 Degree Swivel

Storage for Accessories, Drinks

Adjustable Height

Under $200 
Cons
Regular, Not Powder-Coated Steel

Warranty Not Specified (Must Contact)
Frequently Asked Questions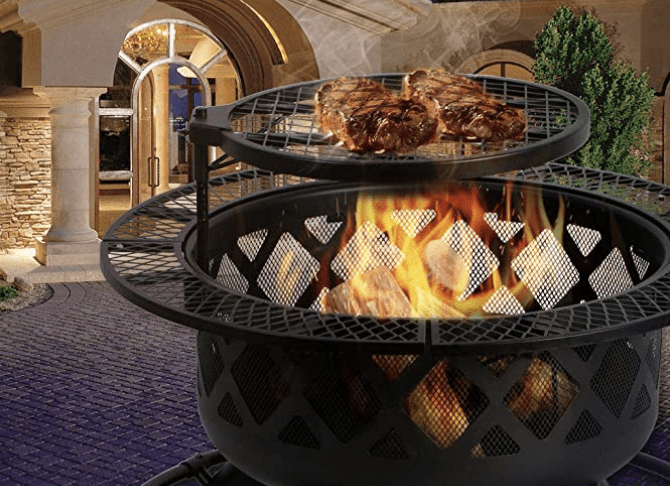 Question: Are patio fire pits safe?
Answer: Patio fire pits- and fire pits in general- are all open burning. Open burning means that there is not a chimney or stack to contain them. That's important to consider for fire pit safety. If used correctly, fire pits can be safe. They become unsafe when they are used within 10 feet of a foundation, near flammable materials, and during inclement (including very windy and dry) weather conditions. Another risk is leaving fire pits uncovered, especially if you have pets or young kids.

Fire pits should never be left unattended. By taking these precautions, you can enjoy a patio fire pit safely. 
Question: Are fire pits bad for the environment?
Answer: Fires of all kinds, including fire pits, generation air pollution, and emissions. The Stockholm Environment Institute in particular found a strong concern with wood-burning fire pits. Wood-burning fire pits are the highest in emissions- making propane gas a great alternative. A smokeless fire pit is an even better option. Smokeless fire pits are not 100 percent smoke-free, but they produce far less smoke by increasing the ventilation and fuel efficiency of fire pits.

In short: fire pits are not good for the environment, but by following regulations and options for a smokeless propane pit, you can greatly reduce your emissions. 
Question: Are patio fire pits legal?
 
Answer: Patio fire pits are legal- so long as they are used by certain regulations. Certain types of materials are not permitted to be burned openly, or they may have restricted times. Lawn waste is one of the most commonly prohibited materials. In many states, there are rules as to certain periods during a season in which you shouldn't be actively using your fire pit to burn materials other than wood, charcoal, or gas.

And if you live in a specific residential area, be careful and make sure that your fire pitfalls are within guidelines. 
Final Thoughts
Whether you have a small patio or a space one, adding a fire pit is one of my favorite ideas for an upgrade. Don't feel like you need to entertain to do so. Even just having a fire pit for yourself can extend the use of your patio and encourage you to spend more time outdoors. That's something that should never be undervalued, especially as I find that patio fire pits give us a chance to take time to ourselves and relax.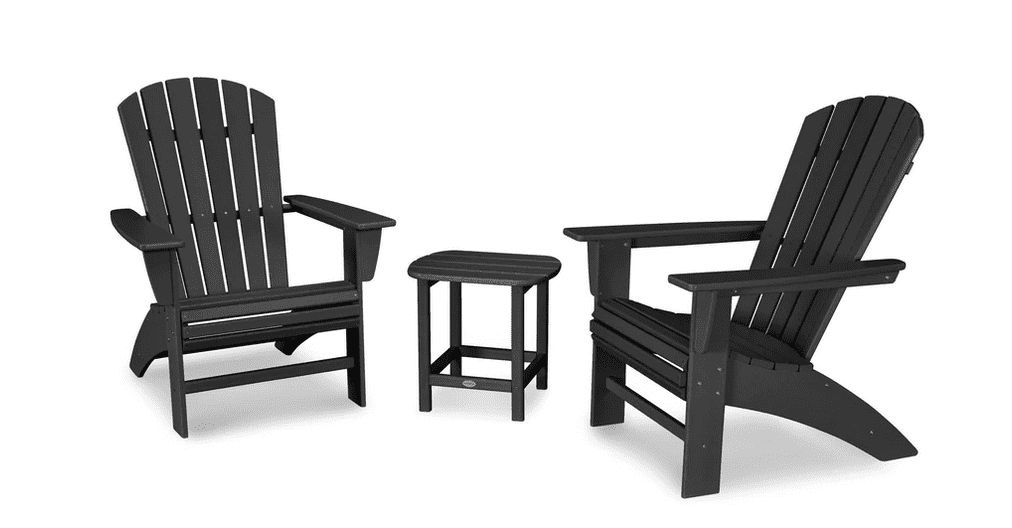 Polywood is sturdy, weather-resistant, and a great idea for a low-maintenance fire pit chair that will look fantastic around your fire pit. One of my favorite companies is Amish Yard. All of their chairs are made in the USA by Amish communities, and most feature Marine-grade hardware.
Recommended Reads: