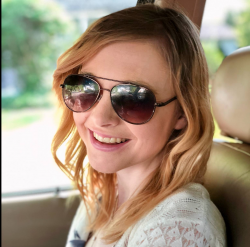 Latest posts by Erin Jamieson
(see all)
There's nothing quite like camping. From camping with my group to something as silly and simple as my parents pitching a tent in our backyard, I can say that camping and hiking both change how you see things. It's a chance to grow closer with others and appreciate the world around you. But one way to upgrade that experience may just be buying a portable propane fire pit.
Portable propane fire pits are becoming more and more popular, and it's easy to see why. The convenience and cost-effectiveness of a portable propane fire pit is a popular option not only for camping enthusiasts but even for those on a budget or with limited space in their backyard. 
At the same time, there are some misconceptions that I've seen about portable propane fire pits. From safety to using them for cooking, I want to tackle some of those questions. In this guide, I'll give you my honest opinion about who portable propane fire pits are right for, the best materials, and the best features. 
Read on to find out how you can make a smart purchase and buy the best portable propane fire pit for your next trip or just enjoying the outdoors. 
Bottom Line Up Front Summary
Portable propane fire pits are a great solution for hikes, camping, and tailgating. Propane is a fuel-efficient option and easy to work with. To find the best portable propane fire pit, look for a fire pit that has a weather-resistant build, proper ventilation, and is a sturdy but portable size. 
If I had to select just one portable propane fire pit, it would be the Square Ukiah Portable Propane Fire Pit. This fire pit packs in incredible features at a competitive price. You get a powder-coated steel frame, paired with a fuel-efficient, smokeless ventilation system. Included accessories and an adjustable flame are just a few other reasons why this is the best value portable propane fire pit on the model. 
My Top Picks
Portable Propane Fire Pit Pros and Cons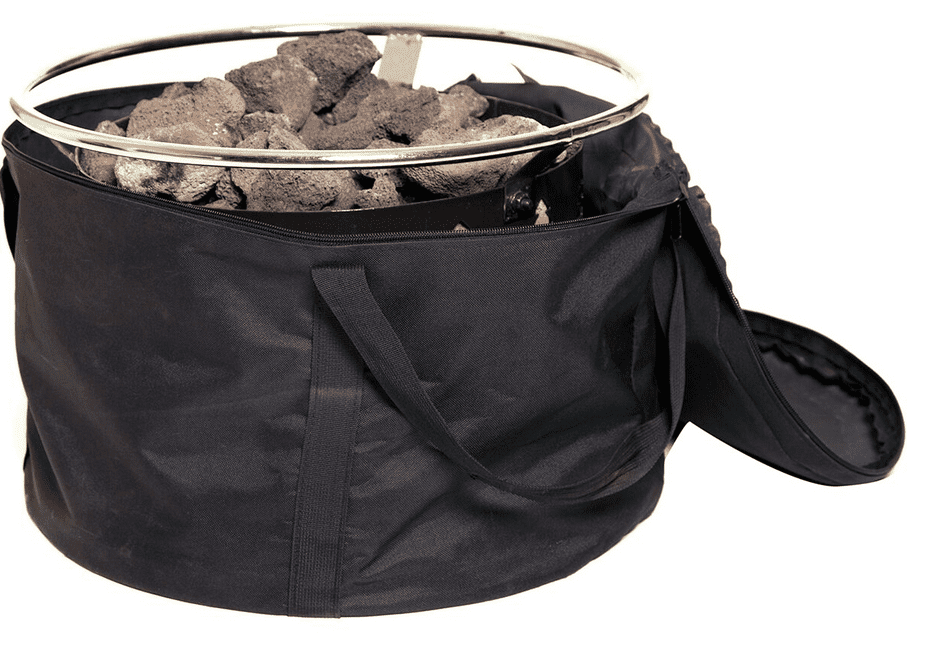 First things first. While there are many great things about buying a portable propane fire pit, Portable propane fire pits are popular for both camping and tailgating. The biggest question is if a portable fire pit makes sense for your situation. You'll also need to consider if propane gas is the best fit. Here's my take on some honest pros and cons. 
Reasons to Buy or Skip a Portable Fire Pit 
Pros
Portable fire pits are very convenient. Lightweight and versatile, a portable fire pit can be taken with you on all of your travels, whether that involves camping, hiking, or other trips. They are usually more affordable than a stationary fire pit. Just because many use portable fire pits for traveling, doesn't mean you can't use them in your backyard. Plus, if you have a small space, portable fire pits sometimes are quite handy- both from a space standpoint and also the ability to rearrange your backyard setup. 
Cons
The biggest downside to a portable fire pit is that it's usually not quite as sturdy as the one you install in your backyard. Portable fire pits may not be as durable, and they often do not have quite as impressive of a BTU output. They are smaller, so, naturally, you can use them for cooking- but they won't provide the same cooking experience as would larger fire pits. 
Takeaway
Portable fire pits are a great solution for camping, versatility, and camping. They aren't going to provide the same stability or BTU output as larger fire pits. 
Reasons to Opt for Propane (Or Pick an Alternative) 
Pros
Propane is more fuel-efficient than both natural gas and wood-burning fire pits. That's excellent for a few reasons. For one, propane is the most environmentally-friendly option, with lower emissions than other fire pits. It also means you'll get more for your money than natural gas. Propane can produce more heat, and it's also easier to control than wood-burning pits. Finally, natural gas isn't a viable alternative for portable fire pits, as it must be hooked up to a gas line.
Cons
Propane gas has a different smell than other fuel sources. This smell may not bother you, but those with sensitive noses may notice. The smell is described as chemical and artificial and doesn't provide the classic scent associated with wood-burning fires. While you can use propane with cooking, some find the smell and chemicals more off-putting. The other con is the tanks themselves. Propane tanks must be refilled, and that's not as convenient as a wood-burning fire pit. 
Takeaway
Propane is fuel-efficient and a great solution not only for portable fire pits but for fire pits in general. If you're sensitive to smells or don't like the idea of filling propane tanks, a wood-burning portable fire pit could be the best option for you. 
Tips for Finding the Best Portable Propane Fire Pits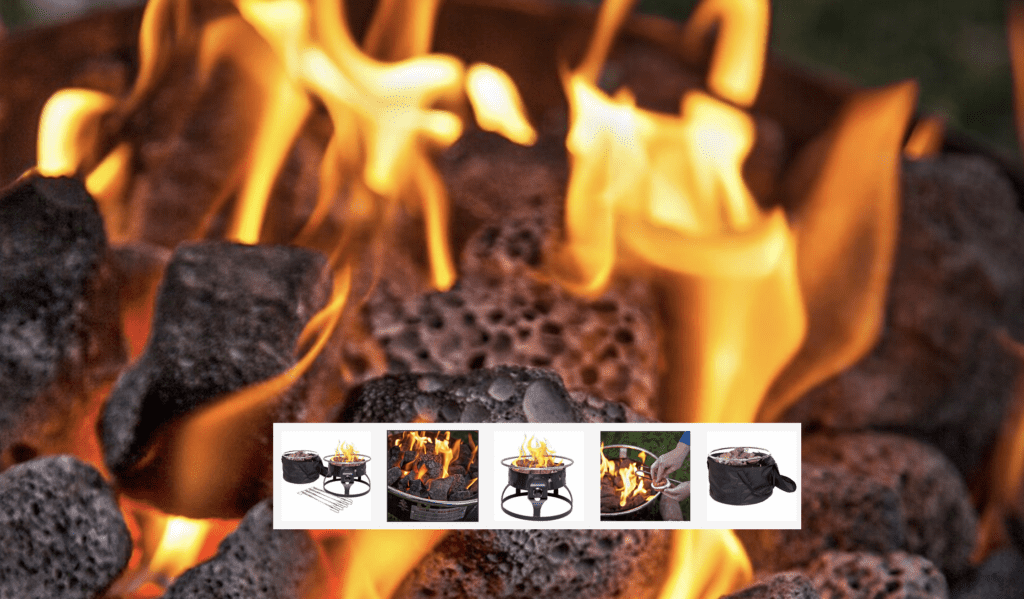 If you've decided that a portable propane fire pit is the best option for you, don't just find the first one you find. Here's how I shop to find the best portable propane fire pit for your money.
Tip One: Portable Propane Fire Pit Sizes and Shapes
Sizes 
The most popular portable fire pits are round. Round portable propane fire pits provide a classic, small gathering space and make it easy to hold a conversation around. While square fire pits may provide a more modern look, round or rounded shapes fit well with a rustic setting. However, rectangular and square portable propane fire pits are handy for cooking. 
Dimensions
For sizing, I'm a little less picky with portable fire pits. I pay attention to the weight- as well as if you can easily assemble the fire pit. My guidelines are only general. These dimensions strike a balance between portability and functionality:
22 to 28 inches long for rectangular cooking fire pits

16 to 24 inches long for rectangular/ square portable fire pits

17 to 20 inches for round portable propane fire pits 
See also: Best Lowes Fire Pits
Tip Two: Portable Propane Fire Pit Materials
This is one area where I see a lot of people making mistakes. The problem is that many sacrifice quality and stability for a great price and lightweight construction. The solution, instead, is to opt for materials that give you a bit of both.
Materials to Avoid
Concrete, stone, and brick can be great options for regular propane fire pits. Portable propane fire pits? Not so much. These materials are bulky, heavy, and not versatile for collapsible or convertible designs. 
I'd also skip aluminum. Aluminum is a common choice for a portable fire pit, but it tends to be flimsy and simply won't hold up to rough camping conditions. 
Materials to Try
Stainless steel and carbon steel are your two best options for a portable propane fire pit. These materials are both lightweight and more durable than alternatives. The best you can do is steel that forms a natural patina/ protective layer, or powder-coated steel. Both of these are more sufficiently weather-resistant than regular steel. 
Tip 3: Ventilation and BTU for Portable Propane Fire Pits
Vents vs Smokeless
Ventilation is important to make the most of your portable propane fire pit. All portable propane fire pits should have small vents, air holes, or mesh. For the most fuel-efficient model and the most smoke-free, you can upgrade to a smokeless design. While more expensive initially, smokeless portable propane fire pits. These feature a double-wall interior. 
BTU
There are two common mistakes here. Some go for the portable propane fire pit with the highest BTU output, while others ignore it entirely. Moderation is key. If you want to use your portable propane fire pit for cooking, aim for a range of 40,000 to 50,000 BTU. You can go a bit more modest with other portable propane fire pits. If you want to use less fuel, that's important to keep in mind as well. Portable propane fire pits can have a reduced BTU output due to size and intended use, so something below 40,000 is just fine in many cases. 
Tip 4: Features for Portable Propane Fire Pits
What features do you need- and what can you do without? For a great portable propane fire pit, it's a matter of balance and priorities. To make things simple, here's my take on must-haves vs optional features. 
Must-Haves: Customer Reviews, Brand Reputation, Pictures & Detailed Descriptions
Any portable propane fire pit should be bought with some confidence. Whether you're shopping for a sale on Amazon, browsing the (physical or virtual) aisles of Target, or a home improvement/ outdoors store (Menards, Home Depot, Lowes, Ace Hardware, Tractor Supply), you need to know what you're buying. 
Multiple pictures and a robust description and breakdown of features, dimensions, and materials are a must. Reviews with information behind the rating and warranties and/ or protection plans are also things I look for. If you're shopping through a lesser-known retailer, please check to make sure they have a secure website, secure payment methods, and are considered reputable (Consumer Reports, the Better Business Bureau, and Scam Advisor are good places to check). 
Great Features
These features, on the other hand, help separate so-so portable propane fire pits from great ones. Here are a few features to consider: 
Swivel Base

Foldable Legs

Collapsible Design 

Wheels

Carry Bag/ Covers (See My "Final Recommendations")

Lid

Artificial Logs, Lava Rocks 

Electronic Ignition 

Adjustable Flame, Gas Shut Off 

Generous Warranty

Made in the USA 
Just bear in mind that it's difficult to find a portable propane fire pit with 100 percent of all of these features. Nonetheless, these are excellent features to keep in mind when shopping for a portable propane fire pit with an excellent value. 
Portable Propane Fire Pits: My Picks 
Here are a few of my favorite portable propane fire pits. From portable propane fire pits for cooking to those used for tailgating and even mini pits, these all provide a great value. I focused on features, ratings, materials, and price points. 
Bond Manufacturing Portable Aurora Fire Pit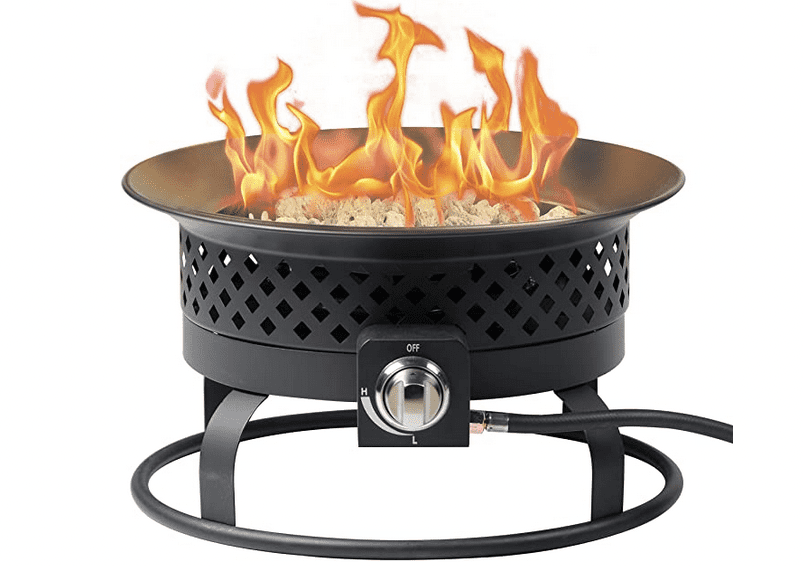 Whether you're camping or tailgating, this Amazon Choice fire pit is one of the best affordable portable propane pits with a locking lid. A locking lid improves both the safety and durability of your fire pit, and it's easy to use. This fire pit is made with steel for lightweight strength. Despite its modest size, it features an impressive BTU output of 54,000. It's also optimized for increased burn time and fuel efficiency. The burner can easily be decorated with lava rocks. It's easy to see why this portable propane fire pit is so popular. Buy Here. 
Pros
54,000 BTU

Locking Lid

Fuel-Efficient

Amazon Choice Product
Cons
Not as Sturdy as More Expensive Models

Bronze Finish Might be Less Durable (Select Plain Steel) 
Maverick 15" H x 19" W Steel Propane Outdoor Fire Pit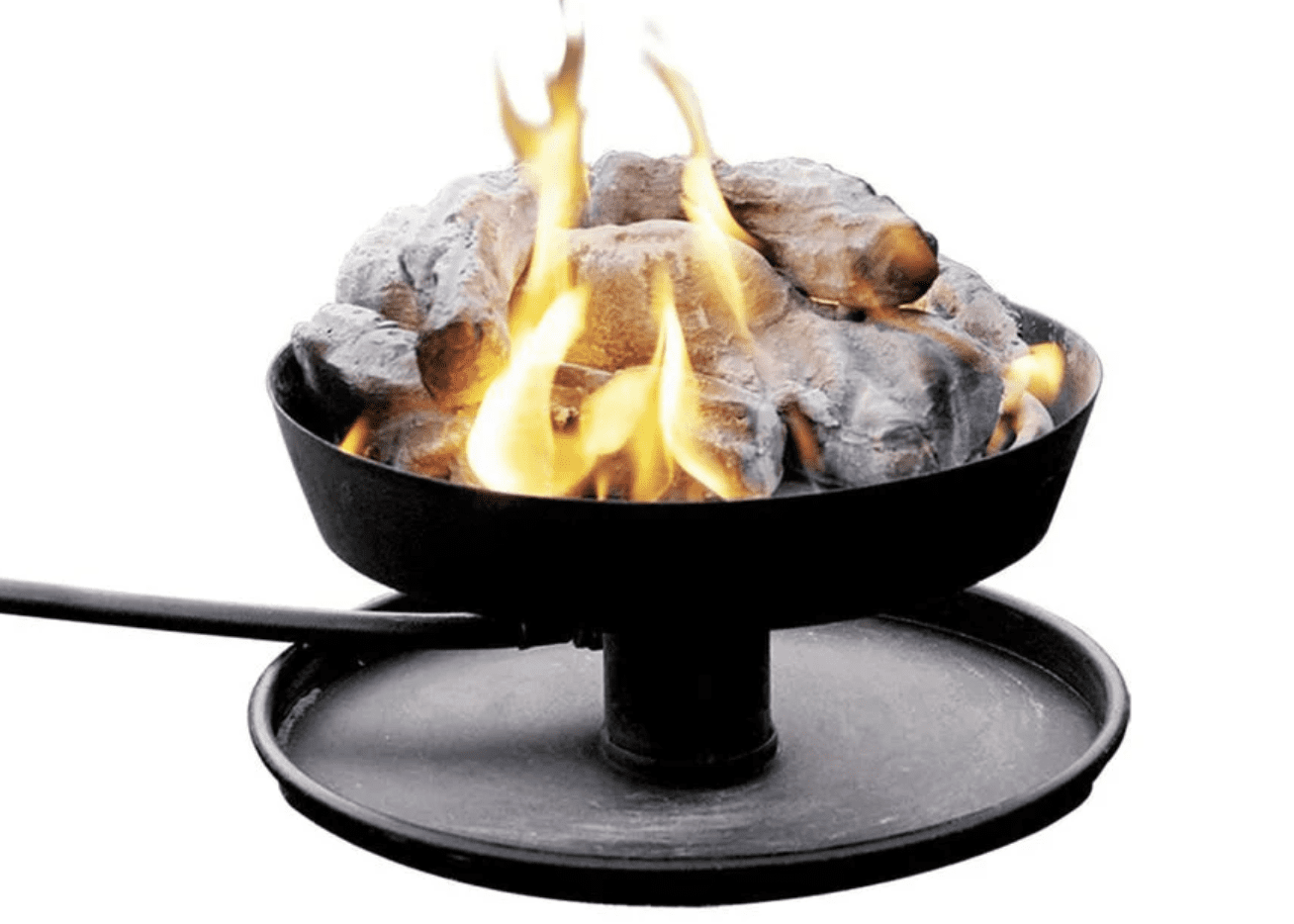 Who knew that such an affordable portable propane fire pit could pack in many great features? It's not just the price I love. This highly-rated portable propane fire pit has classic side vents that provide a decorative touch.  The compact (15-inch diameter) design impresses with an output of up to 60,000 BTU. It's equipped with an adjustable flame and a removable lid. The spring-hinged legs make this fire pit even more versatile. It's made of steel with a bronze finish. Buy Here. 
Pros
60,000 BTU

Removable Lid

Adjustable Flame

Fantastic Price
Cons
Modest Heating Area

Not Fuel-Efficient 
Camco Portable Propane Little Red Campfire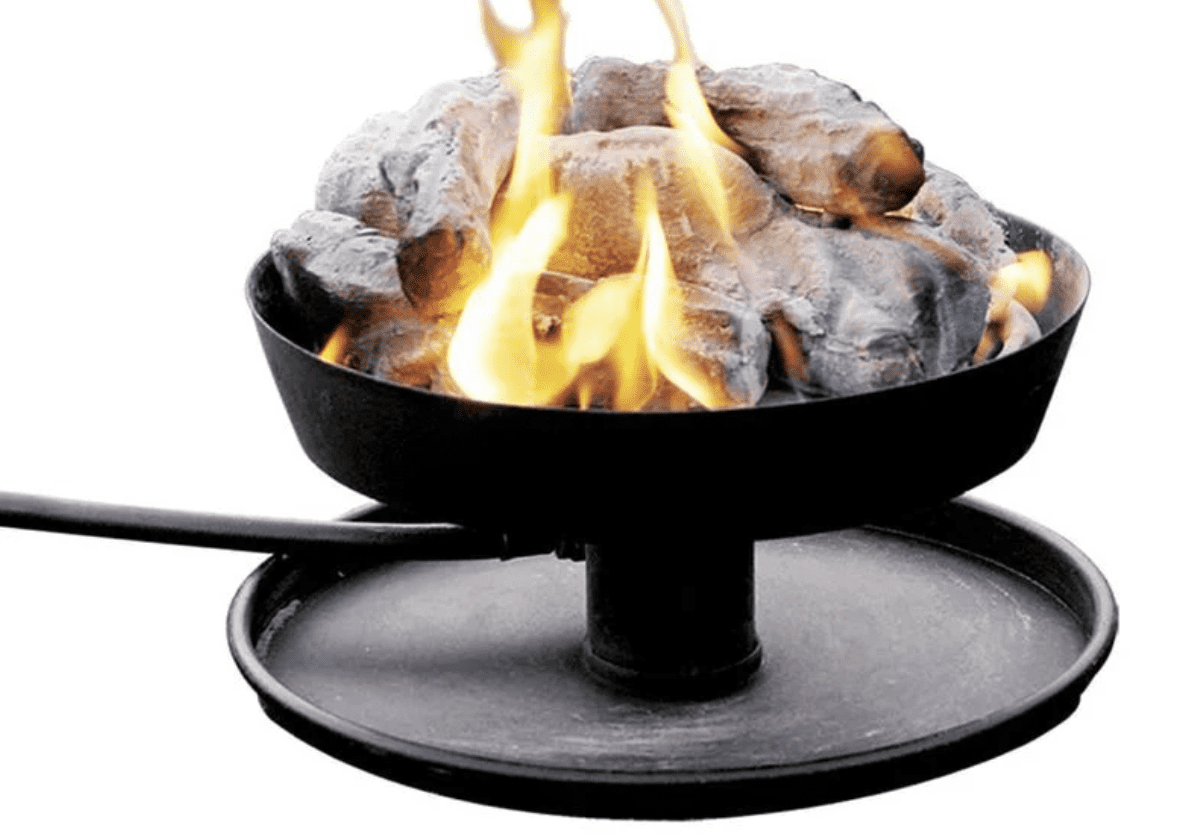 If you want a truly compact portable propane fire pit, this is my top recommendation. As small as the fire pit is, it still manages an output of up to 65,000 BTU. It features a lid and a gas hose if you choose to use it. The tiny (9.5" diameter ring burner) design also includes a fire tray and an adjustable regulator. I also like the addition of artificial logs, providing a bit of that ambiance with the convenience of propane. Buy Here. 
Pros
Adjustable Regulator

65,000 BTU

Artificial Logs 

Lid
Cons
Warranty Not Listed

Best Set on a Table 
Ukiah Square Portable Propane Fire Pit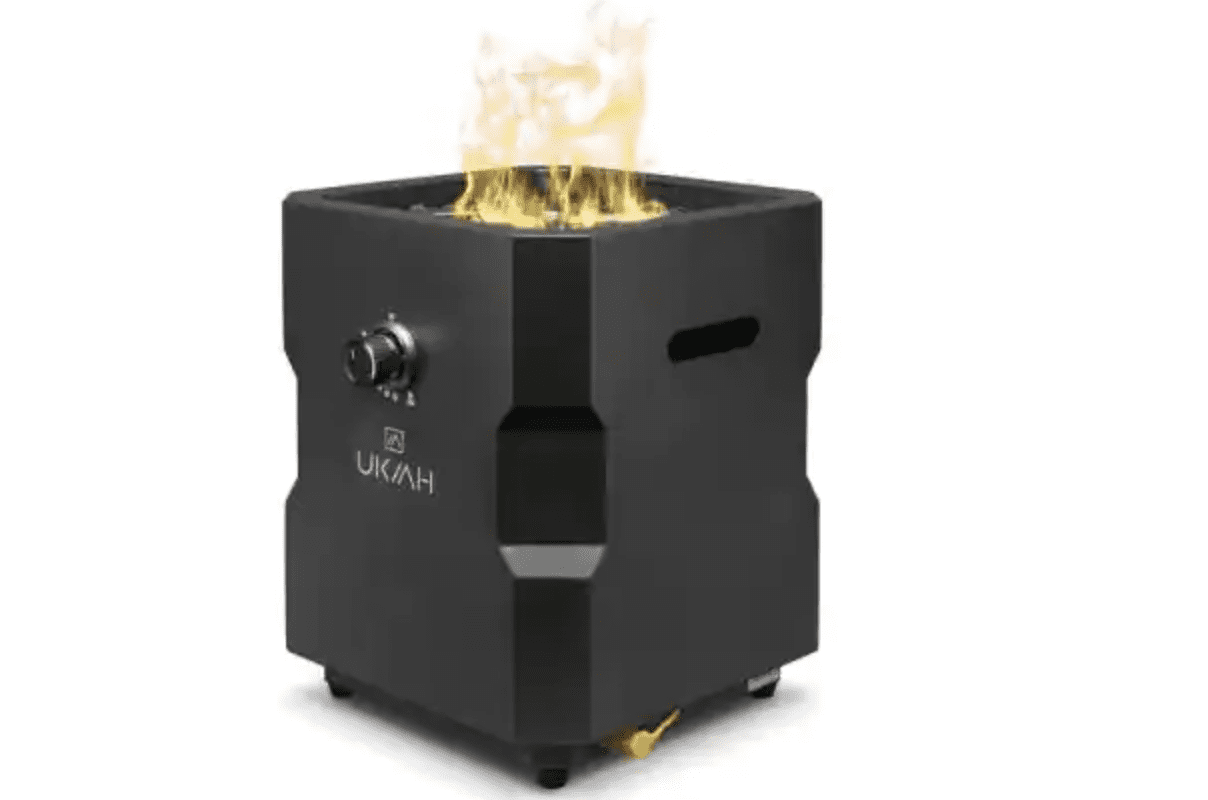 With so many round portable propane fire pits on the market, this square fire pit caught my eye. The Ukiah portable fire pit is a popular choice for modern entertaining and tailgating. It includes electronic ignition with an adjustable flame and an output of up to 48,000 BTU. What I love most is the powder-coated finish- something that's quite hard to find for a portable propane fire pit. Add to that a smokeless design, a quick connect gas hose for more versatility, and the addition of lava rocks and a tank cover and you're getting a fantastic portable propane fire pit for under $200. Buy Here. 
Pros
Powder-Coated Steel

Electronic Ignition with Adjustable Flame

Smokeless Design

Lava Rocks, Hose and Lid Included 
Cons
Slightly Boxy Design

More Modest BTU Output 
Redwood Propane Fire Pit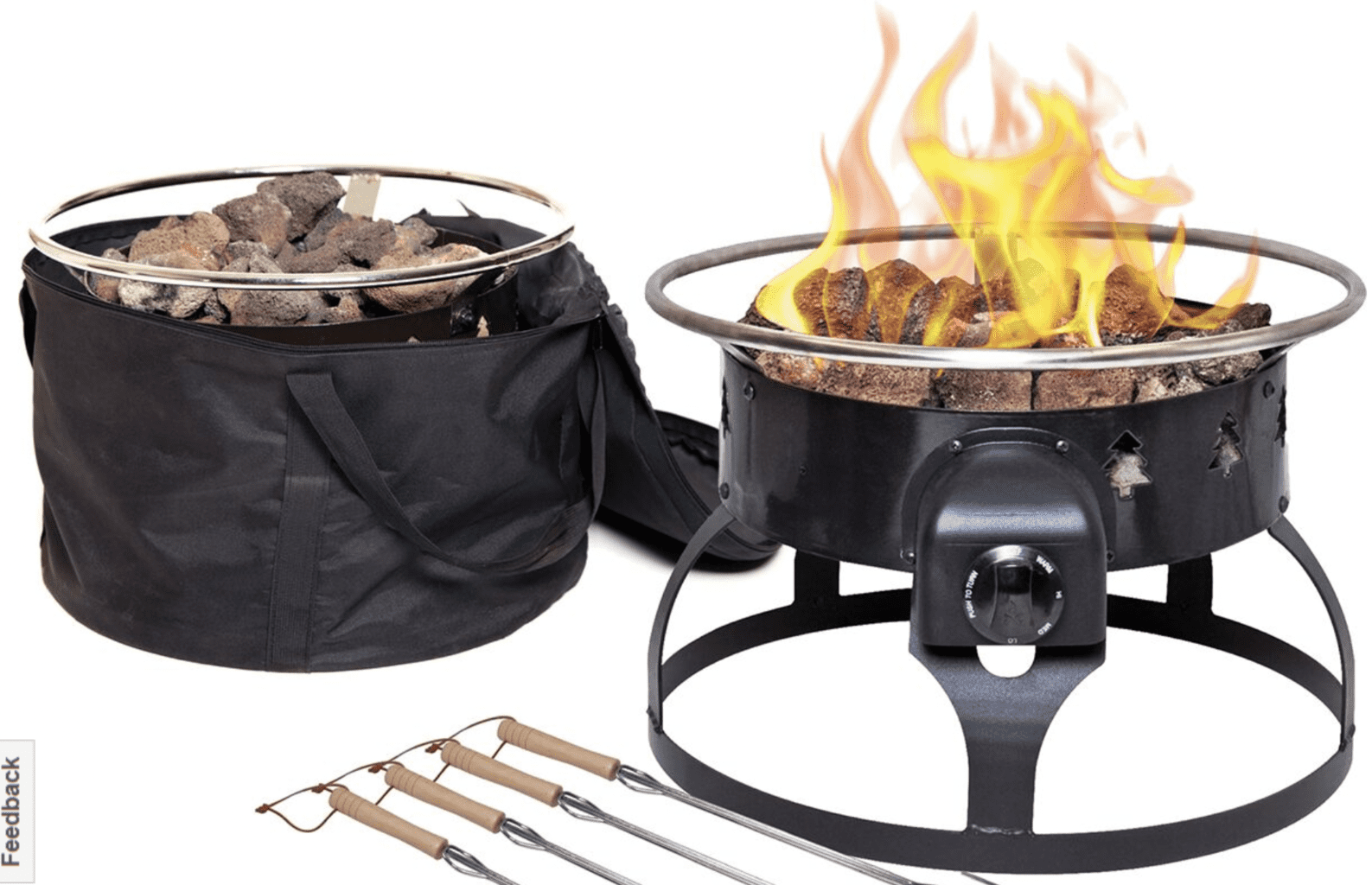 This portable fire pit is constructed with heavy-gauge steel and is CSA-approved. CSA, or the Canadian Standards Association, is considered the highest standard of testing for safety and regulations. The fire pit also includes an adjustable flame, lava rocks, and even extendable roasting sticks so you can start enjoying marshmallows and hot dogs alike. This portable propane fire pit has a maximum output of 55,000 BTU and can even be converted to wood-burning. Buy Here. 
Pros
CSA Approved

Adjustable Flame

Heavy-Gauge Steel 

55,000 BTU
Cons
Nickel Accents Don't Wear as Well 

Thinner Base 
Frequently Asked Questions
Question: How long does a 20lb propane tank last on a fire pit?
Answer: The biggest disadvantage to propane fire pits is the tanks themselves. However, this disadvantage doesn't seem so substantial when you know how long a standard 20-pound tank lasts. A 20-pound propane tank can last up to 9 hours with a modest output. However, aggressive use and output could cut that time in half. Naturally, large propane fire pits use a great deal more than would a small, portable propane fire pit. It's also important to keep in mind that certain fire pits are more efficient than others. A smokeless portable fire pit may reduce how quickly you go through propane. 
Question: Can you cook marshmallows over a gas fire pit?
Answer: While many love the allure and tradition of roasting marshmallows over an open wood-burning fire pit, it's certainly not your only option. You can roast marshmallows over propane fire pits as well. The biggest downside is that the smell may be a little different. That's a deal-breaker for some, but many do not notice. In addition, propane technically doesn't leave behind a taste residue. So if you want to have the fuel efficiency of a propane fire pit and want to use it for cooking, you can. 
Question: Can I use a portable propane fire pit indoors?
 
Answer: Fire pits of any kind should never be used indoors. It doesn't matter if your fire pit is filled by natural gas, wood, charcoal, or propane. Fire pits are open burning. They also need proper ventilation. While vents and smokeless designs provide ventilation, you still must have open air to allow it to burn safely and freely. Propane fire pits should always be used outdoors, and in a clear space that's a minimum of 10 feet away from your home's foundation. Also noted is that fire pits should not be used in garages or sheds. 
Question: Do propane fire pits smell?
Answer: Propane fire pits smell different than wood-burning ones. The odor depends on the specific tank you're using, as well as the output and sometimes even weather conditions. Logs and rocks used in propane fires likewise give off a smell. This odor is more or less notable depending on how sensitive you are to smells. Many describe the smell as artificial or like chemicals. 
Final Thoughts
Portable propane fire pits pose an excellent opportunity for camping, hiking, and RV trips. They can be used for roasting marshmallows or just warming up. Of course, it's really important to practice fire pit safety when you're camping- just as you would at home. Give yourself 20 feet away from any structures you might be near. Make sure you have enough space and don't use a portable fire pit if it's a dry and gusty day. Setting a portable fire pit on top of bricks or a heavy-resistant, sturdy and even surface is a good idea (if your fire pit doesn't have its stand). 
Final Recommendations: Camping Accessories for Portable Propane Fire Pits 
If you're buying a portable propane fire pit for camping or travel, why not buy some great accessories? The best accessories help your fire pit last longer, extend its use, and simply allow you to enjoy the best aspects of owning a portable propane fire pit. 
Covers for Portable Fire Pits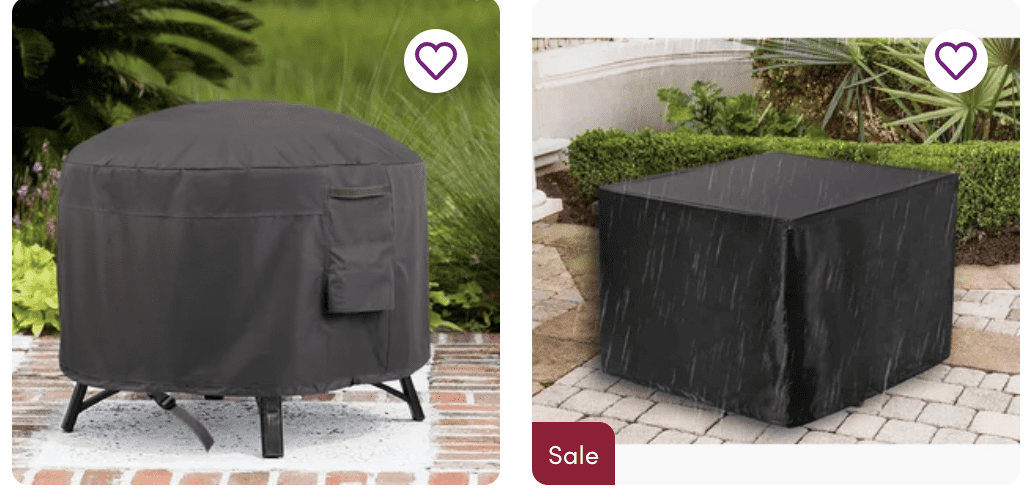 I consider a cover a must-have for a portable propane fire pit. The best fire pit covers are weather-resistant. That includes moisture resistance, wind resistance, and UV resistance. Reinforced polyester and PVC fabrics are cost-effective and stronger than nylon. You can find fire pit covers by dimension at Wayfair. Shop Wayfair Fire Pit Covers Here. 
Portable Fire Pit Camping Tools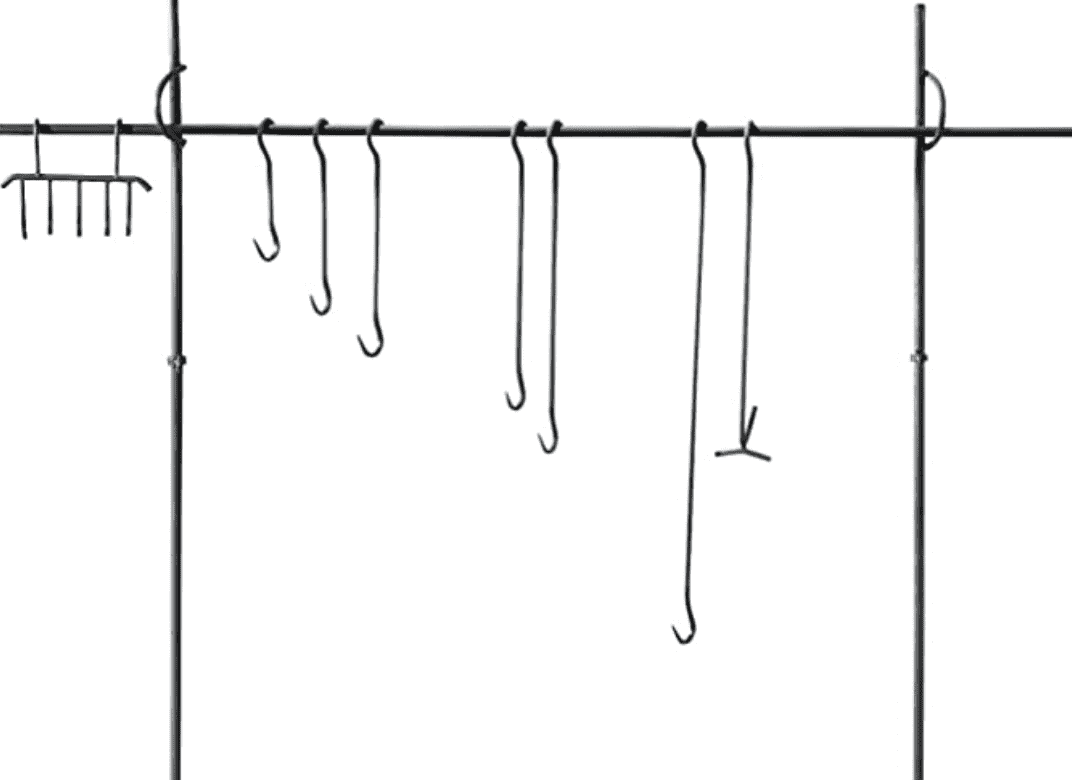 You can buy staple tools pretty much anywhere. Home improvement stores and specialty stores are a great options. But if you're on a budget and just want something convenient, I've spotted some great deals on Amazon. One of my top picks is this simple Guide Gear Campfire Fire Cooking Equipment Set. Just be aware that some tools are made with iron (and stainless steel). Iron isn't rust-proof, so apply a protective coating or simply store it out of harm's way. 
 Recommended Reads: