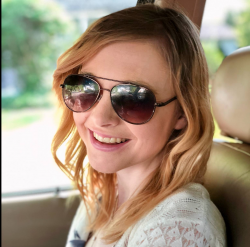 Latest posts by Erin Jamieson
(see all)
In the summer, my face explodes with freckles. I also burn very easily. So that's probably why I appreciated my parents for having a patio umbrella outside. While I still had to slather on sunscreen (umbrellas don't provide complete protection), an umbrella made hours outside much cooler and enjoyable. But even if you have the best intentions to buy an umbrella for your patio, there are many mistakes I've seen made.
From flimsy umbrellas to umbrellas that aren't the right size, it's easy to go wrong. Sidestep those common mistakes with this guide. I'll tell you what to look for to find the best patio umbrella. From fabrics to colors, size charts, and where to shop, it's time to shop smart and enjoy your time outdoors to the fullest. 
Bottom Line Up Front Summary
There are three main types of patio umbrellas: market, offset, and pagoda. To find the best patio umbrellas, opt for weather-resistant canopies (polyester, Sunbrella, pongee) and poles (steel, teak, eucalyptus). Pay attention to the crank and tilting mechanisms, the dimensions, and any warranties or protection plans. UV resistance, moisture resistance, and wind resistance are all important factors. 
If I had to recommend just one patio umbrella, it would be the Sunnydaze Offset Patio Umbrella. While it's budget-friendly, you get extensive coverage from the sun, wind, and rain– all with a low-maintenance, powder-coated steel pole and ribs. 
My Top Picks
Pottery Barn Market Umbrella with Wooden Pole:

Best Premium Market Umbrella

Costway LED Market Tilt Patio Umbrella

:

Best Value Market Umbrella 

Home Decorators Collection Offset Patio Umbrella:

Best Premium Offset Umbrella 

Sunnydaze Offset Patio Umbrella

:

Best Value Offset Umbrella 

Airmont & Co Pagoda Patio Umbrella

:

Best Value Pagoda Umbrella 

Eucalyptus Tiered Floral Pagoda Patio Umbrella

:

Best Premium Pagoda Umbrella
What to Look for in a Patio Umbrella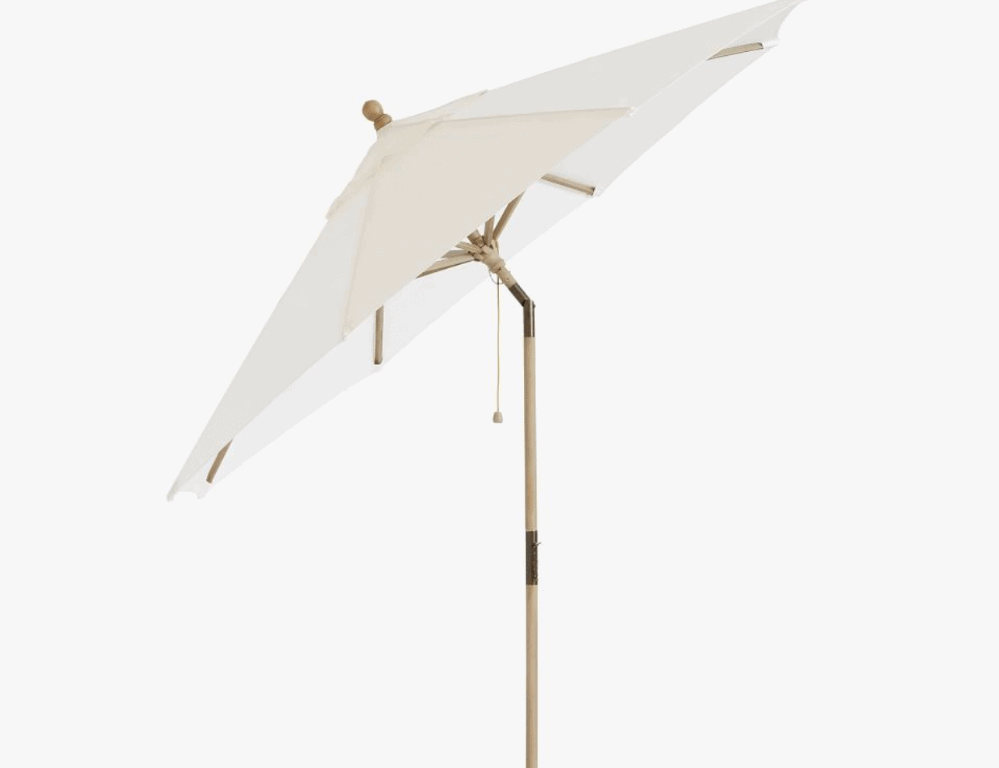 A patio umbrella may seem simple. The reality? Shopping for one quickly becomes complex if you're shopping for the best. Since I get overwhelmed when making a purchase, I like to break down what I'm looking for into categories. This is a great strategy, whether you're shopping in stores or facing an array of options online. Here's how I separate sub-par patio umbrellas from ones that offer the best value for your money. 
Main Types of Umbrellas
There are two broad categories for patio umbrellas: freestanding and ones with a stand. Free Standing umbrellas are used for lounge chairs and beside pools or other spaces. Other umbrellas are intended for dining tables. But within those broader categories, several common styles are suited for outdoor patio use.
| | |
| --- | --- |
| Style of Patio Umbrella | Description  |
| Cantilever/ Offset Umbrellas | These umbrellas allow the greatest versatility for tilting and adjusting to the sun. They're useful for standalone umbrellas for lounge chairs.  |
| Market Umbrellas | These classic umbrellas feature a straight pole and an upright orientation. Some can be tilted, and some cannot. These are traditional for dining tables.  |
| Pagoda Umbrellas  | These larger umbrellas usually have a bit of sculpted shape to them. They are often oversized and have a bit more distinctive style.  |
Patio Umbrella Shapes
In my opinion, there isn't one best patio umbrella shape. It depends on how it's being used. When paired with a table, match the umbrella shape with the table when possible. This provides a seamless look and offers coverage for that space. However, you do get a bit more bang for your buck with a rectangular umbrella shape vs a circular shape. The corners cover a bit more and provide a more generous overhang. 
Patio Umbrella Colors 
The best color for an umbrella is also debatable, but there are more advantages to darker colors vs lighter colors.
Lighter Colors 
 While lighter colors, such as white and yellow, provide an uplifting look, they offer less UV protection. Lighter colors make your patio space look spacious. However, they stain more easily and require more upkeep. Popular lighter patio umbrella colors include: light blue, yellow, white, cream, light tan, and pastels. 
Darker Colors 
Darker colors make your patio appear a little smaller, and they have a heavier presence than a light patio umbrella. However, they have the advantage of greater UV protection and less maintenance. Popular colors include black, red, green, blue, and deep neutrals. 
Patio Umbrella Dimensions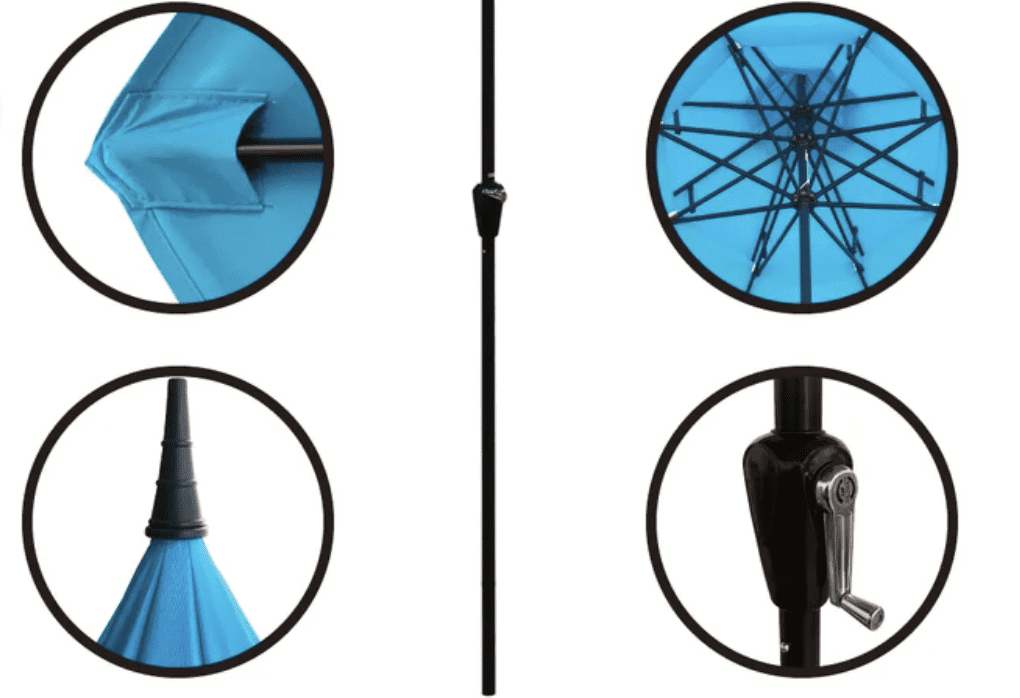 The most important thing when choosing your patio umbrella size is making sure that it provides adequate coverage for your seating. The standard sizes chart below gives you a rough estimate of the size you need, based on the average patio table sizes. These are rough estimates and are meant only as general guidelines. The rule of thumb is that you want a little overhang — up to a few inches- only on all sides of your table. 
Rectangular Patio Tables
| | |
| --- | --- |
| Umbrella Size | Fits… (Standard Patio Table Dimensions) |
| 6 Feet | 8 by 10 Feet  |
| 7 Feet  | 8 by 11 Feet  |
| 9 Feet  | 10 by 13 Feet  |
Round Patio Tables
| | |
| --- | --- |
| Umbrella Size | Fits.. (Standard Patio Table Diameters)  |
| 6- 8 Feet  | Up to 36 Inches  |
| 9- 11 Feet  | 38- 48 Inches  |
| 12 Feet and Greater  | 50- 60 Inches |
Square Patio Tables
| | |
| --- | --- |
| Umbrella Size  | Fits.. (Standard Table Dimensions) |
| 6 Feet  | 4 by 4 Feet  |
| 8 Feet | 5 by 5 Feet  |
| 11 Feet  | 7 by 7 Feet  |
| 13 Feet  | 9 by 9 Feet  |
If you're buying an umbrella that stands alone, the normal size is 8 to 12 feet for the diameter. Aim for an umbrella that covers around 85 to 100 feet. These sizes are suited for normal patio lounge chairs and enjoying shade near a pool. 
Patio Umbrella Canopy Materials
When you think about it, your umbrella's canopy is responsible for withstanding a lot. From UV rays to wind (up to 20 mph) to rain and more, it's important to buy a weather-resistant umbrella canopy. What does that mean? It means that I look for materials that are resistant to mold, mildew, and UV rays. They must be water-resistant and quick to dry. I also prefer materials that won't easily tear. I avoid cotton and rayon, both of which won't hold up well outdoors.
See also: Best Porch Design Ideas For A Welcoming Home 
Great for Affordable: PVC- Coated Polyester
This is a great option if you want a lightweight and affordable patio umbrella. These patio umbrellas dry quickly and require little to no maintenance. The PVC treatment adds improved weather resistance. The biggest downsides are that polyester has raised some health concerns, and that polyester does tear more easily than heavy-weight materials. 
Great for Middle-Range: Pongee 
Pongee is a material that I wish more people would consider. Pongee is a woven material that is a bit more formal than polyester. But more importantly, pongee canopies have higher thread counts, are denser, and last longer than regular polyester umbrellas. It's water-proof or resistant and sometimes used alone or as a lining. Safety concerns and more limited selection are the main drawbacks. 
Great for Premium: Sunbrella 
My absolute favorite fabric for a patio umbrella is Sunbrella fabric. Sunbrella fabric is well worth the money. Not only is it attractive, but it's also fade-resistant, water-resistant, resilient, and strong. It's resistant to mold and mildew and doesn't even require much maintenance. The biggest downside is the cost. 
Patio Umbrella Base and Stand Materials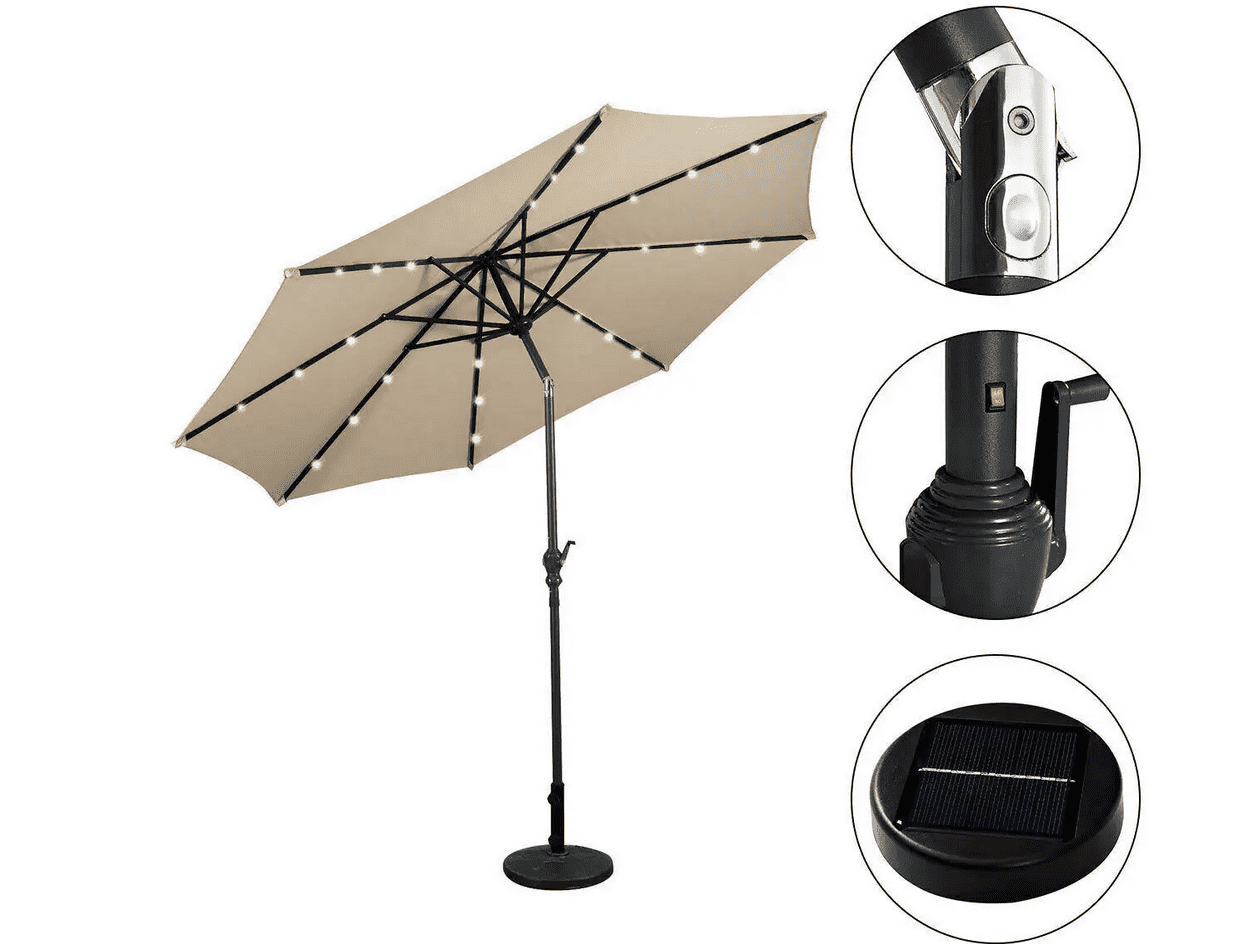 Your options include wood, cast iron, powder-coated steel, aluminum, and resin. While cast iron is a strong, hefty material for a base and pool, it easily rusts. Aluminum is lightweight and resilient in harsh weather conditions- but it's also easily dented. Molded resin is a form of heavy-weight plastic that is economical and weatherproof. Of all these, powder-coated still is the best option. However, some premium umbrellas use hardwood teak or eucalyptus. Teak and eucalyptus are moisture-resistant and very durable- they just need a little treat every once in a while. 
Patio Umbrella Lifting Mechanisms 
Tilt control, crank, and pulley system all impact how easy and versatile it is to use a patio umbrella. I like patio umbrellas that have full tilt capabilities because then you can adjust the position of the sun. Crank and pulley system both work fine. Cranks take a little more work, but I argue that pulleys are a little easier to break. A few premium models have automated systems for opening and closing. 
Patio Umbrella Features
For the main features, there are a few things that stand out, as indicated in the chart below. Some of these are up to personal preference, but they do impact how you use your umbrella. 
| | |
| --- | --- |
| Feature | Purpose |
| Feet with Wheels | This is self-explanatory. It's not a must-have, but a wheeled base is easier to transport  |
| Rubber Pads | If you don't have wheels, rubber pads protect your patio or deck  |
| Locking Poles | A locking base that includes a sleeve. This improves the security of your umbrella, especially on a windy day.  |
| Mosquito Nets  | Mosquito nets are less common- and you could buy separate attachments. But they're nice for the summer or anywhere you experience many mosquitos.  |
| Lights (LED, Solar) | Solar lights, of course, are reliant on natural light (and more eco-friendly), while LED lights are more reliable. Some higher-end umbrellas are equipped with lights. The downside is the extra care and maintenance these designs require.  |
| Vents  | Vents can come in the form of side cutouts, thinner layers of fabric, and mesh. The purpose of vents in a patio umbrella is to reduce moisture and mildew build-up. Likewise, they can improve drainage and breathability.  |
| Accent Grommet/ Fringe  | These are mainly for decorative purposes– though they can catch water/ act as a barrier. These are suitable for a more traditional or even vintage-inspired patio umbrella.  |
Pricing/ Where to Buy Patio Umbrellas 
Patio umbrellas cost as little as $50 for a budget, small crank umbrellas to a few hundred dollars to $1,000 or more for large and premium umbrellas. The price greatly depends on the size, materials used, and the umbrella style.
 You can find patio umbrellas on clearance from places like Overstock, Amazon, and Big Lots. Ikea, Target, and Walmart tend to focus on budget patio umbrellas. Home improvement stores and Wayfair are great places to shop for middle-range patio umbrellas. You can even find patio umbrellas at more unexpected locations, such as Kroger and Costco. Premium and custom patio umbrellas come from especially furniture stores. 
Patio Umbrellas for 2022: My Top 6 
Here are my top picks for patio umbrellas. These were selected based upon their materials and construction, special features, store reputation, and overall value. 
Pottery Barn Market Umbrella with Wooden Pole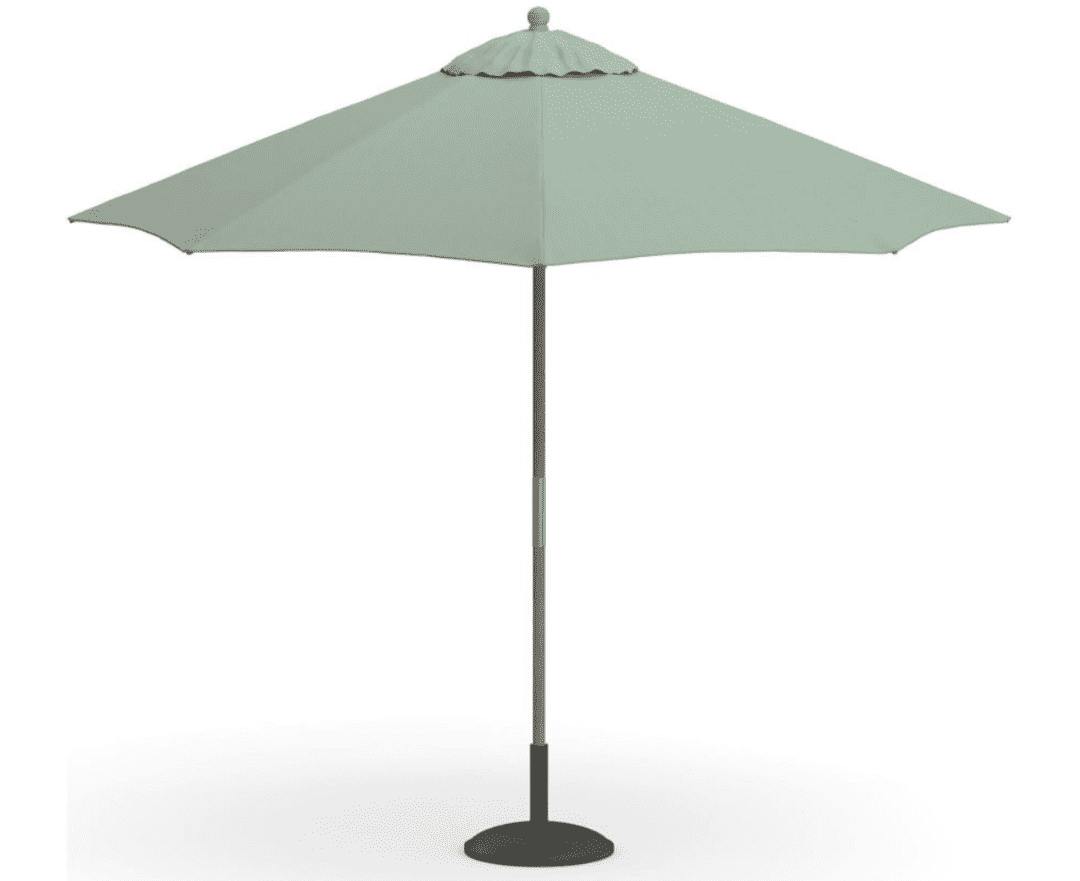 This patio umbrella may be a bit more expensive, but Pottery Barn creates a market umbrella right. The stunning patio umbrella includes a 9-inch umbrella canvas top, compared with a sustainably-sourced wooden pole. The umbrella is weather-resistant from head to toe. The canopy offers up to 98 percent UV protection and is fade-resistant and water-resistant. A simple button toggles a tilt feature. This umbrella is designed to pair with Pottery Barn outdoor dining sets but is a standard size to suit the table of your choice. Choose between a deeper driftwood or warmer honey finish and 14 modern colors. This patio umbrella is both durable and beautiful. Buy Here. 
Pros
Sustainable- Sourced Weather-Resistant Wood

Durable Sunbrella Canopy 

Tilt Mechanism 

Customization 
Cons 
Requires More Care 

More Expensive than Average Market Umbrella 
Costway LED Market Tilt Patio Umbrella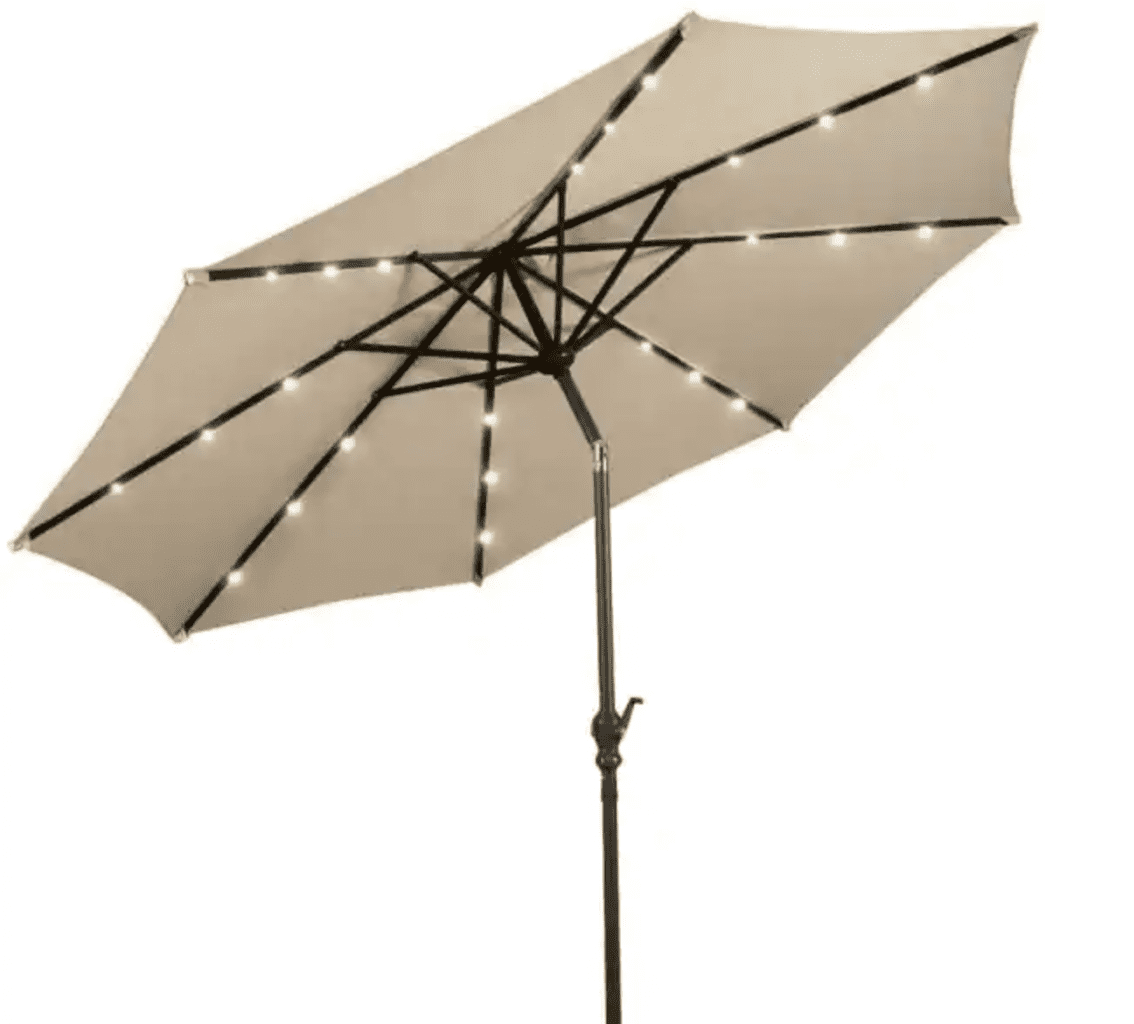 You don't have to spend a fortune- or even $150- to find a fantastic market patio umbrella. If you're looking for an umbrella with a durable pole and some excellent features for entertaining, Home Depot has you covered. The Costway brand is one to look out for, including this model. This patio umbrella is equipped with pre-installed, solar LED lights. They're energy-efficient and automatically adjust to the light, so you can enjoy your backyard from day tonight. The canopy is UV and moisture-resistant. I also like the classic steel pole, plus the tilt for adapting to the sun. It's a good value when you're on a budget. Buy Here. 
Pros
Great Price

Tilt Feature

Solar LED Lights 

Weather-Resistant
Cons
Not Powder-Coated Steel 

Manual Tilt 
Home Decorators Collection Offset Patio Umbrella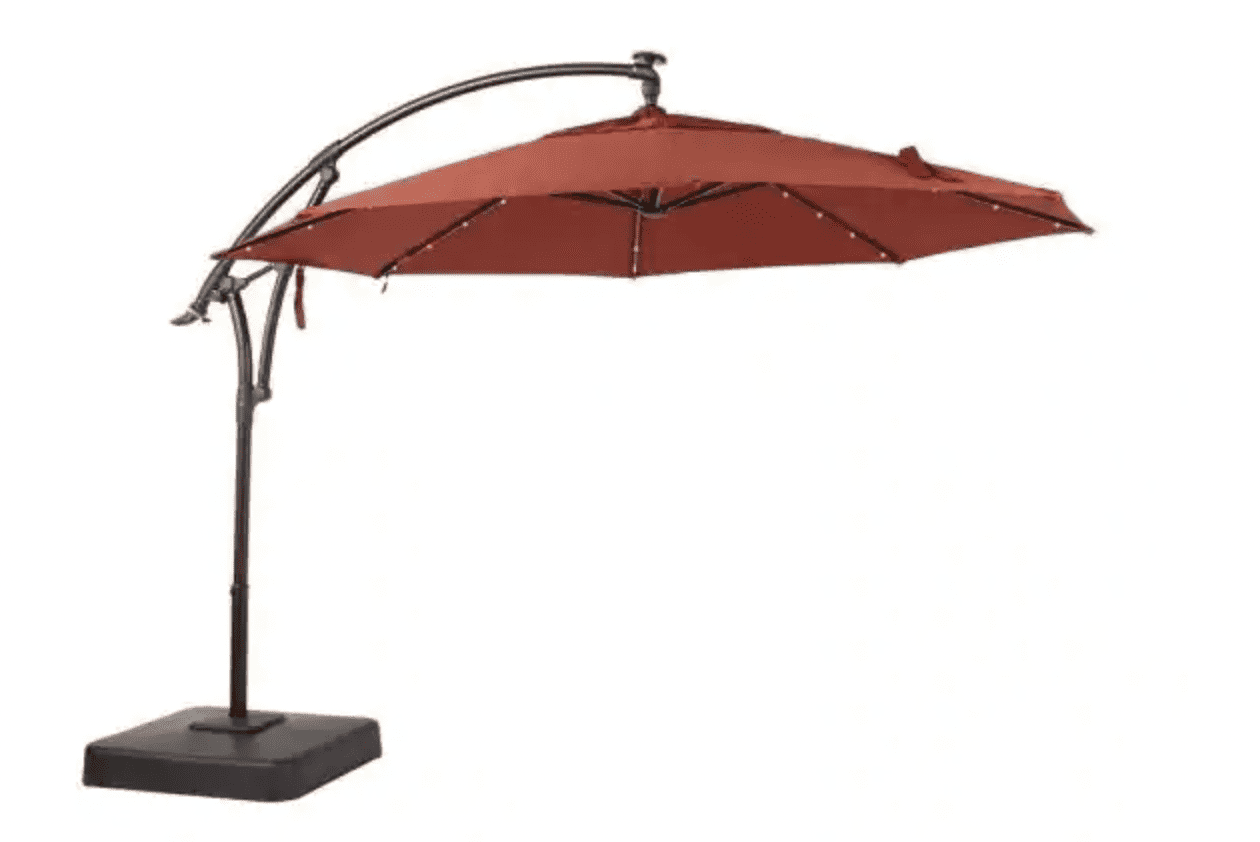 Most patio umbrellas from Home Depot and other home improvement stores feature a polyester canopy. But if you want a more premium fabric, this offset laptop umbrella is a great find. The striking Sunbrella canopy is fade-resistant, moisture-resistant, and overall weather-resistant. Equipped with LED lights and a simple manual tilt system, this umbrella is a great value between the most premium models and budget ones. Canopy colors include red, reddish-brown, dusky blue, tan, and light moss green. This umbrella also comes with a more generous 2-year warranty. Buy Here. 
Pros
Sunbrella Canopy

All-Weather Resistance 

LED Lights 

Generous Warranty 
Cons
A Bit More Expensive 

Regular, Not Powder-Coated Steel 
Sunnydaze Offset Patio Umbrella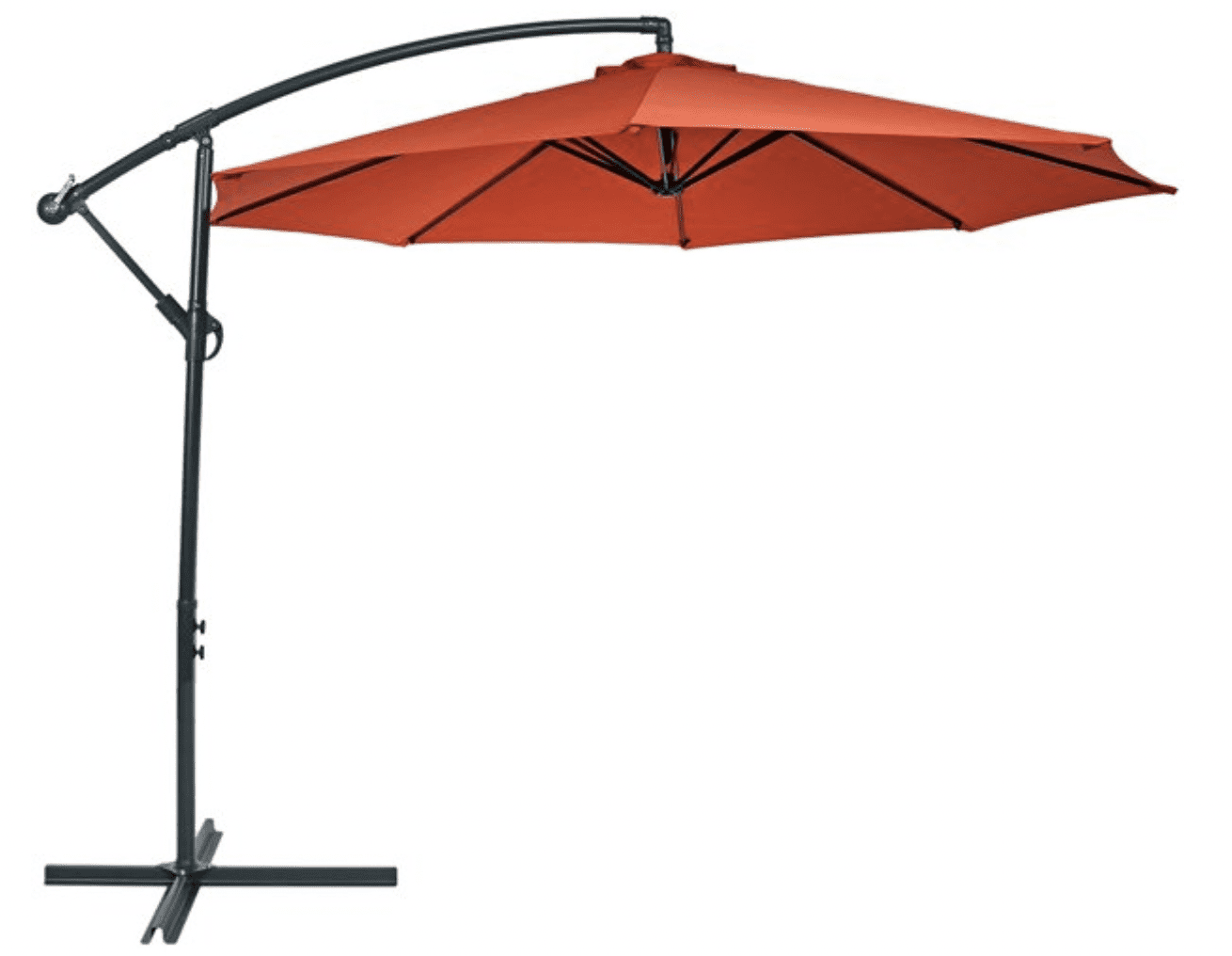 This more affordable offset patio umbrella may not be quite as stylish, but you get an upgrade with a powder-coated steel pole and ribs. Easily crank and adjust to meet wind and sun. The weather-resistant polyester canopy provides ample coverage and is available in red or brown (check out other Sunnydaze listings for more options). It's a sturdy offset patio umbrella that's low-maintenance and ready to brave wind, heat, and rain. It also comes with a one-year warranty and two twist knobs for rotation. Buy Here. 
Pros
Great Price 

Powder- Coated Steel Ribs/ Pole 

Tilt Adjustment

Weather-Resistant 
Cons
Cheaper Canopy (Polyester)

Limited Colors/ Styles 
Airmont & Co Pagoda Patio Umbrella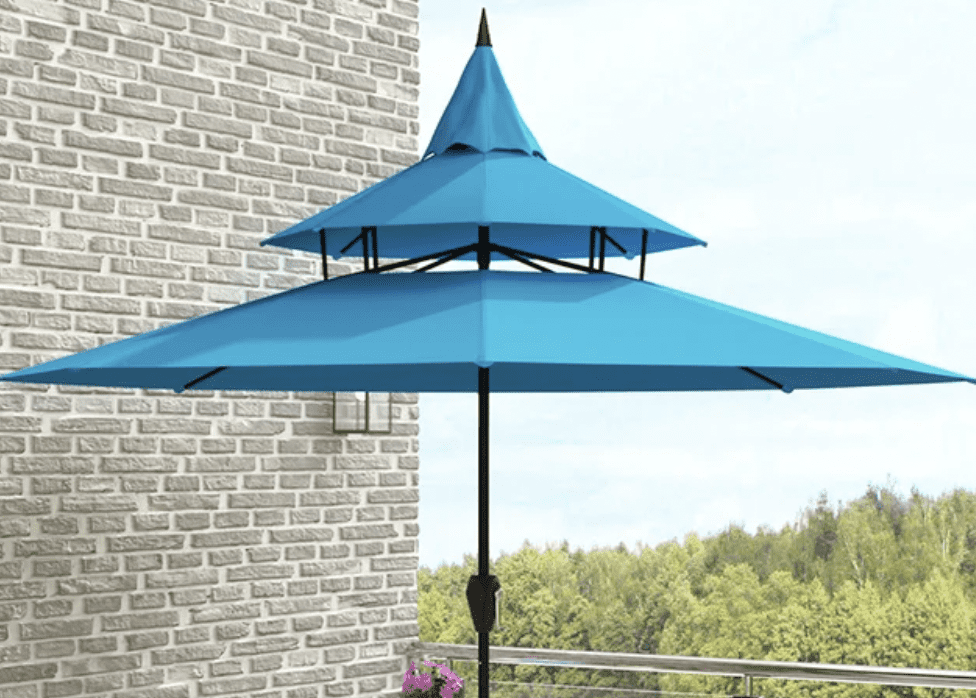 Make a statement with this pagoda patio umbrella. Clean lines, a playful construction and a great price are all just a few reasons to take note of this umbrella. The canopy is resistant to UV rays and water and the metal pole is rust-resistant. It can withstand winds of up to 40 mph, making it a great choice for gustier days. The bronze finish adds a stylish allure, and you have a choice of tan, aqua, red, and green canopy colors. This umbrella comes with a single-year warranty. You also have the option of a 5-year protection plan for under $20. Buy Here. 
Pros 
Rust Resistant

Weather-Resistant

Up to 40 mph Winds 

150 UPF
Cons
Economical Materials (Polyester) 

Lack of Reviews 
Eucalyptus Tiered Floral Pagoda Patio Umbrella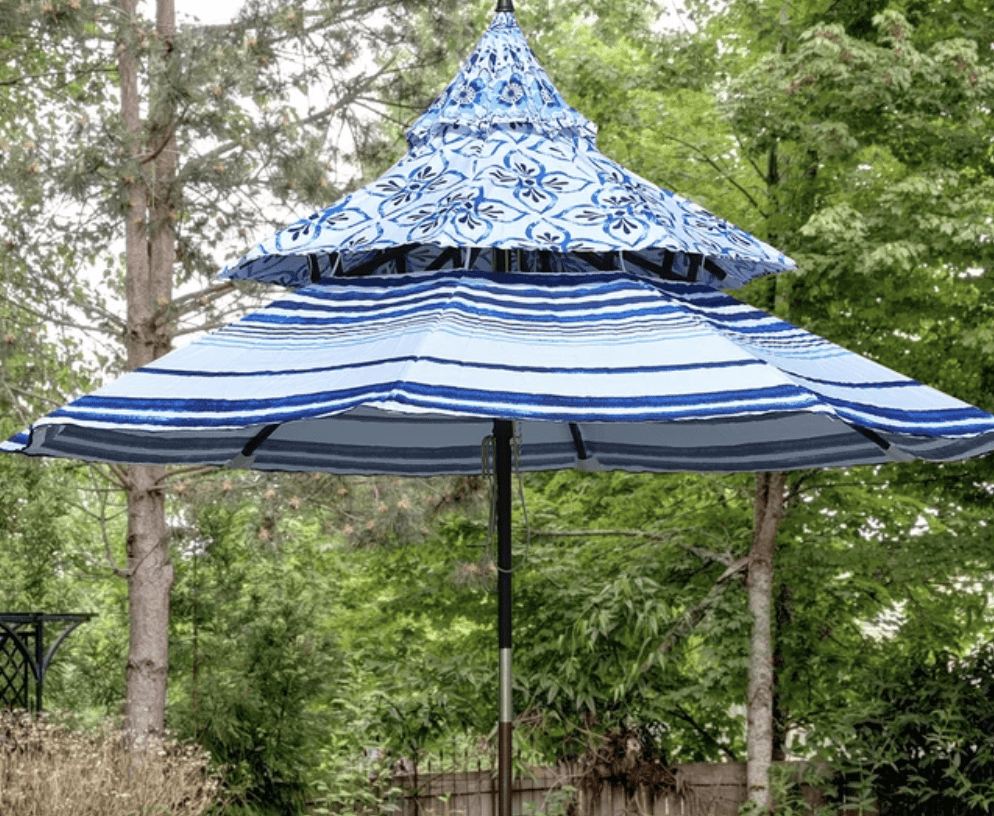 Upgrade your pagoda patio umbrella with this beautiful style with a eucalyptus pole. The tiered canopy pairs florals and modern stripes with UV and water resistance. It features a simple pulley lift and provides sun coverage with style. The wooden pole is easy to care for just treat it before the next season. This unique patio umbrella is available in blue or brown canopies. It comes with a 60-day warranty, with the option for an affordable (under $30) 5-year protection plan. Buy Here. 
Pros 
Unique Floral Pattern

Genuine Weather-Resistant Wood 

UV and Water-Resistant

Classic Pulley Tilt 
Cons 
Requires Occasional Treatment

Not Best for High Winds 
Frequently Asked Questions
Question: Can I leave my patio umbrella outside in winter?
Answer: The question isn't so much if you can leave a patio umbrella out in winter, but if you should. Patio umbrellas aren't meant to be used during winter, especially if you live in a cold climate. It's less common to find patio umbrellas that have been treated to withstand sleet or snow. Even if you have a patio umbrella that won't be ruined, it's a good idea to buy a patio umbrella cover or store it in a garage, away from where it can be damaged. If you store it indoors, at least cover it with a trash bag, so that dust, dirt, and debris won't litter the canopy. 
Question: Do you still get sun under an umbrella?
Answer: Umbrellas offer protection from UV rays, but that level of protection depends on the umbrella. While all umbrellas protect you some, you can still get sun at your table. The average patio umbrella blocks about ⅔ of UV rays or up to 85 percent. Some umbrellas have an added layer of UV protection. How much sun blocking you get depends on the size of your umbrella and even the color of your umbrella. In other words: don't use an umbrella in place of sun protection! Without sunscreen, you can still get a burn within 30 minutes to an hour. 
Question: Why is there metal in umbrellas?
 
Answer: The metal in a patio umbrella provides structural protection and stability. Even with an umbrella that is primarily made out of wood, metal ribs are an important feature. Another important function of metal in any umbrella is to prevent the fabric from falling off. If the metal components of your patio umbrella break, chances are that it'll be unusable. 
Question: How much wind can a patio umbrella withstand?
Answer: Flimsy patio umbrellas are naturally going to break more easily than heavyweight umbrellas. That said, all patio umbrellas have their breaking point. A safe bet is to take in your umbrella if winds exceed 20 miles per hour. While some exceptional patio umbrellas can withstand winds up to 40 or 45 miles per hour, I wouldn't count on this, even for sturdy umbrellas. Chances are, if you leave your patio umbrella out, you may end up with a broken umbrella. 
Final Thoughts 
It's hard to deny the appeal of a patio umbrella. It really can transform your space, whether you're sitting by a pool, enjoying a meal, or just spending time with loved ones, pets, or a good book. While patio umbrellas can't replace sunscreen, they do offer shade, wind coverage and some great UV protection. Focus on the quality of the materials, select the best size, and then splurge on added features if you want them. If your umbrella canopy tears, you can replace just the canopy in some cases. (Shop Patio Umbrella Replacement Parts Here). If the entire umbrella breaks, you can sometimes DIY a fix, but often it's worthwhile just buying a new patio umbrella. 
Final Recommendation: Patio Umbrella Covers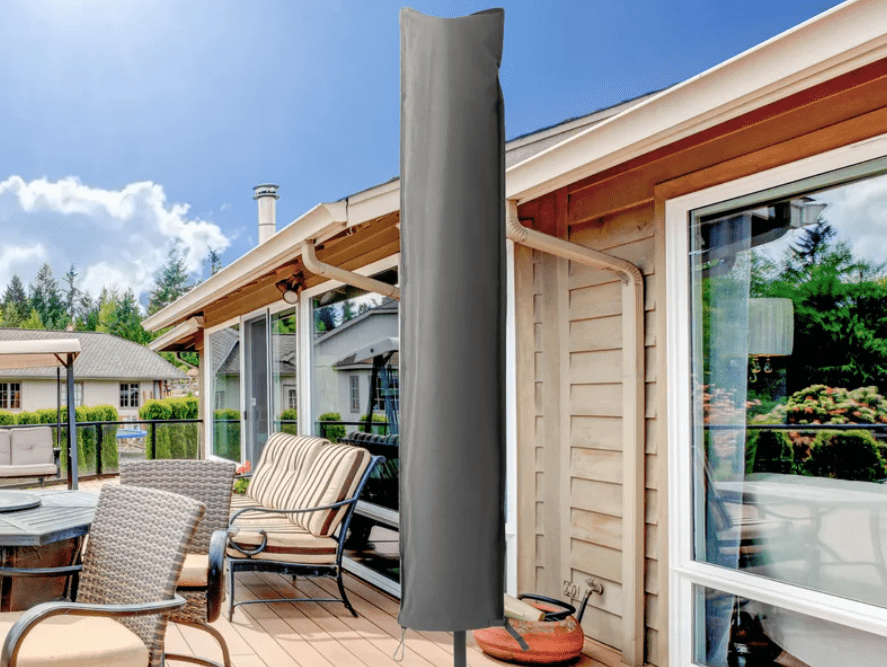 No patio umbrella lasts forever. However, storing an umbrella indoors in the winter and buying a patio umbrella cover can help you get more years out of your purchase. The best patio umbrella covers don't need to have bells and whistles. I look for a weather-resistant fabric that resists moisture, mildew, and, if possible, UV rays. I also prefer umbrella covers that have some method of securing the material. This could be a zipper, velcro, tie-up, or buckle. I recommend using a cover even if your umbrella is stored inside. That keeps it from becoming damaged or picking up extra dirt and stains. Check out the Most Popular Wayfair Patio Umbrella Covers Here. 
Recommended Reads: