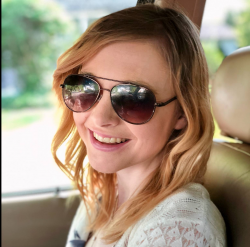 Latest posts by Erin Jamieson
(see all)
To say I have skin that burns easily is a huge understatement. With freckles that cover my face during Summer, I've always had to be careful.
I was lucky enough to grow up with parents that insisted on using sunscreen and wearing hats or t-shirts, even when we vacationed on Hilton Head Island. But one of the things I'm most grateful for is their insistence on having an umbrella for our backyard patio table.
A patio umbrella not only adds ambiance, but it can also add essential shade for enjoying a sunny day. The issue is that patio furniture is both becoming more expensive and more difficult to find. That's why many are considering Walmart's collection. 
Walmart has more variety of patio umbrellas than the average store. But finding the best patio umbrellas is a challenge. The quality of umbrellas from Walmart has a pretty wide range. I'll guide you through how to select the best patio umbrellas from Walmart. I'll also show you a few of my favorite patio umbrellas from Walmart that you can buy online in 2022. 
Bottom Line Up Front Summary
Walmart offers a selection of patio umbrellas, including ones under or well under $100. With over 1,000 to choose from, you can be somewhat selective about what you choose. Olefin and Sunbrella fabrics are in short supply, but a better option than their polyester umbrellas *except for tight budgets.
Steel ribs and fiberglass ribs provide greater resistance vs other rib types. Look for special features, such as wind vents, tilting umbrellas, and extra UV protection. You'll likely have to sacrifice one or two features– so prioritizing, if you're shopping at Walmart for patio umbrellas, is a must.
If I had to recommend one Walmart patio umbrella, it would be the California Complete Fiberglass Umbrella. This umbrella features durable ribs that can withstand high winds. The classic and pleasing design, quality fabric, and 5-Year warranty all help it stand apart from other Walmart patio umbrellas. 
My Top Picks
See also: Best Fire Pit Accessories [2022]
Shopping For Patio Umbrellas at Walmart: Pros and Cons
The first question I want you to ask is if Walmart is the right choice for you to shop for your patio umbrella. There are some definite advantages and disadvantages to Walmart's collection.
Keep in mind that I'm discussing their online collection. Many Walmarts carry a small supply of patio umbrellas near or within their garden center. Those options differ from what they carry online, so if you plan to shop in a store near you, call ahead. 
Pros 
Picky like me? Then you'll be happy to know that Walmart has a generous selection of patio umbrellas. They have about any sizes you could need, and colors range from dark to neutrals to vibrant hues. There are plenty of solid and patterned umbrellas, as well as round and rectangular. No matter your budget, you'll find something.
I also like their search filters. You can shop by price, brand, shape, and pickup vs delivery. Sort by bestsellers or by price to find your best match. Most umbrellas have customer ratings. 
Cons
While there are a few expensive patio umbrellas, there aren't too many options if you're looking for high-end materials, exclusive styles, or truly unique options. Their umbrella brands include ones you'd expect, such as Better Homes & Gardens, Devoko, Tempera, and Walmart brands, like Mainstays.
Most umbrellas are made in China, and you'll be hard-pressed to find ones made in the USA. While I appreciate the range in colors, many of the more colorful patio umbrellas lean neon or quite saturated and aren't the most versatile. I also wish the search filters included options for materials, as that's an important factor in finding the best patio umbrellas. 
Takeaway
If you're looking for a wide selection of patio umbrellas at competitive prices, Walmart is a decent place to shop. With great search filters and options to shop online, in-store, and have it delivered to your door (or store), it's pretty convenient. However, it's very hard to find an umbrella that doesn't sacrifice quality in at least one or a few areas. 
See also: Best Fire Pit Chairs Guide
How to Choose the Best Walmart Patio Umbrellas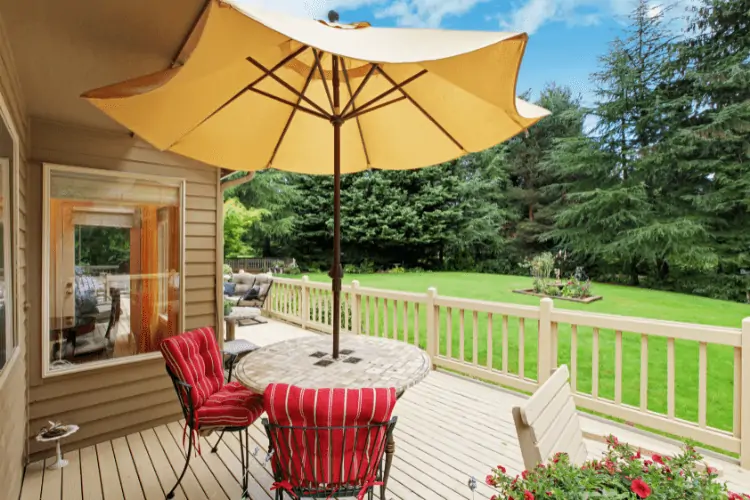 Navigating Walmart's collection is challenging, even with helpful filters. Here's what you need to know to find their best patio umbrella options. 
Step One: What Size is Best?
Before you pick any patio umbrella from Walmart, get an idea of what the best patio umbrella size is. You'll need to be extra picky if you already have a table you're going to match. If you're buying a patio umbrella first, or if you plan to use it on its own (with a stand-alone base), it's still good to have a feel for standard sizes.
See also: Where to Buy Patio Furniture Online
Standard patio umbrellas, including those from Walmart, range from 6 feet in diameter to 11 feet. Weight is also important- you want stability but not so much weight that the umbrella topples over. 
| | | |
| --- | --- | --- |
| Patio Table Size/ Type (Diameter) | Best Umbrella Size (Diameter) | Best Umbrella Weight (lbs) |
| 30 Feet or Less; Bistro Tables | 6 Feet to 7 Feet  | Less than 40 lbs |
| 48 Feet or Less; 4- Person Tables | 7 Feet to 8 Feet  | 40 to 60 lbs |
| 54 Feet or Less; 4- Person Tables  | 9 Feet  | 55 to 65 lbs |
| 62 Feet or Less; 6-person tables  | 10 Feet  | 65 to 75 lbs |
| 84 Feet or Less; 8 to 10-person tables | 11 Feet  | Up to 75 lbs  |
Step Two: What Materials are Best?
For patio umbrellas, I look for a few main features for the materials: weather resistance, UV resistant, and, of course, water resistance. Both the pole and the fabric make a big difference in how much you'll get out of your umbrella.
Best Fabrics 
 I avoid thatch umbrellas, because, charming as they are, they simply don't hold up. My top Here's a look at the pros and cons of each material that Walmart sells:
Fabric Type 
Pros
Cons

Olefin

Resistant to Moisture and Mildew

Doesn't Stain Easily

Resistant to Chemicals (like Chlorine)

Creases and Crushes Easily

Some PCFs Could Cause Health Issues 

Susceptible to UV Light Without Treatment

Polyester 

Cheap

Resistant to Stretching

Resistant to Moisture 

Easily Damaged

Less Durable (Lasts a Few years) 

Susceptible to UV Rays 

Possible Health Concerns 

Sunbrella 

Mildew Resistant 

Fade-Resistant 

Most Certified (OEKO-TEX®) Without Chemicals

More Sustainable

Strong and Durable 

More Expensive

Fewer Options (at Walmart)
While polyester is the most common and popular material of choice for Walmart patio umbrellas, it's not your best bet. You'll save money upfront, but it'll probably only last you a few years.
Add to that environmental and other concerns, and it wouldn't be my top recommendation. If you have a little money to spend, my favorite option is Sunbrella fabric. I do think that some of Walmart's olefin umbrellas are a good compromise. 
See also: How to Find the Best Patio Tables for Your Outdoor Space
Base, Ribs, and Stand 
The base and stand are usually the same material, and this is just important– or more so– than the material of the umbrella top. I do have to warn you that Walmart sells some umbrellas without a base or pole. Aside from that consideration, Walmart carries the following types of poles/ bases:
Metal 
Pros
Cons

Steel 

Resistant to Rust

Durable

Not Easily Damaged 

Gets Hot or Cold Rapidly 

Pricey 

Powdered-Coated Steel 

More Durable than Regular Steel

Especially Resistant to Corrosion

Strong

Can be Pricey

Can't Recycle

Aluminum 

Usually Cheaper

Lightweight

Resistant to Rust 

Easier to Dent 

Can Corrode if Not Treated 

High-Density Plastic 

Most Budget-Friendly 

Stronger than Regular Plastic 

Easy to Damage

Not Environmentally Friendly

Some Use Potentially Harmful Chemicals 

Fiberglass 

Light but Strong

Won't Rust

Flexible/ Does Well with High Winds
Of these, high-density plastic is the cheapest, but not your best option from Walmart. My favorite option is powder-coated steel or fiberglass. You'll get a lot more wear out of it. Some of their aluminum options are okay if you don't have high winds and treat them with care– but they still aren't my top choice if you want patio umbrellas that stand the test of time. 
Takeaway
At Walmart, it's hard to find both the highest quality fabric and metal– you usually make a compromise for one. When I have to, I spend a little more on the canopy fabric and sacrifice the pole metal– because an aluminum pole is usually secured, and the fabric will get more wear.
I also notice that Walmart will use ribs of one metal/ material, then a cheaper one for its pole. The material of the ribs is most important. 
Step Three: Brands and Features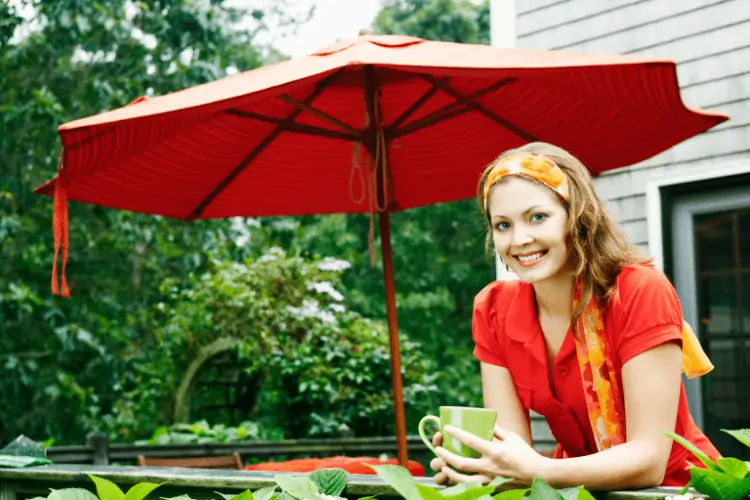 Walmart, as I said, has a limited selection of brands. Mainstays in the main Walmart brand, and they sell affordable other brands. I'd pay more attention to the features and construction of the patio umbrellas. 
Tilting Umbrellas & Swivel Umbrellas 
Walmart carries an assortment of tilting umbrellas, and these carry a notable advantage. Tilting umbrellas, as the name suggests, can be angled and adjusted as the sunlight changes. 
Offset vs Center Pole Umbrellas
Center pole umbrellas are more common in Walmart, but they also carry offset umbrellas. Offset patio umbrellas are more effective for covering awkward or large tables, while center pole umbrellas are going to provide coverage for standard round tables. 
Mobile vs Fixed Stands
Mobile stands can be moved around and thus are more versatile. However, they are a bit less stable and often less durable than fixed umbrellas. Walmart has far more options for mobile bases, and for many, it's an option that makes sense. 
Lifting and Tilting Mechanisms
Most of Walmart's patio umbrellas have fairly simple lifting and tilting mechanisms. These include pulleys, push-ups, and cranks. It's not so much a matter of which is best, but more so what fits your situation. I recommend:
Pulleys

: best for larger umbrellas

Cranks

: best for small tables

Push-Ups

: best for those with small children/ safety concerns. 
Bonus Features
A few Walmart umbrellas have bonus features that are great, such as wind vents (disperses wind flow for less pressure, more breathability), solar lights (for entertaining), and extra built-in UV ray protection. Once again, you may have to sacrifice something to get all of these features, so it's a matter of priority. 
See also: Best Solar Porch Lights
Walmart Patio Umbrellas: A Few of My Favorites 
With all of those factors in mind, the selection of over 1,000 patio umbrellas quickly narrows. If you want the cheapest patio umbrella from Walmart, you can simply filter to the lowest price online. But to find the best, higher-quality patio umbrellas, I combined all of my criteria.
That includes reputable materials, helpful features, and sensible construction, all for a fair price. You can Shop All Walmart Patio Umbrellas Here.
Sun-Ray 9'x7′ Rectangular Solar Lighted Umbrella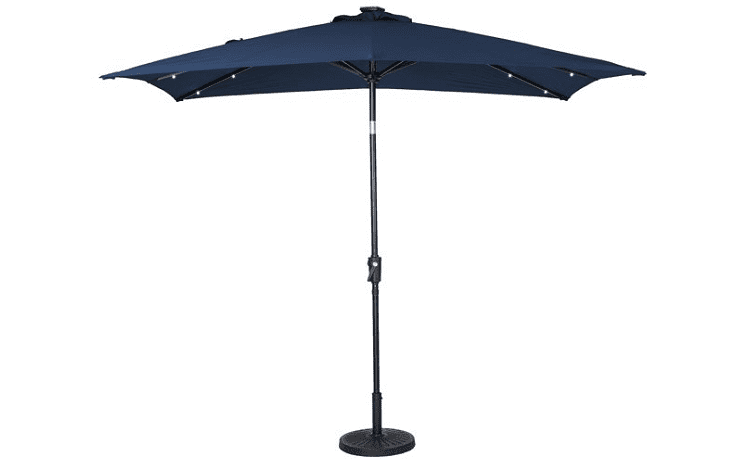 The advantage of a rectangular patio umbrella is that it covers just a bit more coverage for your money. And who said that patio umbrella had to be plain?
This umbrella is ready for entertaining, with a solar panel that runs for 9 to 12 hours at a time, and no electricity is needed. It's a tilting umbrella, so it's useful for both sunny and rainy days, with durable olefin fabric.
The classic crank mechanism makes it fuss-free to use for modestly-sized tables. This Walmart patio umbrella is available in two shades of blue, gray, green, red, and taupe. Buy Here. 
Pros
Sturdy Olefin

Tilting Style

Solar Panel 
Cons
Aluminum Isn't Strong as Steel (Pole)

May Fit Circular Tables Awkwardly
California Umbrella 9 ft. Complete Fiberglass Sunbrella Market Umbrella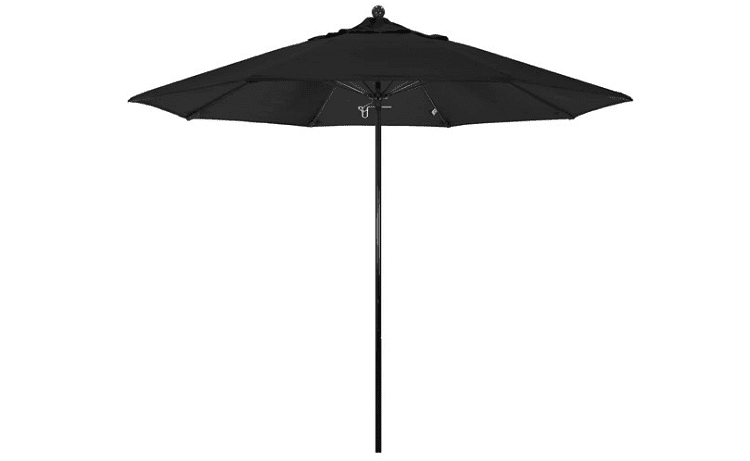 You're paying more for this patio umbrella than most at Walmart, but for good reason. If you want a standard 9-foot umbrella that will last, this is an excellent choice.
This round umbrella is made with Sunbrella fabric that's mold and mildew resistant, but also breathable. A wind vent reduces pressure, while the fiberglass ribs are strong and lightweight. The umbrella looks like linen for a more sophisticated aura and comes with a 5-year warranty.
Your fabric is fade-resistant and versatile. Plus, I like that there are over 60 colors to choose from: several shades of blue, black, tan/ beige, brown, orange, and countless more. Buy Here. 
Pros
Strong, Lightweight Fiberglass Ribs

Durable Sunbrella Fabric

Free 5-Year Warranty 
Cons
Aluminum Pole (But Acceptable)

Not Tilting 
Tempera 9 FT Auto Tilt Patio Umbrella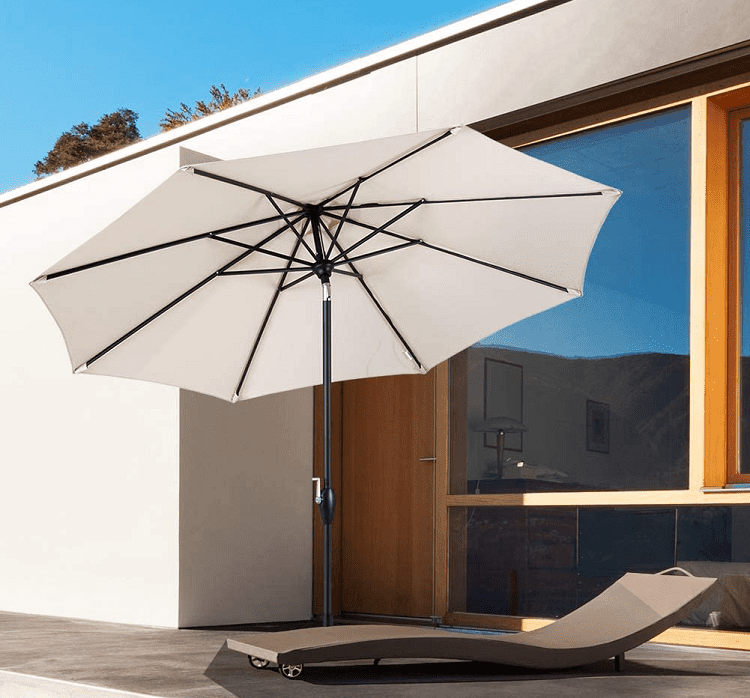 This fuss-free patio umbrella from Walmart is an excellent balance of features and a lower price. For under $100, you get an auto-tilt umbrella that's suited for any area of your patio or even as a poolside umbrella. The olefin fabric provides excellent protection against UV rays, with an SPF of 50.
Not only is this one of the best umbrellas from Walmart for sun protection, but it's also available in 10 vibrant colors and 6 unique prints/ patterns. A wind vent adds stability and breathability.
The steel ribs and aluminum pole are both rust-free, while the auto-tilt feature is easy to use and practical for all weather conditions. Colors include off-white, lime green, orange, army green, navy, red, and turquoise. Buy Here. 
Pros
Excellent Sun Protection

Steel Ribs

Durable Olefin

Under $100 

1 Year Warranty
Cons
Aluminum, Not Steel Pole

Many Colors Are Very Vibrant/ Harder to Coordinate 
Better Homes & Gardens 9′ Outdoor Market Patio Umbrella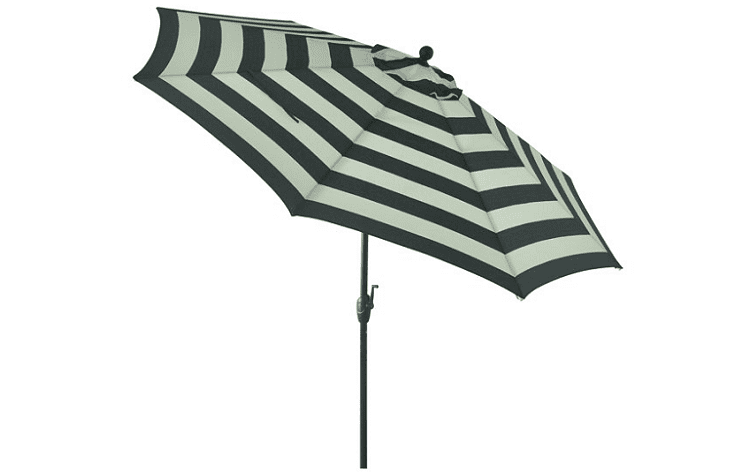 Better Homes and Gardens is probably the most well-known brand for patio umbrellas that Walmart carries. Not only is this umbrella a fantastic price, but it's also durable and stylish. The crank handle is easy and intuitive to use, paired with a stable aluminum pole. A three tilt adds versatility and function.
The steel ribs increase the strength and durability of this umbrella. This umbrella comes in stripes and solids and coordinates with other patio furniture from the Better Homes & Gardens collection at Walmart.
It's also hard to beat the price, which is well under $100. The fabric is faded and weather-resistant- though I wish it wasn't polyester. Consider this your best budget umbrella. Buy Here. 
Pros
Very Budget-Friendly

Three-Way Tilt

Stylish and Easy to Coordinate 

Steel Ribs
Cons
Not Highest-Quality Fabric

Aluminum vs Steel Pole 
Final Recommendations/ Alternatives to Walmart 
If you don't like the selection at Walmart, there are many great alternative places to shop from– and many have a wide selection of prices, styles, and brands to choose from. Here are my top recommendations. 
Closest Alternative: Wayfair Patio Umbrellas
Wayfair is known for its wide selection, competitive prices, and sales. They have nearly 6 times the listings as Walmart– with nearly 6,000 patio umbrellas to choose from.
These include patio umbrellas, umbrellas with stands and bases, and more. With clearance sections and easy search filters, it's easy to find something within your budget. The biggest problem (at least for me) is getting overwhelmed with so many options. Shop Wayfair Patio Umbrellas Here. 
Stylish Alternative: Crate & Barrel 
If you want a more upscale alternative to Walmart, consider Crate & Barrel's collection. These umbrellas are built to last, with attractive patterns and colors and a great range of sizes. 
It also is more organized than many stores online and a go-to if you need larger patio umbrella sizes. The price point is higher, as you might expect. Shop Crate & Barrel Patio Umbrellas Here. 
Frequently Asked Questions
Question: What do I do With an Old Patio Umbrella?
Answer: I've been guilty of throwing an old patio umbrella out when I was younger, but that's not a good option. Now I know there are far superior ways to deal with an old umbrella.
An obvious one, if it's in good condition, is to sell it through a garage/ yard sale. The material of an umbrella can be repurposed through upcycling. If you're crafty, the canvas can be used to make clothing, decor, and purses. But if you're not into that, you can also recycle your umbrella.
The canvas material should be detached from the base and pole. If you have a plastic or wood base, check your local recycling center's policies. You can also donate rubber bases to places like Rubberecycle. Some donation centers are interested in patio furniture, including umbrellas, but call first. 
Question:
What Size Umbrella do I Need for 2 People?
Answer: If you have a small table that seats two, the key is to look at its diameter. The average diameter of such a table is around 30 inches.
They properly cover both the table and two people, umbrellas should be around 6 to 6.5 feet around. You'll also need to check the weight capacity of the base. Some prefer partial coverage and opt for a slightly smaller umbrella, especially if they're limited on space. 
Question:
Can I Use a Patio Umbrella Without a Table?'
Answer: While patio umbrellas are usually paired with a table, a table isn't one hundred percent necessary. Patio umbrellas can be used with lounge chairs, fold-up chairs, and just for spaces where you want more shade. You'll need an umbrella base or umbrella stand.
Umbrella stands are economical and can be bought at most home goods stores. The Home Depot Patio Umbrella Stands Collection includes resin, iron, and plastic bases, both with wheels and without wheels. They have a nice variety of materials, prices, and styles.  
Final Thoughts
Walmart offers competitive prices for patio umbrellas, and the selection is extensive, with over 1,000 online listings alone. I don't love their options for larger, 15-foot umbrellas, but this Castaway 15 ft Patio Umbrella– doesn't have the best materials, but it does have some good features. It's double-sided and has steel ribs for support against high winds. 
Recommended Reads: