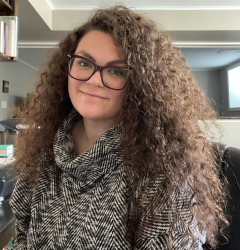 Latest posts by Candace Osmond
(see all)
Gently swaying on your new wooden porch swing on a summer day sounds wonderful, doesn't it? Nowadays, there are thousands of different porch swings for you to choose from. It can be overwhelming trying to figure out which companies are reputable, which porch swings offer style and functionality, etc.
So, I've got the 10 best wooden porch swings available online right here. I'll also give you a brief guide about what to look for in a quality porch swing and I'll recommend some of my favorite types of wood. Ready? Let's swing into action!
Bottom Line Upfront
Well, as much as I love the look of the $11k model *cringes at price tag*, I have to say, my fav on this list is definitely the 2-Person Sheesham Solid Wood Porch Swing because I can just picture my husband and I swinging away together in it.
Top Picks
Before we go any further into what makes a perfect porch swing, I'd like to recommend these 3. Each of these wooden porch swings has my official stamp of approval for design and durability. If you'd like to browse through a selection of excellent porch swings right away, check out these ones!
Best Overall: 2-Person Sheesham Solid Wood Porch Swing
This is one of the most luxurious, elegant porch swings I've ever seen. The wood carvings are a work of art.
Best for Small Porches: Furinno Tioman Hardwood Patio / Garden / Outdoor Porch Swing
This is a single-person porch swing that's perfect for relaxing outdoors while enjoying some quality you time.
Best Bargain: Furinno Tioman Hardwood Patio / Garden / Outdoor Porch Swing
You can't beat the price of this 2-person porch swing! The wood is a beautiful medium brown color, too.
Pros and Cons of Wooden Porch Swings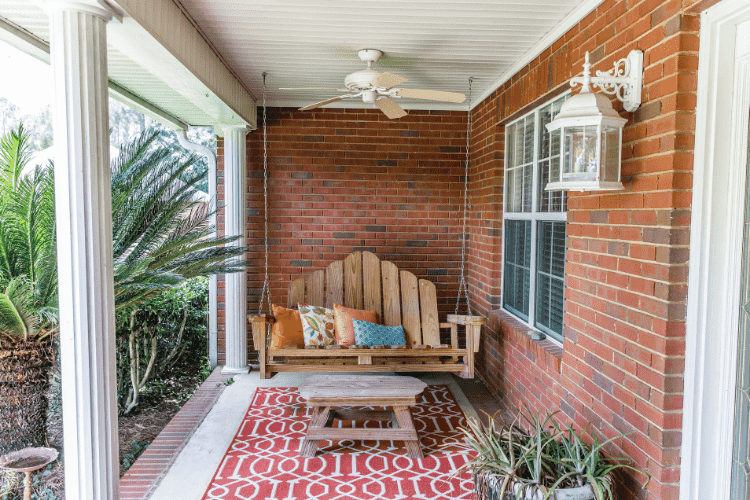 As with basically everything these days, there are pros and cons to owning a wooden porch swing. This section shows you what those pros and cons are so you can make the right choice in deciding if a porch swing is right for your home.
Pros

Classic and beautiful outdoor furniture
Provides you and your guests with a place to sit outside
Many are highly durable and can stay outside all year
Many color and design choices
Options for 1-person and 2-person porch swings
Easy to clean and care for

Cons

Can be expensive
Not all porch swings come with a warranty
Assembly can be difficult
Types of Wooden Porch Swings
This section will quickly break down what each type of popular wooden porch swing is. You might be shocked to know there are many types! If you're unfamiliar with different kinds of porch swings and want to find the perfect fit for your home, read on.
Hanging
These porch swings hang from the ceiling or other strong structures outside your home. The swing is attached to metal chains which allow it to be hung from somewhere above. Usually, these are some of the least expensive porch swings.
Porch Swing with Stand
This kind of porch swing comes with a frame. Don't worry about attaching the porch swing to your house, because the metal chains are connected to the frame the swing comes with. Since the frames are large and sometimes intricately carved, this kind of porch swing is one of the pricier ones.
Anti-Gravity
If you're in for a unique experience, I recommend trying out anti-gravity porch swings. Like their name suggests, this type of porch swing makes it feel as though you're sitting in a space without gravity. Anti-gravity products can help with spinal health and reduce pain on painful pressure points.
Glider
This type of porch swing is unique because instead of being hung up by chains, these swings rock from the bottom. The bottom stand has parts that allow it to sway back and forth when you sit on the bench. Glider porch swings typically move more gently than other types of porch swings.
What to Look for in Wooden Porch Swings
Before we get to the 10 best wooden porch swings, I'm going to show you what to look for before you invest. Picking out a new porch swing should be loads of fun, and I know you'll pick the perfect one once you know about what's going on in the fine print.
Size
You can choose to buy either a 1-person porch swing or a 2-person porch swing. Generally, when buying a 2-person swing, you'll have the option to choose a swing that is either 4 feet or 5 feet long.
Prices
Bigger wooden porch swings are typically more expensive than smaller ones. This isn't always the case, because hanging porch swings are usually less expensive than porch swings with a frame. Anti-gravity porch swings can still be relatively expensive, too.
See also: Best Lowes Porch Swing Guide
Wood Type
Hardwoods are far superior to softwoods when it comes to porch swings. The wood fibers in hardwoods are more tightly bound together, which is why it's harder for water to seep into them. Hardwoods like hardwood maple and cherry are more resistant to rotting and other water damage than woods softer than them.
Design
Design choices are limitless! Some wooden porch swings have old-fashioned, ornate carvings while others are modern and simple. Whatever aesthetic you want for your home's curb appeal, you can find it with how many different varieties of porch swings are available nowadays.
Quality
All of the 10 porch swings I recommend below are from reputable brands. When you're trying to find a brand you trust, I recommend doing a little research into the company. Check to make sure other customers have been satisfied with their porch swing before investing in one of your own.
See also: Best Patio Design Ideas: All You Need To Know
Best Wood for Wooden Porch Swing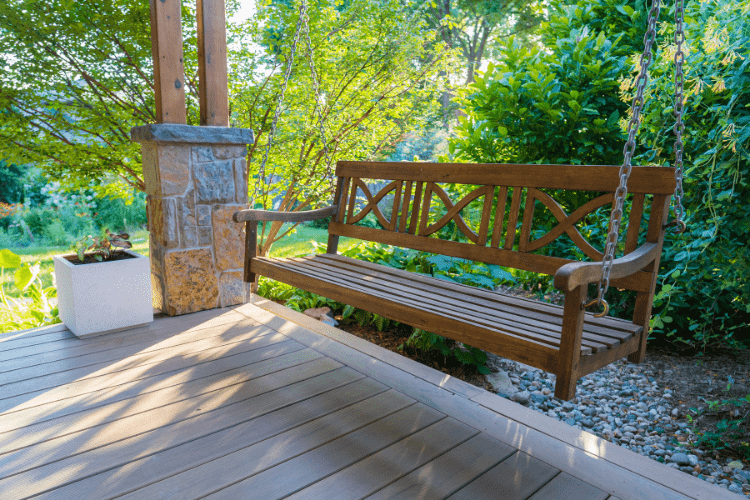 These are my top suggestions for a porch swing with beautiful, durable wood. There are even more highly strong, weather-resistant, and gorgeous types of wood than this, but these are readily available in most places. I'll explain what makes each unique.
Black Walnut
Hardwood
Hard for water to seep into wood pores
Gorgeous dark brown color
Found in North America
Resistant to infestations
Relatively expensive
Cherry
Hardwood
Found in North America
Resistant to weathering, water damage, and infestations
Cherished for its stunning deep red color
Relatively expensive
Hardwood Maple
Hardwood
Resistant to infestations and water damage
Pretty blonde color
Found in North America
Inexpensive compared to many other hardwoods
Oak
Hardwood
Very durable and resistant to water damages
Found in North America
Beautiful pale color
Relatively inexpensive
Tips for Caring for Your Wooden Porch Swing
If you set cushions on your porch swing, make sure to take them inside before it rains
You may need to re-seal the wood with oil once enough years have passed
Wash your porch swing with warm water and soap when it gets dirty
See also: Where to Buy Patio Furniture Online
Best Wooden Porch Swings
Ready to swing into action? These are the 10 best wooden porch swings available online. I picked them based on their design, quality construction, and price points.
Porch swings offer your family and guests a place to sit down outside and enjoy the warm weather. Sitting on a porch swing brings to mind homemade lemonade, chirping crickets, and laughing with loved ones, doesn't it? Each of these 10 will bring uniqueness and elegance to your porch, so let's take a look.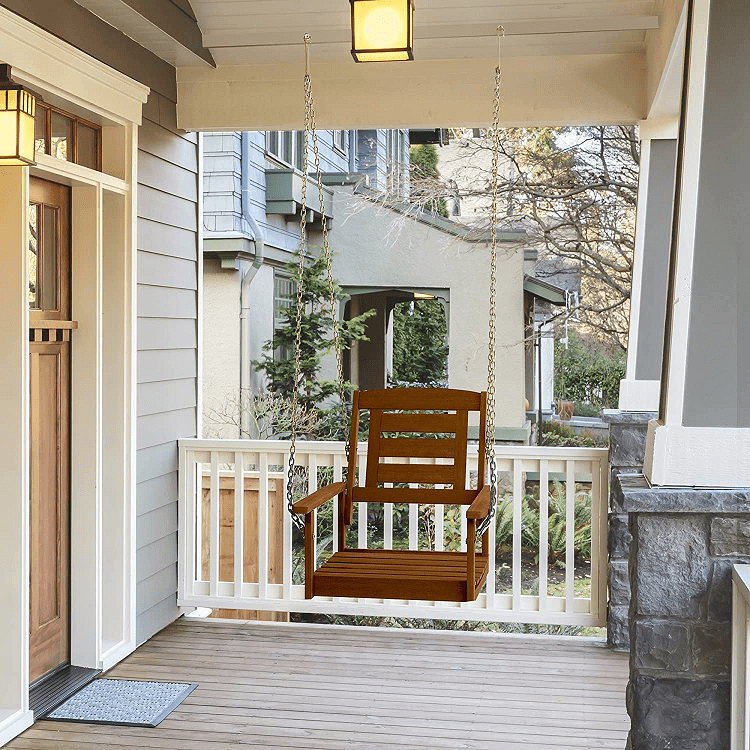 Do you enjoy spending time outdoors alone, either reading a book, listening to podcasts, or simply observing nature? Definitely consider investing in a single-seat porch swing like this one.
Material: Meranti wood
Price Range: $90-$110
Warranty: 30-day free return policy
Colors: Natural medium brown wood
This inexpensive wooden porch swing fits perfectly on small porches. It's the ideal, cozy spot for one person to relax and unwind. 4 sturdy metal chains hold the deep meranti wood swing up.
Pros
Perfect for small porches
Great for relaxing outdoors while enjoying alone time
Treated with teak oil for water resistance and enhanced durability
Cons
Only meant to seat one person at a time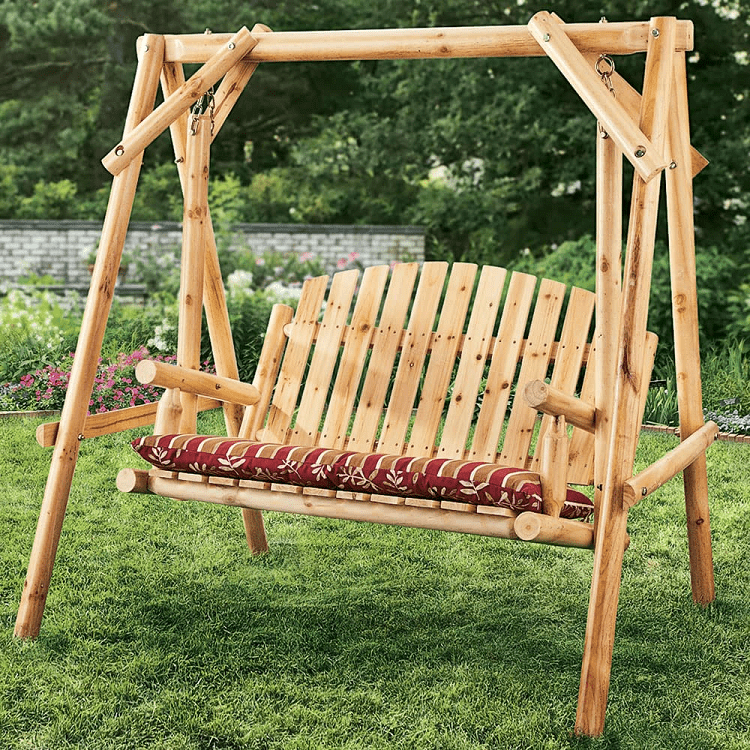 This 2-person log swing is great for enjoying the setting summer sun with company. When you buy this swing, you'll receive the frame, the swing, and all the hanging hardware you see in the picture.
Material: Chinese fir wood
Price Range: $260-$300
Warranty: 30-day free returns policy
Colors: Natural pale wood
For added comfort, I recommend buying a cushion to put down on the bench. People who prefer the look of natural wood will love the gorgeous color and texture of the Chinese fir wood used to make this swing.
Pros
Can seat 2 people at a time
Natural Chinese fir wood looks gorgeous
Low maintenance and easy to clean
Cons
Buying accident protection plans that last for years are over $30 minimum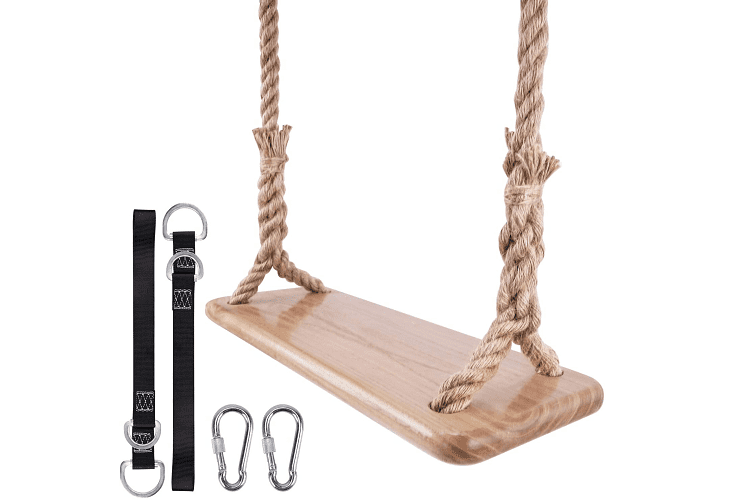 Isn't this magical tree swing like something out of a fantasy movie? Leofit makes swing boards for kids and adults, so you can either buy one for yourself or the little ones.
Material: Elmwood
Price Range: $31-$41
Warranty: 30-day free returns policy
Colors: Natural wood
The swing board is made from elmwood, which has been sanded down along all the edges to prevent injury. Paired with sturdy hemp rope, this tree swing has a whimsical, natural look. Be sure to learn more about tree swing safety before attempting to install one yourself!
Pros
80 inches of hemp rope are adjustable
Inexpensive swing perfect for one person to enjoy
High-quality hemp rope, metal connectors, and swing board
Cons0
Not technically a porch swing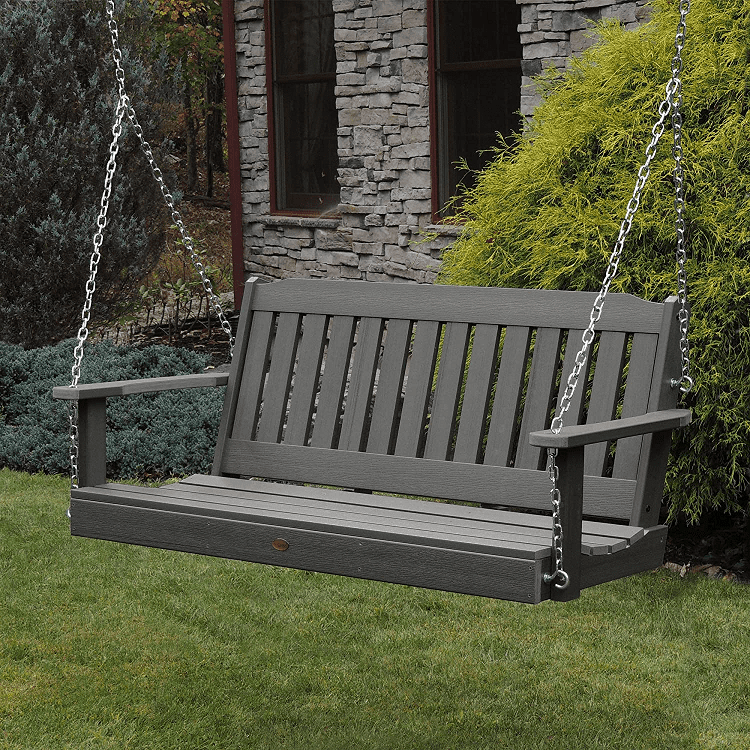 If you want to bring classic elegance to your porch, I recommend this 2-person wooden porch swing. You'll have your choice of 11 different colors, so your swing will match the theme of your home's exterior.
Material: Engineered wood and plastic
Price Range: $430-$470
Warranty: 30-day free returns policy
Colors: Black, white, brilliant white, Charleston green, coastal teak, dried sage, Nantucket blue, whitewash, toffee, Tuscan taupe, and weathered acorn
This porch swing weighs 38 pounds, so it's easy for one person to assemble on their own. You can leave this swing outside all year round because it's manufactured to be weatherproof and highly durable no matter what the sky's doing.
Pros
Wide selection of color options
Gorgeous design and beautifully painted
Weatherproof year-round
Cons
Materials aren't as high-quality compared to some of the other swings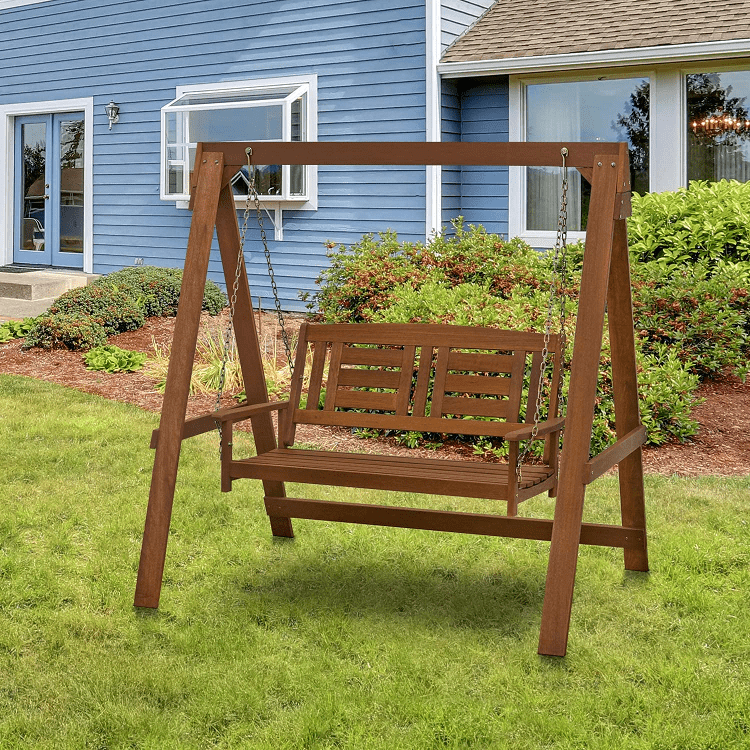 The brand that made the single-person porch swing above also made this 2-person porch swing with a frame in the same color.
Material: Meranti wood
Price Range: $200-$240
Warranty: 30-day free returns policy
Colors: Natural medium brown wood
The teak oil the gorgeous wood is treated with not only keeps the wood resistant to water damage but also keeps the wood shiny all year round. As far as 2-person wooden porch swings with frames go, this one is budget-friendly, durable, and beautiful.
Pros
Beautiful deep brown color
Treated with teak oil to boost weather resistance and durability
Very strong metal chains
Cons
Only 1 color choice available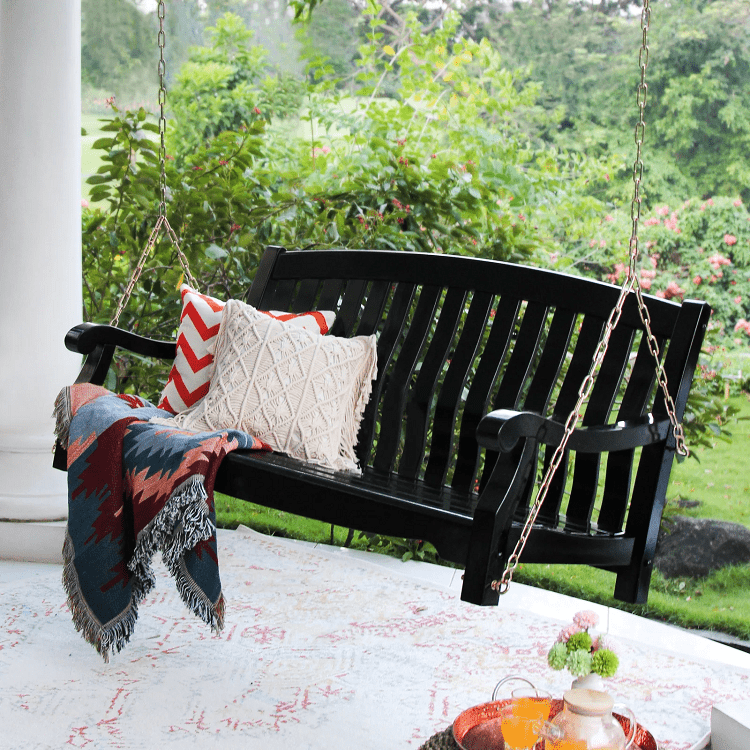 This 2-person porch swing from Wayfair is available in black and white. Whichever would look best with the outside of your home, I'm sure you'll love how the wood has been carved simply yet elegantly.
Material: Wood
Price Range: $570-$610
Warranty: 1-year limited warranty
Colors: Black and white
This is a hanging porch swing, so you'll need to attach the metal chains to a sturdy part of your home. With an extra fee, you can pay a professional to assemble your new porch swing for you when it arrives at your door.
Pros
2 colors to choose from
Beautifully carved wood with a classic design
Polyurethane coating keeps the paint and wood extra durable
Cons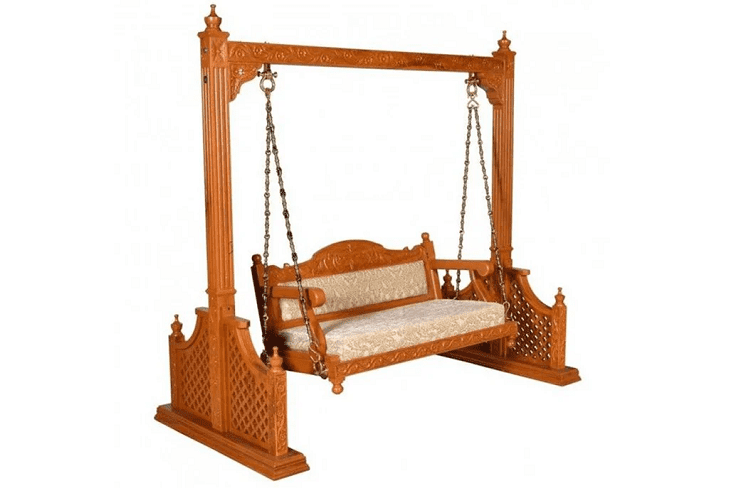 You and a loved one can enjoy the height of luxury with this beautifully carved, intricate, and extremely long-lasting wooden porch swing.
Material: Sheesham wood, neem wood, and mango wood
Price Range: $11,000-$11,200
Warranty: No commercial warranty
Colors: Natural wood and black
This porch swing's frame is like something out of a fairy tale or an Oscar Wilde novel. Every detail screams expert craftsmanship-even the comfortable cushion embedded in the seat! You'll enjoy that this rust-resistant porch swing hangs from quality, decorative chains.
Pros
Most high-quality wooden porch swing on the list
Gorgeous wood carvings all over the bench and frame
No assembly required
2 beautiful colors to pick from
Cons
Most expensive wooden porch swing on the list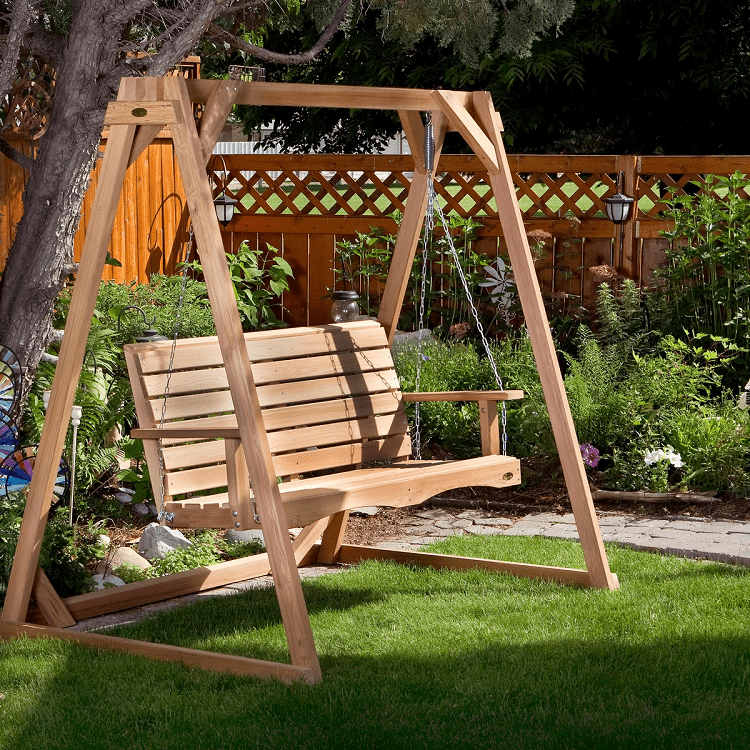 Ready to enjoy the great outdoors this summer, but aren't looking to spend a fortune? I recommend you check out this simple yet classic 2-person wooden porch swing.
Material: Cedar wood
Price Range: $300-$340
Warranty: 30-day full warranty
Colors: Natural cedarwood
The pre-drilled holes in the sides of the porch swing make it easy to assemble and hang from your home's ceiling. Since this swing is made from Western red cedar, you can rest assured the wood is beautiful and resilient against the elements.
Pros
Gorgeous cedarwood has been left its natural color
Seat is gently curved to be more comfortable
Highly durable metal chains
Cons
Assembly is required, and you have to pay extra to have professionals assemble it for you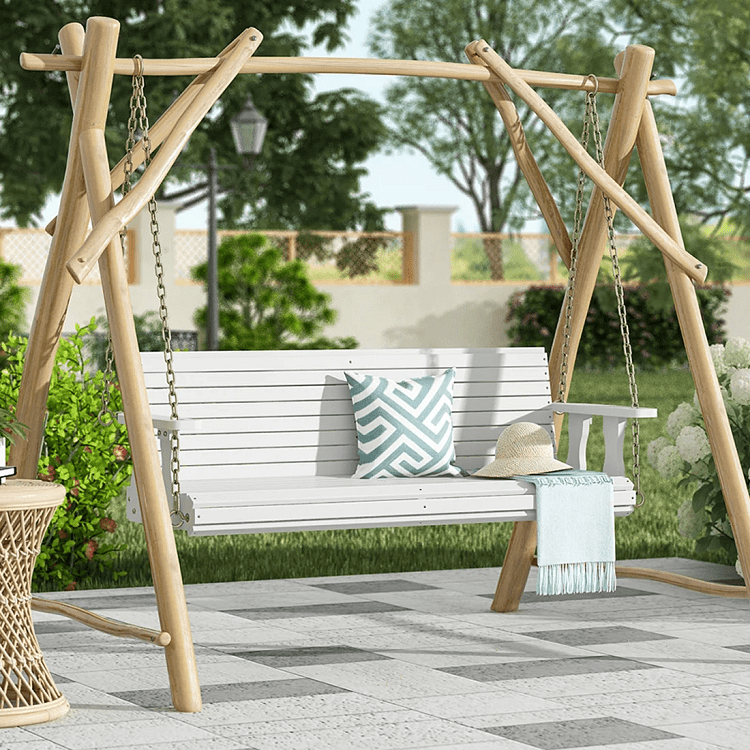 This porch swing reminds me of something you might see in a summer fashion magazine. If you want the outside of your home to showcase a modern look with light colors, this is the porch swing I recommend.
Material: Firwood
Price Range: $460-$500
Warranty: No commercial warranty
Colors: White with natural fir wood
The white painted swing and the natural fir wood frame fit perfectly together. 2 people can sit at this swing at one time, so you can enjoy your time on this swing with those you treasure most.
Pros
Beautiful, modern wooden porch swing
Frame is simple and elegant
Since this porch swing comes with a frame, you can place it anywhere outside
Cons
Some may not like that the frame is a different color than the bench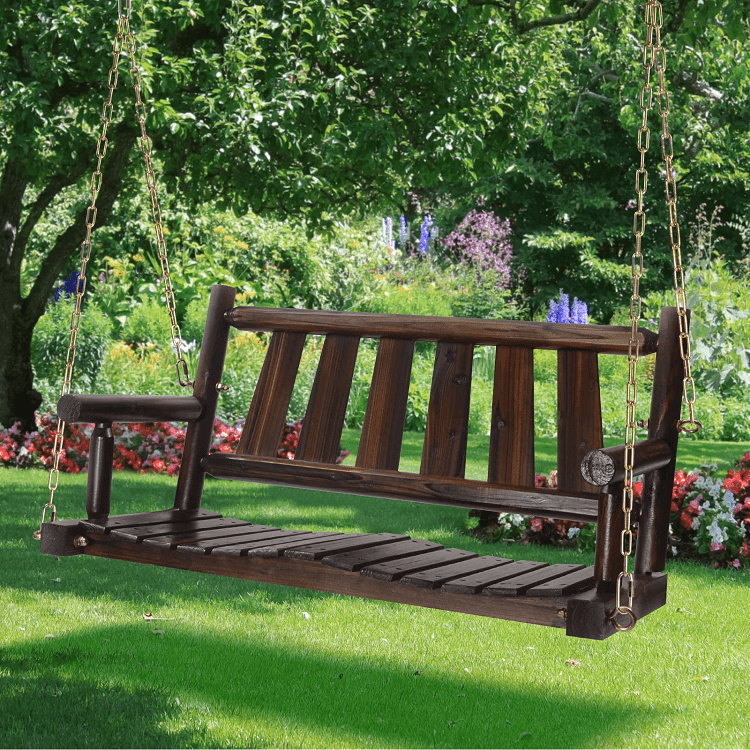 The last (and certainly not least) wooden porch swing I have to show you today is this dark brown one.
Material: Manufactured wood
Price Range: $550-$620
Warranty: 60-day limited warranty
Colors: Natural dark brown
This is another hanging porch swing, but no assembly will be required once you receive the product. You can place cushions on the bench to make this comfortable swing even more comfortable, or you can leave it as is!
Pros
Wood has deep hues and is polished to perfection
Can hold up to 800 lbs.
No assembly required
Cons
Expensive for being made of engineered wood
FAQs
Never fear, because your most frequently asked questions will be answered here!
How Much Does a Wooden Porch Swing Cost?
That depends on which kind of wooden porch swing you want. Single-person porch swings are going to be significantly less pricey than two-person porch swings which are four to five feet across. The type of wood, the brand, the number of pieces, the size of the frame, and more all determine the price of the swing you want. Expect to pay over $250 for a two-person porch swing.
What is the Best Wood for an Outside Swing?
Some of the best types of wood for an outside swing are hardwood maple, cherry, oak, and black walnut. Each of these North American hardwoods is highly resistant to rotting, mold, water damage, infestations, and more.
Is a Wood or Metal Porch Swing Better?
I would argue that wooden porch swings are better. For one thing, wood is a more attractive material than metal. I dunno about you, but I want the outside of my home to look as gorgeous as the inside. Hardwoods are highly durable, so there's no reason to settle with a metal swing that's going to be too hot to sit on in the summertime, anyway.
Swing into Summer!
Did you enjoy learning about the 10 best wooden porch swings on the internet? Each swing had something a little different to offer, but they all have one thing in common: quality. Was there one porch swing you liked the best? I loved the 2-Person Sheesham Solid Wood Porch Swing.
Let me know why you liked it in the comments below! To learn even more about your options for classic, stunning outdoor furniture, have a peek at our website!
Recommended Reads: