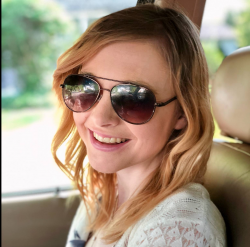 Latest posts by Erin Jamieson
(see all)
Some of my favorite memories include family get-togethers on my parent's patio. Swivel patio chairs allowed us to interact freely and share many meals, celebrate birthdays, and enjoy each other's company. When I say a great swivel patio chair can transform a space, I don't just mean aesthetically. 
Whether you're looking for a cheaper patio swivel chair or a patio swivel chair dining set, I have you covered. In this guide, I'll share how to find the best patio swivel chairs so you can make a purchase that lasts long enough to make your memories. 
Bottom Line Up Front Summary
To find the best patio swivel chairs, you need to consider durability and stability. Steel or aluminum frames are usually best, and even better if they are powder-coated. Seat materials should be moisture and fade-resistant, Options include PVC, polyethylene, and Sunbrella fabrics. I like chairs that hold 220 to 250 pounds or more and only buy from reputable suppliers.
 If I had to recommend one patio chair for different budgets and needs, it would be something like the Sarvis Swivel Patio Dining Chair. While not the most comfortable, it checks all the boxes without a premium price. It can be used for dining or beside pools and is weather friendly. 
My Top Picks
Why You Should (Or Shouldn't) Buy a Swivel Patio Chair
Before you buy a swivel patio chair, it's important to ask yourself: Is this the best option for my space? It reminds me of when I was growing up and badly wanted a swivel desk chair. I was focused on getting one for the style, without considering the little space I had in my bedroom or that it wouldn't work well with the worn carpet. Swivel chairs are an exciting way to upgrade a patio, but there are pros and cons. 
Pros 
Swivel patio chairs are excellent choices for bar sets. Swivel chairs provide more movement and versatility. They allow you to interact with others seamlessly- all without straining your neck. While swivel porch chairs don't need to take up much space, you can get a lot of use out of them. While many swivel porch chairs are modern, they come in a nice range of styles and add a pop of personality. Just like other patio chairs, you can find swivel chairs for most budgets. 
See also: Best Walmart Patio Chairs Guide
Cons 
Swivel patio chairs aren't as safe as other patio chairs. For one, if you have young children, be careful with how they use the chairs. Swivel chairs tend to break more easily than other chairs. I also wouldn't recommend swivel patio chairs alone if you or your guests have lower back conditions. 
Takeaway
The good news is that most of the downsides to a swivel patio chair can be mitigated. Buying a sturdy and well-constructed chair reduces your risk of it breaking or injuring you. A swivel chair is far more likely to break if it's not used as intended. While you can rotate your chair, it should not be used for repetitive and rapid spinning (as I was guilty of as a kid). If someone has mild back problems, supportive cushions can help. Plus, more issues are related to chairs people sit in for hours at a time. 
How to Choose a Patio Swivel Chair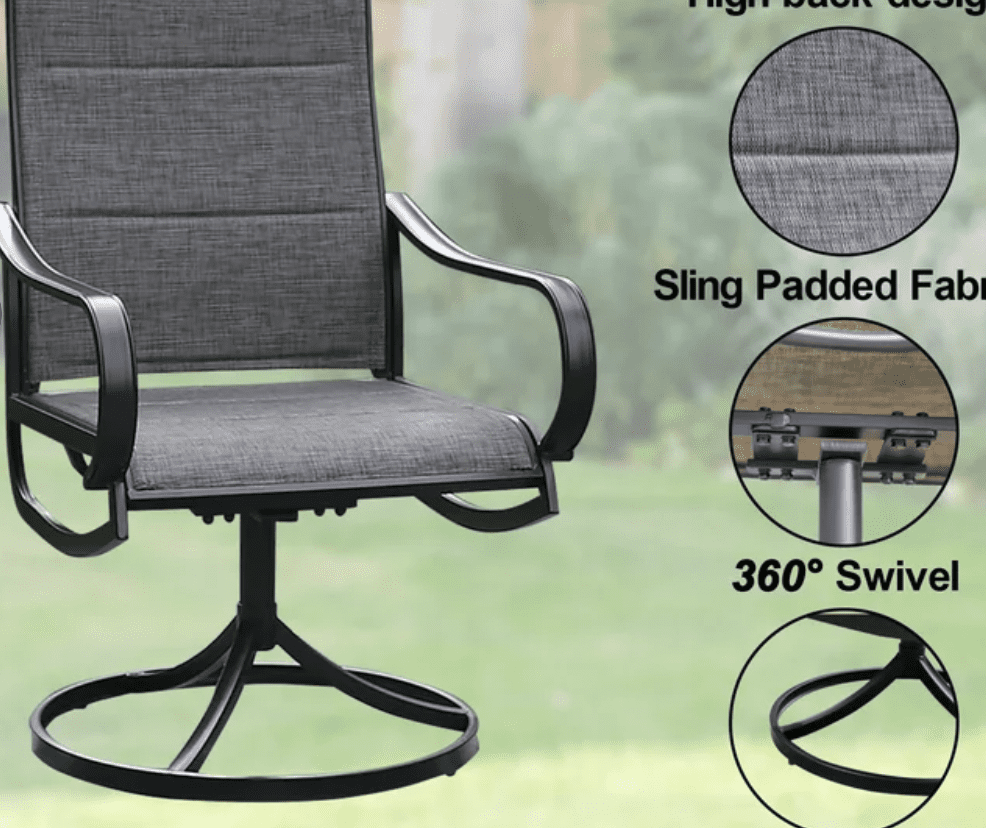 Deciding to buy a swivel chair for your patio is one thing. Choosing the best swivel patio chair is another. In the past, I've made the mistake of buying the cheapest chair I could find. While I think it's important to respect budgets, you end up saving money in the long run if you buy a patio swivel chair that can endure weather conditions and regular use. 
Step One: Best Frame Materials for Patio Swivel Chair 
The base frame of the swivel chair has a lot of weight on it. It must perform well and ideally shouldn't become damaged in the sun, rain, or even snow. For a swivel patio chair, here are your best options. Another plus I like to look for is powder coating. This extends rust and UV-light resistance and extends a metal's durability up to two decades. 
Best For Budgets: Aluminum Frames
Aluminum frames are the most lightweight and affordable, aside from plastic. However, there's a big difference between regular aluminum frames and cast or wrought aluminum frames. Both cast and wrought aluminum are much stronger and denser than typical aluminum. These also will not rust or corrode. While they can be damaged with heavy use, both cast and wrought aluminum frames are a great option for swivel patio chairs if you're on a budget.  
Strong, but Not Great For Most: Iron Frames
Wrought iron is less common for swivel chairs- but if you want a patio swivel chair that lasts, this is a great option. These frames are hardy and resistant to weather. The downside is that there aren't many options and they get quite hot in the sun. But the largest downside is that iron can rust if not treated properly. To keep it free of rust, you'll have to regularly clean it with mild soap and it must be stored indoors during winter 
Best for Overall Value: Stainless Steel Frame
For a swivel patio chair, I like a stainless steel frame most. Stainless steel not only provides a sleek and modern look, but it's also quite durable. It's stronger than aluminum, more lightweight than iron, and won't corrode. While not as cheap or light as aluminum, this frame is a great balance of lightweight strength and performance. 
Best Natural: Teak 
Teak is a wood suited for the outdoors because it produces natural oils. You don't have to worry about it corroding, rusting, or collecting moisture. Often, teak will be paired with a metal (for the swivel component). It's usually reserved for premium outdoor swivel chairs and provides a classic look. These chairs will lean heavier, be more expensive, and require a bit more upkeep. I also like to warn that teak naturally turns grayish as it weathers. 
See also: Best Farmhouse Porch Swing Ideas
Step Two: Seat Materials for Patio Swivel Chair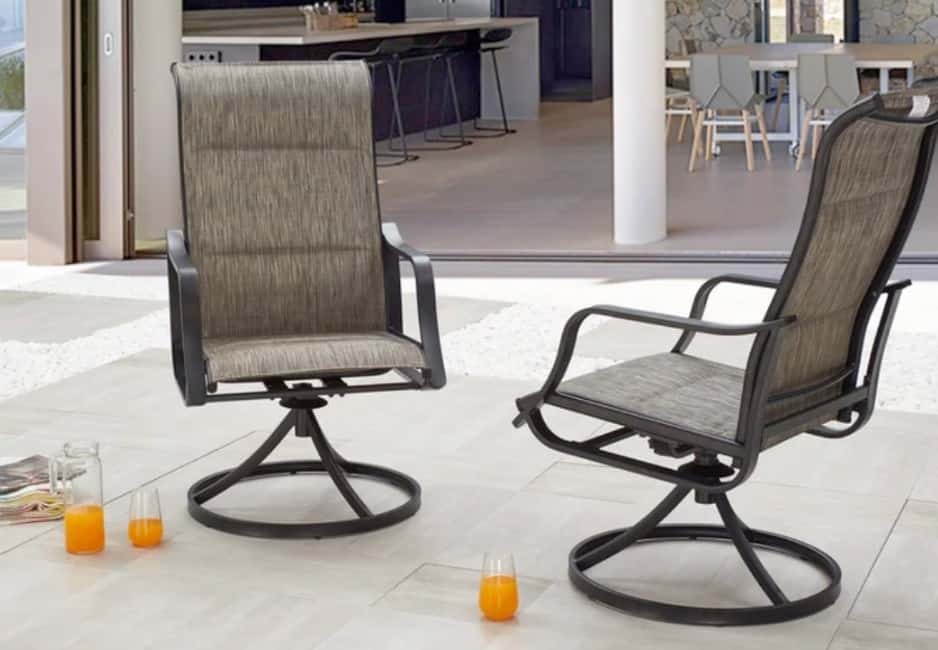 In addition to the swivel chair's frame, the seat is important. This isn't just a matter of comfort, but durability. Unless you plan on bringing your chairs in whenever it rains or gets cold (let's be honest: most people don't), this is a step you can't skip. So what are the best options?
Best for Bars & Dining: Polypropylene Fabric
If you want practical, fuss-free, and affordable, it's hard to use polypropylene for swivel patio chairs. It's lightweight, UV and fade resistant, and quick to dry. It's also low-friction and flexible– which is ideal for a chair you'll be moving around in. However, it shouldn't be placed near pools, because it can deteriorate with chlorine. It's also highly flammable, so I'd never recommend this material if you want swivel chairs near a fire pit. 
See also: Best Fire Pit Chairs Guide
Best For Poolside Porches: PVC Fabric
PVC or Polyvinyl chloride is incredibly cheap yet both lightweight and suited for the outdoors. Unlike polypropylene, it won't become damaged by splashes or chlorine. However, there is a notable downside. Some PVC materials contain lead and cadmium, which can potentially impact health. As such, I'd shop for a lead-free PVC seat. 
Best High-End, For Anywhere: Sunbrella Fabric 
If you haven't heard about Sunbrella fabric, that's understandable. But if you have a higher budget, it's an excellent fabric choice if you're buying a swivel patio chair with a seat cushion. Whether you want something near a pool, bar, or even a fire pit, this fits this bill. Sunbrella fabric is durable, fade-resistant, mildew-resistant, and moisture-resistant. It also provides more cushioning- a consideration if you want a swivel patio chair but has muscle pain. The biggest downsides are the limited availability and high price point. 
See also: Best Target Fire Pits Guide
Step Three: Swivel Chair Base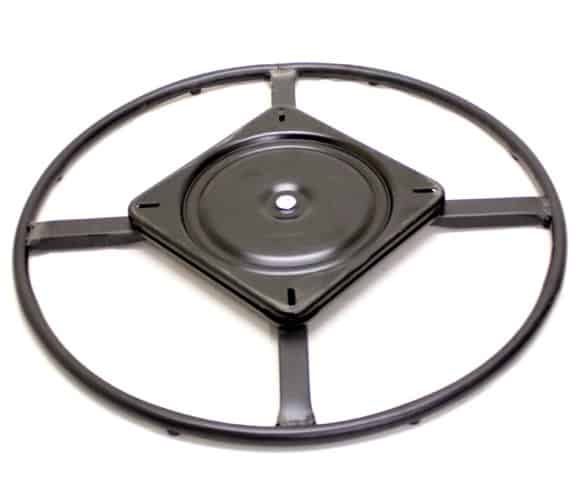 The base should be securely and firmly attached to the frame. There will be either a square or circular bottom frame. Circular bases are more space-efficient and may have more natural movement. Pay attention to the rotation range. Some outdoor swivel chairs only rotate partially, while others boast 360-degree rotation. Some swivel chairs come with height adjustments, usually with a simple level. The benefit of this is not only extended use but also a more comfortable fit for different people. 
Step Four: Swivel Chair Dimensions
Selecting a sturdy swivel base is important. Chairs that weigh less than 25 pounds are more likely to tilt over and lack the stability you need. The best outdoor swivel chairs weigh at least 26 pounds. Weight capacity is also a sign of how stable and substantial your chair is. I'd aim for a chair that accommodates 220 pounds, even if no one near that weight will be using it. 
Swivel chairs for bars should reach up to 28 to 30 inches high, while a good standard height is 18 to 20 inches. Those that are taller will need a greater seat depth. Measure your patio space and give yourself enough room for the swivel chair to rotate in every direction. 
Step Five: Buy From a Reputable Store
Finally, you'll need to select a style that suits you– and a price point. There are many places to buy patio/ outdoor swivel chairs, but I only recommend shopping from a place that has clear customer service, shipping, and return policies. I also only buy from secure websites (or in-store) and those with a great selection with fair prices. Depending on your needs, here's where I recommend shopping. 
Cheap/ Budget Patio Swivel Chairs
Overstock, Walmart, Costco, Wayfair, Bed Bath & Beyond, Target
Mid-Range Patio Swivel Chairs
Home Depot, Lowe's, Menard's, Ace Hardware, Target, Wayfair 
Premium/ High-End Patio Swivel Chairs 
Speciality Furniture Stores, Pottery Barn, Birch Lane, Williams-Sonoma, Crate and Barrel
Patio Swivel Chairs I Love 
Not sure where to start? Here are just a few examples of great patio swivel chairs that fit my selection criteria. These patio chairs are made with durable, weather-resistant materials, a sturdy swivel base, and are a good value. From a budget swivel patio chair set to a premium swivel patio chair, there are options for all needs. 
Simply Essential Outdoor Dining Swivel Chair Set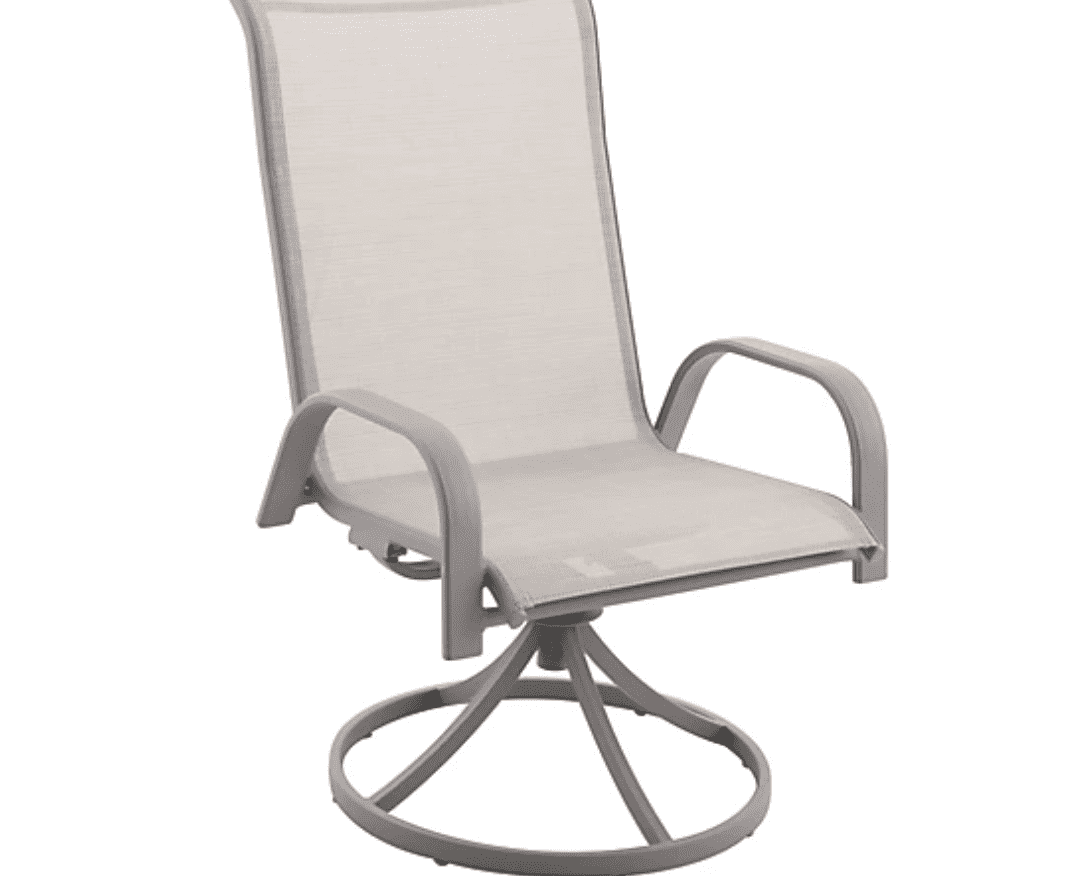 This set of two swivel chairs is simple, practical, and at a good price. While I found slightly cheaper options, paying just a little bit more provides better craftsmanship. These swivel chairs certainly aren't high-end, but they do the trick for regular patio use. The powder-coated aluminum frames are resistant to rust and moisture. They're lightweight, stackable, and pair well with a small bistro set or just as casual seats. Lightweight as they are, these chairs accommodate up to 220 pounds each, have an easy-to-use swivel base, and come with a one-year warranty. Buy Here. 
Specs
29.37″ L x 25.19″ W x 39.37″ H

Accommodates up to 220 Pounds 
Pros
Good Price

Versatile

Rust and Weather-Resistant
Cons
Not that Comfortable

Aluminum is Easier to Damage 
Charlton Home Sarvis Swivel Chairs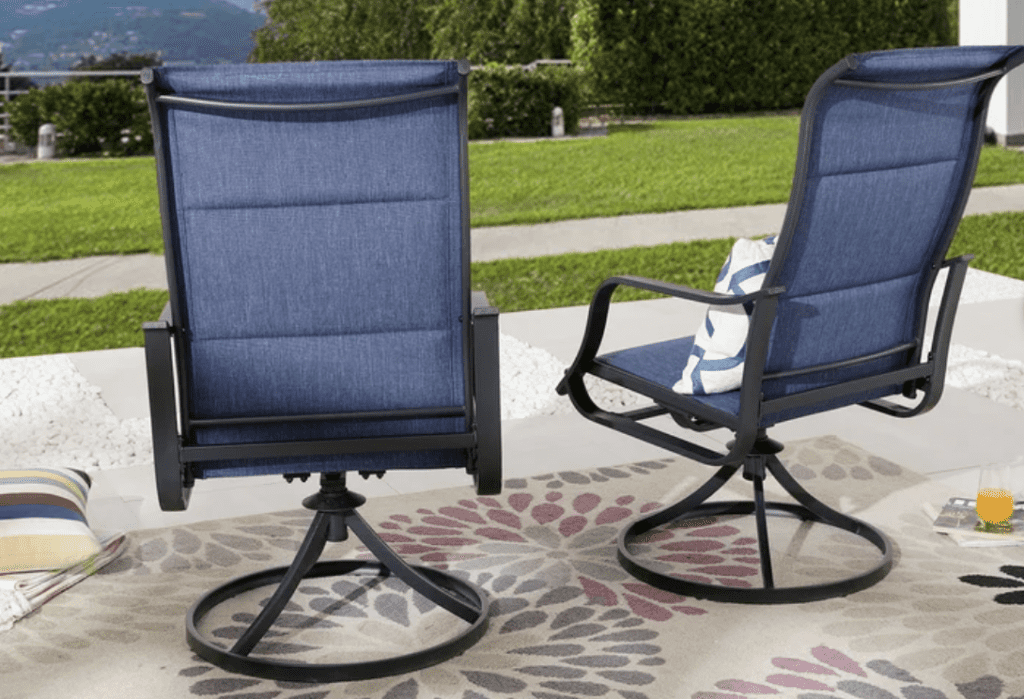 If you're fortunate enough to have a pool– or want chairs to take with you near a body of water– then these swivel chairs are a good fit. PVC fabric won't become damaged by chlorine or other chemicals the way most fabrics will, while the metal frames are rust-proof and resistant to corrosion. The frame and fabrics are both resistant to water and UV light, so you can leave these chairs out on any patio. I also like the 360 degrees of swivel action. If you want different color options, there are some solid recommendations when you scroll down the page, but this set also comes in gray and beige hues. There's an optional 3- year protection plan for another $50.  Buy Here. Do (Need something that takes more weight? This Swivel Set holds 350 pounds). 
Specs
41.7" H x 23.4" W x 31" D

Accommodates up to 250 lbs 
Pros
Resistant to Chemicals like Chlorine 

Won't Fade or Rust 

Easy Care 
Cons
No Cushions

Protection Plan Costs Extra 
Aeronwy Patio Swivel Chair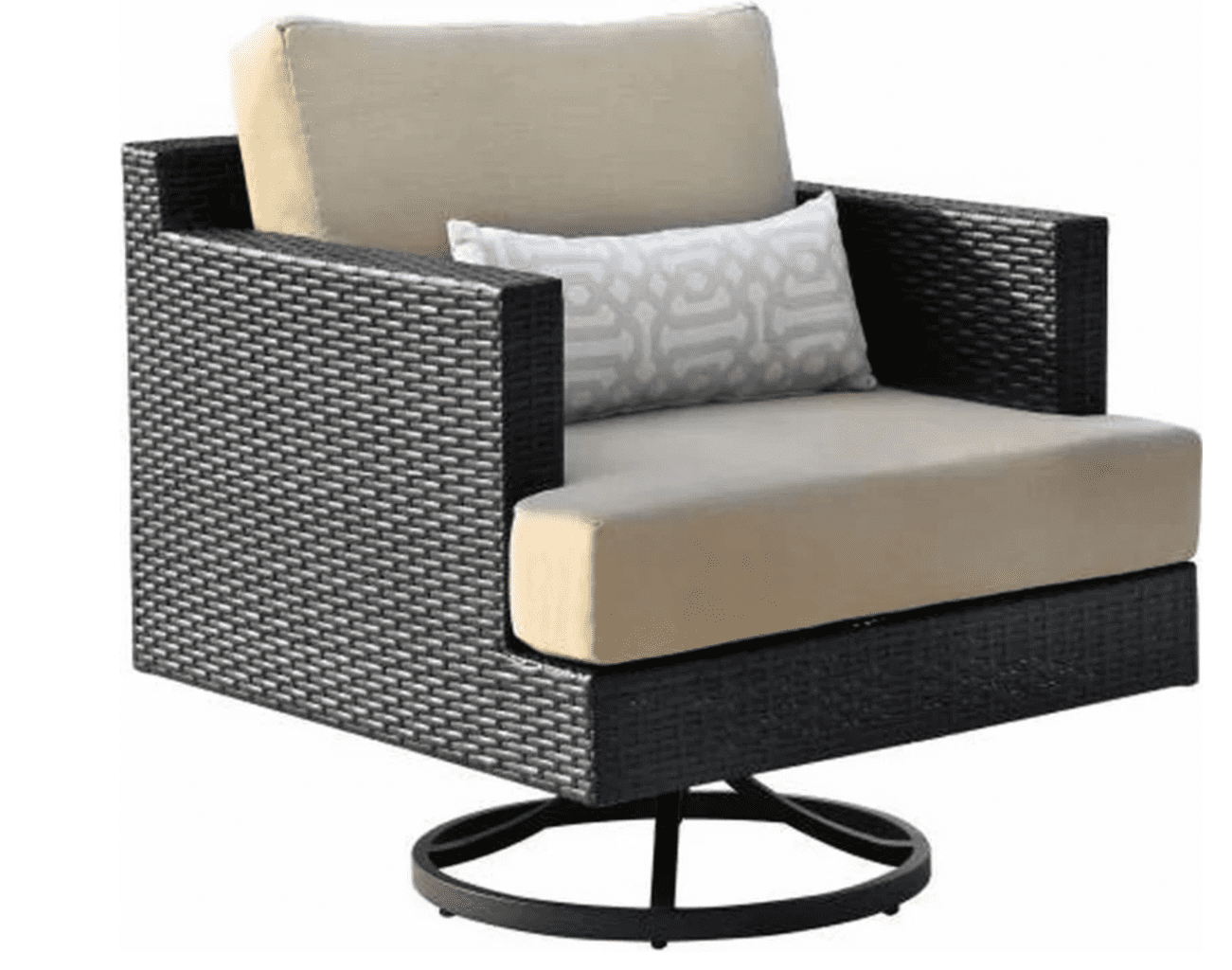 If you're looking for a budget-friendly patio swivel chair, this isn't it. But some Sunbrella fabric chairs run much steeper, and this is a well-designed chair. This stylish chair is resistant to UV light and color-fading. It's further weather-proofed with a powder metal, sturdy frame. The laid-back orientation and soft cushions make this chair one you'll want to spend hours with, whether that's entertaining or reading a book for some alone time. It comes with a one-year warranty, with options for extended protection plans at an additional cost.  Buy Here. 
Specs
30" H x 35" W x 35" D

Accommodates up to 250 lbs
Pros
Very Durable & Sturdy

Soft and Comfortable 

Aesthetically Pleasing

Rust, Fade, and Corrosion-Resistant 
Cons
Expensive 

Cushions Expensive to Replace 
Mcgahan Rectangular 8 – Person 61.4" Long Dining Set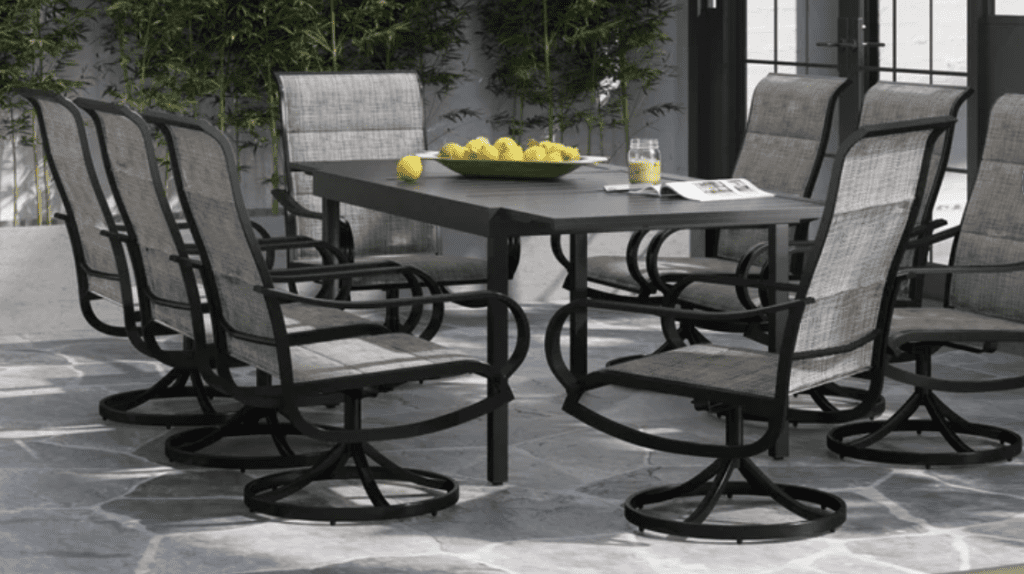 a 9 piece dining table with swivel chairs isn't easy to find, especially right now. But this set is a fair price and can be left out, rain or shine. The generous 61-inch dining table comes with 8 swivel chairs. Metal frames are made with hearty powder-coated steel. The antique black finish adds a little flair to a fairly plain and versatile design. Everything is resistant to fading from UV rays, as well as corrosion from water. The set comes with a one-year warranty, with options for an extended 5-year protection plan and expert assembly. Add your cushions to extend the comfort of this dining set. Buy Here. 
See also: How to Find the Best Patio Tables for Your Outdoor Space
Specs
29.5" H x 37.4" D x 61.4" L

Chairs Accommodate up to 350 lbs each 
Pros
UV/ Fade Resistant and Rust Resistant

Versatile Design

Sturdy Chairs (Holds Up to 350 lbs)

1 Year Warranty
Cons
No Cushions

Expensive Installation, Extended Warranty 
Living Accents Hattington 5 pc Black Steel Swivel Dining Set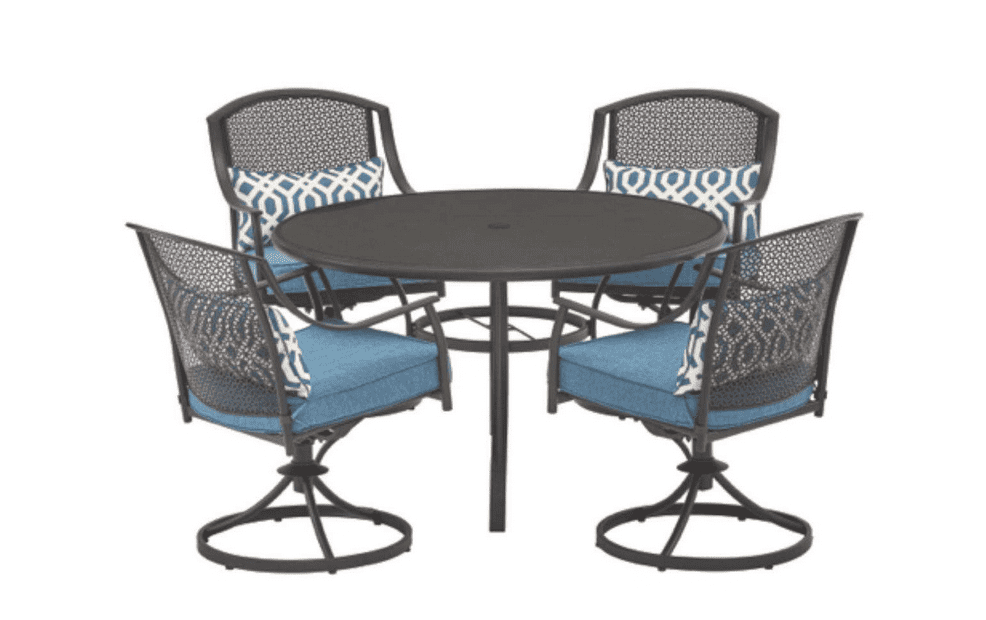 If you're looking for a small patio dining set with swivel chairs, I like this set. The stylish, contemporary design adds a pop of color but still is easy to match, The four swivel chairs come with comfy peacock blue seat cushions plus print lumbar support. The chairs and table are made with steel for a sturdy build, so you won't have to worry about your table rusting. The set can be completed with an umbrella for sunny days. It's competitively priced, stylish, and versatile. Etched glass is a beautiful and durable material, but if you get snow I would recommend either covering it or storing it indoors. Buy Here. 
Specs
Assembled Table: 48 inch X 48 inch

Chairs: 35 inches by 25 inches by 24 inch
Pros
Lumbar and Seat Cushions

UV and Rust Resistant 

Beautiful Etched Glass

Good Price
Cons
Snow Can Be Hard on Etched Glass

No Protection Plans
Cannes Maxim Cushioned Swivel Bar Chairs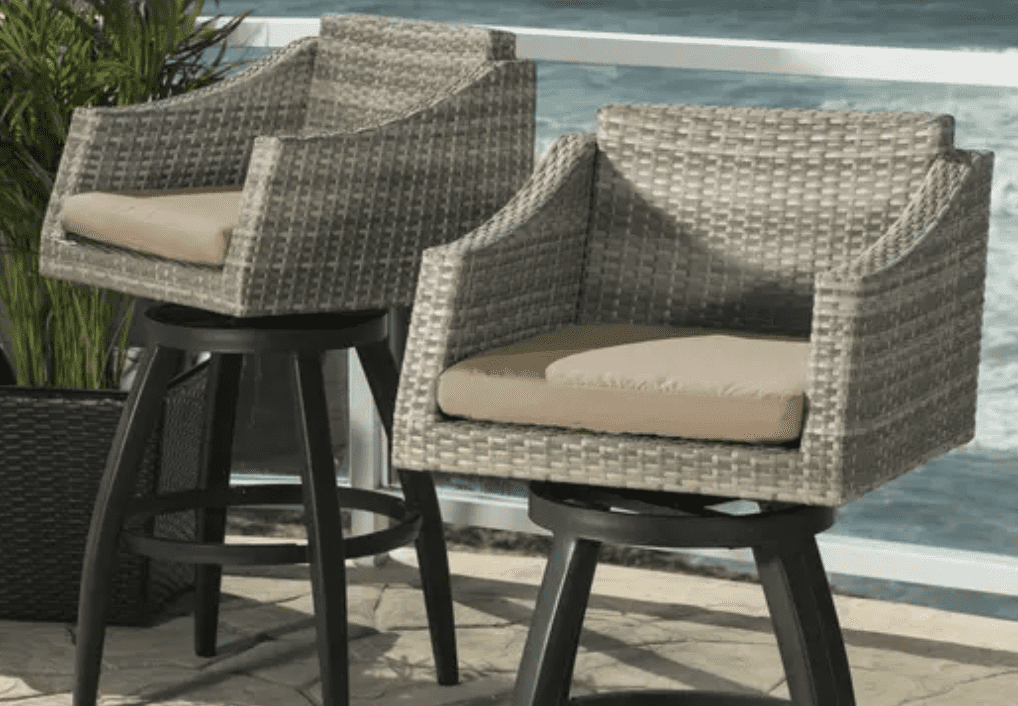 Can you find cheaper bar stools? Yes. But these swivel chairs provide comfort, support, durability, and style. They rotate a full b360 degrees, while the curved armrests provide additional support and comfort. The cushions are made with high-quality and UV-resistant Sunbrella fabric. The hand-woven resin adds a classic but durable touch, paired with a rust-resistant aluminum base. The design combines style and lightweight stability and adds flair to ant patio space. Pricing is for a set of two and your purchase comes with a one-year warranty. Buy Here. 
Specs
23 in. W x 23 in. D x 48 in. H

Seating Height (with cushion): 33 in
Pros
Comfortable and Durable Sunbrella 

Excellent Swivel Motion'

Rust and Fade Resistant 

1 Year Warranty 
Cons
Aluminum is Easier to Damage vs Steel

More Expensive than Some Options
Frequently Asked Questions
Question: Are swivel patio chairs in style?
Answer: Swivel chairs for both indoors and outdoors never really go out of style. The reason why swivel chairs are so popular is that they provide movement and are versatile. They tend to be more popular indoors, but they're quite popular at outdoor bar sets and high table dining sets. While each season brings a different trend, swivel chairs add a bit of fun to your patio space and they remain in demand for entertaining. They're also popular because they are better than the average chair for interacting with large groups of people. 
Question: Are swivel patio chairs comfortable? 
Answer: How comfortable a swivel patio chair is depends on the construction and quality of the back, frame, and seat. Swivel chairs allow you to rotate without undue pressure on your neck– so this is a big advantage. If you have lower back pain, though, swivel chairs aren't always the best option. Depending on the type of swivel chair, there is less support for your back– plus you could rotate in a way that is hard on your back muscles. However, this is linked mostly to swivel chairs used for hours daily, such as for office work. Most people will be able to use swivel patio chairs without issues. 
Question: Are swivel patio chairs safe?
Answer: Swivel patio chairs aren't as secure as some other patio chairs. They tend to be high off the ground, and, for small children, could pose a hazard. There have been some patio swivel chair recalls– such as a 2017 recall that affected over 2 million swivel patio chairs sold through Home Depot. The recall included aluminum and steel swivel chairs from brands such as Martha Stewart, Hampton Bay, Dana Point, Wellington, and Calabria. Many of these chairs were breaking and causing accidents. Usually, the main part that breaks is the swivel seat post. Checking reviews and maintaining your swivel patio chair decreases safety concerns. 
Final Thoughts 
Patio swivel chairs can truly transform a space. Whether you're entertaining or enjoying time by a pool, swivel chairs reduce neck straining and awkward interactions. At the same time, be mindful of how they are used, especially if you have young children.
Final Recommendations: Fabric Replacement & Cushions 
Cushions are nice to have for added comfort, and a good idea if you or someone you know tends to have muscle pain or has a condition. Polypropylene is a wise choice, as it's a durable fabric that's UV-resistant, fade-resistant, and mostly weather-resistant. Polyester and acrylic may also be used. If you opt for linen or cotton cushions, you should only set them out in dry weather and bring them in when you're finished. 
Where to Buy 
Even if you bought a chair with a seat cushion, it's usually cheaper and easier to buy new cushions vs fabric replacement (unless you want to head to your local craft store). Wayfair has an excellent selection of Outdoor Swivel Chair Cushions. There are cushions in a range of colors, patterns, styles, and sizes. You can buy sets and cushions with partial or full coverage. Sometimes you can find clearance cushions at other places, such as overstock.com or even local stores near you. 
Recommended Reads: