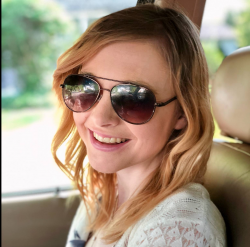 Latest posts by Erin Jamieson
(see all)
From cross-country races to trips to the beach, I grew up eating at Cracker Barrel on my way to or from somewhere. Aside from the dumplings and green beans, I always loved the nostalgic charm. And that charm could not have been complete without what I swore were some of the best porch rocking chairs. 
As much as I still love Cracker Barrel rocking chairs, I've experienced many others since then. Whether you want to add rustic or Southern charm or just upgrade your porch, rocking chairs are simply timeless. But not all rocking chairs are the best aside to leave out. 
I've also seen the mistake of people using indoor rocking chairs on their porches. So in this guide, I'll explain how I select the best rocking chairs that'll last. From sleek and modern to traditional, I'll give you a few of my favorite rocking chair design ideas. It's time to add a bit of charm to your porch. 
Bottom Line Up Front Summary
To find the best rocking chair for your porch, you need to select a weather-resistant material, such as Polywood or teak. You'll need to consider slats for drainage, a sloped back for comfort, and the right dimensions for your space.  If I had to select just one porch rocking chair, it would be the Polywood Estate Rocking Chair. This chair is handcrafted in the United States and features a slightly curved seat for added comfort. It's durable, weather-resistant, and includes heavy-duty Marine-grade hardware. 
My Top Picks
See also: Best Outdoor Rugs for Porches
How I Select the Best Porch Rocking Chairs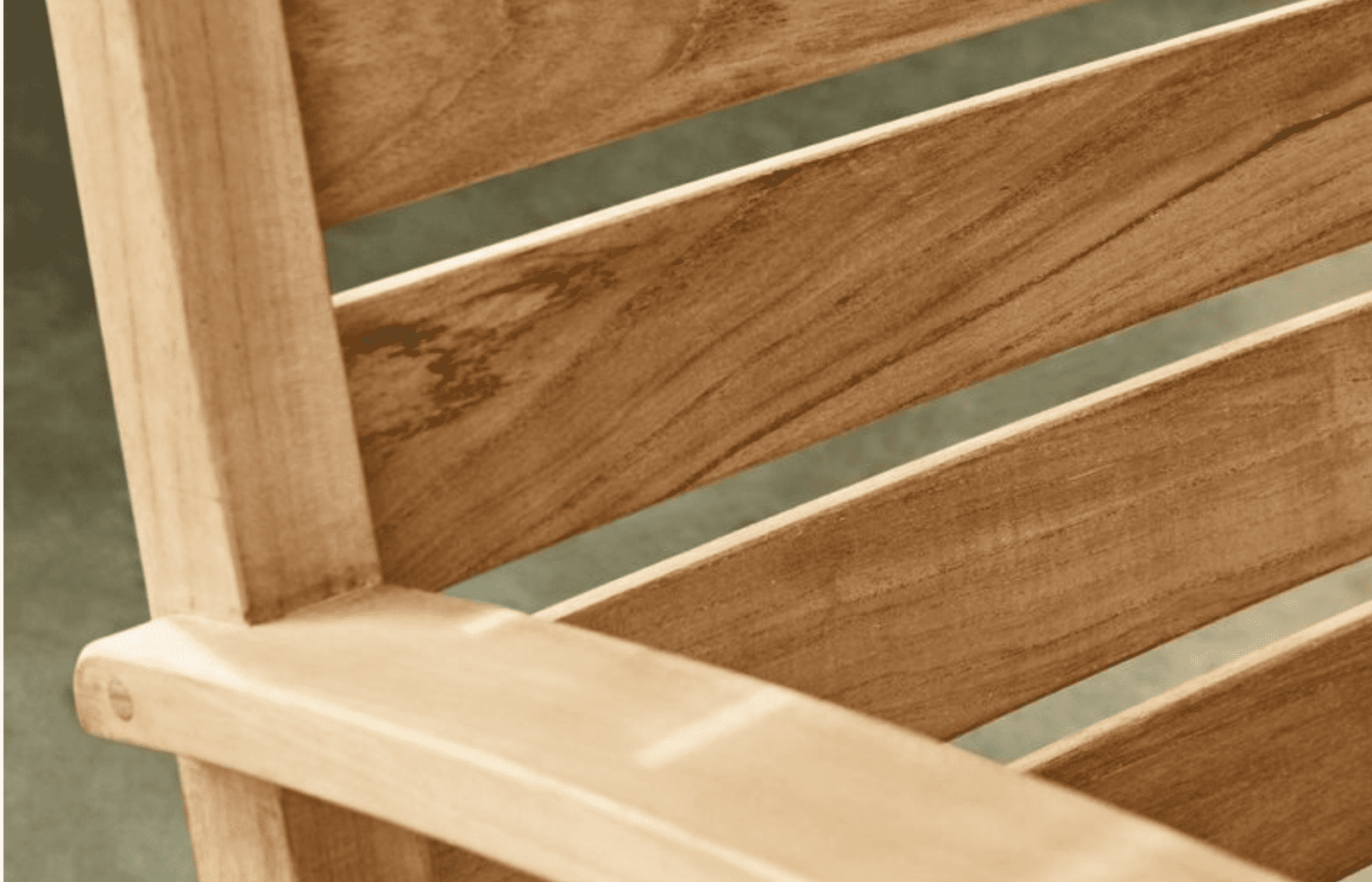 Knowing what to look for when buying a great rocking chair for your porch is different from how you'd select a rocking chair for the inside. My favorite rocking chairs are meant to last outside- and provide a great experience. Here are all the factors that I considered when choosing. 
Best (And Worst) Materials for Porch Rocking Chairs
I love the classic charm of a wooden rocking chair. But the truth is you need to be picky about what materials you choose– and non-wood rocking chairs can also provide rustic charm without the wear and tear. The most common materials I see include hardwoods, softwoods, recycled plastic, metal, teak, and wicker. 
Avoid: Softwoods
Pine, spruce, cedar, and fir are all examples of softer woods. These are appealing for two reasons: their natural light hues and their low cost. However, this is one of the last materials I'd choose for an outdoor rocking chair. Not only are these not weather-resistant, but they're also soft enough that they are easily damaged. Scratches, dents, and wear will show up quickly.
For Covered Porches Only: Hardwoods
I love the classic appeal of genuine hardwood- and I don't begrudge anyone who's tempted to buy this type of rocking chair. Examples of hardwoods include walnut, oak, hickory, maple, and cherry. While all of these are beautiful and far less easy to damage than softer woods, they aren't your best option. For one, these woods require maintenance, including oil applications. Hardwood can work in a temperate climate with low humidity and a screened-in porch. But these rocking chairs aren't your best option for most porches. 
Fair Choice: Acacia Wood
A natural wood option, particularly if you live in a humid climate, is acacia wood. Acacia wood is dense and produces natural oils that protect it against rotting. It can last decades if properly cared for, and will fare well in humid and hot weather. However, unlike my next suggestion, it's fairly low-density and lower in natural oils. You may also want to consider keeping a chair inside if you get very cold weather. 
Excellent Choice: Teak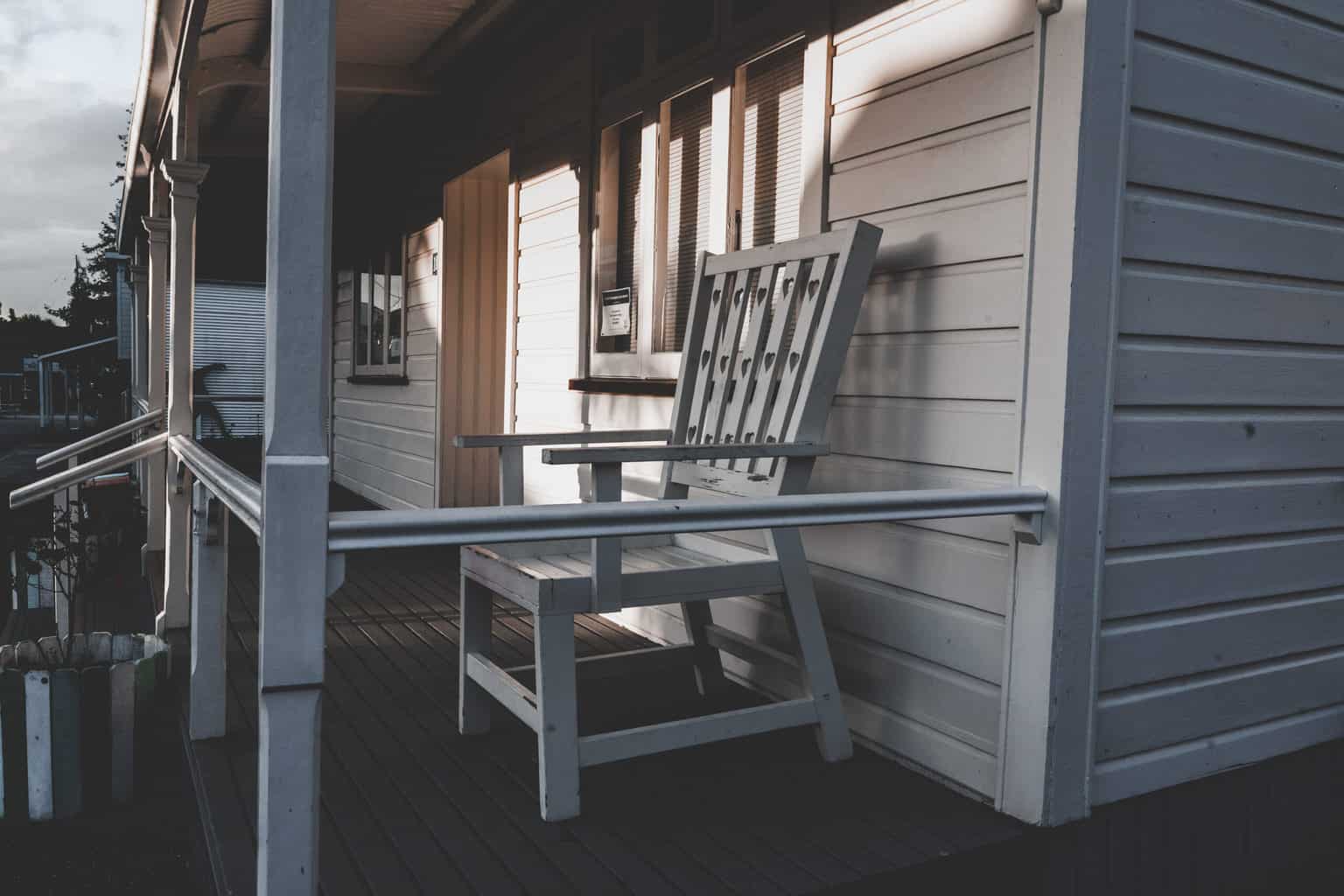 If you're set on a natural wood option for your outdoor rocking chair, teak is always the best choice. Teak, unlike other types of wood, is considered weather-proof. Not only is teak strong, but it also never needs to be sealed or oiled. The natural oils and hardiness of teak make it both an excellent and popular choice for porch rocking chairs. There are downsides: there isn't much variation for teak hues, and it's pretty expensive. But if you like the look and can spare some money, then it may be a great choice for you. 
Excellent Choice: Polywood (HDPE)
Polywood isn't real wood, but it's one of the best options for an outdoor rocking chair. Polywood, or any material like it, is made with high-density polyethylene (HDPE) and is a widely used hardy plastic. But the good news is that it's almost always made with recycled plastic. Beyond environmental concerns, Polywood is durable and won't rust or tarnish in the water or wind. It's easy to maintain, available in a range of hues, and a little more comfortable. Like teak, it's more expensive than hardwood and softwood. 
Porch Rocking Chair Dimensions 
I wouldn't get too caught up in the dimensions of the rocking chair– mostly not the height. The seat height and depth are more important than the chairs' total height. In general, shorter individuals will want a lower seat height and vice versa, but some of that is up to personal preference. Outdoor rocking chairs should be  38 to 46 inches high and between 33 to 38 inches deep. Seat height is around 14 to 18 inches. If you aren't sure, aiming for the middle range will work for most. You can also go to a physical store to get a feel for what size is right for you. 
Porch Rocking Chair Features
If you don't have any special needs, you can opt for a fairly simple, upright rocking chair. But I have many people in my family that have had muscle aches to chronic conditions– and I too get muscle fatigue. Consider whether or not you want features like an armrest of cushioning or back support. I've made sure to include a few of these in my picks. Alternatively, if you're working with a small space, then an armless rocking chair could be a good fit. 
See also: Best Fire Pit Chairs Guide
Rocking Chairs to Enjoy Your Porch More: My Picks
Here are some of my favorite ideas for rocking chairs you can enjoy all year long. I've selected these rocking chairs based on the quality of the construction, materials used, and features– all about the sticker price. 
Not only am I including a variety of rocking chair styles, but I'm also only making recommendations from reputable places to buy porch rocking chairs. These include home goods stores (like Menard's, Ace Hardware, Home Depot, Lowe's), online furniture stores (such as Wayfair), and traditional stores (Pottery Barn) with an online presence. All are established, have clear shipping and return policies, and have a history of fair customer service. 
Logan Teak Patio Rocking Chair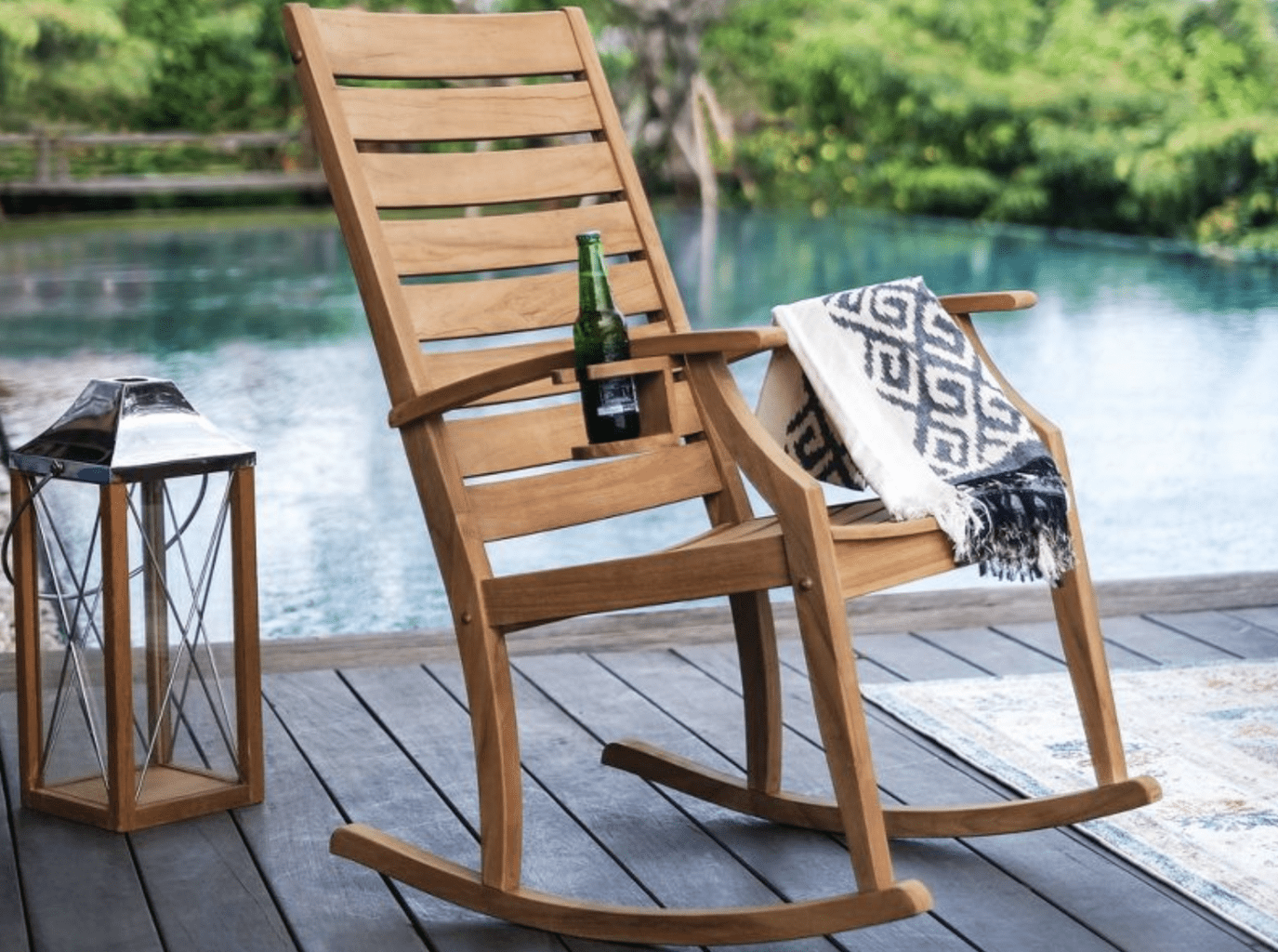 There's something undeniably charming about a teak rocking chair. The light wood is inviting but versatile, and suitable for classic and rustic homes. As it weathers, it turns a faint, beautiful gray. The problem is that teak rocking chairs don't often come with much variety. This outdoor rocking chair from Target provides all the benefits with some added features. 
If you're like me and can get lost in a good book- so much so you lose track of time- this is the rocking chair for you. A bottle holder is located right by an armrest. That's a reminder to keep yourself hydrated, and the armrest is well-proportioned. The rocking chair is crafted with solid, weather-resistant teak wood with a slatted design. It drains more quickly than other rocking chairs and can accommodate up to 250 pounds. 
Your purchase comes with a 1-year warranty and an assembly guide. Buy Here. 
Specifications
41.75 inches (H) x 28.5 Inches (W) x 36.25 Inches (D)

Seat: 20.5 Inches [W], 19 Inches [D], & 18.75 Inches 

Holds up to 250 lbs
Pros 
Solid Teak

Slatted for Better Drainage

Cup Holder with Arm Rest
Cons
Must Oil Occasionally

Teak Wood Naturally Turns Gray 
See also: Best Fire Pit Accessories [2022]
Heaton Natural Teak Outdoor Rocking Chair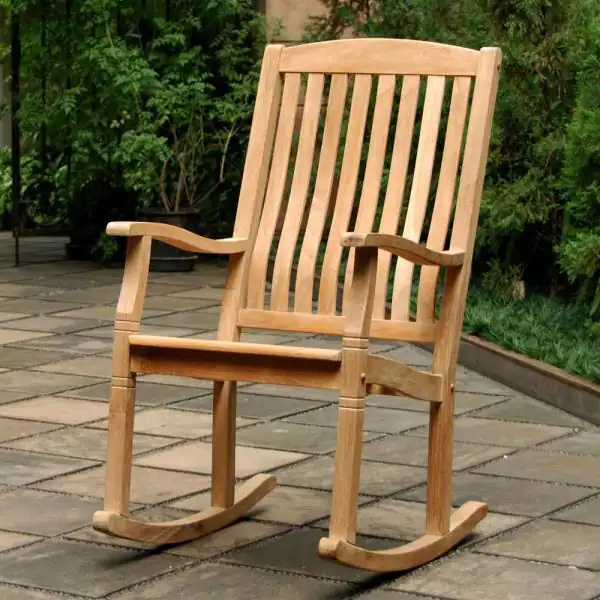 If you or a loved one struggles with muscle aches or pains, consider buying a rocking chair that eases tension. Outdoor rocking chairs are not the most supportive, but some, like this one, are designed to relieve pressure. Even if you just plan to spend long hours on your porch rocking chair, this teak style from Home Depot is a wise choice. 
Everything about this solid teak porch rocking chair is thoughtfully designed. The backrest is gently curved for spine support. The chair rocks in a way that applies less pressure on the lower back. Rocking is soothing and comfortable– just add a pillow and cushion and you're ready to go. This weather-resistant teak rocking chair can be assembled in under half an hour and brings all the charm you'd expect. It also comes with a one-year warranty. The armrest is ergonomic.  Buy Here. 
Specifications
24.75 in. W x 31.75 in. Dx 44.5 in. H

Seat: 20.5 in. W x 20 in. Dia x 19 in. H

Holds up to 250 lbs
Pros
Curved to Relieve Back Pain

Smooth Rocking

Ergonomic Arm Rest

Solid Teak 
Cons
Wood Naturally Fades

Assembly is Quick but Tricky 
Polywood Estate Porch Rocking Chair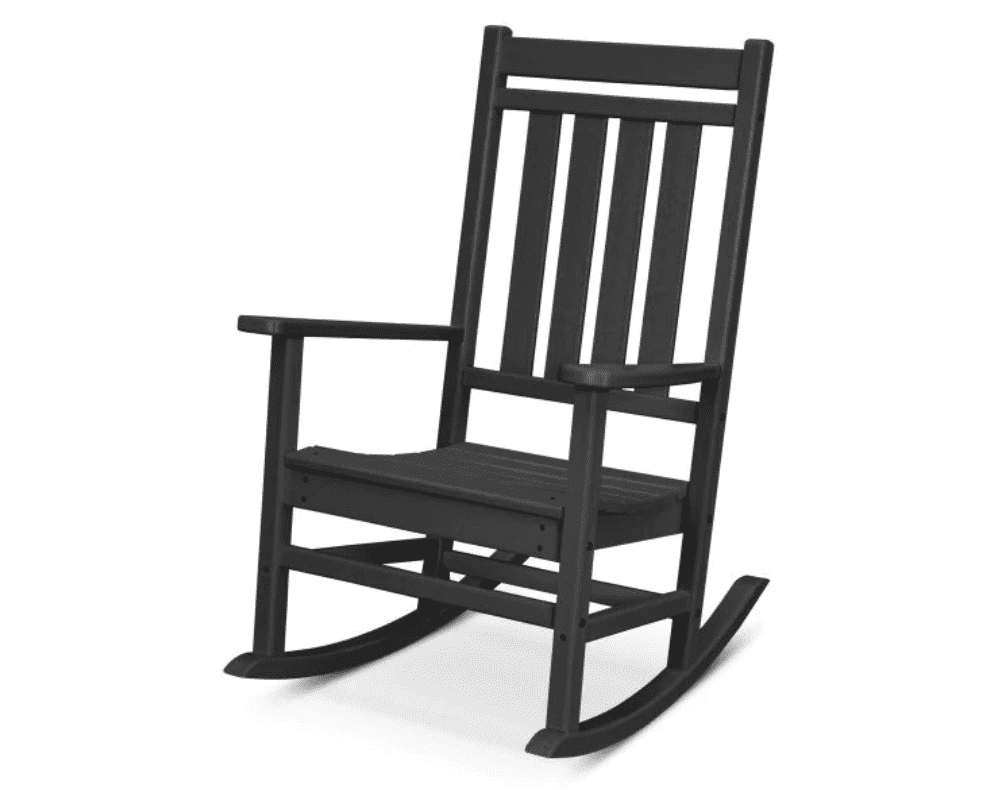 Polywood is a fantastic non-wood alternative for outdoor rocking chairs. Unlike teak, the hue won't change and you can choose from countless colors. I especially like Polywood for cooler climates, or even if you just live somewhere like me (Ohio) where you get all four seasons. Since Polywood is made out of recycled materials, it's much more sustainable than other synthetic materials.
Still, if you're insistent on buying a porch rocking chair made in the USA, it can be a challenge. I was excited to discover Amish Yard, a company that sells handcrafted Polywood furniture, all made in the USA. This rocking chair is one of my favorite Polywood chairs online. Not only is it made in the USA, but the slightly curved design adds a bit of style and back pressure relief. Marine-grade hardware ensures the chair is secure and ready for hours of rocking. It comes with a more generous 5-year warranty, plus free shipping. Buy Here. 
Specifications
26.25″ by 34″ by 41.25″

Seat: 20″ by 19.75″

400 lbs Weight Limit 
Pros
Handcrafted in the USA

Marine-Grade Hardware

Durable Hardware 

Accommodates up to 400 lbs 
Cons
More Expensive than Some Polywood 

Longer Assembly 
Polywood Classic Double Porch Rocking Chair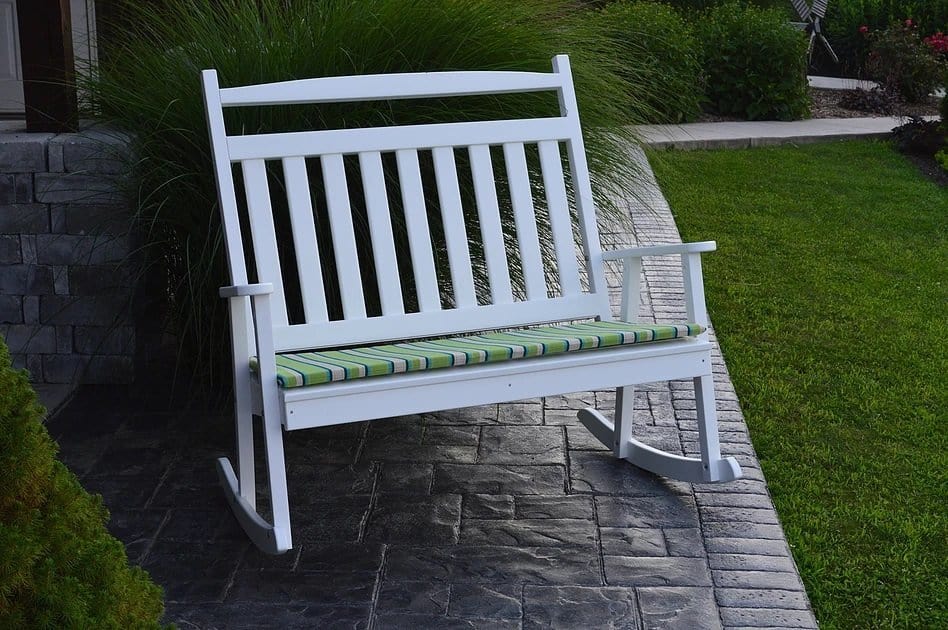 Instead of buying two rocking chairs, why not buy a double? Double porch chairs aren't as common but they can add a charming addition to any home. They're more space-efficient than having two rocking chairs. Sit with a cat, or a loved one, or stretch out your legs a bit. A classic design and solid construction are the right way to go. 
This premium Polywood rocking chair is one of the best double options for your porch. If you have a little extra money to spend, this chair is both sturdy and customizable. Select from 10 colors: white, black, blue, cedar, turf green, aqua, dark gray, Tudor brown, weather wood, or cherrywood. You can order with or without a seat cushion and cup holders. Even better, this rocking chair is also made in the USA by Amish craftsmen. The color is fade-resistant and the hardware is made out of stainless steel. Buy Here. 
Specifications
51″W x 31″D x 45″H

Seat: 44″ W x 19″ D

500 lb Weight Limit 
Pros
Handcrafted in the USA

Customizable

Fade-Resistant 

Accommodates up to 500 lbs
Cons
Expensive

Fair Returns, but No Warranty
Pottery Barn Adirondack Polywood Outdoor Rocking Chair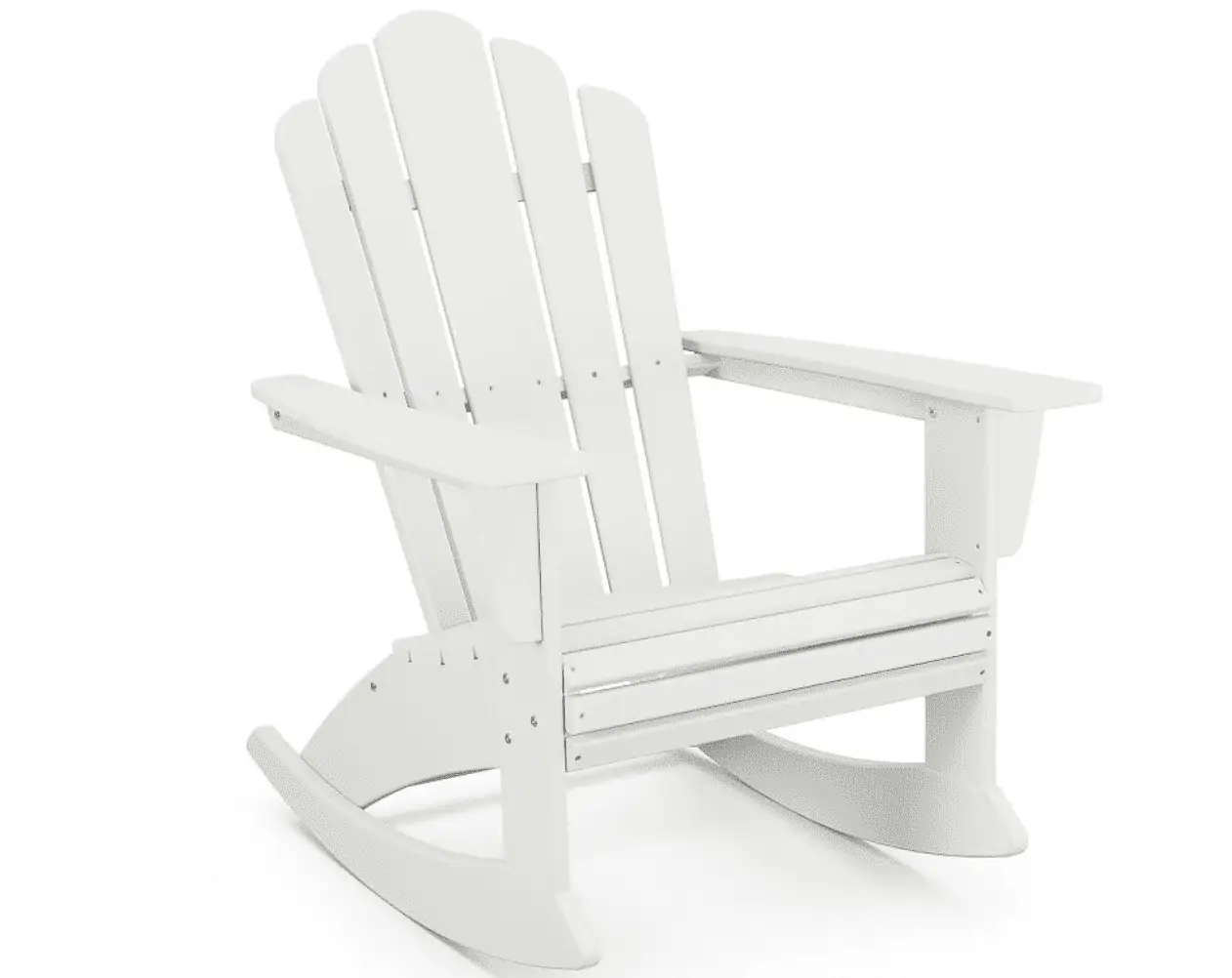 Pottery Barn may not be known for its cheap prices, but it is one of the best places to buy patio furniture online. Pottery Barn has many collections of environmentally friendly and sustainable pieces, and this porch rocking chair immediately caught my attention. 
Instead of an upright rocking chair, an Adirondack and rocking chair style is combined for a relaxed and comfortable sitting experience. The chair is made with solid, high-density polyethylene that is BPA-free, lead-free, and made in the USA. Finish options include white, Sahara (light tan), and vintage coffee (brownish-gray). The chair ships directly to your home or a store near you and is made with recycled, sustainably-sourced materials. Buy Here. 
Specifications
31.5″ w x 34.5″ d x 41″ h

Seat: 22″ w x 17.5″ x 16.5″ h

300 lb Weight Limit 
Pros
Handcrafted in the USA

Sustainably-Sourced

BPA and Lead-Free Polywood

Comfy and Classic Style
Cons
Harder to Get Up From

Fair Returns, but No Warranty
Adams Big Easy Earth Brown Polypropylene Frame Rocking Chair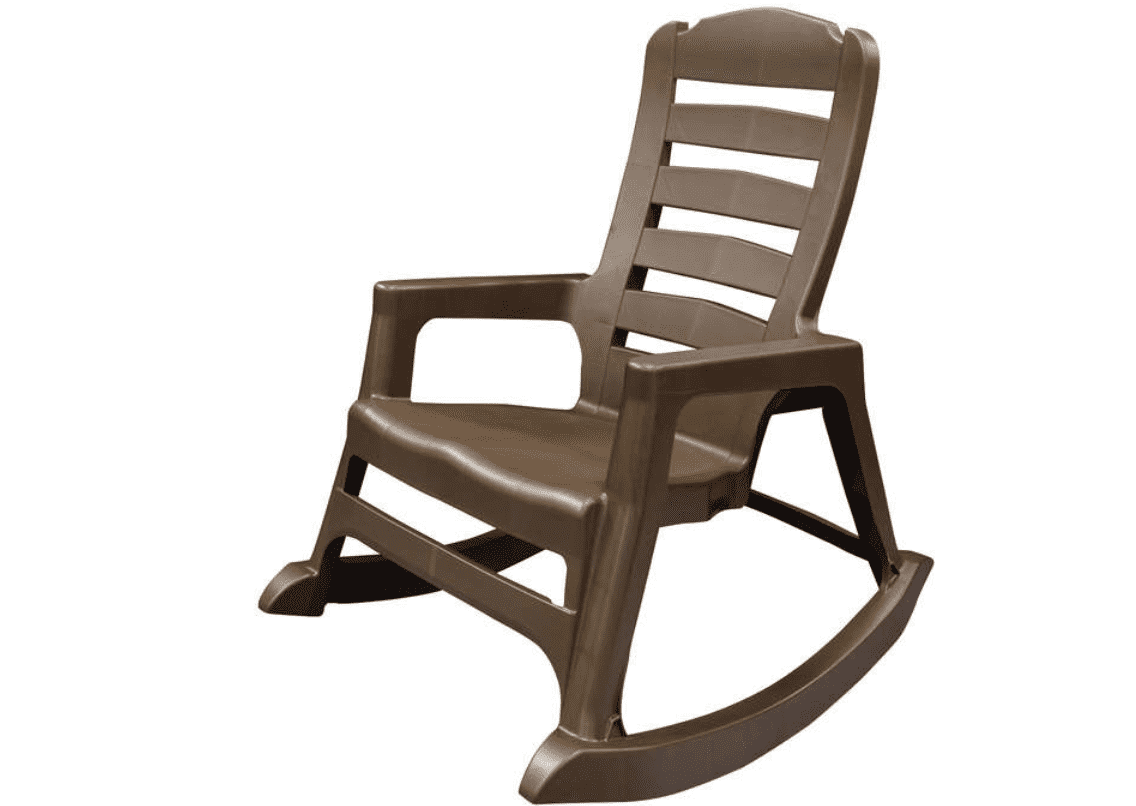 There's something to be said about a classic rocking chair that will last you for decades. But if you want a rocking chair for your porch and can't afford to spend over $100, there are options. Whether you're going to use your rocking chair for a limited time or just need to save money, home improvement stores– in this case, Ace Hardware- often have pretty cheap but hardy styles. 
Such is the case with this polypropylene rocking chair. It's not quite as durable- or attractive– as Polywood, but it has some pretty great features for an excellent price. A lightweight and stackable design also make it an ideal option when you're low on space. The rocking chair is suitable for all-weather and accommodates 350 pounds. It's resistant to both peeling and rust. Maintenance is a breeze and there's no assembly required. The slightly curved back adds a bit of comfort and conforms to your back.  Buy Here. 
Specifications
41 inches by 36.9 inches by 29.62 inch

350 lb Weight Limit
Pros
Under $100

Stackable 

Weather and Rust-Resistant 

Slightly Curved Back 
Cons
Not as Attractive or Durable as Polywood

Fair Returns, but No Warranty
Frequently Asked Questions
Question: Can I put a rocking chair outside?
Answer: It's pretty common to see people use rocking chairs indoors and outdoors. I disagree with the general advice of taking any rocking chair outside, however. It's one thing to use a rocking chair outside for a short period, and another to leave it out. If you want a rocking chair that stays outside, it needs to be an outdoor chair. Indoor rocking chairs aren't constructed to be weather resistant. Unlike indoor chairs, outdoor rocking chairs are crafted to brave the sun and rain. 
Question: How much room do you need for a rocking chair on a porch?
Answer: As charming as a rocking chair is, not everyone has enough room. You need ample room to move around to the chair and comfortably rock back and forth. If you have other patio chairs, they need to be 3 feet or more apart- so don't try to cram them. That 3-foot rule applies all around: you need three feet in front of and behind the rocking chairs. I recommend measuring your porch first, then starting with one rocking chair to see how much room you want. 
See also: Best Walmart Patio Chairs Guide
Question: How do I keep my rocking chair from rocking? 
Answer: The whole point of a rocking chair is the movement that most porch chairs don't have. That said, if you want to convert your rocking chair, there is a way. You'll need a wedge in the frame of the chair to stop it from moving. You can DIY if you're confident in your skills. Cut a piece of wood that's the height of the chair frame and the length of the box frame. You can install the wedge by drilling a small hole and using screwdrivers to set it in place. 
Final Thoughts 
Final Recommendations: How to Make Your Rocking Chair More Comfortable
The most obvious way to make any rocking chair more comfortable is by adding cushions. Padded cushions add support for your bottom and back. To ensure that your cushion adds the support you need, make sure it fits snugly and securely. An ill-fitted cushion can add discomfort if it's adding friction. Cushions are also a fantastic way to update the style of your chair without investing much money. 
Where to Buy Cushions
You can buy cushions for your rocking chair just about anywhere you'd expect. Amazon, Walmart, and Overstock have budget cushions. Just pay attention to the type of cushions you're buying. Indoor cushions are quite different from outdoor cushions. I recommend a fabric that is both waterproof or water-resistant and UV-resistant. Polypropylene and vinyl check the boxes for both. While cotton and linen materials are great indoors, they aren't going to wear well if left outside. 
Recommended Reads: