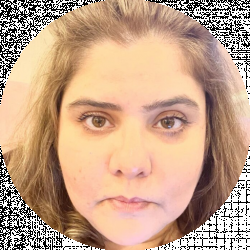 Latest posts by Asma Shahwar
(see all)
Home is a haven to unwind with family and friends after a long stressful day. A well-kept house with great outdoors promotes positivity and good health and adds value to your property. If you are a newbie in the world of outdoor furniture, relax because we have you covered with this detailed guide on how to find the best patio set according to your wishes.
Creating a stimulating outdoor area increases space and vitality while enjoying lots of sunshine and fresh air. Whether you are decorating an expansive patio or sprucing up a cute little balcony, finding the best patio set needs a lot of consideration and research.
There is a wide selection of outdoor furniture for everyone's taste. This summer, curl up on a comfy rattan sectional or laze around on a  poolside lounger for a siesta right in your backyard. All it takes is a great patio set to turn your outside space into a living room with no walls.
My experience as a decoration consultant gave me an insight into a client's perspective on buying garden furniture. Therefore, I created a detailed guide on finding the best patio set for years of comfort and use.
What to Consider when buying a Patio Set?
a. Correct Size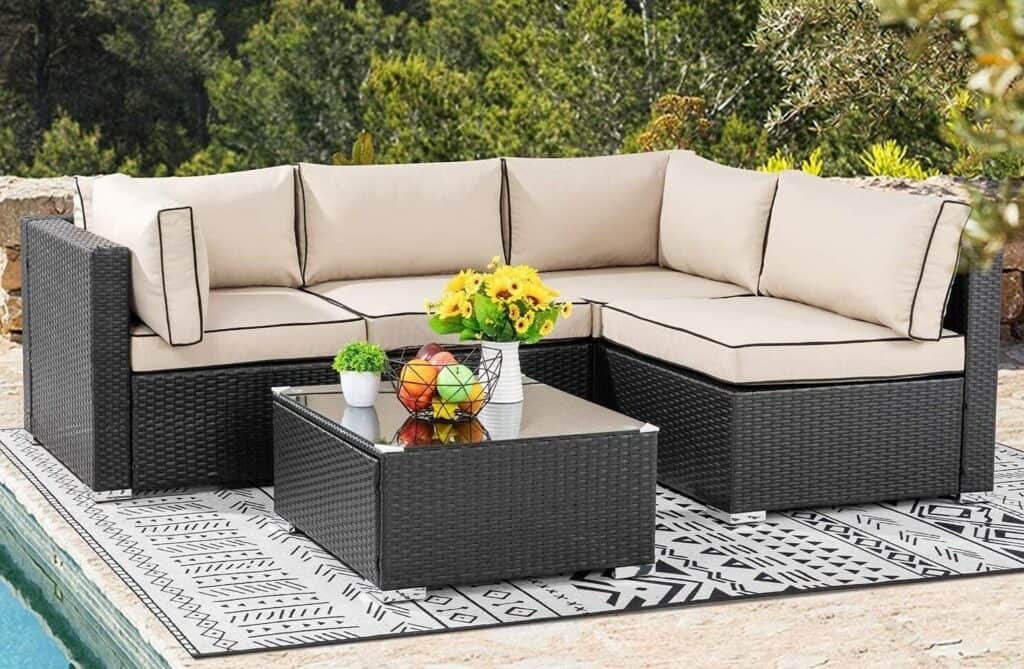 Always make sure to buy furniture that is proportional to your patio size. You don't want your items to be too big or too small for the desired location. To avoid getting furniture that does not fit the outside space, measure the dimensions of the area you want to decorate and the patio set.
Pictures can be deceiving, so it is imperative to check the sizing of the furniture before buying. Online apps are available for you to sketch, design, and decorate your place to avoid buyer's remorse. These virtual room decorators generate a 3-D image within minutes with the choice of your furniture.
The shape also does matter when buying a new patio set. Round, square, and oval-shaped pieces are some of the popular options in the market.
b. Location
It is significant to determine where you plan to place the patio set. Be selective when choosing outdoor furniture because it is vulnerable to the outside elements like rain, wind, dirt, and storms.
An outside area could be a hardwood deck, garden, patio, balcony, or poolside. Contemplate the location where you would position the pieces without compromising the longevity of the furniture.
c. Weather Elements
Do you live in an area that gets constant downpours or someplace where sweltering heat from the sun melts down everything into a pulp?
Keep in mind the kind of weather you have to deal with constantly. If you live in an area where you get a lot of hurricanes or wind storms, opt for heavy-duty patio furniture to save it from being blown away. Likewise, if you are an owner of a seaside home, you should buy rust-resistant outdoor furniture.
d. Budget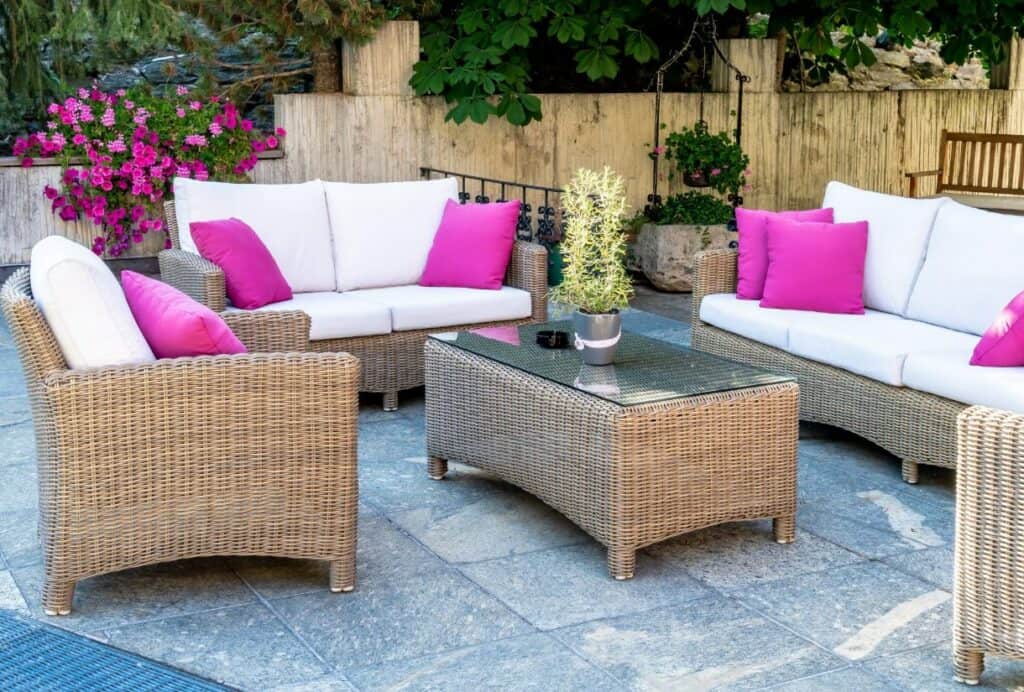 A large selection of outdoor furniture is available based on style, material, size, and budget. Finding the best patio set of your dreams largely depends on the amount of money you want to invest.
You need to determine the amount of money you want to invest in a patio set because there are some steeper options in the market too. The fancier the furniture gets, the more cash you have to cough up. If money and space are not options, you can also choose to buy from luxury brands.
When buying on a tighter budget, go for options like second-hand markets, big buck stores, or restore your old one with a fresh paint job and add new cushions.
e. Aesthetics
The outlook of your yard depends on your aesthetics and style. For a modern contemporary look, go for the metal or resin patio furniture, or if you want to create a classic vibe, choose wood, wicker, or rattan.
There are endless possibilities to choose from; all you have to do is think about the look you want to create. Fabric is another factor in determining your personal touch. Floral patterns best depict Vintage style compared to sleek lined fabrics.
f. Durability 
Buying a patio set is a long-term investment. After spending a couple of hundred or, in some cases, thousand dollars, you expect years of comfort and camaraderie from these pieces.
Do thorough research before buying the perspective outdoor furniture. You don't want your trusted Patio furniture to be rickety or broken after a few uses. Consult consumer reports and reviews to make an intelligent purchase.
Wood and Wicker furniture gets damaged in wet weather; similarly, plastic can melt or become deformed in scorching climates.
Buying dainty pieces is not good if you plan to turn your yard into a party place. Large families or the ones with little kids should always invest in sturdy items.
g. Material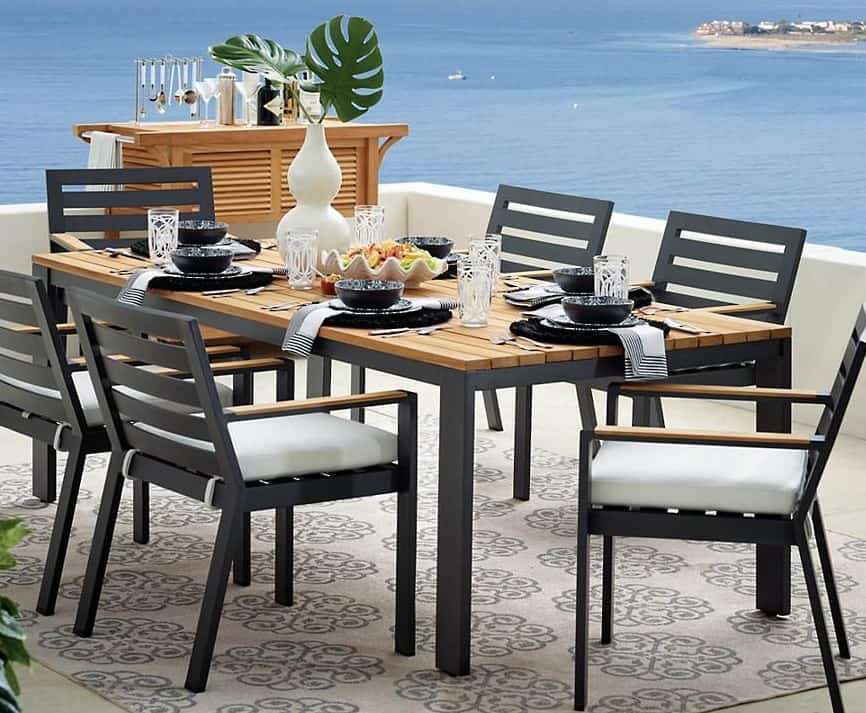 There are numerous alternatives for the material you want for your patio set. All of them have pros and cons, including personal preferences and looks.
Modern-day patio furniture comes from natural and synthetic sources.
Woods like teak, eucalyptus, acacia, and cedar.
Synthetic materials made from plastic, resin, and synthetic wicker.
Metals like wrought iron, steel, stainless steel, and aluminum.

Bamboo, rattan, and wicker.

Outdoor fabric.

Concrete
h. Lifestyle
Families with more family members should buy furniture with more pieces than smaller ones. Similarly, if you like to host parties and are big on barbeque bonanzas, consider purchasing a sizeable sectional patio sofa, patio chairs, ottomans, and benches.
A  bistro set or a tiny patio set with a few chairs would be sufficient for a small family with a limited social circle.
Keep in mind whether you live in a rented place or own it. Lugging around a hefty patio set could be cumbersome; moreover, it would collect dust in storage if your next home is devoid of an outdoor area.
i. Comfort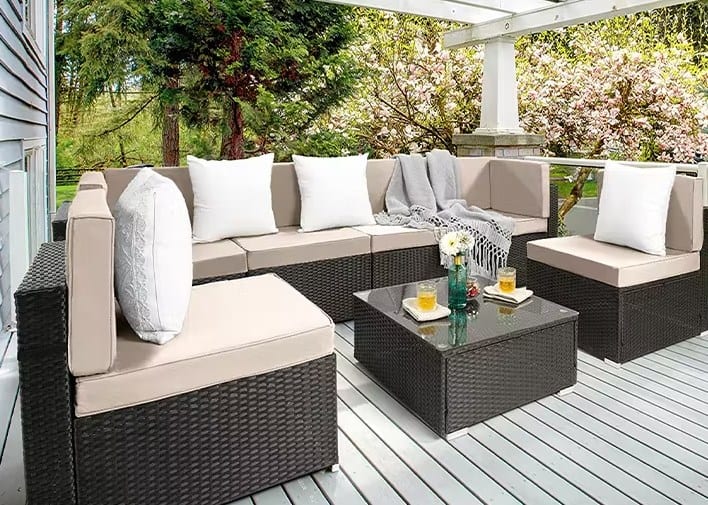 Decorating your outdoor space with furniture that looks pretty but does not provide comfort is useless. Big pieces, sharp edges, uncomfortable chairs, and stone-hard cushions or surfaces cannot lure you back to spend time outside.
See also: Best Porch Design Ideas For A Welcoming Home
2. Various styles of Patio Sets
The uniqueness of your class and aesthetics should reflect in your indoor and outdoor decor. If you are hunting for the best Patio set for your space, contemplate the vibe you want to create.
Someone's best style choice could be your worst nightmare, so don't follow the current fads; follow your heart.
Don't be overwhelmed by the abundance of style choices, be the master of your taste.
Rustic Charm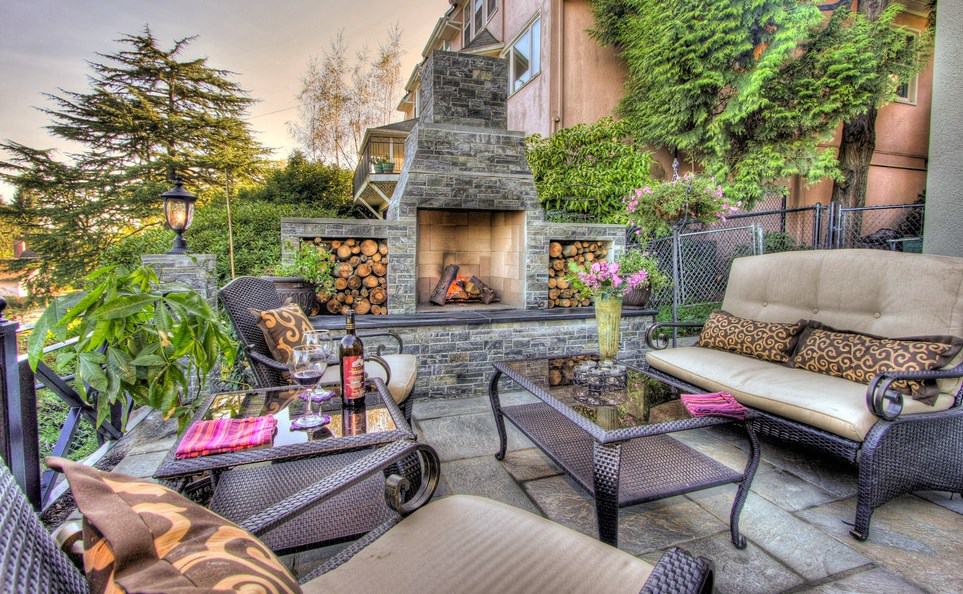 The best way to adorn your cabin with outdoor furniture that complements your rustic styles is by incorporating cottage-style furniture.
Adirondack furniture
log furniture
Adirondack chairs have a straight back and seat with wide armrests for stability on the ground. Previously they were constructed from hardwood and painted green or brown, but the modern versions are made from poly lumber and compressed wood and come in different colors.
Tree branches and natural logs are used to make log furniture. This furniture is made from durable wood to withstand harsh weather and is usually stained dark or light brown.
Modern and Chic
Transform your outdoor area into a 5- star luxury resort by adding pieces that look chic and modern. Furniture and accessories with sleek lines and fabrics with exciting patterns accentuate trendy charm.
Imagine yourself lazing around on a poolside lounger or relaxing on a comfy couch with a glass of chilled mimosa right in your backyard. Perfect idea for a staycation!
In retro shapes and styles, metal, synthetic resin, and plastic furniture create a look that is avant-garde and hotel chic.
Exotic vibes
To represent your love for travel and adventure, decorate your backyard in a style that exuberates Tropical charm. Balinese-style indoor and outdoor patio sets have gained popularity among patrons who want to bring exotic appeal to their everyday living.
This furniture style emerged from the tropics of Bali, Indonesia, and comes in different materials like teak, eucalyptus, mahogany, timber, rattan, and wicker. This kind of furniture comes in both intricately carved or very modern designs.
Tuscan Style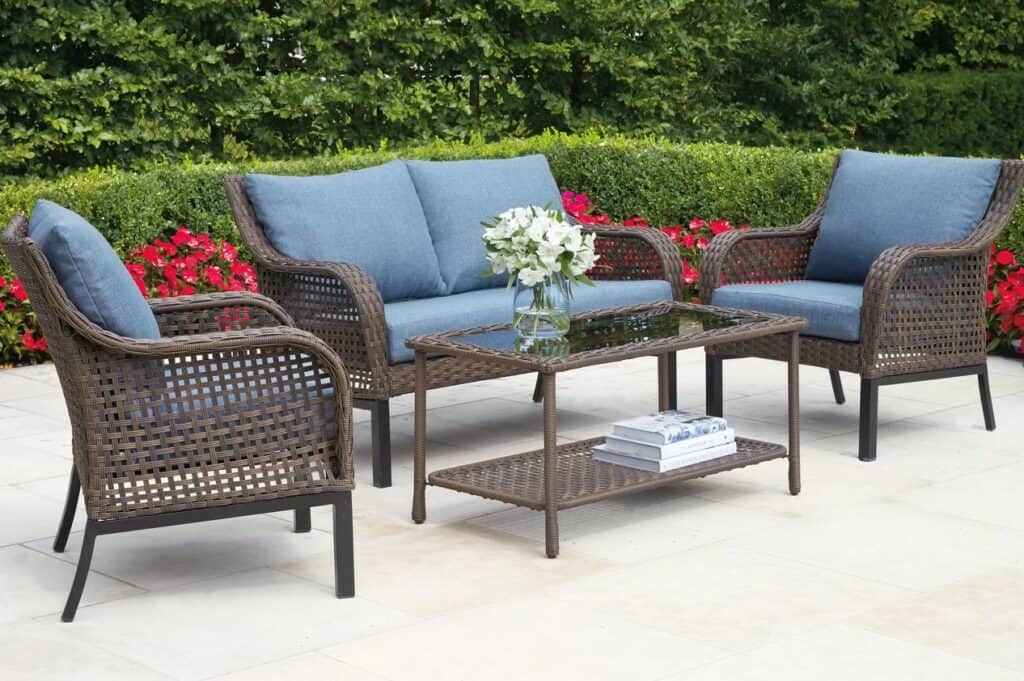 If you love simplicity, rustic feel, and old-world charm, you should look into Tuscan-style furniture when buying a patio set. All the beauty of this style lies in its clean lines. Unlike ornately carved patterns, this style is low on maintenance.
Picnic-style tables, deep-set chairs, and benches topped with cushions can start you up on creating Tuscan style in your backyard. Weathered teak, red cedar, and pine are the best options for Tuscan-style outdoor pieces.
Cottage Style
Wicker is the answer to decorating your backyard in lodge or cottage style. If you are searching for the best patio set in cottage style, you can score some magnificent pieces in your local flea markets and garage sales.
Harsh winter and scorching sunlight can damage original wicker, but its synthetic version, the all- wicker variety, is weather-resistant yet stylish.
3. The Material Used for Making Patio sets – Pros and Cons
It is imperative to do detailed research about the material used for patio sets. When searching for the appropriate material, keeping certain factors can save you big bucks in the future.
Refer to the chart for a quick overview of different materials.
Teak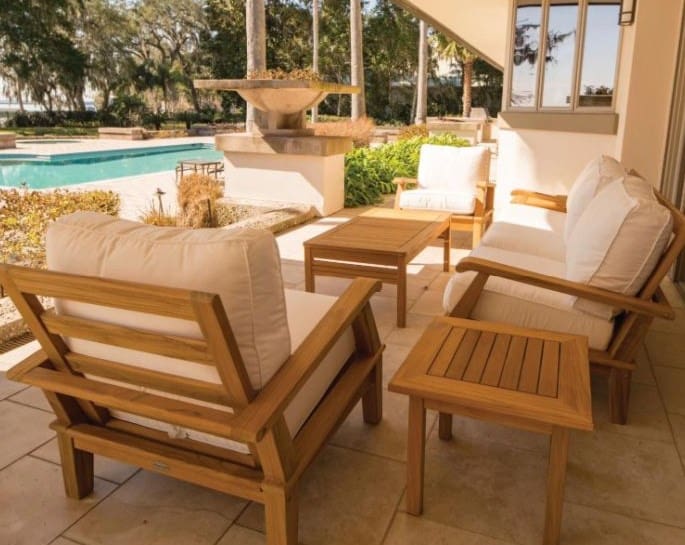 Teak is a commonly used and liked material if you want to decorate your backyard with wooden furniture. It is durable, weather-resistant, and develops a silver patina if left outside for a long time.
Pros
Easy maintenance
Silver patina
Durable
Weather-resistant
Cons
Costly
Color fades with time
Needs proper cleaning  and maintenance
Acacia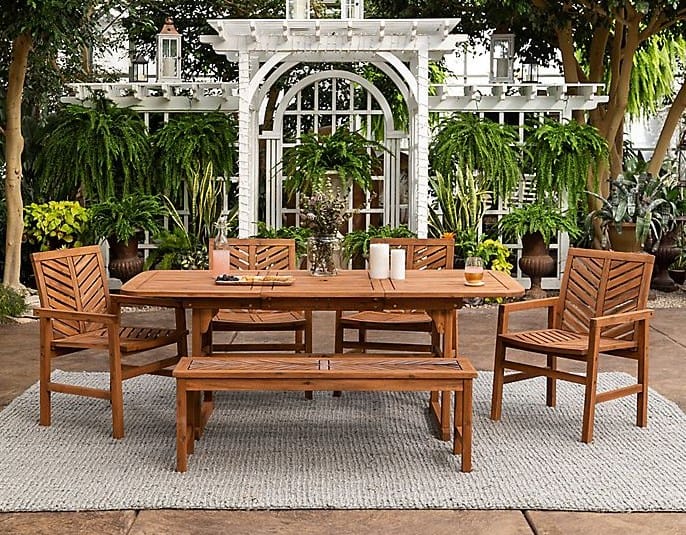 This type of wood is water-resistant, making it the best choice for places with lots of rainfall or snow. Even humid areas have fewer implications on patio furniture made with Acacia wood.
Pros
Durable
Water-resistant
cheaper option
attractive wood grain and finish
Cons
Needs regular maintenance
Needs constant oiling to maintain the golden tint
Eucalyptus
This kind of wood looks good and is high quality for outdoor furniture. It is cheaper than teak, has a red tint, and lasts long if treated well. Eucalyptus wood does not rot in humid weather and molds into comfortable patio pieces.
Keeping it stored in a frigid climate is advisable because this kind of wood deteriorates in winter. You can restore the beauty of eucalyptus patio furniture by sanding it with sandpaper and oiling it with specific eucalyptus oil.
Pros
The grain of Eucalyptus wood is very dense.
It is resistant to rot and decay.
Cheaper than its wooden counterparts.
Durable for up to 25 years.
Cons
Needs constant care to restore the original look.
Still costlier than resin and PVC options.
Poor resistance to cold weather.
Metal
If you want to know how to choose the best patio set in metal, you have many options.
Aluminum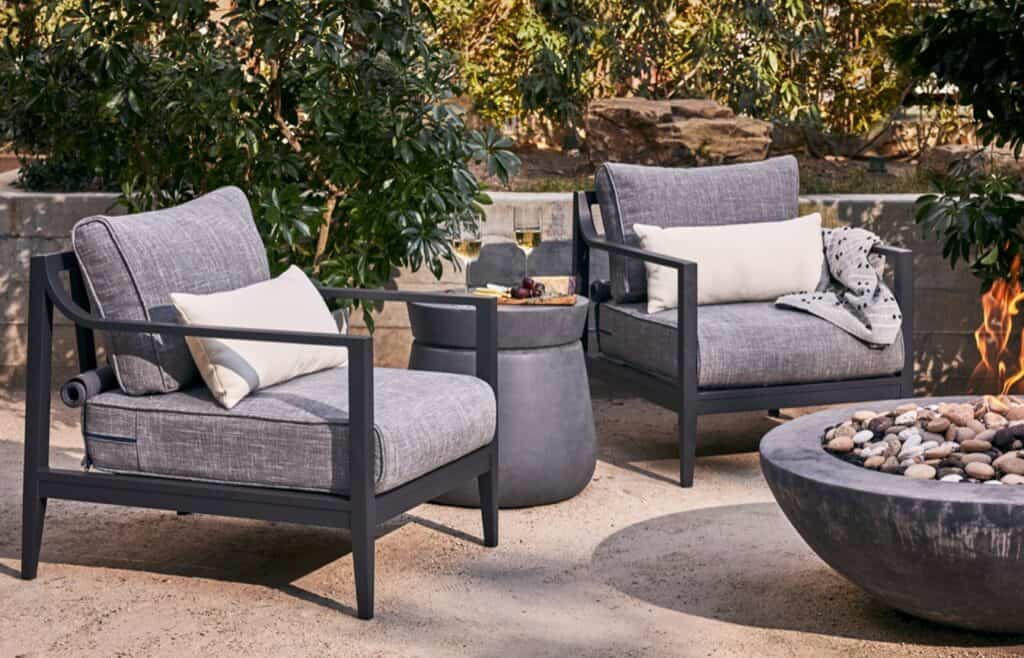 There are several advantages of investing in an aluminum patio set. This material is rust-proof, lightweight, and sturdy.
Storing it undercover results in corrosion and deterioration of the material. When not in use, store it in a well-ventilated shed or leave it outside.
Pros
Lightweight
tough
low maintenance
Cons
Gusty winds can blow this kind of furniture away.
Do not store it undercover.
Needs regular cleaning.
Wrought Iron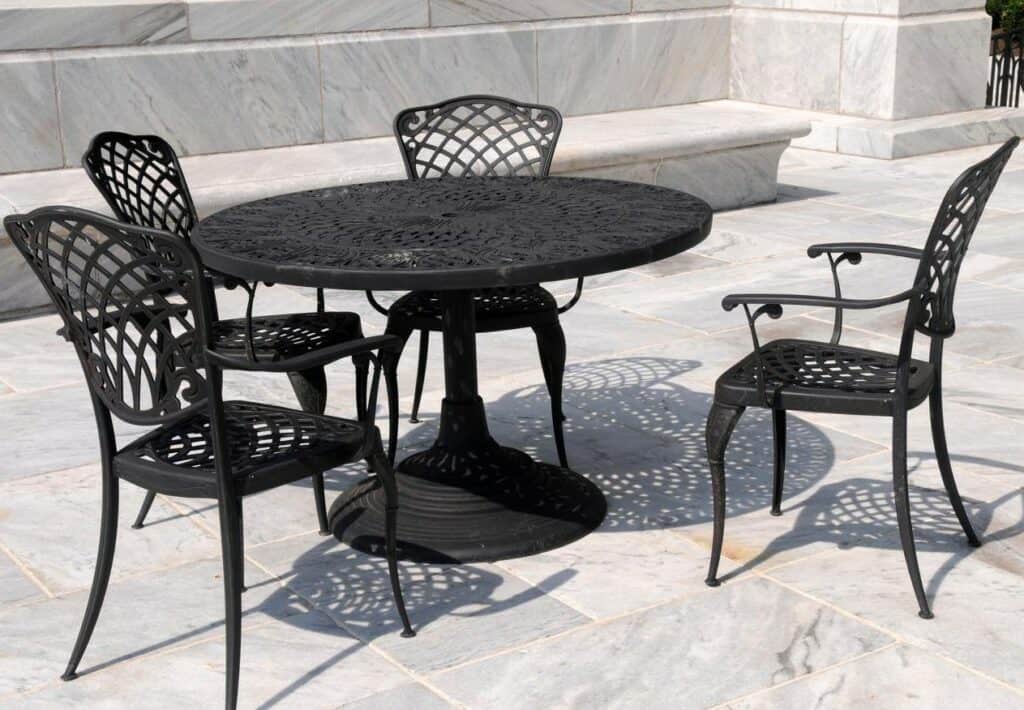 Your wrought iron patio furniture is a sturdier and heavier choice, also sustainable in heavy winds. This type of metal is prone to rust, so get your patio set treated against corrosion.
This type of outdoor furniture comes in beautiful designs and adds an English garden feel to your yard. You can easily clean wrought iron patio sets with soapy water and a brush.
Pros
Heavier metal
easy to clean
long life
stylish and ornate
Cons
Can rust easily
Needs constant repainting
Difficult to move around
Steel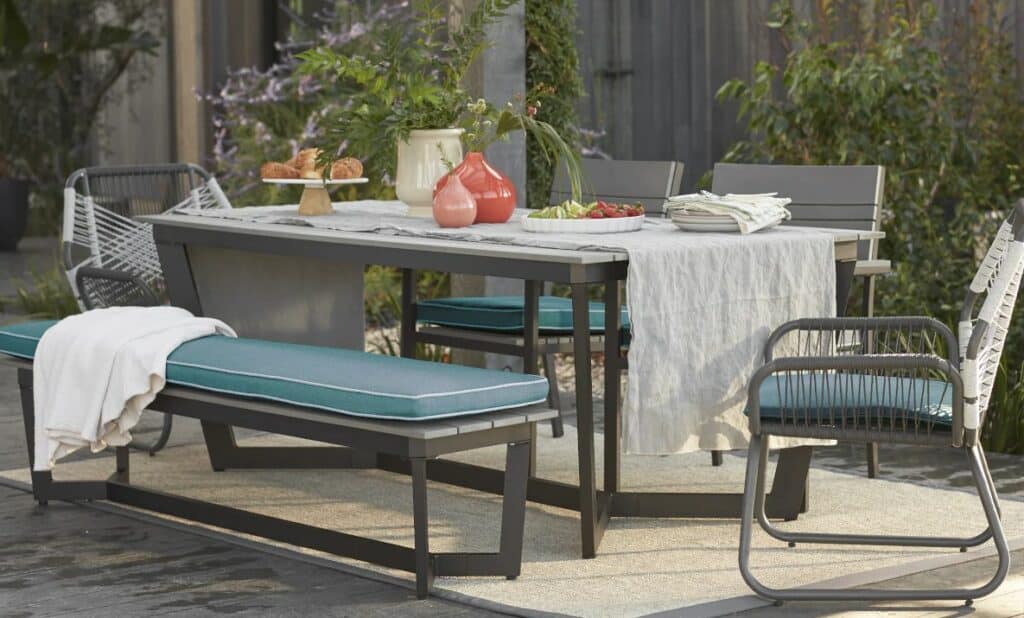 Choosing steel patio furniture is a good idea because metal is the most rigid material. The best quality of steel used in making outdoor furniture is powder-coated steel, known for strength, durability, and resistance to many types of corrosion.
Steel is the most robust material used for building furniture. This metal is obtained by adding carbon to iron, making it a formidable competitor in the patio market.
Constant usage can develop cracks on the surface that can lead to rusting. Powder coating your steel patio set is advisable.
Pros
Easy to clean
Cheaper than wood
available in different colors and designs
Cons
Prone to rusting or corrosion
The outer surface can crack easily
Lightweight construction is susceptible to tripping and being blown away.
Synthetic Materials
Many of my clients looking for the perfect patio set incline towards synthetic materials like Resin, PVC, and synthetic Wicker. Let's talk about their benefits and shortcomings to give you an insight.
Synthetic Resin and PVC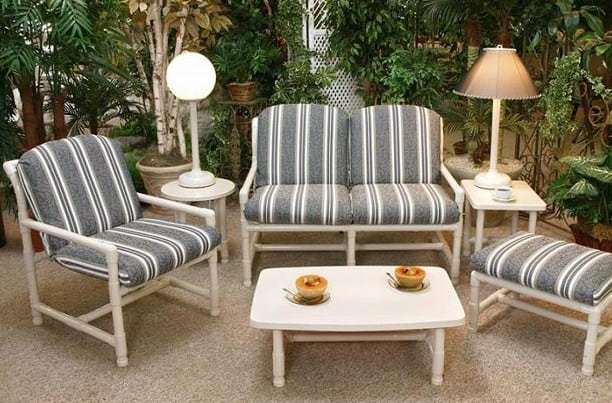 Resin is one of the safest and most popular choices among buyers and designers when buying outdoor furniture. It is usually woven into a wicker style, traditional furniture. If you have decided to choose a synthetic material option when getting a patio set, select the High-Density Polyethylene (HDPE) wicker. PVC wicker's cheaper option is not durable and would unravel or break easily.
Because of its high-grade quality, a patio set made of HDPE  material would bring you years of unmatched comfort and usage. Synthetic resin furniture is usually constructed on an aluminum frame.
Pros
 Weather-resistant quality
Modern designs
Comes in different colors
Lightweight
Cons
Color fades away
It can unravel or break
3. Natural Materials
Rattan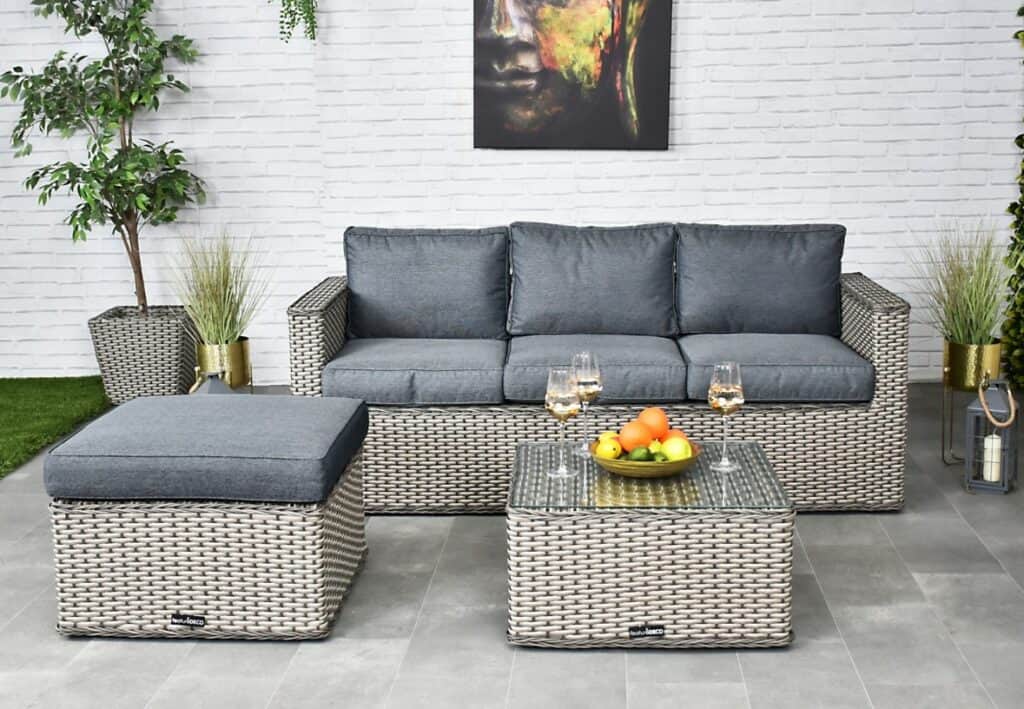 Natural Rattan is a fibrous wine woven into making outdoor furniture. It is incorporated into a wicker pattern to create different designs. A top-quality rattan patio set can last you from 10 to 15 years, making it a front-runner.
Pros
Attractive patterns
Extremely durable
Resilient to outside factors
Cons
Uncomfortable
Requires maintenance
Weave can unravel
Wicker
Wicker patio furniture has a distinctive look because of the specific style of weaving that is done with reeds, canes, and rattan wines. Synthetic wicker is more common and durable than natural wicker and is usually woven with an aluminum frame.
Pros
Variety of colors and designs
Durable construction
Low maintenance
Cons
Weave can unravel
Uncomfortable
Not sturdy
Fabric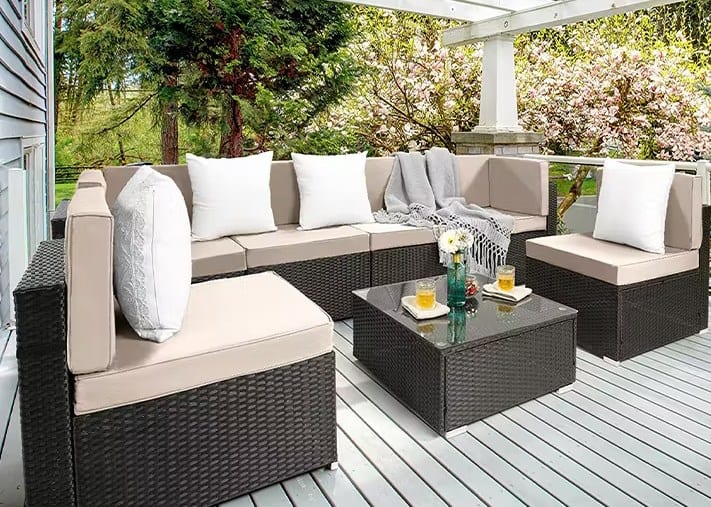 Different fabrics are available to upholster the cushions for your patio sets.  Seat cushions provide comfort and amp up the decor, whereas seat covers protect the furniture from outside elements. The fabric used for outdoor cushions should be water-resistant, stain-resistant, with a tough weave. Three popular choices for outdoor fabrics are:
This fabric comes from the Acrylic family and is considered best for patio furniture. It is water and fade resistant and comes in different patterns and colors. Some varieties of Sunbrella are scratchy and emit static shock. This fabric is slightly more expensive than others.
Olefin is less expensive, durable, water and fade-resistant but can melt in scorching weather.
The most affordable fabric for your patio cushions is Polyester. This material is not as durable as the other two options. It is water and weather-resistant but not waterproof.
Concrete
Another material to talk about is Concrete. It is heavy, complex, and stain-prone but a slightly cheaper alternative. The same material is used for construction purposes,  outdoor tables, and benches.
4. Types of patio furniture
When you consider buying a patio set that meets your needs, think about the pieces you want to include in your furniture set. There are numerous online or in-store possibilities to buy outdoor furniture.
Different Patio sets include chairs, sofas, sectionals, benches, tables, dining sets, chaise lounges, etc. If you want to know how to find the best patio set and types of pieces to choose from, do an in-depth analysis of your lifestyle and outdoor space.
Outdoor Benches
This type of patio furniture comes in different materials, such as metal, concrete, and wood. Benches can be used in various types of decor settings. They bring the old cottage feel to your garden.
Patio Sofas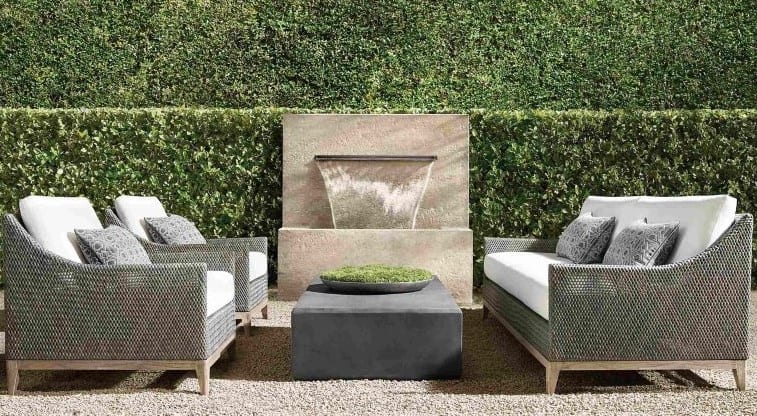 Large patio sets are the way to go if you own a vast outdoor idea. They are aesthetically pleasing and provide comfortable seating for leisure and party time. Regular maintenance is essential to keep your furniture in the best shape.
Bistro sets
These fashionable patio furniture pieces are mostly made from wrought iron or metal. These include pub stools and round tables and are usually placed in gardens.
Garden Diner Sets
If you are that person who loves hosting barbeque parties and dining al-fresco,  bring that lovely Patio diner set into your life and your backyard.
They come in all sizes and materials, with different price points. The diner tables need less care than other outside tables.
Outdoor Chairs
A budget-friendly option when decorating your yard is to buy a couple of yard chairs rather than a whole patio set. There is a vast selection of garden chairs in the market.
Adirondack chair is an outdoor lounging chair that has gained popularity for its usage and comfort.
Outdoor Tables
Patio or outdoor tables are an indispensable part of the patio furniture family. You can use it for placing different items or use it as an alternate dining table. This furniture comes in various materials, colors, shapes, and sizes.
Picnic Tables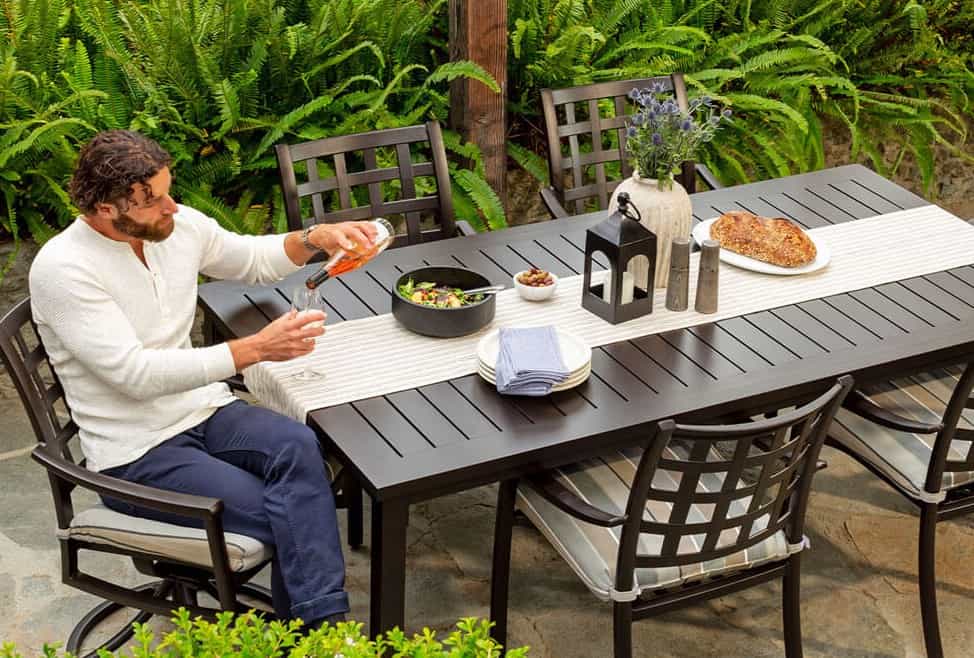 These tables are sometimes attached to benches and are a perfect solution for tiny spaces. They can be folded and stored away if not needed,
Patio and Deck Bars
Another excellent option for a party animal like is to adorn your patio with a piece of furniture that screams Funtime!
Patio and bar tables can store drinks, glasses, and food; you can pair them with patio bar stools for seating.
Canopies
Gazeboes, pergolas, pop-up canopy, and patio umbrellas are beautiful solutions to sit under shaded areas in your backyard. Some outdoor areas come with permanent canopies made of wood, metal, or concrete, but usually, you need a larger space to put up a canopy.
If you want to enjoy rain or sunshine without being wet or burnt, invest in a canopy available in many options.
Five Best Patio Sets
To help you find the perfect furniture for your backyard, I found some fantastic deals to tick off all the right boxes on your checklist. Based on market research, public reviews, and product analysis, these patio sets are serious contestants in the market.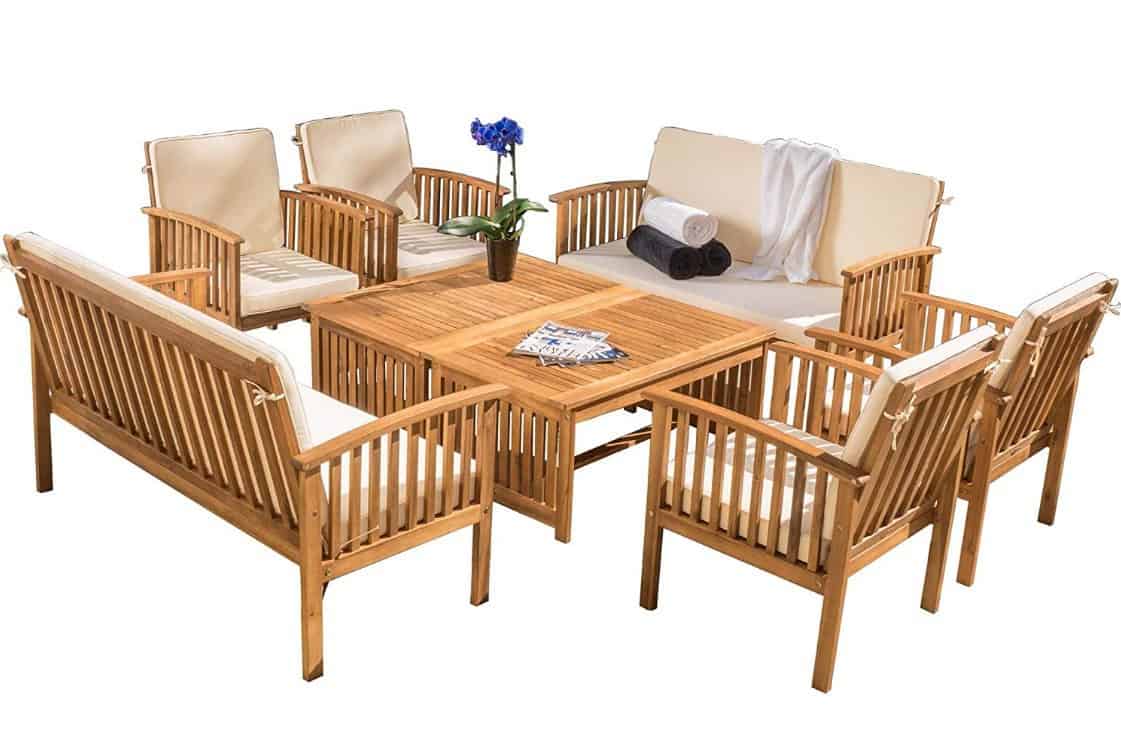 This 8-piece set comes with four armchairs, two 55- inches loveseats, and two coffee tables. All pieces are made from Eucalyptus wood and develop a patina over time.  Count on the weather-resistant eucalyptus wood for the durability and sustainability of this patio set.

This Beckley 8-piece patio set is versatile enough to be used either inside or outdoors. There is enough seating capacity to accommodate a large number of people.
The seats are adorned with beige cushions, but you can change the upholstery according to your taste.
Easy assembly, all tools included.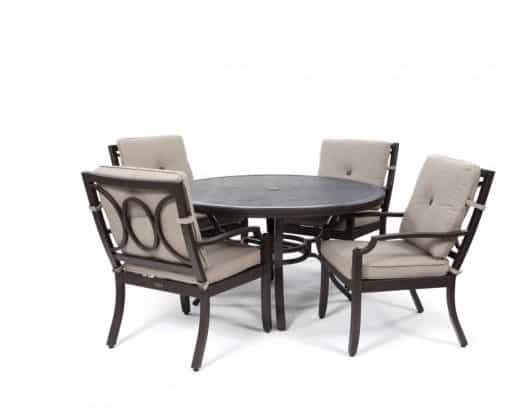 Aragon collection from Sunvilla, this set consists of 4 dining chairs and a 54″round dining table that could easily accommodate food, China, and other accessories.
The frame of this patio set is rustproof and has a powder coat Copperhead finish.
The dining chairs are adjustable for maximum comfort and fitted with plush cushions in Subbrella Sailcloth Shadow and Spectrum Denim fabrics.
This ergonomically designed furniture comes with a 15-year frame warranty, 5-year fabric warranty, 1-year cushion warranty, and 1-year tabletop warranty.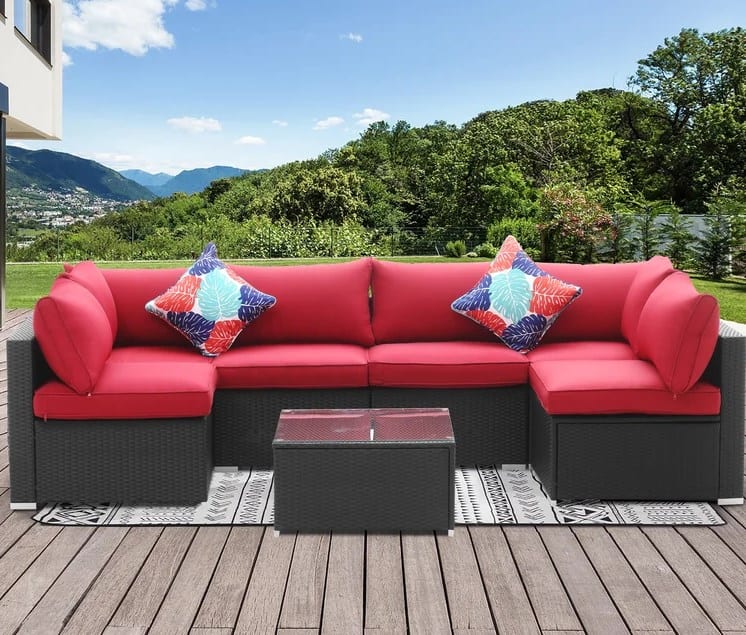 This patio set includes 1 sofa, 1 table, and 6 sectionals. You can proudly display this beautiful set in any setting; a garden, deck, patio, or other outside portions of your house.
The outer framework is made of Rattan/Wicker, whereas the inner frame material is steel, making it resilient. Comes with a sturdy coffee table with a glass top, adding to the beauty of this patio furniture.
This sectional is water, rust, weather-resistant, and other features. Comes with plush Polyester cushions in 4 different colors to choose from on the site.
Complete assembly is needed to construct this set, and it comes with a commercial and product warranty for 60 days.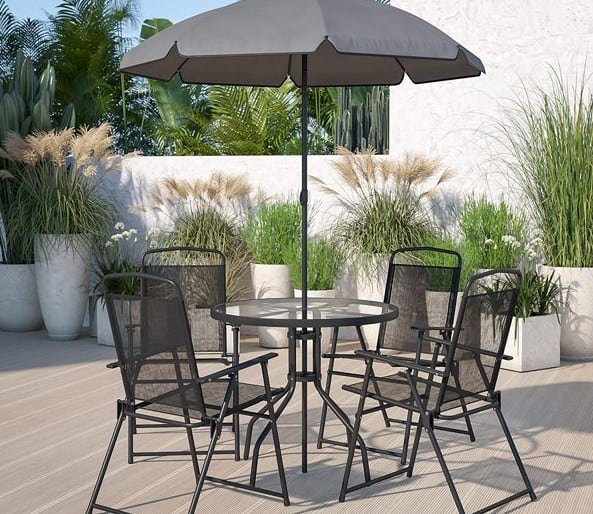 This patio set is an excellent choice for buyers who do not want to splurge on garden furniture and like the simplicity and functionality of this metal furniture. It is a 6- piece set consisting of 4- chairs, a round table, and the selling feature; an umbrella.
Although the chairs and table are smaller, the customer reviews have rated them high on comfort level. The Textilene chairs are foldable and very light for easy lifting.  It has a no-frills design, which is a plus for easy cleaning and maintenance.
The entire framework of this patio set is metal with a water wave glass tabletop and a tiltable umbrella on a steel pole.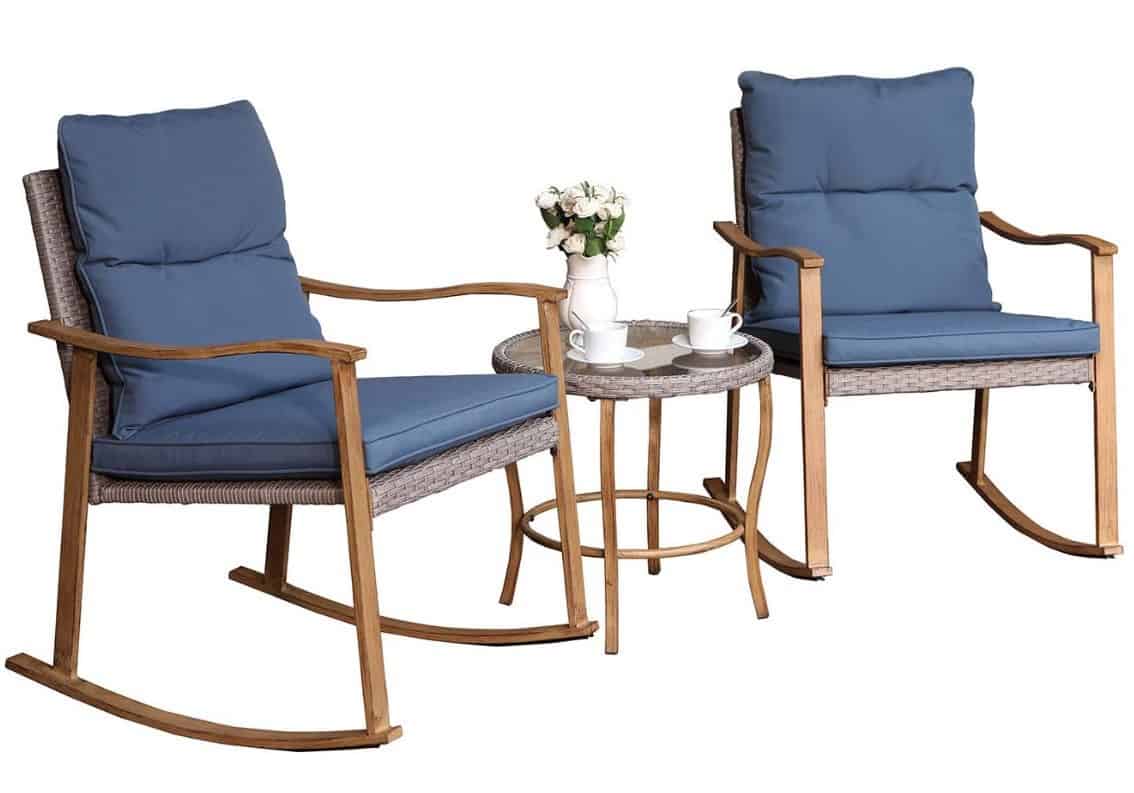 Adorn your balcony or patio with this stylish 3- piece wicker and metal trio. This tiny bistro- set will meet all your needs by providing you comfort and leisure. Curl on this rocking chair with a book and a chilled drink on a warm summer day.
This 3- piece patio set is made from brown PE rattan and steel framework. The body is water and weather resistant with a  maximum weight recommendation of 400 pounds.
The rocking chairs have ergonomically curved armrests for ease and comfort. The coffee table has a tempered glass top that can accommodate food and other items.  The whole body of this set is UV-protected and waterproof.
The cushion covers are removable and washable but do not leave them in rain or sunlight. You have 4 color options to choose from for the cushions.
Comes with a 1-year guarantee and is easy to assemble.
Frequently Asked Questions
Question: What is the most durable material for Patio sets?
Answer: The toughest material that can endure the weather inclement and water damage is wrought iron. Patio furniture made from wrought iron is the heaviest out of all materials, making it sturdy for residential and commercial use.
Question: What is the best month to invest in a patio set?
Answer: Prices of patio furniture and accessories hike up before and during the summer season. Higher demand in April through July means steeper prices and less availability. The best time to buy a patio set is August through October because the prices dip due to the changing season.
Question: What type of outside furniture is recommended for a beachfront house?
Answer: Aluminium patio furniture is the number one choice for a house near the ocean or sea. This metal does not rust and is sturdy enough to endure strong winds. Cast aluminum is resistant to saltwater, sunlight, and heat, making it the smartest choice for oceanfront properties.

You will agree that there are endless possibilities for selecting outdoor furniture.  Research, review, and reassess is your answer to how to find the best patio set. Instead of wasting time, effort, and money, follow the guidelines to purchase the perfect patio furniture for comfort, summer bliss, and years of buyers satisfaction.
Recommended Reads: