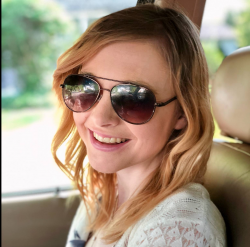 Latest posts by Erin Jamieson
(see all)
Sometimes it's the smallest changes that make you realize time is passing. One of those things for me was when my grandfather's well-loved porch bench was moved inside the entrance of his new condo. It was the end of an era- though more good times followed. 
And now, after his passing, my father still has the same porch bench. In a way, though it's changed locations, that porch bench is a way to remember my grandfather. It just shows you: that some of the seemingly simple changes can transform a porch and help you connect with loved ones.
If you've wanted to make your front porch more welcoming- or even more attractive to potential buyers- a porch bench can make a greater impact than you'd expect. That's why I'm showing you some of my favorite porch bench ideas, from modern farmhouse to rustic to classic and everything in between.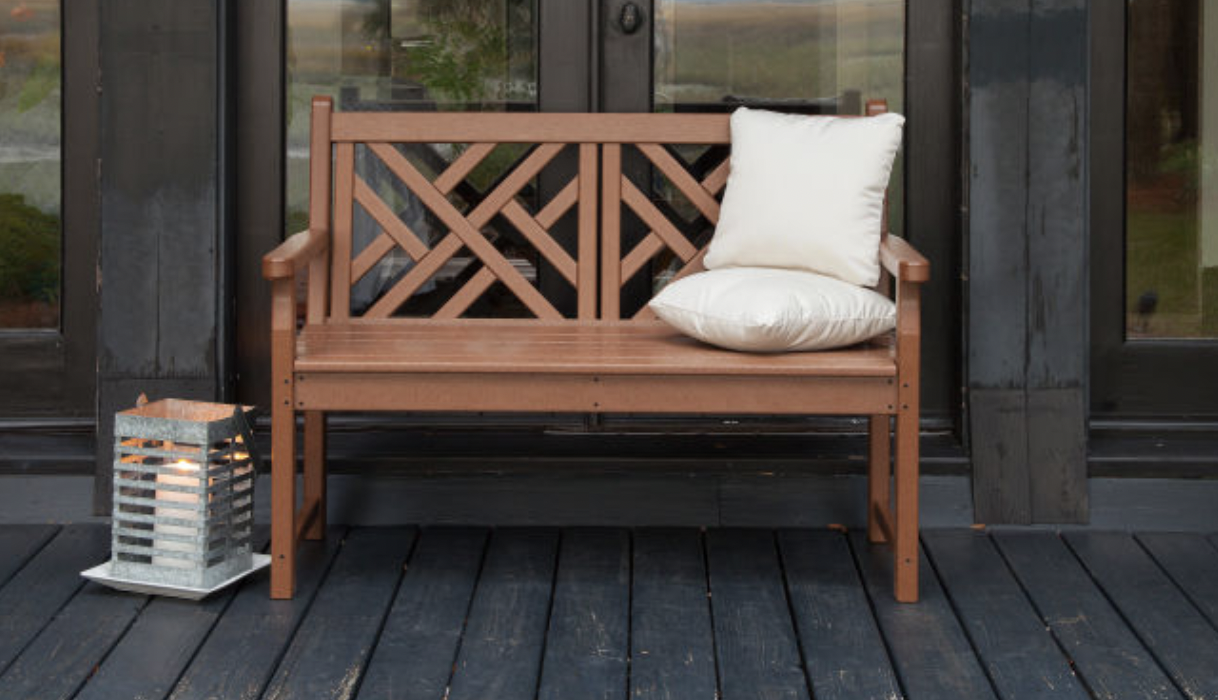 Bottom Line Up Front Summary
There's nothing quite like a porch bench as a welcoming addition to your home. Porch benches just might encourage you to spend more time outside- and even make your home more attractive to potential buyers. To find the best porch bench ideas, I considered the weather resistance of their construction, quality, comfort, and style.
While I love all of these ideas, if I had to recommend just one porch bench, it would be the Polywood Vineyard Bench. This bench is made to order, entirely in the US, and even comes with a 20-year warranty. While it does strike me most as a modern farmhouse style, in gray it's also simply contemporary. It's a low-maintenance, versatile design that can stay understated or given a bit of flair with stylish accent cushions. Plus, it's a few hundred dollars cheaper than my other Polywood porch bench pick.
My Top Picks
My Selection Criteria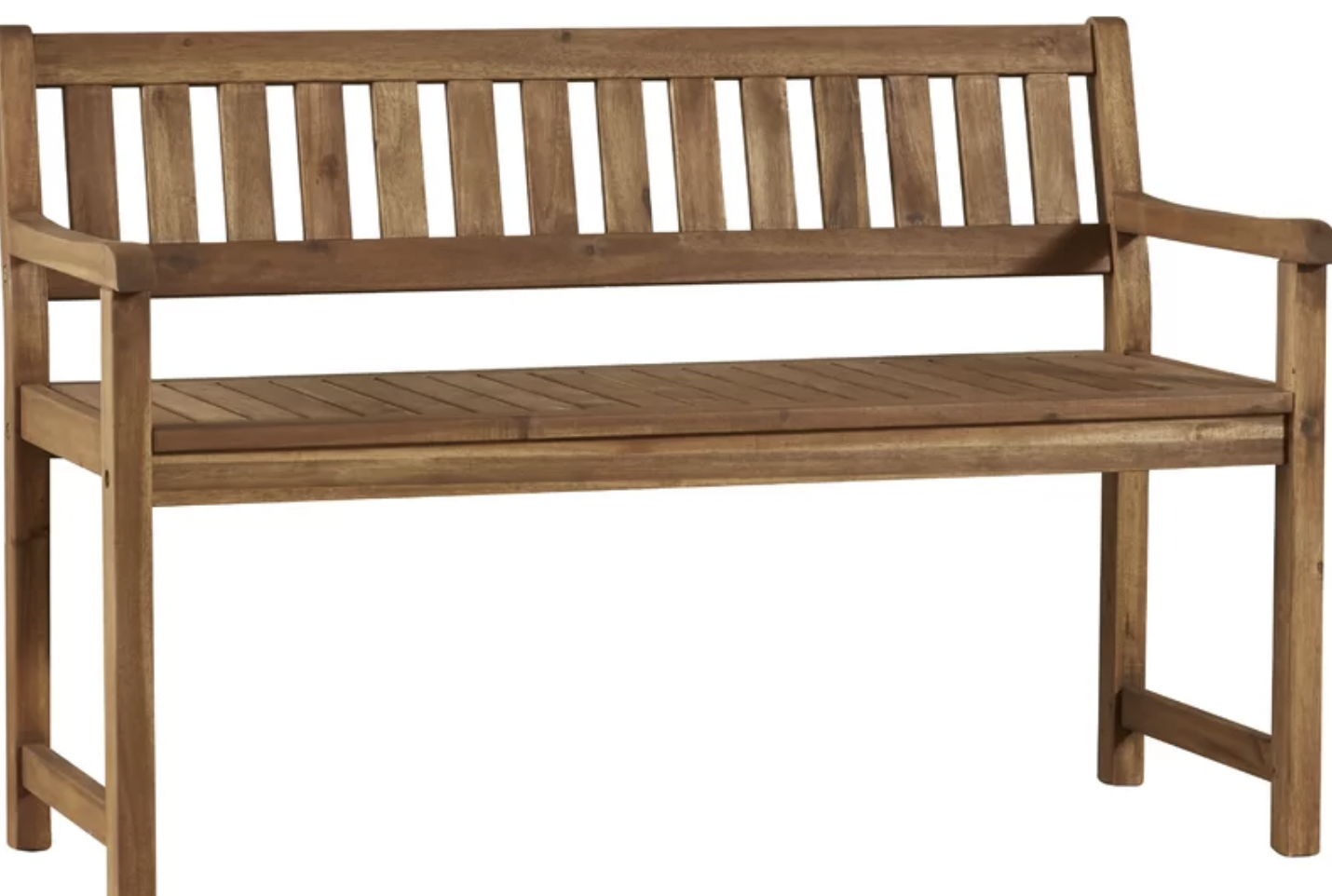 Want to see my favorite porch benches? Skip ahead. But if you want to learn how I selected these porch benches- and pick up some tips for your shopping, read on. Instead of trying to only find cheap benches, I focused on quality- all the while keeping in mind different styles and preferences. 
Best Materials
I love a good deal. But one thing I've learned about outdoor furniture is that a cheap sticker price isn't the best way to save money. I selected materials that make sense for the outdoors- and while all come with pros and cons, I made sure to avoid flimsy or too-soft options. My choices include: 
Stainless Steel 

Carbon Steel 

Powder-Coated Stainless/ Carbon Steel/ Powder-Coated, Rust-Resistant Steel 

Hardwoods (Hickory, Maple, Mahogany, Teak, Oak, Walnut, Acacia) 

Near-Hardwoods with Insect Resistance (Cedar) 

Polywood (High-Density Recycled Plastic) 
Notice that I'm excluding most softer woods (Pine, Redwood, Spruce, Fir) and plain steel or iron- which can rust. I'm also excluding weak plastic rattan benches, which are better for indoor use, and concrete benches, which are better suited in a garden. 
However, please remember that all wooden benches need to be sealed to prevent warping. This is true even for oil-rich woods, like tweak. And I highly recommend adding cushions to metal porch benches, which tend to trap heat! 
See also: Best Front Porch Decor Ideas
Different Styles
There are countless fun and expressive styles to explore! I included some of the most popular porch bench styles, including a farmhouse, modern farmhouse, modern/ contemporary, vintage-inspired, antique-inspired, weathered/ rustic, minimalist, industrial, and bohemian. I also considered different porch bench colors, from natural to gray to white to black to navy blue. 
But I wanted to throw in unique designs too, like x-backs, backless, and stylized backs. 
Dimensions
Porch benches have standard measurements of 42 inches to 60 inches long- so I wanted to include a range of sizes, from small to large- while keeping close to average heights of around 16 to 20 inches. But I also looked for mini benches you can use on even the tiniest porches. 
Stand-Out Features
Sometimes all you need is a simple porch bench. But I also took note of porch benches that offered stand-out features for both comfort and versatility, such as: 
Ergonomic Arms

Ergonomic/ Curved Back 

Cupholders/ Side Trays 

Amish- Made 

Made in the USA 

Accessories/ Hardware Kits Included

Manufacturer's Warranty 
Trustworthy Shopping
Of course, I never want to give you ideas from places I wouldn't shop. I searched Amazon, Wayfair,  Ikea, home improvement stores (Home Depot, Lowe's, Menard's), and specialty stores, such as Amish Yard to find the best variety possible. But everywhere had to have transparent shipping, refund, and customer service policies. Plus, I checked out reviews on individual products as well as detailed product descriptions. 
See also: Best Porch Design Ideas For A Welcoming Home
Great Benches for Your Porch: My Picks  
Here are some of my favorite porch bench ideas, from modern farmhouse to weathered and rustic. From wooden benches to metal benches, all of these ideas were selected with quality, style, and value in mind.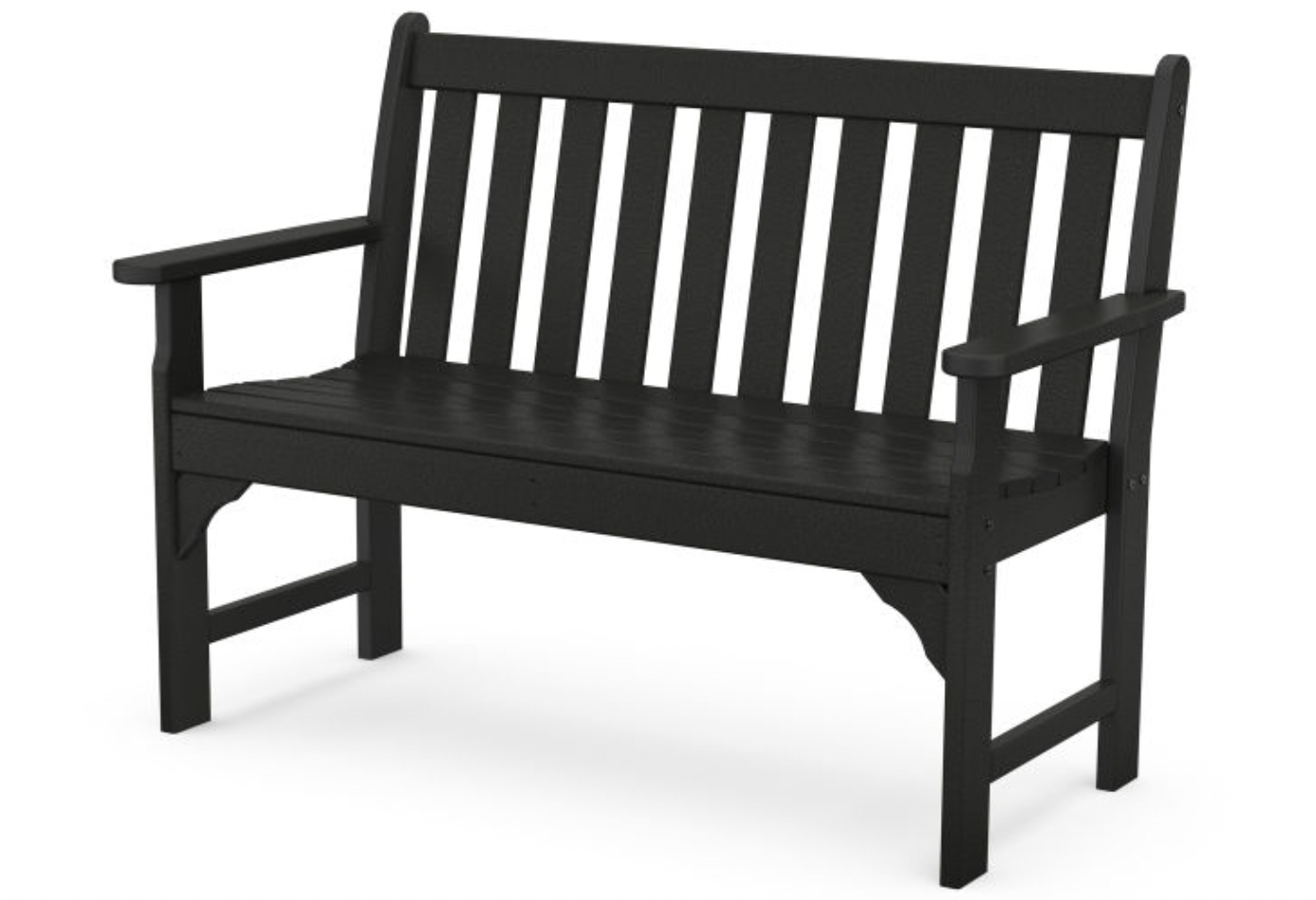 I love this custom-made-to-order porch bench for many reasons. First of all, in a brown, white or black color, it resonates with the popular and charming modern farmhouse theme. Order it in a slate gray, and you add a splash of contemporary charm. This striking but timeless design is constructed with 100 percent Polywood.
That means less maintenance, easy cleaning, and a fairly comfortable fit. While it certainly doesn't need it, it pairs perfectly with the company's side table and cozy cushions. I didn't even mention my two favorite bonuses: it's made in the USA and comes with a 20-year warranty!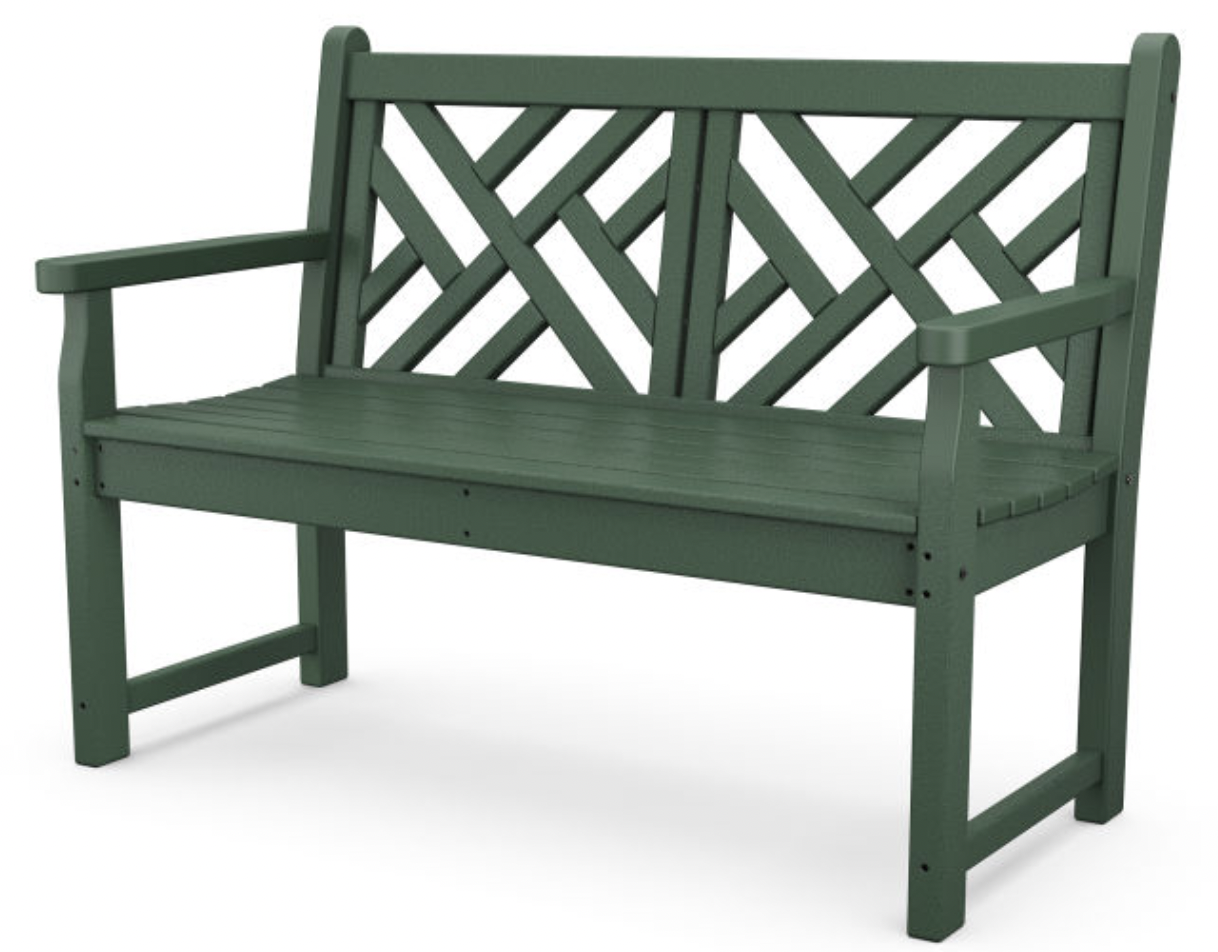 Want the same durability, comfort, and low-maintenance features as my first pick? This porch bench offers all of that- but with a more intricate and updated design. The interlocking X design not only adds a bit of style but also gives you plenty of ventilation for those humid and steamy summer days.
With mahogany, green, teak, white, black, and gray shades to choose from, this USA-made, Polywood bench can fit most porch styles. I love how it's at once contemporary but also timeless. Add some playful accent cushions for a mid-century modem or even whimsical touch. Plus, you get a 20-year warranty.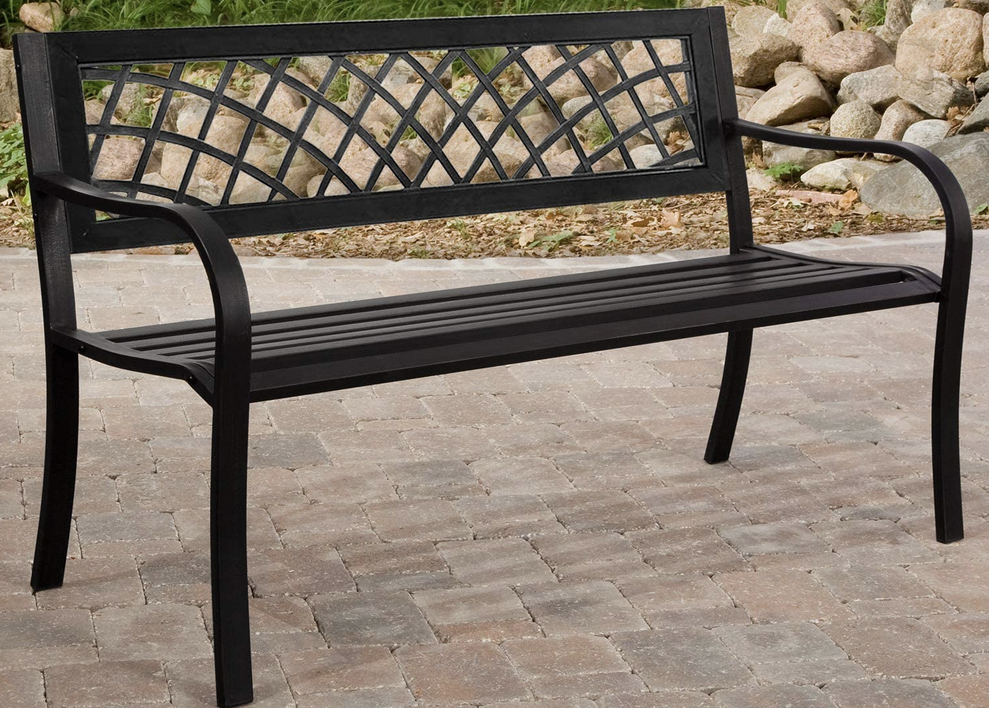 Looking for a porch bench on a tight budget? Not only is this one of the cheapest porch benches that'll hold up but it's also a surprisingly stylish metal bench. Add subtle contemporary flair with this porch bench that honestly looks far more expensive than it is.
The cast alloy steel is powder-coated to prevent rust, complemented with sleek, minimalist armrests. While it's not the comfiest porch bench you can buy, the price frees some room for expressive cushions. This laid-back style would look fantastic on contemporary, modern, and minimalist-themed porches.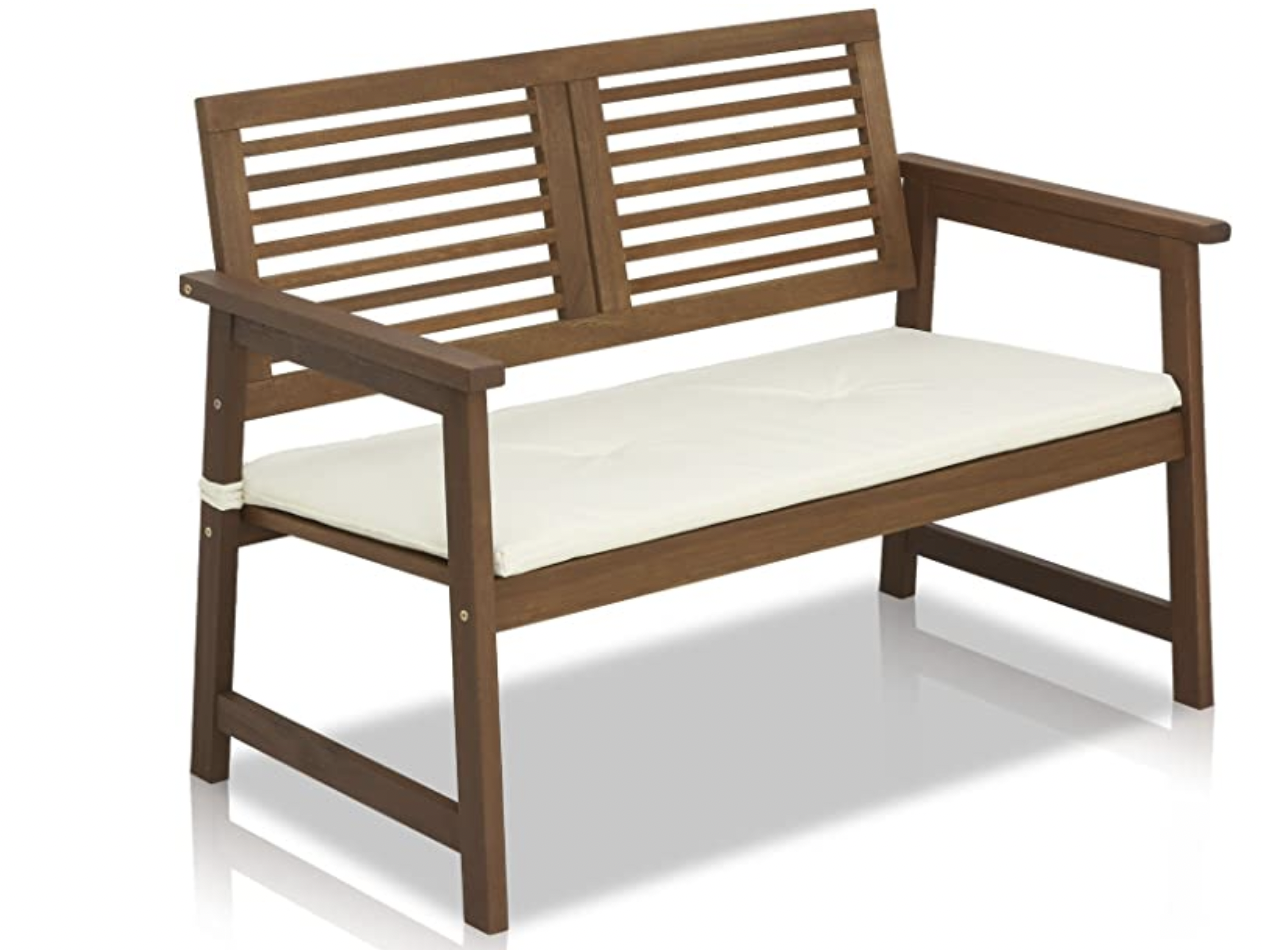 A hardwood porch bench, with cushions, with excellent customer ratings- for under $200? Yes, it's possible! I did a double-take when I found this mid-century modern design. Meranti hardwood is treated with teak oil- both huge upgrades to most designs at this price point. I also love that it comes with a seat cushion and a slated back.
With a weight capacity of 350 pounds, it's also not flimsy like other models at this price point. I like this idea for someone on a budget, but also anyone who appreciates an understated design.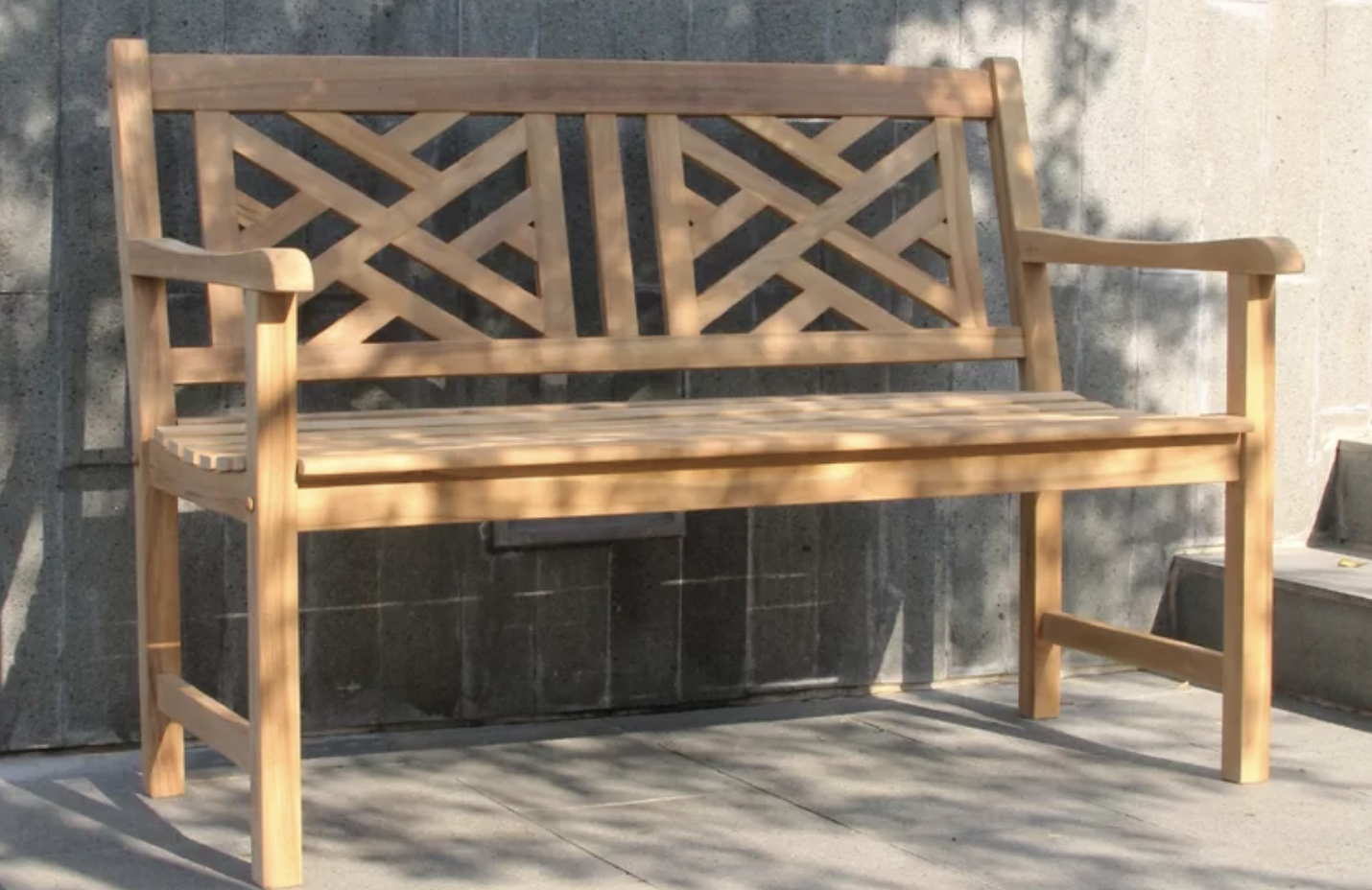 This charming porch bench is a great idea for someone who loves wood but wants something that's a bit lower-maintenance. This teak wood porch bench also comes in a whimsical weathered gray finish, all with a quaint cross-hatch back. I like the bit of style from the slightly curved armrests, plus the natural wood variation for a bit of rustic charm. Plus, it comes with a one-year warranty- and protection plans if you want them.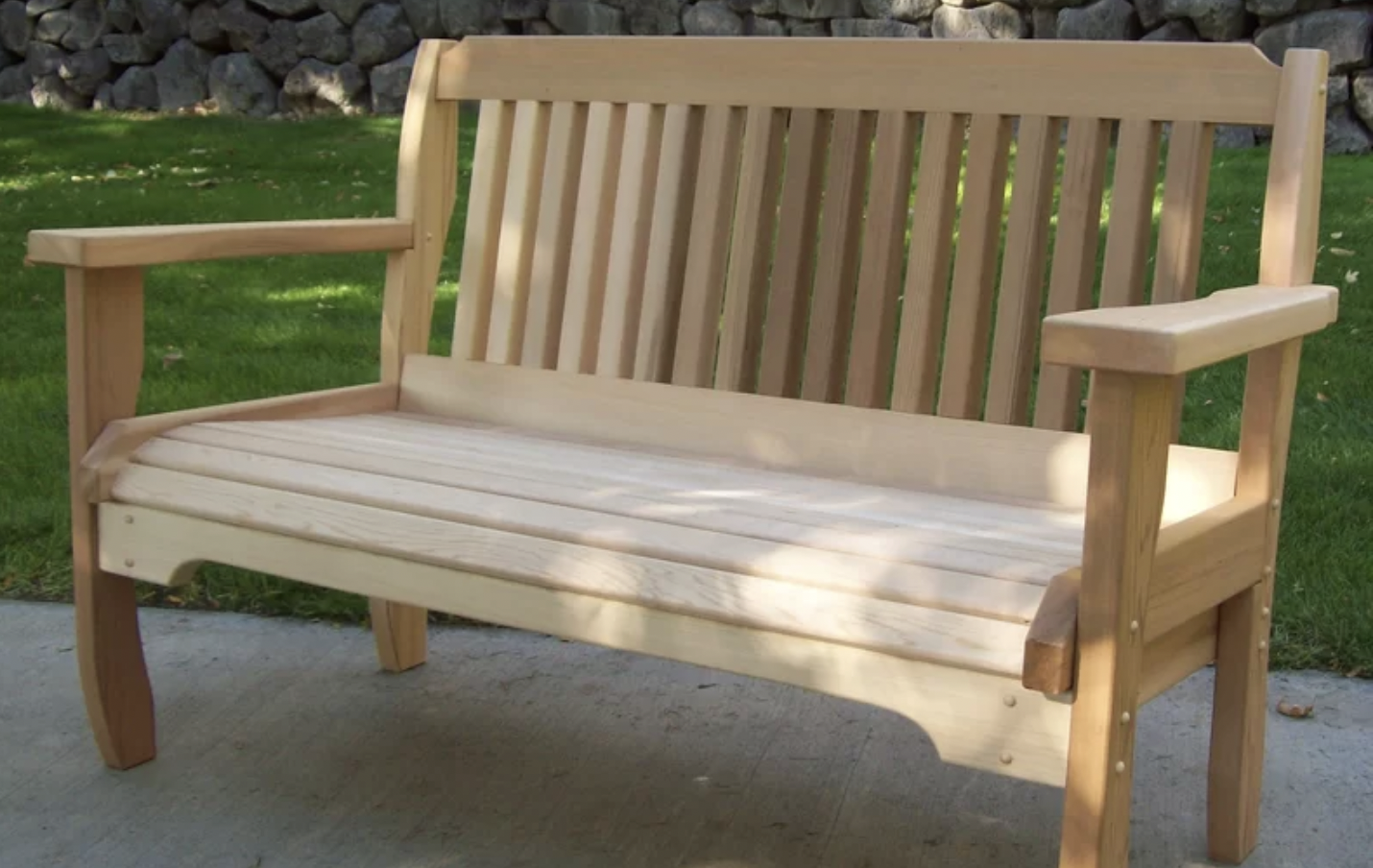 Do you live in an insect-heavy region but want a classic wooden porch bench? While buying spray may protect your skin, a cedar bench like this one may be the best idea for you. Sure, cedar isn't a hardwood- but it's among the stronger softwoods, and naturally insect resistant.
The reason why I love this porch bench, in particular, is its slightly arched, deep seat. The result: a more ergonomic, comfortable fit. It's one of that classic, traditional designs that can be left as is or stained to add a bit of color and personality.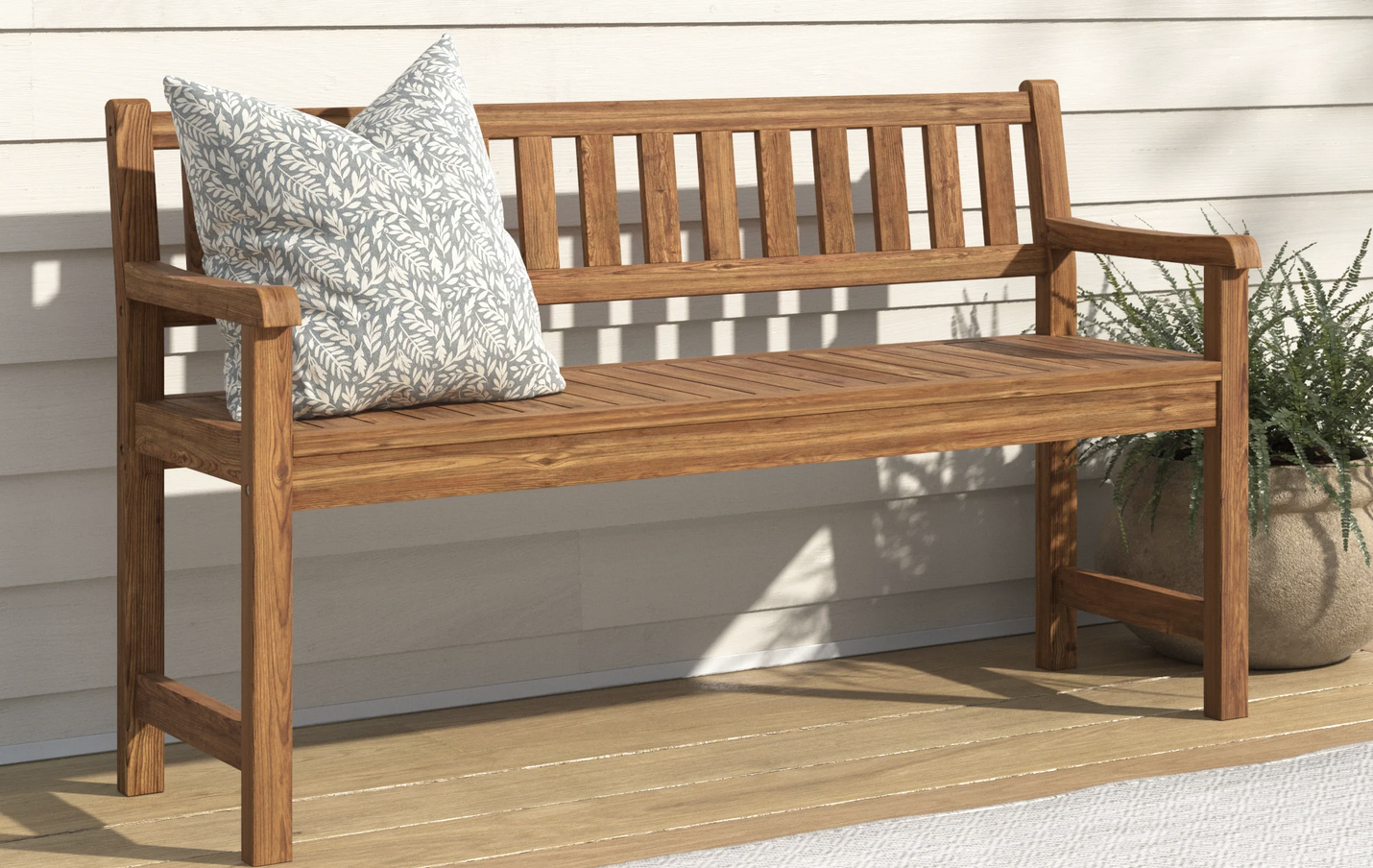 If you're trying to achieve a warm, contemporary look, then this beautiful acacia porch bench is one of my favorite ideas for you. The narrow porch bench leans more minimalist, yet still achieves the welcoming allure of classic wood. I'm loving the classic acacia wood, which is less prone to warping, plus the medium, natural hue.
Of course, feel free to stain this bench for a splash of color or a deeper hue, like black or navy blue. While it doesn't come with a warranty, the five-year protection plan is very affordable (and in my opinion, worth your money).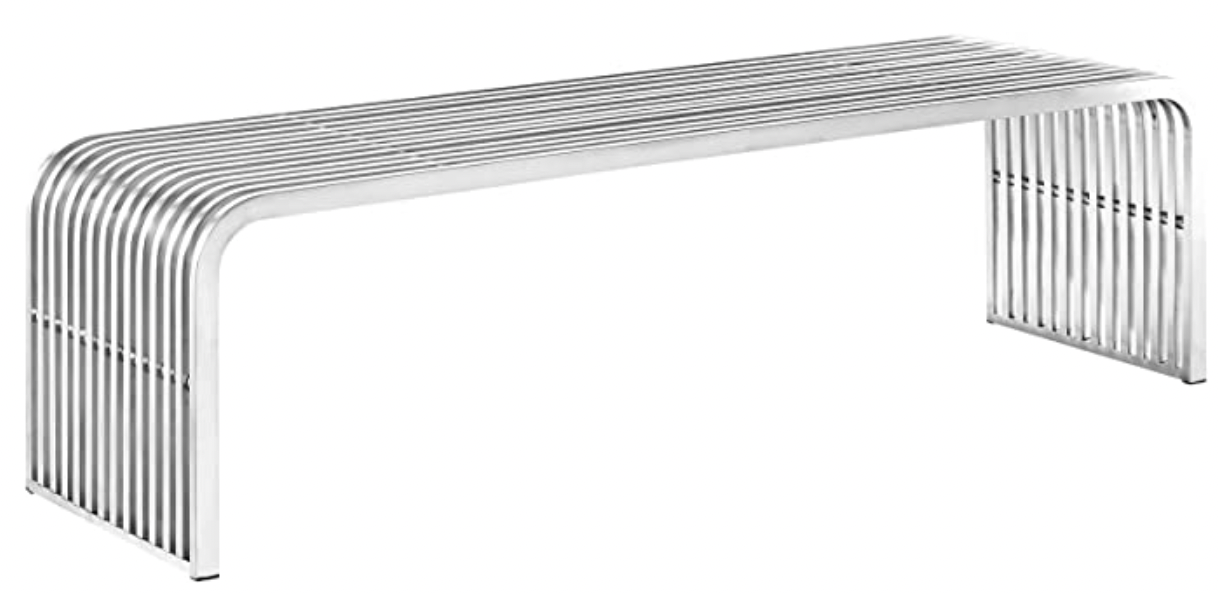 If you want a porch bench- but want anything but a traditional style, check this unique design out! This porch bench is anything but ordinary, and its sleek industrial charm immediately caught my eye. With touches of inspiration from mid-century architecture, this stainless steel porch bench features supportive beams and a seamless, alluring design.
Plus, this is one of the only beaches I'd recommend for both indoor and outdoor use. The backless design isn't going to be as comfortable, but you can easily set it against a foundation or wall and even add accent pillows for a softer look.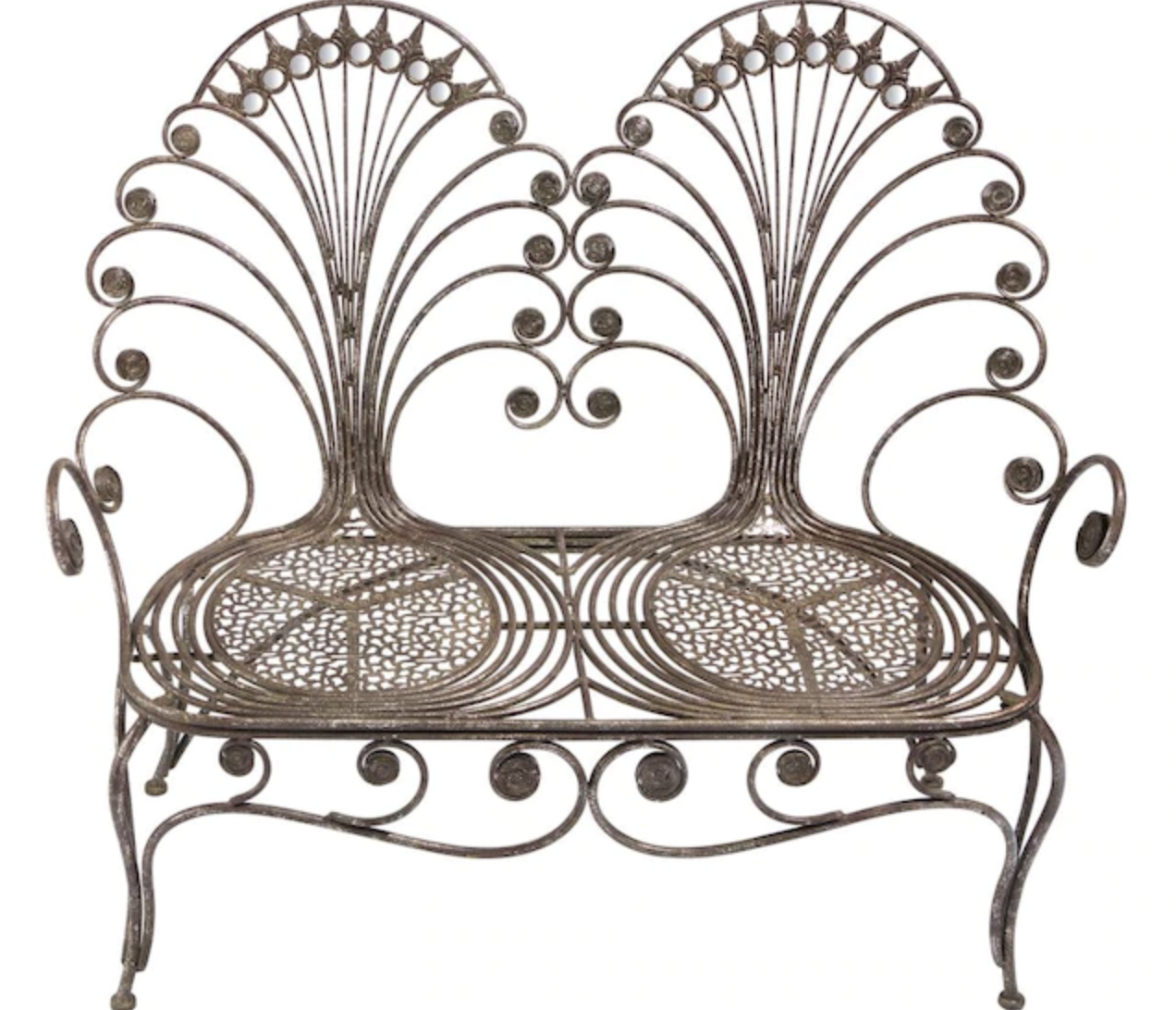 Bohemian style is a popular, airy style that usually touches on nature-inspired themes. And while many leave those styles to gardens, I see no reason not to mix it up with a porch bench like this. This elaborate design is nothing short of remarkable, with peacock motifs and a touch of elegance.
This enchanting porch bench is made with powder-coated steel and is simply one of the most unique designs you can find. To keep things comfortable, add peacock-colored cushions and/ or accent pillows. I'd love to see this on a porch with hanging or potted plants and some fairy string lights.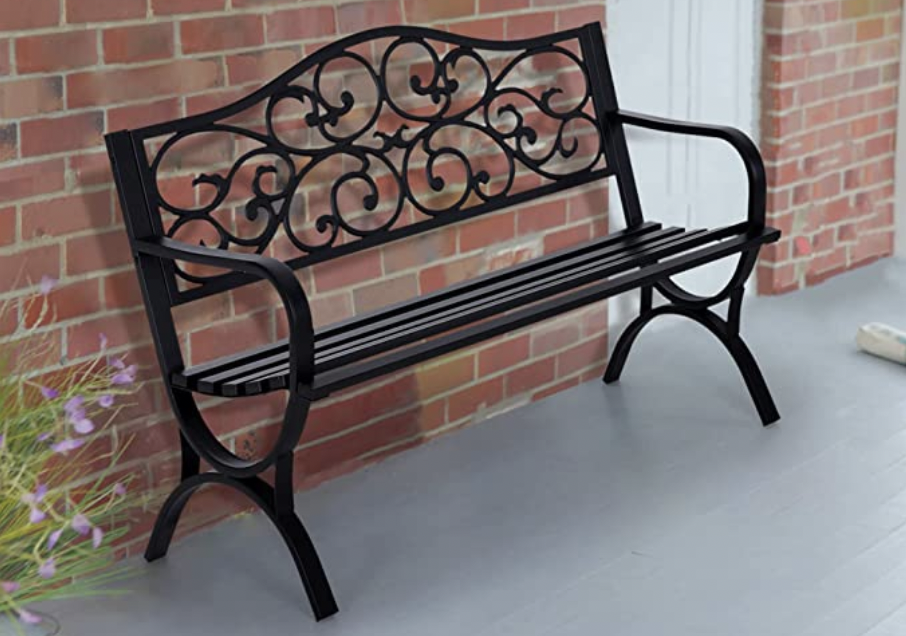 Rounding up my list is this affordable and charming, vintage-inspired porch bench. With a generous 50-inch wide seat, it's comfortable enough for 3- or stretching out for 2. I like the whimsical, swirled-back design that balances vintage and contemporary aesthetics.
But what caught my attention was the curved back- meant to be more supportive than your average metal bench. Add vintage-inspired charm with lantern porch lights and a welcome mat. And don't forget to add comfortable cushions for this powder-coated steel bench.
Frequently Asked Questions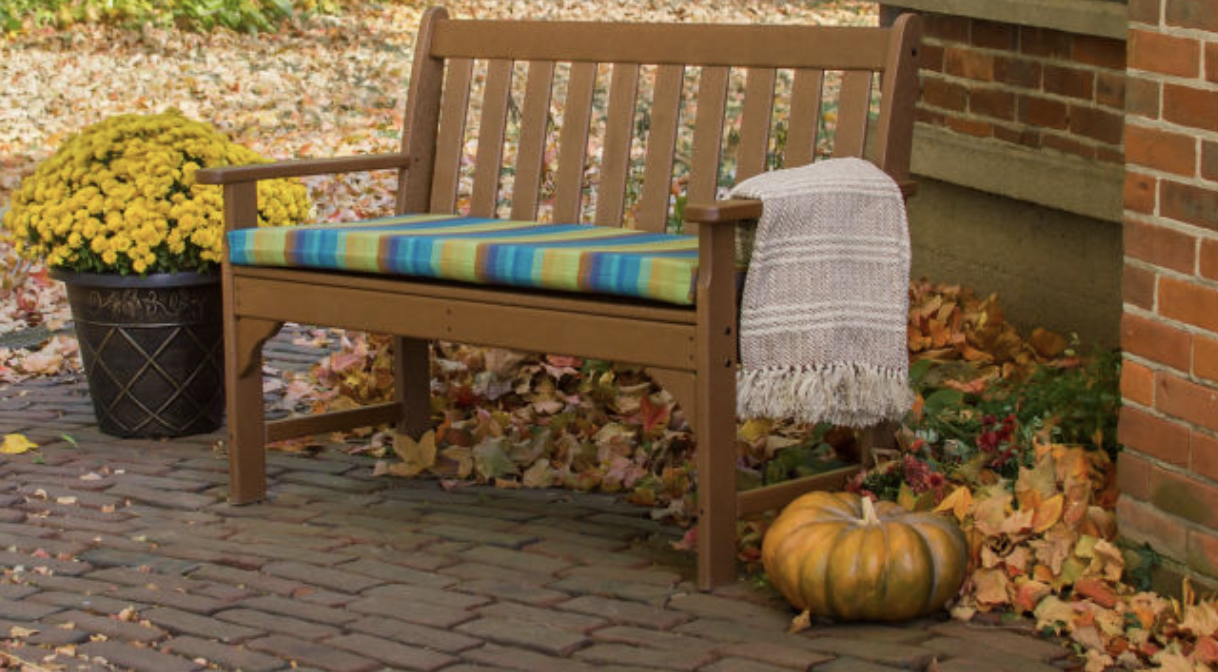 Question: Can I put a wooden bench outdoors?
 
Answer: Wooden benches are a classic statement for any porch or garden- but not all wooden benches are equally durable. Hardwood benches should be favored over softer woods. Some wooden benches, like teak, are rich in natural oils (which reduces warping) and others, such as cedar, are naturally insect-resistant.
Keep in mind that all wooden benches should be sealed and treated, and they require far more upkeep than something like Polywood or weather-resistant metal. Still, if treated properly, you can enjoy a wooden bench outdoors. 
Question: How do you seal an outdoor wooden bench?
Answer: Sealing an outdoor wooden bench is the number one way to extend its life. While some wooden benches come treated and sealed, many do not. Luckily, sealing an outdoor bench is pretty easy. All you need is an oil treatment, such as teak or linseed oil. You can buy a single-coat sealer or if you prefer, an oil-based spray. Apply according to directions, and make sure you treat your bench at least once to twice a year. Even the best seals don't last forever. 
Question: How long do park/ outdoor benches last? 
Answer: How long a park, porch, or other outdoor benches last has multiple variables- from the way it's cared for, to the climate and materials used. A well-kept porch bench or park bench can last over ten years, but you'll get far fewer years if you select a metal that rusts or untreated wood that warps. Another possible issue for wooden benches is deterioration in insect-heavy areas. For this reason, it's always important to select materials that make sense for the climate (and upkeep you're willing to adhere to). 
Question: What metal are benches made out of?
Answer: Metal benches are made out of either steel (regular, carbon, stainless steel), aluminum, or iron. Of these, aluminum benches are the most lightweight and economical. Iron benches are strong and often loved because of their traditional aesthetic steel is the most popular option for its strength and cost-effectiveness. There's a range in quality even with these broader metal categories, and sometimes metal benches are treated with a powder coat for improved weather resistance. 
Final Thoughts
There's nothing like a durable porch bench you can depend on. From cedar porch benches with a classic farmhouse aesthetic to sleek modern benches, hopefully, these ideas gave you some inspiration for your own home. Remember aesthetics matter, and I encourage you to have fun selecting the right style! But at the same time, make sure you're selecting a bench that makes sense for your climate and the maintenance you're willing to put into caring for your new bench.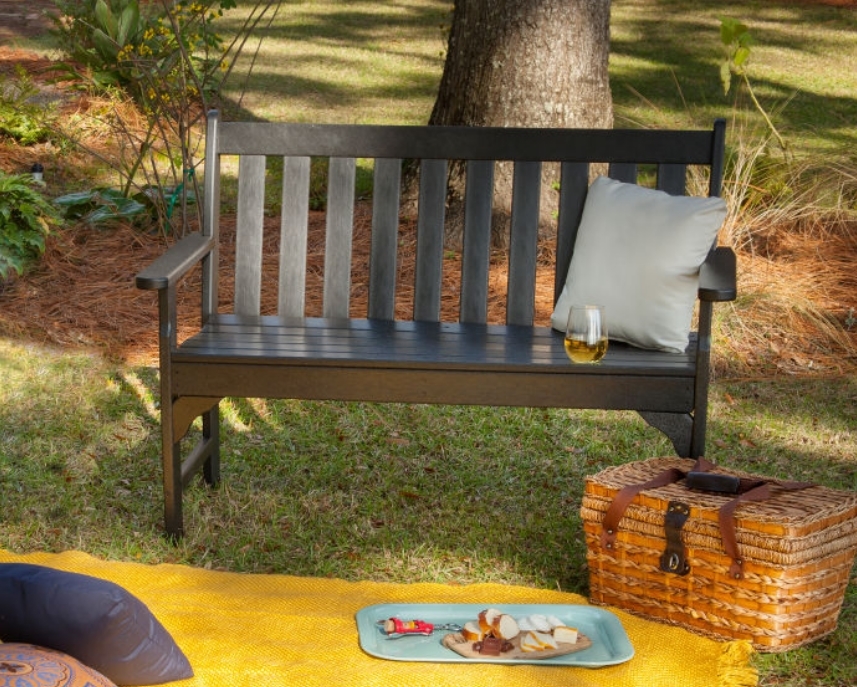 Final Recommendations
When debating between adding a bench vs a porch swing, I'd always keep both space and safety in mind. As much as I love the best porch swings, benches take up less space and don't have some of the safety concerns associated with porch swings. Either way, you're adding a classic and inviting addition to your home.
But if your indecision is more about which of these bench ideas is the best for your porch, then I recommend the Polywood Vineyard Bench. What I love about this porch bench is that it's made in the USA, doesn't require the upkeep of genuine wood, and comes with a 20-year warranty. Plus, you can pull off a contemporary classic or modern farmhouse style, and it's pretty easy to add a bit of style and flair.
Recommended Reads: