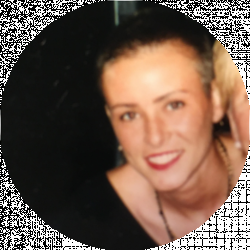 Latest posts by Richelle Tieman
(see all)
Polywood porch swings struck me as incredibly "fake" looking when I started shopping for durable, weatherproof porch swings several years ago. I don't use the word "ugly" lightly, and rarely does it even enter my vocabulary. Well, "ugly" literally jumped onto my tongue when I saw a Polywood porch swing. I had to look away!
I will tell you that this particular Polywood book cannot be judged by its cover. As the years went by and I had porch swings made out of wicker, wood, and metal, the drawbacks of each began to gnaw at me, especially concerning longevity. I love something that's built to last. Quality will pay for itself with the memories created from fine craftsmanship. I never thought I would be saying "fine craftsmanship" in the same sentence as "Polywood," but here I am. Lol.
Polywood porch swings cutest porch ideas because they are crafted to last a lifetime. I can appreciate the material and the processes used to create a Polywood porch swing when I have peace of mind knowing it's safe, weatherproof, and eco-friendly. Look toward the future with HDPE recycled plastic that is hard as a rock but not as heavy. Laugh off yogurt and juice spills, pizza, and red wine accidents. No sealing, no storing, no termites, no rot, and no splinters! As the list of Polywood attributes grew, so did my respect for Polywood porch swings.
I no longer saw a plastic monstrosity when gazing at the porch swings. I saw generations of enjoyment, worry-free eating, drinking, and swinging. My money spent was morphing into an investment that paid dividends over decades! Talk about doing a 180-degree turn!
I am excited to share some Polywood porch swing ideas that I love and present fun and easy ways to spruce up your porch! I'm interested to know what you liked, or wanted to learn more about, what worked and what didn't!
My Top Polywood Swing Idea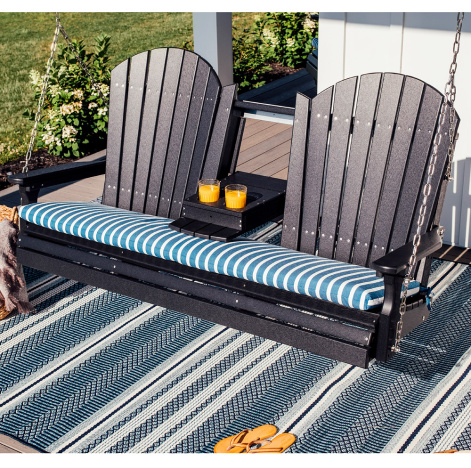 I love this look because of the tidy, neat, fun vibe it gives while still using accessories to increase the appeal. This is a simple and streamlined idea using a black, wood-grain Laconia Poly Amish Porch Swing that you can use in a small space or on the grandest front porch! Every surface resembles natural hardwoods, and the beauty of Polywood is that you don't have to seal your porch swing or rub oil into it every year! A Polywood porch swing doesn't splinter or crack or fade.
Polywood Porch Swings Idea Selection Criteria
It's not Polywood if it doesn't say HDPE! You can Google up many fashion-forward poly wood chairs just by typing in "poly porch swings," You can also do it using the word "plastic." Just remember that not all plastics are equal! Read the description to get all the great benefits of HDPE, or poly-wood. If it doesn't say PEHD or HDPE, you are not getting what you may think you are!
For items, my selections consider the accessibility and the retailer's reputation. Other considerations are:
Color options, Features, and Accessories
Cost
Attention to detail and style
Retailer reputation
My ideas must also meet certain criteria, and the things I look for are themes that can be used for any size porch and any size budget. I also love things that can be multi-purpose and used again! I have some furniture I adore that has traveled with me thousands of miles from hthe ouse to the house! Practical and convenient are words that I love, and if an idea includes something thimsical or high-maintenance, I will point it out.
Works in any space
Clutter-Free
It has a definite theme
My Favorite Polywood Porch Swing Ideas
What is Polywood?

What is Poly "wood," you ask? Great question! Polywood is a condensed, almost indestructible type of recyclable plastic (a high level of recycled plastic is used in making it). It is called "wood" because of an embossing process that pressurizes the material into textures with wood-like grain.
The material is high-density polyethylene (HDPE or PEHD) instead of low-density polyethylene (regular plastic). HDPE is much stronger at the molecular level than standard plastics and has much more tensile strength (withstand pressure). Due to its resistance to chemicals and tough construction, HDPE is used for thousands of things, including bottle caps, boats, chemical containers, water pipes, and outside furniture.
You may have seen the word "POLYWOOD." The first company to make outdoor furniture with HDPE copyrighted the name "Polywood." If you see just "Poly," it means the same thing, just not made by that particular company. Always look in the description and specifications section to determine the materials used.
Besides being super strong and able to withstand great pressures, Poly wood is immune to cracking, splintering, fading, rusting, and all weather conditions. I love that about Polywood! Incredibly convenient to use and maintenance-free. You can power hose it or wipe it with a soapy cloth. A poly wood porch swing is a worthwhile investment that you will enjoy for decades!
See also: Ultimate Front Porch Decor Ideas
Pros and Cons of Polywood (HDPE)
| | | |
| --- | --- | --- |
| Pros of Poly (HDPE) |   | Cons of Poly (HDPE) |
| High strength to density ratio |   | |
| |   | |
| |   | Resistant to painting (that's why it comes in so many colors) |
| |   | |
| |   | |
| Unaffected by chlorine, fuels, and mildew |   | |
| Water, sand, wind, salt, snow, and rust-proof |   |   |
Hanging Your Porch Swing
Safety is first when considering a porch swing. Porch swings can be heavy, and some may need significant time to assemble with two people. Your porch roof needs to have a load-bearing beam identified by a professional as being able to handle the swing and its activity. Usually, a professional will remove a section of the porch roof to find the beam and pass the hardware and ropes/chains through. Please do not attempt this yourself, as accidents do happen.
Consider hanging a porch swing closer to the floor for a more bed-like appeal and having peace of mind with the tots. When my children were young, I hung our porch swings no more than18 inches off the ground in case one of them fell.
If you opt for rope instead of a chain, remember that a polypropylene rope is the best choice for strength, water resistance, and holding knots. When getting a natural rope like jute or hemp, you will need to replace it yearly because the weather will deteriorate the fibers and decrease the safety. Read here for more hanging details.
My Best Polywood Porch Swings Picks

I love this weathered wood look color used on this Polywood porch swing. It looks like a well-used swing that has made many memories. I super like the 1200-pound weight capacity! I would love to see more swings with a weight capacity like this, but unfortunately, they are few and far between.
A few pillows or a cushion in a patterned design would complement this porch wonderfully since the room is sparsely decorated. I would add a fountain and a solar lantern on the side tables to complete the look!
This idea is great for smaller spaces because it comes in different lengths and the straight lines give it a more compact feel with a defined space.
For larger porches, this could serve as its own "area," and you could have a similarly themed settee and chairs around a coffee table. You also could set a bench near the door with plants in pots that are the same grayish color to tie it all together.
Shop this look: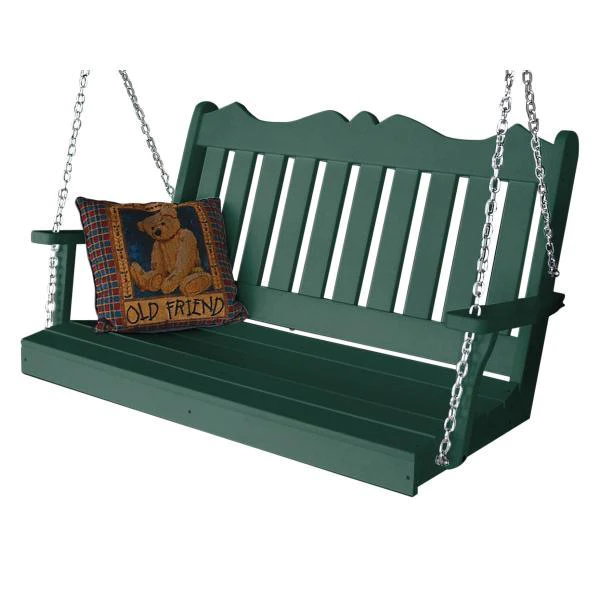 This gorgeous girl will bring the English garden right to your front porch!   The pew-like church back and a gently curving seat will cradle you in comfort even without a cushion! I love that it is handmade in the U.S. and is weatherproof. This idea is great for a busy porch because the bright red color and angles ensure the porch swing remains the center of attention. I would add dark brown wooden side tables or matching red tables with a fun, Aztec-style rug and toss pillows! Coordinate with wall art that has red in it! This porch swing comes in 14 colors, so you will surely find something that catches your eye!
Smaller spaces will instantly brighten with this focal point – no other items are needed!
Larger spaces will benefit from having the red swing in an area with coordinating accessories and furniture to give a common theme.
Shop this look: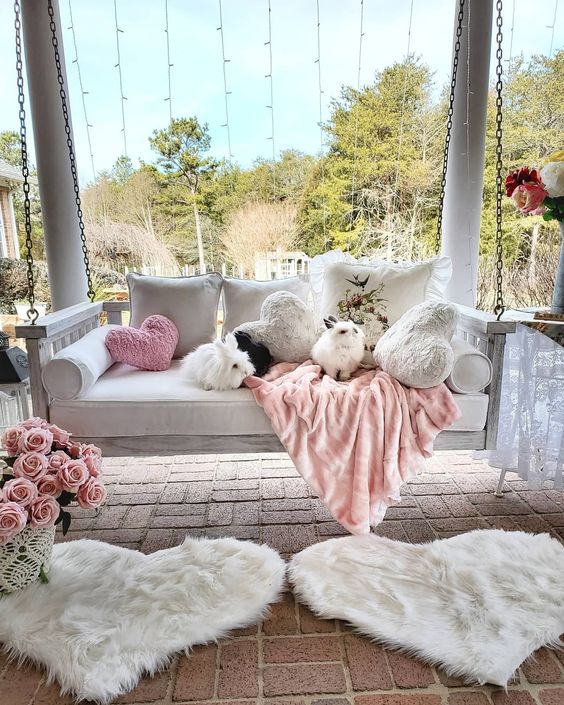 This picture makes me want to get a hot cup of coffee and my best book and snuggle into the softness! The traditional white and pastel pinks offer a soft, romantic appeal and the textures of fur, velvet, and chenille add depth to sink into and magnify the romantic allure. Roll pillows and a thick cushion give it a luxurious feel, and the only thing I would do differently is to add another larger rug underneath the two heart-shaped ones to seal the deal on sumptuous elegance. Well, maybe add a hanging chandelier or tabletop candelabra, too!
This idea works in smaller spaces because of its comfy, snuggly appeal. Fitting it into a nook will add to the charm.
For a larger space, ensure you add side tables with tablecloths and have defining rugs to add texture underfoot. This romantic look needs to be "close" together to achieve warmth.
Shop this look: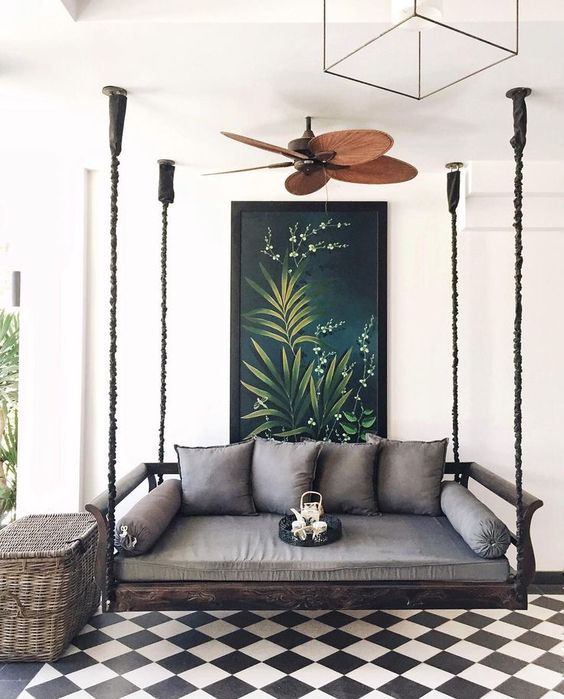 I love the ultra-sleek look of this black porch swing with dark grey cushions and bolster pillows. The single tones of color lend a stunning elegance to this porch, and the dramatic and lush painting behind the swing adds to the richness of the scene. I love the black and white checkerboard or harlequin flooring – the Corsican home I lived in had this style throughout the downstairs, and it was regal!
You can achieve this European look with a classic, straight English Polywood porch swing in glossy black, dark grey, or black cushions and pillows, and a checkerboard rug! Swap out the chain hardware for black polypropylene rope.
Use a one-seater Polywood porch swing and a smaller rug for smaller porches.
Shop this look:
See also: Best Black Porch Swing Ideas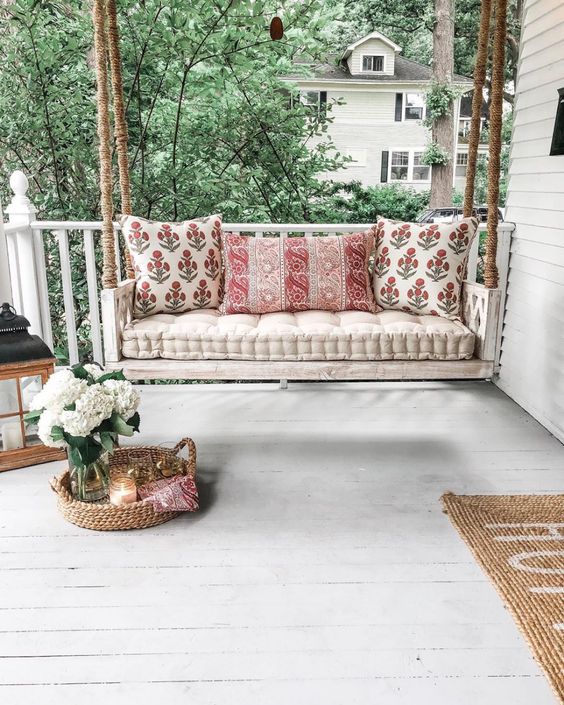 I love the laid-back styling of this look with the natural basket texture and pin-tucked bench cushion with side pleating. It mixes Bohemian charm and French Country with a bit of American in there (the lantern). A white or beige Polywood swing would look perfect and weather much better than this aged wood. The pink flowers and brocade patterns are just so darn pretty! Most porches don't have pleating or pin-tucked details like this, so having a more detailed cushion adds extra grace and distinction to your space. Swap out chains for hanging your swing with some thick rope to get that whole country vibe.
This idea is simple for a small space as you need the swing, pillows, cushion, and a basket!
For larger spaces, carry over the deep rose color with rugs, pots, and more floral fabrics. I wouldn't use rose for chair seat cushions as that will overplay the exquisite delicacy of the pattern colors.
Shop this look here:
See also: Best White Porch Swing Ideas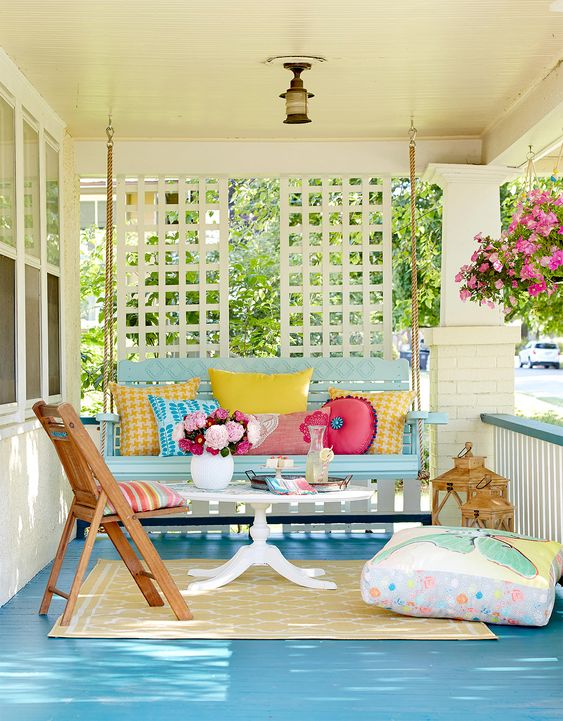 I love this zingy Southern palette of colors and stripes to bring fun into any day. I have about 20 different trellises adorning my outdoor spaces for various purposes, including privacy, hook hanging for wet towels, jasmine climbers, and just for ambiance! The folding wooden chair is convenient and easy to throw in the car if you need to bring an extra seat, as is the floor cushion. Yellow cushions feature prominently in the background and remind us that this porch is summer-bound! The vintage Chippendale table has been painted to give it a fresh appeal, and the neutral-colored lanterns coordinate with the chair! Put up a few lattice trellises on the back of your railing, and you have a private escape!
To tidy up the look, I would remove the yellow patterned rug as it is too busy for what is already on the porch!
For smaller porches, the petite folding chair and floor cushion are ideal. You can use a four-foot Polywood Highback Porch Swing to squeeze in!
For larger spaces, you will want to start adding similar styles of chairs or another porch swing that is the same style. Because so many styles and colors are gracing this porch, it could look like a thrift shop if you're not careful.
Shop this look: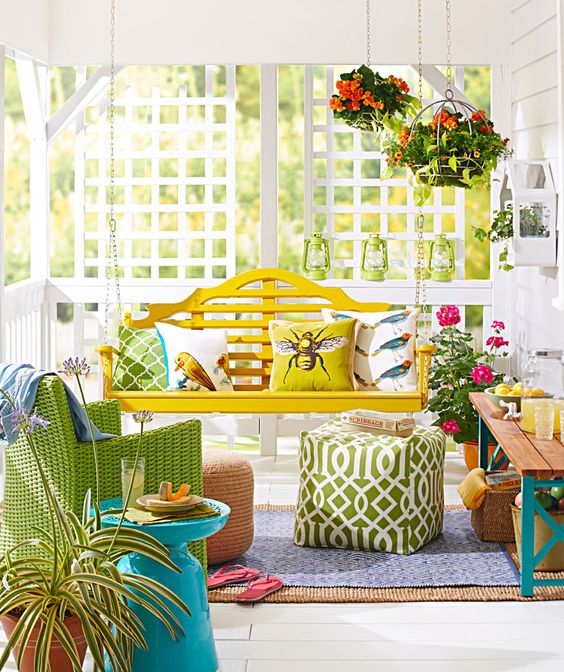 I love the yellow vibrance of this uplifting porch! You can welcome in the sun anytime with this English garden-themed lemon-hued swing. What's interesting about this picture is that they have many bright colors that HDPE porch swings offer, like the Aruba blue, yellow, and lime green! There's even lemonade on the bench!
Bumblebee, canary motifs, and actual lemons in a bowl that add a perfumed zest to the garden aroma are spinning off from the lemony yellow color of the swing. Sticking with a few bright colors and tying them in with other accessories makes the porch look well thought out instead of like a yard sale. The abundant use of flowers and plants to reinforce the green chair and ottoman ensures a porch style associated with gardens, lawns, and the summery outdoors.
I think the blue rug is a bit too much because it introduces another color, and it's muted, so it softly clashes with the overpowering colors. I would remove the blue and tan rug and replace them with one off-white or ivy green rug.
Shop this look: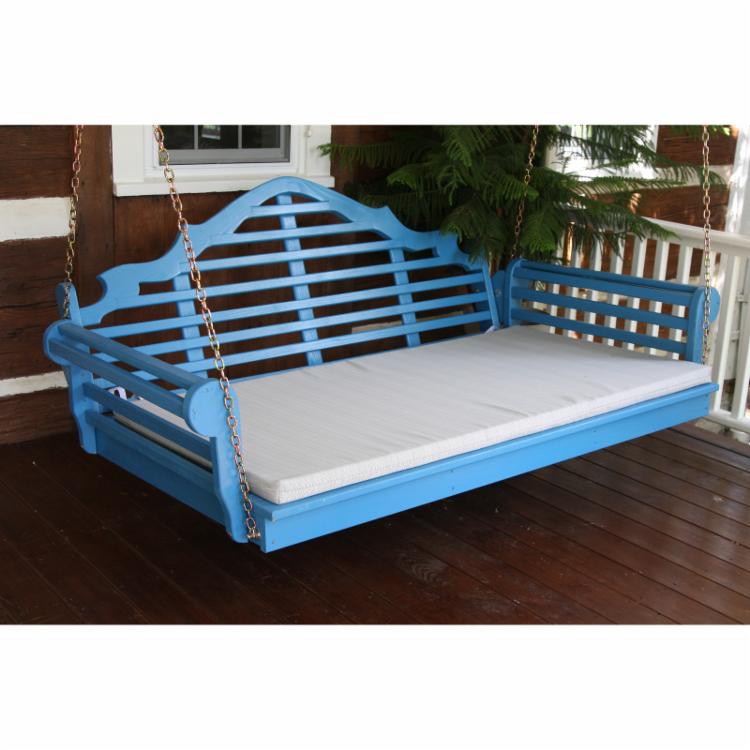 If you have young children or teens, these vivid colors will entice them into this surreal-style Polywood porch swing at Hayneedle! The bold, bright colors that Polywood swings come in are just begging you to create a Dr. Seuss-like nook for reading! What better way to bring back your childhood fun than by immersing yourself in the whimsical world of "Thing 1" and "Thing 2"!
Throw pillows in primary shades, and wide stripes blend perfectly together and don't be afraid to use large floral patterns that use the same colors. I suggest layering rugs under the swing, with the bottom rug a bright red and the smaller top rug in mixed stripes! Don't forget a table to hold beverages and books!
You can achieve this look for a smaller space by having a smaller swing in bold blue, yellow, or red. Choose lots of toss pillows in primary colors and wide stripes, and add a small rug to coordinate with the swing!
Shop this look: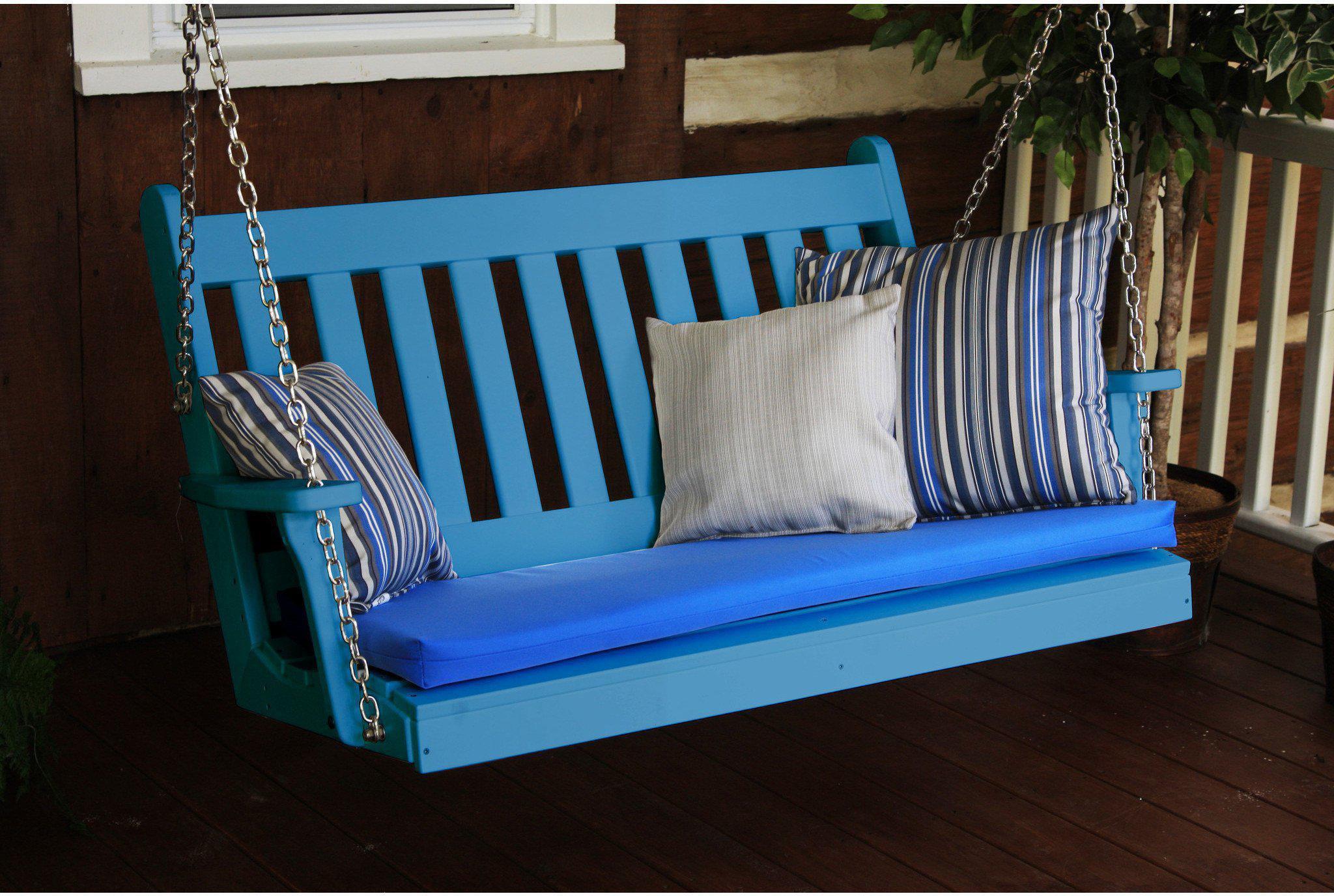 This idea perfectly illustrates how you can mute and refine a bold, baby blue shade to blend in with the surrounding decor. If this porch swing had no pillows on it, its unique creamy color would play a central role in porch decorating. I would take paint swatches to find the same color blue and bring it with me to shop for pillows, cushions, vases, pots, and wall art. This color demands that you take notice of it, for good or bad, but I love it because it reminds me of boating out on a lake!
To create a more subdued look, they use darker shades of blue and a solid neutral color to "weigh down" the flighty blue sky color. I would have added a navy blue seat cushion to match the toss pillows and create a grounding foundation. Then the bright porch swing would not feel in conflict with the dark flooring. Use darker, wooden side tables and pots or wall art with darker colors – but stick to blues, browns, beiges, and greens. Speaking of green, where are the plants in this picture? Add an abundance of green only (otherwise, it looks mish-mash hodge-podge).
For smaller spaces, choose darker neutral shades like brown, navy, or rust and stick with them for cushion, rug, and pillow colors; I would add a rug, pillows, and cushions to tie the small space together.
For larger spaces, you won't need to define the area around your porch swing but rather decorate out from it. Start with a rug under the swing, then a coordinating rug on the other end of the porch. Add lots of green plants and don't mix bright primary colors on the porch – stick to darker neutrals and the exact shade of sky blue.
Shop this look:
FAQs
Question: What size porch do I need for a swing?
Answer: The rule of thumb is to have two feet in front, in back, and on the sides of your porch swing for safety and ease of movement. Without any swing yet, you already have a four-foot by four-foot square mapped out. Add a 36″ by 24″ porch swing, and now you need a porch at least seven feet long and 6 feet deep. That's with nothing else on it. It can be done and done well. It just depends on what you want on your front porch. Check out this smaller swing at Wayfair!
Question: How do I decorate with a Polywood Swing?
Answer: Polywood porch swings are built to last decades, come in dozens of colors, and can be either rustic, modern, romantic, or classic. Once you know the porch look that you want, it's easy to choose a swing color and get coordinating pillows, planters, wall art, and rugs. Polywood swings tend to have incredibly bright colors that are beautiful but can be overwhelming to a style. To tone down a color you love, choose a darker shade of that same color and use it for your seat cushion. Use that darker color as a guide for throw pillows, with florals or stripes primarily the darker shade. I would opt for wood or wicker chairs and tables with neutral colors. That way, it will tie together and blend instead of sticking out like a sore thumb on your well-groomed porch!
Question: What is a poly swing?
Answer: Poly swings are a wood substitute made from recycled plastics using a special method to produce HDPE plastic. This material is incredibly durable, weather and rust-proof, and eco-friendly. Polywood is maintenance-free and repels insects. Polywood Porch swings can last a lifetime and be out in any type of climate.
Last Shout Out for Polywood Porch Swings!
If you haven't already thought of enough great reasons to invest in a porch swing, I have another one. Swinging stimulates the cerebral cortex. Being on a porch swing calms the mind and relieves stress. Medical professionals contend that it improves circulation and increases concentration, and they recommend a swinging motion for insomnia, Autism, and ADHD challenges.
Getting a Polywood swing ensures you will enjoy decades of swinging safely and without any maintenance. No waiting for the inevitable crack of breaking wood. No splinters, termites, or mold! Spending time with a good book and watching the sunset can be enjoyed while swaying back and forth.
Wrapping up the Bottom Line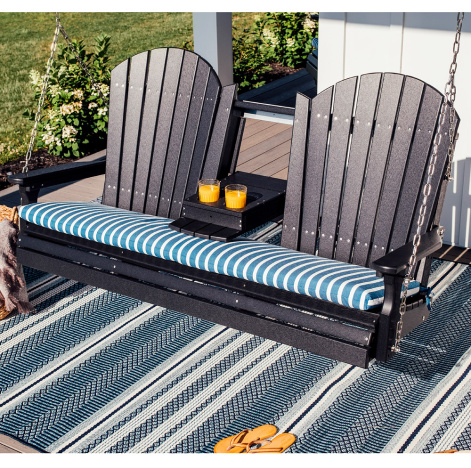 This picture reminds me of a lakeside retreat, like the one we summered on when I was growing up. The blue striped cushion adds flair, and using blue wooden side tables would tie this all together. We hung string lights on our camp porch, and the whole water vibe comes alive at night, with the stars highlighting the color blue of the water.
The blue and white striped cushion is a traditional lakeside style, and they have also used blue as their main color in the rug. The dog is a great addition to this look and probably enjoys time on the sturdy swing, too!
If you are in the market for a Polywood Porch Swing, chances are you have had some experience with other types of swings. You may have loved the swing aspect and what it added to the quality of life,  but now you want something that will last through years of climatic changes. Or you want a porch swing that doesn't splinter or mildew.
What I love about Polywood is the endless ideas and styles you can create with the astounding array of colors that are offered (more than any other material), and the different themes represented by their designs. From modern to English Garden to Rustic, there are plenty of options and just the right color to make your porch a personal signature! Signing off for now, you can find me on my porch!
Recommended Reads: