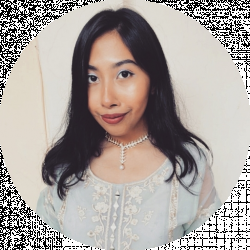 Latest posts by Nanziba Khaled
(see all)
Rustic vibes, and earthy tones combined with comfort and coziness, that's how I like to visualize farmhouse décor. The ultimate farmhouse decor ideas are all about rustic, country-style home looks, inspired by elements that we usually see in a traditional farm. I am all in for the sleek, modern interior designs; however, the warmth and coziness bought by the farmhouse style can instantly turn your house into a home. Whether you are decorating a new house or renovating an old one, here's why you should opt for the farmhouse décor:
It creates a warm and inviting atmosphere.
You can re-use old, vintage furniture.
The décor style is easy and laidback but versatile, so you can play with industrial decors or traditional pieces to see what suits you best.
Farmhouse décor is readily available at online/local stores, and there are always plenty of options.
However, as there are too many styles and options, farmhouse décor can get tricky. So, grab a cup of coffee, sit back and relax; as I guide you through the ultimate farmhouse décor ideas. I have divided the sections by rooms for you to envision how to decorate each room in the farmhouse style.
Bottom Line Up Front
I have listed several tips and tricks that will assist you in giving your home the perfect farmhouse vibes. However, if there's one idea I believe is the easiest and cheapest way to add some farmhouse theme, it is to add some antique decor pieces. Buying new furniture is a significant investment.
I recommend it only if you are renovating your space or moving in. However, if you want some quick farmhouse theme upgrades, then industrial clocks, antique windows and jute rugs will do that for you. You can find all these vintage pieces for under $50 on Etsy.
If I had to choose one piece of furniture out of all the furniture recommendations I made in this article, it would be the Terri 40″ Cube Coffee Table for me. This coffee table is a stunning piece and an absolute must-have for your farmhouse-inspired living room. Although this coffee table is expensive,  its primavera wooden finish makes it look unique and stylish. Hence you can undoubtedly use it as a statement decor for your living room.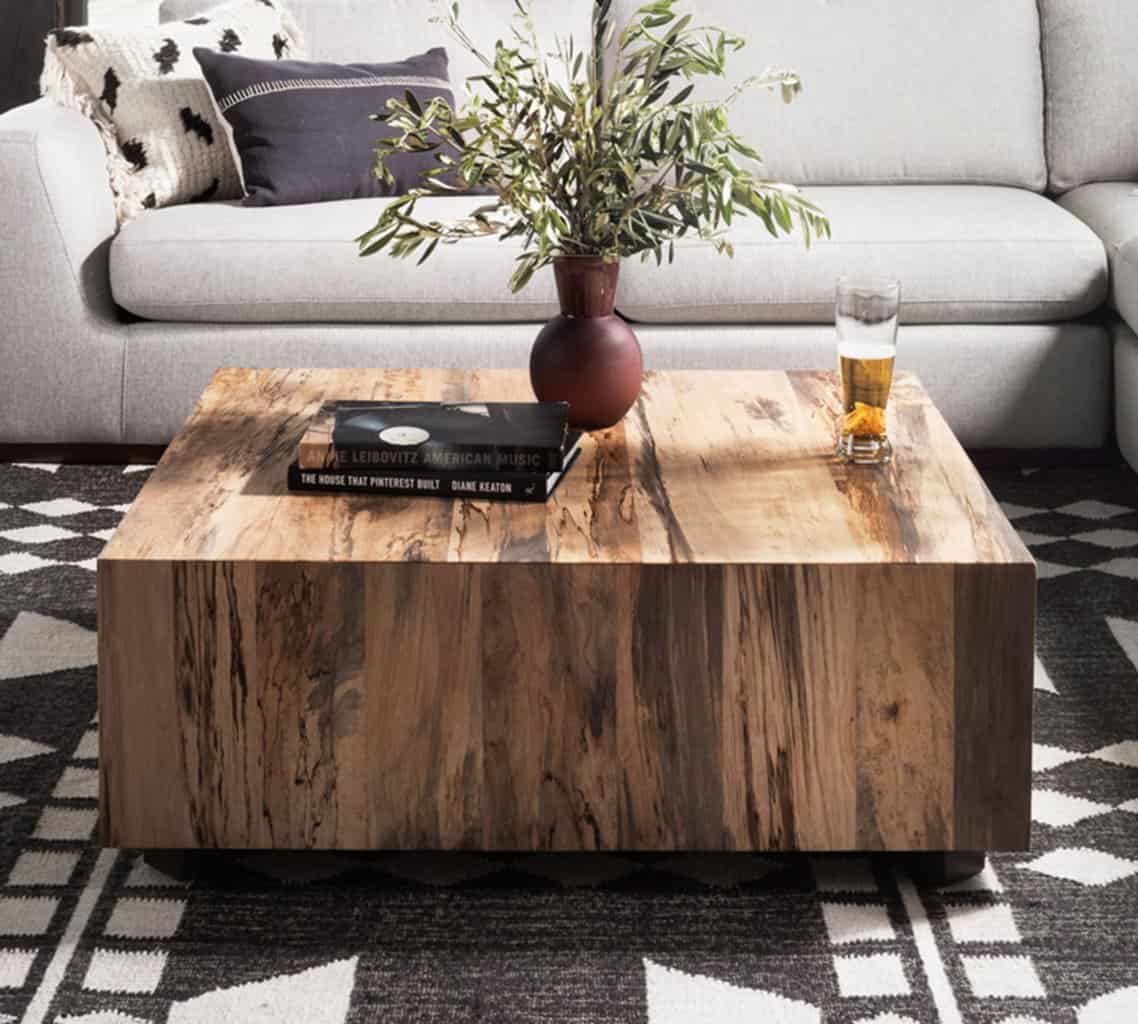 My Selection Criteria
I am an aspiring interior designer who tends to be picky about the items she selects. Therefore my selection criteria are never-ending. However, here is  a little insight into how I selected the furniture and decors:
The Design
When designing for a specific interior style or theme, it is essential to stick to its defining elements. We want anything country style, rustic, antique or vintage for a farmhouse interior. Rustic furniture is anything made of distressed wood, metal or a combination of both. Rustic is old, and it is basically finding the beauty in imperfection. In addition, there should also be comfort elements in farmhouse design, such as plush couches and comfy beds. Overall the farmhouse aesthetic is homely and rustic.
The Colour Palette
All interior styles come with individual color palettes. The farmhouse color palette mainly consists of neutral and earthy tones, mostly colors that you will find in the countryside or a farm. I go for beige or off-white couches, which create a bright atmosphere and complement the rustic wooden ambiance.
When looking for darker tones, my preferred shades are grey, warm browns, greige and even navy blue. Various shades of blues are trendy for the farmhouse color scheme. Hence when one feels neutral shades are too monotonous, I suggest using navy blue or powder blue couches to amp up the space.
Comfort, Quality, Durability
When selecting furniture, I never compromise on comfort, quality and durability. I initially used to get biased by good designs; however, a good design is nothing if it doesn't serve its purpose for human comfort. Therefore, when selecting couches, I always ensure the couch is comfortable and made of natural material.
Natural materials like linen and cotton provide the utmost comfort, whereas leather sofas are highly durable. The same theory applies when selecting tables or bed frames. I always look for sturdy wooden frames over thin metal frames.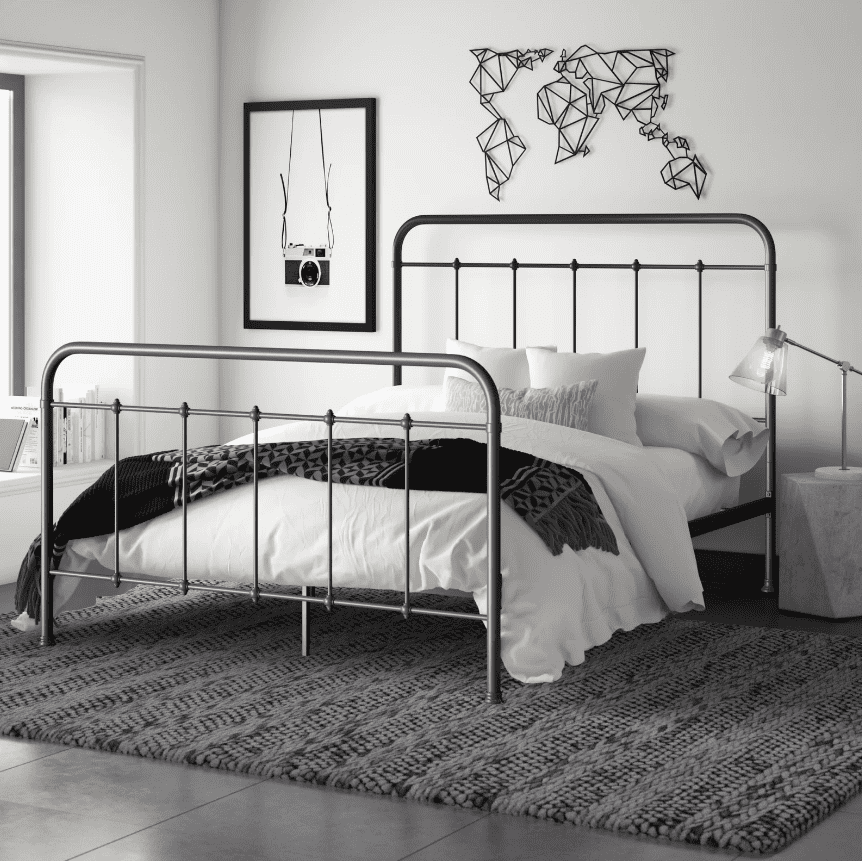 Farmhouse Furniture
Always buy distressed furniture when stressed about what furniture to get! A distressed wooden table with metal accents screams all things rustic and vintage; in other words, the perfect addition to your farmhouse interior. I have listed some of my top furniture picks and decor ideas for your farmhouse interior, categorized by each room, to clear all your doubts and confusion!
See also: Best Farmhouse Porch Swing Ideas
Entryway
Start by adding a white or brown bench to your entryway with a distressed wooden finish. An entry hall gives your guests the impression of what's coming next; therefore, your entrance must resemble your interior. Amazon has a wide range of wooden benches; I have listed my favorite ones down below: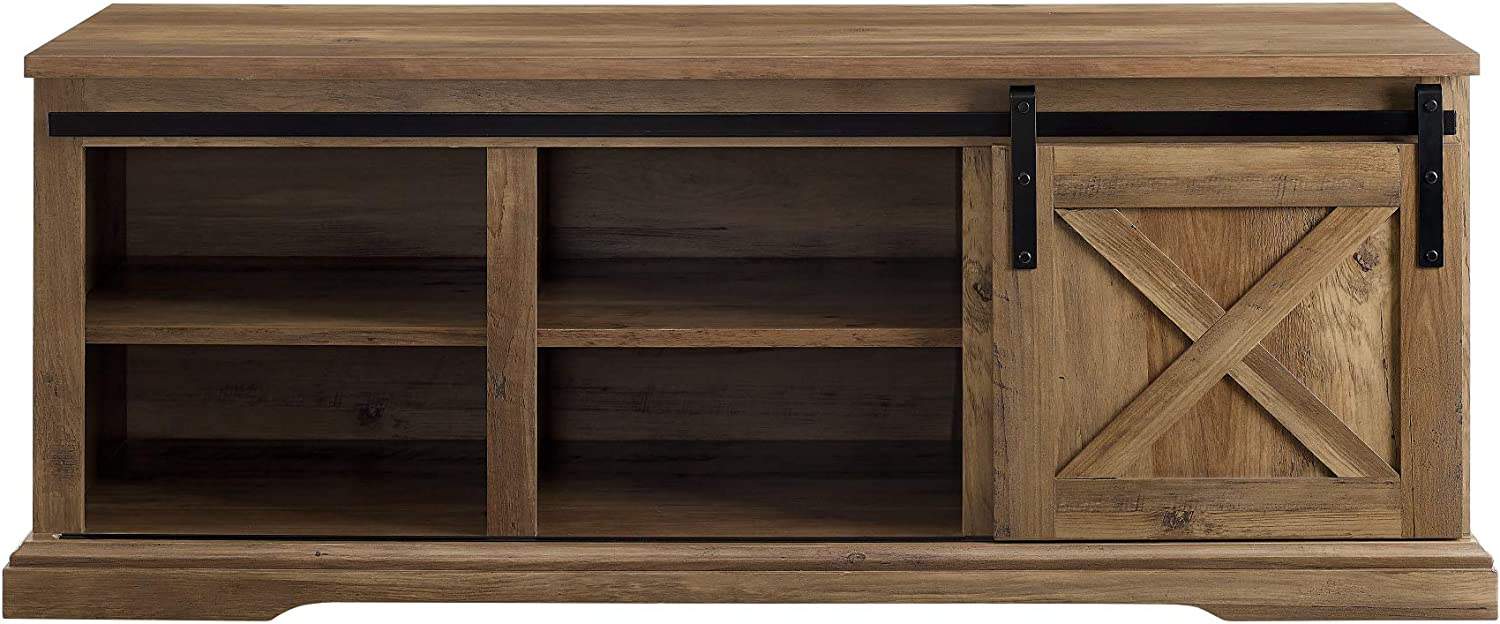 This rustic oak farmhouse bench is giving me all the vintage vibes. It's the perfect piece to put on your entryway, immediately setting the impression for the rest of your house. This bench comes in two gorgeous shades- Rustic Oak and Grey Wash. I prefer the rustic oak shade because I adore the warmth of oak furniture. The best part is that this bench comes with additional storage.
I always love benches and beds with storage spaces; I believe it is essential, especially when you have more than two people at your home. The fixed shelves on this bench will act as the ideal shoe rack for your entryway while saving the space of a separate shoe cabinet. Lastly, the bench is highly sturdy and affordable, and as a bonus, it is also easy to assemble!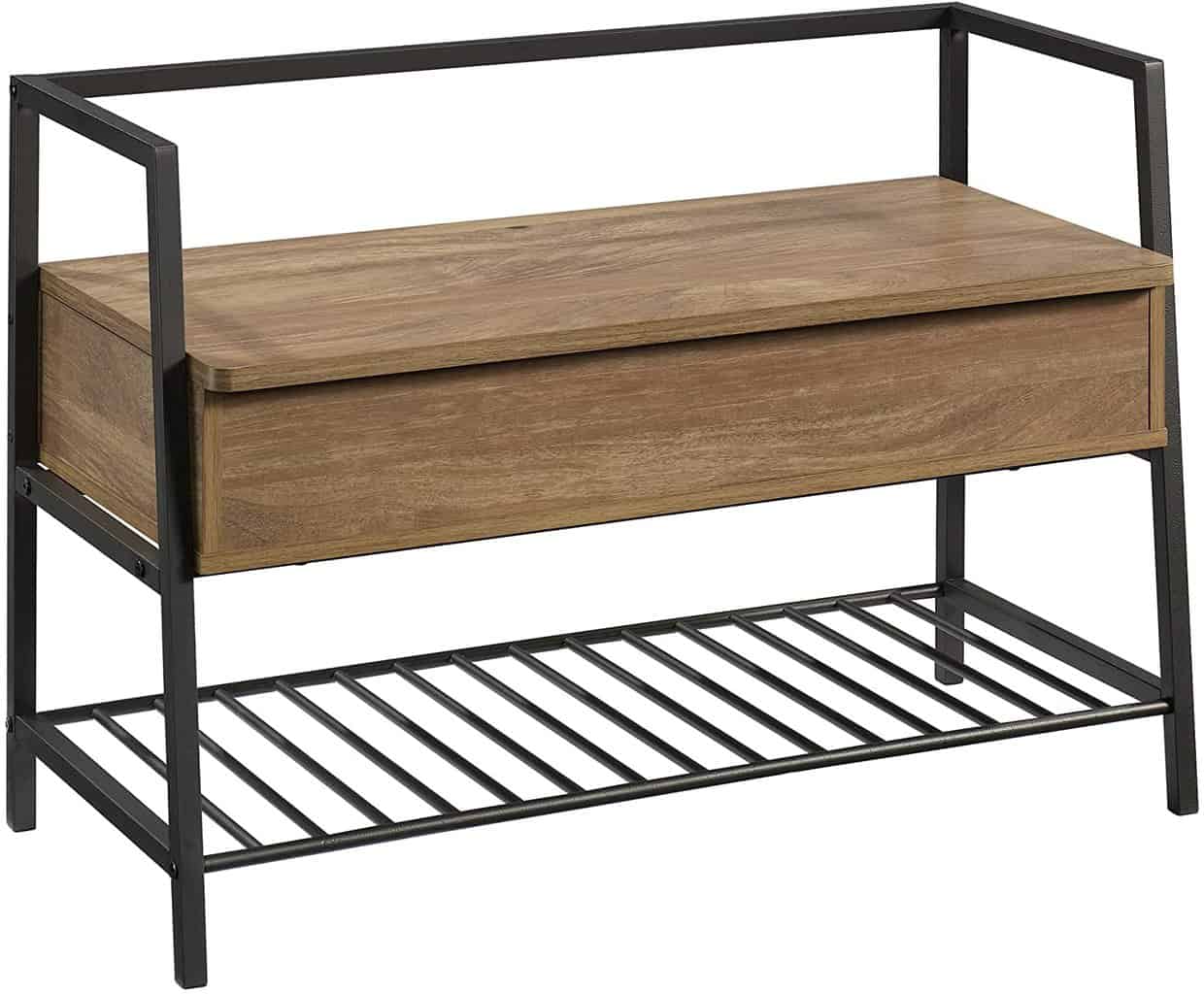 The beauty of this bench speaks for itself. It has a distressed wood finish and a metal frame that looks exceptionally stylish. I love the boxy seat of the bench that also acts as storage, and I would purchase it for my entrance hallway just because of its sleek design. In addition to that, there's a lower shelf for keeping shoes. Altogether, I feel this is a value-for-money product as it is sturdy, has a unique design, and comes with additional storage!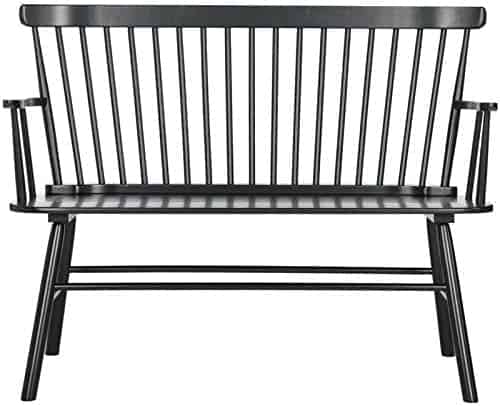 Spindle-back black benches are a classic when it comes to farmhouse decor. These benches are easy to work with, and you can decorate your entryway effortlessly. However, I am not the biggest fan of the spindle backs as these are on the less sturdy side and can sometimes even feel flimsy. I would always vouch for wood over spindle backs. On the contrary, if you enjoy relocating furniture or prefer effortless decor, this Safavieh Spindle Back Black Bench is the one for you.
These benches are easy to move and even easier to style; therefore, it will be only a matter of minutes for you to create a farmhouse theme entryway with them. Accessorize it with some neutral-toned linen pillows to prevent the bench from looking bare and boring. Install a few coat hooks on your entrance, particularly black hooks, to add a more rustic vibe.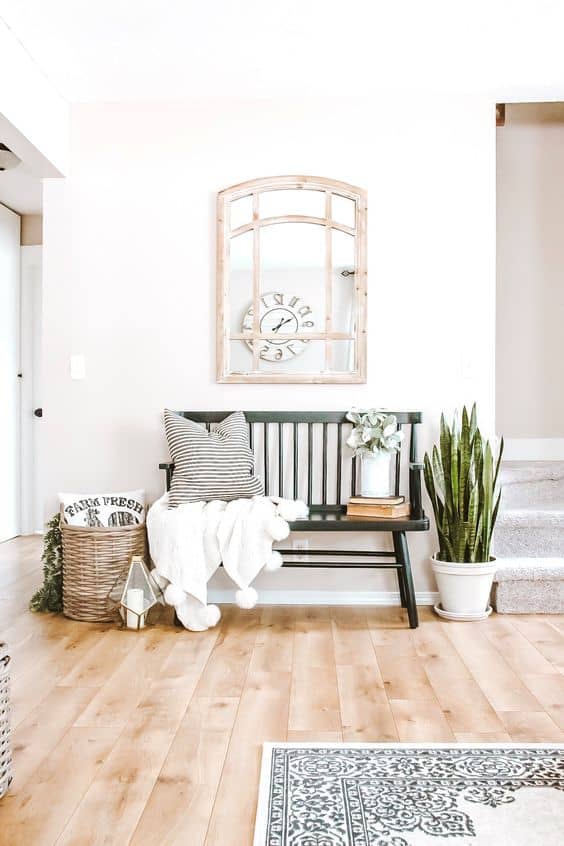 Here is a Farmhouse Entryway you can easily create using this bench. I love the balance of blacks, whites, and greenery here; the wicker basket is another decorative element I highly recommend adding!
Living Room
The living room is your space to relax in solitude or with friends and family. My family and I usually lounge on our plush sofa on weekends to watch movies. Therefore, for your living room, it is essential to get the comfiest couch to create a cozy farmhouse atmosphere. I always go for Wayfair's Country/Farmhouse Sofas, as these tend to be the most comfortable spending lazy weekends.
To balance the softness of the sofas, you need something that looks solid and sturdy: A coffee table! Place a rustic coffee table at the center as the defining point for your living space. Look for a coffee table that gives off a rugged vibe. To be safer, always go for tables with a mixture of wood and metal. Here are my top picks for couches and coffee tables: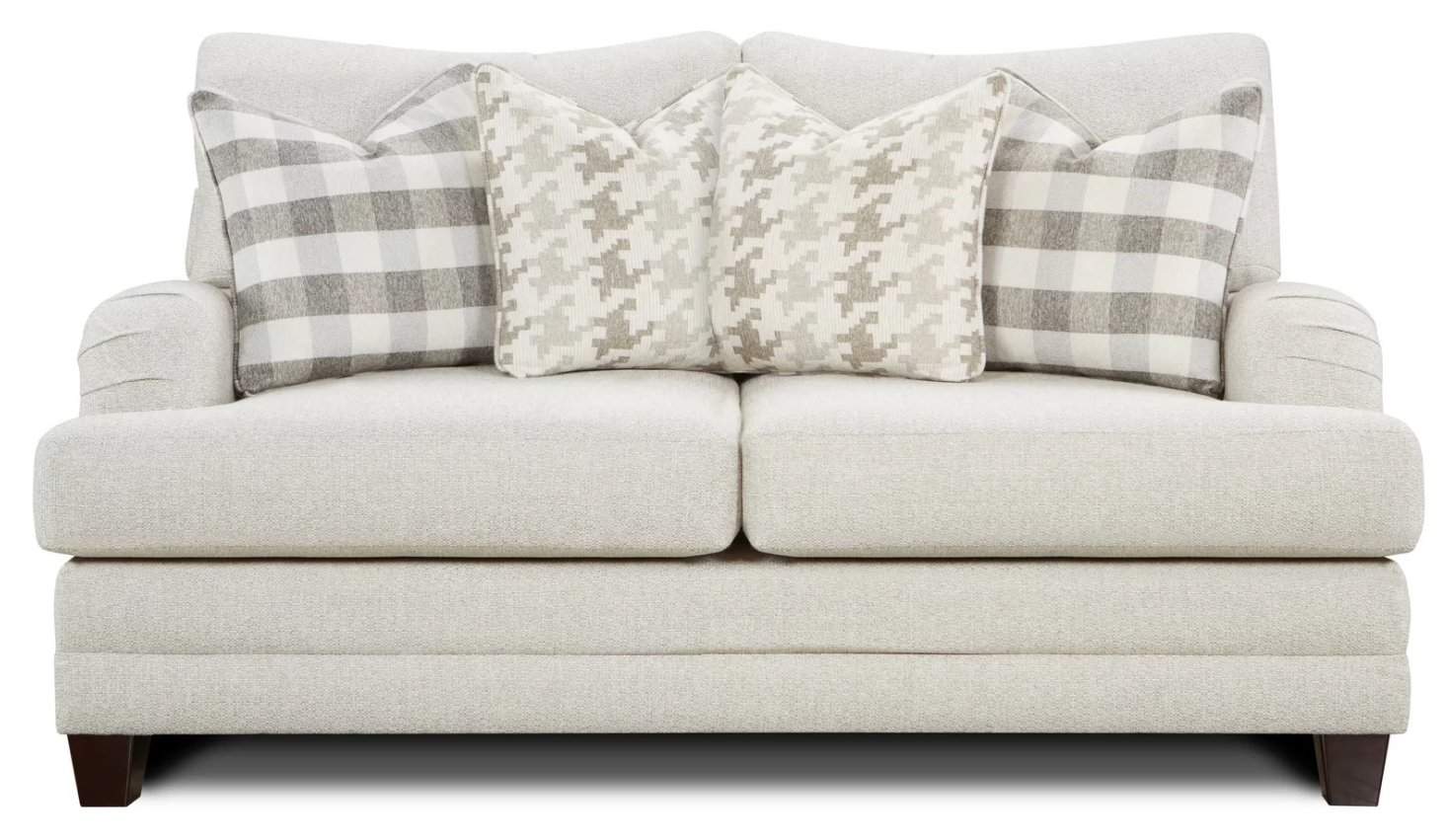 This couch should be your ultimate choice if you want that clean, modern design. This couch has a fresh, comfy feel to brighten your living room. My favorite part is the assortment of pillows; there are the houndstooth pillows, plaid pillows and the "let's stay home" kidney pillow.
I can imagine myself sinking into this sofa on a cozy afternoon, sipping hot cocoa while reading a book. Another plus point about this furniture is that it's timeless and will go with all kinds of decor. Remember, white and grey are here to stay!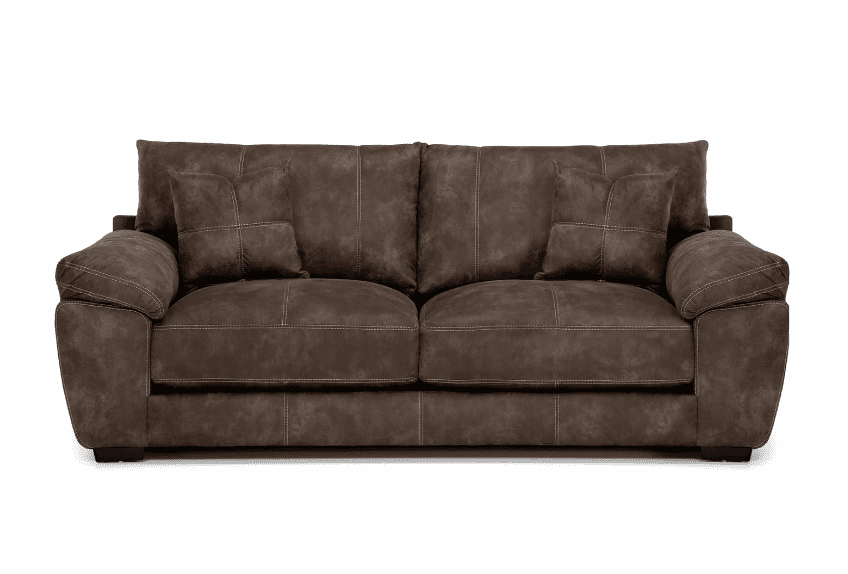 I mostly recommend white or beige sofas for farmhouse decor; however, we are all aware of the maintenance that a white couch requires. Especially when you have a house with kids, it's always a hassle to keep your little ones from staining them. This is where the Charleigh 95" Pillow Top Arm Sofa comes in; its rustic chocolate brown shade will easily hide noticeable stains.
My favorite part about this couch is that it has a removable seat and back cushions that make cleaning up swift and straightforward. Moreover, it has a contrasting stitch that adds to its design. This sofa is spacious and comfy, perfect for your family movie night!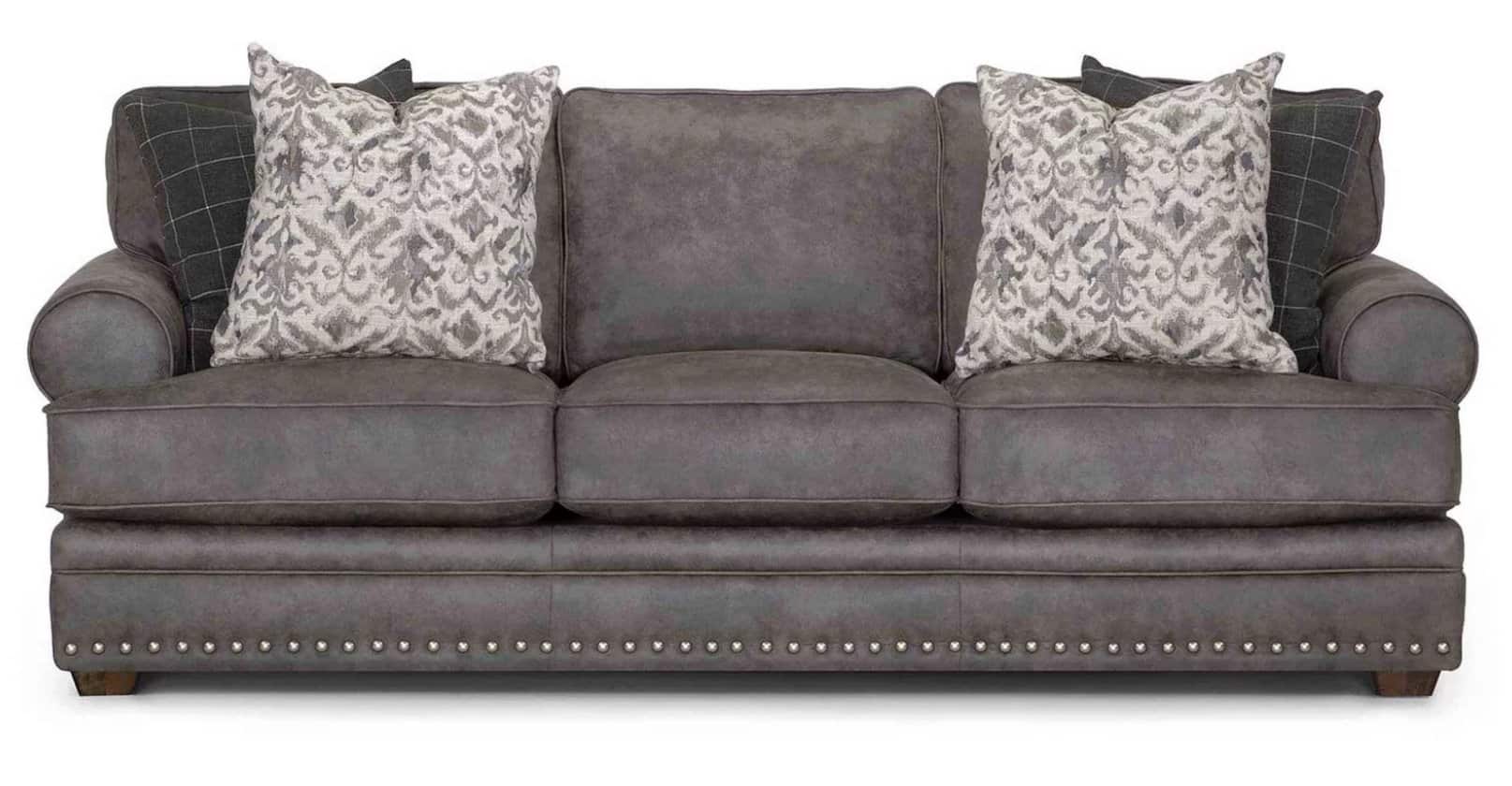 This couch is sure to be the star of your living room. It is everything luxe and comfy while sticking to the farmhouse aesthetics. I love everything about this couch, from its charcoal grey shade to the pillows and construction. It has plaid pillows, typical of the farmhouse style; there are also pillows with the damask pattern that adds a traditional touch to it. This couch also has WOW seating, providing utmost softness and comfort as you sink in.
My mother always told me I had eyes for detail, and I couldn't agree more with her after coming across this couch. I am a massive admirer of tiny details; the first thing I noticed about this couch is the nailhead trim lines at the bottom. These trim lines almost resemble cute studs, making this couch look extra stylish. I can already picture myself decorating my living room with this sofa, a light grey rug (perhaps with minimal pattern), a whitewashed coffee table made of distressed wood, and some greenery.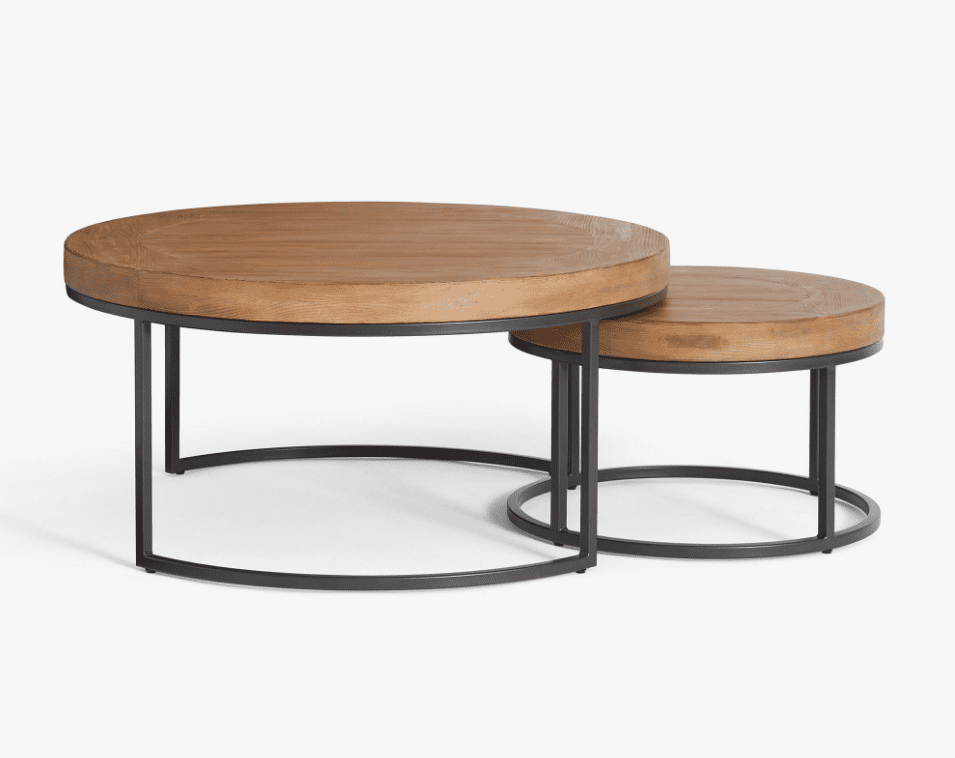 A tabletop made of distressed wood with metal accents or a metal base like this is a fantastic choice. However, I would have preferred the metal to be weathered or rusty to achieve the ultimate vintage look. I also recommend purchasing this table because my love for contemporary pieces like these knows no bounds.
This table is crafted out of solid wood and sturdy; you can use both these tables together or individually. I would advise you to keep it as is since it will give your living room a modern farmhouse vibe, you will also have more surface area to keep showpieces and decors.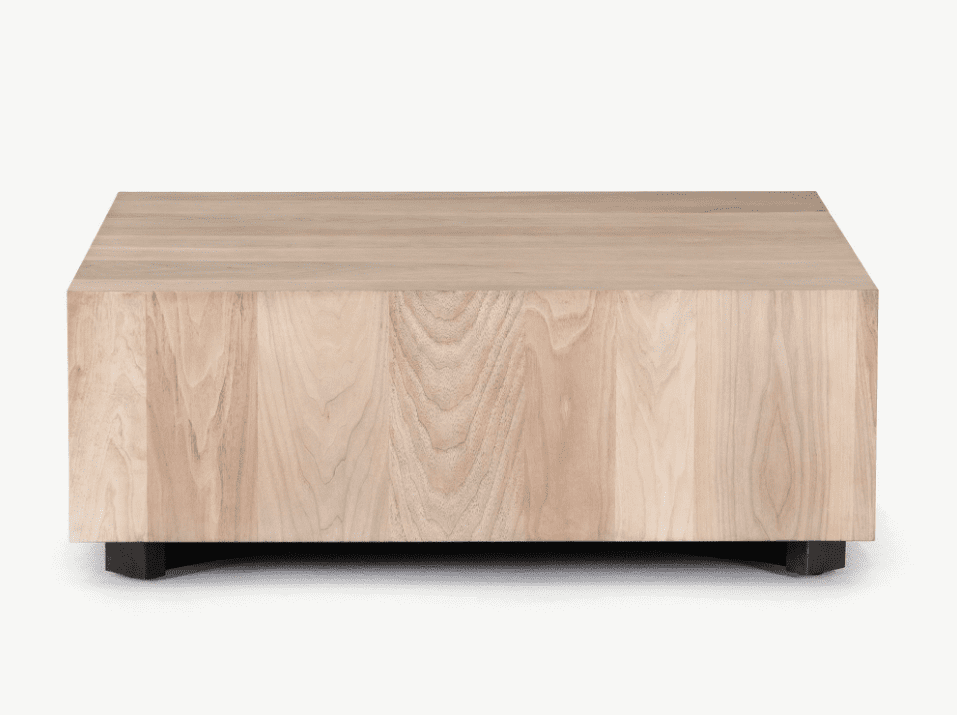 When hunting for rustic coffee tables, I went looking around ambitiously. Still, I couldn't find a table that was rustic enough for me to say, 'this is exactly what I am looking for.'Thanks to pottery barn, this cube table with primavera wood and iron finish has finally met my expectations. The cube shape looks super sleek, and the rustic finish is an art on its own.
This table centered amongst minimal couches will be the show-stealer of your living room. However, this coffee table retails at $2,069, which I feel is expensive for a coffee table. So if you are willing to spend above $1000 on a coffee table, this one is for you! 
On the contrary, if you don't want to spend huge bucks buying fancy tables, you can always DIY your old ones! Remember, farmhouse décor is all about embracing imperfection. Therefore, don't shy away from purchasing or re-using shabby furniture. Just a coat of white, grey, or navy on any old trunks or dressers will give it the ultimate vintage look!
Dining Room
The dining room is going to be your gathering space for family dinners. Therefore, start with a long wooden table centered in the dining room. A large table is essential to create a convivial dining atmosphere. As I mentioned, the wooden table should look distressed as though it has aged over time.
You can also go for round or black metal tables, preferably wrought iron. On second thought, I like having a black wrought iron table for my patio. These are weatherproof and work best for outdoor breakfast or brunches. I have listed my top picks for farmhouse dining tables below: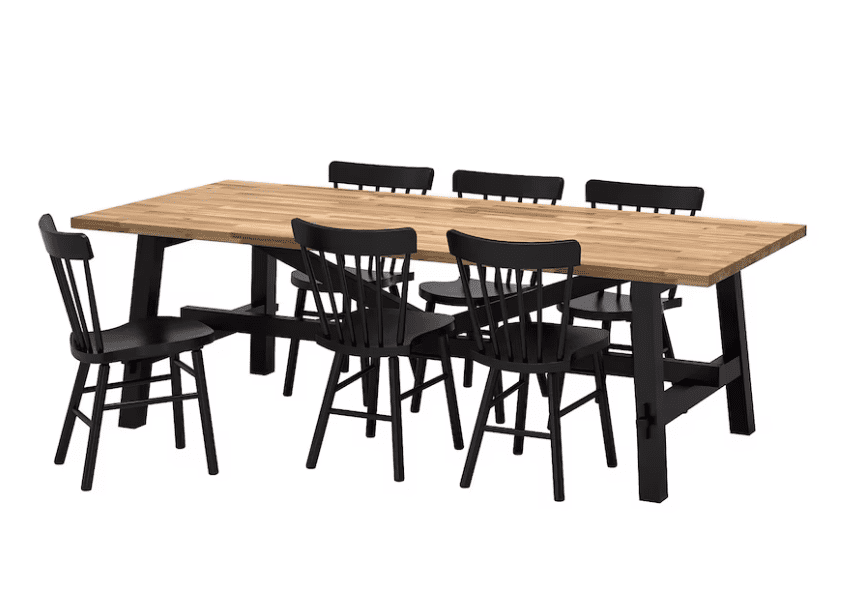 I highly recommend a sturdy, long wooden table with black spindle back chairs for your farmhouse dining area. As a result, you will have a well-balanced wood-to-metal ratio in your dining space. This dining table set from Ikea comes in a natural color with a unique grain pattern that makes it look rustic. On top of that, the black spindle chairs are a perfect addition.
I like spindle chairs for dining tables as they are light and you can quickly move them around. This dining table set is the perfect pick if you like to entertain guests for weekend dinners. It has six chairs to create ample seating for your friends and family.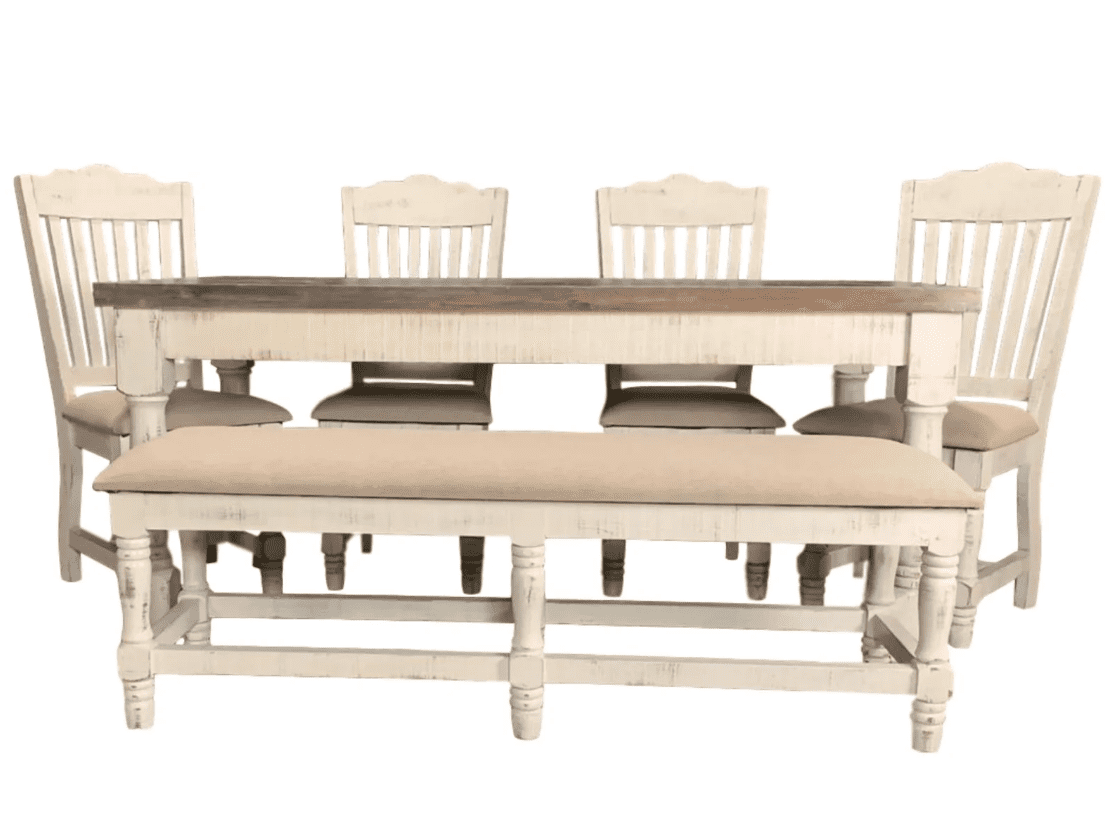 A mix of dining chairs and a wooden bench is an excellent way to make your dining room look more country chic. This Mcgruder table chair set would be a great pick as it appears in a two-toned weathered grey top over a sturdy white frame. This six-person dining set will add a more farmhouse vibe to your dining space. Also, adding the bench gives the table a unique character and allows more options for sitting.
Kitchen
A kitchen is not just a room for preparing meals but also a space to bond with your family while cooking together. Farmhouse-style kitchen is about love, warmth, and hearty meals with your family. I will instruct you to style your kitchen to display all these emotions.
A wood kitchen island is a farmhouse staple so you can center your kitchen décor around that. Of course, ensure your kitchen island top looks worn out yet sturdy. The kitchen island should provide a wide surface for all the food preparation. Surrounding your kitchen island with country-style bar stools or chairs will provide additional space. It can act as a conversation space between family meals.
This gray kitchen island is an ideal choice for your kitchen. It features a gray-painted base that gives off a traditional dresser aesthetic. The top of the island counter comes in a rustic wooden finish complementing its gray tone. The first thing I do when looking for a kitchen island is to check its width.
For me, the countertop should be wide enough to carry out all the meal preparation. Next, I check out the storage space because a kitchen always contains too many utensils to store. Since the Diamondback 50" Wide Kitchen Island ticks all these boxes, I think it's a safe recommendation.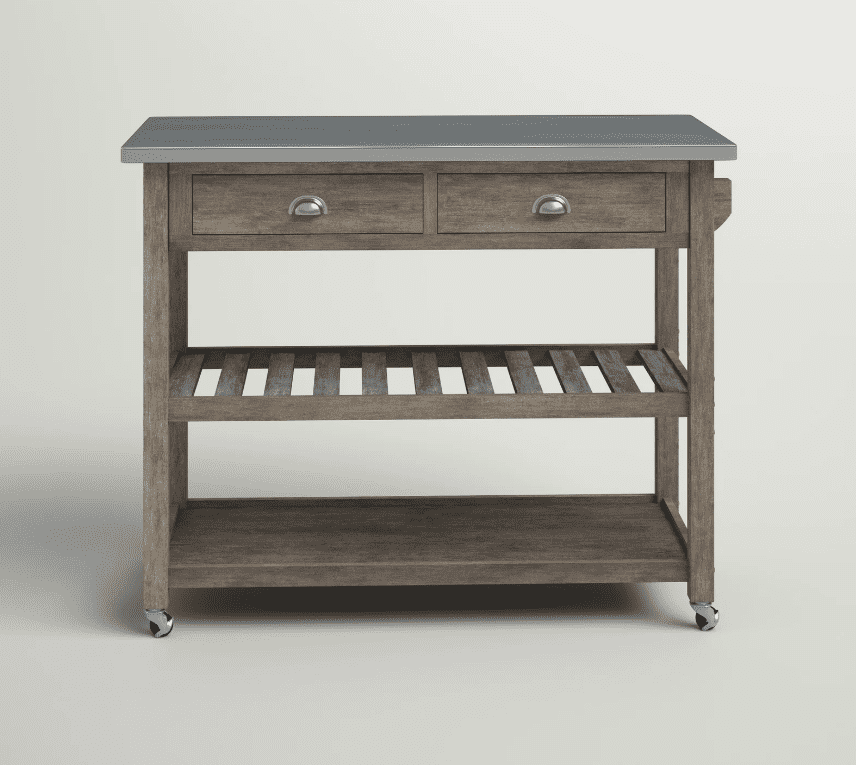 If you are not looking to invest more than $1000 on a kitchen island, this rolling kitchen card should be your pick. As you can see, it comes with wheels, so you can easily transport it whenever needed. I love the distressed wooded finish on this cart; it brings out that rustic theme we desire. Moreover, the countertop is made of aluminum, making it super easy to clean up after a messy cooking experiment. Lastly, the cart has drawers and two wide shelves at the bottom, adding ample storage space.
Another farmhouse kitchen must-have is the apron front kitchen sink. These sinks are broader and deeper than standard sinks, allowing more dishwashing. On top of that, the apron front kitchen sinks are very country chic and, therefore, essential for your farmhouse-style kitchen. I have added two of my top choices for the apron front kitchen sink below: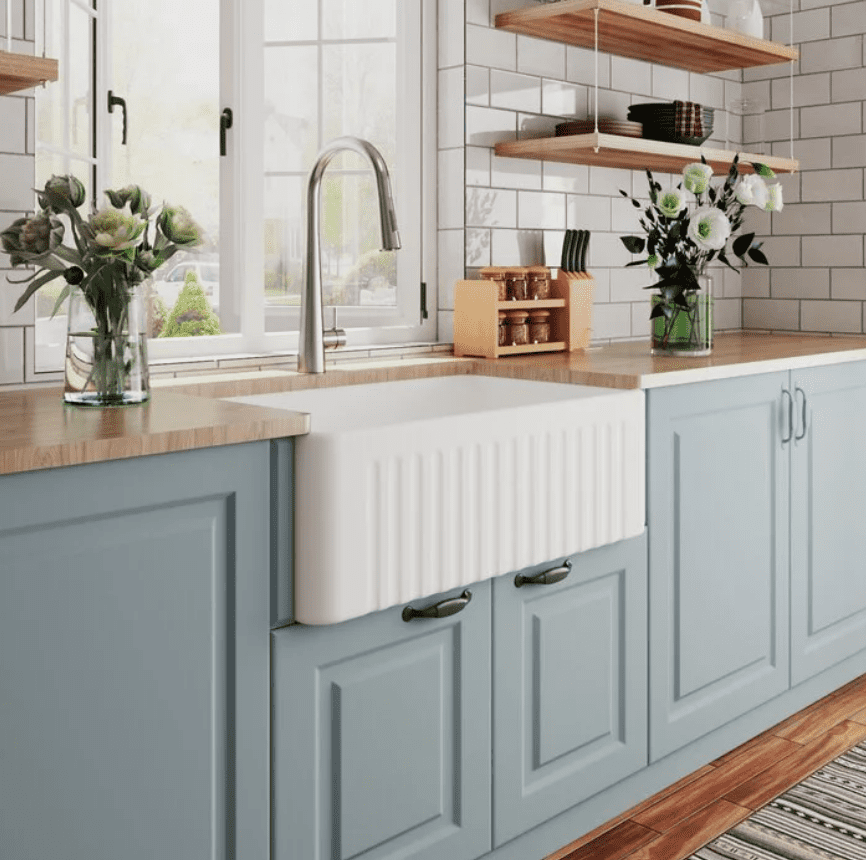 I think porcelain sinks can instantly make your kitchen look more sophisticated than stainless steel sinks. Don't get me wrong, metal sinks are great, but a white ceramic sink is a timeless piece that the designer in me adores. This DeerValley Ceramic sink is one of my top choices as it comes in this modern design with that vertical ridge-like detail on the front.
But most importantly, it is 30 inches wide with an 8 inches deep bowl, which is spacious enough to easily accommodate your large pans and pots. The smooth porcelain finish also helps you clean it effortlessly. This sink is the ultimate affordable deal, retailing at only $298.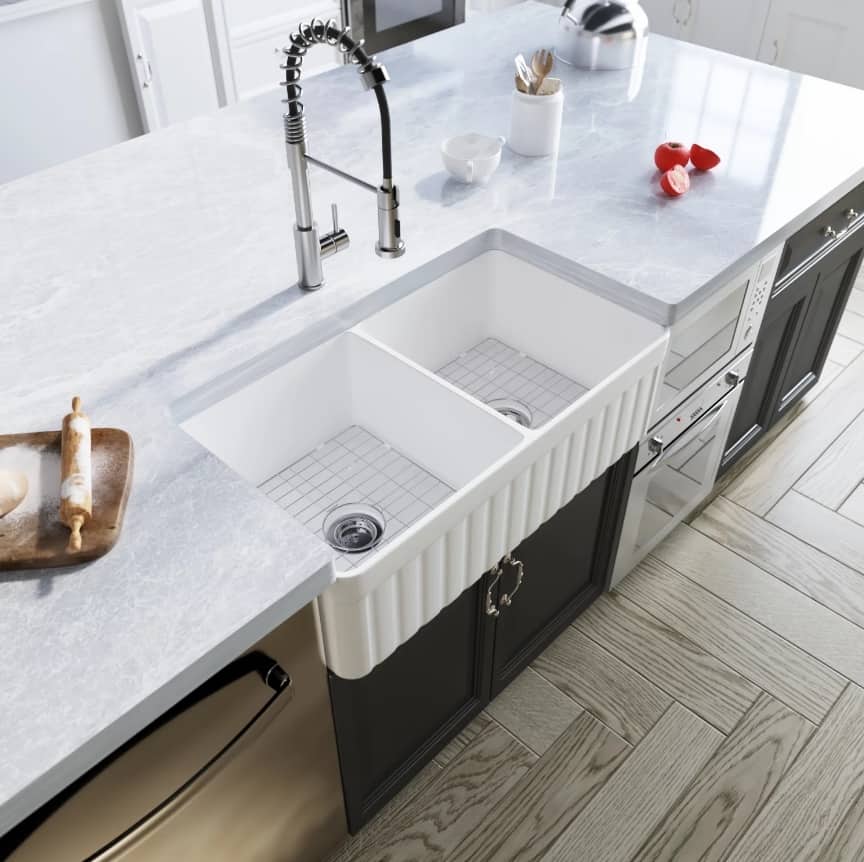 This sink is an ideal choice for those who are looking for a double bowl sink. Choosing a double bowl or a single bowl varies from person to person. However, a double bowl sink is more functional when separating dishwashing steps such as soaking, rinsing, and drying. An additional feature includes protective bottom sink grids and strainers, which prevent the sinks from getting blocked.
I highly recommend this double bowl sink if your house has more people. A double bowl kitchen sink is a convenient option when more than two people are working in the kitchen together.
Bedroom
I feel a farmhouse bedroom should be airy, soothing to the eyes, and exceptionally cozy. Farmhouse décor is versatile; hence you can always play around with old and contemporary décor. However, I have seen people go overboard with their décor and add too many colors and styles to their interior, which looks cluttered and confusing. But don't stress yourself, because I will tell you all the tips and tricks to decorate the ultimate farmhouse bedroom.
Choosing a bed for this theme can get tricky since most of you are constantly torn apart on whether to get the rustic wooden or industrial metal beds. To help you decide, I have created a comparison chart below:
| | |
| --- | --- |
|                 Wood Frame | Metal Frame |
| Wooden bed frames are more sturdy, which gives your bed robust support. | Metal bed frames tend to be less sturdy and may start to creak over time. |
|   More expensive compared to metal frames. | Standard metal bed frames are cheaper. |
|   Wood frames are more prone to insects which can damage parts of the structure. | Low maintenance, metal does not scratch or dent easily as wood, and it also has no chance of getting infected by termites. |
| Wooden frames are sustainable and recycle-friendly. | Metal frames can increase your exposure to electromagnetic fields, which may cause sleep disruption. |
| Wooden frames have a smaller range of colors and shades. | Metal frames come in various colors and are also very easy to customize. |
You can purchase a metal or wooden bed because either will go perfectly with your farmhouse interior. I prefer a bed with a wooden frame because of its sturdiness and comfort. However, I also love black metal bedframes because they suit the entire farmhouse aesthetic well. Below are some of my top picks for metal and wooden beds from Wayfair.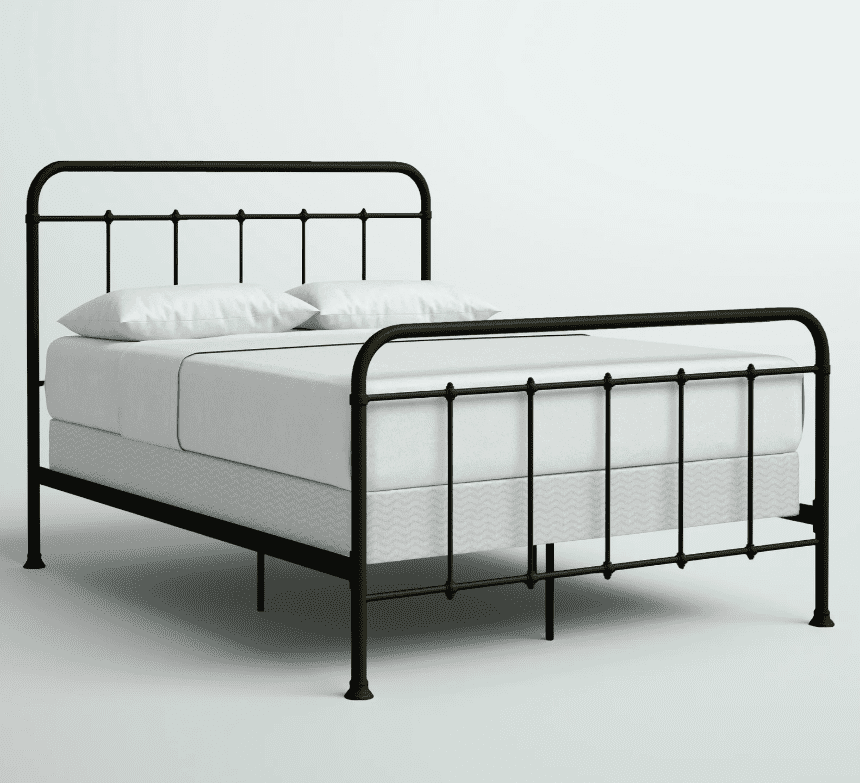 My obsession with vintage pieces is age-old. Therefore, it's no surprise that I fell in love with this victorian vintage bed the moment I laid my eyes upon it. This curved metal bed will surely add farmhouse elegance to your room. Moreover, It retails at an affordable price of $235, so purchasing it is assuredly a good deal. The only downside is that the bed requires a box spring.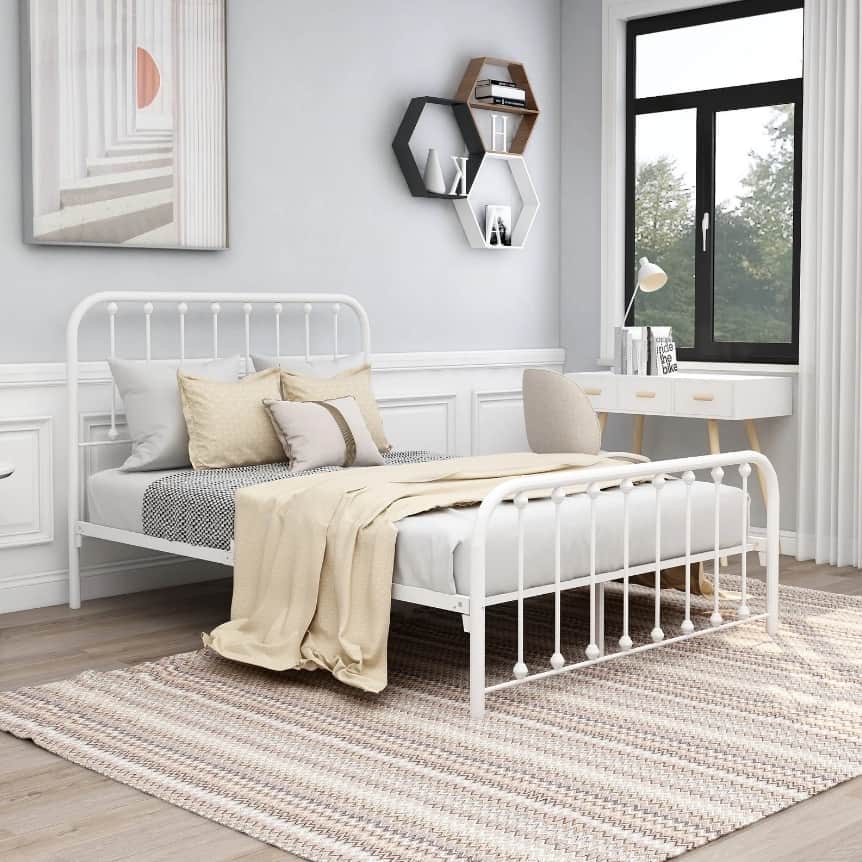 I recommend this Platform Bed if you were to go for a metal bed with a white frame. This metal bed can be an aesthetic addition to your bright white or colorful room. The traditional detailing on the metal rod frames is a unique touch that I admire. Moreover, it doesn't require a box spring, saving you the money and hassle of buying one; Just layer the mattress, and you are good to go dozing off in this sleek white bed.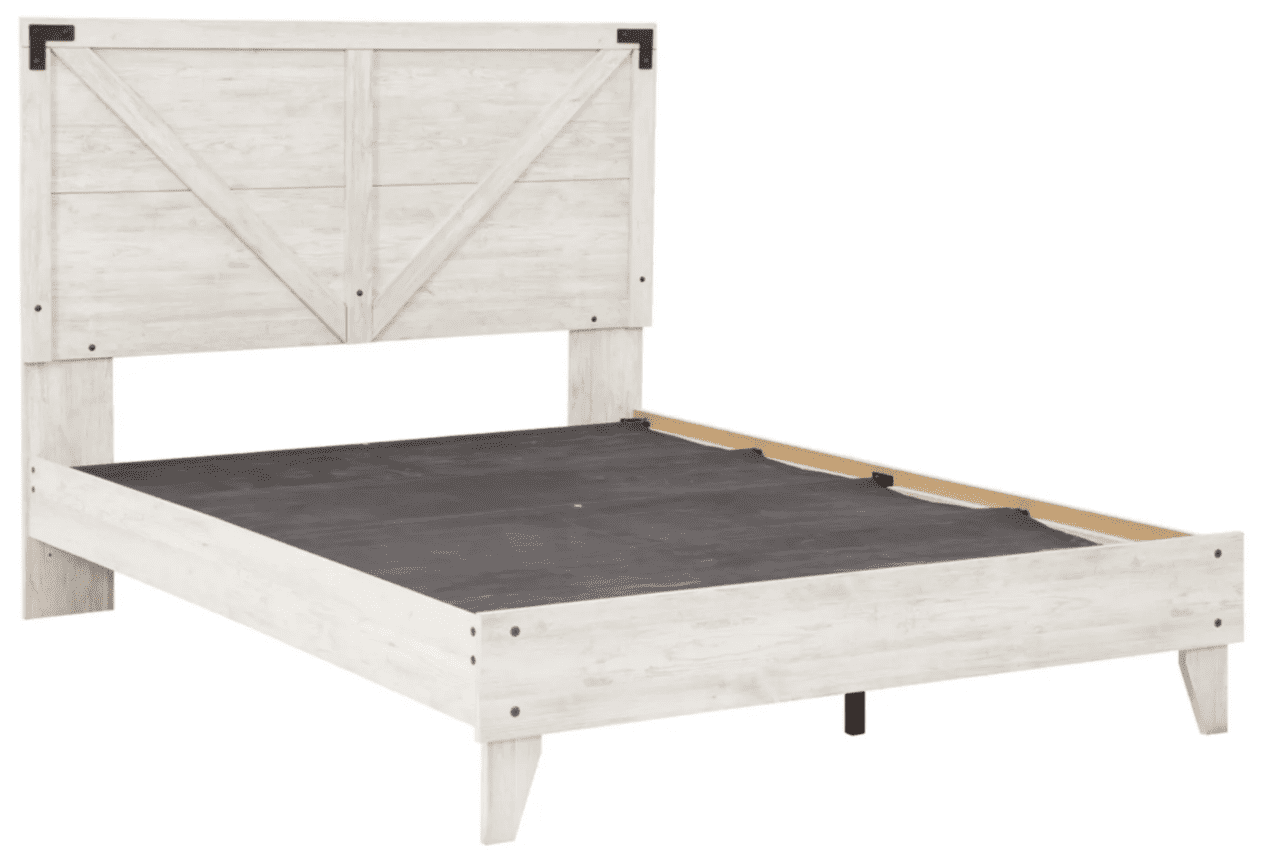 I have always been an enthusiast of authentic and unique touches on my furniture. And this is precisely why the bed caught my eyes. I knew this would be my favorite just when I saw its headboard. The rustic headboard features a rectangular silhouette and showcases a crossbuck detail that reminds me of those vintage trunks and chest drawers. It also has those metal accents on the corner to complement the farmhouse aesthetic.
However, I am not only recommending this bed for its unique headboard but also because of its low profile design and rustic white finish. Low-profile beds are suitable for smaller rooms, making your bedroom look more expansive. The only downfall would be that low-profile beds don't provide enough under-bed clearance.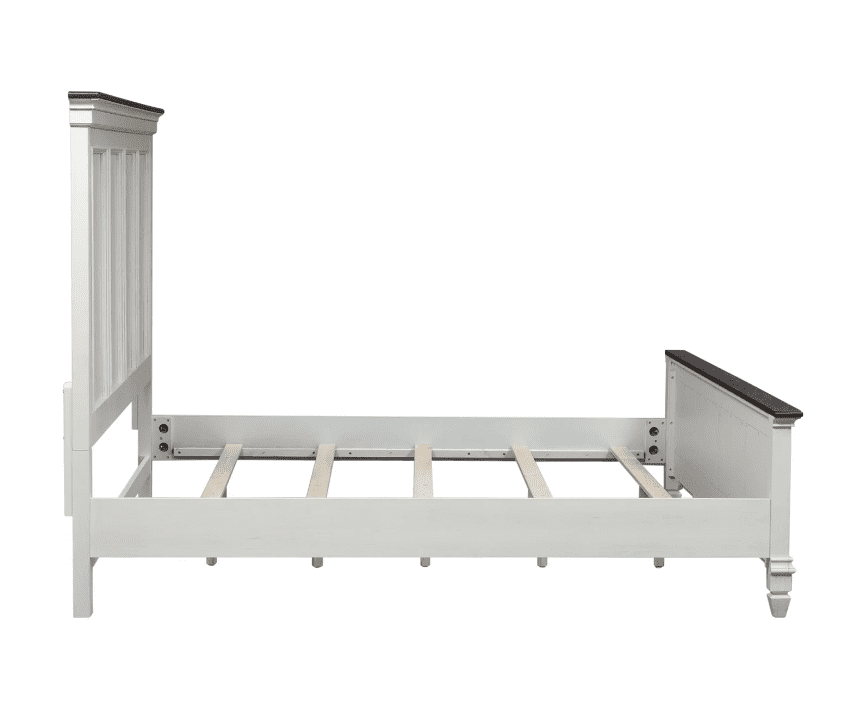 This might be one of the pricier beds, but I recommend it if you love the coastal farmhouse aesthetic. The distressed wooden finish makes it super country chic, and the solid wooden frame makes this bed extremely sturdy and comfortable. I am fascinated by the shiplap panel detailing; I think that's such a stylish touch and will enhance the coastal charm in your bedroom.
The price point might be a con for some people, but when you think of investing in a bed for the long term, this should be the one. It is guaranteed to be more firm and durable than the other beds I have suggested.
Decor Suggestions: Accessorize your bed with lots of neutral-toned comfy bedding and pillows to enhance the cozy look. I love layering my bed with beige-toned blankets and fluffy pillows; this gives my room a snug look and a soothing vibe. For curtains, stick to sheer white or linen curtains in off-white or khaki; this makes your room look airy and fresh. An industrial bench or a wooden bench at the foot of your bed can add a more country-chic vibe to your room.
You can add matching pillows and turn this into your cute little sitting spot. For nightstands, pick a rustic wooden chest that looks vintage and timeless. These rustic chests look stylish and are a great way to add more storage to your room. Don't forget to place a patterned or plain jute rug under your bed; this will separate that bed into a section and make your room look neat.
Farmhouse Décor Pieces
Now that I have given you details on what furniture to get, let's talk about the décor pieces you cannot skip if you want the ultimate farmhouse experience. My favorite place to shop décor is Etsy. Head over to Etsy's Farmhouse Décor collection; you will find all kinds of vintage décor and more. You will also find the elements listed below in Ikea's Rustic and Farmhouse décor collection. I have listed all the necessary decor pieces below and my favorite ideas for adorning your house with them.
Antique Windows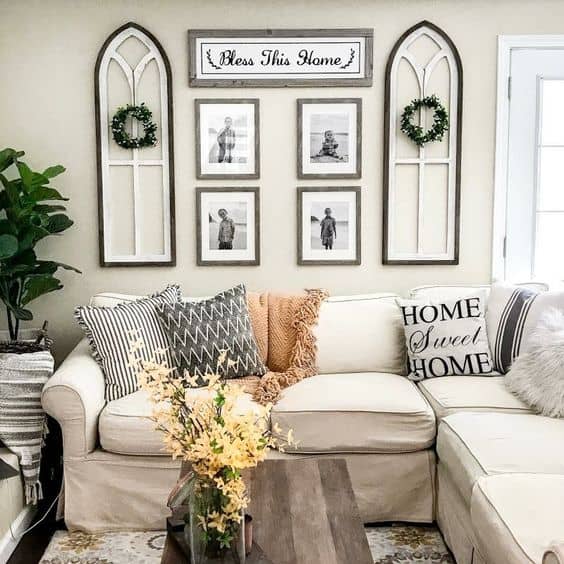 Old windows are a stylish way to add vintage style to your home. These windows act as a beautiful accent piece that you can hang on your wall as frames. You can further decorate these with some faux greenery like a flower wreath. I decorated mine with polaroid photos to hang all my memorable moments. If you find a big antique window, I suggest you use it as a headboard that looks super chic.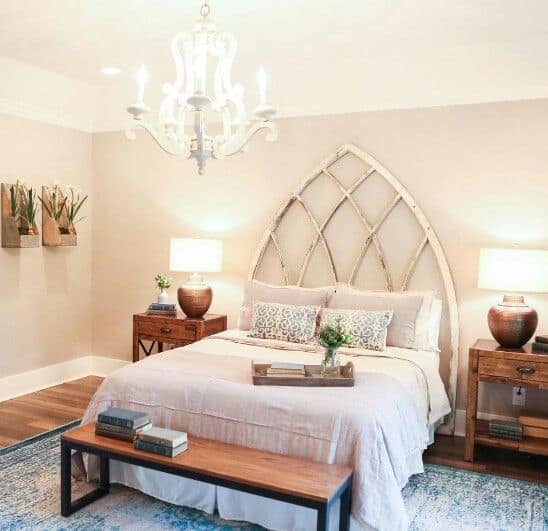 Chalkboards and Wall Signs
Black chalkboards and wall signs are a great way to decorate your home with warm messages and thoughts while keeping it rustic. You can place an empty black chalkboard in the kitchen or dining room to write to-do lists, grocery lists, etc. Chalkboards wood printed wall signs are extremely fun and cute decor that you can use to design a gallery wall. But my pro tip would be to keep it simple and avoid using too many signs, which will make the gallery wall look cluttered.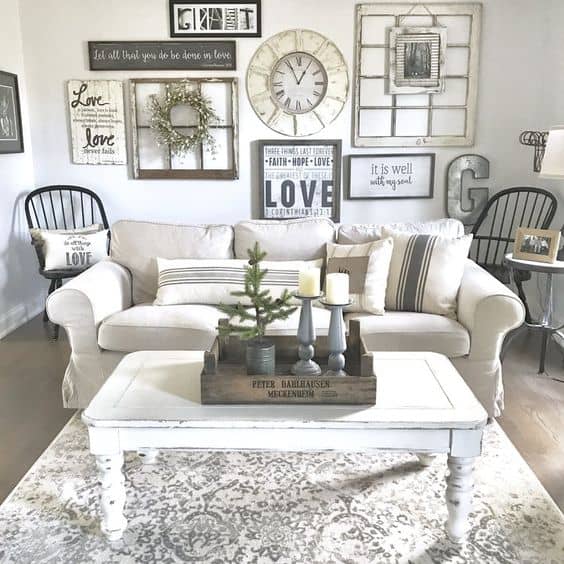 Wicker Baskets, Wood Crates, and Wire Baskets
These baskets are a staple for your home; these are rustic and very handy for storage. I like to have a wicker basket in my living room to store blankets; I also use them to keep books and other goodies. Wire baskets are great for decors; you can use small wire baskets as a centerpiece for your dining table, with glass bottles or vases. Wood crates can be used as toy baskets for storing your little ones. All these items are convenient for clearing up clutter and mess instantly.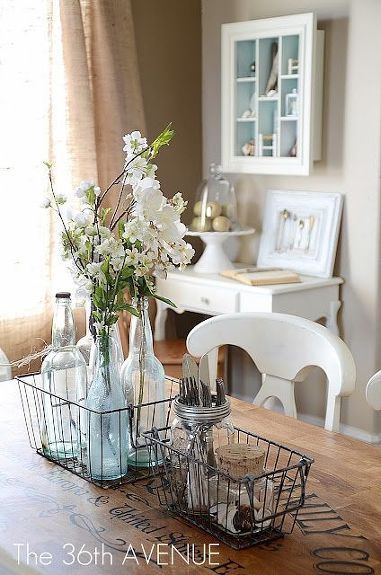 Rugs
Rugs play a significant role in dividing different sections in a house. Hence, my top pick for a country-style living room or any other room will be Jute rugs. Jute rugs are a great way to add a more rough texture to your living space, plus they also come in a wide range of neutral colors!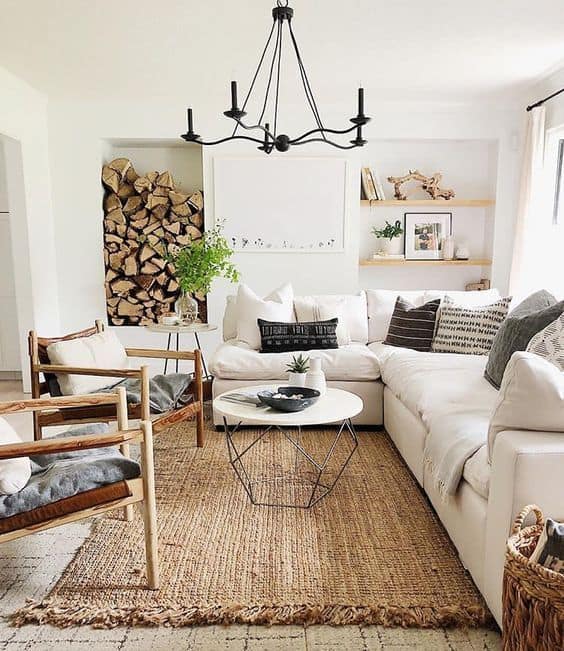 Purchase a simple plain jute rug with fibered texture and frills to achieve that instant farmhouse aesthetic. Speaking from experience, I should add that Jute rugs are incredible with kids and pets. Because of their neutral colors and rough texture, these can hide stains easily, which is a bonus!
Mason Jars
Mason Jars make the cutest décor, and there are countless creative ways to use them. Firstly, you can use them as mini flower vases and mount them to pieces of wood to create a rustic wall decor. My mom uses these jars to store cutlery and kitchen utensils. You can also use them in the bathroom to keep bathroom accessories. Serving summer drinks in mason jars is another popular way to use them.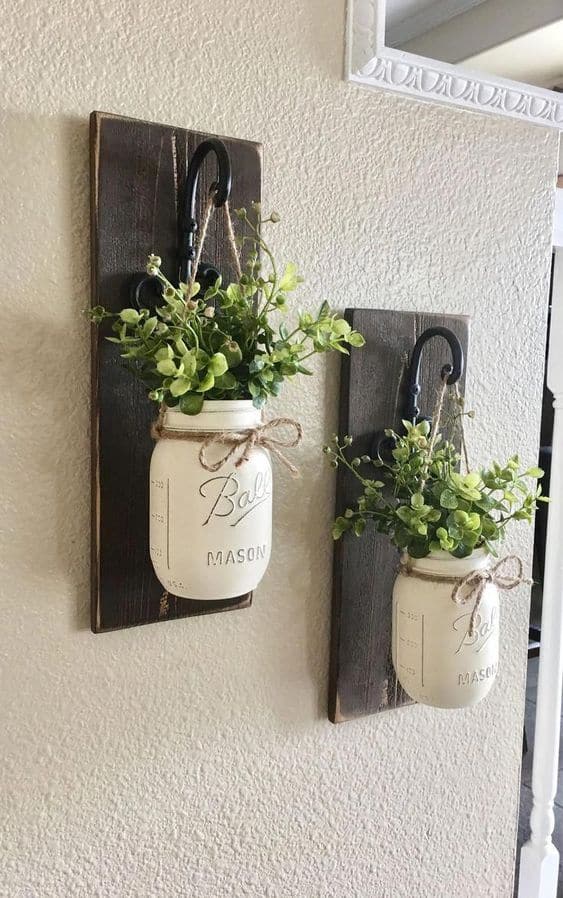 Ceramic Vases and Clear Vases
Ceramic and clear vases are inexpensive decors to accessorize your shelves and bookcases. Ceramic plates and vases look very sculptural, so you can showcase them as it is. You can display the clear vases by adding greenery and flowers to them; one can never go wrong with flowers! Although I recommend you look for rather plain vases that don't contain intricate designs. Remember, you want to keep your décor simple because farmhouse décor is all about that!
Vintage Clocks
A big black industrial clock is the perfect accent piece to ornate your living room wall. You can also purchase a clock with a mixture of wood and metal, which works even better! Mount these clocks on the wall behind your fireplace, and your living room will instantly look more farmhouse-y.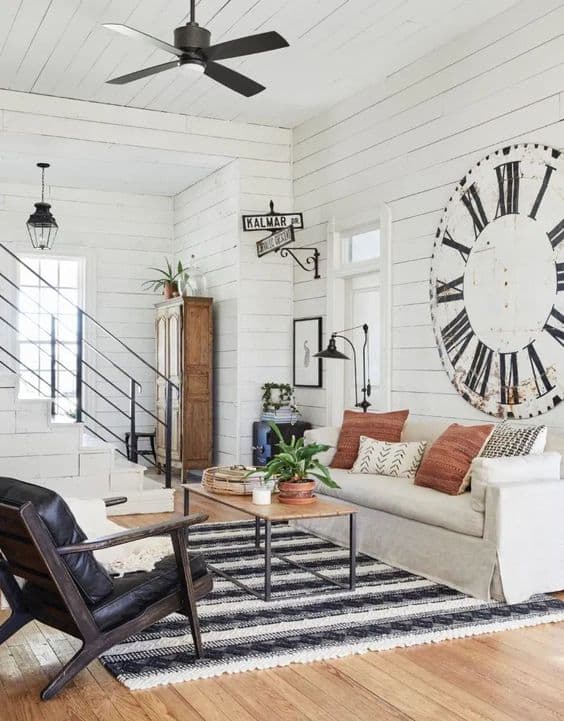 Faux Greenery
Farmhouse décor is about keeping it natural, so faux greenery is the way to go. You can buy wreaths, stems, and garlands and decorate your vases. A glass vase tucked with a eucalyptus stem makes your home look instantly fresh.
Frequently Asked Questions
Question: What are the elements of farmhouse decor?
Answer:
Distressed Wooden Furniture
Black Metal Furniture
Industrial Furniture and Décor.
Shiplap Walls
Big and comfy couches.
Vintage and Antique décor.
Neutral or earthy-toned elements include a beige sofa, khaki rugs, or pillow covers.
Greenery.
Question: Is farmhouse Still in Style in 2022?
Answer: The farmhouse style will always be popular since it is natural, timeless, and easy to recreate. However, there have been changes made to the traditional farmhouse style. Now there is 'Modern Farmhouse Style,' which uses brighter white instead of beige and earthy shades; the distressed wood look has been replaced by polished or painted wood.
Question: What is popular in farmhouse décor?
Answer: Décors that are rustic and vintage, such as old clocks and windows, mason jar vases, wicker baskets, and jute rugs, are popular in farmhouse decor.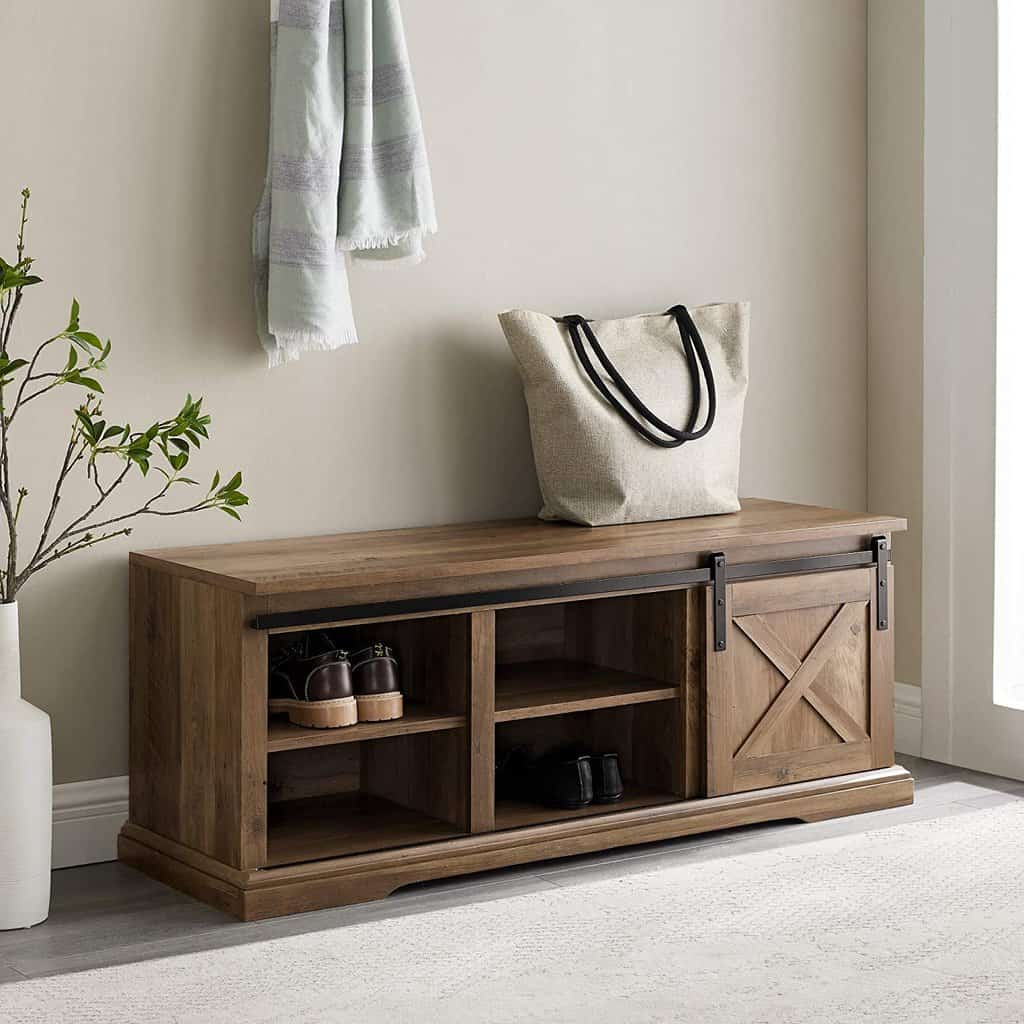 Final Thoughts
Farmhouse style is adaptable; therefore, you don't have to worry about not going with the latest trends. You can always mix and match trendy furniture with your vintage ones. My favorite thing about farmhouse decor is its versatility and timelessness. I love purchasing and collecting rustic decor pieces from Etsy. I also enjoy finding good decor pieces in thrift shops and antique stores. I believe these are such an inexpensive and easy way to give your home a new look.
However, when looking for rustic furniture, I always use sturdy wood, like oak finishes or oak tops tables. Although metal furniture is cheaper and more affordable, I am more biased towards wooden furniture. Investing in quality wooden furniture is smart as these tend to last a lifetime.
Recommended Reads: