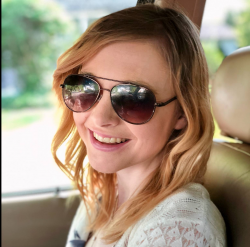 Latest posts by Erin Jamieson
(see all)
One of my favorite things about spending time at my Aunt's house, growing up, was her hammock.
It was large enough to fit me, my brother, and two cousins when we were young- and there was nothing quite like spending a Summer afternoon that way. When we got too hot, we headed onto her porch with a nice fan to cool us off.
And in the evenings, decorative lights created ambiance as we enjoyed bowls of chocolate chip cookie dough ice cream. 
Maybe it's my childhood experiences, but I've always loved spending time outside- and sometimes it's the little things that make all the difference. One mistake I've made?
Assuming there are many projects that I can't afford. But something like a porch ceiling can be more affordable than you think. And decorating that porch ceiling and making it your own doesn't have to derail your personal finance planning. 
You don't need to be in the South to appreciate a porch ceiling upgrade. I'll take you through durable but cost-effective materials (if you don't have a porch ceiling or it needs to be repaired), the best colors, and affordable decor to elevate your outdoor experience.
With these inexpensive porch ceiling ideas, I hope that you'll not only add to the curb appeal of your home- but find more ways to spend time making memories outside. 
Bottom Line Up Front Summary
It may not seem like it, but a porch ceiling can both be impactful and add value to your home. What I love is that there are many affordable ways to make an impression!
Start with my recommended materials to install or build your porch roof (Fiber Cement Beadboard (Composite), Bamboo Porch Ceiling Panels, PVC Panels/ Finish) then keep things simple with decor. My ideas include beautiful paint colors, inexpensive lights, fans, and more. 
If I were to recommend just one of these designs, it would be the classic white charm design. It's simply timeless and versatile, and the wet-rated ceiling fan will keep you comfortable even on the most humid days. 
My Top Picks
Classic White Charm
Modern Farmhouse
Botanical Bamboo
Coastal Charm
Modern Allure
Dazzling Farmhouse
Rustic Boho
Eclectic Sea Foam Blue
Crisp Colonial
Bright Southern Charm
Tropical Teal
My Criteria For Inexpensive Porch Ceilings 
Before I share my favorite ideas and designs for affordable porch ceilings, here's a look behind the scenes. I wanted stylish, creative, and welcoming designs- but I also wanted them to be practical.
Ultimately, I wanted to prove that you can enjoy an affordable porch ceiling without breaking the bank- or sacrificing too much on quality. 
Starting With Great Materials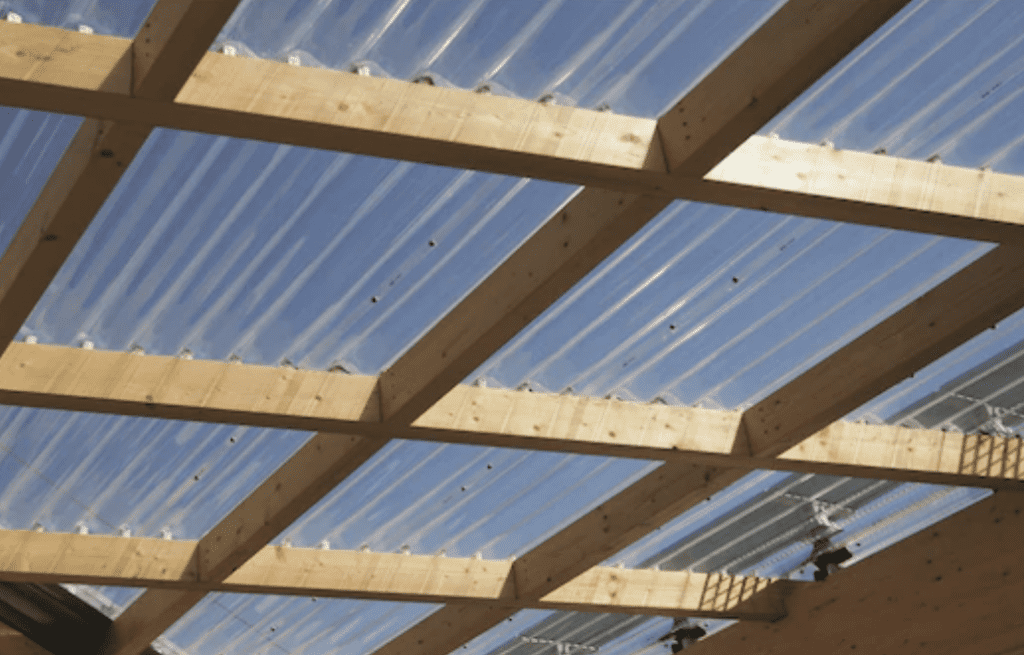 First of all, I fully believe that you can afford a great porch ceiling that will last. That means balancing cost-cutting ideas with a strong base ceiling. For all of my ideas, if you haven't already established a porch roof/ ceiling, I recommend starting with the following materials:
Porch Ceiling Material Option 

(links of where to buy) 

Why I Love It 

Fiber Cement Beadboard (Composite)

Resistant to moisture, fire, and everyday wear, it's a composite material that's fairly budget-friendly and customizable

Pressure-Treated Wood

 

This tends to be more expensive- but still worth considering. Pressure-treated wood using high pressure to improve durability and resistance to weather 

PVC Panels/ Finish

 

PVC panels and finishes can be added to improve weather-resistance 

Bamboo Porch Ceiling Panels

Bamboo is not only a beautiful statement- but it's also fairly affordable and great for humid climates
I suggest skipping plastic and using PVC only for panels or a finish- because it doesn't have much strength. I also avoid regular beadboard. Sure, both are cost-effective- but you'll end up replacing them much sooner, leaving your wallet lighter in the long run. 
Playing With (Light) Color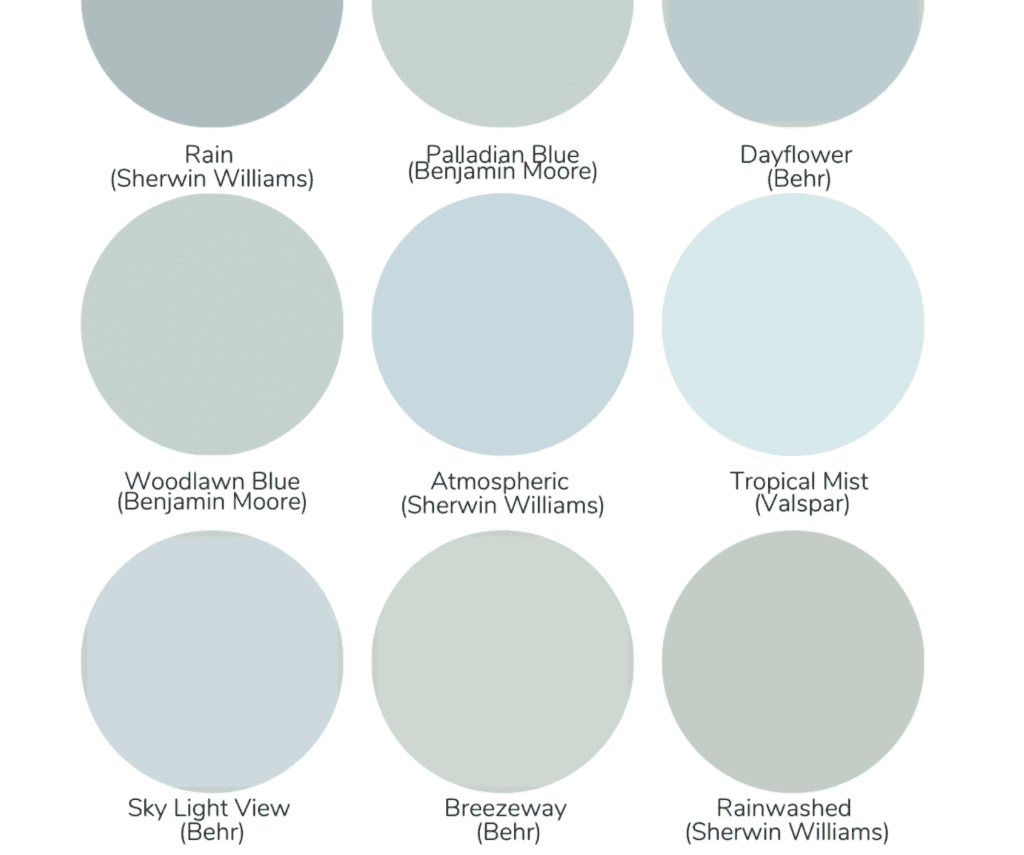 I will always think that a classic wood tone or white porch ceiling is a great way to go. But there are so many other colors to explore. The most popular colorful porch ceilings now are shades of blue: from Charleston blue (medium sky blue) to a range of colors called "haint blue":
Haint Blue (sea foam, light aqua, light teal, sky blue, light gray-blue) 

Cream, Ivory, White 

Gray

Natural Wood
I lean towards lighter tones, which open up your space and make it feel natural, larger, and more inviting. Darker tones aren't incorporated into my ideas. 
Replicating Stunning Styles
Porch ceilings aren't complete without a bit of decor. And for that decor, I made sure to showcase some of the best styles: modern, contemporary, rustic/ country/ farmhouse, modern farmhouse, bohemian, eclectic, and traditional. Within all of these styles, I went for a cohesive design. 
Adding Comfort & Visibility
Ceiling fans, hanging lights, and even hanging hammocks all draw your eyes to a beautiful porch ceiling. As a bonus, they also may just get you to spend more time outside. For all of these appliances and additions, I checked customer reviews, material quality, and key features for practical outdoor use. 
Budget-Saving Hacks
I looked for ways to trim costs- and that wasn't so hard. You only need a little decor or a focal point to elevate your porch ceiling. I shopped for a balance of durability (which saves you money in the long run) and value. I also kept design ideas simple- and easy to customize with thrift store finds. 
See also: Best 3 Season Porch Ideas
Savvy Shopping 
Finally, all of my product recommendations for these porch ceiling ideas come from places I'd shop myself. That means: return policies, secure checkout, and a generally positive reputation for safe shopping. 
Ideas For Affordable Porch Ceilings 
With that said, here are my favorite ideas for porch ceilings when you're on a budget. As I explained in my selection criteria, I balanced stylish designs with decorations and functionality. My goal is to show you that you can have a statement or timeless porch ceiling plus decor- without a high price point. I'm including general ideas, as well as product recommendations, so you can picture your project. 
Classic White Charm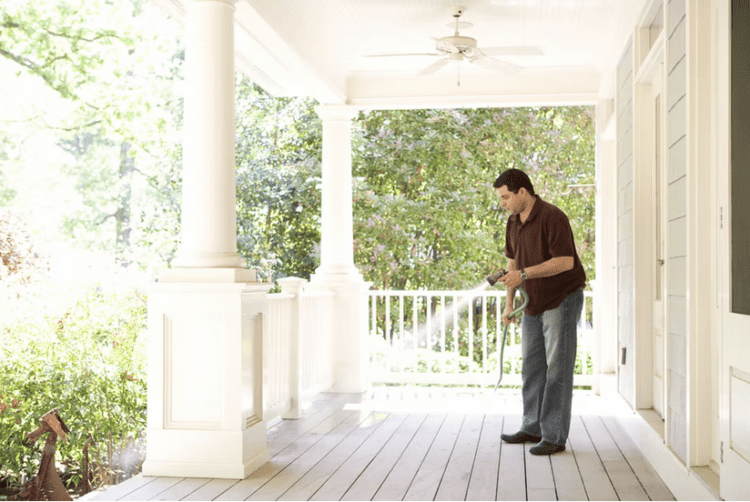 I say white, but the true star of this beautiful porch ceiling idea is cream or ivory accents. Starting with an eggshell antique ivory paint, I love the classic warmth this exudes. Paint it yourself to save on labor costs, applying at least two coats with foam rollers (and brushes for sides and ridges).
As you can see, the beauty is simplicity. For Southern homes, I love a wet-rated white ceiling fan. Those can cost as little as $70 to $100 and keep you cool, and comfortable and act as a focal point!
If you have extra room in your budget, Walmart sells gorgeous Acacia White Rocking Chairs for under $100. I love the pure simplicity and timeless appeal of this design- especially for warmer locations.
Modern Farmhouse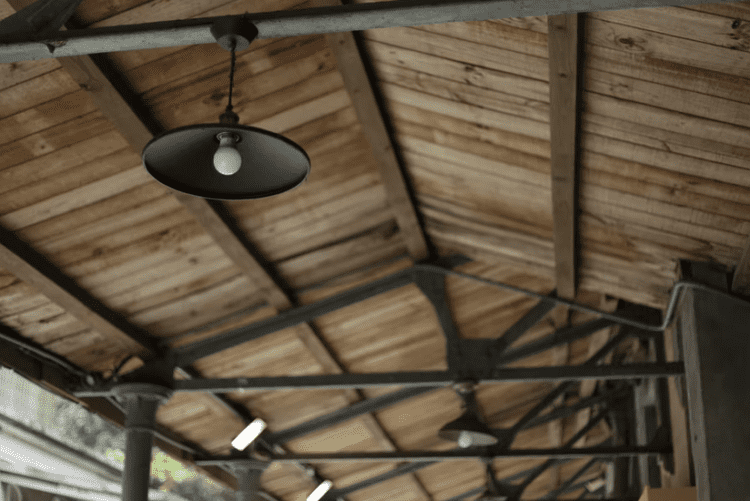 One of my favorite designs right now is a modern farmhouse– and this shows how you can carry it over to your porch ceiling. Blending classic farmhouse themes with sleek, contemporary lines, this porch does require either engineered wood or regular wood- but the metals rafters are usually pretty affordable.
Once again, simple decorative touches make a big impact. Just install a series of budget-friendly hanging modern lanterns that are wet-rated/ waterproof. I opt for an LED bulb to slash energy costs.
Since the colors are a bit darker, those extra lights are going to go a long way. You could also opt for the same look but in blue for a fresh take.
Botanical Bamboo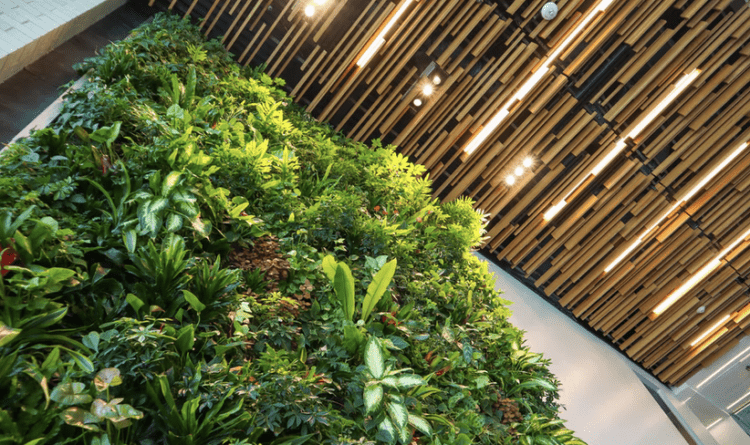 Just because you don't have a greenhouse, doesn't mean you can't create the illusion of one. This isn't quite as expensive as it looks- while the picture here shows a large ceiling, you can do the same with a modest porch. Bamboo panels add a distinct botanical feel, and I'd add affordable LED Ceiling Light in a few places.
Sleek lines, a low profile, and just 1-3 of these lights provide that airy feel. You can buy lush plants at a local nursery, but high-quality faux plants are a great choice too!
Nearly Natural has a collection of realistic outdoor faux plants, but if you want something cheaper, these Amazon Faux Outdoor Plants cost as little as $15 each!
Coastal Charm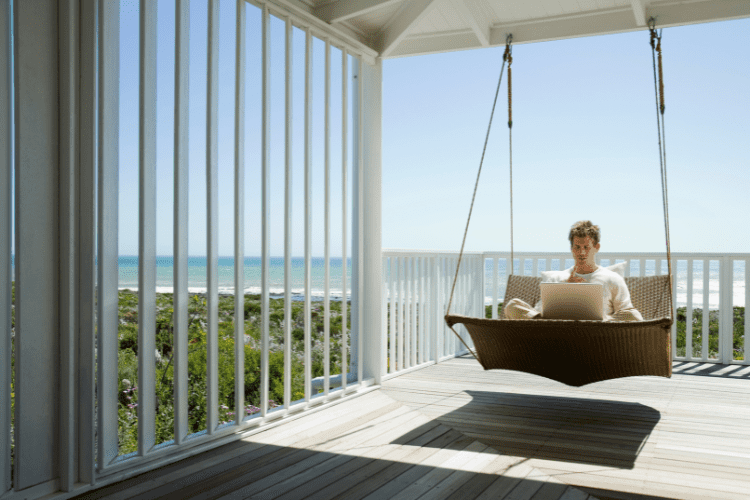 While this porch design reminds me of vacations on Hilton Head Island, I've also seen this charming coastal style in parts of New England. The key here is a simple porch ceiling. Grooved PVC panels are painted an eggshell cream color that blends seamlessly with the cushions on the hanging porch swings.
I like how the texture play keeps things interesting and adds subtle playfulness. Hanging porch swings can be pricey, especially if you love this daybed style.
But an Acacia wood swing (which produces natural oils and requires less upkeep) is a good substitute. This Acacia Hanging Swing looks spectacular with weather-resistant teal cushions. Add a throw blanket for cool days and some seashells.
Modern Allure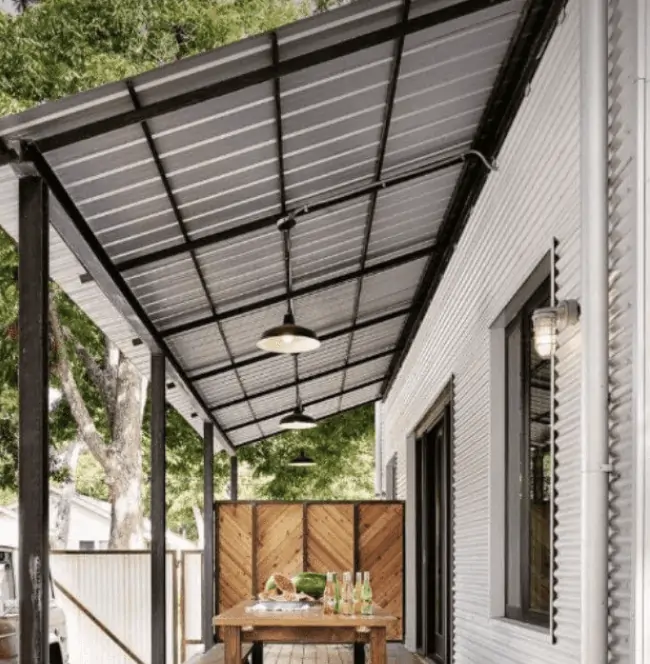 I love the dramatic statement this porch ceiling makes- but it is a little more expensive than some of my other design ideas. The slanted roof adds to the illusion, complete with clean lines.
Sleek powder-coated steel rafters look beautiful with crisp white paint. If you want to add a little touch of glamour, try some rust-proof metallic spray paint.
Lights are a must-have too: this dramatic hanging Bronze Pendant Light is all you need to add modern ambiance. Vinyl panels would achieve this look, as well as PVC covers.
Dazzling Farmhouse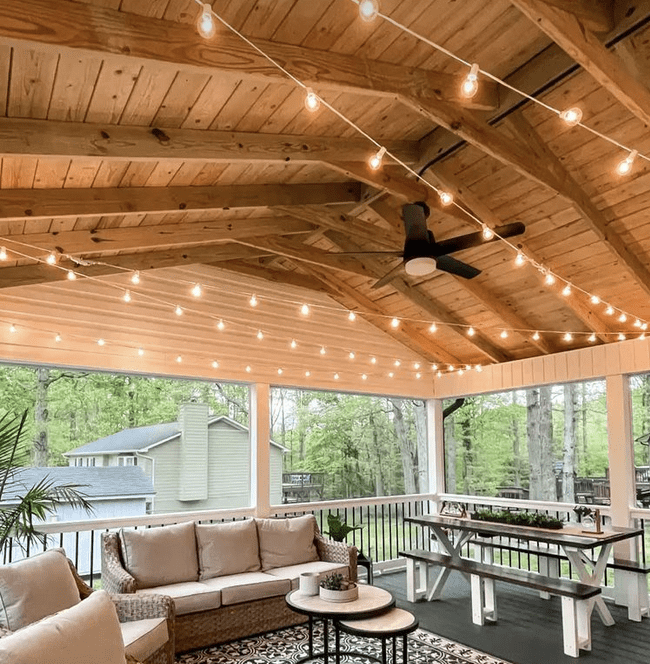 I won't lie: this is my favorite style, even if it doesn't quite fit the area I live in. This gorgeous rustic barn house porch ceiling is both timeless and elegant.
You can slash costs by buying engineered wood panels and still achieve the look of a wooden ceiling- composite beadboard, stained in a natural wood tone, would also work. I love the look of a vaulted ceiling- but it's not 100 percent necessary. Solar String Lights can be left outside for a twinkling ambiance.
If your solar lights are black, opt for a white fan or vise-versa. For an updated look, opt for a Simple Ceiling Fan – just make sure it's wet-rated.
Boho Meets Rustic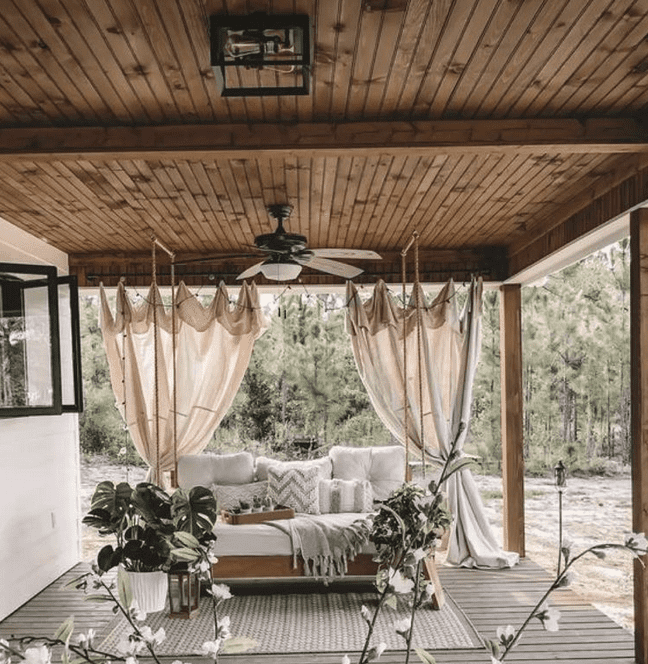 Breezy, whimsical, and charming: this is one way to make your porch full of personality. This gorgeous design means opting for a classic wood or engineered wood ceiling: install vertical panels and keep costs low by doing it yourself or having it installed during an off-season.
Keep to a natural grain and hang ethereal outdoor curtains for privacy and that boho touch. If you shop on Overstock or Wayfair, you can find them for under $50! I also love a faux hanging plant– even in place of a fan- and a simple outdoor rug.
Eclectic Seafoam Blue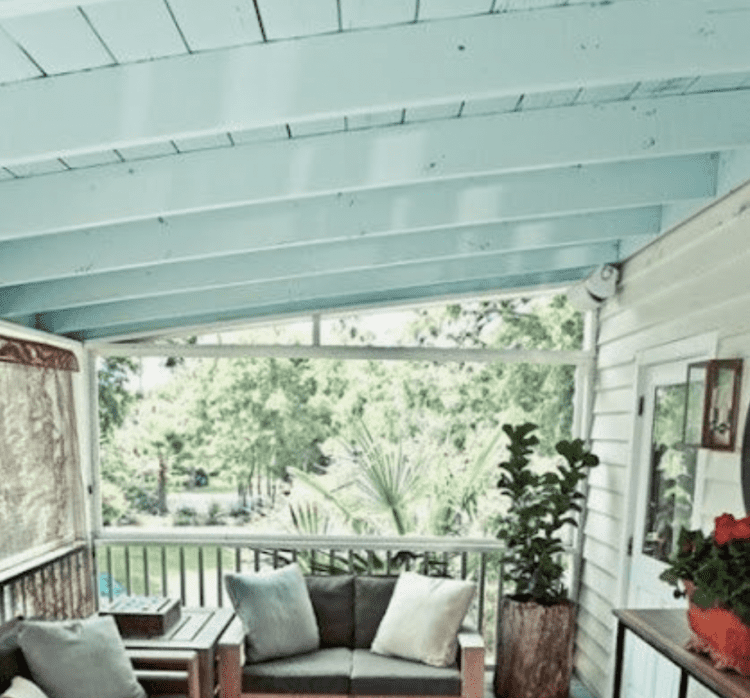 The slant to this porch ceiling adds a quaint, creative look- while sea foam blue paint adds a special pop of color to make it distinct.
What I find so fun about this design is you can easily find decor from a local thrift store. The point here is to find a few colors that make each other pop. Pair your panel ceiling with an orange planter, then use an affordable side table for some colorful candles.
Crisp Colonial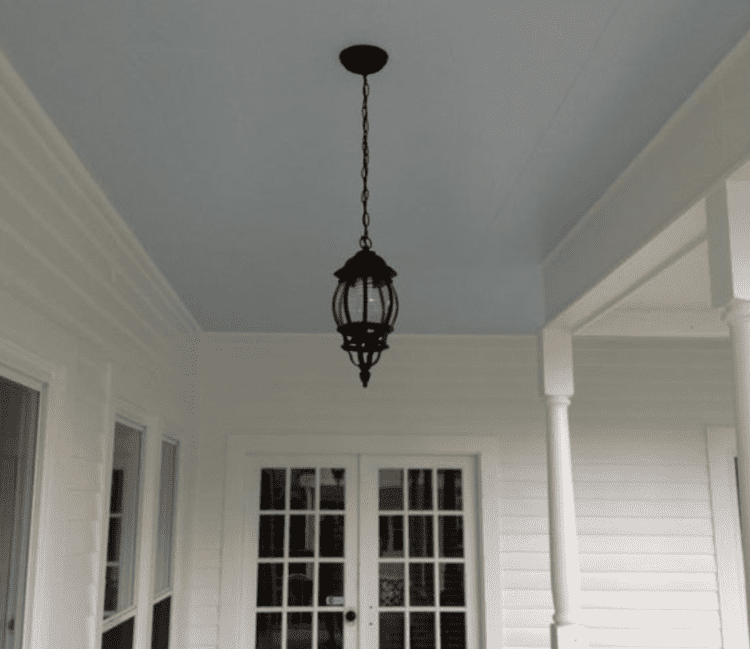 If you're looking for a truly timeless porch ceiling design, then you may fall in love with this. You don't even need a colonial-style home to pull this off.
Any materials will do for your porch ceiling: just keep it smooth and apply baby blue paint. I love the contrast between the blue and stark white- and how easy it is to capture this look.
The statement here, of course, is the hanging outdoor lantern.From there, I don't think you need much else- if you have the budget for it, vintage porch columns add a wow factor.
Bright Southern Charm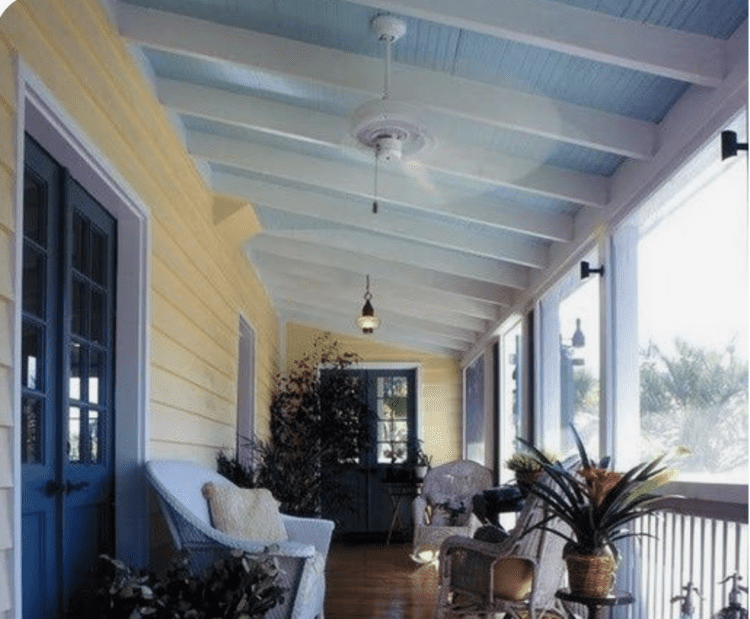 Something I've noticed in my trips to the South is every region has a different aesthetic. And while I'd say this look is perfect for parts of the South, it's vintage and cheerful for a countryside home, too. I love the play with both texture and color here. You start with PVC or Vinyl panel covers with a baby blue hue.
White trim keeps the look classic, while the buttery lemon yellow siding ties it all together. As your budget allows, opt for wicker white chairs and potted plants. This charming wicker chair costs well under $100 and adds that cozy look- just shop for some discount cushions and you're good to go.
Tropical Teal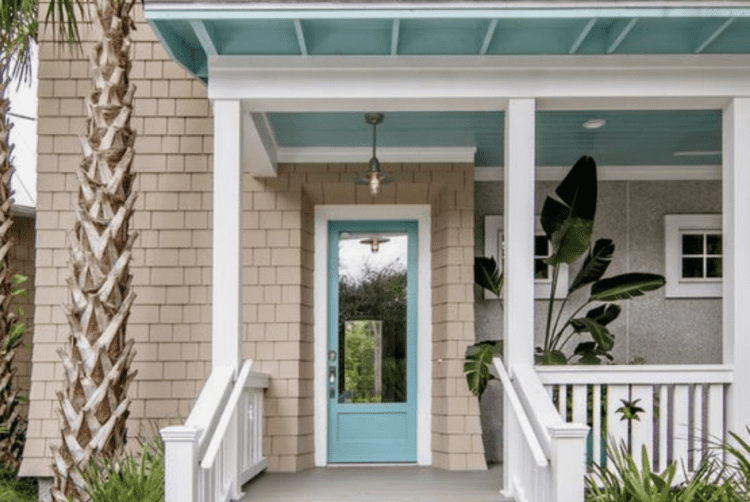 Anyone living near the ocean should take note of this statement-worth porch ceiling. I love that this porch ceiling makes an impression by challenging what blue tones you can use. A vivid turquoise blue is installed in modern, square ceiling panels.
These cheap PVC tiles could be used to achieve the look- just stain them. I think outdoor plants are a must, like this Majesty Palm plant. From there, sandy tones add a beachy look and perfectly complement your blue ceiling and door.
Frequently Asked Questions 
Question: Can I use Drywall for the Porch Ceiling?
Answer: Drywall is a tempting material for a porch ceiling: after all, it's widely available, usually easy to install, and affordable. But I wouldn't recommend drywall even for inexpensive porch ceiling ideas.
The problem is that drywall is susceptible to moisture and thus decay. But the problems don't end there: even moisture-resistant drywall, also known as MR drywall, will eventually deteriorate.
Simply put, drywall of all kinds shouldn't be directly exposed to humidity and precipitation. Luckily, there are many other affordable material options available. 
Question: What is the Ceiling of a Porch Called?
Answer: A porch ceiling is also referred to as the porch roof. The purpose of a porch roof is to provide comfort and shade, some security, and curb appeal. Any porch with a ceiling or roof is considered a covered porch.
Covered porches will always be more expensive than uncovered porches, but can be a great addition to a home and make your porch feel more private. And a covered porch with a ceiling can be a great alternative to a full sunroom or screened porch. 
Question: Are Beadboard Ceilings Expensive?
Answer: Beadboard ceilings are affordable compared to many other materials. Beadboard is a type of paneling made out of wood and distinguished by grooved, vertical lines. They're also a good solution for someone who wants to bypass professional installation feels and embark on a DIY project.
That isn't to say, however, that beadboard is your cheapest option. Beadboard still costs around $10 to $20 per square foot- more, on average, than something like shiplap. Your average project will run around $1,500 to complete.
Question: What is the Best Material for a Porch Ceiling?
Answer: The best material for a porch ceiling depends somewhat on your budget, the time frame if you're having it professionally installed, and the aesthetic you're going for. Pressure-treated wood, composites, beadboards, and plywood are among the best and most popular materials.
Plywood is cost-effective and easy to paint or stain to your liking. However, fiber cement beadboard is the better choice over regular beadboard. Unlike beadboard, it's not prone to warping or rotting. 
Final Thoughts 
Porch ceilings and decorations don't have to be expensive. What I love about all of these ideas is that they blend function, style, and versatility. From charming Southern porch ceilings to stylish contemporary porch roof decor, I believe there's something for everyone.
Focus on buying a moisture-resistant ceiling first and foremost. Even if it costs a little bit more, trust me when I say that, nine times out of ten, you'll save money on maintenance and replacement costs.
Then, just have fun decorating! Ceiling light or fan is a great staple, but even just a touch of decor can transform your porch. 
Final Recommendations
Read through all of my ideas but are not sure where to start with your porch ceiling project? For the average home, I say timeless and classic are best.
For that reason, I'd recommend starting with a simple fiber cement beadboard ceiling and then opting for the classic white charm look. All you need is a soft ivory stain and an affordable light fixture or fan. And the look? Simply timeless. 
Recommended Reads: