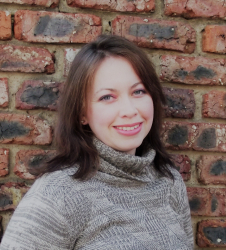 Latest posts by Talitha vanNiekerk
(see all)
Everybody dreams of having a large wrap-around porch where family and friends can enjoy lazy summer afternoons with homemade treats and fresh lemonade served with great conversations. Yet, we often forget to consider what makes this porch a great place to gather. It's not the furniture or the floors. It's the roof. 
Having a great porch roof is an excellent investment in lifestyle, not to mention that it adds to the overall value of your home. A unique porch roof makes those lazy afternoons possible as it provides shade, shelter, and climate control and sets the theme for your conversation space. 
I first became interested in the best porch roof ideas when I moved to a new property (the first that I purchased). The property had a lovely living area but no porch! My family loved hanging out in the fringe zone between indoor and outdoor living. I dusted off my interior design skills and the apprenticeship I had done in building draughting and began planning a new porch space. 
The porch roof is where I started. There were so many considerations I had to keep in mind, but in the end, I managed to design and build a great porch roof that we could enjoy our lives enjoying. 
With these great porch roof ideas, I am confident you will also find the porch roof of your dreams.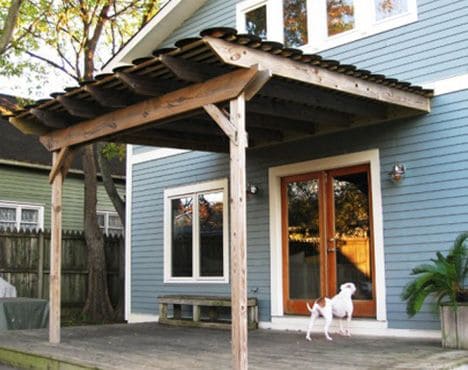 Bottom Line Up Front:
Porch Roof Ideas
There are so many innovative and visually stunning porch roof ideas out there. Still, I ended up schooling my own porch roof on a mix of the pergola roof structure of this Veranda Pergola With Swing Benches idea and the louvered design of this Wood Louvered Style Porch Roof as it complimented my existing roof the best and suited our outdoor lifestyle. 
The wooden beams of the traditional pergola, combined with the vinyl sheeting, offer great climate control as it allows light but keeps your porch space dry and cozy. 
Selection Criteria for the Best Porch Roof
When considering changing your home's roof structure to incorporate a new porch roof, adding a new porch roof to your current roof, or building a free-standing porch roof, you need to have clear criteria for what will or won't work for you. 
In my project and based on my many years of experience in design, I came up with this selection list to help me decide on an appropriate porch roof. While your list may look slightly different, my list covers the basics all porch roofs should follow. 
Check Your Local State/County/Neighborhood Laws
I don't like filling my head with great ideas only to be told it's not allowed or that it's against the law. So before I started, I looked up the local building codes to determine what type of porch roof would be and which wouldn't be allowed. 
Some areas are considered private communities, such as secure complexes have their own regulations. So you follow up with the governing bodies here to determine what is allowed in your particular area. 
Regulations may determine what building material may be used, the height of the porch roof, whether it should be a particular size (or limit the maximum size), and the color or finish of the porch roof. 
Consider Your Existing Roof Structure
A new addition or new porch roof should keep your current roof structure in mind. You certainly don't want to add a porch roof that looks more like a scar than an asset to your home. While a brand-new stainless steel porch roof with state-of-the-art vinyl sheeting may look stunning on a design page, it won't suit your early Victorian home. 
Aim for consistency. 
Consider the roof line, shape, color, and design when you look for porch roof ideas.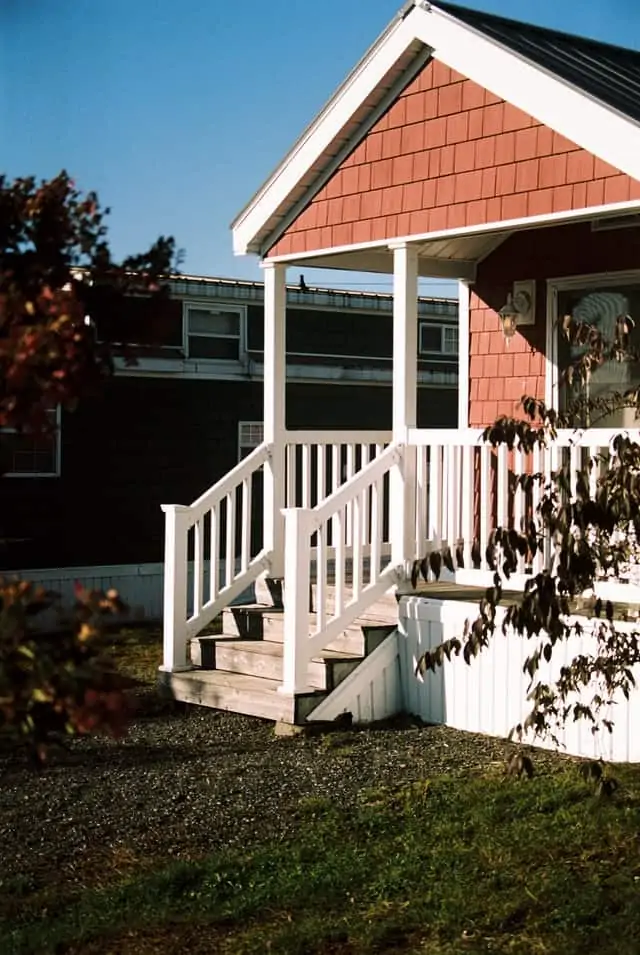 Requirements to Achieve the Style or Feeling You Want
Getting something you like may require a unique building material or specialized contractors to install, which can seriously affect your budget. Before you opt for a particular style or design feel you are looking for, consider what your current lifestyle is. 
If you and your family are a lazy Sunday afternoon barbeque-in-flip-flops-with-an-inflatable-pool type of people, a fancy pergola won't suit you. Maybe you and your family enjoy having large gatherings with your friends where it's a sit-down meal at a long table, in which case, you would do better with a covered pergola or open-frame porch roof design. 
Budget 
The amount you are willing to pay for your new porch roof (or revamped porch roof) is determined by your budget. Find out what you can afford and what you actually want to spend before you start dreaming. 
It is unwise to spend your whole budget on the roof alone as you'd likely want to add decorative elements, furniture, and lights to make the space inviting to you and your family. So budget appropriately. 
Size of Porch Roof in Relation to Local Timber and Steel Lengths
A serious consideration when you are building a porch roof from scratch is the size and dimensions of the porch in relation to locally available timber and steel. When the porch is significantly larger than the average lengths of building materials available in your area, it will dramatically increase the costs. 
Try to measure your porch roof idea in relation to the available building material in your area to help lower costs and prevent wrinkles creeping in with materials and shipping costs. 
Your Skills Set (DIY) Vs. Using a Roofing Contractor
If you are considering a DIY project, you should make a list of your skills to determine whether you can accomplish a professional and safe installation or if you should get a roofing contractor to do the basics for you. 
Contracting the whole project may not be necessary, but getting a professional to do the basic framework makes sense, and your building insurance may require it. 
Deciding between Different Porch Roof Designs
Finally, your last consideration is which roof design works best for your taste and home style (and budget). Consider whether you want an open plan, whether the design needs to keep the local weather under control, and whether you are happy with the lines and feel of the design. 
There's no point in putting up an ugly porch roof. 
Keep your family in mind too. My husband absolutely hated the idea of a corrugated steel porch roof (which he felt would look like a shack), and my children loved the idea of a Japanese-inspired pergola roof, but I wanted a louvered porch roof. We combined the pergola and louvered look for a great space that the whole family loves.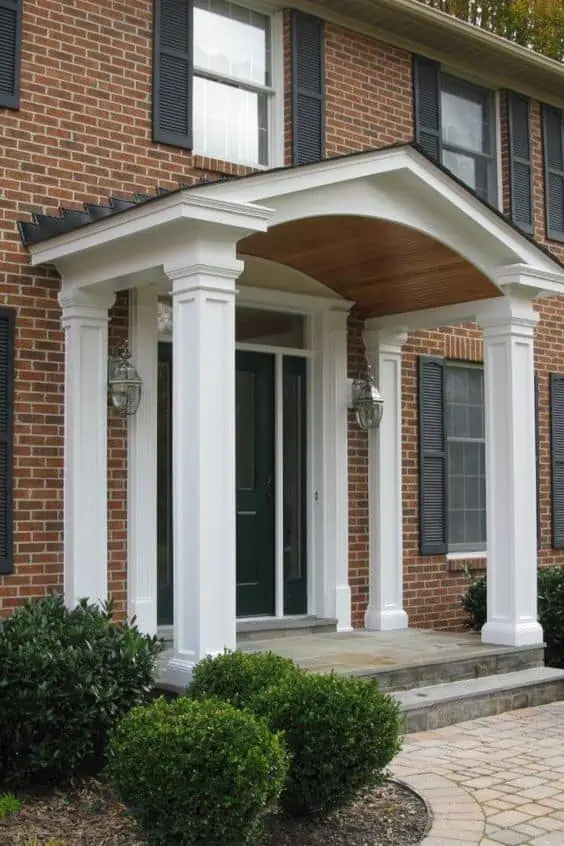 Great Porch Roof Ideas
Browsing online will show you some fantastic porch roof ideas. I was cautious in choosing designs that were not so high-end that the average homeowner could never afford them. Plus, I wanted to show you some really practical designs you can accomplish with some basic skills and help from friends and family. 
Best Pergola Porch Roof Ideas
A pergola roof is the quintessential roof design for gardens and outdoor spaces. The shaped beams have a distinctly peaceful appearance, while the interspacing beams provide sun control and give creeping plants a great structure to rank through. 
Here are some of my favorite pergola porch roof ideas. 
I simply love this Veranda Pergola With Swing Benches idea. The clear lines of the structure compliment most architectural styles, making it a great addition to any home. Paint the frame in muted tones or a bright crimson for an authentically Oriental look.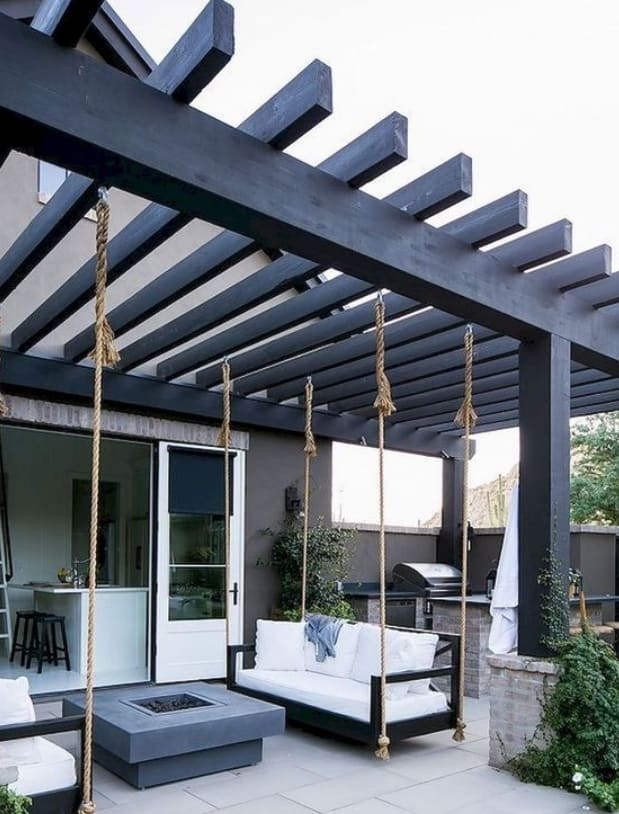 The stone bases for each pillar are a great way to ensure the structure won't suffer rot or decay, making it an excellent investment. A nice touch is the black bench swings, secured to the top construction with natural rope. Creeping plants are already vining up the side of the pergola, promising future greenery. 
In this instance, the top structure's dark color and symmetrical edges really work well with the gray building. I imagine summer bringing bright fuschia pink blooms to the creepers for a splash of color. 
A traditional pergola doesn't offer weatherproofing, so this Pergola With Clear Vinyl/Acrylic Perspex Cover is an excellent modern twist. Adding a clear vinyl or Perspex cover means the space is now waterproof, making it ideal for barbecues and family gatherings in summer when the occasional rain storm may have interrupted festivities.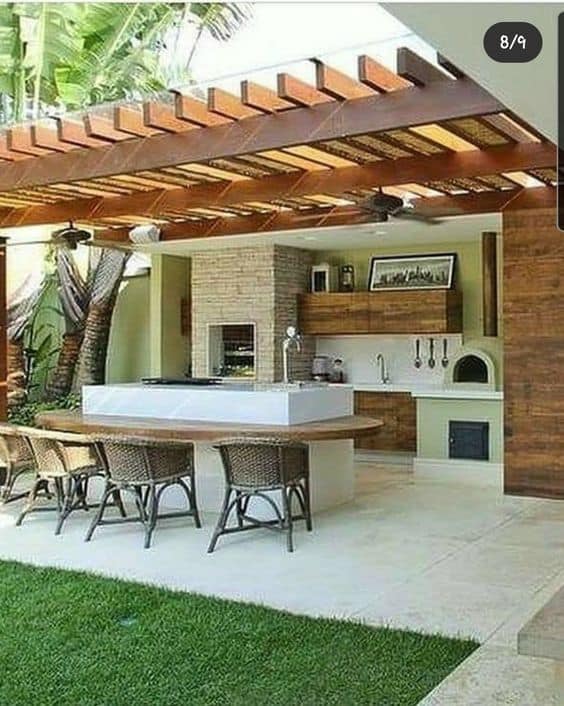 A final pergola idea is the Pergola With Planted Creepers Porch Roof, which is essentially a future look at the potential of my first pergola example. Here, the overall look is much more country-styled with the natural stone walls. The creeping bougainvillea is a nice touch, and I can imagine how glorious the scent must be in summer.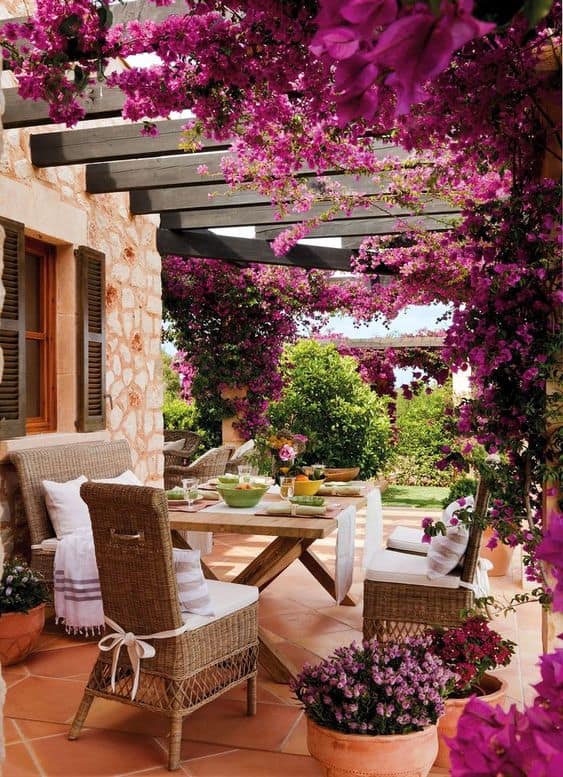 Top Tip for Pergola Porch Roofs: If you opt for a pergola porch roof, invest in quality timber, as low-quality beams will split and warp over time. Ensure you seal the beams with a nourishing primer or oil to keep them in tip-top shape for years to come. 
Pergolas have weak spots for rot when they are planted into the ground or in the recesses for anchoring bolts. Take extra care to seal these areas with a sealant, and use a silicone sealant to fill up the recessed bolts to prevent moisture from gathering there. 
Great Wood Paneled Porch Roof Ideas
Wood paneling can truly add value to your home. When used in a porch roof, the paneling is usually in the ceiling section, with a tile, corrugated, or shingled roof structure. 
Logs, natural stone, and wood paneling—can there be a better combination to achieve a rustic porch that is utterly reminiscent of the Frontier days? The Wood Panel and Beam Porch Roof Idea is the complete embodiment of this.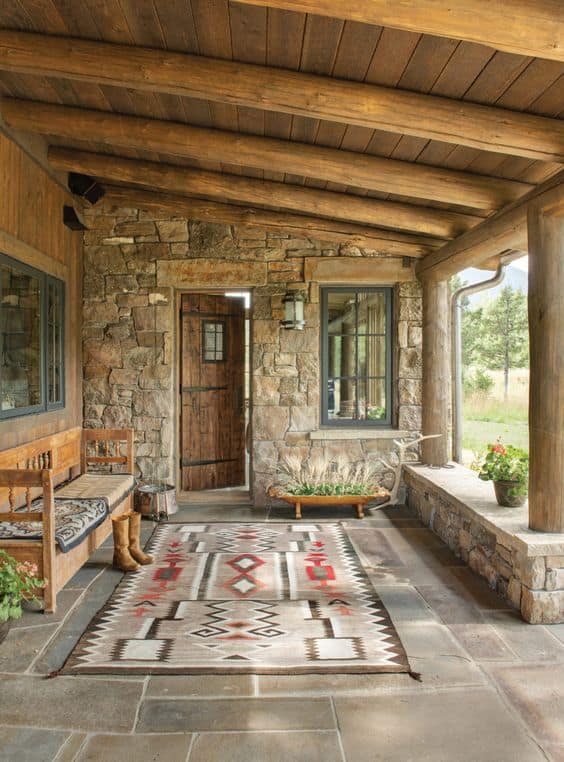 The large wooden beams are made of natural wood logs, with stone pillars to finish the anchors and ensure longevity. The wood paneling finishes this in a warm and rustic feeling that makes me ache for good conversations and coffee with my parents on rainy days. 
Wood paneling can also be a quick fixer-upper with existing porch roofs. This Renovated Wood Panel Porch Roof is a low-cost idea, and replacing the regular white ceiling boards with wood paneling creates an entirely different look. If you don't like the natural look, you can always opt to paint the paneling white for a beach house look.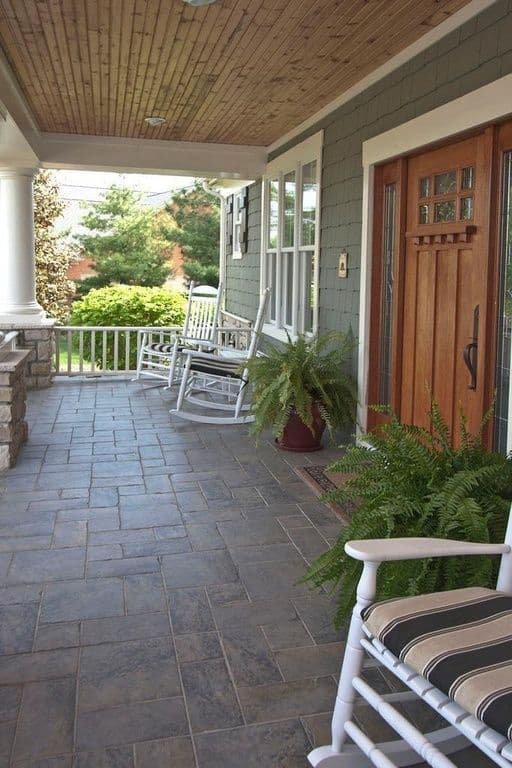 Got a stack of wood pallets lying around the yard? Why not try your hand at this Natural Wood Plank Porch Roof Idea where the natural wood slats are added in a puzzle way? For diversity, you can always work in a tiled finish, layering the slats at perpendicular angles to create a parquet ceiling. Segmented slats is an excellent idea for new porch roofs or renovated spaces.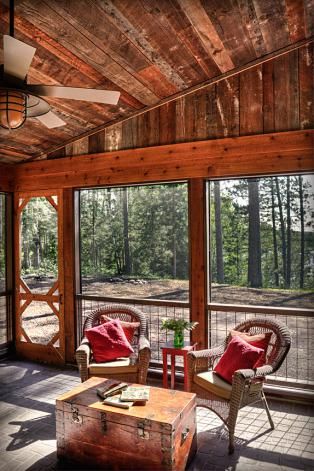 Clever Louvered Style Porch Roof Ideas
I like clean lines, and while I love the pergola look, I also want smaller spacing between the beams, which is where an idea like this Wood Louvered Style Porch Roof is ideal. This idea is perfect for an untreated wood finish for a porch that faces the pool or a large backyard with tropical plants.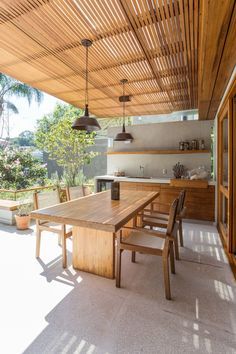 Some benefits of this idea are that you have some regulation of sunlight and shade, and you can also add a clear Perspex cover to ensure the space remains waterproof. 
Louvered porch roofs can also be highly functional such as this Aluminum Steel Louvered Porch Roof with aluminum slats that can be opened and closed to provide more or less light. Louvers are an ideal design for spaces where you'd like some climate control while not sacrificing natural lighting and heat.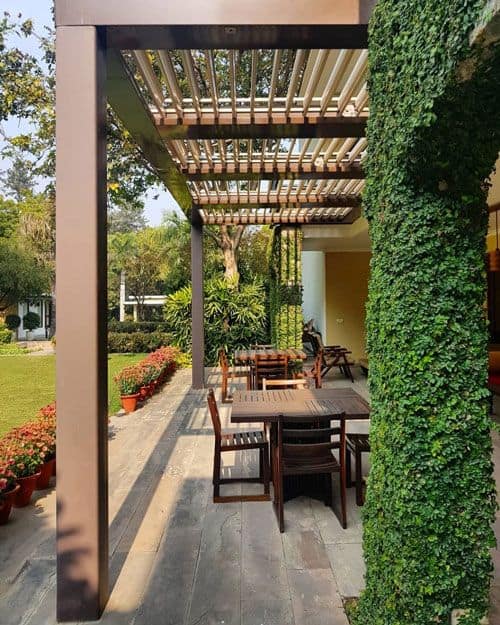 One downside of this design is that you can't have any creeping plants planted near the roof, and any large trees that tend to throw berries or leaves will become a problem. 
Blur the indoor and outdoor line with this lovely Louvered Style Reed Porch Roof idea, where glass partition walls further exercise climate control. Depending on your area's climate, you may need to add a roof cover in glass or Perspex to prevent snow and rain. However, this idea is great for any part of the world where you want to be in your garden but also don't want to be exposed to the elements.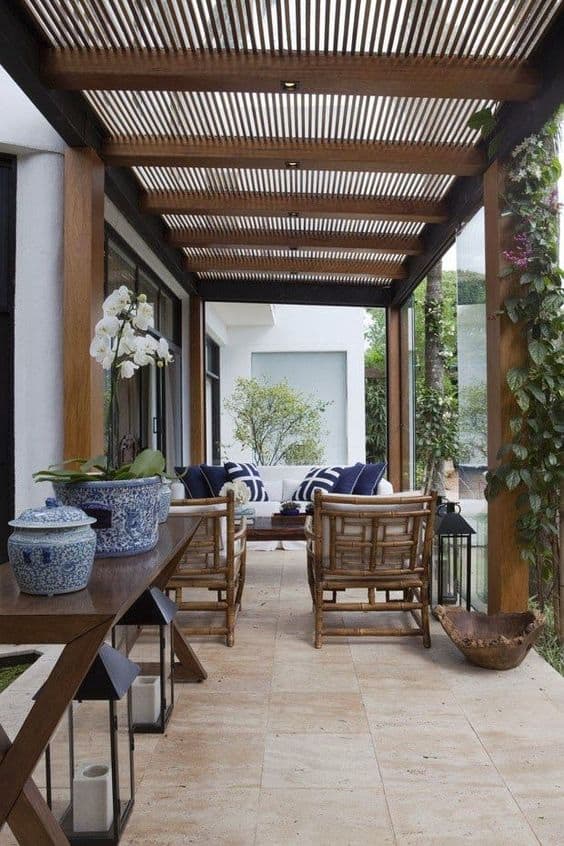 Louvered Porch Roof Tips: Turn your existing pergola porch roof into a louvered design with a porch cover where you can choose from different covers that offer you a permanent or movable cover. If you're wondering what these porch covers look like, they are essentially Roman blinds fitted to a cable system on the underside of the roof structure.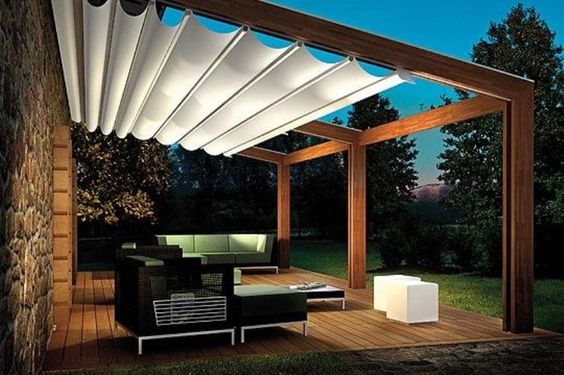 Airy Open Framed Porch Roof Ideas
Who doesn't like a traditional open-framed porch roof? I am in love with this Timber Frame Farmer's Porch Idea. The open-frame structure is beautifully complemented with a deck-like wrap-around porch floor and wood paneling under the eaves. This particular idea is still under construction, but I can already see many great afternoons spent here with my family. A couple of great couches, a swing sofa, a sled-bed, and it's peace on earth.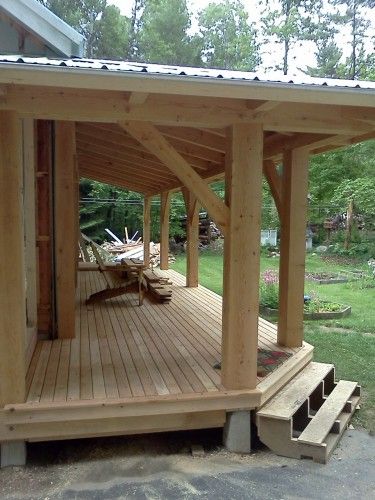 Of course, if you have the budget for a larger-scale project, why not opt for a Multi-Directional Timber Frame Open Porch Idea that creates an external room space out of your porch? The great design reminds me a little of Middle Earth and Lord of the Rings (I'm just waiting for Legolas to come walking past!).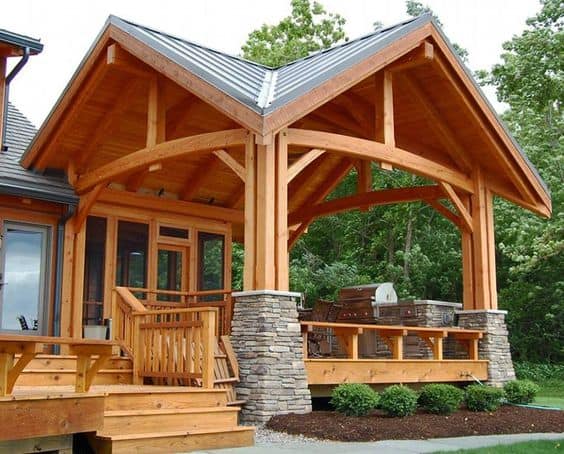 The slate pillar guards are a nice touch, while the high peaked roof will keep any weather at bay. The plain silver corrugated roofing combines well with the slate roof of the main house, which is a sure winner for boosting the value of your home. 
Are you looking for something a little more modern? Then the Open Frame With Stone Pillars Porch Roof is for you. The open frame allows light and airflow into the space, ensuring the home doesn't become dark or cold due to the porch addition. The anchor space of the porch beams is supported with a bricked layer, adding visual interest to the structure.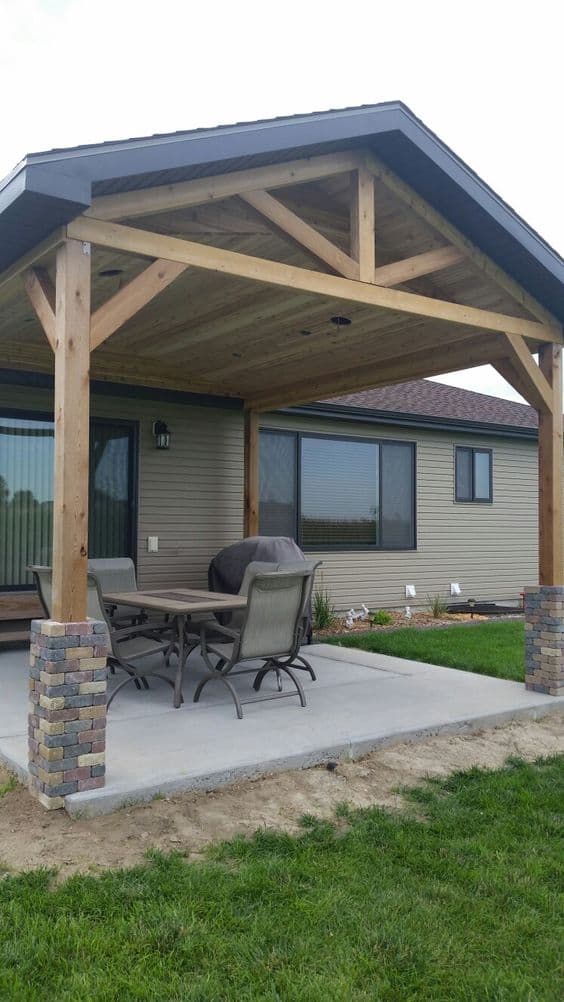 Nifty Add-On Porch Roof Ideas
A porch need not be a large structure, and even a smaller lean-to porch roof can be a great addition to altered spaces, such as adding a sliding door to your home. This Ultra Modern Mini Porch Roof Idea is a great way to create some remarkable porch space in unexpected ways.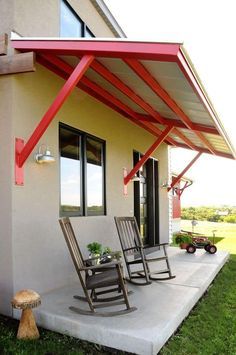 The porch roof is fully attached to the wall, with no supporting pillars or beams. In a boldly modern move, the supporting struts are painted bright red, matching the contemporary home's appearance. 
If you have a wrap-around porch but want to extend it, this Structured Porch Roof Add-On is a magical way to do it. The two-tone ceiling treatment of white board and natural wood beams make for a distinctly Zen appearance. The porch offers a flat roof with wood beams for support. If this is a DIY project, ensure you follow safety protocols regarding the maximum roof span and drainage since it's a flat roof.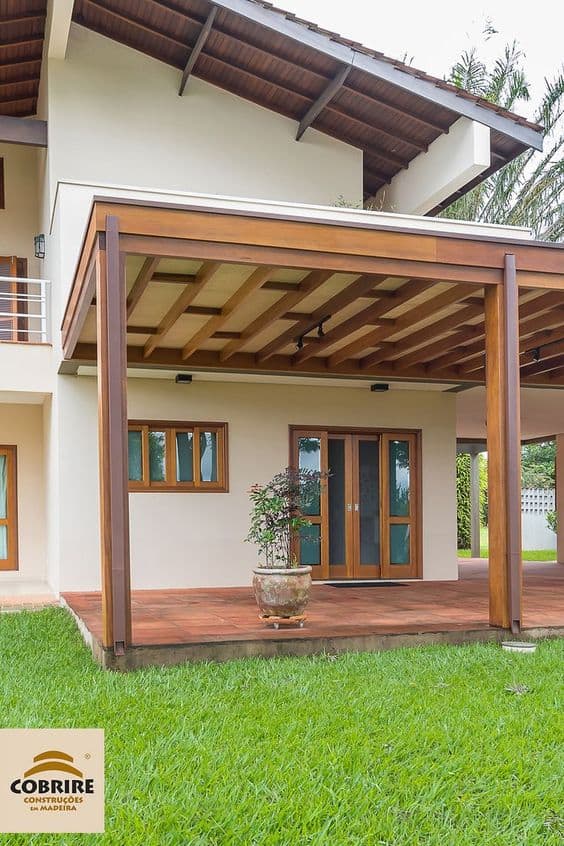 Adding a porch roof need not be a tricky bit of engineering, where you try to find a suitable supporting wall to carry the extra roof weight. Using a Floating Porch Roof System Idea, you can create a suspended roof that rests securely on your existing roof structure.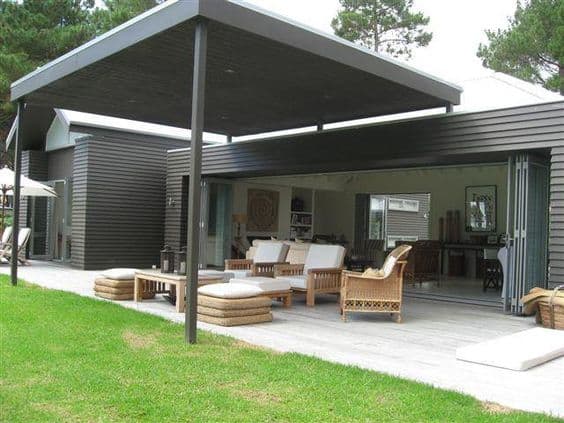 Add-On Porch Roofs Top Tip: Bear in mind that the greater the roof span, the greater the strain on your exterior wall or roof if you don't have supporting beams or pillars to help carry the weight of your porch roof. Therefore, your local council may require a civil engineer's report to assess whether an added porch roof is safe before you begin construction. 
Bright Porch Roof Skylight Ideas
A porch need not be a dark and dingy space, so this Light Penetrating Porch Roof Idea is amazing. Use a light penetrating cover over the porch roof that protects you and your family from UV rays and rain while still allowing enough light to help plants grow.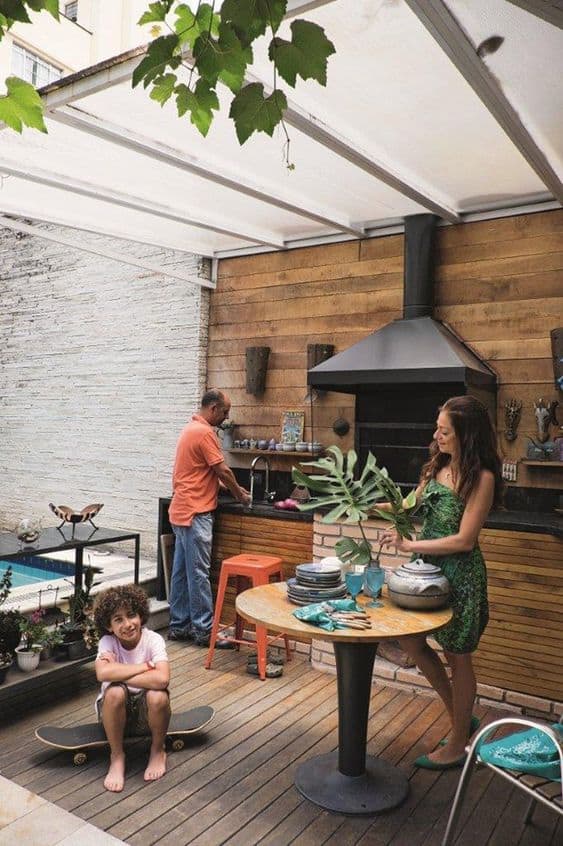 You can be pretty innovative in the type of roof you choose, from clear Perspex to fiberglass panels that allow light but keep your porch private. This idea's combination of steel, wood, and stone is a great way to turn an outdoor space into an ultra-modern entertainment area. 
Have the best of all worlds with this Essential Skylight Porch Roof Idea where an open-framed porch with wood paneling combines with a great skylight panel. The high pitch and clear skylight will make for magical star-viewing and rain-watching. The warm sun can enter the porch for a pleasant reading nook and natural light.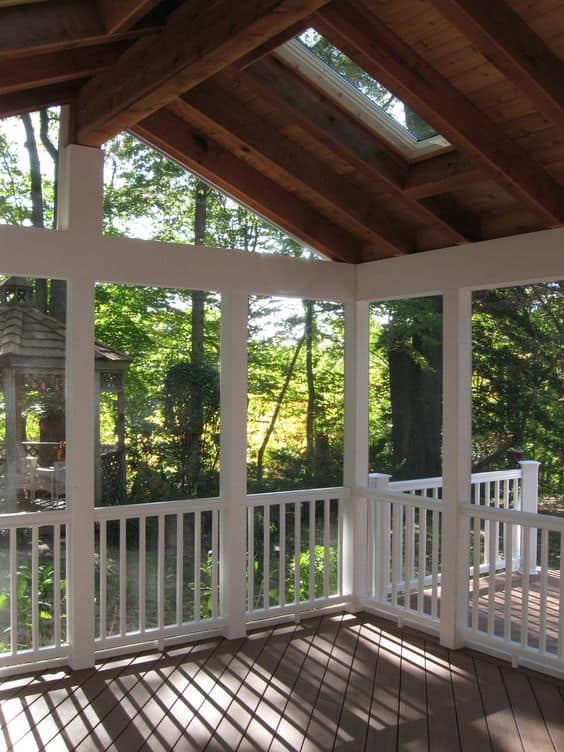 Take the skylight idea one step further with this Pitched Porch Roof With Skylights where multiple skylights are situated on both sides of a central pitch. Wood paneling and an open framework create an airy feeling that is sure to be attractive in summer. Add zip-down canvas covers and a few quality gas heaters if you live in a colder area for warmth in winter.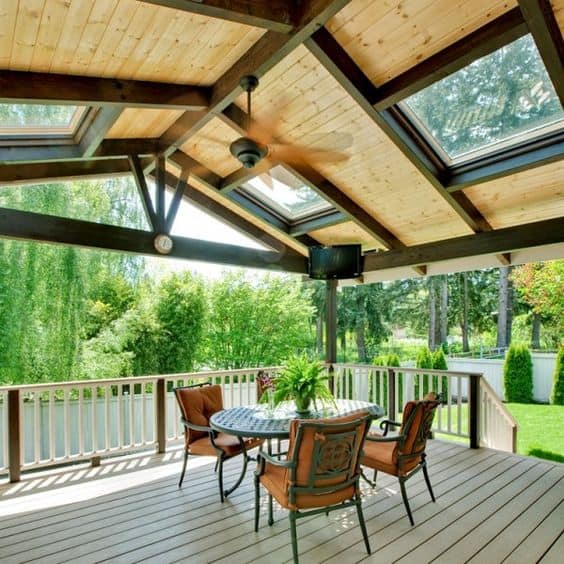 Cool Corrugated Steel Porch Roof Ideas
Corrugated iron has become a great modern addition to homes and gardens, and this Easy Corrugated Steel Lean To Porch Roof is an easy DIY project to undertake. Wood beams support the galvanized steel roof sheeting, while the porch rail matches the wood finish for a peaceful entertainment area. The natural stone and wicker furniture add a final flourish that makes this a wonderfully homey space to relax in.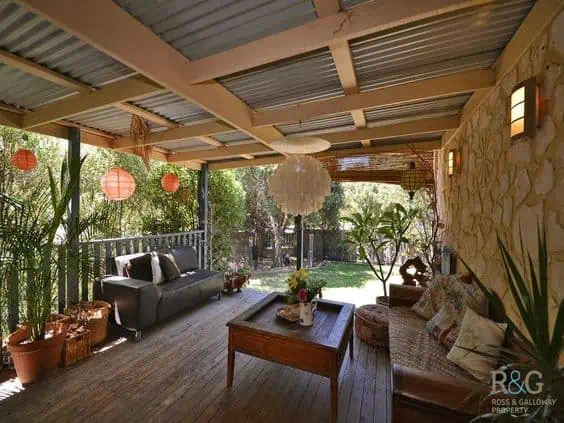 The Multifaceted Corrugated Steel Porch Roof is an innovative idea to meet a modern outer façade. The roof is segmented, with each segment placed at slightly different angles to create a barn-like feel. The extra height negates the heating effect that most corrugated roofs have, making this a cool space to hang out during summer.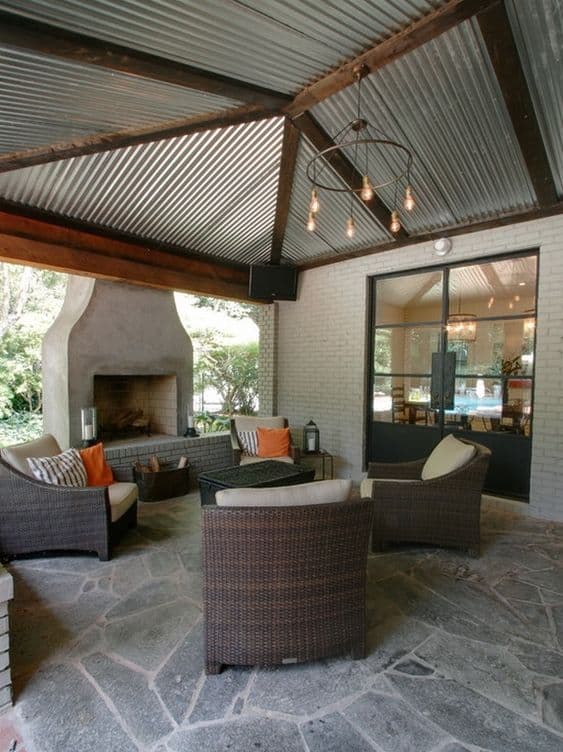 Sometimes you want a porch roof, but there just isn't space to attach one to your home. Using an idea like this Pitched Corrugated Steel and Wood Porch Roof, which begins a short distance from the home, is a great way to have the best of all worlds. The design is reminiscent of a pergola design, and with the steel roof, you have a modern take on a garden classic. In some areas where additions to your home may not be allowed, this design could get away with a "porch" space in a pinch.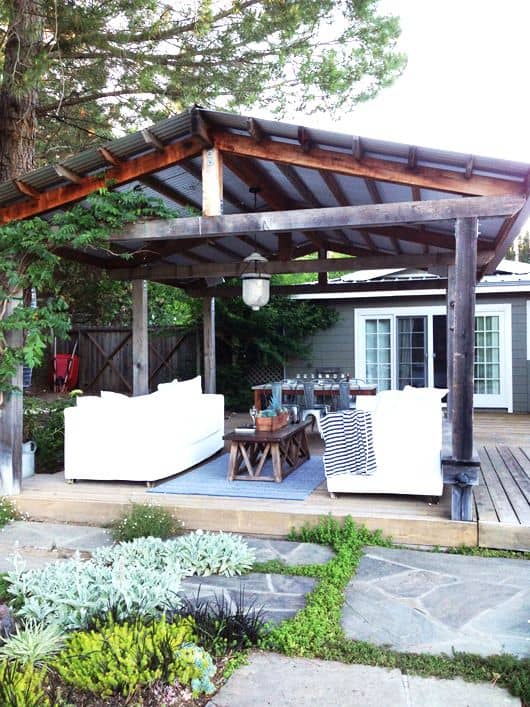 Corrugated Porch Roof Tips: Corrugated steel roofs are not entirely resistant to the elements, and over time, you will have rust spots to treat. So treat any holes for hardware with a silicone sealant to prevent water buildup and rust. In time, you may have to treat the steel sheets with a rustproofing agent or paint the roof to ensure a longer life. 
Unique Porch Roof Ideas FAQs
Question: What can I use for a porch roof design?
Answer: Any weatherproof material such as wood, shingles, steel, PVC, and tiles is suitable for constructing a porch roof. Ensure your materials are supported by a correctly built internal structure of beams or lifts to secure the roof. 
Question: What is the difference between a porch roof and a portico? 
Answer: A portico is a small roof fitted to the wall over a front door. A porch roof refers to the actual roof used to cover the whole of the porch area. 
Question: How do you decide which type of porch roof to use for your home? 
Answer: Deciding on the type of porch roof you will add to your home can be challenging. However, with a few basic concepts in mind, you will be able to spend your hard-earned money more carefully. 
The Final Roof
Having a great porch space is a dream you probably share with most homeowners. I know it was such a significant investment in my home and my family's lifestyle when we added our porch roof. Ensure you have porch roofing success with the tips and ideas in this guide and don't be afraid of asking for help from local experts and neighbors whose porches you admire. 
Be brave in DIY projects, but know your skills to ensure a durable structure that will help and not harm your home's image. 
Happy building!
Recommended Reads: