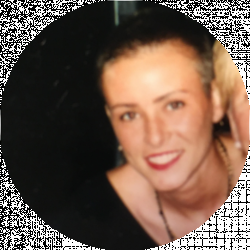 Latest posts by Richelle Tieman
(see all)
Front porches are the greeting mat of your home and the first glimpse of what's to come inside your home.  Whether you enjoy spending time and effort to find your true style items or want to get a few nice things to make that front porch inviting, you can do both on a budget.  Small front porches add another layer of creativity to the decorating strategy.  Having a small front porch, you may feel that you have to give something up when decorating.  I will tell you that it's easy to make a small front porch feel inviting and put together (and I will show you how!).  You won't have to give up a thing (aside from the huge patio sectional you wanted to put on your porch!).
If you create a spacious air about your porch, it will seem as if you have done the impossible.  Making a small porch look bigger is an art.  Fortunately, that art is accessible to everyone's wallet.
Bottom Line Upfront
Best Overall Idea:  Eclectic Garden Style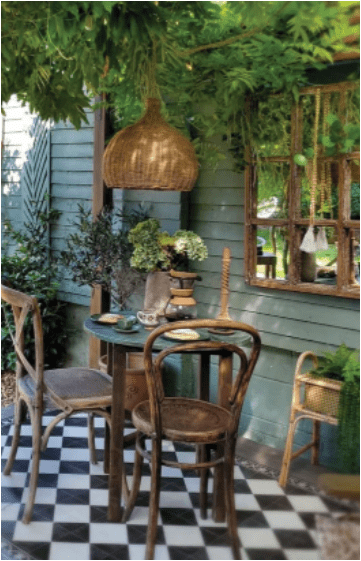 This eclectic small front porch idea combines Bohemian, Rustic, and Nature themes to create a setting that seems like an English cottage's garden.
Not an "indoors" getaway, this secret garden-style porch looks like it belongs in a spa!
This incredibly useful and gorgeous destination makes your small front porch functional yet serene and whimsical.
I love this look because it includes seating, a table for writing or eating, a boho rattan lamp, and plant stands.
Many plants, as well as tassels adorning the outside window, give it a fairytale feeling.
It has overhanging tree limbs that "snug in" this porch and make it feel like it is miles away from the indoors.
Vases and candlesticks are on the table, romancing the area and letting the antiqued chess vinyl floorcovering shine.
The muted colors of the furniture and decor blend with the house and provide a seamless foray into nature.
If you don't have tree limbs hanging over your porch (which is probably better for many different reasons) you can opt for false foliage on an expanding trellis to mount or hang above your seating area.
I have many expanding trellises, some with ivy and some without, and they are so multi-functional that I have them upstairs on balconies, downstairs on the front porch and outback on the patio, and the property border fence!
See also: Best Porch Swing Chains Guide
Small Front Porch Ideas
Idea #1 Traditional Sunny Symmetrical Small Front Porch
This small front porch centers around the door, which already add charm and clean lines to the area.
Two lanterns grace the sides, with a wall mailbox and plaque on either side.
To enforce the symmetry are two planters on either side of the door, two potted plants at the top of the stairs, and two plants in urns on both sides at the bottom of the stairs.
Two rocking chairs complete the picture with matching throw pillows.
There is a bright doormat that complements that darker grey and adds richness to the stark white of the door frame.

I love this front porch idea because of how bright and welcoming it is. For me, I think white is the most inviting color on a front porch, so seeing all of the white that's on this porch made me feel right at home! Plus, I think the sign and the floral wreath add a feminine touch, without going overboard.
Idea #2:  Use Attractive Storage Alternatives for Excess Items Lying on your Small Front Porch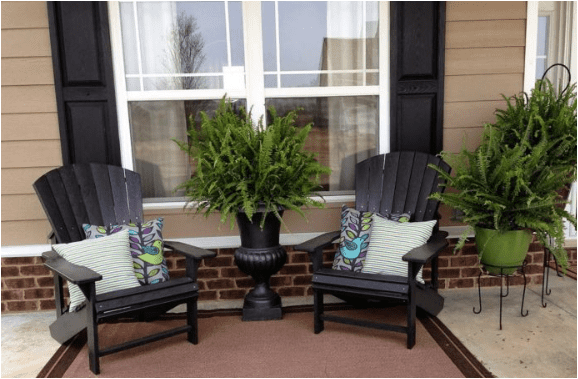 Clutter will make a small front porch almost unusable and decrease your sense of relaxation. Remove clutter – the more things on your front porch, especially those that take up floor space, the less room there is, and the more strategic it becomes to walk.  Look for seating that is also storage or small tables that have two shelves on them.
Focus on a few (three or four) items you love – carefully vetting your small front porch inhabitants will ensure that a warm feeling comes over you when you think about and go to your front porch. 
If you are yearning for a larger front porch, it won't help to have items on your small front porch that only "fill the need."
Idea #3:  Use the wall, ceiling, and door on your small front porch to maximize floor space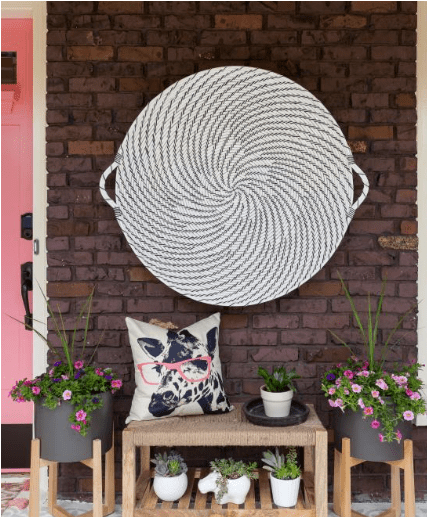 Hanging a sign or a wreath on the front door is inviting and can be the finishing touch for small front porches.  Take care when choosing an adorable light, or two, for the side of your door.
Using the wall for a shelf of small potted flowers or hanging ivy and fern plants from the ceiling are space-conscious ways to make the most of your walking space and create more room for a seating area.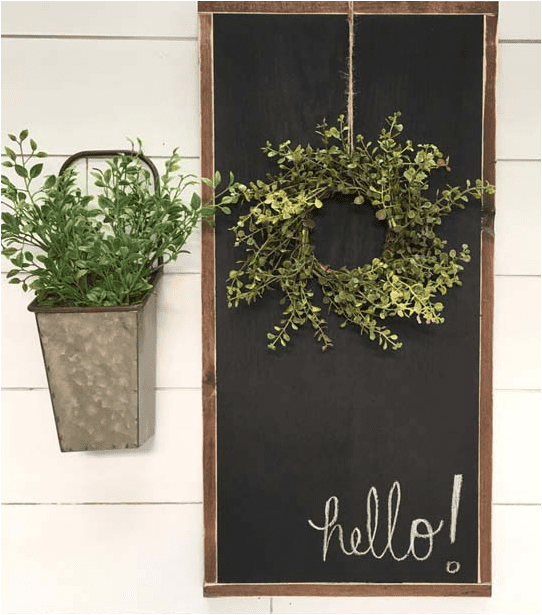 Keep the wall decor simple, as having several stacked shelves will be bulky and space-consuming – causing the eye to focus on that.
See also: How to Find the Best Patio Umbrella
Idea #4:  Have at least one piece of seating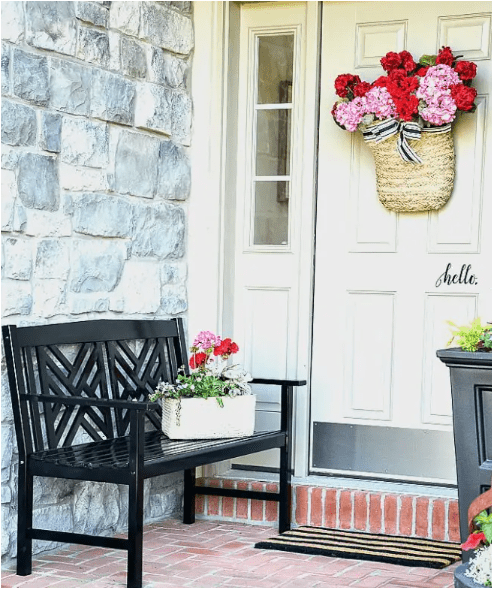 A narrow bench or bistro chair for others to set things on when you are not home, or to sit and pull on your boots.
Having a small bench or table allows a bag, box, or gift to stay out of puddles and keeps it away from "stompers" who may kick it inadvertently.
Countless times I have sat on a front porch bench just to get out of the house for a few moments!
Notice how the end of the bench is used as a table for a plant.  This keeps it out of the way of feet, and prevents tripping!
See also: Best Porch Design Ideas For A Welcoming Home
Idea #5:  Crafty Small Front Porch
This picture of a giant vertical welcome sign and white wreath has crafty rustic elements that could go a long way on a small front porch (shop more small front porch wreaths at Wayfair). Find signs for your small front porch here on Country Marketplaces. 
Imagine this picture with only the white wreath, the "Hello" sign, and the doormat without urns, planters, pots, or tin.  Without the extra items on the porch floor, the porch could look coordinated, welcoming, and accessible on foot.  Removing these items speaks to my earlier suggestion of eliminating clutter.  In this case, not only does your eye bounce around not knowing where to land next, but people's feet may bounce around not knowing where to step next.  Or worse, fall.
Don't gather all your knick-knacks around your front door, especially not on the floor near your front door.  There's a reason insurance companies automatically build in visitor accident liability for renters and homeowners insurance.  Instead, save excess items for a side table on a side porch (if you don't have a side porch, you could put them on the patio or in your home on a table).
Link here for the floral wreath and the sign!
Especially Relevant for Small Front Porches
Scientists and doctors have overwhelmingly found clutter negatively impacts our mood and immune system.  All human brains are constantly categorizing and shifting things to create order in our environment due to our "fight or flight" response to threats millions of years ago.  Damaging hormones are released into our body that uses physiological resources necessary for productivity and focus and from getting to our brain.  Our environment is directly linked to how productive we are in our relationships and our work lives.  Tidy and orderly homes have been linked to active people who rated themselves successfully in their careers.  Read "The Life-Changing Magic of Tidying Up" by Marie Kondo for more tips and information.
Small Front Porch Spaces are Relative
A favorite phrase of mine is "Everything is relative."  The same goes for your front porch.  It may be smaller than your neighbor's but larger than the condominium's front porch down the street.  It may be smaller than the college president's house but larger than the row houses downtown. Even if your front porch resembles your child's dollhouse porch, you will have some idea of its purpose.  A purpose gives defining characteristics to a space, which will help you navigate the barrage of porch and patio decor for appropriate enhancements.
Will it only be a place you see as you walk into your home?  Just a quick splash of welcome before entering?  Will it be a drop-off station for Avon, Girl Scout cookies, friends' baked goods, or FedEx deliveries?  What about a chat nook for two?  Breakfast or drinks locale in the evening?  Do you wish you had a place to sit and talk with others?
All these things will help you narrow your focus to prioritize the needs of the area to maximize its function.  I'll look at some options to get you going.
Idea #6:  Just the door, the whole door, and nothing but the front porch door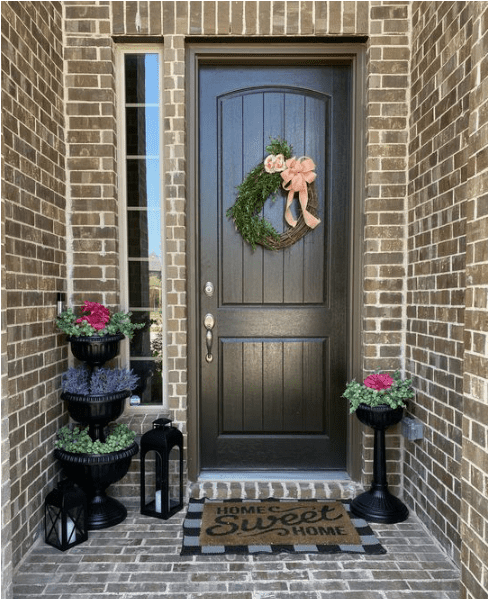 Here you have stately brick covering every inch of this entryway (which is highly unusual and coveted), and the rich paneled brown door blends in with distinction.  The wreath is natural but gives a bit of pink pop color that holds the eye.
The black urn planters and lanterns are top rate, and the three-tiered urn planter is well thought out for the tiny amount of floor space to place things. Look at Home Depot for stacking tiered urn planters like the picture.  I love the antique charm of the bronze shown at Home Depot (I think it would have looked fabulous in the door picture instead of the black!).
The doormat coordinates with the black planters.  The lanterns also function as a light source since there is no wall lighting here.  The large lantern is placed precariously near the door's opening, and I would move it over to the other side behind (towards us) the solitary urn for greater stepping confidence.
Loads of happy prices (low!) on AT HOME.
Idea #7:  Tiny Front Porch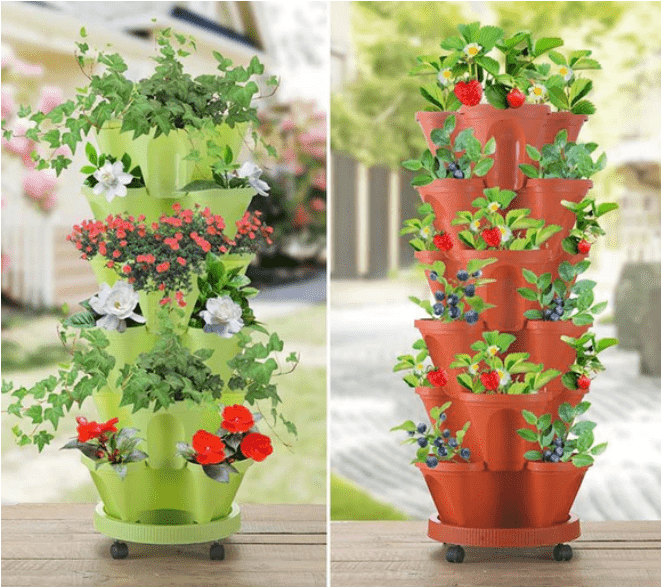 At GardeningFly they have these wonderful, wheeled, tiered planters that are so price-happy!
What a festive way to show off your plants without taking up much floor space!
You can get tinier plants, and you won't have to spend much time watering.
A great return on your price and effort investment!
Idea #8: Small front porch but Large Pot Planters
This doorway pic has a lovely paneled black front door with glass panes in the middle giving it an open and inviting feel, yet still giving you privacy.  The personalized "G" on the wreath makes sure that yours is the right house for new guests!
Note the larger doormat/rug covering the cement lends richness to the entry.  The multiple potted plants are spaced far enough apart so as not to impede entering and exiting the house, and the vertical welcome sign takes up almost no room!  A simple wreath with a flash of color to offset the black and white decor.
Target has some stunning and inexpensive front porch mats and larger doormats.  Stone-like pots can be found at Big Lots (one of my FAVORITE stores of all times!) and Walmart.
Check out Amazon for some metal planters, and note the sets that they sell as well.  These are good buys for the money, and it makes for easy coordination of your outdoor decor!
Front Doors and a Little More
If your small front porch is a bit larger than just a front doorway but still too small for a patio set or daybed swing, I have just the solution for you.  It is freeing to be able to decorate to your heart's content on a budget string.  Looking for bargains that don't look cheap is my life's hobby!  I dislike paying full price for anything, and the discrepancy between costly and inexpensive items is so significant money-wise and sometimes so slight aesthetically!  Something that looks expensive but is a fraction of the price you would pay for the same item at a different store.  I have seen hundreds of examples of the same thing – down to material specifications – for quadruple the price depending on the seller!  Absurd!  I have done all the research for you (I love research!), and all you need to do is pick your style!
See also: Inexpensive Porch Ceiling Ideas [2022]
Idea #9:  Country Rustic Small Front Porch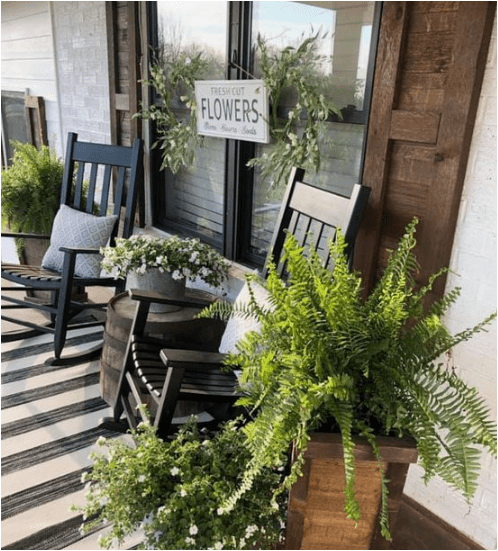 This country rustic front porch used natural elements like wood, greenery, and old-fashioned rocking chairs to bring the outside closer to home.  Note the wooden shutters and barrel table.  This style is simple and easy to do – just a few favored textures and materials.
Find beautiful, budget-friendly rocking chairs at Ace Hardware, Kirkland's Home, Pinterest stores, and Phi Villa!
Wooden shutters like these are readily accessible and surprisingly affordable!  Check out these at Etsy, Amazon, and Modern Builders Supply!
Find signs like this one on Pinterest and Antique Farmhouse.
Similar to these gorgeous all wooden planters are wood planters found at Home Depot, Etsy, and Hayneedle.
Outdoor pillows have reached a new high in premium value according to the prices I have seen.  People are willing to pay $50 and up for a pillow!
Not me, I can't abide paying more than $20 for a pillow, and that is stretching it.  Luckily, affordable outdoor pillows can be found at Walmart, Big Lots, and Five Below with a bit of scouting around!
Idea #10:  Cosy Wicker Tete-A-Tete on your Small Front Porch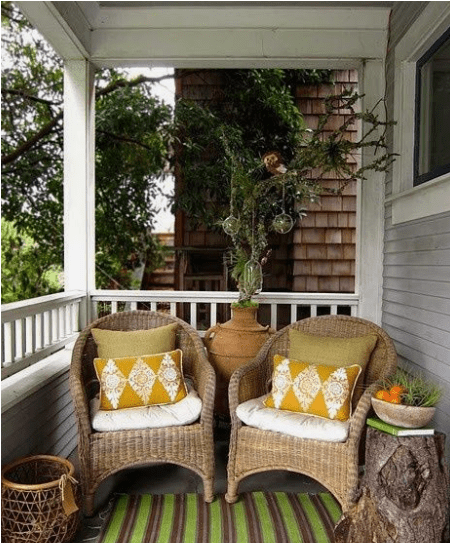 I like this cozy scene with two "armchairs" side by side and the log table and urn planter behind the chairs.  Such an inviting place to perch yourself, with very little room.  It looks as though the porch has been made tiny just to fit those two chairs and create a "nook" that is used for many things!  I love multi-functional arrangements, and this one will serve many purposes!  The eye-catching rug completes the look by adding a layer of depth to the narrow space and lending warmth.
Find some cozy chairs of your own to create a tete-a-tete arrangement. Home Depot has a charming set of outdoor chairs for a very reasonable price.  You can shop log side table styles at Cosiest, Amazon, and Target.  There are similar green striped outdoor rugs at Bella Coastal Decor and Wayfair.
Idea #11:  Long and Narrow Savannah Style Small Front Porch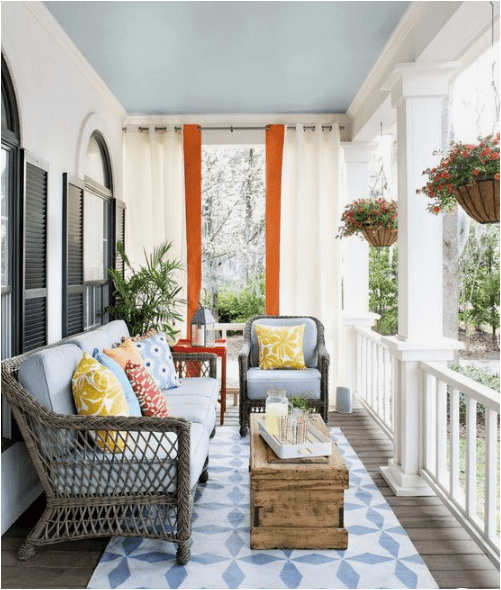 This is a larger version of the narrow, small front porch, and it can work with something shorter than is seen.  Take out the end chair and the red table next to it for something smaller than this.  For an even more narrow porch, try placing the long table against the railing – leaving at least 18″ between the sofa and the table.
Here are some smaller size front porch sofas for you to consider.  Do use walls and ceilings and railings for plants, signs, wreaths, and other decorative items that don't consume floor space.  Walmart has some cozy small porch seating for chatting with friends and neighbors that will fit on even the most narrow of porches. Check out Overstock as well.
Narrow and long side and coffee tables can be used for dining, books, footstool, or bench seating (if they are sturdy enough).  Plenty of sizes and styles of tables and benches are available to choose from, and they can be moved around inside and outside when redecorating!  Just make sure it is a piece that you love – otherwise, you won't want to make it work in other spaces and will use it as a reason to get something new!  "Repurpose with joy" is my saying – finding unique items that I love for a great price is central to my style!
Having a genuinely functional yet graceful narrow porch table is even better when it has two tiers to set more items!  Check out this curved beauty at Overstock.
A fantastic narrow table bench to set against a wall or railing is this wooden and metal star from Wayfair.
Idea #12:  Streamlined Style for Classy Small Front Porch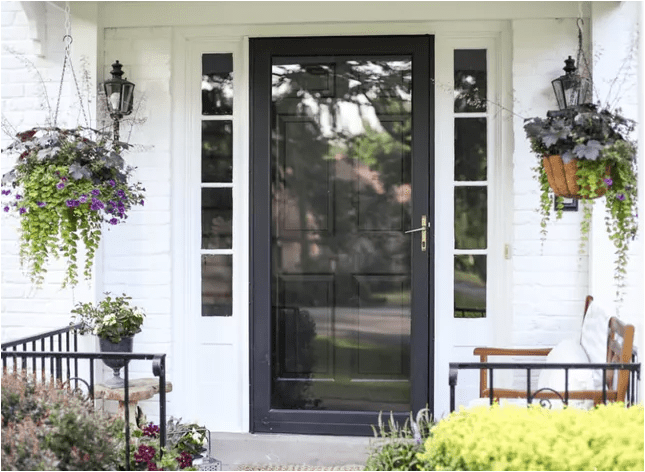 A few of my friends have these cute three-story townhomes with brick steps leading up to their door but then have at the top only a four-by-five-foot area with a black iron fence.  Most have left it bare, with a wreath or a doormat, citing their long hours in the city for work as their reason for not "doing more" with their tiny porches.  Needless to say, I went on a bit of a spree and got different signs and plants, and benches for them to choose from.  I expected to be returning most of my purchases, but as it turns out, they were more than happy to spruce up their front entries if they were shown the way!
Here I will give you some tips that I lent to them.
Benches and poufs are multi-functional items that will always find a use for themselves!  Whether it be to relieve tired legs, sit for a moment of relief from kitchen chaos, or take in some stars with a glass of wine at night – after the kids are in bed – the entryway bench can serve you well.  Not to mention it can keep bags dry from the wet cement!
Idea #13: Romantic Interlude on your Small Front Porch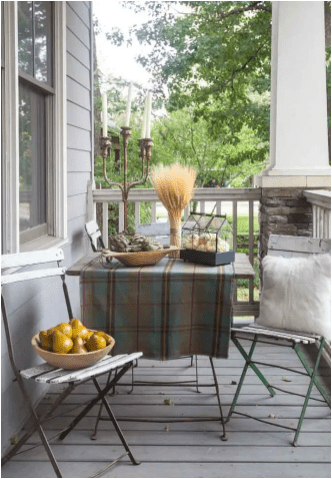 A perfect place to have an intimate bite to eat, or take a work call, a small front porch is not a problem with these tiny bistro chairs and tables.  A furry throw pillow adds warmth and texture to the weathered slats, and the green plaid tablecloth picks up the green hues of the chairs and the natural foliage surrounding this porch.  Very inviting!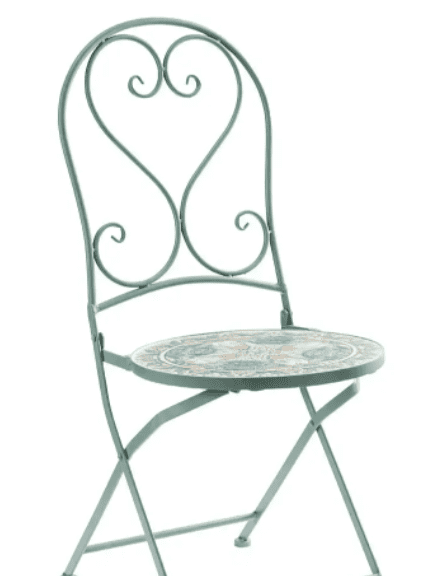 There are many smaller-scale bistro chairs with a friendly price tag at Wayfair and Amazon.  I found this beautiful curved green scroll bistro chair at Wind and Weather.  It has a gorgeous Mosaic seat and creates a secret garden vibe that would pair lovely with several ferns or hanging flowers.
There are nature-inspired wooden bistro sets that have cushions included at Amazon.
Idea #14:  Sunny Morning Coffee on your Small Front Porch
Coming in six different colors, this small porch-sized dining set gives you an inexpensive way to enjoy an alfresco meal or a chat with a friend.  Super-easy to move around, the chairs and the table fold up for carrying.  Find this and others like it at Wayfair.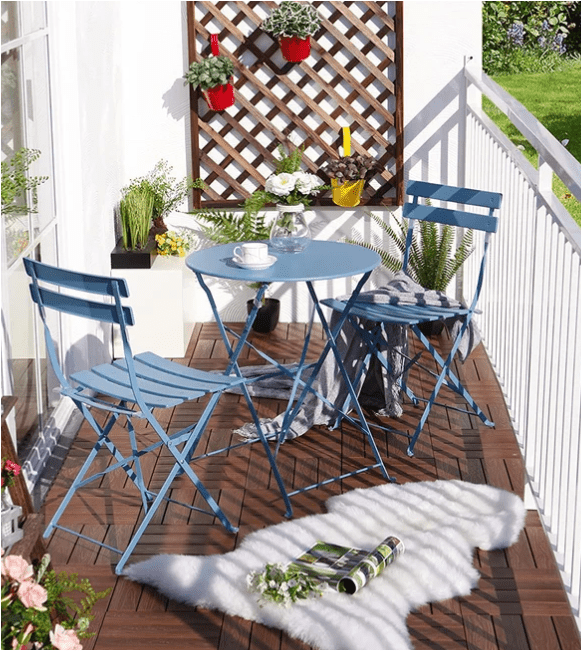 This stone replica is made to last decades and will make a grand statement on your small front porch. Only 20″ square, it can serve as a bench seat and a table.  If you are looking for a place to put your potted fern near the door – look no further than this elegant choice at Wind and Weather.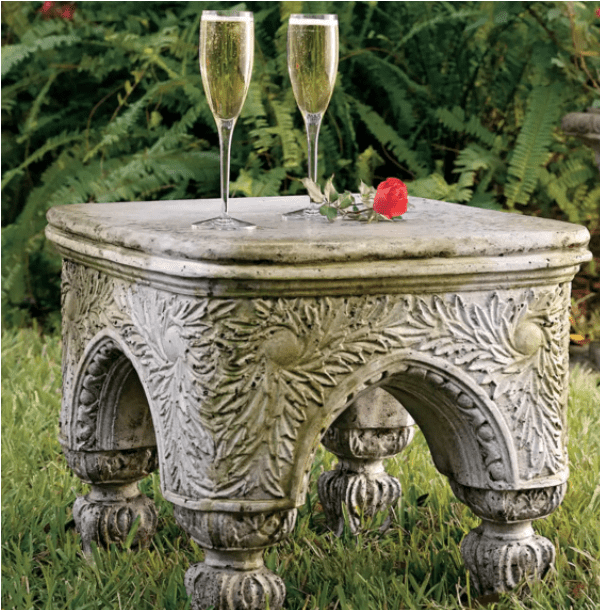 Idea #15: You Can Have It All on your Small Front Porch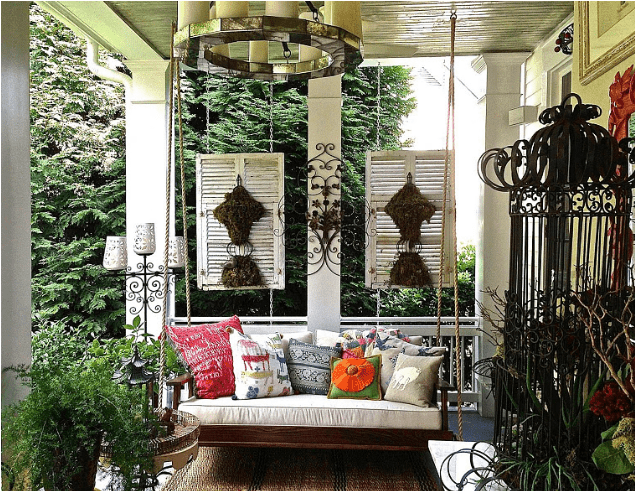 This is the front porch style I covet, and I try to create the same feeling of coziness, warmth, and beauty that this picture conveys.  It has a very bohemian, earthy feel, with vintage pieces, a wrought iron scroll design, and a substantial, durable rope swing daybed big enough for everyone!  Mossy elements resemble nature, and plants abound – like bringing the woods into your home.
The bed rope swing is the focal point and seating area of this small porch, and the decor around it has a specific Victorian, eclectic, "more is more" appeal.  Many plants and mossy structures say "nature," and the curling scrollwork and adorned picture frames remind us of fern fronds and clinging jasmine.  Having an art deco chandelier and dainty iron stand candles gives plenty of ambiances and contributes to the bohemian feel.  The wall is being used with mirrors and artwork to create layers of focal points, and the mock hanging shutters are fantastic for privacy and a sense that this is an "inside" room.
This is quite a busy porch and not a style for everyone, but it can be pared down by removing a table or two, the candle iron stand, and the mossy wall art on the hanging shutters.  Then it would be a more tailored indoor/outdoor bohemian chic.
Find items that convey this graceful, scrolling, nature-inspired theme at Amazon.
FAQs
Question: What Should I Put On My Small Front Porch?
Answer: There are lots of ways to add appeal and welcome to your entrance.  Since it is the first place people look to give them a sense of you and your family, it's a good idea to have a few things to make it stand out.  Remember, the most important part of having an inviting front porch is to keep it clutter-free.  The fewer little things you have, the easier it is to keep it clean.
You can keep it simple with a few focal points, such as a wreath or door knocker showing the style and colors you like. 

A doormat is a nice touch, and there are many wall decor items you can use that won't take up floor space.  If you can, I would add a small, narrow bench that can double as seating and a place to leave things if you are not home.  Don't forget lighting if you don't already have an outside light mounted above your door.

Buying things that show off who you are and make you feel good when you come home ensures that everything you purchase can be used again and again in different places.
Question: How Can I Decorate My Small Front Porch Cheaply?
Answer: There are many inexpensive items in every style that can be welcoming and chic on your front porch.  Planters with grassy ferns or colorful flowers are a go-to for living things, a welcome sign or a wreath will invite your guests in, and a doormat to wipe off the layer of dust, sand, or mulch is a must.  Try second-hand stores for unique pots and wood wall hangings, and metal art to hang on your outside walls.  Some of my favorite things are from Goodwill and eBay.  The trick is to scour every single item, so if you are not a shopper who can spend that time (sometimes it can be frustrating if you are not finding anything you love), I would suggest Lowe's and Home Depot.  You can also find inexpensive, high-quality items like entry rugs, planters, wreaths, and signs at the links.
Question: How Can I Make My Small Front Porch more Appealing?
Answer: Front porches are primarily your home's "curb appeal."  They are the transition from the street into your home.  Have you ever been out riding to look at people's front doors and get ideas for your porch?  My sister and I would always go with my mom on jaunts around the area to look at new housing developments and decor for the front door.  My mom was a big believer in front porch welcome and tidiness.  Our home always looked inviting, and our front porch was beautifully adorned with hanging flowers, wreaths, and doormats.

The great thing about having a small front porch is the opportunity to focus only on several items that you love.  This makes it much more manageable to add appeal to your entrance without getting overwhelmed.  It also gives you more time to compare prices and styles.  Your best bets are a plant, a doormat or small rug, a wreath or other door decor, and a narrow bench (if you have any space).

One important aspect of the front porch is the door.  Identifying the door with a signature color or a wreath while adding symmetrical planters and a coordinating doormat ties everything together and makes no mistake about the focal point.  This yellow door is a fresh and sunny reminder of hope, and the color has been picked up in the choice of flowers and the doormat and wreath.

Find fun yellow decor that represents your style!
In Conclusion
Every home we have had over the years has had differing sizes of front porches, and more than a few of them have been small.  The size of your front porch doesn't matter when it comes to creating a space that speaks to the outside world.  Decorating it is as easy as knowing what you want that entranceway to say!
I don't know that I want every person that lingers in front of my home to come in and have a home-cooked meal, but I do know that I want every person to hear my message of welcome and inclusion. I choose many textures, fabrics, and patterns that make me relaxed and happy when I come home or sit on the bench with my coffee.  When I feel good about my environment, it shows in how I communicate with others!  And that is being authentic.
The same goes for your style.  Be true to how you feel when you put that pillow on the chair or pick out a new chaise lounge.  Do you like it?  Would you bring it in during rainy times to protect it? Smiles are free, I like to say, and decorating your small front porch is not free, but it can come close with smart shopping.  Namaste.
Recommended Reads: