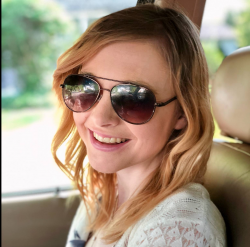 Latest posts by Erin Jamieson
(see all)
Some of my fondest memories spent outside were on a wooden porch swing. I honestly think that buying a porch swing is one of the best ideas to get yourself to spend more time outdoors and with loved ones. And one of the most popular options is a class cedar porch swing. 
From creamy yellow to striking red undertones, cedar porch swings are prized for their ability to resist rot, insects, and moisture. Widely available and fairly priced, you can find everything from Amish swings made in the USA to ergonomic swings with back support and handsome armrests. 
Read on for my favorite cedar porch swing ideas- and how I selected each swing. 
Bottom Line Up Front Summary
From red cedar to white and yellow, cedar porch swings offer a timeless, classic, and versatile style. While cedar is a softer wood, it has the advantage of repelling insects and resisting rot. You'll still want to cover your cedar porch swing and treat it occasionally. I selected cedar porch swings based on brand and company reputation, solid construction, dimensions, and special features.
If I had to recommend one cedar porch swing for your backyard, it would be the Southern Swings Rollerback Red Cedar Porch Swing. This rollback porch swing is crafted with premium red cedar and is made in the USA. The back and armrests provide greater stability and support than the average porch swing. The stain and sealant are resistant to UV rays, mildew, water, and more for a guaranteed 4 years. 
My Top Picks
My Selection Criteria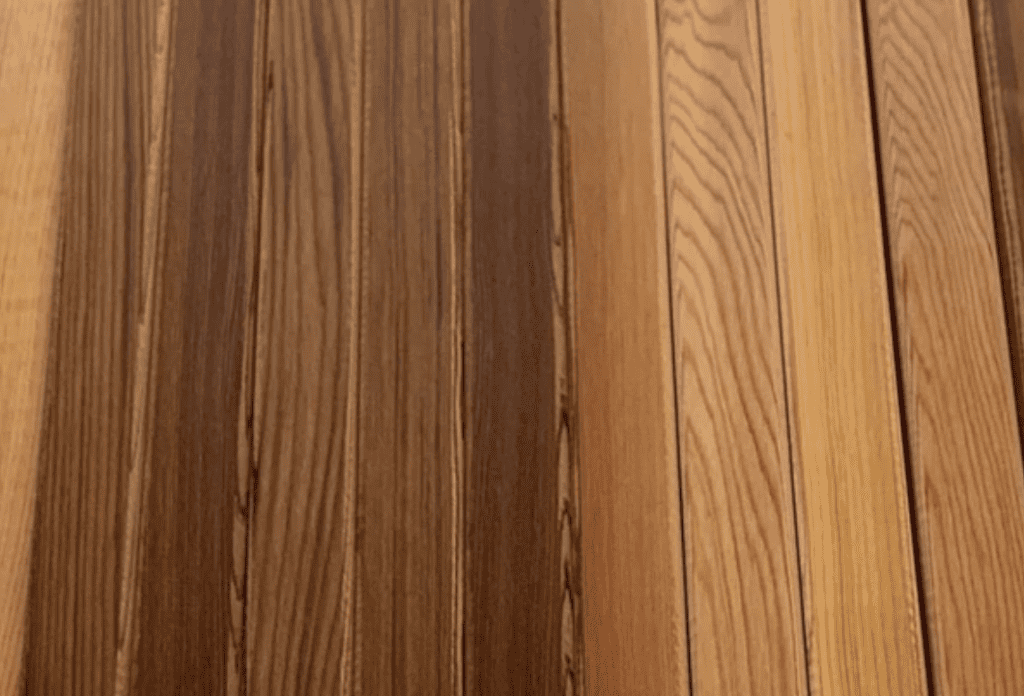 Before I share some cedar porch swing ideas I'm excited about, here's a look at my thought process. While charming design played a factor in which cedar porch swings topped my list, overall quality and features were even more important. 
Genuine Cedar Materials
First, I inspect the materials being used. There are several types of genuine cedar, as listed in the table below. All of these are authentic types of cedar (true and 'close' cedar) that are considered to be suitable for porch swings. 
Note: cedar porch swings will change hue with age. As they weather, lighter cedars get darker, while darker cedars lighten. 
| | | |
| --- | --- | --- |
| Type  | Description | Pros |
| Alaskan Yellow Cedar  | Light yellow with white | Higher Density  |
| Eastern Red Cedar  | Red to reddish-purple or brown  | High Stability  |
| Spanish Cedar  | Brown with pink and red undertones | Lightweight  |
| Western Red Cedar  | Reddish-brown with ivory  | Lightweight, Repels Water  |
As you can see, Western red cedar is especially a great choice, but each is a suitable option for a porch swing. While less common, I take note if a company mentions how or where the cedar was sourced from. 
Porch Swing Weight Capacity 
Porch swing capacity tells me a few things. It tells the limit of how much weight a swing can support. But I also argue that it provides insight into how heavy-duty or sturdy the swing is. A porch swing should ideally accommodate at least 200 to 250 pounds for a person. I have included ideas for 2-person and 3-person swings. Even if you don't require a high weight capacity, a swing that can hold more weight usually provides greater durability and stability during events such as inclement weather. 
Depth
Swing depth and the overall swing dimensions were also considered. Sowing depth is somewhat a matter of personal preference but can make a difference in overall support and comfort. To give you an idea, the average porch swing of any kind has a seat depth of 18 to 46inches. While 46 inches may pose problems for some to get in and out of, 18 inches is not going to be a generously made swing. As such, my ideas fall between these dimensions, with a preference for a slightly greater depth. 
Other Dimensions
Here, I just wanted to represent a variety of porch swing sizes. The size you need (height and width) depends on your space. You need a minimum of 10 inches of clearance on either side, as well as 18 inches of clearance behind the swing. 
High-Quality Hardware 
This category is simple. The hardware used is also important. That means springs, nuts, and bolts. Steel is suitable and reinforced or Marine-grade steel is even better. I am less enthusiastic about aluminum. Iron is strong but is prone to rusting if it doesn't have a weather-resistant coating. 
Stand-Out Features 
While I look for quality construction, I also wanted to show you ideas for cedar porch swings that stood out amongst their competitors. Some features I love include:
USA-made swings (including Amish)

Quiet Swings

Swings with Canopies 

Ergonomic Swings 

Unique Styles (Rollerbacks, etc)

Sustainably-Sourced Swings

Pressure-Treated or Weather-Coated

Generous Warranties 
Brand and Store Reputation
Finally, my ideas for the best cedar porch swings come only from stores I'd personally feel comfortable buying from. Brand and store reputation played a factor in my decisions. Return policies, fair pricing, shipping policies, and overall reputation were important. 
See also: Best Patio Heaters for Your Home
Charming Cedar Porch Swings For Your Home 
Here are a few of my favorite ideas for fantastic cedar porch swings. From creamy white to statement red, these cedar porch swings are sure to upgrade your home and provide plenty of incentive to spend more time in your backyard.
Southern Swings Rollback Red Cedar Porch Swing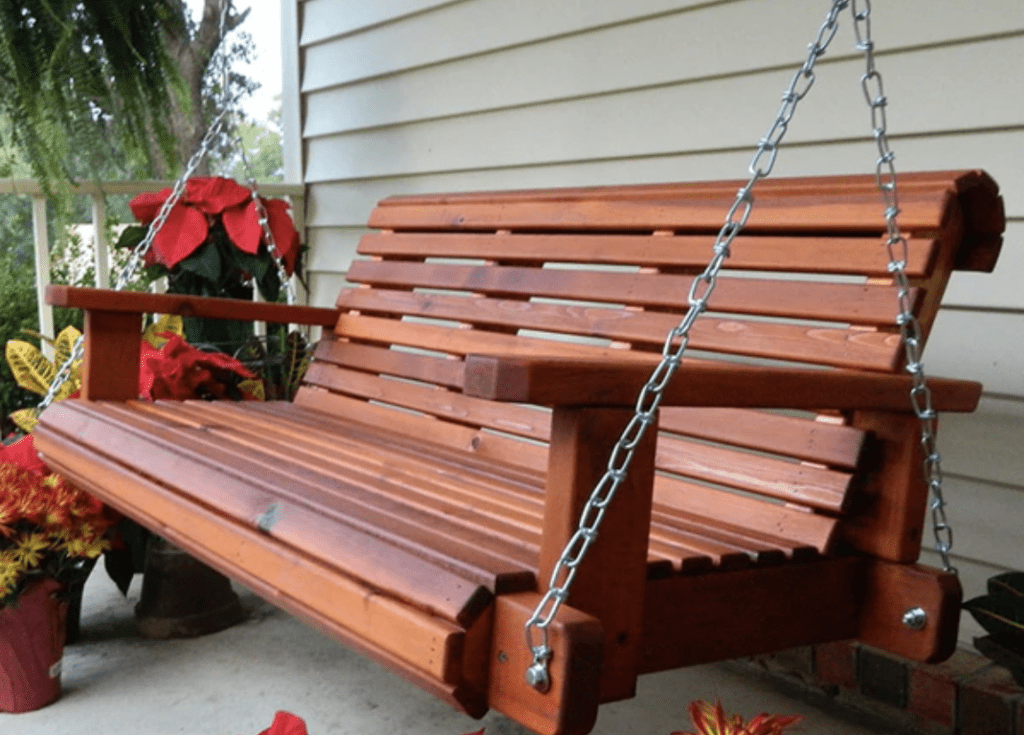 Not only is this my top idea for a rollback swing, but it's also my overall favorite for a cedar porch swing that you can buy online.  I love this swing if you're looking for a classic style with comfort. If you're anything like me, back and shoulder knots happen- so the comfortable rollback design is perfect. I also love that I wouldn't have to worry about this swing fading. It features premium Western red cedar with a stain and seal that lasts at least 4 years and is UV-resistant. Plus, it includes galvanized fasteners and is made in the USA. It even comes with the option for customized engravings, and cup holder slots. It's a stylish, beautiful porch swing that's built to last. Buy Here. 
Walden 2 Person Cedar Solid Wood Porch Swing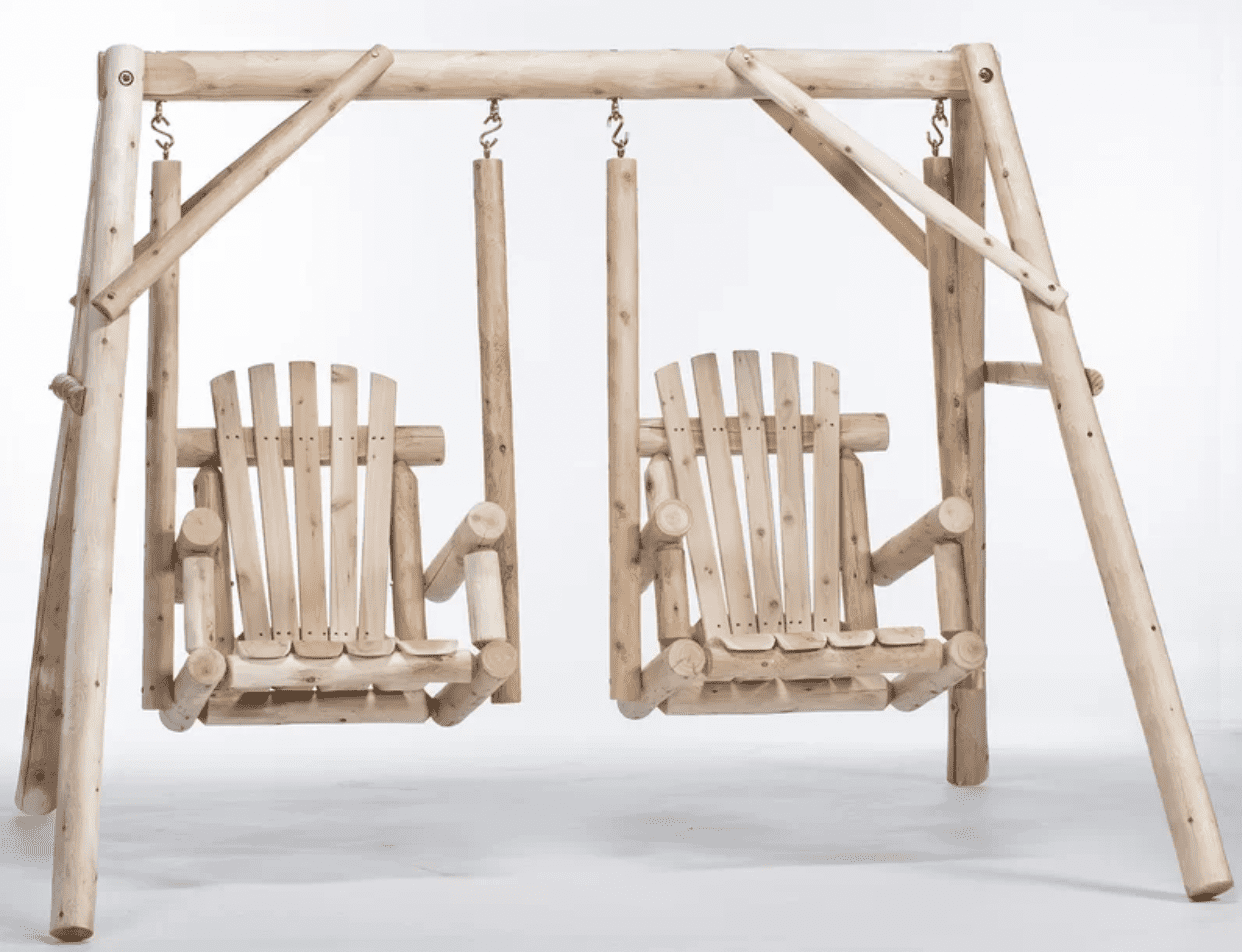 I like having options, and that's why I'm often drawn to swings with stands. I also love the stability a great swing with a stand can provide. But I also love having a little of my own space. If I want to read on one seat, I'm not cramping someone elses' space with this unique cedar porch swing. This is a great idea if you love a more rustic style and want that classic Northern white cedar look. It holds up to 600  pounds and features a natural wood knot variation. I also like that it comes with a 3-year warranty, free of charge. Buy Here.  
Kilmer Creek 5 Foot Natural Cedar Porch Swing

On a budget? I always try to find the very best deal, but I've made the mistake before of sacrificing quality. That's why I was so excited to see this porch swing at a great price. It's not under $100, but it is one of the best values you can find. This cedar porch swing is made in the USA by an Amish community.
From my experience, some of the most timeless and classic porch swings were handcrafted right here. It features a comfortable curved seat with a generous weight capacity. The contoured seating is more ergonomic and is a great idea for a porch swing for two. I also like that they used clean span slats without bolts or nails. It's comfortable, at a great price, and made well- that's hard to beat. Buy Here. 
See also: How to Find the Best Patio Set: A Comprehensive Guide
Royal English Garden Red Cedar Swing Bed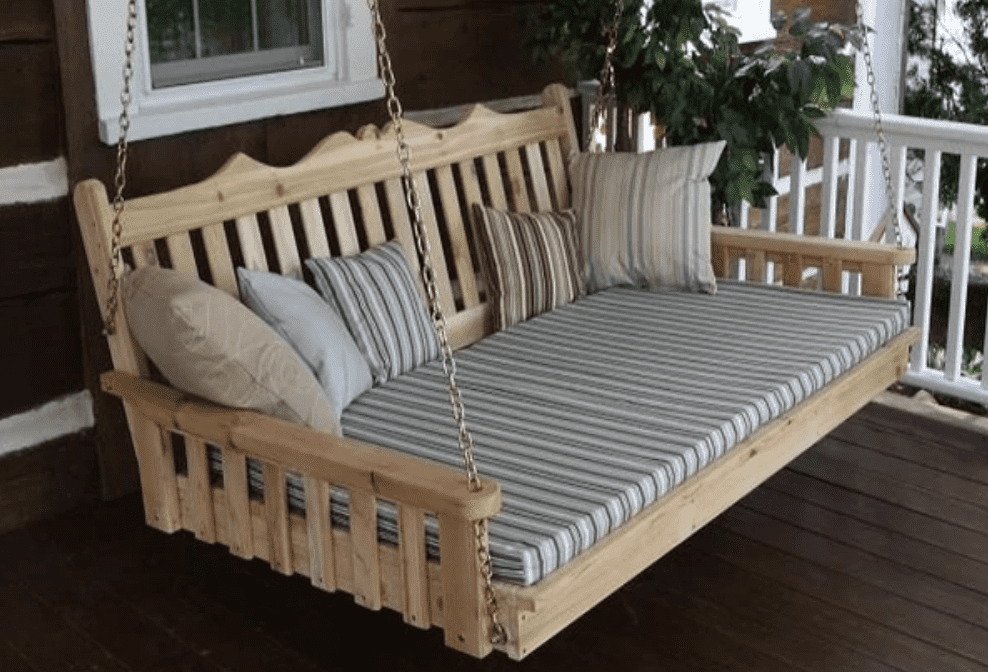 I think it's really easy to push ourselves to exhaustion. I know I have that tendency, and that's ironically why I'm so drawn to a porch swing bed. A porch swing bed is the perfect addition for napping and adds classic Southern charm to any porch.  It encourages you to relax, so I love this idea for anyone who needs a little more TLC in their life. This stately swing bed is made with beautiful red cedar, with 9 customizable stains. You can add seat cushions with many solid and pattern colors- not to mention additions like cup holders, accent pillows, and bolster pillows. It's made in the USA and all cushions are weatherproofed. Buy Here.
Cedar Adirondack Chair Style Porch Swing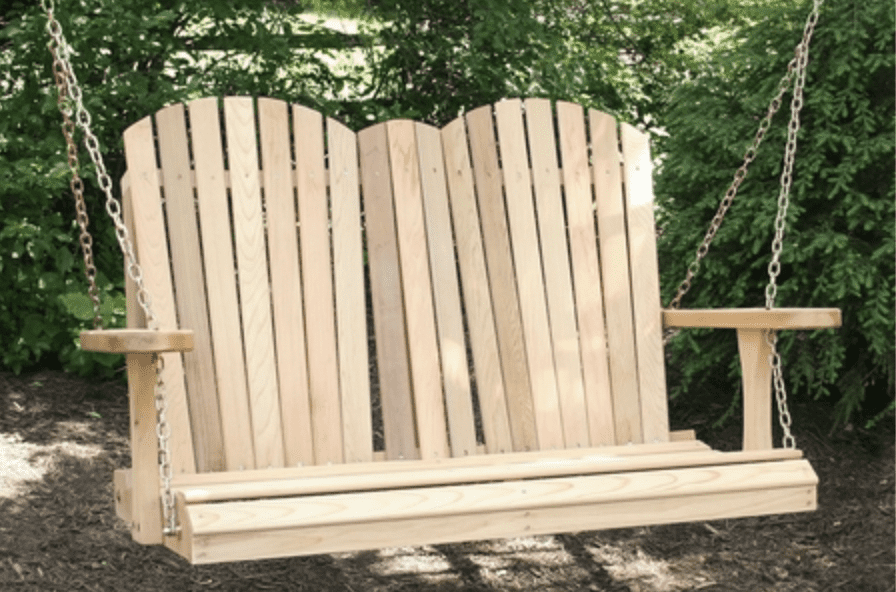 Adirondack chairs hold a special place in my heart. Nights around bonfires and fire pits and vacations overlooking a slate-gray sea all come to mind. I love this Western red cedar porch swing because it provides that same comfort.  The contoured, reclined position is more supportive to backs and offers a classic allure. Made in the United States, It includes zinc-plated steel hardware and is a simple but beautiful design for about any porch. I love this idea for anyone who wants a timeless look, with added comfort. It will look at home for a cottage, cabin, and cozy home. Apply a stain for a fun contemporary twist!  Buy Here.
Backyard Discovery Solid Cedar Porch Swing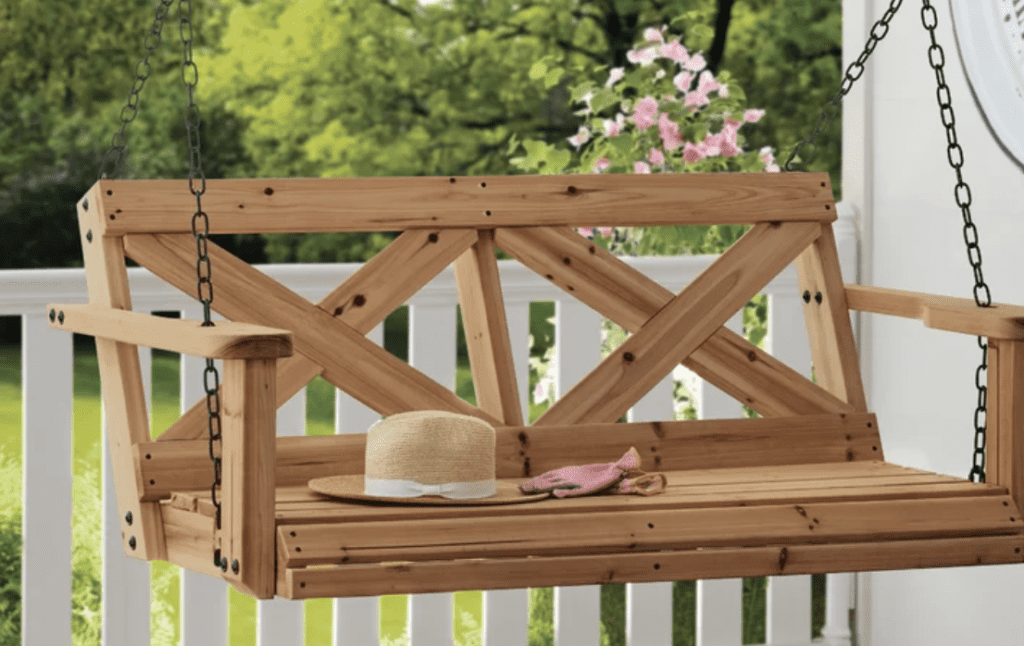 I admit it: I'm not always the best at assembling furniture- especially if I have a lot on my mind. I also love a good porch swing with great breathability. This cedar porch swing checks both of those boxes. It features a no-fuss assembly, a charming design, and practical construction. I love the natural wood grain that can be stained or left as-is. The zinc-plated chains and 5-year warranty sold me. Plus, it's one of those ideas that could fit any style porch. Buy Here. 
Kilmer Creek Rustic Finished 4′ Cedar Porch Glider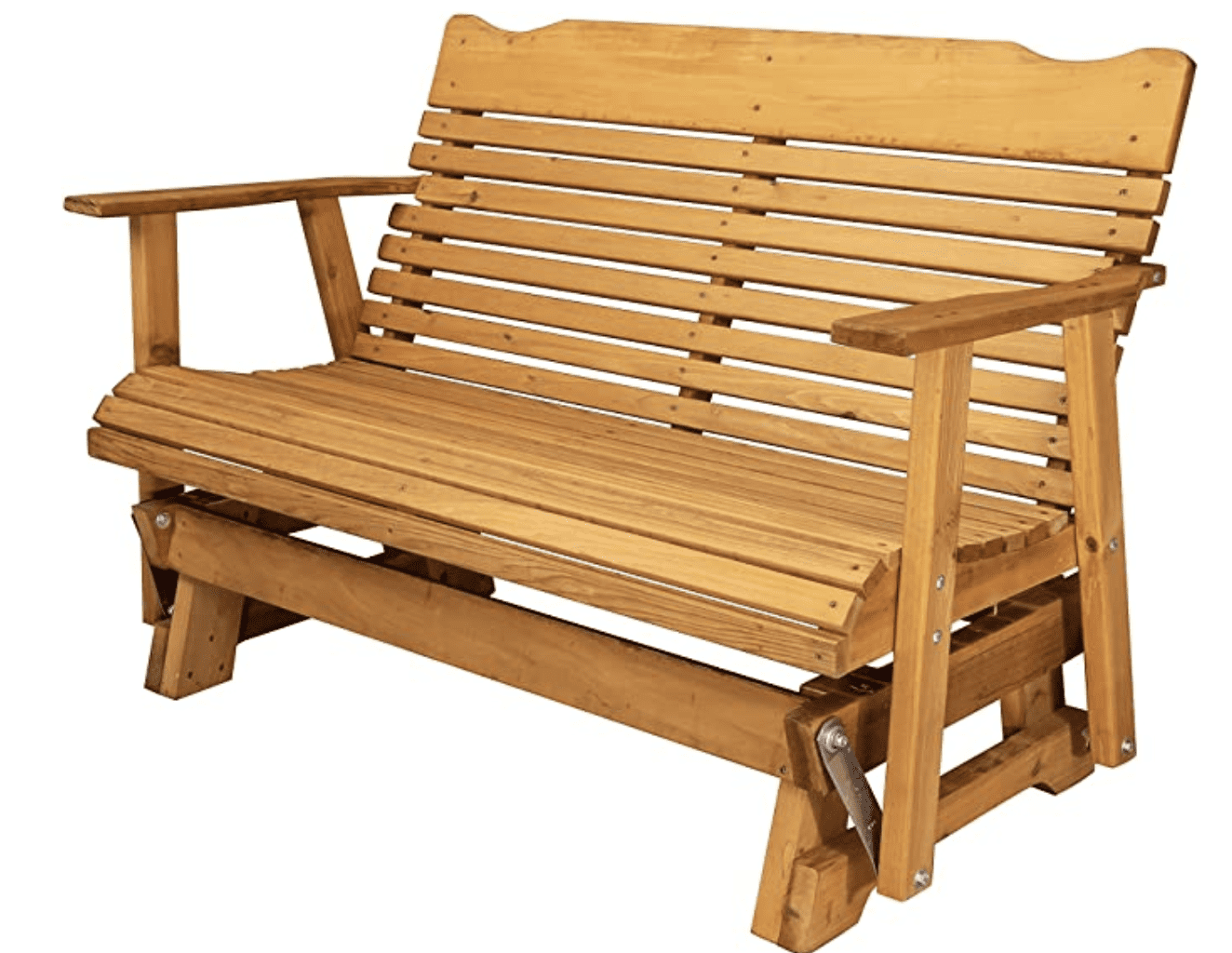 Sometimes I love a piece of patio furniture that just adds to the space without much fuss. A glider is a great idea if you're not fully sold on a porch swing You still get a back and forth movement, but you don't need a stand or a chain. But why this glider? It stood out to me because it's made in the USA by an Amish community. I love the timeless look of the porch of a traditional home. I envision trees and flower pots nearby, adding touches of decor to this sturdy cedar glider.  Buy Here. 
English Cedar 2 Foot Porch Swing
I know what it's like to have very little space to work with. A mistake I've made in the past is assuming that means I can't buy something for myself. That's far from true. A one-person swing brings an undeniable whimsical charm. This is a great idea if you want a space for yourself. This single-person cedar porch swing is available in multiple stains and well as a myriad of custom cushions. I also like the option to add accessories like cup holders and a full hanging kit. The top of this single-person porch swing adds a bit of decorative flourish.  The hardware is stainless steel, and this swing is made in the USA. Buy Here. 
Lars Person Cedar Solid Wood Porch Swing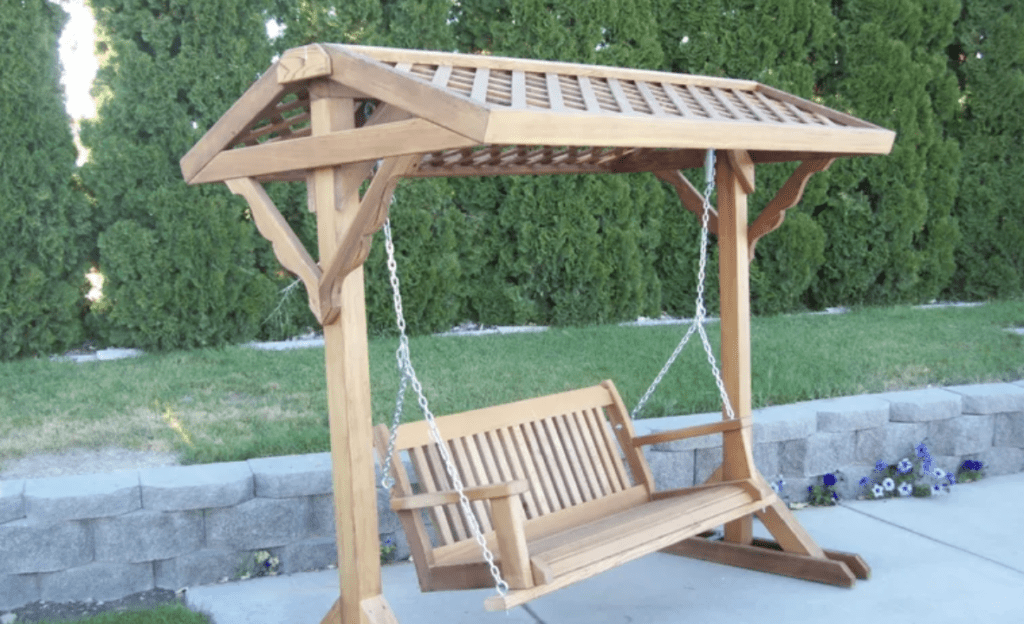 To be clear: this is a stand and canopy for a porch swing. The price doesn't include a porch swing.  But I love this idea for a dramatic backdrop to a large backyard or garden. It's simply stunning and frames your yard. I also love the lattice canopy. I tend to burn easily because of my fair skin, but all of us could use a bit more protection from the wind, sun, and rain. It's finished with a stain and the entire construction is rust-resistant. The design is charming, sturdy, and adds unique allure. Buy Here. 
See also: Best Porch Design Ideas For A Welcoming Home
Frequently Asked Questions
Question: Is cypress or cedar better for a porch swing?
Answer: Both cypress and cedar are popular materials for a porch swing and for good reason. However, in terms of durability, cypress holds an advantage over cedar.  Cypress produces cypress, a chemical that acts as a natural insect repellent and protects against rot, warping, and decay. Cedar is resistant to insects as well and is naturally resistant to rot. It's just that cypress is a tad bit more durable against decay. Both are softwoods, though cypress grows near hardwoods and is a bit stronger than cedar. However, if properly maintained and covered, a cedar swing can have a long life. 
Question: What is cedarwood?
Answer: Cedarwood is prominent along the Eastern and Western coasts of the United States. Cedar is commonly used for lumber, construction, and outdoor furniture and is noted for its resistance to rot and insects. Examples of types of cedarwood include Eastern Red Cedar, Western Red Cedar, Spanish Cedar, Eastern White Cedar, and Alaskan Yellow Cedar. Cedarwood either lightens or darkens as it's exposed to direct sunlight. It normally has a straight grain. Due to its low density, cedar is also used to make canoes and other small boats. 
Question: How long do porch swings last?
Answer: As is true for any porch or patio furniture, how heavily a swing is used and how it's cared for both make a difference in how long it'll last. If treated with care, you can expect the average porch swing to last around 15 years. Flimsy plastic porch swings may not last as long, while Polywood porch swings usually come with a 20-year warranty. Wooden swings can last up to 15 to 20 years or more if cared for. Porch swings that are covered when not in use and maintained (oiled for wooden swings) will last longer. Other factors for the swing's longevity include the construction of the frame, hardware, and climate. 
Question: What material is used for porch swings?
Answer: A variety of materials are used for porch swings. There are metal porch swings, including steel, aluminum, and cast iron. There are plain plastic porch swings, as well as Polywood (high-density, recycled plastic). Wooden porch swings are quite popular and include nearly all varieties of wood. Examples include cedar, cypress, oak, teak, pine, and others. Metals are sometimes given a powder coating for improved durability against weather conditions. Woods are sometimes selected for their ability to repel insects and withstand rot. However, wooden porch swings of all kinds should be sealed and oiled occasionally. 
Final Thoughts
Cedar porch swings are beautiful and classic. As you can see, there are many excellent and striking styles- from warm red cedar porch swings to classic white cedar porch swings. Cedar porch swings can last longer than a decade, but that comes with caveats. Though cedar porch swings naturally repel insects and resist rot, they still are not as hard as other woods. They can become damaged. Like most wooden porch swings, sealing and occasional oil treatment will greatly improve its longevity. And of course, buying a cedar porch swing from a reputable retailer is important. You want to make sure you're getting high-quality, genuine wood. 
Recommended Reads: