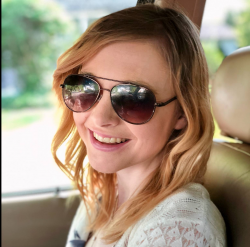 Latest posts by Erin Jamieson
(see all)
I love spending time outdoors- and my goal for the next Fall and even Winter is to spend more time outside. But while I love cooler weather, a lot of my friends and family are the opposite, so finding a heating solution could make a difference. If you're like me and don't have a ton of space for a fire pit and want to stick to a budget, a natural gas patio heater could be your best option. 
Of course, it's never as simple as that. The reason why I'm making this guide is that I know that patio heaters can be hard to shop for. Chances are, you've considered a natural gas patio heater but aren't sure how to select one, or if it's even the best choice for your patio. 
I'll cover my honest take on the pros and cons of natural gas patio heaters as well as how to select the best one for you. Plus, I'll share just a few natural gas patio heaters that give you great value for your money. 
Bottom Line Up Front Summary
Since natural gas patio heaters use gas from your home, you don't have to worry about electric outlets. Natural gas is typically cheaper than other forms of heating your patio, and the heat output is fairly generous. Of course, there are several drawbacks to a natural gas patio heater too, so it's important to consider the pros and cons. If you do want a natural gas heater, I recommend a weather-resistant build (steel is my top choice) and paying attention to other factors, such as safety features, efficiency, and heat output. 
If I were to recommend on natural gas patio heater for the average person, it would be the Fire Sense 61445 Natural Gas Patio Heater. While it's not CSA certified, it is CSA approved and provides excellent features for a reasonable price. It's a versatile, freestanding heater that can be easily moved, features tip-over protection, and heat output of up to 45,000 BTU. 
My Top Picks
Is a Natural Gas Patio Heater the Best Option For You?
If you're looking for a black and white answer, the truth is that will never be the best answer. While there are a lot of things I like about natural gas patio heaters, I also think it's important, to be honest about the reasons why you may want to choose an electric heater or propane gas hearer instead. 
Buy a Natural Gas Patio Heater If…
If you care about a low initial unit cost, natural gas patio heaters tend to be cheaper than electric or propane. If you don't want to mess with electric outlets, they're also a fair option. Though not always true, they sometimes are sturdier and pose fewer safety hazards than popular propane heaters. Another plus is that natural gas is comparatively cheaper than electricity or propane. Finally, natural gas propane heaters are usually effective at making a space feel warm, and sometimes more comfortable. 
Electric or Propane Patio Heaters Are Better If…
If you're against having professional installation (which can add to your cost) and have no experience with hooking up gas lines, then beware that it's really important to hook up your heater correctly. Another downside is that natural gas is simply less efficient than propane. While it has a cheaper cost per volume, it also takes up to twice as much gas to heat the same area as it would take propane. 
See also: Halloween Porch Decor Guide
How to Select a Natural Gas Patio Heater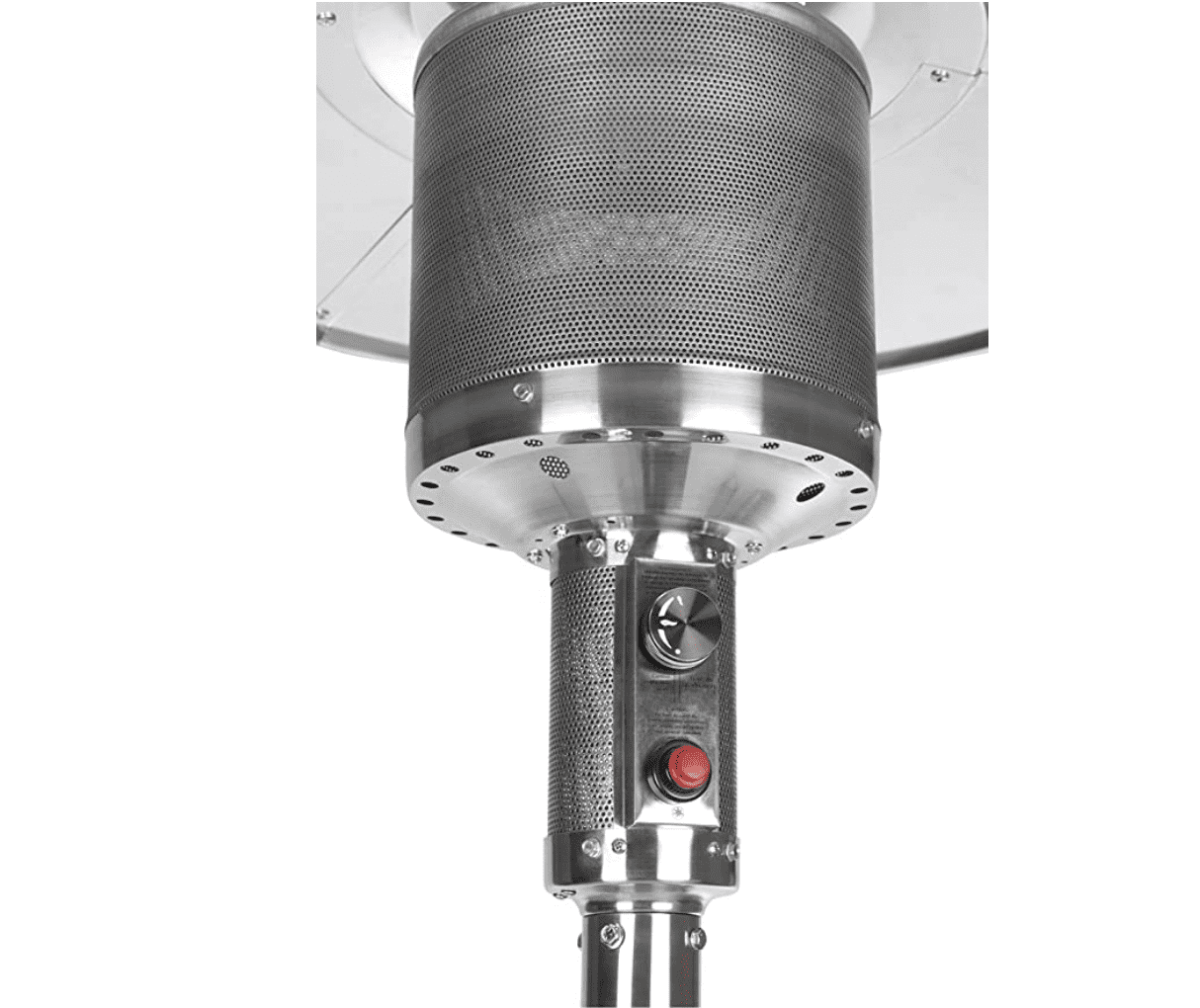 If you're set on buying a natural gas patio heater, I want to share my tips for shopping wisely. When I mention shopping wisely, I mean making sure you're buying a heater that's going to perform. I've had experiences with less than adequate heating options- and it can put a damper on your experience. Here's how to avoid that. 
Step One: Selecting the Best Type of Natural Gas Patio Heater
Natural gas heaters come in different sizes- and that's a plus. While a freestanding patio heater is a default option for many, there are some cases you should consider something else.
| | | |
| --- | --- | --- |
| Type of Natural Gas Heater | What it Is  | Best For… |
| Freestanding | Stands alone and can be moved around (but must still be connected to natural gas line)  | Versatility, general heating, flexibility, entertaining |
| Wall Mounted | Adheres to exterior wall  | Smaller spaces, heating a small dining area, minimalist/ subtle addition |
| Ceiling Mounted  | Adheres to ceiling  | Smaller spaces, covered patio or porches, compatible gazebos (must have proper ventilation)  |
| Posts  | Tall freestanding units, sometimes in unique shapes  | Statement heating, covering larger areas  |
| Tabletop  | Miniature heaters that are used on tables or other surfaces | Small bursts of heat (like a candle replacement) for small tables |
Tabletop natural gas patio heaters are the least common and smallest. Freestanding natural gas patio heaters provide the most versatility if you're not sure which option is best for you. '
Step Two: Selecting Durable Materials
This step is one of the most important for finding the best natural gas patio heater. So many budget models are made with aluminum, which simply is a lot flimsier and easier to damage. A few are made with cast iron. While I love the strength of the iron, it doesn't provide the weather resistance that stainless steel or 304 steel will. Bonus points go to any materials that are treated with a powder or other weather-resistant coating. 
Step Three: Understanding Heat Output and Heating Features
With heat output, two things are important: heating radius and maximum BTU. There are also a few factors I consider for heating efficiency. 
Heating Radius 
A heating radius could range from as little as 10 to 200 square feet or even more. While 10 feet is a suitable radius for a tabletop heater, I prefer 125 to 200 and up for freestanding models and posts. 
Heating Output 
45,000 to 48,000 is ideal if you want maximum heating. If you want to heat just a small area, a heating output (tabletop) as modest as 10,000 to 20,000 BTU will provide a burst of warmth. I always check to make sure that the product is clear about its BTU rating, as some try to hide it. 
Heating Efficiency
Look for a quality rubber hose with durable connectors to ensure a safe and efficient connection. I also look for features such as adjustable knobs and variable temperatures. I like these features, especially for a natural gas patio heater. Natural gas isn't the most energy-efficient, so even distribution of heat and having more control over your heat output makes an impact. 
Step Four: Bonus Features, Safety, and Where to Buy 
But to sort out simply okay natural gas patio heaters from ones that provide optimal performance, I also consider additional features, safety additions, and where to shop. 
Safety Features
There are a few major safety organizations that test patio heaters: CSA, CE, and ETL. Of these, the CSA certification is then the highest standard, but all certify that the heater has been tested for safe use. Approval means that it follows the standards but doesn't quite meet/ hasn't applied for official certification. The reason why I care about any of these designations is that there are fewer hazard risks and fewer unknowns- assuming the heater is installed correctly. 
Other safety features I consider are a strong, reinforced base; anti-tilt technology; and automatic gas shut off. 
Additional Features
If you want a natural gas patio heater that's easy to move around, consider one with wheels. Want a stylish heater or one that's built to entertain? Some come with unique glass tube flames, pyramid designs, and even side shelves. I also appreciate bundles that include protective covers and accessories- just don't assume that always means saving money.
Where to Shop
I'm not brand loyal. While some popular brands are popular for a reason, I try to consider the quality and integrity of the heater. I always investigate the store I'm buying from, as well as the product. Clear return and warranty policies (if any), customer and professional reviews and listings, and detailed descriptions are all important factors. I keep an open mind and shop on Amazon and Wayfair, home improvement stores like Home Depot, Menards, and Lowes, and even a few specialty stores. 
See also: Best Porch Design Ideas
Natural Gas Patio Heaters: A Few of My Favorites (& Criteria) 
Hopefully, my tips will help you find the right gas patio heater. But I also want to share just a few examples of great natural gas patio heaters that you can buy today. All of these were carefully selected based upon the criteria I just shared: overall quality, materials, safety features, heat output and efficiency, store/ brand integrity, and other features. 
Heatstar High-Intensity Infrared Patio Heater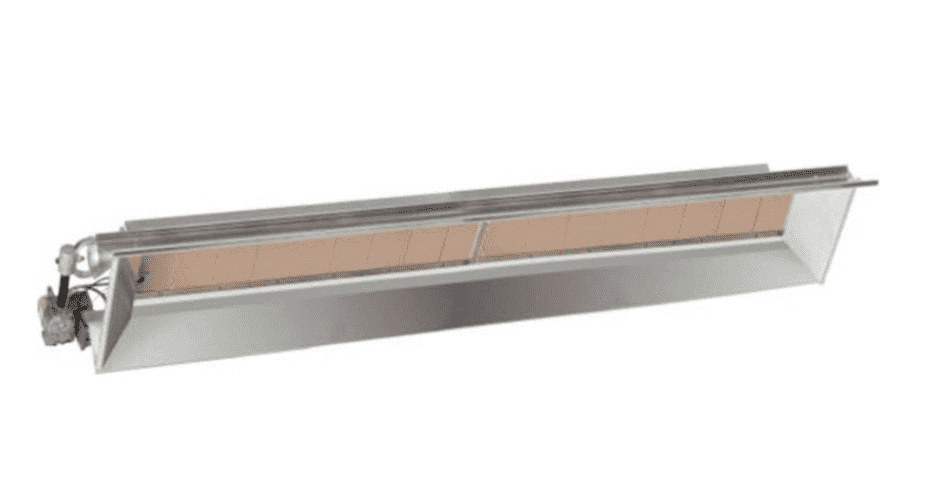 If you're looking for a powerful natural gas heater for a covered patio, this is one of my top choices. The infrared design increases heat output and efficiency with an exceptional BTU maximum. Suited for the coldest nights, I love the ease of the thermocouple ignition and the complementary 10-year warranty on the burner. This patio heater is CSA-certified for safe use and one of the most powerful options available. Buy Here. 
Pros
Exceptional BTU 

CSA Certified

10 Year Warranty
Cons
Limited Use 

Somewhat Expensive 
Fire Sense 61445 Natural Gas Patio Heater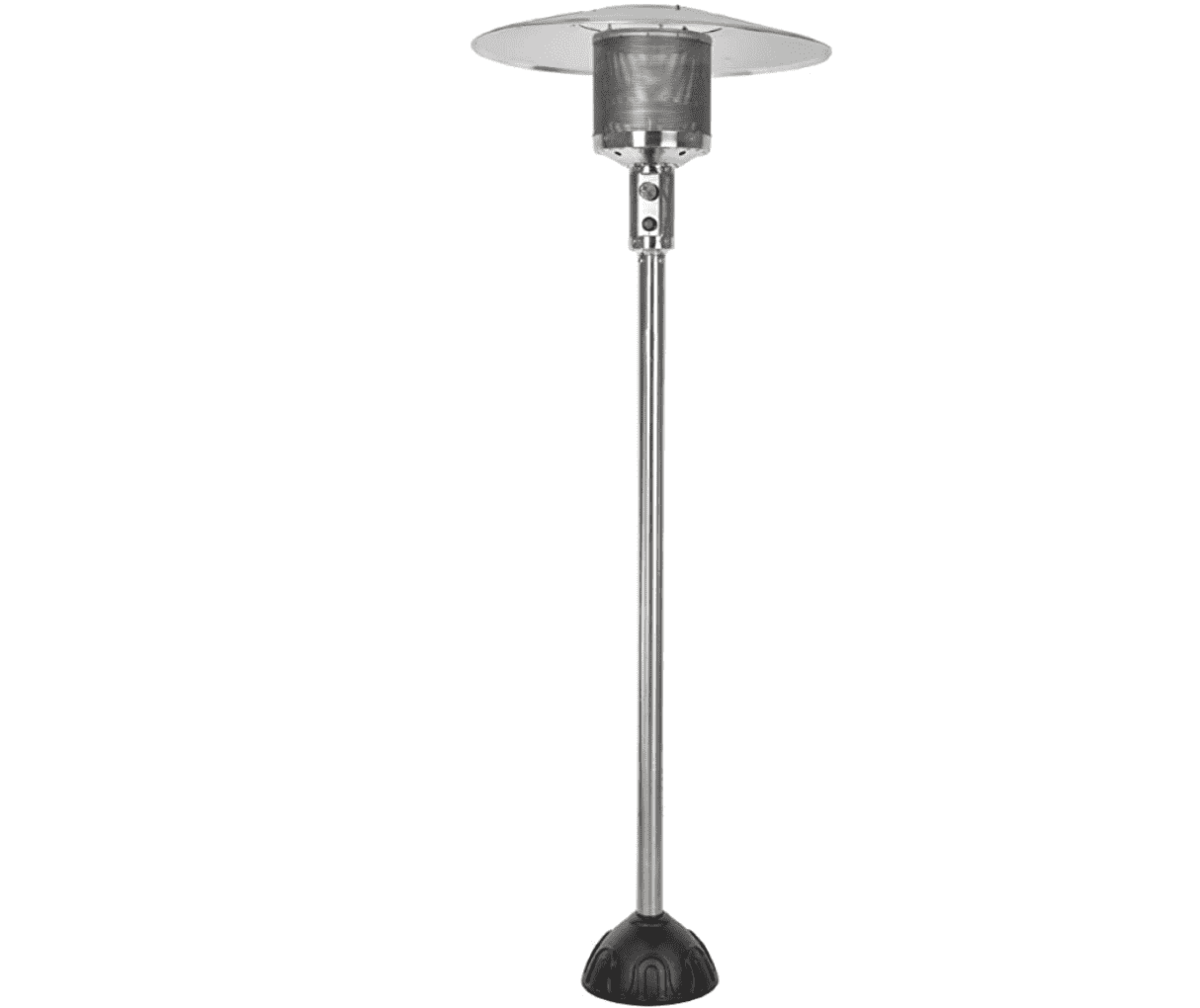 Fire Sense is a brand I've come across many times for both patio heaters and fire pits. And while I'm not brand-loyal, it does often impress me in terms of overall value. If you want a free-standing patio heater with useful features that you can move around, this model is an excellent choice. The Fire Sense natural gas patio heater is CSA-approved and includes an easy ignition button. I like the reasonable 45,000 BTU heat output, and while it's portable, it's thankfully supported by a tip-over protection safety feature. Buy Here. 
Pros
CSA Approved

Tip-Over Protection

Easy Ignition Button
Cons
Not CSA Certified 

May Need Additional Stabilizing Base 
Silvery Tower Natural Gas Standing Patio Heater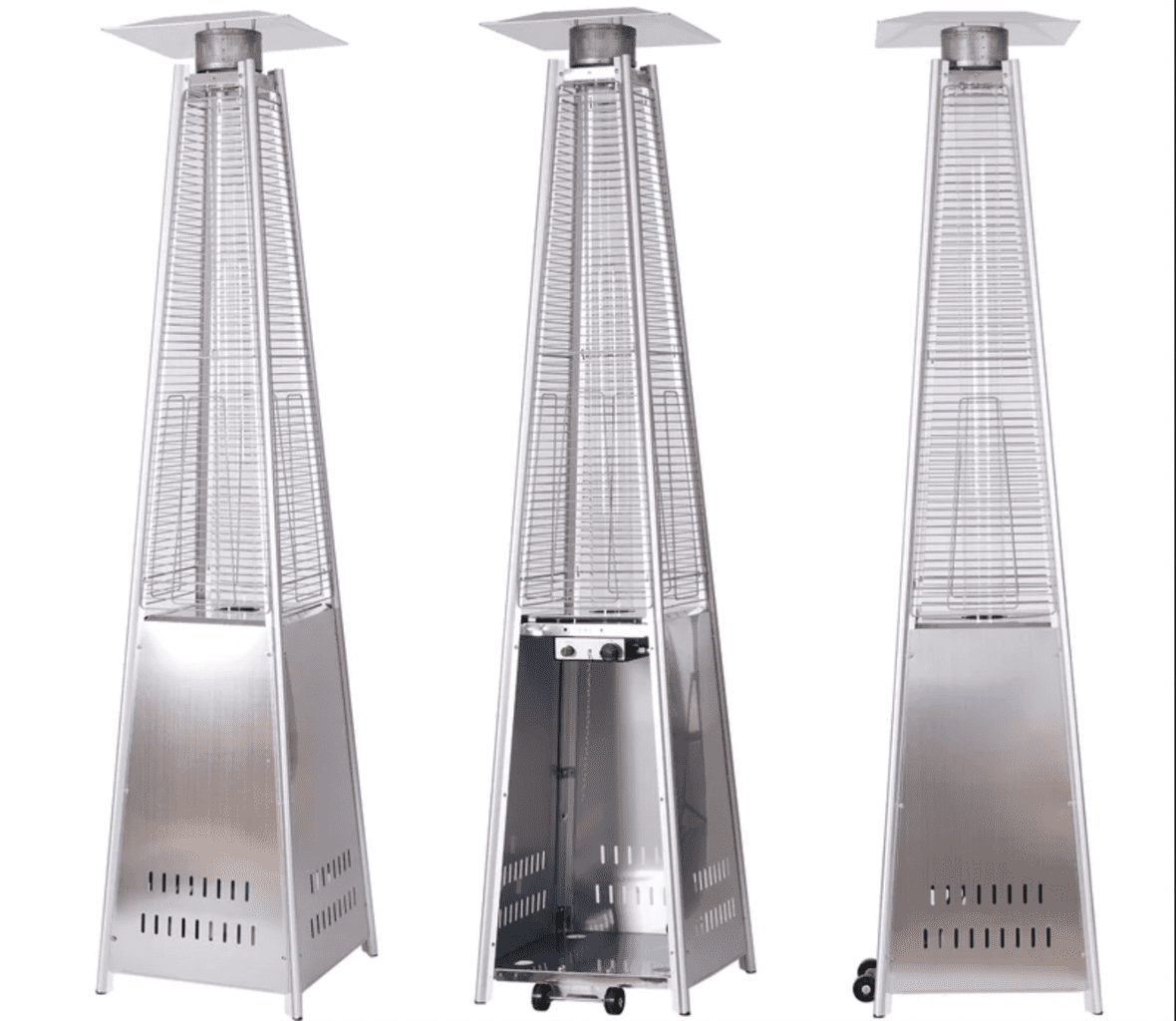 If you want a stylish patio heater with the same benefits as other great natural gas patio heaters, this model from Wayfair is one of your best choices. For some reason, most natural gas heaters with glass tubes and a pyramid construction don't come with as high of safety standards- but there still are several reasons why I like this model. Aside from the sleek, attractive design, you can convert this to either propane tanks or natural gas. A tip-over safety switch improves stability and the sleek frame is weather-resistant. I also love the auto shut-off feature and the easy pulse ignition button. Buy Here. 
Pros
Tip-Over Safety Feature

Automatic Shut Off

Sleek, Attractive Design 
Cons
Lack of Product Reviews 

No Safety Certifications
IR Energy evenGLO Post Mount Natural Gas Patio Heater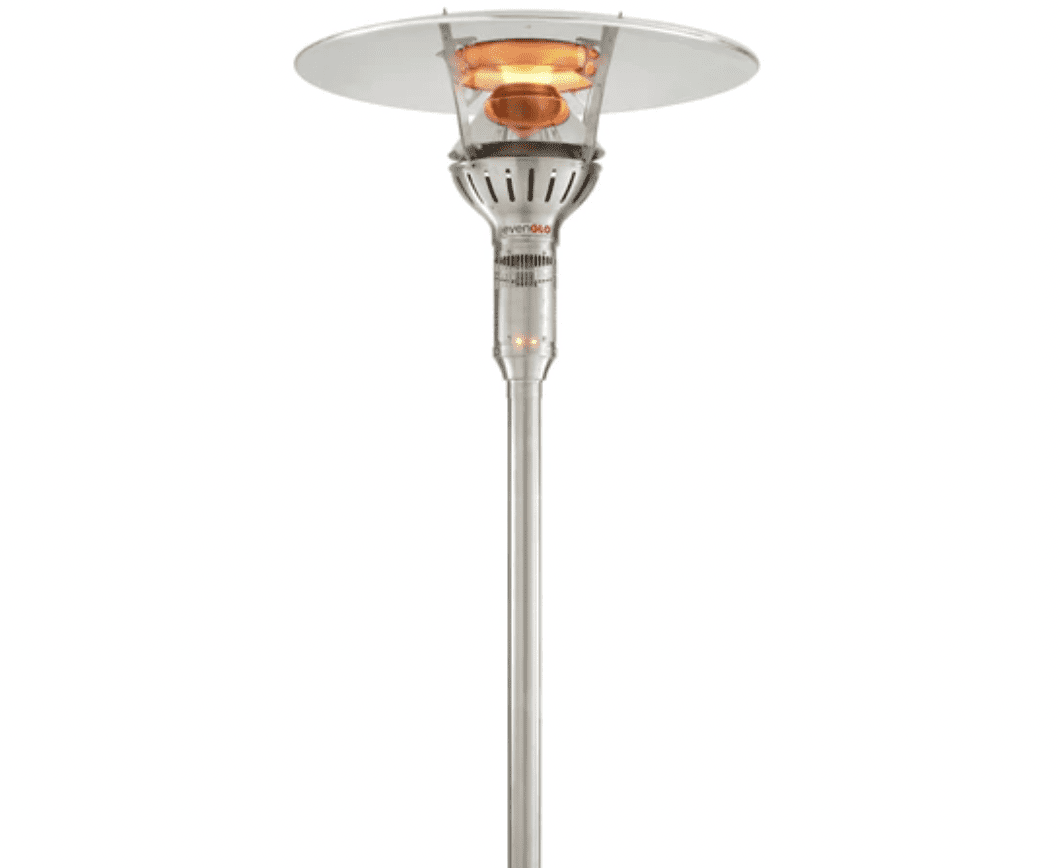 If energy efficiency is your number one concern and you still strongly prefer a natural gas patio heater, then I think this model will interest you. The sleek, modern design caught my eye, but it's the energy-efficient system that made me include it on my shortlist. The open flame design includes infrared heating, a safety tilt switch, electric ignition, and unique, patented technology. It's available in several finishes and is entirely CSA-certified. Buy Here. 
Pros
Energy Efficiency, Patented Technology

CSA-Certified

Anti-Tilt
Cons
Some Aluminum Components 

Expensive 
Sunglo 50000 BTU Natural Gas Patio Heater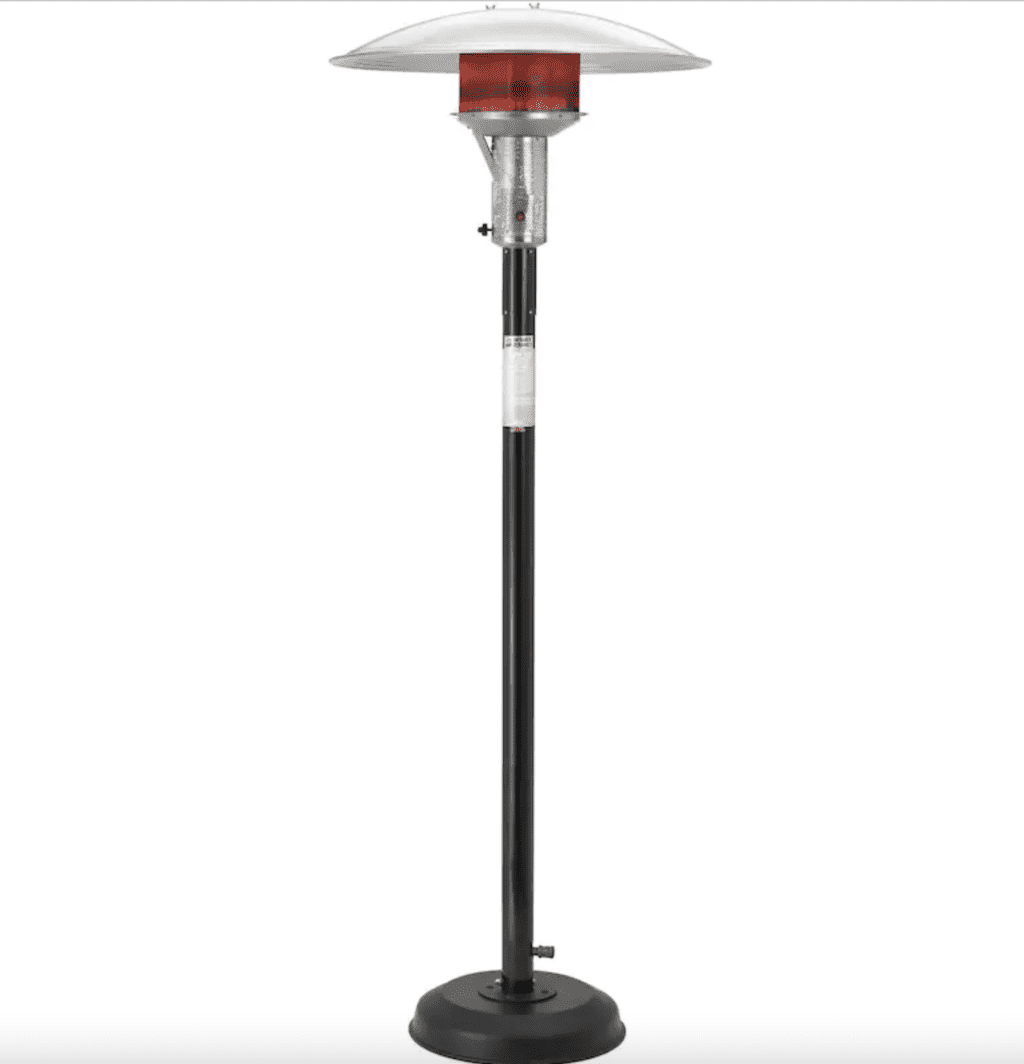 This powerful natural gas patio heater is a great choice if you like the freestanding style but don't need a portable design. While you can move it, it provides more stability than cheaper models. Features that caught my eye include a disk reflector for effective heat coverage; safety shut-off detection, and battery-operated ignition. It comes with a warranty, optional protection plans, plus a helpful owner's manual. It's made in the USA as well. Make sure you select stainless steel for your finish. Buy Here. 
See also: How to Find the Best Patio Umbrella
Pros
Shut Off Detection

Optimized Heat Output 

Disk Reflector 
Cons
A Bit Expensive

Not Certified 
Frequently Asked Questions
Question: How do you convert propane patio heaters to natural gas? 
Answer: If you want a natural gas patio heater, it's best to buy one that's meant to run on natural gas. However, some models of propane heaters come with connections to natural gas lines. If not, the best solution is to buy propane for the natural gas conversion kit. These kits include a quick-connect hose, which should be made out of 100 percent rubber and durable connectors. You need to make sure the size is compatible with your current heater- many kits come with several connectors. You'll also need thread gauges and a wrench. Make sure you follow directions completely. 
Question: Do gas patio heaters use a lot of gas?
Answer: Depending on the setting, gas patio heaters consume an average of 1200g/ hour. Gas patio heaters do consume a fair deal of gas when in constant use. However, different models are more efficient than others. Variable temperatures and adjustable knobs allow you to control your output. A large patio heater, of course, will be used differently than a tabletop patio heater. Paying attention to the BTU output will also give you a clue. However, gas patio heaters are still often more efficient than standard electric heaters.
Question: How long does gas last in a patio heater?
Answer: Propane heaters usually work with 20-pound tanks. Those tanks hold around 4.7 gallons of gas, and you can expect that to last around 10 hours. Because propane provides roughly twice the amount of energy as natural gas, it'll last longer- and natural gas heaters can consume up to twice that amount for the same heat output at the same time. How much natural gas you use, once again, depends on the heat output and how efficient the patio heater is. 
Question: Do outdoor heaters work in winter? 
Answer: Outdoor patio heaters operate year-round, but that comes with some caveats. For one, not all patio heaters can be used in wet conditions. Snow and sleet can cause problems for any heaters that aren't waterproof or at least water-resistant. Patio heaters don't produce as much heat as your average fire pit, so while they work, one may or may not be enough to keep you comfortable on a very cold winter day. In short: patio heaters are designed to work during cooler weather, but the severity of the weather and heat output and efficiency of your heater both are important variables to consider. 
Final Thoughts 
Natural gas patio heaters provide warmth for outdoor spaces- and the initial sticker price is the lowest of all patio heater types. I also like that you don't have to mess around with electric outlets. With a more impressive heat output than electric heaters, it's easy to see why it works as an effective outdoor heating solution. Just make sure you have a properly ventilated space, and you should be able to use it safely and keep modest bills. I also recommend professional installation vs DIY for the average person. Even with a conversion kit, a lot can go wrong. 
Final Recommendations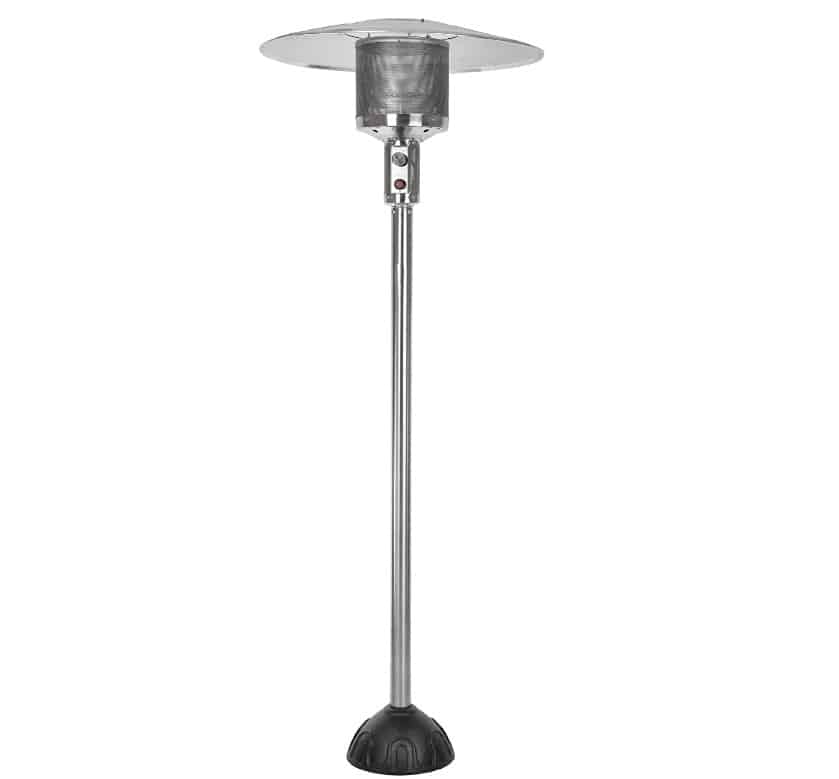 If you're settled on buying a natural gas patio heater, select one that fits your needs. As you can see from a few of my recommendations, you don't have to spend a fortune! The more important thing is to investigate the materials and quality. If you have young kids or are just forgetful, I'd ramp up safety features and spend just a little extra. 
And if you're still not sure where to start, I recommend looking at a natural gas patio heater like the Fire Sense 61445 Natural Gas Patio Heater. For an affordable price, you get a versatile and relatively safe patio heater. While it's fairly steady, it also can be moved to where you need it on your patio. 
Recommended Reads: