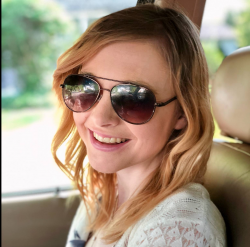 Latest posts by Erin Jamieson
(see all)
I've always loved chilly Autumn evenings, way more so than humid Summer nights. Most of my family is the opposite. But whether you're a cool weather person like me or like the freedom of a warm evening, the truth is, if you live in a state with dramatically cooler seasons, it can be hard to get as much use out of your patio year-round. But instead of heading inside, a patio heater may allow you- and company- to spend more time enjoying the seasons on your patio.
Home Depot is a store I grew up with. I went to Home Depot with my parents, comparing different patio and porch solutions. Now, I can appreciate what Home Depot offers: fair customer service and reasonable prices. But I wanted to investigate their patio heater section. And that's what this small guide is for. 
Here's my honest take on the best patio heaters Home Depot carries, and how I selected each one. I'm also throwing in some tips to save money without sacrificing quality. 
Bottom Line Up Front Summary
I love that patio heaters extend the use of patios year-round. Home Depot offers a reasonable collection of mostly budget and mid-range patio heaters for both modest and larger areas. I also really love how easy it is to find what you're looking for and get the information you need. That said, I was careful to be selective with my choices. 
If I were to recommend just one Home Depot patio heater, it would be the Quick Pulse Patio Heater with Side Table. There are plenty of reasons why I like this solution. With an impressive heat output, adjustable side table, and electric ignition, it includes versatile and helpful features, all for under $200. 
My Top Picks
Tips for Shopping for Patio Heaters at Home Depot 
First, I just want to give my honest perspective on shopping for a patio heater at Home Depot. On the plus side, Home Depot has many affordable options, including small patio heaters for under $200 or even under $99. I also really like how easy it is to find what you need. Integrated search filters online and customer service in stores make the process much easier than shopping through somewhere like Amazon. 
On the other hand, Home Depot patio heaters do vary in quality quite a bit- so it was all that much more important to me to be especially selective when choosing my picks. I don't think that their patio heater selection could be classified as premium or high-end, but that's not typically why I or probably anyone shops here anyway. As for saving money and finding the best match? Here are a few ways: 
Shop during holiday sales 

Ask about their

Low Price Guarantee Policy

Check for coupons (online, flyers)

Visit a store for expert advice 

Comparison shop at Lowe's and Menards

Use search filters to find something in the budget

Pay attention to included warranties
Follow these tips, and you should be well on your way to starting your smart shopping trip at Home Depot! 
See also: Best Farmhouse Porch Swing Ideas
My Selection Criteria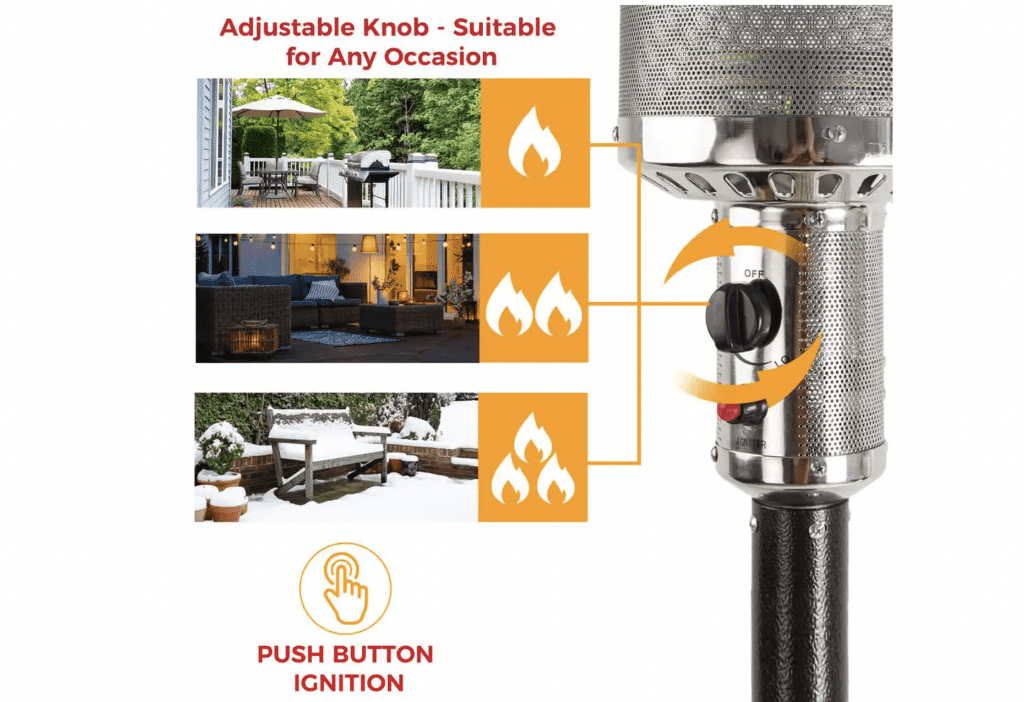 Here's what I looked for when selecting the best Home Depot patio heaters- and how you can shop wisely, too. 
Heating Radius and BTU Output/ Watts
Larger is not always better. What you need to think about is how much space you want to warm. I wanted to include a range of needs but also wanted to find patio heaters that cover a proportionate patio area.
BTU 
For a very small area- up to 150 square feet, 5,000 BTU will suffice. For around 1,000 square feet, I'm looking for an output of around 20,000. 40 to 45,000 BTU is a good bet for a larger patio area. I also use a quick formula by multiplying the square footage covered by 20. The BTU output should roughly be equivalent. 
Watts
A 15,000 to 2,000-watt patio heater is a great range to aim for a small to medium patio area. 
Natural Gas vs Propane vs Electric 
I wanted to showcase the range of patio heaters that Home Depot has. They carry propane gas, natural gas, and electric patio heaters. The reason why I'm including all is that all have pros and cons. 
If you care most about energy efficiency, go for natural or propane gas

If you're most worried about safety, electric heaters tend to have fewer issues

I prefer infrared heaters. Home Depot only has quality wall-mounted options for electric heaters. 

If you want the most cost-effective solution, you may like propane heaters

If you don't want to mess with tanks, natural gas heaters may be for you 
No option is perfect, and that's likewise true for patio heaters from Home Depot. 
Choosing the Best Materials
Home Depot has the following options: stainless steel, aluminum, cast iron, stone, clay, and ABS plastic. Of these, I like stainless steel and stone best – they are the most durable plus weather-resistant. However, I was careful to consider cast iron if treated with a weather-resistant coating, and ABS is an okay choice for a small, wall-mounted heater. 
Great Features
Home Depot patio heaters do have some interesting features- and I wanted to include ones that would be most useful for you. These include safety and quality features as well as practical use features: 
Wheels for portable heaters

Automatic shut-off systems

Adjustable knobs

Glass Tube Fire View

Remote control

Adjustable side table 

Electric ignition system

Timers

Access doors
None of these are must-haves, but they do set different patio heaters from Home Depot apart from others. 
Determining Patio Heater Overall Quality 
Finally, while it was important to me to keep all budgets in consideration, I wanted to ensure a great value overall. That may sound very subjective, and in many ways it is. But for me, that means factoring in all features and also checking product warranties, high-quality photos, detailed product descriptions, and customer reviews. While I will include some popular brands, such as Hampton Bay and Fire Sense, I made sure not to be 'brand loyal' and focus on the whole package. 
See also: Best Home Depot Fire Pits
Home Depot Patio Heaters: My Top Picks! 
Here are my favorite patio heaters that you can buy from Home Depot. From mini or wall-mounted patio heaters to upright patio heaters, each one is weather friendly and built to perform. Hopefully one of these will be a good fit for your patio. 
Dimplex Stainless Steel Ceiling-Mounted Heater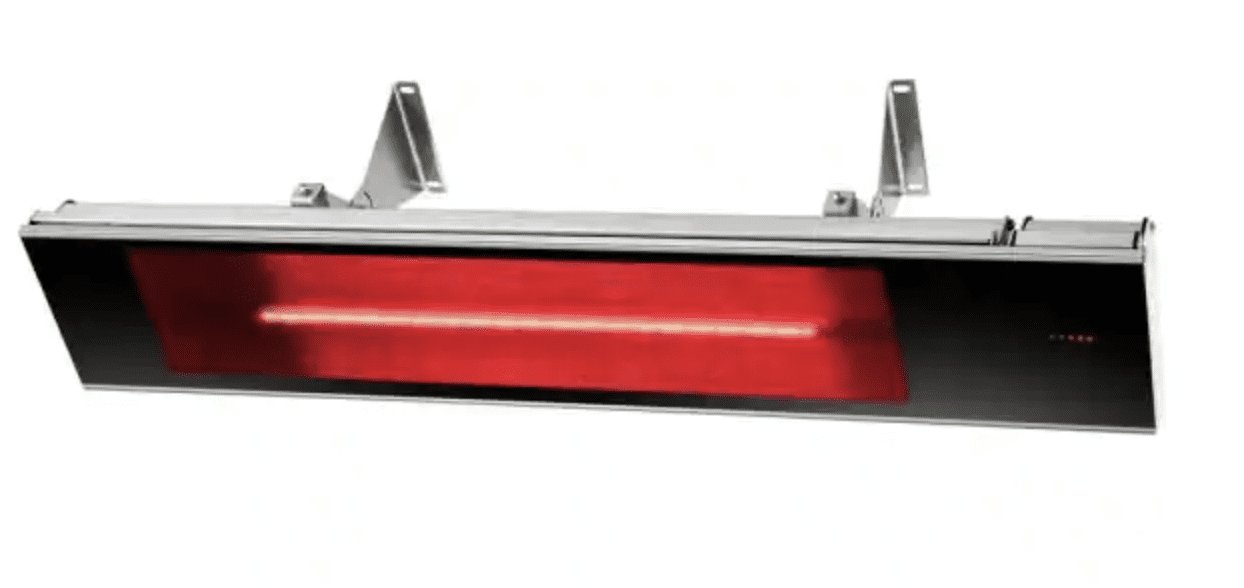 This ceiling patio heater is the perfect choice if you want a minimalist option for a partially covered porch. While a ceiling-mounted patio heater doesn't tout the same versatility, it can warm a small space without taking up any space on the ground. At 2200 watts, it's more powerful than most ceiling patio heaters I see, and I also like that it uses infrared heating for greater efficiency. With a heating radius of just under 40 square feet, I'd use this for a dining or sitting area for those cool nights. Remote control and automatic shut-off features make this stainless steel heater one of my favorites from Home Depot. Buy Here.  
Pros
Infrared Heating 

Remote Control

Automatic Shut Off 
Cons
A Bit Expensive

Limited Use  
EnerG+ Infrared Electric Heater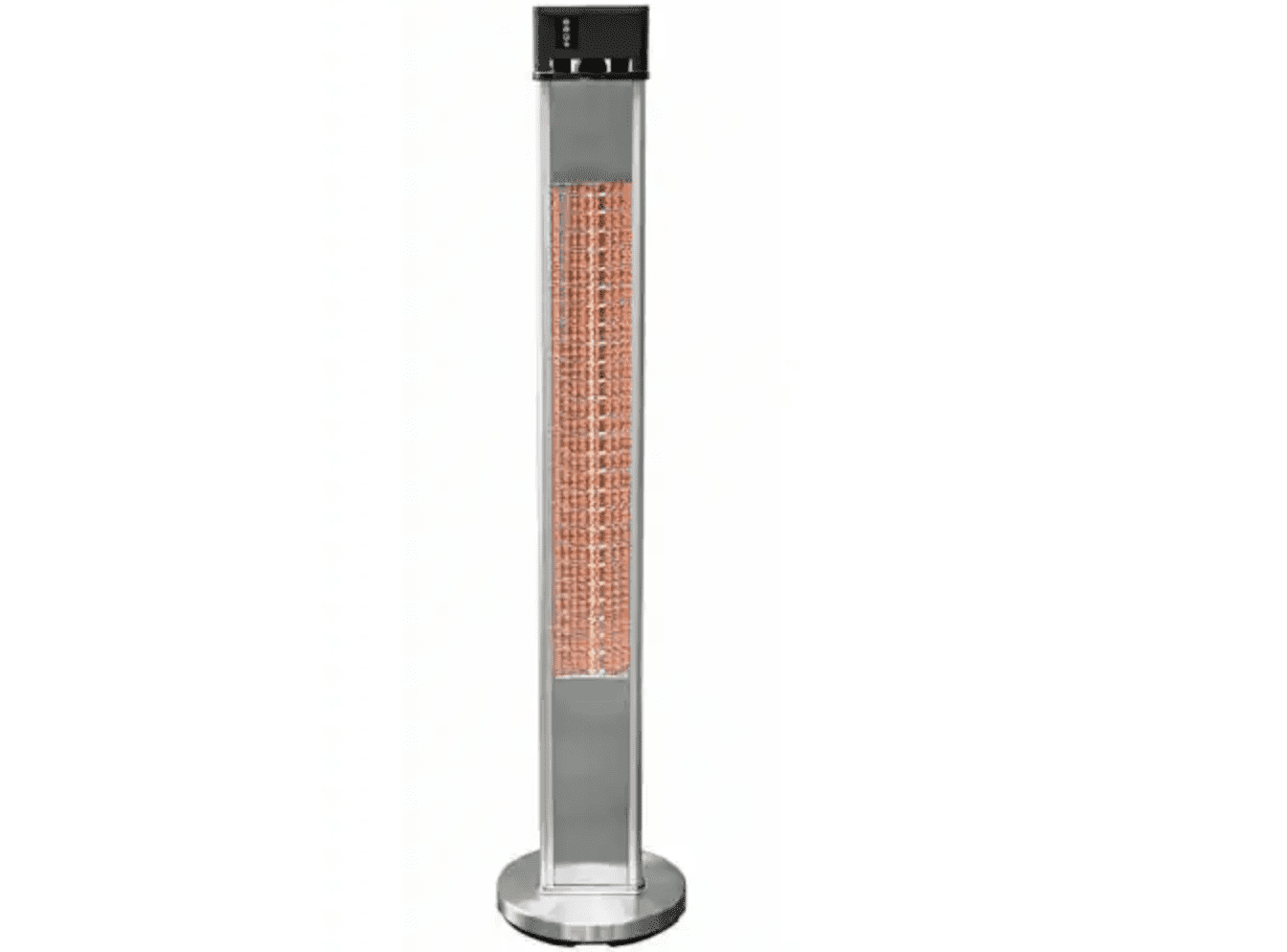 This free-standing heater is a great choice if you want an electric patio heater that covers a small seating area. What I like about this Home Depot patio heater is that it's energy-efficient, affordable, and features 3 unique heat settings. But what surprised me most, aside from the good price, is that it's rated safe for both indoor and outdoor use. That means you really can get a lot of use out of this heater. The carbon coil construction makes it durable enough to withstand falls and it boasts a lower than average operating cost. Buy Here. 
Pros
Rated for Indoor and Outdoor Use

Energy Efficient

3 Unique Heat Settings 
Cons
Modest 1500 Watts

Fairly Small Heating Radius 
Quick Pulse Patio Heater with Side Table
Anyone looking for a propane patio heater with a side table, take note. This versatile and unique patio heater from Home Depot would be a great option for entertaining. It's a pretty incredible price for the features you get. The 47,000 BTU output impressed me, but so did the adjustable side table. It's all equipped with quick-start ignition and automatic safety shut-off. With wheels for easy transportation, this patio heater is a party lover's perfect tool. Of course, feel free to enjoy it yourself, too! Buy Here. 
Pros
Impressive Heat Output 

Adjustable Side Table 

Quick Ignition
Cons
Not as Sturdy as More Expensive Models

Tricky Assembly 
Fire Sense Tabletop Patio Heater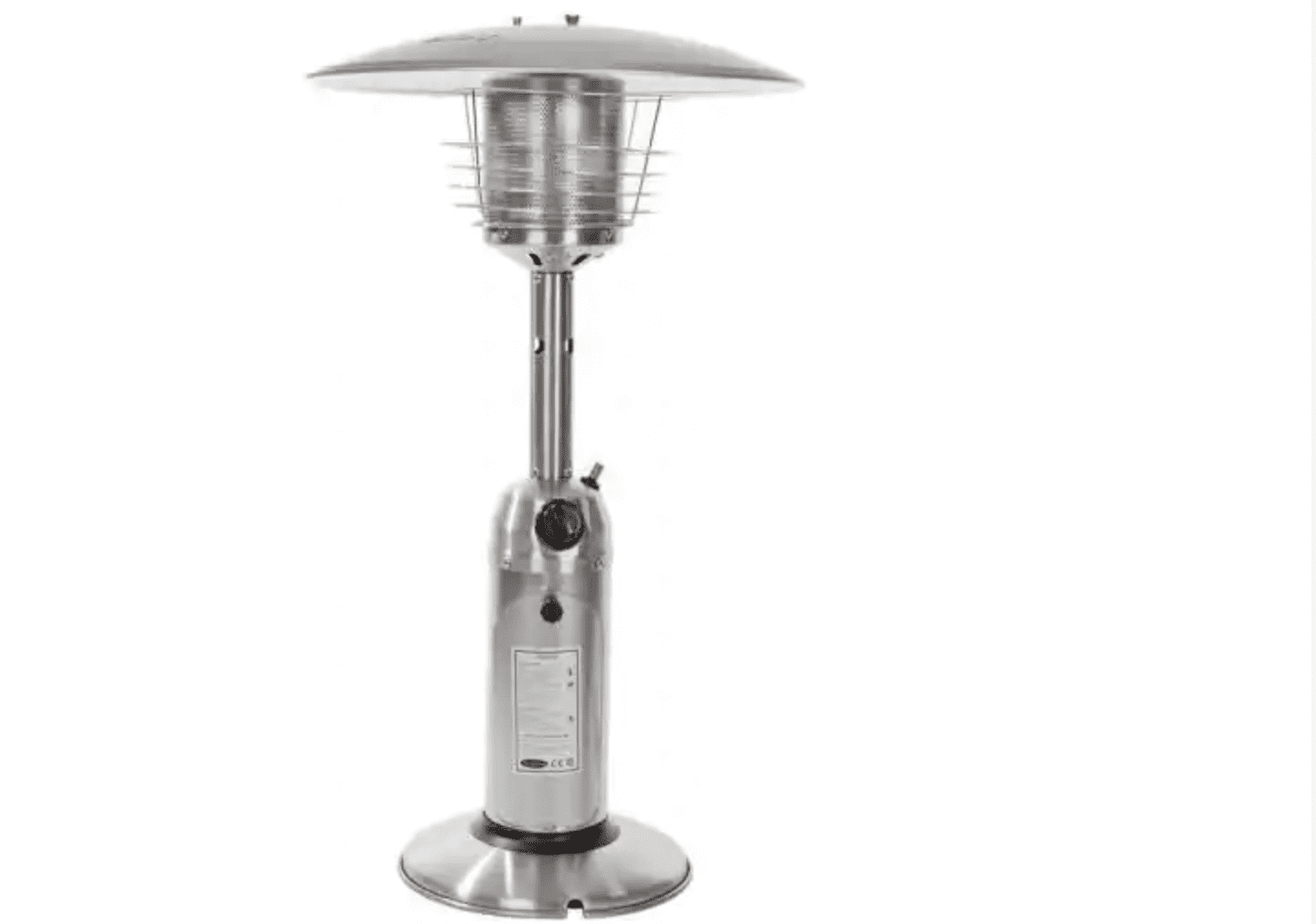 I'm fond of tabletop heating solutions for a few reasons. For one, if you don't have much storage space, you don't have to worry. For another, they're portable and generally more affordable. So if you just want a light heating unit and a burst of warmth, this Fire Sense tabletop patio heater is my top idea from Home Depot. The classic steel frame is weather-resistant and versatile. I love how portable this patio heater is, equipped with an auto shut-off feature. It also has a safety grill guard to shield you from excessive heat. Buy Here. 
Pros
Portable

Automatic Shut Off

Grill Guard
Cons
Very Modest Heat Output

Not as Useful During Windy Days 
Hampton Bay Stainless Steel Patio Heater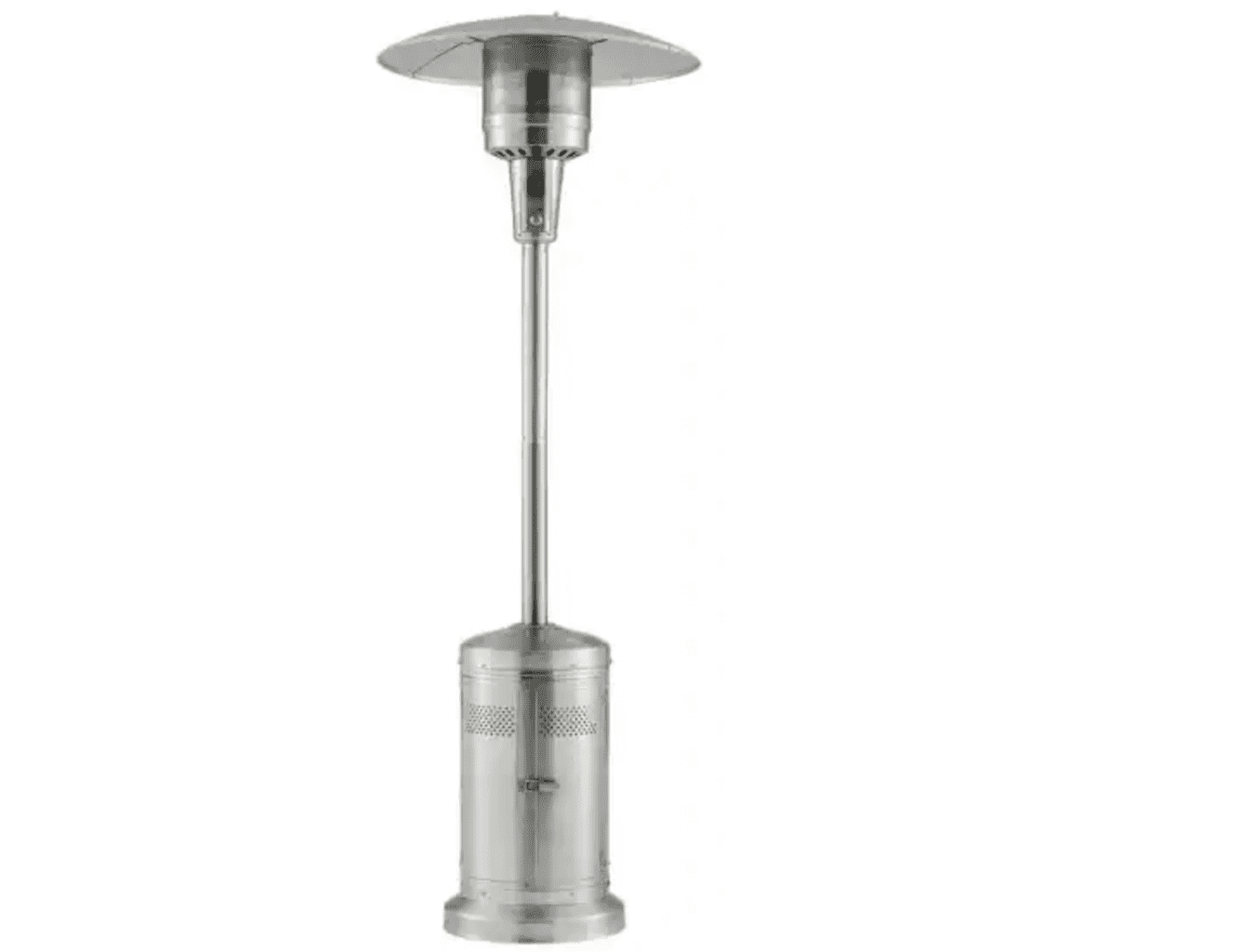 Hampton Bay is a brand I remember growing up with, and they are known for their fair prices and practical features. This patio heater delivers on both fronts, with the greatest heat output of patio heaters I'd buy from Home Depot (48,000 BTU). This patio heater is a good idea for anyone who wants that more impressive heat output with easy electric ignition. For an excellent price, you also get smooth wheels, tip-over protection, and variable heat for improved energy efficiency. This is a budget patio heater that, taken care of, could be an effective solution. Buy Here. 
Pros
Variable, Efficient Heat

48,000 BTU

Smooth Wheels
Cons
Difficult Assembly

Needs to Be Treated with Powder Coating
PumPic Brown Propane Patio Heater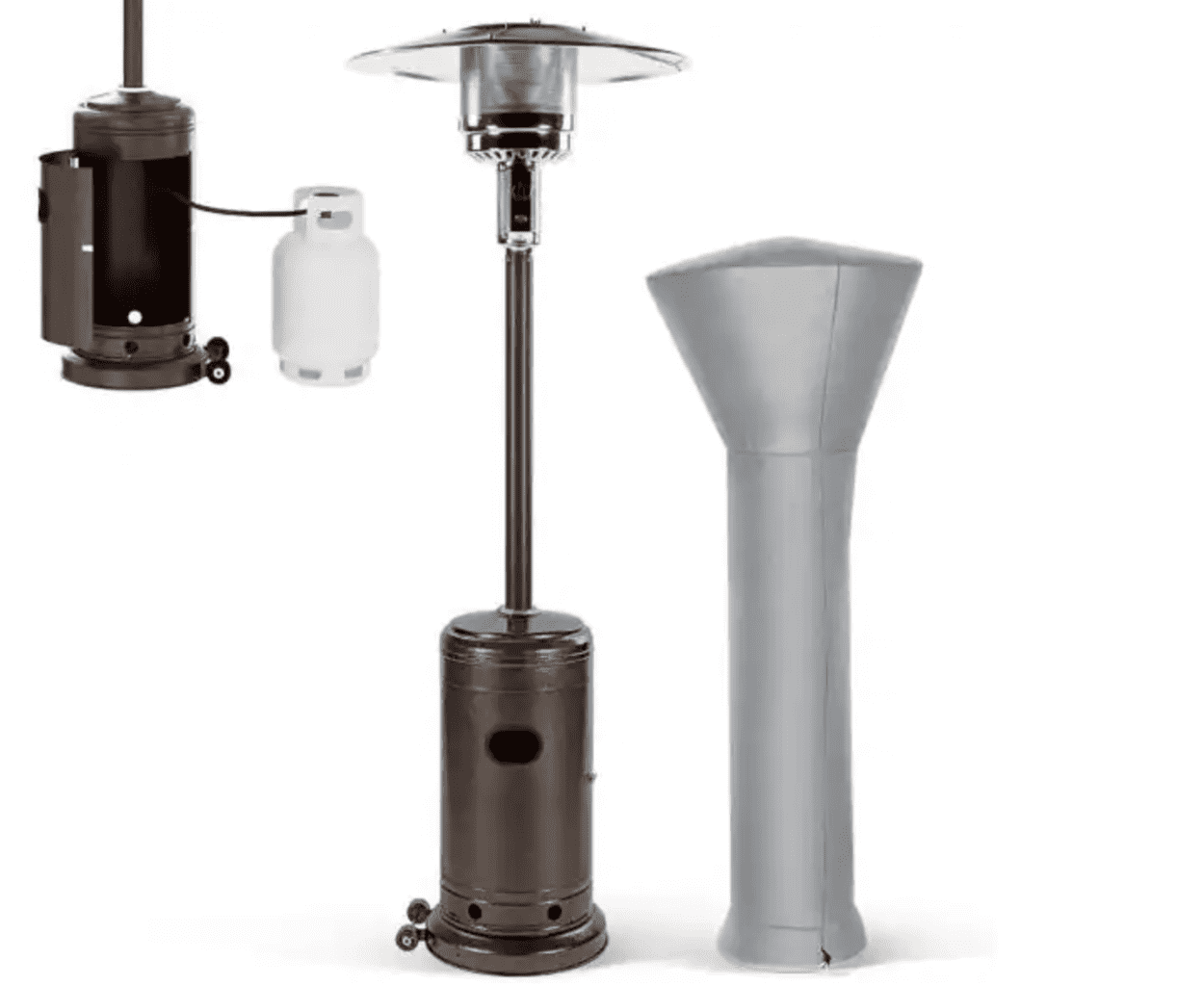 Having a patio heater near a pool can be nerve-wracking. While you still don't want to place this right on top of a pool, this patio heater is your best option if you need a nearly waterproof, all-weather solution. I love that you can use either propane or natural gas. The unique PE coating makes this stand out from other patio heaters at Home Depot- making it acceptable for use during even snowy weather. With a heat output of 46,000 BTU, you can adequately heat to entertain. I also like the one-touch electric ignition and transportable wheels. Buy Here. 
Pros
Water and Weather-Proof

46,000 BTU 

Wheels 
Cons
Only Available with Brown Finish

No Automatic Shut Off 
TiramisuBest Steel Propane Patio Heater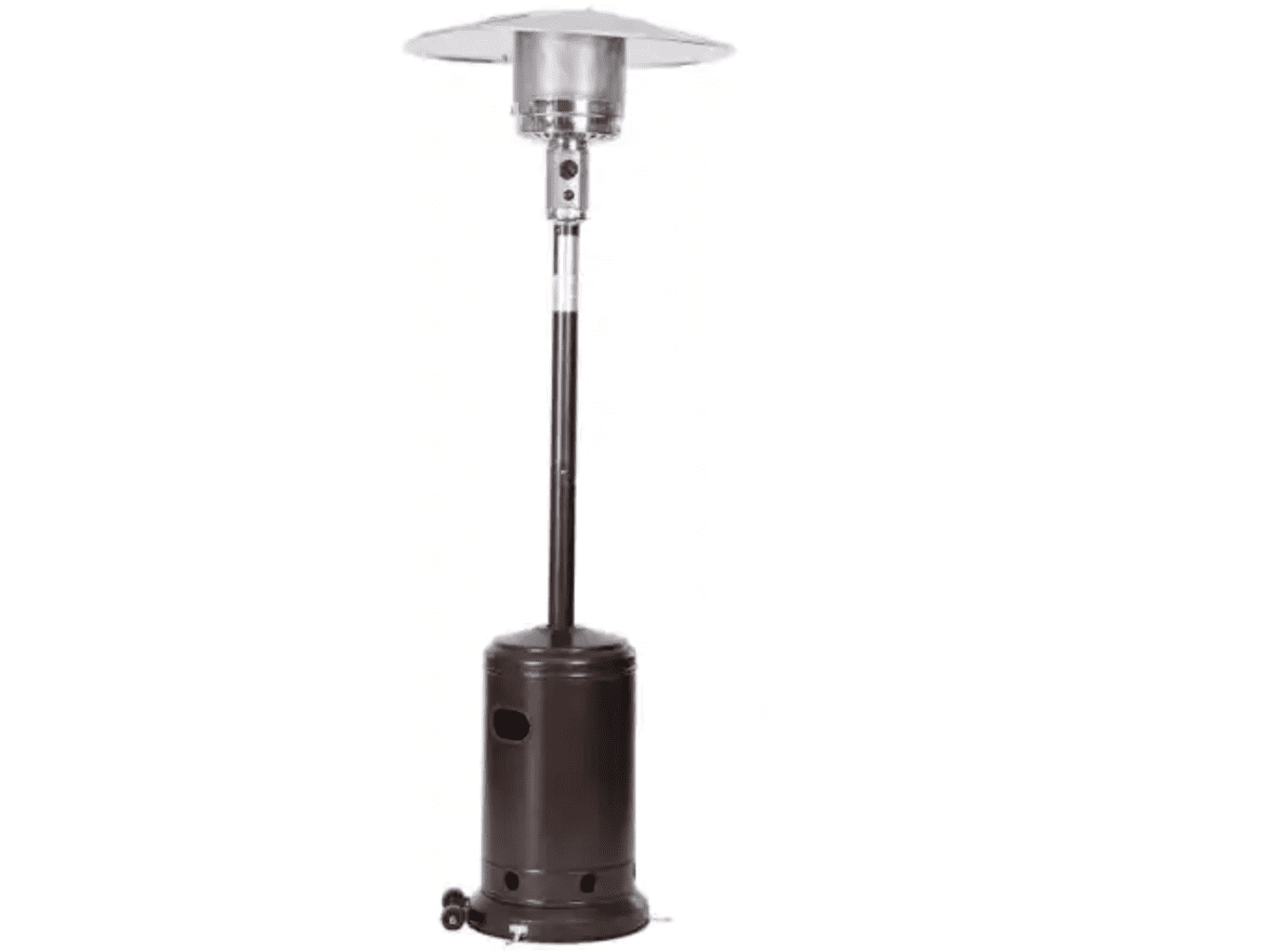 Fun name aside, this patio heater is a solid option if you're worried about forgetting to turn your heater off. We all get forgetful, and while other Home Depot patio heaters also have an auto-shutoff, I appreciate how this is built with safety in mind. The pulse ignition provides a steady and consistent option for proper heat control. I also like how the stainless steel exterior includes a double-layer of protection. An easy-access door allows you to refill your propane tank without any hassle. Buy Here. 
Pros
Auto Shut-Off

Double Layer Protection

Easy Access Door 
Cons
Lack of Customer Reviews

More Expensive than Some Models
Pyramid Flame Patio Heater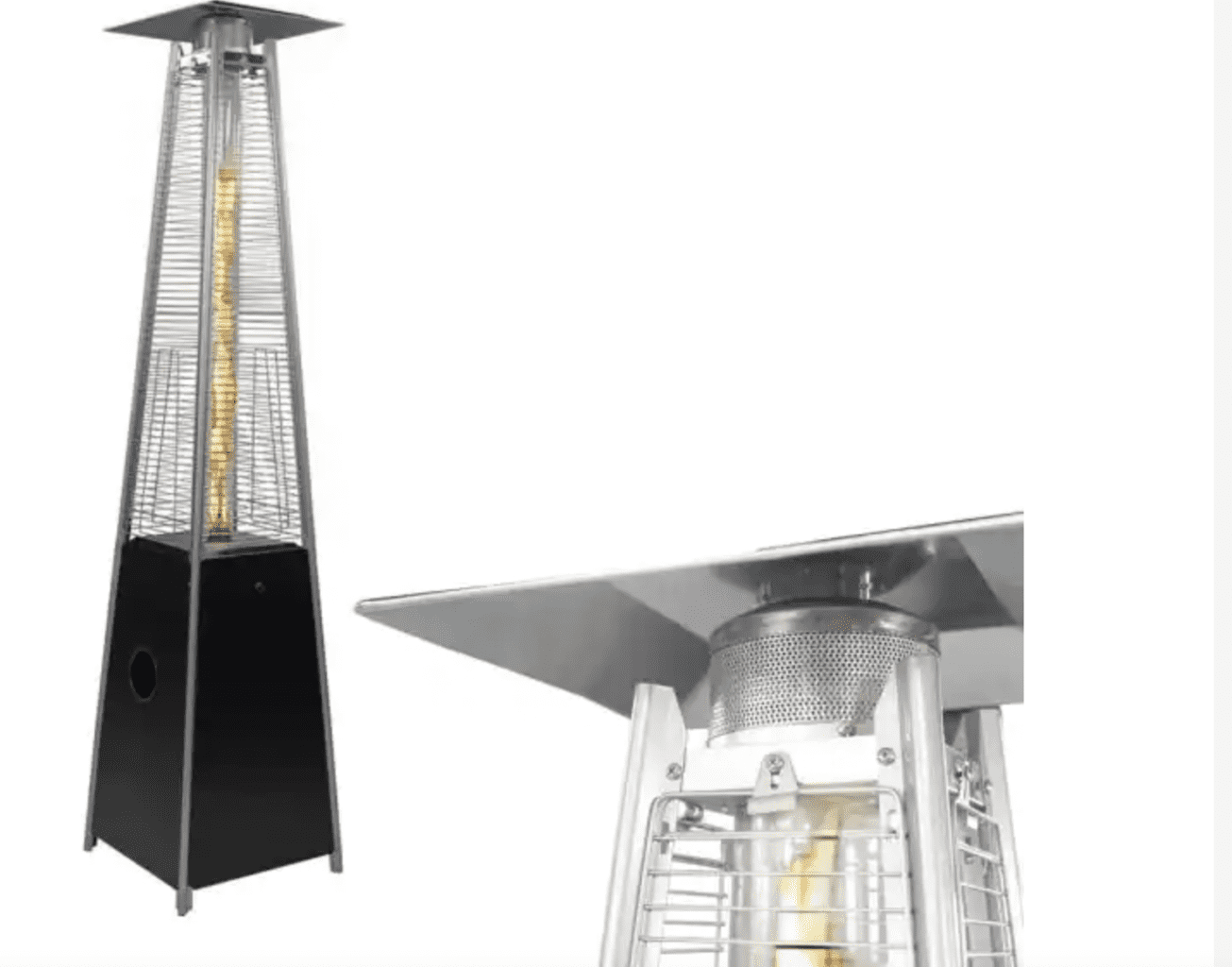 Whether you want to make a statement with your patio heater or want something to overlook a larger seating area, this Home Depot patio heater is a notable choice. I was instantly drawn to the stylish pyramid design and exceptional height. I also like the quick start ignition button, safety shut-off features, and unique glass tube flame. This patio heater proves that you can get a model that's both stylish and functional. Buy Here. 
Pros
Glass Tube Flame

Stylish Height 

Safety Features
Cons
Slightly More Modest Heat Output (42,000 BTU)

Difficult Assembly 
Frequently Asked Questions
Question: What is the cheapest option for patio heaters at Home Depot?
Answer: The cheapest patio heater solution currently available at Home Depot is the Winado 1500-Watt Electric Wall Mount Terrace Patio Heater, which retails for under $100. This small carbon patio heater adheres to a wall and can be used both indoors and outdoors. It's dust-resistant and waterproof, with a 45-degree adjustable angle. It also includes an LED display plus a safety system to prevent overheating. With a BTU output of just over 5,000, it's only meant to be used for heating a small area and can't be used to heat a full patio. It does come, however, with a single-year warranty and the exterior is constructed with ABS coating. 
Question: What is the top-selling product within patio heaters at Home Depot?
Answer: The most popular patio heater at Home Depot, based on their website, is the AZ Hammered Bronze Patio Heater. This patio heater has an output of up to 48,000 BTU and includes popular features such as wheels for easy transport and an anti-tilt device. Priced at under $200, it's a slender patio heater that suits modern and contemporary patios, blending in well. It covers 10 to 12 feet and also includes a door for easy access. Despite being a bestseller, however, customer ratings are mixed. While 78 percent of buyers would recommend this patio heater, a notable 17 percent mentioned poor product quality and the broken components after one or two uses. 
Question: How long does a 20lb propane tank last on a patio heater? 
Answer: Depending on the size, efficiency, and output,  a 20lb tank lasts an average of 8 to 10 hours for a patio heater. That's assuming a BTU output of roughly 40,000 and typical use. Factor in that a propane tank takes around $20 (sometimes less) to refill, and it's more cost-effective than many assume. This is also why it's popular to rent patio heaters (other charges apply) vs other heating methods. A 20lb tank holds just over 4 and a half gallons. 
Question: How long does a 20lb propane tank last on a patio heater?
Answer: Depending on the size, efficiency, and output,  a 20lb tank lasts an average of 8 to 10 hours for a patio heater. That's assuming a BTU output of roughly 40,000 and typical use. Factor in that a propane tank takes around $20 (sometimes less) to refill, and it's more cost-effective than many assume. This is also why it's popular to rent patio heaters (other charges apply) vs other heating methods. A 20lb tank holds just over 4 and a half gallons. 
Final Thoughts
Home Depot does a nice job of balancing price and features with its patio heaters collection. From modest wall-mounted patio heaters to generous patio heaters for large areas, it's not too hard to find a patio heater in the size and specs you need. While I wouldn't say Home Depot goes above and beyond in terms of unique features, I do think it's a reputable, reasonable place to shop. Just make sure you scroll down to check all product specifications to make sure you're buying the right match for your home.
Final Recommendations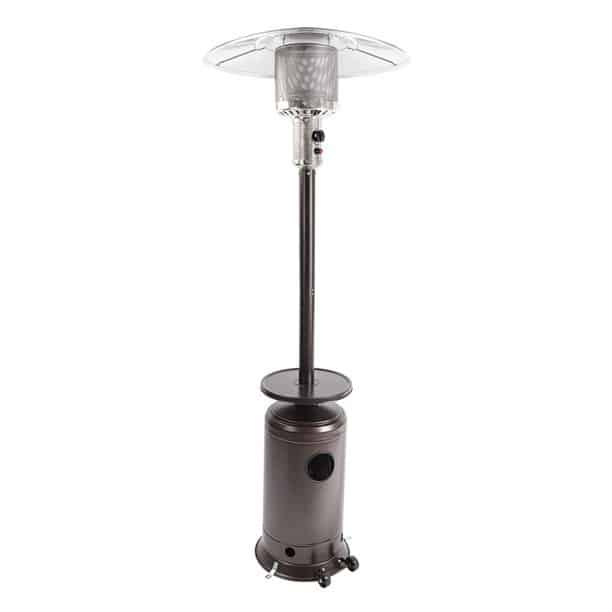 Home Depot patio heaters are a little hit or miss at times. Most of them are made for the average homeowner, but I wouldn't go for the cheapest ones possible just to save money initially. Some of the mid-range patio heaters, in my opinion, are the better investment. Shop smart and make sure you understand what you're buying.
Still, trying to figure out which patio heater is right for you? From Home Depot, I recommend going for something like the Quick Pulse Patio Heater with Side Table. Whether you're entertaining or using it for yourself, I think you'll get a lot of use out of this affordable patio heater. Enjoy the electric ignition, adjustable side table, and other features to heat a seating or dining area.
Recommended Reads: