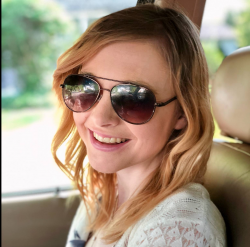 Latest posts by Erin Jamieson
(see all)
When I wasn't going to Lowes growing up, I was headed to Home Depot. My parents didn't make expensive upgrades, but they did try to keep their house in good condition- a value I carried on with me. But when my father purchased a fire pit a few years back, I wondered: is Home Depot a good place to shop?
Fire pits can be a fantastic addition to your home. From signature fire pit tables to convenient portable fire pits for camping, there are many choices. And the selection at Home Depot surprised me in a few ways. 
Consider this your guide to finding the best fire pits at Home Depot. I'll tell you the pros and cons of shopping at Home Depot. I'll also tackle the best materials and features to look for.
A few of my favorite fire pits from Home Depot will show you what type of prices and features to expect from your online or in-store shopping trip. 
Bottom Line Up Front Summary
If you know what to look for, Home Depot offers a nice selection of fire pits for a fair price. Take advantage of their price matching program, sales, and unique features. From portable fire pits for camping to statement fire pit tables, there are plenty of options- without getting overwhelmed. 
If I had to recommend one fire pit from Home Depot, it would be the Oakville Square Propane Fire Pit Table. Of all the fire pits Home Depot offers, this stands out as offering the most features for the price point.
This small fire pit table features a powder-coated steel frame, electric ignition, and a BTU output of 50,000. It's versatile, great for entertaining, and easy to operate. 
My Top Picks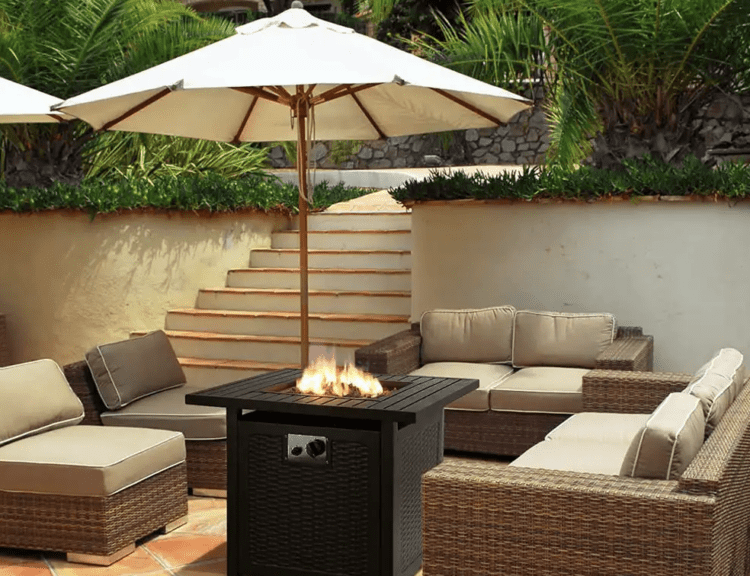 Should You Shop at Home Depot for Fire Pits?
Home Depot is one of the main home improvement stores that carry both fire pits and fire pit accessories. I was interested to see how their collection compared with other places, and there are a few highlights. While overall I think that Home Depot is a reasonable choice, here's my take on some of the main pros and cons. 
Pros 
Exclusive Designs 
I was interested to learn that Home Depot carries a few exclusive fire pits. Those include a few Hampton Bay models, notably: The Hampton Bay Piedmont 30 in. Steel Fire Pit and the Hampton Bay Tipton 34 in. Fire Pit with Bronze Oil. If you like Hampton Bay, then Home Depot is the best place to shop.
Shipping & Customer Service
Aside from exclusive fire pits, Home Depot offers practical and flexible shipping options. You can have fire pits shipped to a store near you or directly to you- via rush or regular shipping.
Regular shipping is free for almost all fire pits, and you can track orders online. I also like the ability to hire or get assistance from professionals- plus the perks of online and in-store shopping. 
Fire Pit Selection
Gas, wood-burning, tabletop, portable, traditional, and tailgating fire pits are all available. Home Depot fire pits offer a reasonable array of features for budget mid-range prices.
Most customers will find a practical, contemporary fire pit. I also like their online compare button- which allows you to determine which fire pit is the better option. 
Cons
Home Depot fire pits don't wow me. What I mean by that is I didn't see any fire pit that stood in terms of premium quality, innovative styles, or advanced features.
I also find that their online filters are not as advanced as they could be, so it takes a little longer to shop. I like their budget-friendly options, but I'd love to see a few more high-end options too. They could expand their brands, as well as fire pit accessories.
Bottom Line
Home Depot is a great place to shop for Hampton Bay fire pits and modestly priced options. I think that the store does a nice job of balancing price with features, but I do think they could expand some of their options. 
How to Find the Best Fire Pits at Home Depot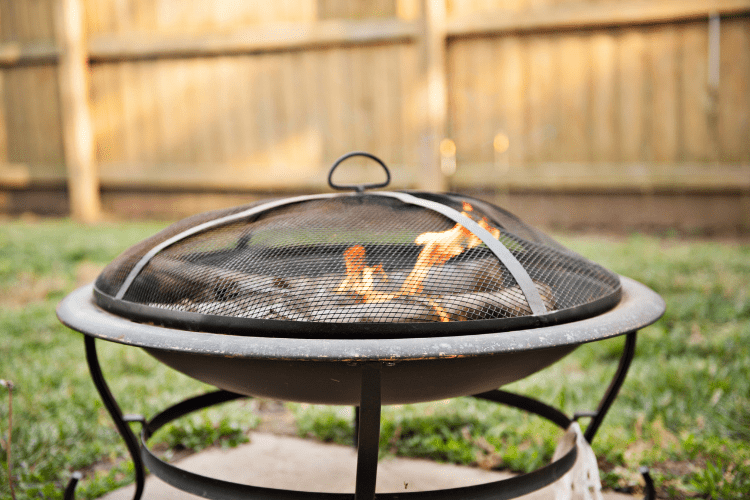 If you're interested in buying a fire pit from Home Depot, read on. I investigated all the options for fire pits at Home Depot- both in-store and online- to see the best materials, deals, and standout features, like wind guards.
From fire pit bowls for an outside patio to portable smokeless fire pits, here's how to shop like a Home Depot pro. 
Step One: Select the Right Size & Type of Fire Pit
Home Depot carries a nice range of fire types and dimensions. Here's what they offer- and what each fire pit type is best suited for. 
Type of Home Depot Fire Pit 
Description
Size/ Dimensions

Home Depot Fire Pit Tables

Versatile and used for entertaining, patios 

11 inches to 42 inches

Home Depot Tabletop Fire Pits

Instead of a free-standing table, these are set directly on a patio or a patio table (grouped with tables)

11 inches to 42 inches

Home Depot Fire Pit Bowls

Firepit bowls feature a rounded, bowl-like shape. They tend to be more for aesthetics and ambiance and have fewer features

17 inches to 34 inches 

Home Depot Mobile/ Portable Fire Pits

These can be found in a variety of styles. Home Depot doesn't have a designated section, so you'll have to look (the link is with a keyword search). These are compact and meant for camping and travel. This also includes options like

collapsible fire pits

. 

11 inches and up (aim for under 30 inches and pay attention to weight) 

Home Depot Fire Pits

*standard

The rest of the Home Depot fire pits are used for backyards and gardens. These are for general use and for entertaining 

22 inches to 46 inches

(The average size for all fire pits is 34 to 46 inches, which is a good rule of thumb for most yards. Small yards may do fine with something closer to 30 inches) 

Home Depot Fire Pit Kits 

Firepit kits include inserts, liners, rings, and other materials. Many of them are aimed at DIY/ build your projects. Some of these fire pit kits include replacement parts. These also include full assembly instructions. 

 
Step Two: Fire Pit Fuel Source
Home Depot categorizes its fire pits as wood-burning fire pits and gas fire pits.  However, gas fire pits include both propane and a few natural gas options. There is no one best option- rather, it's all about trade-offs and what's most important to you. 
Wood-Burning 
Wood burning fire-pits are chemical-free, great for cooking and grilling, and fairly easy to maintain. The initial sticker price is often lower than gas fire pits. However, they're also harder to control, produce more emissions and ash, and tend to have fewer overall features. 
Gas 
Gas fire pits are a bit more energy-efficient, and they may be equipped with more advanced features, such as electric ignition. While natural gas may seem cheaper, propane is cheapest in the long run- not to mention the most fuel-efficient. Natural gas fire pits have to be hooked to a line and thus are stationary.
The biggest disadvantage to propane gas is the heavy tanks that need to be refilled, as well as the faint chemical smell. 
Aim for 45,000 BTU to 60,000 BTU for an average fire pit. Modest BTU output (below 40,000) is best for small tabletop fire pits. 
Step Three: Select the Best Materials from Home Depot
From aluminum to steel to stone, concrete, and even bronze: which is the best option? These are the main materials Home Depot offers for its fire pits. Of these, my favorite options are steel, stone, or concrete. Other materials either are too flimsy or prone to corrosion. One other option is MGO. 
Stone and Concrete Fire Pits
Stone and concrete fire pits are quite strong and fairly low-maintenance. They tend to be suited for larger, stationary fire pits and come in both classic and contemporary styles.
Stone is a bit more expensive. Concrete can crack, but if you catch it, it can be filled in at a low cost. (A few kits are also available with brick, which is also quite sturdy and durable but expensive). 
Steel Fire Pits 
Stainless steel, carbon steel, and reinforced steel are options. While Home Depot doesn't carry as many powder-coated steel fire pits as I'd like, this is my favorite option. It's even further weather-proof and provides lightweight strength. 
MGO
MGO stands for magnesium oxide. These types of fire pits are strong, resistant to mildew and mold, resistant to fires, and suited for most weather conditions. They look similar to concrete but are a bit more lightweight. The main downside is the cost. 
See also: 19 Best Cinder Block Fire Pit Ideas to Step Up Your Backyard
Step Four: Home Depot Fire Pit Features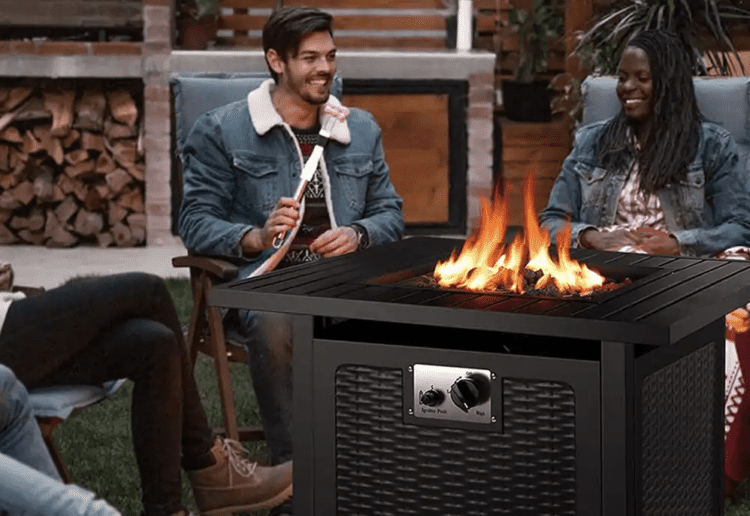 Even when you've decided on a fire pit style and type, you'll still need to narrow down your selection. One way to do that is by prioritizing special features.
You don't need all of these features (aside from some form of ventilation), so decide what's most important to you based on how you'll use your fire pit. The chart below will help you choose the best features for your fire pit. 
| | |
| --- | --- |
| Home Depot Fire Pit Feature | Purpose |
| Wind Guard, Heat Deflector | Most common for fire pit tables and larger fire pits; protects against wind and heat. The wind guards are usually made with tempered glass |
| Portable Features | Wheels, easy assembly, and collapsible designs- are all used for easy transportation (camping and tailgating). The biggest downside is that you're giving up some stability  |
| Electric Ignition | Includes easy-turn knobs, automatic shut-off systems, and even adjustable flames- all for seamless entertaining and greater control (gas only)  |
| Smokeless | This is an alternative to air vents and side air holes. Smokeless fire pits use special internal wall construction to optimize airflow, and efficiency and reduce smoke and ash  |
| Cookers, Grill Grates | 360n degree swivels graduated/ tiered grates are all used for either grilling or cooking |
Step Five: Prices, Deals, and Sales from Home Depot 
Home Depot fire pits range from under $100 for small fire pits up to $3500. However, it's a small portion of fire pits that are $2,000 and above. Most are between $100 and $800. 
Home Depot holds sales over numerous holidays, including Black Friday, Memorial Day, Cyber Monday, and more. You can also take advantage of the Home Depot Price Match Program and check for daily specials and clearance. 
Home Depot Fire Pits: My Picks (Selection Criteria)
Here are a few of my favorite fire pits from Home Depot. I selected different types of fire pits, based on: the quality of the materials, overall features, ratings, price points, quality of construction, and aesthetics. 
Oakville Square Propane Fire Pit Table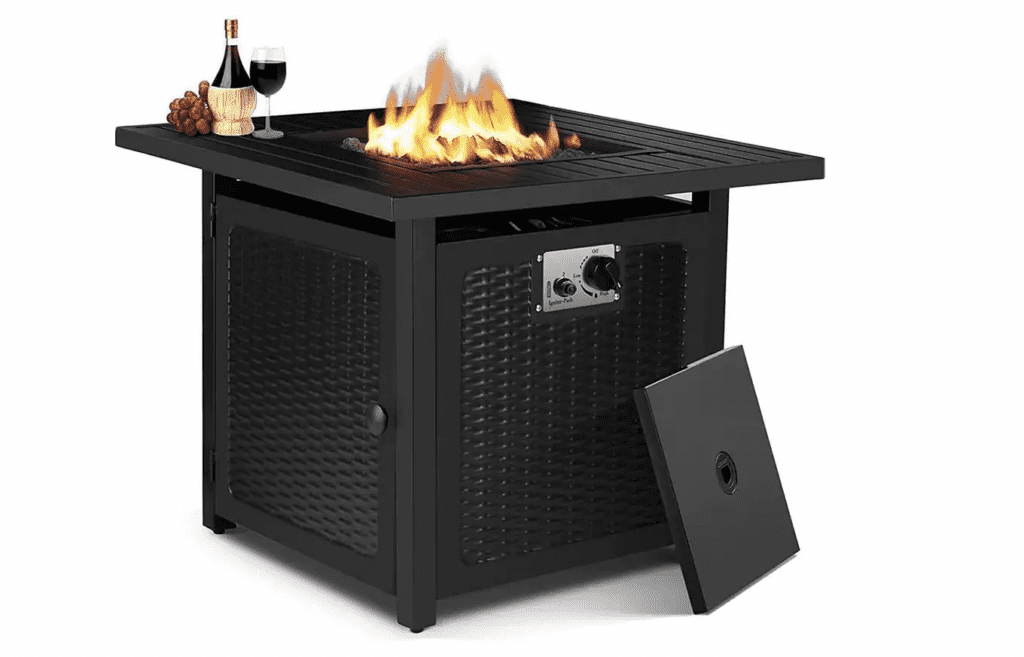 This small fire pit table is sleek, versatile, and packs in excellent features for an affordable price. The construction is sturdy and resistant to both UV rays and rust. This all-in-one outdoor fire pit table includes tempered glass paired with powder-coated steel.
The double-wall stainless steel burner has an output of 50,000 BTU and syncs with electronic ignition. A simple push-button sparks ignition while a manual valve allows you to adjust the flame height. It comes with a 3-foot hose, lava rocks, and a burner lid. It's also CSA certified for safety. Buy Here. 
Pros
Electronic Ignition with Adjustable Flame

CSA Certified 

50,000 BTU 

Powder-Coated Steel 
Cons
Quite Small (28 Inches) 

No Emergency Shut Off 
Bluegrass Living MGO Fire Pit Table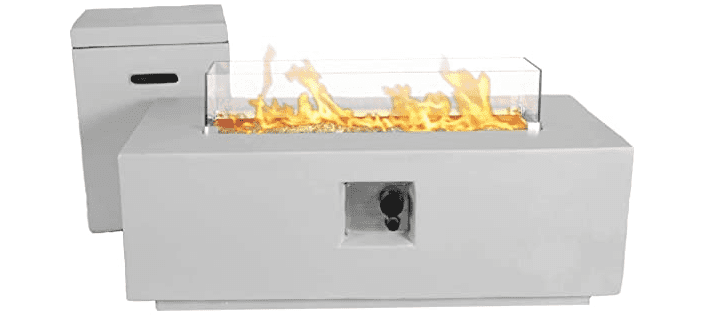 If you're looking for a larger fire pit table, this is one of the best values from Home Depot. Home Depot's large fire pit tables tend to be pricey, so I was happy to find one for under $500. The MGO construction provides strength and durability with a versatile, contemporary design.
It's CSA-certified for safe use and has an output of 50,000 BTU. It's equipped with a glass wind guard, stainless steel burner, and a side table for tank storage. It even includes an Oxford fabric all-weather cover to keep your fire pit table lasting longer. Buy Here. 
Pros
Drink Holders

CSA Certified

50,000 BTU

Wind Guard
Cons
More Expensive

Few Ratings
Ridge NHL Portable Fire Pit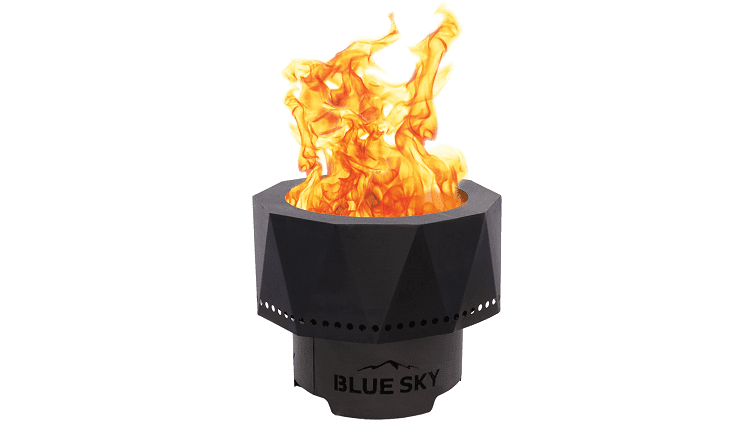 If you want to go camping or hiking with your fire pit, consider this option. While propane fire pits are popular, sometimes a wood fire pit is a good option for a classic camping trip feel. The other benefit is that you don't have to lug a propane tank.
But the main reason I choose this one is because it's sturdier, higher rated, and has a better overall value than the majority of portable fire pits from Home Depot. You can use wood pellets or regular wood. The optimized airflow means less smoke and ashes.
The powder-coated paint provides durability in all temperatures. It's compact, efficient, and easy to assemble. Buy Here. 
Pros
Compact Design

Highly Rated

Powder-Coated Paint

Optimized Airflow 
Cons
Not Adjustable 

Only Wood-Burning 
Sunnydaze Decor Round Fire Pit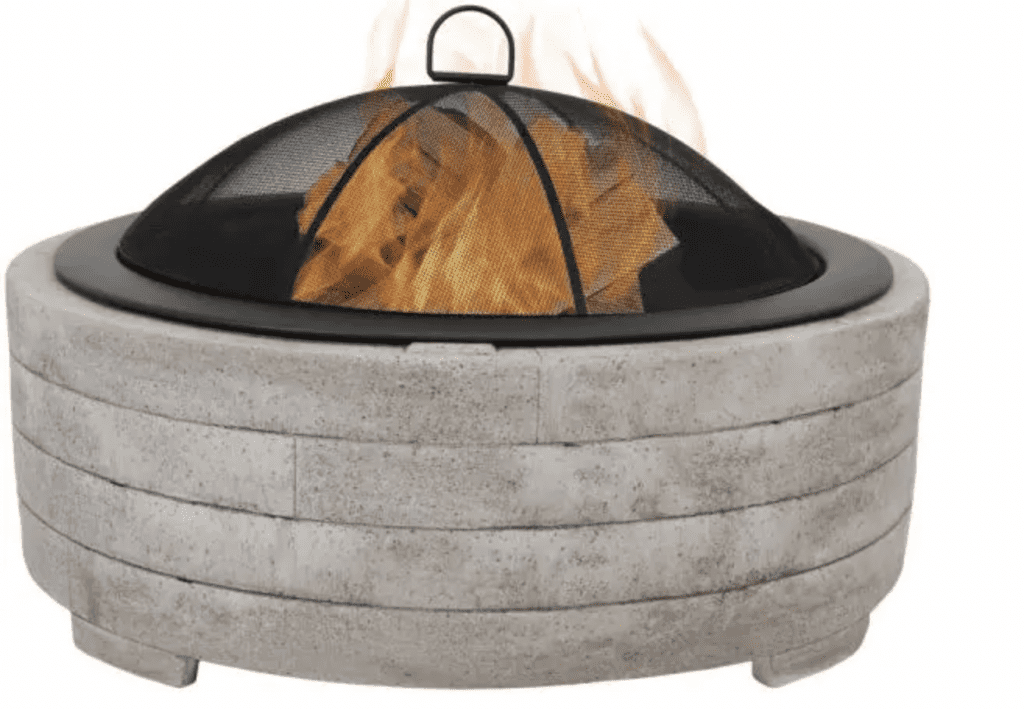 If you're looking for a classic round fire pit, this could be a great choice. This fire pit comes in under $500 and offers staple features you'd want for a wood-burning fire pit. You get the look of stone- without the hefty price tag. Stacked faux stones are set on reinforced concrete.
The fire pout bowl includes a strong base, a spark screen, and a classic 32-inch bowl. It's a highly-rated fire pit and comes with a one-year warranty. At this size, it would work both in a backyard and on a patio. Buy Here. 
Pros
Stacked Stone Look

Warranty

Reinforced Concrete

Spark Screen 
Cons
Not Real Stone

Only Wood-Burning
HeatMaxx Fire Pit Cooker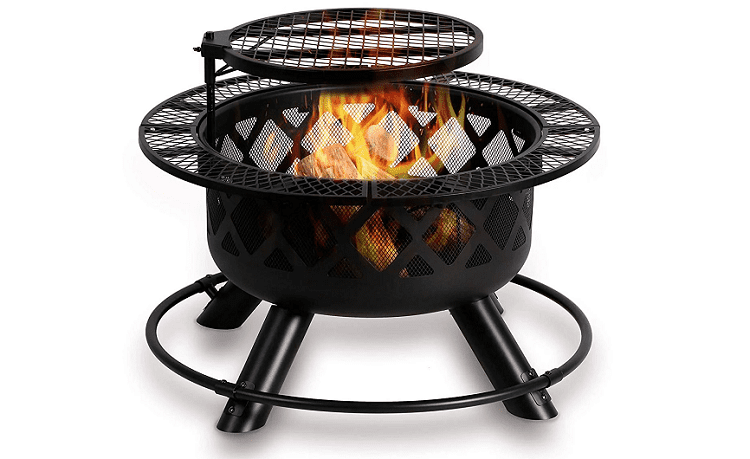 If you're looking for a fire pit to cook with, this is one of the best options from Home Depot. The fire pit cooker is a multi-functional design, equipped with grilling grates set on a 360-degree swivel base.
The swivel and tiered design provide optimized heat dispersion for even cooking and cooking multiple foods at the same time. Those racks double to serve as drink holders. The log rack is collapsible for a more compact design. The steel fire pit cooker also comes with a poker and is easy to assemble. Buy Here.
Pros
360 Degree Swivel

Poker and Log Rack

Multi-Purpose

Heavy-Duty Steel Frame
Cons
Only Wood-Burning

Not Powder-Coated
Frequently Asked Questions
Question: Is a 30-inch fire pit big enough?
Answer: The right fire pit size for you depends on how you'll use your fire pit, as well as the space you're working with. The average fire pit size ranges from 34 to 46 inches. This size range is for fire pits in a typical backyard.
That said, small spaces will be more suited to a modest fire pit size, like a 30-inch fire pit. Portable fire pits and smaller tabletop fire pits run even under 30 inches.
A 30-inch fire pit won't heat as large of an area, nor is it optimized for cooking and grilling. Nonetheless, it's an acceptable size if you want a smaller fire pit. 
Question: Can you put a fire pit on the grass?
Answer: You can place a fire pit directly on grass, but this comes with caveats. A fire pit can cause damage to grass and other hazards. If you want to place a fire pit directly on grass, a good solution is to buy a fire pit mat.
Firepit mats deflect or absorb some of the heat, as well as reduce fire risks. It's also important to place your fire pit on level ground. In short: while you can place a fire pit directly on grass, it's not advisable to do so without a protective covering underneath. 
Question: What are the Shipping Options for Home Depot Fire Pits?
Answer: Home Depot fire pits have several shipping options available. For an additional fee, you can opt for next-day shipping to your door. You can check out with store pick up-which is entirely free.
Many fire pits come with free 2-day or standard shipping. I also like options such as curbside pickup, as well as scheduling at a delivery date and time of your choice. In many ways, Home Depot is among the best shipping and delivery options for fire pits. 
Question: Which is Better: a Round or Square Fire Pit?
Answer: There is no one best fire pit shape. A round fire pit is more classic, while square and rectangular fire pits provide sleek lines and suit modern and contemporary aesthetics.
Round fire pits are a bit better for large entertaining spaces and a more open feel. Meanwhile, square fire pits look great on patios. I prefer a square or rectangular fire pit for gardens, but round fire pits for wide-open spaces.  
Final Thoughts
Home Depot has a lot going for it if you're looking for a practical fire pit. Flexible shipping options, plenty of ways to save money, and a variety of materials are all pluses. If you shop for Home Depot fire pits and have some time, also check out Lowes fire pits.
Lowes has a lot in common- though some differences- with their fire pit options. By comparing the collections, you can find the best fire pit for you and your backyard. And of course, remember: even the best fire pit is only as good as you can take care of it. 
Final Recommendations: Fire Pit Essentials from Home Depot 
Home Depot has an assortment of fire pit accessories, titled 'fire pit essentials.' While there are other places to buy the best fire pit accessories, this is a convenient option for one-stop shopping. These accessories include replacement parts (fire pit burners), heating accessories, and wrenches. 
They also carry a reasonable collection of fire pit covers and lids. Covers provide weather-proof protection against UV rays, precipitation, wind, and inclement weather. Look for reinforced polyester or PVC as well as snaps, buckles, or zipper enclosures for a tight and secure fit. 
Recommended Reads: