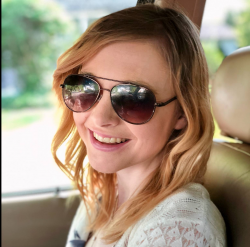 Latest posts by Erin Jamieson
(see all)
In my experience camping, the food you eat isn't always the best quality. Sure, I have fond memories of roasting marshmallows and squirting ketchup on hot dogs, but if you're on a long camping trip, sometimes you want something more substantial than typical fire pit food. That's why fire pit cookers are a fantastic choice for upgrading your next trip. 
Firepit cookers are affordable, often portable, and allow you to prepare some pretty fantastic dishes. If eating paella or classic steak dinner on your next trip sounds good to you, this may be the solution. Of course, using and finding a fire pit cooker takes a little planning- just like every trip takes planning.
Whether you're looking for a fire pit cooker to use on your next trip right on your patio, here's your guide. I'll explain the pros and cons of fire pit cookers and what materials and features you need to look for. Plus, I'll show you a few fire pit cookers that offer the best value for your money. 
Bottom Line Up Front Summary:
Firepit cookers are usually simply- designed, making for a great balance between a regular fire pit and full grills. Wood-burning cookers are the most popular, but it's essential to pay attention to the quality of the materials, construction, and features, such as adjustable racks and heights. 
If I had to recommend one fire pit cooker, it would be the AKSG Fire Pit Cooker. While it's not the fanciest model, it's among the most versatile. Ideal for backyard use and camping, this cooker packs in adjustable grates and other helpful features- all equipped with a sturdy steel frame. 
My Top Picks
Fire Pit Cooker vs Stove vs Grill 
The first thing I want to address is whether a fire pit cooker makes sense for you. A fire pit cooker is a fire pit equipped with grates to cook food. It doesn't have the same capabilities as a stove or a full grill. Instead, a fire pit cooker is best suited for slower cooking methods. It's quite popular as a compact, portable size. 
Fire Pit Cooker vs Grills
Firepit cookers are more versatile and provide portability as opposed to grills. They are better suited for slower cooking and cover a range of dishes. You won't usually get as much as that classic grill char, and the taste is a bit different. 
Fire Pit Cookers vs Stove
The greatest advantage of a fire pit cooker is that you can take it with you on a camping trip and use it outside. But for daily cooking, how does it hold up to a stove? Firepit cookers are a little more challenging, and heat dispersion can be an issue. You have less space, and it's also more hands-on. At the same time, fire pit cookers are convenient and social. They give you a distinct open-fire flavor vs a stove. 
Bottom Line 
The bottom line is that fire pit cookers are a great option for social gatherings and camping trips. As opposed to grills, they are more compact. They don't have quite the same capabilities, but they're convenient and more versatile than you'd think. 
How to Find the Best Fire Pit Cookers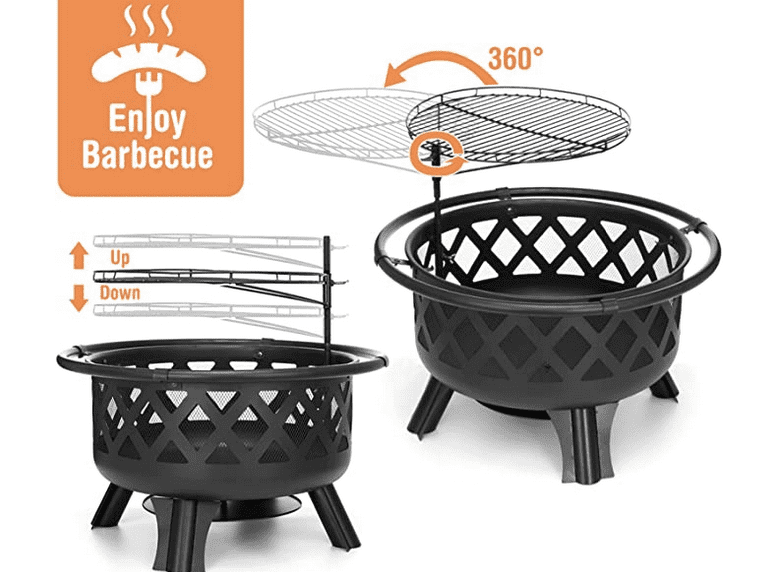 Here are my top tips for finding the best fire pit cookers. From features to materials, I'll guide you to the best options. I'll even share a few tricks for finding the best prices from your favorite stores so you don't waste your money. 
Fuel Source for Fire Pit Cookers 
Wood
Firepit cookers are best with wood-burning fuel. Although wood-burning fire pits are less energy-efficient than other options, they are used for a few reasons. For one, the wood-burning provides that signature taste. It doesn't leave a residue smell, like something like propane can. It also is handy if you're out camping. If you don't love the smoke a wood-burning cooker creates, there are more efficient options (see under my key features section). 
Charcoal 
You can also use charcoal in place of wood. Charcoal often can be swapped for wood and has the advantage of producing more heat. It also provides a more efficient way to fuel and cook, with a nearly smoke-free burn. However, unlike wood, which can cook at high temperatures for hours, charcoal tends to burn for around half an hour to 45 minutes before cooling off. That's important to keep in mind if you're trying a slow-cooking recipe. 
Propane
Propane gas is not used as often for cookers as it might be for larger fire pits or even full grilling. Propane gas is more fuel-efficient than other options, but it can leave a smell and residue on food. It's most commonly used for bundles and complete pit table sets. Firepit table sets have the advantage of converting into coffee tables and often feature a sleek, modern design. The fuel is cheaper, but these do tend to be pricier cookers. 
See also: How to Find the Best Patio Umbrella
Best Materials for Fire Pit Cookers
Firepit cookers come in a variety of materials. To make them versatile, lightweight, and convenient, sometimes durability and strength are sacrificed. With that in mind, what I look for in a fire pit cooker is something that will endure in various weather conditions. I also look for materials that can withstand damage and high temperatures. 
For this reason, I skip any fire pit cookers that are made with aluminum. My favorite options for burners and cooker trays and the fire pit exterior are iron and steel. However, as iron can rust, it needs to be treated with a weather-resistant coating. Stainless steel is another solid option, but even better if it's reinforced with powder-coating. 
It's important to pay attention to all elements of the fire pit cooker- hardware included. 
Key Features for Fire Pit Cookers
Here's where it matters. You can buy a fire pit cooker, and you can also buy cooker accessory sets for a regular fire pit. But for simplicity's sake, I'll be focusing on fire pit cookers. For fire pit cookers, you want features that make cooking as efficient as possible. Since cookers are often used for camping, I tend to value versatility and easy setup and assembly.  
The chart below highlights major features you should consider for a fire pit cooker if you want to get the most value out of your purchase. Remember that a fire pit cooker doesn't have to have all of these features to be a great choice. 
| | | |
| --- | --- | --- |
| Fire Pit Cooker Feature | Description | Must-Have?  |
| Heat Deflector/ Shield  | Reduces heat absorption on the surrounding ground | No, but great for comfort, using on porches |
| Integrated Grate | Indicates that the cooking grate is built-in  | No, but adds stability  |
| Swivel Base/ Grates | Allows you to rotate as you cook- up to 360 degrees | No, but a plus for even cooking  |
| Smokeless Technology  | Provides a nearly smoke-free burn, with optimized fuel efficiency and less ash to clean up  | No, but a big upgrade, especially if you have allergies to smoking or are concerned about the environmental impact  |
| Adjustable Heights | Allows you to raise lower grates to adapt to temperature, cooking times | No, but offers more versatility and control over cooking  |
| Cooking Accessories | Griddle pans, splatter guards, tongs, roasting sticks, spatulas  | Not always, be useful for cooking a wider range of recipes  |
| Portable Features | Wheels, lightweight construction, easy assembly, foldable design | If camping/ hiking  |
Where to Buy & How to Save Money 
Firepit cookers can be purchased from specialty camping and outdoor stores. They're also sold at places like Ace Hardware, Lowes, Menards, and Home Depot. No matter where you buy your fire pit cooker from, please check to make sure that the company has clear customer service policies, and return policies, and is recognized as a reputable business. 
To save money, I like to ask if the store has a price matching policy. I catch sales by shopping during less popular seasons, especially the colder months. You can always browse a place like Wayfair, which also has fire pits on clearance- though your options for fire pit cookers may be more limited. 
Fire Pit Cookers: My Top Picks
Here are my top picks for some of the best fire pit cookers you can buy right now. Whether you want something for a classic BBQ or camping, these cookers stand out. I selected these fire pit cookers based on their designs, setup requirements, features, and versatility. These fire pit cookers are sold by reputable stores and brands that offer clear delivery and return policies. 
AKSG Fire Pit Cooker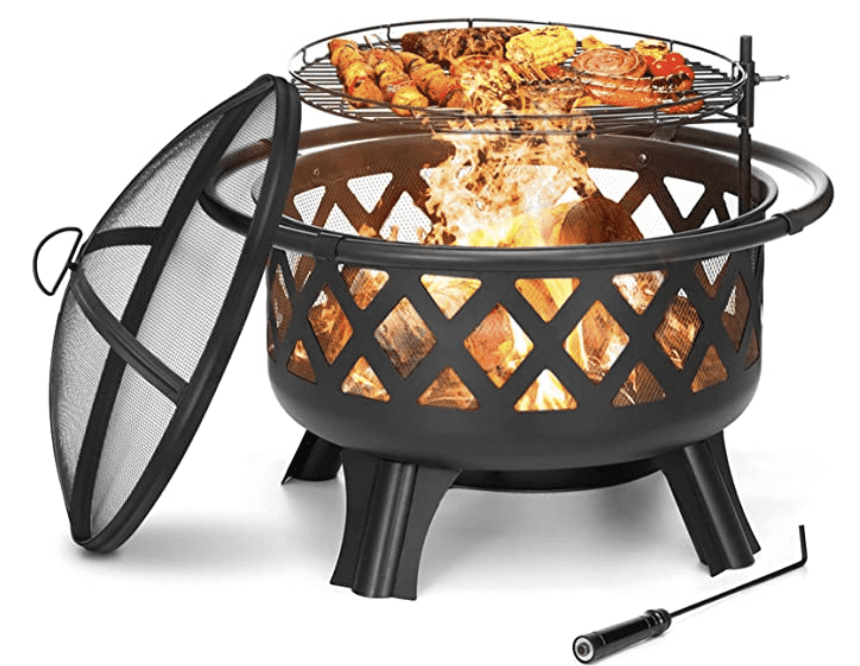 Can't decide between a regular fire pit and a fire pit cooker? You don't have to with this highly-rated and affordably-priced option, available on Amazon. The AKSG is a 2-in-1 model for exceptionally versatile use. Ideal for your next bbq, I love how many features this fire pit cooker packs in for well under $200. The spark screen and included poker keep you safe as you use this wood-burning pit. It's equipped with a cooking grate that's resistant to both rust and sticking. I love the adjustable height and 360-degree swivel. Plus, the fire pit cooker is constructed with hardy steel alloy- all features I'd expect of more expensive models. The company promises a refund if you're not satisfied. Buy Here. 
Pros
2 in 1 Design

Anti-Stick Cooking

Adjustable Height

360 Degree Swivel 
Cons
Warranty Not Specified (Returns Allowed)

Difficult Assembly 
Campfire Defender BBQ Fire Pit Cooker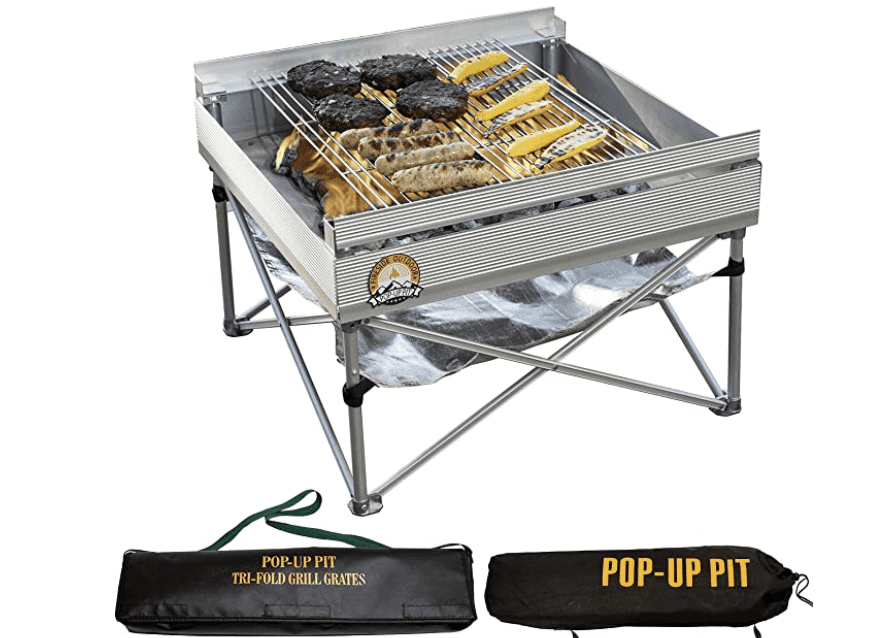 Some of us thrive on spontaneous gatherings. Others, like me, get a bit anxious about last-minute plans. Whichever camp you fall under, this fire pit cooker will be ready for your next bbq or camping trip. This cooker set-up is pure fun, offering kitchen-grade cooking with stainless steel bars and 370 square inches of open preparation. Despite its lightweight design (a mere 16 pounds), it can hold up to 85 pounds. An integrated heat shield is a clever way to expand its use. The cooker is a tri-folding design with a 24-inch fire pit. It comes with a carrying bag, plus a 1-year warranty. After the first year ends, you can purchase a 1-year extension for $20 more. You also get on lifetime warranty on the ember guards and frame. Buy Here. 
Pros
Tri-Folding Design 

Generous Cooking Space 

Kitchen-Grade Stainless Steel

Generous Warranty 
Cons
Not as Sturdy 

Heat Shield is Not as Effective (as more expensive models)
Yardom Fire Pit with Adjustable Cooking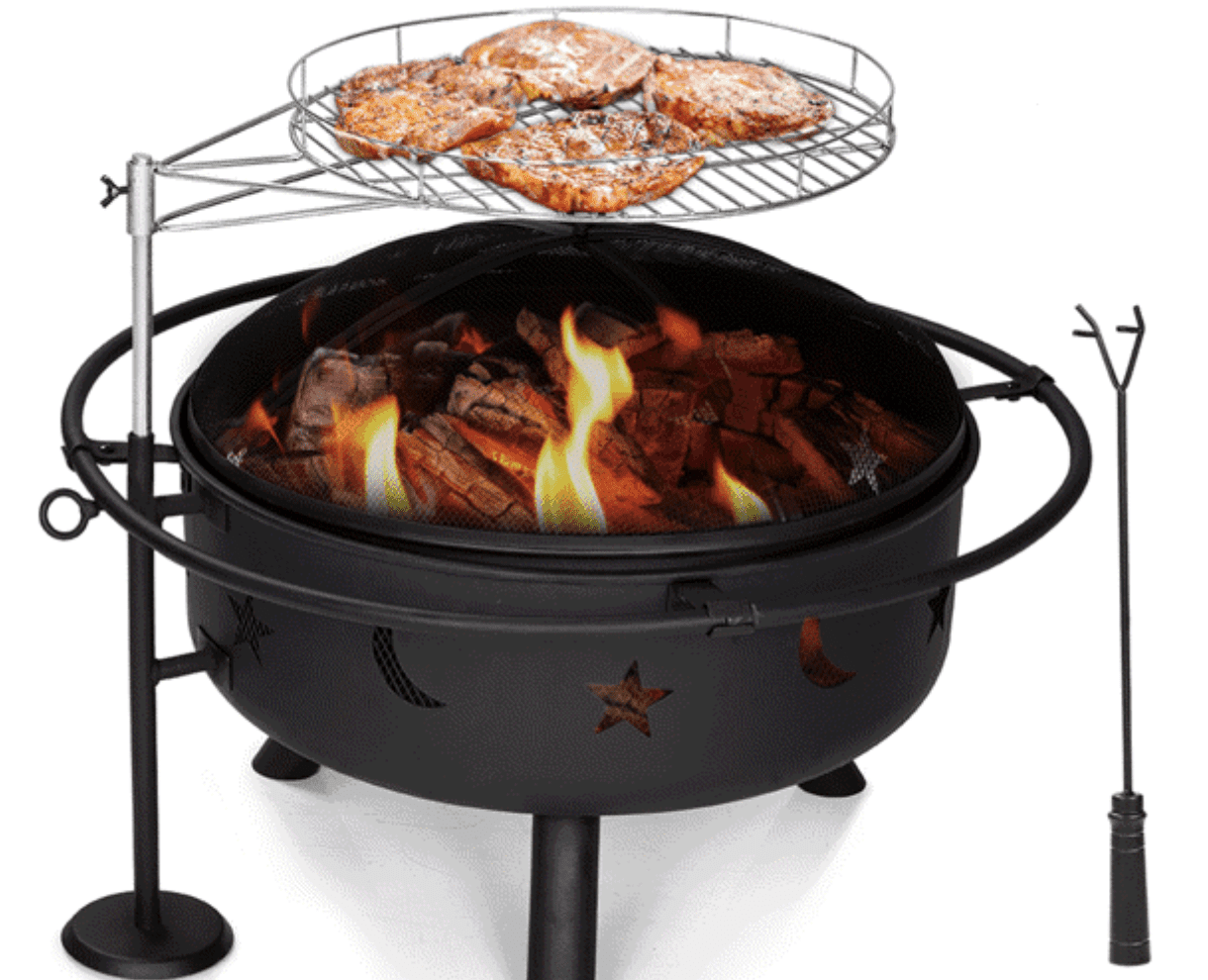 I respect a fire pit cooker that provides great features at a low price. The fire pit cooker stays under $100 and is an affordable solution if you need something you'll use occasionally. This wood-burning fire pit provides ventilation with playful, celestial-themed side cutouts. The bowl is coated with heat-resistant paint and comes with an adjustable cooking grate. It's an easy setup for casual gatherings and a nice in-between size between ultra-compact and larger fire pits. Buy Here. 
Pros
Adjustable Height

Heat-Resistant Paint

Great Price

Playful Design 
Cons
Legs Not as Sturdy

Must Buy Protection Plan (Cheap, but Not Included)
Biolite Fire Pit Plus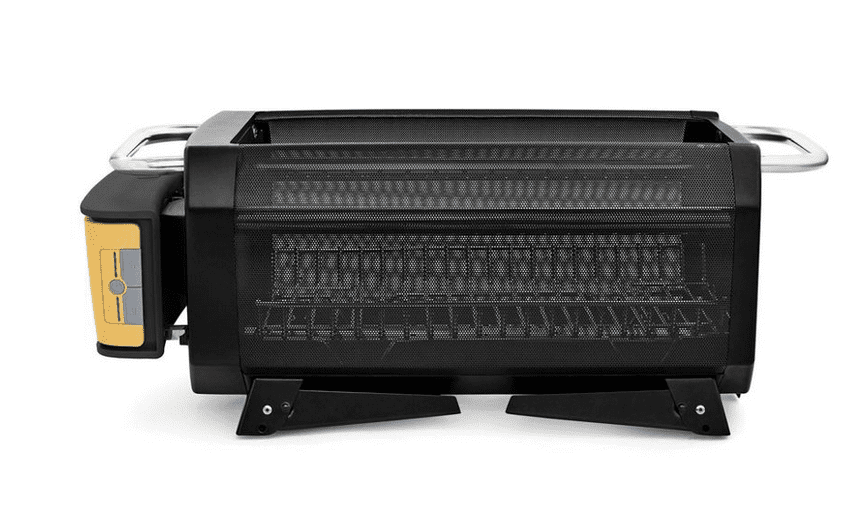 Willing to spend a bit more? If you're worried about emissions, have allergies, or are torn between a grill vs a compact cooker, this is a great choice. Available at their store, home improvement stores, and L.L. Bean, this popular cooker is a smokeless and portable option. The unique smokeless fire pit cooker is powered by 51 air jets for exceptional ventilation. The x-ray mesh provides 360-degree heat dispersion. The legs are foldable. The cooking grate is removable, while the fan can be controlled with both Android and Ios apps. It's a high-tech cooker for a more reasonable price than you'd expect. Buy Here. 
Pros
Air Jet Ventilation System

Great Heat Dispersion

Smokeless

Portable (with Folding Legs)
Cons
More Expensive

Must be Careful with Folding Legs
Ranch Fire Pit Cooker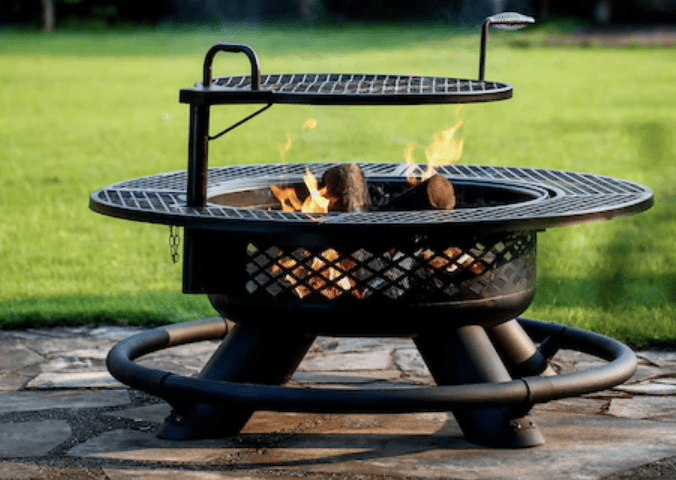 This fire pit cooker is great for parties and backyards. I like that it has the look and feel of a classic wood-burning fire pit, but with cooking capabilities. The generous 47-inch diameter also makes it a great gathering space for entertaining. The multi-functional design includes a cooking grate with 360-degree swivel movement. The steel frame includes an area for drinks or supplies. The fire pit cooker also applied FDA standards for cooking safety. Buy Here. 
Pros
360 Degree Swivel 

47 Inch Diameter

Room for Drinks, Storage
Cons
Heavy (60+ Pounds)

Storage Space is Cramped
Frequently Asked Questions
Question: Can you cook on a patio fire pit?
Answer: Fire pits can be used for cooking on a patio, as long as you follow proper safety procedures. Concrete patios are best, as wood porches can pose fire hazards. But regardless, you can reduce fire and heat hazards by setting a fire pit on a fire pit mat, which acts as a heat deflector. Set your fire pit a minimum of 10 feet away from your home's foundation. Smokeless coal and dried firewood are best to use for cooking with a fire pit. You can buy separate cooking accessories or buy a fire pit grill or cooker. 
Question: Do fire pits keep you warm in the winter?
Answer: Fire pits can keep you warm in the winter, but that statement comes with myriad caveats. How warm a fire pit will keep you depends on its BTU output capacity and its size. Generally speaking, larger fire pits cover more warming areas. A BTU output of 45,000 or more is generally suitable for cooler weather. You also need to exercise caution when using your fire pit in winter. Don't use it during wet conditions, cover it when not in use, and know that it won't heat your patio as evenly as would a patio heater. Patio heaters may be a more pragmatic option if heating your area is your main goal. 
Question: What do you use to cook over a fire pit?
Answer: Cooking over a fire pit can be accomplished by buying a fire pit grill or fire pit cooker. You can also buy accessories, such as swivel and grill grates. You'll also need tongs and other basic equipment to cook, rotate and manage your cooking. For fuel, dried kiln wood or smokeless charcoal is usually best.
Question: How do you cook steak in a fire pit?
Answer: While a grill may be the most traditional method for preparing steak, you can also cook steak over a fire pit. Start by brushing your steak with just a bit of oil, then applying a dry rub. Set your steak on a grill plate directly over the kiln or coals and rotate it so that it cooks evenly. The average steak takes 15 to 25 minutes to cook over a fire pit, but the key is to cook it to achieve a certain internal temperature:
– Rare (130 F)
– Medium (145- 150 F) 
– Medium Well (155-160 F) 
– Well Done (Over 160°F)
Final Thoughts
Firepit cookers aren't meant to fully replace other cooking options, but they can be a great solution- especially for camping trips. When a fire pit cooker isn't in use, make sure to protect it with a fire pit cover. While typical fire pits can be used for roasting marshmallows, fire pit cookers are a nice solution in between fire pits and grills for a variety of recipes. 
Final Recommendations: Fire Pit Cooking Recipes
If you're planning to buy a fire pit cooker, you might as well try out great recipes. While steak and chicken are classic options, you can use your fire pit cooker to go beyond basics. That includes recipes for beef stew, brisket, beef stroganoff,  jambalaya, pulled pork,  and pork chops. What's great about these recipes is that they act as a starting point for creative additions. Season and add ingredients of your choice. Non-meat options include barbecue tofu skewers and campfire nachos. If you're into seafood, consider Maine lobster, paella, or a simple seafood boil. 
To round off your meal, add some vegetables, corn, and/ or potatoes for easy addition. If you have a fire pit cooker with two levels, you could even cook sides and meat at the same time. For food safety purposes, always cook your meat on the bottom rack. 
Recommended Reads: