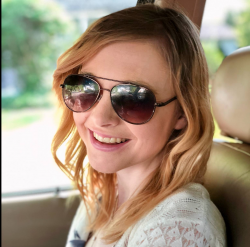 Latest posts by Erin Jamieson
(see all)
From roasting marshmallows to Summer bonfires, I owe some of my favorite memories to being outside around a fire pit.
But I also know how much work went into those fire pits, especially the guesswork of starting and stopping a wood-burning pit. What if you could safely light up a fire pit on your patio with a simple push of a button?
Electric fire pits not only exist- they're more popular than ever. But are they too good to be true? If you've always wanted a fire pit but have never taken that step, now is the time to consider a small upgrade for your garden or patio.
 I'll tell you how an electric fire pit works and whether or not it's the best option for you. I'll guide you through my easy step-to-step process to buying the best electric fire pits, plus a look at a few of my favorites that you can buy from the comfort of your home. 
Bottom Line Up Front Summary
Electric fire pits are different from electric fireplaces or patio heaters and are distinguished by their easy electric ignition. To find the best option for you, opt for a weather-resistant frame and look for special features, such as CSA certification/ approval, convertible design, and adjustable flames. 
If I had to recommend one electric fire pit for the average consumer, it would be the Legacy Heating Square Fire Pit Table. This affordable fire pit table is versatile, featuring a handy door for easy access. A powder-coated steel frame is equipped with electric ignition and a BTU output of 50,000. 
My Top Picks
How an Electric Fire Pit Works- And If It's Right For You 
An electric fire pit can bring warmth and an ambulance to your backyard. They're popular for patios, porches, and even gardens. Electric fire pits turn on or off with either the push of a button or the turn of a knob. This electronic ignition works by sending signals to an internal control/ command center. 
Difference Between Electric Fire Pits vs Patio Heaters and Fireplaces
This is important. An electric fire pit simply refers to a fire pit that operates with electronic ignition. Electric fire pits can, in fact, and do, also use gas. Something fully electric would be something like a full fireplace.
Fireplaces are far more expensive, heavier, always stationary, and not used for tailgating or grill-outs. Electric fireplaces and patio heaters do not produce the same flames as burning fuel. 
In other words, the term electric fire pit is sometimes misused. An electric fire pit has the same general purpose and uses as other fire pits– it's just easier to use and more convenient. 
See also: How to Find the Best Patio Heaters For Your Home
Pros of Electric Fire Pits 
The great thing about eclectic fire pits is that they are both easy to turn on and off, and quick to react. On top of that, it's easier to be certain that the fire pit is sufficient "out." and it takes the guesswork out of how much gas or wood to add.
Easier to control, electric fire pits are modern, come in some great designs, and offer seamless control for entertaining. 
Cons of Electric Fire Pits
Electric fire pits are often more expensive initially. Even though it's easier in some ways to ensure that you have it turned on or off– it's less noticeable.
If you aren't careful, with a knob, you could leave it slightly turned. With a push ignition switch, some electric fire pits could be more dangerous if they're in reach of children. And if your electric ignition breaks, it's not going to be usable. They're not usually used for true grilling, either. 
Takeaway 
Once again it's important to understand that electric ignition-based fire pits are not the same as electric fireplaces or patio heaters. Think of them only as substitutes for traditional fire pits. Electric fire pits are easy to operate and are a great solution for entertaining. Just keep them safe and covered when not in use. 
See also: 
Tips for Selecting an Electric Fire Pit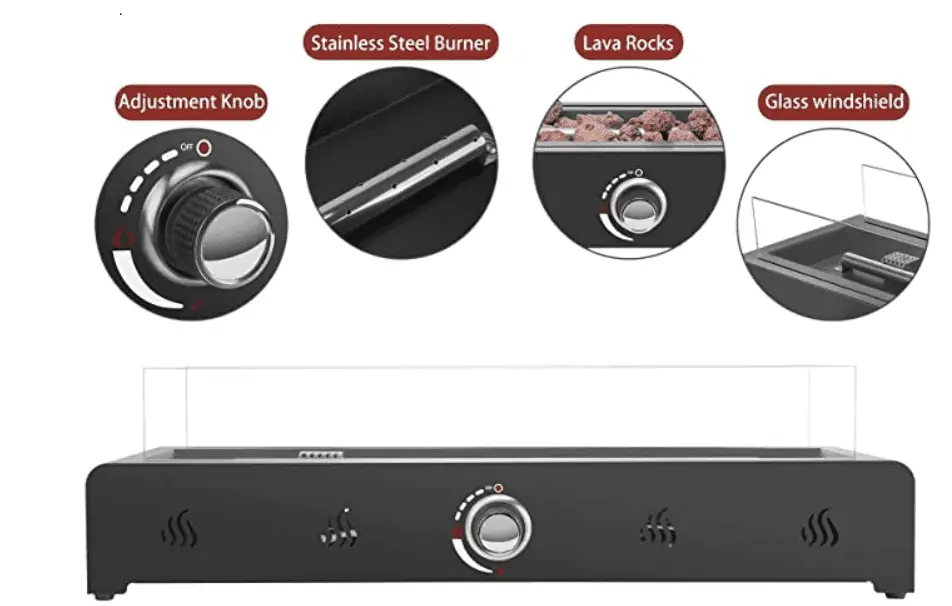 If you've decided that a fire pit with electric ignition is the right fit for you, I have some tips for how to find the best one. From materials to features and different styles, there isn't one size fits all. Here's both how to select, and where to buy, the best electric fire pits. 
Tip #1: Deciding Between Types of Electric Fire Pits
Since I'm using the term electric to identify fire pits with electric ignition, that covers more styles of fire pits than you may think.
The most common are not large, stationary fire pits but rather tabletop fire pits, fire pit tables, and portable fire pits. These are useful for entertaining, tailgating, and camping, but they do differ in their use, size and dimensions. 
Tabletop Fire Pits/ Inserts with Electronic Ignition 
Electric tabletop fire pits are miniature fire pits that fit on or into a table. These are used more for decorative purposes than much heat or anything like roasting.
Some include electronic ignition for easy turn-on and off functions so that you can prepare to entertain within moments. This is great for ambiance- just be careful if you have any pets that are prone to climbing up on tables. 
Fire Pit Bowls with Electric Ignition
Firepit bowls can be as small as tabletop fire pits or as large as fire pit tables. These feature a rounded, bowl shape and provide a contemporary aesthetic.
The focus is often on aesthetics, complemented with colorful and unique lava rocks. Firepit bowls are curved and usually reserved for patios and gardens. You don't really need electric ignition, but it's convenient and also compliments a modern aesthetic. 
Fire Tables with Electronic Ignition
Fire tables are a great option if you love the ambiance, heat, and use of fire pits but want something versatile and stylish for a patio or garden. Electronic ignition is a natural fit– and very common for fire pit tables. I'd argue that this is where electric fire pits shine most.
Firepit tables can sometimes convert to use as side tables or dining tables. The electric ignition allows you to warm up your space or start roasting much quicker than a traditional fire pit table without electronic ignition. 
See also: Best Menards Fire Pit Guide
Tip #2: Considering BTU, Fuel Source
There's a misnomer that electric fire pits mean you don't use gas. In reality, fire pits with electronic ignition use propane or natural gas as their main fuel source. The electric ignition is acting as an instigator, not as the primary fuel source. BTU output tells you how much heat the fire pit will generate. 
Natural vs Propane Gas
Natural gas must be hooked up to a gas line. While the term natural appeals to many- and so does the initially lower prices- propane is more popular for a reason.
Propane gas fire pits with electric ignition are energy-efficient and cost less in the long run. If you want to move your fire pit around, propane gas fire pits also provide more flexibility and versatility. 
BTU
BTU for a very small tabletop fire pit with electric ignition can be quite modest. However, large fire pit tables should have a BTU of 40,000 through 70,000. This provides warmth, power, and the ability to use your electric fire pit in myriad ways. 
Tip #3: Selecting Materials
For electric fire pits, the mainframe is metal, concrete, Polywood, stone, or brick. All of these can be reasonable options, but they come with unique pros and cons. To help you decide, see the table below.
Main Materials
Pros
Cons

Steel 

Lightweight and Modern

Affordable

Retains Heat 

Slow to Cool

Powder Coating Needed for Heavy Use

Not as Strong as Concrete, Stone

Concrete

Heavy

Can Crack

Less Aesthetically- Pleasing

Polywood

(High Density, Recycled, Weather-Resistant)

Aesthetically Pleasing

Modern

Easy Care 

Must be Used with Other Materials (Usually Metal)

Expensive

Not Many Options

Stone, Brick 

Won't Corrode

Weather-Resistant

Aesthetic Appeal

Fewer Options

Heavy

Expensive
Tip #4: Electric Ignition Complementary Features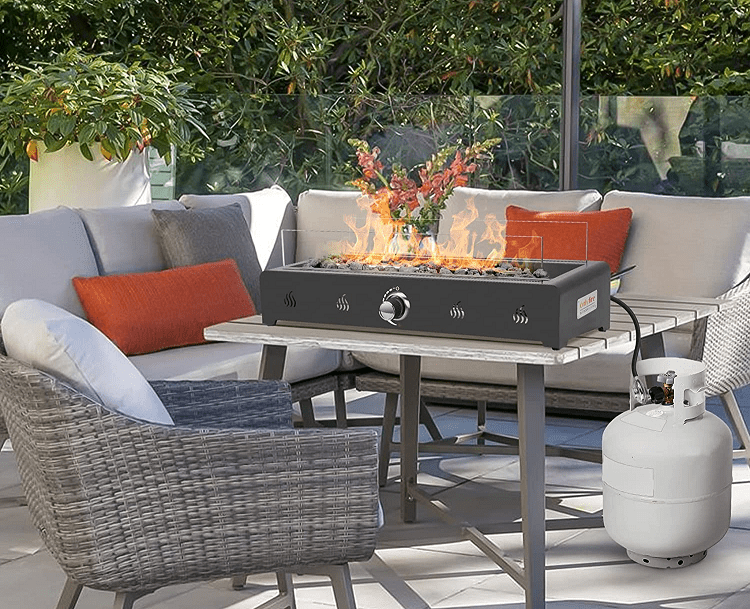 If you're buying an electric fire pit, you might as well look into features that enhance its capabilities- or standards set up for safe use. These include safety certifications, adjustable flames, automatic shut-off systems, and other side features.
Safety Standards
Some fire pits have a CSA certification. A CSA certification indicates that it has passed standards by the Canadian Safety Association.
The certification is awarded to fire pits sold across North America and has been certified to meet the highest standards. A CSA-approved fire pit, meanwhile, has been tested but hasn't met all standards for the most current certification. This is not a must- but it is a big plus for electric fire pits. 
Ignition Features
Most modern electric ignition systems feature a simple push on or off button, though it may also operate with a knob. Adjustable flame knobs allow you to control your fire pit seamlessly. Automatic shut-off features assure in the case you forget to turn your ignition switch off. 
Other/ Side Features
If you opt for an electric fire pit table, many can be converted into side tables or coffee bars. Some come with small roasting racks. Side or hidden panels and compartments make a more contemporary, seamless look for that modern aesthetic. Any wires should be carefully contained within a compartment. 
Tip #5: Pricing and Where to Buy 
The tricky thing about shopping for an electric fire pit is how you search for one. Type in an electric fire pit and you may be met with results for patio heaters and indoor and outdoor fireplaces. I recommend searching "fire pits with eclectic ignition" for more accurate results. 
Expect to spend a bit more on electric fire pits. They still can be quite affordable, with small models under $100 ranging up to over $1,000 for large electric fire pits. To catch a sale, shop during an off-season (Fall through Winter) and price compare.
You can buy electric fire pits from specialty stores, online and large retailers (Wayfair, Amazon, Walmart, Costco), Target, and home improvement stores (Home Depot, Lowes, Menards). Many home improvement stores offer price matching or additional discounts- it never hurts to ask. 
Electric Fire Pits: My Top Picks 
Here are some of my favorite fire pits with electric ignition.
Selection Criteria
These electric fire pits range from round fire bowls to rectangular fire table tables and tiny tabletop styles. I selected them based on their versatility, quality materials, and company or brand reputation. Perfect for gardens, patios, and non-wood porches, these fire pits show just how convenient electric ignition is. 
Allen & Roth Propane Tabletop Fire Pit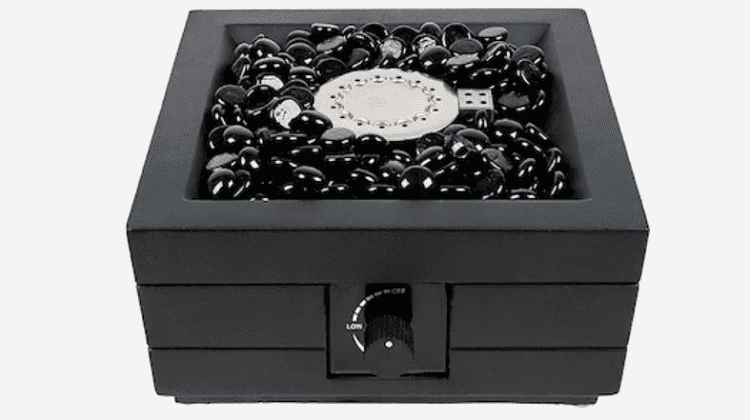 In my time researching fire pits, Lowes has surprised me time and time again. They have a great assortment of affordable, versatile, and stand-out fire pits.
This tabletop electric fire pit is just one example. The compact tabletop measures 10 inches, which is perfect for a small table. While tiny with a modest BTU output (10,000), it's a reasonably-priced table accent. I love that a protective cover and protective glass are both parts of the design.
Also noteworthy is the automatic safety shut-off. The stone and resin base is weather-resistant without the bulk of traditional or larger fire pits. Buy Here. 
Pros
Pleasing Design

Safety Shut-Off

Includes Glass, Protective Cover

Warranty Included
Cons
Modest BTU Output

Not as Strong as Other Materials
Onlyfire Outdoor Propane Fire Pit 28 Inch Rectangular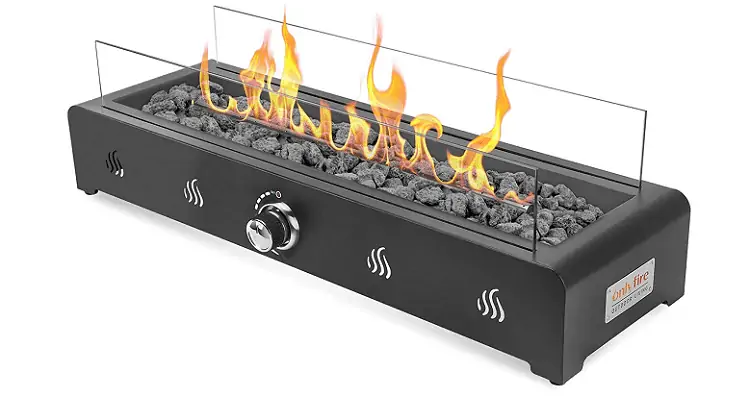 For a more standard-sized electric tabletop fire pit, this is my pick. This rectangular tabletop fire pit stands out for several reasons. Aside from the sleek design, this is a smokeless construction, meaning less mess. A glass wind guard provides safety during windy days.
Adjustable flames with an easy turn knob, an elegant design, and a powder-coated frame are all excellent features. Lava rocks, a rear air insert, stainless steel burner, and non-slip foot pads round out an exceptional design. Buy Here.
Pros
Wind Guard and Protective Glass

Rear Air Insert- Smokeless Design

Powder-Coated Steel 

Adjustable Knobs
Cons
Modest Size

Modest BTU Output
Legacy Heating Square Fire Pit Table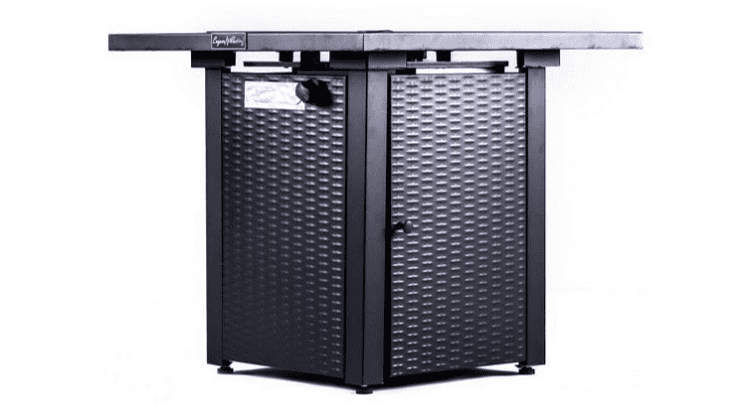 If you're looking for a fire pit table with electric ignition, this option from Target will do the trick. While I don't often select fire pits from Target, I've come to find several great models with contemporary designs and modern features.
This Legacy Heating fire pit table measures 28 inches and provides a contemporary take on a wicker look. The powder-coated steel frame is paired with an easy-access door, lava rocks, and an intuitive burner.
This fire pit table has a BTU output of 50,000 and works with a standard 20-pound propane tank. Buy Here. 
Pros
Powder-Coated Steel Frame 

50,000 BTU

Easy-Access Door 

ETL Approved
Cons
No Flame Adjustment

No Automatic Shut-Off 
Elementi Granville Outdoor Fire Pit Table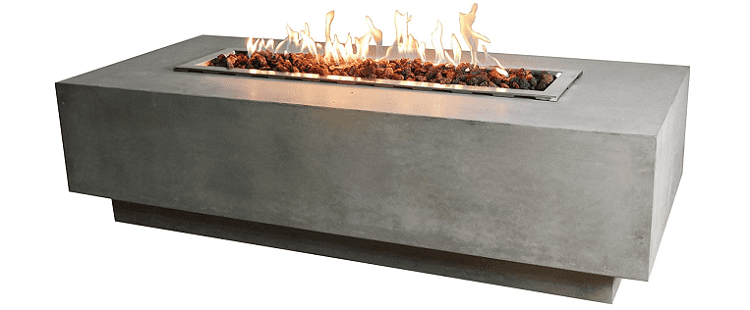 This striking concrete outdoor fire pit with electric ignition is sure to become a centerpiece for a larger patio space.
The contemporary design is accented with lava rocks and measures 60 inches long. The concrete construction is treated to withstand heat even more aptly than regular concrete.
It's both CSA and CE certified, adhering to the highest safety standards. It's a modern, elegant, and versatile fire pit table. Buy Here. 
Pros
CSA and CE Certified

Heat-Resistant Concrete 

Modern and Aesthetic

Statement Fire Pit 
Cons
Expensive 

Natural Gas, Not Propane
Best Choice Products Gas Fire Pit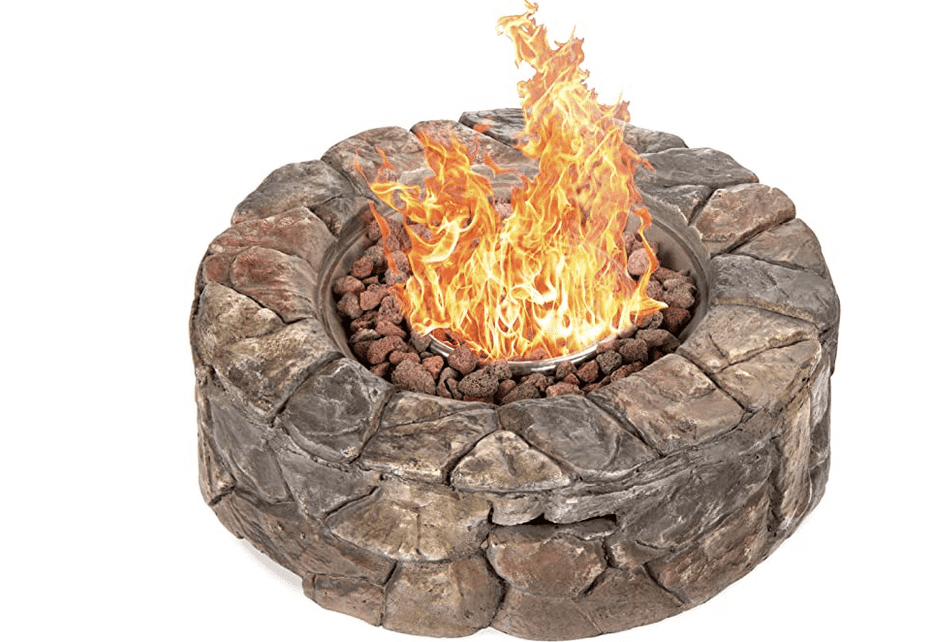 If you want a classic fire pit with electric ignition for your backyard, this option is both affordable and practical. The Best Choice gas fire pit exudes a real-stone look, with a sturdy steel burner.
The 30,000 BTU output is not as powerful as some options but is suited for small gatherings or warm climates. It's resistant to rain, and sun. For first-time fire pit owners, the easy ignition button is a great asset. It also comes with a flame adjustment knob. Buy Here. 
Pros
Easy Ignition with Adjustable Flame

Stacked Stone Aesthetic

Easy Assembly

Sturdy Steel Burner
Cons
Modest BTU

No Safety Automatic Shut-Off 
Frequently Asked Questions
Question: How do You Use/ Light an Electric Fire Pit?
Answer: While different models of electric fire pits work a little differently, most have a button or knob. This is the knob to turn on the electric ignition. This knob instigates the fire, and can normally be adjusted.

Of course, the fire pit must be set up properly for this to work. A control board inside the fire pit sends electrical signals to turn on or off your fire pit. 
Question: Can You Have an Electric Fire Pit on a Balcony?
Answer: In most places, it is legal to have electric fire pits on a balcony and/ or a porch. It's always a good idea to not only check your state's laws, but also any homeowner's association regulations.

Rentals, like apartments, however, may very well prohibit this. Also used standard safety protocol. You don't want to place an electric fire pit in a precarious position or too close (within 10 feet) to a foundation. Make sure that there's nothing nearby that could instigate a fire. 
Question: How do You Clean an Electric Fire Pit?
Answer: Electric fire pits should ideally be cleaned after every use. This prevents build-up, and smoke, and improves the efficiency of your fire pit. Make sure you unplug/ completely shut off your electric fire pit before you begin cleaning.

Simple dishwashing liquid can be paired with a steel wool cleaner to scrub out more stubborn spots. Muriatic acid is sometimes used for ash debris. Clean the interior and exterior of the pit, using protective gloves. Make sure you clean your fire pit completely and let it dry before using it again.
Question: Are Smokeless Fire Pits Worth It?
Answer: For anyone with allergies or who wants less cleanup, the best smokeless fire pits are worth the extra cost. Instead of traditional air vents or holes, smokeless fire pits feature a double-wall internal construction. This double-wall construction optimizes airflow and ventilation.

The result is a more energy-efficient fire pit that produces less smoke. Because they are more energy-efficient, you'll also enjoy greater heat output.
Final Thoughts
Electric fire pits are a great idea if you want a fire pit that's intuitive to easy. They're also a modern choice for entertaining. Just remember that electric fire pits require caution too. Set them at least 10 feet away from your home's foundation.
Final Recommendation: Heat Deflectors 
Heat deflectors are an excellent way to protect your patio and your guests. While the warmth from an electric fire pit is welcome on a chilly night, you don't want the heat to feel too intense. Heat deflectors deflect heat away from those sitting around the fire pit and improve heat dispersion. 
While some fire pits come with heat deflectors, many heat deflectors are freestanding and can be used over a flat fire pit or tabletop fire pit. Stainless steel is the most common material used for a heat deflector. Some, like this Industrial-Grade Steel Deflector, even convert into a burner. 
Recommended Reads: