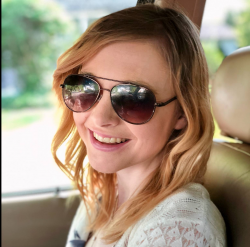 Latest posts by Erin Jamieson
(see all)
My mother has always known how to make the most out of a concrete porch. In the first house I ever lived in, we had steps leading up to a small porch, but my mother still found ways to decorate. In the second house, she and my father took care of selecting flowers from the local nursery, adding charming porch lights, and a welcome mat. Seasonal decor and little touches made what would be a plain concrete porch a place to enjoy. 
Concrete porches are cheaper and simply more practical than many other materials. Durable, with less upkeep, it's easy to see why they're so popular. But many people don't take advantage of their porch space. A few decorative touches could transform your porch into a place where you'll make memories. Whether you have a small porch or a large one, I'm sharing designs to inspire your makeover. I hope these ideas will help you enjoy your concrete porch more- and make memories, season after season. 
Bottom Line Up Front Summary
Concrete porches are durable and cost-effective. But let's face it: they're not always the most aesthetically pleasing. And I see too many people not making full use of what could become a wonderful outdoor space. That's why I'm sharing my ideas for both small and large concrete porches. My concrete porch ideas will not only give your concrete porch a makeover but also add versatility and functionality to your home. 
If I had to recommend somewhere to start for your concrete porch makeover, it would be a concrete porch with classic white railing,  Polywood rocking chairs, an accent table, and some potted plants. This design is timeless, elevates a concrete porch, and adds functional spaces. If you want a more modern take on it, you can always opt for plain white chairs with accent cushions.
Concrete Porch 101: Cost, Maintenance, and Stains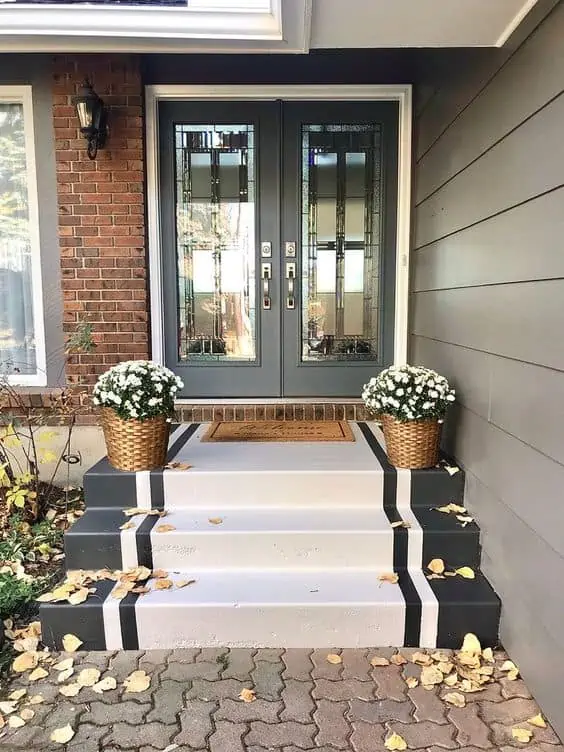 Before we get into some great designs and ideas, here's a quick primer on what to plan for if you're building a concrete porch or giving yours a much-needed makeover. All of these tips I'm giving you to lay a foundation for my ideas. 
Cost
As I said, concrete porches are affordable compared to most alternatives. With labor costs and materials, expect to spend between $5 and $20 for each square foot. To put that into perspective, the average concrete patio costs around $2,500-including all costs. That's still a great deal cheaper than stone, and cheaper than a wooden porch. Of course, it never hurts to ask for estimates to try to get the best deal. 
Care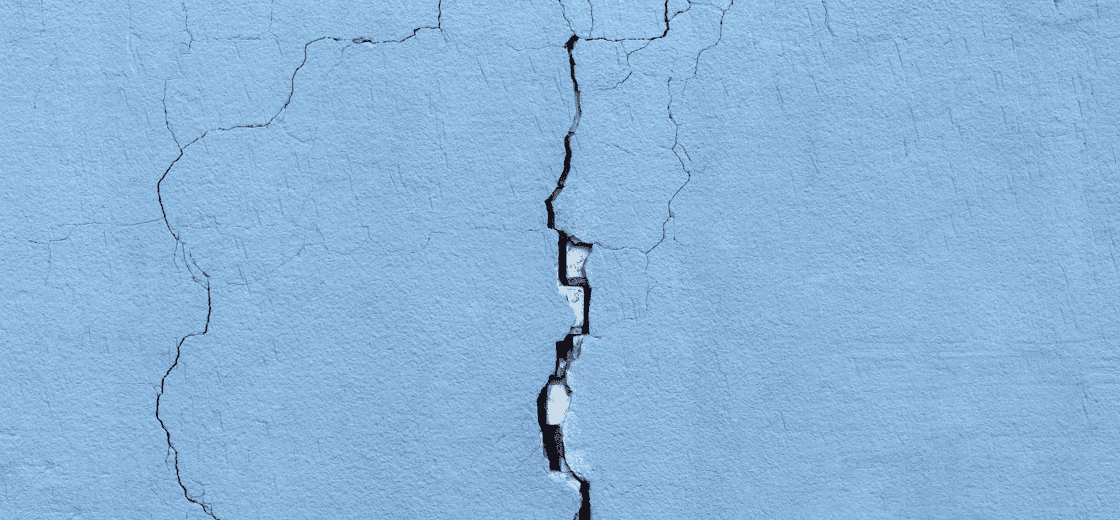 The good news is that concrete porches can last a long time. But concrete forms cracks from natural exposure over time. My trick is to check your porch occasionally- and catch smaller cracks so you can avoid resurfacing. A transparent sealer is my favorite way to protect a concrete porch, while epoxy repair products are a great go-to for smaller cracks.  
Stains and Paints
Between stain and paint, I prefer stains. I do love all the paint colors you can choose from- and I'm not saying you can't use any exterior paint. But if you want the color to last longer, the stain is a better choice. With a good concrete stain, you won't have to worry about peeling and chipping. Another thing I'm loving about concrete stains? They come with a lot of texture options like this concrete antique/ stamped staining kit. 
Behind My Ideas
I've often spent time flipping through home design magazines, wondering if there were any practical and affordable designs for anywhere I live. Too often, ethics are the main factor in showcasing porch designs. With that in mind, I wanted to offer ideas that are not only stylish but have a practical use for a range of budgets and concrete porch sizes. Here's how I struck that balance to share my favorite ideas. 
Dressing it Up 
While I love that concrete porch are generally affordable and durable, a huge downside is that they aren't immediately aesthetically pleasing. To counter that, my ideas include decorations and greenery to liven up your space and make it feel like a natural extension of your home. 
Carefully Selected Styles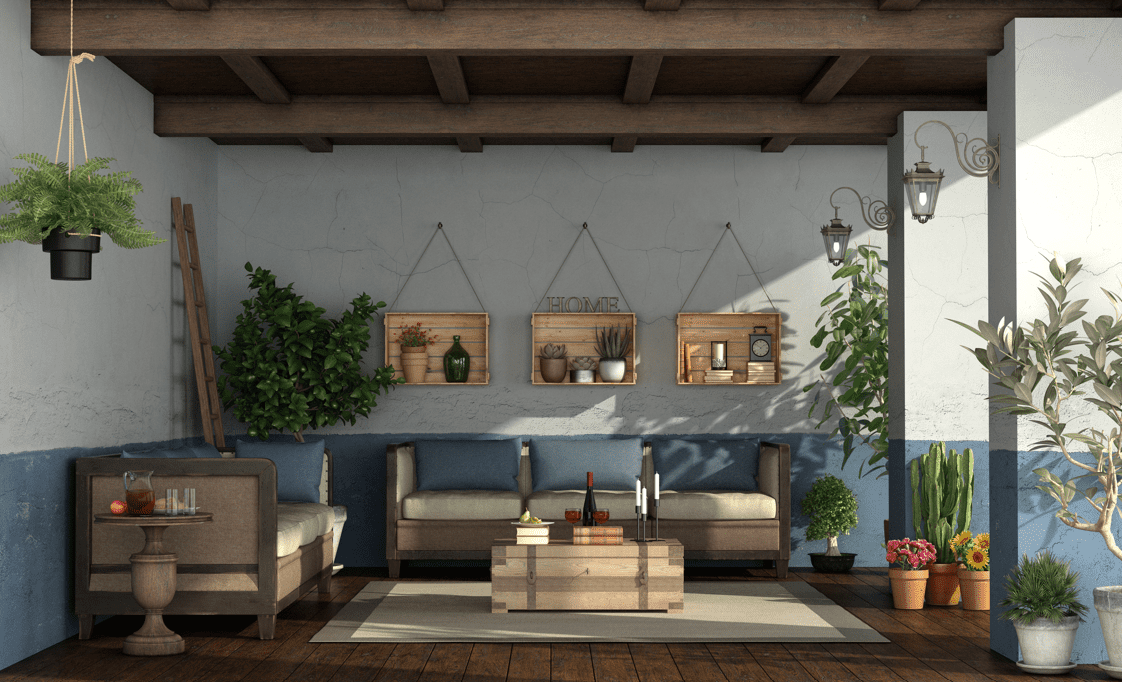 That leads to my next point: selecting styles that truly add a wow factor to your concrete porch. While modern and contemporary styles are a natural choice for concrete porches, I also am giving you ideas for vintage, beach, coastal, and vibrant designs. Every style coordinates well with concrete but brings something unique to your home. 
Entertaining and Relaxing
One thing I always value from a great porch design? Practical use. For that reason, my concrete porch ideas include suggestions for comfortable seating, entertainment, and relaxation. I wanted to take advantage of concrete's strength and heat resistance, so I also added ways for your to grill out and warm up on chilly evenings. 
Sturdy Sidekicks
What good is a great design if the furniture and decor don't last? Since concrete porches last a long time, I wanted to match that durability with weather-resistant decor and furniture from reputable companies and brands. That means my product recommendations for your concrete porch aren't just aesthetically pleasing but designed to last outdoors. 
Minding Constraints 
Of course, I didn't want to offer ideas useful for only a select few. Because of this, I included budget-friendly tips and alternatives for most designs- while also offering up ideas for premium shopping. I tried to reflect quality and value. And finally, not all of us have a large concrete porch, and you don't have to. My ideas can mostly be applied to larger and smaller concrete patios alike. 
Must-Try Concrete Porch Designs
Here's a glimpse of some of my favorite concrete porch ideas. These designs range from modern to traditional, but all of them are meant to inspire and expand the time you spend outdoors. Whether you want to cook on your concrete porch or just relax, hopefully, these ideas and products will get you started on your plans. 
1. Black, White, and Tiled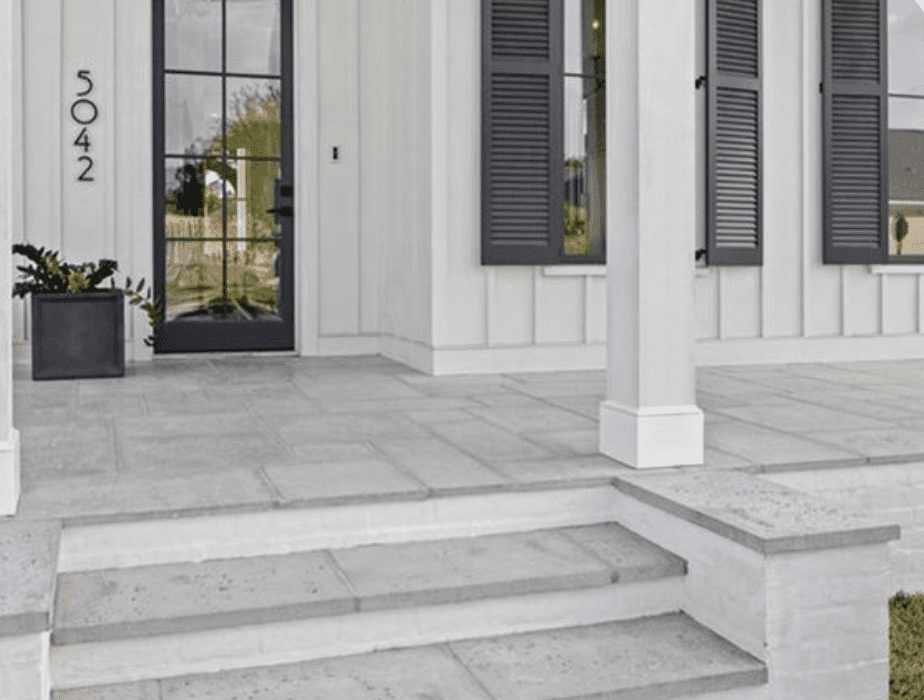 What I love about this idea is that it's at once contemporary and timeless. It's hard to go wrong with black and white-  and these shoes that a concrete porch needn't be plain. If you want an upscale look, as for concrete tile slabs for your steps; otherwise, poured concrete will do just fine. Paint the exterior of your home and porch columns a stark to soft white, which contrasts beautifully with slate gray to black doors and windows. I love how simple this look is- but also inviting. Concrete fluted planters make a beautiful, versatile statement- just pair them with a bit of greenery. Replace a clunky doorbell with a contemporary curved doorbell. While less is more with a style like this, I highly recommend some ceiling porch lights, and a slim outdoor porch bench to enjoy a good book.
2. Modern Farmhouse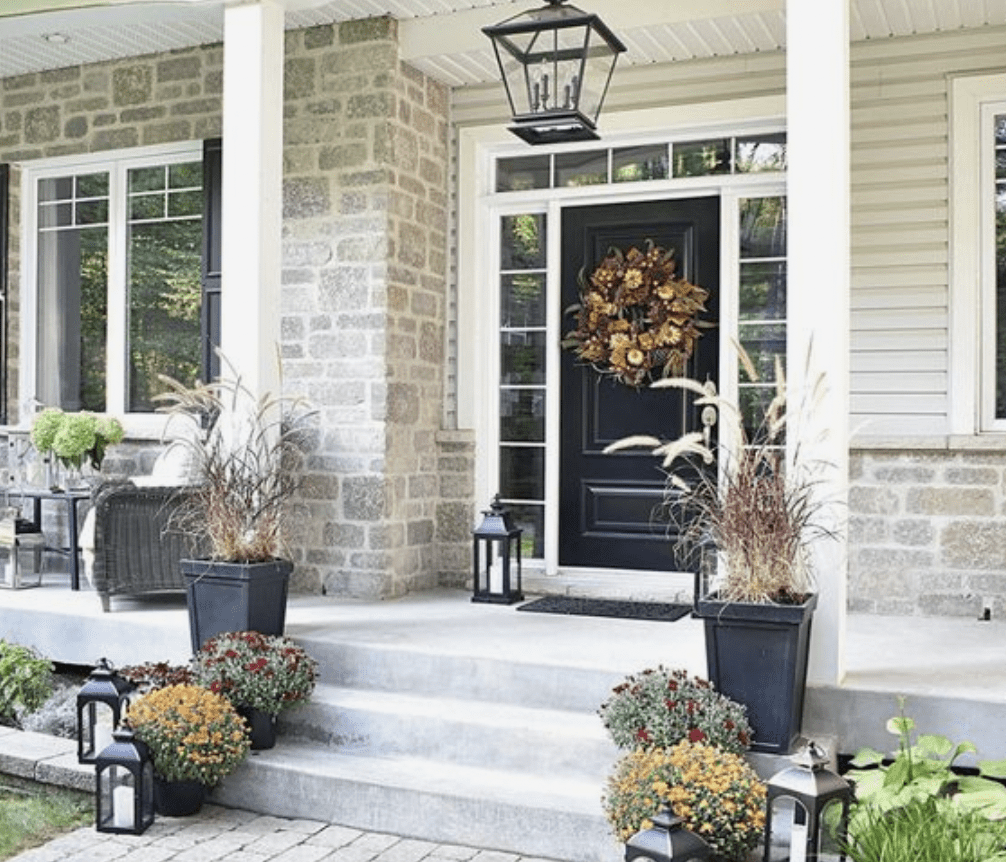 What I love about this modern farmhouse-inspired concrete porch is that it exudes warmth and ambiance. A warm or gray brick looks lovely with a black or navy door. But even if you have siding, you can pull this style off. Start with a classic paved concrete porch, complete with a series of steps. On those steps, I love adding welcoming touches. These include modern premium farmhouse lanterns or budget-friendly lanterns, nestled between potted plants from a local nursery. If you have room, wicker chairs with deep cushions and a glass side table make for great entertaining spaces. Whatever you do, switch up your decor for every season!
3. Botanical Beauty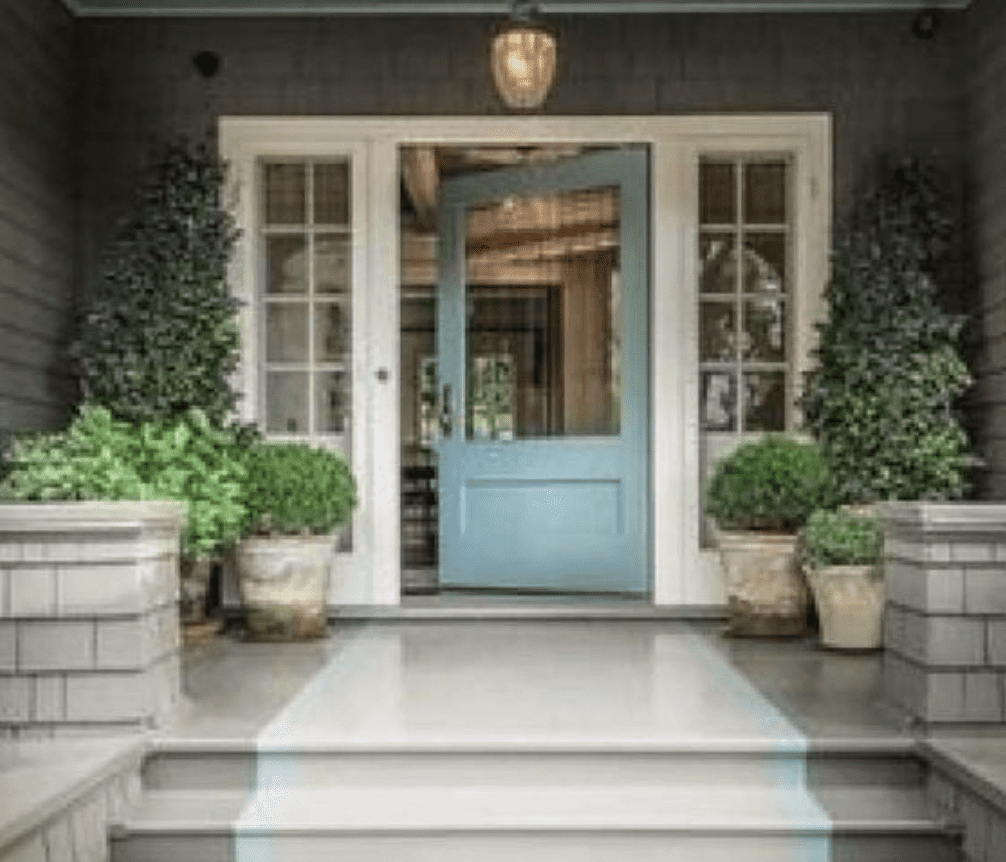 A pop of color and plenty of greenery makes this concrete porch pop. What I love about this concrete porch design inviting, bright, and instantly distinct. Here's the key: opt for regular poured concrete, then apply a gray stain. That gray to silver stain adds a more luxurious touch, while a middle white stain running up the steps acts as a visual center of attention. A brightly colored door makes this style stand out and I love teal, turquoise, and green hues. Add a wall lantern with a classic touch. My favorite addition is a few front porch topiaries -real or artificial, for year-round beauty. Keep to a green tone for a cohesive look.
4. Peaches and Green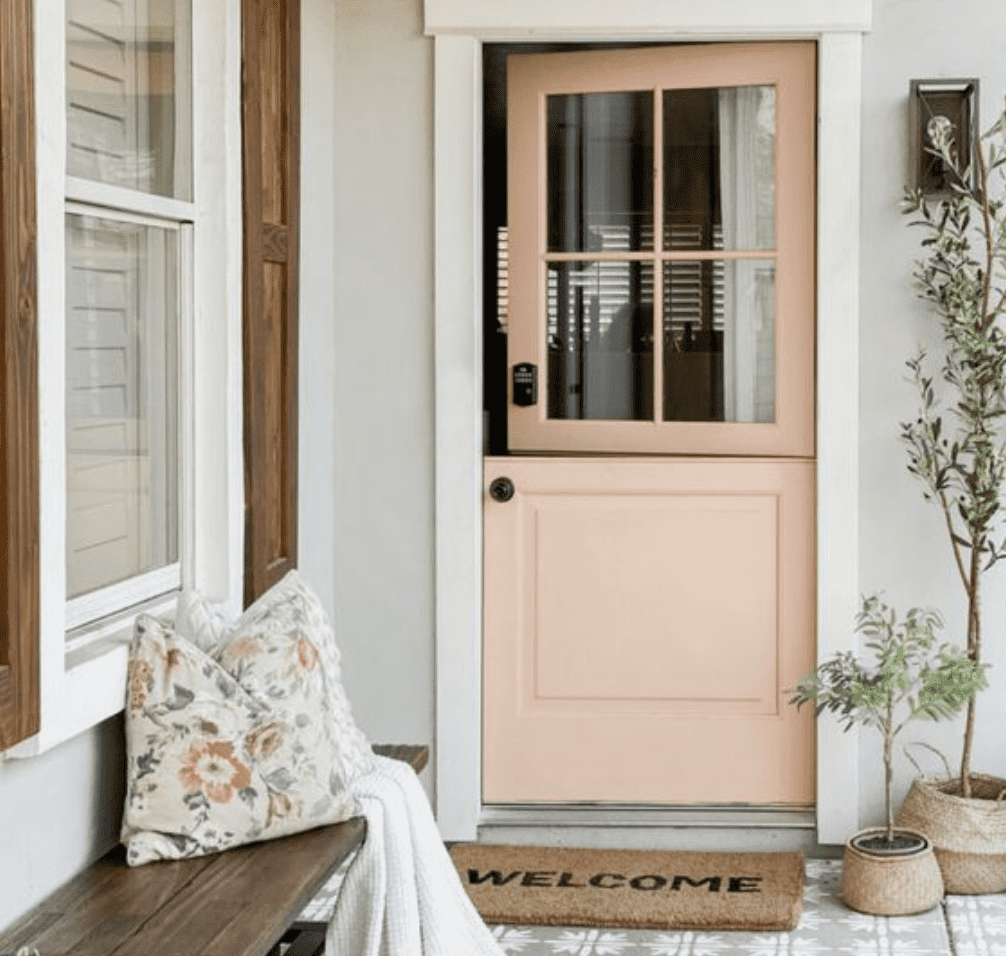 One of my favorite traditions for New England homes- and even in the Midwest- is the concept of a mudroom. This concrete porch mimics the idea of a mudroom before you enter your house! A peach door adds an instantly warm touch, complemented with stark white trim and pale green to gray accent wall. Set down a large tile-print rug underneath a rustic welcome mat for patterns and the illusion of texture. I also love how the space is used: a slim wooden bench is a perfect place to enjoy a glass of ice tea, especially with a floral accent pillow.
5. Side Outdoor Grilling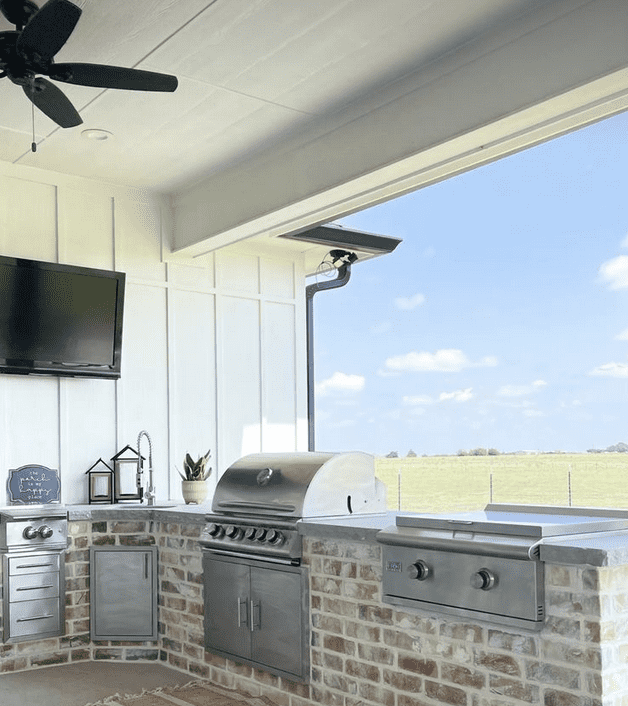 To be clear, this concrete porch design won't always work. You need an uncovered, open-air space, and a side porch addition. But aside concrete porch is a fantastic opportunity to do a bit of grilling. This upscale look involves the installation of a brick wall and a built-in grill. But I have a secret: you can still get some of the beauty and all of the functionality without paying top dollar. The start will be a classic stainless steel grill, which will wear well and pair beautifully with concrete. Next, I'd add a prep table and an accent table. The prep table works as your workstation, while your accent table can include a decorative potted plant. I'd finish off this design by swapping out the mounted TV with a LED ceiling light so you can look into the evening. (And having a grilling set on a wall is a great touch).
6. Country Vintage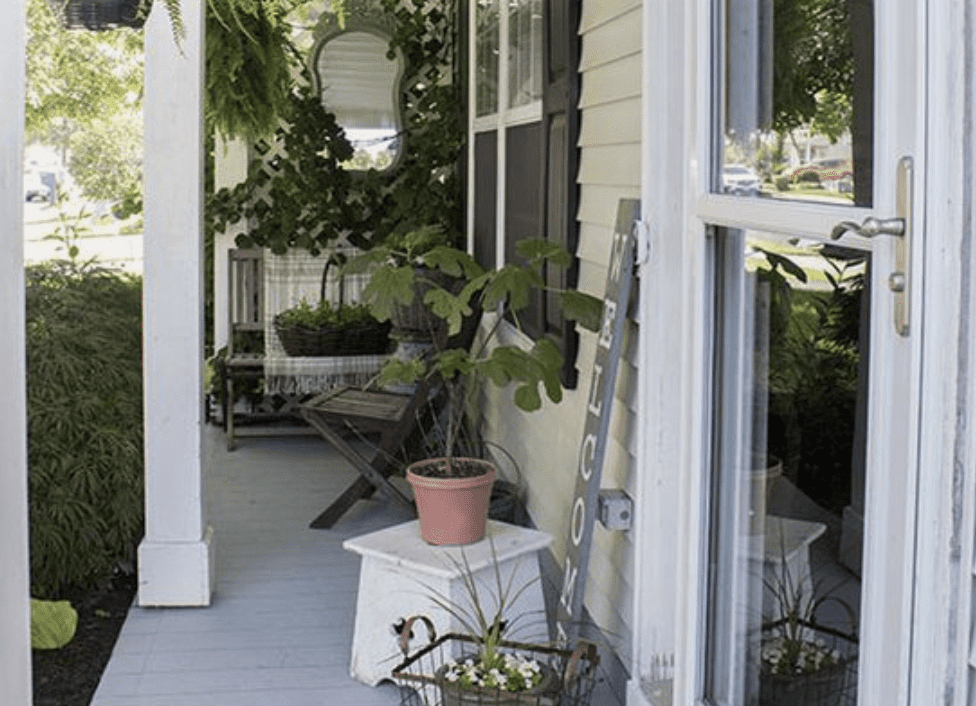 This beautiful concrete porch design shows that not everything has to be perfectly coordinated- or even new to look inviting. The entire charm of this concrete porch design for me is the lived-in, welcoming, and vintage touches. That starts with stamped concrete- though you could opt for a smooth paint or gray stain as well. Instead of trying to match everything, find little accents to enjoy: a folding porch chair pairs with a classic porch bench for versatile seating, I love how a white stool is being used to highlight a potted plant, while an outdoor porch sign is placed strategically between plants. Add a few thrift or yard sale finds.
7. Southern with Railing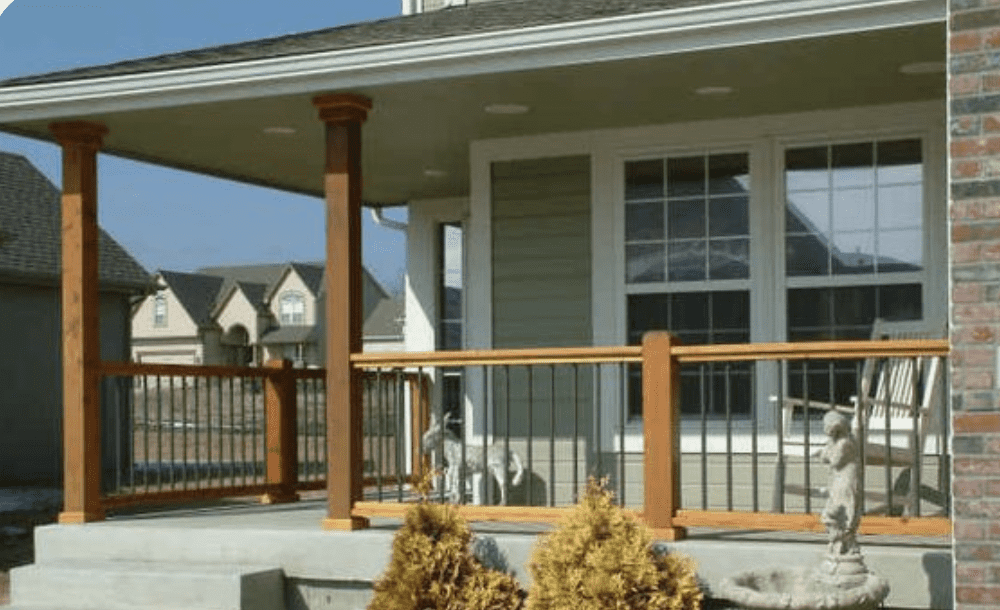 Southern doesn't have to be formal- and that's what I love about this concrete porch idea. You're getting some of the Southern charms, but with a more versatile style, I could see in a lot of regions. A concrete porch with a wooden railing adds safety, security, and a bit of privacy to your home. You can have that professionally installed or even order a pressure-treated wooden railing kit for a DIY project. After that, it's all about complementing and accenting your railing. Both warm, earthy tones and mossy greens are a natural fit. For me, though, it's the whimsical additions that make this look. That includes a classic wooden rocking chair or Polywood rocking chair, plus playful outdoor figurines to show off your personality.
8. Zen Porch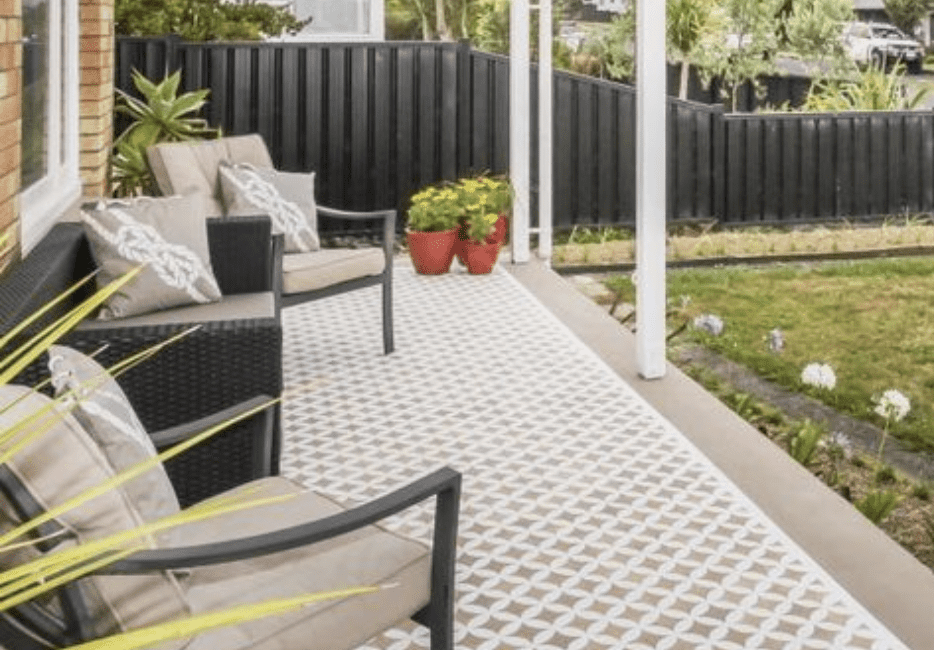 Japanese-style porches are becoming more popular, but if you don't think you can fully pull that off, a zen-inspired retreat is a great option. If you're anything like me, you need to be reminded to relax sometimes, and I think this concrete porch design inspires just that. Great as a side porch or a front porch, this pleasing style is accomplished by laying out a geometric outdoor rug, which is then accented by brightly potted plants. Keep the furniture relaxed with a laid-back orientation for your metal chairs and coordinating wicker loveseat. If you don't have a covered porch, you could even add a pergola or an outdoor umbrella. You could also swap out this seating situation for a small dining set.
9. Mid-Century Modern Sophistication

Mid-century modern is a charming style that's never truly gone out of fashion, and I think this concrete porch shows why. First popular in the 1960s, this style is defined by crisp lines, soft pops of color, patterns, and a sense of playfulness. Here, gorgeous wooden or Polywood planters form a little bit of privacy- and plenty of personalities. All you need are simple porch chairs and a side table. I like to keep the focus on the florals and a statement statue. And if you can, a cherry blossom tree adds a touch of distinct elegance.
10. Traditional White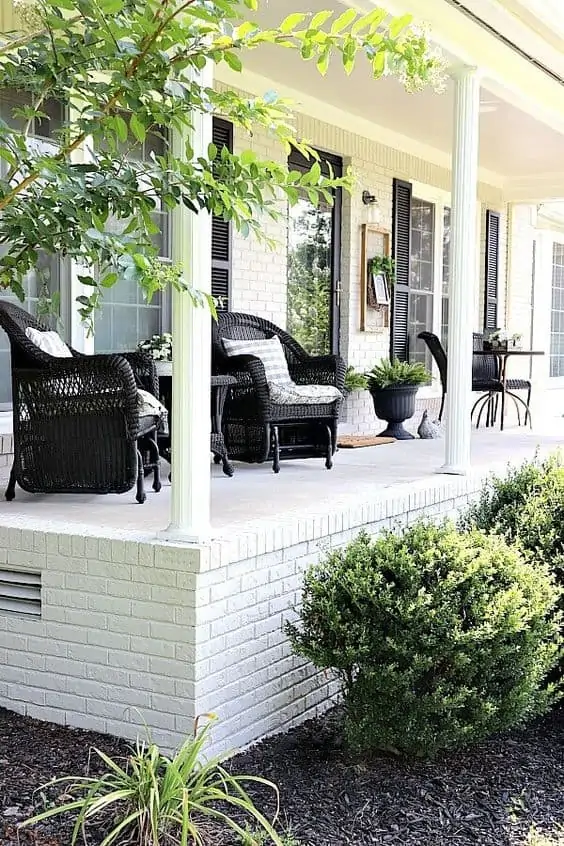 I don't think you can go wrong with a classic white porch- no matter where you live. There's something exquisite about a white porch and immediately welcoming. But the concrete foundation here actually modernizes the look- making it ideal for even urban and suburban regions. While a wrap-around porch is ideal, trust me that you can still make a statement regardless of your porch shape or size. You can either leave concrete plain or add a stain or paint with a glaze finish. The railing is a plus- paint it bright light or creamy ivory if you want a softer look. From there, your must-have is a reliable set of rocking chairs. I prefer Polywood chairs for less maintenance and maximum durability, but a stained white wooden rocking chair works as well. Add a decorative side table with an intricate edge, then place outdoor decor. Don't be afraid to add some personality: I love the idea of rustic outdoor game sets, as well as floral-inspired solar lights.
Frequently Asked Questions
Question: Is a concrete porch cheaper than wood?
Answer: If budget is your main concern, concrete is the best material to select for your porch. It's cheaper than stone and wood and most options. Granted, as is true of most porch materials, some upkeep and maintenance are required. While concrete is pretty sturdy and durable, it can crack and does need to be resurfaced. Concrete, when properly cared for, though, can last half a century to a century! Simply put, concrete is a good choice for a budget-conscious porch or patio.
Question: How do you repair an old concrete porch?
Answer: Concrete cracks- that's a given. But that doesn't mean you need an entirely new concrete porch. If you catch a crack quickly, it may not even need a full-scale resurfacing. Epoxy fillers are useful for small cracks (¼ inch wide), and could be a solution or at least a temporary fix. If you have wide-spread cracks, resurfacing may be required. Resurfacing is a more affordable option than full patio replacement, and can be done when you've noticed substantial cracks.
Question: What is the best concrete coating?
Answer: Of all protective coatings, I'd recommend one that is made with 100 percent epoxy for a concrete porch. Epoxy coatings are tried and true, and have long been a favorite amongst homeowners and builders. While most sealers and coatings don't last forever, they can last up to 5 years, which is a bargain when you consider that they aren't that expensive. You can pick up a range of coatings and sealers from almost any home goods store and even places like Amazon. The reason why you'd want to select a coating is simple: you're preventing substantial cracks, or at least delaying them. In the long run, that's going to save you money. 
My Top Ideas
Black, White & Tiled
Modern Farmhouse
Botanical Beauty
Peaches and Green
Side Outdoor Grilling
Country Vintage
Southern with Railing
Zen Porch
Mid-Century Modern Sophistication
Classic White
Final Thoughts
A concrete porch is a true staple. What I've always loved about concrete porches is how practical they are. As you can see from my ideas, there are myriad ways to jazz your concrete porch up, from a modern place to grill put to a luxurious space for entertaining. Concrete porches give you a sturdy foundation and don't require the same upkeep as a wooden porch. Just remember to seal your porch every 3 to 6 years and you'll enjoy it for years to come.
Final Recommendations
Whether you're looking for a concrete porch makeover or installing a new one, I truly hope that one of these ideas caught your attention. But if you're not sure where to start, then I highly recommend opting for a classic, versatile style. While I think the easiest to achieve is my first (black and white) theme, I find the most appeal in something like my classic white porch idea. This is a great way to dress up a concrete porch and add personality. Simply add Polywood rocking chairs, an accent table, and a bit of stain for a crisp, always welcoming look.
Recommended Reads: