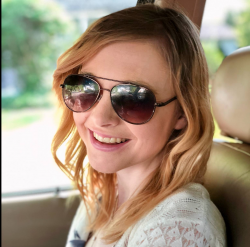 Latest posts by Erin Jamieson
(see all)
I love weddings, and I especially love the beauty of an outdoor wedding. Unfortunately, my family was invited to an outdoor wedding that, lovely as it was, was quite chilly and even uncomfortable. Located near the Greater Lakes in Northern Ohio, it was a crisp Autumn ceremony, followed by an evening tent reception.
As enchanting as the outdoor lights were, there was no true heating unit, and by evening, guests were more than a little cold. It's one of the many instances where patio hearer rentals could have helped. 
Patio heater rentals are one of my favorite solutions for hosting outdoor events. Why? They're usually fairly low-cost, versatile, and propane heaters, in particular, heat up quickly. But there are many mistakes you can make- from renting a patio heater that doesn't provide ample warmth, to being surprised with additional fees.
From pyramid patio heaters to mounted units, here's your guide to renting the best patio heater for you!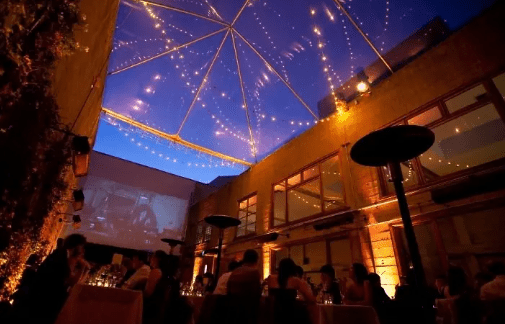 Bottom Line Up Front Summary
Patio heater rentals, at their best, are convenient and cost-effective heating solutions when you're entertaining guests outside. For most people, I recommend a freestanding propane heater, but there are some instances- such as enclosed spaces- that renting an electric heater makes more sense. You should pay attention to the company's policies, get a quote, and always ask about heat output and run time. 
If I were to recommend just one place for most people to rent a patio heater from, it would be using a tool like Rental HQ to find local service providers near you. While I like a lot about what Sky High Party Rentals offer, there are some areas they don't service- plus I like to support local businesses near me. This tool is free and super easy to use- and much more efficient than hours of Google searches! I recommend checking external customer reviews on Yelp and Trust Pilot before booking any local rental near you. 
My Top Picks
Sunbelt Rentals:

Best Adjustable Heat Patio Heater Rental (Serves Most of the USA)

Sky High Party Rentals

:

Best Rental with Set-Up Services (Serves Most of the USA)

Rental HQ:

Best For Finding Local Rentals Near You 
Patio Heater Rental 101: Step by Step Guide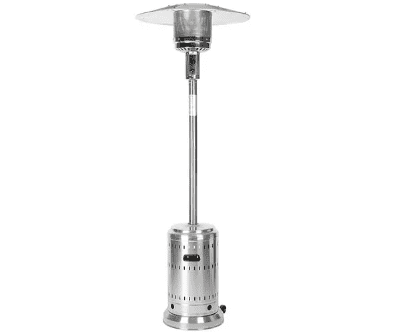 If you've been eye patio heater rentals for your next event, you probably know there are a few options: but which one is right for you? What I do is assess my needs, and the event and then explore what's out there. Here's a secret: there's no one agreement about how to rent the perfect patio heater- but there are things you need to know to make sure the rental cost is worth it! 
Step One: Deciding Between Gas and Electric Heaters
First, you need to decide if you want natural gas, electric, or propane patio heater. I will tell you upfront that there are the most rental options for propane heaters, followed by electric heaters, and then even less for natural gas patio heaters. There's a good reason for that, too: in many cases, propane heaters are just going to be more versatile, easy to use, and cheaper per hour- but there are notable exceptions. 
Those exceptions include infrared electric heaters. While there's nothing wrong with renting a natural gas heater if you can find one, I don't see much of an advantage. It doesn't have the faint chemical smell you'll get with propane heaters, but the problem is that you're going to be dependent on a natural gas line hookup. That isn't always going to be practical- and could even be quite limiting, depending on your event. 
Type of Patio Heater Rental 
Why Choose It? 
Why Choose Something Else? 

Propane 

Wide selection

Easy to operate

Quick to warm up 

Generally less expensive for fuel used 

Great for colder weather

If you have a covered or enclosed area

If you want a mounted unit 

Electric 

Wall-mounted units

Great for enclosed/ covered spaces 

Excellent options, including heat efficient 

If you need something to heat up quickly

If you want a wide selection of larger units

If you're using it in very cold weather

Natural Gas 

Clean, chemical-free smell

Quick to warm up 

If you need an option for enclosed spaces

If you want a lot of models to choose from 
As you can see, in many cases, propane patio heaters will be the best rental option. They're quick to heat up and will work in cooler weather than electric heaters (though at too cold temperatures, you may or may not want to rent a heater). 
However, the one time I'd always recommend renting electric heaters is if you're trying to warm a space that's enclosed. Propane and natural gas heaters must have ample ventilation! 
Step Two: Deciding on What Type of Patio Heater You Need
Most people rent free-standing patio heaters (which include pyramid heaters). Why? A freestanding patio heater is something you can move around as you need it, and it's easier to situate near a large gathering space. Hosting an outdoor wedding? You can easily place a patio heater or two in central locations- and avoid the chilly reception my family experienced in Northern Ohio.
But there are some cases where a wall-mounted unit or even tabletop patio heater might make sense. If you have tables further apart- and can mount a patio heater- then you might be able to keep guests warm while they're eating with wall units. If you have pretty mild weather but just need a bit of warmth, a tabletop patio heater could work for an intimate event. 
In Summary…
Most of the time, freestanding heaters are the best and most versatile rentals. Pyramid heaters add beauty and ambiance, but aren't a must 

Tabletop heaters add a tiny burst of warmth for warmer climates (think Summer events, Southern states when the evening comes)- but at this point, I argue you're better off just buying a heater or two 

Wall-mounted or ceiling rentals could be more effective for some limited dining situations- but there are far fewer rental options. 
Step Three: Deciding on the Heat Output You Need
Listen up, because this is probably the number one mistake you can make! Maybe you've decided on, for instance, a propane gas heater. That's fine- but the heat output and the radius are going to determine if your rental is worth it. Heat output is usually measured in BTU.
For a freestanding heater intended for a party, I highly recommend a BTU of 40,000 and above. Any lower than this and you're not going to have ample warmth. The only exception is a tabletop patio heater (10,000 to 20,000 BTU)- but again, I don't find these worth renting. 
A tricky part is the heat radius. As a general rule, you can take the square feet of your entertaining area and multiply it by 18 to 20 to get your required total BTU- this can also be helpful to determine if you need to rent more than one patio heater. But this is simply a rule of thumb. It's also a good idea to ask who you're renting from, or investigate the model yourself. 
See also: How to Build a Patio Guide in 5 Steps
Step Four: Optional Features
Optional features are just that: optional. But if you're hosting a party or big event, there are several that I'd personally consider making things run more smoothly: 
Wheels

– easy to move around as needed!

Hidden Access Doors

– handy for propane gas heater operation

Adjustable knobs/ flame

– allows you to control your heat output seamlessly

Electric Ignition

– if you're worried about a heater not lighting up, this is a good option. It's also more streamlined if you've never used a gas patio heater before 

Glass Quartz Tube

– there's something undeniably stunning about this design 
As I said, you don't need these features, but each one is pretty useful for entertaining and reduces the likelihood of needing assistance. 
Step Five: Determining- And Reducing- Rental Costs
First up: never make assumptions. Patio heater rental costs are determined a bit differently depending on who you're renting from. The cost is usually by either the hour or the day- but it's very important to ask, especially if they are adding in any other factors. A few will even allow you to rent for longer periods- though that's less common. 
 Bottom line: always ask for their terms, conditions, and, if it's not clear, a quote or estimate in writing. The last thing you want is to be surprised by hidden fees. I'd also ask what's included: where or how do you pick your patio heater up? Is delivery involved? And how will you need to return the patio heater? All places should also have policies about fair wear vs damage, extra fees, and charges. 
How to Save Money on Your Patio Heater Rental 
I have several tips for saving money, because, even though patio heater rentals usually aren't excessively expensive, it all adds up when you're hosting an event. A few ways you can save money on your rental include: 
Going for energy-inefficient infrared heaters 

Comparison shopping

Booking ahead vs last minute 

Make sure you understand all costs 

Opting for a more sturdy patio heater exterior (such as stainless steel) could reduce the risk of damages 

Renting at a less popular time of year 

Renting for only the time you need

Picking up vs having your heater delivered to you 
With these tips, you can shave off even a little bit- and use that extra money on a small feature of your event. 
The Best Places to Rent a Patio Heater 
Now that you know what kind of heater you need- and the best ways to rent one, I want to share a few resources with you for the best places to rent a patio heater from. These include home improvement stores but also tools to find patio heater rentals near you. I always check the reputation of a company before renting. For me, that means clear customer policies, clear contact information, the ability to provide flat fees or a direct quote, and generally positive customer reviews. 
Sunbelt Rentals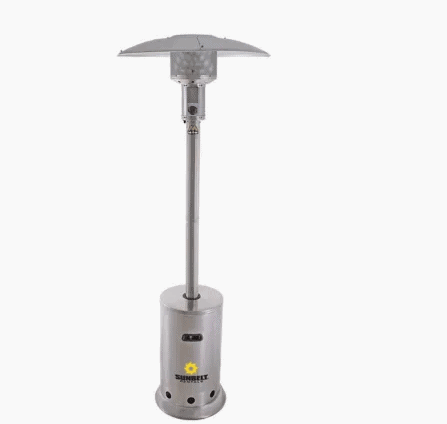 Sunbelt Rentals is one of the few places you can rent patio heaters around the United States- and they also have one of the better options for a highly versatile patio heater. Their rental includes a freestanding propane patio heater, with adjustable heat. Not only that, but the 360-degree heating radius means you're covering guests from multiple angles.
Multiple pick up, delivery, and other services are available: you can even contact them if you need them for longer. All fees are calculated based on your location, but I like their straightforward approach to their general service policies. Their patio heater is suitable for most outdoor events, and, since it's propane, you aren't held to one location. Learn More/ Rent Here. 
Pros 
Services Much of the USA

Multiple Delivery/Pick-Up Options

Adjustable, 360 Degree Heat 
Cons
Only One Patio Heater Option

Less Set Up Services
Sky High Party Rentals
Sky High Party Rentals excels with the services they offer for much of the United States. Their stainless steel patio heater is at once modern and elegant and useful, with adjustable heating options. But what stands out to me is that it's fully insured, with delivery and setup options. They offer fair prices and allow you to reschedule.
Even for cancellations, you'll get store credit. So in many ways, what's most admirable about this company is that they know things can go against plan, and there are ways to mitigate those risks. Learn More/ Rent Here. 
Pros
Set Up and Cancellation Services

Adjustable Heat 

Freestanding, Stainless Steel 
Cons
Only One Model

Inquire for BTU Rating 
Rental HQ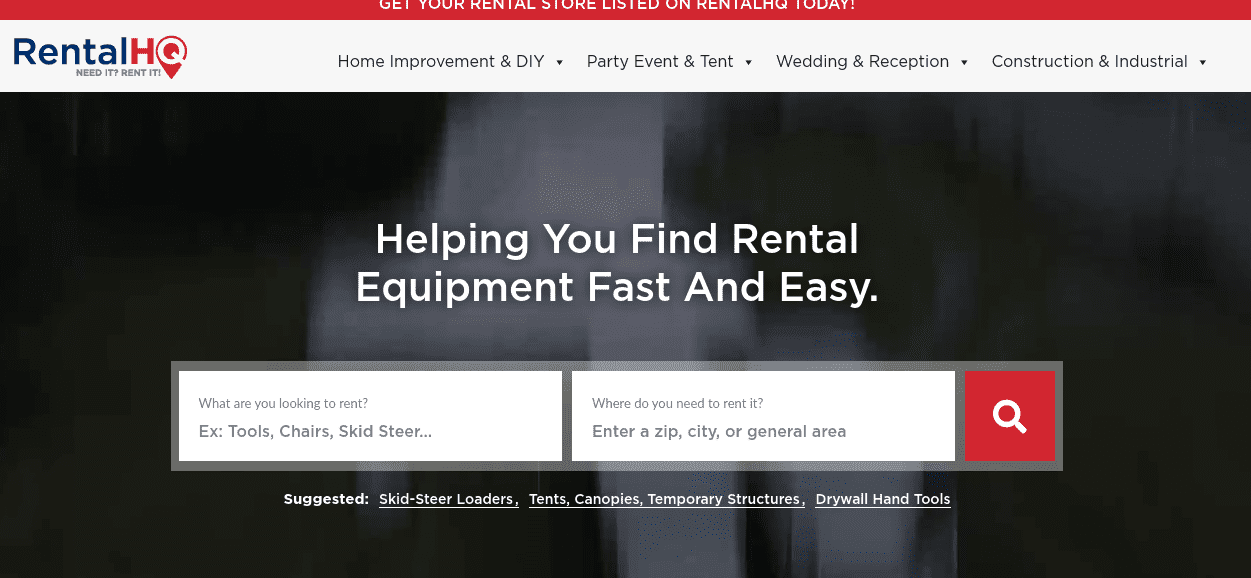 My final recommendation- but my favorite one- acts as a search engine. I think this is worth it and more efficient than simply googling "Patio Rentals Near Me," because you're less likely to get other locations in the mix. All I had to do is search my zip code and I was directed to multiple rental options. The caveat I'll give is that it's up to you to check on the businesses' policies. So what I do is look into Yelp reviews, Trust Pilot, and BBB to get a good sense of the company's reputation.
After that, follow the steps in my guide above. It's a bit more work initially, but by doing so you'll find a rental near you. You can cut back on delivery costs and maybe even just pick up your rental. I also think there's something to be said for supporting local businesses- plus you'll probably have a much more generous selection to choose from. Learn More/ Search Here. 
Pros
Support Local Businesses

Much More Integrated/ Focused Search 

Greater Selection of Patio Heater Rentals 
Cons
Have to Research Individual Companies

Can Vary In Quality 
Frequently Asked Questions
Question: Do patio heaters keep you warm?
Answer: If you're thinking about renting a patio heater, it's important to understand that it won't fully protect you on the coldest days. Rather, it should provide enough warmth- especially on cool days- to keep you and your guests most comfortable. Infrared heaters will feel warmer because they operate with direct heat vs heating the air around you.
The key is to rent a patio heater with an ample BTU heat output. 40,000 and above should suffice for cool days and keep you comfortable outside. Even the least efficient patio heaters are going to provide warmth and comfort. 
Question: How do you heat a covered vs uncovered patio?
Answer: A mistake I see many people make is assuming you can use a patio heater anywhere. For covered patios, garages, and other covered or enclosed areas, you should switch to an electric patio heater. The reason is that eclectic heaters don't require the ventilation necessary for patio heaters. If you have a spacious, concrete patio, another option would be a fire pit or fire pit table. Fire pits tend to feel a bit warmer than patio heaters, but they're also open flame and require more careful attention and care. 
Question: Do patio heaters work in freezing temperatures?
Answer: Renting a patio heater for the coldest days? When temperatures plummet, patio heaters will struggle more and more. In many cases, propane heaters will continue to work, but you may have to change their heat setting, plus make sure it doesn't freeze up. Electric heaters are less likely to work. Regardless, it's important to check with the manufacturer's operation instructions- or ask a representative if you're renting a heater.
Most people don't realize that patio heaters work at their optimal level when temperatures are above 40 degrees Fahrenheit. As such, always be considerate of the weather before you rent a patio heater. I also wouldn't recommend using one while it's actively snowing or sleeting. 
Question: Are our patio heater rentals worth the money? 
Answer: A patio heater rental can be a great solution for events- from family reunions to weddings. But if you'll need a heating solution for more than two or three times a year, I'd recommend buying one instead. Patio heaters are fairly inexpensive- and often cheaper than other heating solutions, such as fire pits.
On the other hand, if you live in an area that often dips into freezing temperatures, you may find that a fire pit is a better option than a patio heater. Finally, whether or not a patio heater rental or purchase is worth your investment will depend on the quality of the heater you select.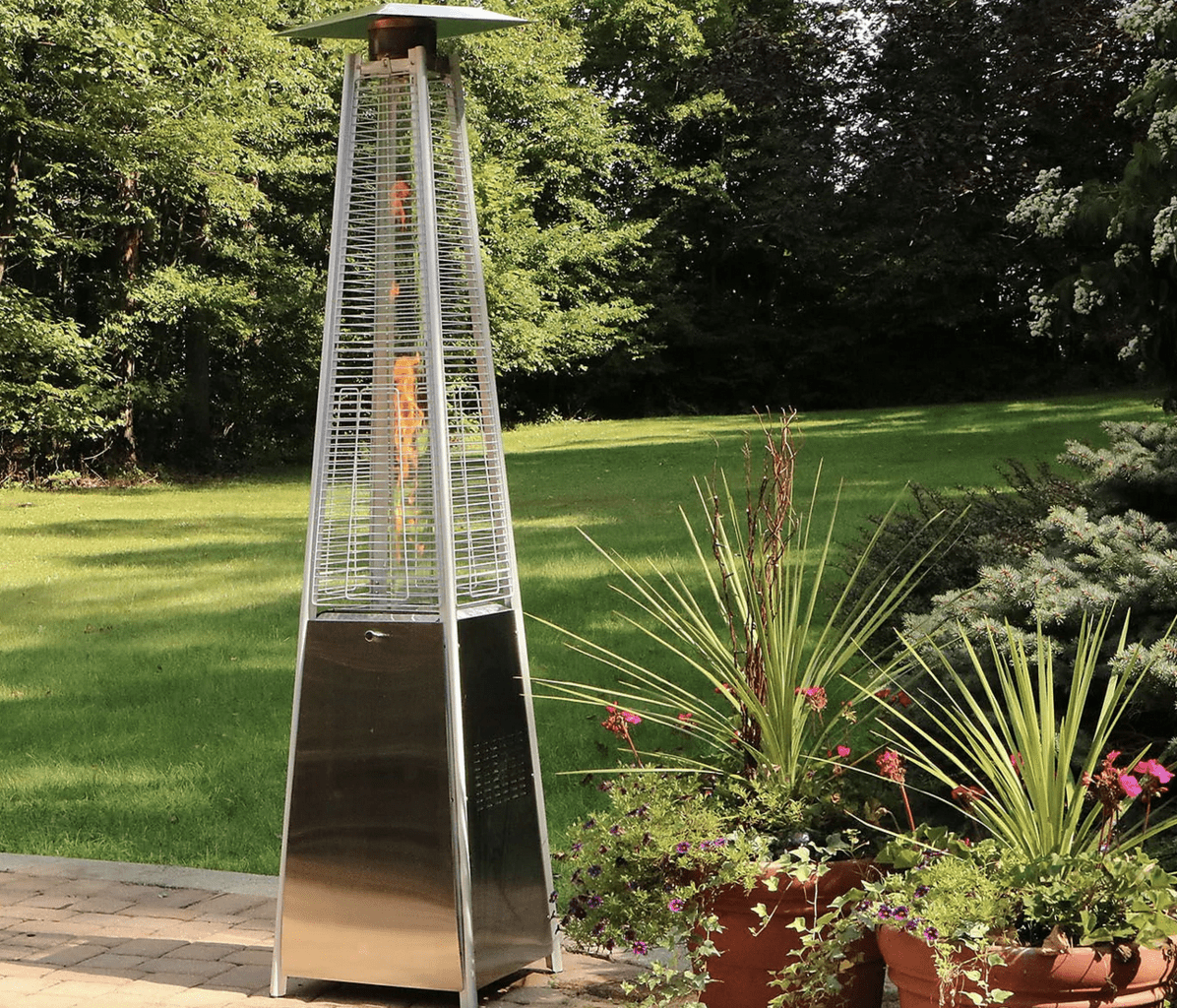 Final Thoughts
Patio heater rentals are a good solution for outdoor events, from family reunions to outdoor weddings. At their best, I love that they provide a source of warmth and are pretty easy to use. But I hope that this guide was helpful; as you can see, renting a patio heater is not as simple as it sounds.
By making a list of must haves, you're more likely to get the heat output and features you need. And finally, it's important to be realistic about what you can expect from a patio heater. It's not going to warm you completely on windy days, so make sure you also have backup options or supporting heating solutions, like a covered tent. 
Final Recommendations
Always rent a patio heater from a company you trust- and make sure to check any regulations and caveats to rental rates. The last thing you want is to rent a patio heater, only to be surprised with a high bill. Another tip to cut back on your rental costs? If you can find an energy-efficient patio heater, you may pay a bit more money upfront, but you'll get more warmth out of the same heat output.
Still, trying to figure out which patio heater rental option is the best for your next event? While I admire the services Sky High Parties offers, the one great option regardless of your location is using Rental HQ. This search engine brings up businesses in your local area- saving you money and giving you a wider selection of patio heater rental options. 
Recommended Reads: